WordPress is the world's most popular content management system (CMS), powering over 43% of all websites. With such a vast user base, many plugins are available to help you build the WordPress website of your dreams. In this post, we've compiled a definitive list of the absolute best WordPress plugins for your site.
Let's get started.
What is a WordPress Plugin?
A WordPress plugin is software that adds specific features to a website. They help users customize and extend functionality without coding. Plugins are easy to install, with thousands available for free or purchase. Examples include adding social media buttons, optimizing site speed, creating forms, and managing backups.
What Types of WordPress Plugins Are Must-Haves?
While every WordPress site has specific needs, most (if not all) websites need a few plugins to be successful. Some popular choices include security, SEO, cache, backup, contact form, and social media plugins. These plugins can help optimize website performance, protect against security threats, and improve user engagement.
The Best WordPress Plugins
We considered several factors when researching the best WordPress plugins for our list. Firstly, we looked at the number of installs and reviews, as positive feedback indicates community approval. Secondly, we sought options that are regularly updated and compatible with the latest version of WordPress. Lastly, we prioritized security and checked that plugins were developed by reputable sources.
Our list of the best WordPress plugins includes must-have plugins and great options for specific types of WordPress sites. With such a wide range of plugins available, there is something to meet every website's unique needs. So, without further delay, let's dive into our list of the best WordPress plugins.
The Best WordPress Plugins Listed In Order
Expand List
1. Rank Math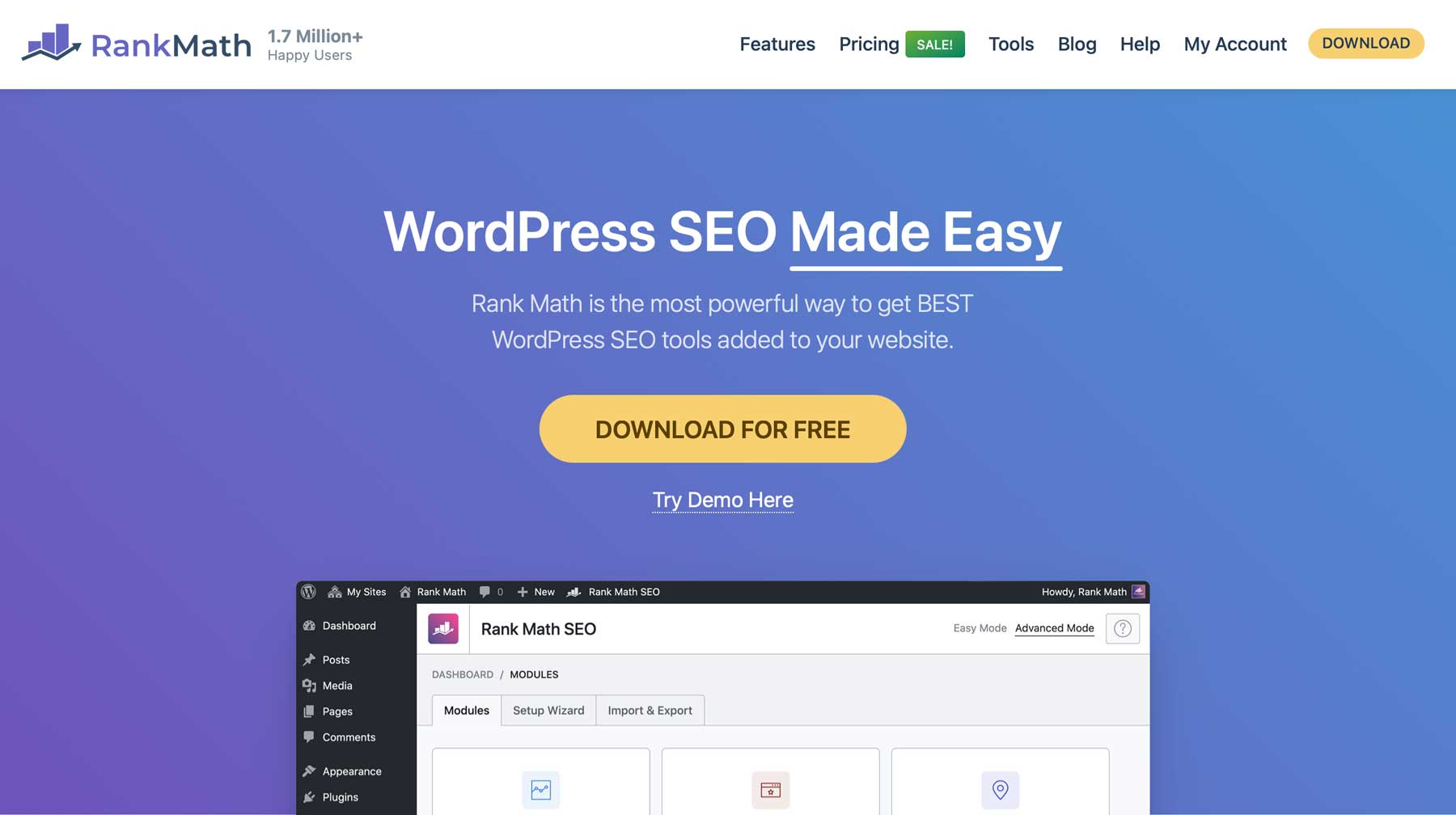 Although WordPress is SEO-friendly, installing a good SEO plugin is essential to rank high in SERPs. Our top pick is Rank Math, which is a great choice for any website. It offers features like WooCommerce SEO, 404 monitoring, front-end on-page SEO interface, link building suggestions, and cutting-edge keyword optimization, making it one of the best WordPress plugins available. Additionally, for Divi users, it provides seamless integration with the Visual Builder.
Key Features for Rank Math:
Simplified dashboard
Front-end on-page SEO
Advanced keyword optimization
Link building recommendations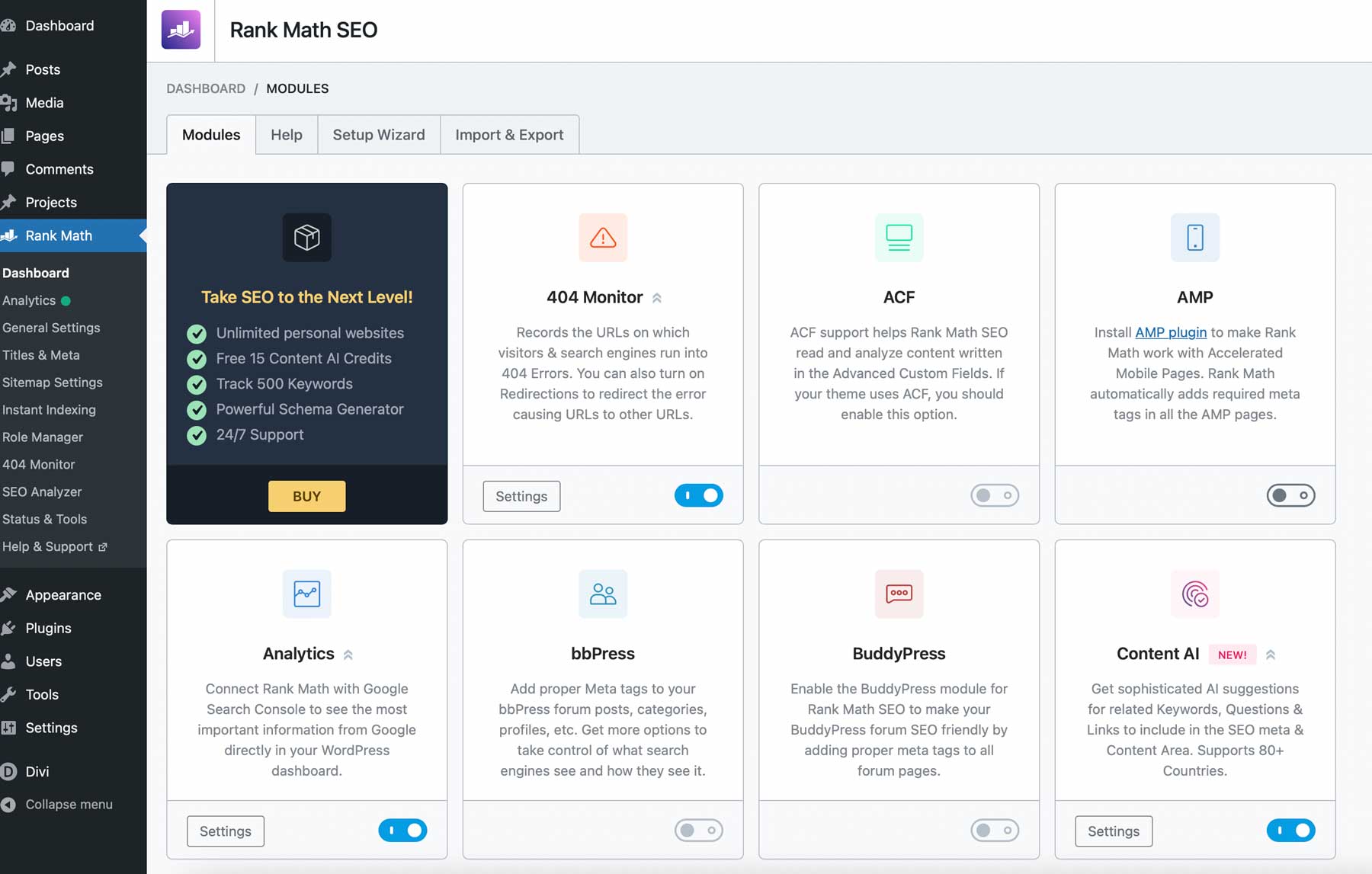 Moreover, Rank Math provides a range of modules to enhance its features. These include support for Advanced Custom Fields, integration with AMP, connection with Google Search Console, the configuration of 301 and 302 redirects, and support for structured data through schema markup.
Rank Math is for you if…
You're a Divi user.
You need an all-in-one solution for SEO.
Pricing: Free, with paid plans starting at $59 per year.
2. UpdraftPlus

Up next on our list of best WordPress plugins is UpdraftPlus, one of the top backup plugins available. It offers a one-click, reliable backup solution. It features cloud storage with support for Dropbox, Google Drive, Amazon S3, and other popular services.
Key Features for UpdraftPlus:
Backups to local or cloud storage providers
One-click site restoration
Database encryption (premium)
Website migration (premium)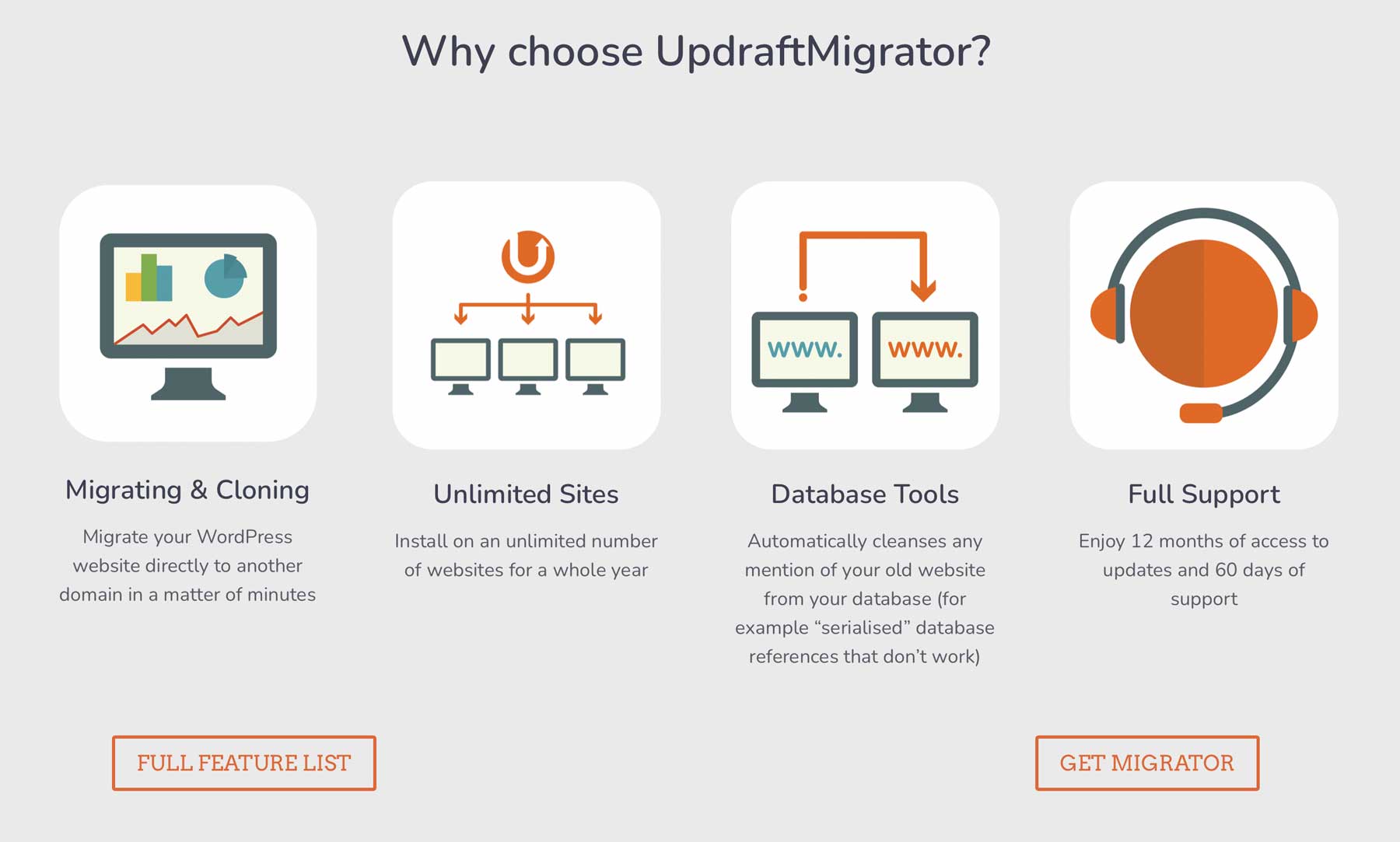 In addition to serving as a top backup plugin, UpdraftPlus also functions as an excellent migration plugin. It allows you to restore a previous version of the same site and use it as a clone on a different WordPress installation. However, it's worth noting that this feature is only available as an add-on. You must upgrade if you require a plugin that performs both backups and migrations.
UpdraftPlus is for you if…
You desire cloud storage options for backup and migrations.
You're looking for a trusted solution millions of other WordPress users use.
Pricing: Free, with premium licenses starting at $70 per year.
3. EWWW Image Optimizer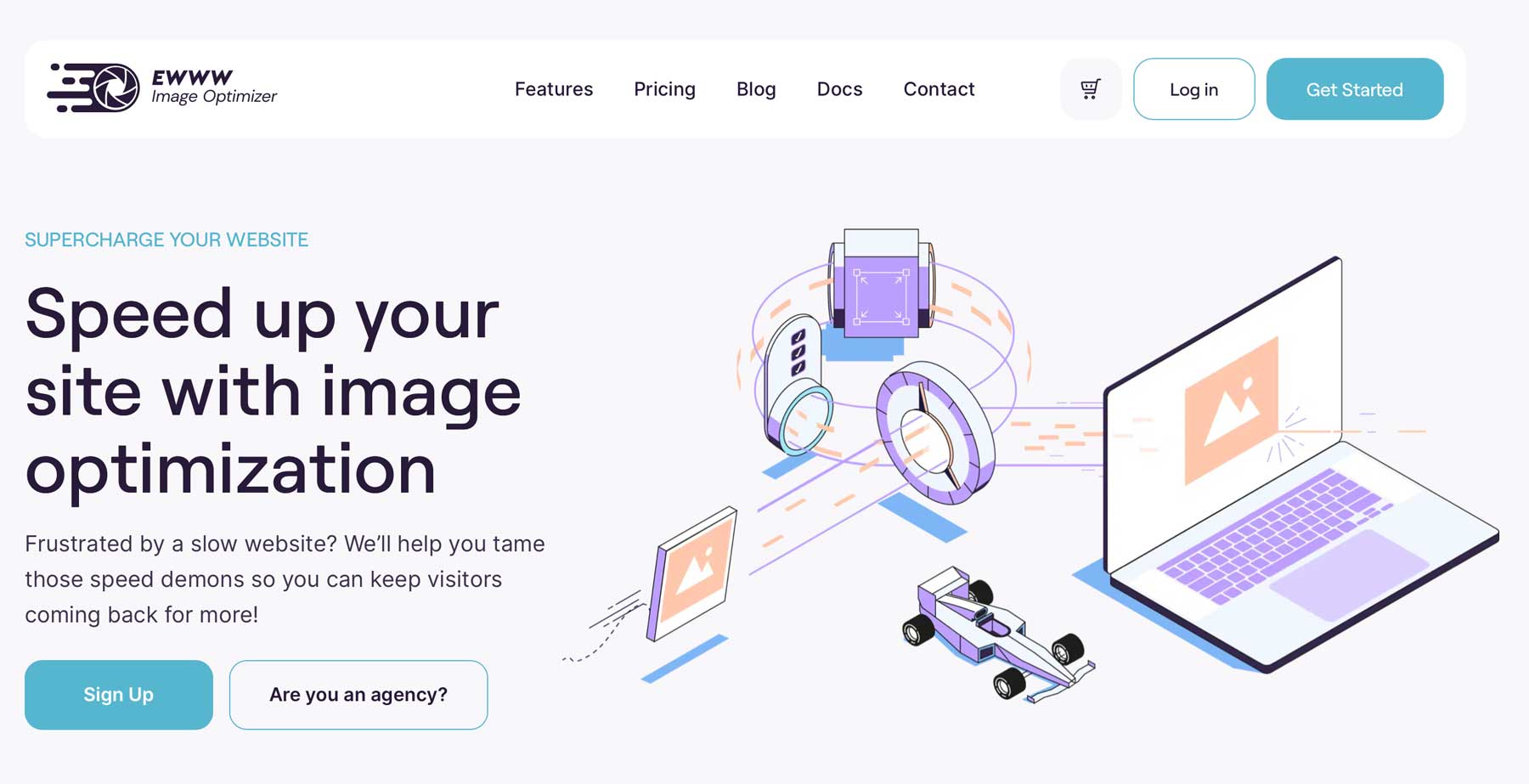 If you want to optimize your website's images, using an image optimization plugin is one of the best ways to do it. While WordPress does have a built-in feature for reducing image file size, it may not be sufficient. To ensure optimal image optimization, we recommend using EWWW Image Optimizer. This plugin automatically resizes images and removes metadata to free up space and speed up your website. Additionally, it includes lazy loading functionality and enables you to convert PNGs and JPGs to WebP.
Key Features for EWWW image optimizer:
Complete control over image quality and compression levels
Reduces file size of existing images
Compresses new uploads automatically
WebP image format support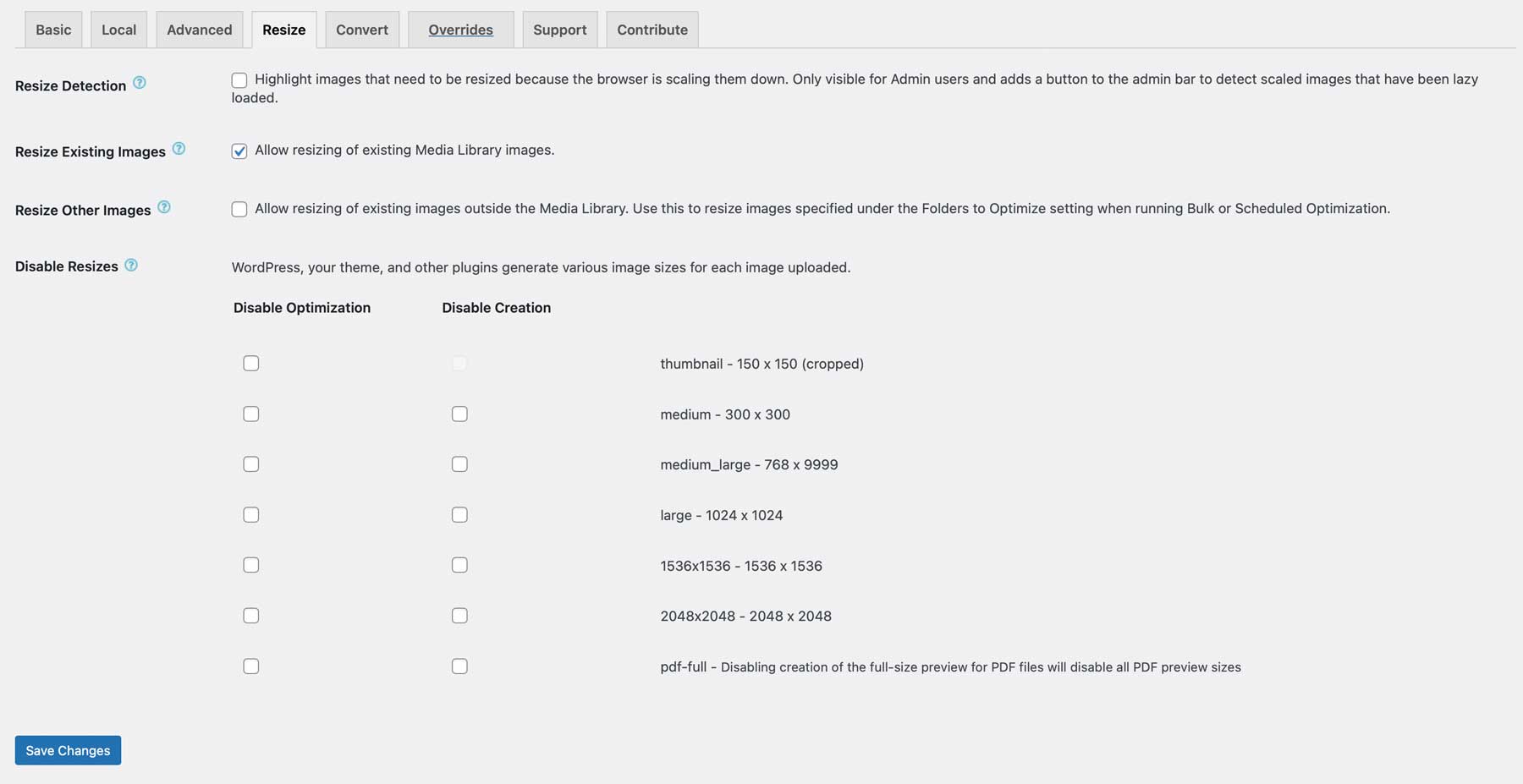 Furthermore, EWWW Image Optimizer empowers you by giving you control over the amount of compression you want for your images. This feature gives you greater flexibility to manage image quality and optimize it to your desired level.
EWWW image optimizer is for you if…
Pricing: Free, with premium plans starting at $7 per month.
4. WP Rocket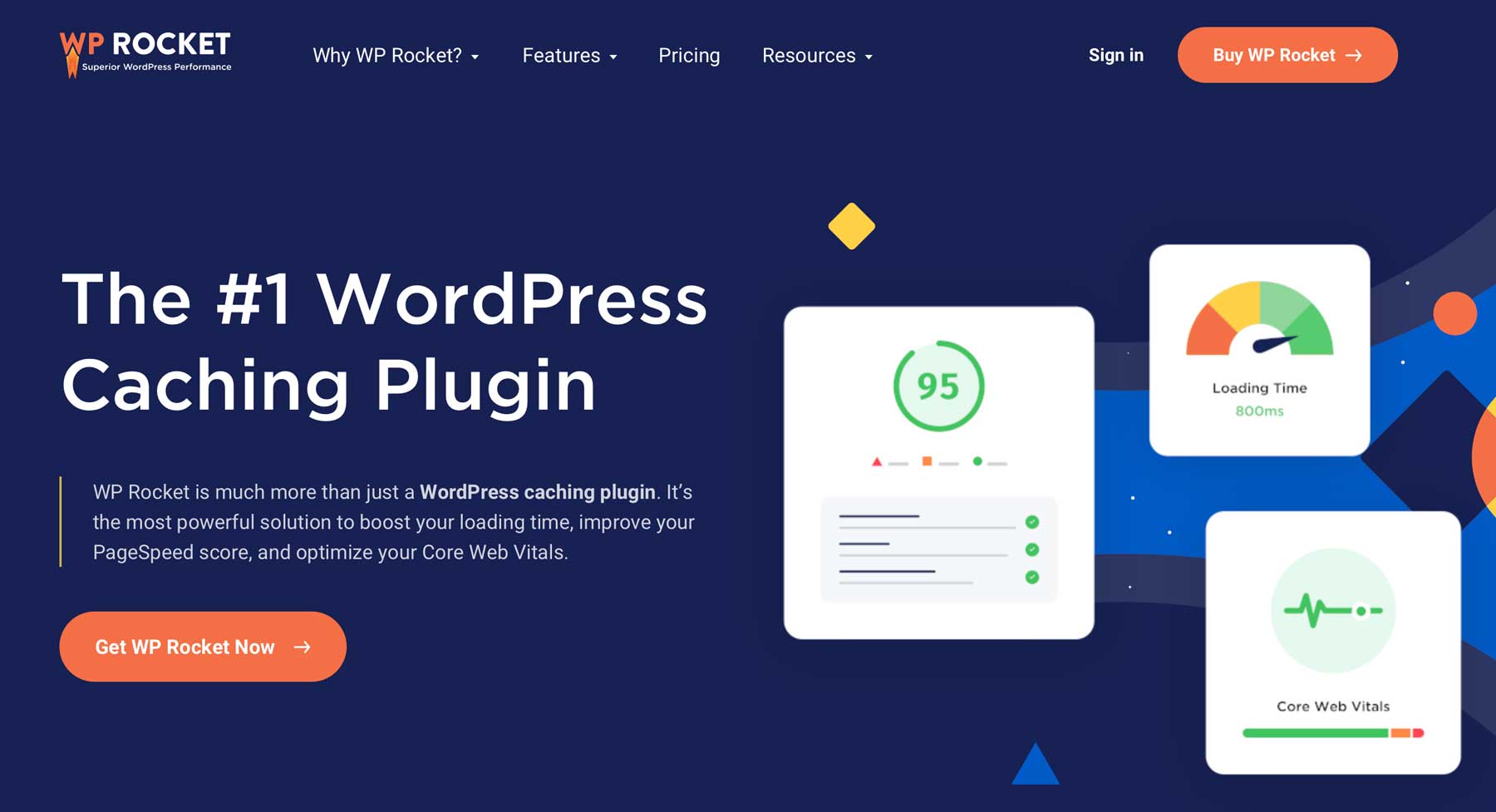 WP Rocket is a user-friendly WordPress cache plugin that can significantly improve website speed and performance. With easy-to-use features such as page caching, browser caching, image optimization, CSS and javascript modification and concatenation, WP Rocket can help website owners improve their website's time to first byte (TTFB) without requiring technical skills or knowledge.
Key Features for WP Rocket:
Browser and page caching, along with GZIP compression
CSS Javascript minification, reducing HTTP requests
Database optimization
Lazy loading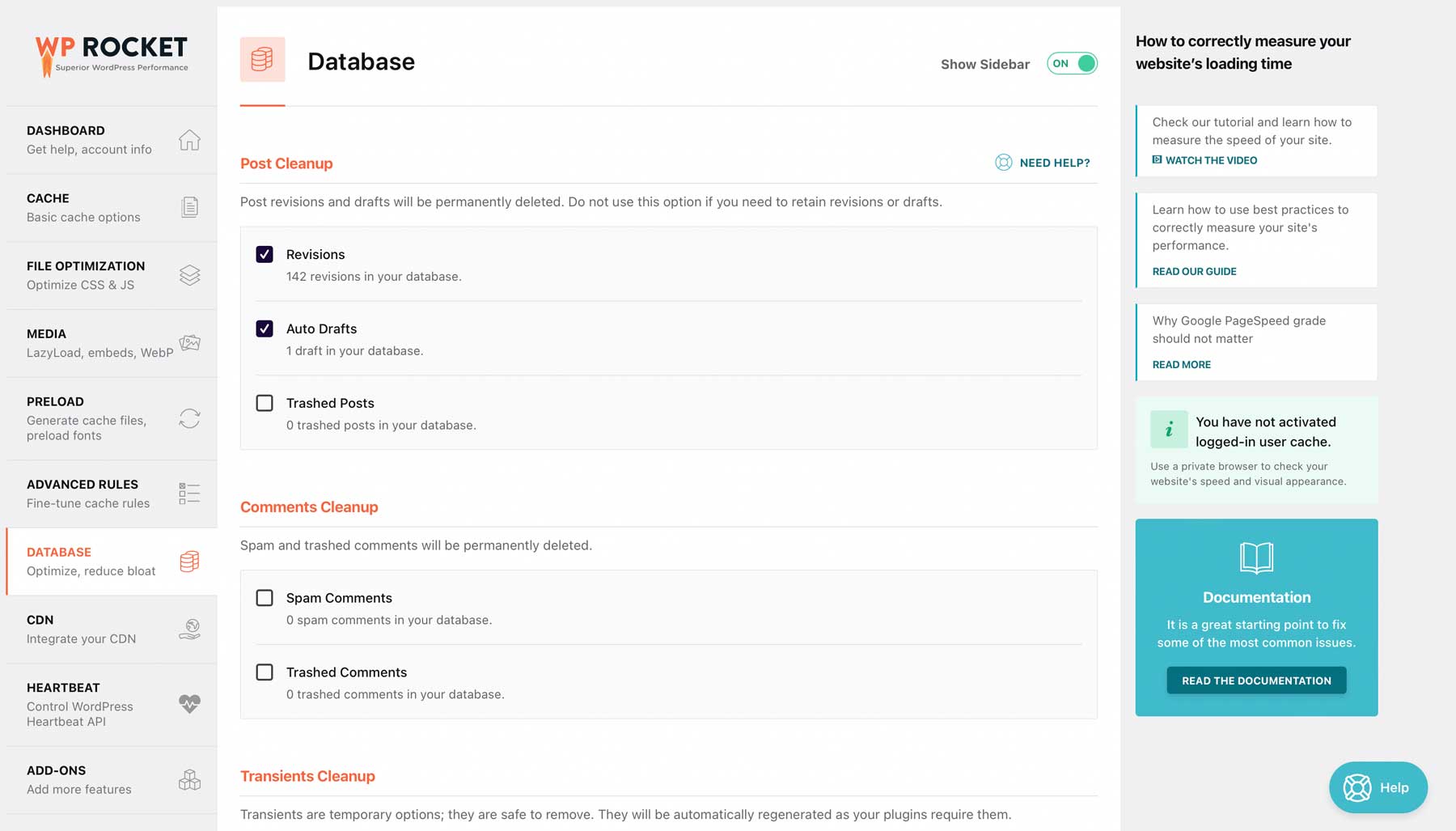 By creating static HTML pages for your website, WP Rocket can serve them to visitors, resulting in faster page load times. It also enables GZIP compression, which reduces the file size of your website files, and lazy loading, which loads images and videos only when a visitor scrolls down to them. WP Rocket also cleans up unnecessary data in your WordPress database, like post revisions, auto drafts, and spam comments, improving website performance overall.
While WP Rocket isn't a free plugin, its ease of use is worth the $59 price tag. Caching plugins can be challenging to configure, making errors easy. However, WP Rocket removes all the learning curves, making it easy for anyone to use. So, if you're looking for a reliable and user-friendly speed and optimization plugin to improve your website's loading times, WP Rocket is worth considering.
WP Rocket is for you if…
You want an easy-to-use, well-rounded caching solution for your website.
You need to speed up your site.
Pricing: Premium licenses start at $59 per year.
5. Divi Builder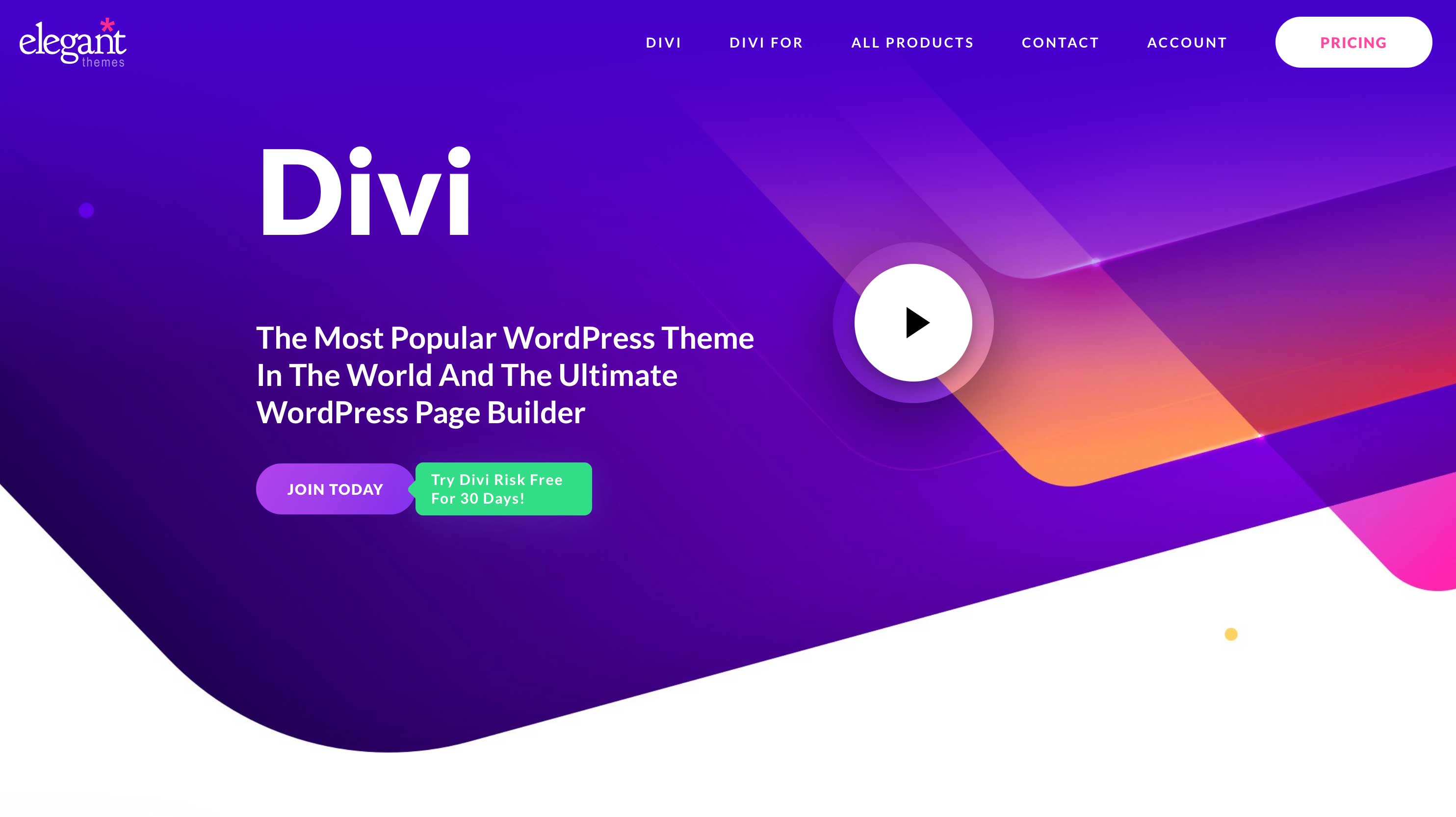 Up next is Divi Builder, one of the best WordPress plugins for creating custom layouts and designs for your website. Users can create pages and post using the plugin with over 200 design modules such as text, images, buttons, sliders, tabs, videos, and more. Modules can be placed on your pages via a no-code, drag-and-drop interface with Divi's front-end Visual Builder.
The Divi Builder also offers advanced features such as the ability to save and reuse layouts, global elements, and provides a variety of pre-made design layouts to get started quickly. Divi Builder functions as an excellent, all-around page builder.
Key Features for Divi Builder:
Drag and drop, no-code Visual Builder
200+ customizable design elements
Theme Builder for custom layouts
2200+ design layouts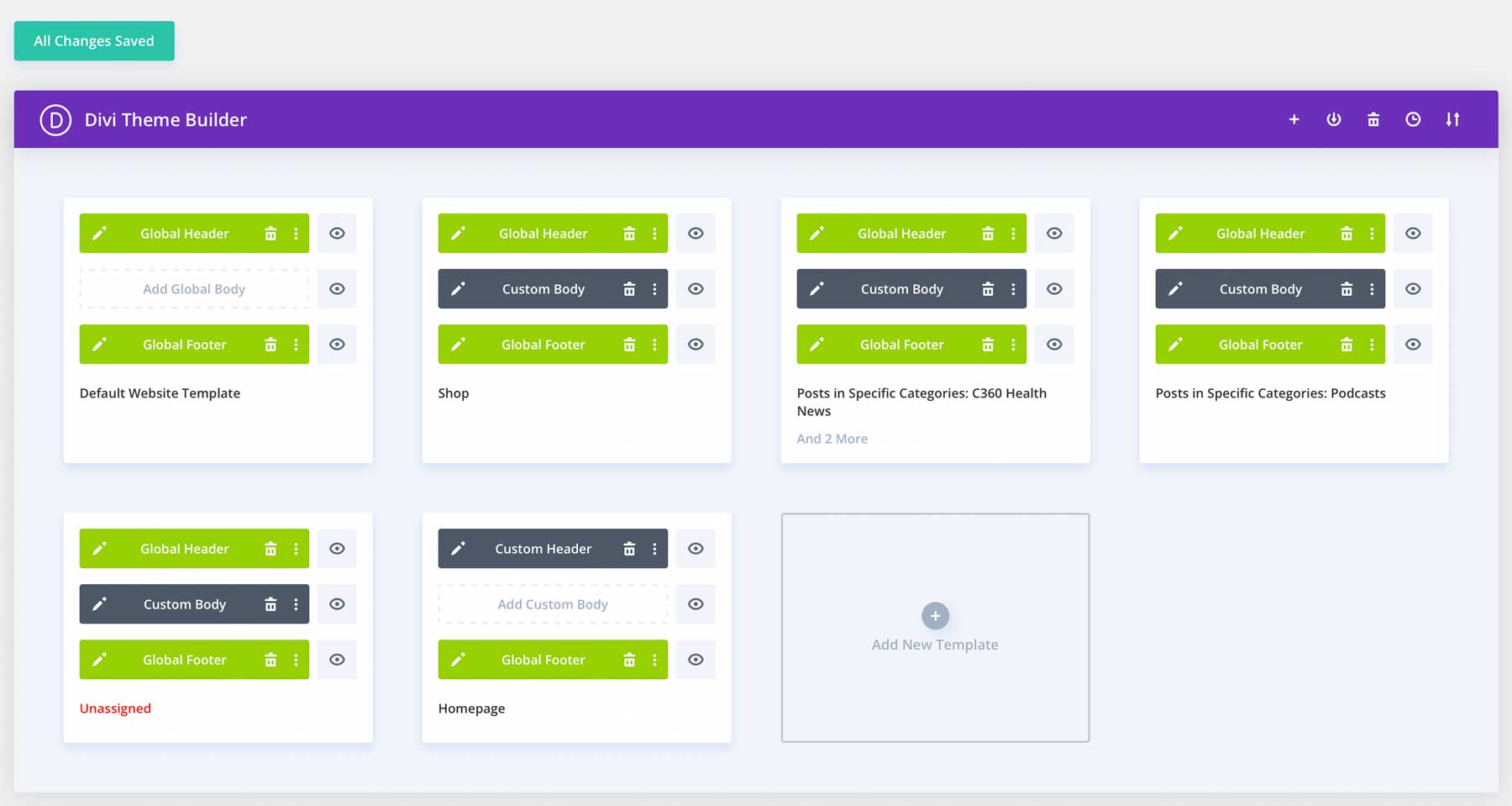 Additional features include the Theme Builder, which enables you to create custom page templates for posts, products, categories, tags, and more. Divi Builder integrates with the best WordPress plugins and can be used within any WordPress theme, making it the most versatile plugin on the market.
Divi Builder is for you if…
You want to create beautiful, functional web pages without coding.
You need a quick way to build a website.
Pricing: Memberships start at $89 per year.
6. WP Forms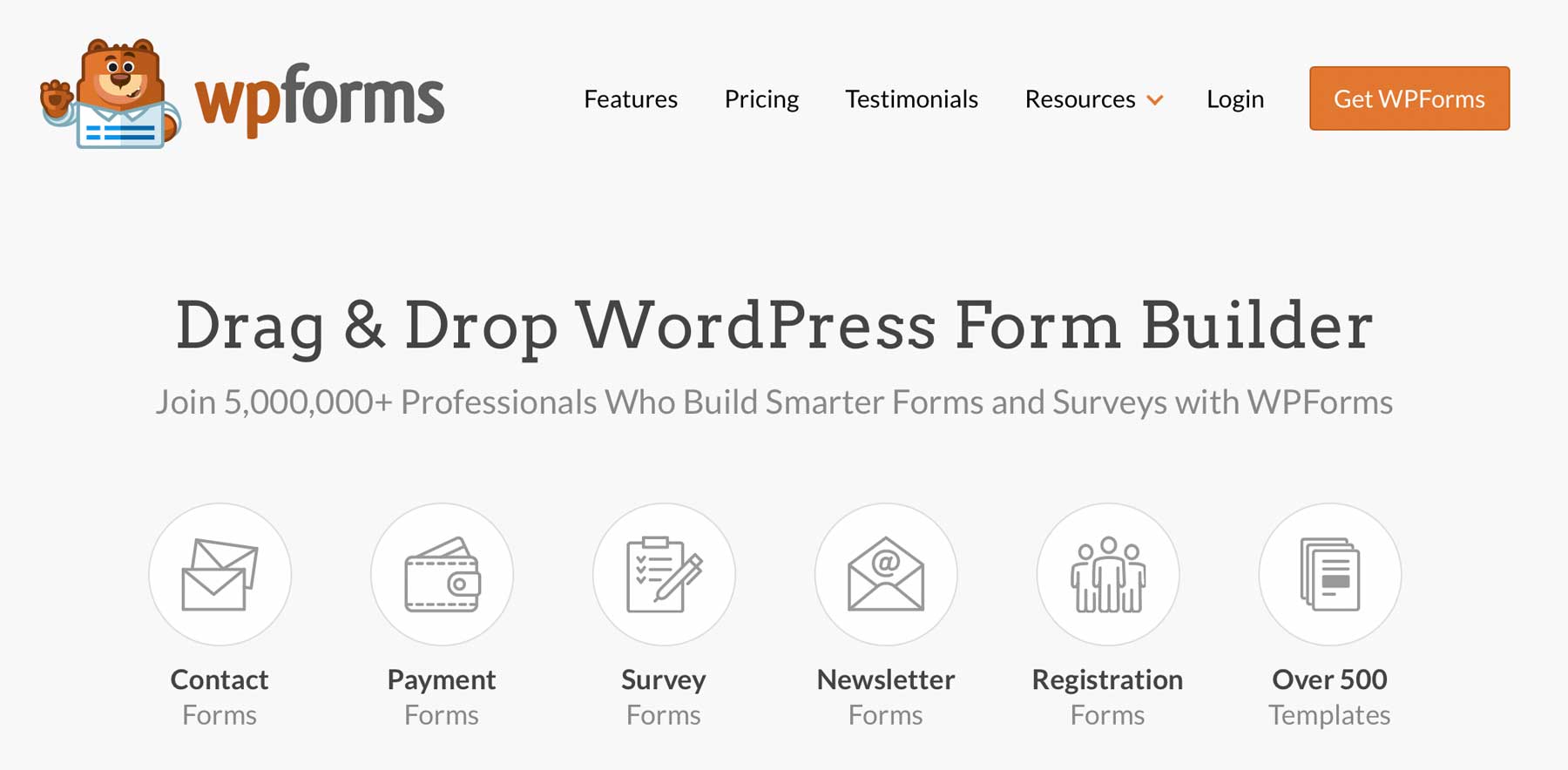 WP Forms, with its simple drag-and-drop interface, 10 form fields, and multiple form templates, is hands down the best form plugin for WordPress. You can build any form you choose with it. In addition to these features, WP Forms comes with conditional logic, geolocation, captcha, and email automation with Constant Contact and Uncanny Automator right out of the box. WP Forms offers multiple payment gateways like Stripe, PayPal, and Square.
Key Features for WP Forms:
Drag and drop interface
Multiple form templates
Conditional logic
Multiple payment gateways
Multi-page forms (pro)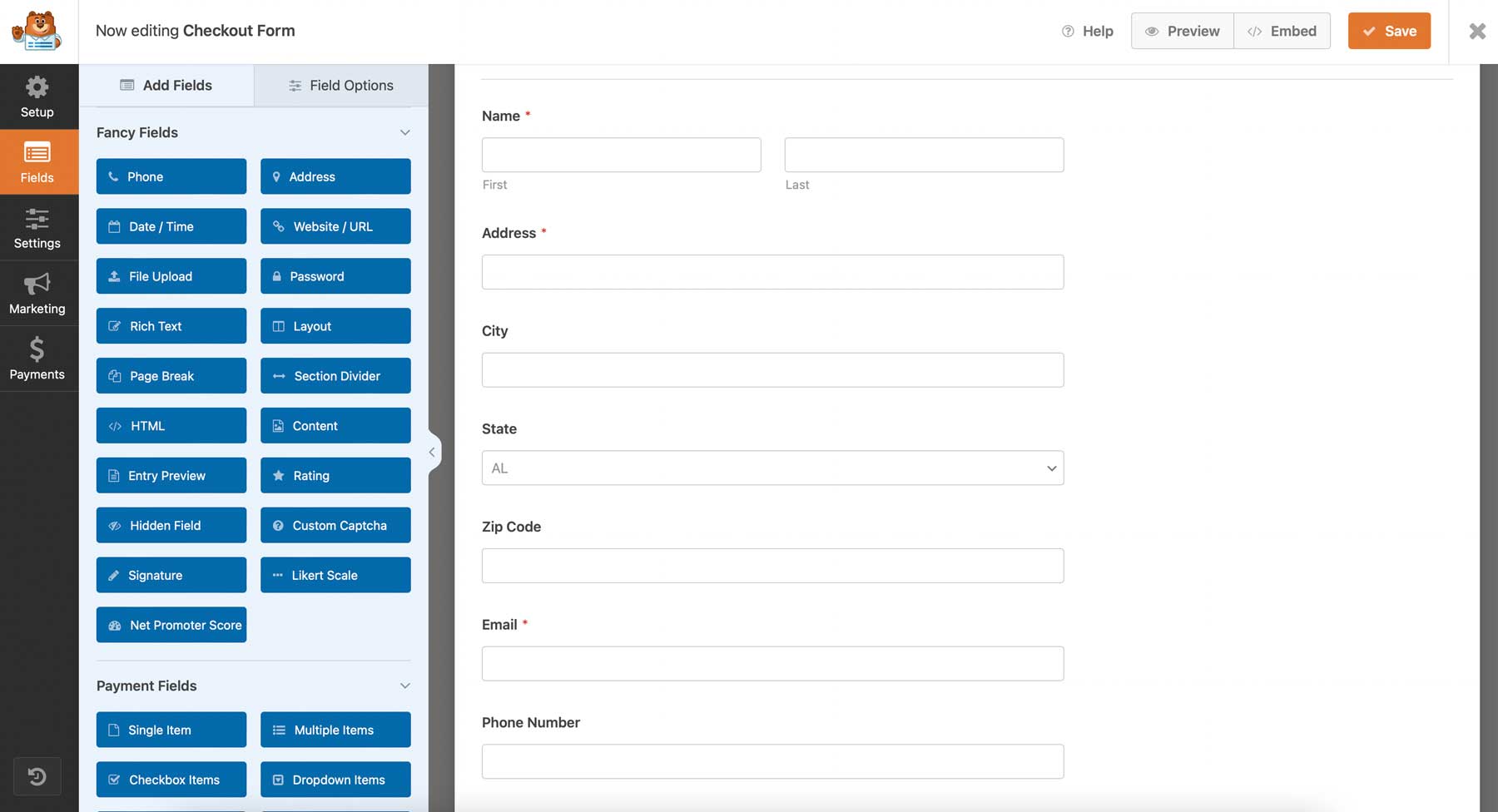 The free version comes with everything you need to build a simple form, but for more complicated multi-page forms, 28 additional fields, and more integrations such as MailChimp, ActiveCampaign, and Sendinblue, you'll need to upgrade.
WP Forms is for you if…
You want a simple drag-and-drop interface
You require an easy way to connect your email automation software
Pricing: Free, with a premium license for $49.50 per year.
7. LoginWP

LoginWP is a popular redirect plugin that allows site owners to redirect users to different pages after logging in or out of your website. With the plugin, you can improve the user experience and streamline the login process for users, as they can be redirected directly to their desired page after logging in. You can also create custom login forms and add custom fields with ProfilePress, as well as custom logos and messages.
Key Features for LoginWP:
Redirect users after login/log out
Create custom redirect rules
Integration with popular WordPress plugins like LearnDash, MemberPress, and WooCommerce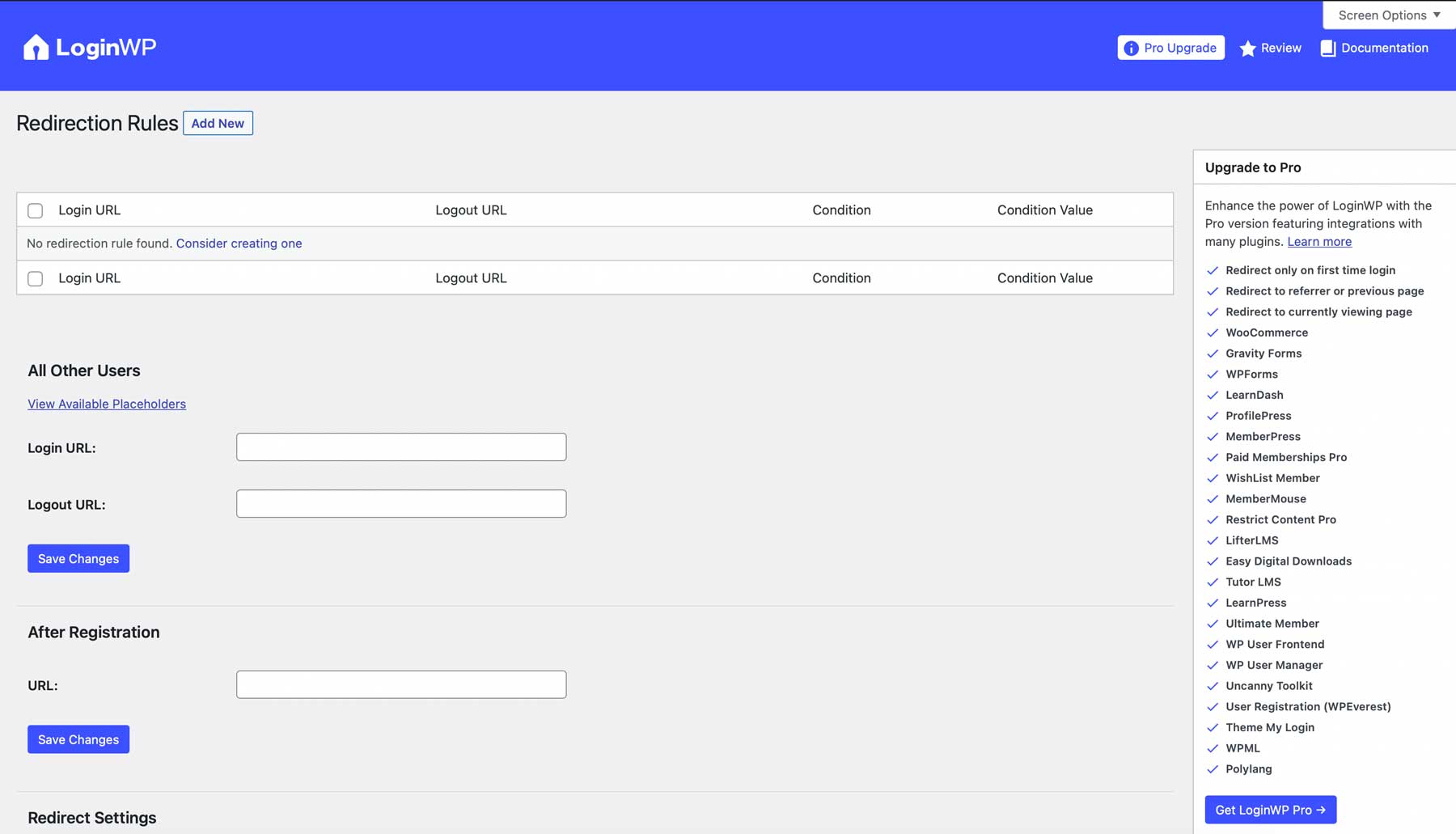 LoginWP offers advanced customization options, including custom login parameters such as redirecting users based on their IP address or to a special page after their first login. The pro version of the plugin integrates with popular WordPress plugins such as LearnDash and MemberPress, allowing users to redirect visitors to specific pages. LoginWP is one of the best WordPress plugins for a streamlined and personalized user experience.
LoginWP is for you if…
You need a simple way to redirect users after logging in or out.
You must set up custom redirect rules for a membership or learning management system(LMS).
Pricing: Free, with premium licenses starting at $49 per year.
8. MonsterInsights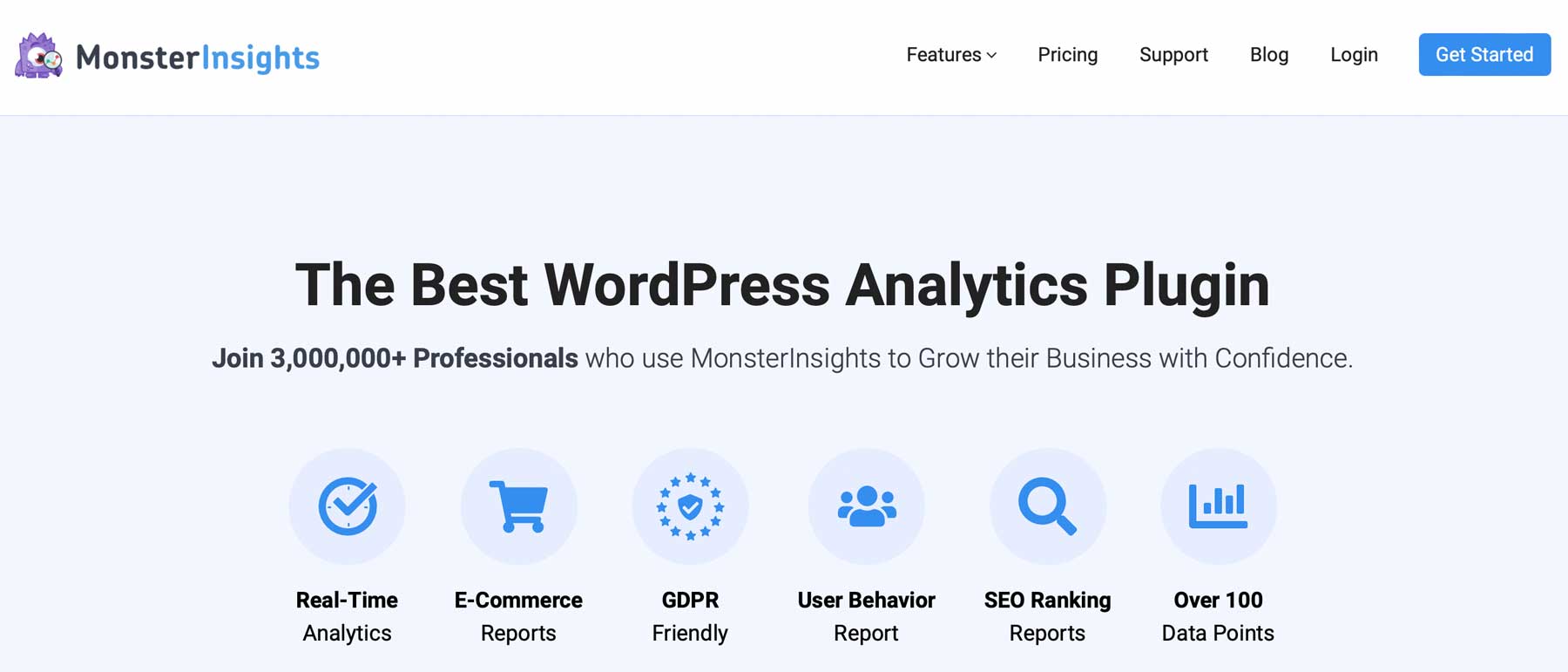 Next on our list of best WordPress plugins is MonsterInsights, the top-rated Google Analytics plugin available. It seamlessly integrates with WordPress, providing a user-friendly interface with reports on traffic sources, top-performing posts, site visits, and phone/email click tracking. It also includes form conversion tracking and many other features to help you understand your website's performance.
Key Features for MonsterInsights:
Simple reports dashboard
Event tracking
Track 404 errors
Detail demographic reports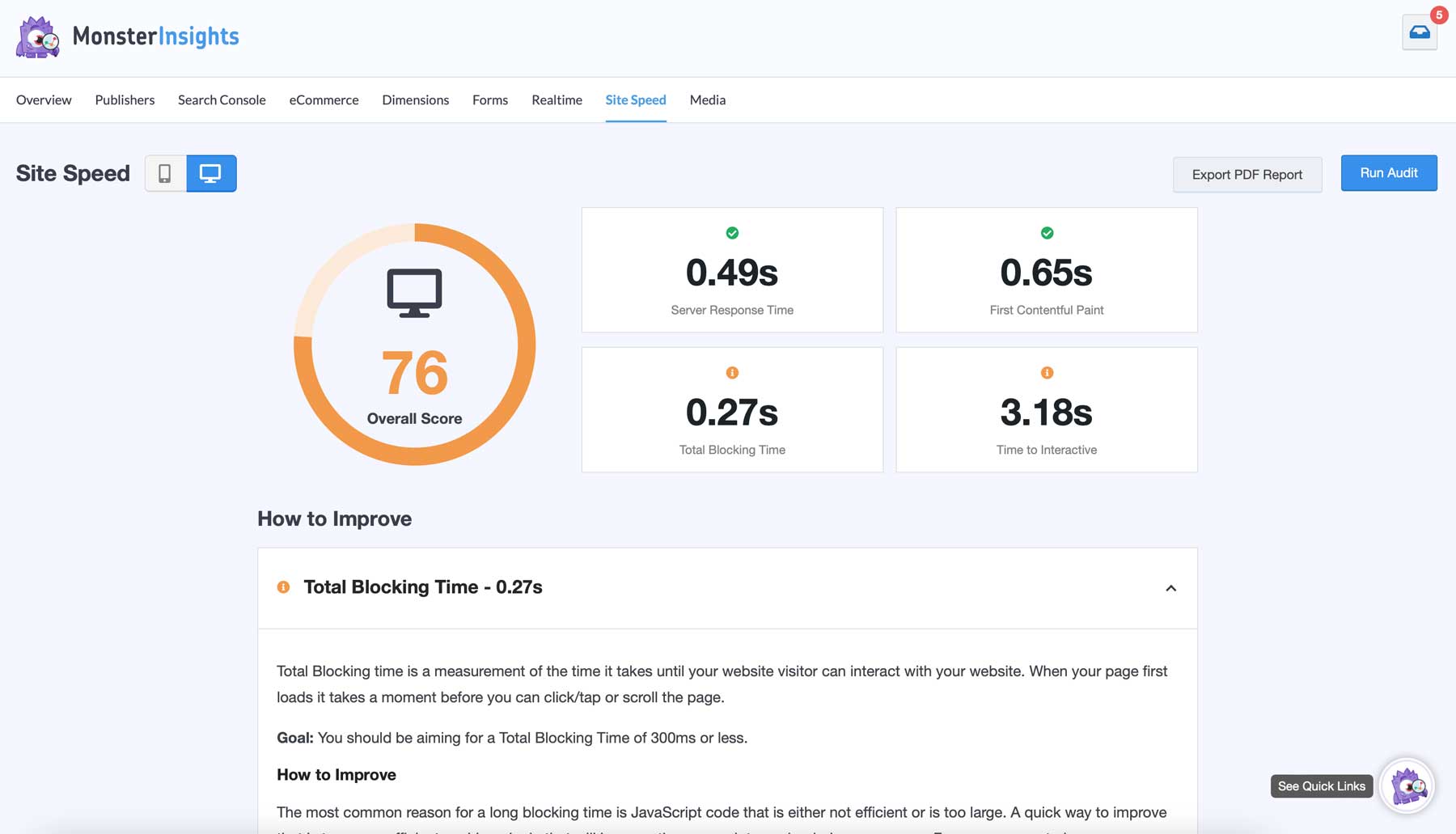 In addition to providing website analytics, MonsterInsights offers insights into your website's performance speed for desktop and mobile devices. This can help identify any issues and provide tips for fixing them.
MonsterInsights is for you if…
You want access to Google Analytics in the WordPress dashboard
You want to track specific events, such as phone and email links
Pricing: Free, with premium licenses starting at $99.50 per year.
9. iThemes Security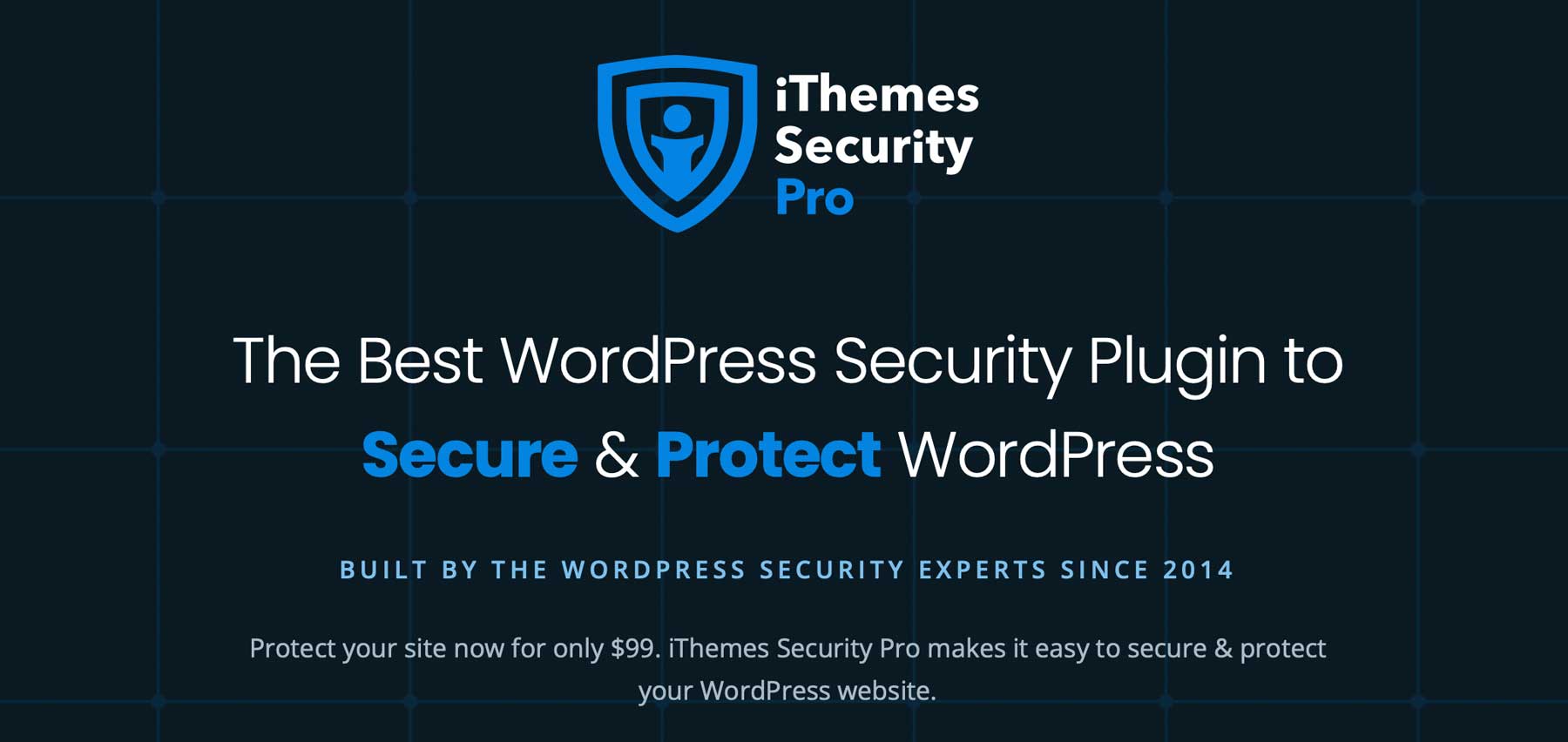 A good security plugin is essential to keeping your WordPress site safe and secure for your users. iThemes Security is one of the best WordPress plugins for this purpose, protecting your site against hackers, brute force, and other attacks. Its configuration is easy, and most users can get set up in just a few minutes using the configuration wizard.
Key Features for iThemes Security:
Force users to have strong passwords
Two-factor authentication
Automated site scans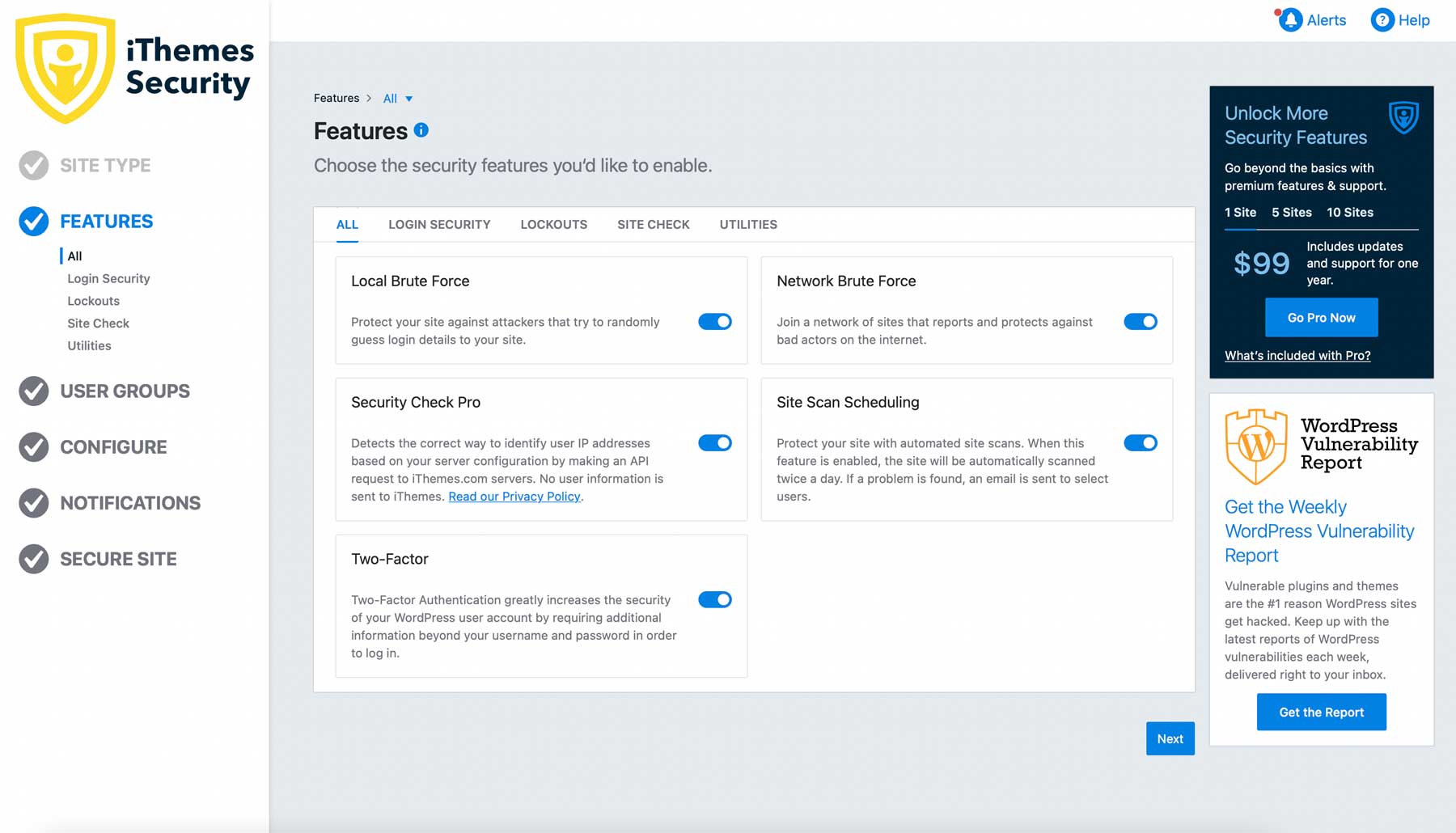 iThemes Security provides customized security options based on your website type. Whether it's an eCommerce, network, non-profit, blog, portfolio, or brochure site, iThemes Security offers tailored protection to fit your specific needs. This way, you get the necessary level of security without any unnecessary extra weight that may come with features you don't need.
However, if you require a higher level of protection, iThemes Security's premium license is your solution. This license provides automatic vulnerability patching, malware and site error checks, automatic plugin, and theme updates, identification of attempted login devices, and the ability to export your configuration to other sites you own.
iThemes Security is for you if…
You need a robust security solution for your WordPress site.
You want a customized setup for your blog.
Pricing: Free, with premium licenses starting at $99 annually.
10. WP Optimize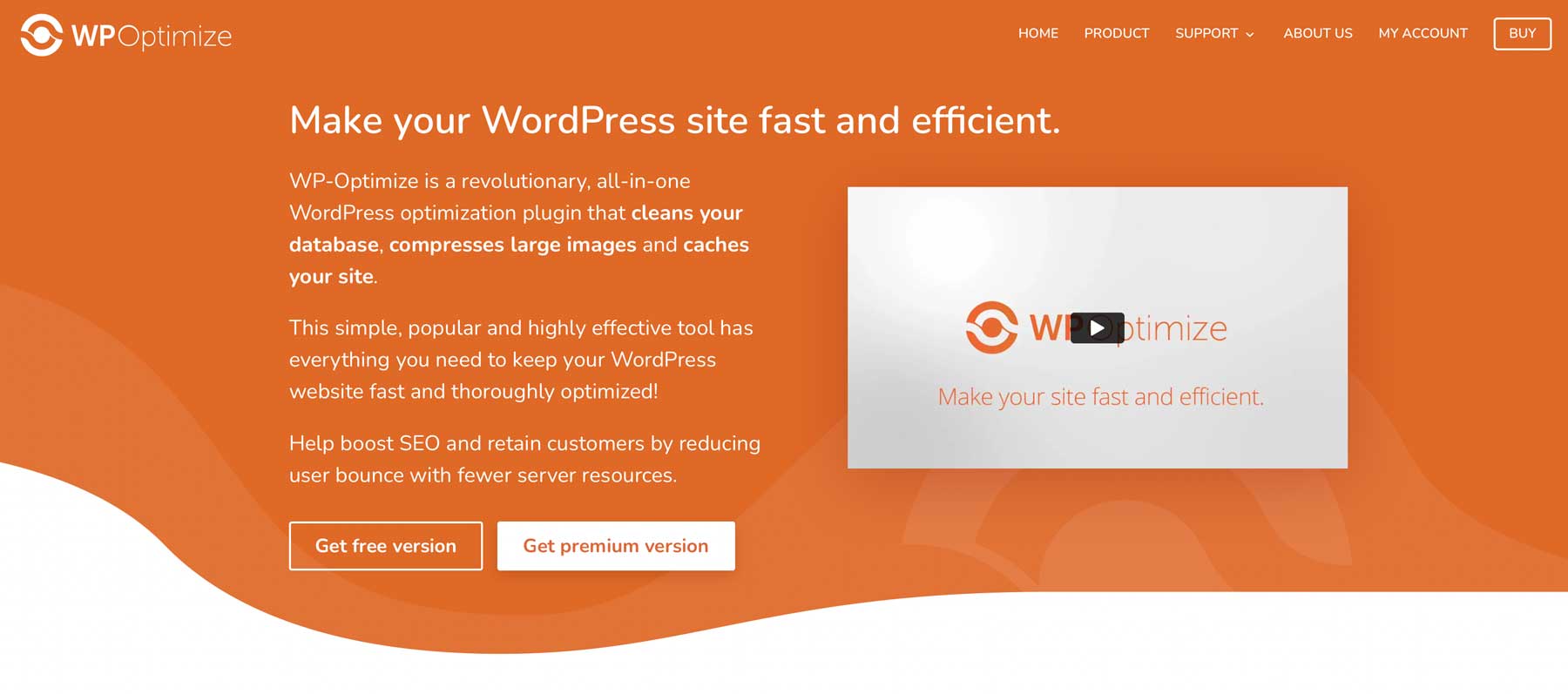 Up next is the top database optimization plugin, WP Optimize. This powerful tool is designed to help website owners enhance their website's performance by optimizing their database and removing unnecessary data. WP-Optimize can perform many tasks, including removing comments and post revisions, optimizing database tables, and compressing images.
Key Features for WP Optimize:
Schedule database cleanups
Minify CSS and Javascript
Remove unwanted comments, including spam
Optimize database tables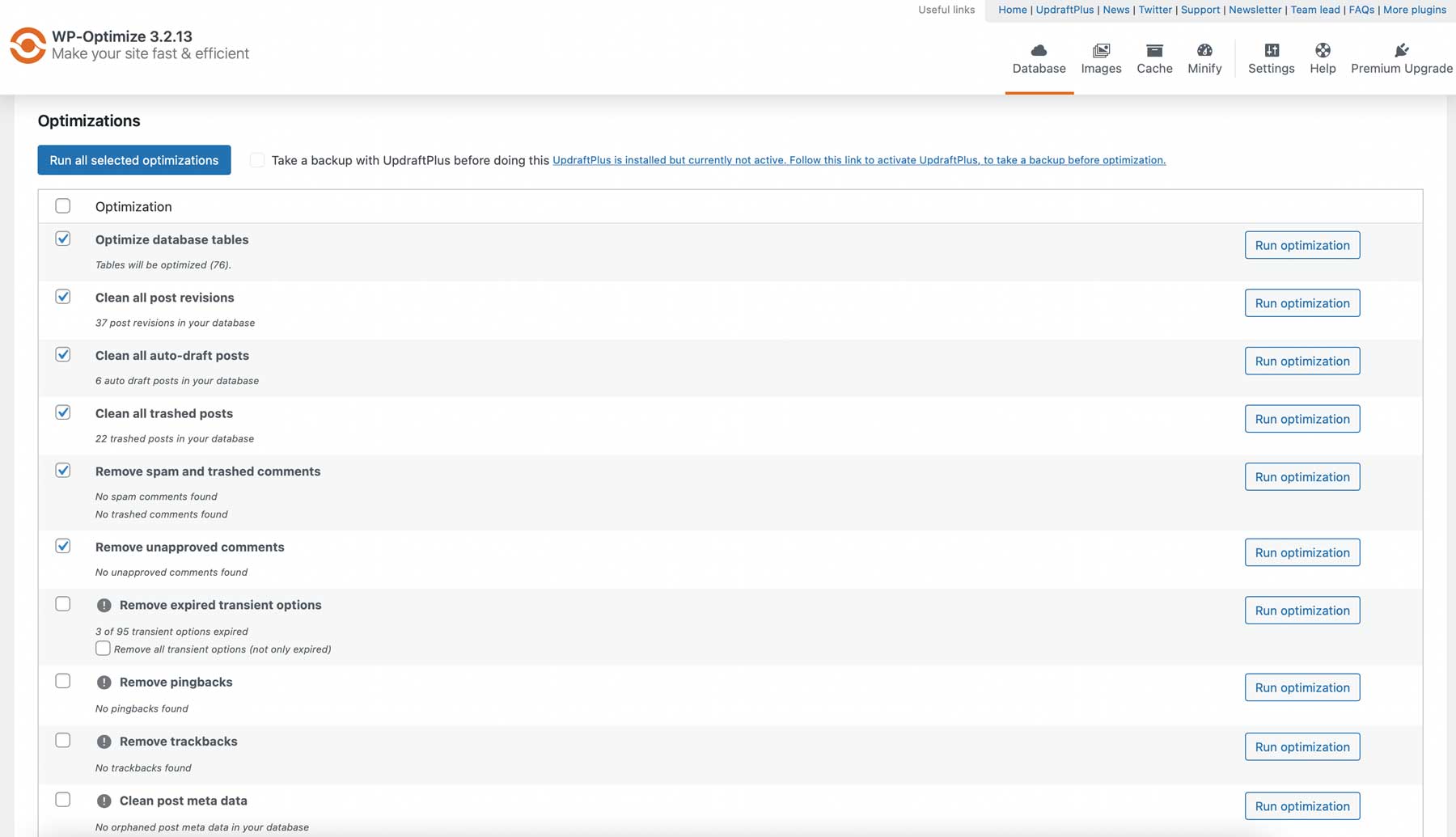 In addition, WP Optimize offers advanced features that allow you to schedule regular database cleanups, cache your site's pages and posts, lazy load images, and minify CSS, JS, and HTML. These caching features improve your website's speed and performance, ensuring visitors have a fast browsing experience.
WP Optimize is for you if…
You need both a database optimization tool and caching plugin.
Your site could use a speed boost.
Pricing: Free, with premium licenses starting at $49 per year.
11. CleanTalk

Up next is CleanTalk, one of the best WordPress plugins for spam control. It uses various techniques to quickly identify and block spam, including content analysis, IP analysis, and user behavior analysis. Like other spam plugins, it checks comments and registrations against its database of known spammers. It provides real-time protection against new and emerging spamming techniques.
Key Features for CleanTalk:
Easy setup
No Captchas or other user verification methods
Real-time spam protection
Detailed reports on spam activity
One of the standout features of CleanTalk is its ability to encode contact data, making it inaccessible to spam crawlers. This means that email addresses and other sensitive information included in your website's content will remain protected.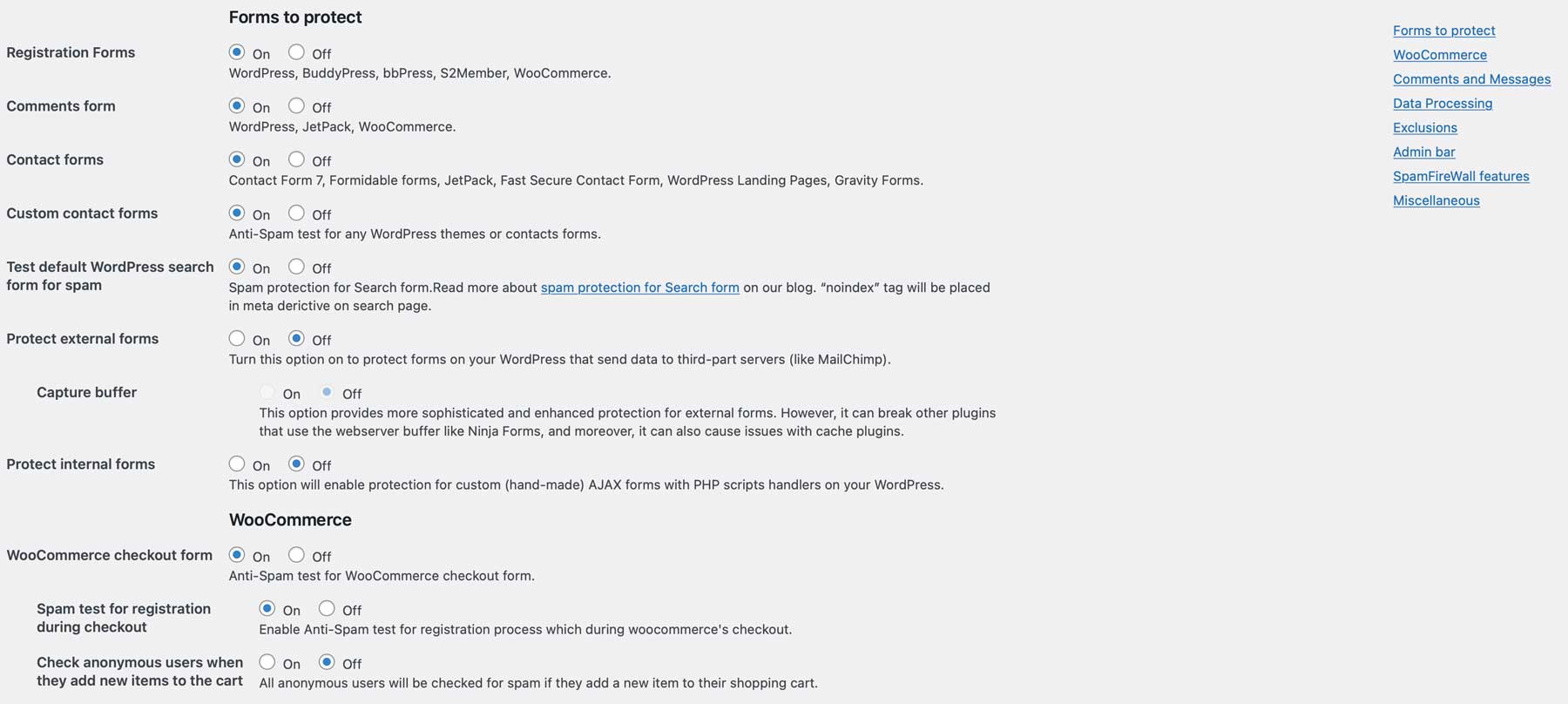 CleanTalk is the best WordPress plugin for controlling spam in all forms on your website, including registration, comment, and contact forms. It also works seamlessly with third-party opt-in forms like Mailchimp signups, ensuring your website stays spam-free.
CleanTalk is for you if…
You need a comprehensive spam control plugin.
You want to be able to protect all types of forms on your site.
Pricing: Free, with premium plans starting at $12 per year.
12. Blubrry PowerPress

Blubrry is the perfect solution for turning your WordPress site into a powerful podcasting platform. This comprehensive plugin comes packed with features that make podcasting a breeze. With built-in SEO settings, including schema and episode metadata, you can easily optimize your podcast for search engines. You can also customize your RSS feed prefixes for greater control over your podcast's presentation. And with a range of podcast players, you can tailor the listening experience to suit your audience's needs.
Key Features for Blubrry PowerPress:
Host podcast episodes in WordPress
Get insight into podcast statistics
Built-in SEO tools
Multiple audio and video formats supported
Subscribe tools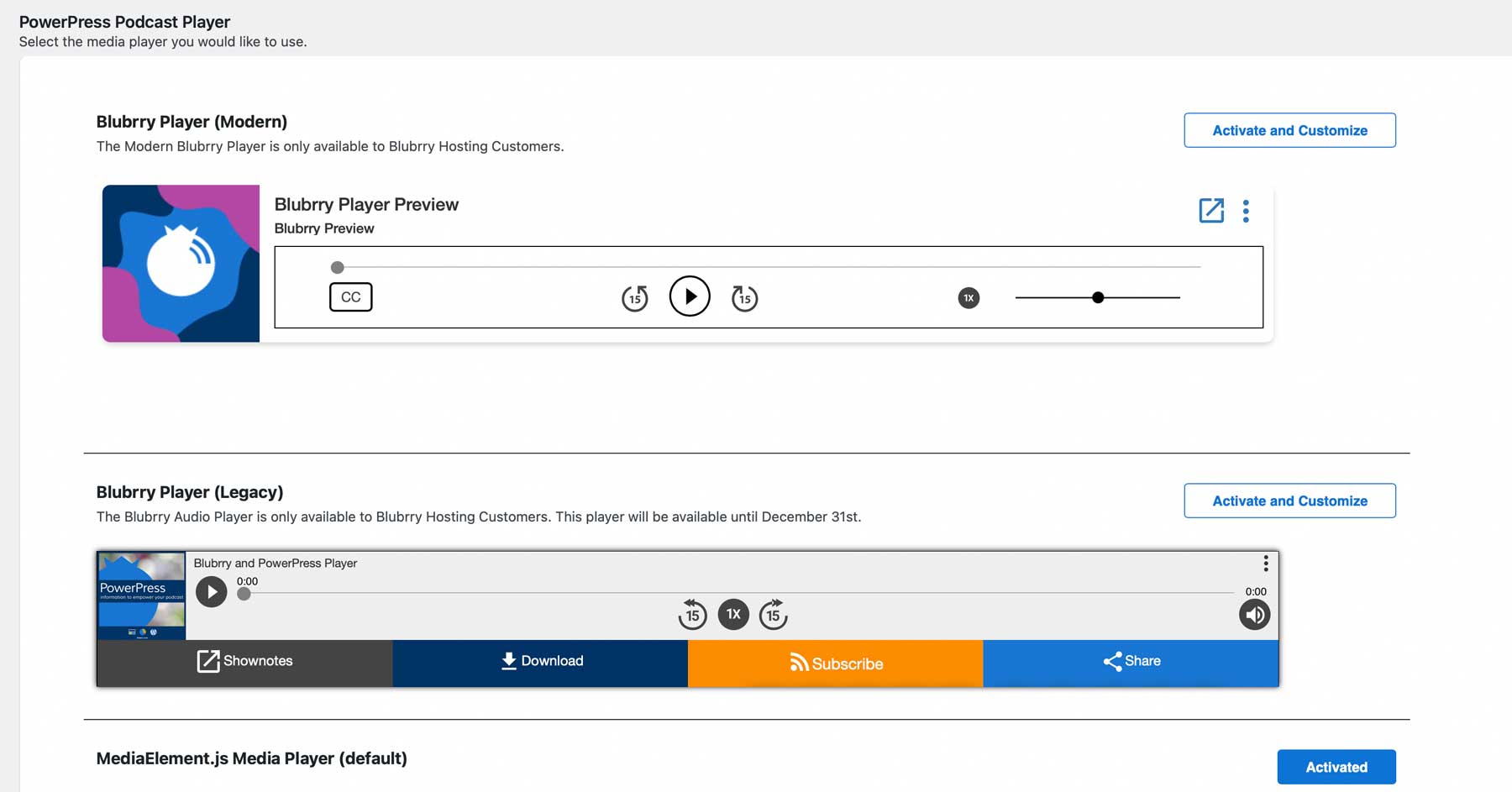 Whether you prefer a simple player or one that allows your visitors to download episodes, see show notes, or subscribe to services, Blubrry has you covered. Additionally, you can feature videos locally or on your Blubrry or YouTube account, all within their dedicated video player. With Blubrry, you'll have everything you need to create and promote your podcast in one convenient package.
Blubrry PowerPress is for you if…
You need an easy way to host podcasts on your WordPress website.
Tracking your podcast's performance is a must.
Pricing: Free, with premium licenses starting at $12 monthly.
13. Advanced Ads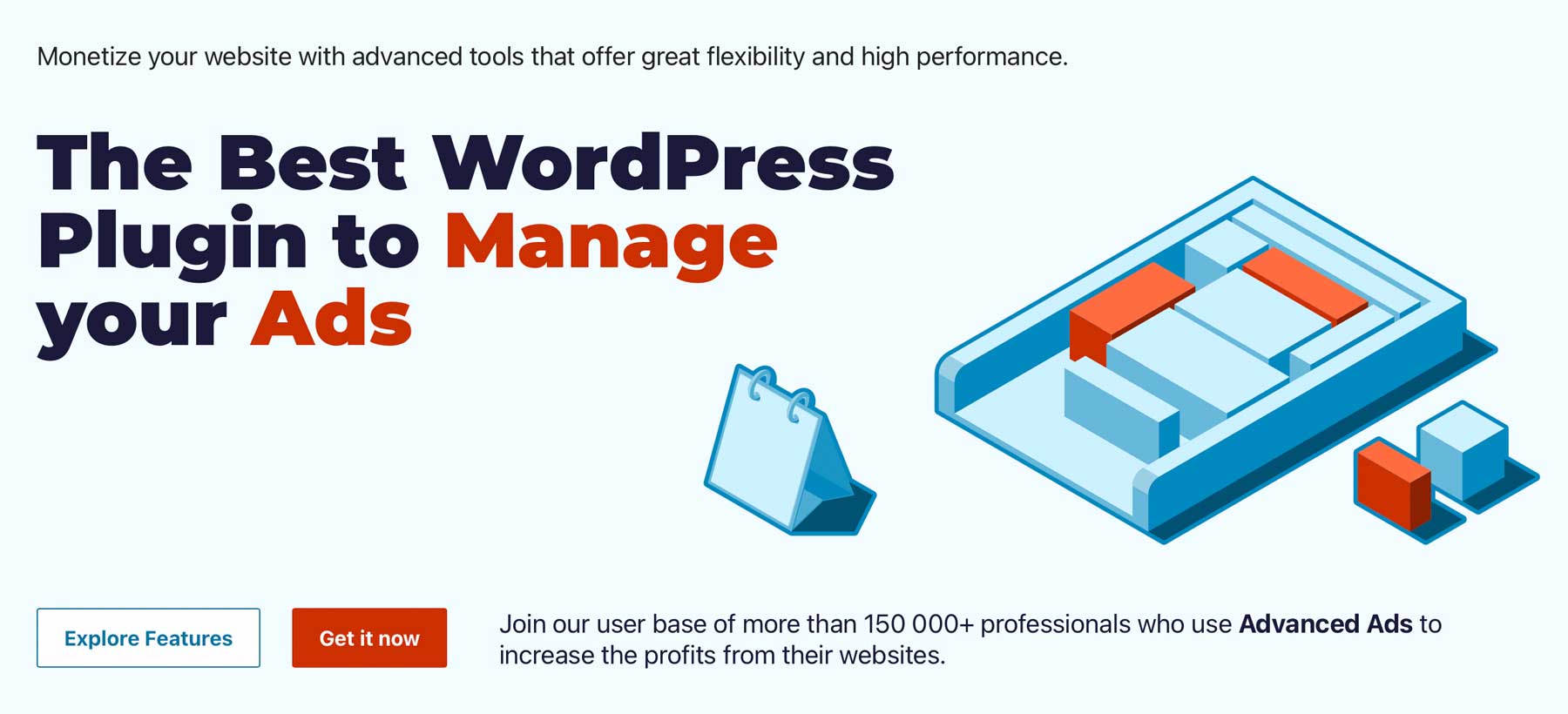 Our next addition to our best WordPress plugins list allows you to effortlessly insert ads from platforms like Google AdSense, Google Ad Manager, media.net, and Amazon ads. Advanced Ads simplifies the ad placement process on your WordPress site by automatically detecting and choosing the best spot for maximum visibility.
Key Features for Advanced Ads:
Works with multiple outlets
Various placement option
Easy start wizard
Custom display conditions
It's a breeze to create your first ad with Advanced Ads. The straightforward start wizard prompts you to select the placement location and the type of ad you wish to showcase. Moreover, you can set display conditions – whether to display the ad on all pages or specific ones or even target specific groups of people.
Advanced Ads is for you if…
You need an easy way to embed Google ads on your website.
You want to choose the placement for your ads.
Pricing: Free, with premium licenses starting at €49 per year.
14. Pretty Links

Next, Pretty Links is a popular affiliate marketing plugin for WordPress that allows users to create custom, branded links for their websites. These links are often shorter and more memorable than the original URLs, making them easier to share on social media. They are part of a good marketing strategy to grow your business.
Key Features for Pretty Links:
Makes links more attractive
Easy to use
Google Analytics integration
Link tracking and management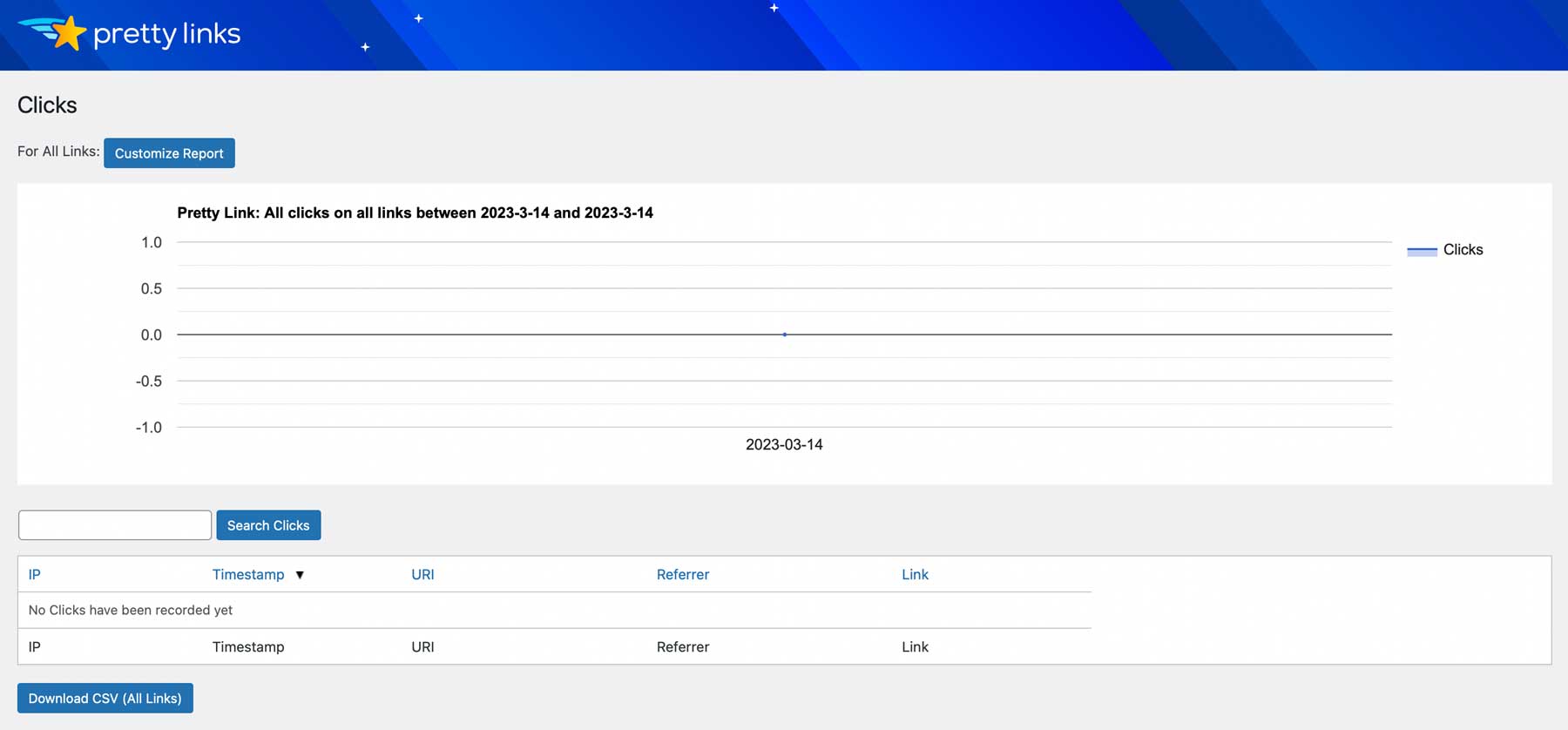 Pretty Links also offers link tracking and management features in the WordPress dashboard, allowing users to monitor clicks and other Google Analytics statistics related to their links. This can help measure a marketing campaign's effectiveness or track a particular page's success on a website. However, you'll need to upgrade to the pro version to get access to reporting features.
Pretty Links is for you if…
You want to customize affiliate links.
You need the ability to track links for effectiveness.
Pricing: Free, with premium licenses starting at $99.50 per year.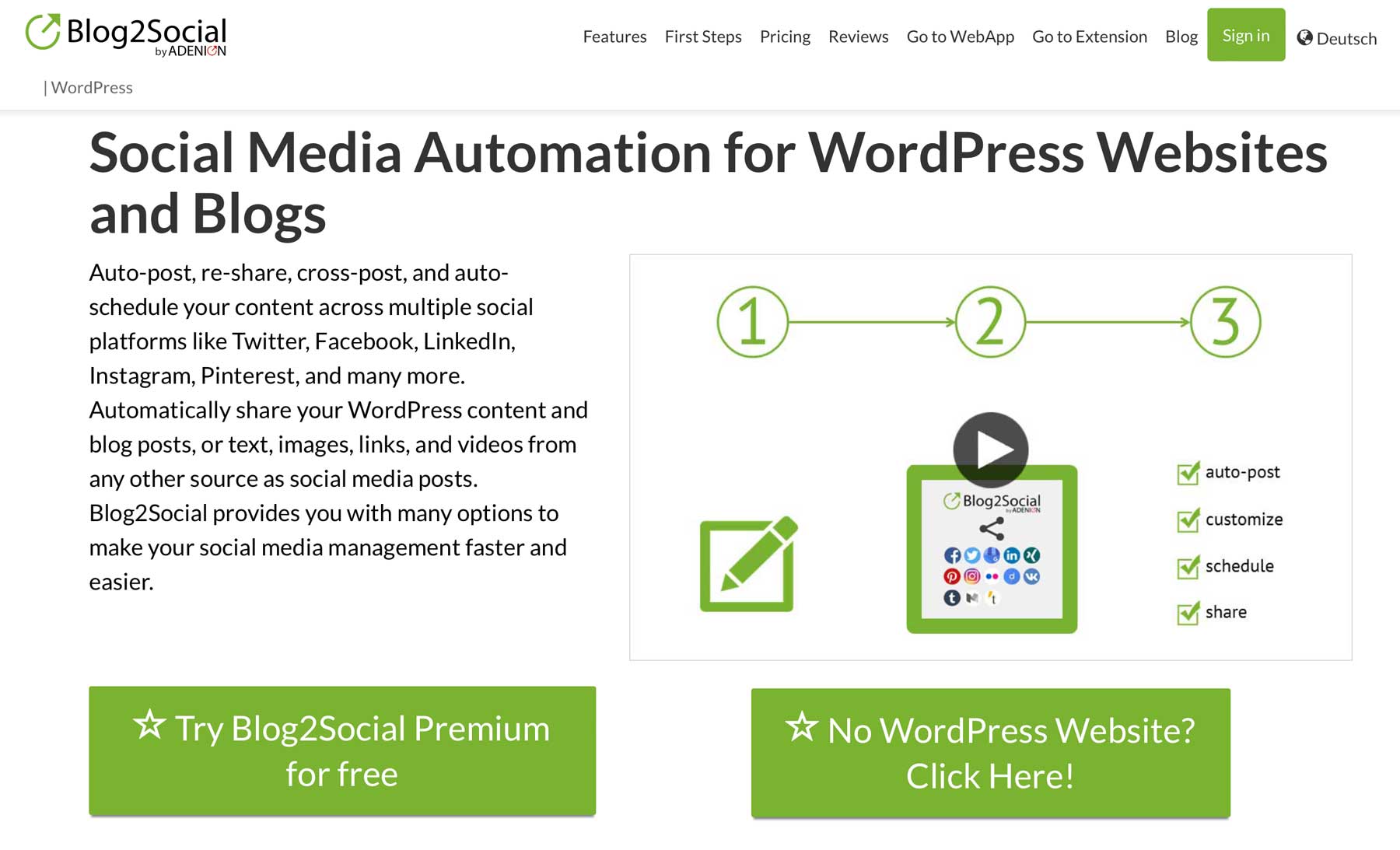 If you're looking to publish your content across both WordPress and social media efficiently, Blog2Social is the perfect plugin for you. This amazing social media plugin allows you to connect your social media platforms and schedule your WordPress posts to appear on networks like Facebook, Twitter, Instagram, Pinterest, and LinkedIn. With Blog2Social, you can easily streamline your content creation process and reach your audience across multiple platforms.
Key Features for Blog2Social:
Schedule WordPress posts to social media platforms
Auto-post capabilities
Re-share posts
Social sharing calendar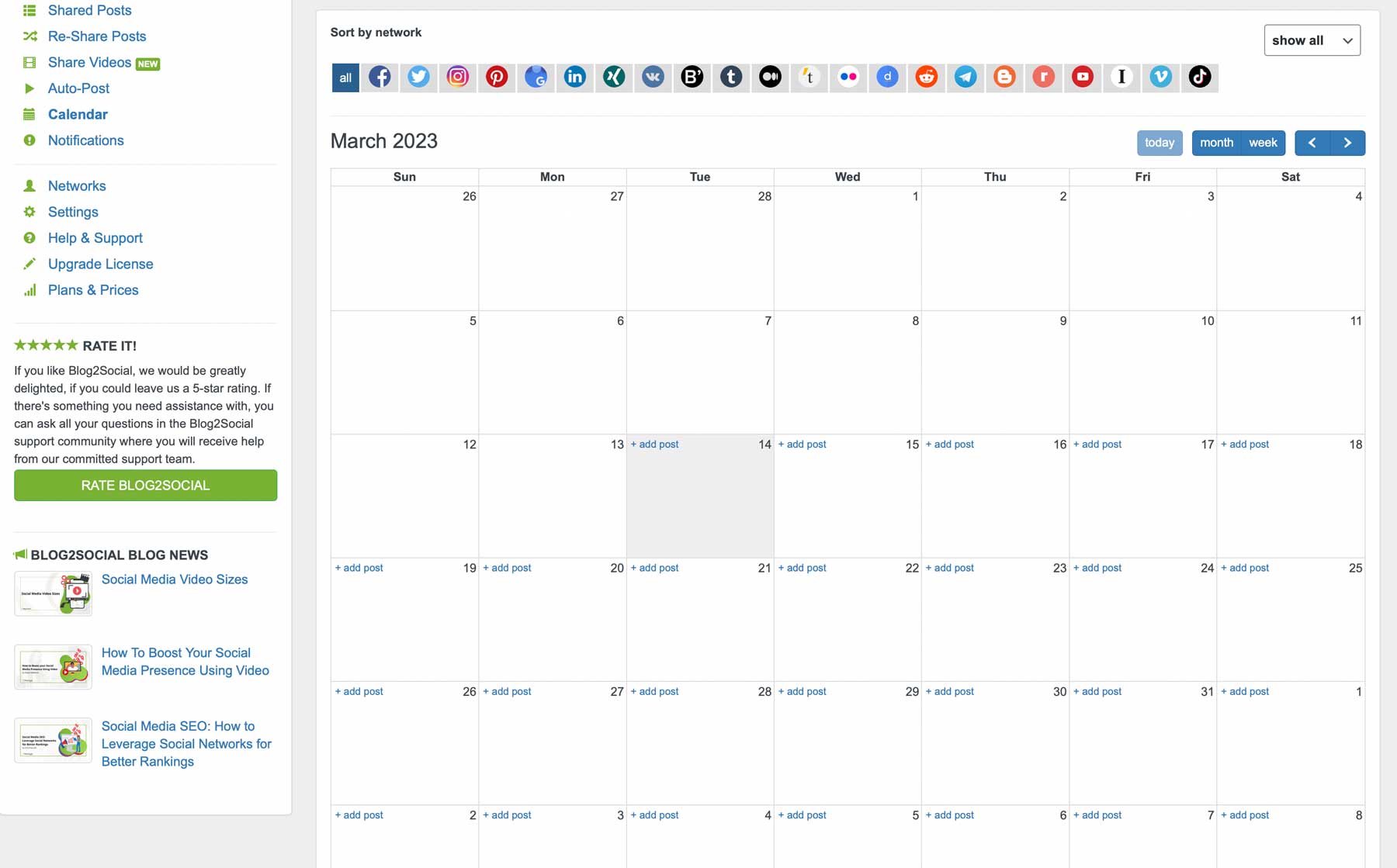 Suppose you're looking for a way to plan and organize your social media content easily. In that case, Blog2Social's social calendar is a powerful tool that allows you to schedule your posts to be published on specific dates and times. This feature is crucial for any effective omnichannel marketing strategy and can save you a lot of time and effort. However, it's important to note that the social calendar feature is only available with a premium license.
Blog2Social is for you if…
You want an easy way to share WordPress posts on social media.
You are looking for ways to save time in managing multiple outlets.
Pricing: Free, with premium plans starting at $7 per month (billed annually).

Looking to integrate your Facebook profile into your WordPress site? Look no further than Social Post Feed, our next entry on our list of best WordPress plugins. This powerful Facebook plugin allows you to display your Facebook feeds directly on your website, whether from pages or groups.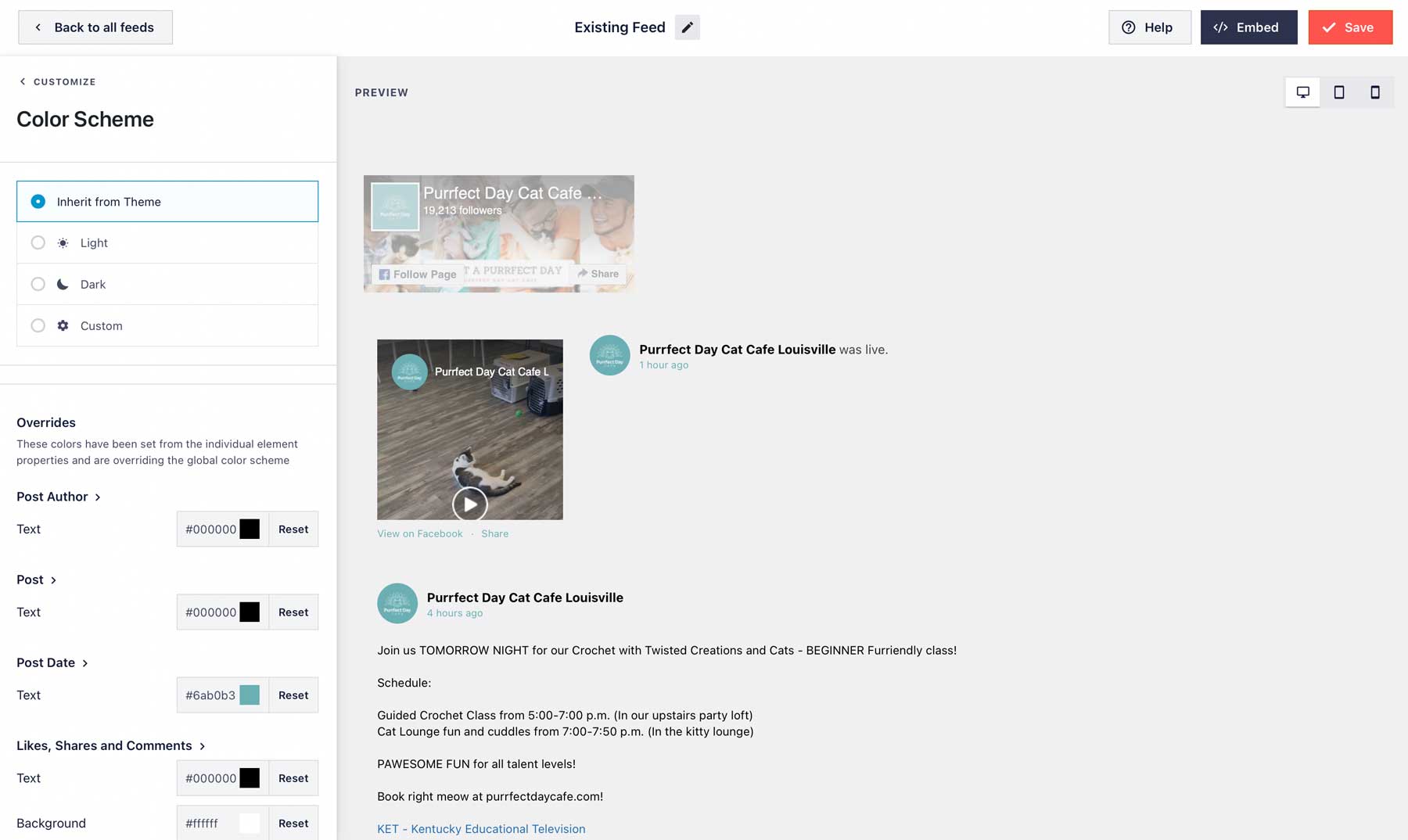 With Social Post Feed, you can create unlimited feeds across your website, allowing users to like posts. And, if users want to leave a comment, they'll be redirected to Facebook. Plus, you have many customization options to change the feed display type, adjust colors, and more.
Key Features for Social Post Feed:
Embed Facebook feed on WordPress
Multiple display and feed options
No iframes, which helps with SEO
Display pages or groups in a feed
One of the best things about Social Post Feed is that it helps with SEO by not using iframes. Search engines can crawl the posts on your website, significantly boosting your content. So, if you're looking for an easy way to integrate your Facebook profile into your WordPress site, Social Post Feed is worth checking out.
Social Post Feed is for you if…
You want to integrate Facebook into your WordPress website.
You'd like to have more than one feed present.
Pricing: Free, with premium plans starting at $49 per year.
17. FluentCRM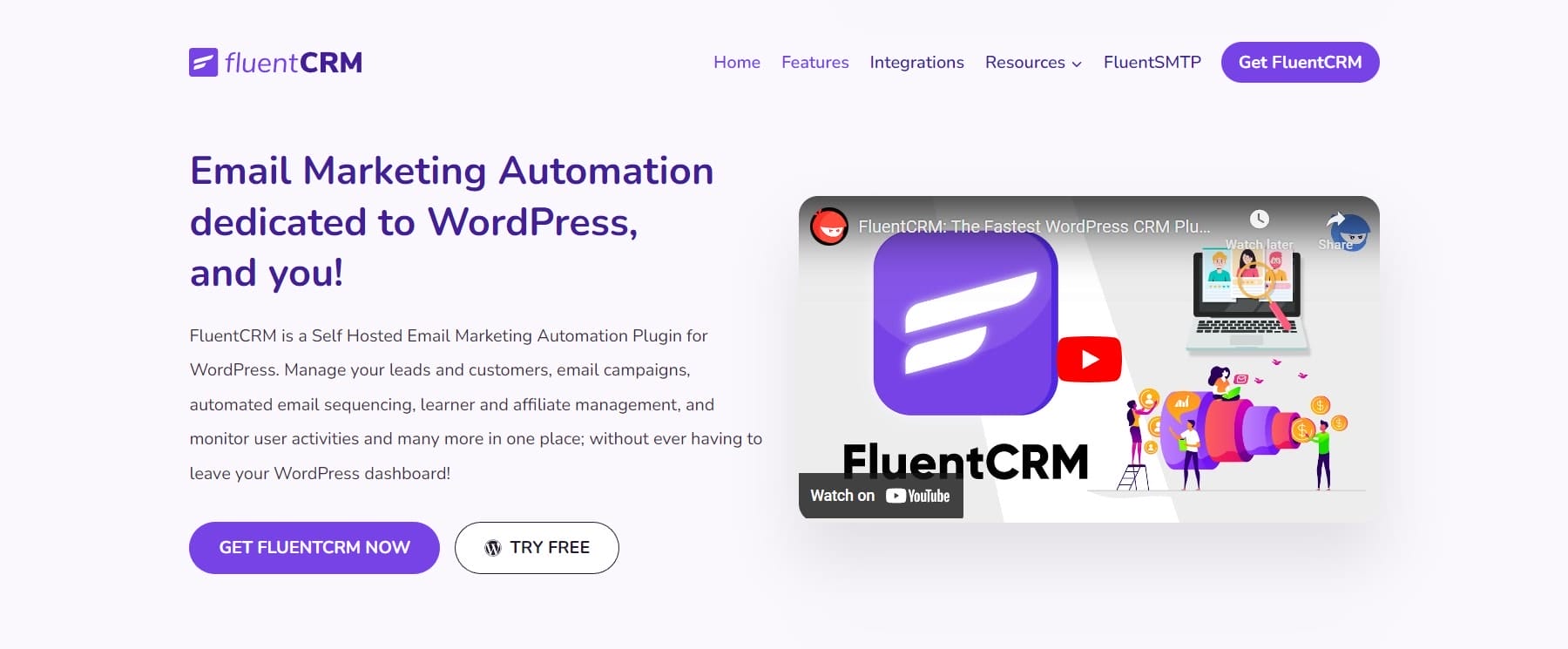 FluentCRM is an impressive WordPress CRM plugin that offers a complete customer relationship management (CRM) solution for WordPress site owners. With FluentCRM, managing your customer database, creating targeted email campaigns, and automating your sales and marketing workflows, all from within your WordPress dashboard becomes a breeze. This makes it simple to fully leverage the benefits of using a CRM, ultimately leading to better customer relationships and business growth.
Key Features for FluentCRM:
Create targeted email campaigns
Manage customer database
Automate sales workflows
Segment contacts and track leads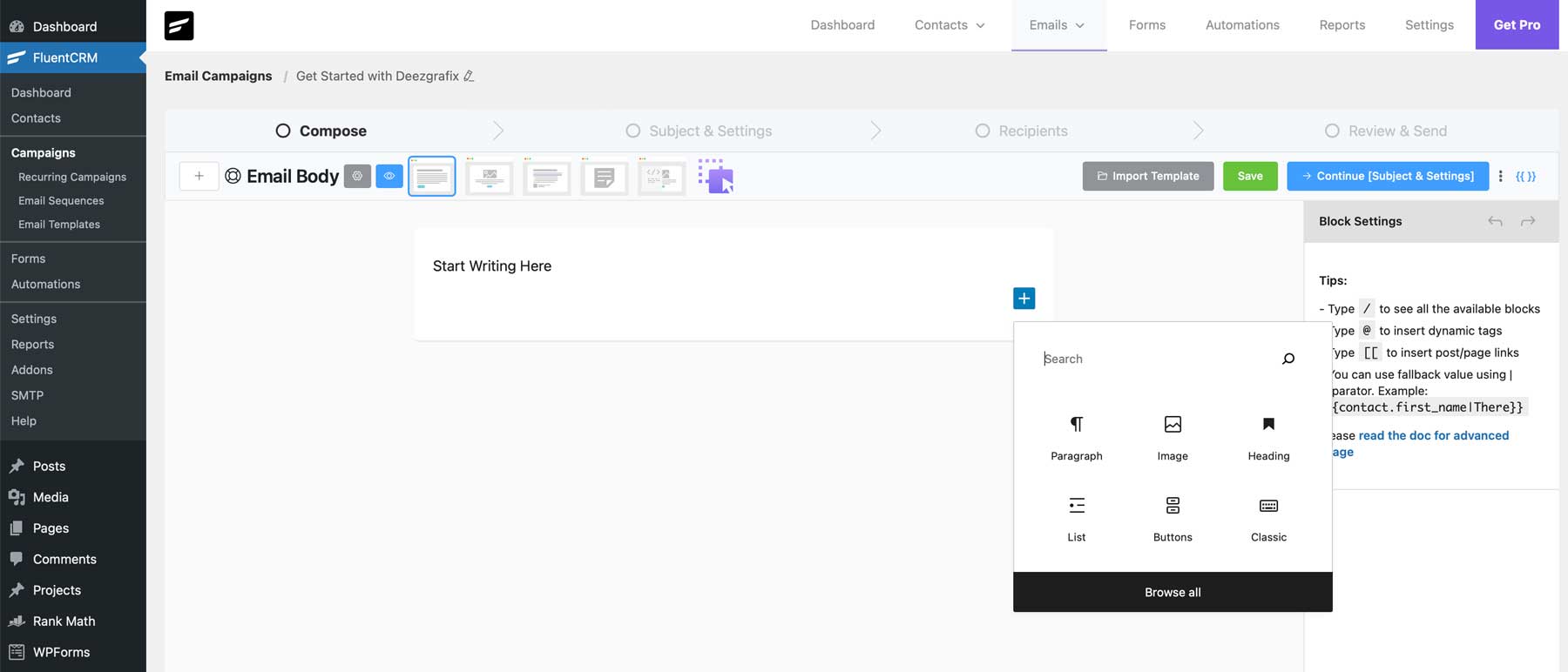 FluentCRM has various features designed to help you streamline your customer management and marketing efforts, including contact segmentation, email automation, lead tracking, activity logging, and reporting. You can also create and send email campaigns with the Gutenberg block interface, use automation workflows to nurture leads and track your conversions and revenue. In addition, FluentCRM integrates seamlessly with some of the best WordPress plugins and third-party tools, including WooCommerce, LearnDash, Zapier, and more.
FluentCRM is for you if…
You need a simple way to manage customers and leads.
You want to integrate CRM software with other plugins such as WooCommerce.
Pricing: Free, with premium licenses starting at $129 annually.
18. OptinMonster

OptinMonster is a multi-faceted tool that ranks among our best WordPress plugins and serves as a great popup plugin, email optin plugin, and countdown plugin. With a range of customizable templates, advanced targeting options, and powerful analytics and reporting, OptinMonster provides a comprehensive suite of tools for improving website performance and driving user engagement.
Key Features for OptinMonster:
Create popups, email opt-ins, and countdown timers
Drag and drop popup builder
100's of pre-made designs
Integrates with popular email marketings tools
Robust analytics and reporting tools
Integration with SeedProd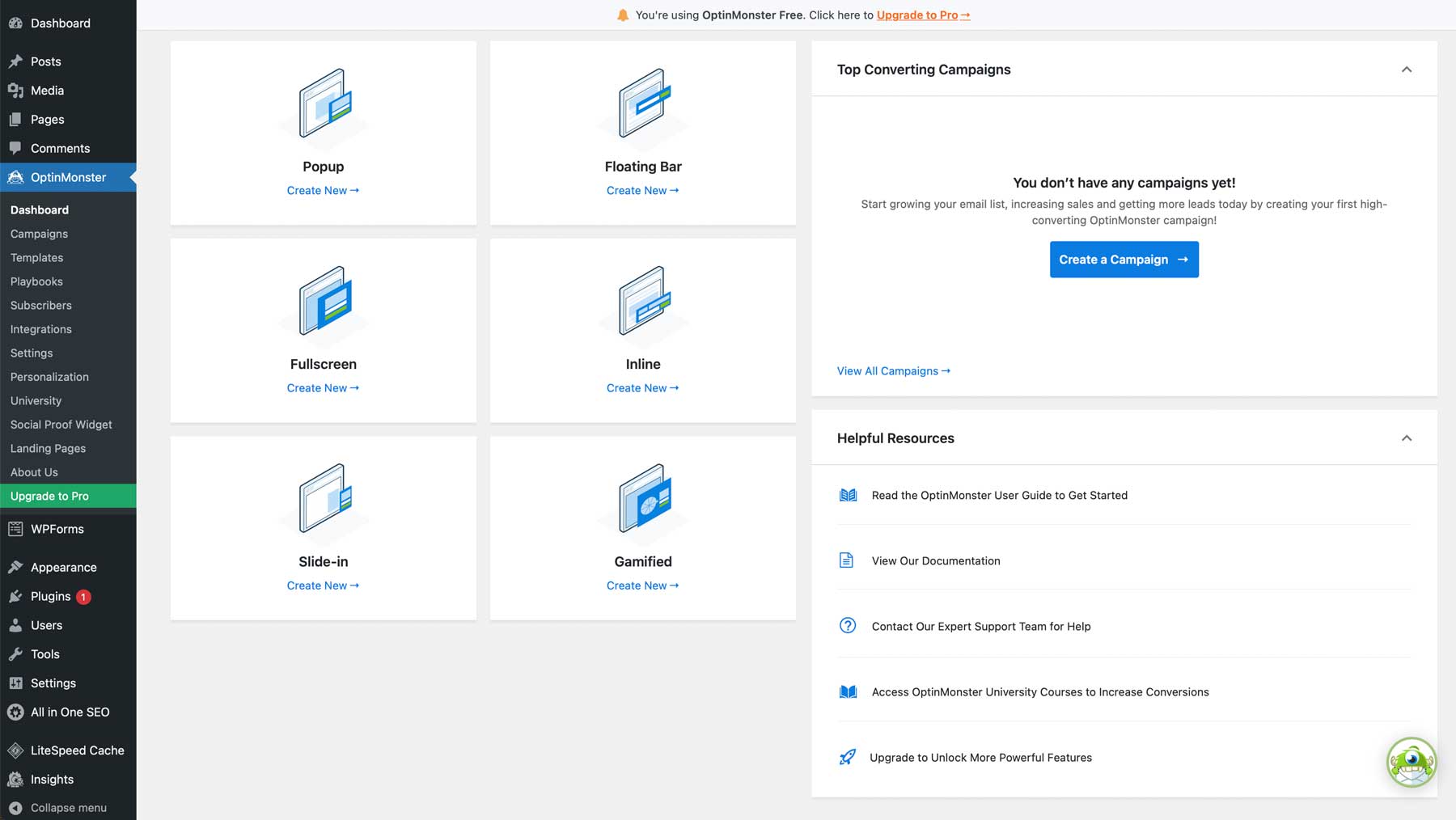 OptinMonster offers a vast array of design options for your popup with its extensive template library. You can customize the templates to suit your brand's unique style and branding by adding fonts, colors, and images. But that's not all – OptinMonster also seamlessly integrates with SeedProd, enabling you to create landing pages along side your popups. This feature allows you to create a comprehensive marketing strategy that can help increase your conversion rates and grow your business.
OptinMonster is for you if…
You want to create branded popups for your site easily.
You require integration with SeedProd.
Pricing: Free, with premium licenses starting at $16 per month (billed annually).
19. Envira Gallery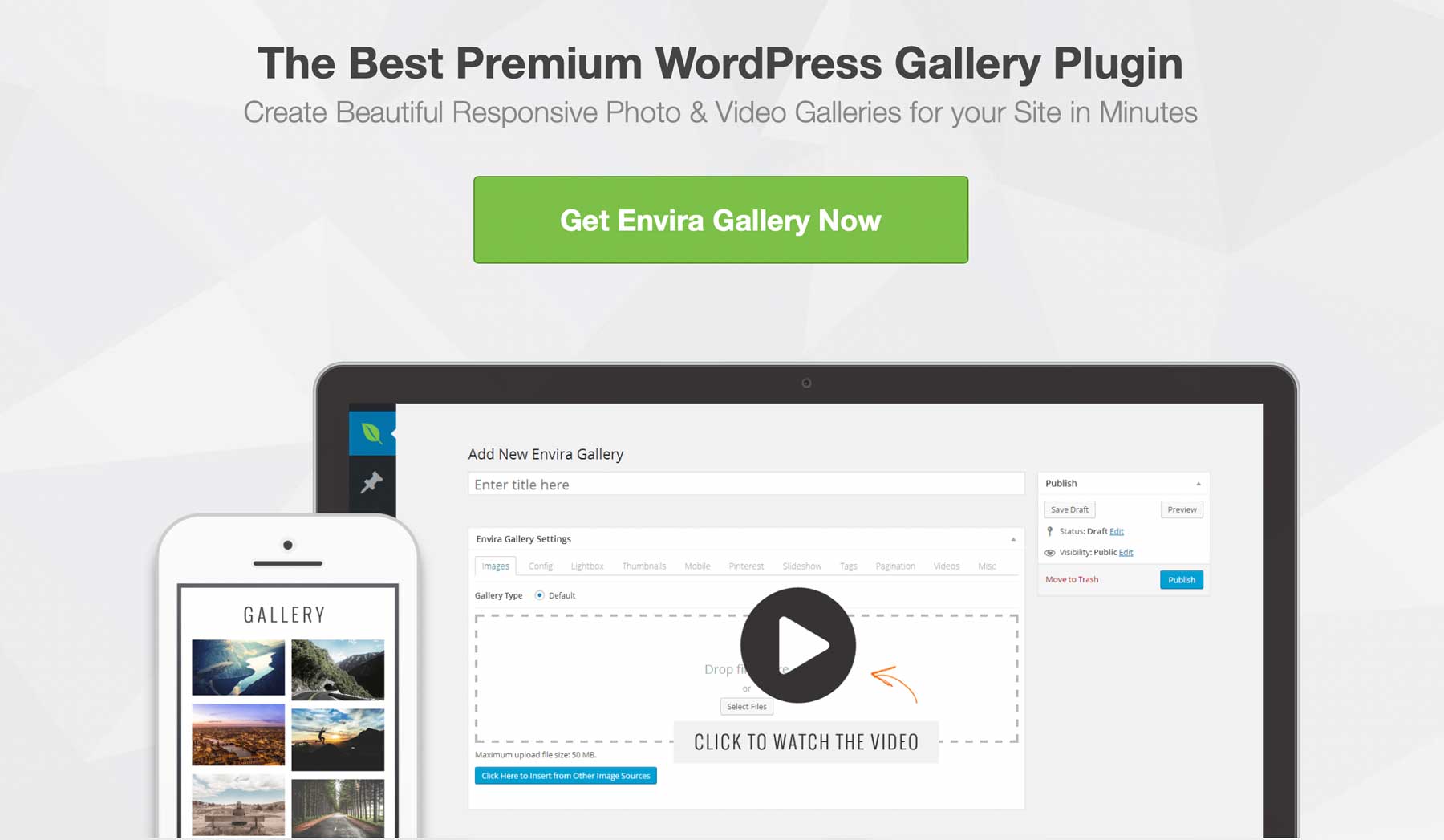 Next up, we have one of the top image gallery plugins available – Envira Gallery. This powerful plugin enables you to upload images and videos effortlessly and provides a user-friendly drag-and-drop interface to rearrange photos. With Envira Gallery, you can customize a wide range of settings, such as the number of gallery columns, enable lazy loading for faster page loading times, display images in a lightbox, and set custom image dimensions to fit your specific needs.
Key Features for Envira Gallery:
Unlimited amount of image galleries
Display images in Lightbox
Advanced customization options
Create video galleries, add social sharing buttons, and Ajax pagination (pro only)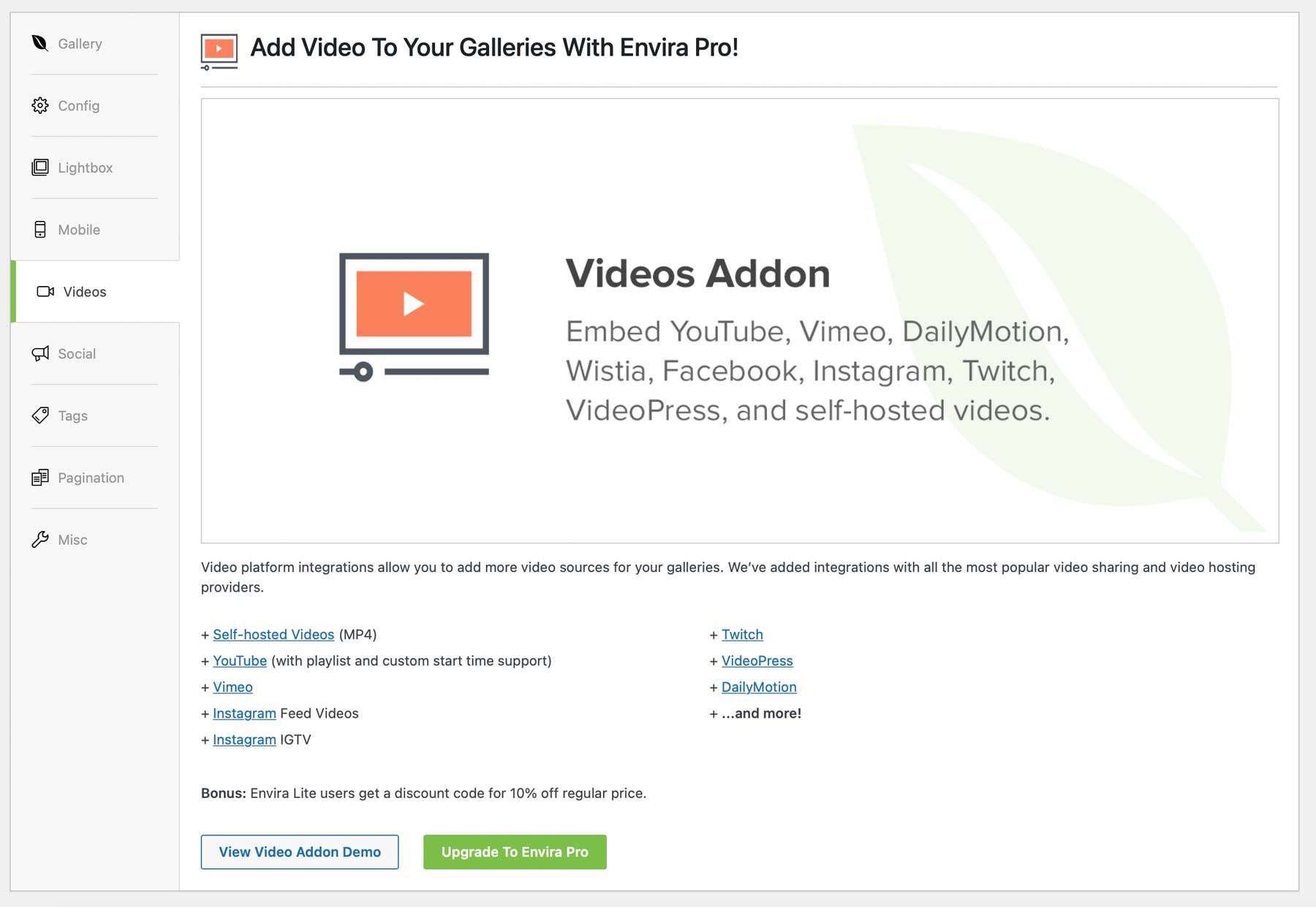 While the free version of the plugin is fantastic for creating image galleries, the pro version takes things to the next level with a host of additional features. With Envira Gallery Pro, you can easily create video galleries and add social sharing icons for popular platforms like Facebook, Twitter, Pinterest, and more. You'll also enjoy extensive customization options, including mobile responsive configurations, Ajax pagination, album creation, and the ability to add tags to enhance SEO.
Envira Gallery is for you if…
You want an easy way to feature image galleries on your website.
You're building a portfolio website and need the ability to create albums.
Pricing: Free, with premium plans starting at $26 per year.
20. WPML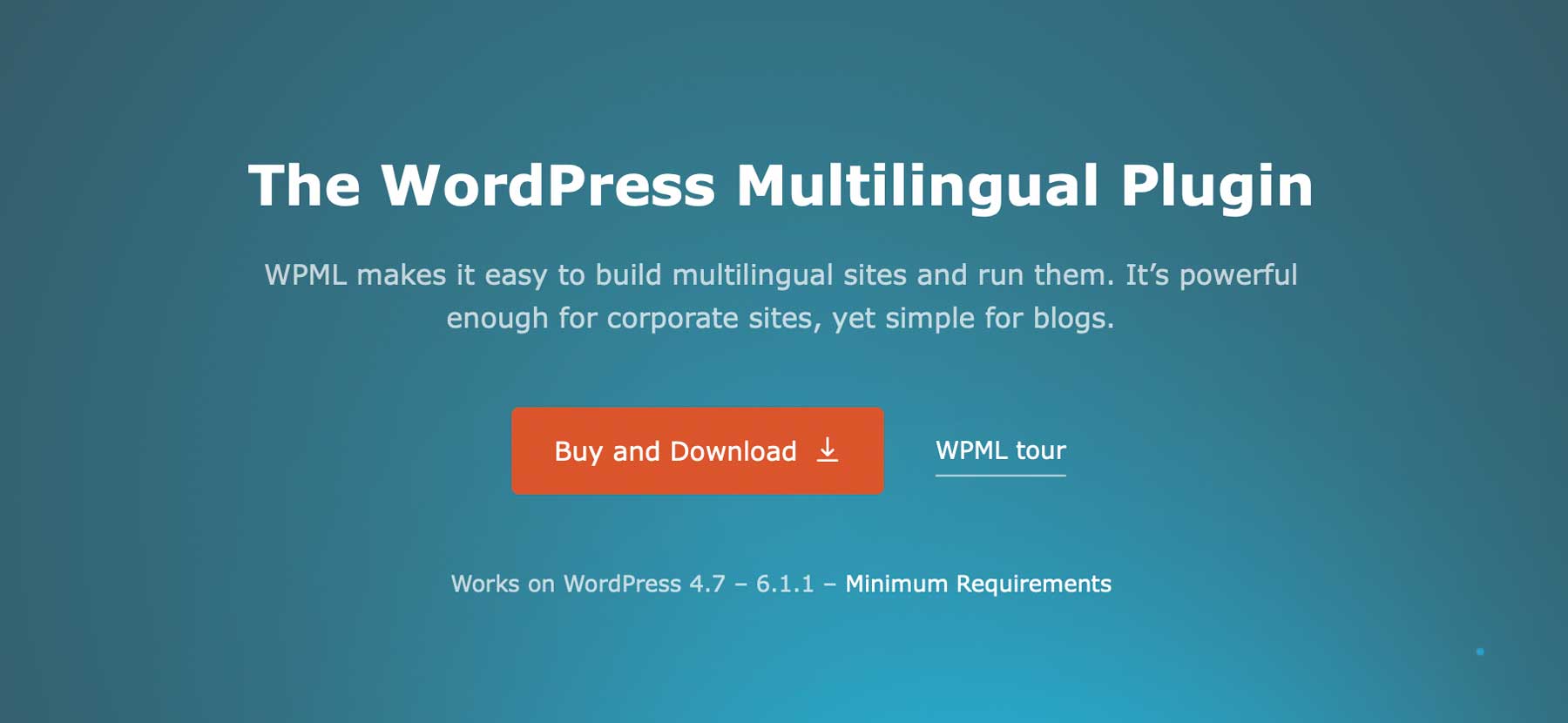 WordPress Multilingual (WPML) is a translation plugin for WordPress that allows websites to be translated into over 65 languages. With WPML, site owners can create multilingual content, enabling visitors to switch between languages as needed. It offers a range of features to help manage multilingual content, including translation management, translation string translation, and a language switcher widget.
Key Features for WPML:
Choose different languages on individual posts and pages
Automatic Translation editor (pro only)
String Translation (pro only)
Translation management (pro only)
Translate custom post types, menus, images, taxonomies, media, and more
WPML seamlessly integrates with various other plugins and themes, including popular options like Divi. With WPML, businesses and individuals can easily translate all website content, from pages and posts to menus and taxonomies, and create custom language variants, like Canadian French or Mexican Spanish, using the language editor. While WPML is a premium plugin, its robust features and ease of use make it the best WordPress plugin for translation needs and well worth the investment.
WPML is for you if…
You operate a multi-national WordPress site that requires easy translation.
You want to create custom language variants.
Pricing: $39 per year.
21. WP Mail SMTP

WP Mail SMTP is a top choice for SMTP plugins, offering a reliable and secure way to send email through WordPress. Unlike the default mail function within WordPress – PHP mail() – WP Mail SMTP ensures consistent delivery of your site's mail. WP Mail SMTP can reroute emails through a more secure and reliable delivery method, ultimately enhancing the reliability and security of your email communication within WordPress.
Key Features for WP Mail SMTP:
Easy setup wizard
Support for most major email providers
Email tracking for site-wide and WooCommerce-specific emails
Multisite support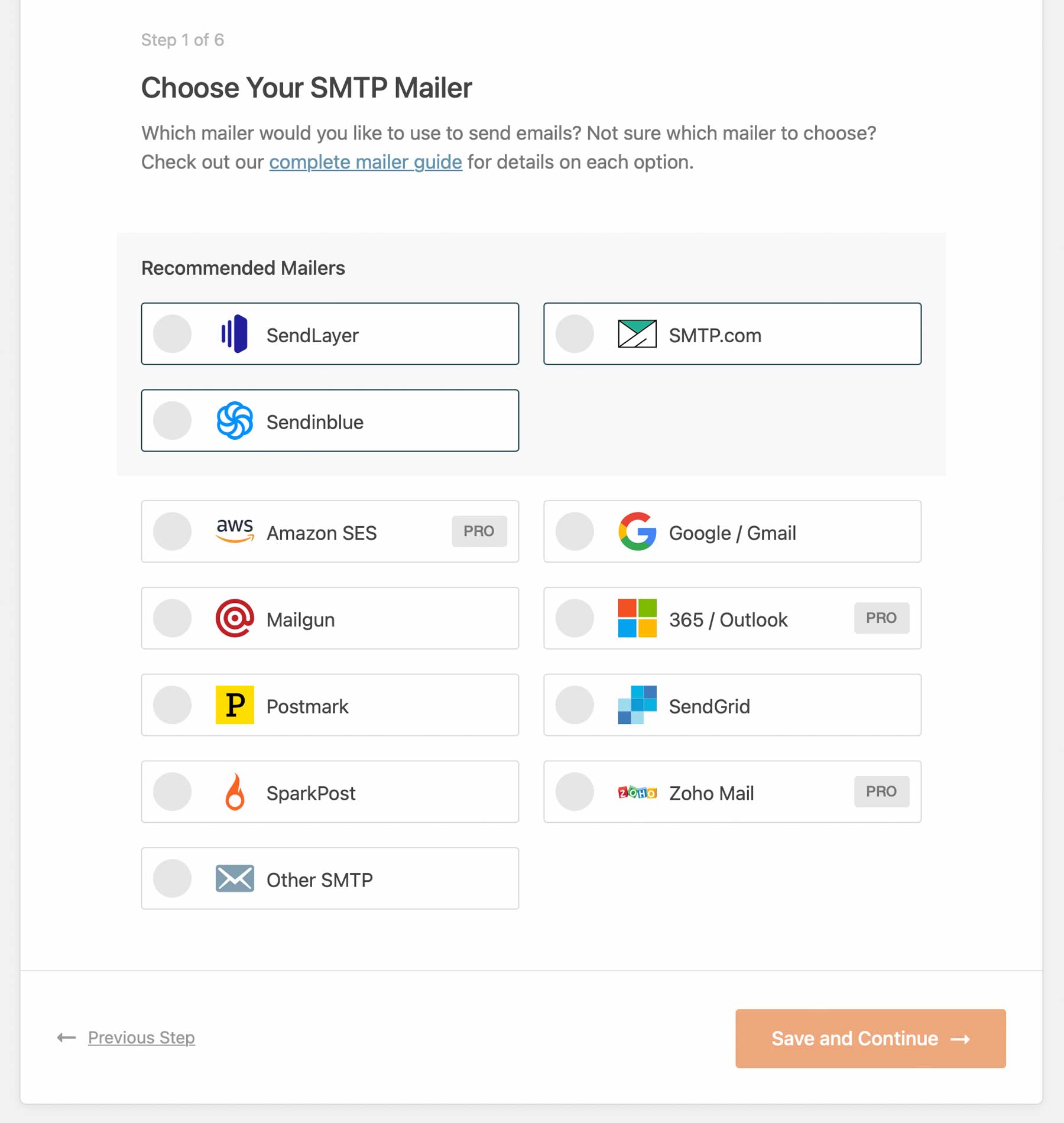 WP Mail SMTP's configuration wizard simplifies setting up SMTP by allowing users to send emails through their desired provider in a few easy steps. In addition, it supports a variety of email service providers, including SendLayer, Sendinblue, Gmail, Mailgun, SendGrid, and Zoho Mail. WP Mail SMTP also supports multisite installations and offers email tracking reports for site-wide and WooCommerce emails.
WP Mail SMTP is for you if…
You need an SMTP plugin with advanced features.
You require multisite support.
Pricing: Free, with a pro license starting at $49 per year.
22. WP Activity Log

WP Activity Log is a powerful WordPress plugin that helps you monitor and track changes on your website, including content updates, user logins and logouts, and more. It is not only an excellent activity plugin but also a robust security plugin. This is because it keeps a detailed log of post and page changes, user notifications, and updates, which can help you quickly identify and respond to potential security threats.
Key Features for WP Activity Log:
Track user activity in real-time
Detailed notifications and reports
Identification of users and their IP addresses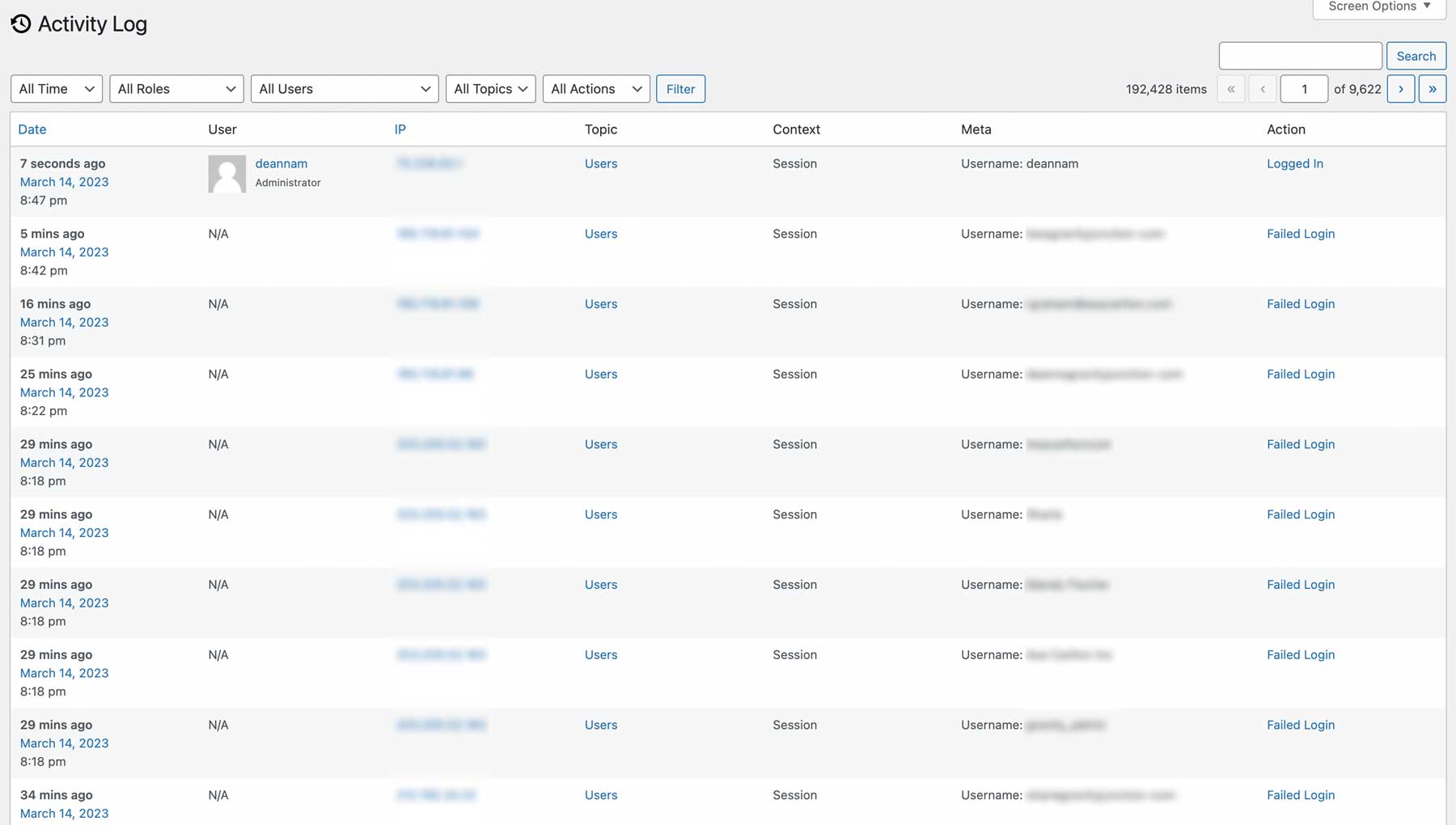 With WP Activity Log, you can easily trace the exact time, user, and IP address of each event recorded in the log. This feature enables you to undo any changes that may have caused problems on your website. Overall, WP Activity Log is an indispensable tool for maintaining the security and integrity of your WordPress website, especially if you have multiple users or handle sensitive data.
WP Activity Log is for you if…
You have multiple users on your site and want to keep track of changes.
You need both an activity and a security plugin.
Pricing: Free, with premium licenses starting at $99 annually.
23. Strong Testimonials

One of the best WordPress testimonial plugins available is Strong Testimonials. It allows you to quickly and easily showcase your customer's feedback, with various display options that allow you to customize backgrounds, fonts, and colors. The plugin has a simple interface that is easy to use and comes with standard features such as a form builder and editor. Additionally, you can manually rearrange testimonials to suit your needs.
Key Features for Strong Testimonials:
Multiple layout formats
Create testimonial forms
Design options for colors, fonts, and images
Translation ready with WPML, Polylang, and WPGlobus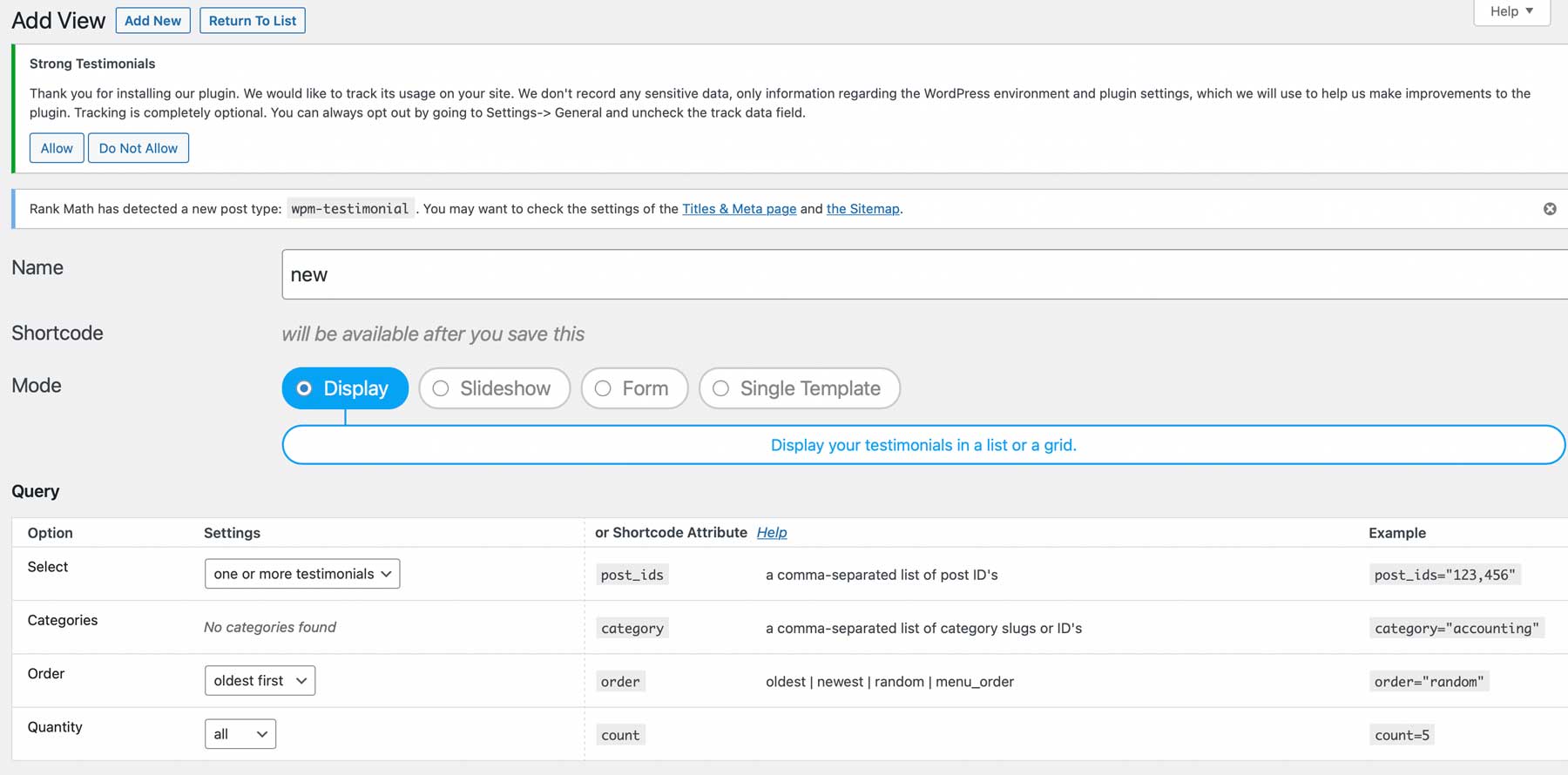 Strong Testimonials offers seamless integration with language plugins, which means you can display testimonials in multiple languages effortlessly. In addition, you can choose from various display types like a grid, masonry, carousel, and slider layouts, giving you more options to showcase your testimonials effectively.
And if that's not enough, the pro version takes things up a notch by allowing you to automatically import testimonials from Facebook, Google, Yelp, and other sources. This feature saves you time and effort and ensures your testimonials are always up-to-date.
Strong Testimonials is for you if…
You want to display customer testimonials on your site to boost sales and engagement.
You want multiple display options for testimonials.
Pricing: Free, with premium licenses starting at $29 per year.
24. GiveWP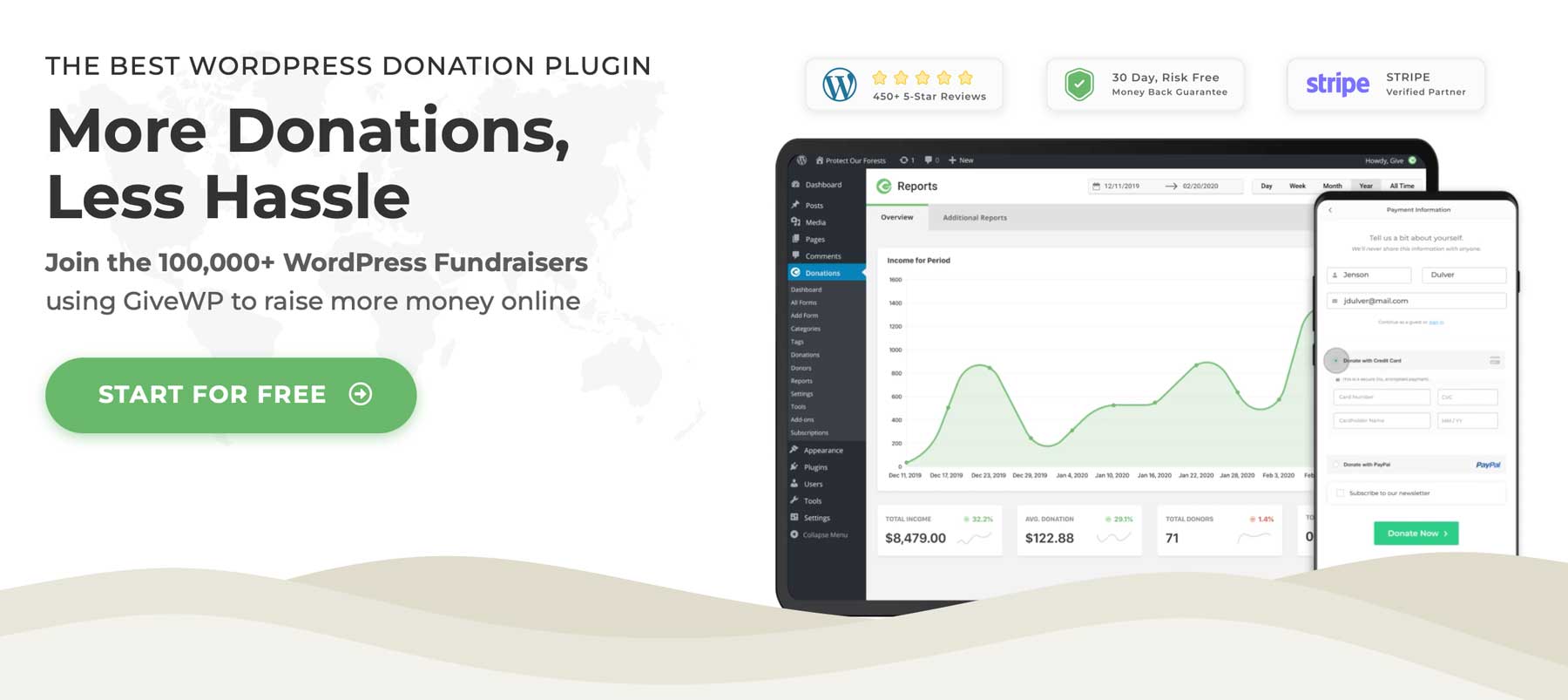 GiveWP is a donation plugin for WordPress that provides the ability to accept donations for non-profits, charities, and other organizations. You can customize donation forms, manage donors and donations, and accept payments through PayPal, Stripe, and Authorize.net. Features such as donation goals, reporting, and email notifications help you keep track of donations and engage with your supporters effectively.
Key Features for GiveWP:
Multiple payment gateways
Set up donation goals
Comprehensive reports
Custom email notifications
Create custom donation forms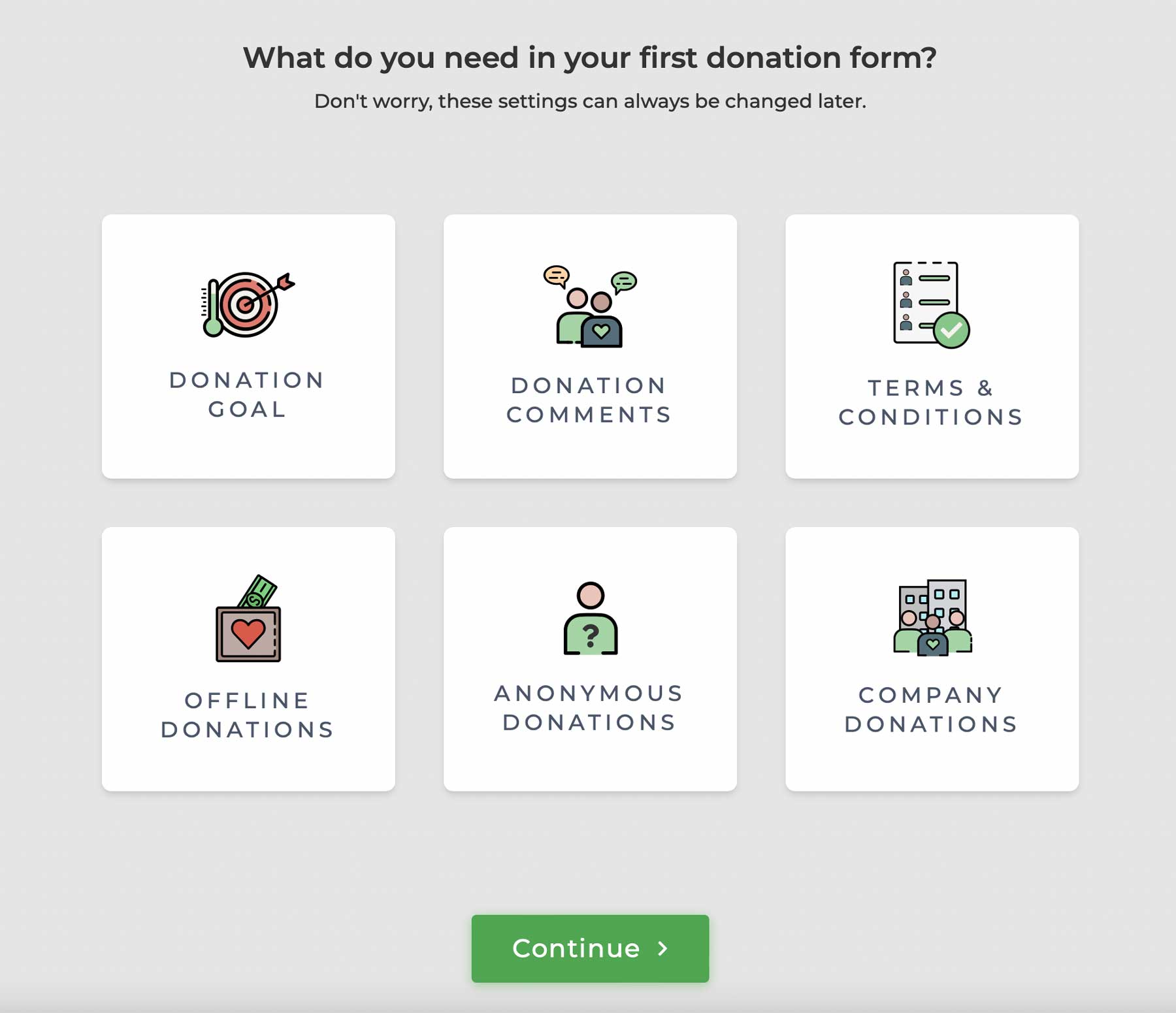 GiveWP offers a hassle-free setup process with its wizard that helps you create your donation site and form effortlessly. It also supports recurring donations, provides pdf receipts, and allows custom fields in donation forms, making the donation process smooth and convenient for donors and organizations. Overall, GiveWP is one of the best WordPress plugins to set up and manage donations on your website.
GiveWP is for you if…
You want a convenient way to accept donations on your site.
You want control over the look and feel of donation forms.
Pricing: Free, with premium plans starting at $149 annually.
25. Easy Digital Downloads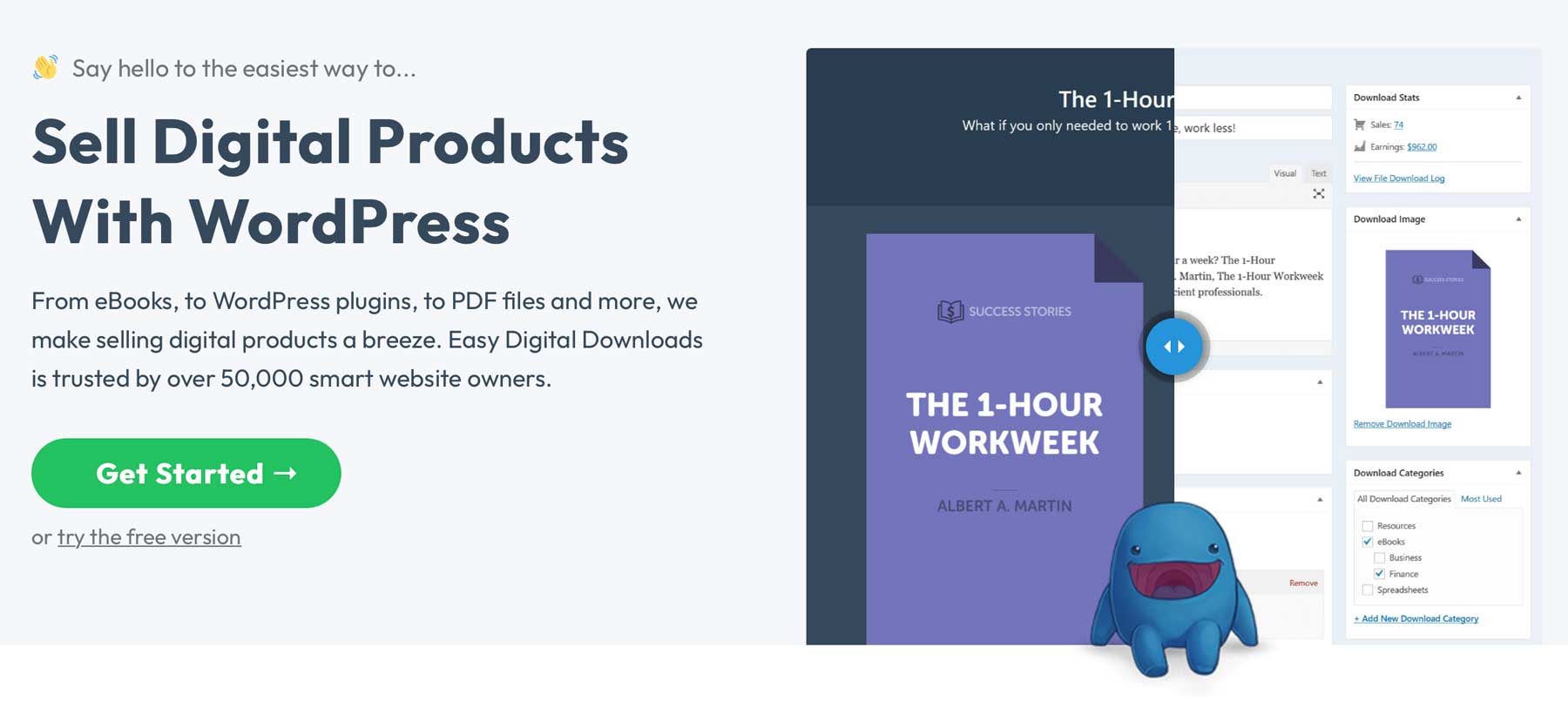 Up next, we have an essential plugin for selling digital products – Easy Digital Downloads, considered one of the best ecommerce plugins available. Whether you plan to sell ebooks, music, graphics, or any other digital products, EDD is a must-have. With this plugin, you can easily create custom digital product pages, access valuable information on sales and earnings through detailed reporting, and use EDD's built-in shopping cart feature to accept payments. Additionally, integrating an affiliate program is a breeze thanks to its compatibility with Affiliate WP.
Key Features for Easy Digital Downloads:
Sell digital products
Dedicated ecommerce platform
Detailed sales and customer reporting
Integrates with other popular plugins
Moreover, upgrading to the pro version of Easy Digital Downloads opens a new world of possibilities with its plethora of add-ons. This includes recurring payments, ideal for subscription-based products, integration with Mailchimp, ActiveCampaign, MailPoet, and others for streamlined customer email management, front-end submissions to create a multi-vendor marketplace, and reviews to boost sales with the power of social proof.
Easy Digital Downloads is for you if…
You want to sell digital products on your website.
You need detailed reporting on your customer base.
Pricing: Free, with premium versions starting at $99.50 annually.
26. Echo Knowledge Base
Our following plugin, Echo Knowledge Base, allows you to create a knowledge base for your WordPress site. It includes more than two dozen templates, as well as over 500 icons in which to build it. Plus, it's set up for multi-language support, making it an ideal solution for websites with international audiences.
Key Features for Echo Knowledge Base:
Multiple customization options
Setup for multi-language support
Wide range of templates to choose from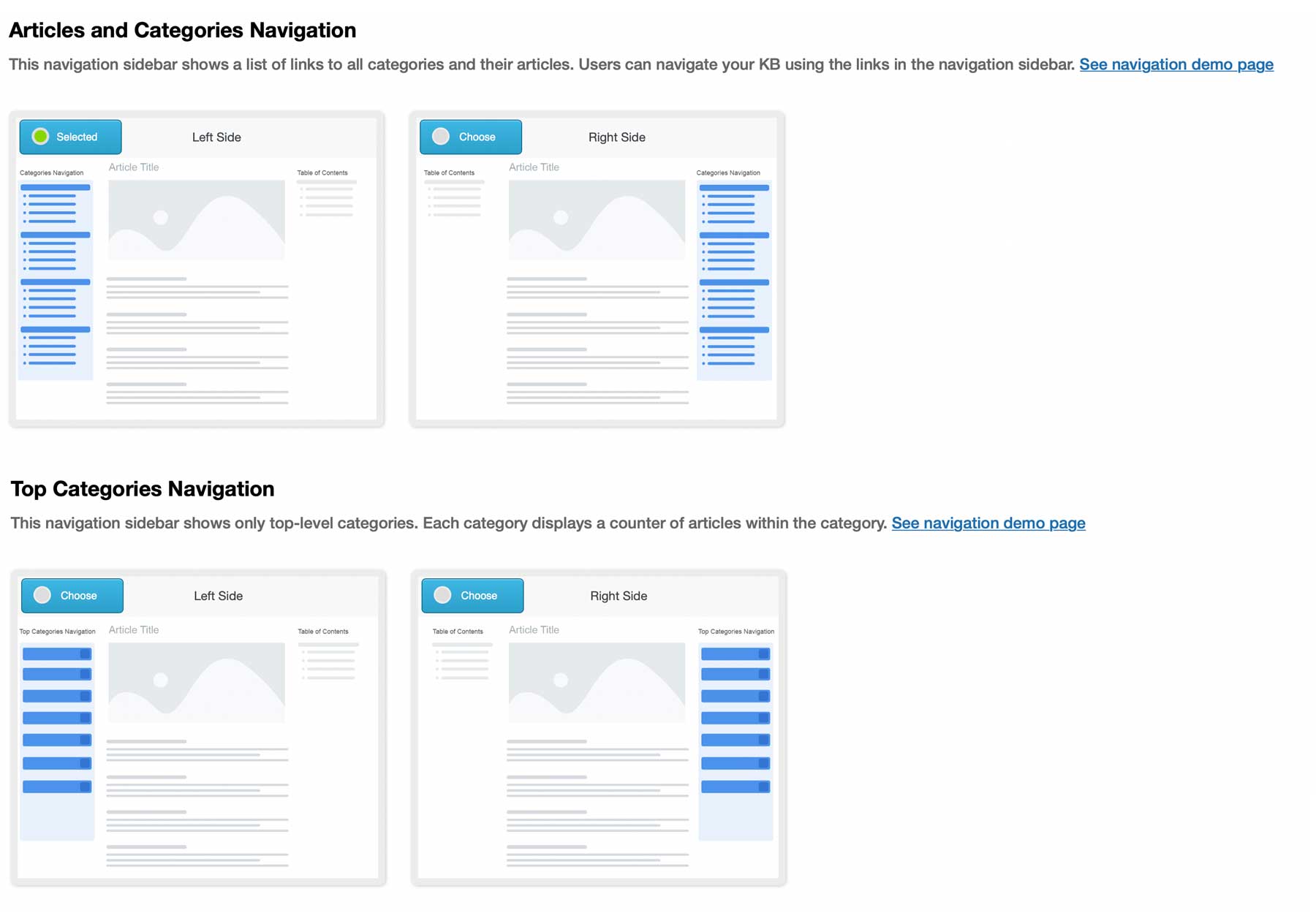 Setting up your knowledge base is a breeze thanks to Echo's configuration wizard, which guides you through creating a custom post type, choosing a template, and selecting your preferred navigation style. This user-friendly setup process means you don't need any technical expertise to get started. The premium version offers additional features for editing links and incorporating ratings and reviews.
Overall, Echo Knowledge Base is a powerful and versatile wiki plugin that simplifies creating a comprehensive knowledge base for your WordPress site.
Echo Knowledge Base is for you if…
You want to set up a wiki on your website.
You need extensive customization options.
Pricing: Free, with premium plans starting at $46 per year.
27. MemberPress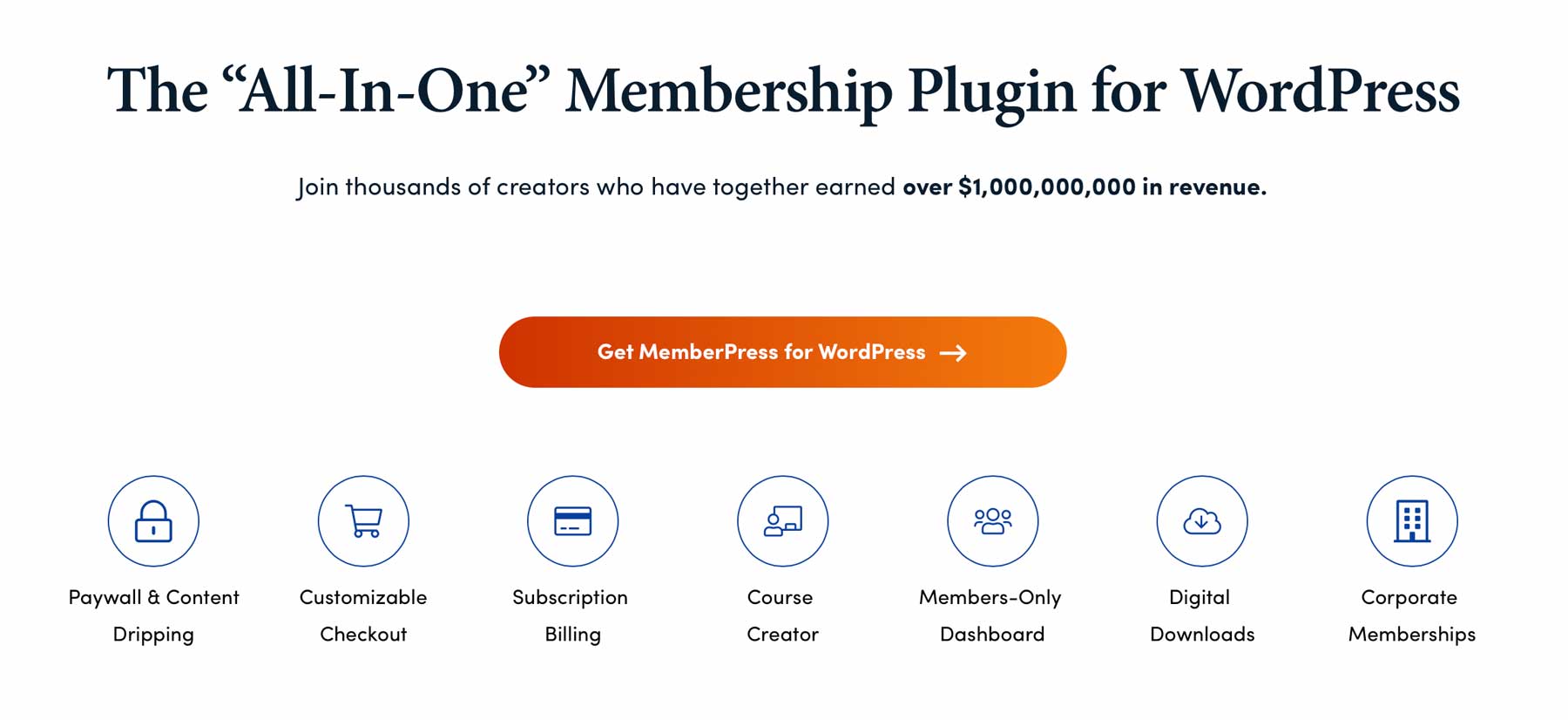 Our next entry for the best WordPress plugins is MemberPress. It functions as both a membership plugin and an excellent learning management system (LMS) plugin. With MemberPress, you can create a fully functional membership site, perfect for content dripping, setting up paywalls, creating courses and quizzes, offering file downloads, and managing multiple membership levels.
Key Features for MemberPress:
Create multiple membership levels
Support for payment providers such as Apple Pay, Google Pay, and credit cards
Create courses and quizzes
Content Dripping
Digital downloads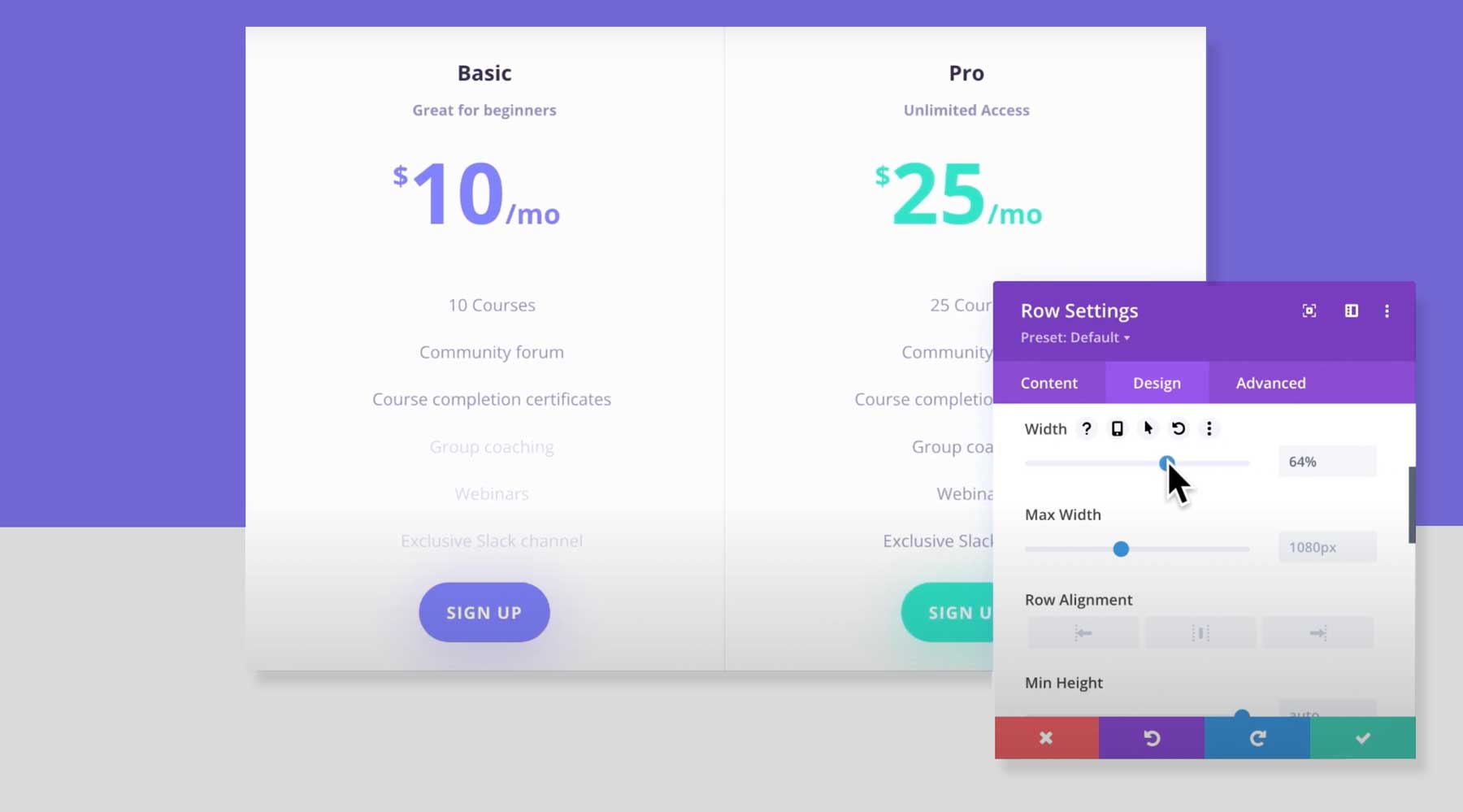 In addition to its core features, MemberPress offers several other functionalities. These include the creation of customizable pricing pages using Divi, access to comprehensive reporting for valuable insights on memberships, revenue, and engagement metrics, a built-in affiliate program through Easy Affiliate to incentivize members to refer new customers, and integration with popular email marketing services such as AWeber, Mailchimp, and many more.
MemberPress is for you if…
You need a comprehensive solution for creating a membership website.
You want to accept payments, drip content, and set up an affiliate program.
Pricing: Premium licenses are available for $179.50 annually.
28. FunnelKit

Funnelkit is a user-friendly lead generation plugin that provides many templates and tools to create and customize high-converting marketing pages. With no coding or design skills, users can easily create opt-in pages, sales pages, thank-you pages, webinar registration pages, and more. The plugin features a drag-and-drop editor that allows users to customize elements such as text, images, video, buttons, and forms.
Key Features for FunnelKit:
Drag and drop page editor without coding
A/B testing
Analytics and tracking metrics
Customizable templates for popular themes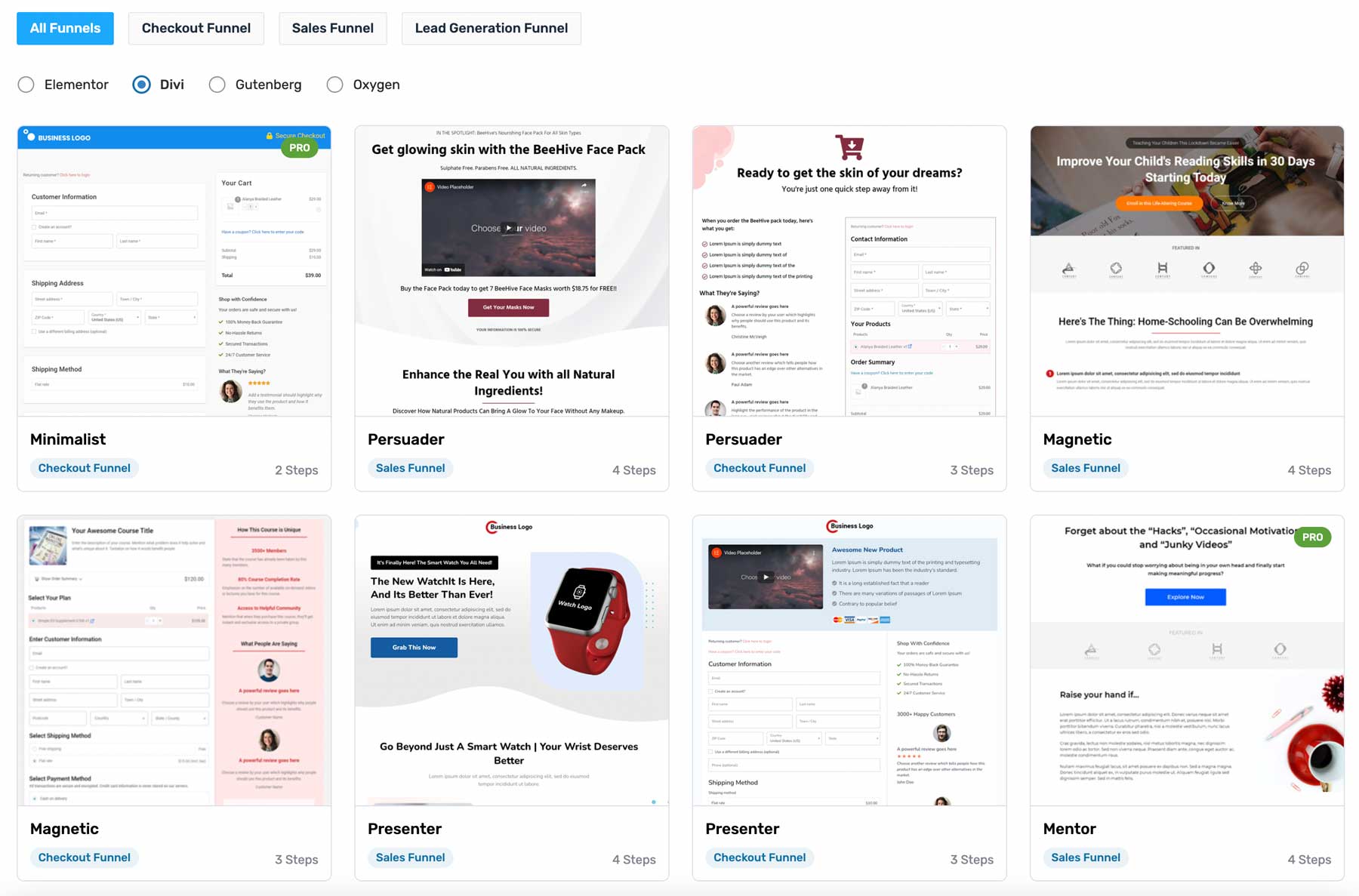 Funnelkit offers A/B testing in addition to its simple visual editor. This feature enables users to test which version of a page performs better. Moreover, Funnelkit provides premade designs and modules for popular themes like Divi, Elementor, Oxygen, and Gutenberg, which makes integration with your existing theme a breeze.
FunnelKit is for you if…
You want to create high-converting marketing pages easily.
You are a Divi user that wants to utilize premade design templates.
Pricing: Free, with pro plans beginning at $99.50 per year.
29. Realtyna WPL

Realtyna WPL is a comprehensive real estate plugin for WordPress that allows users to create and customize their real estate website to match their brand and business needs. It provides various options for managing property listings, including features like location-based searches, customizable fields, property photos and videos, and other advanced search options.
Key Features for Realtyna WPL:
Location-based searches
Create and manage property listings without the need for IDX software
Customizable search parameters
Property photos and videos
Lead generation and CRM tools
Allows other real estate agents to create listings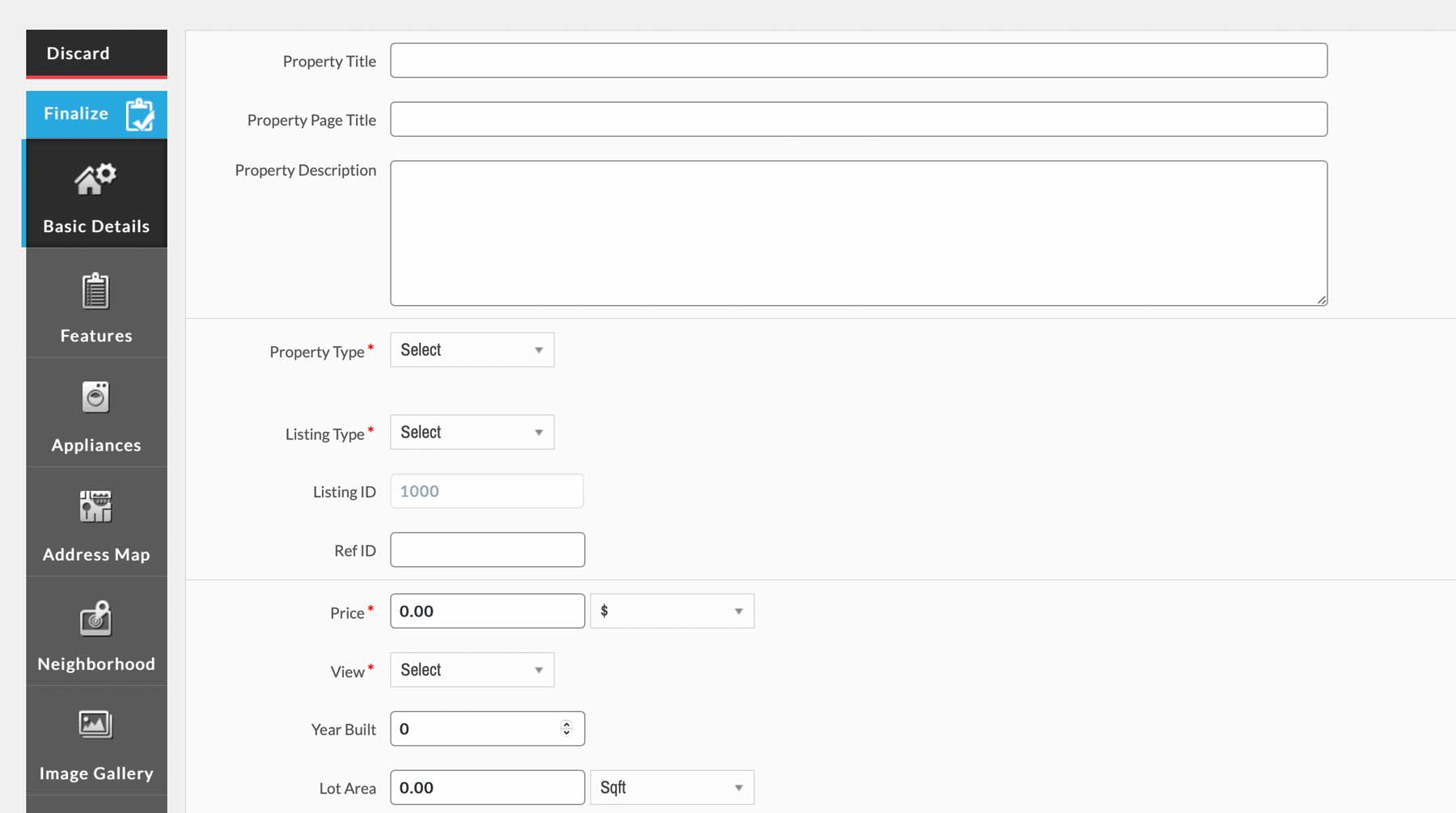 In addition to its robust real estate website creation and customization capabilities, Realtyna WPL provides users with advanced real estate management tools. These include property management, lead generation, and CRM, allowing other real estate agents to create listings. One key benefit of Realtyna WPL is that it eliminates the need for a costly IDX plugin, making it a cost-effective solution for managing real estate listings and driving business growth.
Realtyna WPL is for you if…
You operate a real estate business.
You want to manage listings and properties without an IDX plugin.
Pricing: Free, with pro licenses, for a one-time fee of $199.
30. Geo Directory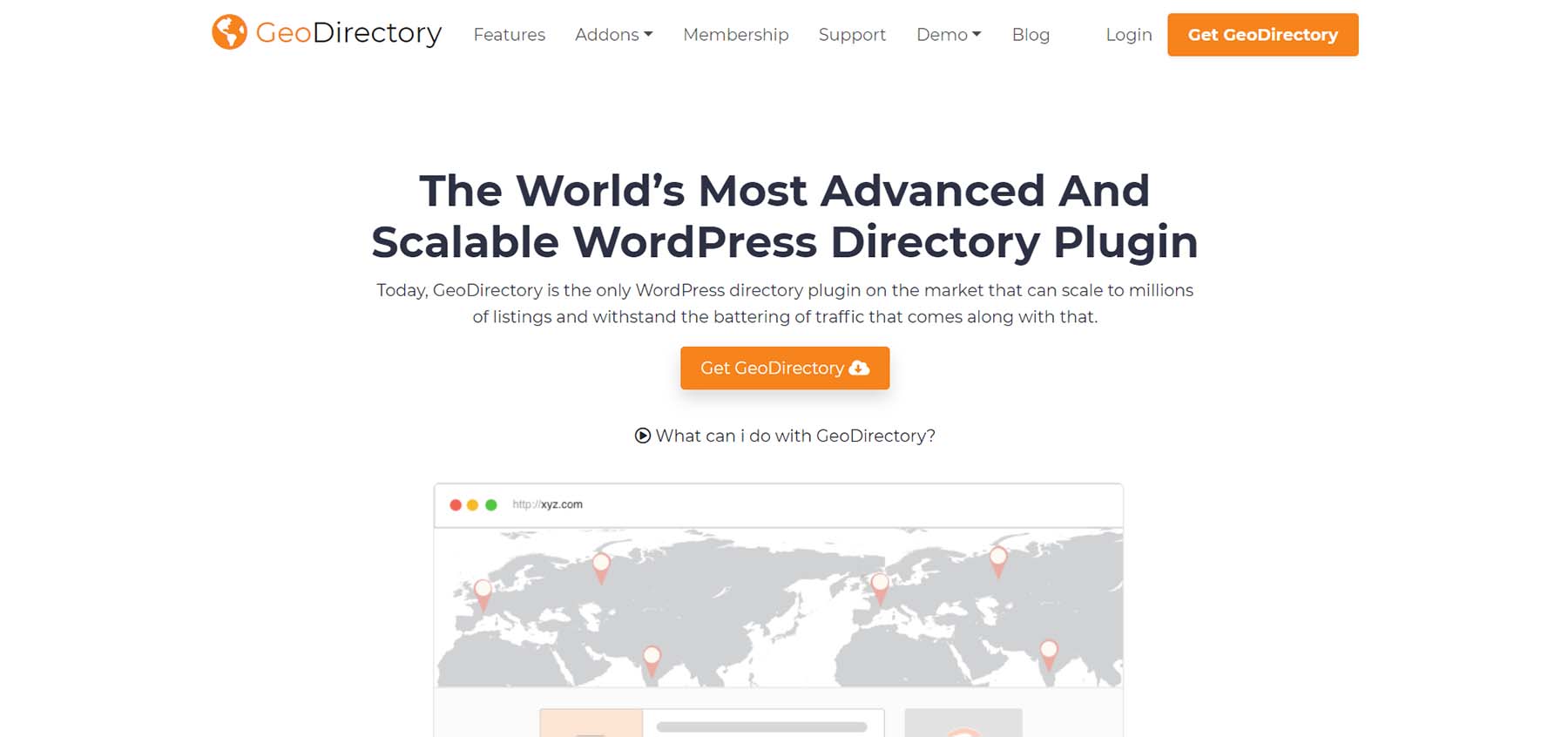 Our next entry on the list of best WordPress plugins is Geo Directory. It allows users to create a location-based business directory, similar to Yelp, where visitors can search for businesses using an interactive map interface. With Geo Directory, users can easily manage business listings, locations, and categories, making it an ideal solution for companies and organizations looking to create a robust directory website.
Key Features for Geo Directory:
Interactive map
Customizable search
User-submitted reviews
Monetization features such as paid and featured listings (pro)
SEO friendly
Customization options to match site branding
User-friendly
Integration with Ninja Forms, UsersWP, and AyeCode Connect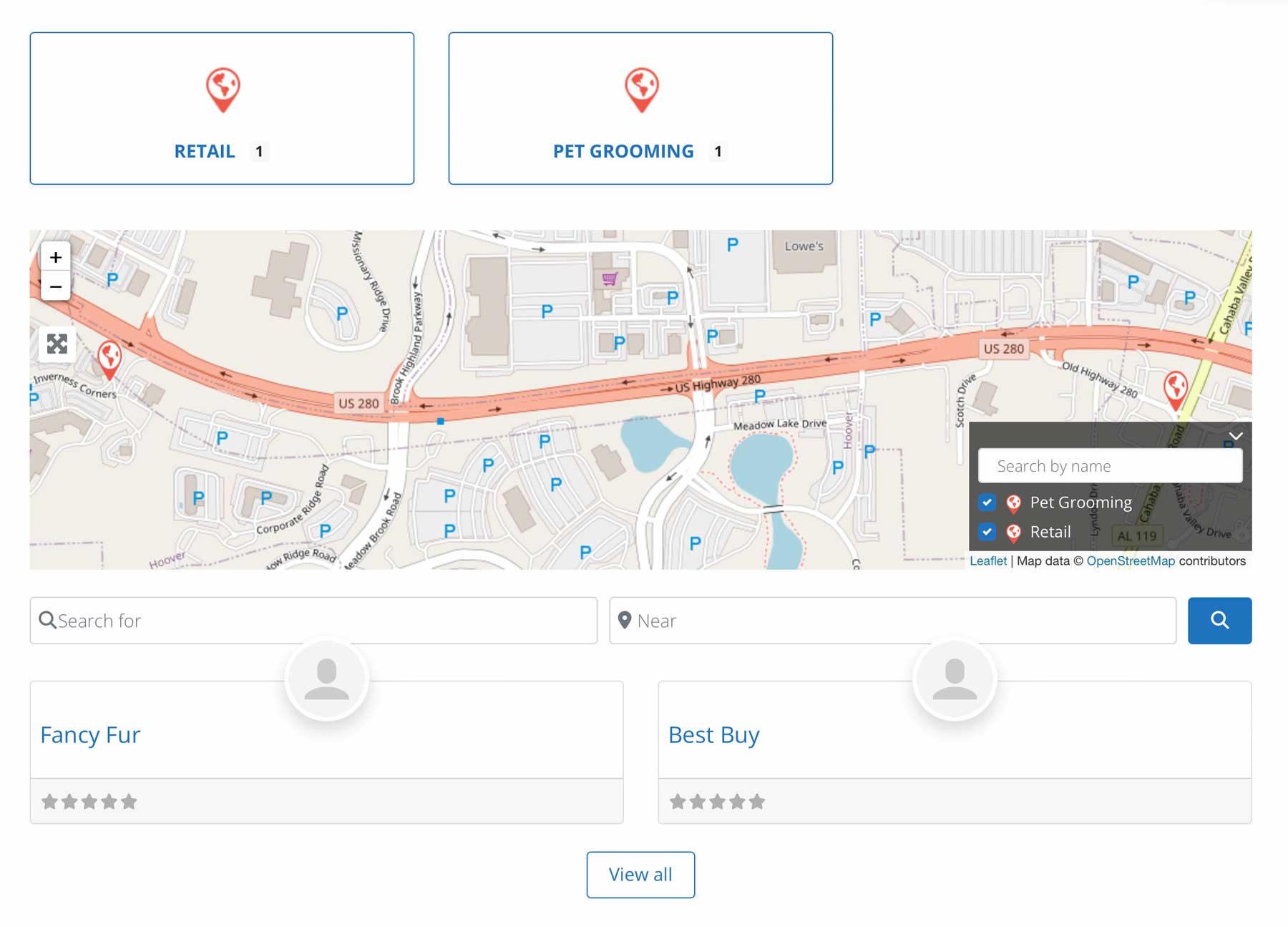 Geo Directory offers customizable search options for users, with various filters such as location, category, rating, and more. This allows visitors to find businesses quickly and easily. Additionally, the pro version provides monetization options, including paid and featured listings, to help companies to generate revenue and improve their online visibility. Geo Directory also integrates with popular plugins such as Ninja Forms and Users WP, allowing users to register and log in to create their own business listings.
Geo Directory is for you if…
You need to create an online business directory website.
Want to feature listings in an interactive map.
Pricing: Free, with premium plans starting at $199 per year.
31. MC4WP: Mailchimp for WordPress

Our last plugin, MC4WP: Mailchimp for WordPress, allows you to seamlessly integrate your Mailchimp account with your WordPress website. You can effortlessly create and add sign-up forms to your site to capture email addresses and manage your subscribers and campaigns directly from your WordPress dashboard. It's one of the best WordPress plugins for boosting your email marketing efforts and growing your audience.
Key Features for Mailchimp:
Easily create custom signup forms
Manage email subscribers and campaigns in WordPress
Integration with other popular form plugins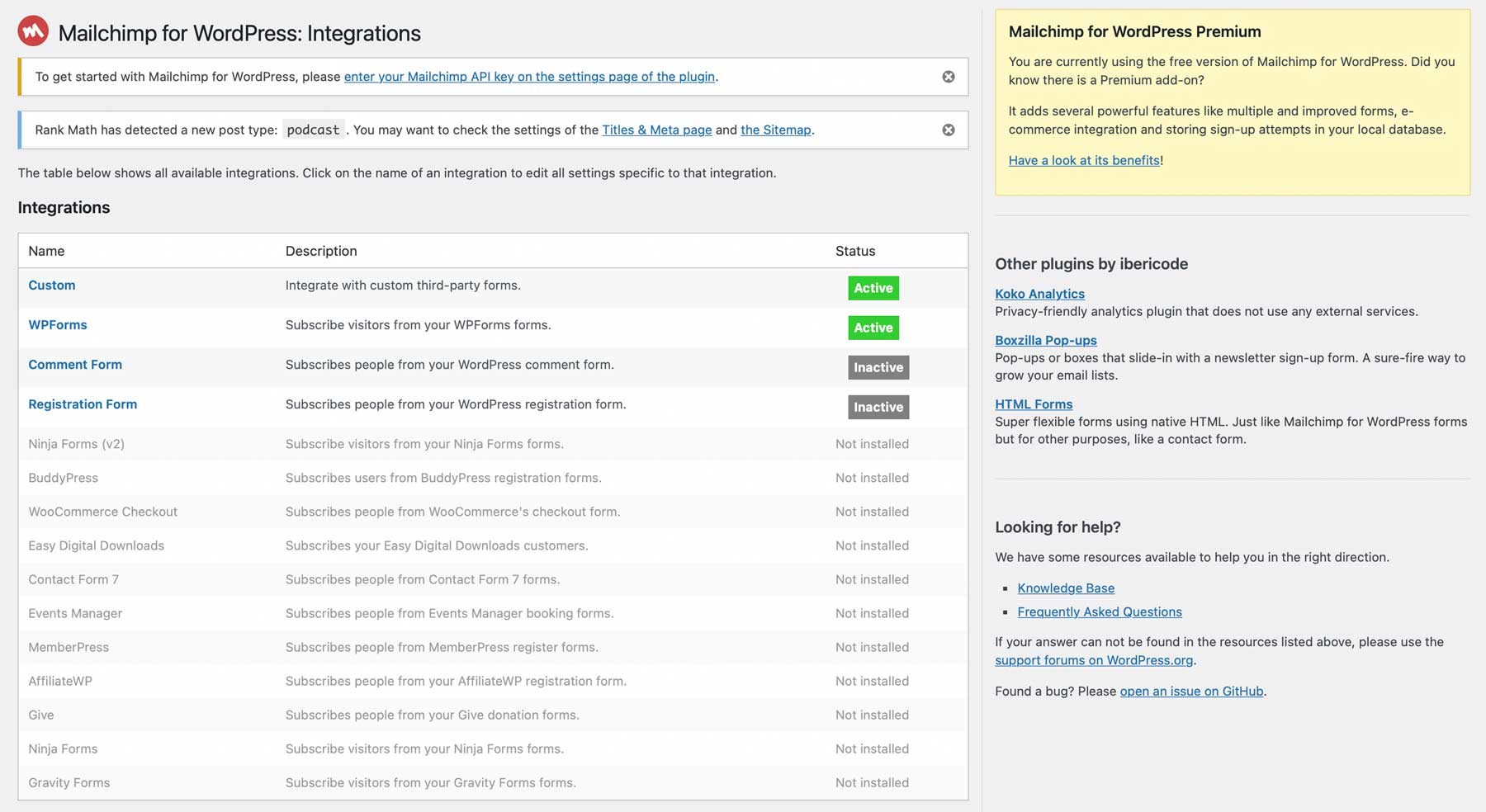 MC4WP seamlessly integrates with other popular form plugins on your site, such as Gravity Forms, Ninja Forms, WooCommerce, and AffiliateWP, to name a few. This means that you can easily capture email addresses on various forms across your website, expanding your reach and engagement with your audience.
Mailchimp is for you if…
You want an easy way to manage your email subscribers.
You need to integrate Mailchimp into various other forms on your site.
Pricing: Free, with premium licenses starting at $59 annually.
Final Thoughts on the Best WordPress Plugins
WordPress offers many plugins, making it hard to identify the most important ones for a website. However, two plugins provide many benefits for any WordPress site. Firstly, a reliable SEO plugin like Rank Math enhances a website's visibility and search engine ranking. Secondly, a good backup plugin such as UpdraftPlus ensures the security and reliability of a website's data. Therefore, both plugins are good choices to help your site get discovered and stay safe and secure.
Our Complete List of the Best WordPress Plugins
Here's a complete look at our picks for the best WordPress plugins you can get for your website:
Frequently Asked Questions (FAQs)
Before we wrap up, let's answer some of your most common questions regarding WordPress plugins. Did we miss one? Leave a question below and we will respond!
What are the best WordPress plugins that everyone should install?
What are the best free WordPress plugins?
What are WordPress plugins, and how do they work?
WordPress plugins are additional components that enhance your site's functionality. For instance, if you need to add a contact form that isn't available by default, you can install a plugin such as
WP Forms
that provides this feature.
Do WordPress plugins affect site speed?
While some plugins may slow down your website, others may have a minimal impact. There are also performance plugins like
WP Rocket
that will speed up your website rather than slow it down! Generally, however, the more plugins you install, the more likely your website is to slow down.
How do I choose a plugin for WordPress?
When selecting a WordPress plugin, consider its average rating, update frequency, and number of active installations. Comparing these factors across alternatives, which you can find on the WordPress.org plugin repository, will help you make an informed decision.
What WordPress plugins do I need for an online store?
WooCommerce
is the most widely used plugin to establish an online store on WordPress, allowing you to sell physical and digital goods.
Easy Digital Downloads
is a more streamlined solution if you're focusing solely on digital products.
What is the best WordPress plugin for designing landing pages for small businesses?
For designing landing pages tailored to small businesses,
Divi
is a comprehensive tool. Alternatively, the free Gutenberg editor for WordPress is a good place to start, especially if you install a block plugin. Divi is particularly useful for professionals due to its expansive library of
elements
and
layouts
.
Which WordPress plugins can I install to increase my site speed?
To boost your site speed, consider installing
WP Rocket
, a highly regarded speed optimization plugin, and
EWWW Image Optimizer
for reducing image sizes.
What is the average price of a WordPress plugin?
WordPress plugin prices typically fall between $49 and $99 for standard plans. More advanced plans for agencies and lifetime memberships can reach up to $1,500.
What are two popular page builder plugins for WordPress?
Two of WordPress's most widely used page builder plugins are
Divi
and Elementor. Divi offers excellent value, with a one-time fee of $249 for lifetime access to unlimited websites.
Looking for more plugins? Check out more of our plugin review posts for any plugin you're looking for.