If you're a realtor, you need a website that can show off your listings in all their glory. On the other hand, if you're a web developer who works with realtors or agencies, you'll have to understand how to implement real estate features in websites for your clients. Either scenario is one you can solve using the best WordPress real estate plugins on the market. There are many great WordPress plugins on the market, but in this post, we'll specifically focus on the best WordPress real estate plugins out there!
Why Do you Need a Real Estate Plugin?
Those in the real estate business have more options than they realize for building a successful real estate site. WordPress has a lot of those really good options if you're trying to avoid expensive MLS listing services to showcase your listings. Using a combination of plugins, you can create a fully functional real estate site that features listings complete with floor plans, virtual tours, as well as agents working for you.
Real Estate plugins are specialized directory plugins with pre-built filtering options that, out of the box, fit the needs of real estate professionals. You can build out a real estate website with a directory plugin but will have to put more work into it—which isn't bad if you are wanting a really custom approach. However, opting for a designated real estate plugin will likely save you a bunch of time and headaches if you are wanting a faster solution.
The Best WordPress Real Estate Plugins

Subscribe To Our Youtube Channel
In this article, we'll introduce you to the 7 best WordPress real estate plugins available. We'll focus on a range of solutions that offer different feature sets, but all have excellent reviews and are well-supported. If you are primarily after a plugin that can handle an MLS integration, we recommend you take a look at our best IDX plugins article. Plugins on this post may have some IDX capabilities but we dive into tools that help you create unlisted or private listings below.
The Best WordPress Real Estate Plugins Listed In Order
Expand List
1. Realtyna WPL

Realtyna WPL is a powerful real estate WordPress plugin by Realtyna that enables you to set up a property listing system for your website. You can add new properties yourself, or let individual real estate agents do so if you belong to an agency.
Listings can be incredibly detailed, including information about property types, prices, square footage, and other key features: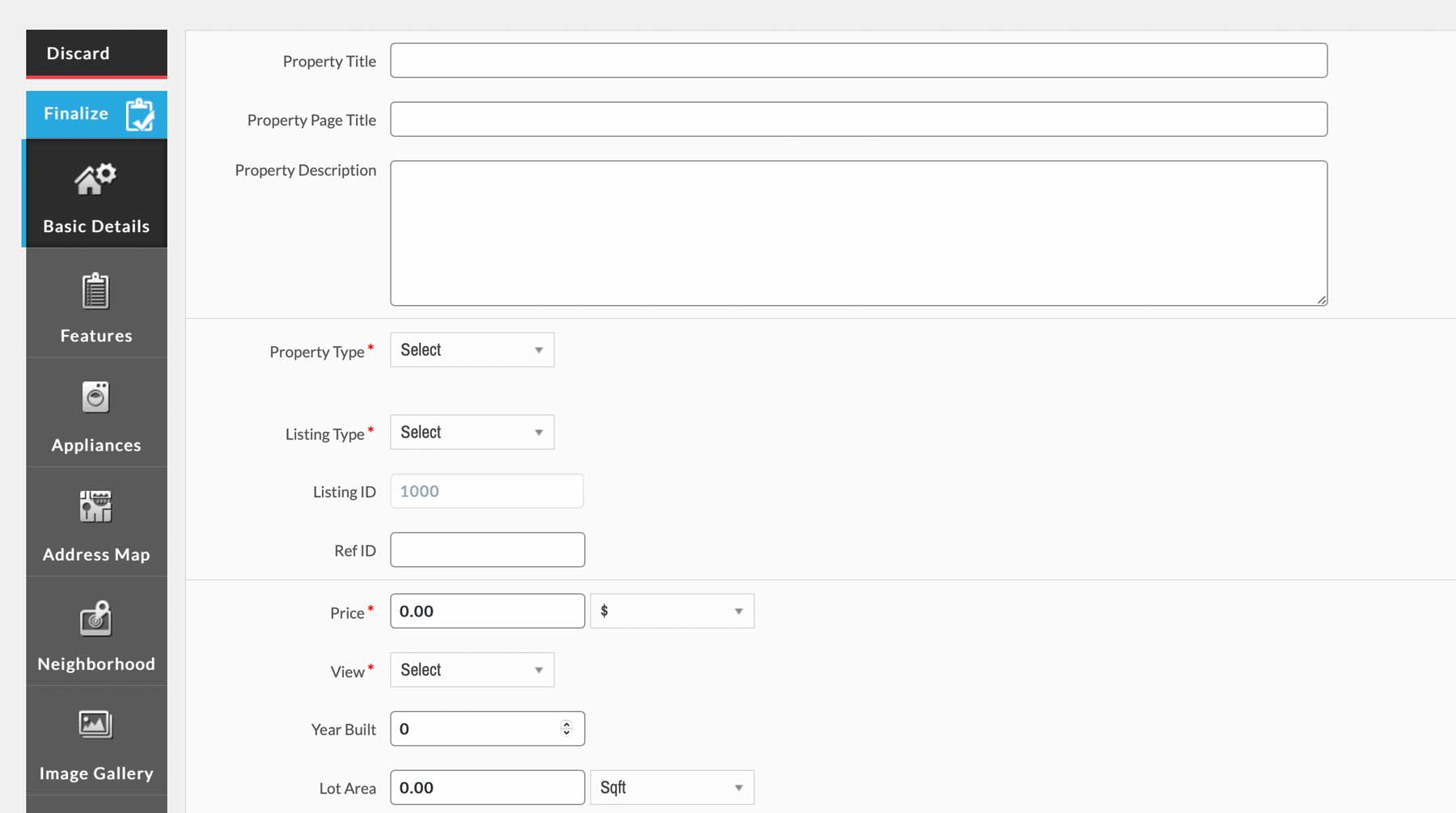 You can upload photos for each property and set up image galleries, videos, and attachments. Moreover, you can fully customize the fields that will appear within each listing.
WPL Real Estate comes with a robust user management system that enables you to decide what permissions each agent will have on your website. That makes it perfect for agencies with multiple realtors: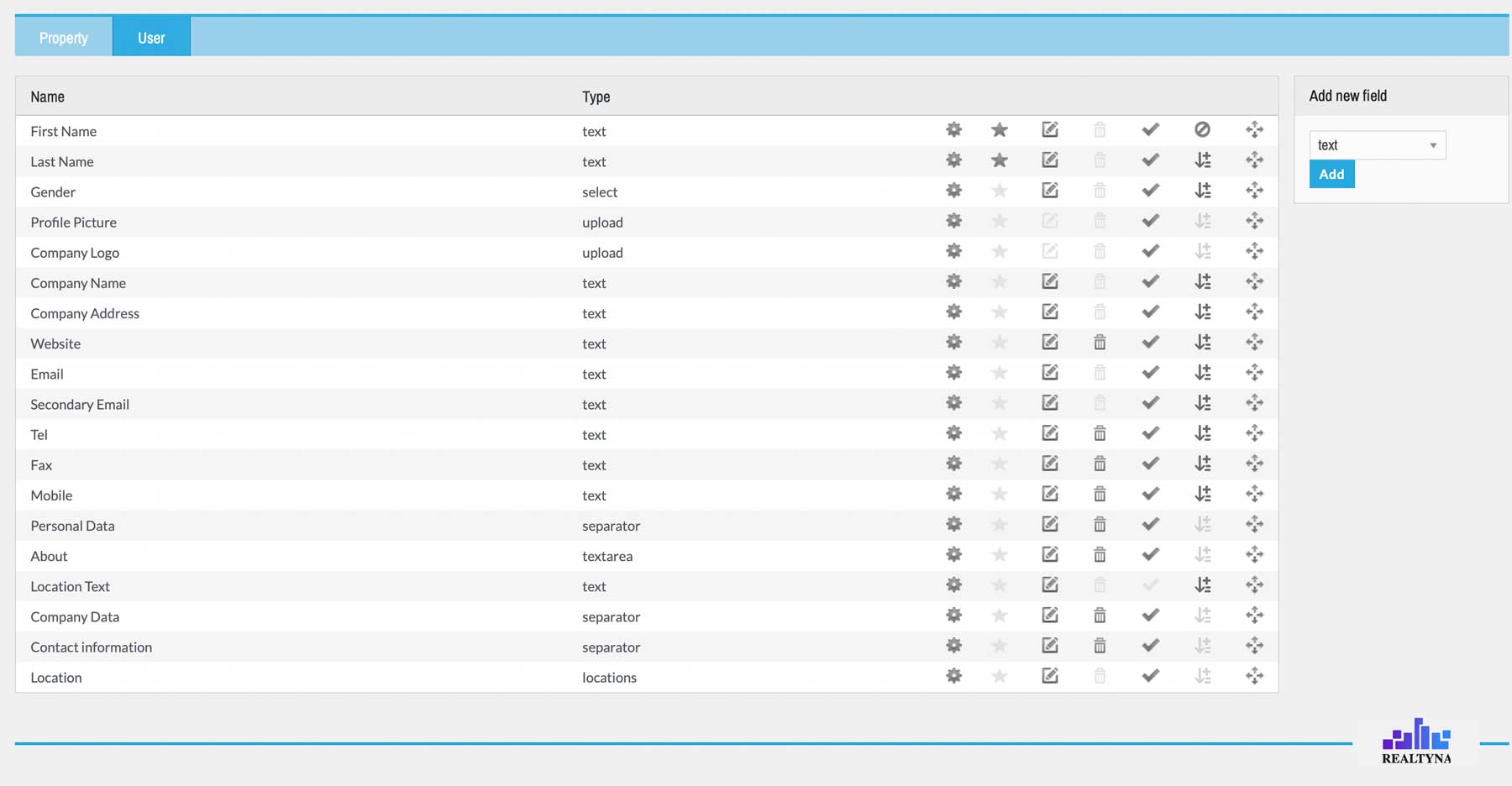 It's worth noting that WPL Real Estate also includes an option to add meta descriptions and keywords for each new listing, which is fantastic for local Search Engine Optimization (SEO). WPL Real Estate also works well alongside Divi, with an assortment of layout packs to help you with designing your site.
This plugin also offers a broad range of paid extensions. Those add-ons make WPL Real Estate incredibly flexible, but they're fairly expensive with prices starting at $199 per year.
Key Features for Realtyna WPL:
Add a listing management system to WordPress
Create new listings with dozens of custom fields
Give other realtors permission to create and edit listings
Modify the default fields for each listing
WPL Real Estate is for you if…
…you want to add real estate listing functionality to WordPress via a fully customizable system. This plugin is a fantastic choice for agencies with multiple realtors due to its built-in user permissions system.
Price: Free, with a premium version available for a $199 lifetime payment.
2. Easy Property Listings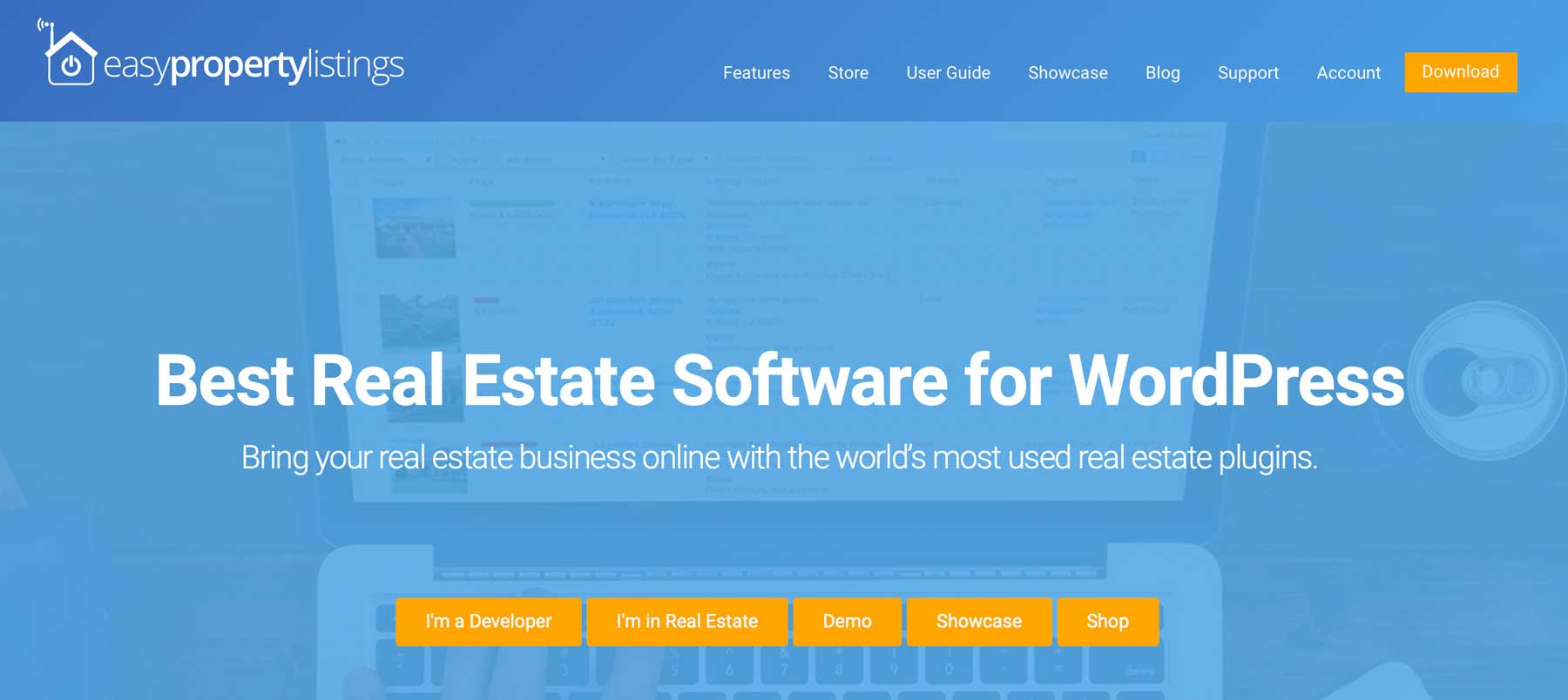 Easy Property Listings adds a full-featured listings system to WordPress. You can include dozens of property-specific details in each listing, including options such as available inspection times, which realtor is the listing agent, and more: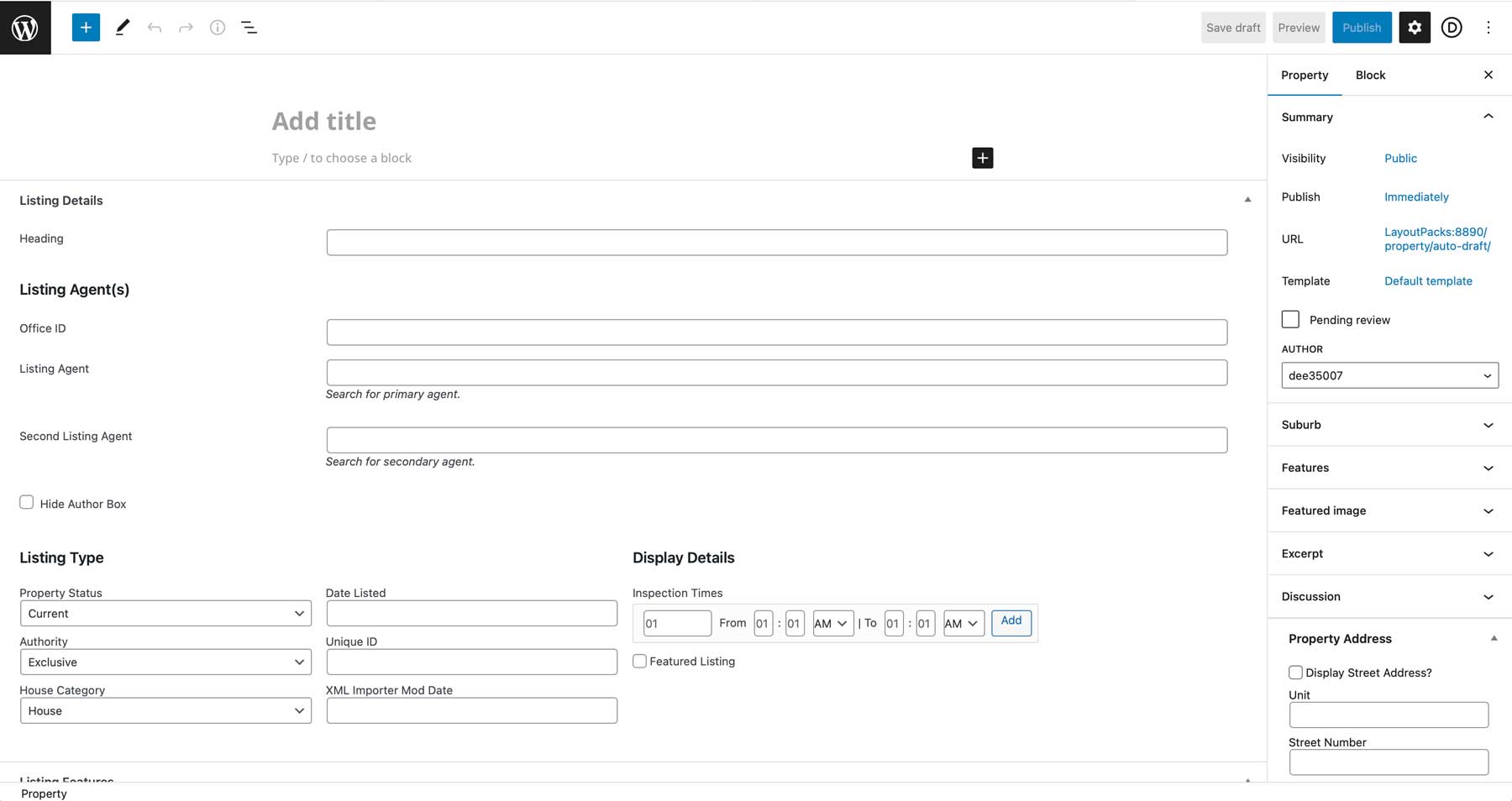 One advantage Easy Property Listings has is that it gives you plenty of display options. You can use shortcodes or widgets to showcase your properties. The plugin even includes some unique widgets, such as a search feature that's designed specifically for real estate properties. Plus, it uses the Gutenberg blocks, so adding other blocks to your listings is a breeze.
Last but not least, it also offers a broad range of add-ons that can provide useful functionality for your site, some of which are much cheaper than what other real estate tools offer.
Key Features for Easy Property Listings:
Add a real estate listing system to WordPress
Modify the default fields for each listing you publish
Display listings using their own pages, widgets, or shortcodes
Add a search bar that's dedicated to listings
Easy Property Listings is for you if…
…you want to use a listings plugin that offers multiple choices for displaying the properties on your website. Putting aside those options, Real Estate Listings is evenly matched in terms of features with WPL Real Estate, so you can choose whichever plugin you feel more comfortable using.
Price: Free, with premium add-ons starting at $27 per year.
3. WP VR

Virtual real estate tours keep growing in popularity, partly due to being very convenient. Scheduling and planning real estate tours can be a lot of work, particularly for popular listings. One alternative is to create virtual tours using a plugin such as WP VR.
Using this tool, you can upload panoramic images to WordPress that users can move around and zoom in on. It also supports videos and includes a gyroscope mode for mobile phones, which makes tours all that more engaging: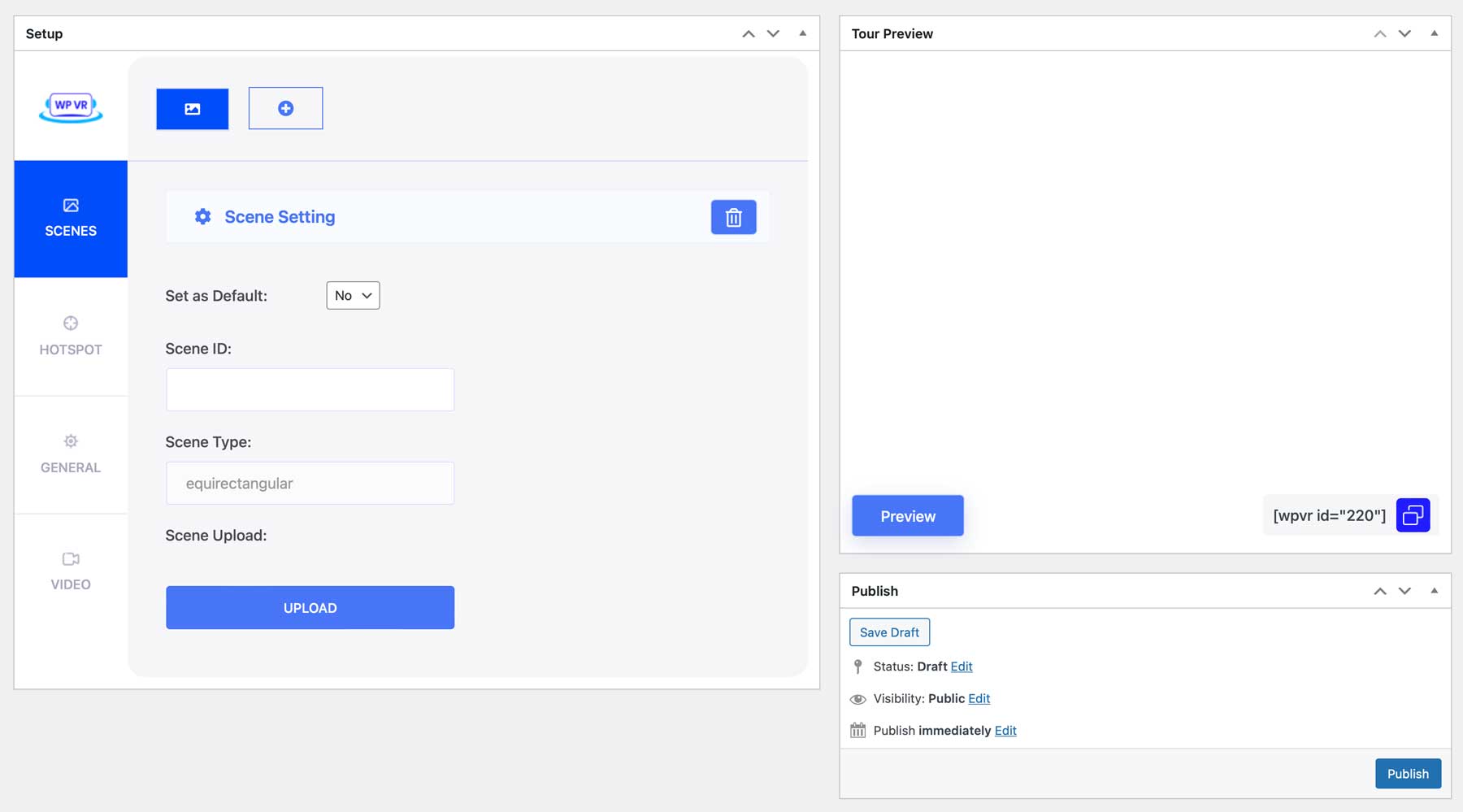 WP VR also enables you to connect multiple panoramic images using a "hotspot" feature. That means you can provide seamless virtual tours of larger areas by having users click on specific spots within an image to load the next one.
Although WP VR has a lot of applications beyond just real estate, it's a fantastic solution to offer potential customers a closer look at your best listings. You can add virtual tours to your listings using the Block Editor or via shortcodes, depending on which approach you prefer.
Key Features:
Create virtual tours for your listings
Enable users to "navigate" panoramic images
Link multiple images and let users move between them in a single element
Add virtual tours to your listings using blocks or shortcodes
WP VR is for you if…
…you want to provide virtual tours for your properties. This is a key feature that most real estate websites don't offer, and it's a fantastic way to draw more attention to your hottest listings. For virtual tours to work, however, you'll need to get comfortable taking panoramic pictures.
Price: Free, with a premium version available starting at $79.99 per year.
4. Draw Attention

So far, we've focused solely on real estate listing plugins. Draw Attention is a unique tool that has incredibly useful applications for real estate websites, but it doesn't have anything to do with listings.
Instead, Draw Attention enables you to take images and make them interactive. For example, you can display information when a user hovers over a specific section of an image, create interactive maps, and design infographics. You'll also find that Draw Attention is the perfect tool to publish interactive floor plans: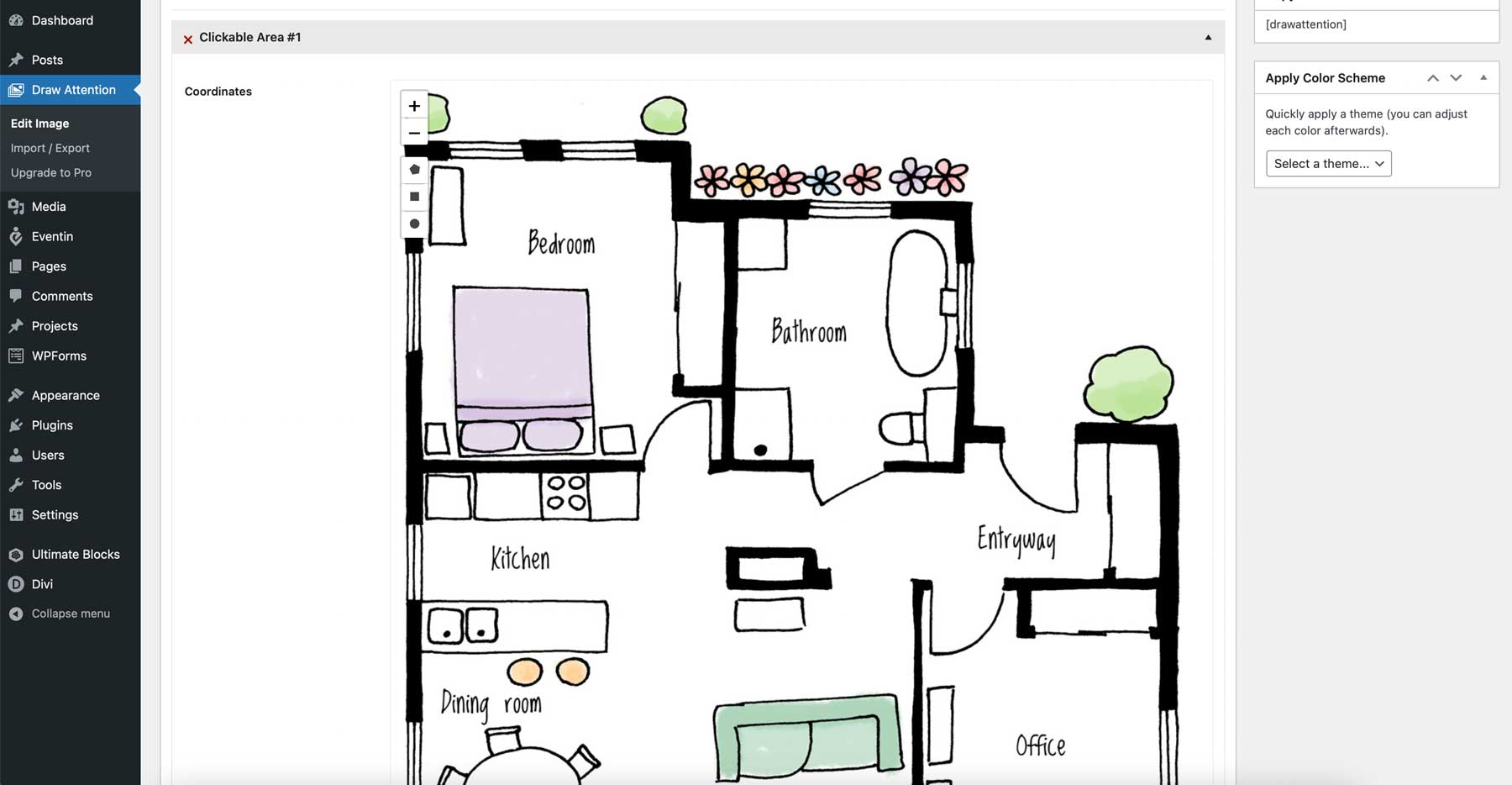 Ideally, we recommend that you use Draw Attention alongside one of the listing plugins we discuss in this list. Each annotated image you create comes with a unique shortcode, so you can show floor plans within listing descriptions or anywhere else on your site.
Key Features for Draw Attention:
Create annotated images and floor plans for your listings
Display interactive media using shortcodes
Draw Attention is for you if…
…you want to give your real estate listings an edge and make them more interactive. In our experience, interactivity leads to more user engagement, and annotated real estate images can help you convey details about your properties more effectively than mere text.
Price: Free, with a premium version starting at $99 per year.
5. Estatik

Estatik is a WordPress real estate plugin that's all about listings. It shares several features with the other tools we've talked about so far, including the option for you to add new listings and customize what fields they include.
However, it also brings some new features to the table, such as enabling customers to save searches, create property wishlists, and share publications on social media: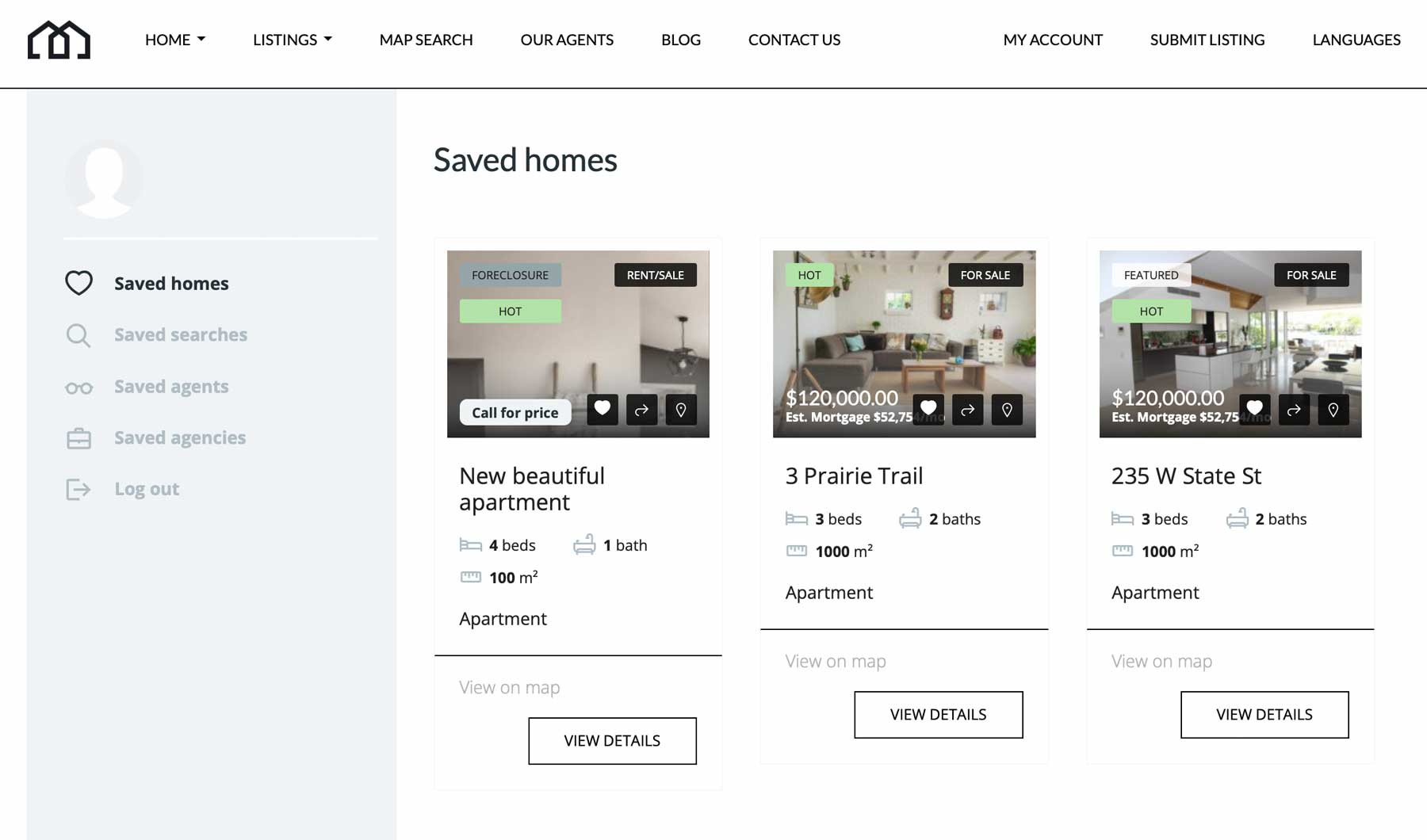 With Estatik, you get access to over 50 shortcodes you can use to display listings in any way you see fit. The plugin also includes a property slideshow and listing search widgets. Plus, it comes with a free theme designed for real estate websites. The theme itself is rather simple, but it makes listings look appealing (although there are plenty of other real estate themes you can use instead).
One downside of using Estatik is that the plugin's free version only enables the WordPress administrator to add listings. If you want support for multiple agents, you'll need to purchase the premium version.
Key Features for Estatik:
Add a real estate listing system to WordPress
Customize each listing's fields
Use shortcodes to display your listings
Use widgets to display listings and include a search feature
Enable users to save listings and share them on social media
Estatik is for you if…
…you want to enable prospective customers to create property wishlists or share their dream homes on social media. Estatik works best for solo realtors, as it doesn't include support for multiple agents in its free version.
Price: Free, with a premium version available starting at $89 per year.
6. Essential Real Estate
Essential Real Estate is less about publishing your own listings, and more about creating a marketplace where other realtors and agencies can share their properties. The plugin enables you to add listings manually, but it's clearly optimized for front-end submissions: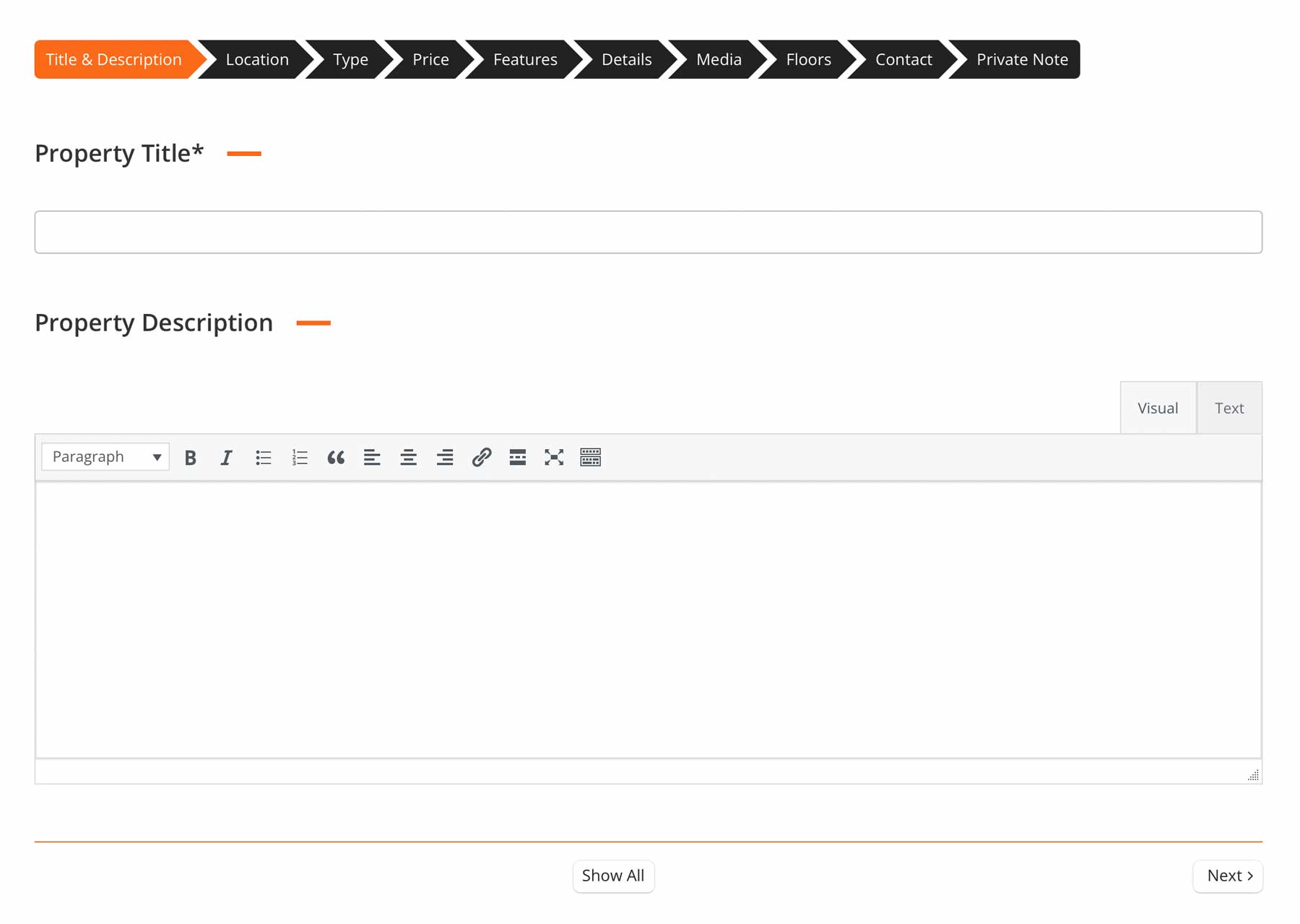 With this tool, you can monetize your real estate marketplace by offering subscriptions. Realtors will have to subscribe before they can submit listings, which you then approve before they go live. Essential Real Estate also includes payment processing functionality, and it supports PayPal, Stripe, and wire transfers out of the box, making it function much like a membership plugin.
Along with enabling realtors to register individually, you can also offer subscriptions to entire agencies. On the front end, listings are easy to navigate, and can easily be integrated with themes like Divi because of the use of shortcodes, and clients will be able to save their favorite properties to wishlists.
Key Features for Essential Real Estate:
Create a real estate listing marketplace
Enable realtors and agencies to submit new properties using a front-end form
Approve submissions before they go live
Set up multiple subscription levels within your marketplace
Process payments via PayPal, Stripe, and wire transfers
Essential Real Estate is for you if…
…you want to create a marketplace where other realtors and real estate agencies can publish listings. It's one of the best WordPress real estate plugins for businesses that want to band together to show a broader listing portfolio, especially in areas where there aren't any similar portals available.
Price: Free
7. dsIDXpress

Last on our list, dsIDXpress is a powerful plugin designed to optimize your MLS listings for SEO. With its user-friendly features, you can effortlessly attract more visitors to your website and convert them into leads. This plugin offers a range of tools, such as customizable widgets, shortcodes, and search tools, to help your users easily search for properties in their desired area. Additionally, the plugin comes equipped with robust lead-capturing tools, making it an effective solution for driving sales and growing your business.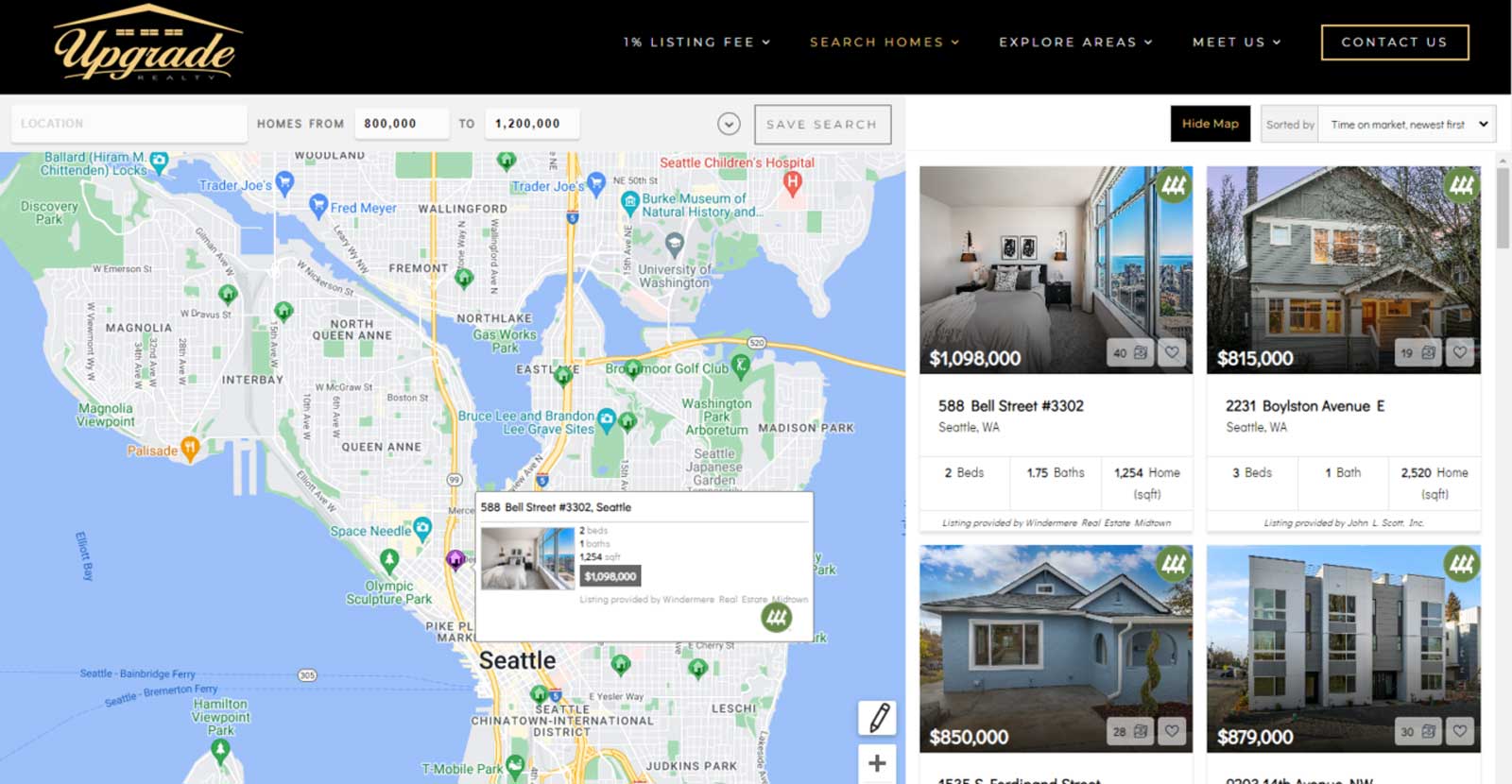 By tapping into an extensive MLS database, this plugin provides your users with the latest and most accurate listings of homes for sale, pending, or sold. Additionally, users will benefit from access to valuable information, such as school district data, indexable city and neighborhood pages, and themes that match the styling of your website.
Key Features for Essential Real Estate:
Easy setup and customization
SEO-friendly and responsive layouts
live MLS listing updates
City and neighborhood pages
Advanced search features and filters
dsIDXpress is for you if…
…you want a full-service IDX solution for your real estate site that will feed not only your listings but other listings in your area. Plus, you'll get a hands-off experience thanks to the dsIDXpress support staff who will make sure your site's listings are up to date.
Price: Starting at $59 per month.
Comparing All the Best Real Estate Plugins
There are a lot of contenders for the best WordPress real estate plugins. Many of these tools focus on listings and enable you to publish properties on your website in style. Other plugins help make your properties look more attractive, such as through detailed floor plans and even virtual tours. Yet others handle all of the work for you, making sure your listings are always up to date.
Real Estate Plugin Price Comparison
Our list has a variety of plugins that can help you build a solid real estate website on WordPress. Here's how they stack up on a price basis:
Real Estate Plugin Feature Comparison
The top real estate plugins are the best for a reason. Here, we compare some of the features that make them the top contenders in our list:
🥇 Realtyna WPL

🥈 Easy Property Listings

🥉 WP VR

Starting Price
$199 lifetime
$27/yr
$79.99/yr
MLS/IDX Integration
✔️
✔️
❌
Google Maps Integration
✔️
✔️
✔️
Listing Management
✔️
✔️
❌
Agent Profiles and Management
✔️
✔️
❌
Frontend Management
✔️
✔️
✔️
Advanced Custom Search Functionality
✔️
✔️
✔️
Custom Fields and Post Types
✔️
✔️
❌
Photo, Video and Multimedia Galleries
✔️
✔️
✔️
Template Library
✔️
✔️
❌
Customizable Branding
✔️
✔️
✔️
Active Installations
270,000+
600,000+
270,000+
Community Rating
4.7/5
⭐⭐⭐⭐⭐
Read Reviews
4.7/5
⭐⭐⭐⭐⭐
Read Reviews
4.7/5
⭐⭐⭐⭐⭐
Read Reviews
Get Realtyna WPL
Get Easy Property Listings
Get WP VR
What is the Best Real Estate Plugin?
If you're looking for a good all-around real estate listings plugin, we recommend Realtyna WPL because of its ability to function as a full-service MLS service right inside WordPress. With this plugin, you'll be able to add listings, and agents, and even add users to help you manage the workload.
You may also consider an interactive map plugin to help you display all your listings on easy-to-use maps that provide customers with driving directions and much more.
Frequently Asked Questions (FAQs)
Before we wrap up, let's answer some of your most common questions regarding the best WordPress real estate plugins. Did we miss one? Leave a question below, and we will respond!
Do you have any questions about how to publish real estate listings on your WordPress site? Let's talk about them in the comments section below!
Featured Image via elenabsl illustration / shutterstock.com