Membership websites allow marketers, bloggers, and businesses to restrict content, create subscription-based membership levels, build forums, and even incorporate a paywall. You'll need a good membership plugin to build a successful membership website. In this post, we'll explore some of the best WordPress membership plugins, both free and paid, so you can decide which one is right for you.
Let's get started.
What is a WordPress Membership Plugin?
A WordPress membership plugin restricts content to specific posts, pages, and other types of content. In addition to being able to password-protect or gate content, it uses WordPress user profiles and allows you to create new user roles for membership tiers. Also, they can be subscription-based, controlling the content a user can access at the membership level.
There are many membership plugins with different features. They usually have member levels, directories, gated content, forums, courses, and a paywall system.
The Best WordPress Membership Plugins
The Best WordPress Membership Plugins Listed In Order
Expand List
We have listed popular plugins with good features for any membership website. Our suggestions are mostly paid options that give you more value, with a few free options for those who don't need as much power. The best plugin for you depends on what you need for your site.
1. MemberPress

MemberPress is one of the more popular membership plugins for WordPress. It also functions as a learning management system (LMS). This allows you to launch a comprehensive online academy without the extra cost of an LMS plugin.
Key Features of MemberPress:
Paywall & ability to drip content
Bill for subscriptions
Create courses and quizzes
Download digital files
Works well with Divi
MemberPress has paywall functionality on board, allowing you to create paid membership levels and accept payments via Stripe, PayPal, and others. The MemberPress Divi Add-On integration provides added benefits for Divi users by allowing them to limit access to modules, rows, sections, or pages within Divi using the MemberPress tab in the Visual Builder.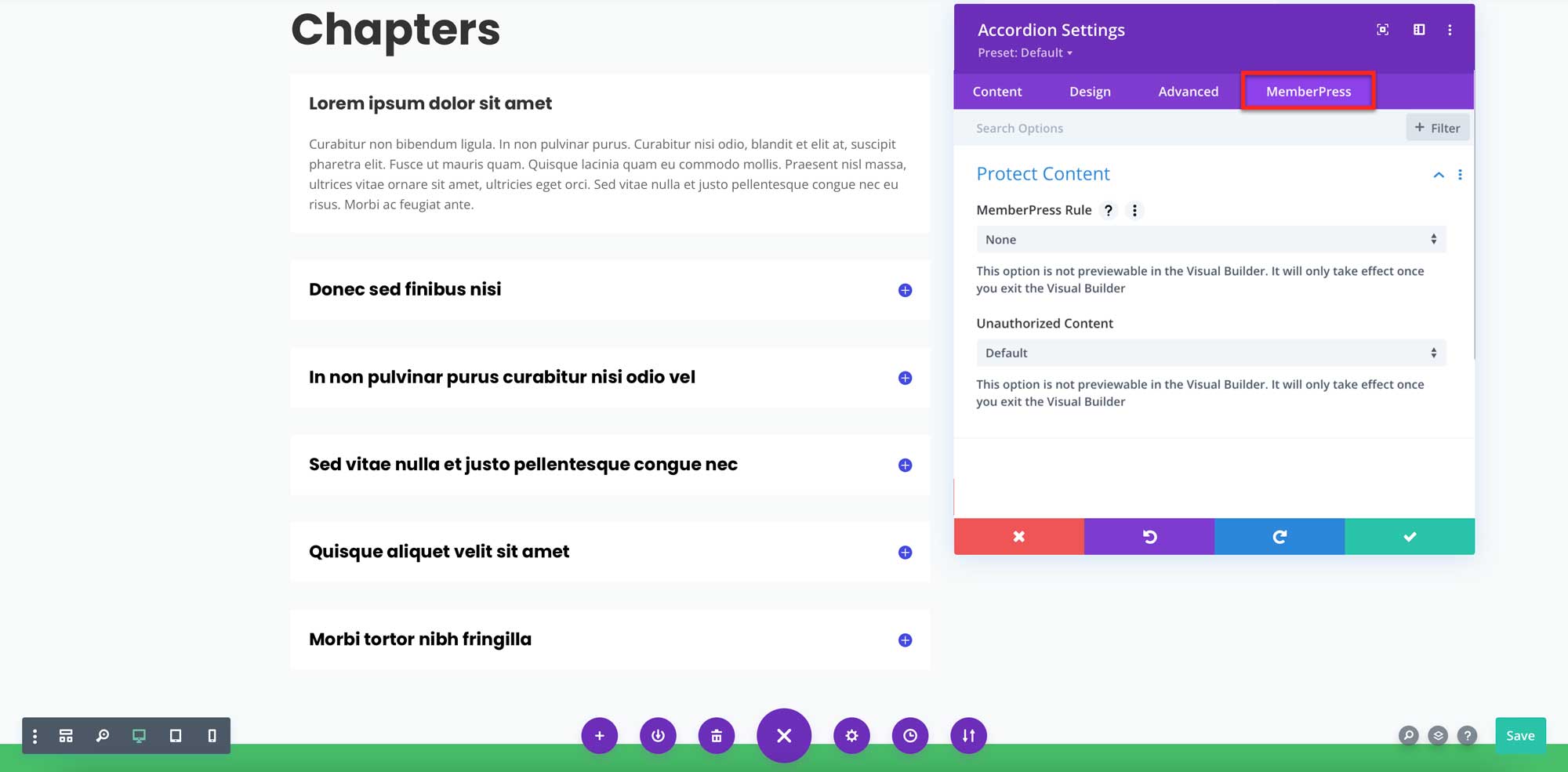 Plus, you can create multiple membership levels to suit your needs, set up community forums without needing more plugins, and harness the power of Zapier. If your site has custom post types, you'll be pleased to learn that MemberPress supports Advanced Custom Fields and Toolset, which also integrate with Divi.
With MemberPress, you also get the ReadyLaunch™ page maker to create pricing, login, and registration pages with your images and company brand styles. Plus, you can discount courses or subscriptions with coupons, launch affiliate programs, and set up member emails.
However, it doesn't have chat built-in, which is a drawback of MemberPress. Chat software can enhance engagement with potential members who are considering your site. To address this, there are several good chat plugins that can easily integrate with your MemberPress site.
MemberPress is for your if…
You want to create online courses with ease.
You want responsive, no-code custom landing pages.
Need compatibility with Divi.
MemberPress Pricing: starting at $179.50 per year.
2. Paid Memberships Pro
Up next, Paid Memberships Pro offers many of the same features as other membership plugins – but with a couple of excellent additions. First, it allows for content to be hidden based on post type, including posts, products, categories, or tags. Second, it provides a dedicated theme for those starting from scratch.
Key Features of Paid Memberships Pro:
Dedicated theme or seamless integration with page builders such as Divi
Restrict custom post types
Drip content
Custom member home pages
WordPress multi-site support
Plus, Divi users get seamless integration with Paid Memberships Pro. You'll be able to restrict content to pages and sections of pages or posts using Divi's Visual Builder.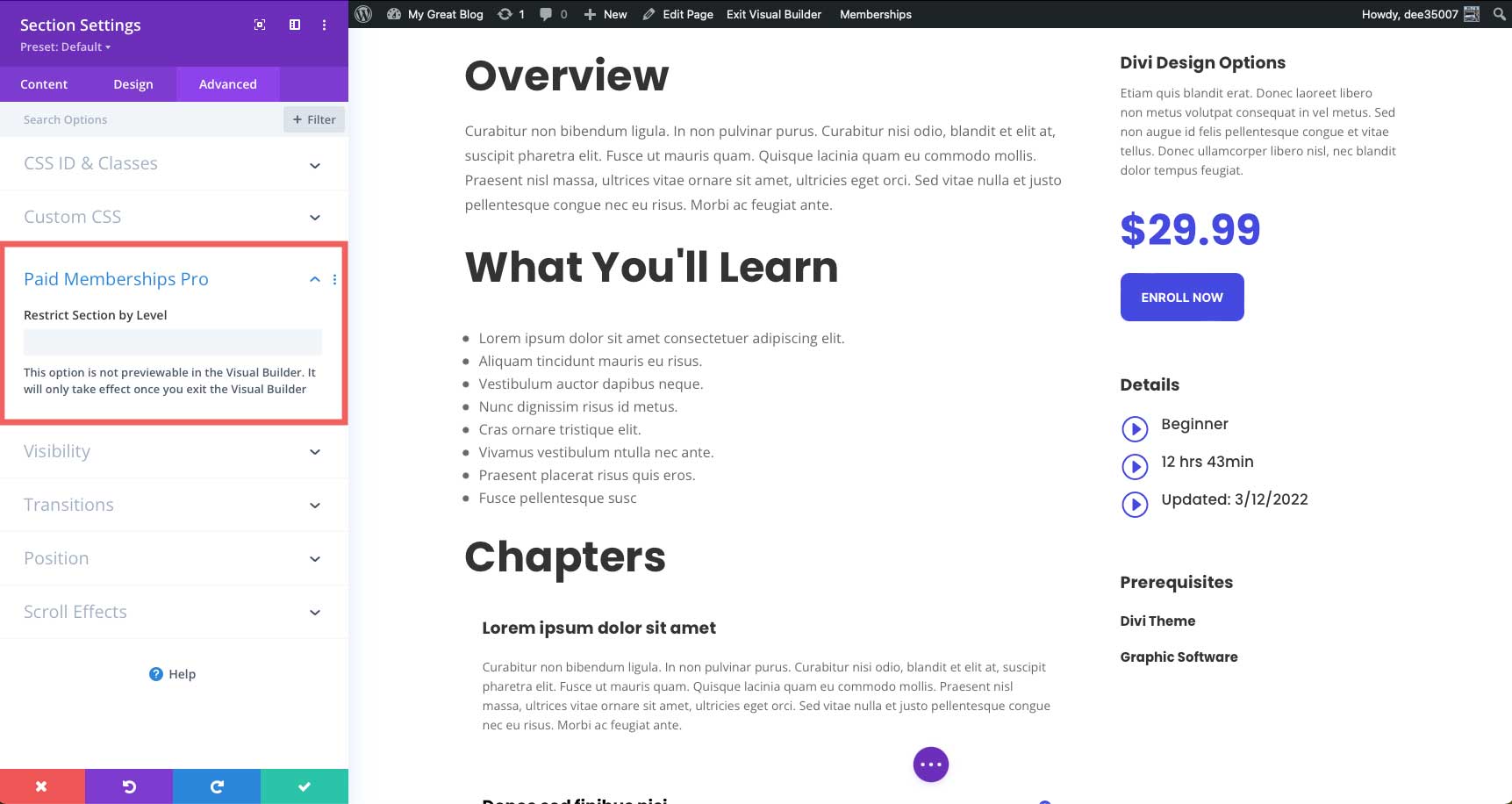 Additionally, Paid Memberships Pro offers several distinctive features, such as content dripping, which schedules the release of content based on a member's start date. It also provides a dedicated theme and allows for the creation of custom member pages based on membership level. Plus, thorough documentation is available through the Paid Memberships Pro website.
Lastly, if you opt for the plus price tier, you can gate content and manage memberships over a network using WordPress multi-site installations.
Paid Memberships Pro is for you if…
You want a highly customizable membership site.
A free theme is a must.
You need premium-level documentation and support.
Paid Memberships Pro Pricing: Starting at $247 per year.
3. Wishlist Member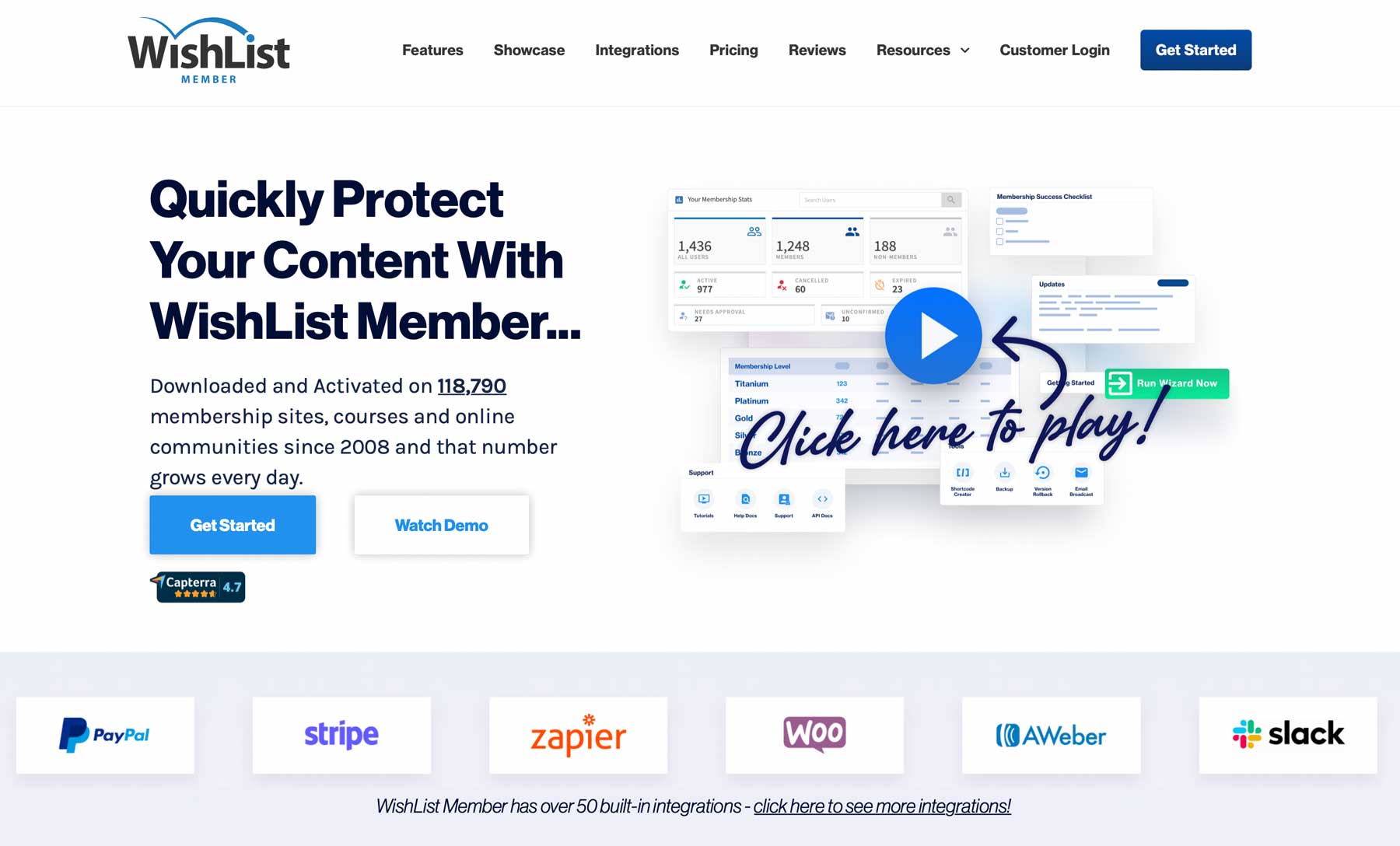 Next on our list, Wishlist Member is a powerful membership plugin for WordPress that you may not be familiar with. It enables you to establish a complete membership site with various membership levels, subscription-based offerings, and payment integration options. Additionally, it functions as a complete Learning Management System, allowing you to create and administer courses and quizzes.
Key Features of Wishlist Member:
Seamless integration with Divi
Functions as an LMS
Comprehensive configuration wizard
More than two dozen payment and email integration options
WooCommerce integration
Customizable member pages
As a bonus, the first-time configuration wizard in Wishlist Member is an excellent tool that makes it easy to set up your membership levels, integrate with payment and email providers, and generate essential pages such as the registration page, sales page, login page, member welcome page, and member dashboard.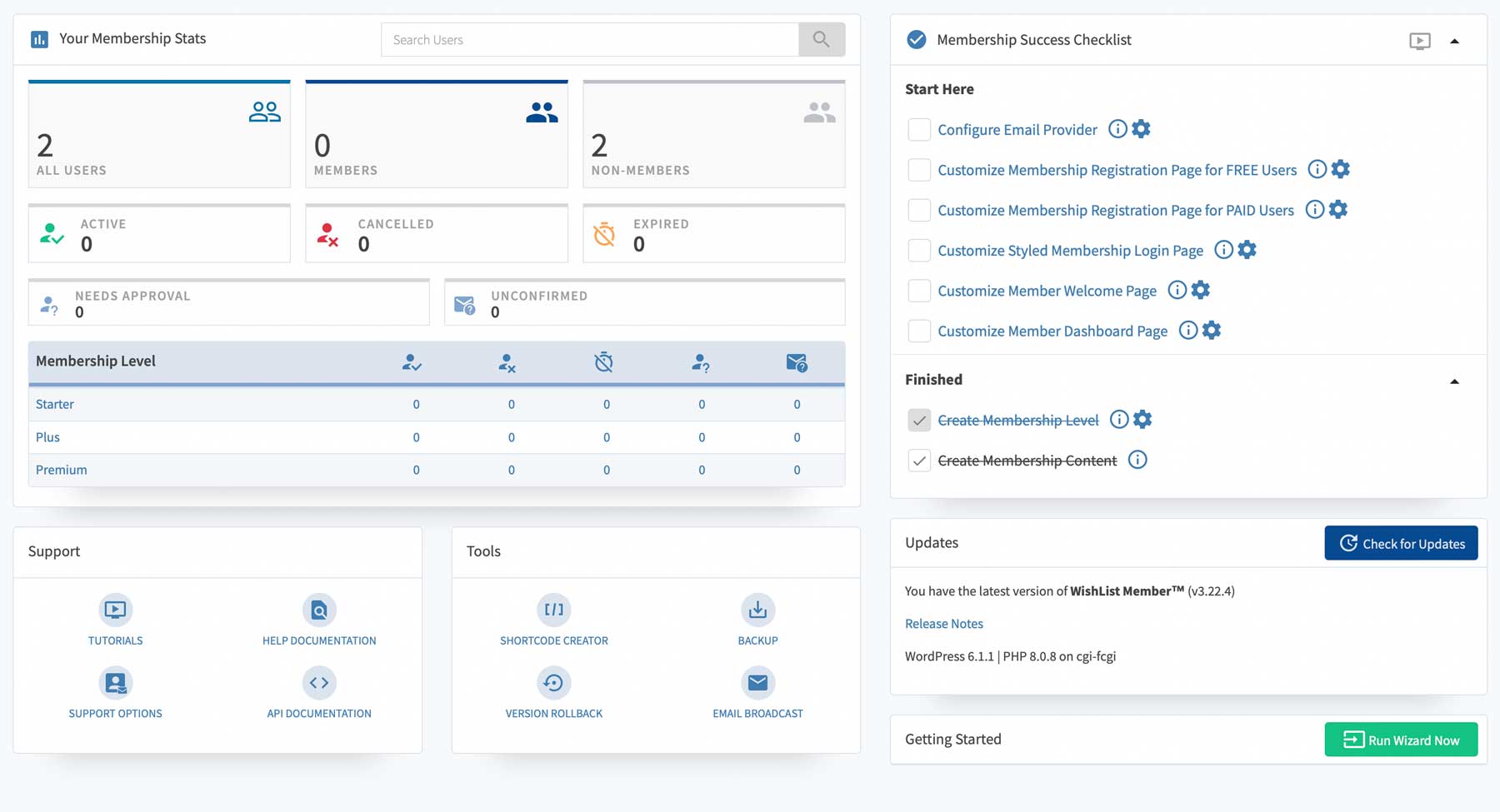 Next, the configuration wizard leads to the membership dashboard, where you can manage email providers, customize member pages, view member metrics, use shortcode tools, backup data, and access tutorials.
Wishlist Member is for you if…
You need an easy process to set up your membership site.
You want a dashboard for user metrics.
Payment and email provider choices are needed.
Divi users will be pleased with the robust integration with Wishlist Member. Content can be assigned at the module level, assigned to various membership levels, and is easily visible in the content tab for any Divi element.
Wishlist Member Pricing: Starting at $99 per year.
4. Member Mouse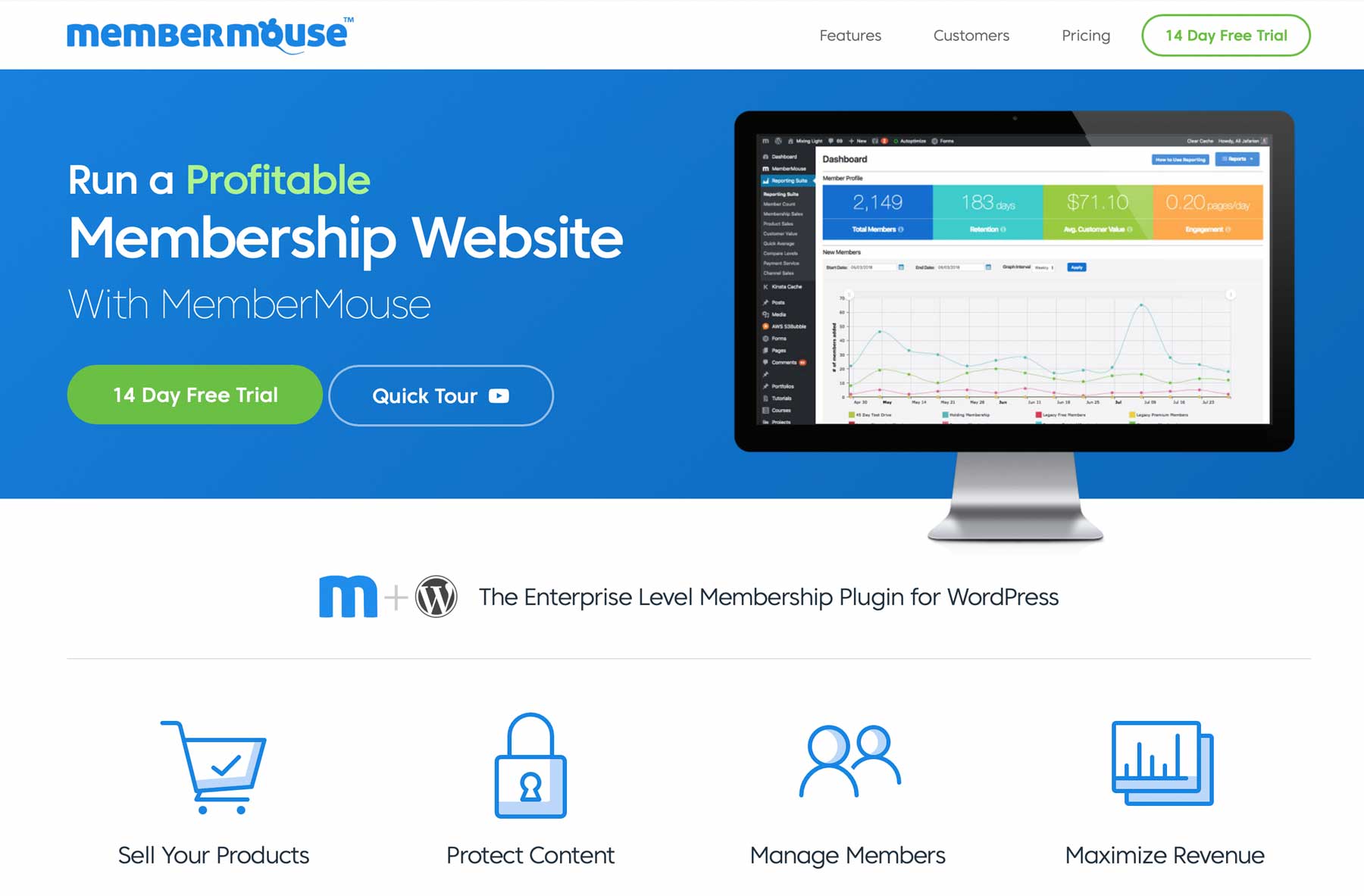 As one of the more expensive options on our list, Member Mouse is geared toward those who want to build a complete sales-based membership site. Rather than yearly billing, you'll be billed monthly, which makes the cost easier to swallow. Plus, you'll get a 14-day free trial, so you'll have plenty of time to decide if it's right for you.
Key Features of Member Mouse:
Complete e-commerce solution for memberships and subscriptions
14-day free trial
Multiple payment gateway options
One-click purchase technology
Extensive member management dashboard
Member Mouse is a complete tool to manage paid subscriptions, memberships, and products. With a simple interface, setting up your offerings is easy. You can create multiple membership levels and offer one-click product purchases. The dashboard provides a complete membership management system, integration with email automation services such as Mailchimp, Active Campaign, and Constant Contact, and support for various payment options, including Stripe, Authorize.net, and PayPal.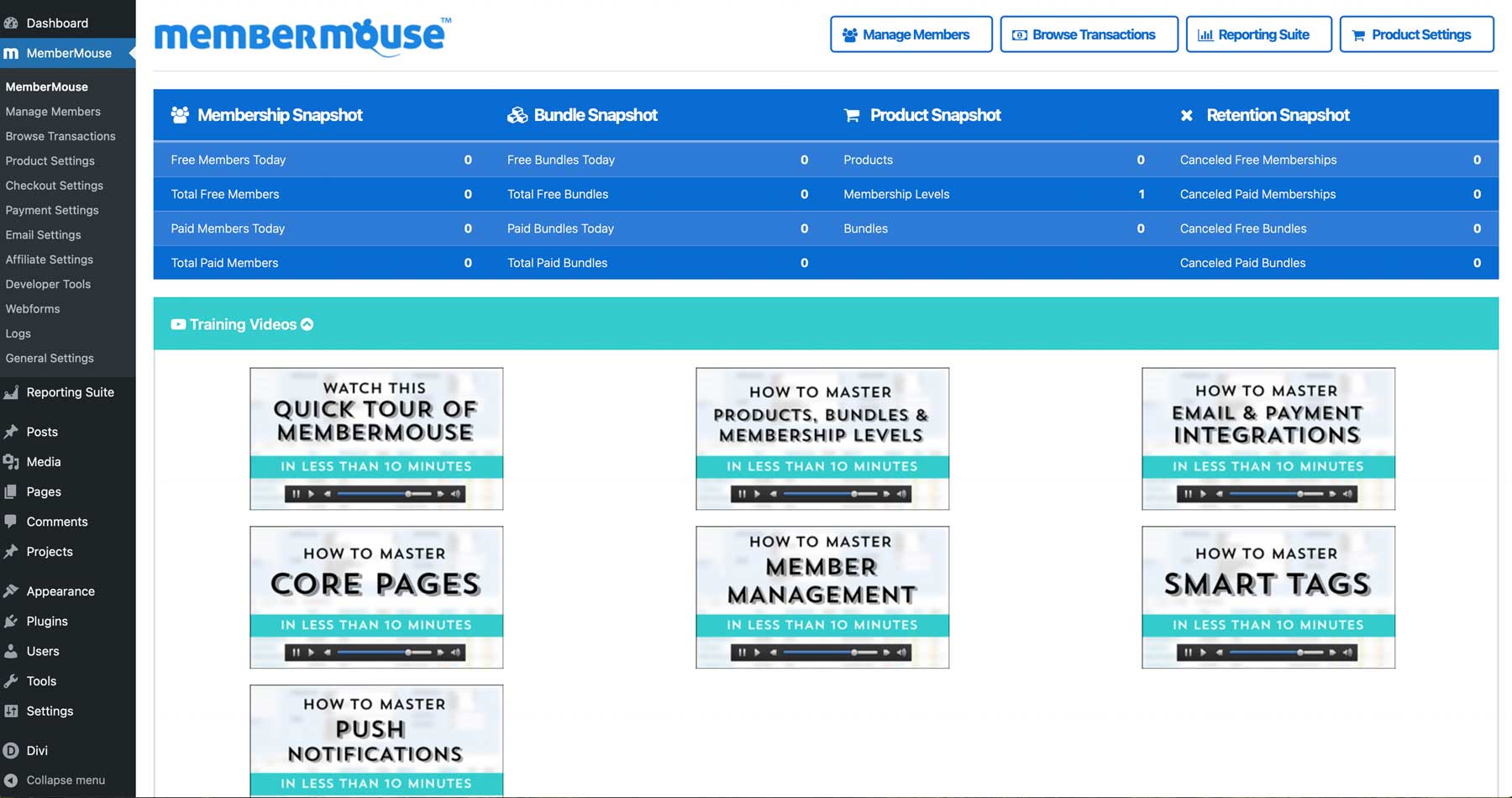 However, Member Mouse lacks the convenience of creating custom forms for your membership site, requiring knowledge of HTML and CSS. That being said, several form plugins are available to bridge this gap and provide the functionality you need.
Member Mouse is for you if…
You want a one-stop shop for subscriptions and marketing automation.
Want to track members' purchase history, subscriptions, and revenue.
You need a comprehensive subscription system for your website.
Member Mouse Pricing: Starting at $29 per month.
5. JetEngine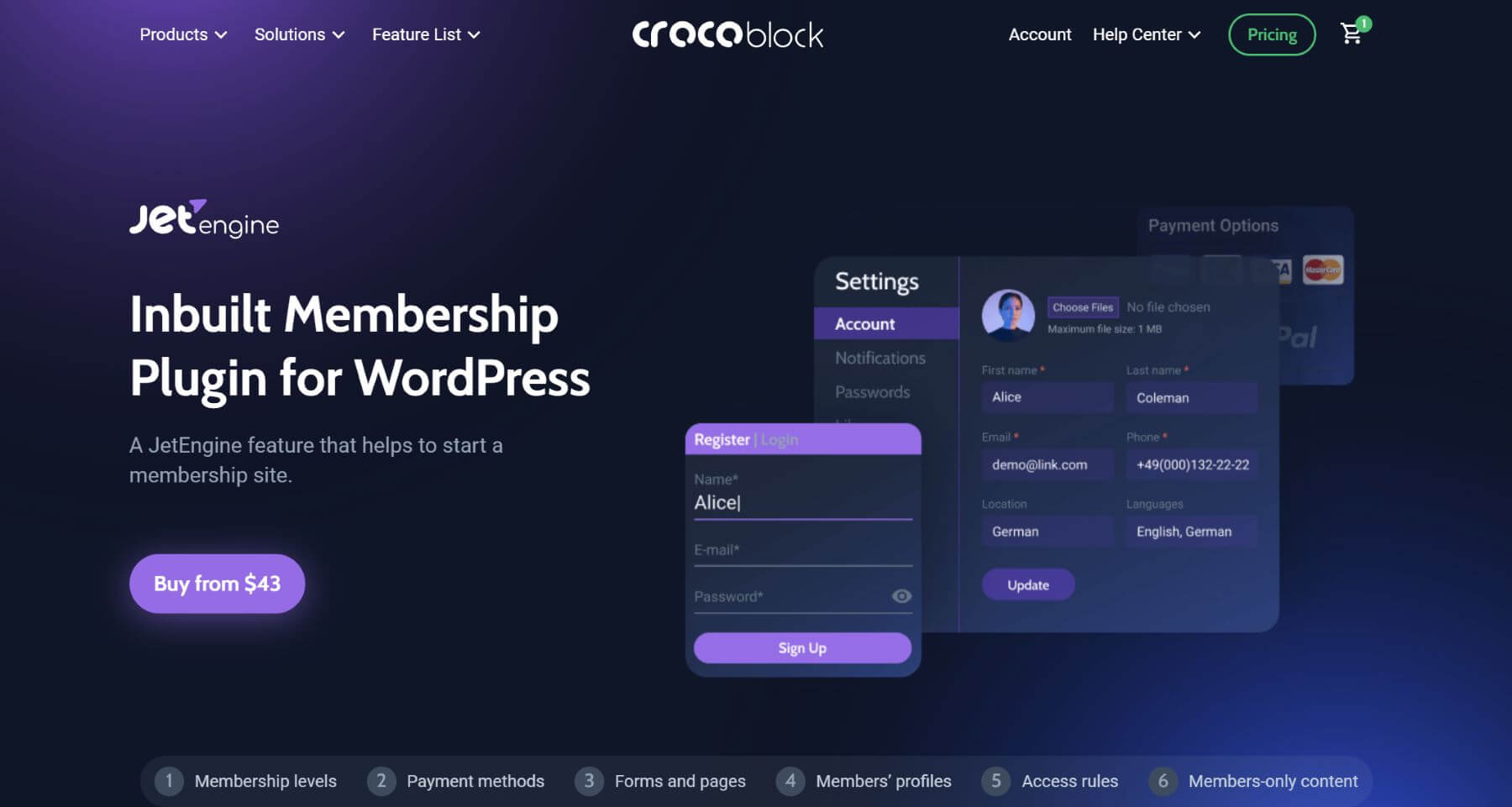 JetEngine, a WordPress plugin developed by Crocoblock, streamlines the process of building websites with advanced dynamic content capabilities. Combining its extensive core features with the vast array of JetPlugins available, it uniquely empowers users to build membership sites on WordPress. With JetEngine, you have absolute control to incorporate custom post types, fields, and taxonomies, and craft user profile pages, among other features.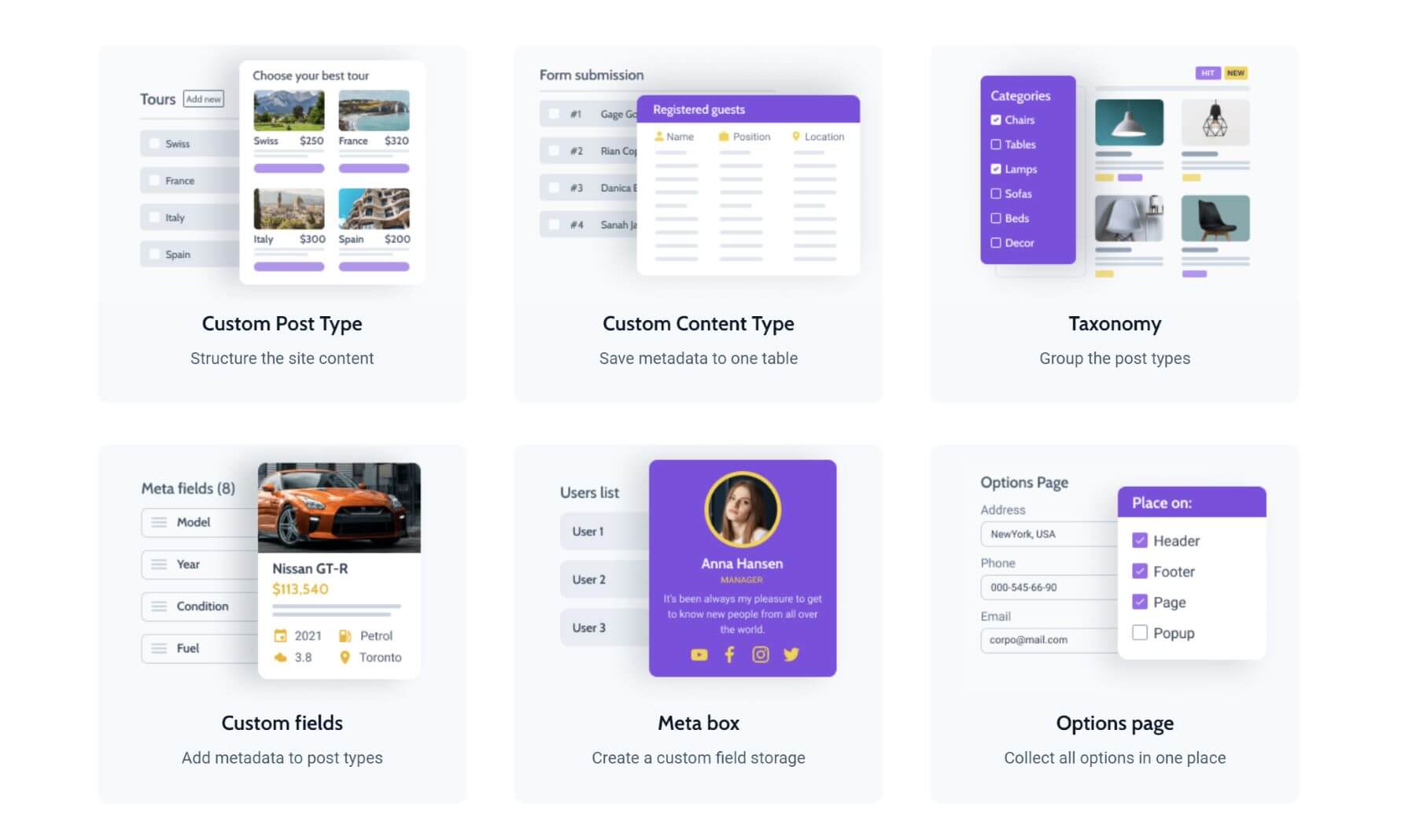 It has a variety of dynamic widgets and conditional logic that can be used to display any data you want in various ways. With JetEngine, you can create an online course with a drip feed, restrict content or downloads for premium members based on membership levels or roles, and more.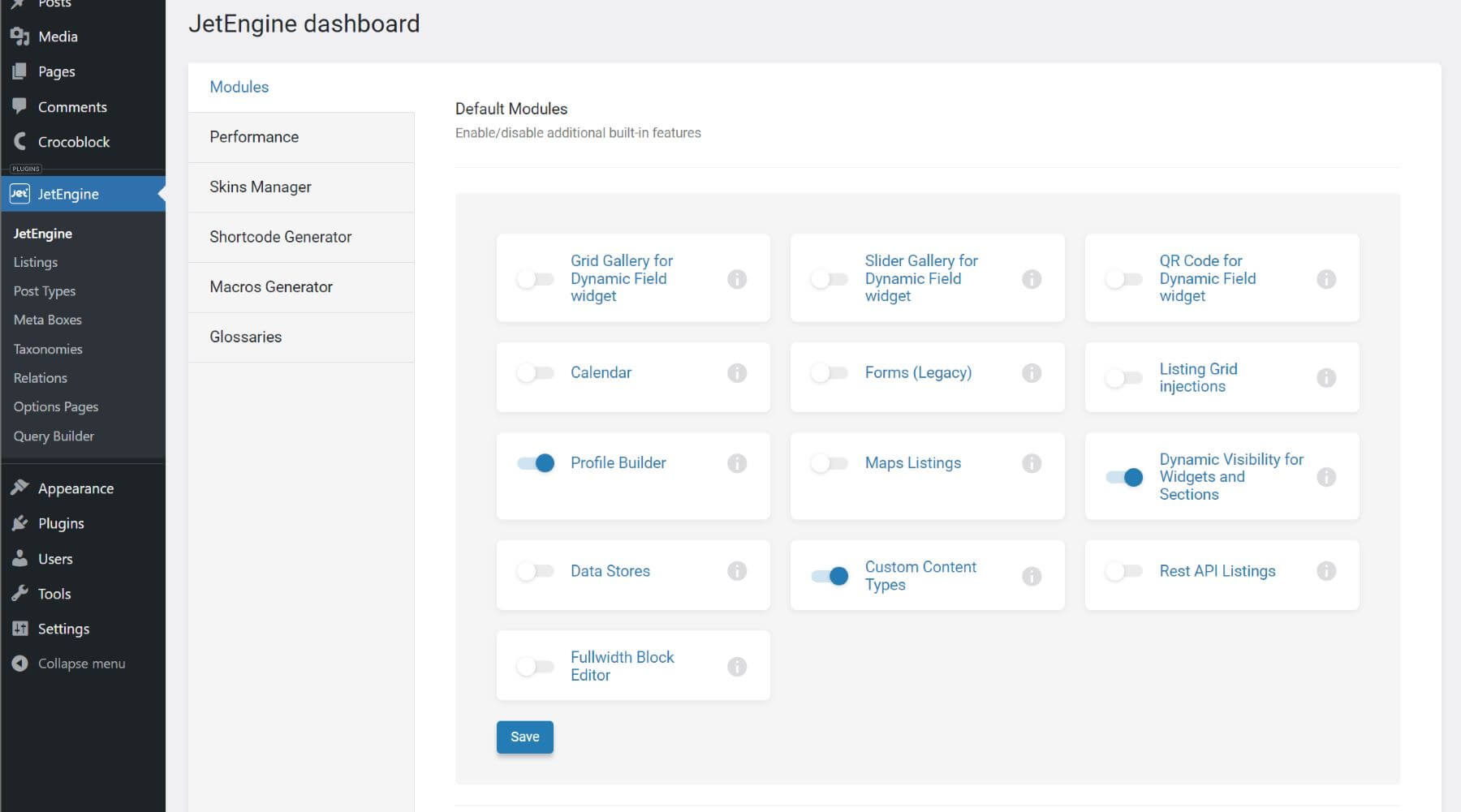 However, JetEngine isn't your typical all-in-one membership site solution. Instead of having all possible features included out of the box, it is up to the user to use the tools available to create a membership solution tailored to their needs. This can be more affordable for those looking to build membership sites without being stuck with a more expensive, bloated plugin with features they never use. But it also can involve a steeper learning curve compared to other solutions because it gives you more control.
Key Features of JetEngine:
Powerful form builder for login, registration, and user form submissions
Add payment gateways to forms based on membership level or user role.
Profile Pages with advanced user profile creation and management tools
Restrict or personalize content visibility based on user role.
Works seamlessly with Gutenberg or Elementor with custom JetEngine blocks to build content.
AI-powered Query Builder interface for calling and displaying any data from your database on the front end.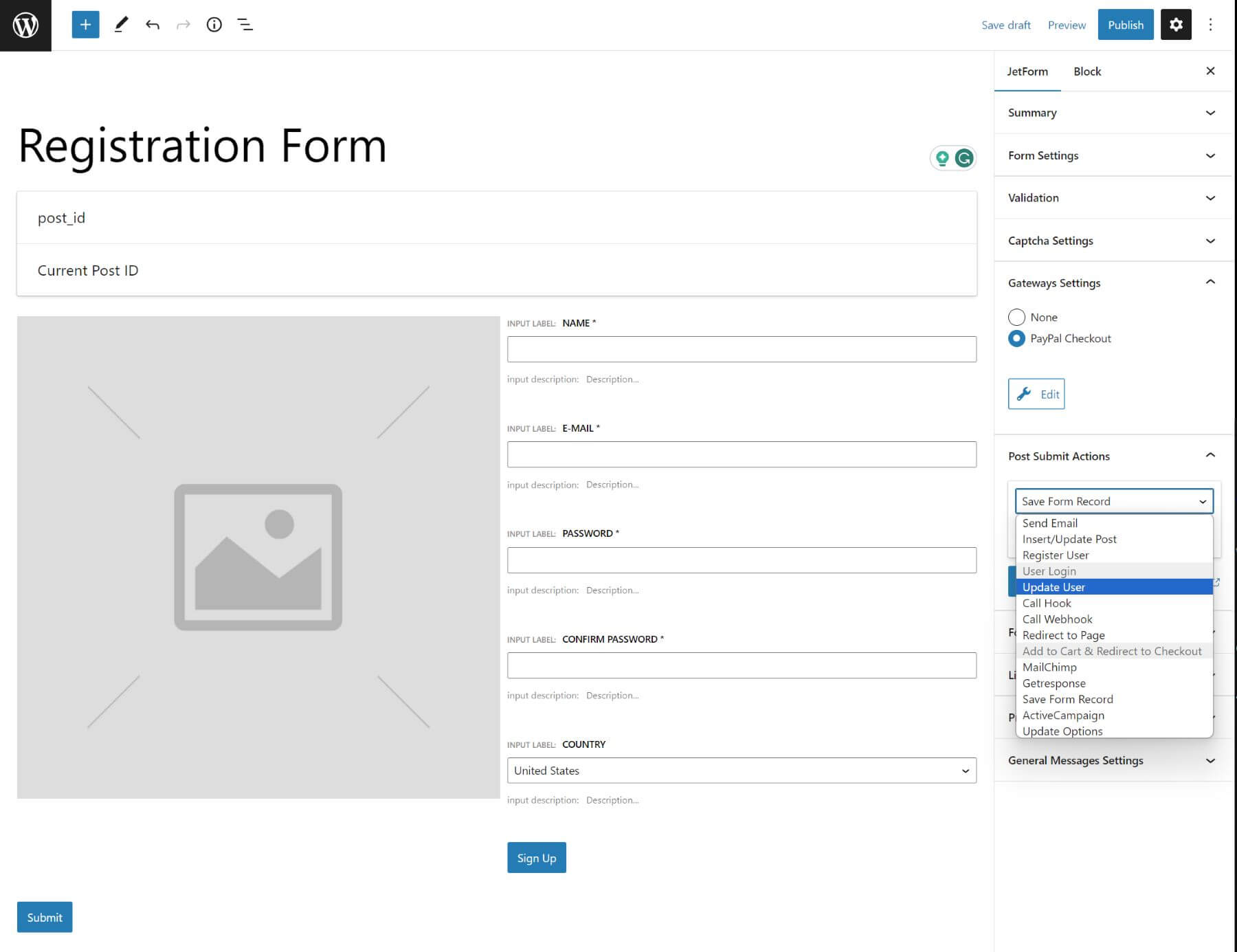 You can use their JetFormBuilder to create any type of form you need for a membership site, including user registration forms, login forms, and user submission forms – all with various field options, dynamic values, and conditional logic. You can even assign Post Submit Actions to control what happens after a form is submitted. Plus, you can add payment gateways (Paypal, Stripe, WooCommerce) to registration forms to monetize your memberships.
Best For:
JetEngine is best for those looking for a suite of WordPress plugins that gives you granular control over your membership site with dynamic content widgets, easy-to-use design tools, and powerful form functionality. Its seamless compatibility with WordPress (and Elementor) and the extendability provided by the suit of JetPlugins make it affordable and scalable.
JetEngine Pricing:  Custom subscription starts at $43 per year; All-Inclusive subscription from $199 per year
6. Restrict Content Pro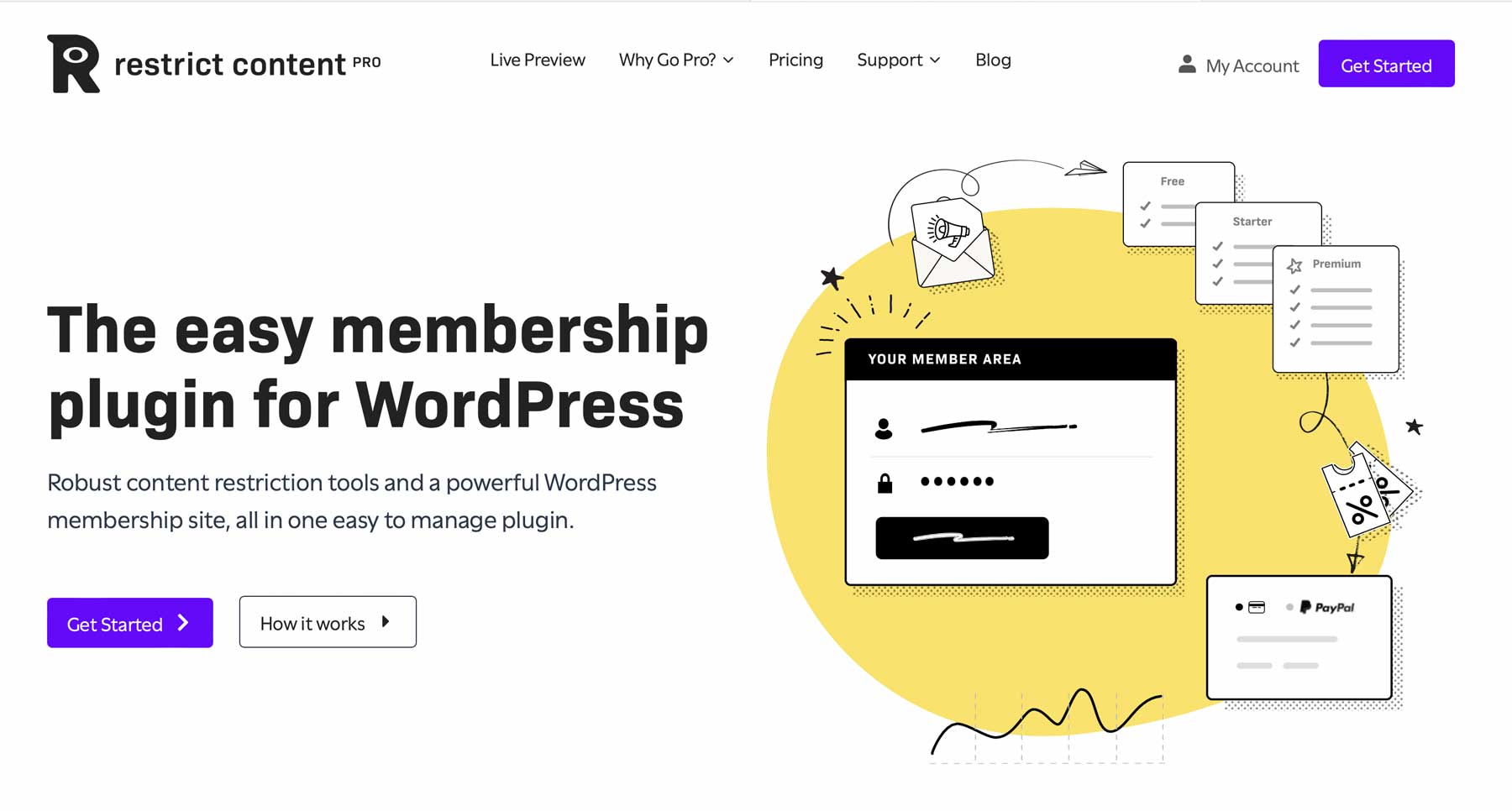 Next on our list is Restrict Content Pro. It comes standard with unlimited membership levels, membership management, Stripe payments, invoicing, and content restriction, to name a few.
Key Features of Restrict Content Pro:
Coupon and discount codes
Password sharing prevention
Multiple payment gateway options
Free trials
Member email customization
34 pro add-ons and integrations
Additionally, the paid version of the product has extra features compared to the free one. You can create coupon codes to discount different membership levels once or repeatedly. It also stops people from sharing passwords by limiting how often certain content can be viewed. Additionally, you'll have more options for payment, like PayPal and Braintree.
However, the best thing about the paid version is that you can offer free trials. This lets people try your products before they decide to buy.
Restrict Content Pro is for you if…
You want to limit password sharing.
Coupons and discount codes are necessary.
You'd like to give your members the option of a free trial.
Restrict Content Pro Pricing: Starting at $99 per year.
7. Ultimate Member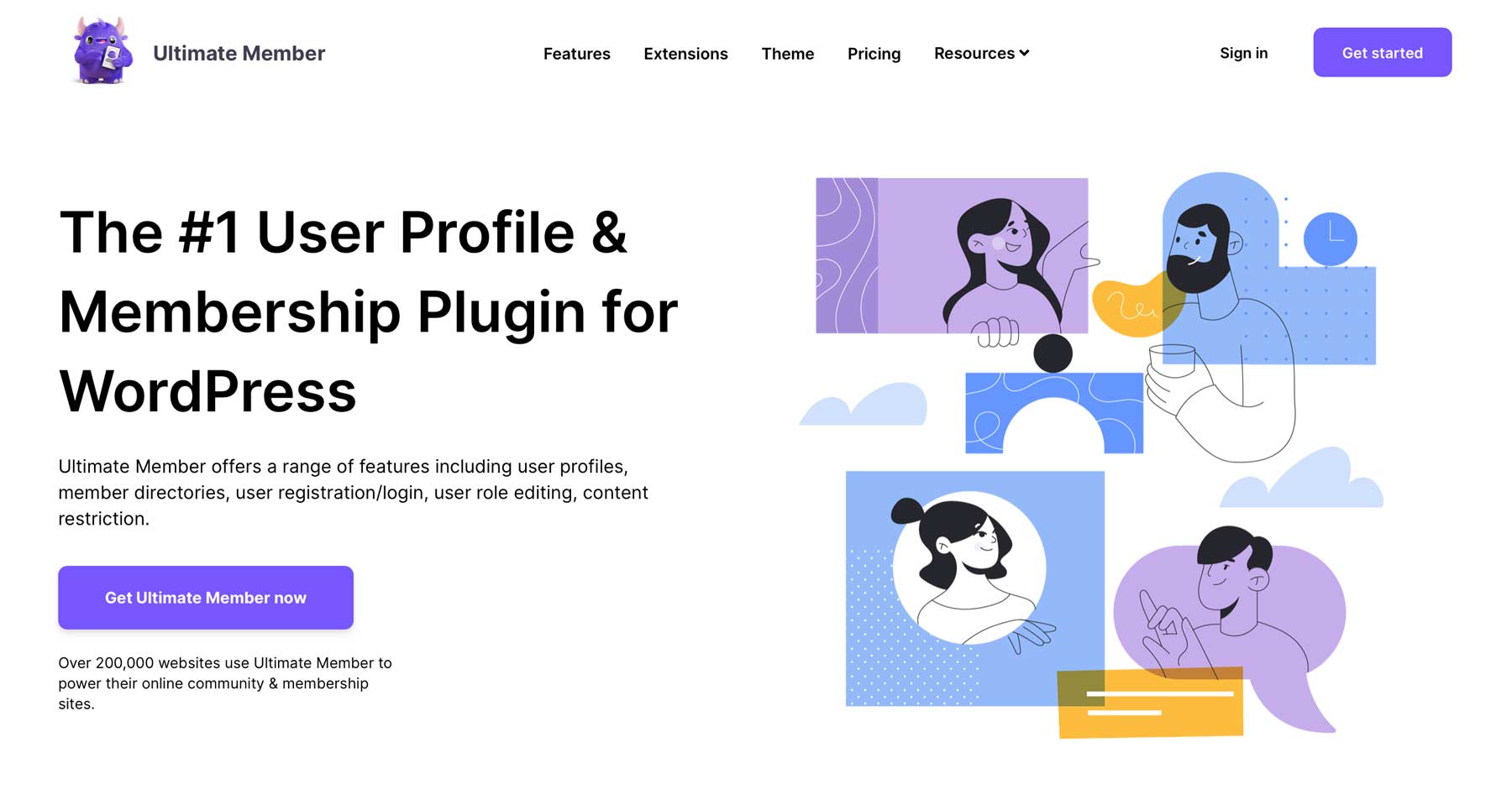 The last plugin on our list is Ultimate Member, a user-friendly WordPress membership plugin. With its convenient shortcodes and intuitive drag-and-drop builder, you can effortlessly create stunning member profile pages and directories in just a few clicks.
Plus, Ultimate Member allows for customization of registration, login, and member profile forms using a drag-and-drop form builder with over 50 fields available, including options for member bios and social media profiles.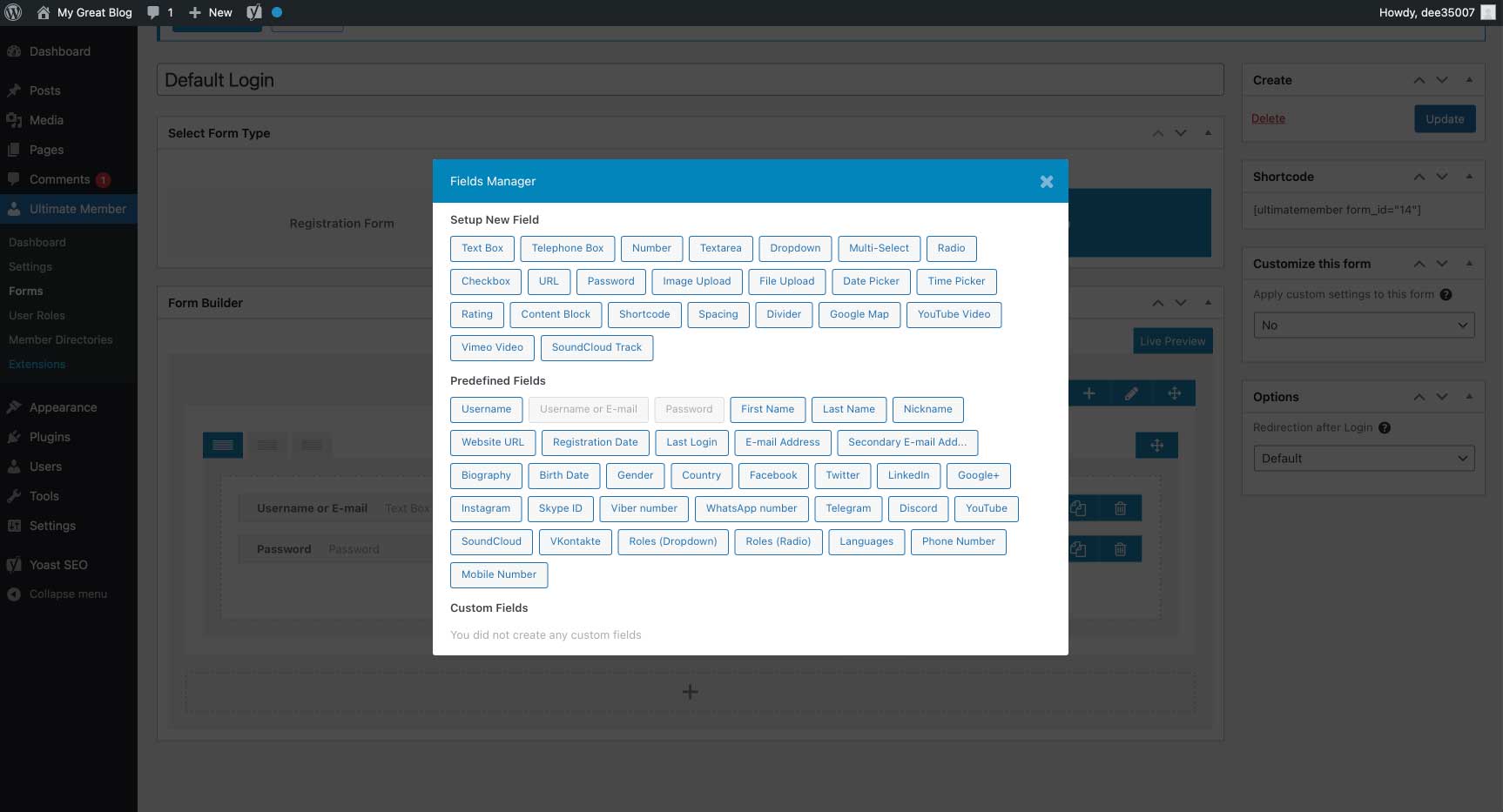 Key Features of Ultimate Member:
Drag-and-drop form builder with conditional logic
Private messaging system
WooCommerce integration
Multi-payment gateway support
Mailchimp integration
A system to
Additional notable features include a private message system, real-time notification system, social login, online user notifications, and the ability to limit the content to registered users. As a bonus, Ultimate Member works with other plugins, such as WooCommerce, to create subscription and membership-based products for the ultimate sales website.
Ultimate Member is for you if…
You want to add a forum to your site.
Custom forms are needed.
You need something that works with WooCommerce.
Ultimate Member Pricing: Free. Pro plans start at $249 per year.
We've picked the top membership plugins for this list. However, we know that sometimes people don't need such a complicated solution for their website. Therefore, we've also made a list of the best free membership plugins you can choose from.
Best Free WordPress Membership Plugins
The free plugins listed here are basic, mostly letting you gate content, add members, and sometimes create membership tiers. Therefore, don't expect to run a complex membership site with these. That being said, simple membership websites will work fine using any of the following options.
Members is a free version of MemberPress and is one of the most popular options, with over 200,000 installs. It has few features, but you can add, clone, and edit user roles, limit access to content using shortcodes, and make your site private.
Ultimate Member Free is a lightweight version of its paid version. It still offers custom forms, member directories, emails, and navigation menus based on user login status.
Paid Memberships Pro Free provides essential features to limit content, create ongoing payments, and works with Zapier. Ideal for simple paid subscriptions.
Simple Membership offers gated content with payment options through PayPal, Stripe, and Braintree. It also has email and subscription features.
WP-Members is a simple plugin to gate content, show menu links based on logged-in status, and create custom fields for profile and registration forms. Bear in mind this is a simple plugin with few options, but it's easy to use and will have your membership site up and running in minutes.
Comparing the Best WordPress Membership Plugins
There are dozens of membership plugins available for WordPress. That being said, only a handful have the features most WordPress users will need. Therefore, the plugin you choose largely depends on what you need it to do. However, a couple of entries on our list are a complete solution for building a successful membership site.
Membership Plugin Price Comparison
Before we wrap up our post, let's compare all the plugins in our list:
Top Membership Plugin Feature Comparison
Our top 3 membership plugins are at the beginning of our list for a reason! Let's take a peek into some of the features that make them the best!
🥇 MemberPress

🥈 Paid Memberships Pro

🥉 Wishlist Member

Starting Price
$359/yr
$247/yr
$299/yr
Unlimited Membership Levels
✔️
✔️
✔️
3rd Party Addons and Integration Library
✔️
✔️
✔️
Page Builder Integrations

✔️
✔️
✔️
WooCommerce Integration
✔️
✔️
✔️
# of Native Payment Gateways
4
8
10+

Custom Email Notifications
✔️
✔️
✔️
Recurring Billing
✔️
✔️
✔️
Frontend User Interface
✔️
✔️
✔️
Coupons and Discount Codes
✔️
✔️
✔️
Free Trials
✔️
✔️
✔️
Native LMS Functionality
✔️
❌
❌
Member Directoy & Profile Pages
❌
✔️
❌
Active Installations
200,000+
100,000+
100,000+
Community Rating
4.8/5
⭐⭐⭐⭐⭐
Read Reviews
4.3/5
⭐⭐⭐⭐
Read Reviews
4.8/5
⭐⭐⭐⭐⭐
Read Reviews
Get MemberPress
Get Paid Membership Pro
Get Wishlist Member
What is the Best WordPress Membership Plugin?
MemberPress and Paid Memberships Pro tick all of the boxes when it comes to membership sites. Whether you need gated content, paid memberships or subscriptions, a paywall, or a robust learning management system, both have something for everyone.
If you're looking for the best WordPress plugins on the market, make sure to check out our ultimate list of recommendations for each plugin type!
Frequently Asked Questions (FAQs)
Let's answer some of your most commonly asked questions regarding WordPress membership plugins. Did we miss one? Leave a comment below, and we will reply.
What is the best WordPress membership plugin?
Our top recommendation is
MemberPress
, which offers a comprehensive feature set, competitive pricing, and has excellent reviews. Its built-in course system also functions as an LMS plugin.
What is the best free WordPress membership plugin?
Paid Memberships Pro
is a highly-rated option with a free version with essential membership site features. It currently boasts 100,000 active installations and 430 five-star reviews on WordPress.org.
Does WordPress have memberships?
While WordPress includes essential user registration and role management, creating a full-fledged membership site requires a membership plugin to enhance user accounts, enable payments, and provide your members with access to member-exclusive benefits.
How do I create a membership website with WordPress?
To create a membership website with WordPress, you'll need to install a membership plugin that offers the necessary features, such as member payments, content restriction, courses creation, digital downloads.
What features should I look for in a membership plugin?
Key features include support for popular payment gateways, subscription billing, content restrictions, customizable member dashboards, and a robust checkout system.
MemberPress
and
Paid Memberships Pro
both excel in these areas.
Is WooCommerce a membership plugin?
While WooCommerce isn't a dedicated membership plugin, it can be adapted for membership functionality. Consider purchasing the $199/year WooCommerce Memberships add-on to unlock the necessary features for membership websites.
What is the easiest membership plugin for WordPress?
For ease of use,
Restrict Content Pro
stands out, offering an uncomplicated installation and configuration process. It also features simple integrations with LMS, eCommerce, and various other plugins.
What is the most secure WordPress membership plugin?
When it comes to security,
Restrict Content Pro
and
Wishlist Members
plugins have a stellar reputation. They've maintained excellent security standards, with no major security issues reported since their inception. Independent sites like
Patchstack
and
WPScan
can confirm this.
Can I sell courses using a membership plugin?
Absolutely, selling courses using a membership plugin is entirely feasible. Membership plugins are designed to manage gated content and sell courses on your site. Both
MemberPress
and
Wishlist Member
come equipped with this functionality.
How much does a WordPress membership plugin cost?
The cost of a WordPress membership plugin can range from $100 to $250 per year, although this can vary depending on the specific plugin. While there are free membership plugins available that offer decent features, for more advanced capabilities, it's usually beneficial to opt for a premium plan.
How do I choose the right membership plugin for my WordPress site?
Choosing the right membership plugin requires careful consideration of the features and opportunities it offers. If a plugin aligns with your requirements, meets security standards, and suits your needs, it's the right choice. So, select your membership plugin based on its features, benefits, and security.
Which membership plugin works the best with WooCommerce?
For seamless integration with WooCommerce,
Ultimate Member
and
Wishlist Member
are top choices. They offer dedicated integration, making them excellent options if you prioritize smooth WooCommerce integration.