Using paywalls and memberships is one of the best ways to monetize your WordPress site. You can offer exclusive content in exchange for ongoing subscriptions or one-time payments. Fortunately, WordPress has some great plugins to help you create a paywall that restricts paid (or membership) content on your site.
In this guide, we'll take a closer look at paywalls and why you might consider using one. Then, we'll review seven of the best WordPress paywall plugins. Let's get started!
A paywall is a content restriction method. It prevents visitors from accessing a particular area on your site unless they subscribe, pay a one time fee, or have membership status on your site.
You've probably seen paywalls before. They're common on newspaper websites such as The Washington Post: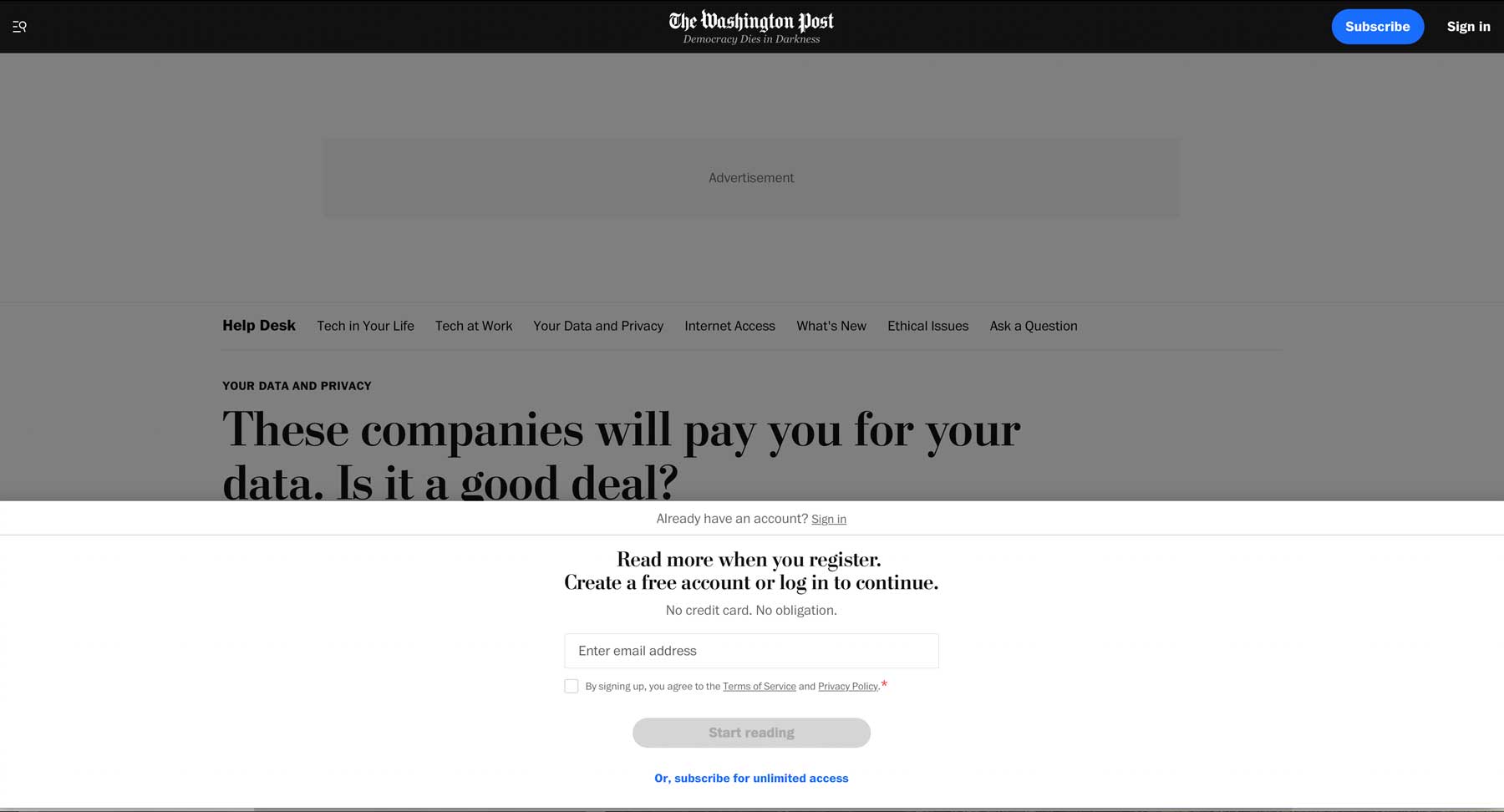 Paywalls are also common on membership sites. Here, users pay to access exclusive content such as articles, videos, podcasts, and online courses. Typically, experts in particular fields, such as finance or digital marketing, offer their services to members only.
You'll also see paywalls on video streaming sites. These websites might offer exclusive video galleries, streaming events, or recorded content. Usually, the clips are available as "pay per view", meaning users will pay each time they want to see the content.
Overall, using a paywall is one of the easiest ways to monetize your WordPress website. If readers are willing to pay for exclusive content, you can quickly turn a profit from one-time payments or subscriptions.
However, you'll need to make sure that your content is worth paying for. Otherwise, you might struggle to attract members or customers. Therefore, you might like to focus on building organic traffic and reader engagement before introducing a paywall.
A WordPress paywall plugin is a tool that enables you to set up paywalls, memberships, and other restricted content from your dashboard. Essentially, you'll control all your settings without using custom coding or directing your readers to third-party websites.
Additionally, a paywall plugin will typically have integrated payment processors. These platforms enable you to accept payments directly from your website. Therefore, you can offer convenient and secure transactions to your subscribers.

Subscribe To Our Youtube Channel
There are plenty of free and premium WordPress paywall plugins. We've compiled a list of our favorite options, basing our selections on the features and flexibility offered by these tools.
The Best WordPress Paywall Plugins Listed In Order
Expand List
1. MemberPress

MemberPress is one of the most popular and best WordPress paywall plugins on the market. It offers various features, including paywalls, content drips, different membership levels, and online courses. Moreover, you can set up different billing methods for your subscriptions.
Key Features for MemberPress:
Create memberships, paywalls, online courses, and communities.
Offer automated billing and upgrades to your members.
Drip content with timed releases and expiration dates.
Create coupons for your customers.
Offers powerful integration with Divi and Divi Modules.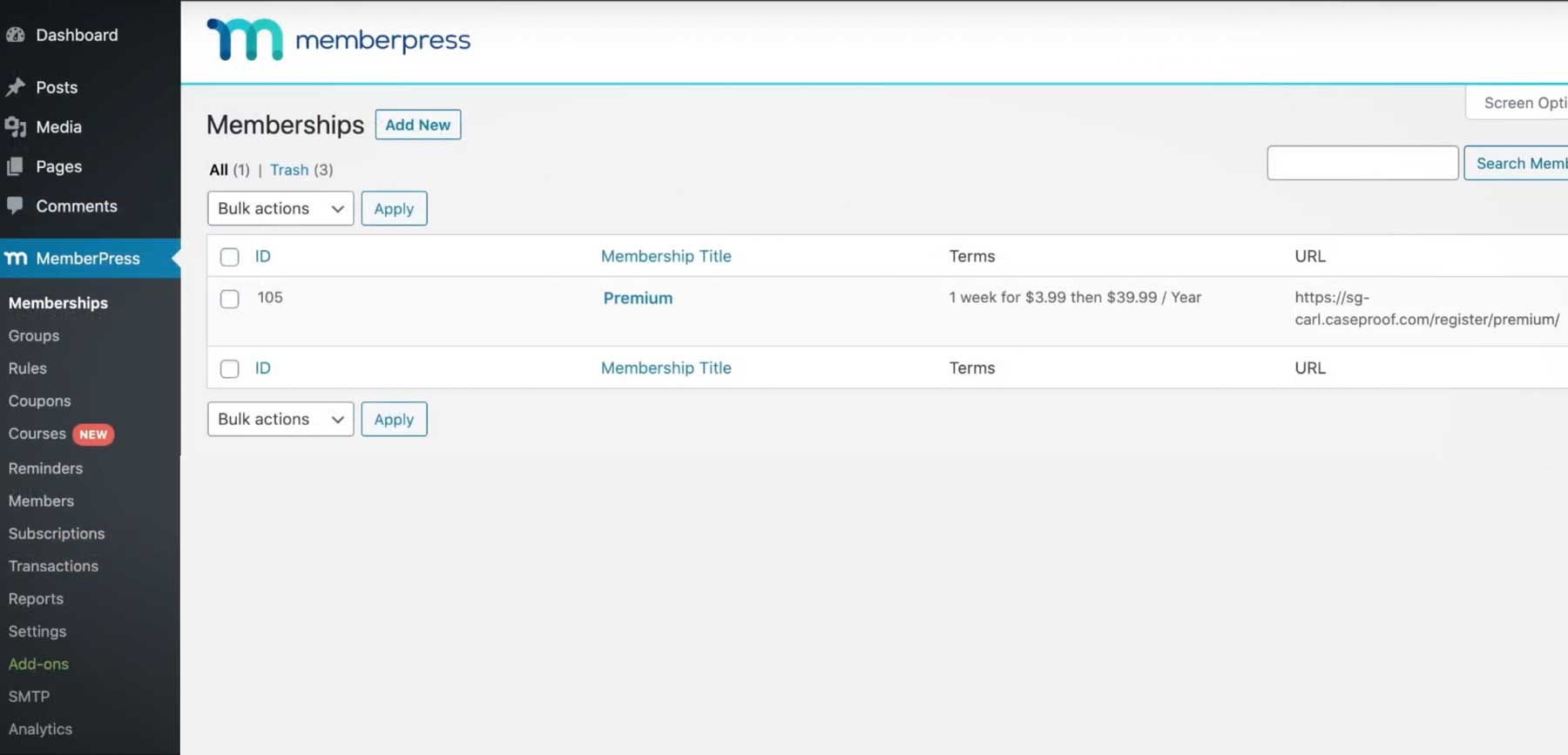 If you're looking for powerful yet customizable access rules, MemberPress could be the best option for you. The plugin enables you to restrict content to pages, child pages, custom post types, and more. Plus, it offers a wealth of front-end pricing tables to help you attract new subscribers.
MemberPress is for you if…
You use Divi and would like convenient integrated options for Divi Modules.
You want to sell your online course.
You're looking for a user-friendly solution.
You'd like to offer "gifted" memberships, coupons, and free trials to incentivize users.
Pricing: From $179 per year.
2. Paid Memberships Pro
Paid Memberships Pro is a complete solution for setting up memberships and subscriptions in WordPress. This plugin is designed for sites that offer premium content, online courses, members-only discounts, and more.
Key Features for Paid Memberships Pro:
Restrict custom post types, including events and courses, as well as posts, categories, and pages.
Create unlimited membership levels with different pricing models, including recurring and one-time payments.
Integrate your members-only area with Stripe, Paypal, and other payment gateways.
Access reports on signups, cancellations, expirations, and more.
Integrates with Divi for easy membership restriction within the Divi Builder.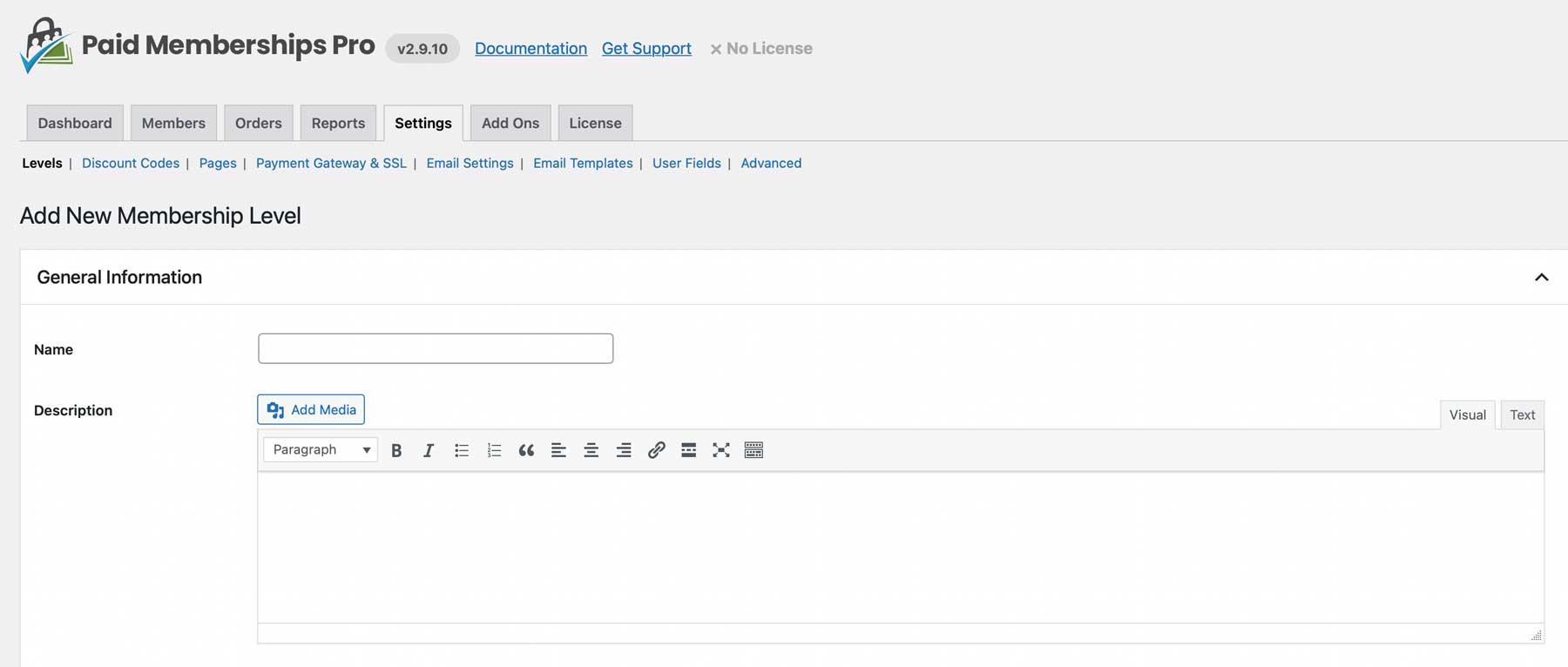 Paid Memberships Pro comes with an easy-to-use interface that helps you set up multiple membership levels, create discount codes, and edit email templates. Additionally, this tool enables you to easily manage your members and subscriptions from your dashboard, as well as track orders and user activity.
Paid Membership Pro is for you if…
You want to offer flexible payment methods for members.
You offer courses, host events, or want to create paywall content for your blog.
You use Divi and are looking for a Divi-integrated solution.
Pricing: Free, with premium plans that start at $247 per year.
3. LearnDash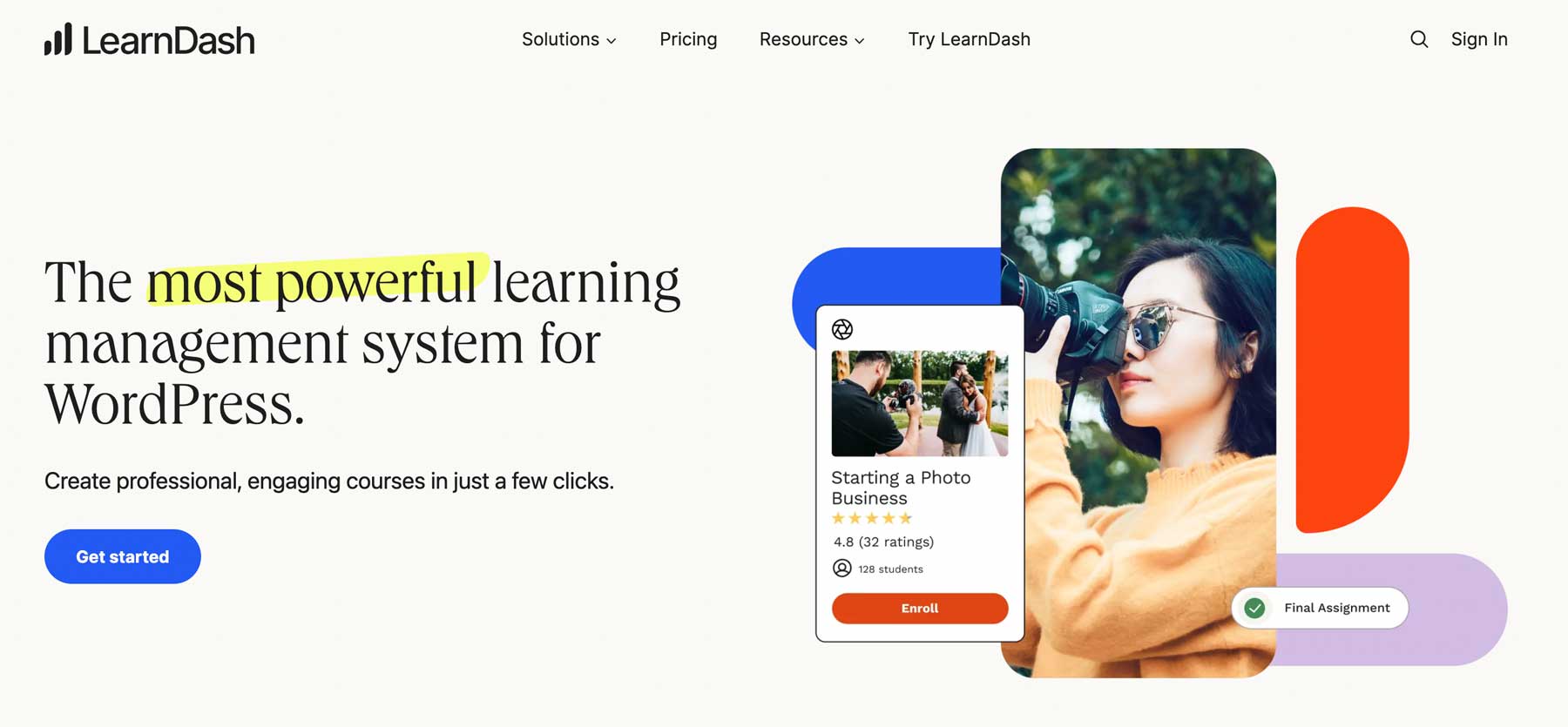 LearnDash is a popular WordPress plugin that is widely used for creating and managing online courses. One of its best features is its user-friendly course builder, which makes it easy to create and organize course content, such as lessons, topics, and quizzes. The course builder also allows you to add gamification elements to your courses, such as badges and points, to increase student engagement and motivation. Additionally, LearnDash provides detailed progress tracking, allowing students to see their progress and how much they have left to complete.
Key Features of Learn Dash
Certificate creator
Integrations with MailChimp, Slack, PayPal, and Zapier
Advanced course builder
Users can collect course points
Integrated paywall system
Additionally, LearnDash makes it easy to create and manage certifications and badges, providing students with a tangible reward for their hard work. Furthermore, LearnDash provides in-depth reporting and analytics, allowing you to see how students are progressing through your courses, their quiz results, and more. LearnDash also integrates with a variety of tools and services, making it a versatile solution for creating and managing online courses.
Finally, you can match your business branding with custom colors, logos, and more.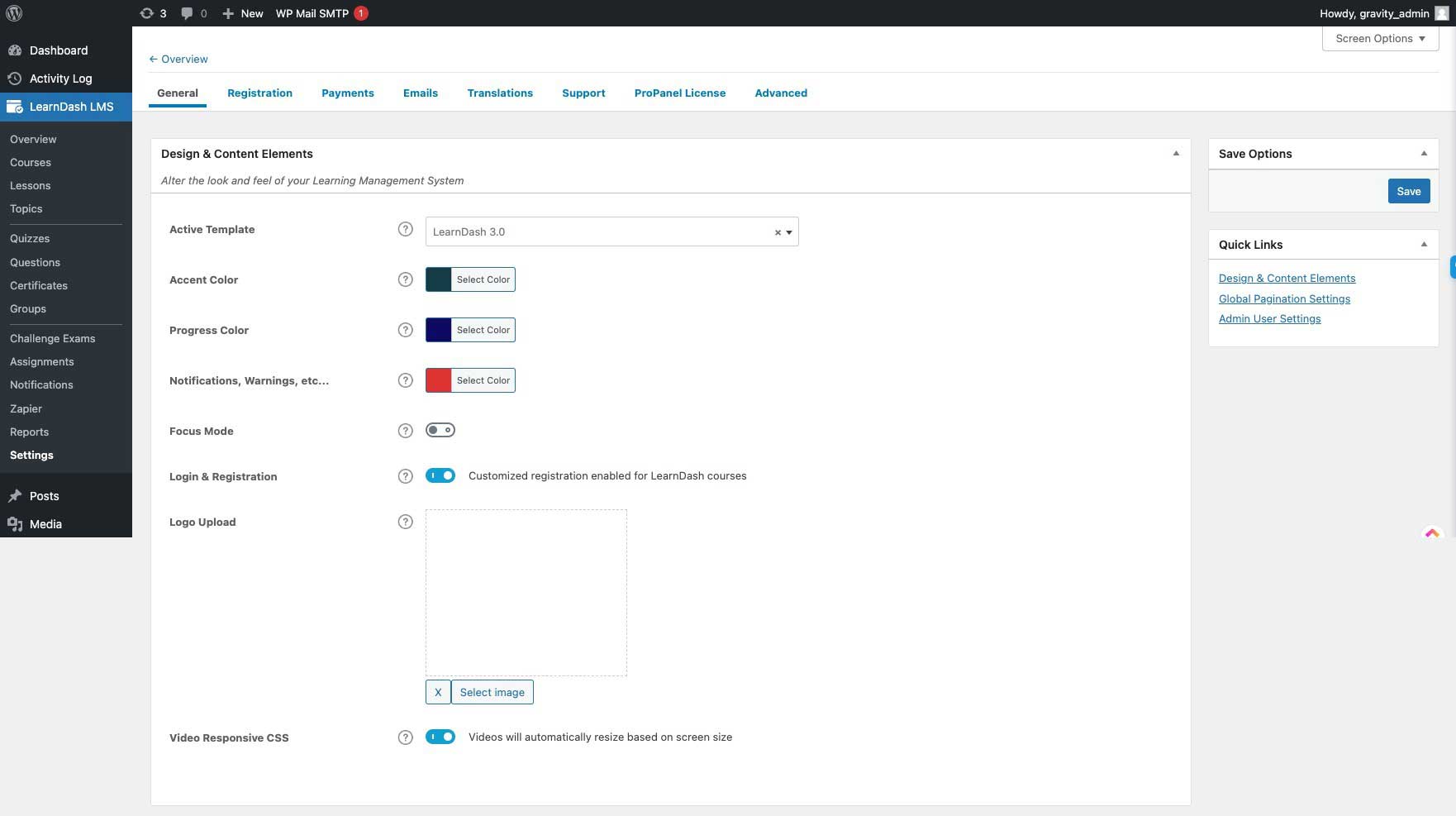 LearnDash is for you if…
You need a full-service online academy for WordPress
You want the ability to collect payments for courses
Drag-and-drop course building is a must.
Pricing: $199 per year for 1 site.
4. Paid Member Subscriptions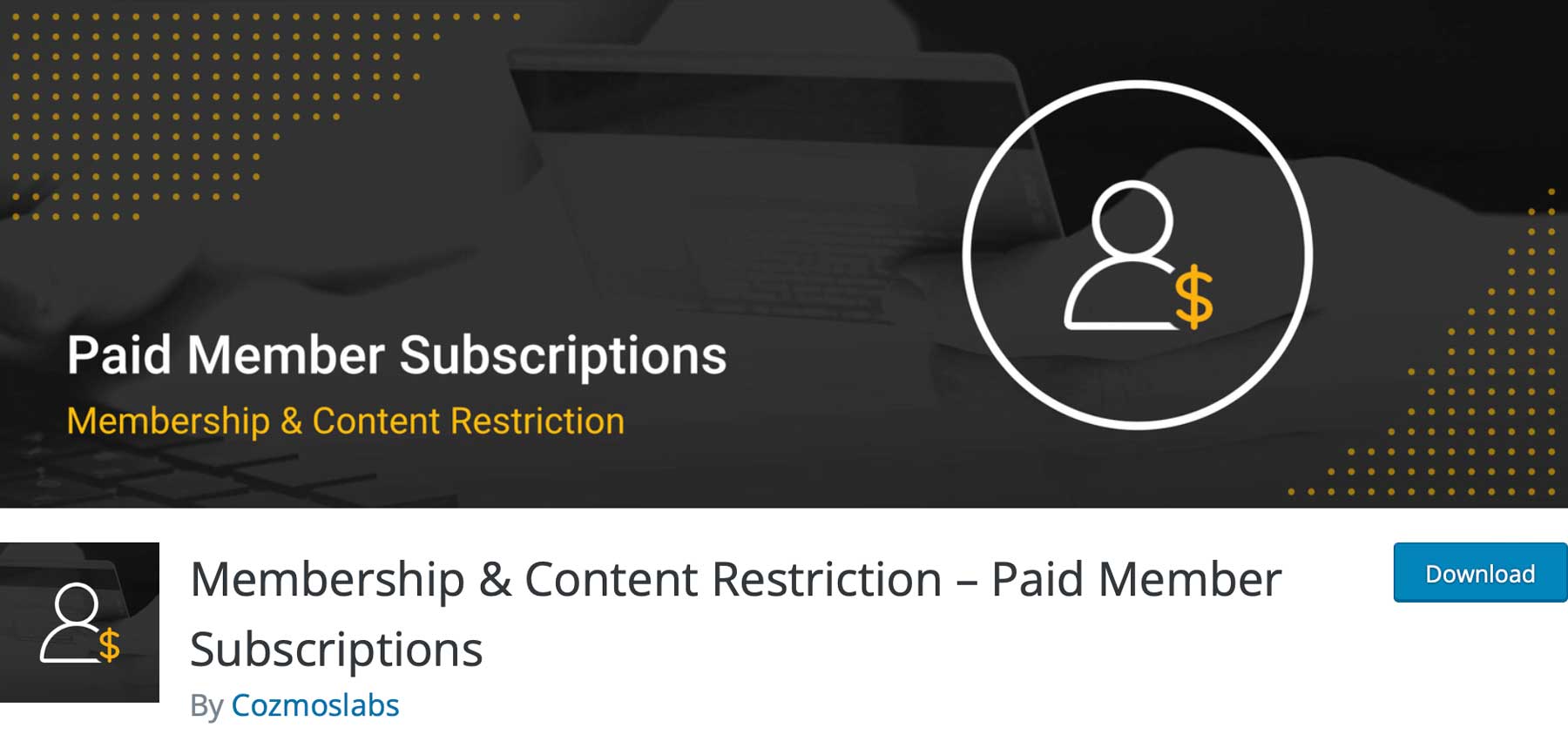 Paid Member Subscriptions is an easy-to-use plugin that lets you set up subscription plans and restrict access to premium content. Moreover, it integrates with WooCommerce. This means that you can also restrict product access to members only or offer discounted prices to subscribers.
Key Features for Paid Member Subscriptions:
Display partial content to non-members.
Create unlimited membership plans.
Enable members to manage their subscriptions.
Offer a free trial period and charge signup fees.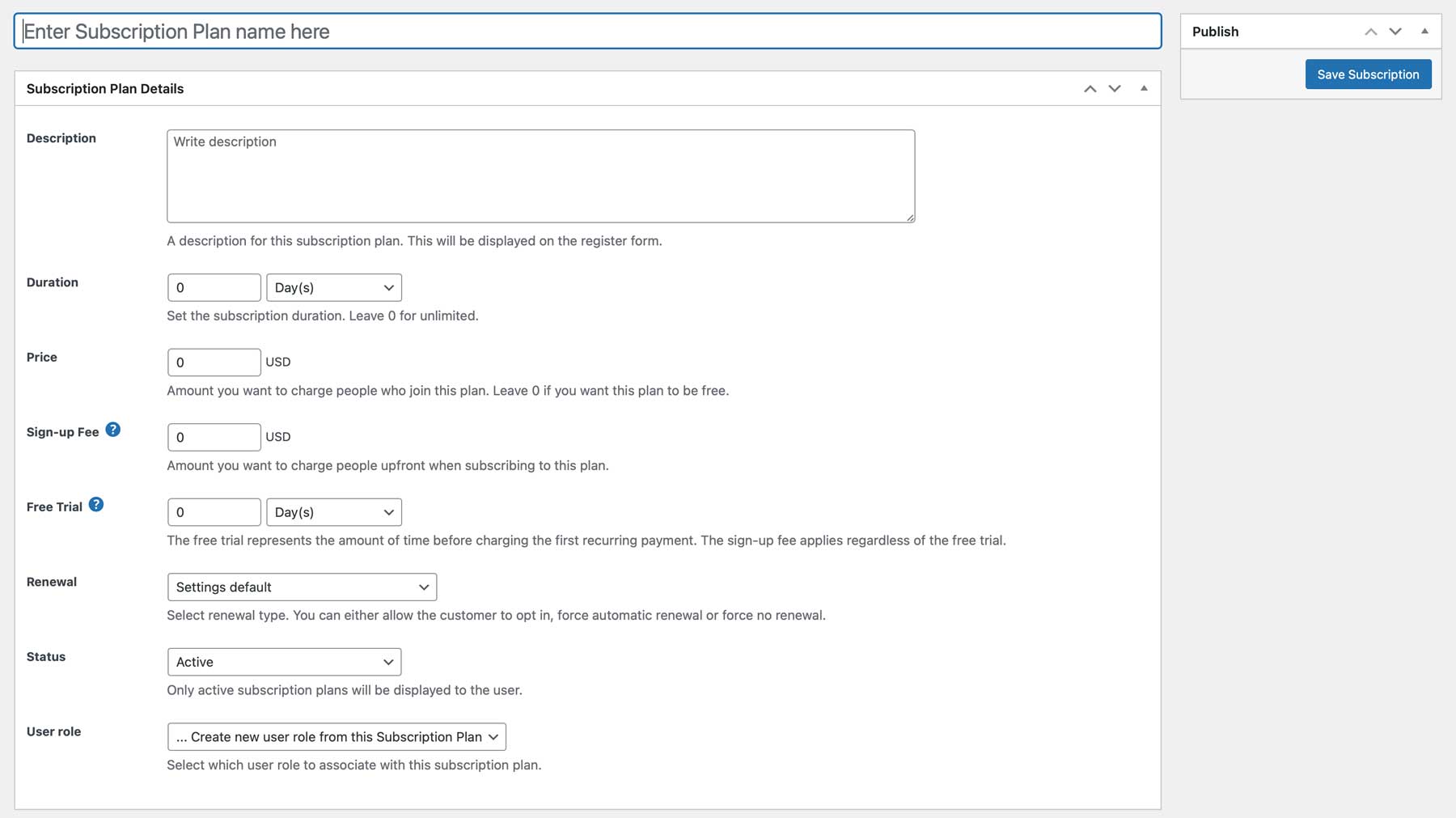 With this plugin, you can also sell group subscriptions. Additionally, you can allow users to sign up for more than one membership plan. Thus, this tool can be particularly useful if you offer different courses on your site.
Paid Member Subscriptions is for you if…
You want to give users tasters of your premium content.
You run a WooCommerce store and want to restrict product viewing and purchases.
Pricing: Free, with a premium version that starts at €149 (that's about $180).
5. Restrict Content Pro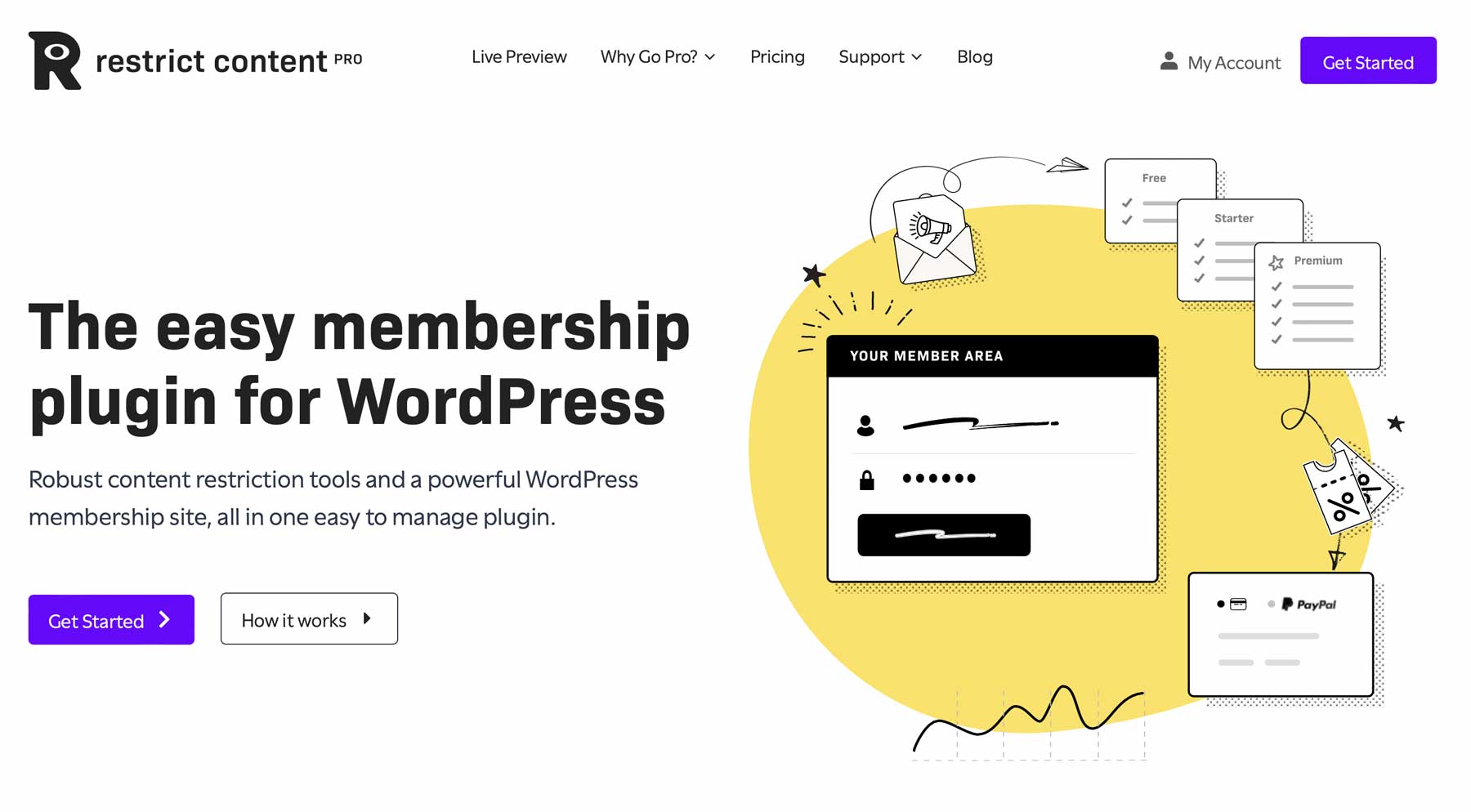 Next up, Restrict Content Pro could be ideal if you're looking for a premium membership and paywall plugin, and it sits near the top of our list of the best WordPress membership plugins. You can create custom subscription levels, content restriction rules, and discount codes to offer users free trials of your paywalled articles. You can also receive payments directly through the plugin and monitor subscriptions in your WordPress dashboard.
Key Features for Restrict Content Pro:
Create and customize unlimited subscription levels.
Receive payments through Stripe, Paypal, or your payment gateway.
Enable users to upgrade or downgrade their subscriptions.
Send welcome emails, receipts, and payment reminders to subscribers.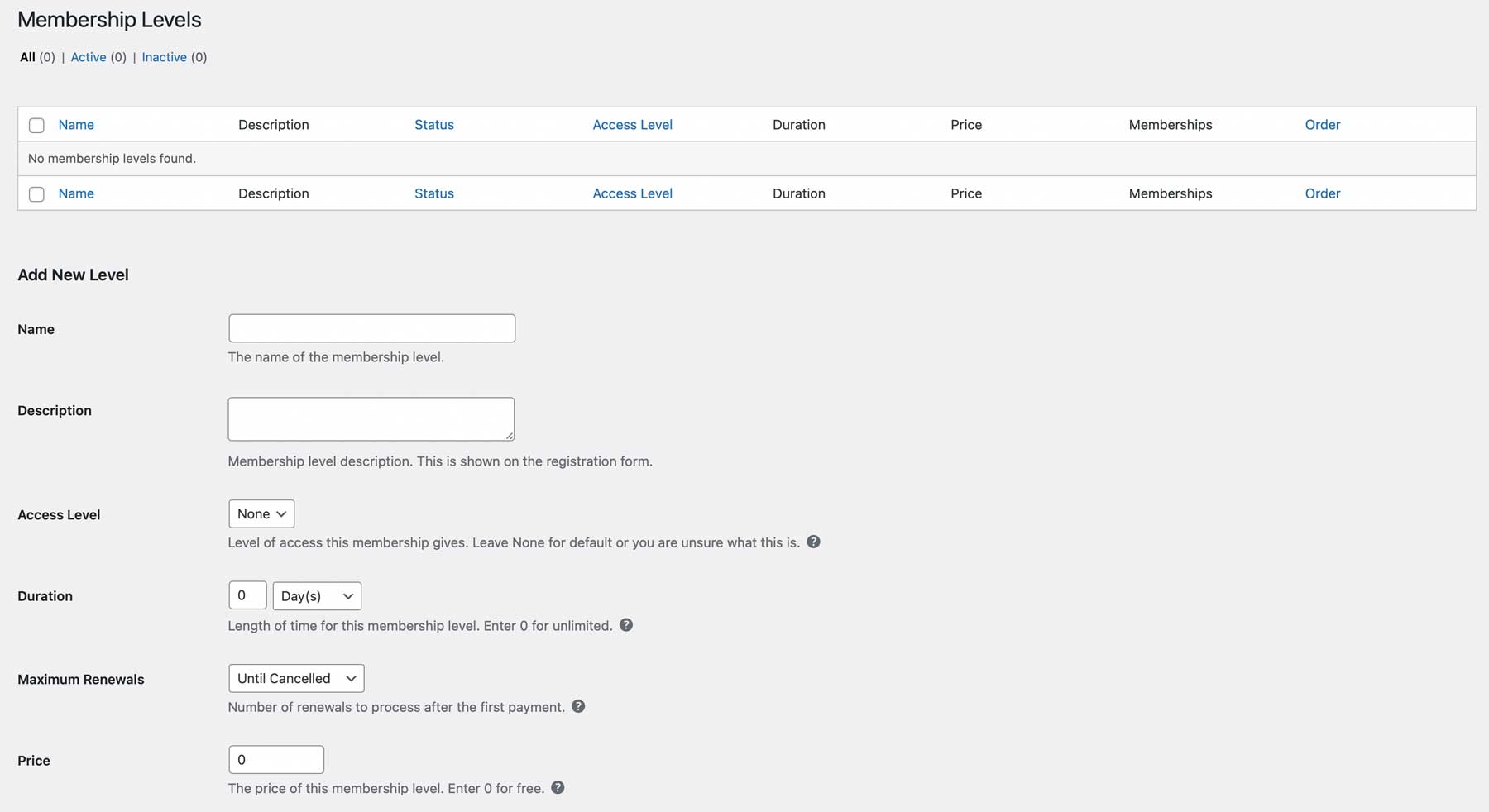 Additionally, Restrict Content Pro has one of the most user-friendly interfaces. You can create paywalled content with a quick shortcode, or add it to your posts manually. Furthermore, the plugin has a range of free and premium add-ons that extend its functionality.
We recommend checking out our complete Restrict Content Pro review guide. This post gives a breakdown of the plugin's main features.
Restrict Content Pro is for you if…
You're happy to invest in a premium WordPress paywall plugin.
You're looking for a paywall solution with advanced content restriction settings.
Pricing: From $59.40 per year.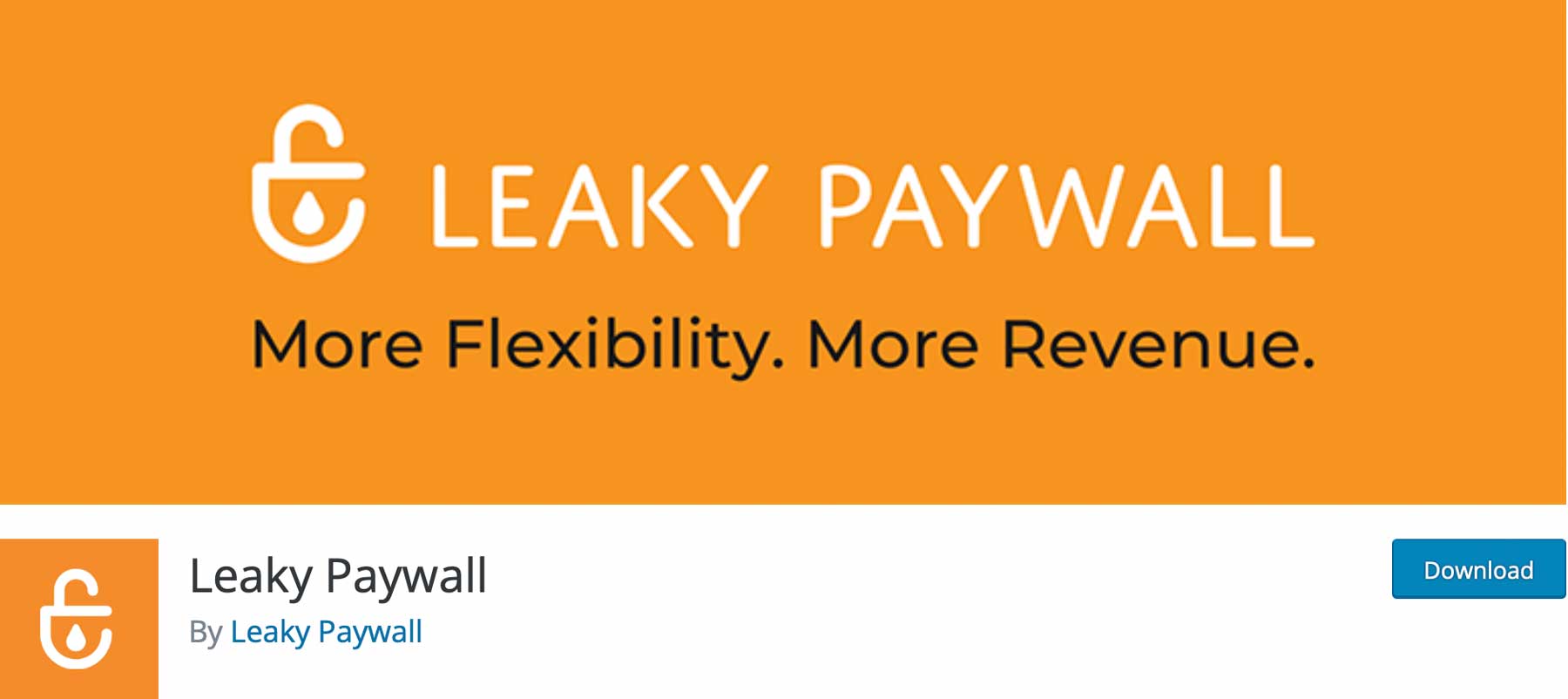 Finally, Leaky Paywall is a freemium tool and a good choice for WordPress paywall plugins. It enables you to create paywalls that restrict content according to post types, categories, tags, and more. Plus, you can sell various plans, including subscriptions, premium memberships, ad-free plans, and one-time purchases.
Key Features for Leaky Paywall:
Offer extra content for free to new email subscribers.
Use targeted messages to upsell subscriptions.
Create hybrid subscription models.
Integrate the plugin with leading payment gateways, email marketing software, and circulation software.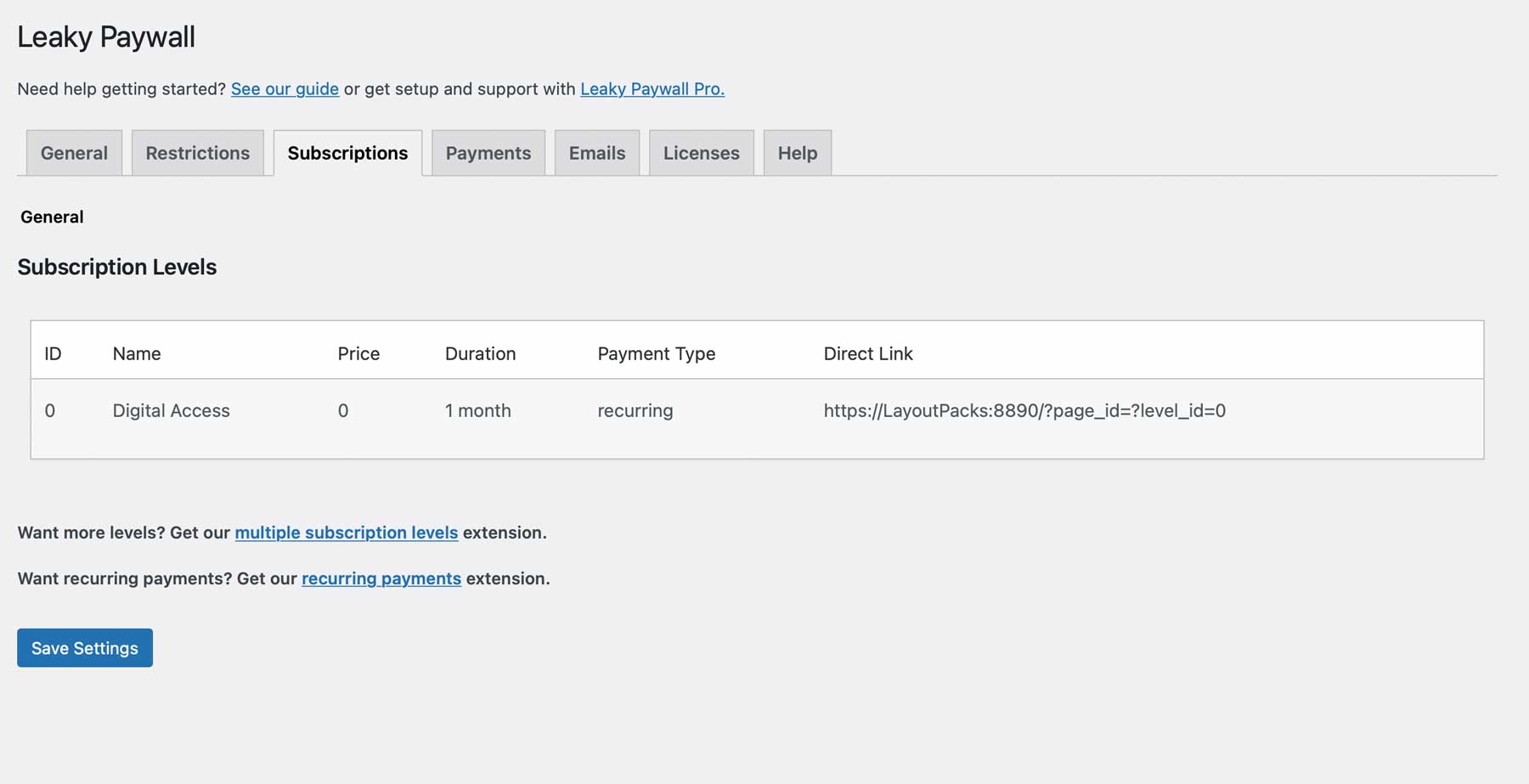 Leaky Paywall is designed specifically for news and magazine websites. However, it's fit for all kinds of content restriction models, including group subscriptions and donations.
Leaky Paywall is for you if…
You run a news or magazine website.
You're looking to offer multiple subscription models.
You'd like access to detailed analytics.
Pricing: Free, with premium versions that start at $299 per month.
7. Pay For Post with WooCommerce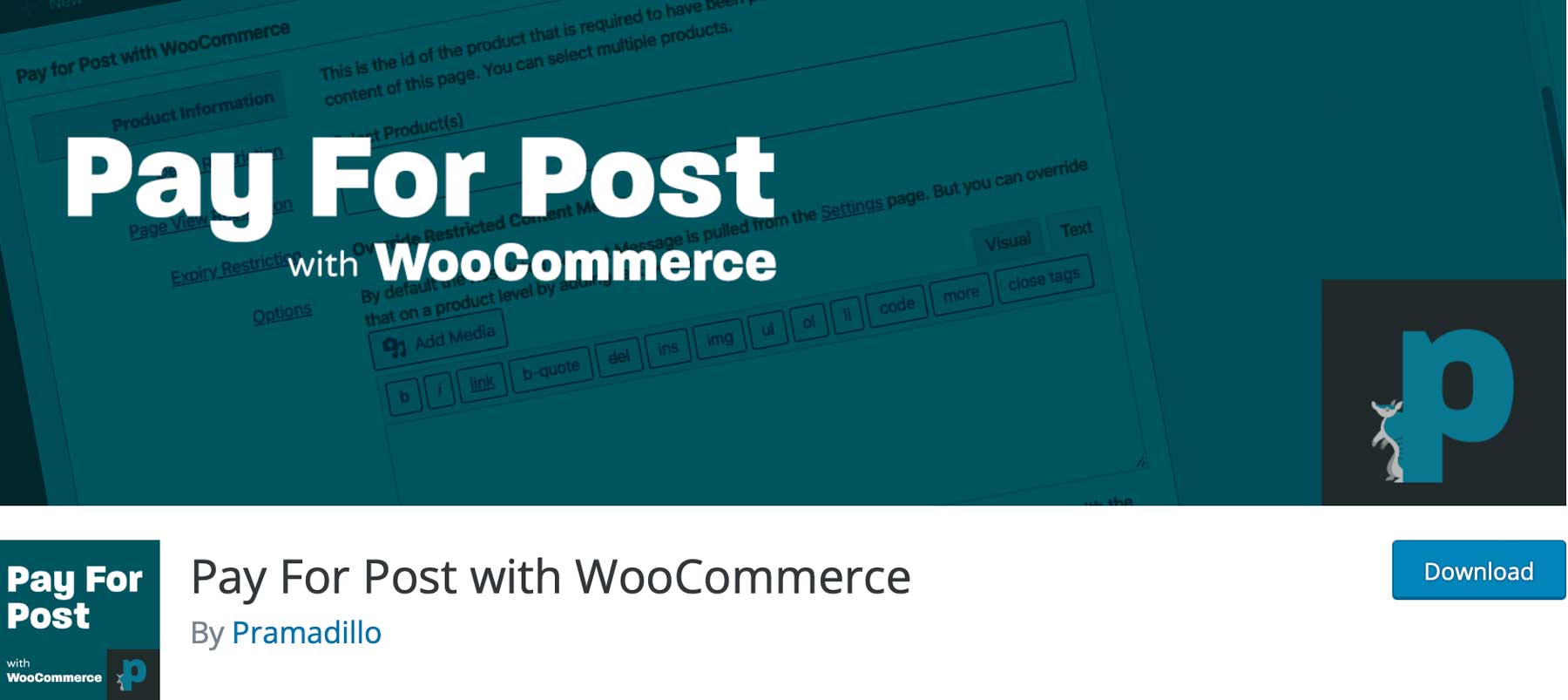 Pay For Post with WooCommerce is a unique paywall solution. This plugin enables you to sell your posts and pages as WooCommerce products. This way, customers can simply purchase the content they're interested in.
Key Features for Pay For Post with WooCommerce:
Sell posts and pages as WooCommerce products.
Handle payments through your store and delay your paywall.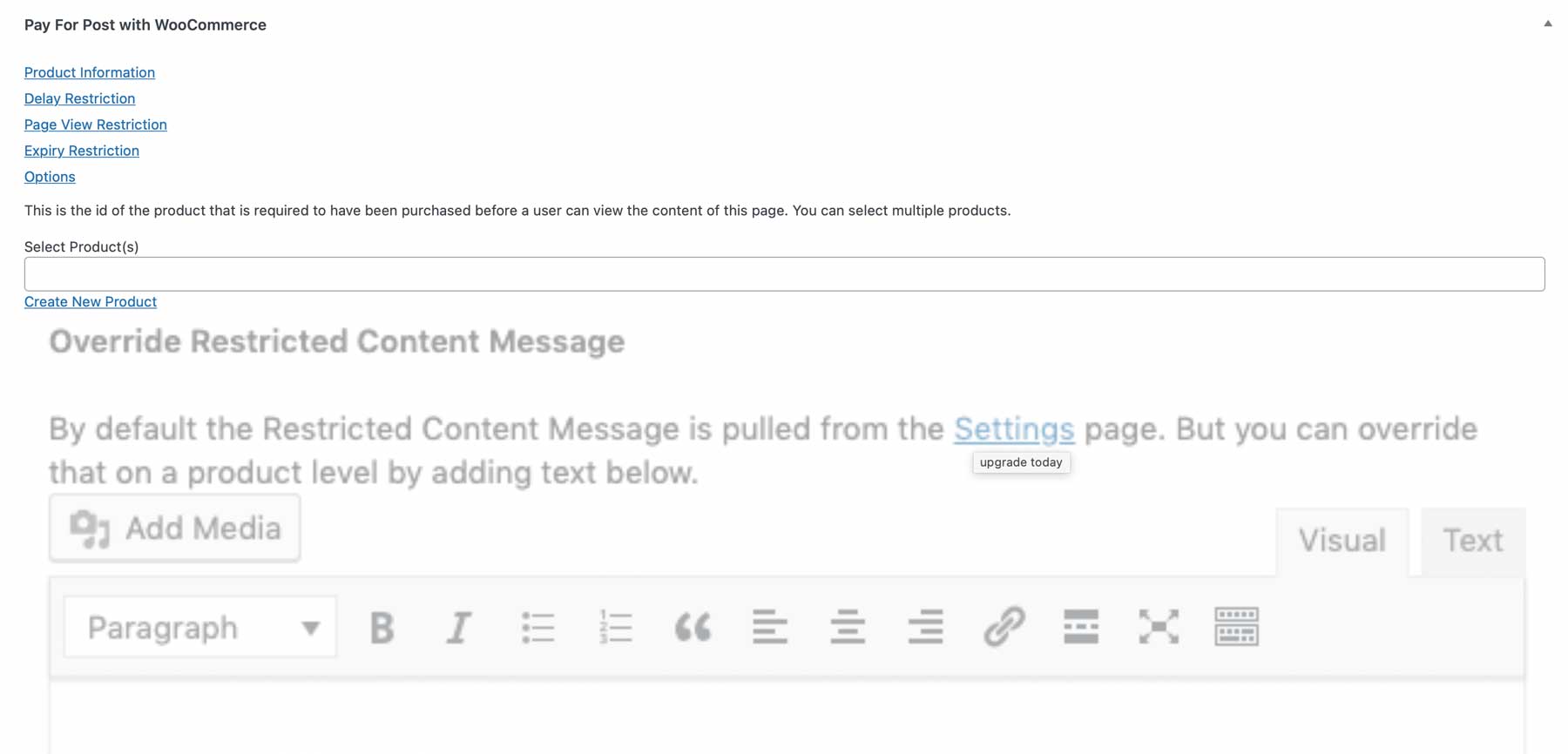 Overall, Pay For Post with WooCommerce is a very simple solution. It's so simple you can spend more time working on your WooCommerce SEO, rather than trying to set up a complicated plugin. If you're looking for a basic way to add a paywall to your site and sell access to articles, the plugin could be perfect for your needs.
Pay For Post with WooCommerce is for you if…
You run a WooCommerce store and want a simple paywall solution.
You want to sell access to your articles.
Pricing: Free, with a premium license that costs $69 per year.
Get Pay For Post with WooCommerce
A paywall enables you to limit your content and monetize your website. You can ask readers for one-time payments, subscriptions, or even full memberships that give users access to a member portal.
If you're still unsure about which paywall plugin to choose, look at our comparison table. It'll allow you to research each plugin through links to each product, easily view pricing, and see which plugins offer a free version.
If you're looking for a refined paywall solution, MemberPress, Paid Memberships Pro, and LearnDash fit the bill. If you're a Divi user, you'll be pleased to know that each of our top three plugins integrates well with it, so you can use the Visual Builder or Theme Builder to create templates, pages, pricing, and more. Our top three share similar features, including multiple payment gateway options and the ability to create courses, restrict content, and drip it on your desired schedule.
🥇 MemberPress

🥈 Paid Memberships Pro

🥉 LearnDashr

Starting Price
$179/year
$247/year
$199/year
Automated Billing
✔️
✔️
✔️
Multiple Payment Gateways
✔️
✔️
✔️
Course Creator
✔️
✔️
✔️
Page Builder Integration
✔️
✔️
✔️
Subscription Payments
✔️
✔️
✔️
WooCommerce Support
✔️
✔️
✔️
Email Notifications
✔️
✔️
✔️
Active Installations
N/A
100K+
N/A
Community Rating
4.4/5
⭐⭐⭐⭐

Read Reviews
4.5/5
⭐⭐⭐⭐

Read Reviews
N/A
Get MemberPress
Get Paid Memberships Pro
Get LearnDash
Regardless of what you need a paywall plugin for, MemberPress has you covered. With incredible features such as content dripping, course creation, multiple payment options, registration forms, membership tiers, and more, MemberPress has the chops to let you build any type of paywall website you want. If you use a page builder such as Divi, Elementor, or WP Bakery, you'll be pleased to know that MemberPress will integrate with it, allowing you to style your paywall pages to match your overall site design with ease.
Looking for more top plugins? Our ultimate list has everything you need and more.
Frequently Asked Questions (FAQs)
Before we wrap up, let's answer some of your most common questions regarding the best WordPress paywall plugins. Did we miss one? Leave a question below, and we will respond!
What is the best paywall plugin for WordPress?
MemberPress
is considered one of the best paywall plugins for WordPress due to its versatile features. It allows you to effortlessly create memberships, paywalls, online courses, and communities. It offers automated billing and upgrades for members, enabling a seamless payment process. With its drip content feature, you can release and expire content at specific times. Additionally, MemberPress allows you to create coupons for customers and integrates smoothly with Divi and Divi Modules, enhancing your website's functionality and design.
What is the best free paywall plugin for WordPress?
MemberPress
is widely regarded as one of WordPress's best free paywall plugins. It provides robust paywall functionality, content-dripping capabilities, flexible membership levels, and seamless integration with online courses. These features make MemberPress a powerful tool for monetizing content and managing memberships on WordPress websites.
How do I add a paywall to WordPress?
To add a paywall to WordPress using MemberPress, navigate to the MemberPress plugin's Memberships page and click the "Add New" button. You will be directed to a screen where you can provide a title for the membership plan. This title will be displayed in your WordPress admin area and visible to visitors on your website. This straightforward process allows you to create and manage your paywall memberships easily.
How do I add a video content paywall with WordPress?
To add a video content paywall with WordPress, follow these steps: 1. Install and activate the MemberPress plugin, which provides robust paywall functionality. 2. Add and customize your paywall memberships, setting up pricing and access levels for video content. 3. Create rules for your video paywall, specifying which content should be restricted and require payment or subscription. 4. Set up a login page for your paywall, enabling users to sign in and access the paid video content. 5. Consider adding limited content access to your video paywall, providing a preview or partial access to entice users to subscribe or purchase a membership.
What is a content paywall?
A content paywall refers to a practice where access to specific content is restricted, and visitors who wish to view that content must make a payment. It is a way for content creators and publishers to monetize their valuable or premium content by placing a barrier between the user and the desired information, encouraging users to subscribe, purchase a membership, or make a one-time payment to access the restricted content.
What is a video paywall?
A video paywall is a method of limiting free access to digital video content. It requires viewers to purchase the video or subscribe to a service to access the content. This paywall helps content creators monetize their videos and ensures that only paying customers can enjoy the premium video content.
Is Leaky Paywall free?
Yes,
Leaky Paywall
is a free plugin. It enables you to create customizable paywalls that restrict content based on various parameters and offers the ability to sell different plans, including subscriptions, premium memberships, ad-free plans, and one-time purchases.