Sales is a cut-throat business. It's also the heart of business – without sales, you won't be around long. As such, it makes sense to invest in proper training for your team, whether you're leading a group of seasoned veterans or just trying to get the basics down to start your own business.
Fortunately, good training abounds, and much of it is available online. In this article, we'll explore eight of the best sales training courses available to help you find one that's right for you.
Let's get started!
The Benefits of Taking an Online Sales Training Course (And How to Choose One)
Training is vital for any industry. This is especially true in the rapidly-changing world of sales. However, with busy schedules (and global pandemics), settling in for long, in-person training seminars can be tough.
Online sales training lets you continue to learn and grow your skills, while working through the material at your own pace. For sales managers, it has the benefit of not requiring your entire team to be out of the office for training. Finally, while some of these courses can be expensive, many are either free or very affordable. It's hard to turn down a free opportunity to increase your revenue.
How to Choose an Online Sales Training Course
There are hundreds, perhaps thousands, of online sales training courses on the market. Narrowing the field down and choosing one can be incredibly tough. To help, consider the following criteria:
Budget. This is always a major factor in any purchase decision, and training is no different. However, keep in mind that even the most expensive courses can be worth the money if they end up increasing revenue across an organization.
Time investment. Consider how much time you have to set aside for a course. While many online courses are on-demand – meaning they can be completed when time permits – some are not.
The experience level of the trainees. To get the most out of a course, you'll want to make sure the subject matter is appropriate for the people taking it. Brand new salespeople may not benefit from advanced techniques, while seasoned professionals won't get much mileage out of a course on the basics of prospecting.
The scope of the training. Do you want a broad course that covers all the bases, or do you need something with a narrow focus to help solve a specific problem in your organization? These answers can help inform your choice.
These are the primary criteria we've used to select the eight courses below. As such, you should consider each when selecting one for yourself or your team. Let's take a look at them in more detail.
The 8 Top Sales Training Courses Available Online
Out of the hundreds of courses available, some stand out from the crowd. These eight courses are from reputable vendors, and take into account the criteria mentioned above. There should be something for everyone here.
1. Inbound Sales
A free online course from industry titan Hubspot, Inbound Sales aims to teach students practically everything they need to know to get started with the inbound sales method. This aims to gently guide and encourage prospects through the purchasing process, rather than attempting to aggressively close a deal as soon as possible.
Key Features:
Brief and to-the-point: The course runs a total of just three hours.
Highly focused: One sales methodology is covered in detail, rather than trying to stretch over every possible angle.
Comes with certification: When you complete the course, you get a digital badge you can display on your website and other areas online.
Inbound Sales Is For You If…
…you're interested in learning a modern sales methodology, designed for the digital age.
Price: Free
2. The Art of Sales: Mastering the Selling Process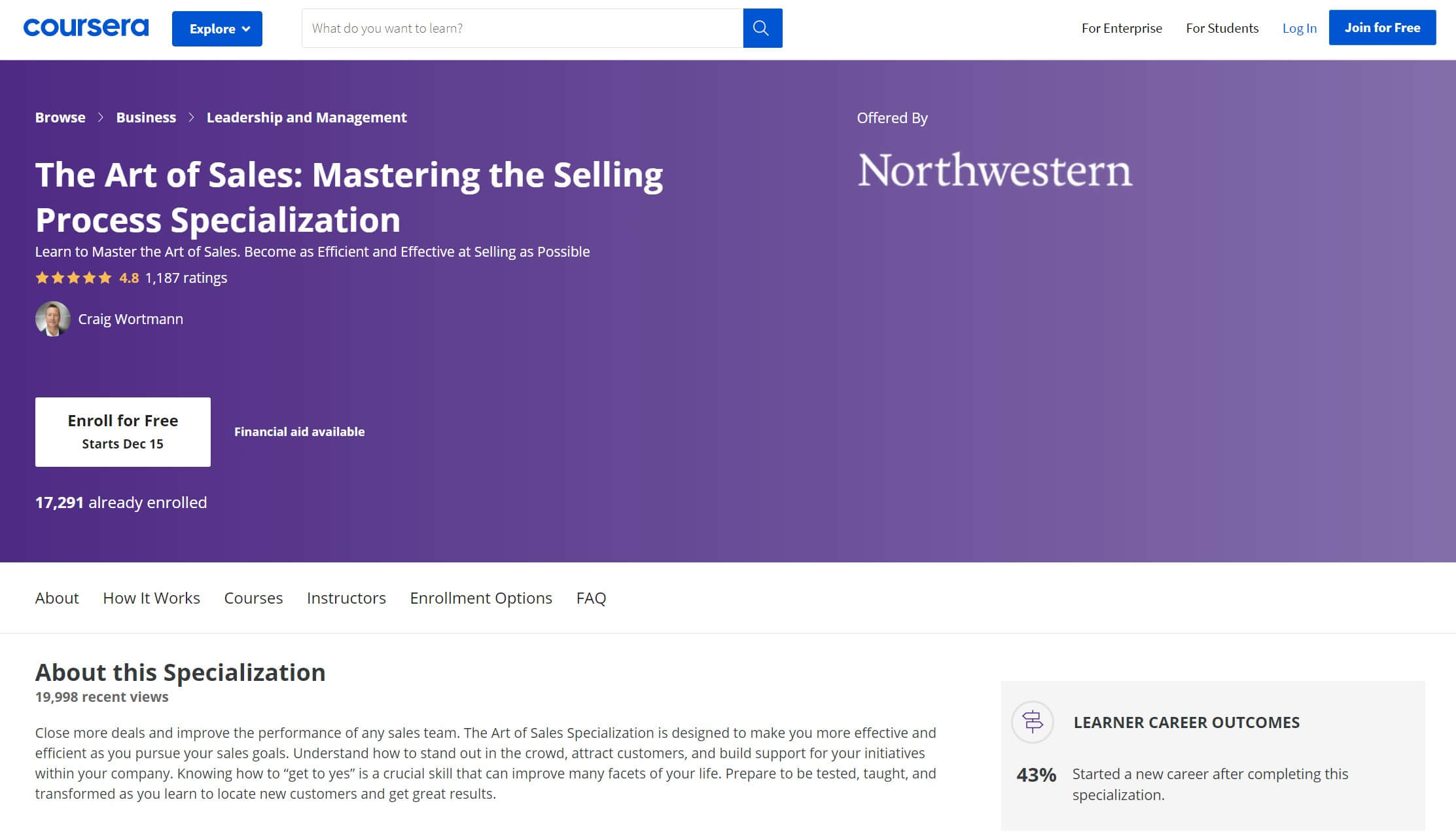 The Art of Sales is an excellent course for beginners to the business. It's aimed at new salespeople, with the goal of showing you the fundamentals of the sales process. The course itself is free, with a relatively small fee for a certificate at the end.
Key Features:
Fairly brief: The course runs for five weeks, with around five hours of work per week.
Broad scope: The Art of Sales covers everything a new salesperson needs to know about both Business-to-Business (B2B) and Business-to-Consumer (B2C) sales.
Affordable: It doesn't get any cheaper than free, and even the certificate fee is low compared to many other courses.
The Art of Sales: Mastering the Selling Process Is For You If…
…you're completely new to sales and need a strong primer. This course is perfect for entrepreneurs too.
Price: Free, with a $95 charge for the certificate
3. 21st Century Sales Training for Elite Performance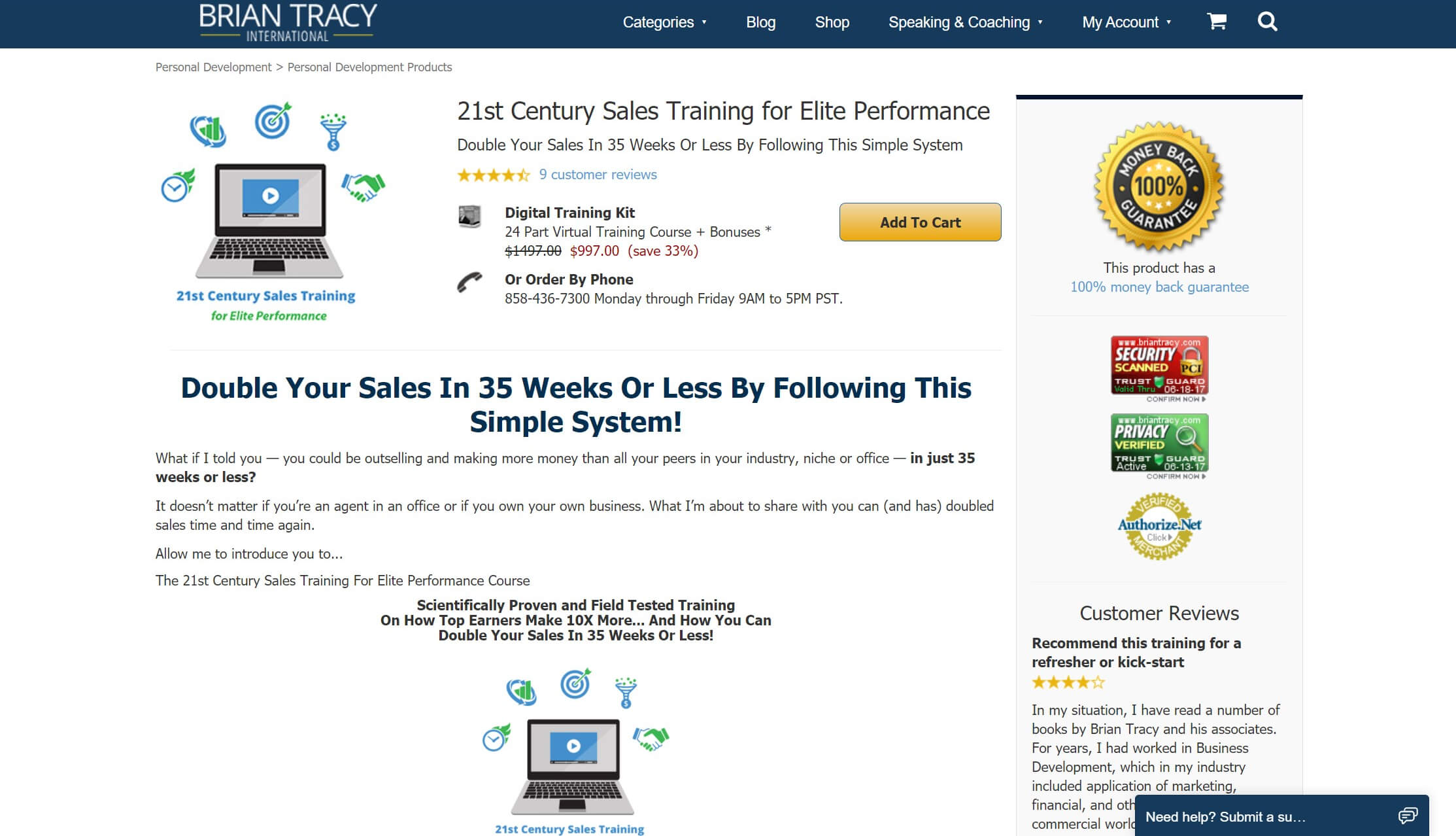 The 21st Century Sales Training for Elite Performance course sounds a lot more futuristic than the website would have you believe. Don't be fooled by appearances, though – the course promises that you'll double your sales in 35 weeks or less, and the reviews seem to indicate it isn't lying.
Key Features:
Focuses on seven key areas: Prospecting Funnel, Rapport Builder, Problem Radar, Sales Theater, Handling Objections, Closing the Sale, and Repeat Business
12 weeks in length: The course provides two videos per week for three months.
Additional material: Includes workbooks and bonus training material.
21st Century Sales Training for Elite Performance Is For You If…
…you need thorough sales training that covers all facets of the process. This is a fantastic course for beginners and veterans alike.
Price: $997
4. Sales Prospecting Advanced Techniques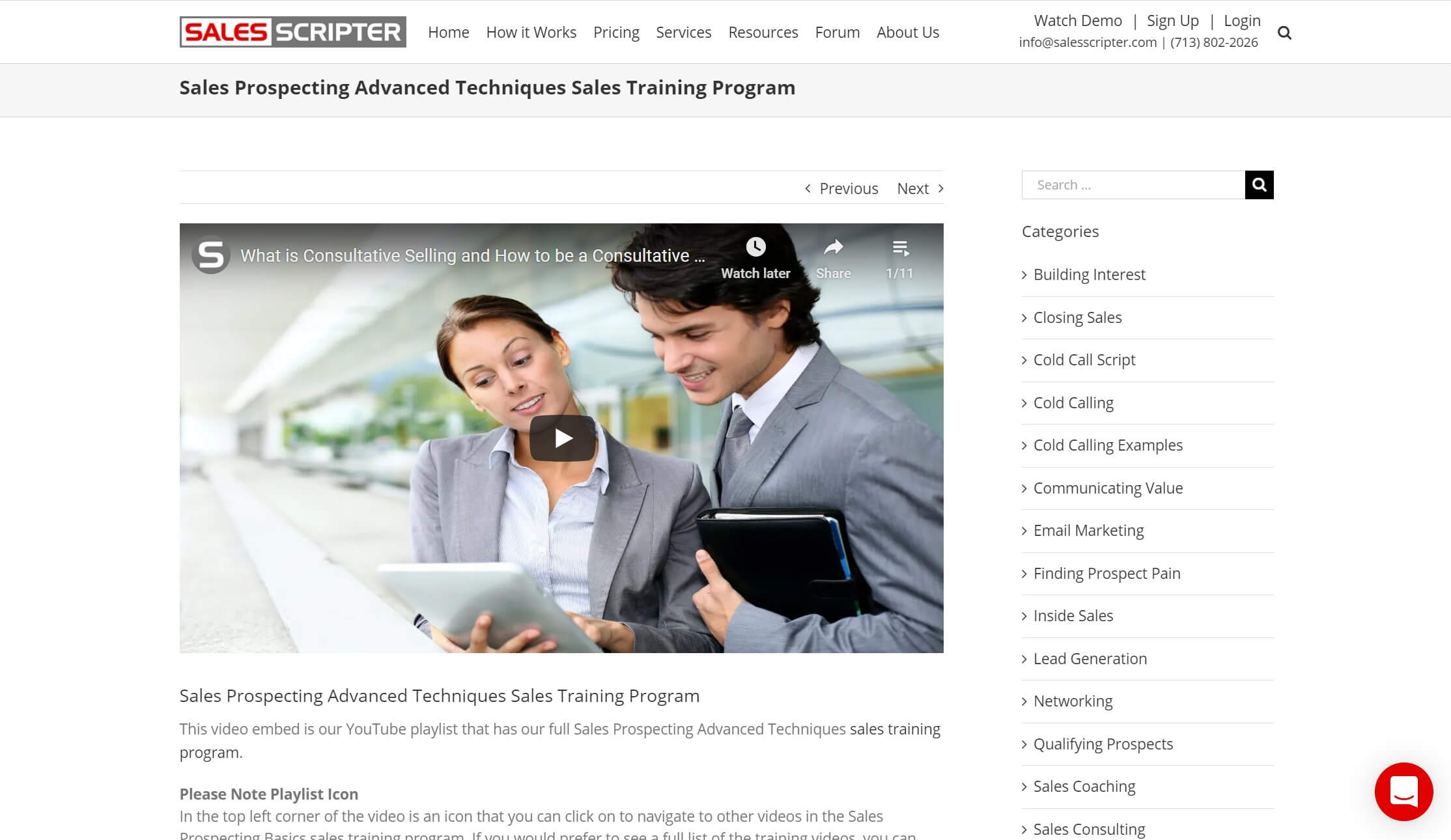 The Sales Prospecting Advanced Techniques course is geared primarily towards sales managers and trainers, although anyone can benefit. This online training teaches a strategy-based process for asking the right questions and communicating with prospects, so you can enter into the conversation with a clear plan and come out with a closed sale.
Key Features:
Short and focused: This is a 13-hour course that focuses heavily on communicating with prospects.
Free: Again, it's hard to argue with free training, especially when it could help you make more money.
Content depth: Although the course has a sharp focus, it dives surprisingly deep, with 12 modules focused on different aspects of prospecting and communication.
Sales Prospecting Advanced Techniques Is For You If…
…you're a sales leader and want to help your team sharpen up their prospecting skills.
Price: Free
5. Smart Calling College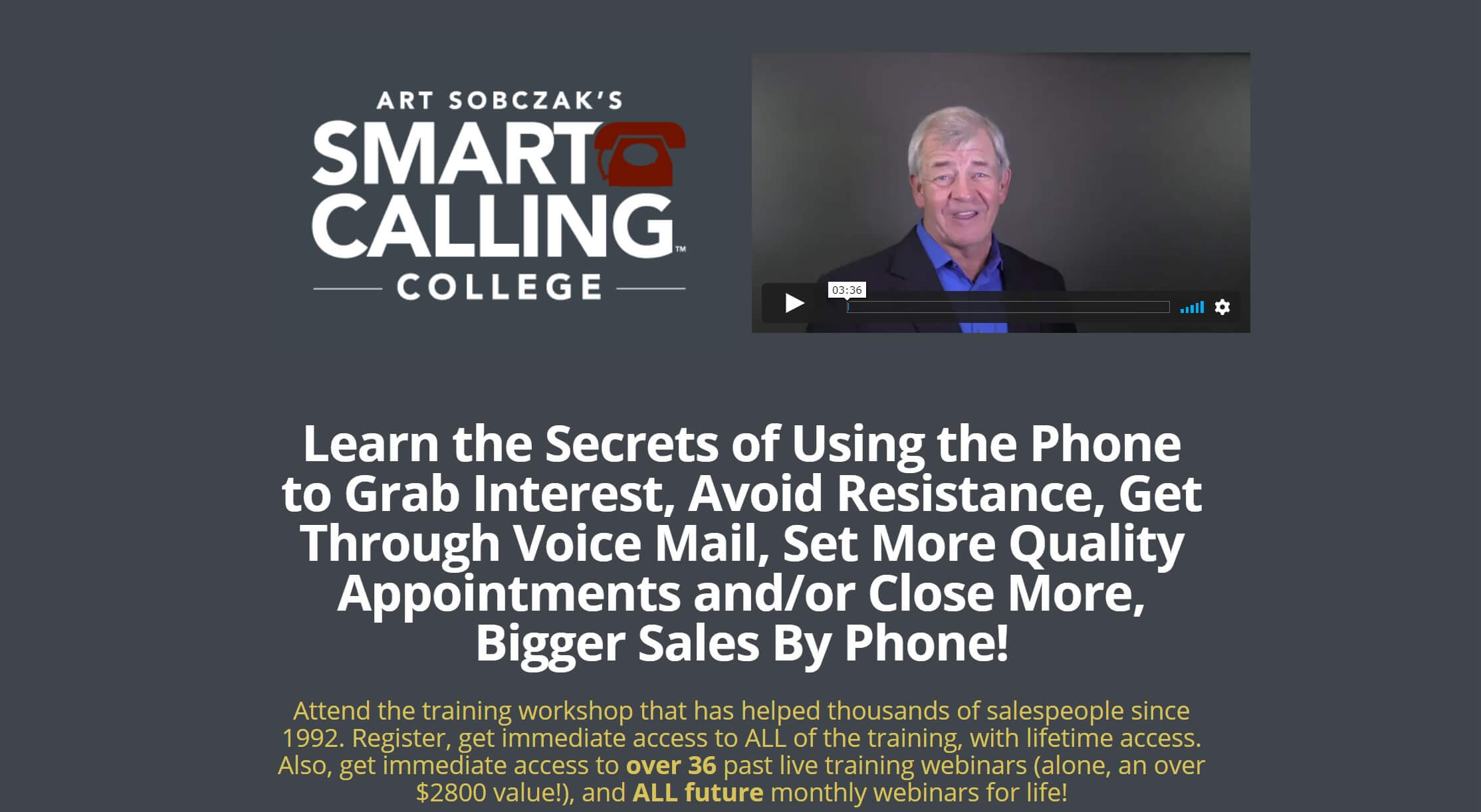 The phone isn't dead (yet), and many sales professionals still rely on it to find prospects and close deals. This course is all about teaching you exactly how to do so in a reliable, results-oriented way.
Key Features:
Four weeks: The course runs for one month, with about two hours of video content per week.
Unique focus: Not many online courses focus on the telephone, but the skill is still important.
Bulk discount: After the first attendee, additional students from the same company receive a $100 discount.
Smart Calling College Is For You If…
…you rely on the phone to make sales, or need to brush up on those skills.
Price: $895 for the first student, $795 for each additional student from the same company
6. Inside Sales Consulting with Sales Hacker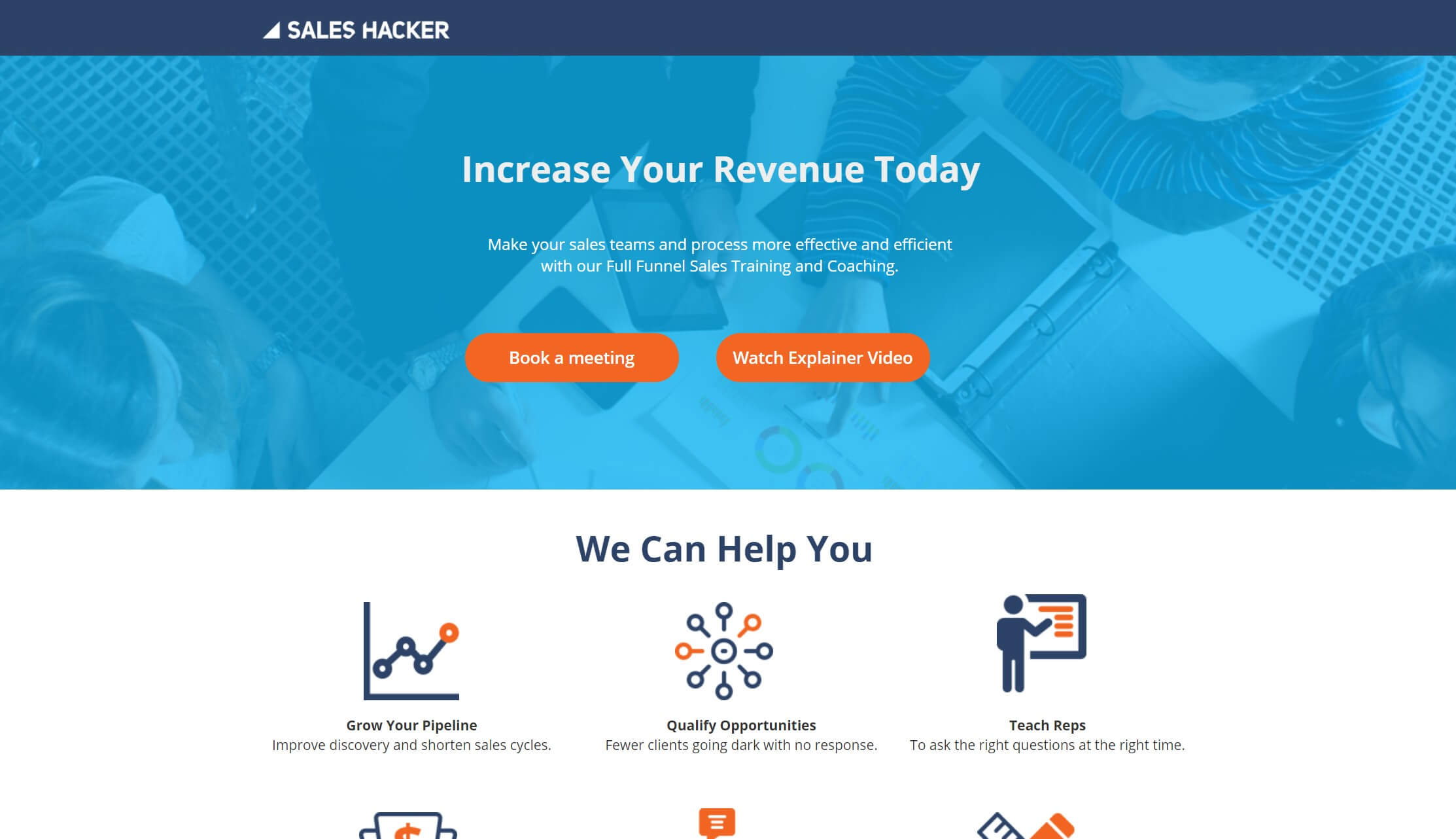 This course is a bit different from the rest. Rather than a specific training that you purchase and work through, Sales Hacker's Inside Sales Consulting is a bespoke, full-funnel sales coaching program tailored specifically for your company.
Key Features:
Custom content: Sales Hacker works with your company to design training and coaching specific to your needs.
Broad: This training covers the entire range of sales needs, from growing your pipeline to strengthening your negotiation skills.
Inside Sales Consulting Is For You If…
…you're a business owner or executive, and want to kick your company's sales processes up a notch or three.
Price: There's no price listed on the website, which is understandable for a custom service. As such, you'll need to contact Sales Hacker for a quote.
7. Attitudes for Service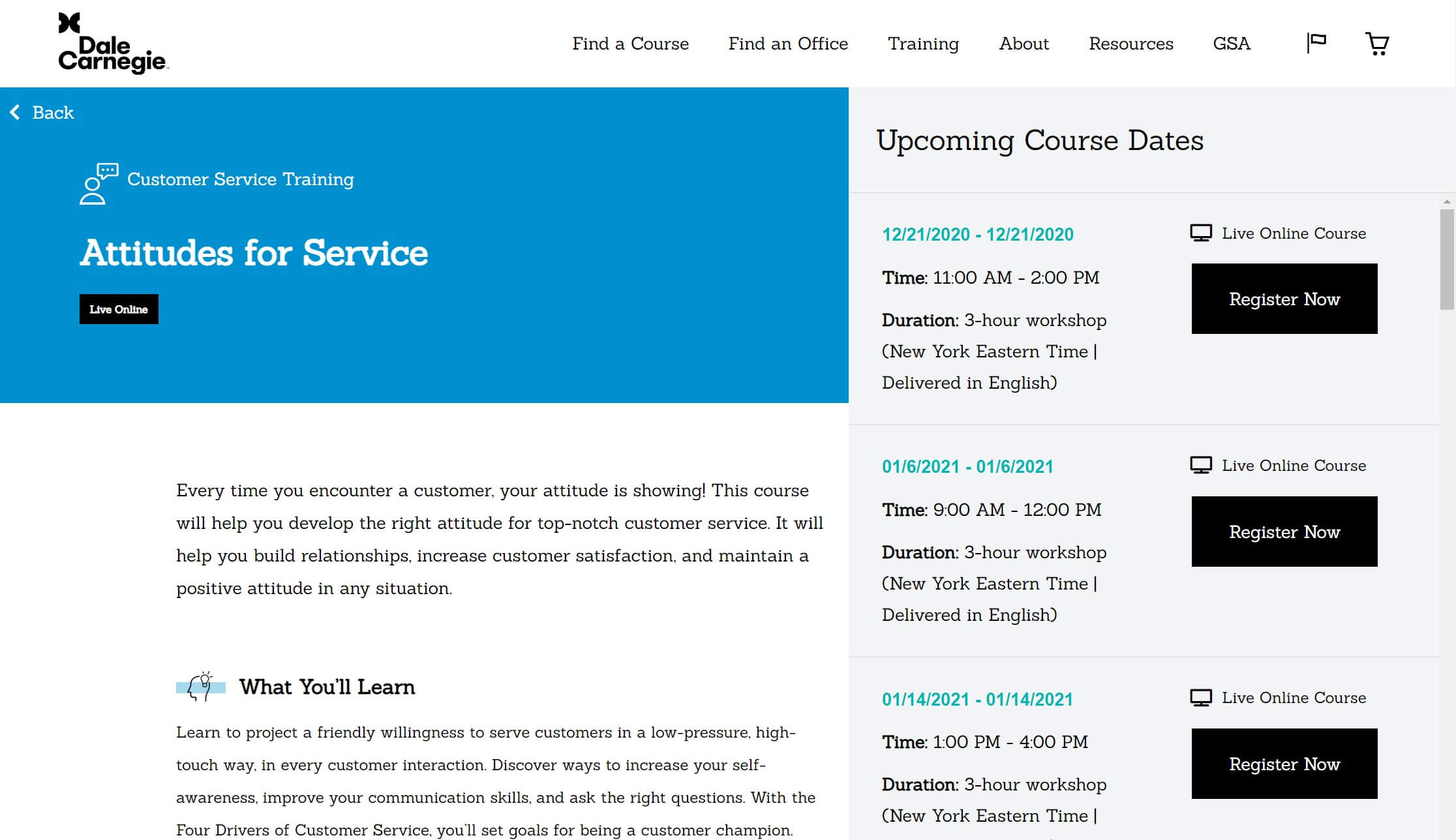 Attitudes for Service is a short, highly-focused online training guide to help salespeople project a more helpful attitude when dealing with customers. This course, as well as the next one, is primarily beneficial for seasoned salespeople that want to continue to hone their skills.
Key Features:
Live: The course is online, but rather than a series of prerecorded videos, it takes the form of a live workshop.
Unique topic: Rather than focusing on generating leads and closing, this course explores how you can provide better service for your customers.
Flexible time slots: Since this is a live workshop, you'll have to schedule a time. Fortunately, plenty of options are available.
Attitudes for Service Is For You If…
…you've got the fundamentals of sales down but want to continue to grow.
Price: Starts at $349
8. Virtual Selling: How to Build Relationships Online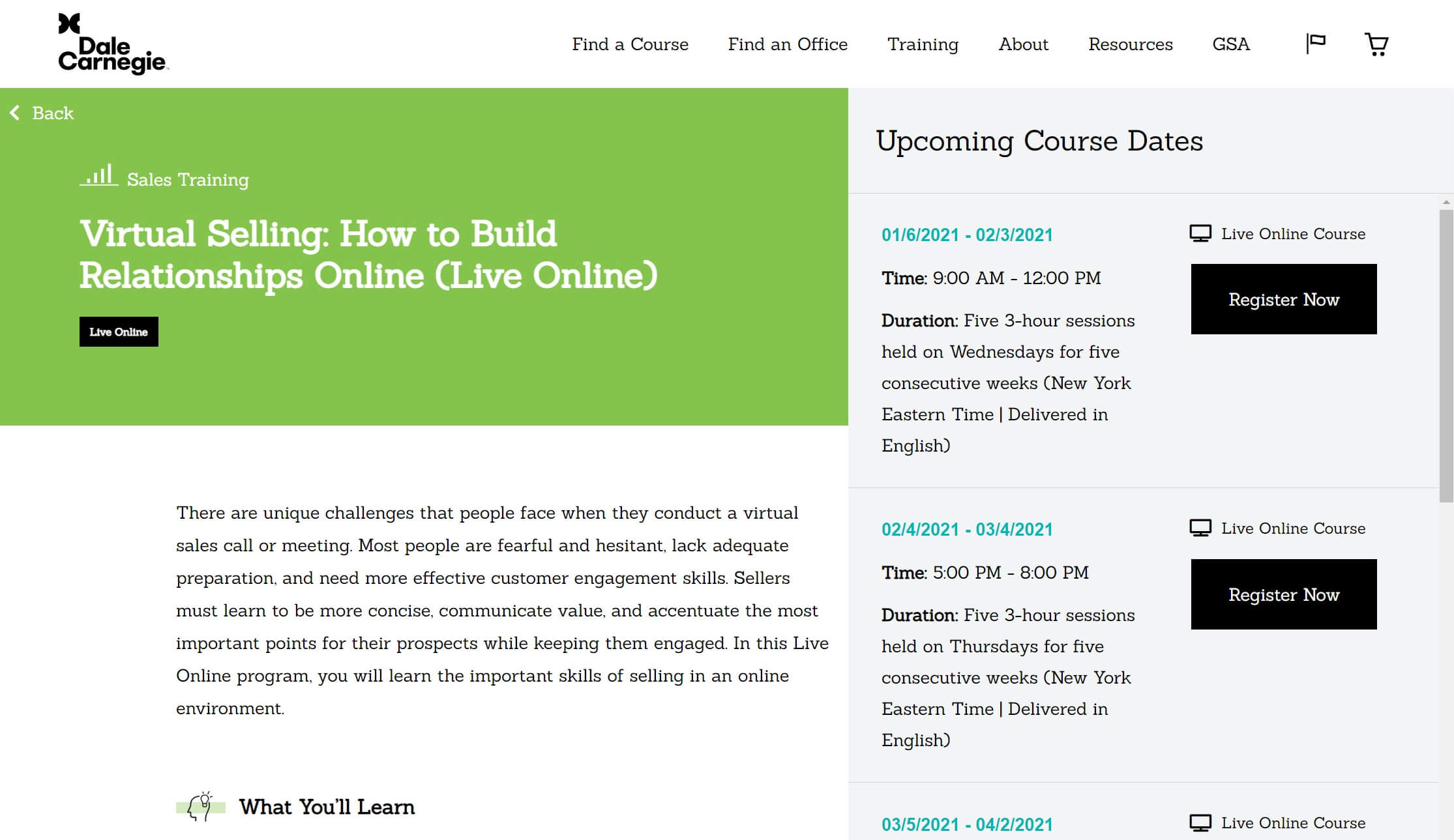 The final course on this list is another specialized training for veteran salespeople, though newcomers to the profession can also benefit. Virtual Selling: How to Build Relationships Online is designed to teach you the fundamentals of selling online, which can be vastly different from traditional face-to-face work. Building relationships with prospects, followers, and fans on the internet can be a major source of potential sales.
Key Features:
Live: This is a live online seminar, so trainees get the benefits of having someone teach them in real time.
Modern topic: Building relationships online is a vital skill for salespeople in today's environment.
Five weeks: This course takes place over five three-hour sessions, one per week.
Virtual Selling: How to Build Relationships Online Is For You If…
…you struggle with online sales or want to broaden your sales horizons.
Price: Starts at $1,795
Conclusion
Whether you're totally new to sales, or you've been in the trenches for years and want to sharpen your skills, online training courses provide an excellent opportunity to grow. However, the online-course market is quite saturated, so finding a good fit can be tough.
However, we've done the work of sifting through the massive amount of options to help you find the best course for you. Whether you're after a broad, beginner-friendly curriculum like 21st Century Sales Training for Elite Performance or a narrowly-focused, quick course like Hubspot's Inbound Sales, there's something for everyone.
Do you have any questions about choosing an online sales training course? Let us know in the comments section below!
Featured image by ST.art / shutterstock.com