Despite how great your website may be, people won't just stumble upon it accidentally (for the most part). You have to drive traffic to your site. In addition to paying for advertising, there's also organic traffic to think about, which requires search engine optimization (SEO).
There's a lot to learn if you want to become an SEO expert, and no single method will cover everything there is to know. However, a great SEO plugin can do much of the heavy lifting. This post will look at the best WordPress SEO plugins and help you pick the right one.
What Are SEO Plugins?
In general, an SEO plugin will help you optimize your web pages so they'll rank higher in search engines. Out-of-the-box WordPress already has a lot of SEO optimization features built in. You can write titles and headings, create metadata, add tags and alt text, customize URLs, and more. But SEO plugins make juggling these tasks – and other ones – much easier, especially if you're not at an expert level yet.
Using an SEO plugin doesn't guarantee that your content will rank higher with search engines. However, it will help you optimize your content for search engines so it has a better chance to rank highly. You still have to do the work, but it's like having a coach there who already knows the field and can guide you.
The Best WordPress SEO Plugins
The Best WordPress SEO Plugins Listed In Order
Expand List
The following plugins will help you implement an SEO strategy on your website. Some are simple, tackling just an element or two of SEO, while others are more comprehensive. All of them will clue you into audience and traffic stats so you can improve your content and boost engagement. And remember, the actual optimization is still up to you whether you use the best SEO plugin for WordPress or not – the plugin holds your hand a bit as you make updates.
1. Rank Math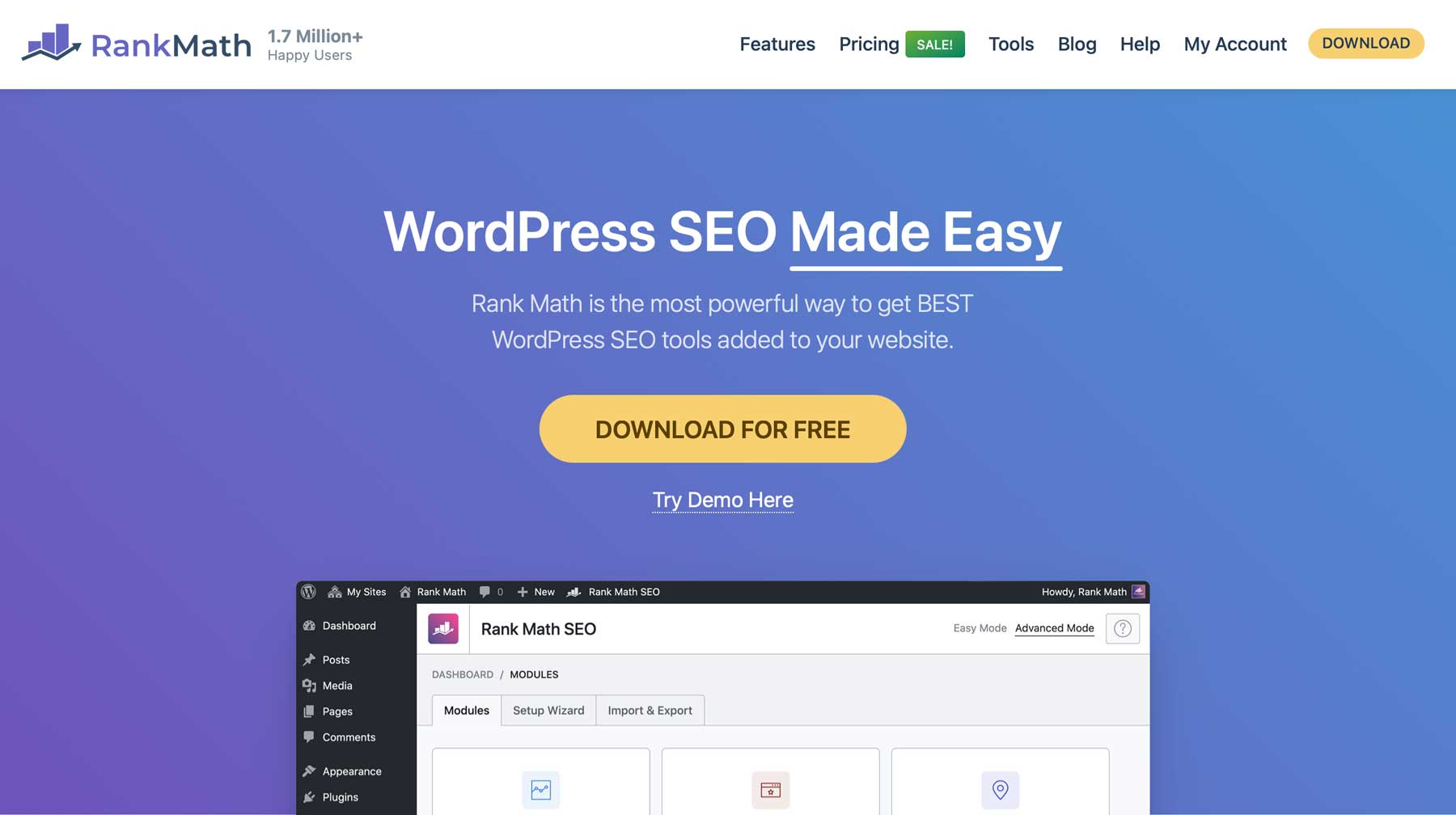 Rank Math's top feature is that it offers real-time insights that tell you about your posts so that you can optimize them as you write. On top of that, the SEO data you can see on your dashboard includes the keywords you're ranking for, the search impressions your website is getting, and errors that Google spots on your site. The plugin is speed-optimized, too, so it won't impact the speed of your website.
Rank Math also includes deep integration with Divi, bringing powerful SEO features right into Divi's visual builder!
Key Features of Rank Math
Integrates with Google Search Console to bring SEO info to your WordPress dashboard.
Snippet preview to optimize titles and metadata so SERPs won't display errors.
Additional tools for 404 monitoring, link building, redirections, local and WooCommerce SEO, sitemaps, and more.
Integrates with Divi Theme
Rank Math is for you if…
You're a team of one that writes content, manages SEO, and is solely responsible for the health of your site.
You currently use multiple SEO plugins but want a more compact solution.
You use Divi.
Rank Math Pricing: Free; paid plans start at $59 per year.
2. All in One SEO (AIOSEO)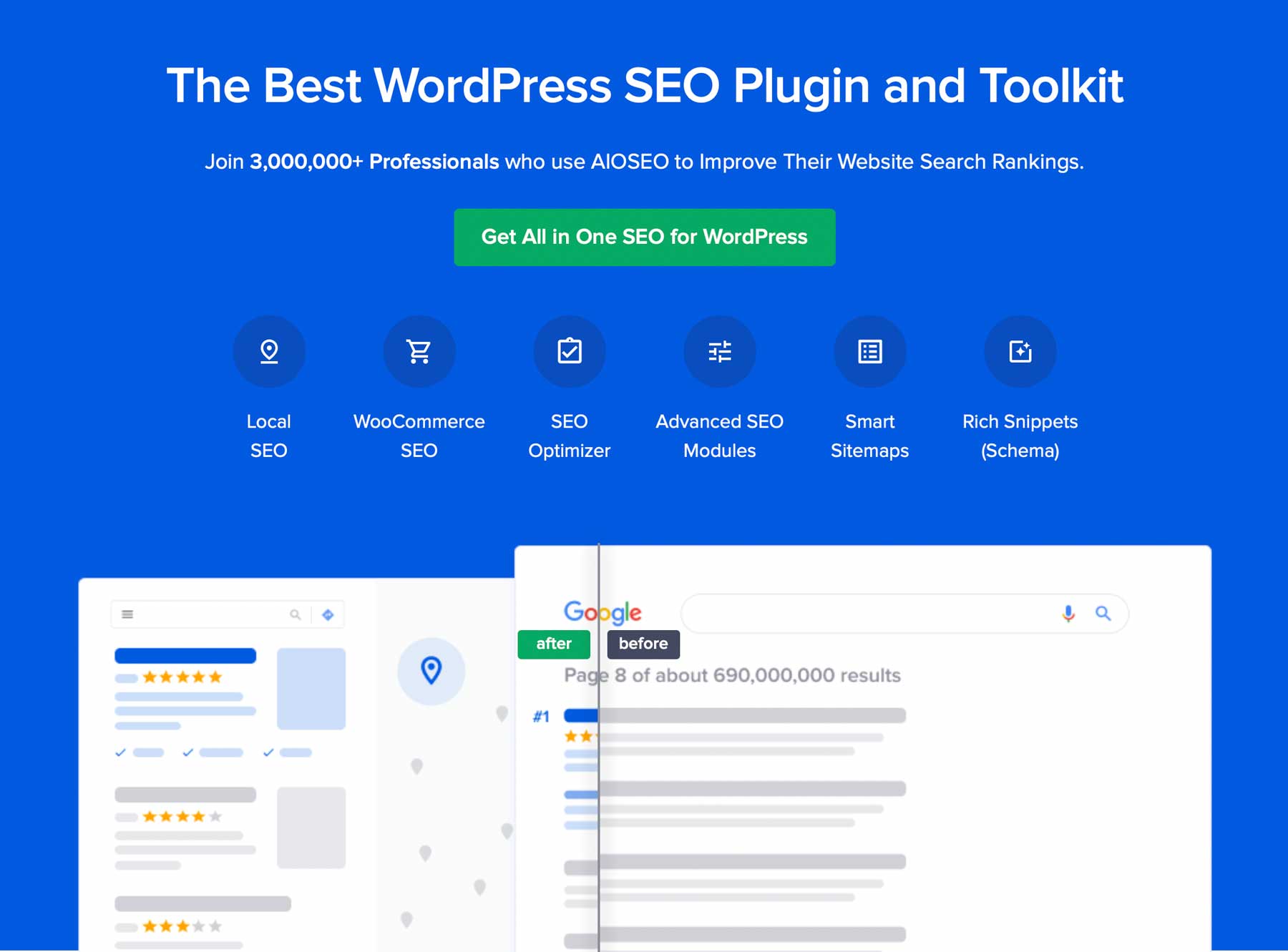 The All in One SEO plugin is primarily used for improving on-page SEO, and it's best for local small businesses that highly rely on search. The plugin will analyze your entire site, alert you to errors, and offer recommendations so you can improve SEO. Along with its sitemaps generation, AIOSEO helps make your website more present on the web, no matter which search engine is being used.
Key Features of AIOSEO
SEO audit checklist to analyze your site.
Recommendations that guide you to improve SEO.
Sitemap generation and submission to various search engines.
AIOSEO is for you if…
You're a local or small business owner focusing on on-page SEO.
Your company relies on online searches, especially local ones.
AIOSEO Pricing: Free; paid plans start at $49.50 per year.
3. Yoast SEO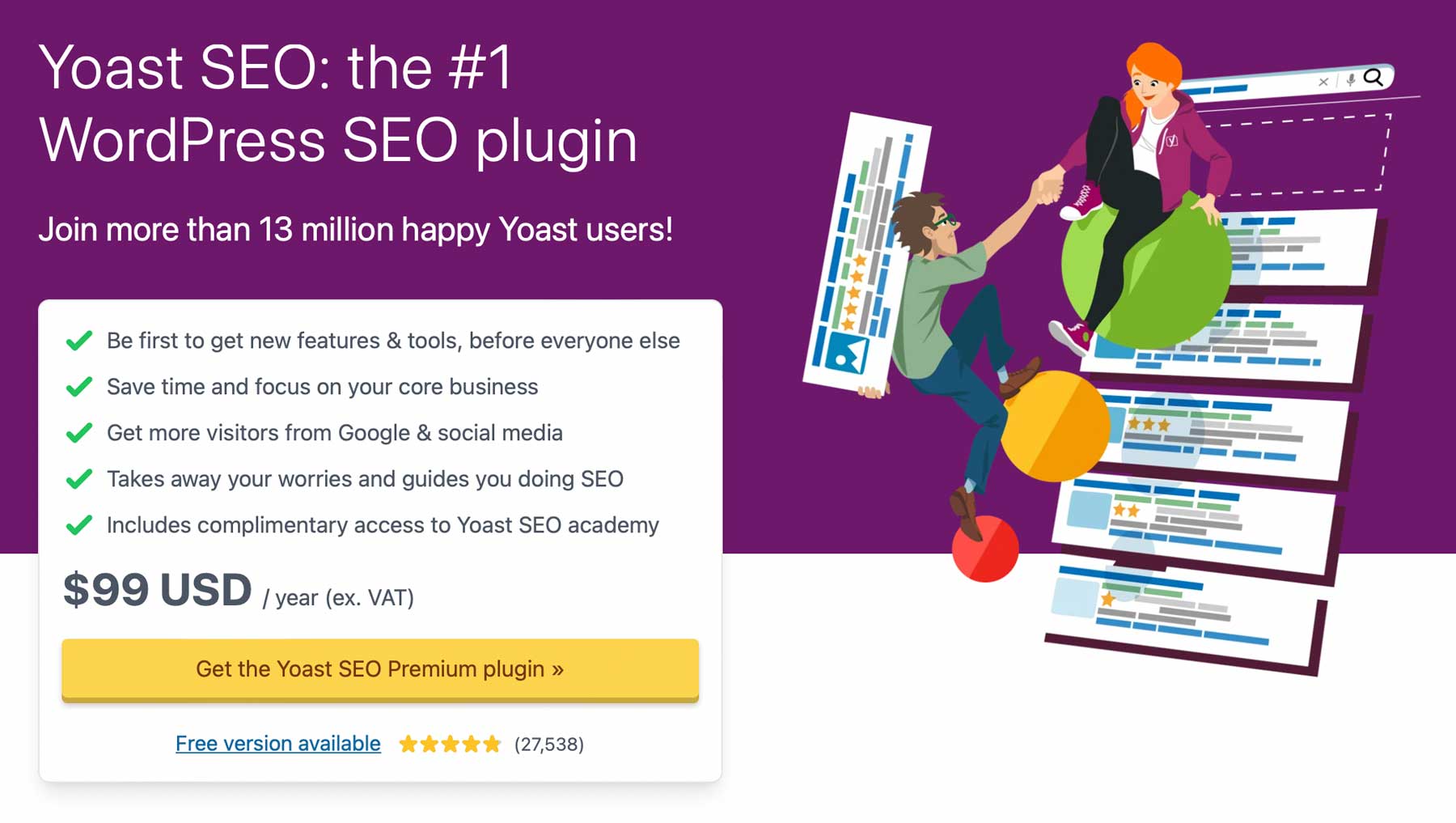 To many, Yoast is the absolute best SEO plugin for WordPress, powering many of the big sites you visit all the time. Once you set up Yoast on your site, it includes everything you need to optimize your site for SEO, including content optimization to redirect management, SERP previews, XML sitemap creation, and more. It's best known for its on-page insights feature that tells you how to include your target keyword and what you may be doing wrong in different areas, from the body copy to the metadata.
Key Features of Yoast SEO
Yoast SEO is for you if…
You have a team of writers and want to hold them all to the same quality level.
You're not sure where you're going wrong when writing content.
Want powerful SEO optimization site-wide and easy-to-access SEO page optimization when creating content per page/post
Yoast SEO Pricing: Free; Premium is $99 per year.
4. HubSpot

You need good data to create an SEO strategy, and the HubSpot plugin's primary purpose is to collect and present that data. Analytics are shown on user-friendly dashboards that are easy to read. With the info you collect, you can figure out where to spend time improving SEO – and which areas are working just fine for now. Check out our guide on how to integrate Hubspot with WordPress.
Key Features of HubSpot
Marketing performance analytics
Monitor your site or a single page for web traffic
Additional SEO tools, like email marketing, forms, and live chat
HubSpot is for you if…
You're scaling a small business.
You use other HubSpot products, like its CRM.
HubSpot Pricing: Free.
5. Internal Link Juicer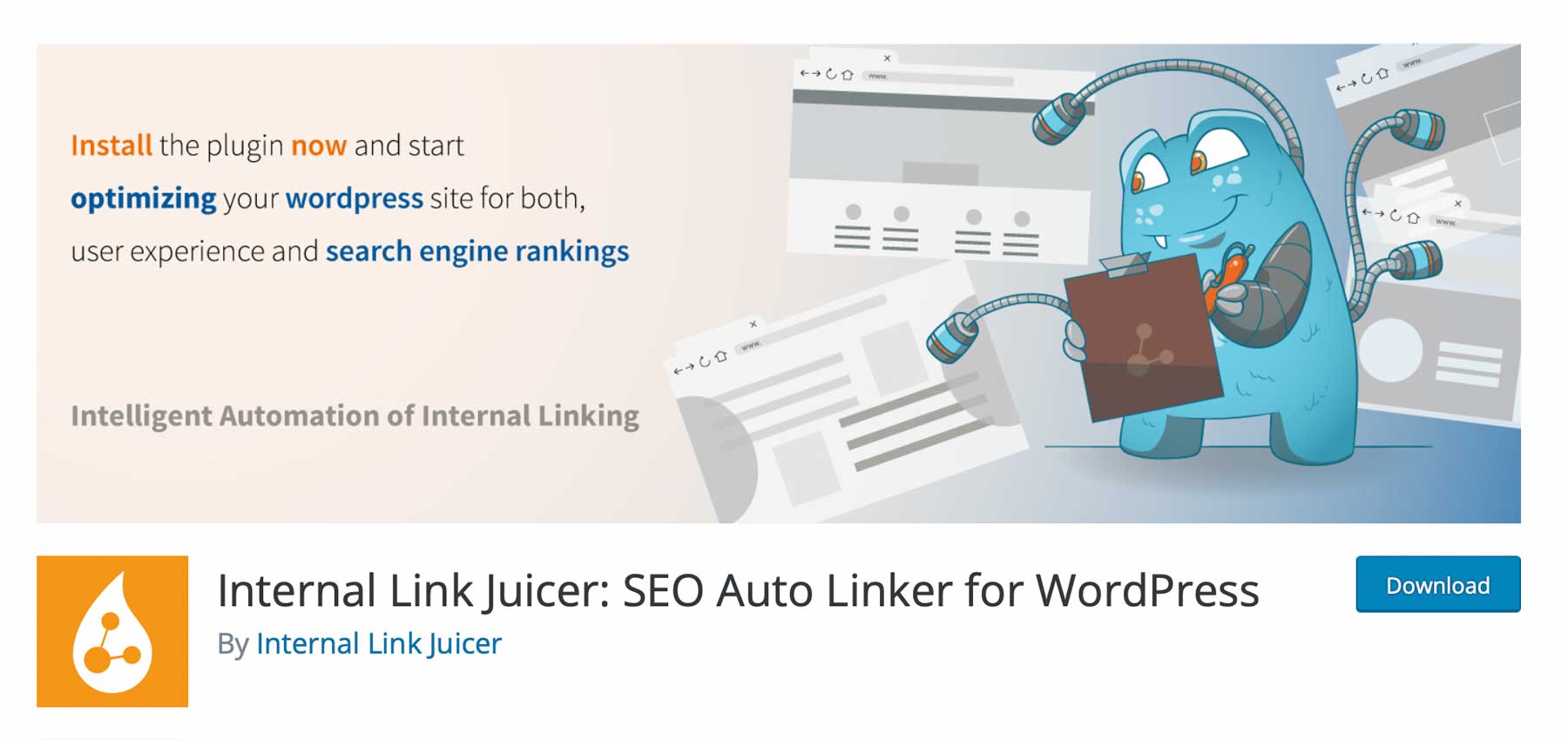 Adding internal links to your post can be a pain, especially as your website grows. Internal Link Juicer is possibly the best SEO plugin for WordPress for automating internal linking so each post is optimized. Implementing a solid internal linking strategy is excellent for SEO. But it also makes it easier for visitors to find the content on your website and stay there.
Key Features of Internal Link Juicer
Set anchor keywords for posts so that related internal content will be automatically linked to them.
Limit the number of links added to each post.
Block content that you never wanted to be linked to.
Internal Link Juicer is for you if…
You have an extensive library of content and find it challenging to find the best articles to link to.
You want to view stats for your internal links.
Internal Link Juicer Pricing: Free, $69.99 for Pro.
6. MonsterInsights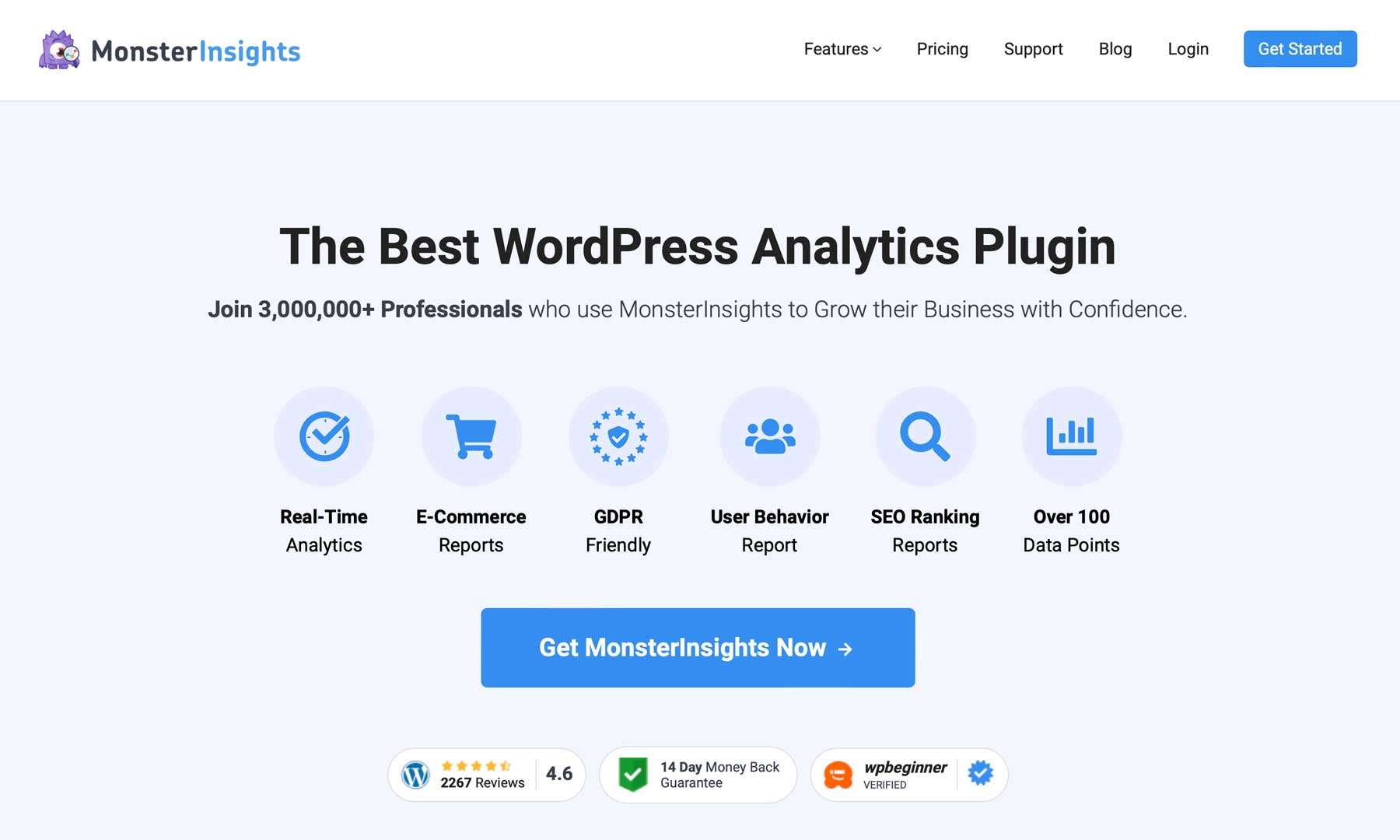 MonsterInsights is one of the best Google Analytics plugins around. The plugin brings you Google Analytics website performance data right to your dashboard. This lets you know how to improve your site to enhance the visitor experience. You'll be able to see your Google Search Console reports on how people find your site and use it once they're there. No code is needed to install the Google Analytics tracking script, either.
Key Features of MonsterInsights
Tracks website analytics and performance.
Google Analytics is brought to the WordPress dashboard, so you don't have to open another site.
The content report shows the pages that are most visited.
MonsterInsights is for you if…
You're a marketer or stakeholder who wants to optimize your website for conversions.
You get overwhelmed by Google Analytics and want a more streamlined data view.
MonsterInsights Pricing: Free; paid plans start at $99.50 per year.
7. Schema and Structured Data for WP & AMP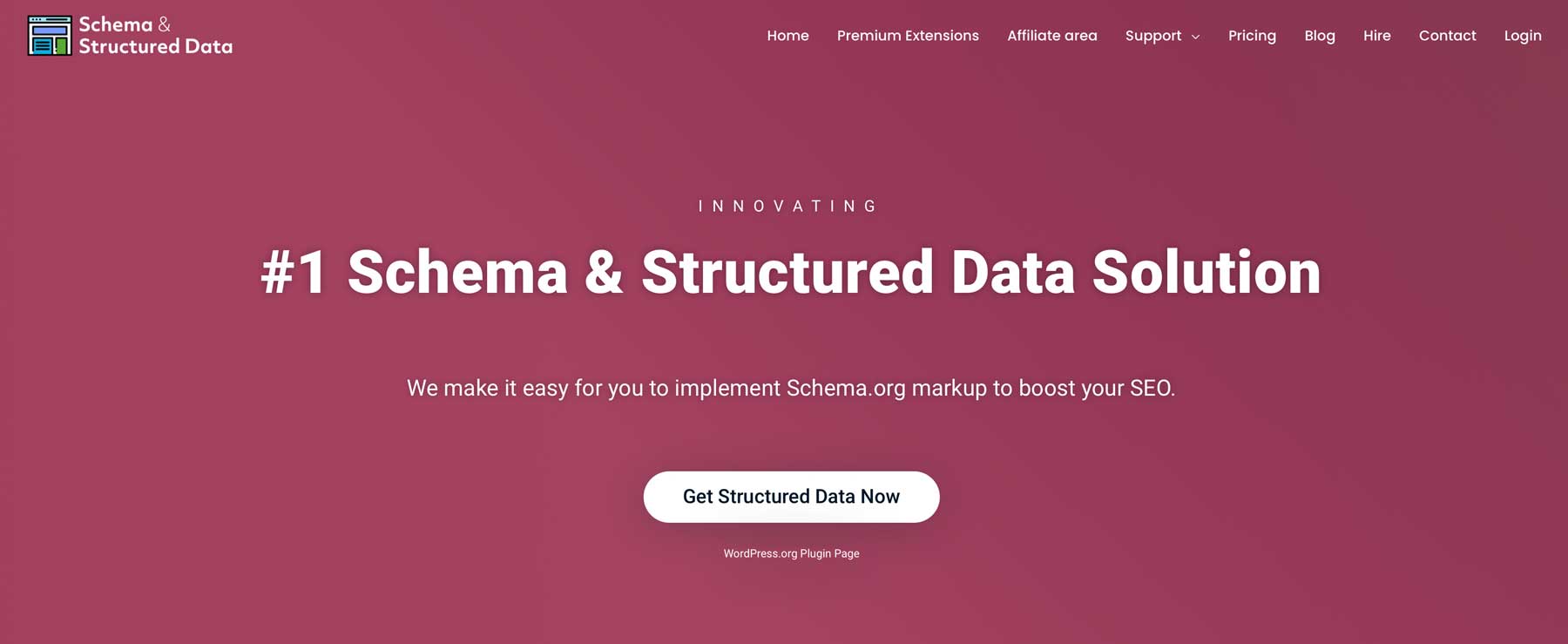 Rich snippets in Google display search results with additional content, like the post's author, photos, pricing, or ratings. However, you need schema markup to customize your content's appearance in rich snippets. The Schema and Structured Data for WP & AMP plugin helps you choose the schema to add for all sorts of content, including blog posts, news articles, product pages, and recipes.
Key Features of Schema and Structured Data for WP & AMP
Auto-assign schema to 35+ types of content.
Manually select the markup to add to a post or page.
Exclude certain types of content and not include schema markup for them.
Supports AMP and AMP for WP for optimizing your site for mobile devices
Schema and Structured Data for WP & AMP is for you if…
You have a blog, review site, or small business site that needs a better presence in SERPs.
You want an easy way to display multiple schema types in SERPs according to Schema.org guidelines.
You use AMP for WP or AMP by Automattic plugins
Schema and Structured Data for WP & AMP Pricing: Free.
Get Schema and Structured Data for WP & AMP
8. WP Meta SEO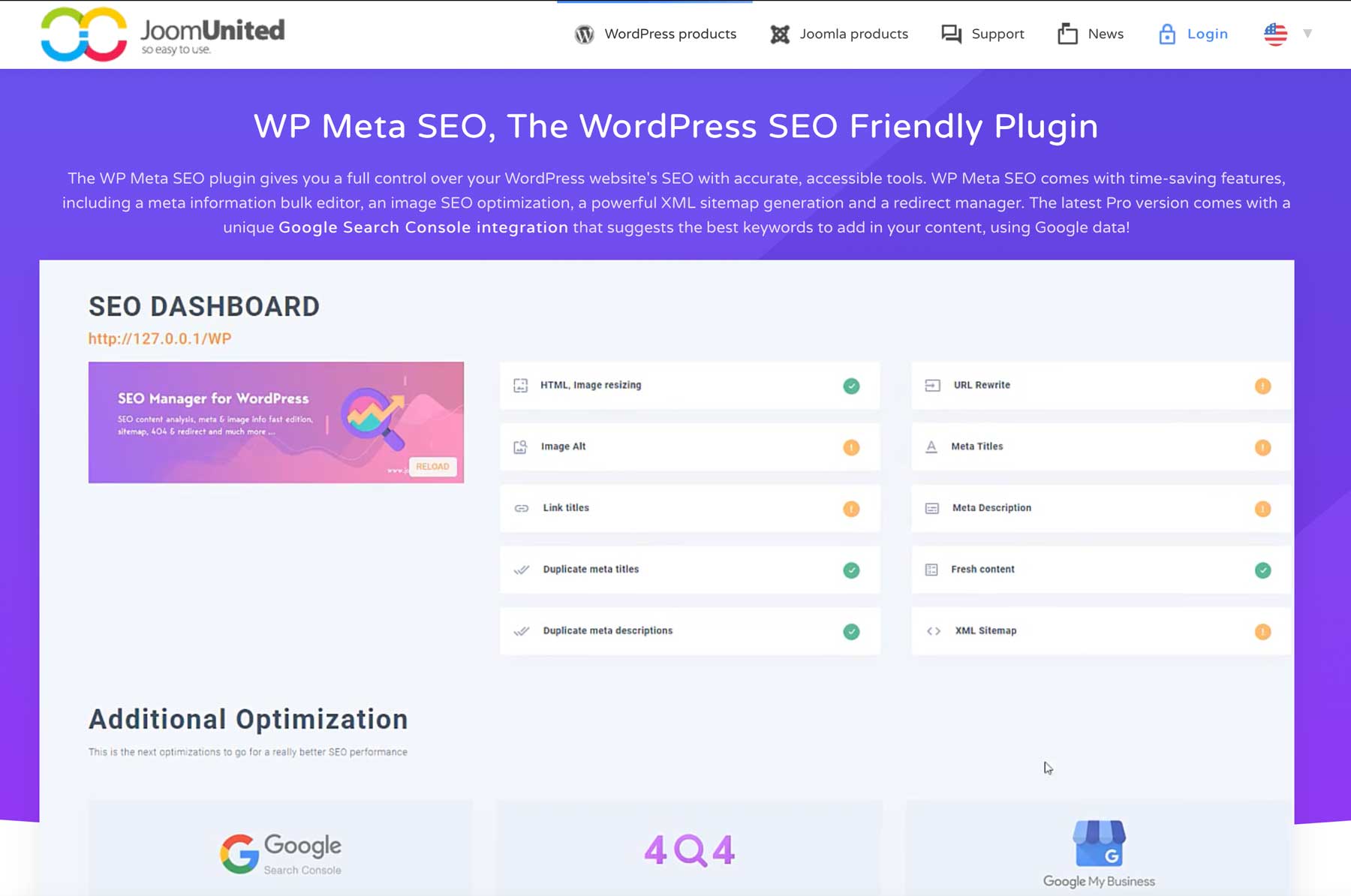 If you're redesigning your website and need a quick, efficient way to optimize the new pages, consider installing WP Meta SEO. It provides across-site optimization all at once instead of having to do it on each page. You can also use Google data to develop your keyword strategy.
Key Features of WP Meta SEO
Meta information bulk editor.
Integrates with Google Search Console for keyword suggestion features.
Other SEO features include a redirection manager and a sitemap generator.
WP Meta SEO is for you if…
You're an entrepreneur overseeing content, SEO, and your website overall.
You want to speed up your workflow so you can focus on content creation.
WP Meta SEO Pricing: Free or $49 for Pro.
9. SEO Press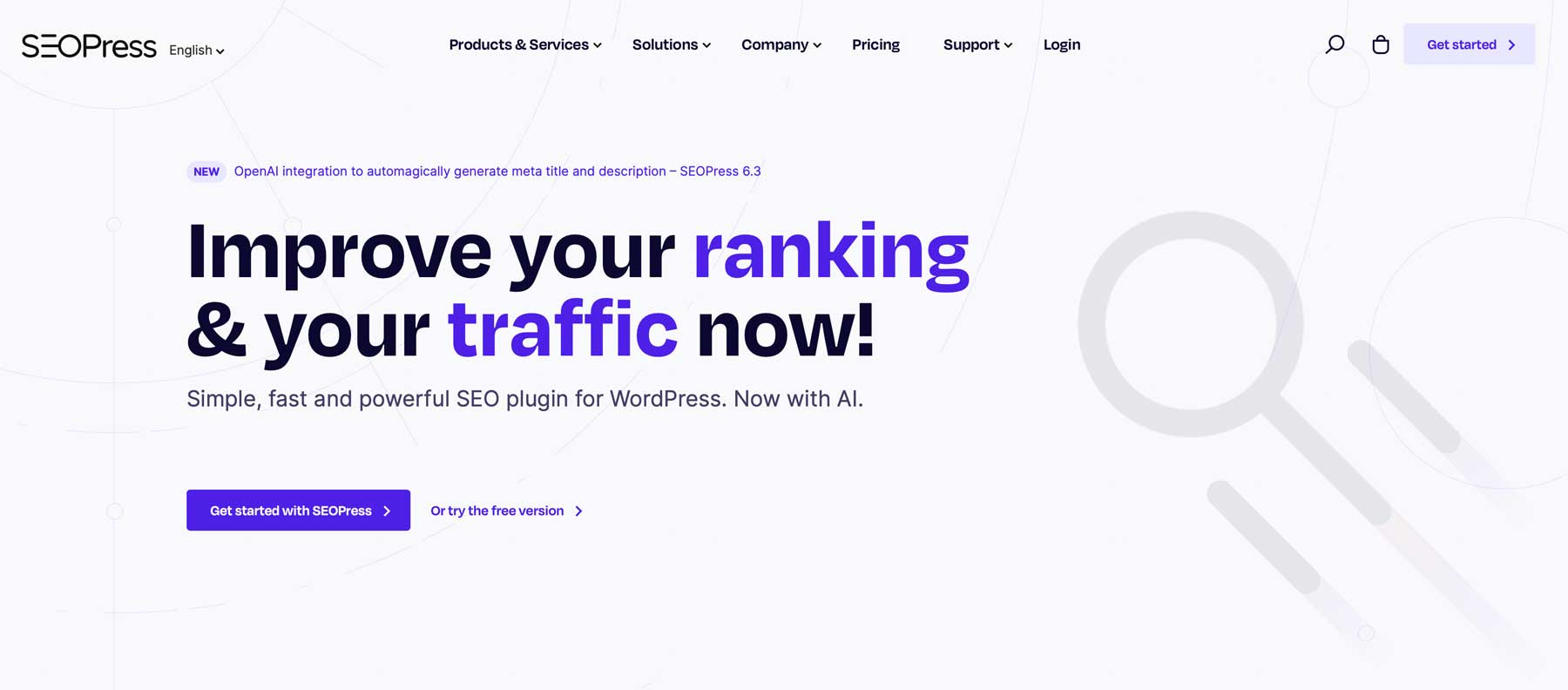 SEO Press offers a free WordPress plugin that provides all the necessary features to improve the SEO of your WordPress site. You can manage meta titles and descriptions, generate XML and HTML sitemaps, track your site's visitors with Google Analytics, and optimize your social media presence, among other features.
Key Features of SEO Press
Management of meta titles and descriptions
Generation of XML and HTML sitemaps
Integration with Google Analytics to track site visitors
Optimization of social media presence
SEO Press Pro offers advanced features for optimizing your business's WordPress site, including configuring WooCommerce SEO, targeting local audiences, generating video and news XML sitemaps, managing redirects, checking broken links, and monitoring 404 errors. The Pro plan also allows you to install the plugin on unlimited sites and includes one year of support.
SEO Press is for you if…
You need an all-in-one SEO solution.
You want a plugin for managing SEO on multiple sites.
SEO Press Pricing: Free or $49 for Pro.
10. Ahrefs SEO WordPress Plugin

Ahrefs is a leader in the world of website optimization, and the SEO WordPress Plugin focuses mainly on backlinks but also has a few other optimization features. Backlink analysis is powered by its backlink index, that's the largest one you can find online. You can look at your backlink profile to uncover guest collaboration and partnership opportunities to increase traffic to your site.
Key Features of Ahrefs
The content audit tool offers recommendations as you create.
SEO analysis based on Google Analytics data.
Actionable insights on your dashboard.
Ahrefs is for you if…
You're a PR pro or a social media manager who needs to dig into data.
You want to know the website's backlink profile.
Ahrefs Pricing: Free.
11. Rankie

Rankie is the best SEO plugin for WordPress to help you make wise optimization decisions. Its insights guide you on how to modify your pages without the need to go into Google Analytics or track everything (like keywords) on your own.
Key Features of Rankie
Track target keywords to monitor performance.
Add the keywords that visitors are using to find your content.
Generate reports for a broader view of performance.
Rankie is for you if…
You're a marketing or SEO data analyst.
You want to know how SERPs and visitors feel about your site's performance.
Rankie Pricing: $21.
12. Redirection

301 redirects are an essential part of an SEO strategy, allowing you to maintain what a page has achieved in the ranks without keeping it active on your site. You specify the new URL that the old page should link to and set up a 301 redirect, so Google knows to look at another page instead of that one. The plugin's URL manager lets you implement 301 redirects without using other redirect methods like modifying the .htaccess file or creating manual entries for each redirection.
Key Features of Redirection
Create conditional redirects based on browser, IP address, login status, page type, or other conditions.
Change the site's permalink structure.
Track 404 errors.
Redirection is for you if…
You want to delete pages, but they're ranking highly.
You're part of a development or marketing team redesigning a website.
Redirection Pricing: Free.
13. The SEO Framework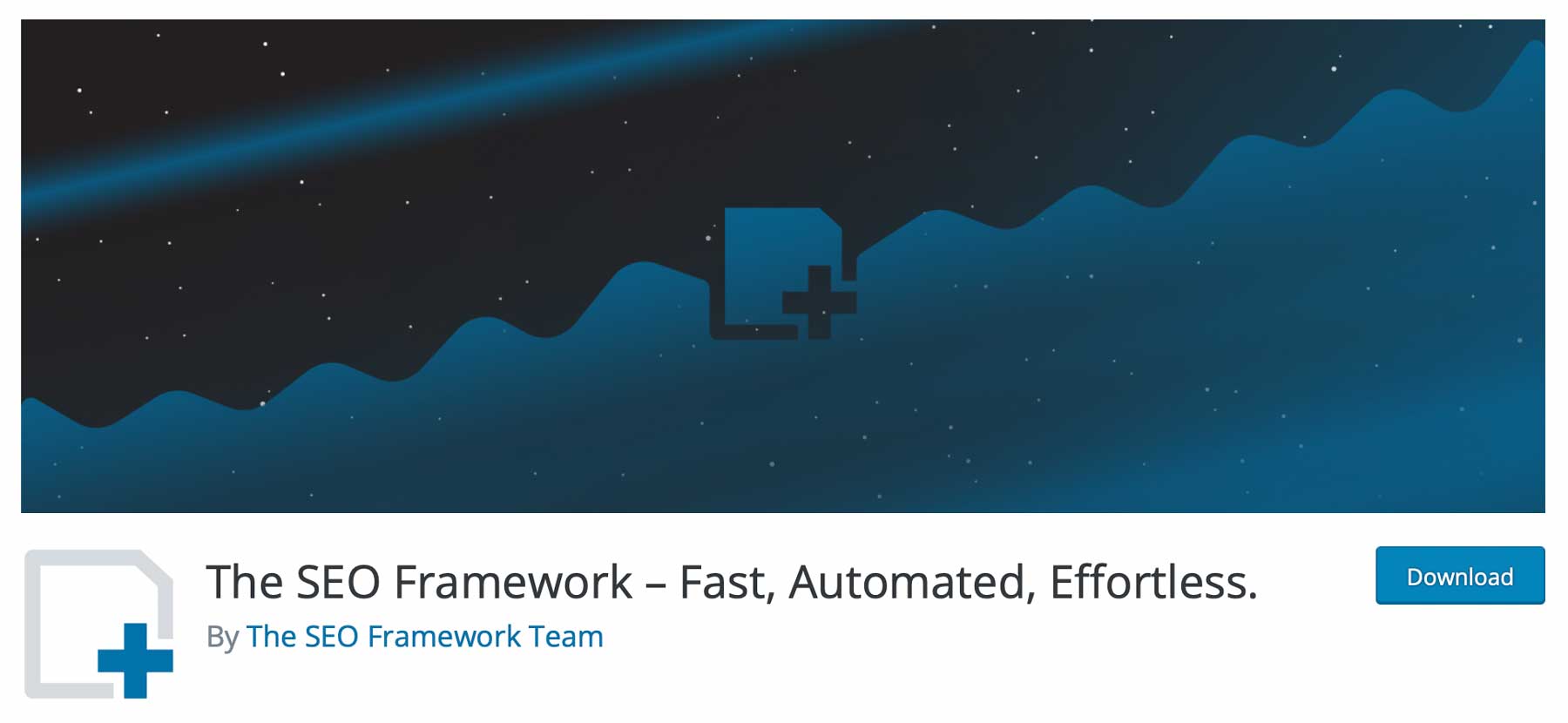 The SEO Framework plugin is a powerful SEO plugin that includes many valuable features. What makes it unique is its automation. It can show you SEO ratings (how well your pages are doing) based on your content and that of the competition, all while making sure your website speed stays fast. Their extension manager plugin gives you more functionality, including the ability to guide you through creating content focusing on keywords and synonyms, automatically adding schema markup and structured data to your articles, and much more.
Key Features of The SEO Framework
Keyword targeting includes synonyms, which are aligned with how SERPs analyze content.
The colored scale shows you how close the content is to being optimized.
Extensions for the plugin add functionality, including local SEO and spam comment caching.
Built-in support for custom Social Sharing of content
The SEO Framework is for you if…
You're just getting started with writing SEO-optimized content.
You're sick of trying to fit in awkward keywords and want to write more naturally.
You want an easy way to identify SEO errors automatically and make optimizations.
The SEO Framework Pricing: Free.
14. XML Sitemaps
Many SEO plugins will create XML sitemaps for you, but if that's the only feature you need, then there's no need to have all the other features you won't use. This is a super-simple plugin that will generate sitemaps and, if you want, let the SERPs know whenever your website has been changed in some way.
Key Features of XML Sitemaps
Generates complete sitemaps.
It can also create HTML sitemaps.
Decide if you want the plugin to notify search engines every time there's an update to your site.
XML Sitemaps is for you if…
You have the rest of the SEO covered and only need to create sitemaps.
You want some control over when SERPs are made aware of site updates.
XML Sitemaps Pricing: Free.
15. WP Rocket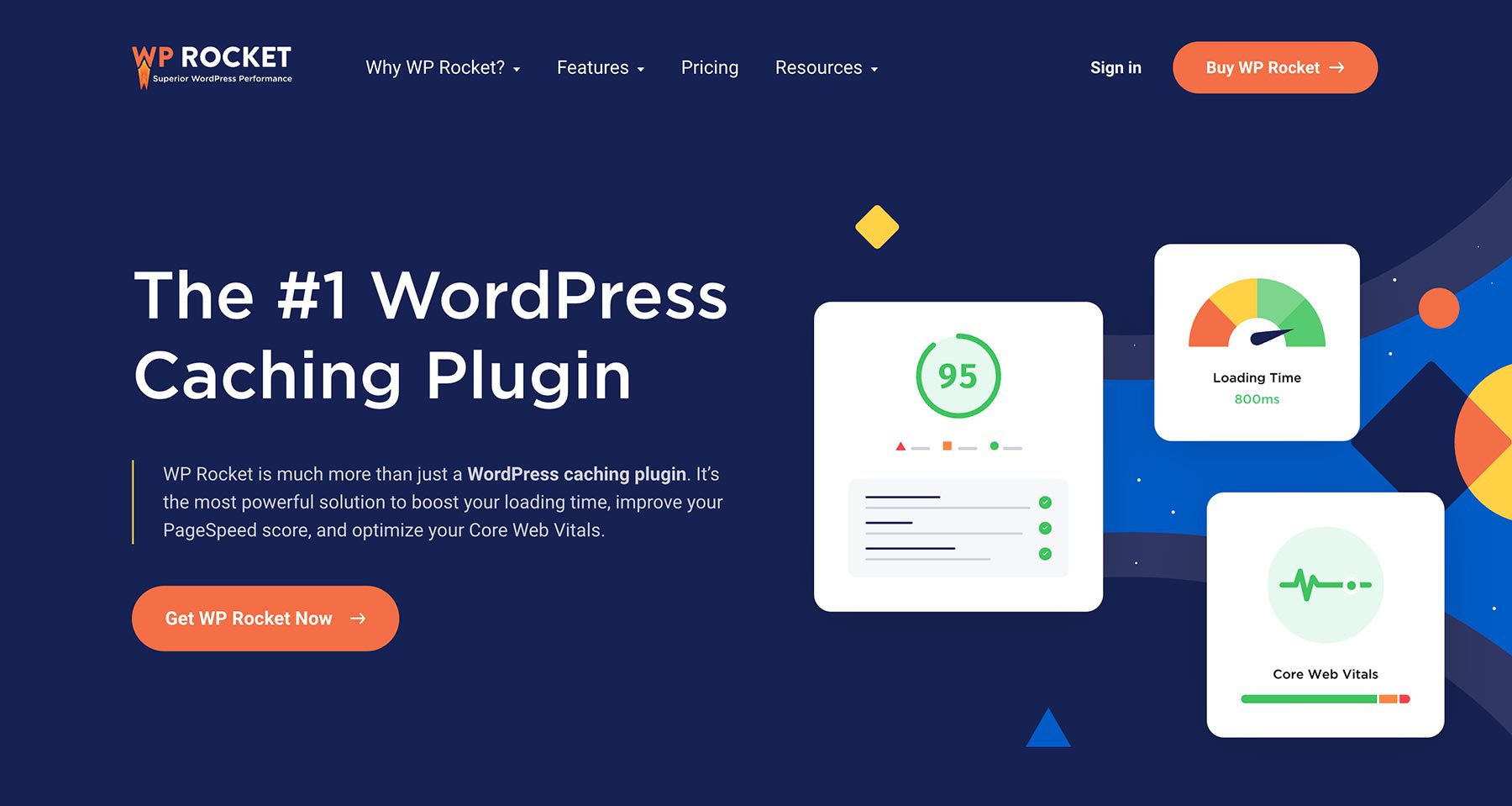 WP Rocket isn't technically an SEO plugin, but it's essential for SEO. It speeds up your website using caching and other optimizations. Site speed is a significant pillar of Google's Core Web Vitals, which judge the quality of your website's user experience. It's also a known ranking factor. It needs to be fast if you want to optimize your website for search engines.
Key Features of WP Rocket
Page Caching creates static versions of your posts and pages to be instantly loaded.
Cache Preloading keeps your cache primed so visitors enjoy fast speeds every time.
File Optimization compresses your files so that they load faster.
Lazy Loading prevents images below the fold from slowing down initial page loads.
Database Optimizations keep your database squeaky clean.
WP Rocket Pricing: $59 per year.
They aren't the only game in town, either. Check out all the top WordPress speed optimization plugins that can elevate your SEO through reliable site speed.
Comparing The Best WordPress SEO Plugins
While a plugin may not be necessary to optimize your pages if you have a good understanding of SEO and stay up to date with industry changes, using a quality SEO plugin can provide valuable guidance and help streamline the monitoring process, even for experts. Additionally, if your website starts experiencing a drop in rankings, an SEO plugin can track data and provide insight when needed.
SEO Plugin Price Comparison
Let's recap all of the plugins we covered in this post. There are quite a few to choose from! We've denoted which plugins come with a free version, which means you can try them out before you buy.
SEO Plugin Feature Comparison
Out of the 15 SEO plugins on our list, we suggest Rank Math for its front-end on-page SEO capabilities, user-friendly interface, and ability to create redirects easily. Additionally, AIOSEO and Yoast SEO also offer incredible features to step up your SEO game. AIOSEO's comprehensive site audit tools make it easy to determine your areas of improvement, while Yoast SEO's on-page SEO tools are a favorite of many WordPress users.
🥇 Rank Math
🥈 All in One SEO
🥉 Yoast SEO
Price
$59/year
$49.50/year
$99/year
GA Integration
✔️
✔️
✔️
SEO Recommendations
✔️
✔️
✔️
404 Monitoring
✔️
✔️(pro)
✔️(pro)
WooCommerce Integration
✔️
✔️
✔️
Create Redirects
✔️
✔️(pro)
✔️(pro)
Front End SEO
✔️
✔️
❌
Sitemap Generation
✔️
✔️
✔️
Error Notifications
✔️
✔️
✔️
Configuration Wizard
✔️
✔️
✔️
Active Installations
2M+
3M+
5M+
Community Rating
5/5
⭐⭐⭐⭐⭐
Read Reviews
4.5/5
⭐⭐⭐⭐⭐
Read Reviews
5/5
⭐⭐⭐⭐⭐
Read Reviews
Get Rank Math
Get All in One SEO
Get Yoast SEO
What is the Best SEO Plugin for WordPress?
So, which one is our top pick? We suggest Rank Math for maximum value due to its extensive local, mobile, and WooCommerce SEO optimization features, intelligent sitemap and SEO audit features, and seamless integration with Divi. Its new ContentAI system is also pretty cool! If you're looking for the best WordPress plugins on the market for all types of purposes, make sure to check out our recommendations!
Frequently Asked Questions (FAQs)
Before we wrap up, let's answer some of your most frequently asked questions about WordPress SEO plugins. If you have a question we haven't answered, comment below, and we will respond.
Is WordPress good for SEO?
WordPress is great for SEO when paired with a good theme and an SEO plugin such as
Rank Math
. WordPress is backed by a fantastic community and there are many great options. WordPress websites are also typically accessible for search engines to crawl due to the interconnectivity of post archives.
Does WordPress have native SEO features?
No, not really. WordPress relies on your theme to create an optimized page structure and plugins to manage sitemaps, schema markup, and keyword optimization. The great thing about WordPress is that it has a fantastic community that has developed all of these solutions.
Do I need a WordPress SEO plugin?
Yes, you should use an SEO plugin. WordPress provides an excellent foundation but lacks native SEO features such as content auditing, schema markup, and sitemap generation. Installing one of the top SEO plugins will fill in the missing pieces and help you reach the top of the rankings.
What is the best WordPress SEO plugin?
Rank Math
is a great option and has quickly become one of WordPress's most popular SEO plugins. It will audit your content and help you optimize your posts for search engines. It supports all schema markup, helps you do keyword research, and more.
What is the best free SEO plugin for WordPress?
Which SEO plugin is best for schema and rich snippets?
Many great WordPress plugins are explicitly built for
adding schema markup
to your pages. However, most of the top SEO plugins will also support schema markup. Our top recommendation,
Rank Math
, has a custom schema builder that's very easy to use.
Which WordPress plugin is best for local SEO?
Rank Math vs Yoast, which is better?
If you're considering purchasing a premium SEO plugin, these are two of the best options and it's hard to go wrong. That being said,
Rank Math
seems to have the edge. They have a broad feature set, including superb new things like AI integration. They also have slightly better review ratings on WordPress.org for the free version.
Can I use two WordPress SEO plugins?
No, you should only install a single SEO plugin. Pick the one that covers all your bases and stick with it. Installing two plugins will likely lead to errors and put your website rankings at risk.
How do I optimize on-page SEO with WordPress?
What other SEO tools should I use?
You can use other tools, in addition to WordPress plugins, to help optimize your website for search engines. Our go-to recommendations are Ahrefs and SEMRush, which will help you with keyword research, rank tracking, and competitive analysis.
Now that you've decided on the best SEO plugin for WordPress, let's get your website featured in Google using schema! Here's a list of the best WordPress schema plugins.
Featured Image via Sammby / shutterstock.com