Search Engine Optimization (SEO) is one of the most important aspects of any website. It works side by side with writing good original content and keyword research, and is crucial to rank higher in search engine results pages (SERPs). While WordPress does have some search engine friendly aspects to it, you'll need a little help from an SEO plugin to score a higher ranking. This is where the Yoast SEO Plugin comes in.
In this post, we'll give you an overview of what it is, walk you through its first-time configuration, and show you how to use it step-by-step. Let's get started.
What is Yoast SEO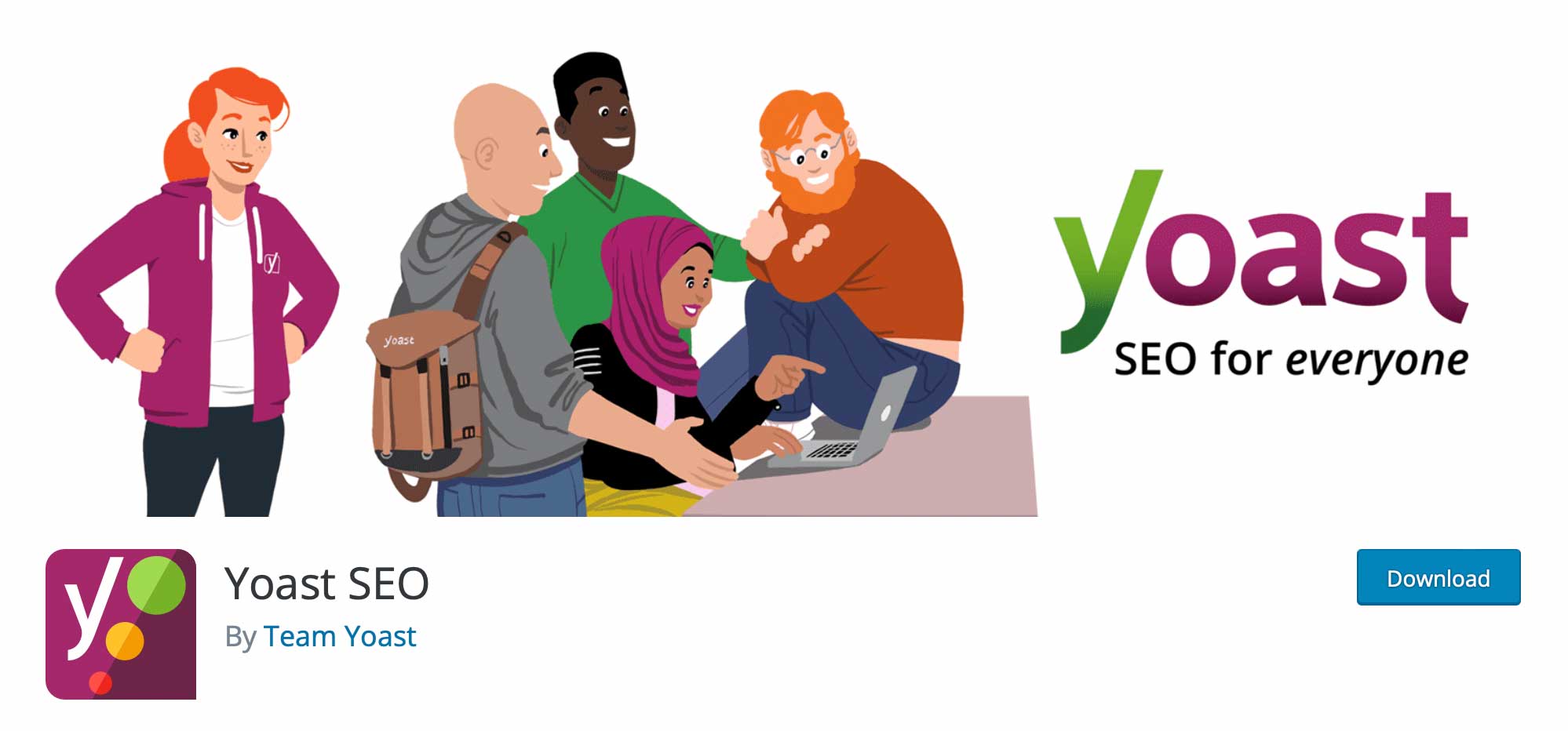 The Yoast SEO Plugin for WordPress is an all-in-one SEO solution for your website. It provides in-depth SEO analysis, snippet previews, robust readability tools, and webmaster tools to make configuring SEO less daunting. With so many tools in its arsenal, Yoast is considered one of the top WordPress SEO plugins.
There are two options for the plugin – a free version available on WordPress.org and a premium version with advanced features such as multiple keyword phrases, social previews, and link suggestions during writing. Yoast also has other SEO plugins to optimize your SEO strategy even more.
How to Use Yoast SEO Plugin in WordPress (Step by Step)
In this section, we'll give you all the information you need to configure Yoast SEO. We'll cover installation, the first-time configuration wizard, how to set up on-page SEO and give you an in-depth look at the SEO dashboard.
Install and Activate the Yoast SEO Plugin
Start by logging in to your WordPress dashboard. Next, navigate to Plugins > Add New.

Type Yoast into the search bar. When the page refreshes, select the plugin, then click the Install Now button.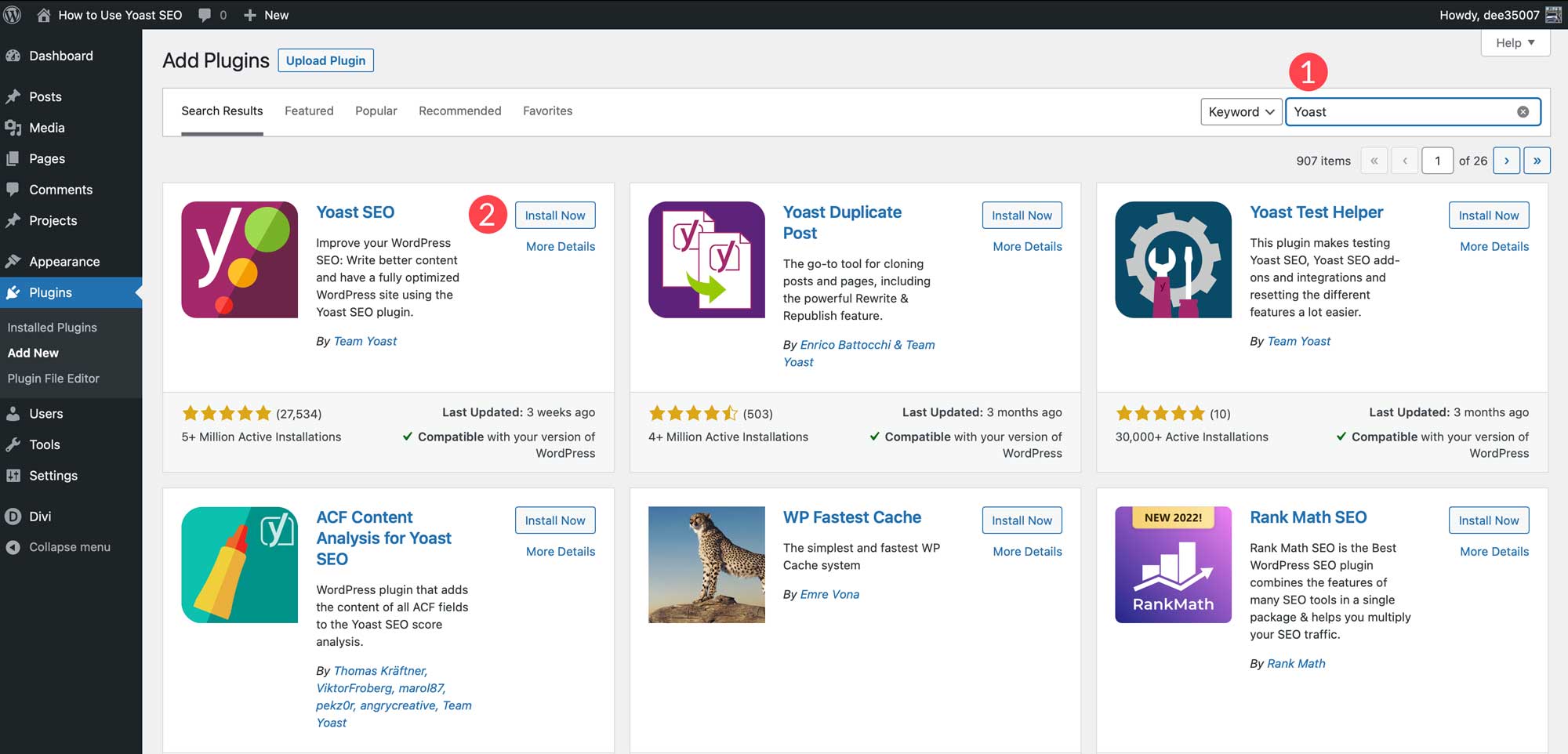 Finally, click the Activate button to activate the plugin.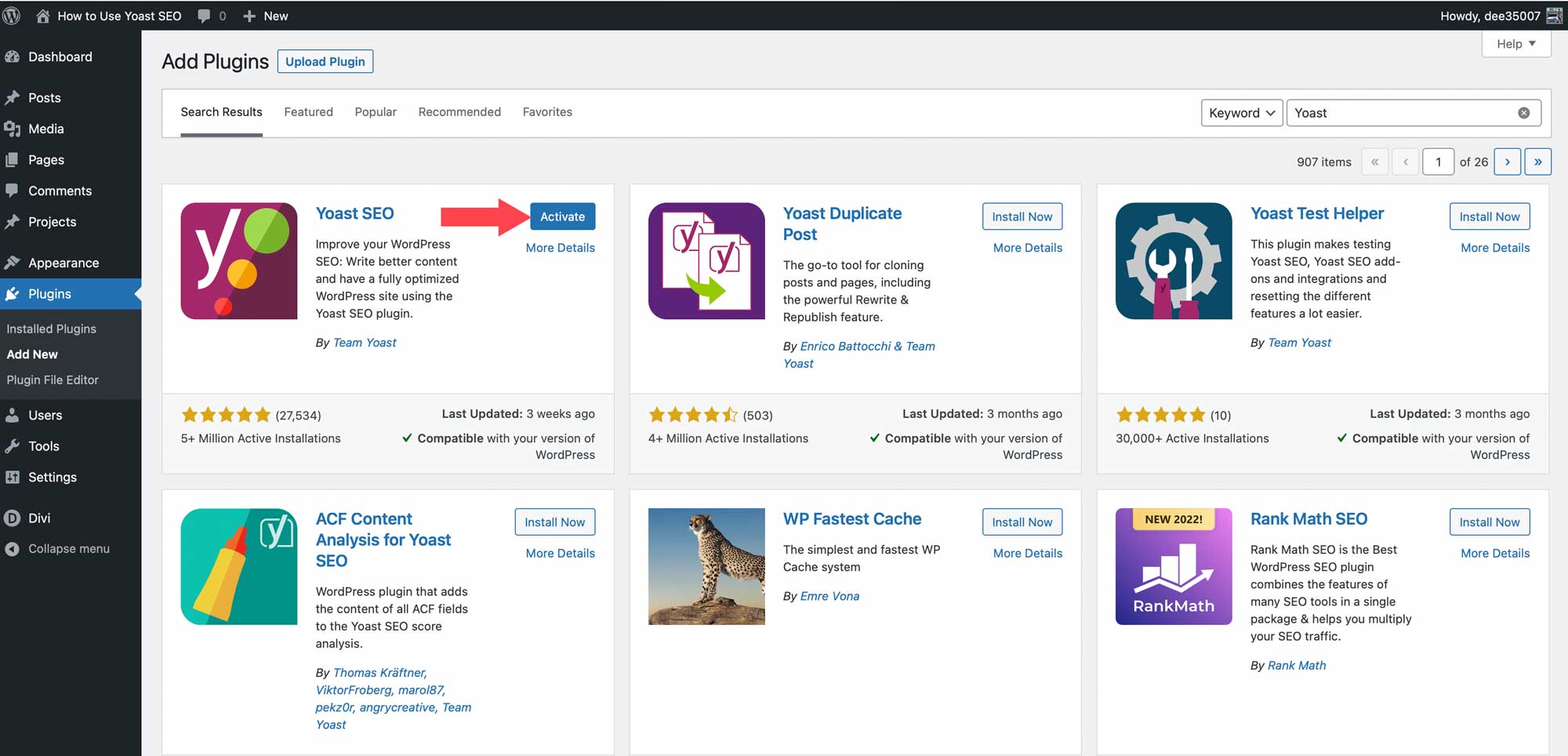 When the page refreshes, you'll be directed to the welcome screen to start the first-time configuration.
Complete First-time Configuration
The first-time configuration of the Yoast SEO plugin optimizes your data to allow search engines to find your site easier, enter important site information, add social media profile pages, and configure your personal preferences.
Click the Start first-time configuration button to get started.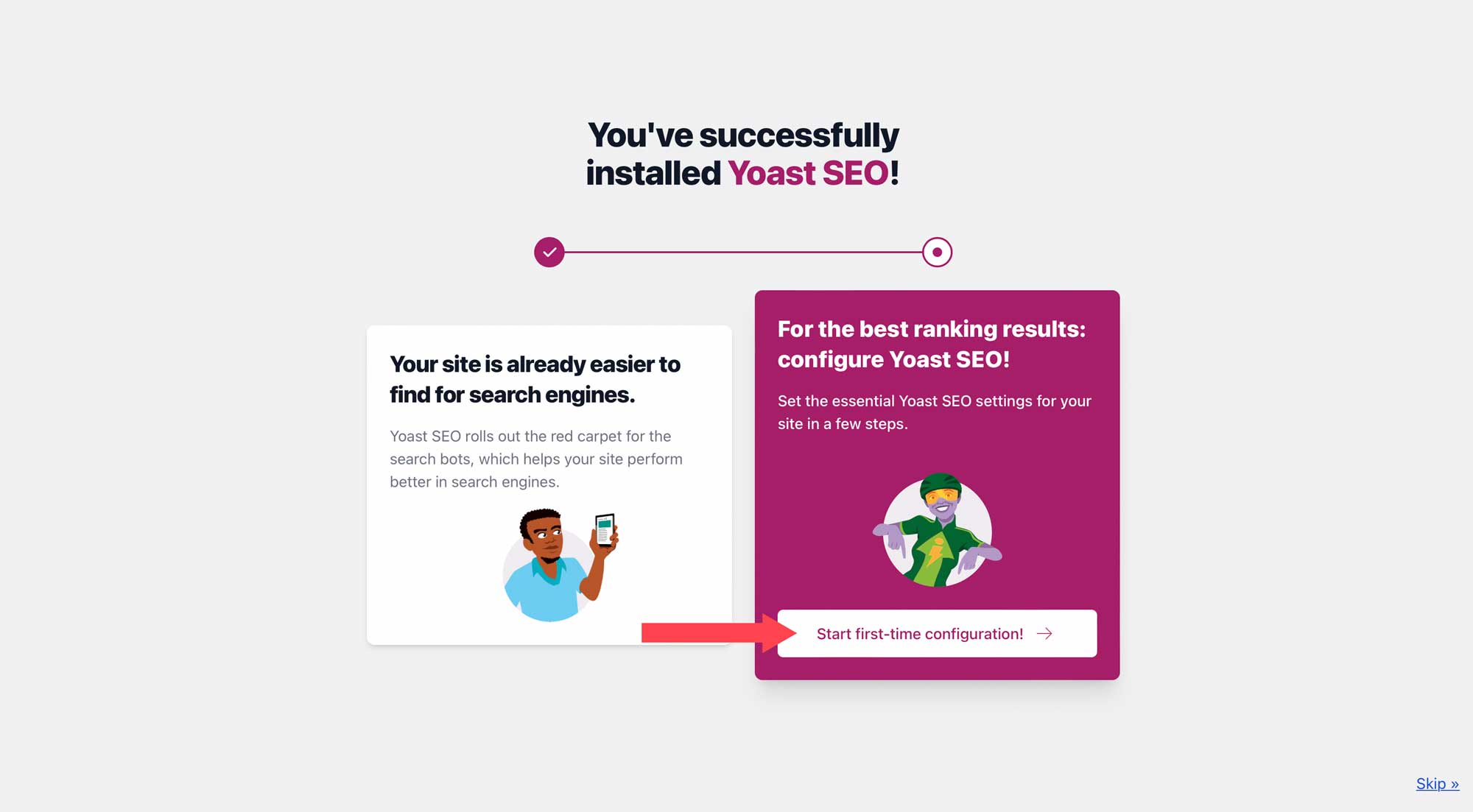 SEO Data Optimization
Yoast SEO helps give search engines such as Google a better understanding of your site. First, you'll want to start SEO data optimization. Yoast will store all metadata for all pages and posts in a database table called the indexibles. It streamlines the indexing process into one database request, reduces page speed loading times, and helps search engines find your site.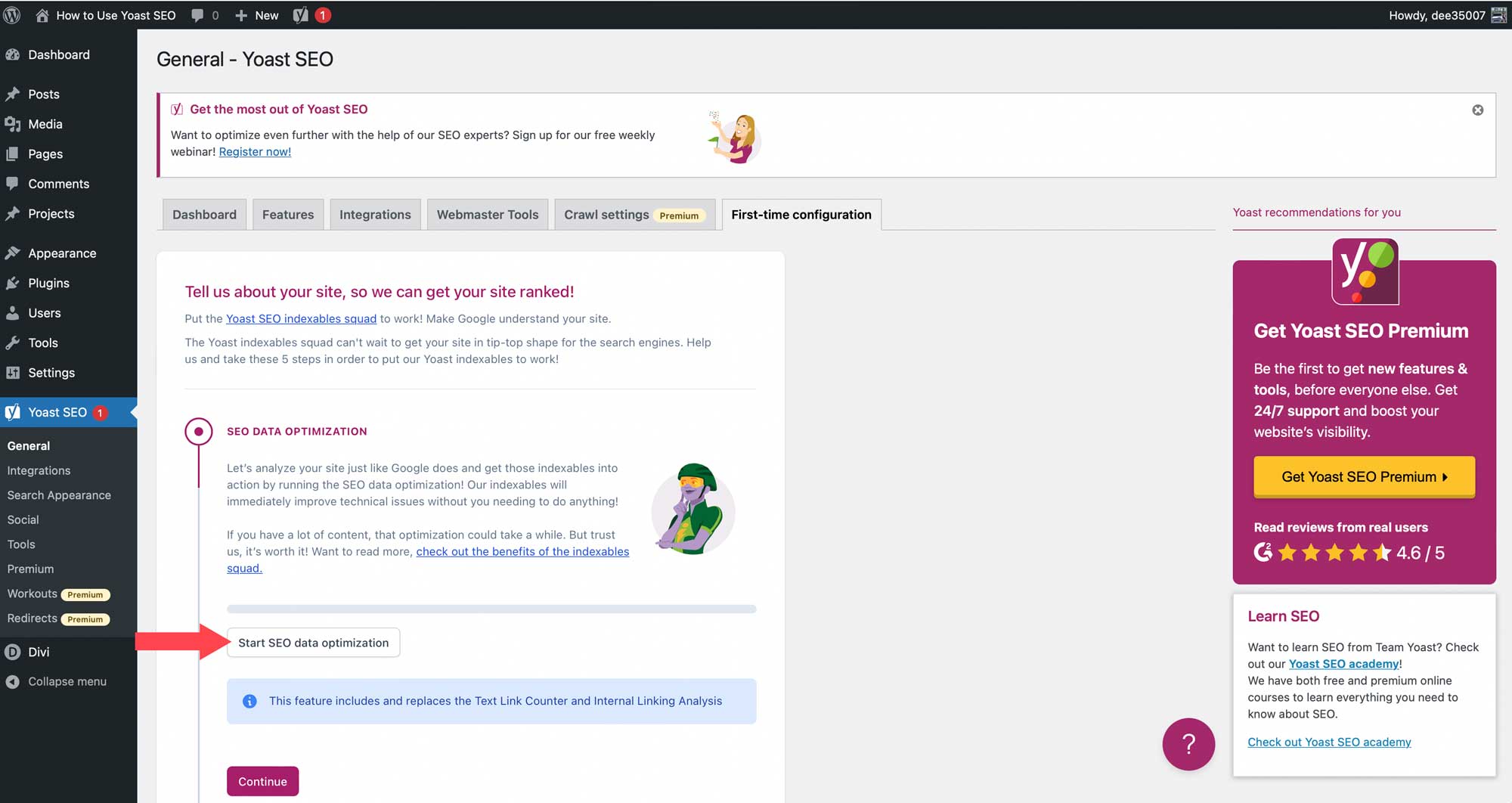 Site Representation
The next set of settings will help search engines identify your website by site type, site name, your organization's name, and logo.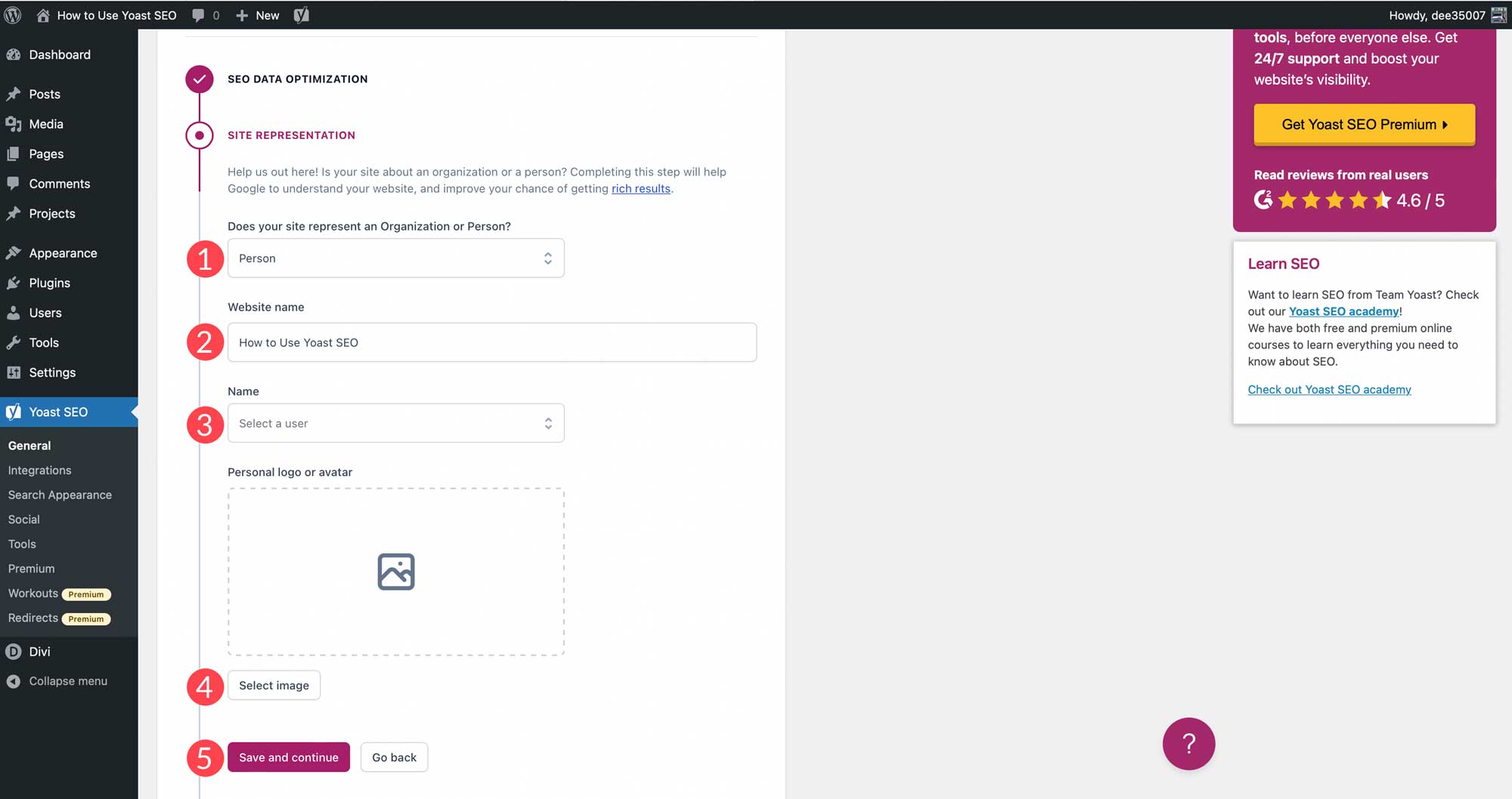 Yoast displays Facebook and Twitter by default, but you can add as many additional profiles as needed here.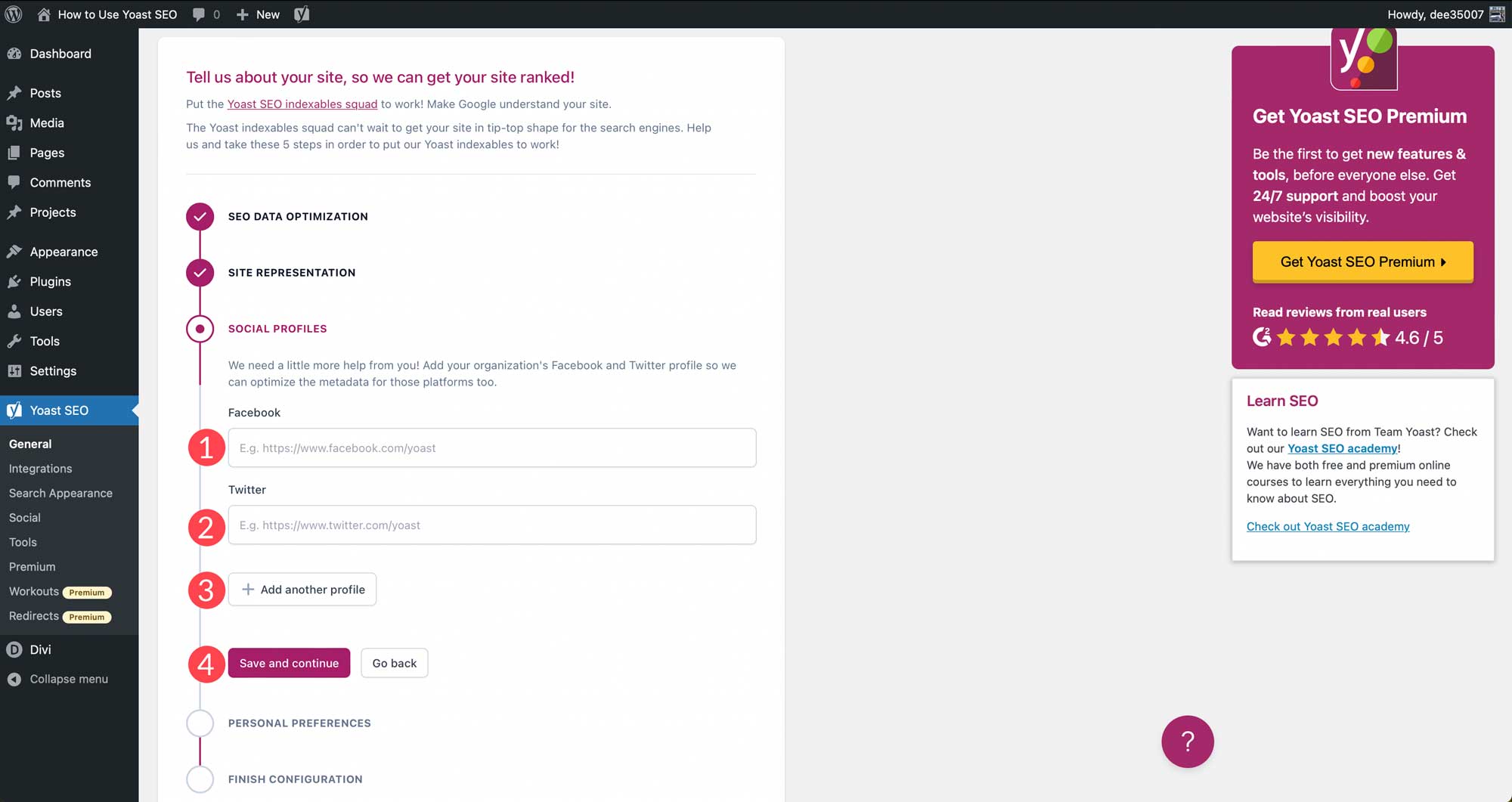 Yoast SEO Personal Preferences
Next, select whether you want Yoast to track your data. Yoast tracks plugins, themes, your website's server information, and some user data.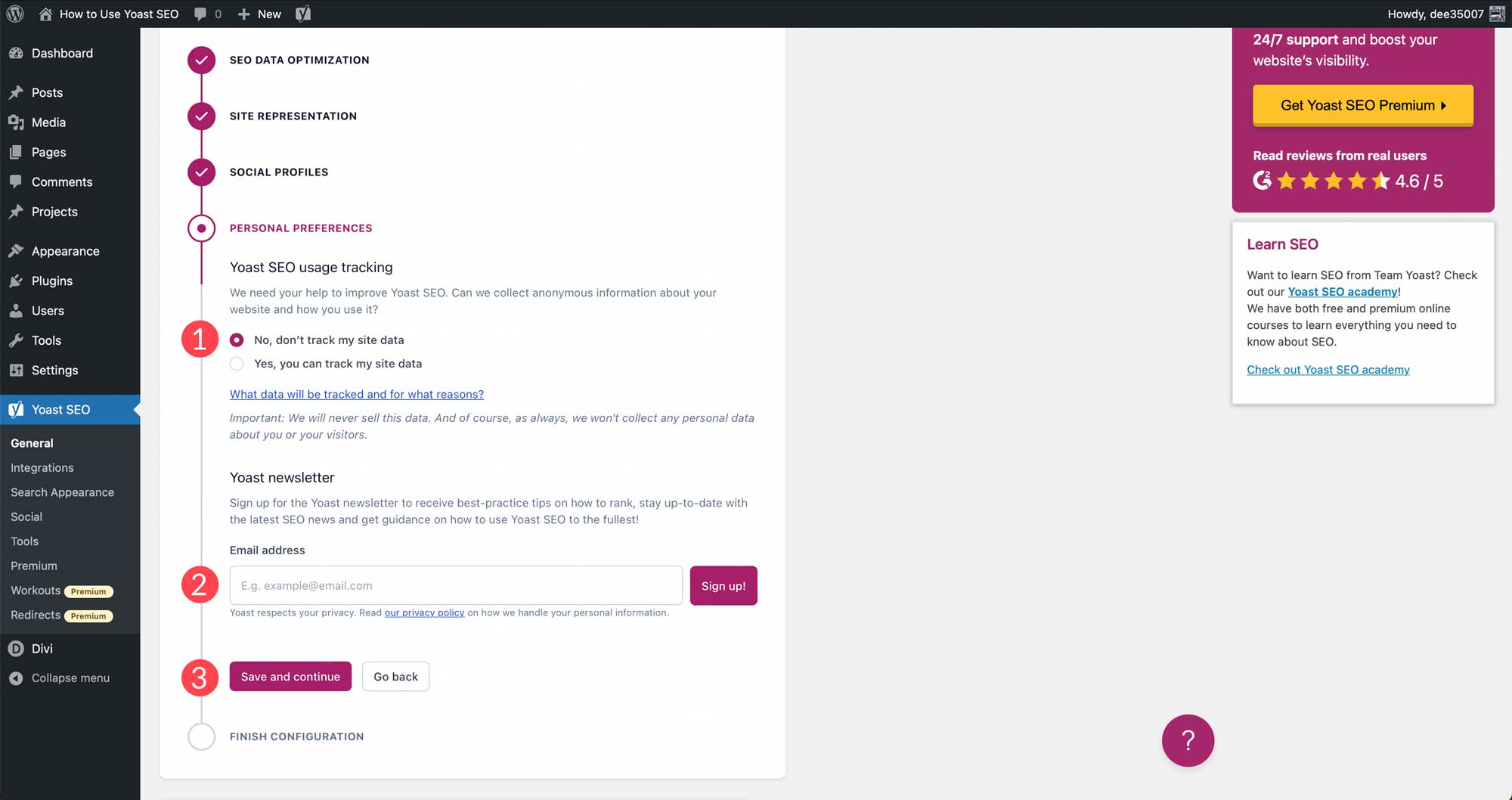 At this point, you should have most of what you need already in place. We'll get to the dashboard options in more detail later. But for now, let's look at how Yoast SEO works for on-page SEO.
How to Use the Yoast SEO Meta Box (for on-page SEO)
The Yoast SEO meta box is an on-page SEO tool that allows you to optimize your SEO content for each post/page in real-time. Using the meta box increases the chance of better rankings in SERPs.
You can find the meta box at the bottom of the page editor.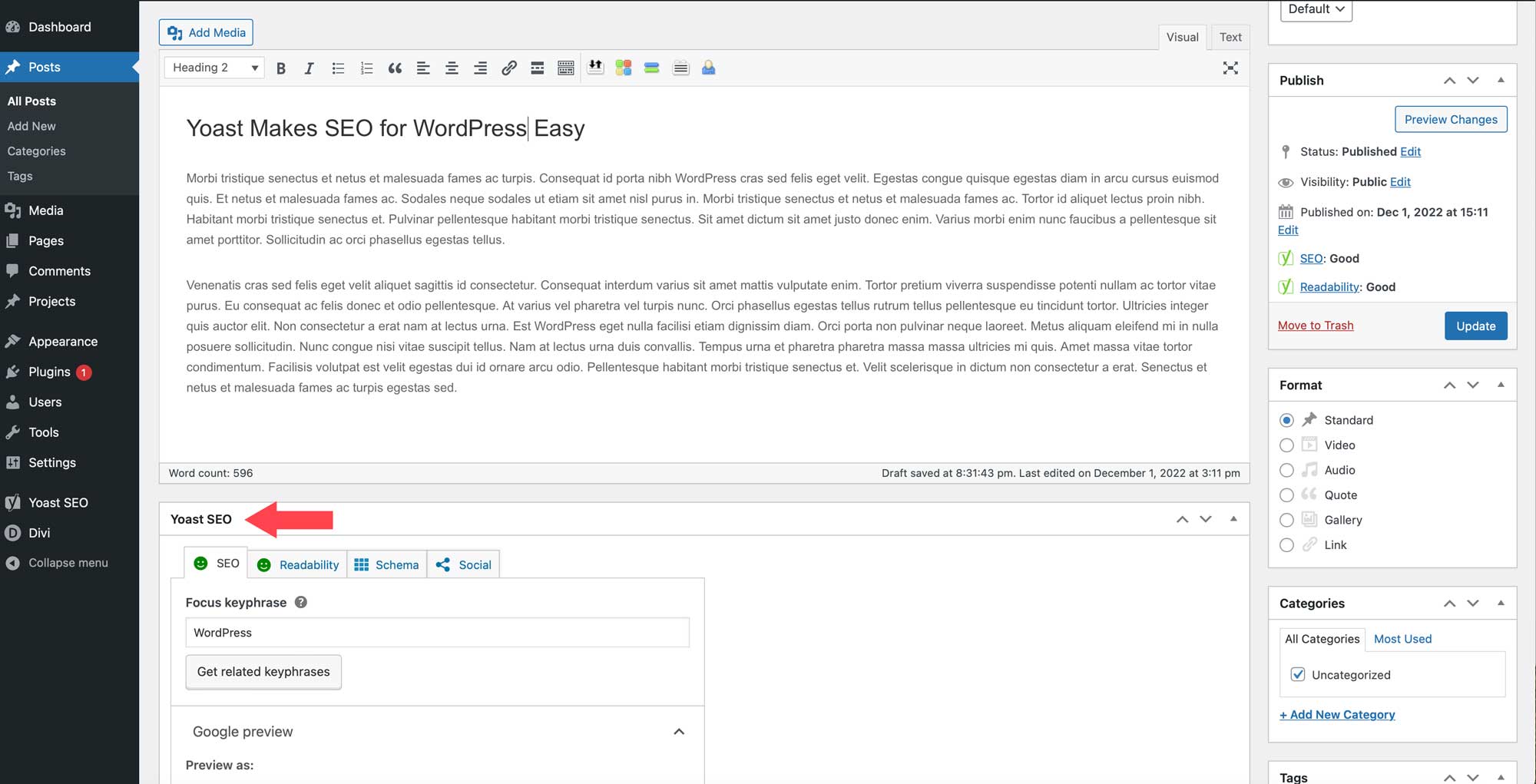 If you use the block editor, click the Yoast icon at the top right to access the Yoast SEO meta box.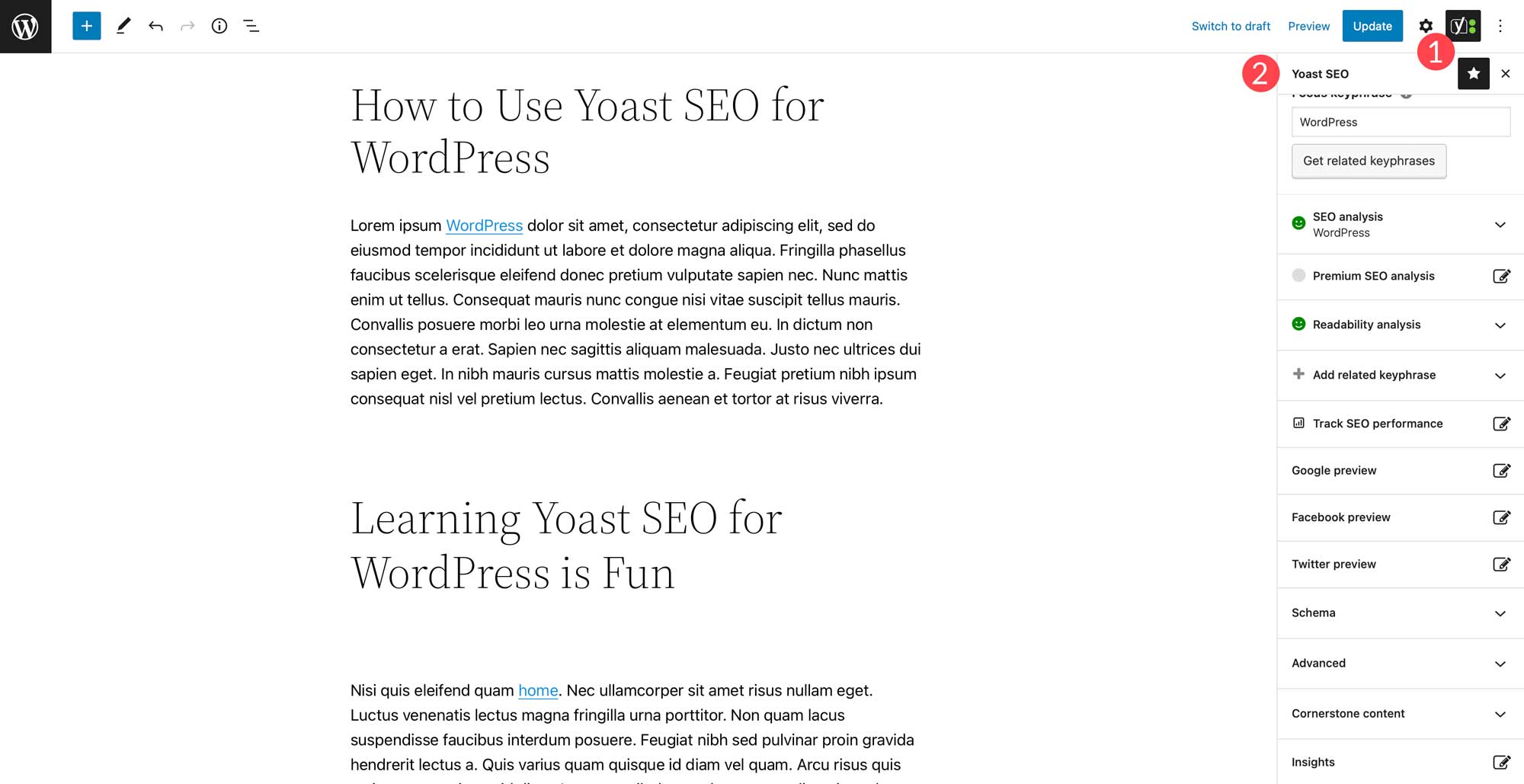 SEO
The SEO tab gives you an analysis of your post's content in real-time. It uses the green light system, which rates your post content as good, okay, or needs improvement. Once a keyword is inserted, Yoast analyzes the content and suggests improvements.
Focus Keyphrase
A keyphrase (or keyword) is the main word or phrase you want your content to rank for in search results. You'll want to do keyword research beforehand to find the right focus keyphrase.

You can also click the Get related keyphrases button in the meta box to add more related keywords you wish to rank for.
Google Preview
Google Preview gives you a glimpse of how your post will appear in search results in both desktop and mobile formats.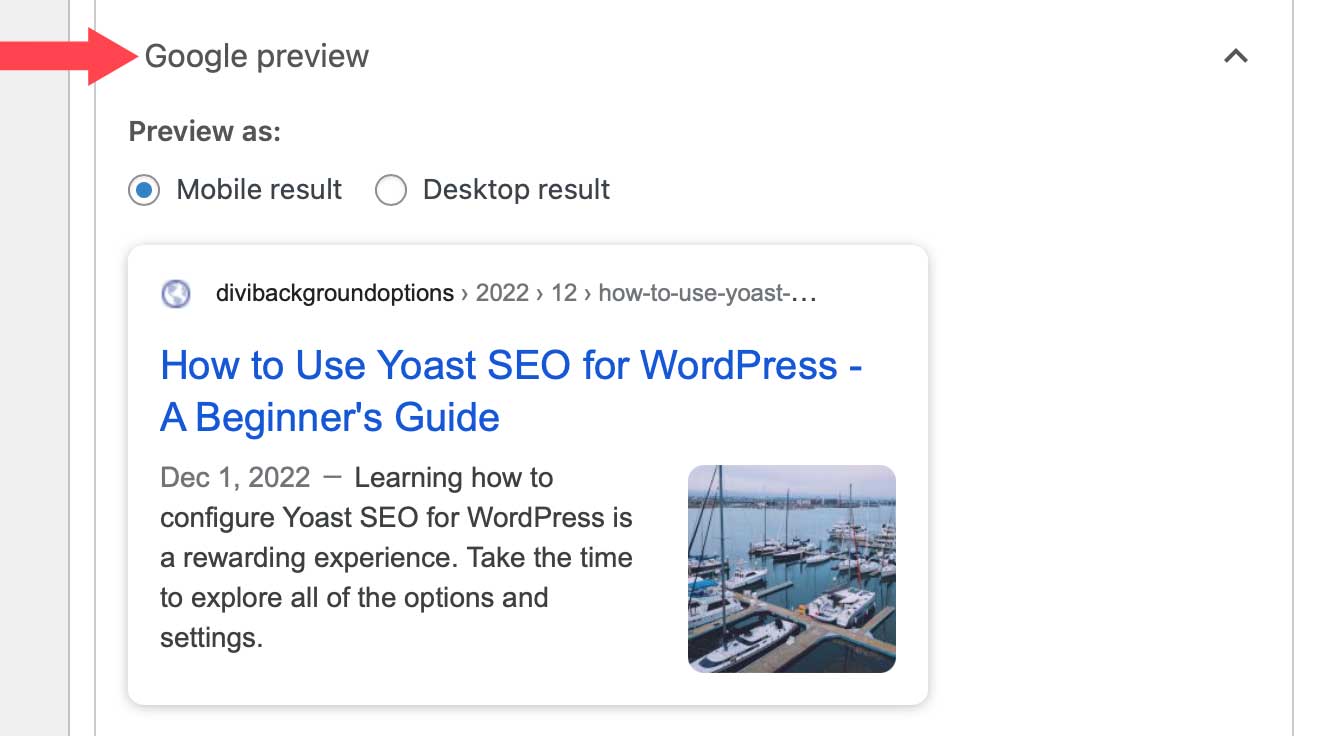 SEO Title & Slug (URL)
The SEO Page Title and the URL slug can be optimized in this section for the best results. Make sure both are not too long, and include your keyphrase for the best results.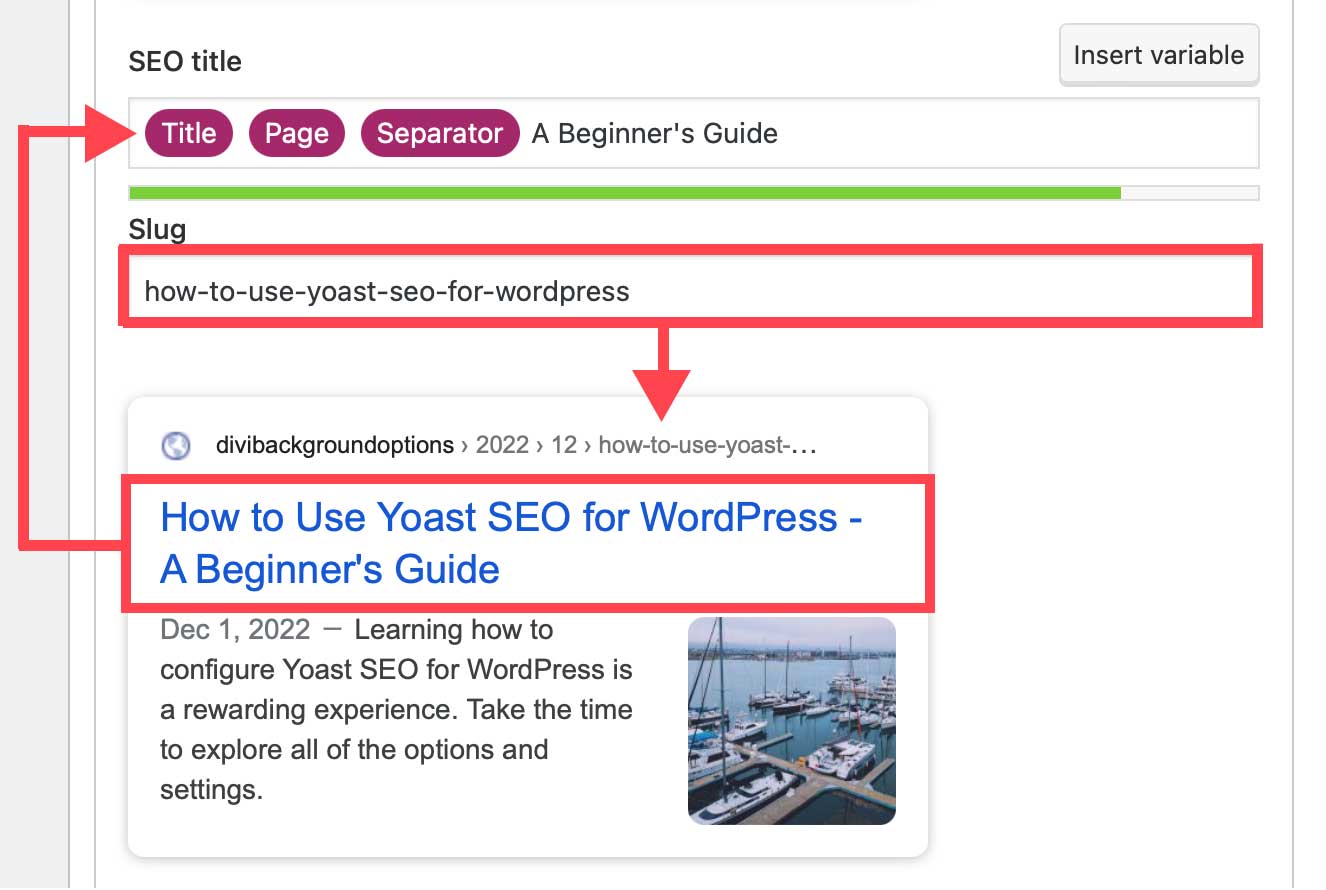 Meta Description

The meta description is one of the most important parts of optimizing on-page SEO. It can give your potential visitors a reason to click. Therefore, it's crucial to write a perfect meta description that includes your keyword(s) and describes the content accurately.
Yoast allows you to insert variables into the meta description, such as site title, post title, primary category, and separator.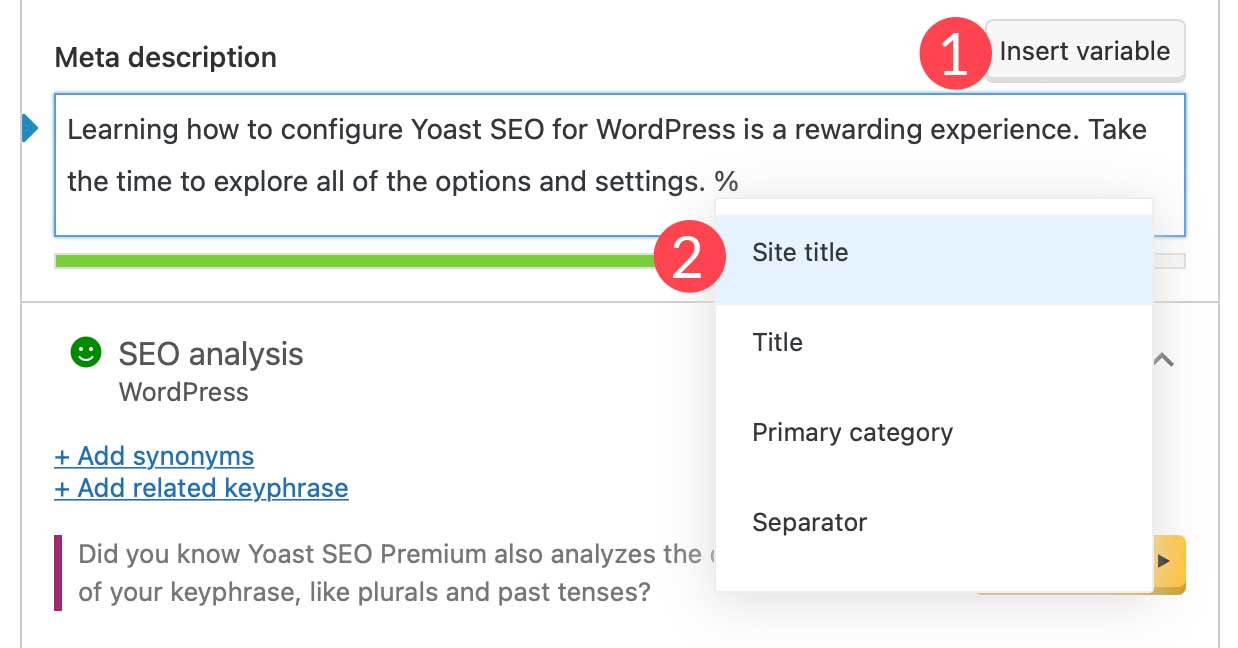 SEO Analysis
Under SEO analysis, Yoast provides an on-page SEO score and a checklist that you can use to optimize specific tasks to achieve a green light. It identifies problems, improvements, and good results.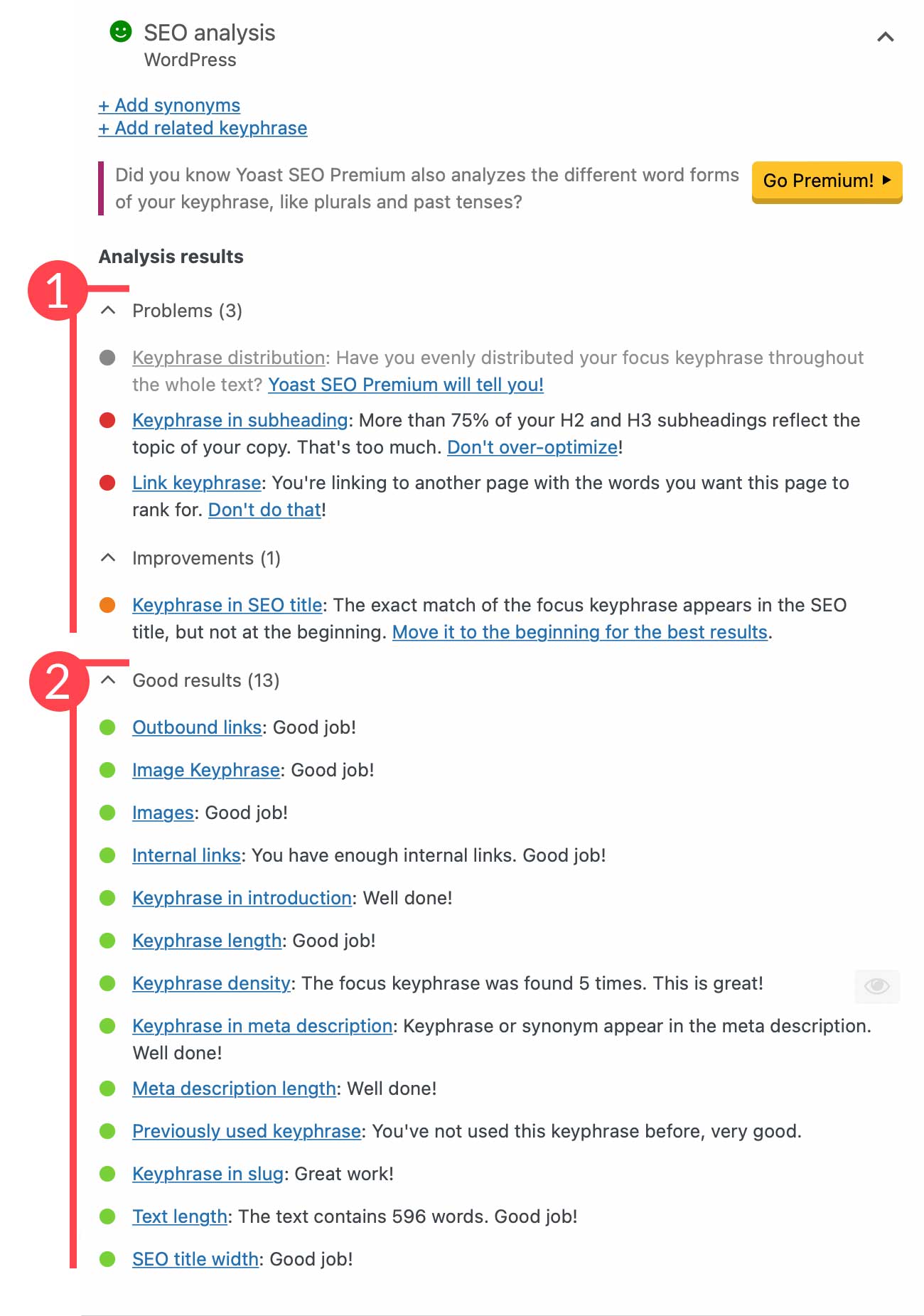 The best approach is to write good content from the start to achieve a green light. For some great tips, check out how to write quality SEO content.
In addition to listing SEO suggestions for text content and links, the SEO analysis will also check to ensure you have images with keyphrases added to alt text. But it won't account for image size, so you will need additional plugins for image optimization and caching to account for page speed SEO.
For more ways to optimize your post for SEO, check these advanced SEO techniques.
Cornerstone Content

If the post is considered cornerstone content, you mark it as such here. If you're unsure what this means, check out How to Optimize Cornerstone Content for SEO.
Advanced Features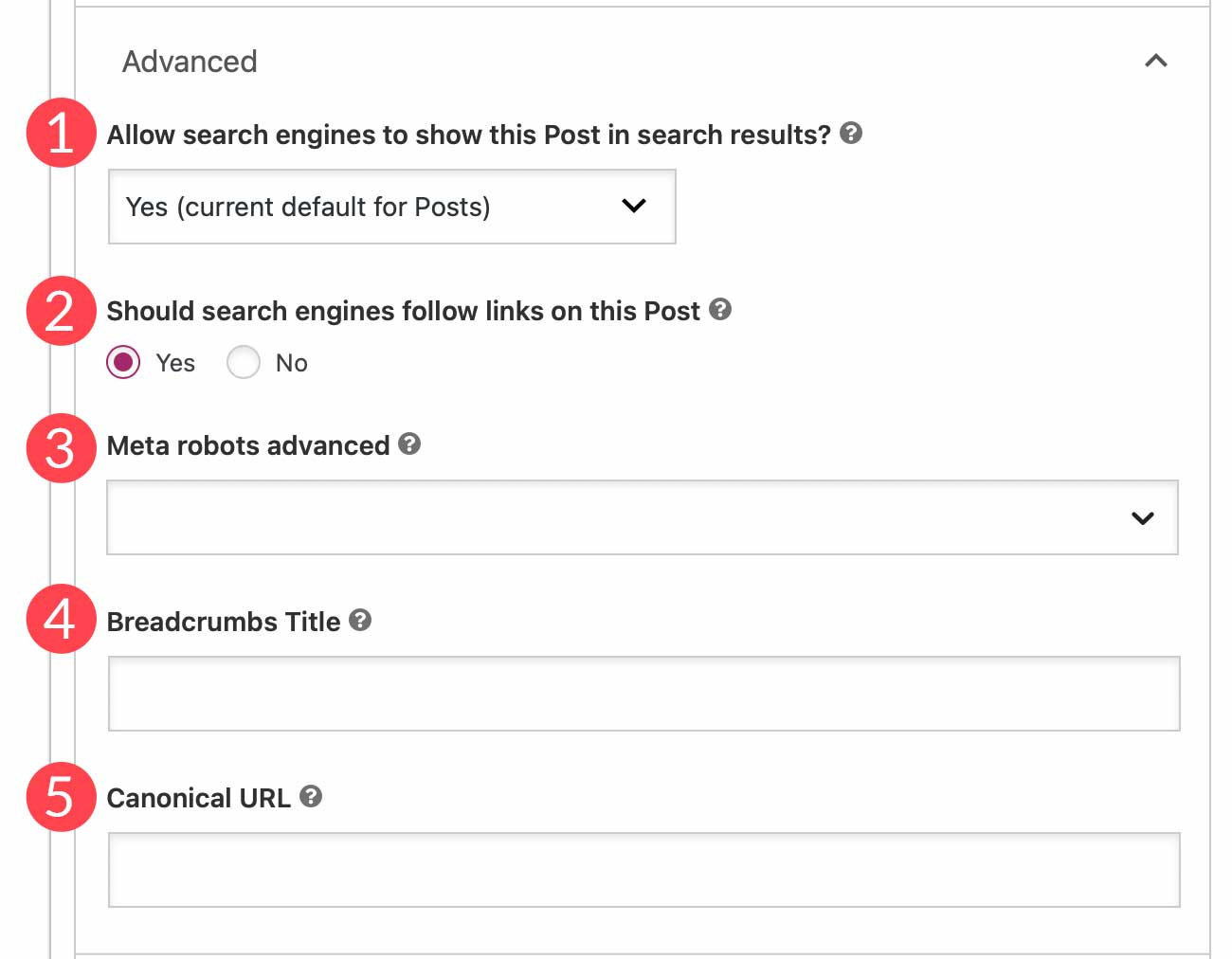 Under Advanced, you have additional SEO options for your post. You can choose whether or not to allow search engines to show the post in search results, set follow links, select robot options, assign a breadcrumb title, and insert a canonical URL.
Insights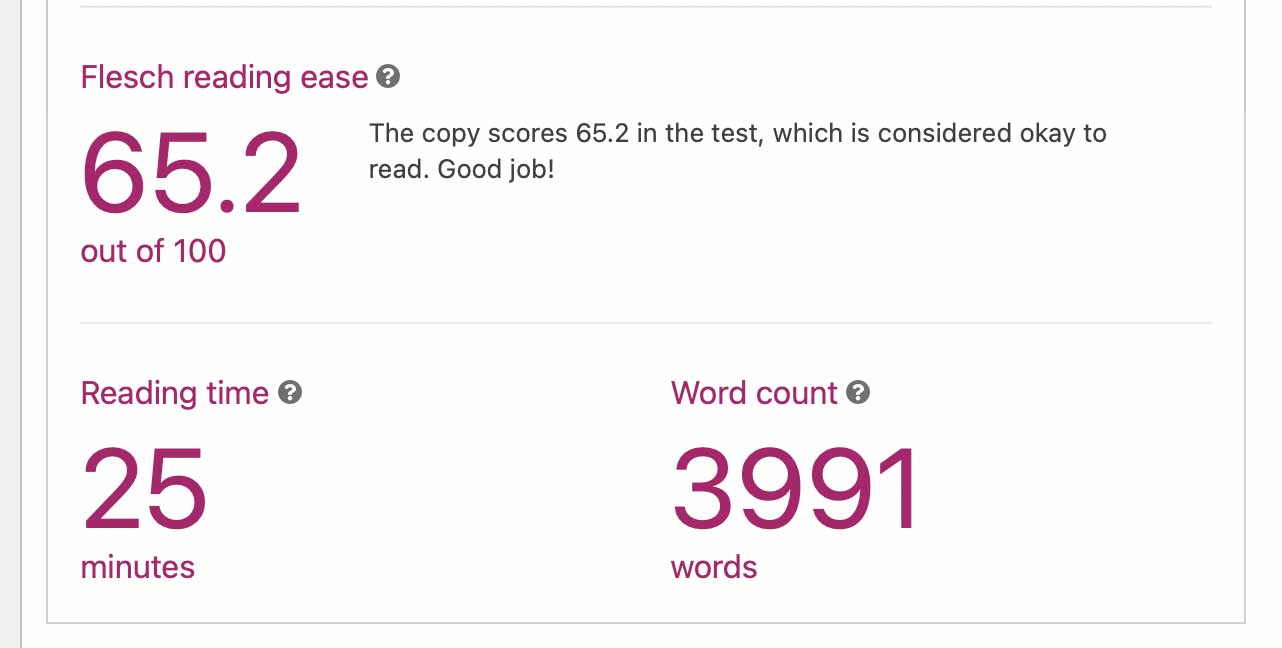 Here you can view the Flesch reading ease score of the post. This gives you insight as to how difficult it is to read your post. Plus, it contains the word count and estimated reading time. Premium options give you a breakdown of the most used words in your content so that you can cross-check your most used words with prominent words in search results focused on the same subject.
Readability
Yoast uses a proprietary algorithm to make readability results reliably accurate. In most cases, you should try to get a readability score of 8 since the majority of people are comfortable reading at that level, according to the Flesch reading ease scale.
Like with SEO analysis, the scores are based on factors that are highlighted as problems (red), improvements (orange), and good results (green). In the example below, a section length issue is detected. Plus, you can quickly locate problem areas by clicking the "eye" icon next to each item in the list.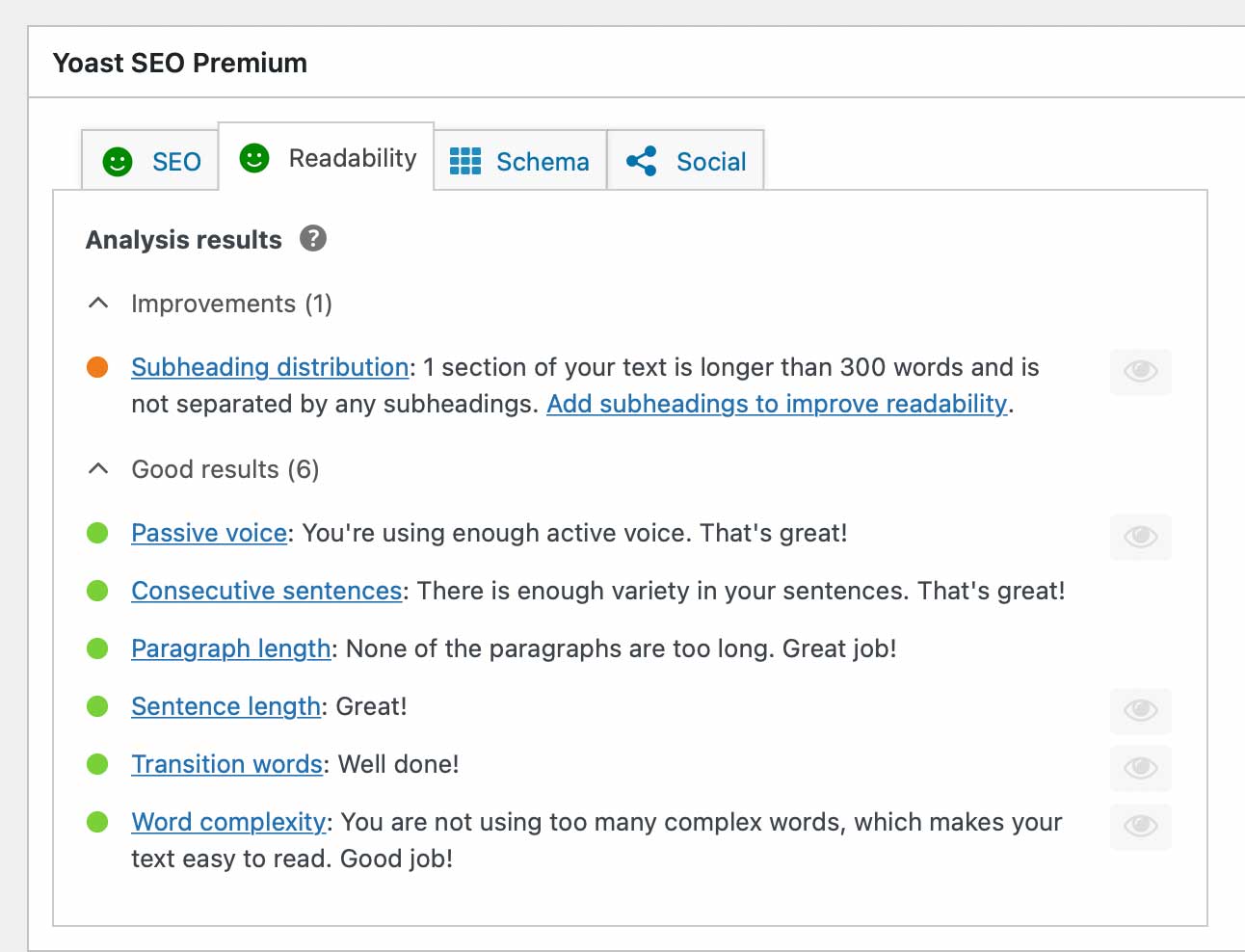 To learn more readability tips, check out How to Get the Perfect Yoast SEO Readability Score.
Schema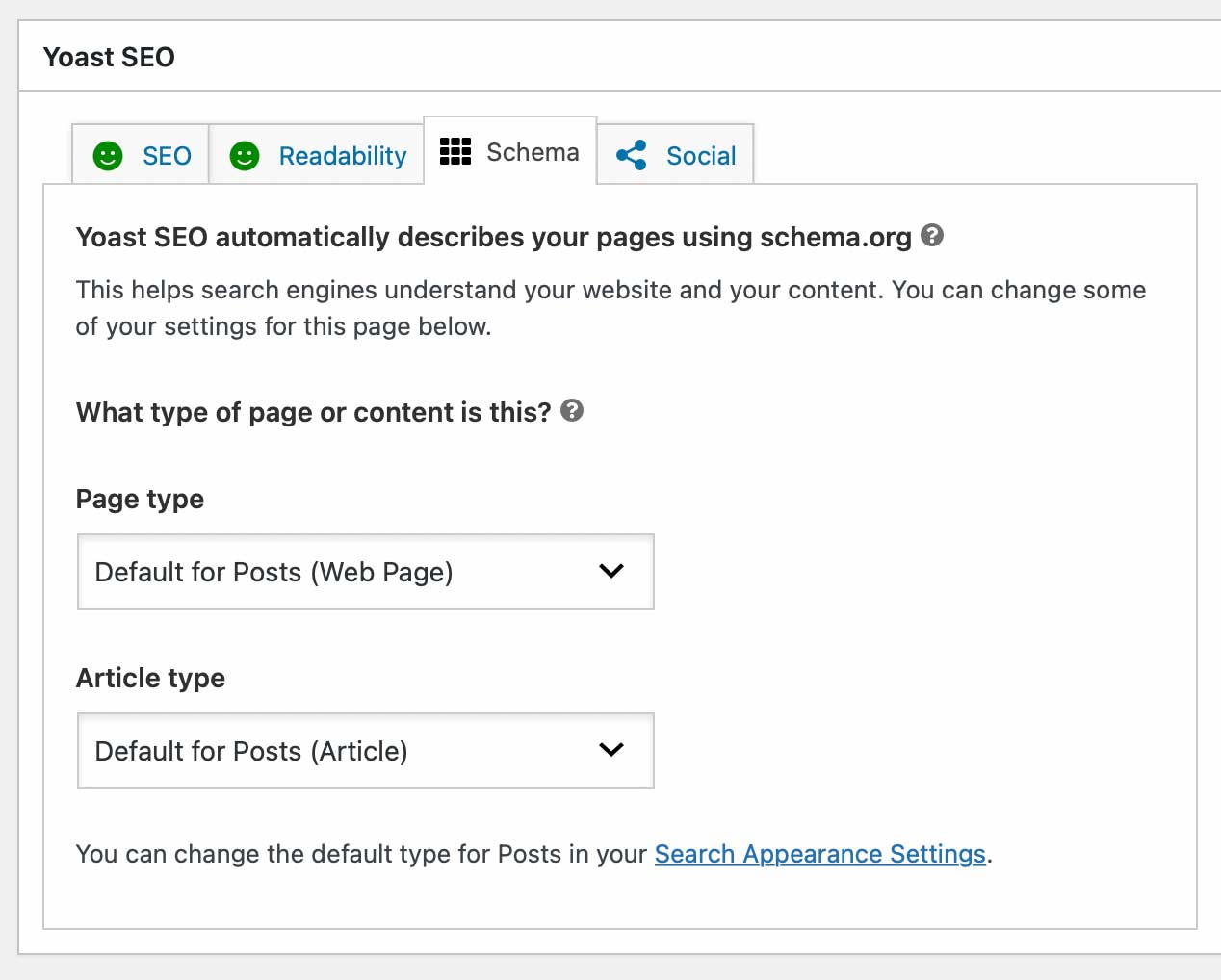 Under Schema, you can use Schema markup to optimize your site's SEO, making it easier to index by search engines. In Yoast SEO, you can change schema settings in the dashboard or on individual posts and pages here. Now, there isn't a need for you to have a separate schema plugin on your site; Yoast's Schema settings have got you covered.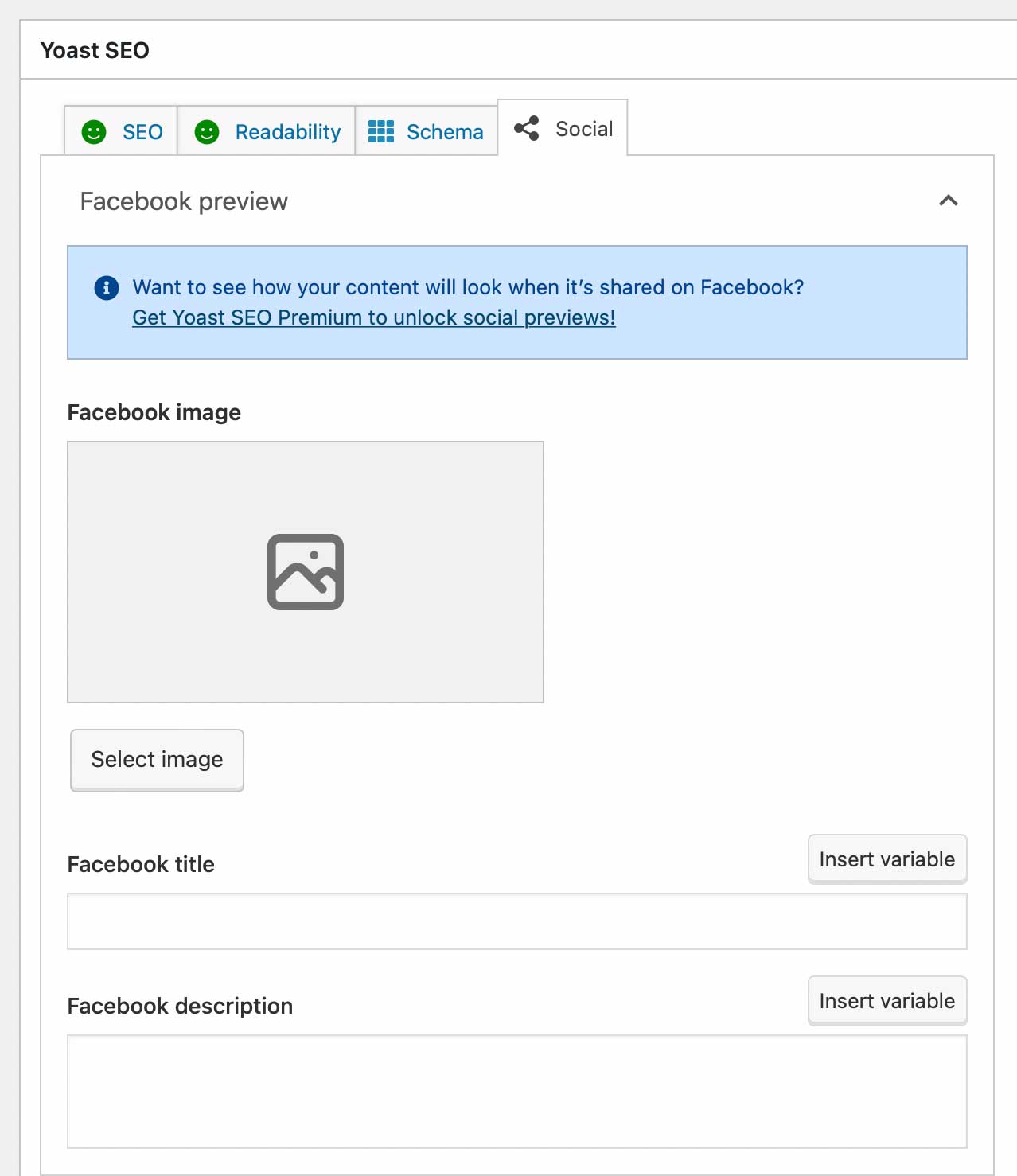 The Social tab allows you to control how your post's preview is displayed on social media platforms. You can assign a custom image, title, and description for each. Because social media platforms have a different display for posts on their platforms, it's worth considering an upgrade to Premium.
Explore the Yoast SEO Plugin Dashboard
The dashboard allows you to configure settings by assigning them to four major groups – general settings, content types, categories and tags, and advanced settings.
In the general settings, you can view potential problems and notifications, such as release notes and upcoming features.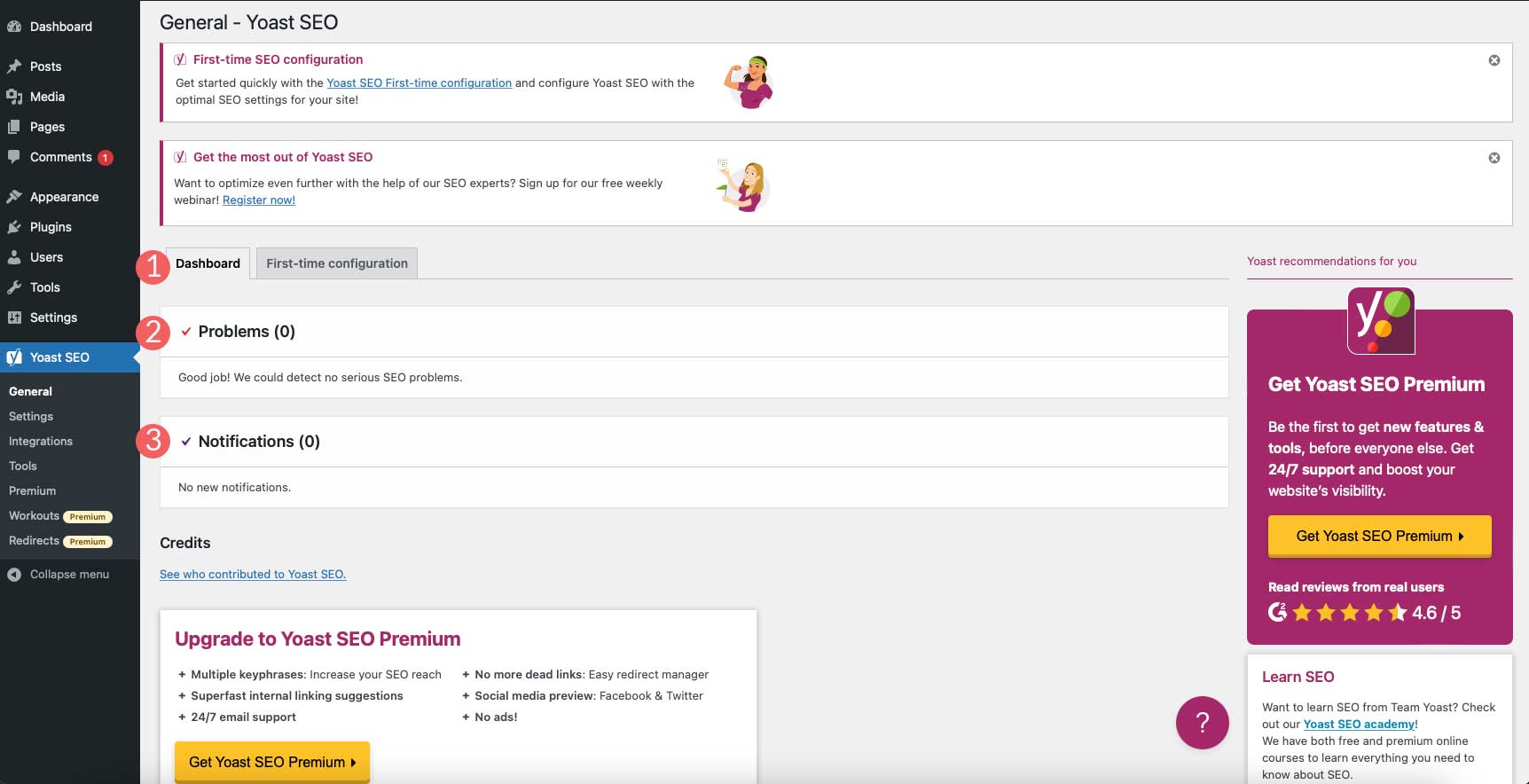 Yoast SEO General Settings Tab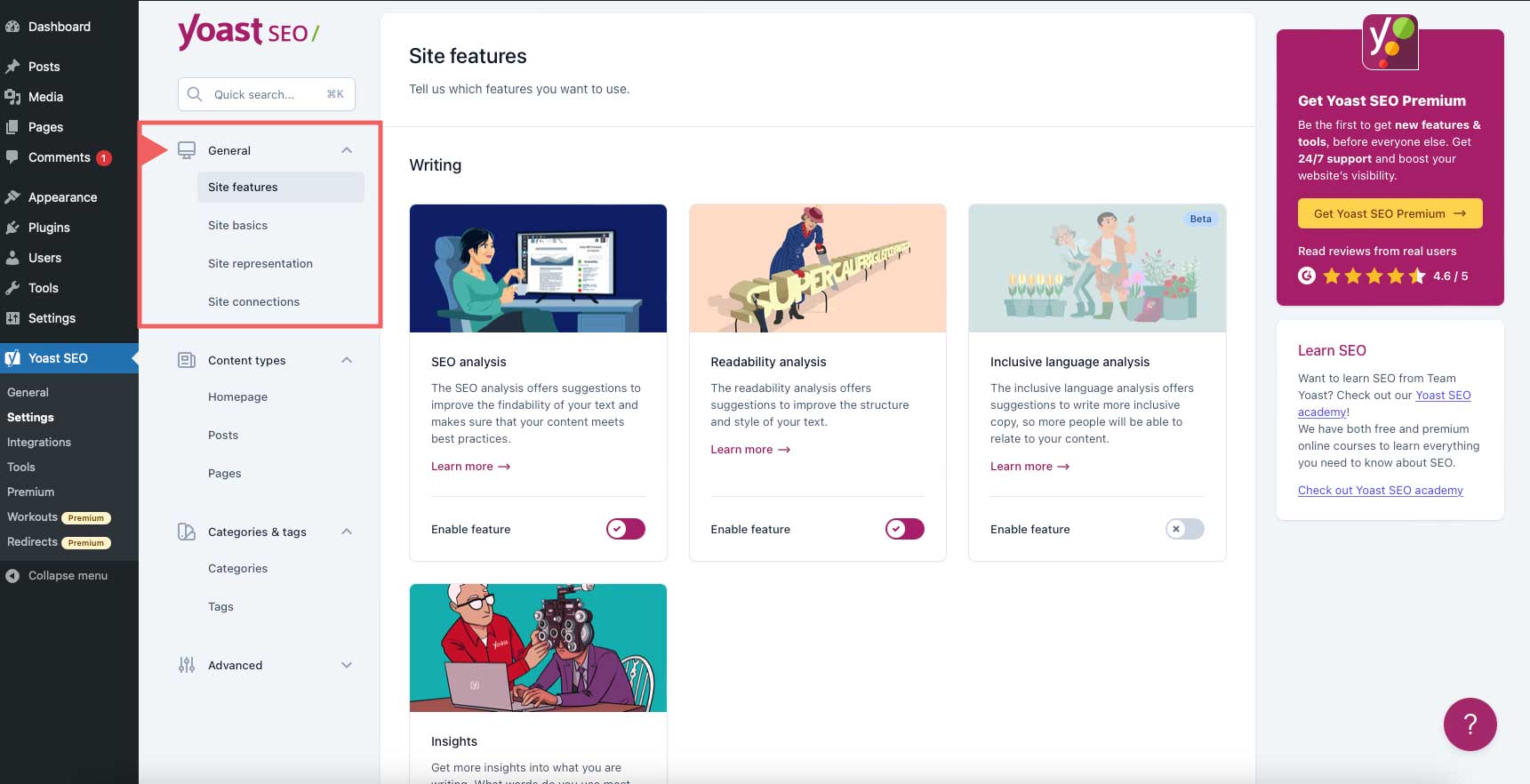 Out of the box, the most important features are enabled. However, others are available, such as inclusivity – which detects content that may be offensive to certain groups.
SEO analysis: Measures on-page SEO
Readability Analysis: Gain insight into your site's readability.
Inclusive language analysis: Detects derogatory content with options to correct it.
Insights: Reveals information about reading ease score, estimated reading time, and word count.
Cornerstone content: Enables assigning a particular post as cornerstone content.
Text link Counter: Detects the number of internal links in posts.
Link suggestions: A premium feature that suggests internal links to posts or pages on your site.
Open Graph data: Allows social media to display a preview with images and text.
Twitter card data: Allows Twitter to display a preview when your site's link is shared.
Slack sharing: Shares an author byline and reading time estimate in Slack channels.
Admin bar menu: Grants access to Yoast tools on the front end of your WordPress site.
REST API endpoint: Gives headless WordPress sites the ability to add metadata to individual URLs.
XML sitemaps: optimize what to include in your XML sitemap and submit it to Google.
IndexNow: A premium feature that enables automatic pings on Bing and Yandex.
Setup Social Settings
One significant change to Yoast involves their social settings. Formerly located in its own tab in the WordPress toolbar, it's now under the site representation > other profiles section in general settings.

For most users, there won't be a need to modify settings here. Once the configuration was completed, the information you added in the first-time configuration was automatically added to this section. That being said, you aren't limited to just Facebook and Twitter. Unlike other plugins, Yoast allows you to add other social platforms such as Instagram, Pinterest, YouTube, or LinkedIn.
Content Types
This tab controls the search appearance options for posts and pages. You can enable all post types, enable only some, and configure the settings for each. Basic settings include options to streamline SEO titles and meta descriptions. If entered in the content types tab, your posts and pages will use the same SEO title structure and meta description.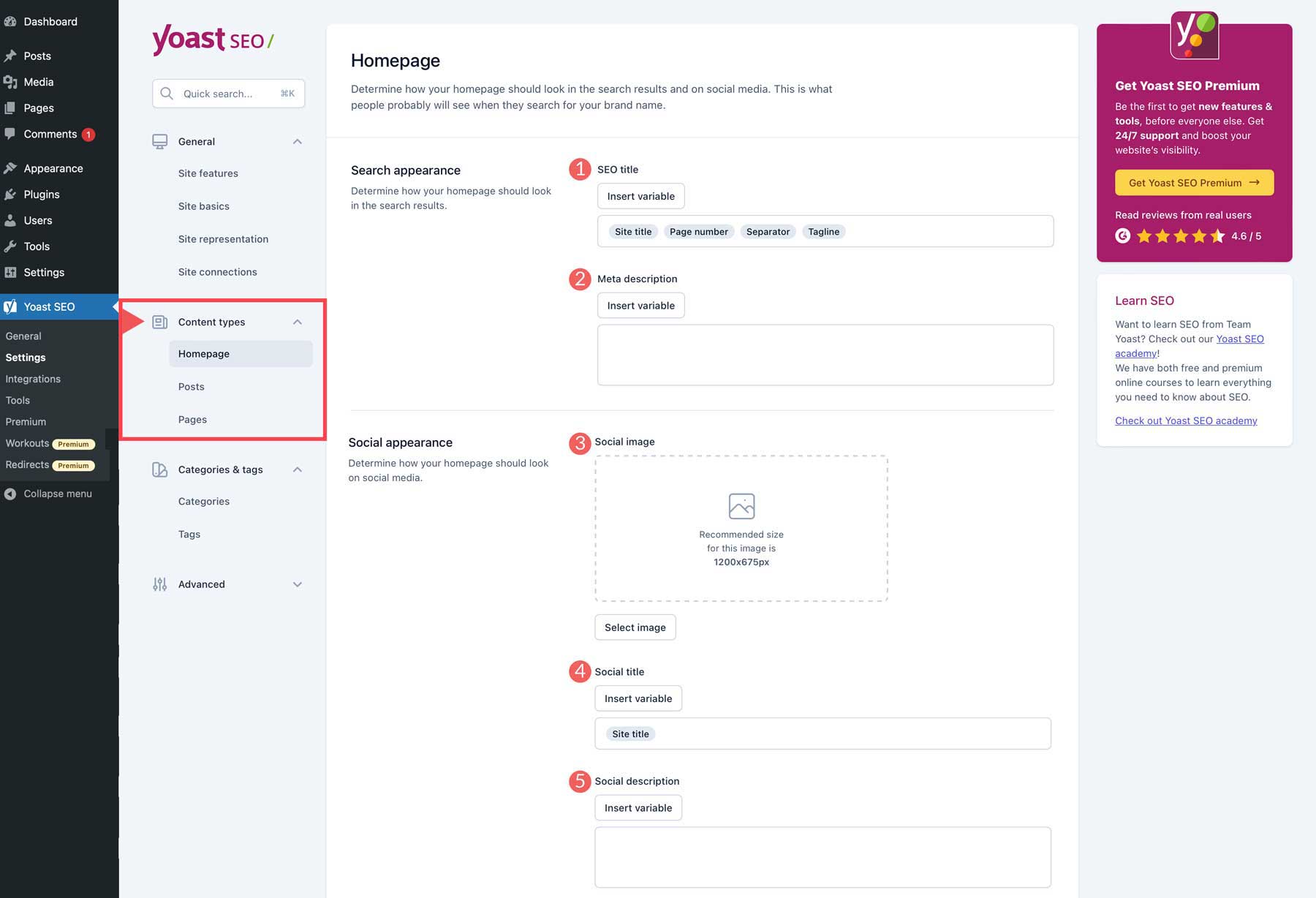 The options include:
Title & Meta Description
Social image
Social title
Social description
In this section, the settings are identical to the content types section, except they apply to taxonomies.
Yoast SEO Advanced Settings
Under this tab, you can configure crawl optimization settings (with a premium license), breadcrumbs, and other pages such as author archives, date archives, format archives, and special pages. There are additional settings for media pages and RSS feeds.
Breadcrumbs
The breadcrumbs settings in Yoast SEO allow you to customize the appearance of breadcrumbs on your site. There are plenty of options that enable you to customize the display of your breadcrumb navigation, choose which taxonomies to show for content types, and more.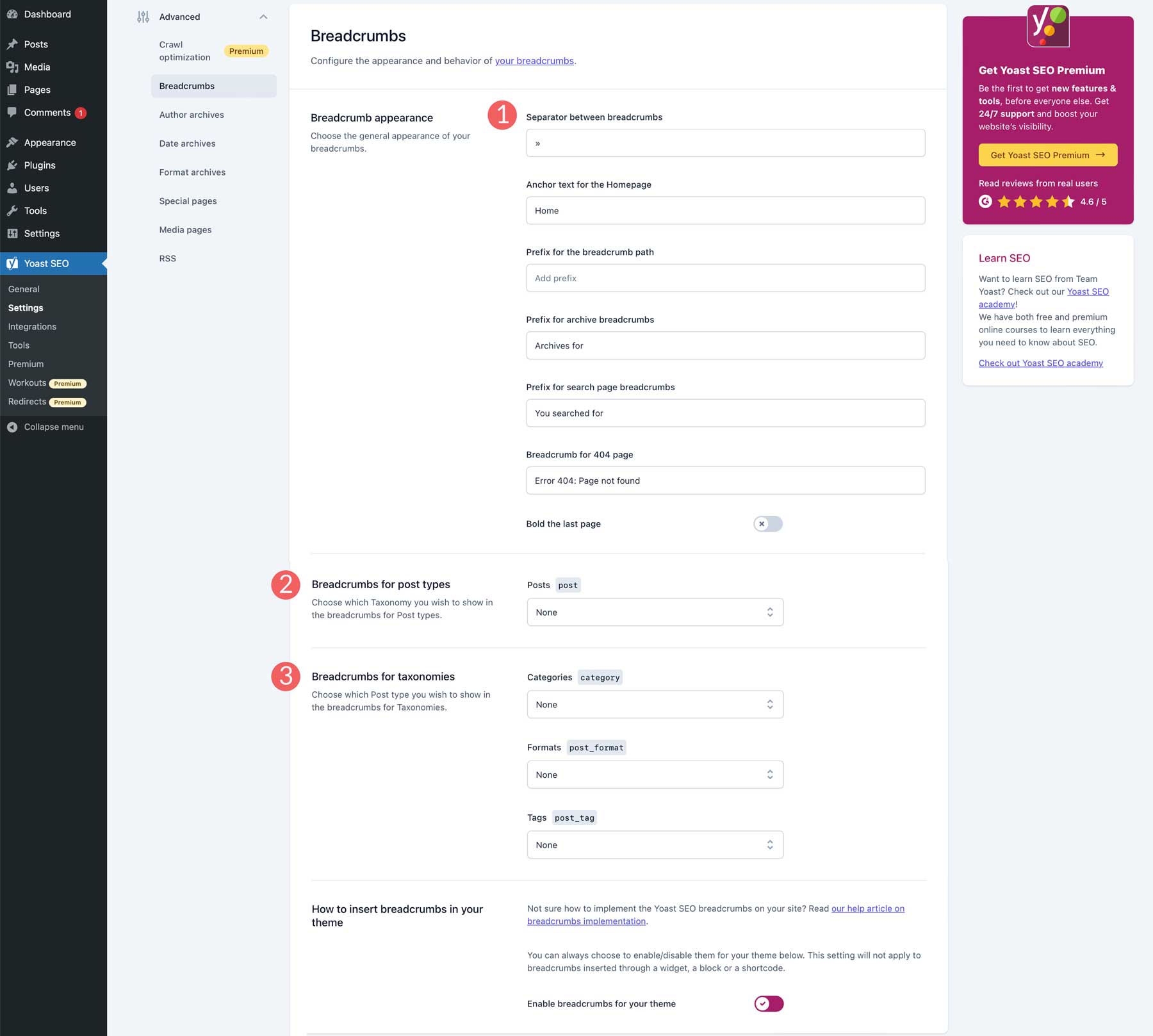 Archives
Under the Archives tab, you can disable the author, date, or special page archives in the search results. Plus, you have additional settings to allow you to either show or hide the authors without posting the results. Like other search appearance tabs, you can create a custom SEO title and meta description as well. Those with a premium version of the Yoast SEO plugin can configure how these types of pages will display on social media platforms.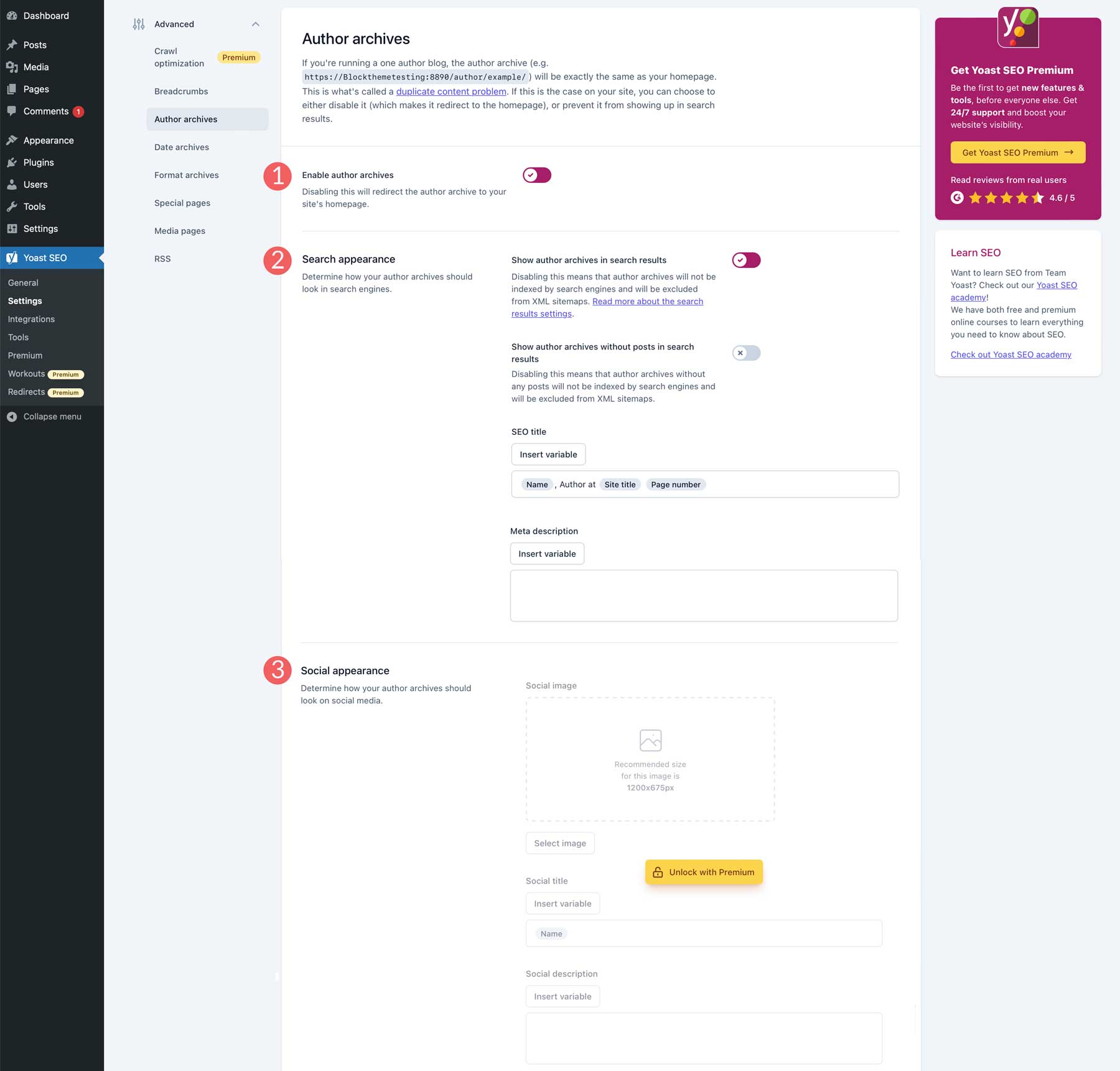 Media
Yoast disables media page URLs by default because they serve no purpose in SEO. If you wish to enable media URLs, you can do so here. Once enabled, you can configure search appearance options, schema, and SEO controls and assessments, which determines whether Yoast SEO tools and controls are visible in the attachment editor.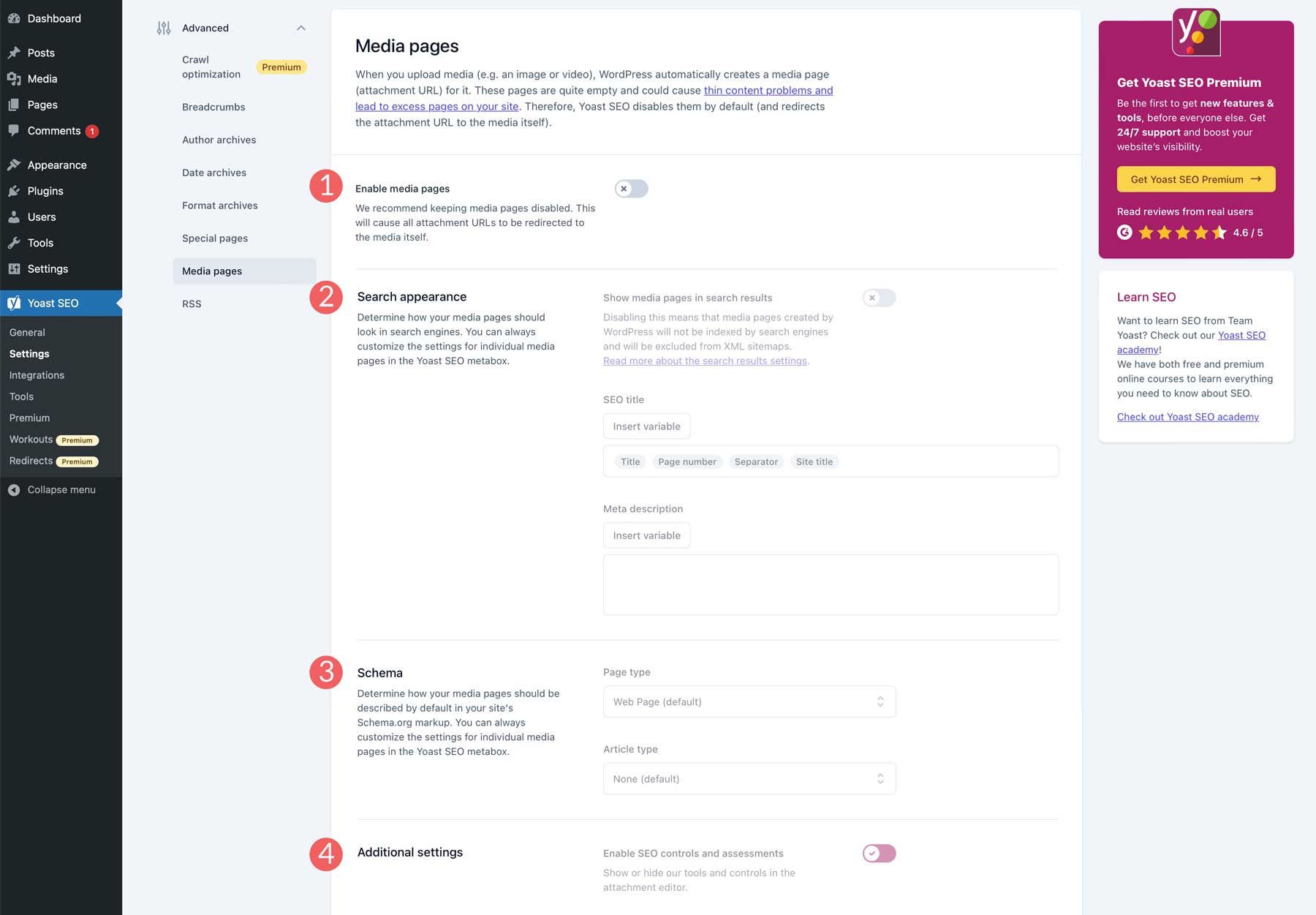 RSS
The Yoast SEO plugin has an automatic tool that allows you to add content to your RSS feed. You can assign content to appear before each post in the feed and add content after each post. Additionally, you can input variables that perform various options, such as adding a link to the post, where the title is the anchor text, and more.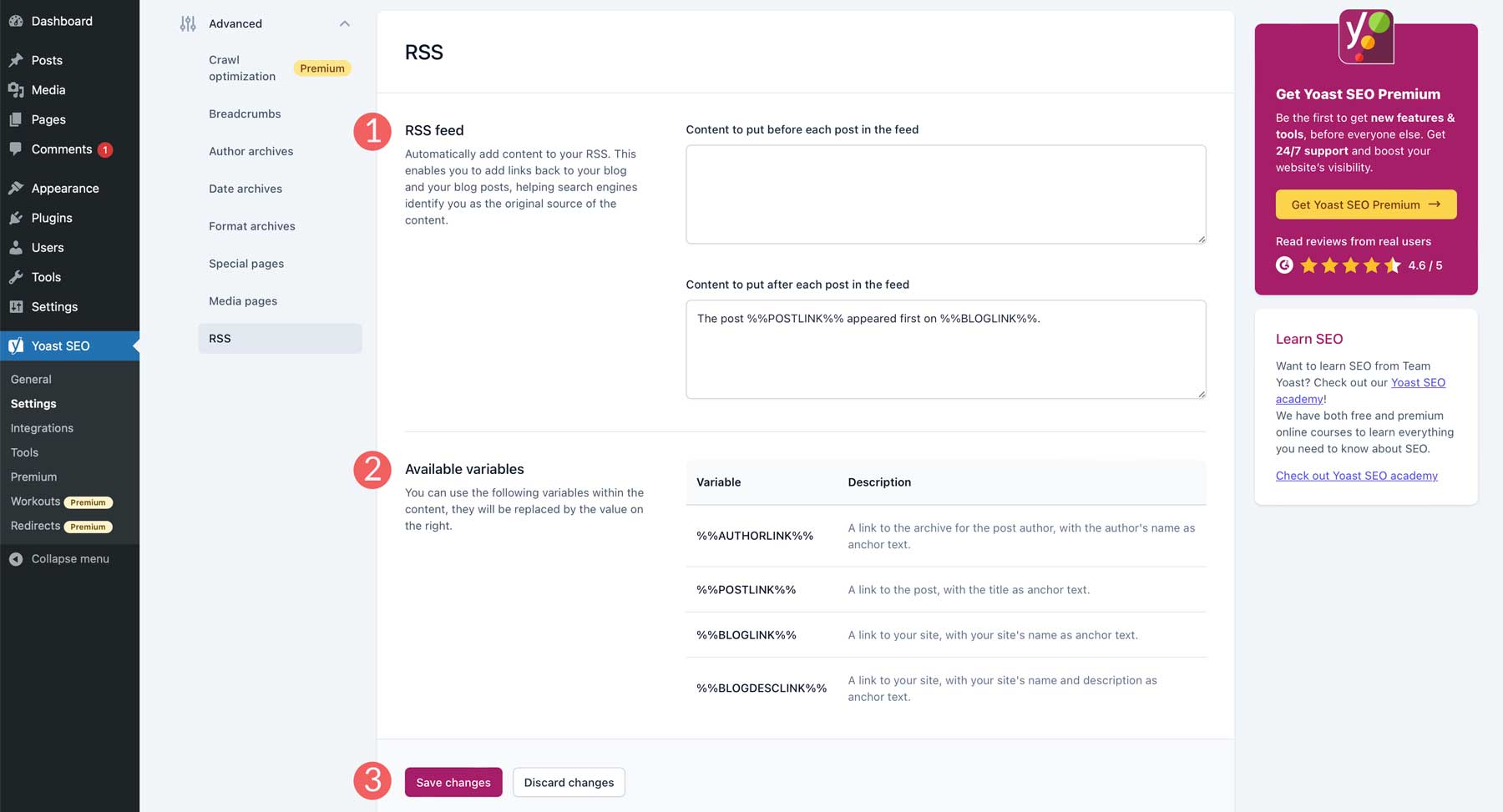 Integrations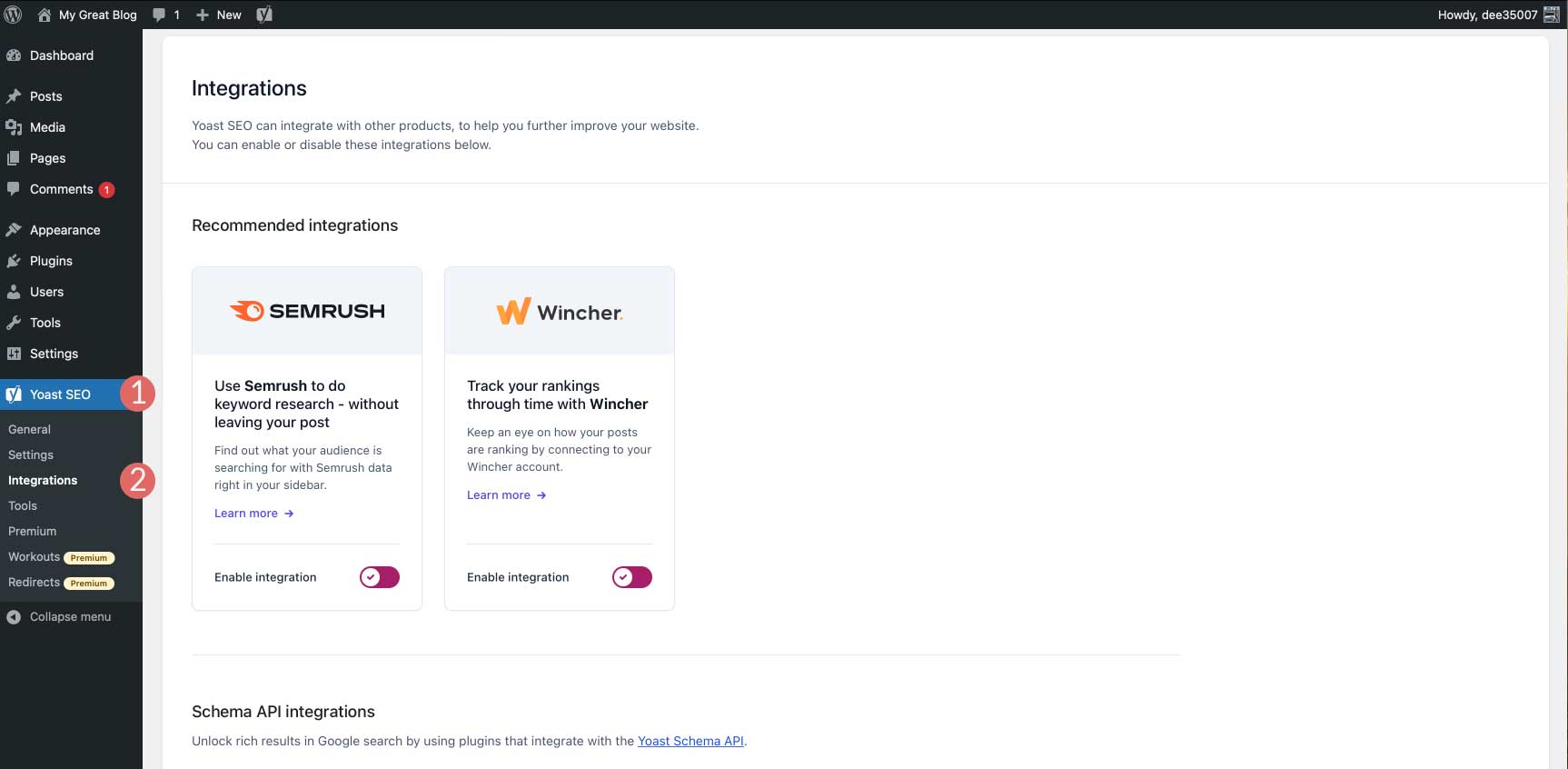 Under Yoast SEO > Integrations, you'll find a list of integrations, including SEMrush, Wincher, WooCommerce, Jetpack, and more. Some integrations are only available with Premium.
Yoast SEO Tools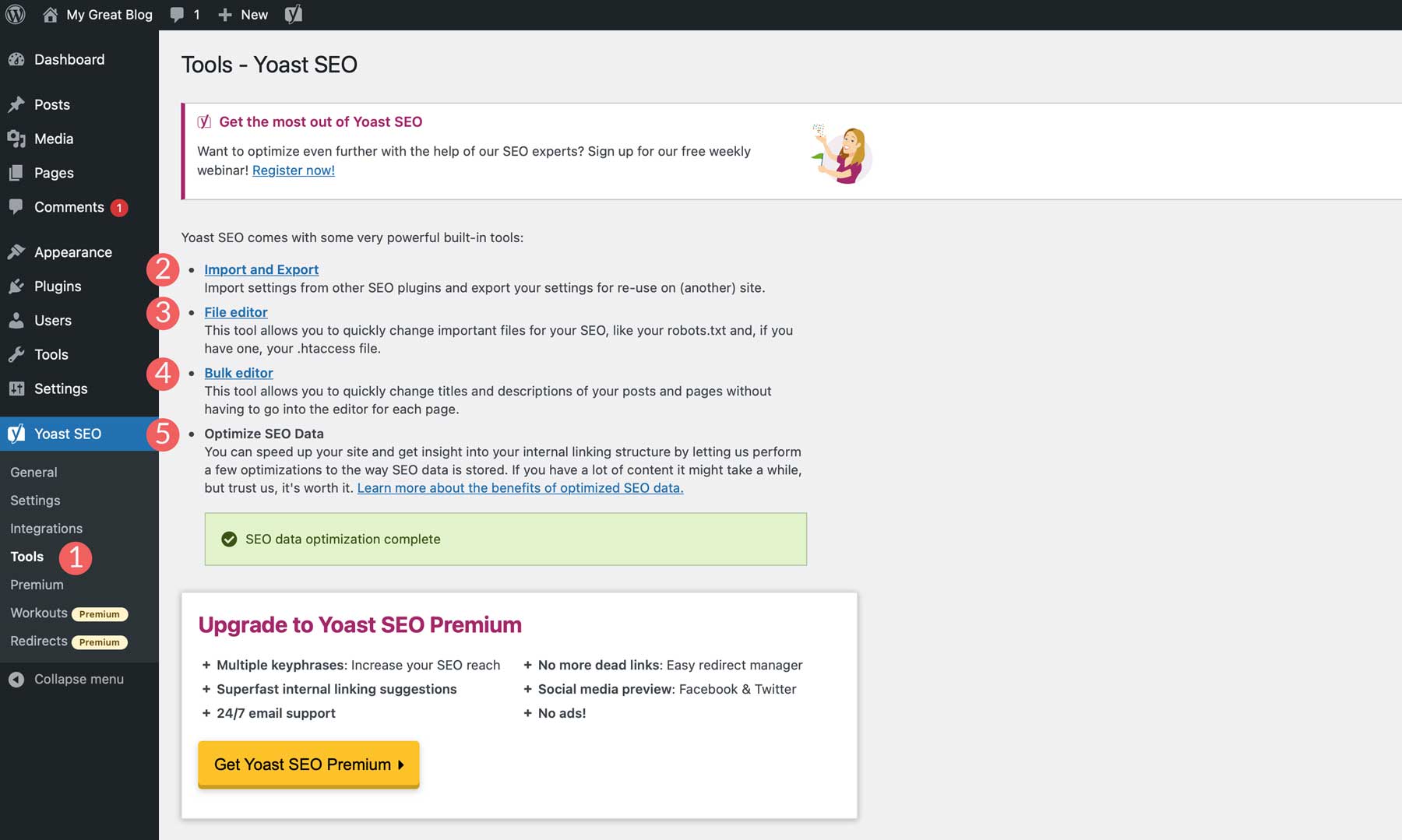 A few handy tools with Yoast allow you to speed up your site, save time editing, and configure essential SEO files on your server.
Import and export: Import settings from another SEO plugin or export your settings for use on other sites.
File editor: Create a robot.txt file or edit your .htaccess file.

Bulk editor: Bulk edit SEO titles and meta descriptions.
Optimize SEO data: Run the data optimization tool to boost your site speed.
Yoast SEO Plugin FAQs
Since Yoast SEO is a broad topic, so you're bound to have questions. Hopefully, these will help.
Does Yoast SEO Have Tutorials I Can Follow?
Yes! The Yoast SEO academy is free for you to learn the basics of SEO, as well as the Yoast SEO plugin. If you require more advanced training, they offer a paid version of the courses with your purchase of the premium plugin.
How Do I Add My Website to the Google Search Console?
Trying to figure out how to do things in Google can be daunting. Thankfully, we have everything you need to know in our ultimate guide to Google Search Console.
Is Configuring SEO Different If I Have a WooCommerce Site?
While the concept of SEO is relatively the same, there are some added components to consider. You'll still need to configure on-page SEO for your posts and pages, but there are the added elements of products, product categories, and your shop. Yoast has a WooCommerce SEO plugin you can use. But there are other alternatives you can consider as well. Check out WooCommerce SEO: A Complete Guide to Ranking #1 on our blog to learn tips and best practices to help you dominate the eCommerce market.
How Important is Google Preview Where SEO is Concerned?
Writing a good SEO title, using a captivating feature image, and writing an attention-grabbing meta description is crucial for SEO. This is true for both desktop and mobile users. Since roughly 60% of the internet's users utilize a mobile device for internet surfing, it is more important than ever. Taking the time to learn the difference between desktop and mobile SEO is critical to your site's success. Please look at our ultimate guide to mobile SEO to learn more.
Yoast SEO is WordPress' Best Friend
SEO is a highly advanced topic that requires quite a bit of understanding to master. You've taken the first step in that journey by learning how to use Yoast SEO. Thankfully, we offer countless resources to aid you along the way. By brushing up on your SEO techniques, gaining a better understanding of linking strategies, and recognizing the importance of mobile SEO in today's digital landscape, you'll have the tools necessary to up those rankings. With those additional resources, you'll be ready to reach the top of the proverbial SEO mountain in no time.
Are you interested in other SEO plugins? Check out our list of the best WordPress SEO plugins.
Do you use Yoast SEO on your website? Let us know by dropping a comment below.