When running a WooCommerce store, it's crucial to prioritize Search Engine Optimization (SEO). A solid WooCommerce SEO strategy can boost your search visibility and make it easier for consumers to find and purchase from your store. In many ways, an SEO-optimized online store is your greatest marketing tool.
In this post, we'll start by explaining what WooCommerce SEO is and why it's important. Then we'll provide you with a list of 11 tips and techniques you can use to optimize your online store. Let's jump in!
What is WooCommerce?
WooCommerce is an open-source eCommerce plugin for WordPress that allows users to create and manage their online store in WordPress. WooCommerce is highly customizable and works well with popular plugins, themes, and page builders (like Divi) to make it easy to build an eCommerce site from the ground up.
For more info on WooCommerce, check out our helpful guides on how to install and setup WooCommerce and our ultimate guide to using WooCommerce Blocks
An Overview of WooCommerce SEO
WooCommerce SEO is the process of optimizing your online WooCommerce store to get a higher ranking in Search Engine Results Pages (SERPs). A higher ranking means more organic traffic and more sales. Overall, WooCommerce SEO aims to improve your site's visibility in organic search results through various optimization techniques.
The easier it is for consumers to find your site, the more opportunities you'll have to convert them into paying customers. The better you can enhance your SEO, the less you'll likely have to spend on other marketing strategies such as paid advertising on social media.
WooCommerce is already a very SEO-friendly plugin. It comes with built-in features and options to optimize your online store for better search engine visibility:

For example, you can easily add title tags and meta descriptions to your products and create sitemaps and robots.txt files. In addition, WooCommerce is compatible with many popular SEO plugins and tools, such as Yoast SEO, that can further simplify optimization:

Furthermore, if you use our Divi Builder, you'll get access to 25 additional WooCommerce modules:

These modules let you power your online store with WooCommerce elements anywhere within your Divi layouts and edit them as necessary to boost SEO. For instance, you might customize your WooCommerce Product Title to include keywords and match your overall branding.
We recommend running an SEO audit if you're unsure where your WooCommerce SEO currently stands. The results will give you a solid baseline to start with.
A Simple Guide to SEO for WooCommerce (11 Practical SEO Tips)
Now that we understand more about the importance of SEO, let's discuss how you can use it in your e-commerce shop. Here are ten techniques and tips you can use for WooCommerce SEO!
1. Optimize Your Product and Category Page Titles
Product and category titles are essential for WooCommerce SEO because they help shoppers understand your store better. Additionally, optimizing your SEO titles makes it more likely for your products and categories to appear in relevant search results, leading to more traffic and sales.
Including relevant keywords in your titles will help search engines match your products and categories with the right searches. You'll also want to keep your titles short and sweet. Otherwise, they may get cut off in search results if they're too long.
To optimize your titles for SEO, you can navigate to the product page in WooCommerce. For this step, you can use the standard editor. However, with Divi, you can utilize the WooCommerce Product Title module to insert and customize the title: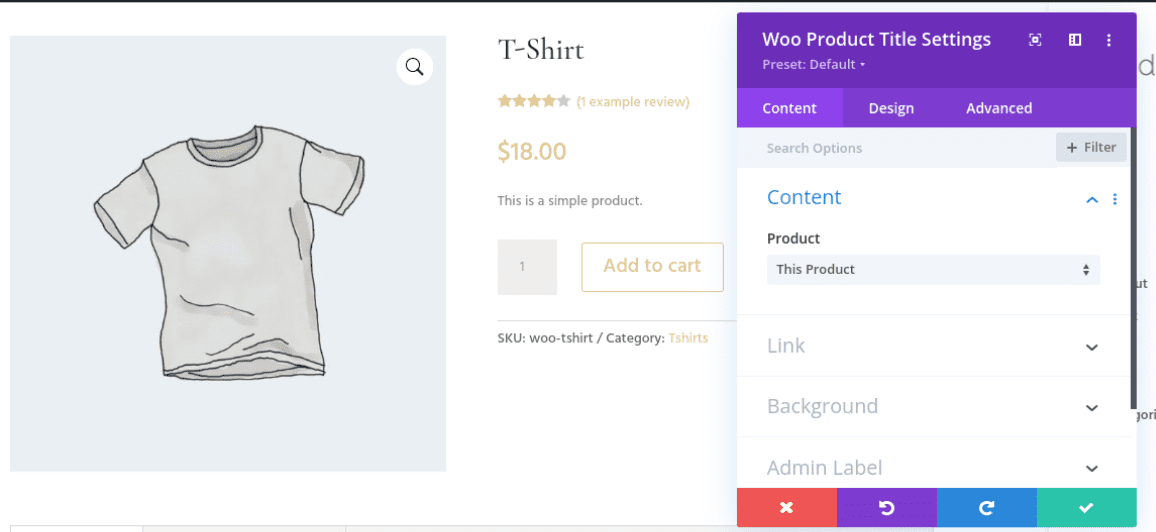 Moreover, if you have the Yoast SEO plugin installed, there is a panel below the editor where you can enter a keyword phrase as well as the page title: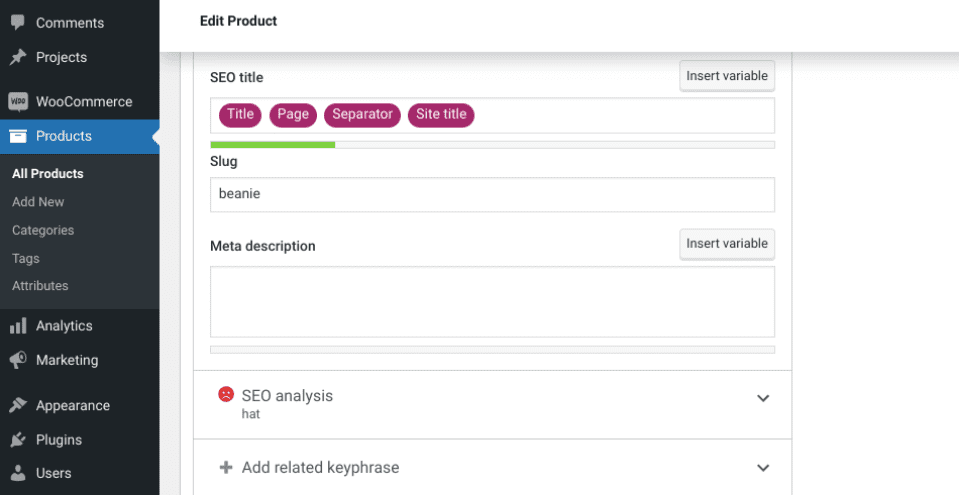 Expanding the SEO analysis section will show red, yellow, and green lights indicating SEO scores for different features. You can look through them for any advice on optimizing your title, then make the suggested changes.
For example, our Yoast SEO ratings tell us our product title doesn't contain our keyword, "hat":

Once we tweak our product title to incorporate the keyword, the Yoast rating changes to a green light. Now the title is better optimized!
2. Utilize Meta Descriptions
Meta descriptions are also crucial for WooCommerce SEO. These brief snippets appear below page titles in the SERPs. The concise descriptions let users understand pages before clicking on them.
Meta descriptions are essential for SEO because they can influence how many people click on a result. If you have a well-written meta description, it can increase the Click-Through Rate (CTR) on your website, which can improve your rankings in the SERPs.
In Yoast SEO, beneath the editor, you'll find a Google preview section. You can enter your text into the Meta description box:

Ideally, it's best if your meta description is below 155 characters so that it displays fully. It's also wise to incorporate your keyword within the snippet.
3. Optimize Your Product Slugs
Your product slugs, also known as permalinks, are other places where you can provide search engines with contextual information and boost WooCommerce SEO. The product slugs are the URLs assigned to each item in your store.
It's best to incorporate keywords into your slugs whenever possible. These are the terms you want your products to rank for with search engines (or the phrase you believe customers use to look for and find your product).
You can enter and modify a product slug by navigating to the product page, then selecting Edit under the title:

When you've made your changes, you can select Ok. You can also view and change the slug in the Yoast panel below the editor.
WordPress categories and tags can help organize your store and improve your WooCommerce SEO. Sorting products by categories and tags can prevent your items from competing with each other and enhance your site's usability.
For instance, let's say a customer wants to view your t-shirt offerings. When they search for "t-shirt", you can configure your site to present a single page with all your shirts.
Tags serve a similar function. They can be used as cross-references for customers while browsing and searching your inventory. By clicking on a tag, consumers can see similar products with the same tag, such as a color or size.
You can access, create, and edit your product categories under WooCommerce > Categories: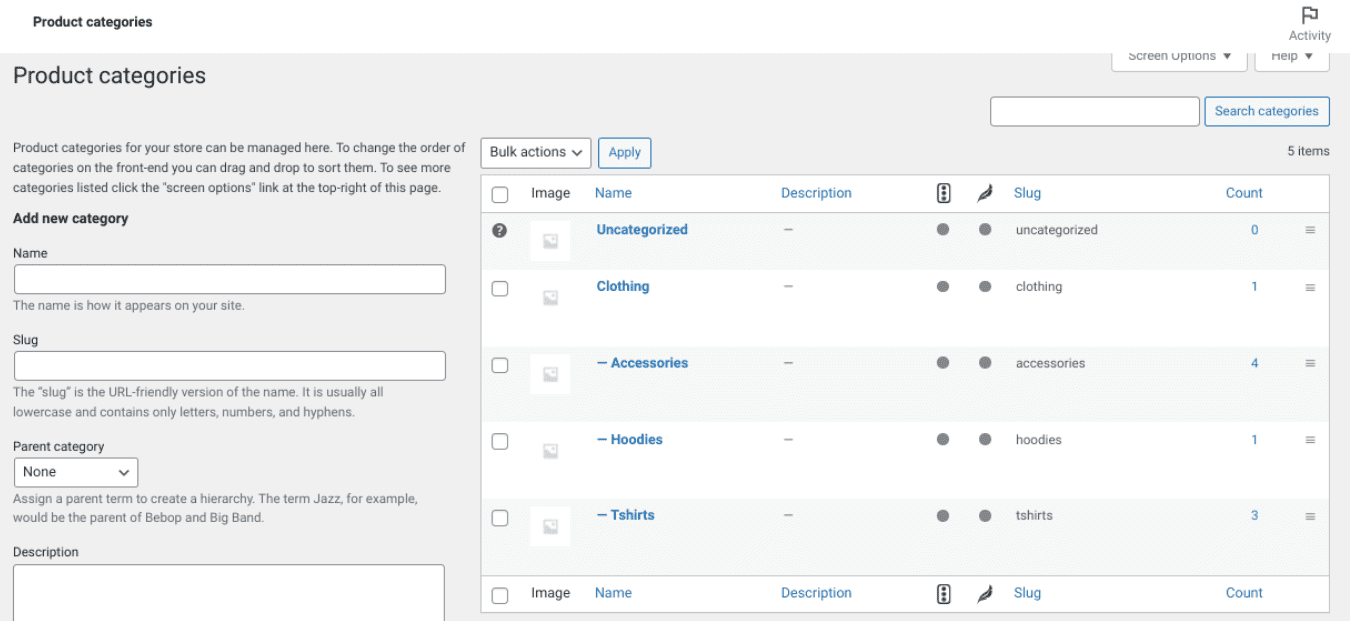 Here you can fill in the relevant information, such as the slug and description. You can also nest subcategories under parent categories to further distinguish your items. Under WooCommerce > Tags, you'll find the same options.
5. Create Unique Product Descriptions
Product descriptions play a crucial role in WooCommerce stores. They provide potential customers with information about the products you offer: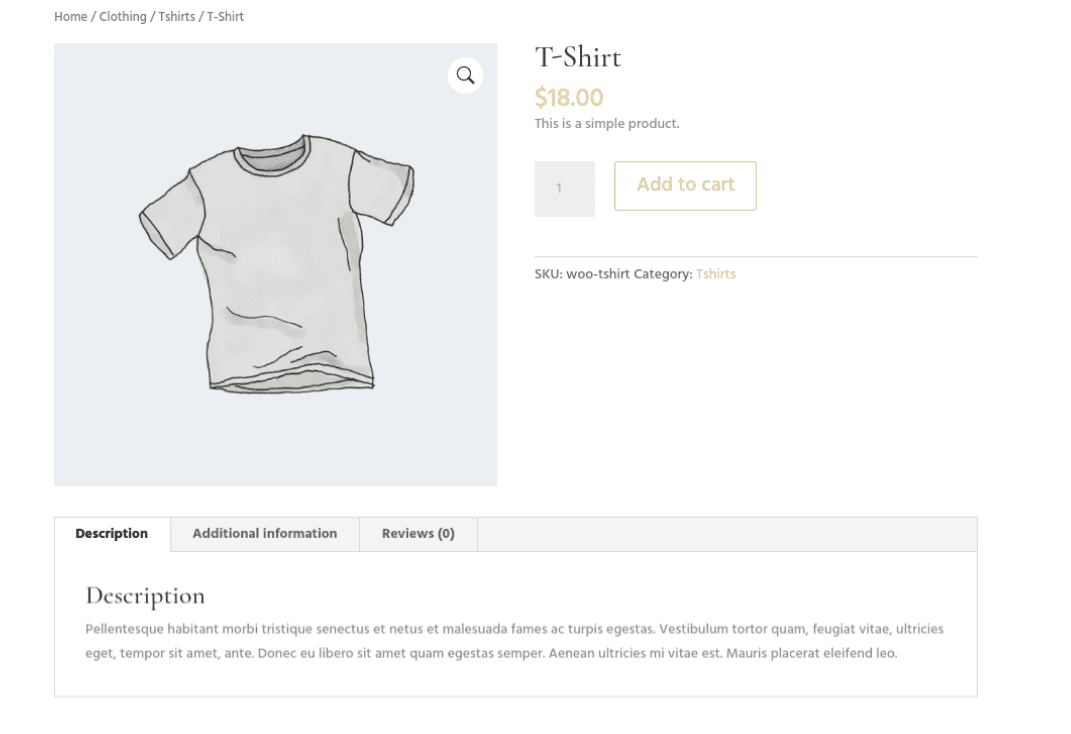 Optimizing your product descriptions can improve your WooCommerce SEO, making your items more likely to appear in search results and drive traffic to your site. In addition, well-written product descriptions can convert visitors into customers by persuading them to purchase your goods.
Similar to the product titles and meta descriptions, it's important that these descriptions are concise, descriptive, and contain relevant keywords. You'll also want to include any essential information, such as materials, washing instructions, or safety guidelines.
To add or edit a product description in WooCommerce, just navigate to the product page and enter the description within the editor:

Our WooCommerce Product Description module also lets you add the description to any page in Divi: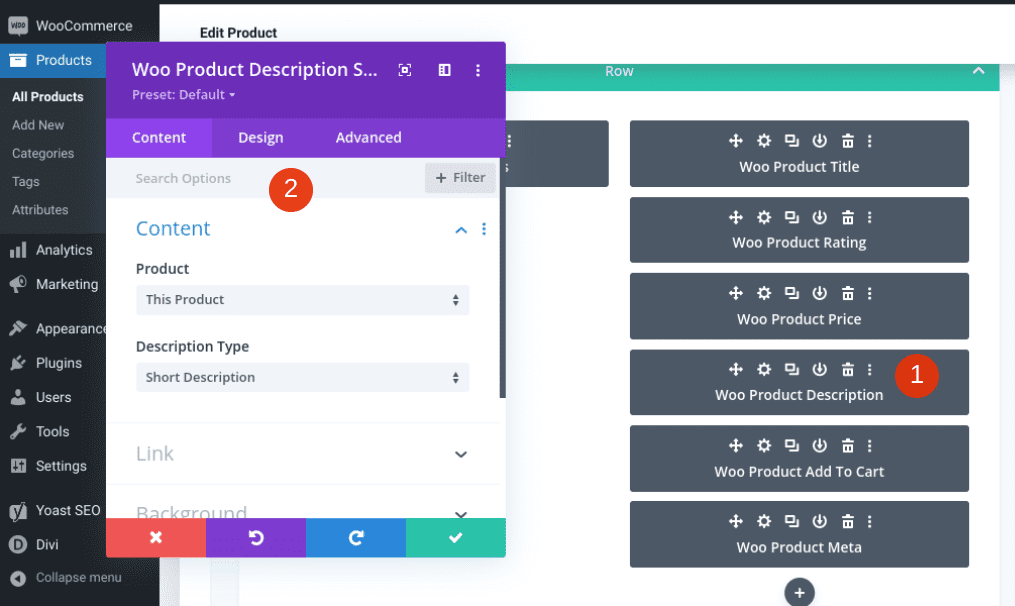 The module comes included with Divi for free. You can add it to your page by selecting WooCommerce Product Description from the Divi module list (1). Then you can fully customize it using various design settings (2).
Breadcrumbs are navigational tools that show a user's path to a particular page. They can be beneficial for WooCommerce SEO because they help users and search engines understand the structure of your website.
They usually appear at the top of a page, and you can use breadcrumbs to lead customers back to a parent category. For instance, in the following example, the parent category is Clothing, and the subcategory is Accessories: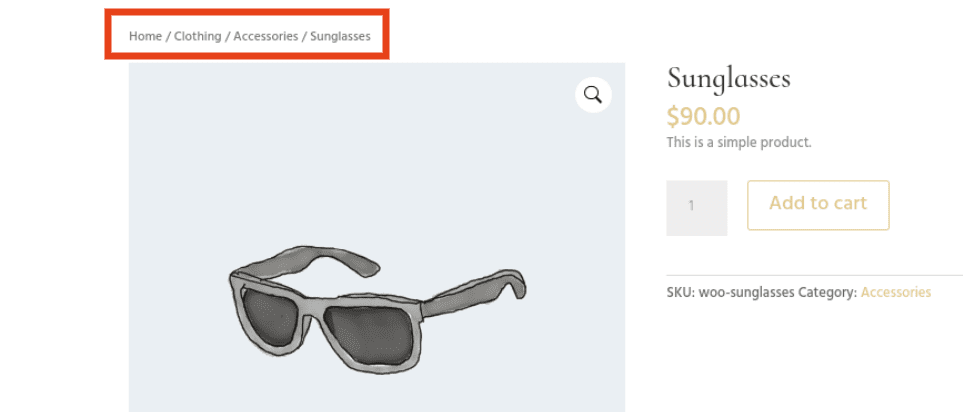 It's possible that your theme automatically adds breadcrumbs to your product pages. If not, you'll have to implement WordPress SEO breadcrumbs before activating this feature with Yoast SEO.
Alternatively, if you're a Divi user, you can utilize the WooCommerce Breadcrumbs module: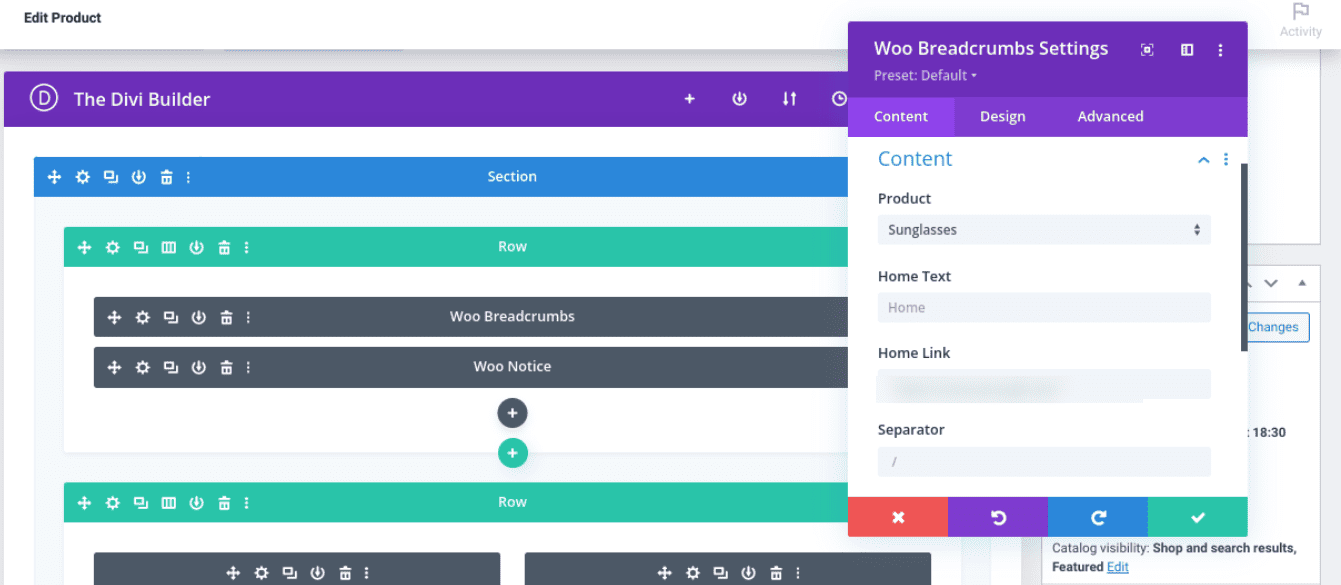 You can insert the Breadcrumbs module from the Divi list. Then you can customize the links and text, as well as their appearance.
7. Add Alt Text to Images
Adding alternative("alt") text for images is another great opportunity to boost your online store search rankings. Alt text is important for image SEO because it is displayed on your site when your product images aren't visible, providing another place to include keywords. For example, if the graphic cannot properly load, the browser will show the text instead as a placeholder.
Alt text is important because it makes your site more accessible. Screen readers and assistive technology often use it to help vision-impaired users understand your content. Alt text can also help search engines understand and index your images. Therefore, including keywords in alt text can boost your WooCommerce SEO efforts.
You can add alt text to your images when you upload them to WordPress: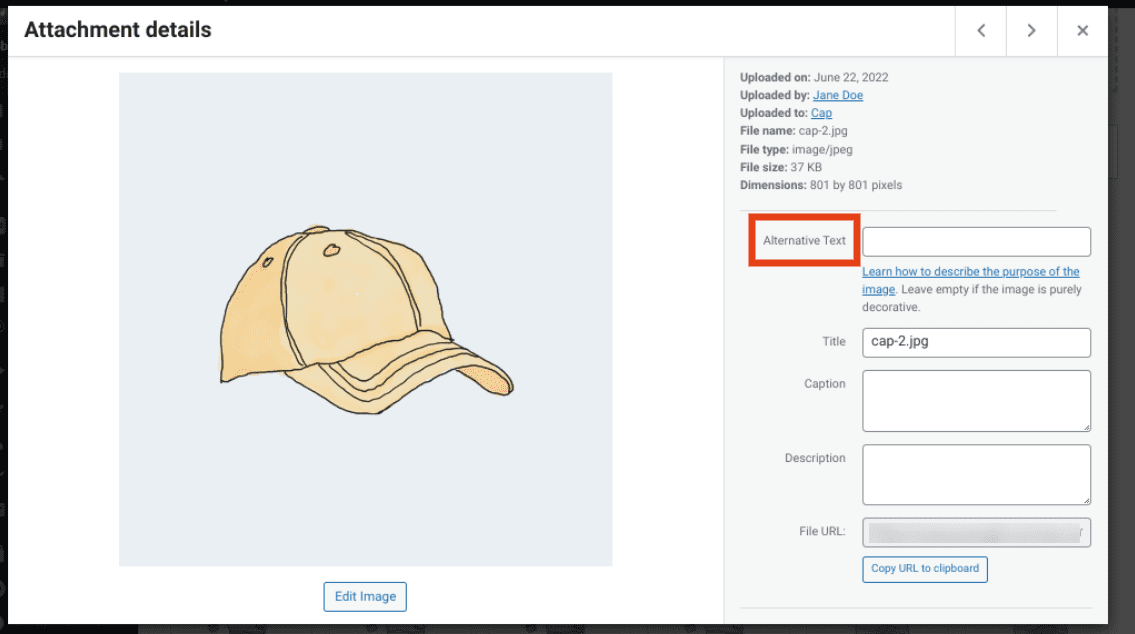 You can also modify the alt text at any point by navigating to your Media Library. If you have the Yoast plugin installed, under the SEO analysis, it will let you know if your images are missing alt text or whether you should include more or fewer keywords to optimize them.
Image alt text isn't the only way to make images SEO-friendly. But for best results, check out these best practices for image SEO.
8. Add Structured Data for Rich Snippets
Structured data, also known as schema markup, is code that can help search engines understand your content better. It's vital for WooCommerce SEO because it can make your store content show up in rich results, attracting more clicks and traffic to your site: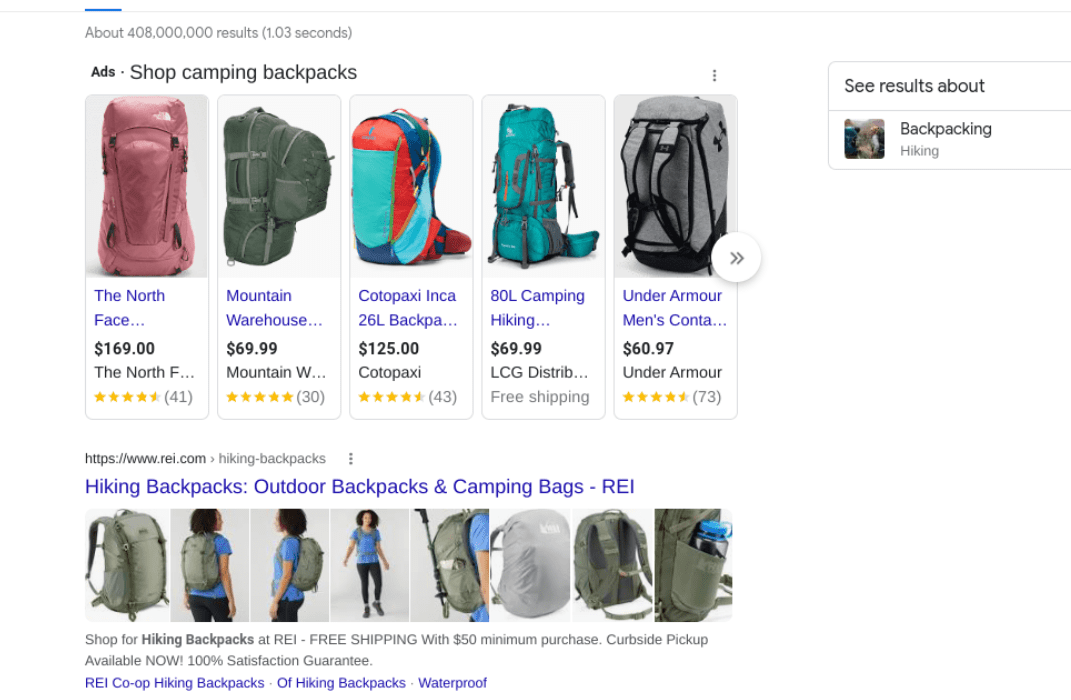 Rich snippets are special search results that can include product reviews, pricing, and other information. They can help potential customers make informed decisions about whether or not to buy from your store.
There are a handful of schema markup tools that you can use to add structured data to your site. For example, the Google Structured Data Markup Helper will generate code in various categories, including products and local businesses: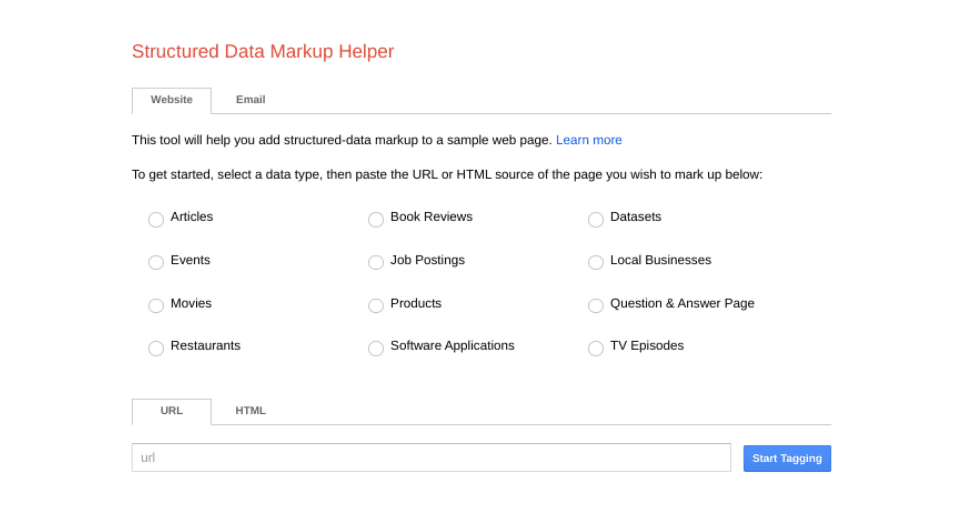 Once you select a data type and generate the code, you can add the schema markup to your pages and posts. For more detailed guidance, you can check out our guide on How to Use Schema Markup to Optimize Your Site's SEO.
Review plugins are plugins that let you collect, manage, and display reviews and ratings across your site. Most of these have review-centric schema markup and might be better suited if you only need certain types of schema related to reviews.
9. Use a WooCommerce SEO Plugin
WooCommerce already has so many add-ons and third-party extensions, finding the best one for WooCommerce SEO can be overwhelming.
Here are a few top choices from our list of best WooCommerce SEO Plugins that we recommend:
1. Rank Math SEO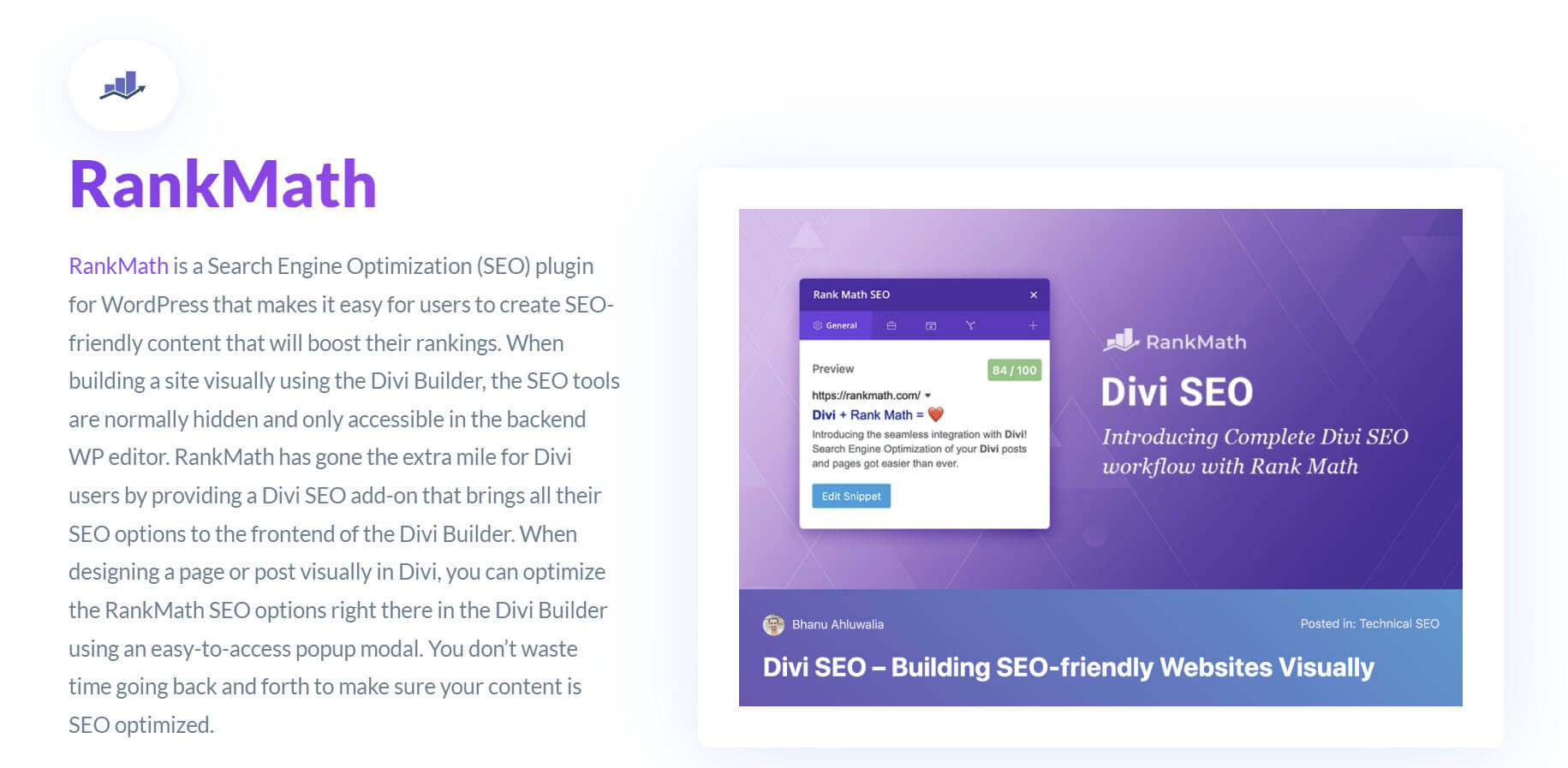 Rank Math is a powerful SEO plugin for WordPress that offers amazing real-time insights about your site's SEO. With Rank Math, you can optimize all of your WooCommerce SEO for product pages, category pages, and on-page SEO on the fly as needed. It works seamlessly with the Divi Builder which makes it a perfect choice for those who want complete control over WooCommerce and SEO using custom modules in a visual builder.
2. Yoast WooCommerce SEO

Yoast continues to be one of the most popular SEO plugins for WordPress. In addition to the SEO features of the free plugin, their WooCommerce SEO Plugin allows you to unlock a suite of tools and features for your WooCommerce store.
3. All in One SEO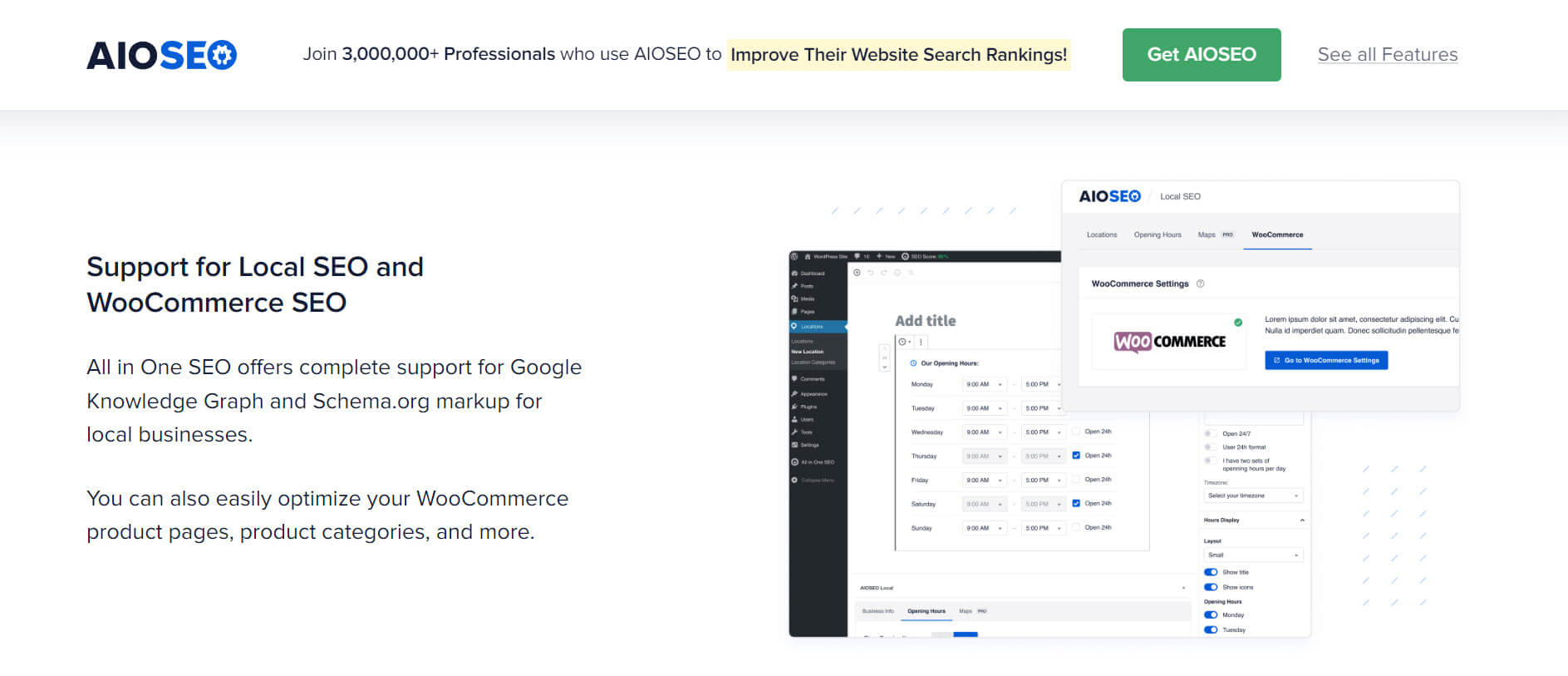 All in One SEO is a great SEO plugin for WordPress that also includes premium SEO features for WooCommerce, including the ability to optimize product and category pages with ease. You can use this plugin to improve your store's SEO ranking.
10. Optimize Your Site's Speed and Performance
Page speed can have a significant effect on WooCommerce SEO. Here's what you need to know about Page Speed SEO. Slow loading times can hurt your store's User Experience (UX) and lead to higher bounce rates. Google also considers page speed in its ranking factors.
This is why we recommend testing the performance of your WooCommerce site regularly. Installing a well-trusted database optimization plugin can help on large sites. All sites could benefit from the proper speed optimization plugins (free and paid options abound). There are a handful of tools that you can use for this process, including Google PageSpeed Insights:

The tool will assess your site and provide a performance report when you enter your URL. It includes an overall grade as well as key metrics, such as Core Web Vitals and your speed index: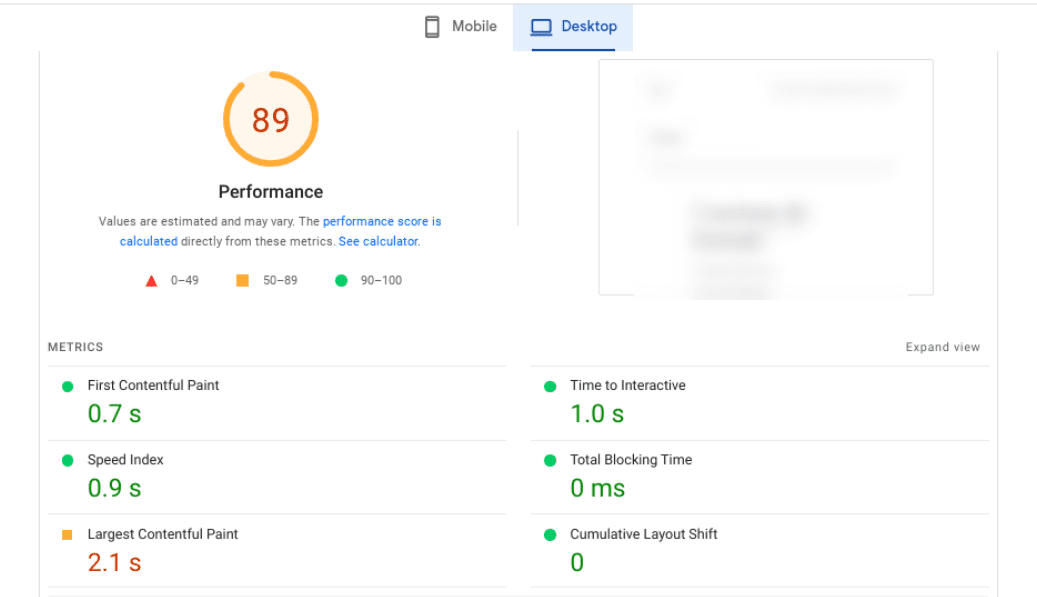 You can also find a list of suggestions for improving your online store. The specific recommendations will depend on your site. However, there are a handful of common solutions you can utilize for performance optimization.
Some WordPress themes like Divi have built-in speed optimization already. But even Divi sites will need good hosting since much of site speed is dependent on your server.
For more, check out our WooCommerce Performance Optimization Guide for all the tips and best practices you need to speed up your store.
11. Maximize Your Site's Security
SEO spam and hacks can lead to Google flagging your site, hurting your WooCommerce SEO. Therefore, ensuring that you adequately protect your website data is essential.
There are a plethora of security best practices you can follow to safeguard your online store. Firstly, to determine the current status of your site, we recommend conducting a security audit.
It's also essential to use quality, actively maintained WordPress themes and plugins and update them whenever possible. This diligence can prevent bugs and other vulnerabilities within your store.
We also suggest installing one of the top WordPress security plugins. There are a handful of options available, such as Sucuri:

This scanner can monitor your site for malware and other threats. It helps you actively and consistently audit the activity on your website and fix any vulnerabilities.
Conclusion
If you want consumers to find your online store, focusing on WooCommerce SEO is vital. While the plugin is already SEO-friendly, optimizing your site correctly requires following various best practices.
As we discussed in this post, you can use several tactics to optimize your WooCommerce store. Some of the most important include incorporating keywords into your descriptions, titles, and metadata. It's also essential to leverage categories, tags, and breadcrumbs to create an organized navigational setup. Plus, tools such as Rank Math and our Divi Builder can help you perfect WooCommerce SEO.
Do you have any questions about WooCommerce SEO? Let us know in the comments section below!
Featured Image via stokk / shutterstock.com