If you run a website, you're likely aware of the importance of search engine optimization (SEO). SEO is the practice of structuring and organizing your website and its content for the best possible visibility on major search engines. To find out whether your site is performing well and getting good placement in search engine result pages (SERPs), you'll need to conduct an SEO audit.
Wondering how to conduct an SEO audit of your website?
Let's dive in!
Why Audit Your Website's SEO?
An SEO audit is a comprehensive task with multiple steps that helps you take a closer look at the way you've optimized your WordPress site so far. Conducting an SEO audit will give you a good idea of whether your SEO strategy needs to be overhauled. When you take a deep dive into your site's performance, you'll gain clarity on what's working right now, and what's not. Additionally, you'll get the answers you need to tweak your strategy.
Chances are, the people who search for websites like yours don't venture past the first page of Google search rankings. According to data from Backlinko, only 0.78% of the people who use Google search actually click anything that appears on page two. That means the competition, and the pressure to land on page one, is incredibly high. It also means that sites from page two onward suffer in the traffic department.
When you're able to address SEO-related issues with your website, you'll be more likely to boost traffic to your site over time, gaining a wider audience in the process. If you run a business, you may see a rise in revenue as a result of the changes. After all, the point of having a website is to get traffic, right? Why not remove as many barriers to entry as possible?
If you're ready to run an SEO audit on your WordPress website, there's a lot of important ground to cover. Let's get started.
Select a Comprehensive WordPress SEO Plugin
Good SEO means better PageRank, which ultimately means greater visibility for your website. Whether you're just starting your website or revisiting your SEO performance and strategy, using a WordPress SEO plugin can help boost your chances of ranking higher in the SERPs. There are a number of great plugins available, some of which include in-depth tools that help you set up your SEO properly, from top to bottom.
Here are some of plugins that topped our list of the best WordPress SEO plugins:
Yoast SEO, which includes tools to help WordPress site owners optimize the content across their site
Rank Math SEO, an AI-driven SEO tool for WordPress–which integrates with Divi, as an added bonus
All in One SEO, a tool that helps with full SEO setup in addition to scoring and displaying your SEO performance so you know where your site stands
Because optimizing SEO for your entire website is a time- and labor-intensive process, a solid plugin can help save you both time and money.
Conduct a Site Crawl
Need to check how the pages on your site are performing? You can automate part of your SEO audit by using a service that performs a site crawl, such as Ahrefs, SEMRush, or Beam Us Up (a free tool). For the purposes of this article, I used SEMRush to run a website audit so you can see how it works, and what the tool looks for.
How to Run a Quick Site Audit in SEMRush
Wondering how to conduct a site audit in SEMRush? Let's take a look.
1. From your dashboard, click Site Audit in the left-hand navigation menu.
2. Enter your URL in the search box, then click Start Audit.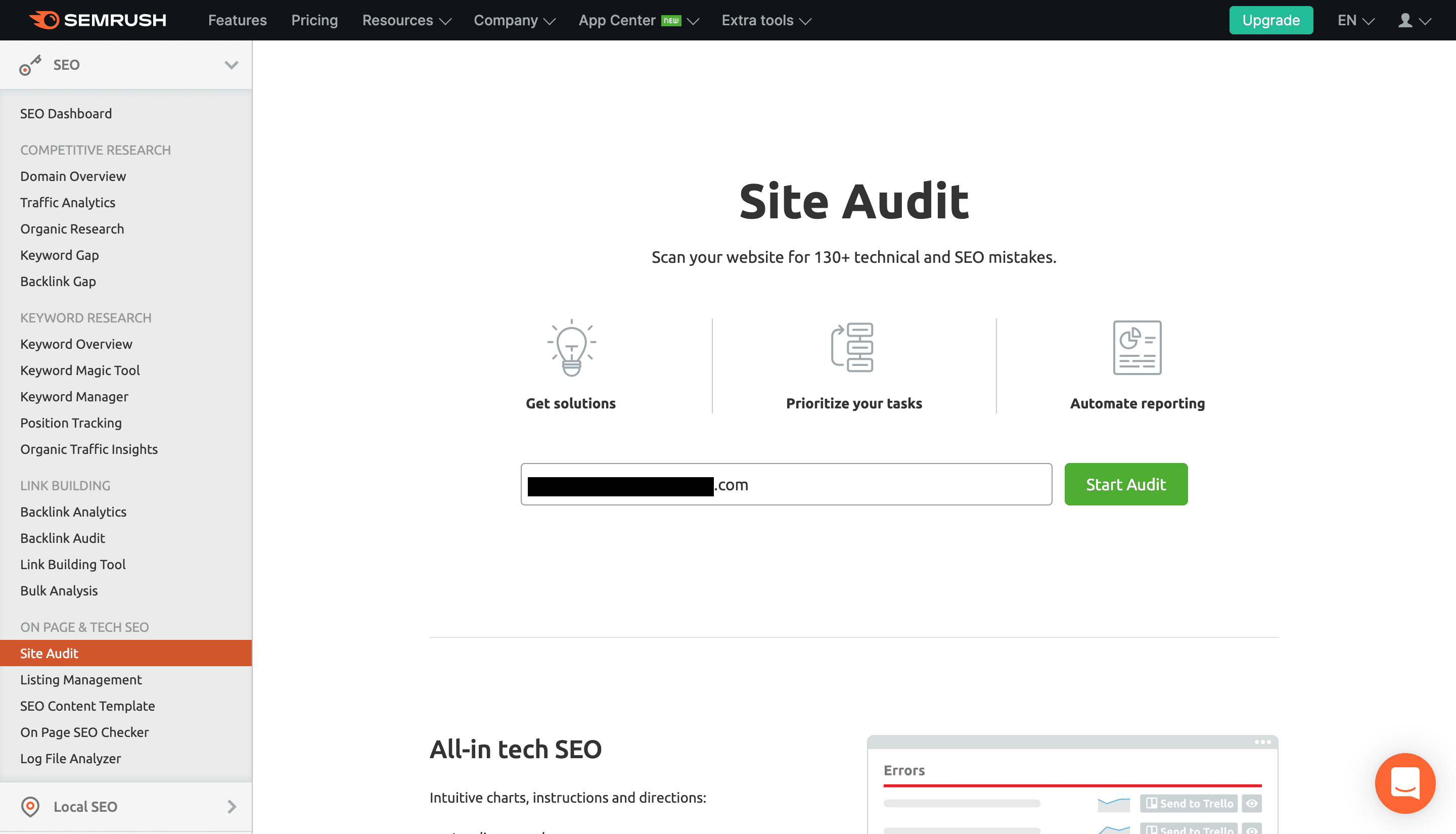 3. You'll see a popup menu that prompts you to select how many site pages you want to crawl, and from what source. Select your choices, then click Start Site Audit.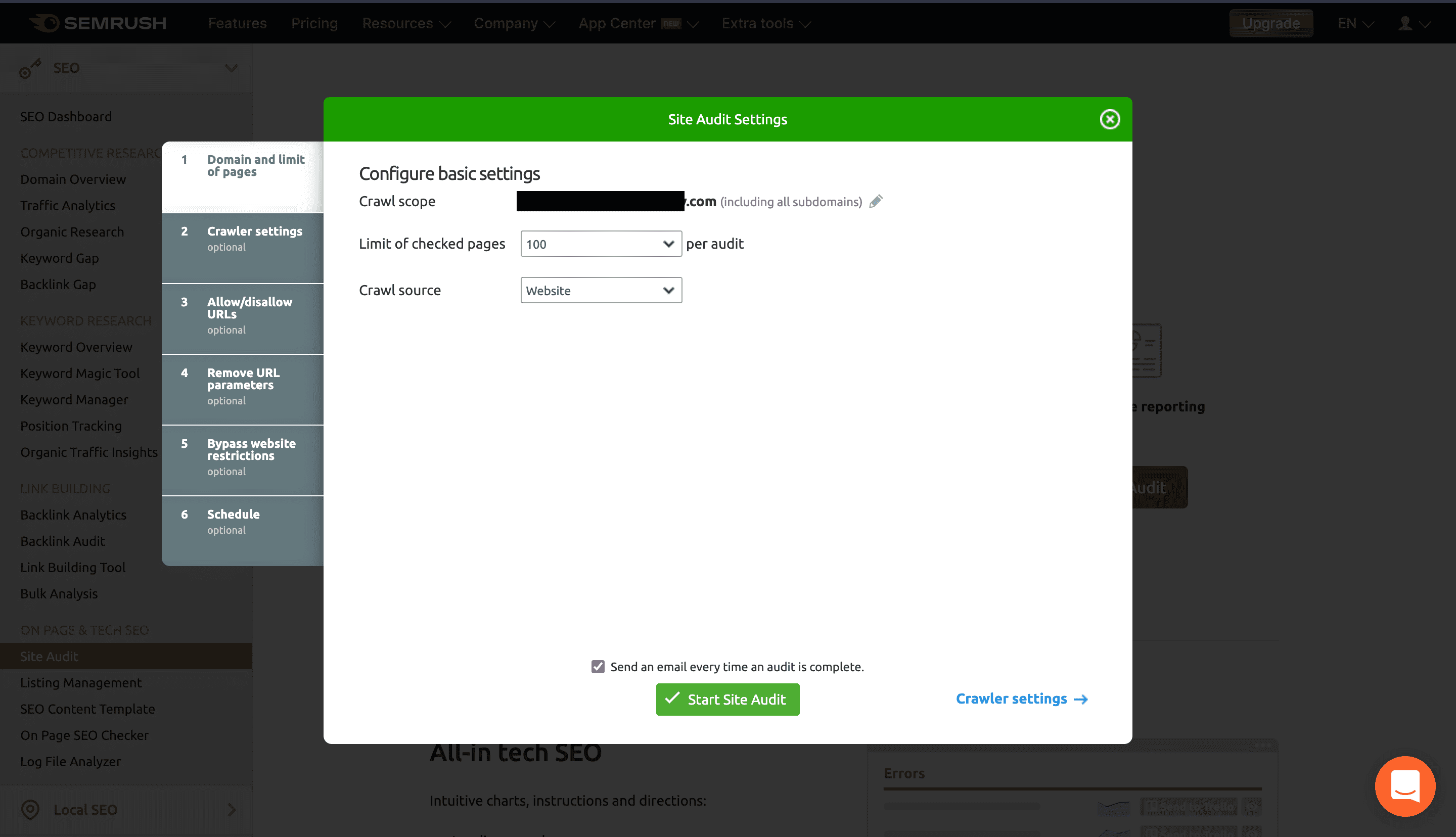 4. SEMRush will display a project page with your basic audit results listed in a simple spreadsheet row. To view the full site audit dashboard, click the blue site URL.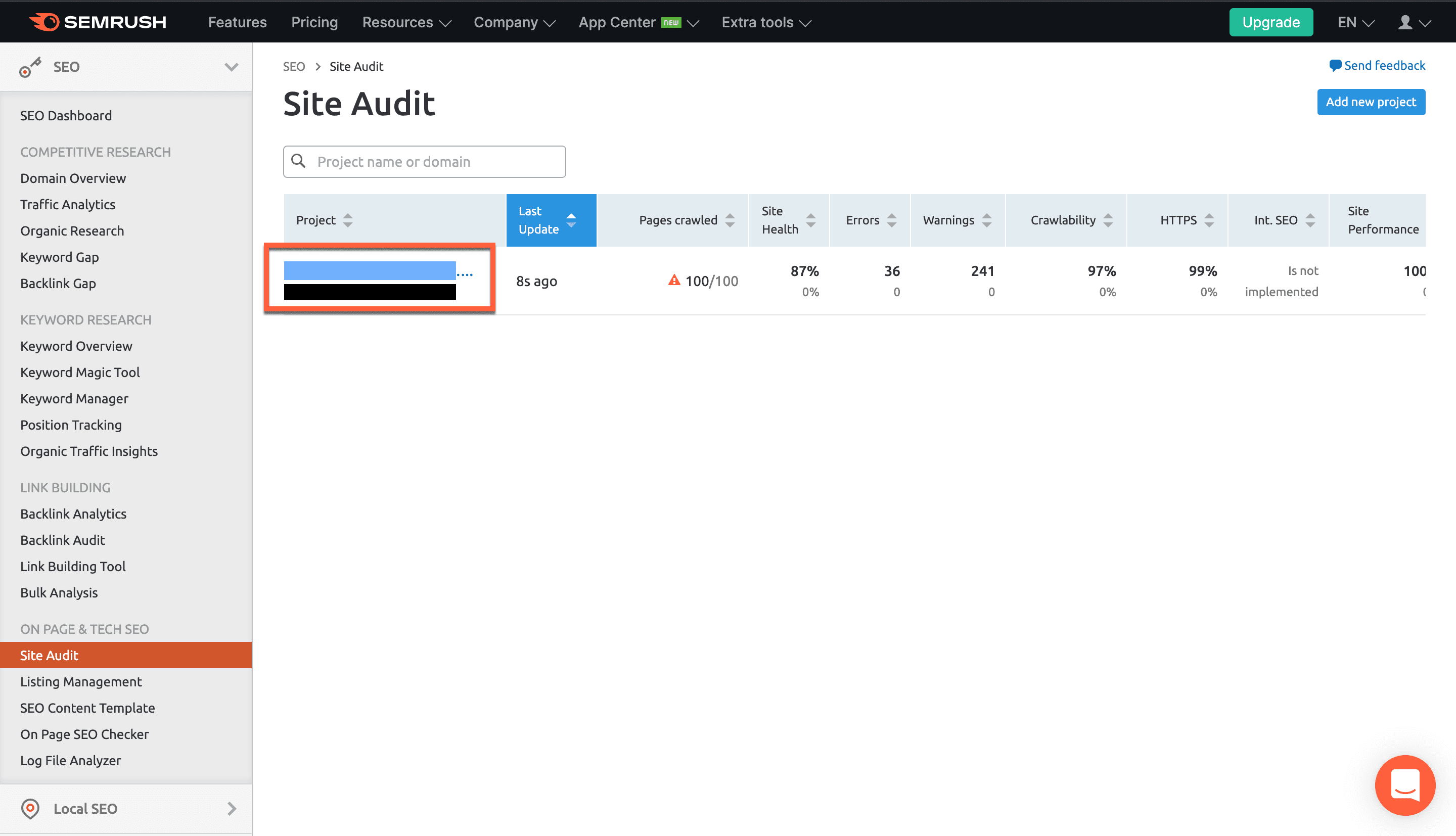 5. Now, you'll be able to see your audit overview here on the dashboard. You can view Errors, Warnings, and Notices (which aren't required fixes, but are strongly recommended). In addition, you can see your overall Site Health, Crawled Pages, Top Issues, Crawlability, HTTPS, Core Web Vitals, Site Performance, Internal Linking, and Markup. Use the menu across the top of the audit dashboard to dive deeper into the details of the site crawl.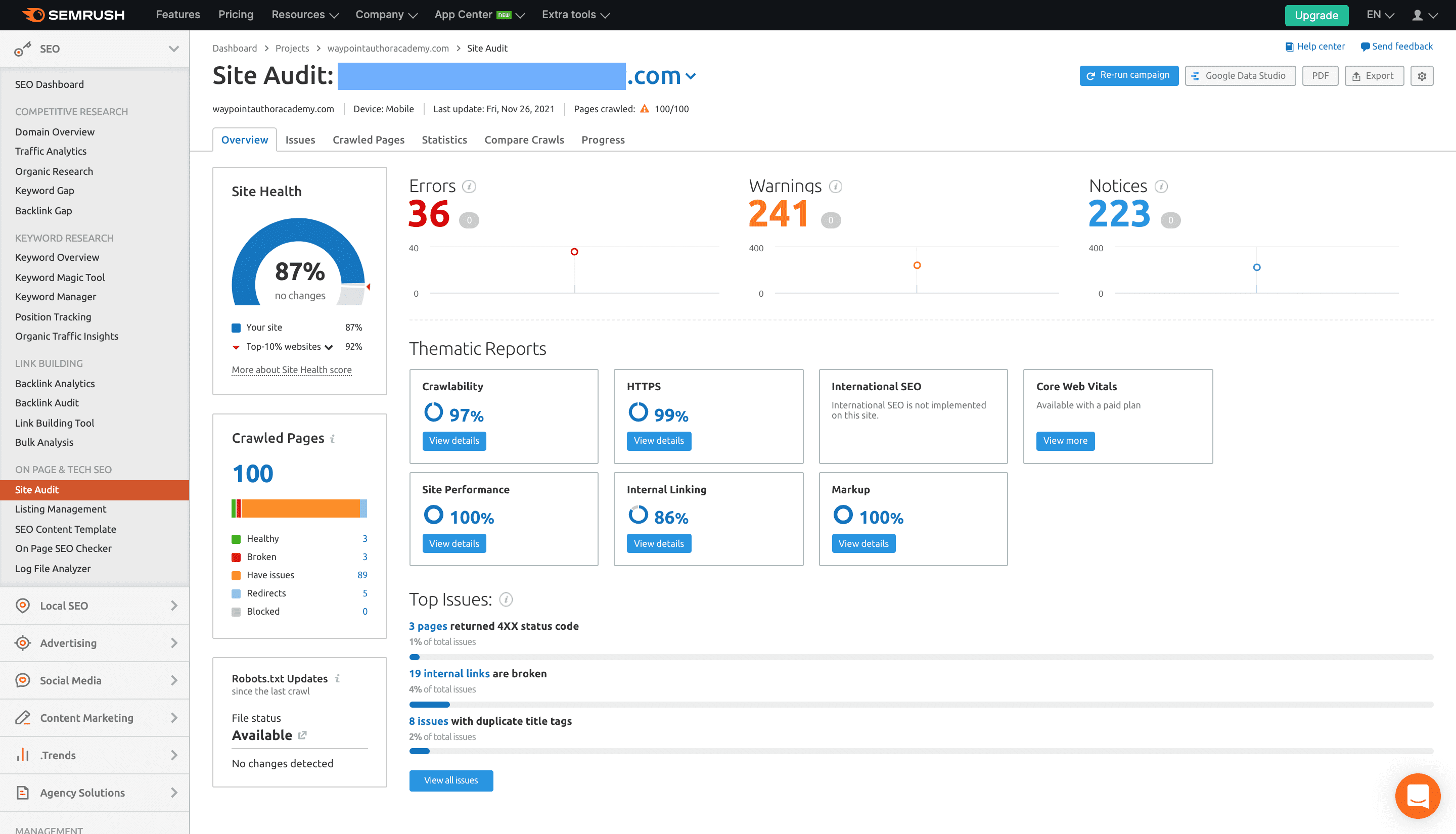 You'll be able to access in-depth statistics and see a list of your pages' SEO performance, plus issues you need to fix. A strong SEO tool will give you an idea of how your site is optimized. It will also help you get through all the nitty-gritty aspects of technical SEO.
Check to See Whether All Your Pages are Indexed in Search
Sometimes, and for various reasons, Google doesn't index all your website's pages. Internet users won't be able to find content from your site if it's not showing up in search. While this usually only happens on a small scale, any missed pages can result in a significant miss for your website.
Want to know whether your pages are being properly indexed? Open a new browser window and enter the following in the search bar (with your website's URL, of course):
site:yoursiteURL.com/blog
I entered:
site:elegantthemes.com/blog
At the top of the page, you'll see the approximate number of results displayed just beneath the search bar. Notice, at the time I conducted my search, that the Elegant Themes site had 5,570 indexed results.

Look for Your Published Pages in WordPress
To check whether Google is indexing all your pages, head over to your WordPress dashboard. As you can see, there are 4,711 published posts listed here. That means Google is recognizing more live pages than what we've published–which is a good thing. The problem comes in when you have more live pages on your site than Google can find.

In order to remedy this problem, you'll need to make sure Google is actually indexing your site. SEMRush has a comprehensive tutorial on how to get more of your site pages to show up on Google. You can take a look at that here. If you want to take a deeper look at why Google is missing some of your pages, Google has published some guidance to help you.
As an alternative to using the Google search query, you can use Google Search Console to see how many of your pages are currently indexed. We've created a guide to help walk you through that tool here.
Note: Having a solid sitemap can help you with proper indexing. If you need help creating one, we've pulled together a list of WordPress sitemap plugins that make the job easy.
Research What Keywords You're Ranking For
If you're in any way familiar with SEO concepts, then you understand that keywords are at the heart of any viable SEO strategy. Targeting the appropriate keywords and creating top-notch content are two of the most important steps to ranking higher in the SERPs. Although you may have conducted keyword research when you built (or last updated) your site, you need to revisit those keywords from time to time.
Google Analytics is a great way to check into how your keywords are performing. From your dashboard, simply click Acquisition in the left-hand navigation menu, then All Traffic, followed by Channels, and finally, Organic Search.

Once you click on Organic Search, you'll see a keyword list, which indicates which search terms are leading site visitors to you. You can view traffic down to the day, week, month, or year, or dial in a custom date range. The ability to shift between date ranges will help you get a big-picture view of how your keywords might have shifted from the time you launched your site until now.
Put Your High-Ranking Keywords to Work
Make a list of the top-performing keywords from your Google Analytics console. Now, it's time to put them to work. Take your list of keywords and:
Check them against your initial keyword list, if you have it on hand. Did you overuse some keywords that didn't perform well, and could you swap some of them out with higher performers?
Fill in SEO gaps in existing content by adding keywords and tags as appropriate. Don't overburden yourself with this part of the process. If you've seen that a few keywords have been performing exceptionally well, then look at how you might be able to leverage them a bit more.
Refresh and revamp old content, or develop new content that utilizes the popular new keyword(s).
If you don't have a Google Analytics account set up already, you can install a WordPress plugin to help you access them easily. Google Analytics plugins for WordPress are a fantastic way to view your analytics easily from your website dashboard. We cover some great plugins for Google Analytics in this blog post, so take a look and see what works for you.
Check Your Canonical URL and Set Up Appropriate Redirects
When users search for your website, you want search engines to know what they should display based on the version of your site. That's called a canonical URL. Let's look at an example of what that means.
A canonical URL tells Google which URL is the correct one for our site. For example, the canonical URL for our website is https://www.elegantthemes.com. If a canonical URL is not set, then search engines may end up confused. As a result, your website could be penalized in its search rankings.
An easy way to check your canonical URL is to head over to your homepage, right-click, and view source. Your canonical URL will appear in the head section of your HTML. Here's what ours looks like in the source code:
<link rel="canonical" href="https://www.elegantthemes.com/"
The first thing you need to do as part of your SEO audit is to make sure your canonical URL is set (you can find more information about that here). You can then set different versions of your URL, such as https://www.elegantthemes.com or elegantthemes.com, to redirect to the canonical URL. Don't neglect this step, as it can have a significant impact on SERPs.
Check Your Backlinks
Backlinks and organic reach are incredibly important to your SEO ranking. It takes time, consistency, and high-quality content to build up strong backlinks. That's because, in order to get reputable websites to link to your content, you have to build up trust and interest with them. So if you're serious about an SEO audit, you'll need to get curious about your backlinks.
Note: analyzing backlinks is only helpful if your site has existed for a little while. If it's a new site, you're not likely to have many.
You can leverage Google Analytics to check your backlinks. To do this, head over to your dashboard and select Acquisition from the left-hand navigation menu. Click All Traffic, then Referrals to see your backlinks. Google lists each site, and you can see the sources of backlinks, in addition to their performance.
As an alternative to Google Analytics, you can use tools such as Ahrefs, Moz, SEMRush, or Majestic SEO to check backlinks. We've written more about those tools here, so you can see what each offers. Regardless of your backlink analysis results, you'll want to make sure link building is part of your SEO strategy going forward.
If you find unfavorable backlinks over the course of your SEO audit, don't fret. There are ways you can disavow those links. We show you how to do that here.
Your WordPress taxonomies–namely, Tags and Categories–play a hand in how your site shows up in search results. Your blog posts, for example, should be properly seated within their appropriate categories. Each should also contain applicable, SEO-optimized tags. Once you've completed your keyword research for your SEO strategy revamp, revisit your Categories and Tags to not only make sure they're organized properly, but also to ensure they're optimized for the keywords you're targeting.
We've written an in-depth guide on best practices for blogging and SEO when it comes to WordPress Categories and Tags. You can take a deeper dive into that here.
Take a Look at Your Meta Descriptions
Your meta descriptions are the text snippets that appear underneath links in Google search results. When you plug your focus key phrase into the meta description and keep the length of your average descriptions in the range of 120-150 characters. Well-written meta descriptions can get you more clicks, and search engines favor descriptions that are optimized with your main SEO keyword for the page.

For example, here is what this article's meta description looks like. Notice the green bar beneath the text box. That's how Yoast lets me know when the length of the description is within the ideal range for optimizations.
If you're a WordPress user, then the Yoast SEO plugin pictured above is an excellent choice to make sure you can easily edit those meta descriptions. Yoast allows you to write and tweak meta descriptions within the WordPress editor itself, which makes them easy to access and adjust.
It could be an expensive mistake to neglect your meta descriptions. If you've built a large blog with a variety of resources but have never optimized the meta descriptions, you'll need to consider taking some time to make sure your chosen keywords appear in them. Otherwise, search engines will extract description text from the beginning of your posts.
Page by page, go through your site and examine your meta descriptions for each. Take your time optimizing them within the appropriate character limits, and always including the main keyword you chose for the page's SEO. Keep the descriptions short and sweet, distilling the copy down to the main idea of the article or page (i.e., what site visitors will get from it).
Add Schema Markup for Rich Snippets
Schema markup takes your optimized meta descriptions and turns them into something called rich snippets. This makes them more appealing to the eye when they appear in search results. For example, you can use schema markup to format event details right on the search engine page. Alternatively, you can set it to pull certain information from your content to the front of the description so users can get a better idea of what you offer.
WordPress plugins such as Rank Math, Yoast, and All in One SEO, include schema tools that make this process easier. You can even find schema plugins that focus specifically on adding rich snippets to your content. WordPress Custom Fields can also be used to do this manually. Additionally, we've written a tutorial on how to add schema markup to your blog posts here.
More Ways to Optimize Your Website After Your SEO Audit
Once you've completed your SEO audit and you know what issues your website has, it's time to start implementing changes. In addition to tweaking your SEO strategy based on your findings, here are some other important ways to make your website more searchable:
Adopt a mobile-first website strategy, since 54.8% of internet users now access the web via a mobile device. Platforms such as Divi make it easy to build a WordPress site with mobile use in mind. Google's mobile-first approach to search indexing means that they tend to favor a website's mobile display. Conversely, Google search penalizes websites that aren't responsive to multiple devices that are smaller than a desktop screen.
Regularly check your site's performance via Google Analytics, including organic reach and site loading speed, to ensure that everything is performing well.
Ensure your headers (such as H1, H2, and H3) are properly formatted. While headers may not seem like a big deal, they can actually have an influence on your SEO. A tool like Yoast can help you properly place them within your content.
Consider how voice search factors in. Adding keywords for both text-based and voice-based searches to your strategy, which may involve including more long-tail keywords. Users who leverage voice search tend to say their search terms in different ways than they might type them, so having a healthy mix of keywords and phrases is important.
Conclusion
Conducting an SEO audit is an in-depth, but necessary, step if you want your WordPress website to rank in the SERPs. Ranking doesn't happen overnight. It can take time, and according to Ahrefs, roughly 60% of the search rankings on Google page one are actually three years old or more. You have to set yourself up for SEO success as early as possible in order to stay ahead of the curve.
We recommend setting up robust tools and WordPress plugins to help you cover your bases. These tools can help position your site for success going forward, because you'll need to conduct a regular SEO audit to make sure your site is still performing at its best. Make the process as easy as possible for yourself now, so it will be easier to audit again soon.
Article thumbnail image by olesia_g / shutterstock.com