Of all the SEO tips and advice out there, the one that remains consistent through every Google algorithm change is this: you need backlinks to rank in search results. Having other folks link to your site gives Google proof that your site is trustworthy and that you're putting out content that other people find useful. It can be hard to get backlinks sometimes, and because of that, you need to know where you stand with them. If you're going to put together a link-building campaign, you need to know if it is working. And that's where a backlink checker comes in. With the tools we discuss below, you will be able to gain the domain authority you need to succeed.
Subscribe To Our Youtube Channel
1. Ahrefs

Ahrefs is a top-tier backlink checker if there ever was one. Premium from the get-go (you pay $7 for a 7-day trial, and then you move into your paid subscription), Ahrefs gives you what you pay for. From their site, you can "see the exact keywords for which your competitors rank in organic search, and the amount of traffic driven by each of them." That gives you data for SEO, but the real power of Ahrefs comes in it's Site Explorer tools.
You get both a live index for your backlinks, plus recent and historical indeces. You can see lost backlinks as well as how they intersect with each other, so that you can reach out to other sites that might be able to provide a link or two, as well. Additionally, you can get daily, weekly, or monthly notifications on gained and lost backlinks so that you can manage your position in SERPS effectively and efficiently. While Ahrefs doesn't have a free option like some backlink checkers, you certainly get what you pay for with this service.
Additionally, we want to point out the Ahrefs guide on 301 redirects and how they affect your backlink strategy and ranking. It's incredibly in-depth and gives a lot of insight as to how links to redirected URLs affects your position in SERPs.
Price: $7 trial, $99-999 per month afterward (less if paid annually) | More information
2. SEMRush

SEMRush is, as they're website puts it, an all-in-one marketing toolkit. And part of that is their backlink checker for domain analysis. When you dig in with their tool, you can find out how many domains are linking to your site, which links are dofollow or nofollow, historical links and which ones have been lost, and the anchor text that is attached to each link. You get a breakdown of country-of-origin for each backlink, TLD distribution, and a backlink competitor list (where you can find sites with similar backlink profiles to research how you differ and can get new backlinks). SEMRush does offer a limited free account option, which is great for those on a budget or who are just starting out with backlink building campaigns. The pricing starts at $99 per month and goes to $399 if you want to unlock everything the platform has to offer.
Price: FREE with premium upgrades from $99 | More information
3. Moz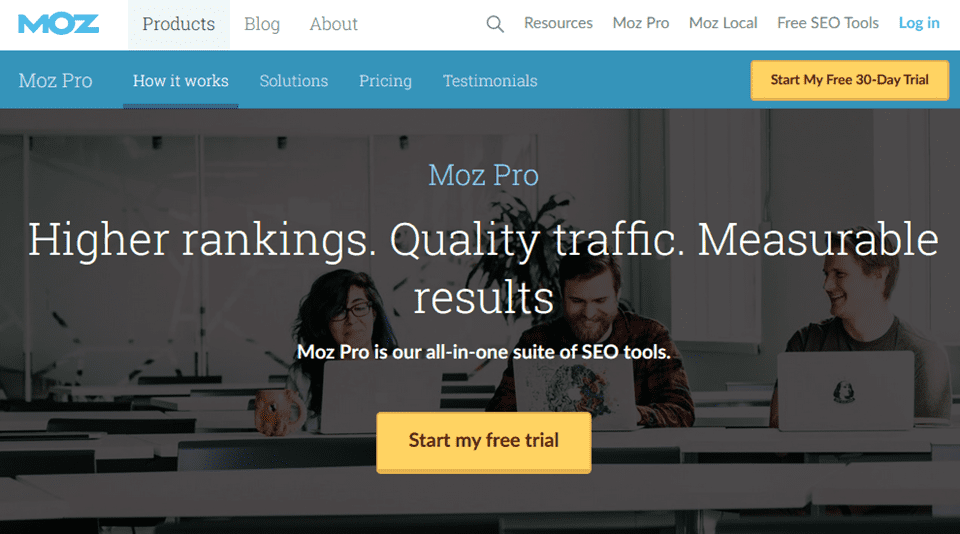 Moz (well, technically Moz Pro for their backlink checker and other tools) is probably the most user-friendly of all the entries on our list. That does not mean, however, that the service is limited in any way whatsoever. You get detailed reports on your linking domains, inbound links, anchor text, ranking keywords for the site, and domain authority.
(Side note: any time you see a domain authority metric, understand that each platform calculates it differently. A 30 on Moz may be a 36 on Ahrefs or a 20 on SEMRush. Comparing them is apples to oranges.).
Moz Pro gives you links to the top followed links to the site. Plus, they show the top pages that others link to. One interesting feature is that not only does Moz Pro give you the list of anchor text, it ranks them and lets you sort them so you can perhaps adjust the destination site to host more relevant content.
You can sign up for a free 30-day trial to test the full service out, then that account is transitioned into a limited free user. The premium plans start at $99 per month, and they go all the way to $599 if you want the top tier.
Price: FREE with premium plans from $99 to $599 | More information
4. Majestic SEO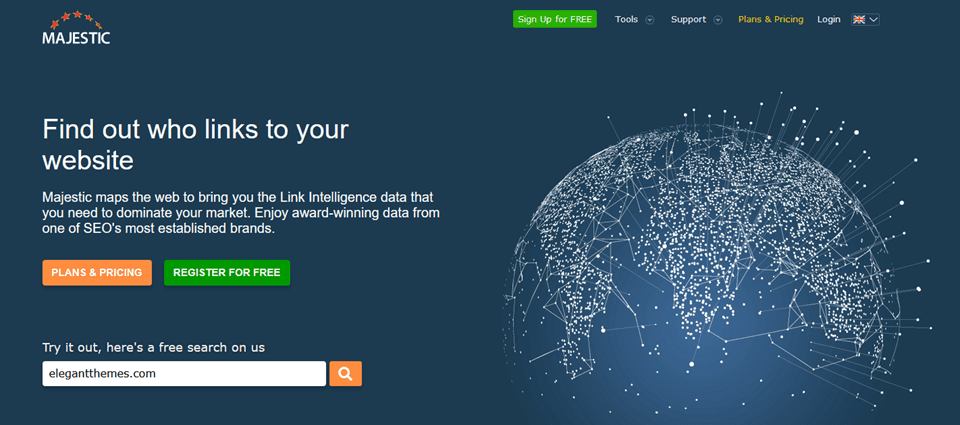 Majestic SEO has made a name for themselves through reliability and accuracy. They can give you both a current look at your backlinks, plus historical data on where has linked to you and where might be a good place to look to get more. You can build your own reports and apps using their API, and one of their newest features is the link context report. Rather than simply giving you anchor text and a URL where it was used, the link context report will give you the actual content of the website that is linking to you.
You will see images and frames and embeds around it, as well as — most importantly — other links, competitor websites, "topically relevant influencers, or journalists." Because knowing that information can give you a lot more insight into who is giving you the backlink than simply knowing the text. Someone using your site's title as anchor text is great. But if you're included in a Best Of list where you can find potential partners or such, the value of the backlink checker skyrockets.
Price: FREE demo with pricing from $49 to $399 for full API access | More information
Conclusion
Using a backlink checker isn't optional in the current SEO landscape. Knowing as much about the people linking to your site is imperative, and the tools listed here will give you a good look at the profile your site has built online. Your position in rankings will rise, your reputation will increase, and your content can only grow in quality by knowing who is looking at you and recommending you to their readers. The backlink checker tools may range from free to incredibly premium, but the end result is worth its weight in SERP.
What backlink checker do you use for your websites?
Article featured image by astel design / shutterstock.com