Are you looking to speed up your WordPress site? The best WordPress speed and optimization plugins can help you optimize your site for faster performance. These plugins work by caching your website's pages, optimizing your code, minimizing HTTP requests, and much more.
In this blog post, we've put together a list of the best WordPress speed and optimization plugins. These can significantly enhance your website's speed, performance, and SEO.
What do WordPress Speed Optimization Plugins do?
WordPress speed and optimization plugins perform several essential tasks to optimize website performance. Here are some of the basic tasks that these plugins can handle (not exhaustive):
Caching: WordPress speed and optimization plugins help improve website speed by caching pages and other content. Caching saves a version of your website's pages so it doesn't have to load from the server.
Minification: This process reduces the size of CSS, JavaScript, and HTML files by removing unnecessary characters without affecting functionality.
CDN: A Content Deliver Network (CDN) reduces the server load by saving cached versions of your website on a reliable global network of servers
Image optimization: Optimization plugins can help reduce the size of images without reducing their quality, resulting in faster loading times.
GZIP compression: These plugins can make it easy to enable GZIP compression on your site. This compresses website files, making them faster to load.
Browser caching: Browser caching improves website speed by storing frequently used files in visitors' browsers (instead of doing it manually), allowing for faster load times.
These tasks can be handled by all-in-one solutions that cover every base. There are also plenty of reliable plugins that handle one or two of these items.
Why is Speed Optimization Important for WordPress?
To state the obvious, speed optimization is important because it makes your website faster. Since WordPress is a dynamic CMS, it takes time to fetch and process data (using PHP) and render your website content to your user's browser.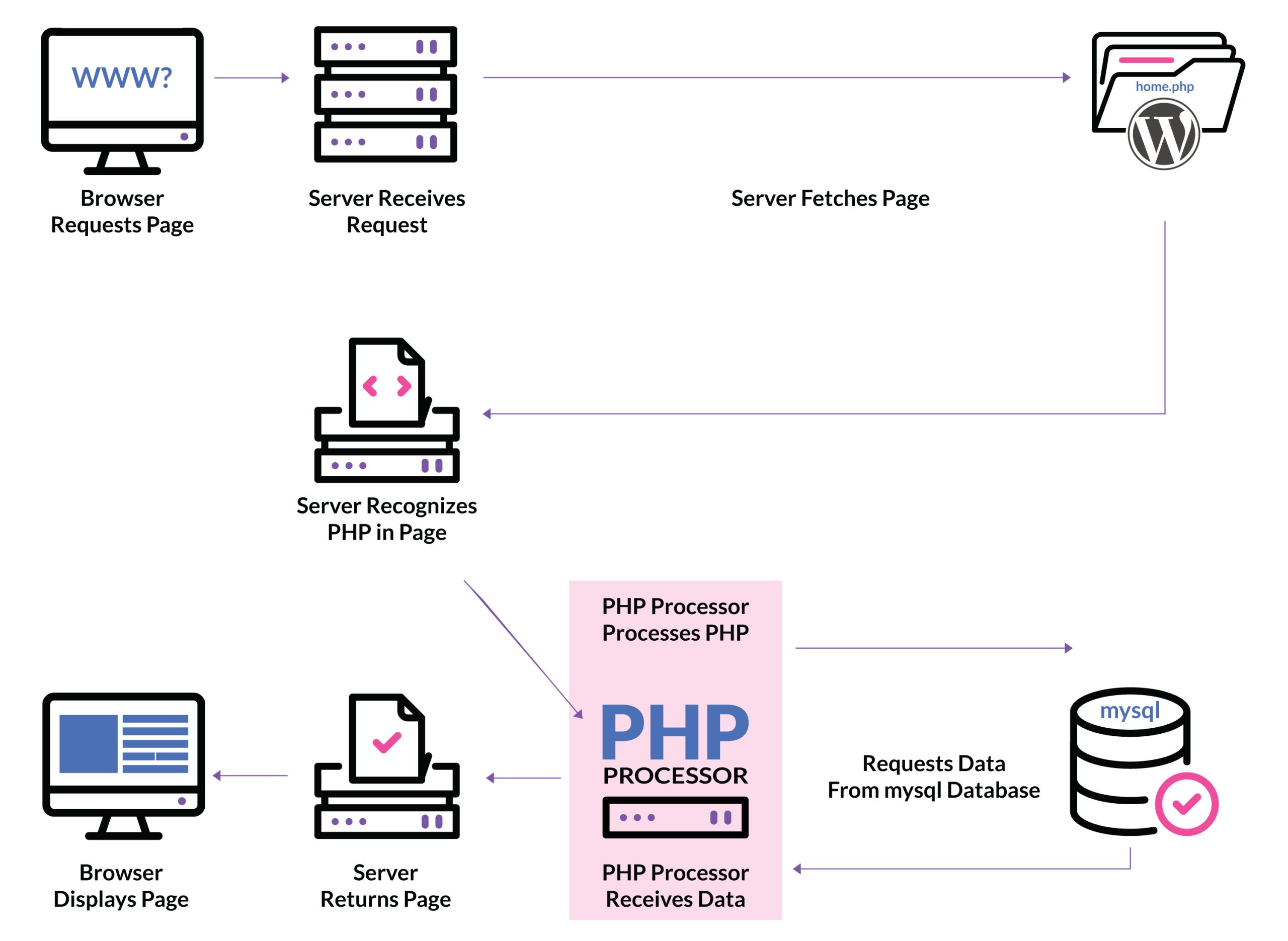 To help speed up the process, there are some optimizations that need to be implemented. And a faster website comes with some great advantages. It improves user experience and engagement, reducing bounce rates. And Google considers page speed as a significant SEO factor for ranking higher in SERPs.
Even the best WordPress hosting providers running the latest version of PHP may be enough to speed up your site. But, with the right plugin for SEO and speed optimization, your site will have a head start on the competition.
The Best WordPress Speed and Optimization Plugins
We've put together a list of the best WordPress speed and optimization plugins that can significantly enhance your website's speed, performance, and user experience. Here they are:
The Best WordPress Speed Optimization Plugins Listed In Order
Expand List
1. WP Rocket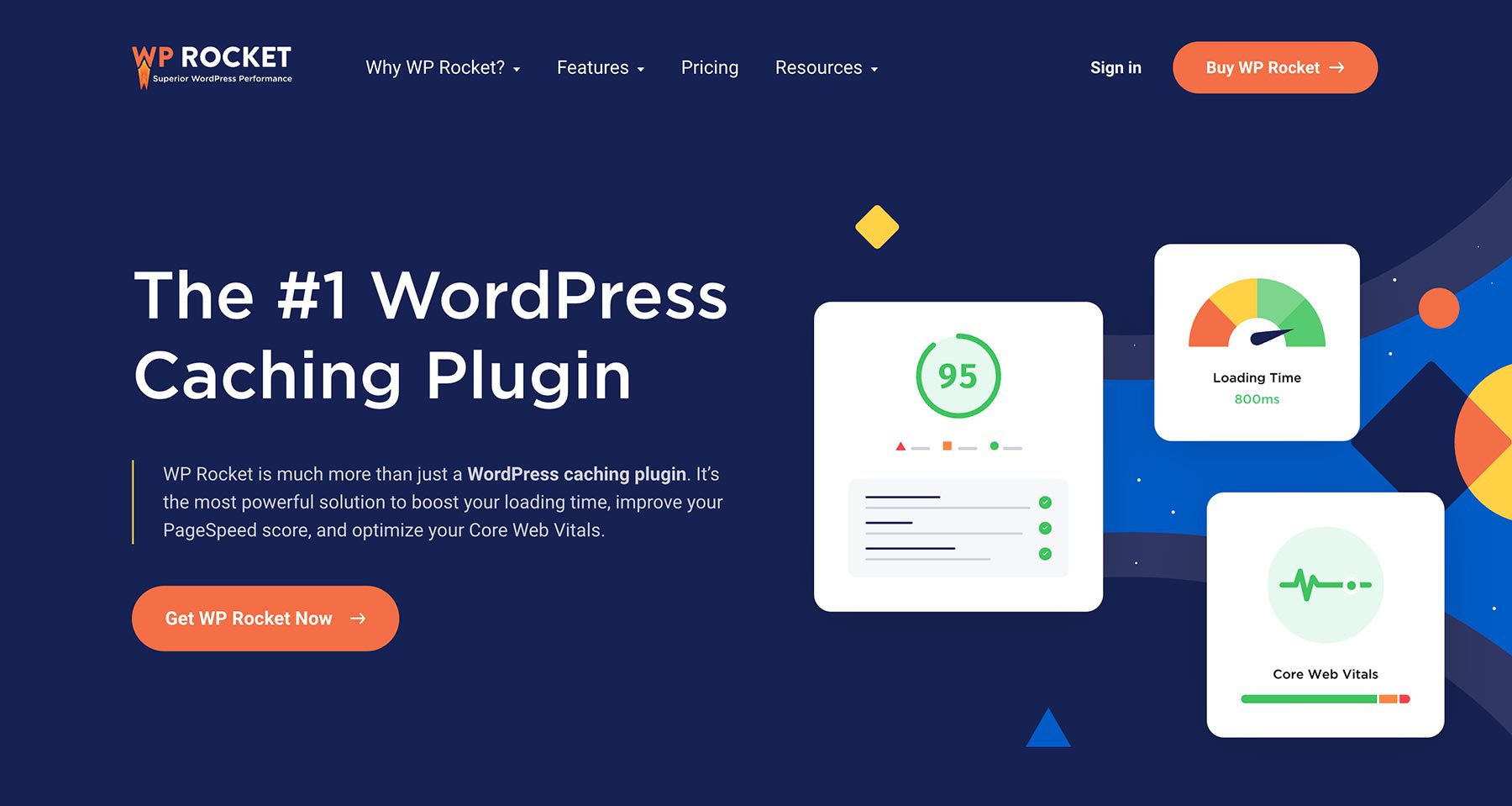 WP Rocket has galvanized its reputation as the leading WordPress caching plugin on the market. It is an all-in-one WordPress performance plugin that provides users with all the caching functionality you'd expect, as well as a host of features you probably haven't. WP Rocket is easy to set up and begins working right out of the box, optimizing your website's performance with minimal configuration. WP Rocket is a premium caching plugin that offers a wide range of features, including performance optimization for e-commerce sites.
Key Features for WP Rocket:
Cache preloading automatically regenerates the cache whenever you make changes to your site
The lazy loading feature delays the loading of images, videos, and other content until they are needed
Minifies your website's HTML, CSS, and JavaScript files to reduce their size and improve website performance
Optimizes your website's database by removing unnecessary data, such as post revisions, spam comments, and trashed items
Integrates with many Content Delivery Networks (CDNs) like Cloudflare, MaxCDN, KeyCDN, Amazon CloudFront, and its own CDN service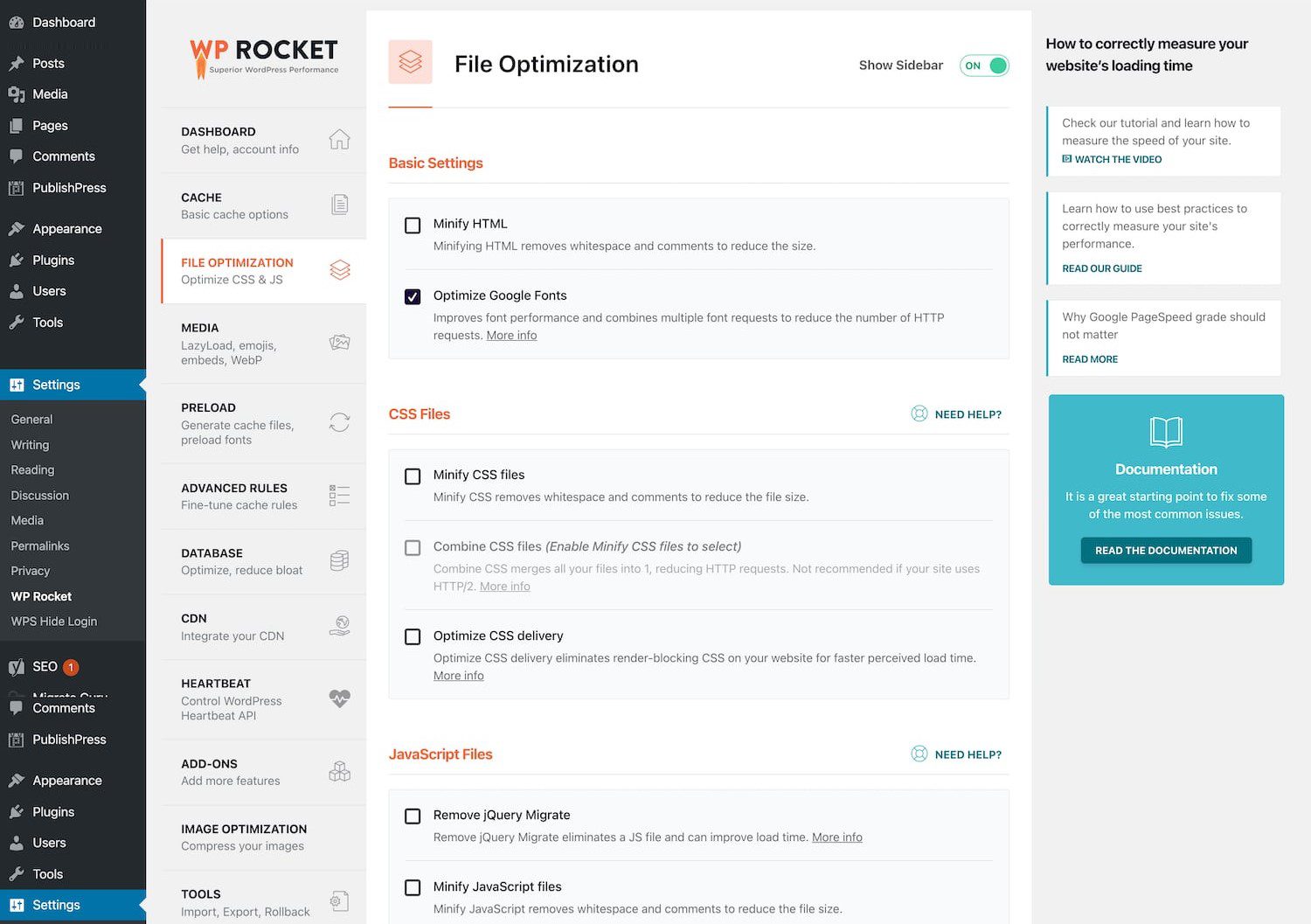 WP Rocket's File Optimization feature optimizes CSS, JS, and HTML files, reducing their size and minimizing render blocking. The plugin's minification automatically removes unnecessary characters from code and combines file types for efficiency. The plugin's render-blocking ability ensures that your website loads faster by prioritizing important files over less important ones. And all it takes is a few checkmarks in the backend and testing to see how it is working.
Best For: Those looking to get the best caching and all-in-one performance plugin to speed up their website with little setup. It's easy to use and works well with pretty much any WordPress theme.
Pricing: Paid plans start at $59 per year
2. NitroPack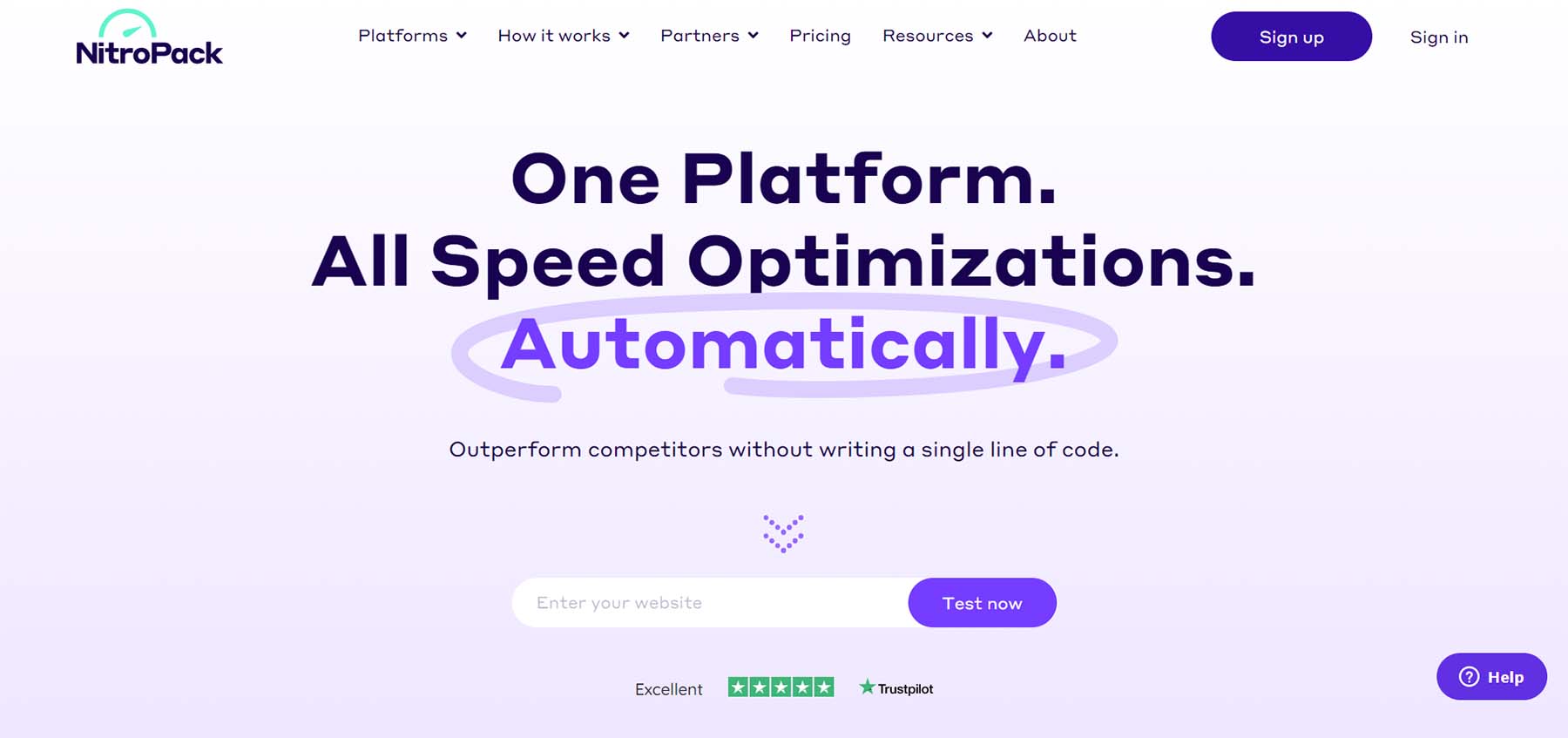 NitroPack is an all-in-one speed optimization solution that simplifies the process of optimizing your WordPress website. Unlike other plugins, NitroPack optimizes everything for you, making it an excellent solution for users who are not familiar with the technical aspects of website optimization.
To get started, you need to add your website and install the connector plugin, and NitroPack will begin optimizing your website automatically.
Key Features of NitroPack:
Advanced cache mechanisms, including browser and session-aware caching, device and cookie-aware caching, and more
Generates Critical CSS for each page, which is the minimal CSS required to render the above-the-fold content
Uses server-level caching to cache pages and other content
Includes a lazy loading feature for images that loads images as visitors scroll down the page
Optimizes and compresses HTML, CSS, and JavaScript code to reduce page load times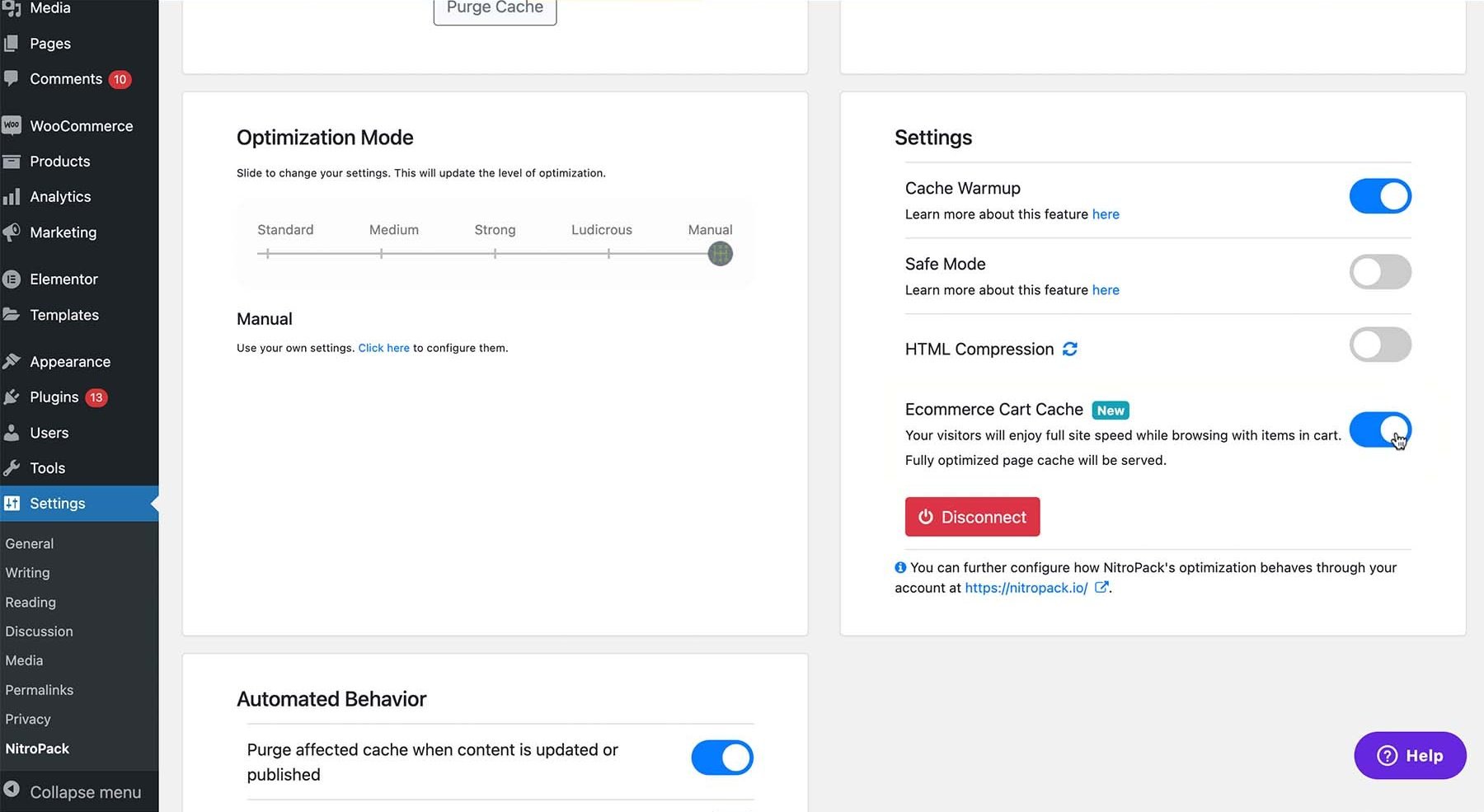 With NitroPack's Cache Cart feature, WooCommerce websites can improve their loading speed and create a more pleasant experience for shoppers.
Best For: Nitro Pack is best for those looking for a powerful all-in-one speed optimization plugin that includes a CDN and advanced options for WooCommerce sites.
Pricing: Free, $210 a year
3. WP-Optimize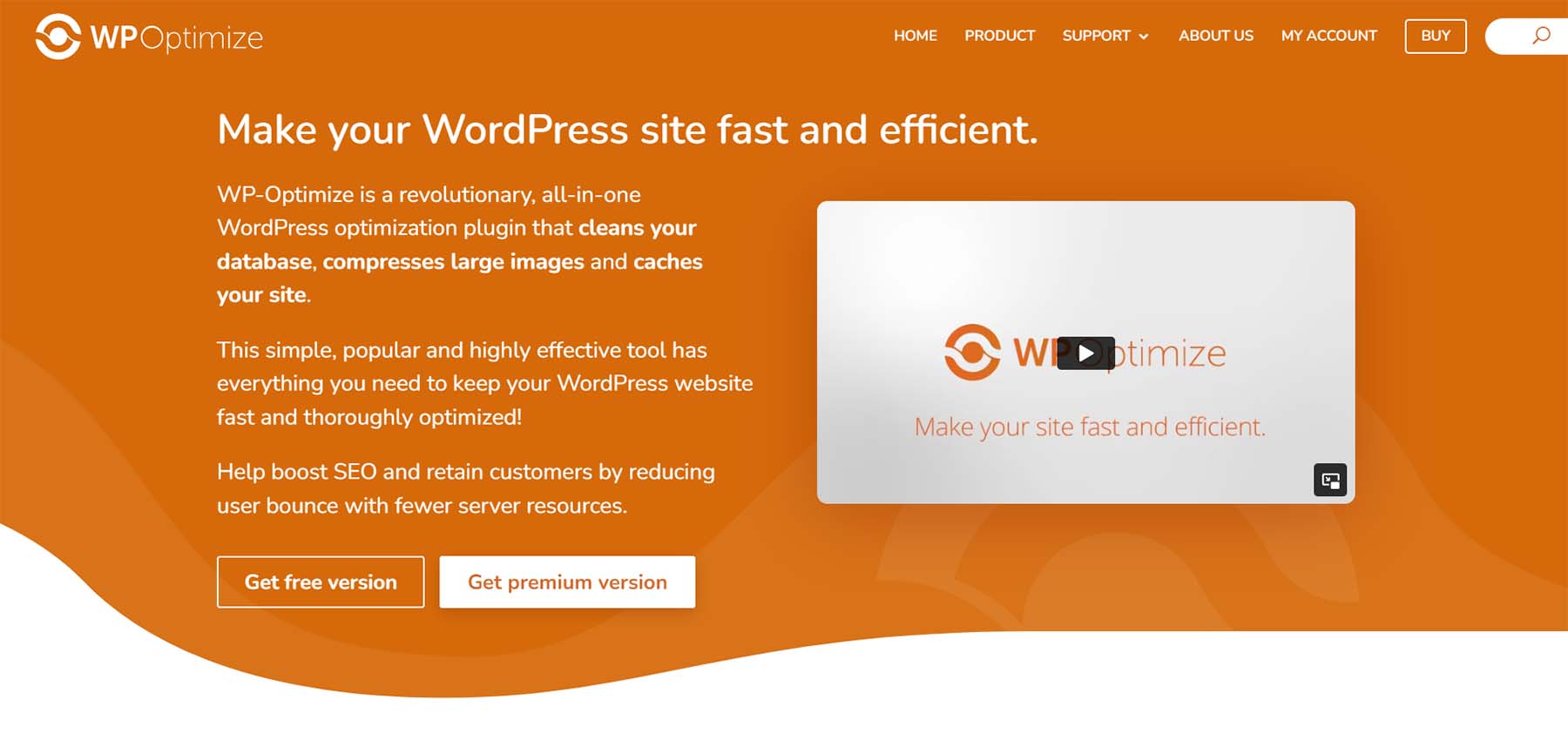 WP-Optimize is another popular WordPress all-in-one plugin that helps website owners optimize and improve website performance. It has over a million active users with a 5-star rating. And it can easily handle caching, minification, image compression, and more. What sets it apart from others is that it has a built-in database cleanup feature that can easily replace other database optimization plugins. It also works seamlessly with UpdraftPlus for easy backups of your site and database.
Key Features for WP-Optimize:
Database cleanup and optimization to improve site performance
Image compression to reduce file sizes and improve site speed
Lazy loading of images to further improve page load times
Removal of unnecessary post revisions, drafts, and spam comments to reduce database clutter
Integration with Cloudflare and other CDNs for improved performance
Dashboard notifications for critical issues, such as low disk space or database errors
Integration UpdraftPlus for easy backups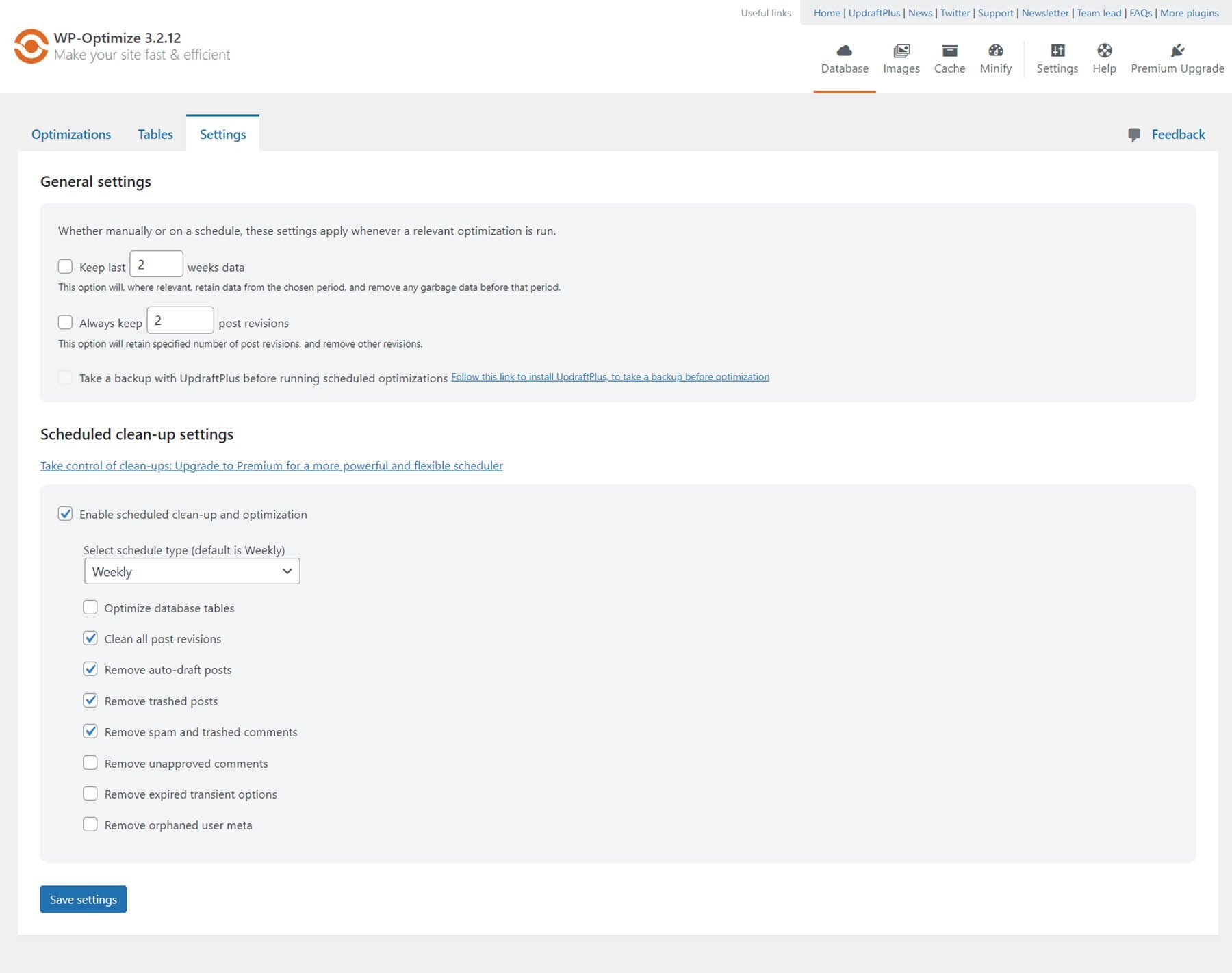 The WP-Optimize plugin offers the option to schedule automatic cleanups, which allows you to automate the process of cleaning up and optimizing your WordPress database.
Best For: WP-Optimize is best for those who want an all-in-one optimization plugin that is affordable, popular, and includes the added bonus of database optimization. It starts at a cheaper yearly price point than other solutions and includes image optimization as well.
Pricing: Free, Paid plans start at $49 per year
4. Perfmatters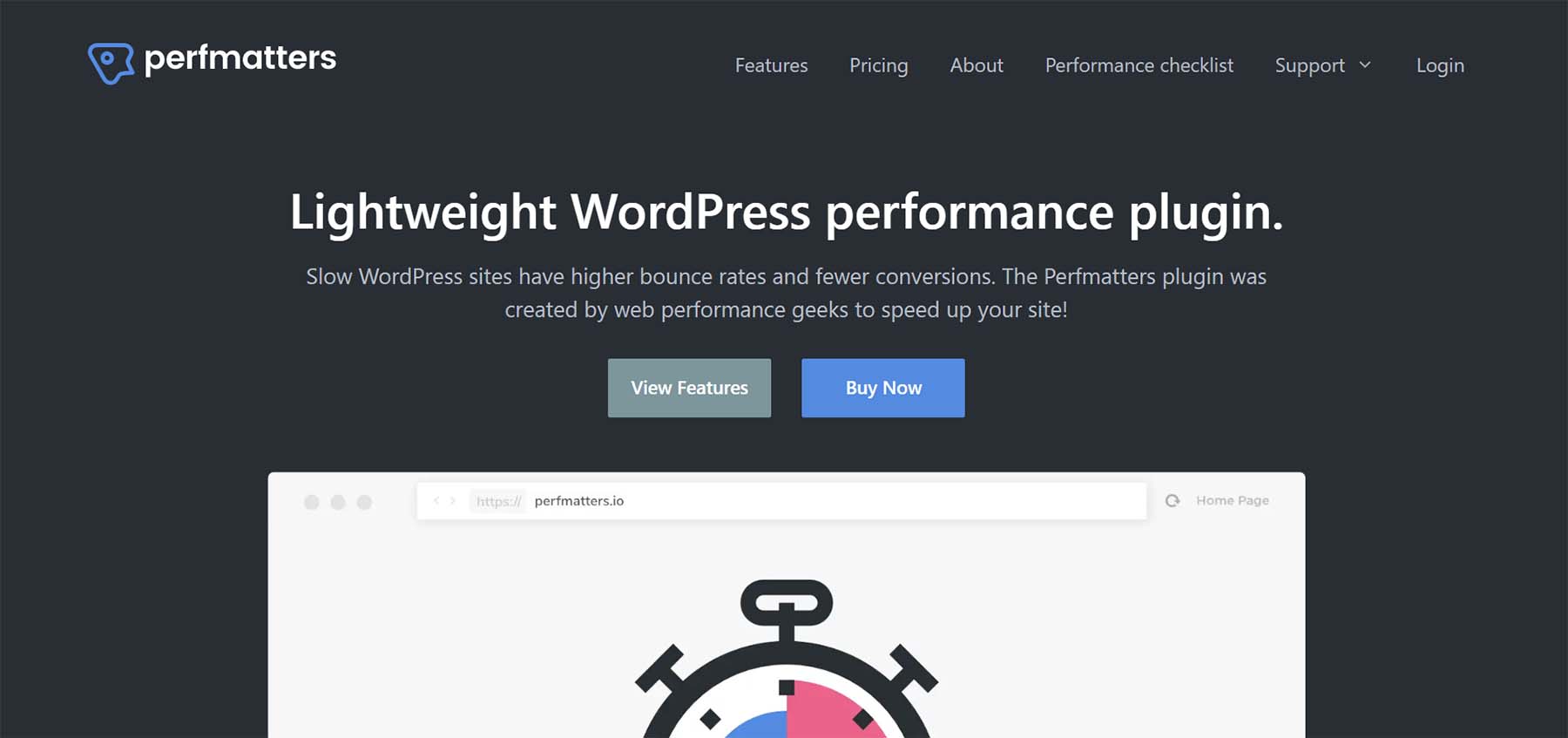 Perfmatters is an essential performance plugin that's perfect for WordPress users who are looking for a lightweight solution to improve their website's speed. This plugin works best as a tool you use with an all-in-one tool, such as WP Rocket or NitroPack. Perfmatters handles dozens of smaller tasks for WordPress websites that some of the all-in-one solutions aren't optimized for. That makes it fit for those looking for the absolute best performance out of their websites and are open to using multiple tools together.
Key Features for Perfmatters:
Disables unnecessary features that slow down your websites, such as emojis, Gravatars, and query strings
Includes a script manager that allows you to disable JavaScript and CSS files on a per-page basis
Control the frequency of the WordPress Heartbeat API, which can help reduce server load and improve website speed
Schedule automatic database optimization on a daily, weekly, or monthly basis
Change your WordPress login URL to protect it from bad actors
Host Google Analytics locally to avoid additional DNS lookups
Perfmatters is for you if you…
Haven't gotten as good of performance using an all-in-one tool as you'd like
Want to use Perfmatters for smaller tasks while leaving bigger tasks to other tools
Need a low-cost solution that fully takes care of the hardest issues (and maybe use a free caching plugin)
Pricing: Free, Pro starting at $24.95 a year
5. W3 Total Cache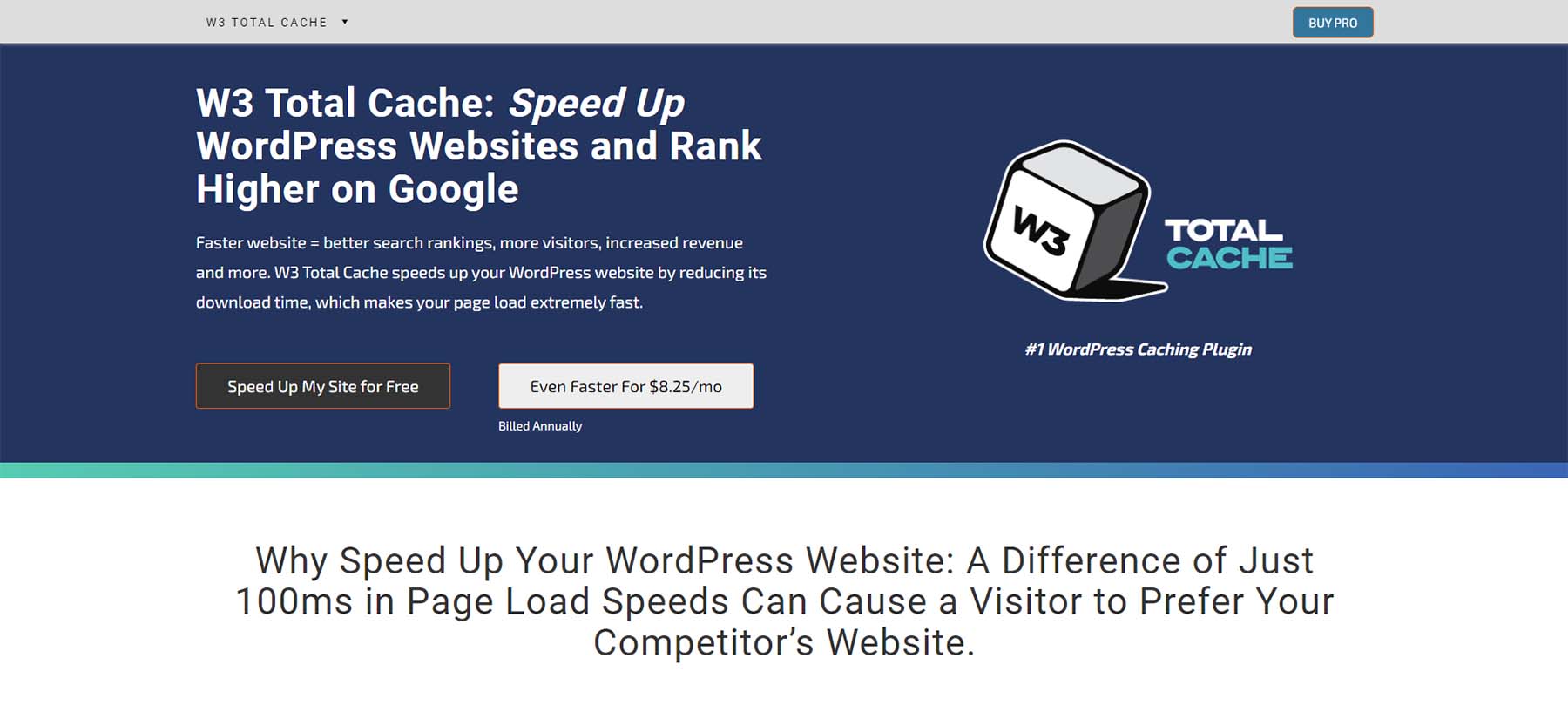 W3 Total Cache is a powerful and exceedingly popular WordPress caching plugin designed for advanced users and developers. It offers a huge range of caching methods like browser caching, object caching, database caching, etc. that provide users with complete control over their site's optimization. Though the interface is technical, with many advanced configuration options, this plugin is the most feature-rich caching plugin available for free. The premium version goes above and beyond and has been a tried and true plugin for WordPress optimization for years.
Key Features for W3 Total Cache:
Can cache specific parts of a page through fragment caching to speed up dynamic content and reduce the server load
Includes object caching, which stores frequently used data in memory to reduce the time it takes to load
Can integrate with reverse proxy servers to improve website speed and reduce the server load
Caches database queries and results to reduce the time it takes for your website to connect to the database
Enable WebP Image Conversion automatically
W3 Total Cache integrates with reverse proxy servers like Varnish to speed up websites and reduce server load. The reverse proxy server caches page content and serves it to new users, resulting in faster load times and less server processing for site visitors.
Best For: NW3 Total Cache is a great free plugin that is best for those who want to be more hands-on with the setup process. It is one of the best freemium all-in-one plugins on the market, with a steeper learning curve.
Pricing: Free, Paid plan is $99 per year
6. EWW Image Optimizer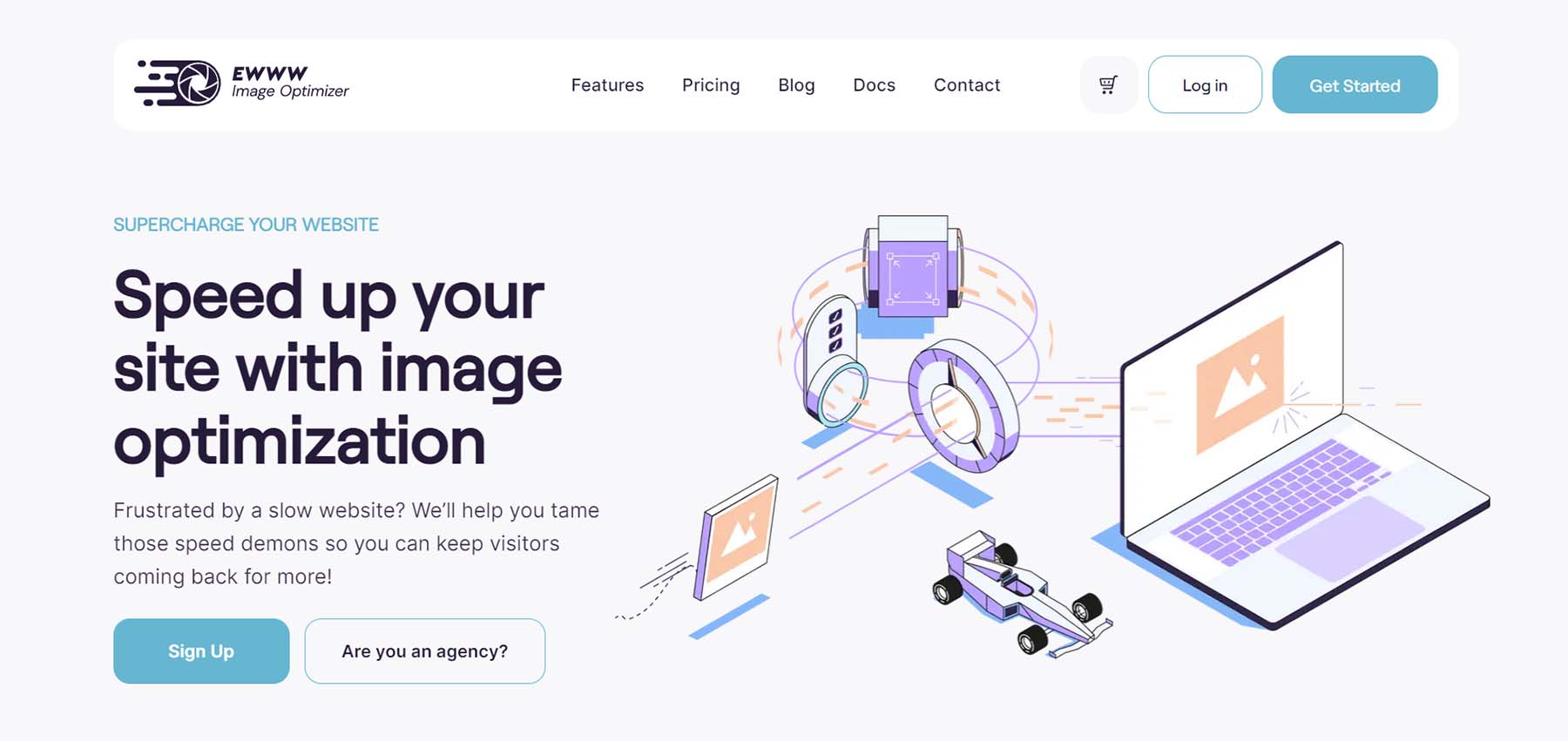 EWWW Image Optimizer is one of many image optimization plugins on the WordPress market. It just happens to be one of the better solutions out there. EWWW offers a very specific type of website optimization by focusing exclusively on images. Images can be a large part of your website's bloat and should be optimized for SEO and page speed. An automated approach using this plugin makes this sort of task effortless.
Key Features for EWWW Image Optimizer:
Lossless image compression to reduce file size without compromising image quality
Ability to optimize images in bulk or at original upload to save time
Built-in image resizing feature to resize images to specific dimensions
Option to keep original images as backups for easy restoration
User-friendly interface for easy navigation and image optimization

EWWW Image Optimizer offers bulk optimization for users wanting to optimize multiple images at once instead of having to optimize each image individually.
Best For: EWWW is a great solution for image-heavy websites that need a boost in speed. It can optimize and manage a large library of images with very little work.
Pricing: Free, Paid plans start at $70 per year
7. WP Fastest Cache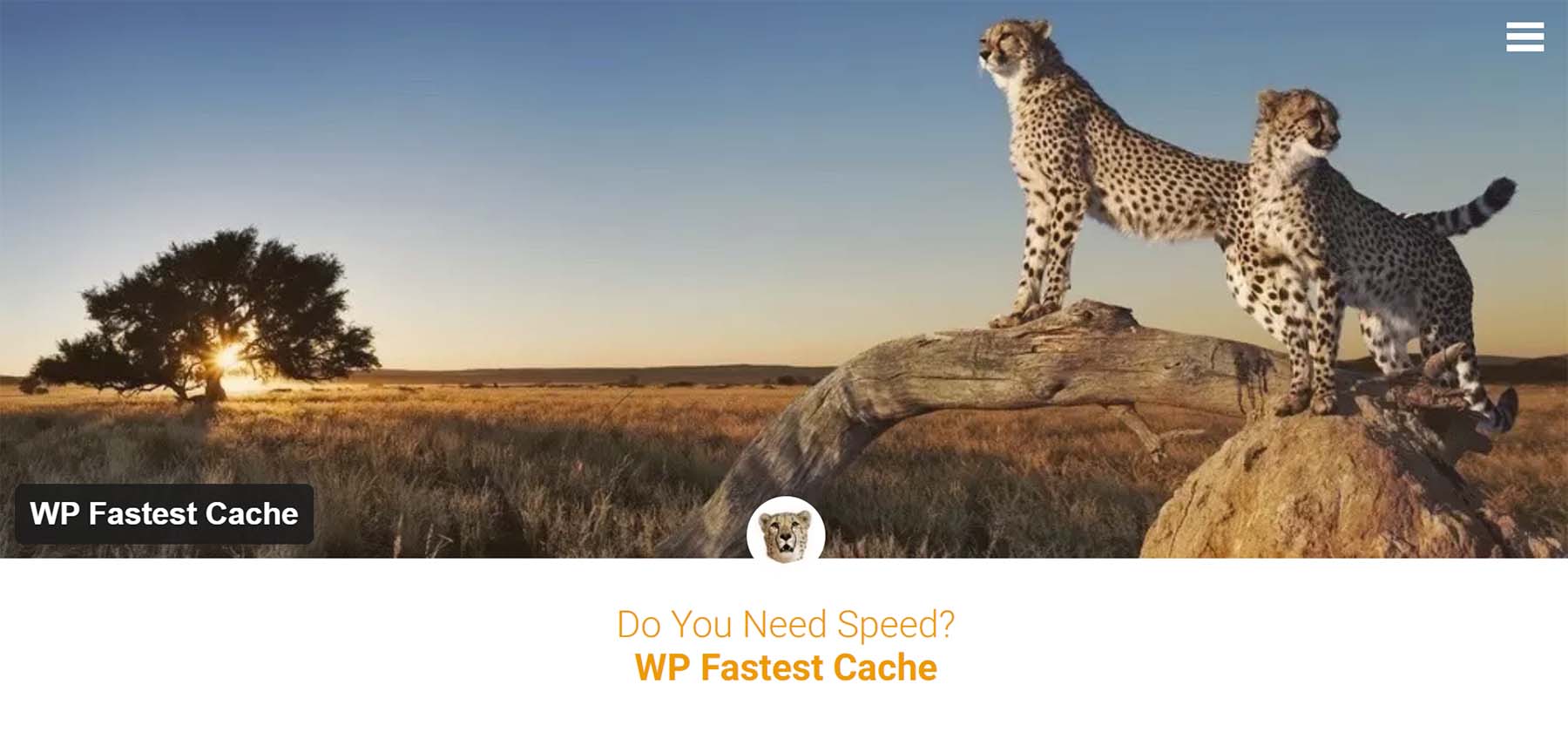 WP Fastest Cache is a free and user-friendly WordPress caching plugin that offers an ideal balance between features and ease of use. It works by reducing the load on your website and boosting overall website performance. This plugin is simple and straightforward to install and set up, making it perfect for both beginners and experienced developers who want a quick and easy caching solution. The free version is very popular
Key Features for WP Fastest Cache:
Browser caching and GZip compression
Minification and concatenation of HTML, CSS, and JavaScript files
Support for Content Delivery Networks (CDNs) such as Cloudflare, MaxCDN, and Amazon CloudFront
Automatic cache clearing on content updates
Lazy loading of images to improve page loading times
Mobile caching for faster page loading on mobile devices
Integration with Google Analytics for tracking cached pages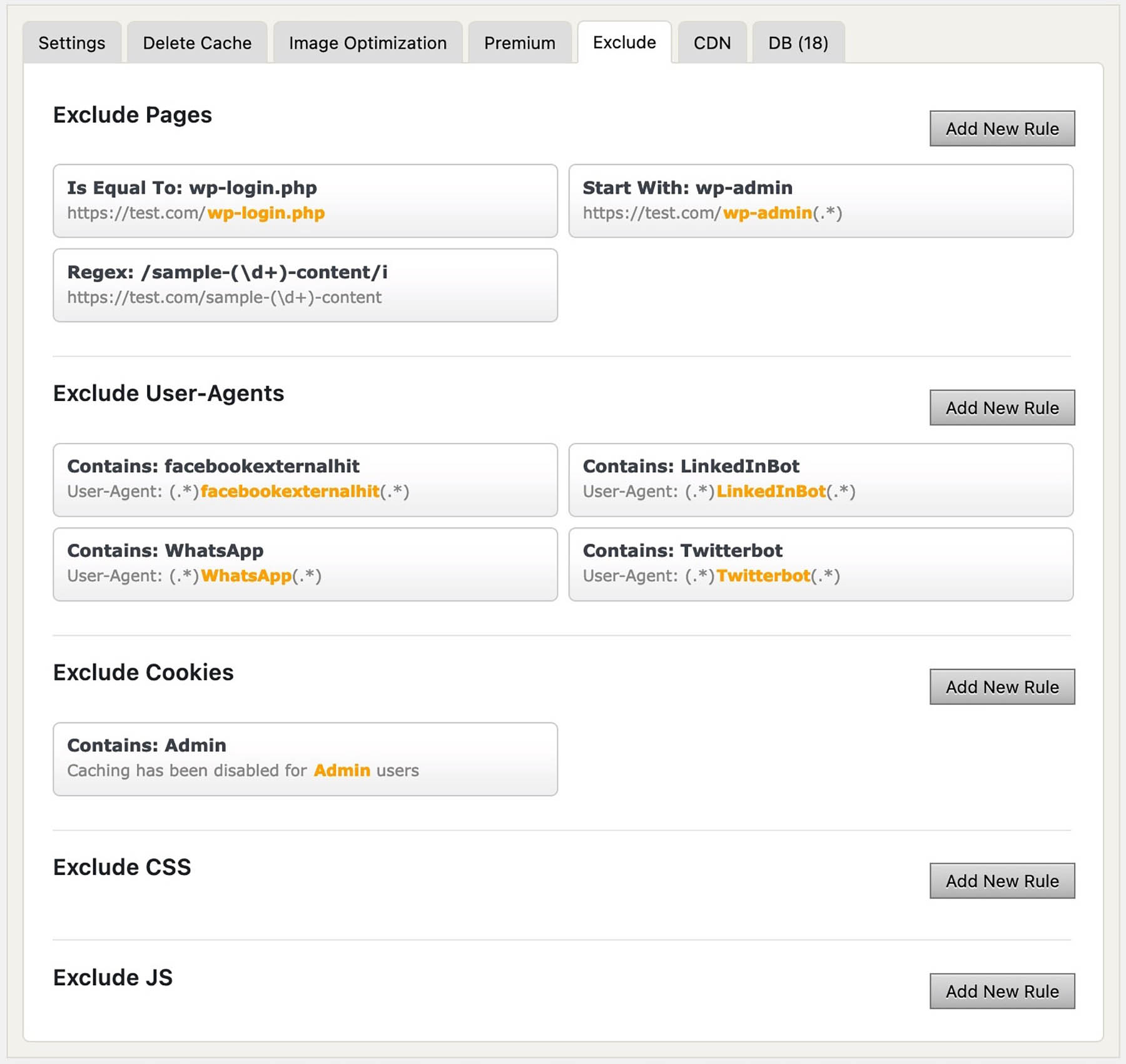 The WP Fastest Cache excludes feature allows users to specify which pages or sections of their website should not be cached. This can be useful for dynamically generated content or pages that contain personal or sensitive information.
Best For: WP Fastest Cache is a great option for those who want a free caching solution with many key features and an affordable lifetime pro version.
Pricing: Free, Paid plans start at $49 Lifetime
8. Autoptimize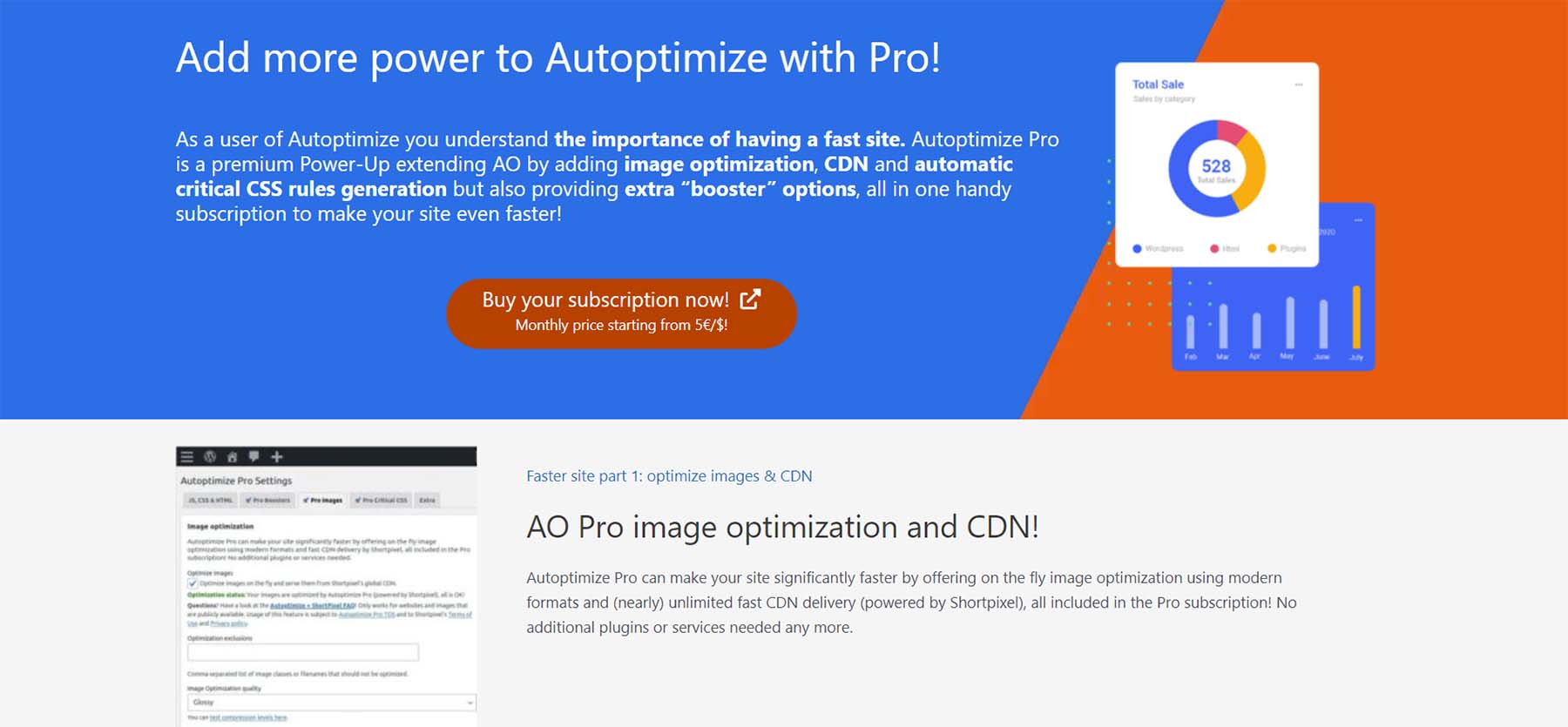 Autoptimize is a highly popular free WordPress plugin for site owners looking to speed up their sites and improve their performance. It can handle basics like image optimization, aggregation, and minification. However, it does not do page caching, so it may be necessary to pair this plugin with a caching plugin or your host's server-level caching (like Perfmatters).
Key Features for Autoptimize:
Allows for asynchronous loading of JavaScript files by loading scripts in the background without delaying page rendering
Provides options to defer the loading of non-critical JavaScript files until after the page has loaded
Provides a critical CSS feature, which extracts and inlines the CSS required for above-the-fold content
Offers compatibility with other popular caching plugins, such as WP Fastest Cache and W3 Total Cache
Removes unnecessary whitespace, comments, and code bloat from files to reduce their size
Combines and optimizes CSS and JavaScript files to reduce the number of HTTP requests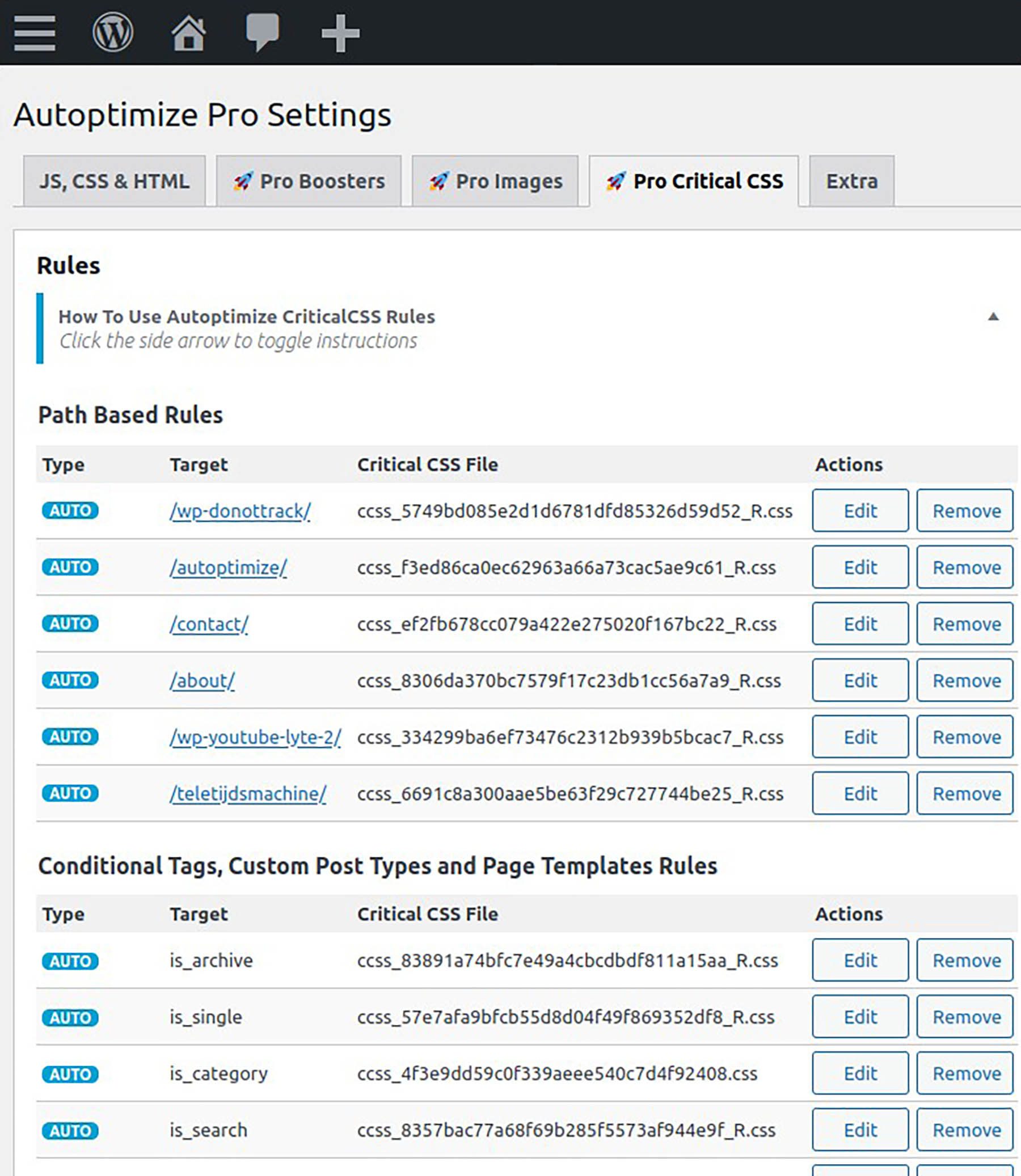 In Autoptimize, the Critical CSS feature automates the creation of rules to ensure that the CSS is no longer render-blocking (one of the most common page speed test errors). This is done by analyzing the web page and identifying the critical CSS needed for above-the-fold content.
Best For: Autoptimize is best for those who already use a caching plugin on our list but want to see even better results with things like critical CSS.
Pricing: Free, Paid plan is $79 per year
9. WP Super Cache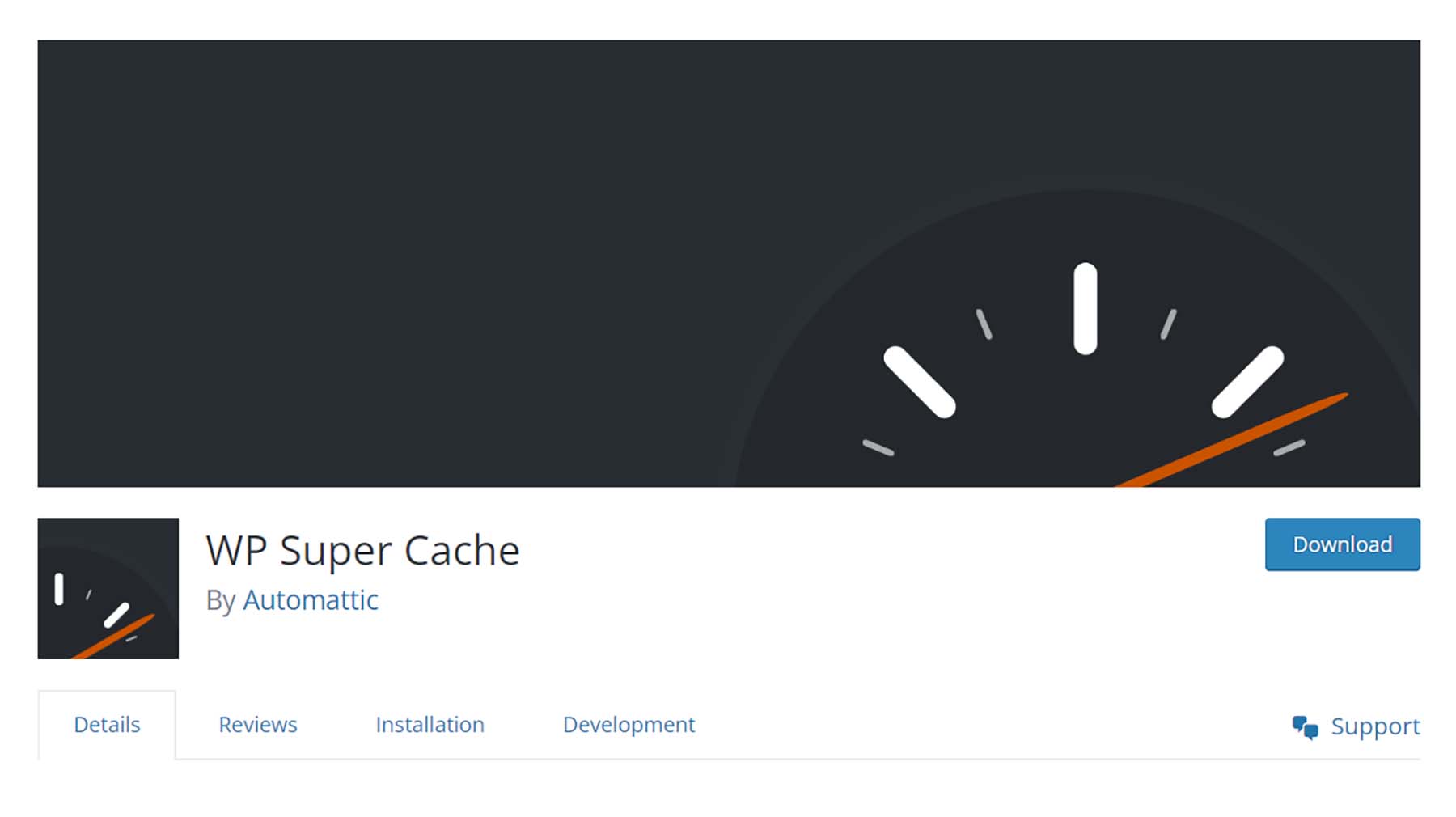 WP Super Cache is a popular and free caching plugin for WordPress developed by Automattic, the company behind WordPress.com and WooCommerce. This plugin is an excellent solution for website owners who want to improve their website's performance by reducing server load time and providing a faster browsing experience to visitors. It's built with experts and beginners in mind and has settings for each—meaning you can use the plugin as needed.
Key Features for WP Super Cache:
Advanced settings for power users, including support for WP-CLI and REST API.
Serve cached pages to visitors who are not logged in or have not left a comment on the site.
Enable or disable caching for specific user agents, URLs, or referrers.
Set an expiration time for cached pages to ensure visitors receive the most up-to-date content.
Limit the size of the cache directory to prevent it from taking up too much space on the server.
Choose whether or not to cache 404 pages or pages with query strings.
Enable or disable caching for HTTPS requests.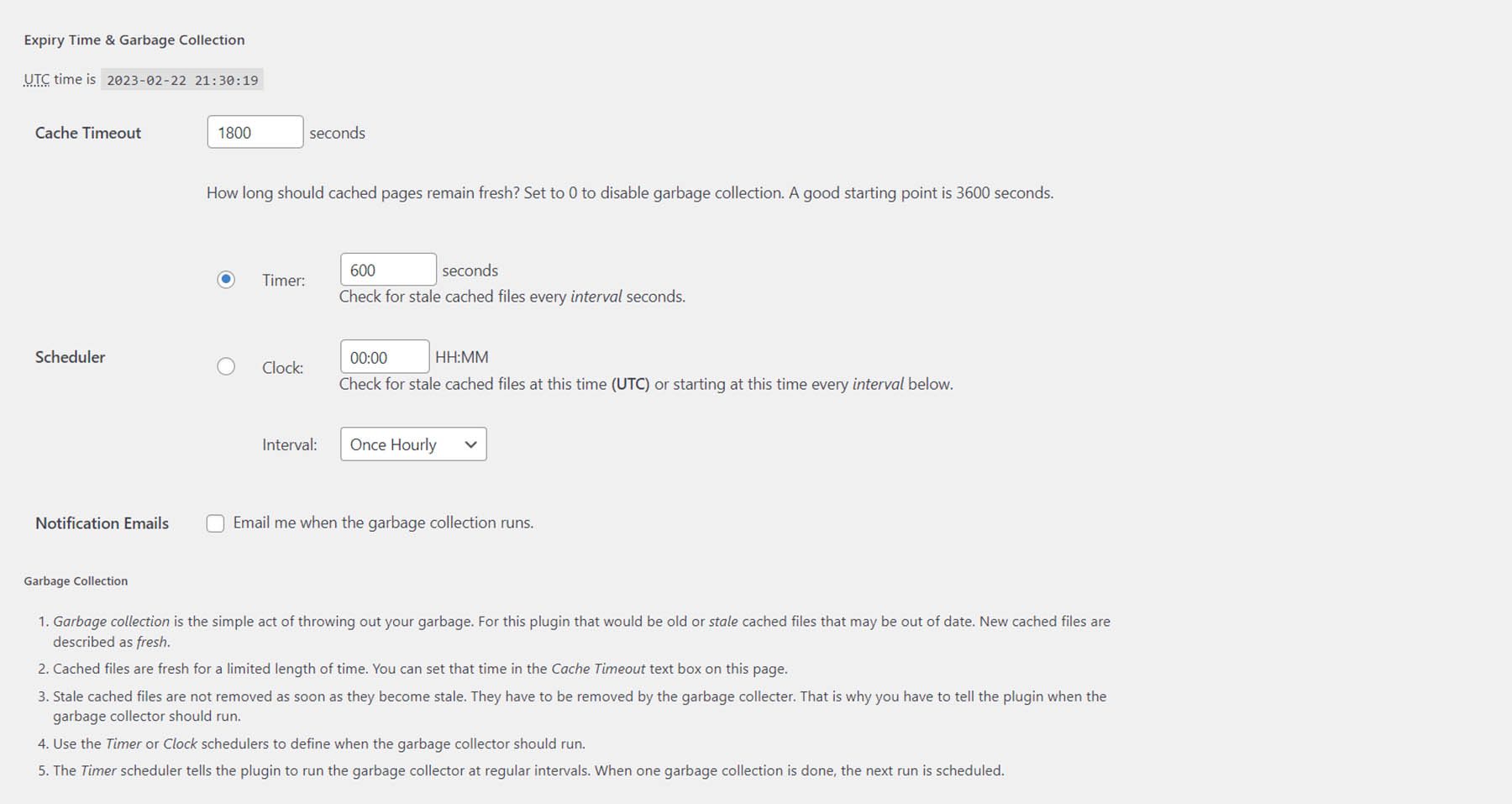 WP Super Cache has a garbage collection feature that helps manage the cache files and ensure they do not accumulate excessively. This feature automatically deletes expired cache files and can be set up to remove outdated files periodically. The garbage collection process can be configured to run on a schedule, such as every hour or once a day, depending on the website's caching needs.
Best For: If you want a trusted plugin developed by the people behind WordPress.com, WP Super Cache is a safe bet. As a free plugin, it is built for any skill level but will require more technical knowledge to get the best results.
Need a plugin that is built for any skill level—more experience means you can get more optimization
Appreciate a free plugin with no premium, hidden features
Pricing: Free
10. Litespeed Cache
Litespeed Cache is a free cache plugin designed to optimize your WordPress site for faster loading times. What sets Litespeed Cache apart from other plugins is that it's a server-level cache, which means that it can bypass PHP and database queries to speed up your website. This means that to get the most out of the plugin, your whole hosting stack must be running Lightspeed. Most WordPress installations do not run that, so if you're not sure, you are better off choosing a different plugin.
Key Features for Litespeed Cache:
Provides server-level full-page caching, which stores complete HTML pages and serves them to visitors without running PHP scripts
Advanced image optimization options, including WebP conversion, lazy loading, and adaptive images
Offers HTTP/2 Push, enabling the server to send additional assets to the client before they are requested, reducing site loading time
Includes browser cache functionality
Minifies and concatenates CSS, JavaScript, and HTML files
Automatically purges the cache for any page or post that is updated, ensuring visitors see the most up-to-date content
Offers an object cache that stores PHP objects in memory, reducing the time it takes to generate the object on subsequent requests
Employs DNS prefetching, which improves page load times by resolving domain names in advance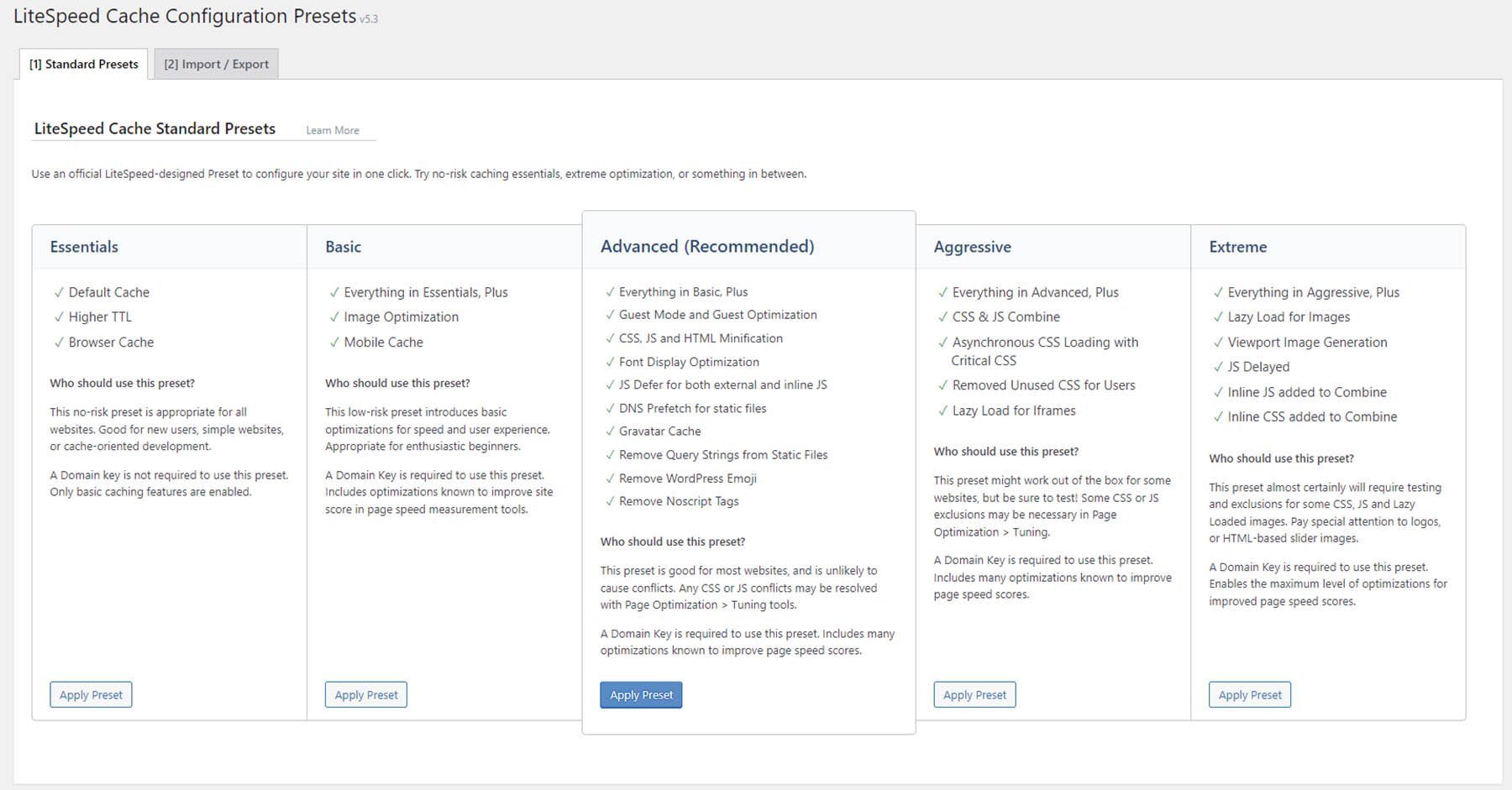 LiteSpeed Cache (LSCache) provides a variety of presets that can be easily applied to your website to optimize its performance. The presets make it easy for website owners to quickly optimize their website's performance without needing to understand the technical details of each feature. Users can also create their own custom presets based on their specific needs and requirements.
Best For: sLightSpeed is best for those who want to speed up their websites on the website and server level with a unique server stack built for speed. So if you don't mind using the LightSpeed hosting stack, this will be a great option for boosting site speed and performance.
Want a free optimization solution that is built for your infrastructure
Pricing: Free
11. Short Pixel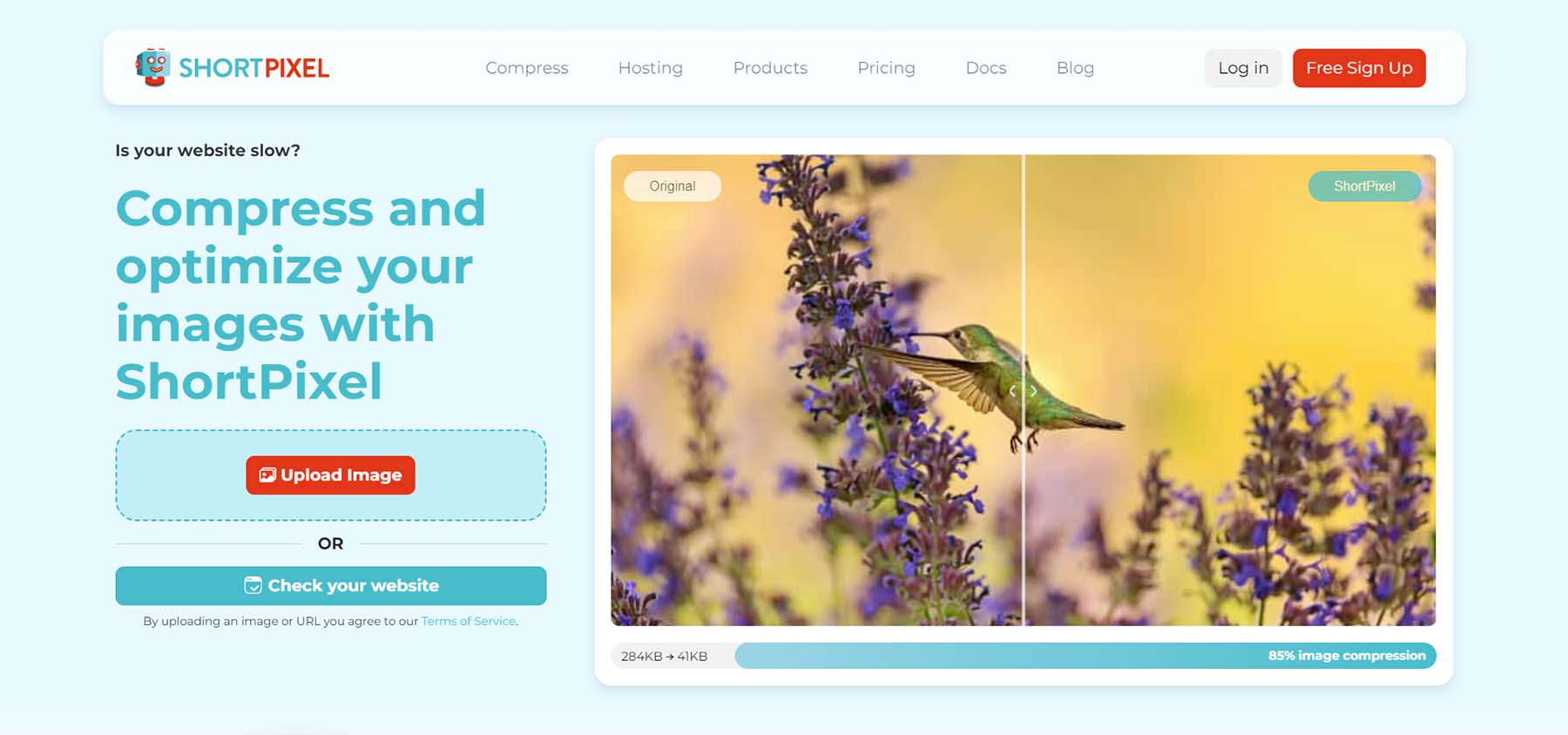 Short Pixel, like EWWW, is an image optimization platform. Images can be some of the biggest resource hogs on your websites if they aren't taken care of properly. Short Pixel does everything for image optimization to ensure they don't unnecessarily slow your website down.
Key Features for Short Pixel:
Reduce the size of images by compressing them without any visible loss of quality
Offers multiple compression algorithms, including lossy, glossy, and lossless compression
It can also optimize PDF files, reducing their size without affecting the quality
Can automatically optimize new images as they are added to your website
Converts images to the WebP format
Resizes images on your website, reducing their dimensions and file size.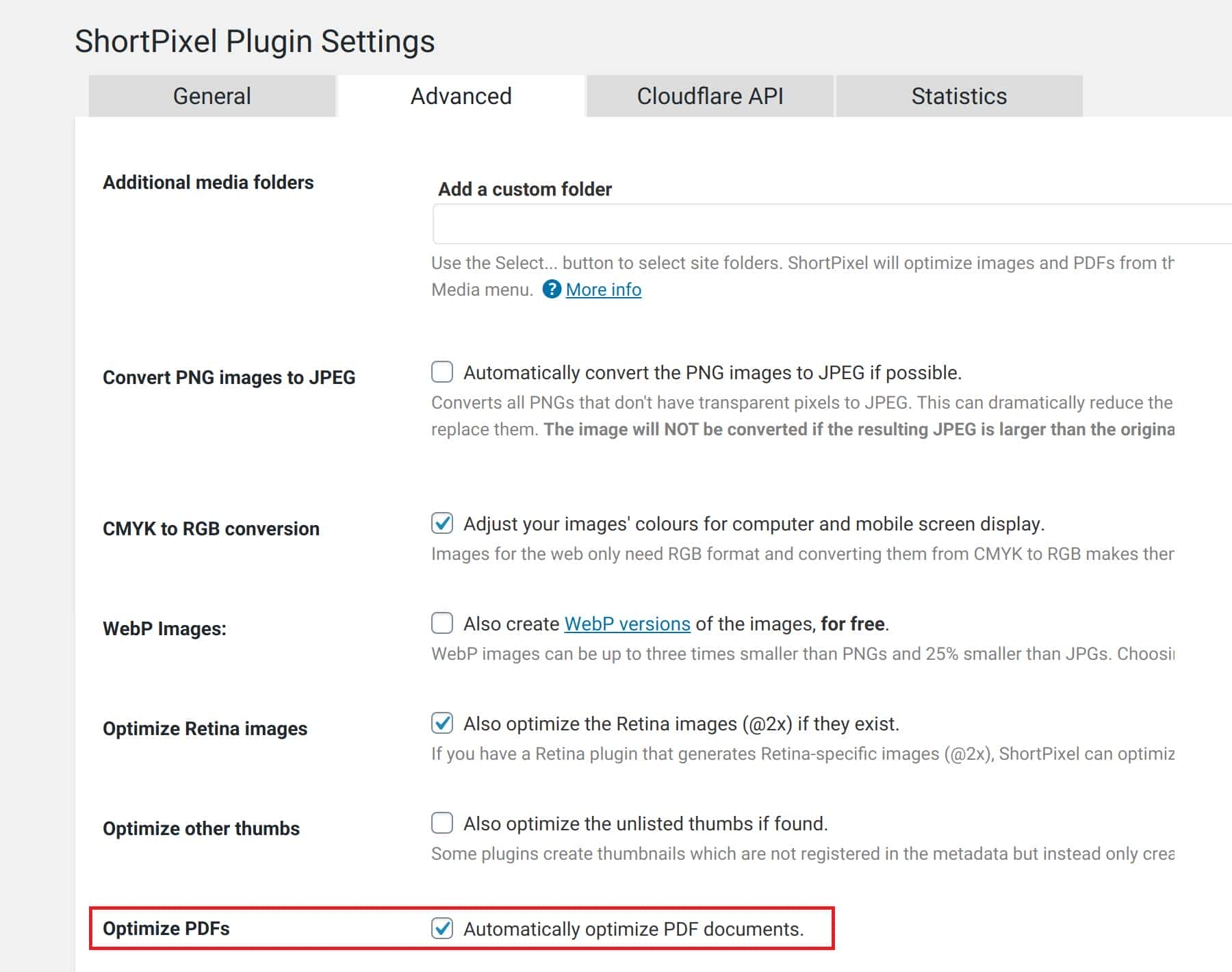 With ShortPixel Image Optimizer, users can do a lot of things automatically. For instance, you can convert PNGs to JPEGs, create WebP images for free, and optimize bloated PDFs.
Best for: WShort Pixel is best for those needing image optimization and other caching plugins. It is an efficient image optimization tool with a lot of great features that other all-in-one solutions lack.
Have some other caching/whole site optimization in place already
Pricing: Free, $99 per year for unlimited credits on one site
12. Asset Cleanup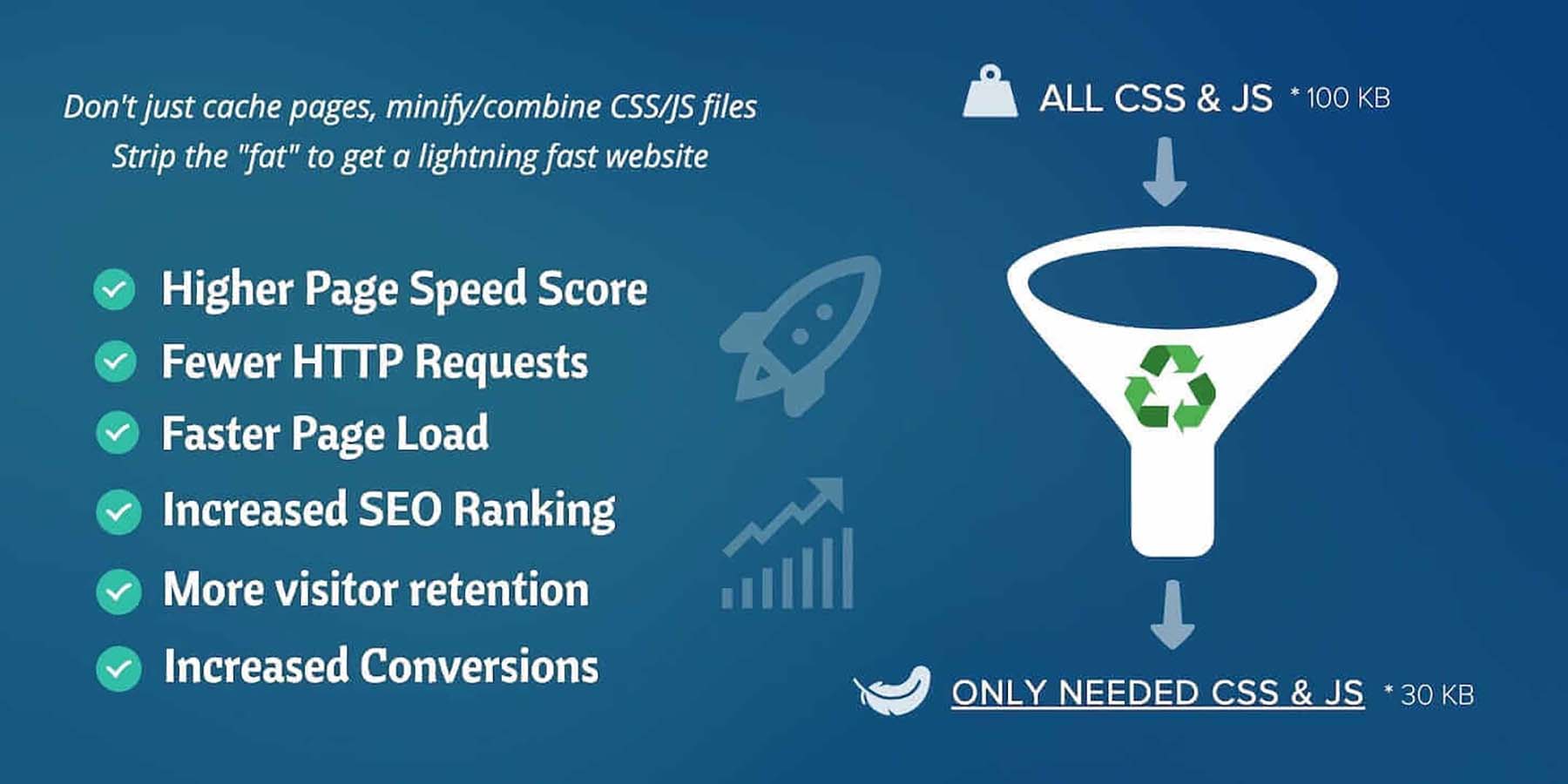 Asset Cleanup is all about loading only what's necessary for your site visitors. It does a good job at it as well. Most similar to Perfmatters and Autoptimize on this list, Asset Cleanup doesn't handle caching, so it is important to use even a free caching plugin with this. But it does a great job of helping you run a faster website that uses fewer resources.
Key Features for Asset Cleanup:
Removes unnecessary scripts and stylesheets that may slow down page loading times
Offers advanced cleanup options, such as the ability to disable certain scripts and stylesheets on specific pages or posts
Removes unnecessary assets reducing the number of HTTP requests made
Combine and minify CSS and JavaScript files to reduce the file size
Removes unnecessary query strings from static resources to improve caching
Conditional asset loading based on device type (mobile, tablet, desktop)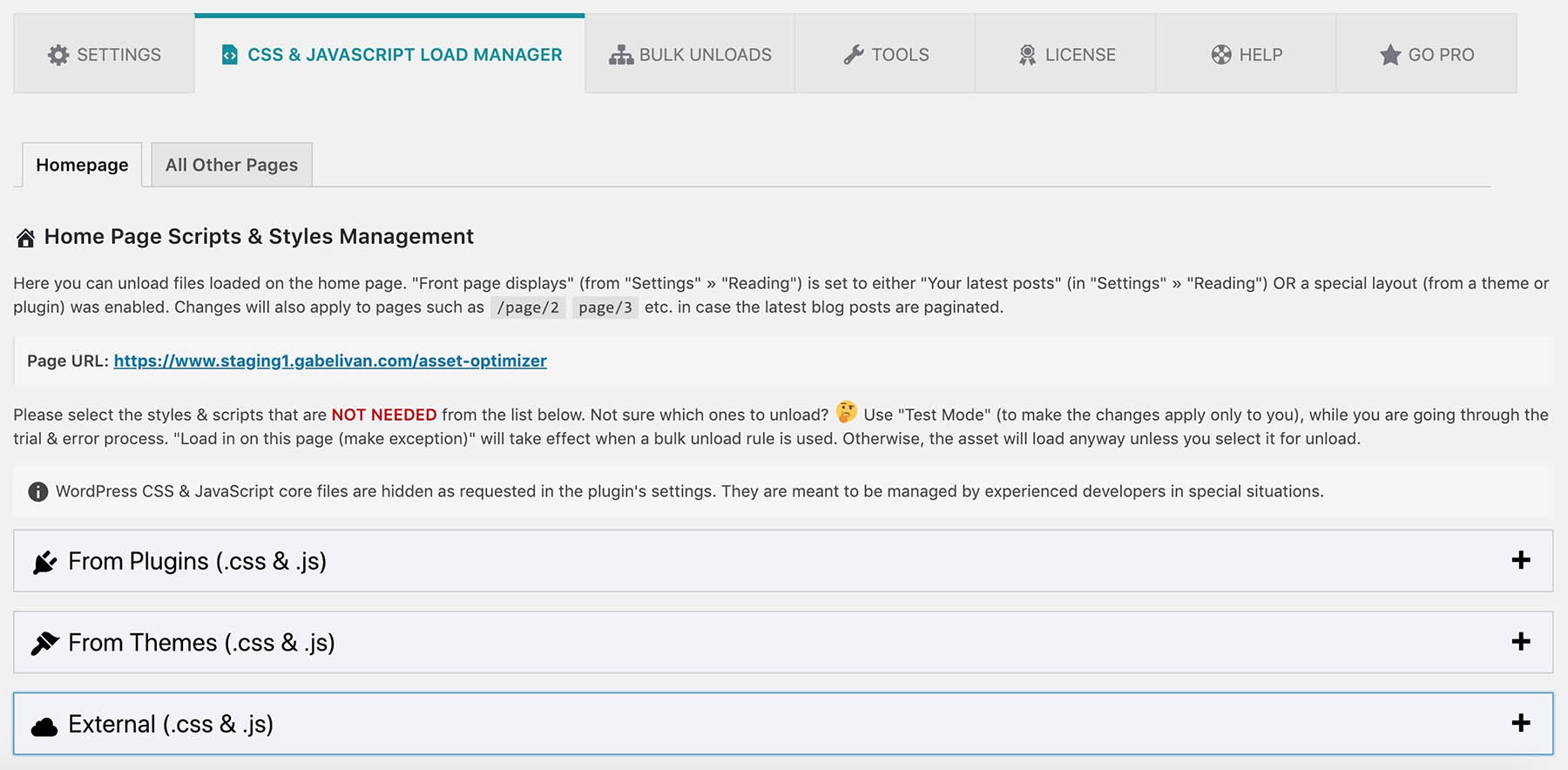 With Asset Cleanup, website owners can also choose to load specific scripts and styles only on certain pages, optimizing the website's performance by reducing the number of requests and minimizing the amount of data that needs to be loaded.
Best for: Asset Cleanup is best for websites with many scripts and stylesheets that need to be cleaned up and optimized for faster page speeds. It is a great companion plugin for top-tier caching plugins that can't do what Asset Cleanup can do.
Pricing: Free, Paid plans start at $49 per year
More Free WordPress Speed Optimization Tools
Built-in Hosting Provider Speed and Optimization Tools
These hosting providers have built more than just a good hosting platform—they've also created optimization tools that integrate the best performance standards that you can get in the WordPress dashboard with server-side optimizations (like object caching) as well.
SiteGround Optimizer: uses a combination of caching technologies, including Varnish, Memcached, built-in CDN, and Google PageSpeed, to speed up website loading times and improve performance.
WP Engine Caching: offers a built-in caching system called EverCache, which uses advanced caching techniques, such as object caching and page caching, to deliver fast and scalable website performance
Cloudways Caching: provides a custom-built caching system called Breeze, which uses advanced caching techniques, such as database optimization, object caching, and CDN integration, to boost website performance and reduce page load times
It is also worth noting that some themes and page builders like Divi have built-in speed optimization tools as well. For more, check out our ultimate guide to Divi (and WordPress) speed optimization.
Comparing the Best Speed Optimization Plugins
Ultimately, the best WordPress speed and optimization plugins for your website will depend on your specific needs and preferences. We recommend trying out a few different options to see which one works best for you. With the help of one or a deliberate combination of these plugins, you can boost your website's speed and provide a better user experience for your visitors.
Speed Optimization Plugin Pricing
Before settling on a speed optimization plugin, look at the table below. It denotes all of the plugins that offer free versions and pricing for easy comparison.
Top 3 Speed Optimization Plugin Features
Our top three picks for speed optimization plugins are WP Rocket, NitroPack, and WP-Optimize. WP Rocket offers an all-in-one caching solution with a user-friendly interface and advanced features like lazy loading and database optimization. Another great all-in-one platform is NitroPack, which automates the optimization process well and includes a built-in CDN and WooCommerce optimization. Finally, WP-Optimize is one of the most powerful plugins for those looking for a more affordable option that handles database cleanup and optimization.
🥇 WP Rocket

🥈 NitroPack

🥉 WP-Optimize

Starting Price
$59/year
$210/year
$79/year
Cache Preloading
✔️
✔️
✔️
Image Compression
✔️
✔️
✔️
Lazy Loading
✔️
✔️
✔️
WebP Conversion
❌
✔️
✔️
HTML, CSS, & JS Minification
✔️
✔️
✔️
Optimize Database
✔️
❌
✔️
CDN Integration
✔️
✔️
✔️
Generates Critical CSS
✔️
✔️
✔️
WooCommerce Support

✔️
✔️
✔️
Active Installations
3.2M+
100K+
1M+
Community Rating
4.9/5
⭐⭐⭐⭐⭐

Read Reviews
4.9/5
⭐⭐⭐⭐⭐

Read Reviews
4.5/5
⭐⭐⭐⭐⭐

Read Reviews
Get WP Rocket
Get NitroPack
Get WP-Optimize
What is the Best WordPress Speed Optimization Plugin?
Overall, we recommend WP Rocket. It is an all-in-one performance plugin that handles browser and server-side caching, supports WooCommerce product optimization, and minifies your site's HTML, CSS, Javascript, and more. If you require a plugin to handle your speed optimization concerns, you won't find a better option than WP Rocket.
WordPress Speed Optimization FAQs
If you have questions regarding speed optimization plugins, there's no need to fret. We've compiled a list of common questions about speed optimization plugins, so you don't have to stay in the dark.
What is the best WordPress speed and optimization plugin?
WP Rocket
is widely regarded as the most effective and user-friendly plugin for improving the speed and performance of WordPress websites. It offers a comprehensive range of optimization features, including page caching, file minification, lazy loading, and more, all of which can significantly enhance the loading speed of your website. Moreover, WP Rocket's intuitive user interface makes it easy for non-technical users to configure and optimize their website's performance, making it a popular choice among WordPress users.
What is the best free WordPress speed and optimization plugin?
Two of WordPress's best free speed optimization plugins are
WP Fastest Cache
and
Autoptimize
. WP Fastest Cache is a user-friendly plugin that offers a wide range of optimization features, such as page caching, minification, and GZIP compression. It has a simple and intuitive interface, making it easy to configure and optimize your website's performance. Autoptimize is another widely used free plugin that offers various optimization features, such as minification, concatenation, and optimization of JavaScript, HTML, and CSS files. Autoptimize is easy to set up and use, even for non-technical users. When used together, it is best to Autoptimize for modification and let WP Fastest Cache handle caching. This is just a general idea of the configuration of these two plugins.
What is WordPress speed optimization?
WordPress speed optimization involves improving the loading time of web pages. It focuses on serving a reduced number of files and ensuring those files are lightweight, among other things, while also preserving the quality and functionality of the website. The goal is to enhance the user experience by minimizing page load times and optimizing overall website performance.
How do I increase my WordPress site speed?
To make your website faster and more reliable, you have to:
Use a reliable web host that offers good servers and good hosting technology.
Optimize images by reducing their file size. This is done through compression and reducing the dimensions of the images.
Use a speed optimization plugin for caching and modification to serve your website in its smallest version possible.
Reduce HTTP requests so there is less to be loaded with every page.
Consider using a CDN to serve your images and cached pages.
Limit the number of plugins and themes that are loaded on your website.
Implementing these things will help you increase your WordPress website speed and provide a better user experience for your visitors.
How do I optimize my WordPress site using a plugin?
Installing a reputable optimization plugin will make optimizing your website easy. We recommend
WP Rocket
or
Nitro Pack
for this. With their easy-to-use settings interface, you can choose what optimization tasks you want them to perform (and they have many settings turned on by default, meaning that once installed, they are already improving your website). They use a combination of caching, minification, lazy loading, CDN, and database optimization to optimize your WordPress site and improve its speed, performance, and user experience.
Do WordPress plugins affect website speed?
Yes, WordPress plugins can affect website speed. While plugins offer convenience, adding excessive plugins can be detrimental. Too many plugins can slow down a website and increase load times, making it essential to be mindful of the number and quality of plugins installed to maintain optimal website performance.
Which WordPress plugins are slowing down my site?
Too many plugins installed on your WordPress site can slow its performance. Each plugin adds additional code to your site, increasing the load on your server and resulting in longer page load times. It's essential to regularly review your installed plugins and remove any that are no longer necessary or are causing performance issues. This will help keep your site running smoothly and ensure it loads quickly for your visitors.
What is the best speed plugin for WooCommerce?
When it comes to optimizing the speed of a WooCommerce store, the best plugin for the job is often considered to be
WP Rocket
. WP Rocket is a comprehensive caching plugin that can help improve your website's performance by reducing page load times, optimizing images, minifying code, and more. It also has specific features designed to work well with WooCommerce, such as the ability to exclude certain pages from caching, preloading of pages to improve user experience, and lazy loading of images to reduce load times.
Does page speed affect SEO?
Yes, page speed directly impacts SEO. Faster-loading websites tend to rank higher in search engine results. Plugins like
EWWW Image Optimizer
help optimizes website speed and SEO by focusing on image optimization. Since images can contribute to a website's bloat, optimizing them for page speed helps improve overall website performance and user experience and ultimately boosts SEO rankings.
How do I optimize WordPress speed without plugins?
To optimize WordPress speed without plugins, start by improving your site hosting and upgrading to the newest version of PHP. Compress your media files and optimize your website homepage for faster loading. Disable plugins that aren't in use to reduce unnecessary resource consumption. These steps improve speed, impact your website's SEO, and ensure an impressive user experience.
How do I test my website's speed?
You can use tools like Google PageSpeed Insights to test your website's speed. It evaluates your site's speed on a scale of 0 to 100, with a higher score indicating better performance. PageSpeed Insights provides separate tests for desktop and mobile versions of your site. Moreover, it offers suggestions to enhance your site's performance, allowing you to implement immediate improvements based on the recommendations. For more information, you can check out the blog posted by
Hubspot
.
How do I improve WordPress mobile page speed?
To improve WordPress mobile page speed, you can utilize plugins like
WP Fastest Cache
. One of its key features is mobile caching, specifically targeting faster page loading on mobile devices. By reducing the load on your website and optimizing overall performance, WP Fastest Cache enhances the mobile user experience.
What are some good WordPress speed optimization services?
WP Speed Fix and
WP Buffs
are the most popular WordPress speed optimization services. WP Speed Fix optimizes over 4,000 websites and provides a free site speed audit. Their services include browser and page caching configuration, CSS and JavaScript optimization and minification, advanced database and object caching implementation, image and lazy video loading with advanced compression, and WebP support. On the other hand, WP Buffs offers services like image optimization, browser caching, lazy loading, and Javascript and CSS optimization, including minification and handling render-blocking resources. For more information, go through the blog posted by
Themeisle
.
Looking for more amazing plugins? Check out our ultimate list of best WordPress plugins, which includes a top recommendation for each plugin type!