When building your website in WordPress, page builders can make your life much easier. Although WordPress has countless themes to get a website up and running quickly, your site's design and functionality are often hard-coded to the theme and challenging to customize unless you have coding experience. For those looking for a no-code solution for building a WordPress website without the limitations of a traditional theme, you will want to invest in a page builder.
However, finding the right page builder can be difficult. The best WordPress page builders will share similarities, but their differences can be difficult to see without a bit of digging. This post will explore the differences by comparing key features, ease of use, design assets, compatibility, pricing, and more.
Let's look at some of the best WordPress page builders so you can find the right one for you.
What is a WordPress Page Builder?
WordPress page builders are plugins (or themes) that enable you to build your website pages using a visual drag-and-drop interface on the front end without requiring any coding knowledge.
With page builders, you don't have to go back and forth from the WordPress editor or refresh your browser constantly while building your site. You can design your website in real-time as it appears on the front end. Some page builders also raise the bar with full site editing capabilities, allowing you to create global headers, footers, templates, and more.
As they are a significant component of no-code design, most page builders are user-friendly and offer pre-designed templates, layouts, and design components to speed up the design process.
Benefits of Using a Page Builder
Here are some of the main benefits of using a page builder:
Saves Time: Users can create custom page designs much faster.
Simplifies the Process of Building Websites: Even non-techy users can create professional websites that look great and are fully functional without having to do any coding.
Allows More Customization: Page builders give you more control of your website's design (and functionality) on the front end. You don't have to add custom CSS to make unique designs.
Provides Pre-made Design Resources: Most page builders include a library of premade page layouts and design elements that can be used without restriction to build stunning pages without hiring a designer.
Includes Marketing Tools: Page builders often have email opt-in forms, popups, social media sharing, conversion-optimized landing page templates, a/b testing, analytics, and other marketing tools available.
Of course, there are some drawbacks. Because they are packed with features and resources, your site might take a hit on speed and performance, requiring extra work to fix. Also, they can be more costly, so those with smaller budgets may not be able to benefit from them. And some page builders can overwhelm new users because of the many features and options available. But for most users, these drawbacks are outweighed mainly by the powerful design benefits of using a page builder.
The Best WordPress Page Builders
When choosing the best page builder, you will find that they offer similar features. But what makes them stand out is the quality and quantity of their features in relation to price. In this list of the best WordPress page builders, we'll go over the features and pricing of each and how they best fit particular users.
The Best WordPress Page Builders Listed In Order
Expand List
1. Divi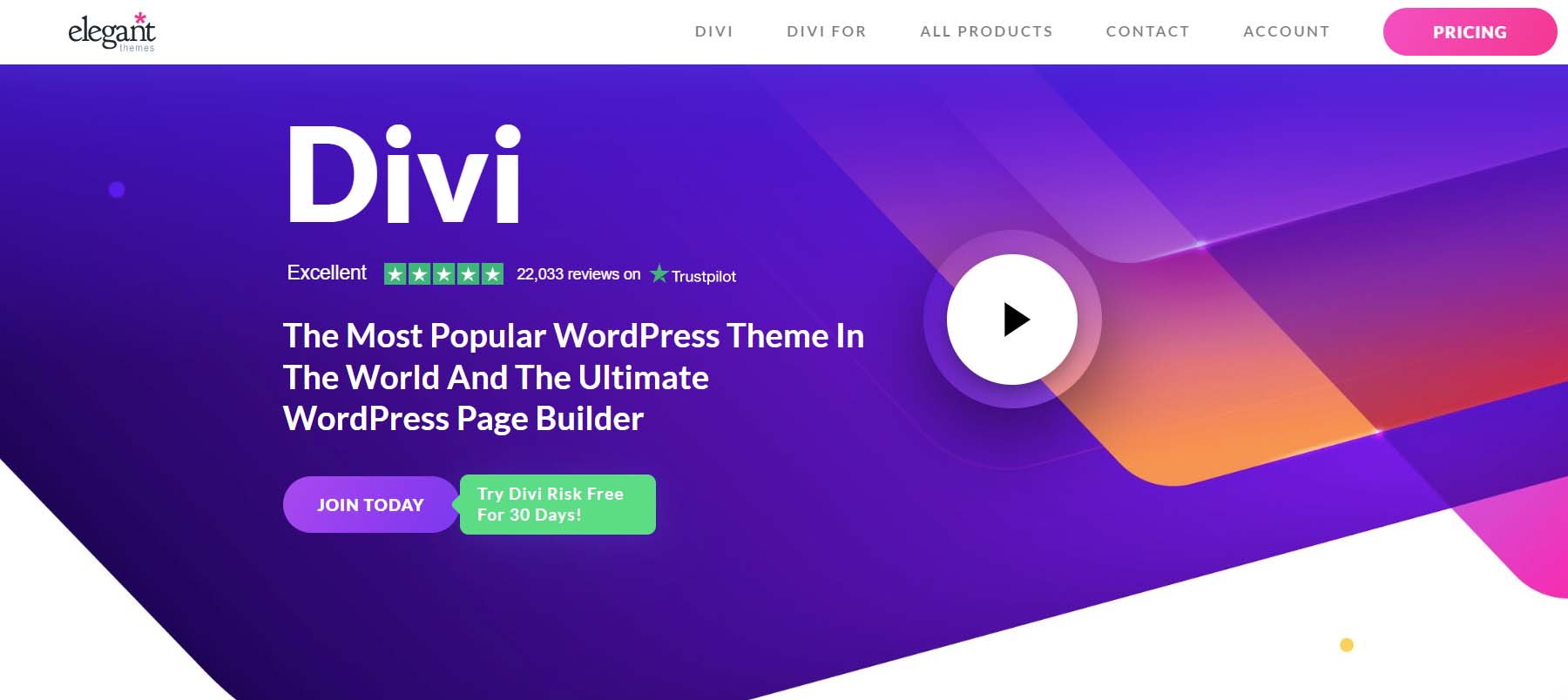 First up is Divi, our page builder for WordPress, a powerful all-in-one solution for visually designing websites. Whether using our theme or plugin, Divi adds an intuitive drag-and-drop page builder to WordPress, allowing users to create pages quickly in real-time with a true WYSIWYG design experience on the front end (or back end) without having to code.
Because we give away new layouts weekly, the builder currently has 2,000+ layouts available directly from the builder and 300+ complete website packs allowing users to get a full website design in minutes. You can use 200+ design elements (or modules) for any content, including filterable galleries, blog pages, email opt-ins, menus, and native WooCommerce modules.
Every element can be customized using powerful design options and functionality, including hover states, responsive design, transform effects, blend modes, filters, background masks and gradients, sticky elements, scroll animation, display conditions, dynamic content, and more.
Divi supports dozens of integrations with popular WordPress plugins for membership, forms, events, email marketing, and other online services. Plus, you can control SEO optimization on the visual builder in real-time with RankMath integration.
Our Divi Theme Builder gives you complete control over the design of your entire website from top to bottom. Create global headers, footers, and templates for blog posts, archive pages, WooCommerce pages, and more.
Our paid membership includes everything for $89/yr (or $249 lifetime), with no hidden fees or upgrades needed. You get the Divi builder (theme and plugin), plus additional premium plugins, including Bloom (for email opt-in popups and lead generation) and Monarch (for social media sharing site-wide), and more.
Key Features for Divi:
Simple and intuitive visual builder with drag-and-drop functionality
200+ Design elements (or Modules) available for adding content
2,000+ Pre-made design layouts
300+ pre-made complete website packs
20+ Native WooCommerce modules for creating custom WC pages
Unlimited website usage
A large number of seamless integrations with third-party plugins and services
Divi Theme Builder, an entire site editing templating system
Manage custom designs via Divi Library or Divi Cloud
Import & export Theme Builder Template packs like child themes
Team collaboration and user role management with Divi Teams
Growing third-party development community via Elegant Themes Marketplace
Reliable, Divi-compatible WordPress hosting partners with Divi Hosting
Create as many templates as you want with our Theme Builder and assign them anywhere. You can even import, export, and save entire template sets to your Divi cloud to be used as child themes for other projects. Tons of free templates are available on our blog as well.
Best for: Agencies, small businesses, freelancers, or online store owners that need tons of design resources at an affordable price. Divi has everything you need to build stunning websites, sell products, and grow your business. And you won't be restricted by licensing fees or additional costs that come with add-ons and upgrades. However, there is no free version. So if you are looking for a freemium plugin and don't want a robust builder with features you don't need, Beaver Builder or Elementor may be a better fit.
Divi Pricing: $89 per year (or $249 lifetime)
2. Beaver Builder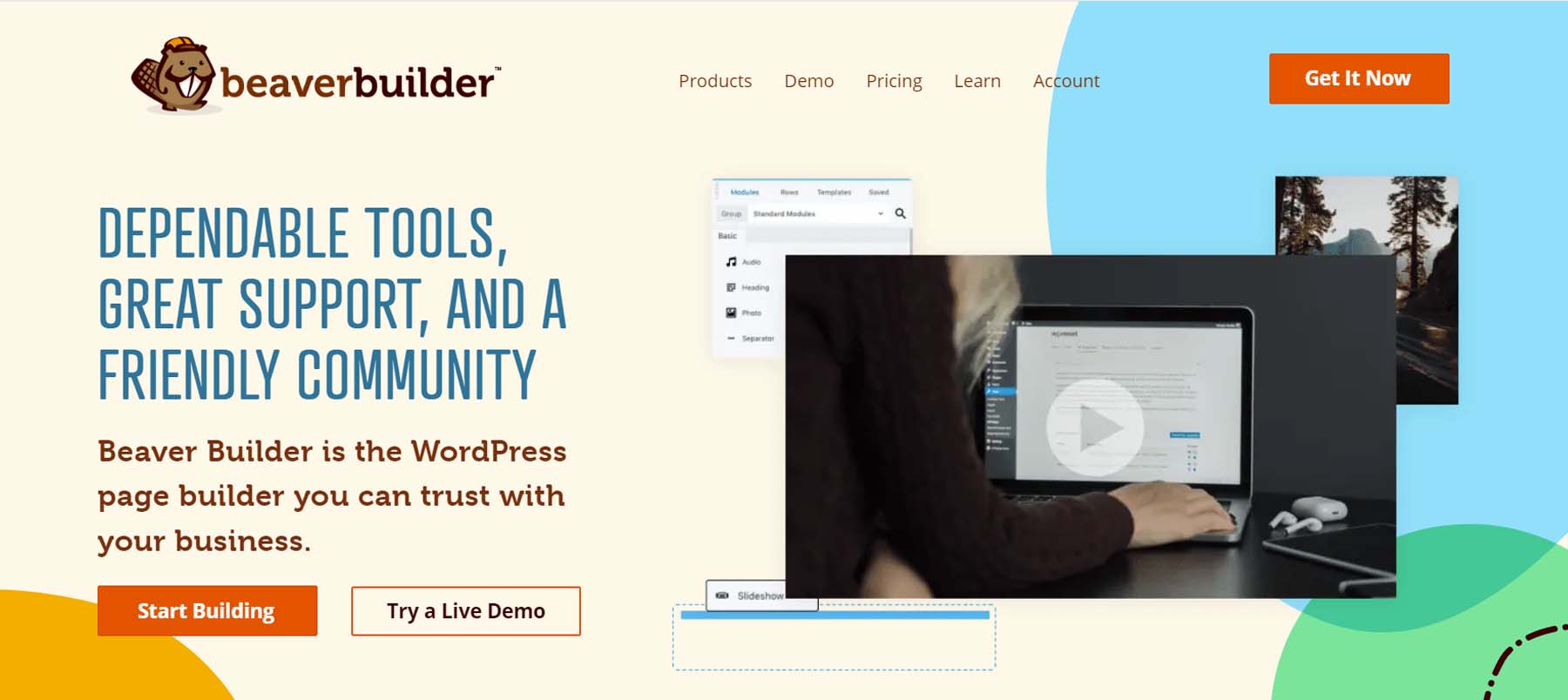 Beaver Builder is a popular and versatile page builder plugin built for WordPress. It may not be as advanced as other builders when it comes to design features and resources, but it is a great page builder for beginners looking for a lightweight visual builder with all the essentials. With a focus on simplicity, their drag-and-drop editor focuses on the essentials of no-code design. And it works with just about any WordPress theme.
Their lite version of the plugin has some basic features to familiarize you with the builder, but you'll want to get a paid version to experience the true value of the builder.
With a standard plan, you get 30+ advanced modules that you can use to build your website pages. These include icon groups, maps, contact forms, and more. Plus, you'll get access to pre-built templates to jumpstart your design, though not as many as other builders on our list.
A standard plan also gives you access to the Beaver Themer add-on. This gives you full site editing capabilities, allowing you to create layouts for blog archives, custom post types, WooCommerce, and more.
Beaver Builder integrates with several respected WordPress plugins and themes, including WooCommerce and other popular form plugins and LMS plugins.
While the base plan offers a good page builder, you may have to upgrade to build a compelling, custom website with the Beaver Builder suite of tools.
Key Features of Beaver Builder:
User-friendly drag-and-drop interface for easy website design
30+ modules
25+ Landing page templates
40+ Content page templates
Integrated with Gravity Forms and Ninja Forms
Integrated with LifterLMS, LearnDash, MemberPress
Unlimited site usage
Cloud storage with Assistant Pro (add-on)
Theme Builder (Add-on)
White Labeling available (Agency plan)
Revision history feature that allows you to roll back to previous versions of your page or post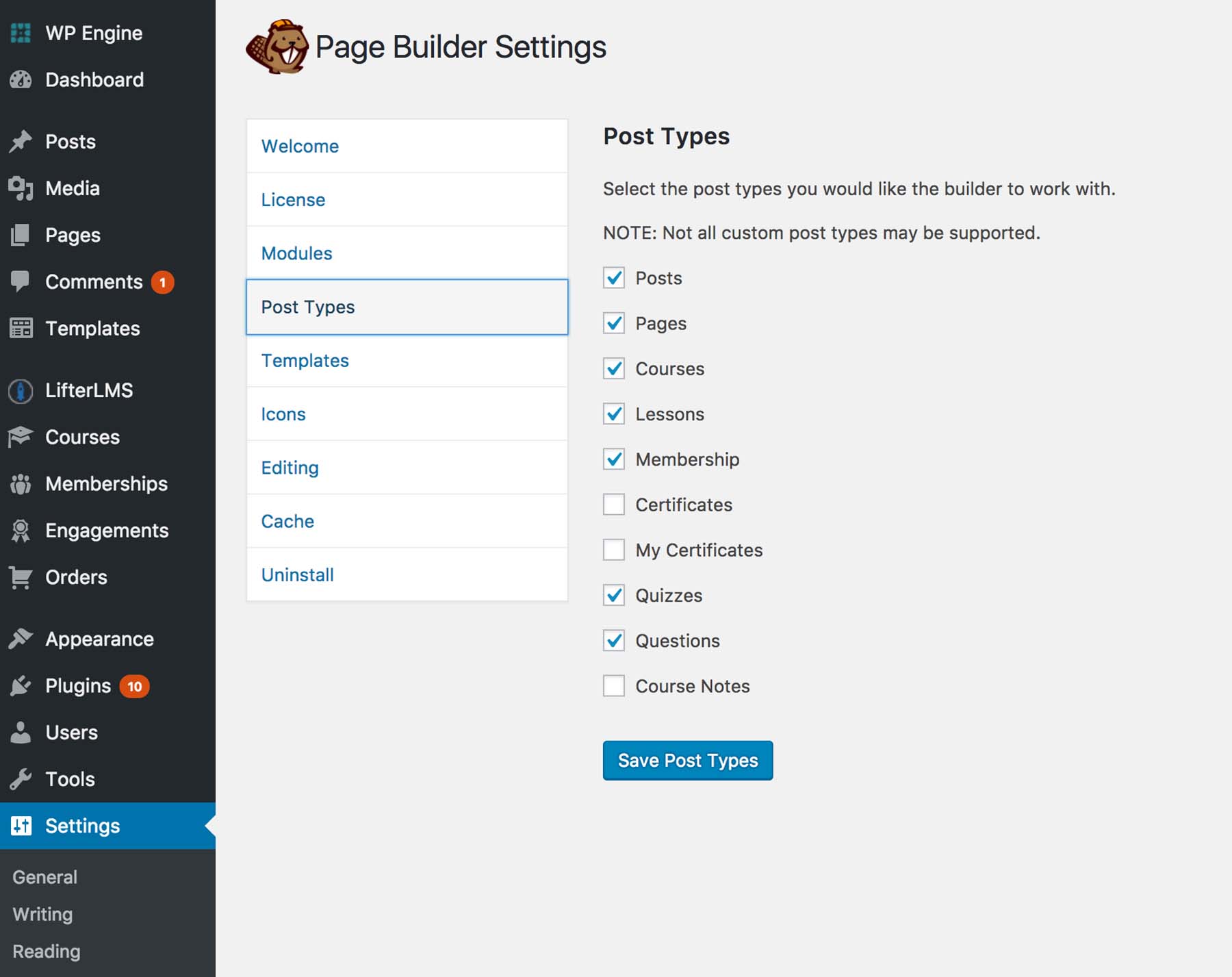 A key feature of Beaver Builder is its powerful integrations. An example would be the LifterLMS and BeaverBuilder integration. The integration allows users to create customizable course and lesson layouts using Beaver Builder's drag-and-drop interface.
Best For: Beaver Builder is best for those looking for a lightweight page builder that is easy to use and works with various WordPress themes and plugins. It is excellent for sites with membership or LMS plugins using custom post types. However, if you are looking for more design tools and resources and want theme builder capabilities for a more affordable price, you might consider Divi or Elementor.
Pricing: Starts at $99 per year
3. Elementor Page Builder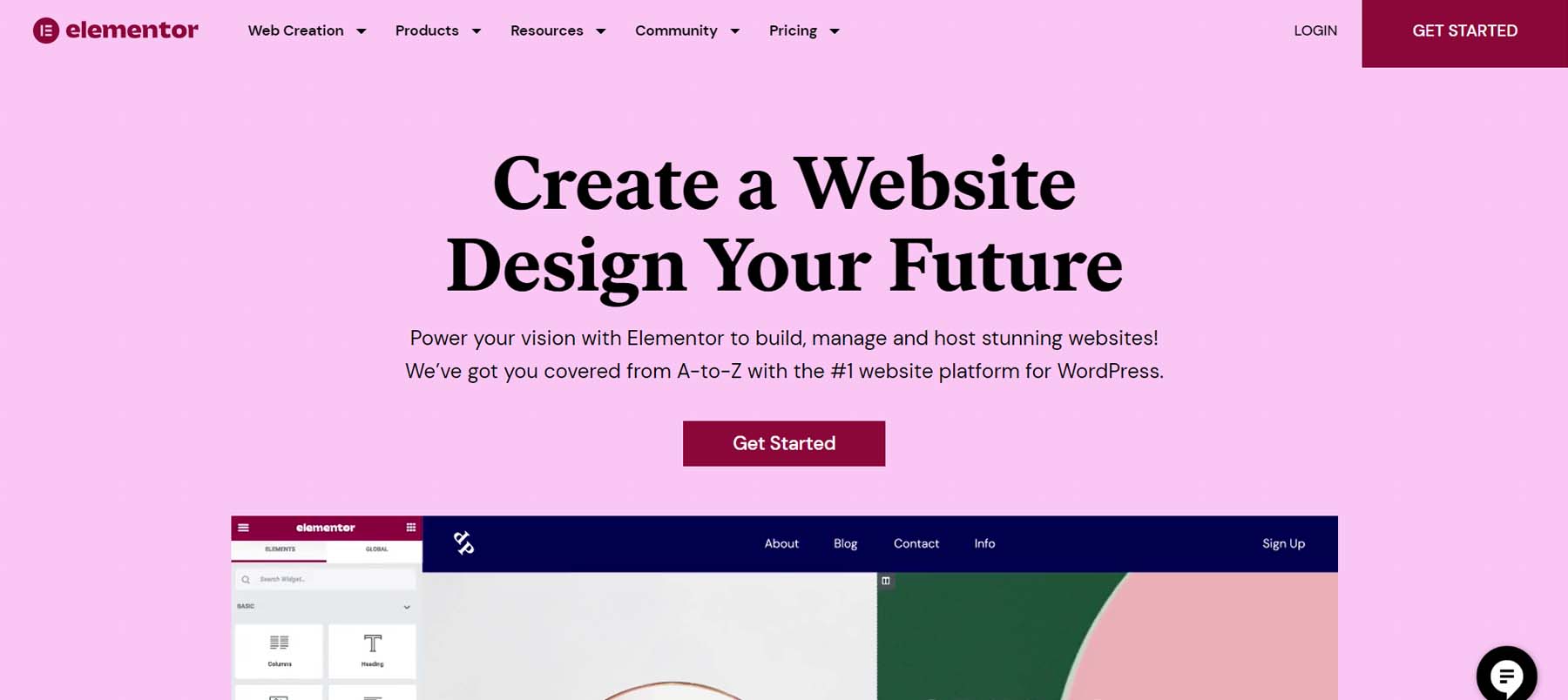 The page builder by Elementor is a popular freemium WordPress plugin enjoyed by millions of WordPress users. It has a drag-and-drop user interface that is easy to navigate, making it simple to build custom page layouts without coding. Users can choose from a multitude of design elements when building. And like Divi and Beaver Builder, Elementor provides a real-time preview of your page as you build it.
The free version comes with access to basic widgets and pre-made templates. However, the paid version provides 300+ templates and stunning pro widgets like carousels, table of contents, and Lottie. With all these elements, you can build some powerful and attractive pages.
Elementor's Theme Builder add-on enables full website building, allowing you to create custom headers, footers, archives, and WooCommerce pages. You can also use 100+ complete website kits based on its Hello Theme to build your entire website.
Elementor works well with well-known plugins like Wordfence, Smush, Yoast, and WooCommerce. With 20+ WooCommerce widgets, Elementor gives you the power to build your eCommerce pages as you see fit.
Regarding pricing, Elementor's free version is quite limited compared to the Pro version. The Elementor Pro base package includes all features for $59 per year for one website. However, the price can add up quickly if you're looking to build multiple sites.
Elementor has recently extended its products to include an all-in-one, hosted website builder solution (like Squarespace or Webflow). It is excellent for those looking to manage everything under one roof.
Key Features for Elementor:
Create stunning websites with ease using the visual drag-and-drop builder
100+ design widgets to build your page
300+ pre-made templates
Collaborate with others on your website design by adding comments and notes on the front end.
Global design settings for site-wide design.
Powerful popup builder that lets you create custom popups that can be triggered by user behavior or specific events
Integrates seamlessly with WooCommerce for creating custom WC pages
Dynamic content options
Mobile responsive design options for tweaking designs for different devices.
Includes a wide range of pre-designed templates and blocks
Access to tons of third-party add-ons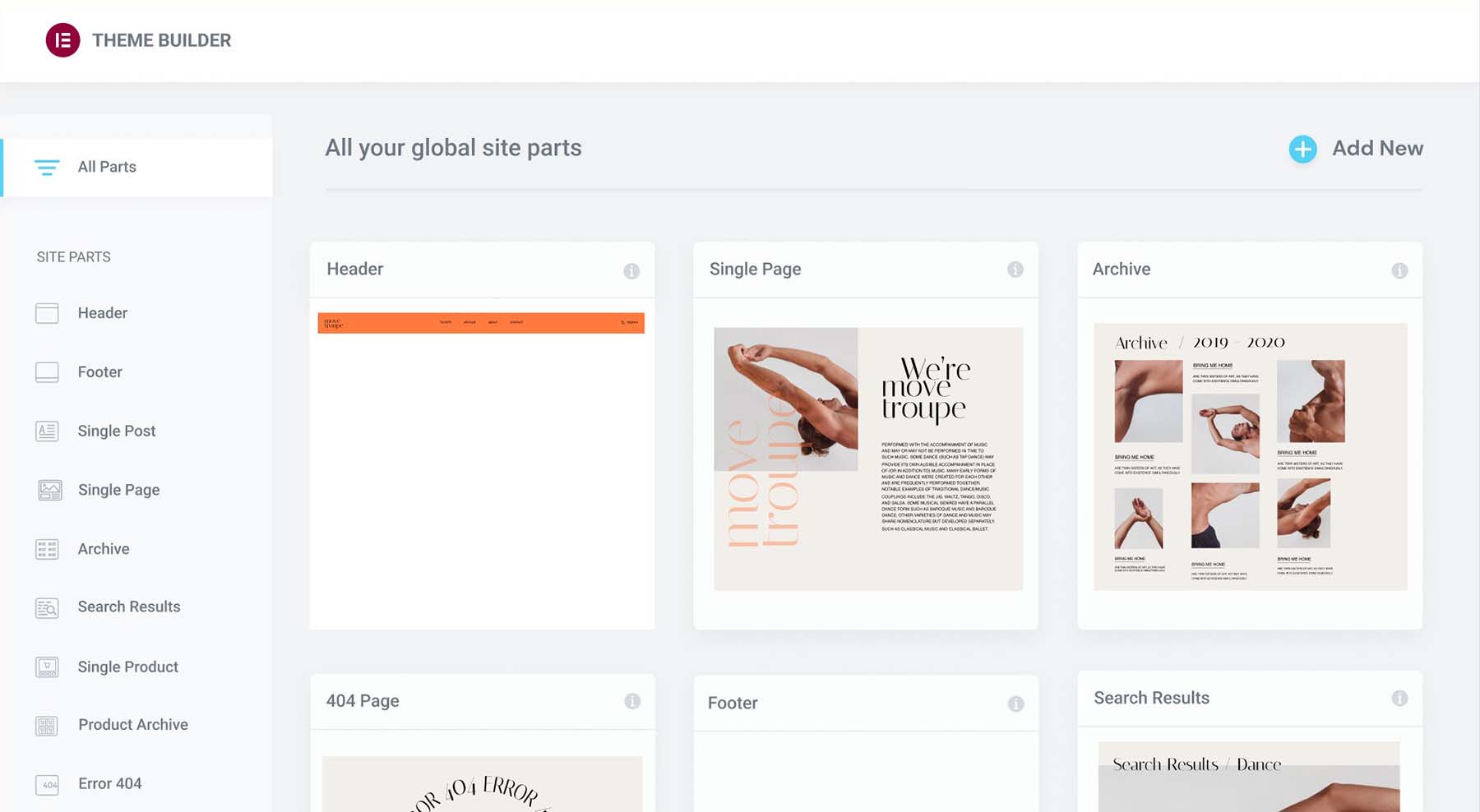 Elementor's Theme Builder allows you to customize every part of your site, including the header, footer, page, post templates, archive templates, and WooCommerce templates without coding. Users can add new site parts, edit existing ones, or delete site parts as needed.
Best For: Those who want a try-before-you-buy page builder with all the features you may need in the paid versions. They have plans that scale from a personal site to a large agency. Although not as robust in design resources, the design elements and layouts available make it an excellent contender to Divi. But with more costly plans and limited site usage, Divi may be a better option if you are a freelancer or agency building multiple sites.
Pricing: Free, Pro version starts at $59 per year
4. Oxygen Builder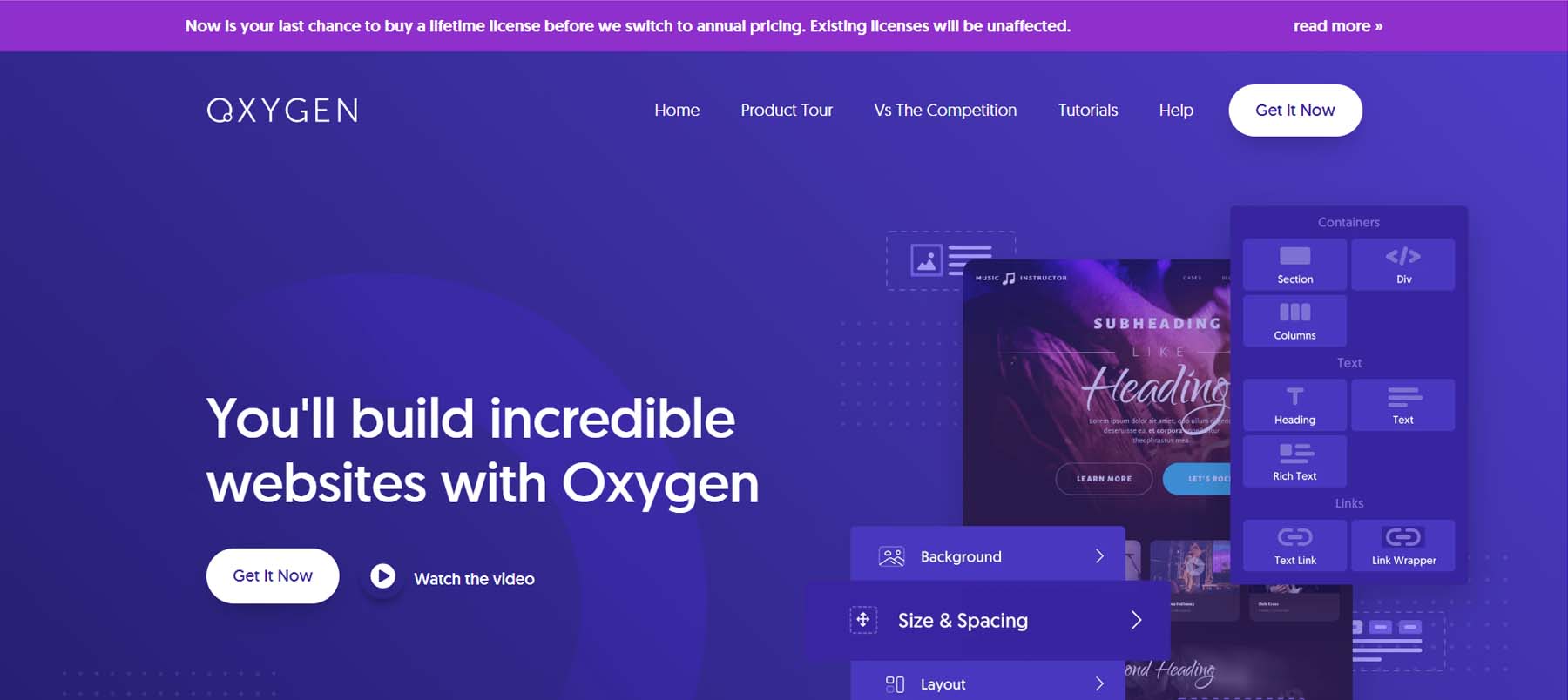 Oxygen builder is one of the more advanced drag-and-drop WordPress page builders on the market. Its focus on performance, code optimization, and responsiveness sets Oxygen apart from other website builders. And it is probably one of the only builders that can create and edit Gutenberg blocks using the builder.
Like others on this list, Oxygen offers a real-time visual building experience using pre-made design elements at your fingertips. And it has powerful design features and extendability options that make it one of the best page builders for WordPress. The user interface may not be as easy for beginners, but it makes it easy for developers to build more unique designs and features.
Compared to other builders, Oxygen's design library is not as abundant. However, Oxygen's design sets are well-organized (almost too organized) for adding headers, footers, and sections to your page or template. With responsive control over your website, you can swiftly create beautiful, custom design elements. It also has a powerful dedicated header builder for creating responsive headers on your site using pre-built header templates.
Oxygen has more than 20 highly configurable WooCommerce elements to build your online stores on WordPress. It also works well with plugins like EDD and MemberPress. But it doesn't have built-in marketing features or integrations like other page builders on the list.
While it is priced on the higher side of other page builders, all plans come with lifetime access to Oxygen, with varying offerings for higher-tiered plans.
Key Features of Oxygen Builder:
Generates streamlined code for better performance and speed
Uses Flexbox and CSS Grid for more responsive designs
Complete control over responsive breakpoints and column stacking for mobile devices.
Google Font Face Limiter
WooCommerces elements with Global styling for building WC pages
Comprehensive access control for clients
Gutenberg Block Builder is available (Ultimate package)
Composite Elements are available for adding flip boxes, mega menus, table of contents, and more (Ultimate package)
Display any data dynamically from your WordPress database and custom data using ACF or Toolset
Global and page-level scroll and entrance animations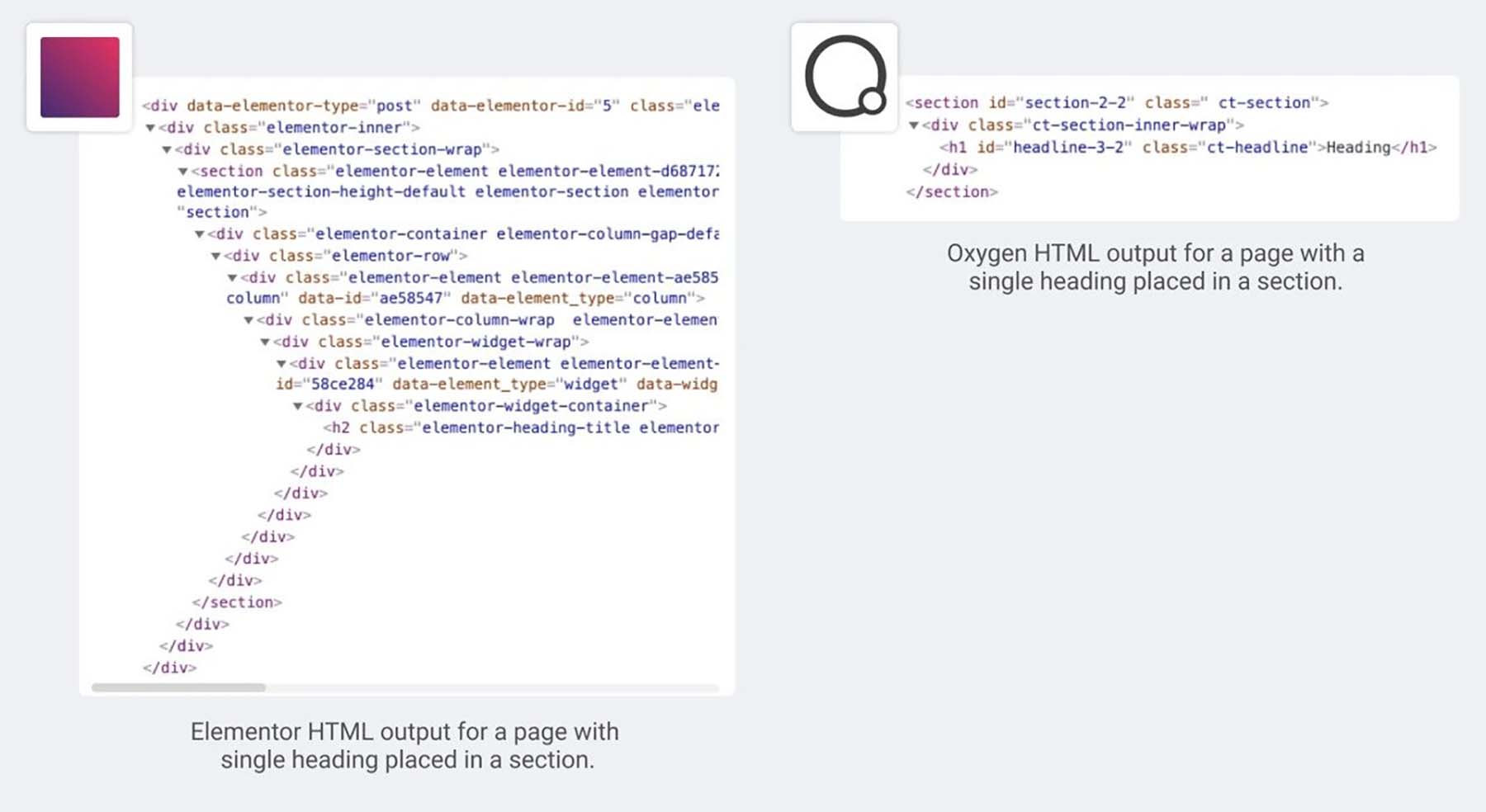 Oxygen generates clean and streamlined code without unnecessary bloat. This results in fast-loading pages and high Google PageSpeed & Lighthouse test scores. It only loads scripts and styles necessary for your design, which helps optimize website performance. With Oxygen, users can create visually impressive and highly optimized websites.
Best For: Designers or developers who value performance and want the most control over their WordPress websites. The ability to use and edit Gutenberg blocks sets it apart from other builders. It has powerful features but requires more of a learning curve. It doesn't have as many design elements or resources, but it is highly customizable and built for performance.
Pricing: From $129 for lifetime
5. SeedProd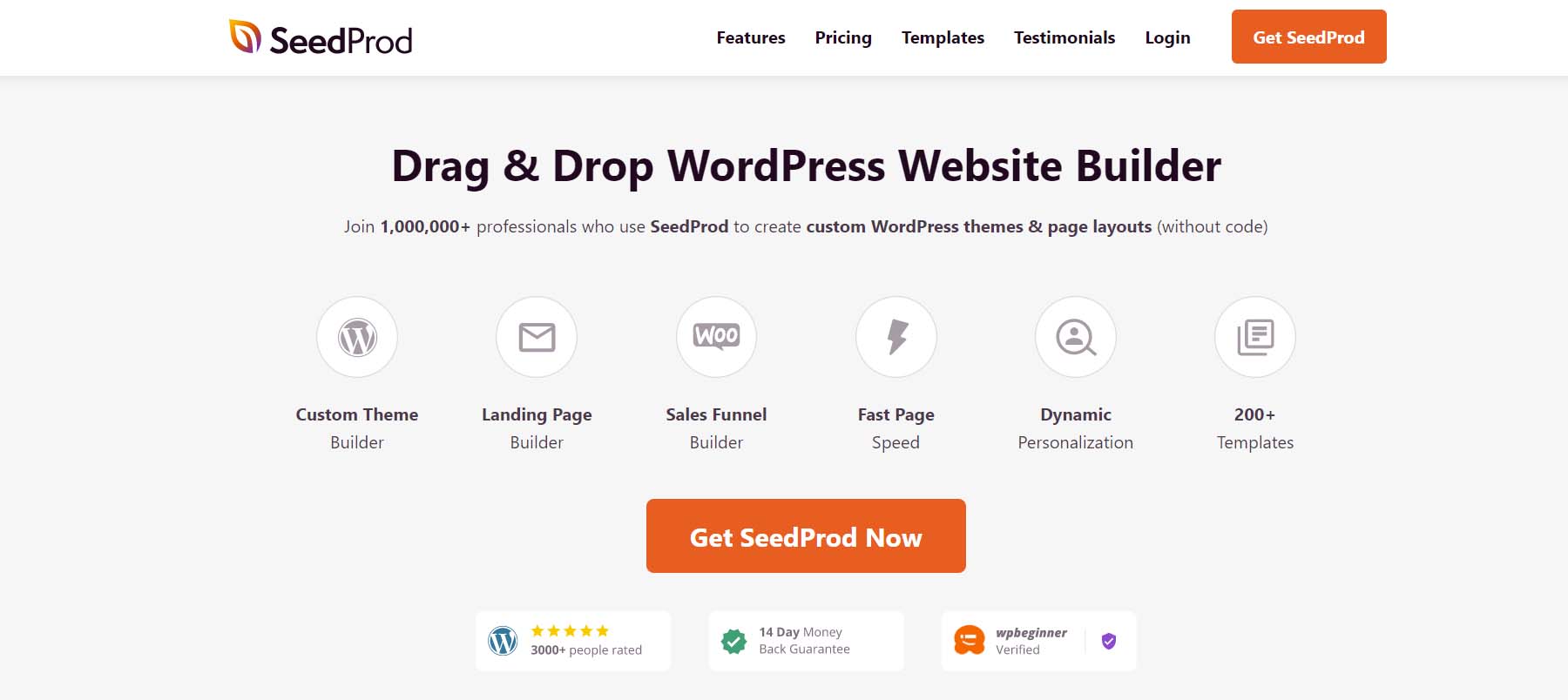 SeedProd is a freemium page builder plugin for WordPress with over a million users. Like others on our list, it offers a live editing drag-and-drop design experience for building various types of pages or entire themes. It is also one of the best landing page plugins for WordPress.
The builder UI is comparable to Elementor, making it easy to build content using available design elements (or blocks). The free version has fewer blocks than the 80+ blocks in the pro version. That said, the blocks are great for displaying static or dynamic content for just about anything you need.
SeedProd has many pre-designed landing page templates, although not as many as other page builders like Divi. And it provides handy tools for creating coming or maintenance pages and marketing tools (like email opt-ins) for creating landing pages optimized for lead generation. You'll need to upgrade to Plus or Pro plans to access 150+ page templates and the theme builder features.
Like other page builders, SeedProd integrates with popular email marketing providers to help build your email list. And it integrates with WooCommerce (WC) by providing native WC blocks to help build custom WC pages. But you'll need to upgrade to their highest-paid tier to get WooCommerce support.
Although SeedProd is more affordable than others on our list initially, you may end up significantly more if you want access to free templates, the theme builder, or WooCommerce support.
Key Features for SeedProd:
Simple and intuitive visual drag-and-drop builder.
150+ landing page templates
90+ blocks to display static and dynamic content.
45+ attention-grabbing animations
20+ native WooCommerce blocks
Powerful blocks and built-in marketing tools
Domain Mapping: Create landing pages and direct them to any domain name without requiring additional WordPress installs
Work on your page privately and keep its construction hidden from the public with draft mode
Copy sections from one page or website to another with automatic import of all accompanying media files
Built-in Coming Soon and Maintenance Modes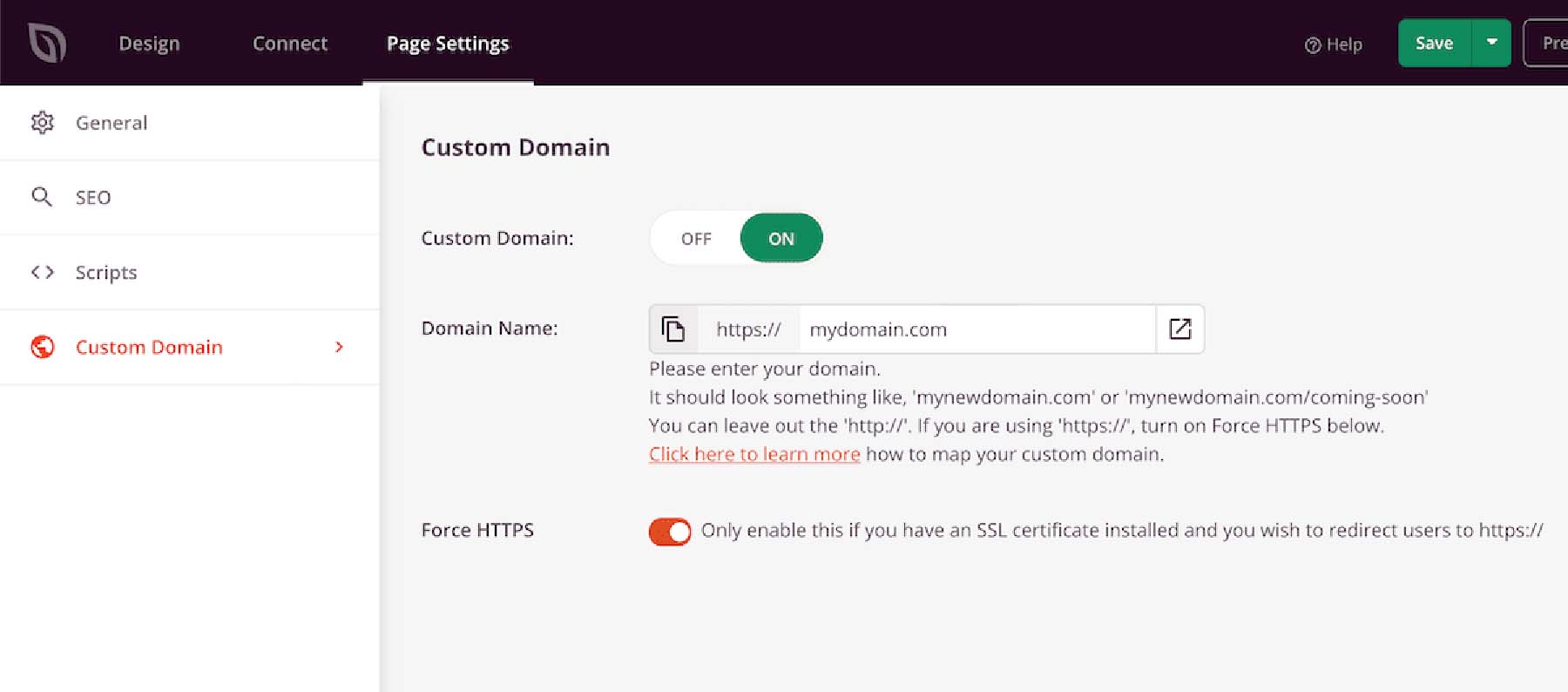 With Domain Mapping, you can effortlessly create landing pages and direct them to any domain name you choose without requiring additional WordPress installations. It enables users to associate their unique domain name with their SeedProd landing page, redirecting visitors to the designated custom domain name. This functionality is advantageous for individuals who prefer to use their custom domain name for their landing pages which is beneficial for higher conversation rates and better SEO.
Best For: SeedProd is best for those who want an affordable page builder for creating landing pages for lead generation. If you want to build entire websites using a page builder, SeedProd can do the job, but you will find better and more affordable options on our list.
Pricing: From $79 per year
6. Visual Composer

Visual Composer is a freemium page builder plugin for WordPress with some standout features. Like most builders, it has a drag-and-drop interface for easy visual building. The free version has limited design elements, options, and pre-made templates. But a premium version unlocks more design options and 500+ design elements and templates that can be accessed through their visual composer hub.
Their hub includes downloadable content elements, templates, blocks, add-ons, headers, and footers that can be added to your available content when using the builder. You can even grab free stock images and animated GIFs directly from the hub library without restrictions.
With premium, you'll get a theme builder and dynamic content functionality for global, full-site editing. And it includes a built-in popup builder for designing any popup you need with triggers and animation. The builder also has a built-in insights feature for helpful on-page SEO tips while building (even with the free version).
With its add-on gallery, integrating with popular WordPress plugins and third-party services is just a few clicks away. Online store owners will benefit from available WooCommerce templates and content elements to build custom pages and templates.
For pricing, all of their premium packages (starting at $49/year for 1 site) include the same amount of features. You'll pay extra depending on the number of websites you need.
Key Features for Visual Composer:
The intuitive visual drag-and-drop editor
200+ professional pre-made templates
300+ content elements with advanced design options
Responsive design options on the front end
Built-in SEO optimization
Theme Builder for building entire websites, not just pages
Design WooCommerce websites with customizable WC blocks and templates.
Extensive library of add-ons and design assets accessible from the visual builder hub.
Third-party integrations with essential plugins for forms, social networks, and media.
Integrates with multiple font and icon libraries that allow you to add vector icons and SVGs to your site.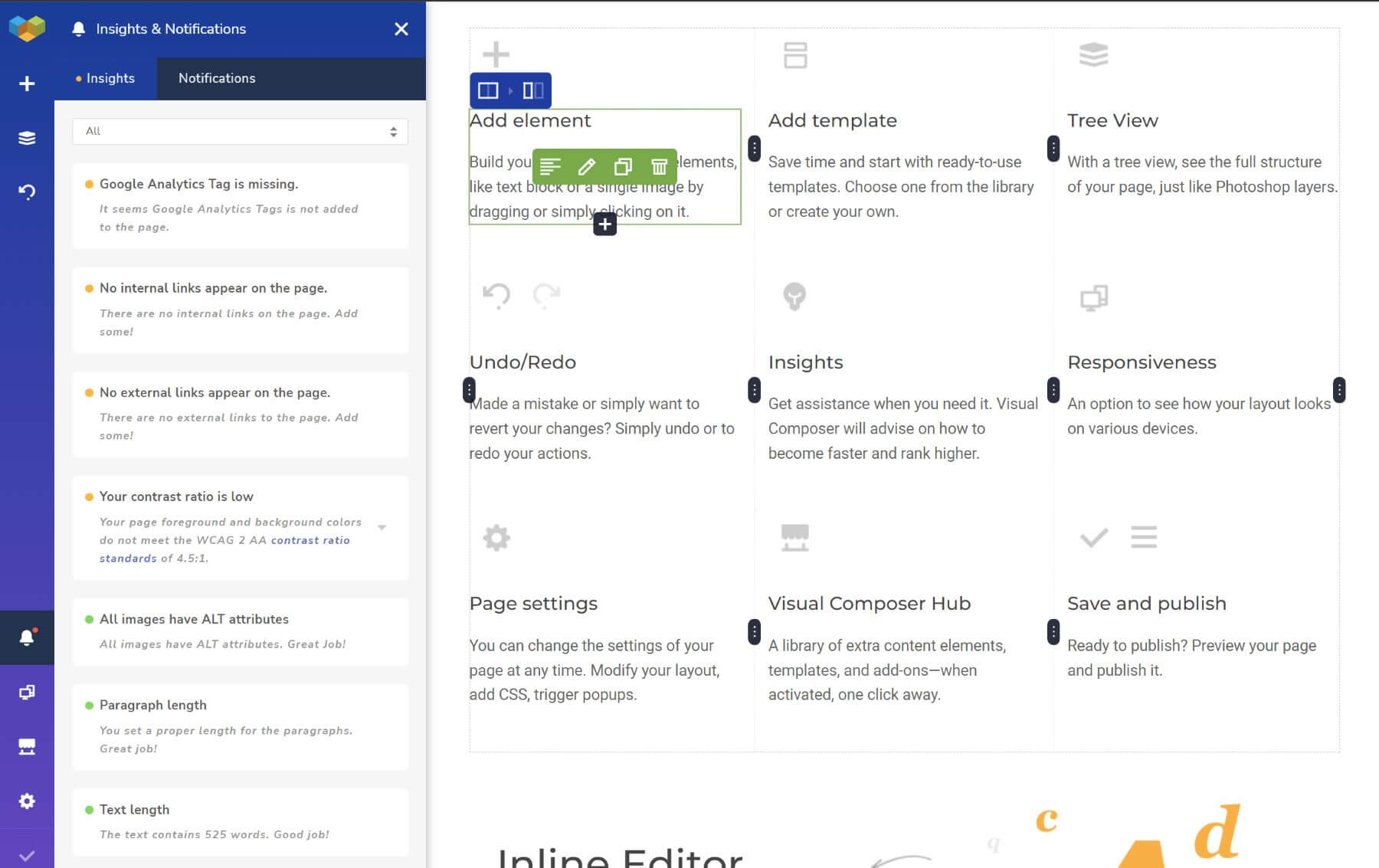 Its Insights feature is a nice bonus you don't find in most other builders. It offers real-time SEO page optimization tips on the front end to help you create better SEO content. It works similarly to SEO plugins like Yoast or RankMath, although not as powerful.
Best For:  Visual Composer is best for small businesses, bloggers, or beginners looking for a powerful visual builder with all the necessities at a lower price. The features and design resources aren't as extensive as other, more robust page builders. But it can be a great all-in-one solution for those looking to find everything they need all in one place.
Pricing: Free, Premium plans start at $49 per year for 1 site (or $149 lifetime)
7. Thrive Architect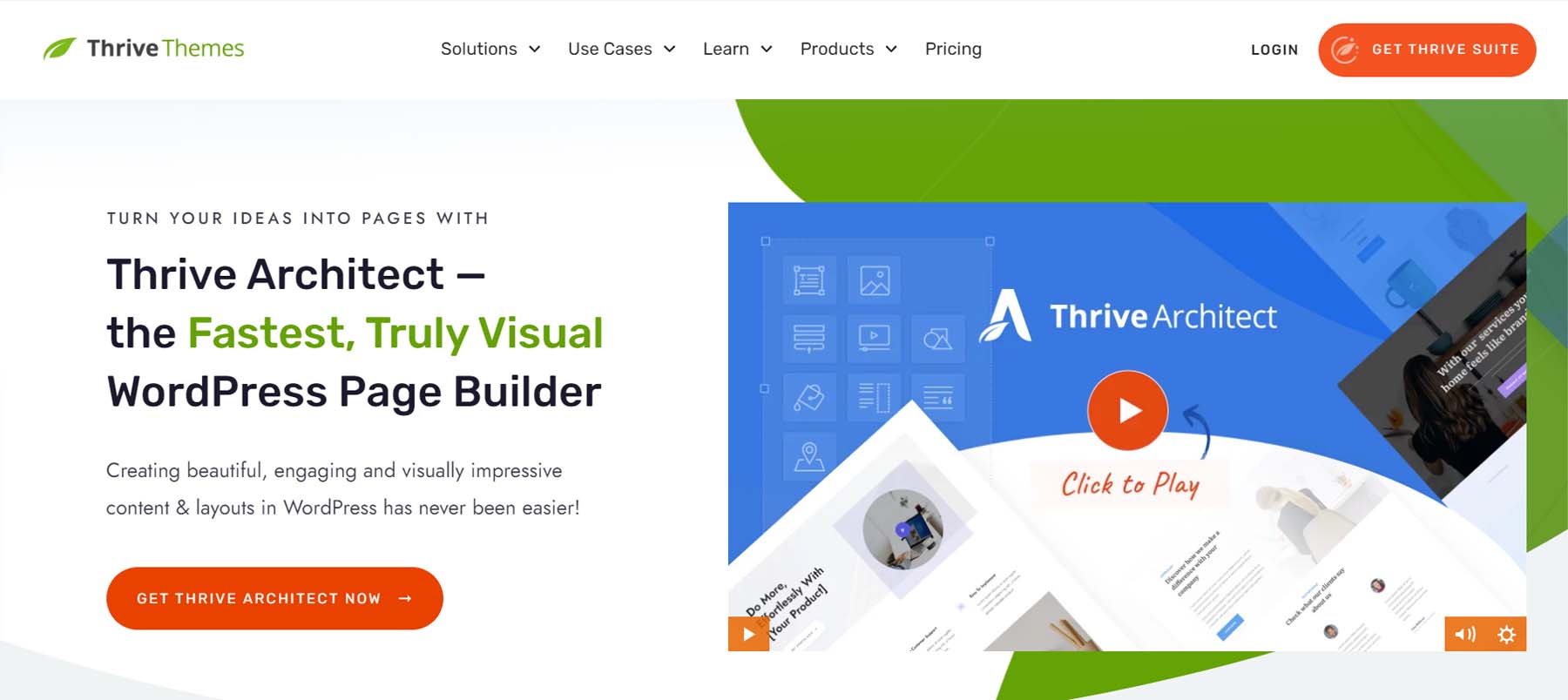 Thrive Architect is a page builder, one of many Thrive Suite tools offered by TriveThemes. The page builder includes all the features we love in a page builder, including a drag-and-drop interface, extensive design and content elements, and pre-designed landing page templates.
Its focus on marketing and lead generation sets Thrive Architect apart from other page builders. It includes over 400 stunning conversion-focused templates for you to use to build your content and generate leads.
Their innovative landing page templates streamline the design process of high-converting landing pages to be lightning-fast. You can load a template and choose an entire color scheme for your page with a few clicks.
And the design elements are also more conversion based, including countdown timers, testimonials, buttons, and lead-generation forms. The forms integrate with popular email marketing providers as well.
Key Features for Thrive Architect:
400+ conversion-focused templates designed to help you create pages that convert visitors into customers or subscribers.
Includes marketing-focused elements, such as pricing tables, countdown timers, and testimonials
Includes lead generation elements, such as opt-in forms and popups, that can help improve your marketing strategy
Smart landing pages for easier design and branding
Create targeted landing pages that are customized based on the visitor's search term, location, or other criteria
Available A/B testing feature that helps you optimize your pages for maximum conversions
In-depth analytics and tracking options allow you to measure the performance of your pages and make data-driven decisions.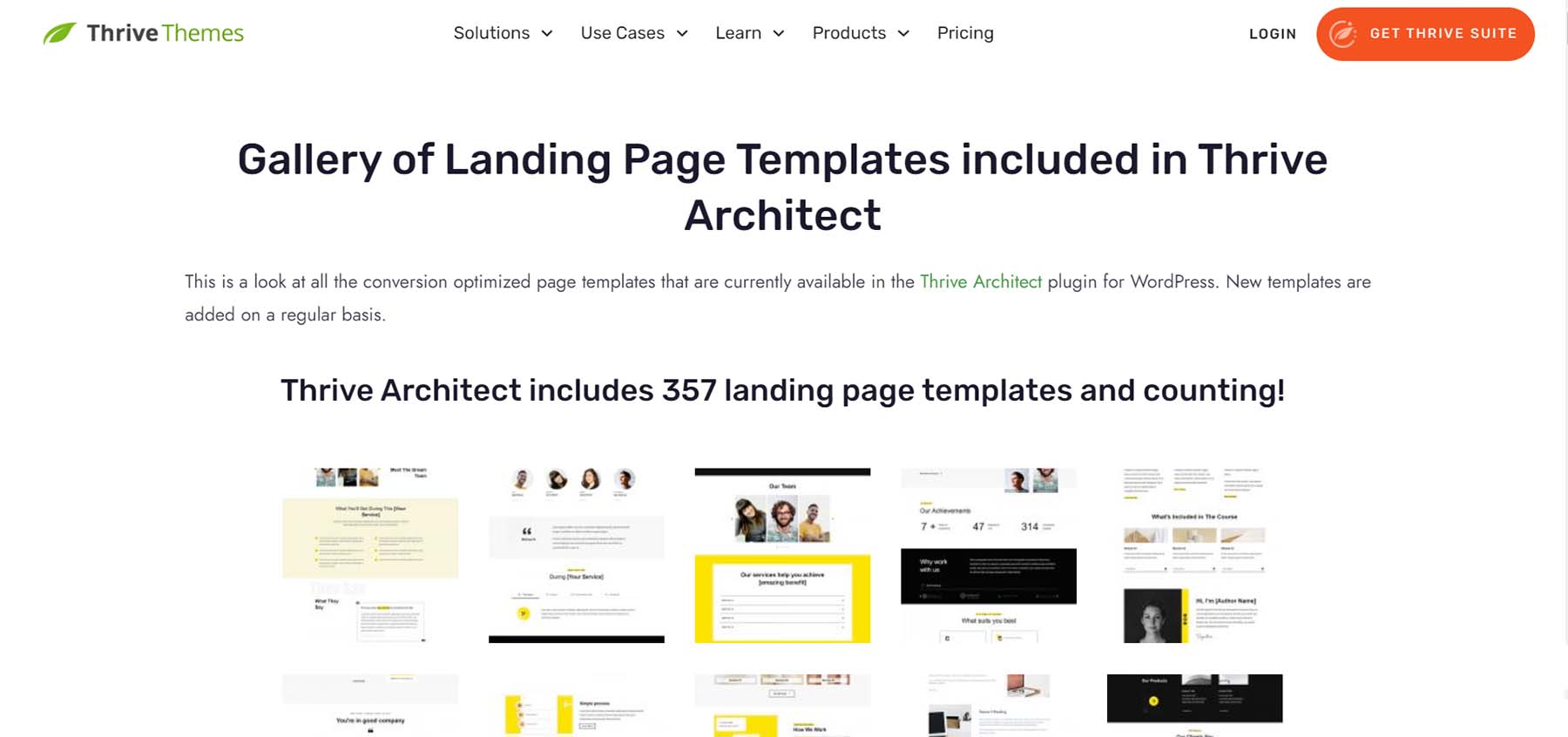 Thrive Architect offers a comprehensive package of 352 meticulously crafted landing page templates 100% geared toward driving conversions. These templates cater to various page types, such as sales pages, opt-in pages, webinar pages, and many more. With Thrive Architect, users can create professional-looking pages quickly, as the templates are pre-designed and ready to publish.
Best For: Thrive Architect is best for those companies, entrepreneurs, or bloggers who want a powerful and lightning-fast solution for creating stunning landing pages built for conversion. If you are looking for more design elements or layouts geared toward building entire websites of all kinds, this may not be the builder for you.
Thrive Architect Pricing: $299 per year
8. Themeify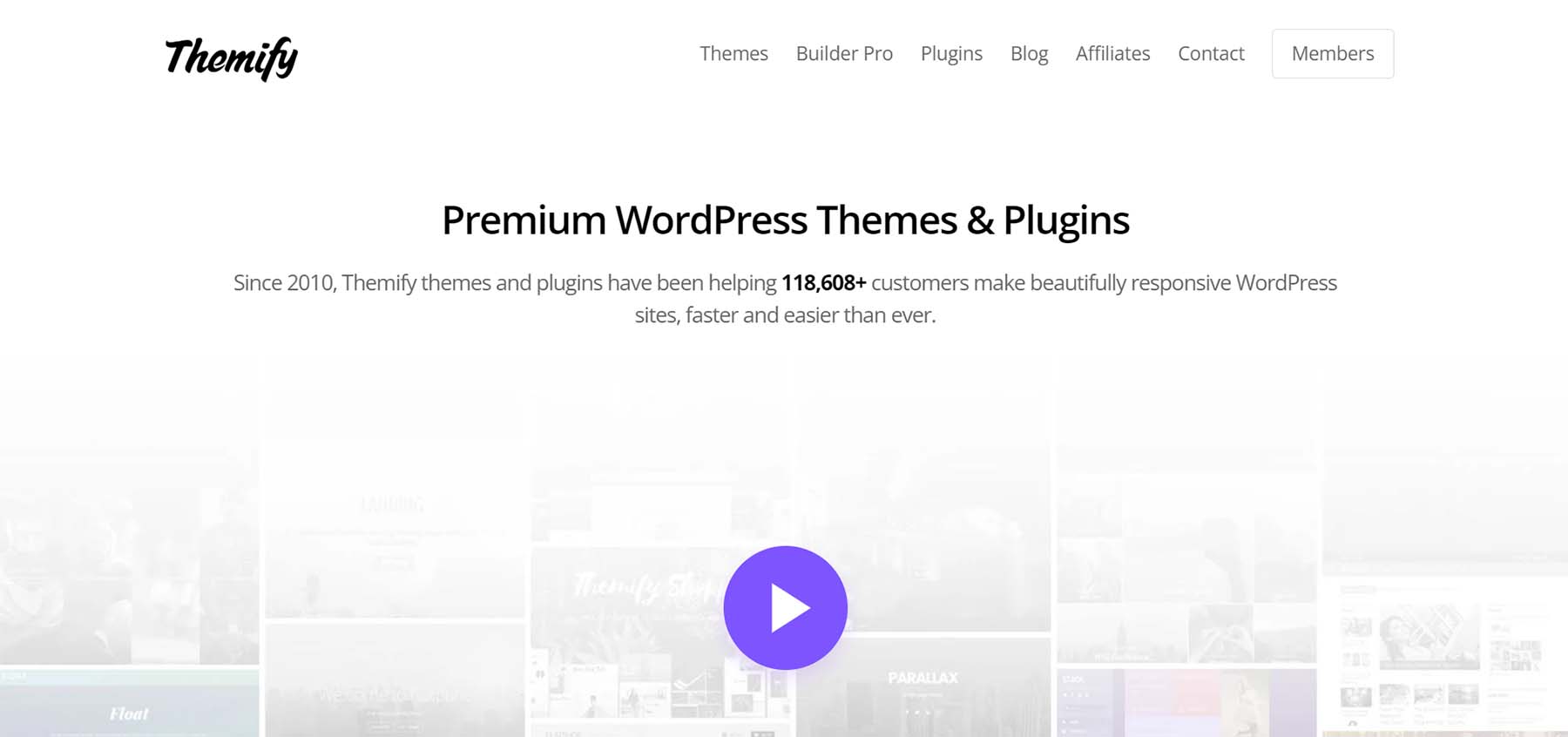 Themify is an intuitive drag-and-drop builder for WordPress that comes as a free standalone plugin, allowing users to experience uncomplicated page building in WordPress. It comes with 40+ professional design elements and 100+ page layouts.
Themify doesn't have full site-building capabilities, so you'll need to rely on their library of themes to support you.
Additional add-ons can be purchased in a bundle with features like content restriction, A/B images, bar charts, and more.
The builder interface has unique qualities that make it easier to use than most other page builders. It allows you to add elements using drag-and-drop or by clicking on a section of the page.
Though it is one of the lesser-known page builders, Themify integrates with well-known plugins in the WordPress ecosystem, like WooCommerce, Yoast, Mailchimp, and Contact Form 7, to name a few.
From a pricing perspective, Themify is the most cost-effective page builder plugin as it is available for free, but the Builder Add-on still makes it the cheapest in our list at $39.
Key Features for Themify:
With over 60 built-in animation effects
100+ pre-made page layouts and design elements to speed up the design
Builder Add-on bundle available for 25+ premium content elements
a drag-and-drop builder designed for speed and efficiency
Import/export design elements to be used elsewhere.
Copy and paste design elements from one page to another
The Builder's code is fully localized using WordPress standards, making it easy to translate into any language.
Multisite supported
A builder cache system for a better user experience and faster builds.
Extensive library of pre-built layouts and modules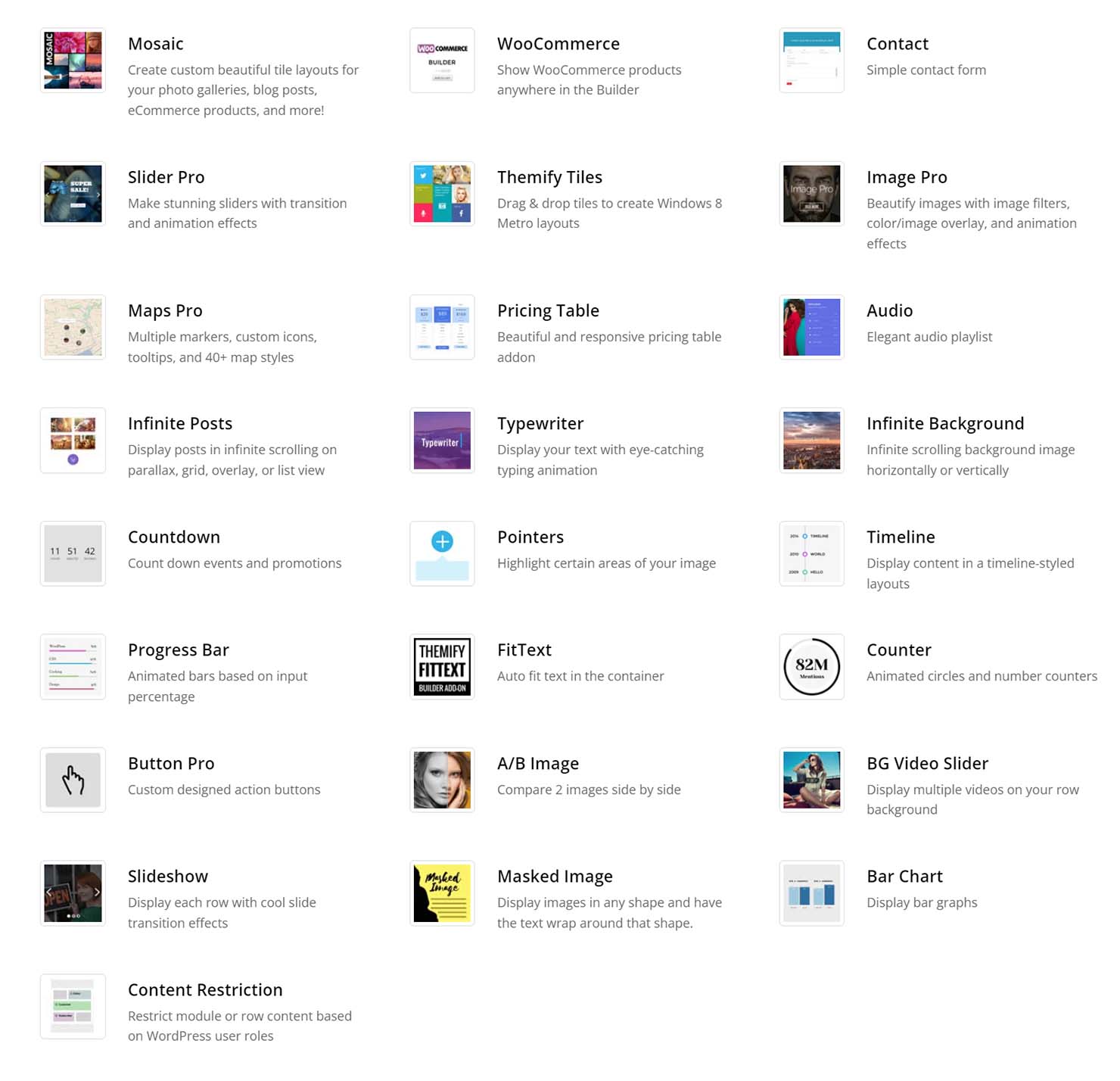 The Builder has a collection of 25+ add-on modules that enhance its functionalities. They can be integrated into any Themify theme, offering a comprehensive and versatile website design and development solution.
Best for: Beginners looking for a quality free page builder without all the bells and whistles. If you're looking to get started with page builders and WordPress as a whole but are unimpressed with the features of Gutenberg, Themify strikes a good balance between ease of use and features.
Themify Pricing: Free, Paid add-ons available
9. Brizy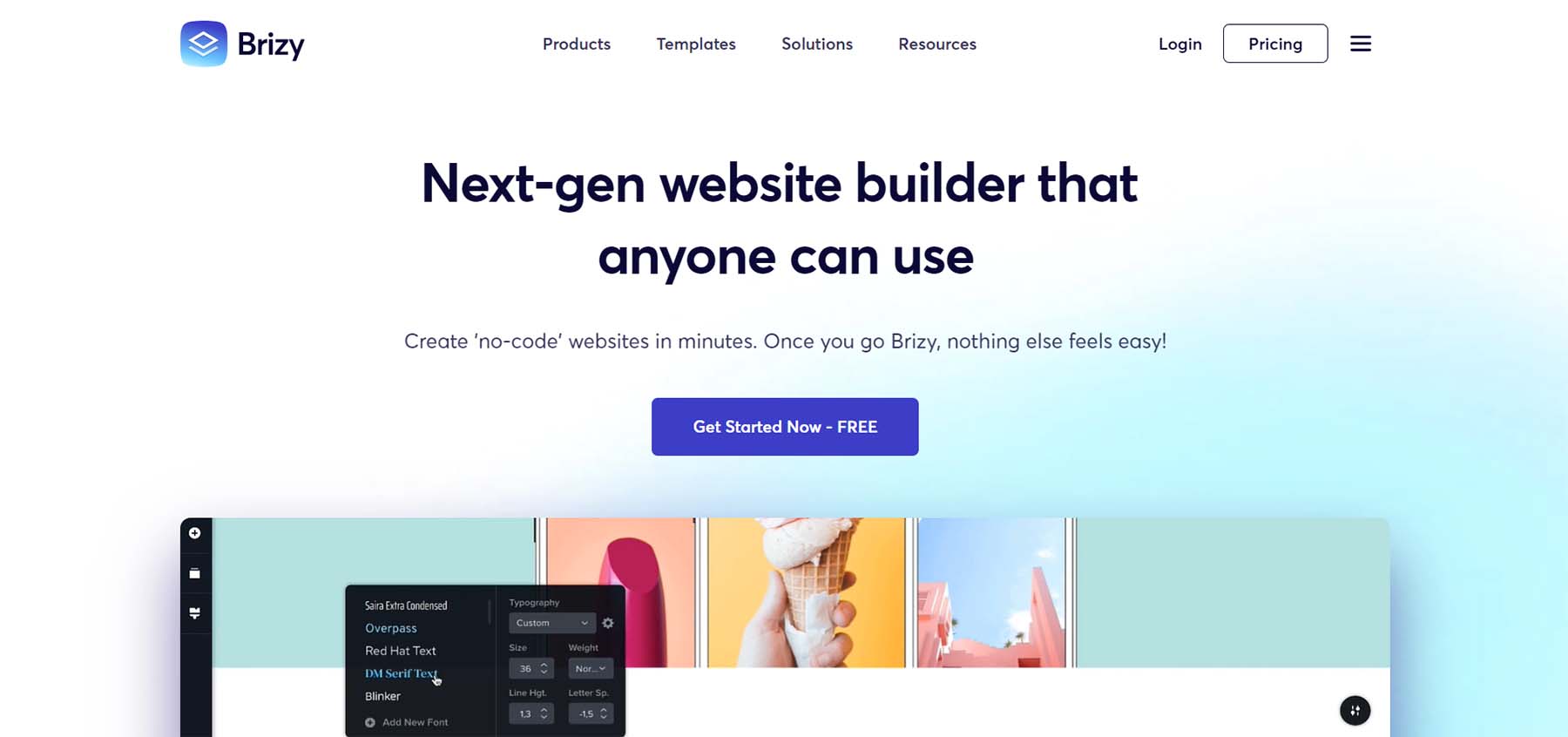 Brizy is a WordPress page builder that prides itself on being a cutting-edge builder for "next-gen" websites. The page builder allows you to visually edit your WordPress page layouts with 36+ elements, clean code, and built-in mobile optimization.
Brizy provides 100+ layouts built with conversions in mind, similar to builders like Thrive Themes and SeedProd. The functionality of Brizy's Theme Builder allows for the editing and customization of all sections within the WordPress CMS, including archives, posts, pagination, and much more on a granular level.
Regarding design resources, Brizy provides layout packs, landing pages, block kits, and popup design templates. The icon library is particularly impressive. Brizy is a drag-and-drop builder, but its unique approach to freehand positioning makes it stand out from its competitors. Brizy comes with 14 visual elements that you can utilize in building your WooCommerce store, and it works well with popular marketing apps like Converkit, Hubspot, Zapier, and ActiveCampaign.
If you are a designer looking to build a single site for yourself, you'll find Brizy's pricing on par with others in the marketplace. However, when you consider building for clients, creating multiple sites, and working on more complex websites like membership sites, the cost of Brizy could become a deterrent.
Like Elementor, it also offers an all-in-one solution if you want to use its cloud-hosted platform.
Key Features for Brizy:
Available as a WordPress plugin & Cloud Platform
36+ powerful elements
100+ design templates that are both aesthetically pleasing and optimized for mobile devices.
500+ pre-designed element blocks, crafted with conversions in mind within the Blocks Design Kit
4000+ premium icons, available in both glyph and outline styles
Animation features for on-entry effects, scroll reveals, and Lottie animations.
Customize images with the Zoom & Focus feature.
Web Stories feature for creating swipeable mini-sites & landing pages optimized for mobile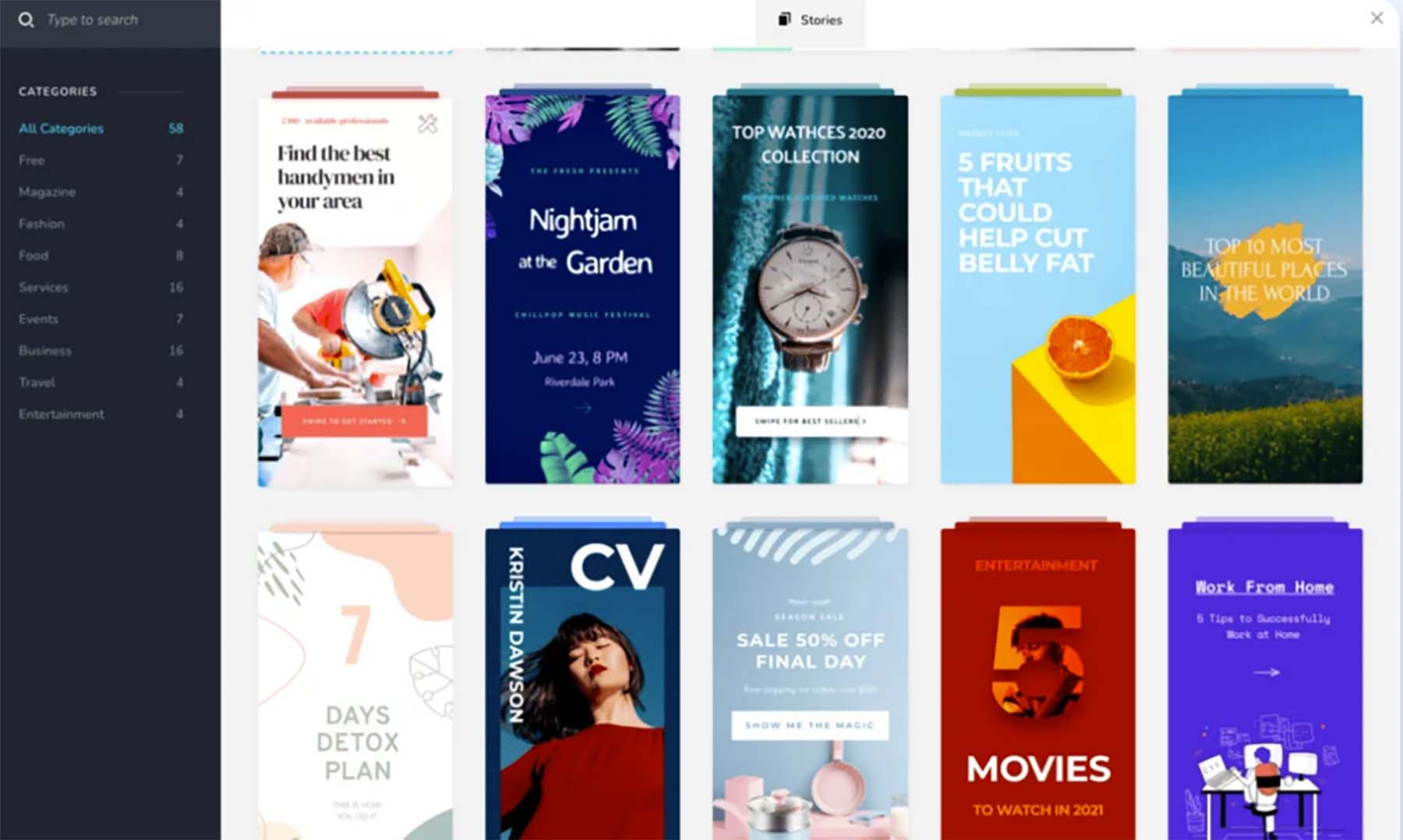 Brizy's Web Stories feature enables users to produce mobile-optimized and visually captivating content. Include multimedia elements like images, videos, and animations to enhance the storytelling experience.
Best for: Those who want to build cutting-edge website designs that mimic social media trends and features. Users will love using this no-code visual builder to build a website that looks different from your typical WordPress website.
Brizy Pricing: $49 per year
Comparing The Best WordPress Page Builders
Regarding WordPress page builders, there are quite a few great options! That's the beauty of WordPress. Thanks to its vibrant community of developers, there are often many solutions for every situation. With so many options, however, picking the best plugin for your particular needs can undoubtedly be challenging.
Page Builder Price Comparison
Choosing the best WordPress page builder plugin at the right price is difficult. To help streamline your decision, we've compiled a concise table comparing the top-rated plugins and their prices to provide a clear perspective on cost-effectiveness.
Page Builder Feature Comparison
Check out our top three favorite page builder plugins in the table below. We've compared their key features to help you pick the one that's right for you.
Features
Divi
Beaver Builder
Elementor
Oxygen Builder
Lifetime Plan Available
✔️
❌
❌
✔️
Unlimited Sites per License
✔️
✔️
❌
✔️
Full Website Packs
✔️(200+)
❌
✔️(100+)
✔️(17+)
Pre-made Page Layouts
✔️(2000+)
✔️(limited)
✔️(300+)
✔️(limited)
Scroll and Entrance Animations
✔️
✔️
✔️
✔️
CSS Transforms
✔️
✔️
✔️
✔️
Filters & Blend Modes
✔️
✔️
✔️
✔️
Background Masks & Patterns
✔️
❌
❌
❌
Unlimited Background Gradient Colors
✔️
❌
❌
✔️
Global Presets for Design Elements
✔️
❌
❌
✔️
Global Colors for Design Elements
✔️
❌
✔️
✔️
Responsive Settings for Design Elements
✔️
✔️
✔️
✔️
Hide / Show Element Based on Screen Size
✔️
✔️
✔️
✔️
Draggable Margin & Padding
✔️
✔️
✔️
✔️
Theme Template Builder
✔️
✔️(add-on)
✔️
✔️
Build Headers & Footers
✔️
✔️(add-on)
✔️
✔️
Build WooCommerce Pages
✔️
✔️(add-on)
✔️
✔️
WooCommerce Element Design Modules
✔️
✔️
✔️
✔️
Styling for WooCommerce Products
✔️
✔️(add-on)
✔️
✔️
Add Dynamic Content within Templates
✔️
✔️
✔️
✔️
Advanced Custom Field Integration
✔️
✔️(add-on)
✔️
✔️
Add Custom CSS to Elements
✔️
✔️
✔️
✔️
Popup/Modal Builder
❌
❌
✔️
✔️
Conditional Logic for Displaying Elements
✔️
✔️
✔️
✔️
Integrates with WPML
✔️
✔️
✔️
❌
Integrates with Yoast
✔️
✔️
✔️
✔️
A/B Split Testing and Tracking for Lead Generation
✔️
❌
❌
❌
Email Opt-in Form Module
✔️
✔️
✔️
❌
Contact Form Module
✔️
✔️
✔️
❌
Email Marketing Integrations
✔️(20)
✔️
✔️(12)
❌
Price for All Features
$89/yr
(unlimited sites)
$199/yr
(unlimited sites)
$59/yr (1 site)
$179 lifetime
(unlimited sites)
Get Divi
Get Beaver Builder
Get Elementor
Get Oxygen Builder
What is the Best WordPress Page Builder?
If you are looking for a powerful page builder with the most design tools and resources for building any website, we think Divi will give you the most bang for your buck. With Divi, you won't have to upgrade to more costly plans to get the features you want. You get everything Divi offers and more (for unlimited sites) at an affordable price.
Beaver Builder is an excellent option if you're looking for a more lightweight page builder that works great with WordPress and is easy to use. It is perfect for beginners who want a free visual builder for their WordPress theme. Plus, you can always upgrade for more powerful features with their paid plans.
If you are looking for a freemium page builder for your site with tons of great features, Elementor is a great option. The Hello Theme and the free version of the page builder is an excellent combo for beginners, and a premium plan includes all of their powerful features. Paid plans are based on the number of sites so that single-site users will score big with Elementor. But really, any of the page builders on our list could be a good fit. It all depends on what you are looking for.
Frequently Asked Questions (FAQs)
Before we wrap up, let's answer some of your most common questions regarding WordPress page builders. Did we miss one? Leave a question below and we will respond!
Looking for more great plugins? Check out this list of the best WordPress plugins from every category.