Conversion tracking is undeniably one of the most important metrics of your website. Knowing how many visitors take action on your site and convert to being a member or paying customer helps you target your marketing, see how your site is being used, and — most importantly — determine the success of your efforts and judge ROI.
Subscribe To Our Youtube Channel
What is a Conversion?
A conversion is when a visitor takes a specific action on your site to become a customer. These are somewhat broad terms in a somewhat general definition. But in general, you can think about it along lines like these:
A visitor comes to your website from Google. They see an item in your shop and purchase it. They have converted from a visitor to a paying customer.
Someone navigates to your site from social media, likes what they see, and fills out your email subscribe form. They have converted from a visitor to a member of your community.
Someone converts when they perform the action you want them to take. Tracking those conversions, then, can help you judge the effectiveness of your marketing campaign and see how it's working. Or not working.
Without conversion tracking, you're taking shots in the dark. You're making assumptions that may or may not be right. You can make data-driven decisions about your site by tracking conversions, which in the long run is the key to success and making the most return on every investment you put into your site, brand, or business.
Conversion Tracking Tools
There is no dearth of conversion tracking tools out there. From WordPress plugins to entire CRM platforms to metrics and analytics dashboards, you have a choice of nearly any kind of tracking software you could want. However, even with that choice, there remains a foundation of specific tools that they tend to be built from. We're gonna go through them to show you what they can do for you and how to get them set up on your WordPress site.
1. Google Analytics
GA is the gold standard for metrics platforms. Nearly everyone uses it in some capacity because it can handle just about any kind of metric tracking that you need. And it's not terribly difficult to understand if you're not going to be digging into the ultra-advanced features. Luckily, conversion tracking is one of the easy-to-use feature sets.
Generally, when starting out tracking conversions, people begin with email opt-ins. It's an easy way to judge how many people are interested in what you're putting out into the world. If they like it enough, they sign up for your list. Simple enough.
So in Google Analytics, you may want to track traffic to a specific URL with certain parameters. In most contact form and email opt-in plugins, there's a redirect URL field. In Divi, it looks like this (with most others being similar in structure). All you have to do is enter the URL you want the newly converted user redirected to.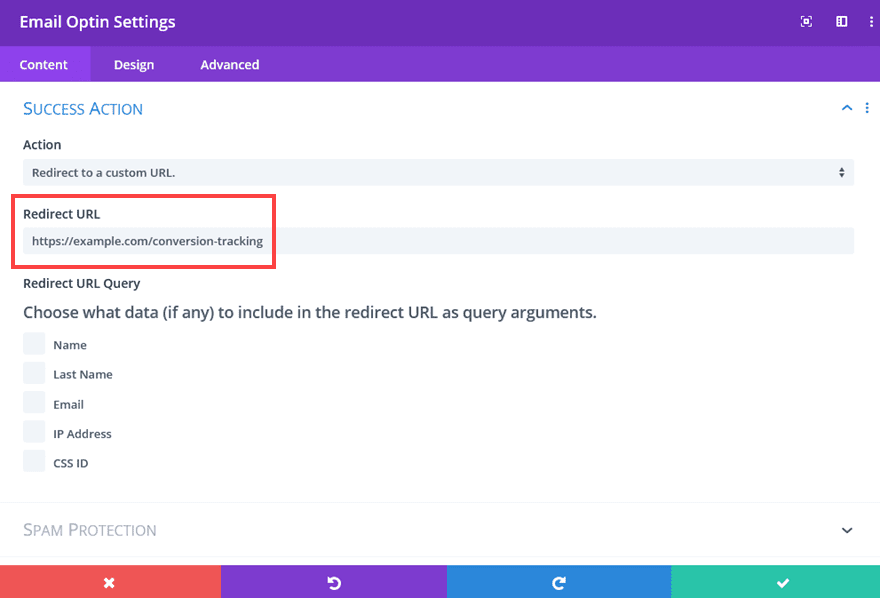 In Google Analytics, then, you navigate to Conversions – Goal URLs and click the Set Up Goals button.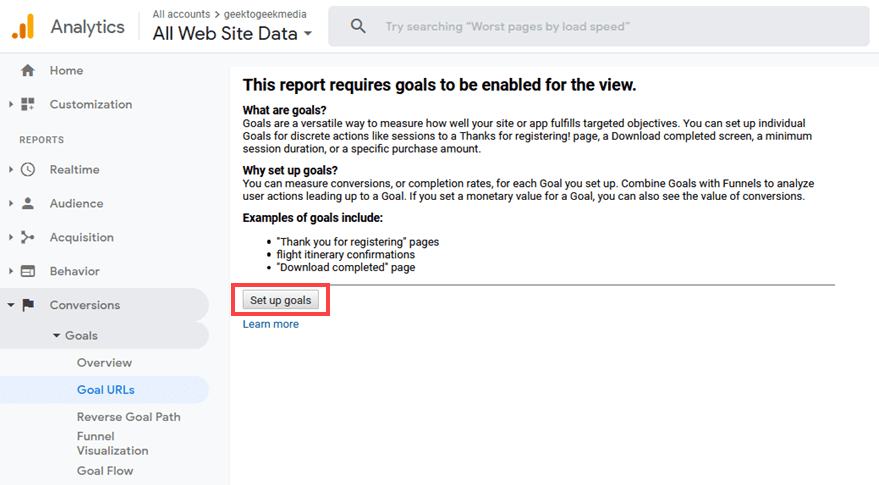 From there, you can either select the Create An Account radio button oreven custom. (Both let you set a destination URL.)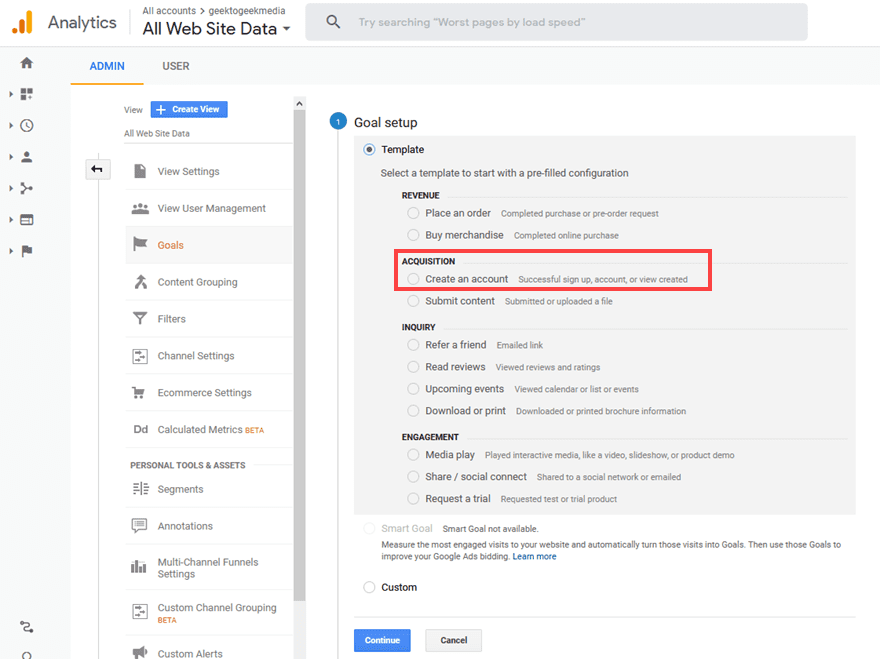 Then, you simply enter the URL into the Destination field. And you're ready to start tracking!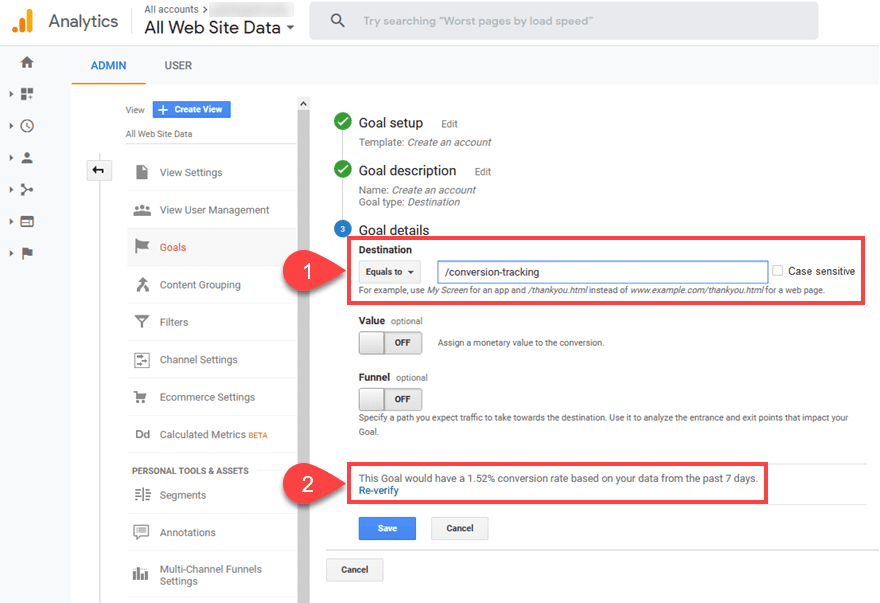 At the bottom of this screen, just above the save button, you can verify this goal, which is basically getting a baseline of where your conversion rate stands when you start. Remember, this isn't the only way to track conversions in Google Analytics, and it doesn't give the deepest analytics you can get. But if you're new to goals and conversion tracking, it will get the job done, and you can grow from there once you're used to the platform.
2. Google Ads
Google Ads, formerly AdWords, are responsible for most of the banner ads on the internet. Which means the platform is responsible for — you guessed it — conversions from search engine to your website. You can find them in the Tools and Settings menu under Measurements. Just click on Conversions.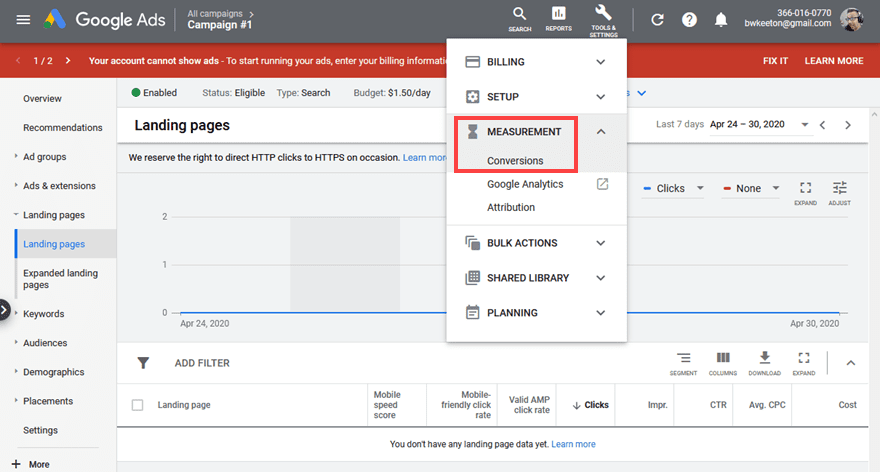 Once there, you will choose how you want to track the conversions. Continuing with the example above, we will click on Website.

Then, it's very similar to how you tracked in Analytics. You select Subscribe from the dropdown menu (though you can also choose from sign-ups, getting directions, adding to cart, purchasing, and many more actions the user can take).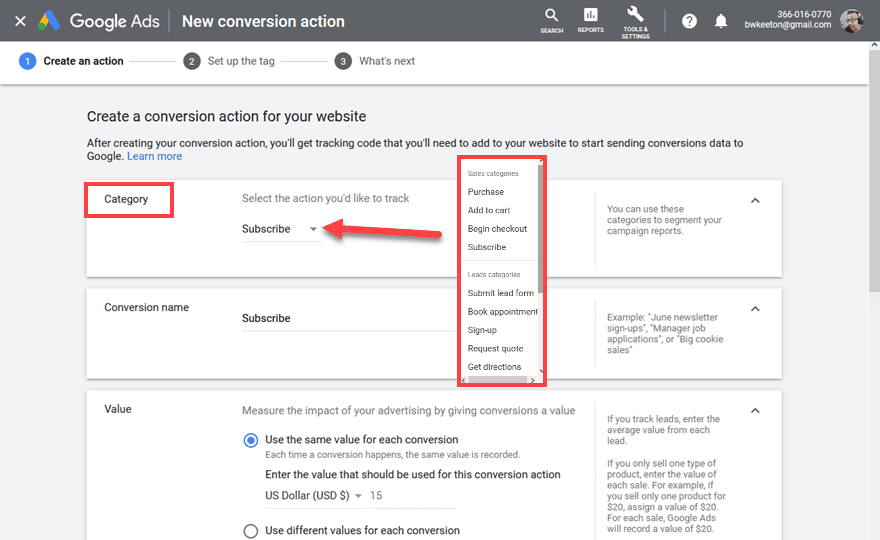 And finally, you just insert the code that Google Ads gives you onto your website.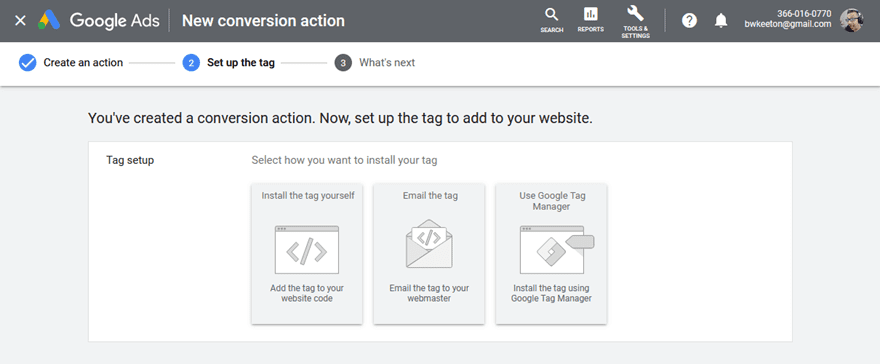 If you aren't the one who manages the website, you can email it to the person who does. Or you can use Google Tag Manager, which is a fantastic marketing tool, but more in-depth than we can go into here. After that's done, you're going to be tracking any ad campaigns that you run through Google Ads. Simple as that!
3. Twitter Website Tag

Twitter's website tag is their way of having you install a script in the head of your site to track your ad spend and conversions through their analytics platform. And it's dead simple to use.
Sign in to the Twitter account you use for marketing at ads.twitter.com and click the dropdown Tools and select Conversion Tracking.

Twitter then directs you to a page with a big, blue button that says Generate Website Tag for Conversion Tracking. Agree to their terms and conditions, then press it.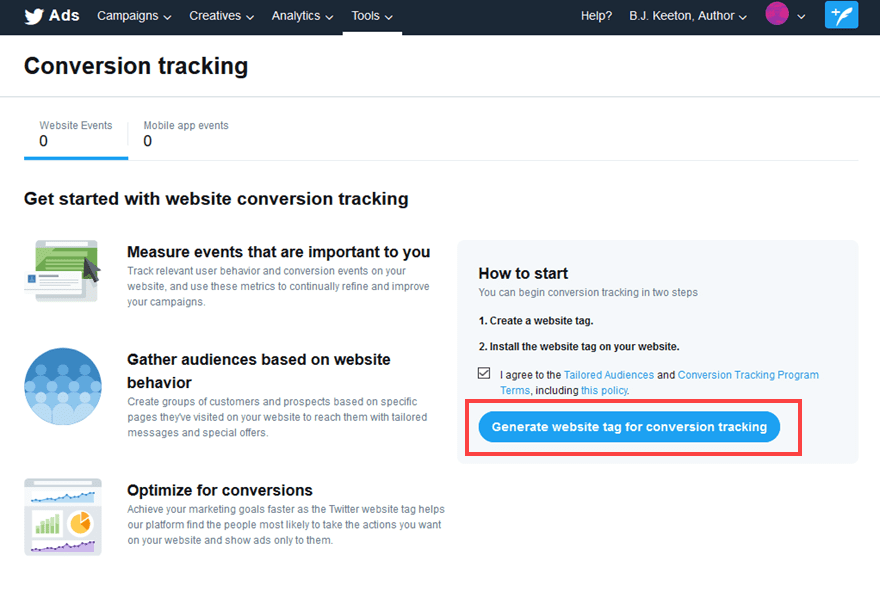 Now all you have to do is copy this code and paste it into your WordPress theme's head script box.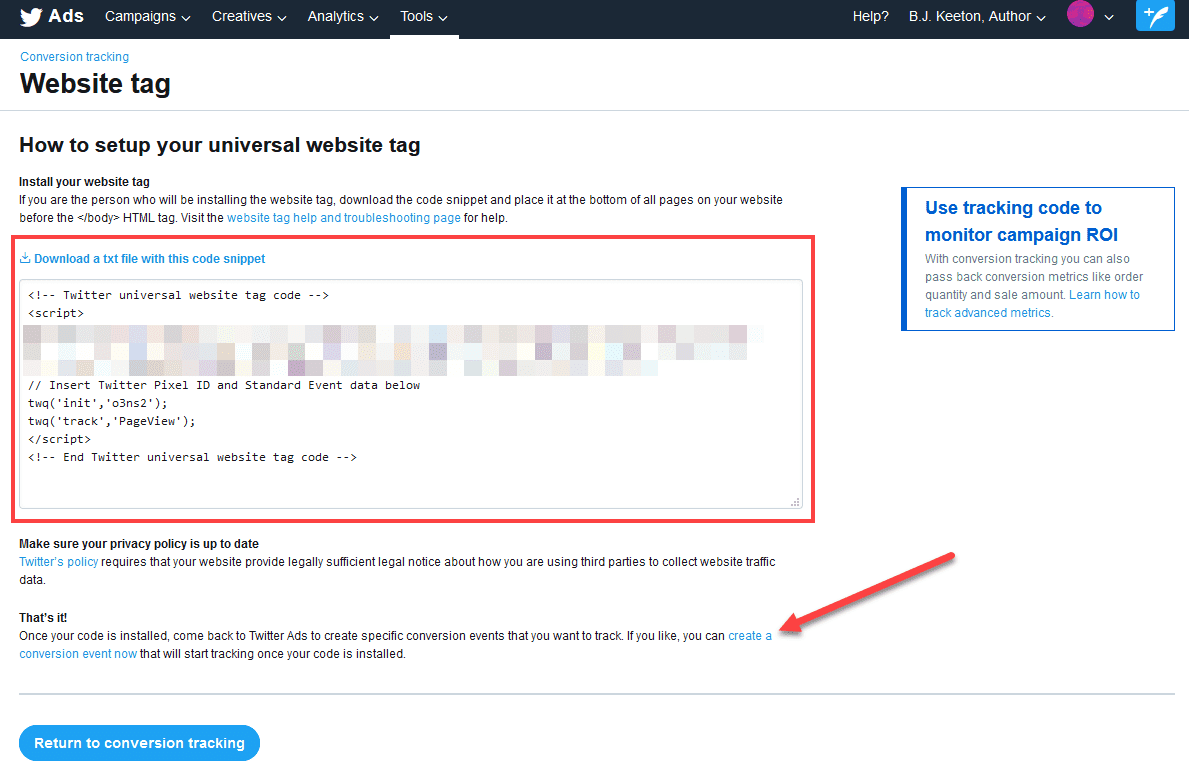 However, rather than pressing the Return to Conversion Tracking Button, we want to call your attention to Create a Conversion Event Now. This link serves the same function as the Goal we set for Google Analytics. Letting you track any number of metrics for your users, but also to the direct URL you are tracking.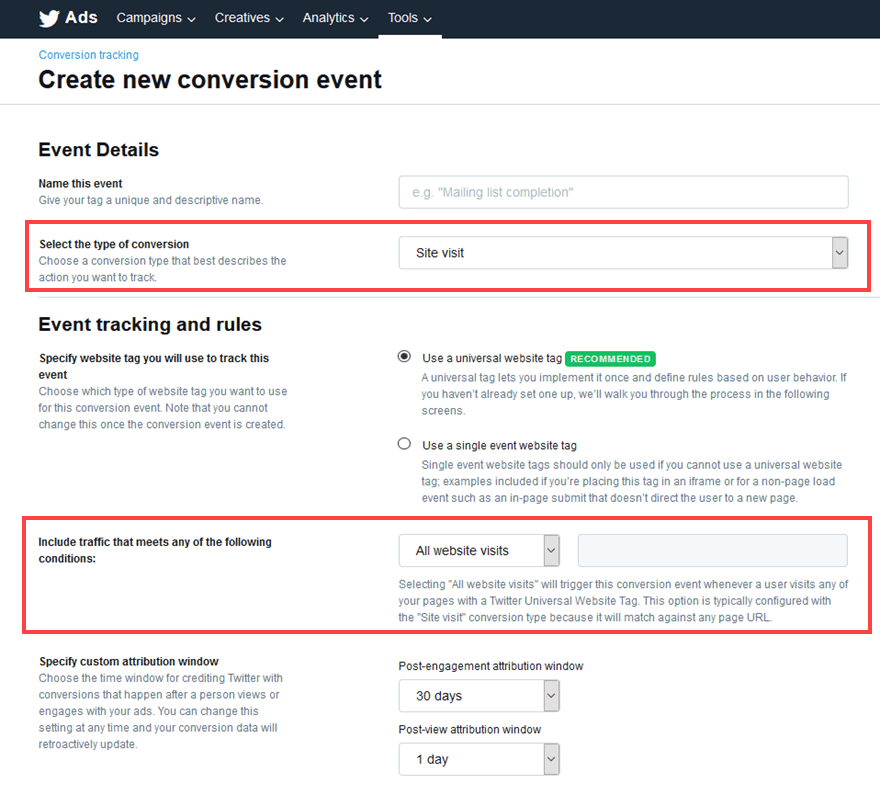 You can even set which criteria and conditions under which the URL will be tracked. Once you save this event, the Twitter website that you just put on your site will immediately start tracking your conversions.
4. Facebook Pixel

And now we come to the infamous Facebook tracking pixel. Ubiquitous among internet marketers and conversion trackers, the Facebook pixel has drawn a lot of ire because of the data it collects. You can easily add the pixel to your WordPress site using a Facebook plugin. That data is managed through the Facebook for Developers dashboard, and the campaigns are tracked there, too. Using the FB pixel, you can track conversions around your site, apps that tie into Facebook, your Facebook and Instagram ads, and more.
Rather than repeat ourselves here, we have a full, in-depth guide to using the Facebook pixel for conversion tracking and much more. Check it out, and you'll be tracking so many conversions you won't know how to keep up. The FB pixel is that powerful.
Wrapping Up
Getting your head around conversion tracking can be difficult. There are many WordPress analytics plugins out there that can help you install the tracking scripts and many eCommerce solutions and opt-in form plugins that will help you track specific conversions. With analytics platforms, there are a lot of aspects that take years to master. But if you're just coming into the ecosystem, and you want to find out how to enhance your marketing campaigns, verify your content's effectiveness, and boost your ROI, it's a necessity. Get the Facebook and Twitter pixels, set up a Google Ads account, and get Google Analytics to track your site. You'll be well on your way to converting visitors into users in no time.
What is your preferred method of conversion tracking?
Article image by LeoWoz / shutterstock.com