Business owners know that having a website is table stakes in today's economy. But what good is a website if it is never seen by your target audience? That's why developing strategies for website marketing is so important. From optimizing your website for search engines to using social media to drive traffic, we have a list of the most effective website marketing strategies that can help you reach your goals.
This article will explore 12 marketing strategies that you can use to give your website a leg up.
How Important is Website Marketing?
In the world of online marketing, a website is a digital display room or storefront. It's the first place potential customers go to learn about your product or service, and it's where they'll naturally go to make a purchase. Nobody in your showroom means no sales are happening in that showroom. That's why an effective website marketing strategy is essential to growing your business.
There are several ways to increase the effectiveness of your website and convert visitors into customers. But all marketing strategies boil down to increased traffic on your website. And not just more traffic—targeted traffic.
Investing in website marketing is a key strategy for the growth of your business.
12 Website Marketing Strategies to Help Grow Your Business
While your business or website might not be able to use (or need) all of these, this list will give you ideas about website marketing strategies that you should be considering.
1. Email Marketing
Our first website marketing strategy is a staple. Email marketing is one of the most effective ways to grow brand loyalty and keep your readership coming back to your website. Email marketing allows you to reach a large audience with simple and low-maintenance technology.
Many marketers think that email marketing is an effort that happens after someone visits your website. And it is true that email list growth happens after a visitor converts into an email subscriber. But the power of email marketing is the ability to continuously bring that person back to your website. This creates higher value conversions, improves your win rate, and increases the average customer Lifetime Value (LTV).
To get started with email marketing, find a good email marketing service that is the right fit for your needs. These services make it easy to manage your email lists and build/send emails to your subscribers.
Once you have an email service, you can start building your list of email addresses on your website by using one of the top WordPress newsletter plugins (like Bloom) that integrate with your platform. With your email marketing platform, you can use that email list to create an email blast or create email campaigns to send out targeted marketing emails.
For the best results, use automation and email list segmentation to target your audience more effectively.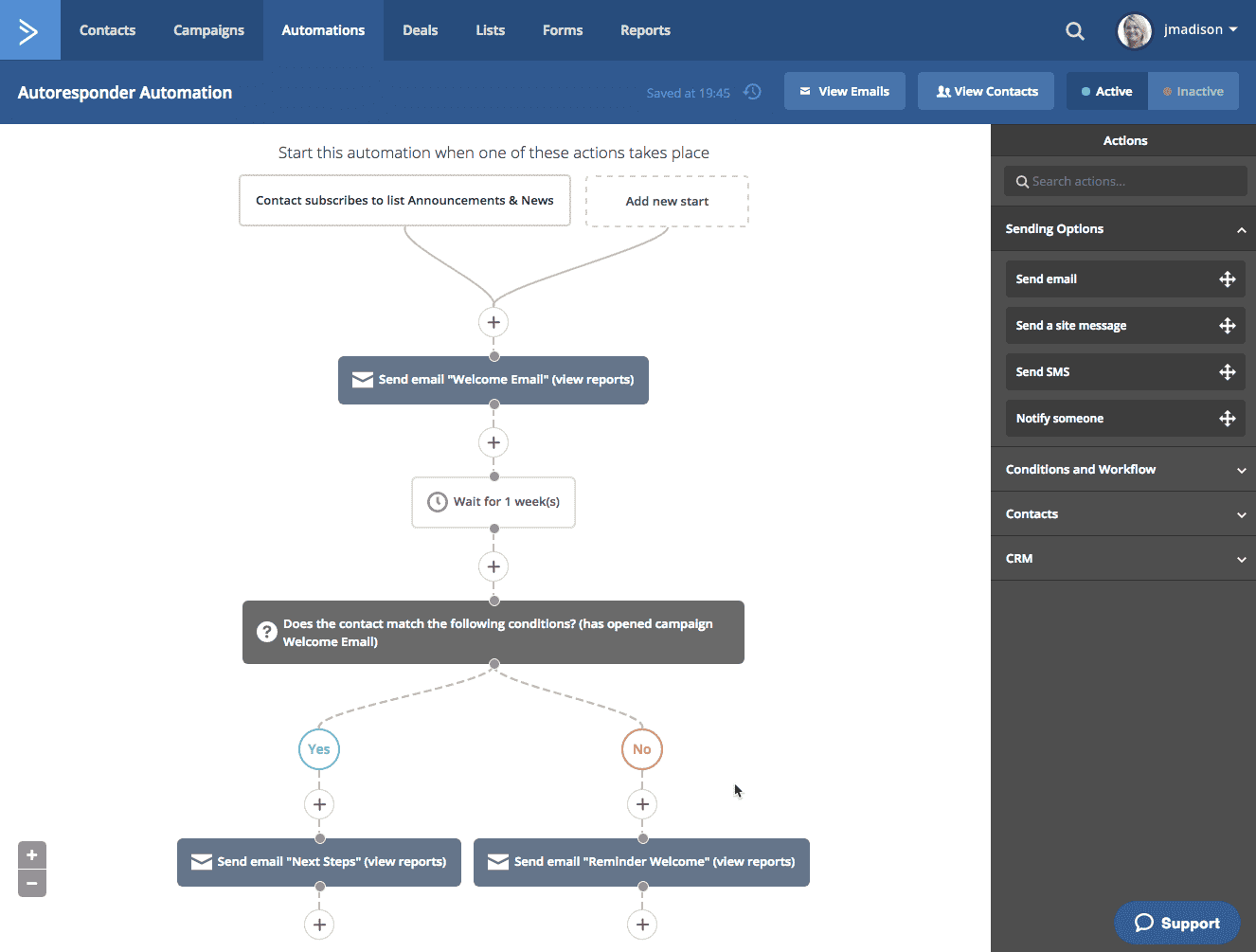 Organic social media is social media marketing that focuses on building community and creating sharable content. It is the non-advertisement side of social media channels. This includes anything that website owners do to create or share content on social media platforms like Facebook, Twitter, TikTok, and LinkedIn. As an example, Instagram is a good platform whose organic content can play well with your website. Using an Instagram plugin you can connect followers from the platform with your website, and vice versa. Don't forget to make your website content easily sharable using a social media plugin.
Organic social media help website owners connect with potential customers and build community relationships. When website owners create content that is interesting and useful, they are more likely to get followers who are interested in exactly what they do. This helps create a connection between the website owner and potential customers, which leads to increased sales or at the very least better brand reputation and awareness.
Elegant Themes is a great example of a company that has successfully used social media to build a large community of Divi users.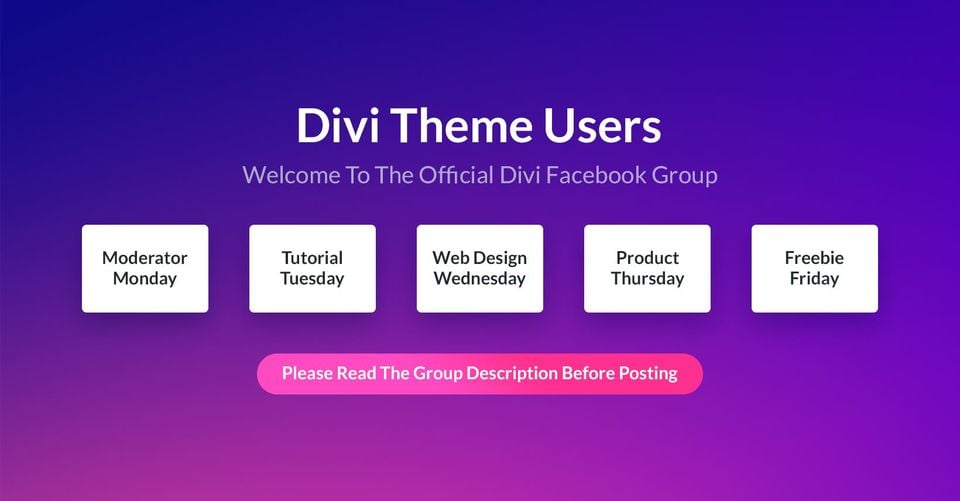 It's not every day you see a Facebook Group of 73,000+ members! We've created a place where our customers love to come for answers and find people who are ahead of them in their journey. This is just one way Divi uses organic social to help market our products and website.
3. SEM / Search Advertising
SEM, or Search Engine Marketing, is a digital marketing strategy used to improve a website's visibility in organic search results on Google and other global search engines. Search engine marketing (SEM) is the other side of organic search engine optimization (SEO).
Search advertising is the most common form of SEM. It allows website owners to pay for their website to appear as a sponsored result at the top of the search engine results pages (SERPs). This placement is determined by an auction in which advertisers compete against one another to have their website shown when certain keywords are searched.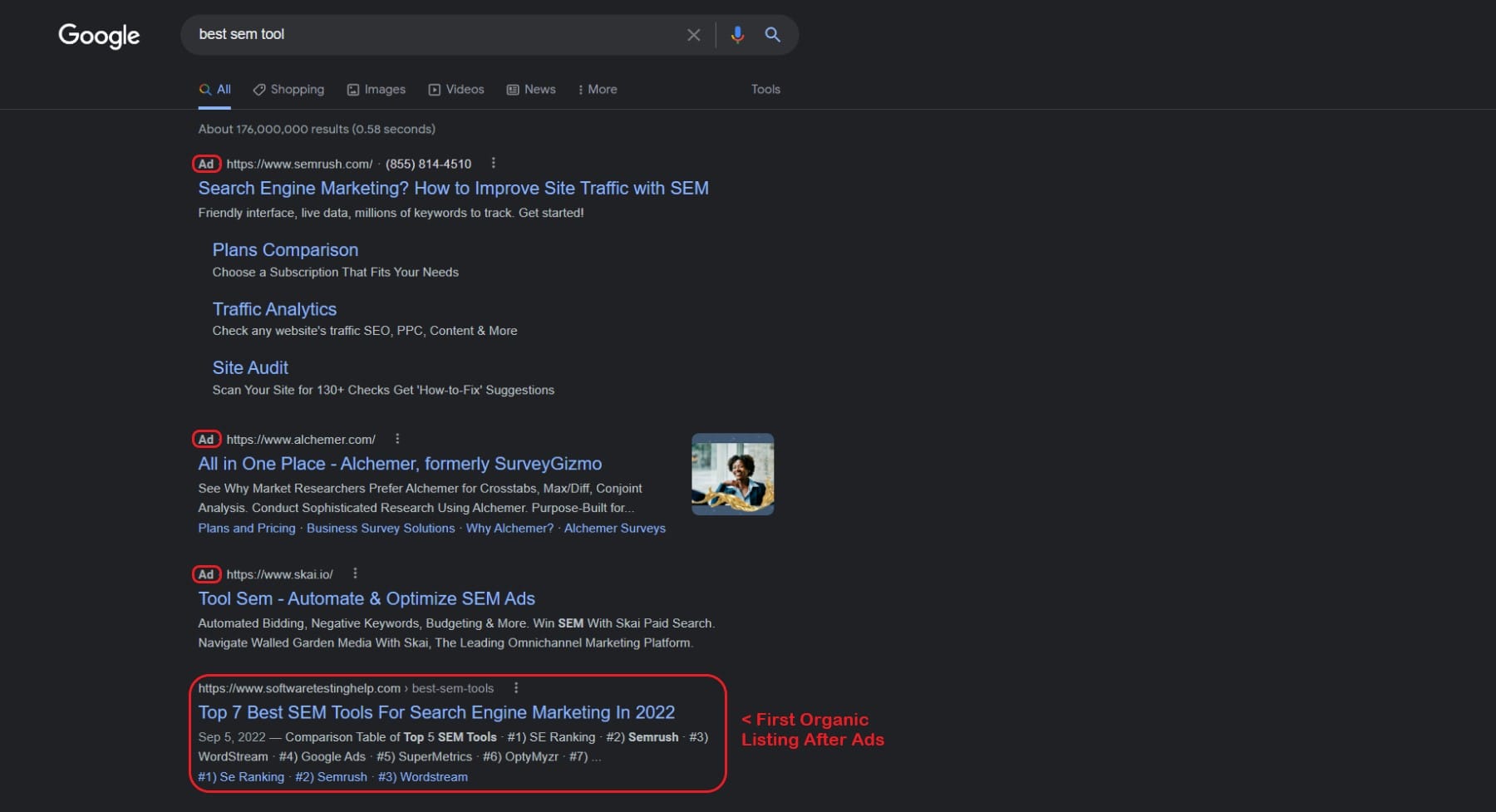 Don't forget that you can also use search engine optimization for your online stores. If you're using WooCommerce on your site, you'll be surprised at how many WooCommerce SEO plugins are available to you. Yoast and Rank Math have free versions that can still help you with your SEO efforts if budget is a concern
SEM is an effective way for website owners to share and market their sites as it improves visibility above organic search results. It's a great tool as you wait to build organic SEO for your website. When done correctly, SEM can help website owners attract more visitors, leads, and customers making it a really effective website marketing strategy.
Many website owners truly fear running paid social ads. The fact that it is a paid platform and that advertising dashboards are not easy to learn keeps many business owners away from it. But that doesn't have to be the case.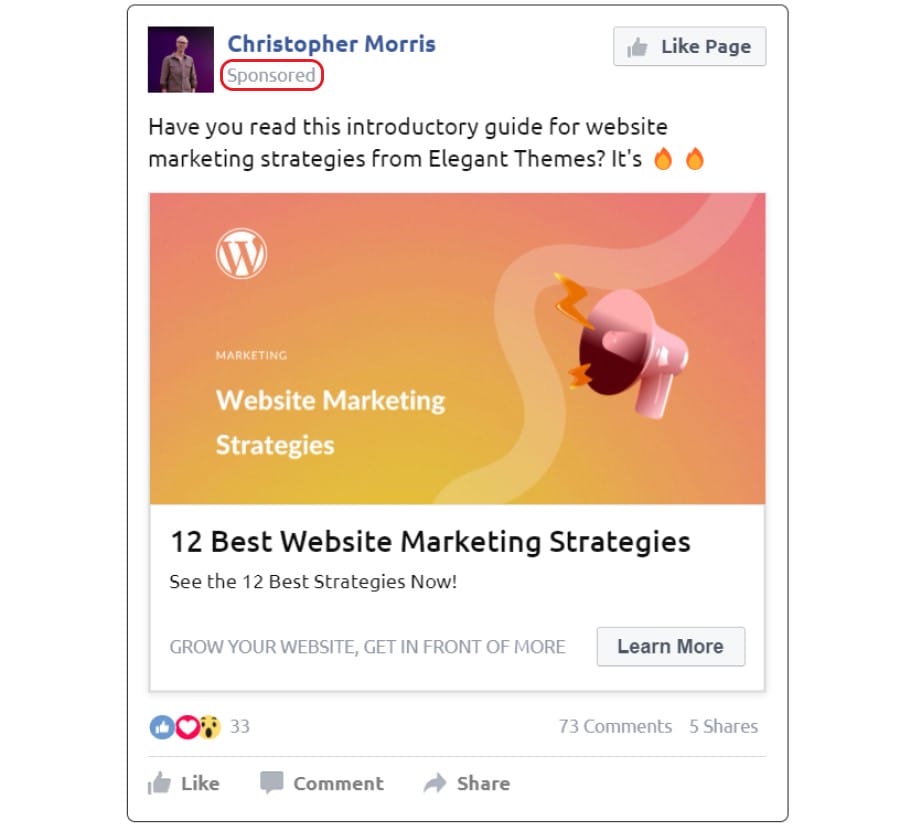 Paid social ads are simply ads that you pay to have placed on social media sites. This can range from promoting existing posts to creating detailed campaigns based on advanced audiences. There are plenty of strategies and platforms to experiment with. Getting started on Facebook paid advertising isn't that difficult. And that is true for other platforms as well. But, the fact is, using paid social ads is an excellent marketing strategy to drive targeted traffic to your website.
For more, check out our essential guide to social media advertising.
5. SEO and Content Marketing
SEO is a process by which website owners can improve the visibility and ranking of their site in the SERPs. They do this by closely following the rules and guidelines for website content that is set out by search engines. Content marketing is a related process where website owners create and share valuable content to attract and engage potential customers.
When used together, SEO and content marketing can be powerful tools for website owners looking to share and market their websites. By optimizing their site for search engines and creating high-quality SEO content driven by keyword research and search intent, website owners can attract more visitors to their sites and improve their chances of conversion.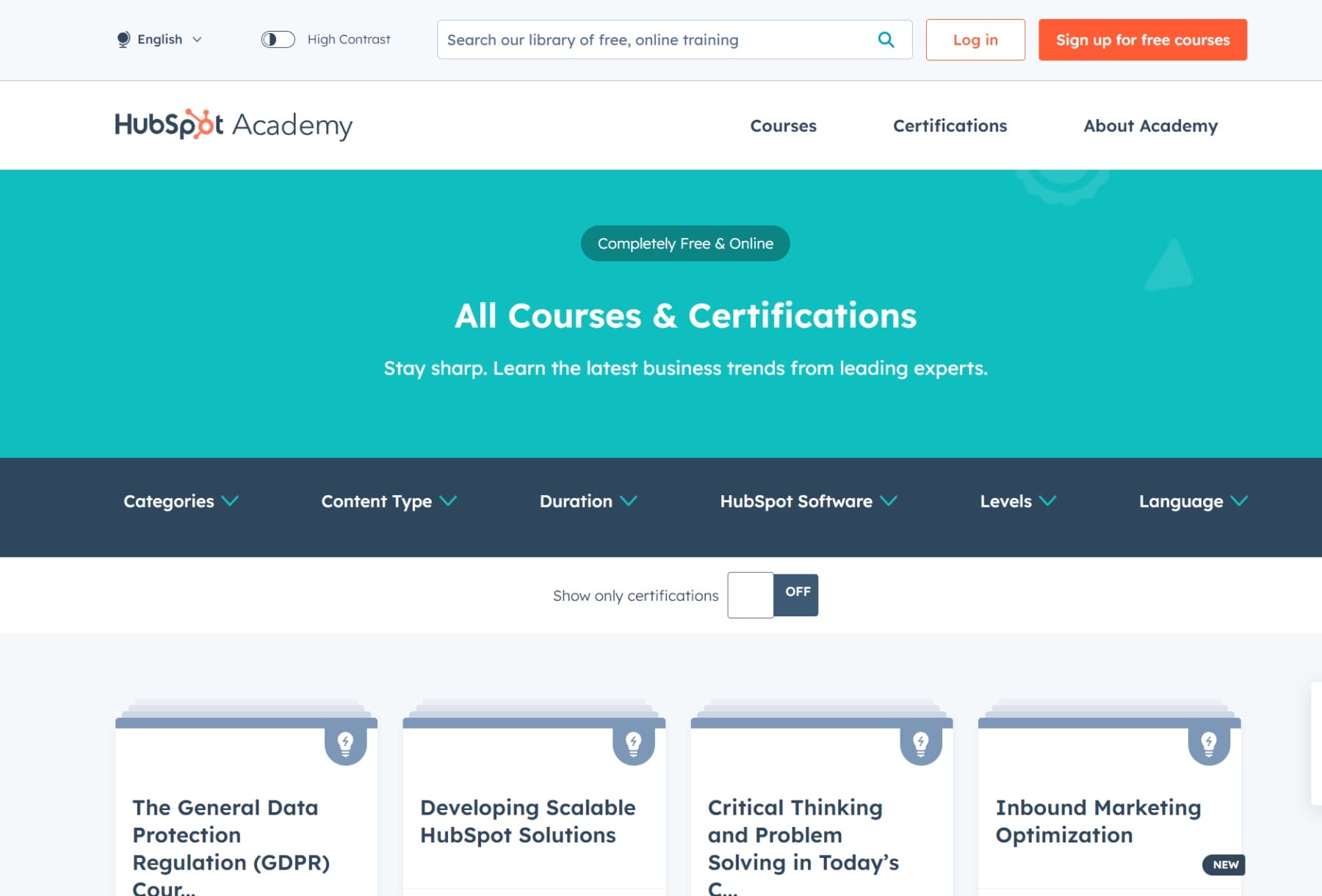 Hubspot is an example of a major company that has gone all in on content marketing and SEO. So much so that most of their new customers are brought in from their well-written and well-optimized content and courses.
If you are serious about creating SEO content, here is our checklist for on-page SEO and some free tools to get you started. But you'll probably need one of these top SEO plugins for the best results.
Also, reference our best marketing plugins that can help you out with content marketing and SEO.
6. Guest Posts and Guest Blogging
Guest posting is a method used by website owners to share and market their websites. By writing articles for other websites, guest posting allows website owners to get their name and website out to new audiences. Not only does guest posting help with brand awareness, but it can also directly lead to increased website traffic.
When done correctly, guest posting can be a great way to improve your website's visibility and traffic. However, it's important to make sure that you only guest post on high-quality websites that are relevant to your business category or niche. Make sure that your articles are well-written and provide value to the readers of the website you're guest posting on.
You can guest post on leading industry websites, in the newsletters of related thought leaders, and within think tank communities. You can extend the concept past written content to joining podcasts and interviews for exposure in new media resources as well.
There is also room to allow others to guest post on your website. This allows you the chance to have more relevant content on your website that can rank. It also opens you up to receive a spike of traffic as that other author promotes their new post. However, it can be tricky figuring out when and how to accept guest posters on your website.
Guest posting is also one of the best ways to get backlinks for SEO. If other sites with domain authority link to yours, your site will climb in the rankings organically.
7. Press Releases
A press release is a formal statement for media outlets to generate publicity for a business or individual. It is usually written by a public relations specialist and can be an extremely effective marketing tool.
There are many different ways to use a press release, but one of the most common is to share news about your business's accomplishments and truly exciting news. This could include new products, awards, or funding rounds. By sharing exciting information with the press, you can generate interest and traffic to your site. This is especially true if the release gets picked up by an industry publisher or local news outlets for featured stories.

Press releases can be a great marketing tool, but they need to be used carefully. If you over-hype your story or make false claims, you could damage your reputation. Make sure that you only share accurate information and send out press releases only when your business truly warrants one. Here's a free template for writing a press release.
8. Create an Affiliate Marketing or Referral Program
Creating a referral program or an affiliate program for your business could be a huge boon for your growing business. Affiliate programs are usually designed around products with one-time or recurring payments. Referral programs are usually created around services.
Both affiliate marketing and referral marketing can be beneficial for businesses looking to increase the exposure of their products and services. How these programs work is that a business will open up the ability for other companies and individuals to promote their products. The affiliates or referrers get compensated based on the number of people they bring in and who made a purchase.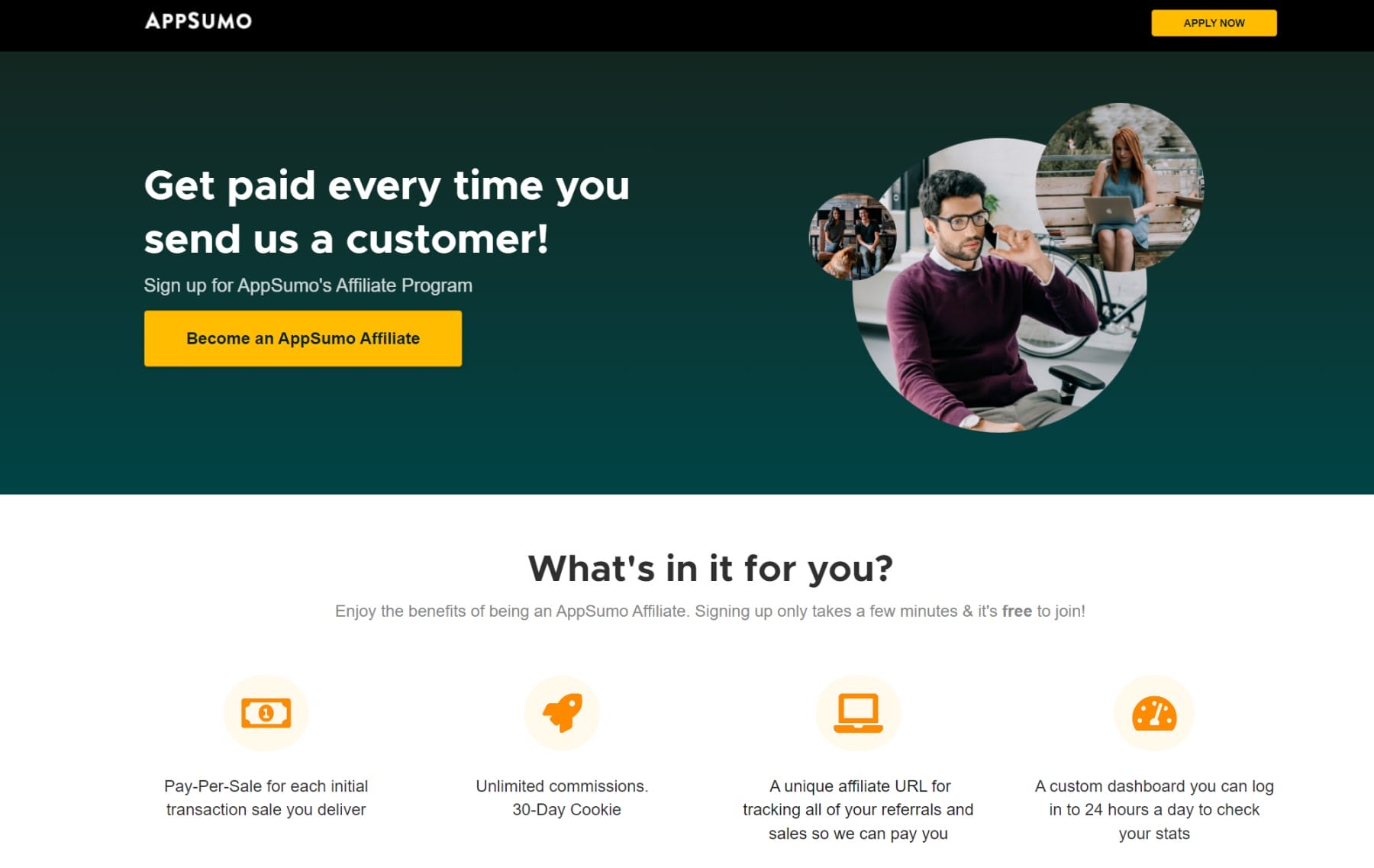 When done correctly, affiliate marketing and referral marketing can be effective ways to increase sales and boost revenue. However, it is important to carefully select the websites and people you allow to promote your products and services. You want to ensure that they are reputable and don't drag your brand's name through the mud with less-than-savory practices.
Here are some helpful WordPress plugins for affiliate marketing you can use for your own website.
9. Encourage Online Reviews
As a business owner, it's important to receive online reviews for your products and services. Not only does this give you valuable feedback to iterate business practices on, but it also helps potential customers find and trust you.
You can encourage customers to leave reviews using an automated email/messaging system or by simply asking them directly. It's best to ask your raving fans to leave reviews for you so that you are putting your best foot forward. If possible, when you come off a good conversation or can track positive interactions on your website you should be sending your customers messages explaining how to leave reviews. This done over time will be a game changer.

The importance of online reviews can not be overstated. They provide social proof that others have found your business to be valuable, which can help increase conversion rates. Additionally, positive reviews can help improve your ranking on search engine results pages, making it more likely that potential customers will find you. If you are a local business you can encourage reviews on Google, Facebook, Yelp, and industry-specific directories. If you are an online business, you can ask for reviews on G2, Trustpilot, and review websites about your niche/industry.
10. Influencer Marketing
From the glory days of Instagram up until now, influencer marketing has evolved as a widespread form of business promotion. Influencer marketing involves working with people who have large followings on social channels to help promote your product. This is usually done through sponsoring creators, giving them free gear or perks, or outright paying them to post for you.
There are many benefits of using influencer marketing to promote your website or product. First, it can help you reach a larger audience than you would be able to reach on your own. Additionally, people who see an influencer promoting your product are more likely to trust the recommendation and be interested in what you have to offer. This is especially true of small to mid-sized nano influencers with really committed fan bases. Finally, working with influencers can help build relationships with other businesses and individuals in your industry. A solid partnership is always something to relish. More on that marketing strategy next.
11. Brand Partnerships
In a rapidly developing digital world, website owners are looking for new ways to increase their audience and exposure. One method that is becoming increasingly popular is partnering with other brands, also known as developing strategic partnerships or co-branding.
Brand partnerships can take many different forms, but the basic idea is that two or more brands come together to promote each other. You could have different options for running partnerships such as joint marketing campaigns, running an online sale, social media collaborations, or even simply cross-promoting each other's content.
Elegant Themes does this through co-branded special offerings. You can see this with our Divi Hosting partners.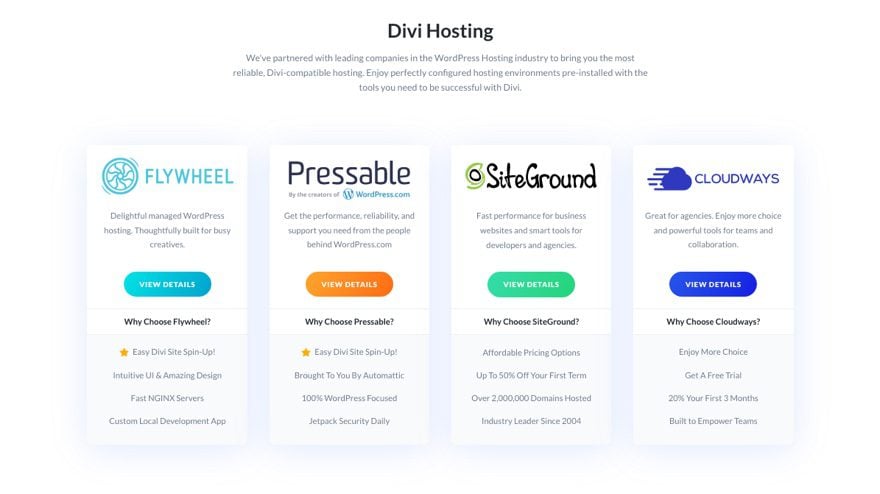 Not only do we partner with these other companies for marketing, but they've also created specially crafted hosting environments for Divi Theme users. This is co-branding at its best!
12. Utilize Omnichannel Marketing
As the internet continues to grow and evolve, so too does the way businesses market themselves. One of the gold standards in marketing is "omnichannel marketing." But what is it? And how can website owners use it to increase website visitors and customer lifetime value (LTV)?
Omnichannel marketing is a multi-channel approach to marketing that seeks to provide a seamless customer experience no matter how or where they interact with your brand. This includes your website, social media, email, brick-and-mortar store, mobile app, etc.
The goal of omnichannel marketing is to create a cohesive brand experience that will keep customers coming back for more. More than that, you can centralize data from each platform so that all data from all platforms are usable on each one.
Website Marketing Tools
Given the myriad of marketing strategies and approaches that you can employ to promote your website, it shouldn't be any wonder that there are tons of platforms out there that support them. Here are a few platforms, services, and marketplaces that could be of help to you as your market your website.
Google Analytics and Search Console
Google Analytics is a free web analytics service that tracks and creates reports based on website traffic. It helps website owners market their website by providing data on how past users have interacted with the site, such as:
what pages users visit
how long they stay on each page
what actions they take(conversions)
and how many people come back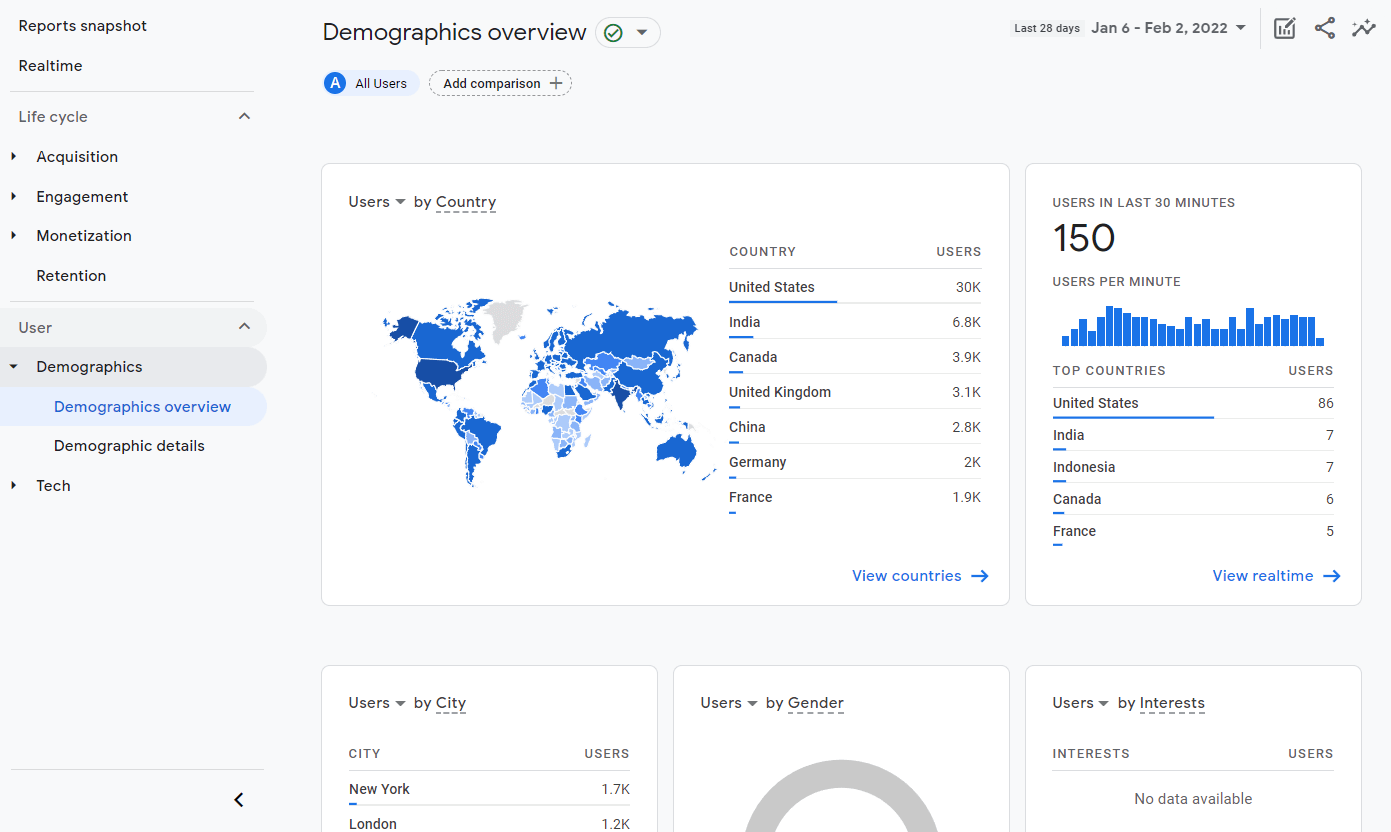 This information can be interpreted to improve the website's design and content to better meet the needs of users. Google Analytics is pretty much the staple of website analytics but there are other analytics platforms out there. Learn more about what's changed in GA4 and use the Google Analytics plugins to properly install it on your website.
A tandem tool by Google that most website owners use is Google Search Console.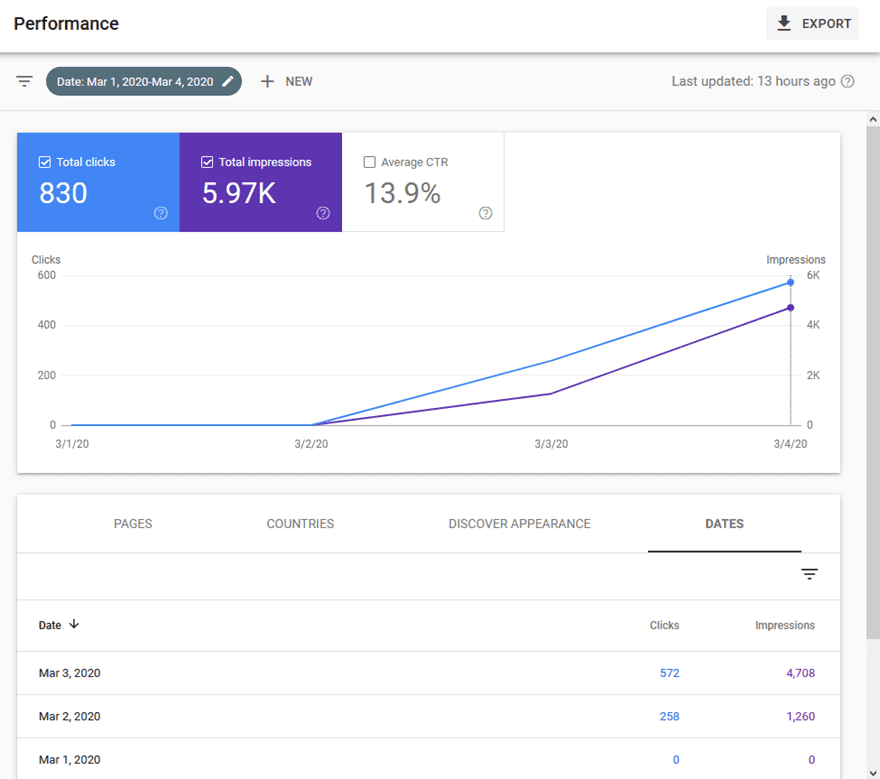 The Search Console is like Google Analytics except that it shows you the data from Google about how your website is performing in Search Results. It will list keywords and SERP avg. position your pages are ranking for. It is a great tool and Search Console is easily set up.
Semrush
As a website owner, you always want to be one step ahead of your competition. But how can you do that? How can you find out what keywords they are targeting? What strategies are they using to improve their website ranking? The answer is Semrush.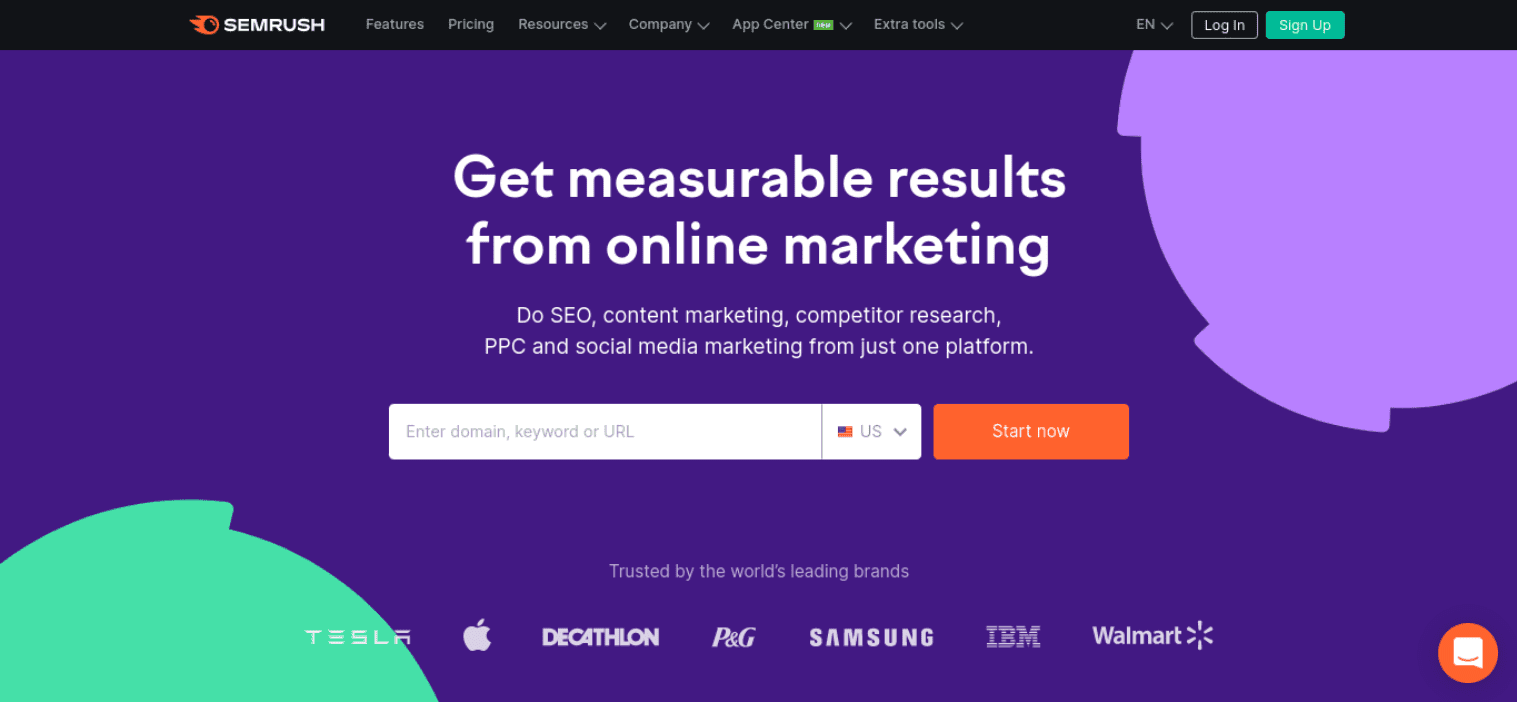 Semrush is a powerful tool that provides in-depth insights into your competitor's SEO strategy. With Semrush, you can see what keywords they are targeting, what backlinks they are building, and what type of content is working for them. Armed with this knowledge, you can develop your own SEO strategy to help improve your website ranking and get ahead of your competition.
Moz Local
If you're a small business owner, you've probably spent quite a bit of time managing your online business listings.
Moz Local is a listing management tool that helps you manage all those online listings. It helps you stay on top of local SEO best practices by maintaining quality citations.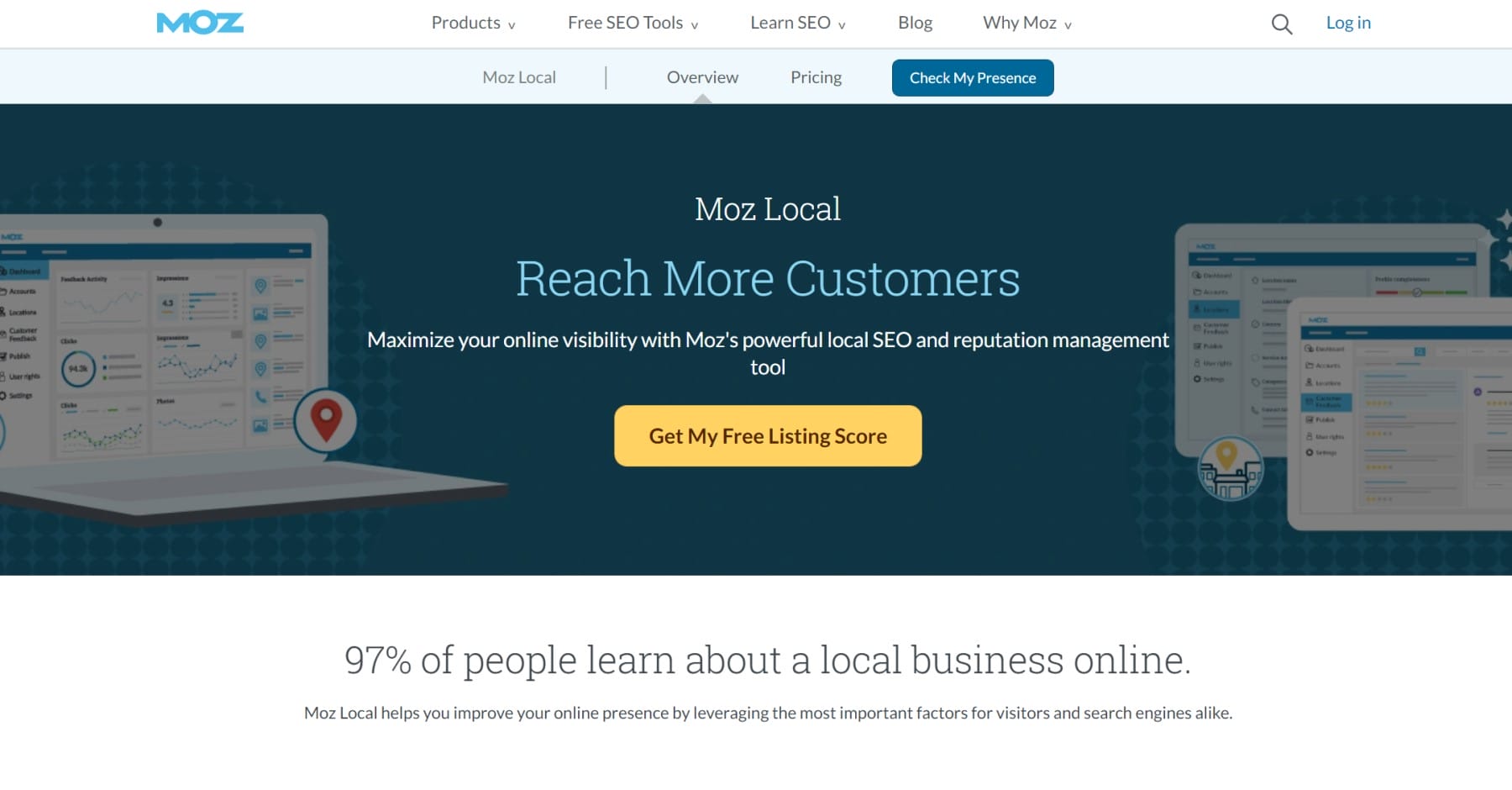 Moz Local also allows you to track and manage your listing from one dashboard. This saves you a lot of time and hassle and helps you make sure that all your listings are accurate and up-to-date. Moz Local can delete duplicate listings to remove confusing listings. All this lets your local SEO truly shine and keeps you from worrying about if your Google My Business listing has your new address on it or not.
Google Ads
Google Ads is a tool that allows website owners to market their website through ads that appear in search results. By creating an ad, website owners can specify what keywords they want their ad to show up for, and when someone searches for that keyword, their ad can appear in the search results. Google Ads also has a free keyword planner for website owners to use as they figure out their keyword strategy.
Display Ads are another ad type on the Google Ads platform. Display ads are graphic ads that appear on websites and in apps. They can be used to promote a brand or product or to drive traffic to a website. Display ads can be effective in reaching potential customers who may not be aware of a company or its products. They can also be used to target specific demographics, such as people who live in a certain area or who have visited a website before.
Meta Business Manager for Facebook and Instagram Ads
If you're looking for a way to get into Facebook and Instagram advertising, then you should definitely consider using Meta Business Manager. With Meta Business Manager, you can manage all of your Facebook pages and Instagram accounts as well as all their ads in one place. It is a robust platform worth learning if you are going to be marketing for a long time to come. Also, there are Facebook plugins that work with the Business Manager that you could find helpful with your WordPress website.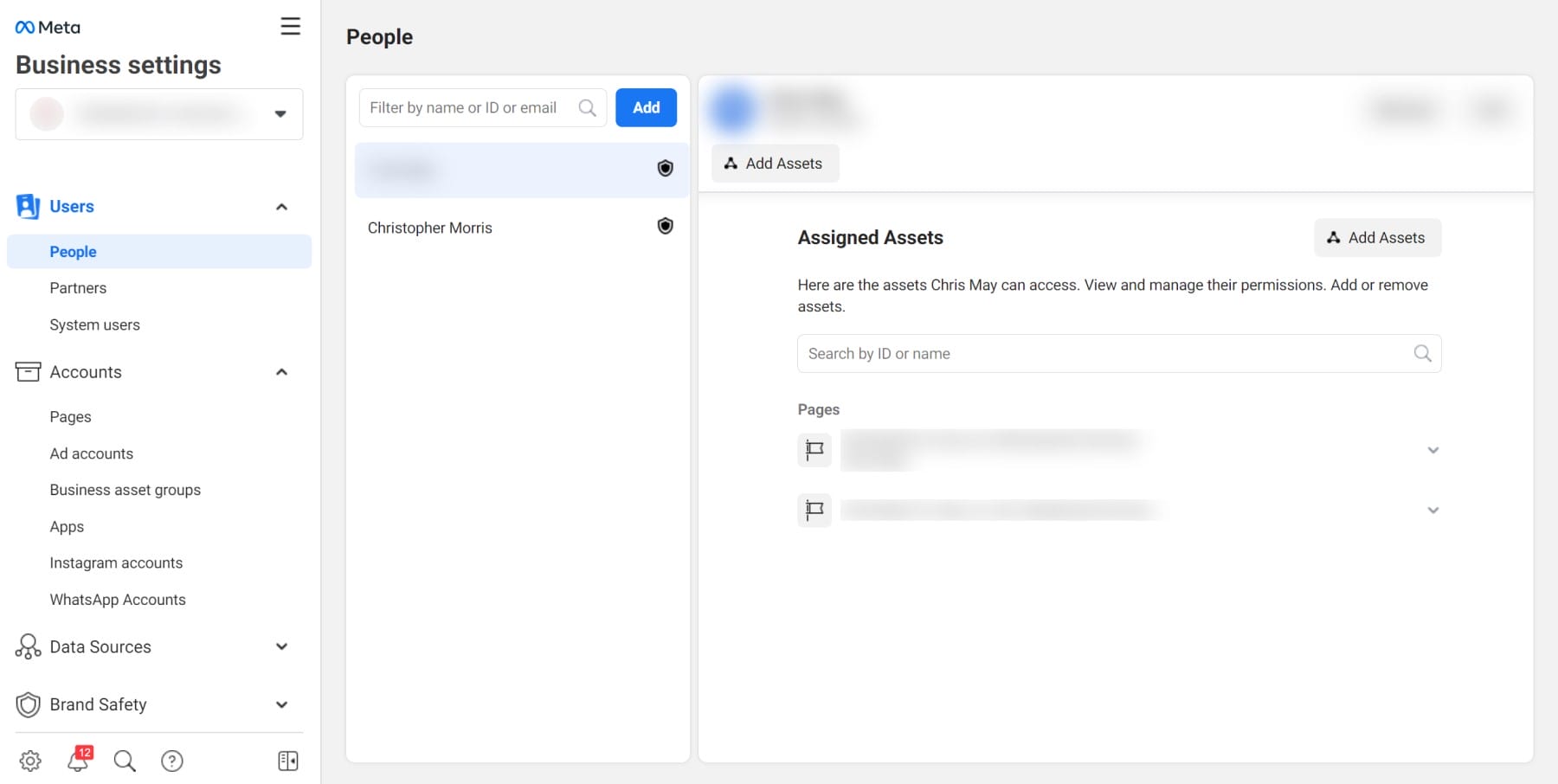 Meta Business Manager Ads Manager also makes it easy to track your results and see how your ads are performing. This is valuable information that can help you optimize your ad campaigns for better results. By installing the Meta Pixel on your website you can monitor traffic. The pixel can be set up to track specific conversion events too, giving you crystal-clear conversion data amidst your ad performance metrics.
Overall, using Meta Business Ads Manager is a great way to improve your Facebook and Instagram advertising efforts. If you're not currently using this tool, then you should definitely start.
Mailchimp, Constant Contact, or Active Campaign
As we've learned, email can be an excellent website marketing strategy. There are several different email marketing platforms to choose from, including Constant Contact, ActiveCampaign, and Mailchimp. Each platform has its strengths and weaknesses, so it's important to select the one that best fits your business's needs.
ActiveCampaign is excellent for businesses that need to build out a lot of automation using advanced triggers from website interactions and lead-scoring criteria.
Constant Contact is an excellent choice for small businesses that need all the basic features plus world-class customer support.
Mailchimp is the go-to for DIY business owners who need a cheap and easy solution that can help them get past the beginning phases
Fiverr, Upwork, and MarketerHire
Sometimes you need to look beyond yourself to get new jobs and ideas rolling. Small business owners wear many hats but there is a case for hiring other people to take on nuanced marketing work. A single marketing campaign by a professional may take 2-4 hours but could take an untrained DIYer 10-15 hours. Thus, if the economics call for it, you may want to look into hiring freelancers to grease your marketing wheels.
Fiverr is a great option if you're on a budget. You can find a variety of productized services to help promote your website, starting at just $5. Fiverr is best for very well-defined jobs. The more defined, usually the cheaper the gig.
Upwork is another option that can be great for those on a budget. You can find people to help with everything from social media marketing to search engine optimization. Upwork is similar to Fiverr except that you post jobs with your requirements and bids or proposals come to you. From there, you can choose the one you feel understands your needs the best and fire away.
MarketerHire is a great option if you're looking for someone with more experience. You can find experts in various fields to help you promote your website and reach your target audience. With MarketerHire, they choose a consultative approach to how they provide services. Once matched with a marketer that fits your needs, they'll connect with you to determine the best path forward for your budget and goals.
Website Marketing FAQ
What is the difference between website marketing strategies and marketing tactics?
Marketing strategies are the long-term plans that a company uses to achieve its marketing objectives. And marketing tactics are the short-term actions that a company takes to implement its marketing strategy.
Is there a difference between website marketing strategies and physical location marketing strategies?
Yes, there is a difference between marketing a website and a physical store. A website can be marketed to a global audience, while a physical store is typically only marketed to those in the local area. Additionally, website marketing usually seeks conversion events that happen on a website. Though you may use your website in marketing a local store, you have additional options at your disposal since you ultimately want to bring in foot traffic to your locations. This means map listings (Google, Yelp, Waze) are helpful even though people may not get to your website from these.
How do I attract customers to my website?
Getting customers to your website can happen in different ways:
SEO and Content Marketing can bring new customers to you from search results
Social media marketing can capture attention on social channels and bring interested viewers to your website
Email marketing can keep subscribers interested in your business and give them opportunities to come back to your site
Run discounts and limited-time sales to pique the interest of people
Run ads on social and search channels to reach the type of people who are typical customers.
What are the 4Ps of marketing?
The 4 Ps of marketing is a business framework to develop and execute marketing strategies. The four Ps are
product
,
price
,
place
, and
promotion
.
Product refers to the goods or services a business offers its customers. Companies must carefully consider their products' features, benefits, and pricing to attract and retain customers.
Price is the amount customers pay for a product or service. Businesses need to set competitive prices, and that will generate a profit. But offering the lowest price isn't always the best way to go.
Place refers to the distribution channels that a business uses to get its products to customers. Companies need to choose distribution channels that are convenient for customers and that will reach their target market.
Promotion refers to the activities a business undertakes to communicate the value of its products to customers. Businesses can use various promotional tools, such as advertising, public relations, and social media, to reach their target market.
The 4 Ps of marketing are interrelated and must be considered together to develop an effective marketing strategy. For example, a business may need to lower its prices to increase sales, or it may need to change its distribution channels to reach a new target market.
Conclusion
In conclusion, these 12 website marketing strategies can help you grow your business. Implement a few of them and see how they work for you. Then, keep refining your strategy as you go. The most important thing is to keep track of your progress and keep moving ahead.
What have you been working on that is working for your website and business? Let us know in the comments!
Featured Image via Lauritta / shutterstock.com