Over the past decade, Email Marketing has become increasingly popular and essential. It serves as a reliable marketing channel to educate new subscribers, establish your brand, and boost your CRM efforts while progressing toward your sales funnel. However, choosing the right email marketing service has become more challenging than before. With numerous contenders, you need to scrutinize a lot to get a suitable service that combines affordability and features.
This article will introduce you to our top email marketing providers and assist you in selecting the service that aligns with your needs.

Subscribe To Our Youtube Channel
Why You Should Consider Using an Email Marketing Service
Email marketing platforms provide you with a lot of key functionality, including:
Sign-up forms that you can use on your website
High email delivery rates (managing your own deliverability is a big job)
Templates for different types of campaigns, as well as editors for customizing them
Advanced email automation features based on engagement, behavioral, and eCommerce data
Analytics for learning about your subscribers
A/B functionality for improving your campaigns
That's just a quick rundown of some of the features we expect to see from any quality email marketing service in 2023. You may have additional requirements based on your unique needs and target audience. Since so many options are available at various price points, it makes sense to opt for a service that focuses on the features that matter to you.
6 Best Email Marketing Services for Your Blog, Business, or Organization
To help you decide what tool to use, we will focus on email marketing services that we recommend for all types of businesses and across a broad range of price points. A few of these services include free tiers, but by and large, they're premium solutions.
The Best Email Marketing Services Listed In Order
Expand List
We've selected them based on their pricing options, feature sets, popularity, and reliability.
1. Mailchimp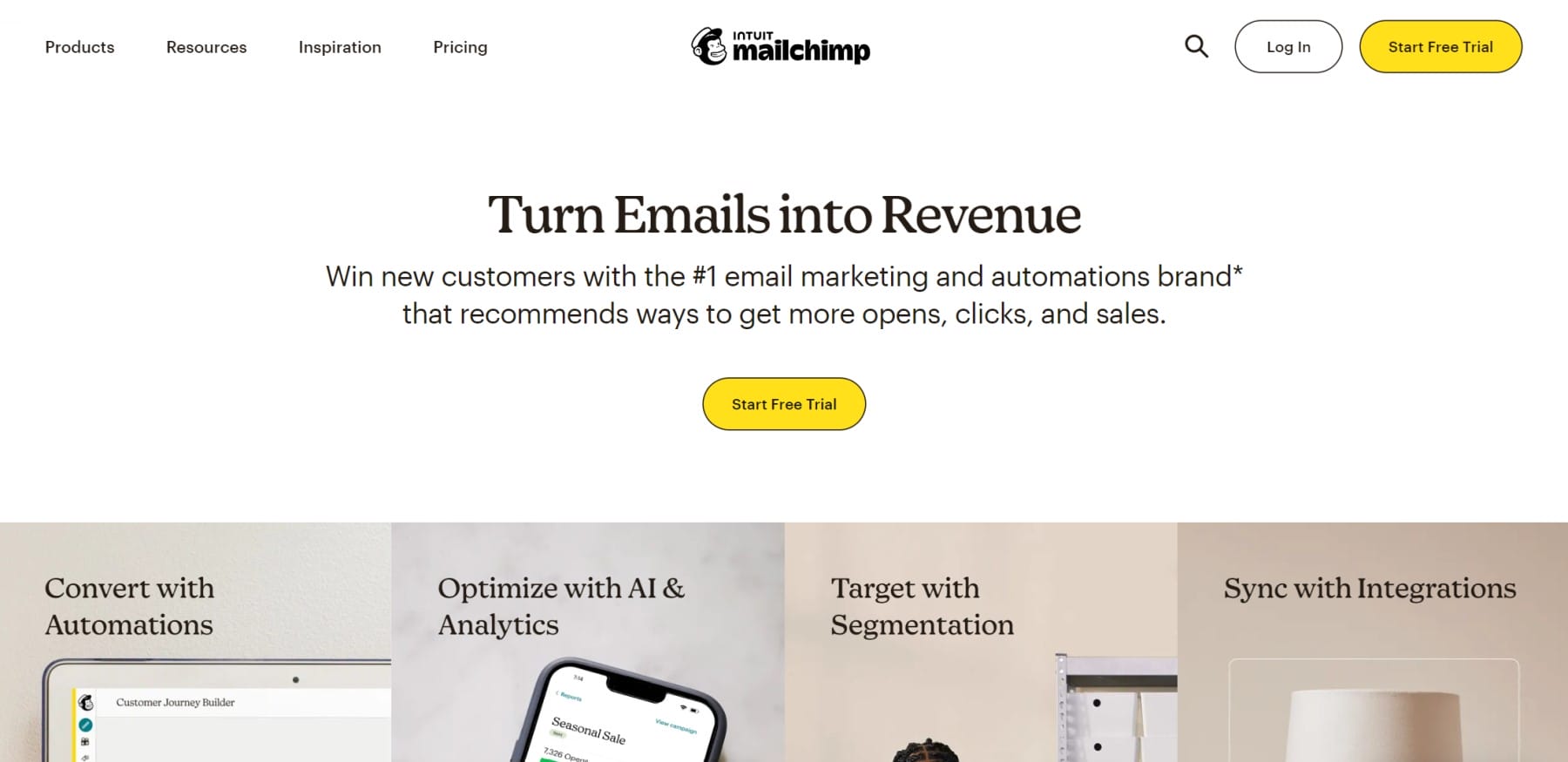 Mailchimp is the most popular email marketing service on the market. It made a splash with relatable marketing and free tools, making it an attractive pick for small businesses and freelancers. As of late, those free features have been scaled back, but its dominance still is undisputed.
Using Mailchimp, you can have up to 500 contacts in your list and send up to 1000 emails monthly on the free plan. In our experience, that's just enough for new businesses, enabling you to get started with email marketing without spending any money.
Integrating Mailchimp with WordPress is relatively simple, and the service also works with the Bloom plugin. That makes setting up stylish opt-in forms on your website even more accessible. And because of its popularity, it is supported by nearly every form plugin and marketing tool out there.
Key Features:
Get access to multiple marketing channels (email + social)
Use templates to create campaigns faster
Automated customer journeys and triggered email sequences
With paid plans, create segmentation and run customer surveys
Divi Forms integrates with it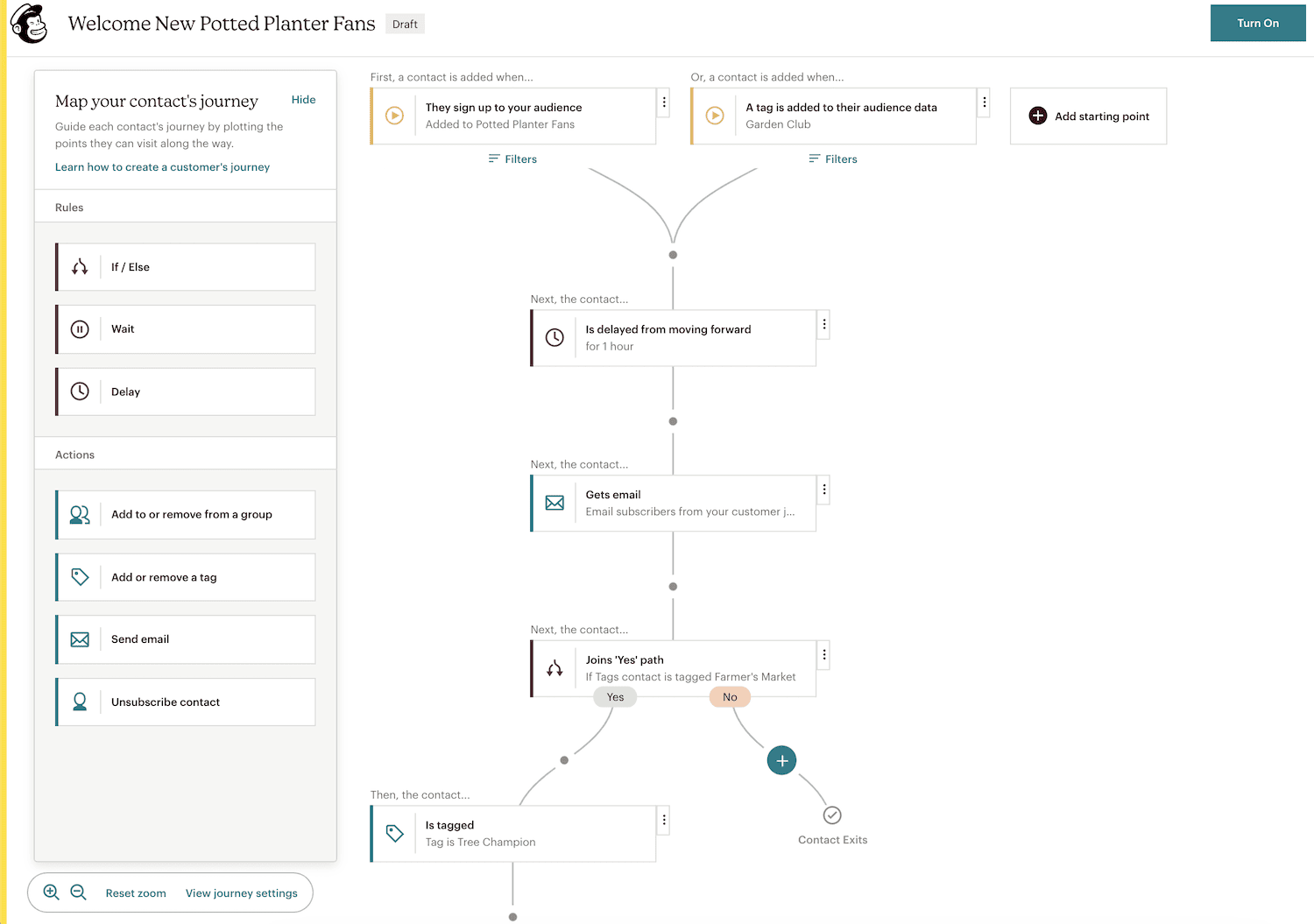 Best For:
Best for those who want a huge and popular email marketing service. You'll know that other tools will support it and that you shouldn't have problems. It is also a great platform as you move up the paid tiers, so you won't quickly outgrow Mailchimp
Price: Limited free level, with premium plans available starting at $13 per month
2. Hubspot

HubSpot is the best-integrated email marketing service that connects with other HubSpot tools like CMS, CRM, and live chat. It is a comprehensive inbound marketing platform offering various tools to help businesses attract, engage, and delight customers. Its email marketing service is just one of its many features, but it is a powerful one that can help you create and execute effective email campaigns.
HubSpot's email marketing platform allows you to create targeted email campaigns using personalized content and automation workflows. You can also use HubSpot to segment your email list based on various criteria, such as past purchase behavior, website activity, or demographics. It also works with WordPress websites.

Key Features:
Create targeted email campaigns using personalized content and automation workflows
Segment your email list based on various criteria
Use a drag-and-drop email builder to create visually appealing emails
Integrate with a wide range of third-party tools
Includes unique features such as video in emails and personalized subject lines
Best For:
Businesses that need a comprehensive inbound marketing platform that includes email marketing and integrates with a wide range of third-party tools.
Price: Free plan available; paid CRM plans start at $50 per month
3. MailerLite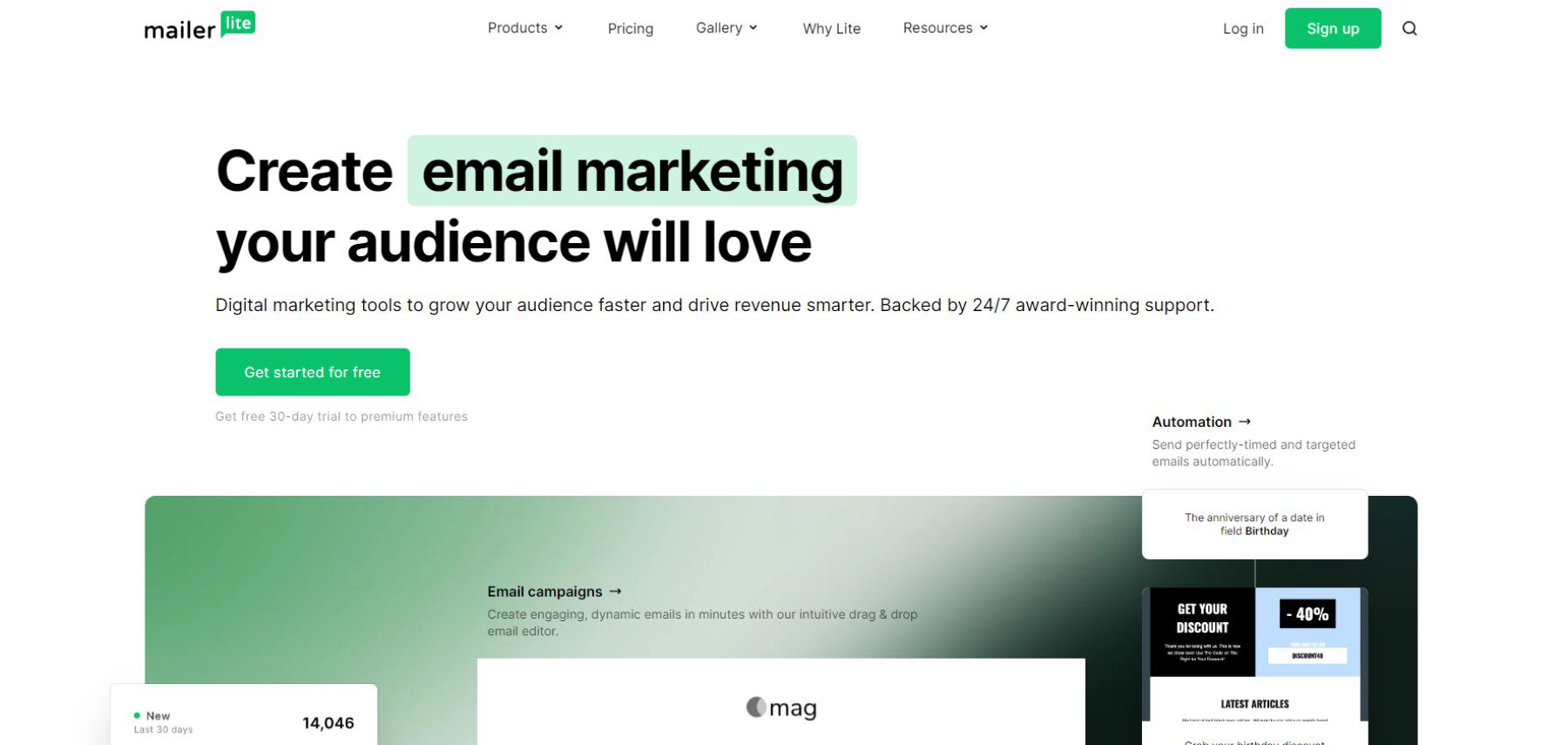 MailerLite is one of the best available free email marketing platforms. As a great up-and-coming service, many people have switched to it and been delighted by its features and free offerings.
Beyond that, MailerLite offers all the features you'd expect from an industry-leading email marketing service. A free plan supports up to 1000 contacts and lets you send 12,000 emails monthly (much more generous than Mailchimp).
Key Features:
Integrate your campaigns with hundreds of third-party services
Websites, landing pages, and sign-up forms included in the free plan
Visual automation builder for easy-to-build conditional sequences
Drag and drop email builder with templates (templates only in paid plans)
Get access to a library of free stock photos alongside your subscription
Best For:
MailerLite is best for businesses of all sizes that want to create and send email newsletters, landing pages, and forms. It's a powerful email marketing platform that offers a wide range of features.
Price: Generous free with premium pricing starting at $10 per month
4. Constant Contact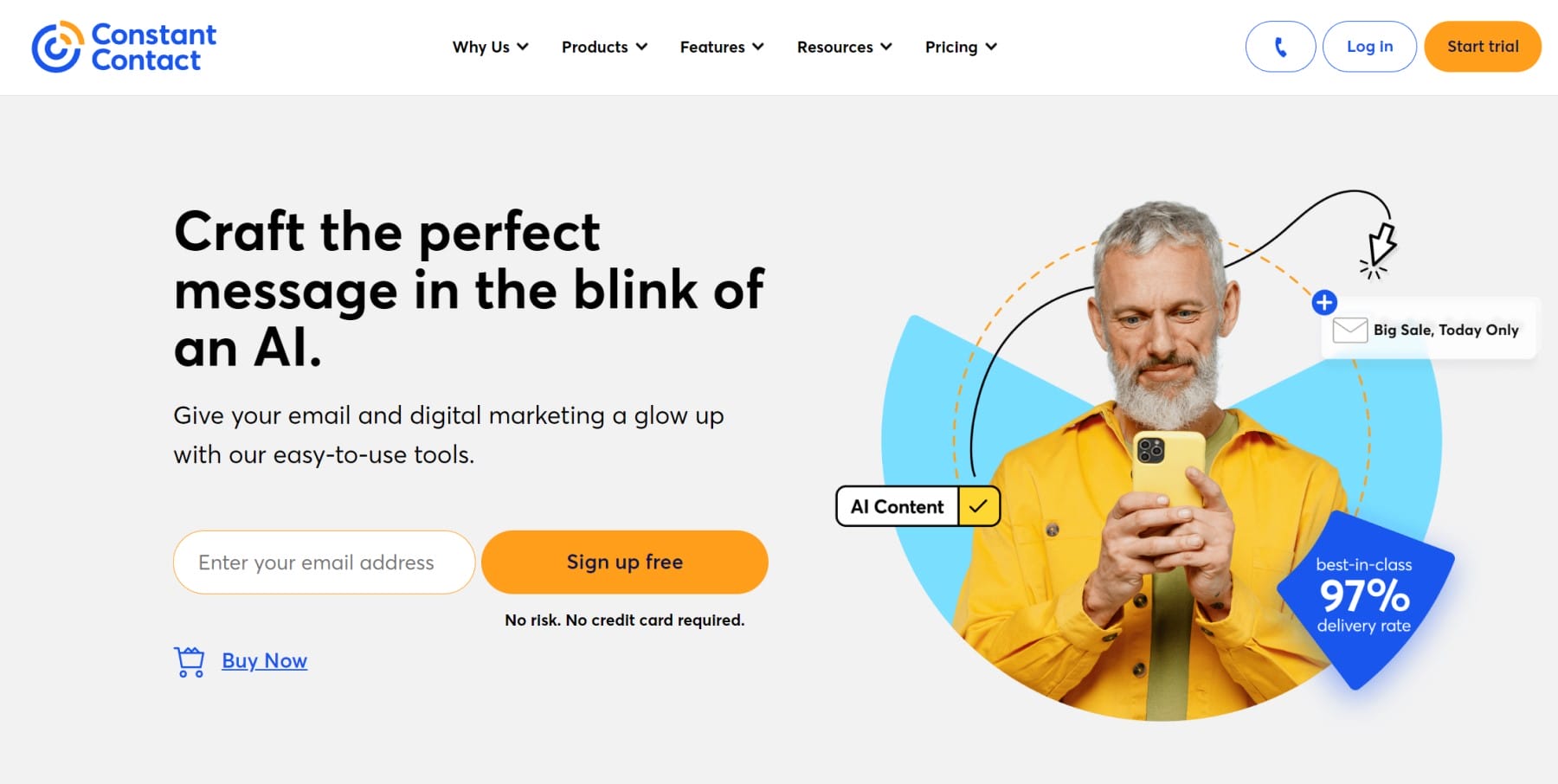 Constant Contact is the best small business email marketing service offering campaign templates, AI campaign content, and automation features. It shines by making email marketing easy for busy business owners and their staff. It's not the most advanced platform on the list, but it has all the necessary features you need, plus some other nice-to-haves.
Using Constant Contact, you can send abandoned cart emails, collect online donations, and ask for event RSVPs. Included with it also is a platform for posting organic posts to Facebook, Instagram, Google My Business, and more. In addition, it allows you to create paid ads for many of these platforms as well. Check out our Constant Contact review to learn more.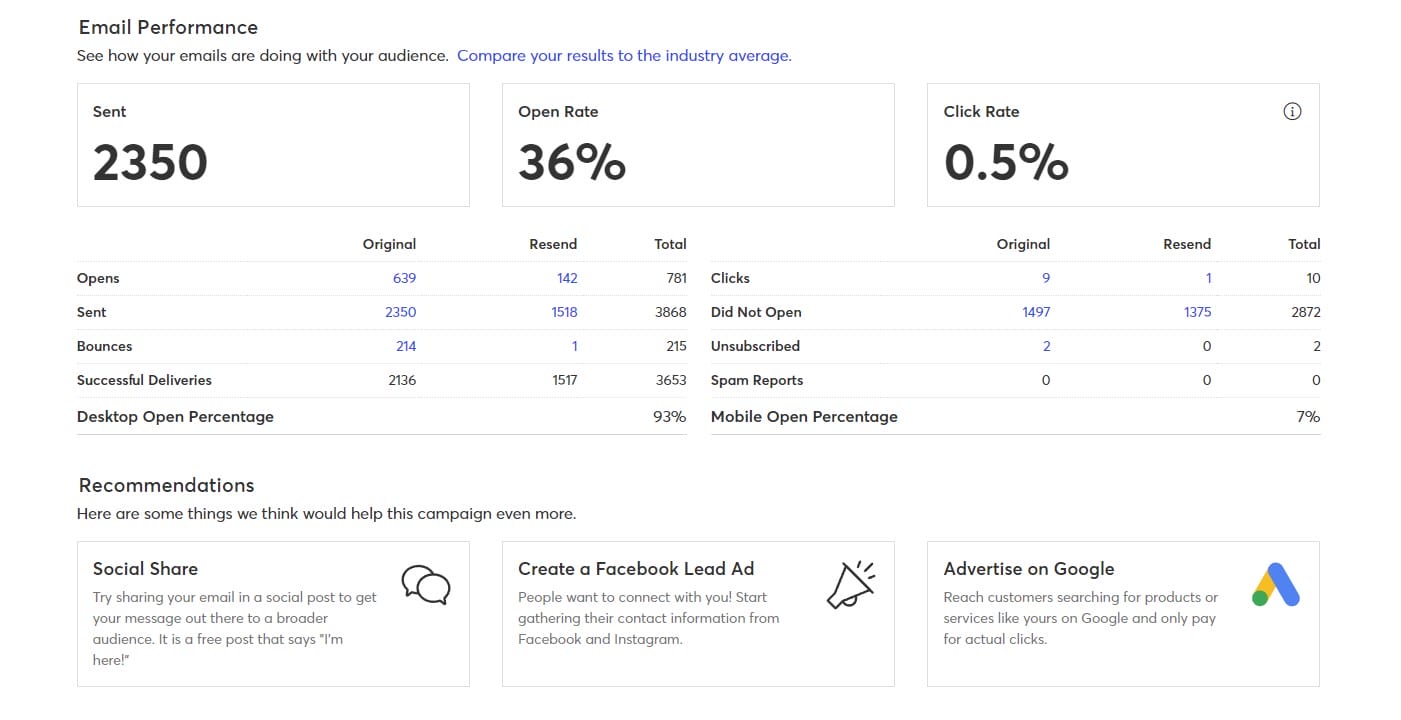 Included in most plans are AI content suggestions. This is particularly helpful for creating engaging (and openable) subject lines based on the best generative AI tech plus all of Constant Contact's learnings to get users to open emails.
Key Features:
Integrates with WooCommerce and other eCommerce solutions
Visual builder for creating automation paths for both email and SMS (SMS separate addon)
Templates for emails, landing pages, and even automation paths
Integrates with Google Ads, Facebook, and Instagram
Best For:
Constant Contact is best for small businesses that want to create and send effective email marketing campaigns with confidence. Constant Contact has some of the best deliverability rates, and customer support is easy to reach.
Price: Plans start at $12 per month
5. ConvertKit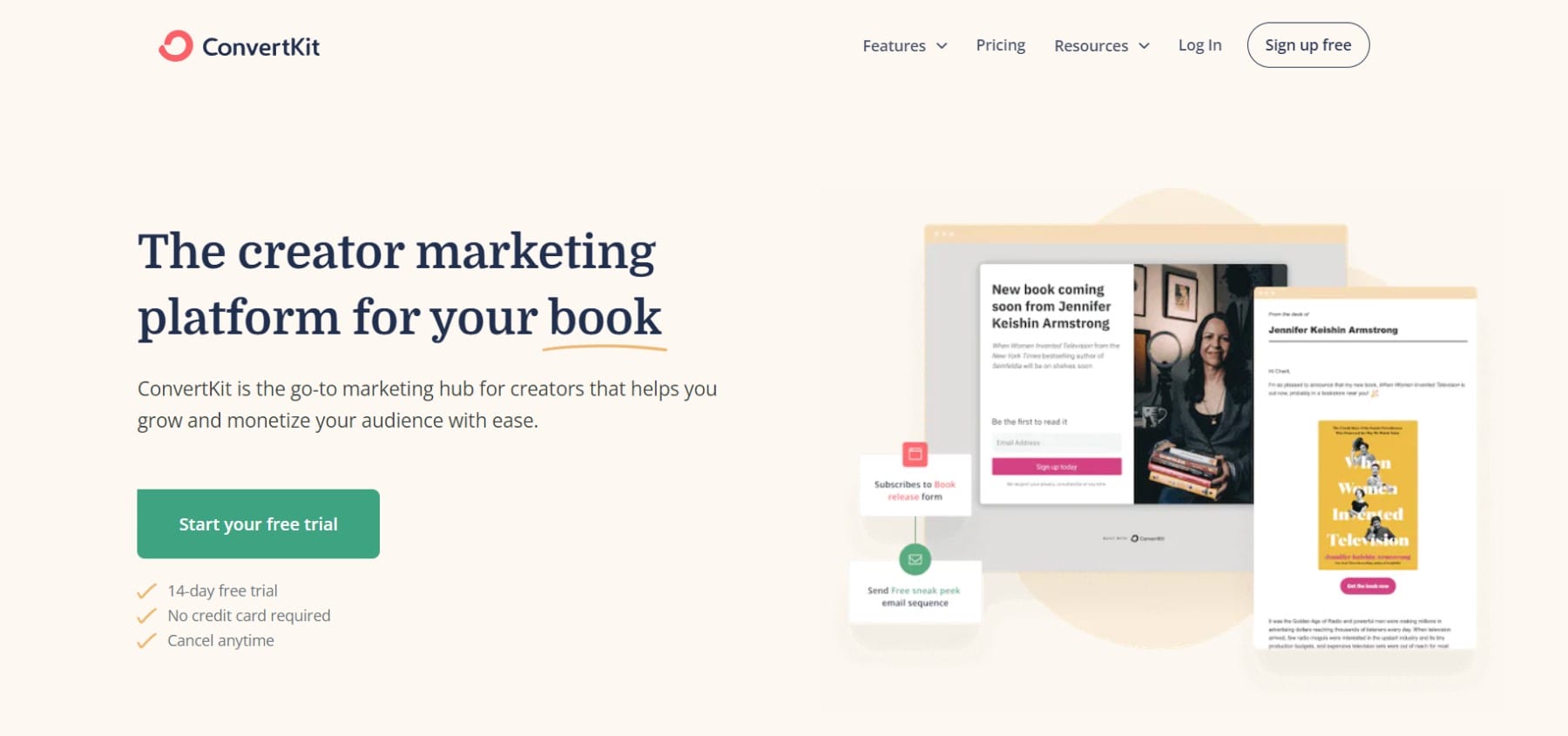 ConvertKit is the best email marketing provider for content creators. Aside from having the basics like custom landing pages and sign-up forms, ConvertKit also offers tools for managing content experiences. For instance, you can create landing pages that sell digital products and sign-up users to your email list. Not many providers have shoppable landing pages built into their services; if they do, they aren't the best.
Just to show how creator-oriented it is, they also have Linktree-styled "link pages" that you can use on your social pages to help your followers get to the content and platform they want to see you on. It also can create paid newsletters, content subscription plans, and tip jars, giving more creators access to simple monetization tools.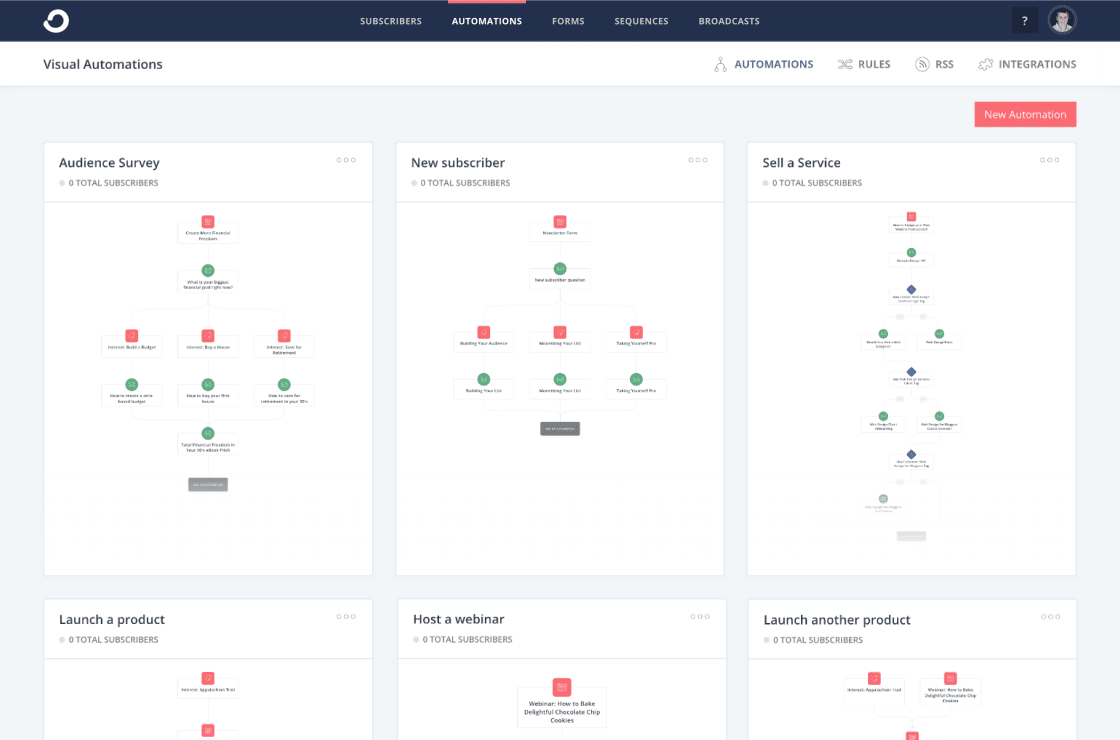 Key Features:
Create landing pages that can include e-commerce functionality
Create email sign-up forms and send campaigns to your subscribers
Design intricate automation workflows using flowcharts
Best For:
ConvertKit is for creators who want to grow their audience and monetize their work.
Price: Free and premium options are available, with the latter starting at $29 per month
6. Emma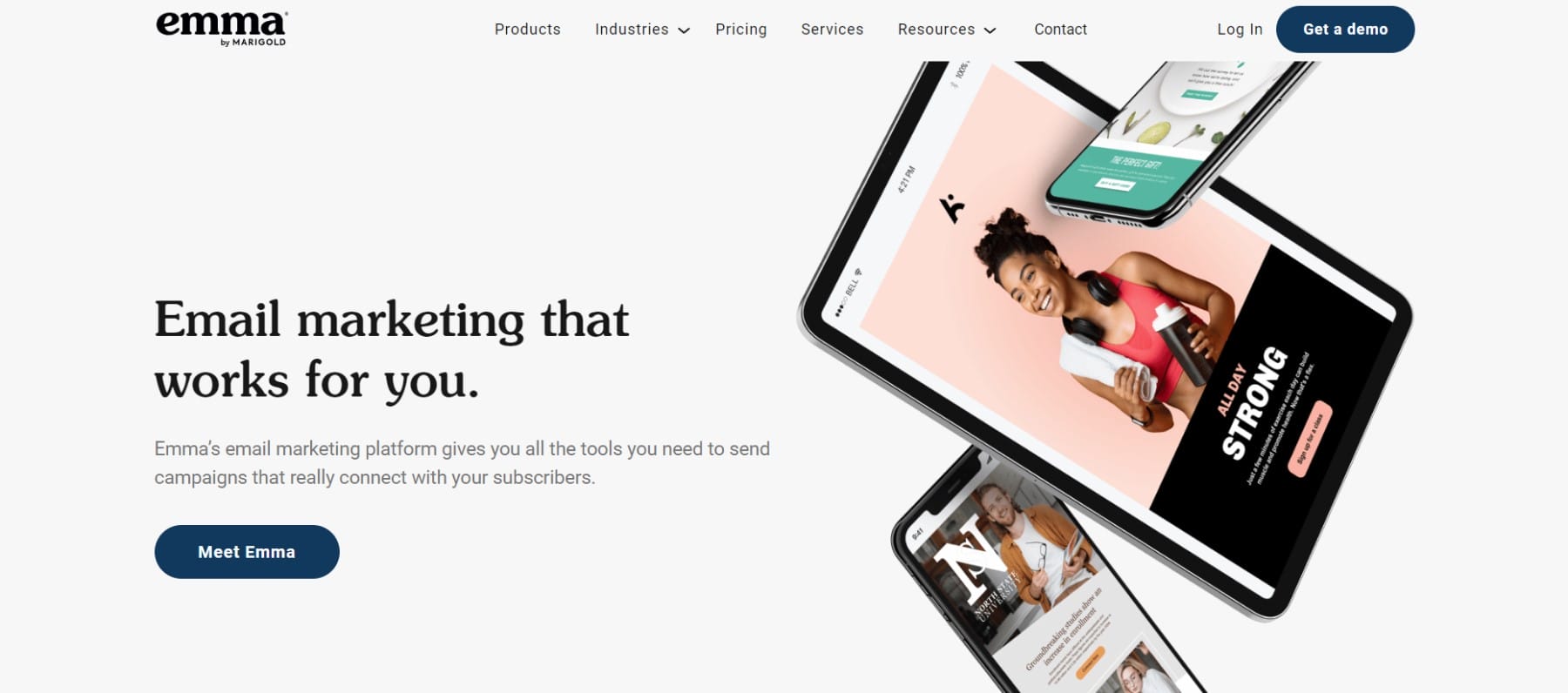 Emma is the best scalable yet premium email marketing service. It is made for large organizations (their starting plan includes 10,000 contacts for $99/mo). What you get with Emma is a highly curated set of tools with excellent UI and data management across platforms.
Emma is built for marketing teams, not solo marketers sending their first campaigns. As such, you can expect things to be suited for that purpose. It features brand controls so specific characteristics of your email campaigns can be locked and not changed by people on your team. It also has advanced user permissions and roles so that you can give people just the right access and require approval stages for specific work. Single sign-on can be activated to ensure greater security over who has access to your internal systems.
Key Features:
Get access to a vast library of templates and a drag-and-drop email builder
Monitor your campaigns with analytics
Automate email campaigns
Include dynamic content within your emails
Best For:
Emma is best for larger businesses looking for team controls and enterprise-level reliability from their marketing provider.
Price: Plans start at $99 per month (with a yearly contract)
7. AWeber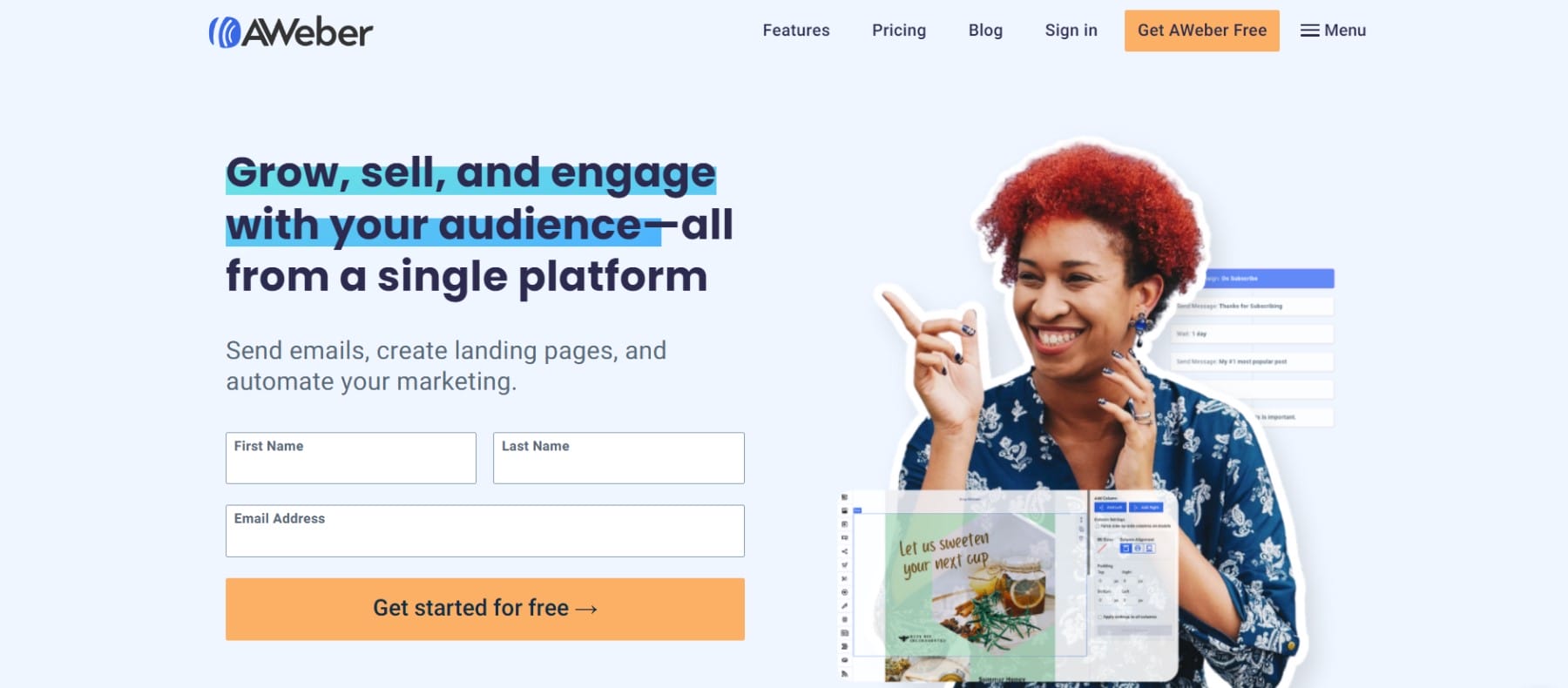 AWeber is one of the most longstanding email marketing platforms still on the market (see how these rivals, AWeber vs Mailchimp, compare. While it may not be the flashiest or most advanced, it still has a great reputation.
Beyond that, AWeber offers all the features you'd expect from an industry-leading email marketing service. A free plan supports up to 500 contacts added to one email list. It is on par with the basic features of others on this list. Bloggers will enjoy the auto-newsletter feature that turns your scheduled content into scheduled newsletters. AWeber is also one of the few email marketing platforms that can power Web Push notifications and help you with those messages and analytics.
Key Features:
Integrate your campaigns with hundreds of third-party services
Use behavioral automation
Industry-leading email deliverability
Modern email builder with free templates
Web push notifications system
Get access to a library of free stock photos alongside your subscription
Best For:
For businesses needing a reliable email marketing provider with all the basics plus some nice eCommerce features built in.
Price: Free with premium plans starting at $14.99 per month
What is the Best Email Marketing Service?
Email marketing services are necessary whether you're a blogger, an influencer, or an eCommerce store owner. Email is one of the best ways to do it if you have an online audience you want to stay in touch with.
If you're on the fence about which email marketing service to use, here are our top two suggestions:
Mailchimp: Best for those needing a marketing platform that is stable and has every feature for when your business scales its growth
ConvertKit: Best email marketing for content creators and especially those looking for easy monetization tools connected
We also recommend getting a subscriber popup plugin for creating advanced popup forms in WordPress.
Do you have any questions about choosing the best email marketing service? Let's talk about them in the comments section below!
Frequently Asked Questions (FAQs)
Before we wrap up, let's answer some of your most common questions regarding email marketing services. Did we miss one? Leave a question below and we will respond!
What is the best email marketing service?
Mailchimp is a popular email marketing service due to its user-friendly interface, robust automation, segmentation, reporting features, vast library of templates, and integrations with popular e-commerce platforms. It offers affordable pricing plans and discounted options for nonprofit organizations, making it a versatile choice for various industries.
Which is the best free email marketing service?
MailerLite
is the best available free email marketing platform. It has a high contact limit (1000 contacts), and a generous amount of daily campaign sends (300).
Mailchimp
used to be the best free email marketing service, but since its takeover by Intuit, those free features have been scaled back.
Why should I use an email marketing tool?
There are many reasons why you should use an email marketing tool. Here are just a few:
The cost of sending an email is much lower than that of other marketing channels, such as search ads, TV, or radio.
You can segment your email list based on interests, demographics, or behavior so that you can send the right message to the right people.
You can track your email campaigns' open rate, click-through rate, and conversion rate, so you can see what's working and what's not.
As your business grows, you can easily scale your email marketing efforts to reach more people.
What tools are essential in an email marketing service?
The best email marketing services will have a few things in common:
Modern, drag-and-drop email builder
Templates for all sorts of businesses and occasions
Signup forms and landing pages
Integrations with your CMS and eCommerce platform
Advanced analytics, including segmentation and automation data
Visual automation journey builders
Some level of CRM capability
Can WordPress run my email marketing campaigns?
WordPress is an impressive platform and can be extended to include email marketing and CRM capabilities. We recommend you check out FluentCRM and Groundhogg CRM. To send emails with WordPress, you will need a reliable
SMTP plugin
.
How much does email marketing software cost?
For those starting out, email marketing shouldn't cost much. Most of the best email marketing services offer free tiers that will let you collect contacts and send a limited number of campaigns monthly. Even when paying for email marketing, you're looking at less than $40/mo for most. Enterprise email marketing can cost hundreds of dollars a month, but the return on investment, even for those prices, is well worth it.
Why should I pay for an email marketing service provider?
A paid email marketing service provides access to advanced features, better deliverability rates, automation tools, and valuable reporting and analytics. It can help you create more effective campaigns, save time and effort, and ultimately grow your business.
What is the best email marketing service for small businesses?
Mailchimp is a popular choice for small businesses due to its user-friendly interface, affordable pricing, robust automation features, segmentation and reporting, and vast library of templates. It also offers integrations with various e-commerce platforms and allows easy social media ad creation.
What email marketing service has the best editing capabilities?
ConvertKit is known for its powerful email editor that allows customization and flexibility, even for non-designers. It provides a simple, user-friendly interface with drag-and-drop functionality, customizable templates, and the ability to edit email HTML directly. It also offers automated workflows that can help streamline your email creation process.
What is the best email marketing service for nonprofits?
Mailchimp offers discounted pricing for nonprofit organizations and a range of tools for donor management and fundraising campaigns. It also provides integrations with popular donor management platforms like Salesforce, allowing seamless data syncing. Additionally, it offers advanced automation features for better engagement with supporters.
What is the best email marketing service for real estate?
Constant Contact is a popular choice for real estate professionals as it provides customizable templates, social media integration, and email scheduling for open house announcements, property listings, and newsletters. It also offers contact management tools and segmentation capabilities for targeted campaigns.
Image by Tetiana Diana Herashchenko / shutterstock.com