One of the largest email service providers on the market at the moment is MailChimp. Hailed as the leader for beginners due to its free service for start ups, it's packed with easy-to-use design and deployment features. Plus it comes with a whole host of information to absorb about how to use it.
So why should you bother to market via email to your customers, and why should you choose MailChimp to do it for you?
Email Marketing
Let's begin with email marketing in general. Building a list of subscribers is a brilliant way to generate loyal customers. The power held in obtaining someone's email address is incredible, since that person has given you permission to get in contact with them personally, they've shown interest in what you have to offer. Then as you send communications, you can build a relationship with the subscribers until the point that they are ready to buy. Once they've made the decision to buy your product, your useful and relevant communications will have helped them to choose you over a competitor.
The content you can send your subscribers could promote certain products you'd like to push, or it can be tailored to their needs. Again, as you have their data, you can build their profile and send them relevant content. Your emails can also be used to send "subscriber exclusive" content so that your subscribers feel special when they receive your email, creating loyalty to your brand.
Using an email service provider makes it easy to keep track of the campaigns you've sent, what the success rate was, and segment your customers into lists and send them different campaigns specific to their needs. You can set up your provider to send emails automatically at planned times.
And that's just the start. So what else can an email service provider like MailChimp do for you?
Overview
7 million customers use MailChimp and they send 500 million emails collectively every single day. This community of users gives you peace of mind that many others trust the email service provider, but it also means there is a wealth of knowledge out there on forums, should you need any help.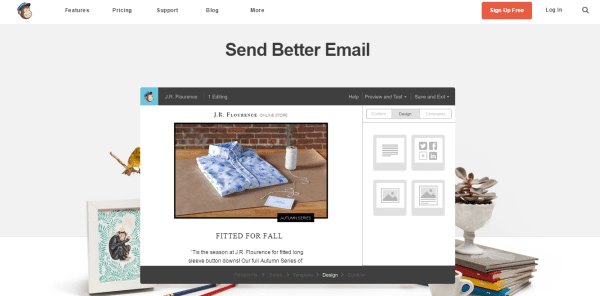 The provider allows you to create a web sign up form; collect, manage, and segment subscribers; build auto-responder follow up emails; and professionally send out your emails to your customers. The reporting section is easy to follow, allowing you to track the success of your campaigns.
You're also able to send SMS direct mail through MailChimp, which could be another channel in your marketing strategy. It is integrated with social media, allowing you to send your Twitter and Facebook followers a link to the latest email. Plus, you can see in the report who has opened the link sent in this way.
The Creative Part: Email And Signup Form Design
MailChimp's options for building emails and signup forms are incredibly easy to use – you certainly don't need to worry about having any coding knowledge.
There are templates for you to follow but you're able to personalize them, creating bespoke emails for your brand. This can be a restriction in other platforms. The templates are optimized for mobile, so your customers can view the content on whatever device they use.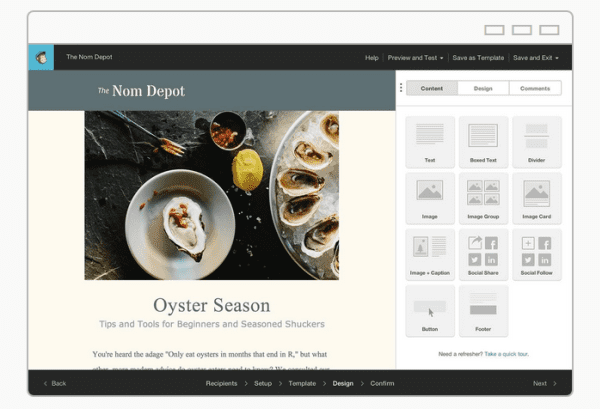 To build your emails, there's a drag and drop feature. Decide where you'd like your images and text to sit, and simply use your mouse or touchpad to build these blocks of content. Once you've set these blocks up, you can replicate it to other areas of the email.
For your images, there's a built-in photo editor and the images are hosted by MailChimp. Plus, there's a file manager to organize them. These both mean you don't need to use separate programs to get your images as you need them. The file manager is accessible through the photo editor, which can be a pain in other platforms where you need to exit the editor and head to your dashboard.
There are also templates for your sign up forms and there's a choice of 30 fields to capture whatever data you need when your customer inputs their email address. You can embed this on your website, rather than risk losing your customers if they had to navigate to MailChimp as an external site.
The editing process is a real winner for MailChimp. If you have multiple collaborators on a project, you're able to simultaneously comment on posts and send test emails without affecting each other's work. It's also really easy to check the emails before pressing the send button, since the previewer shows what the email will look like on PCs, laptops, and mobile. The URLs are simple to check too as you just need to hover over them to see where they're linked to, plus the platform automatically verifies the links in your email.
The dashboard is very clear and easy to use, plus the mobile app version is too. This is great if you need to quickly edit something while on the move or use your commuting time productively, for instance. As well as designing and editing emails, the app shows the reports.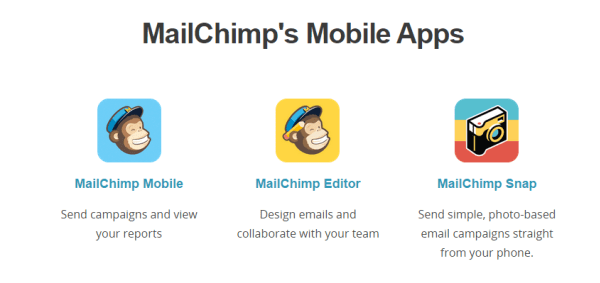 Sending The Email: Data Management, Autoresponders & Deliverability
As well as designing the email, your email service provider also needs to be good at sending them! If you hold your data on an external CRM system, you'll be pleased to know that MailChimp is fantastic for integrating with them. You can therefore keep your contact records where they are and the data from the email campaigns can easily feed back into the CRM system. If you choose to hold your data either in an external CRM system or MailChimp, you can segment it into lists once inside MailChimp.
When setting up an email campaign, you're able to schedule the emails to send at specific times and dates. Plus, you can create an autoresponder series for new sign ups, who'll receive your pre-made emails in a sequential order without you having to remember to press the send button for every new sign up.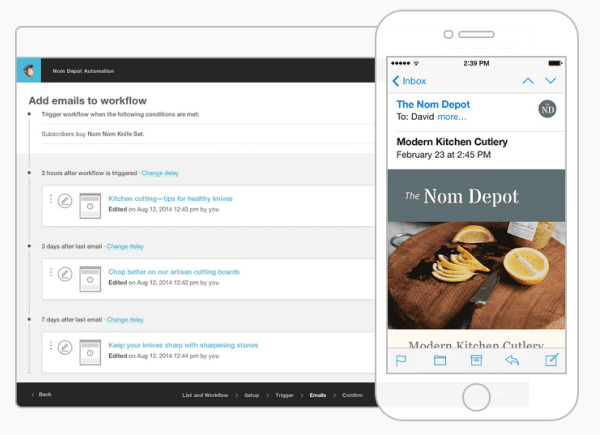 MailChimp's reputation is good and so its deliverability rate is between 90-100%. This means your email is likely to land in your customers' email boxes since the major email providers like Gmail and Hotmail trust the content that is sent through MailChimp isn't spam. This is an important first hurdle to get over!
Tracking Your Success Rate: Analytics
MailChimp is great for showing who your customers are, for example where in the world they've opened your email and through which email provider. It goes one step further so you can really get to grips with understanding your customers: you can see what type of content they like from where they've clicked and you can use this to tailor the next information you send them.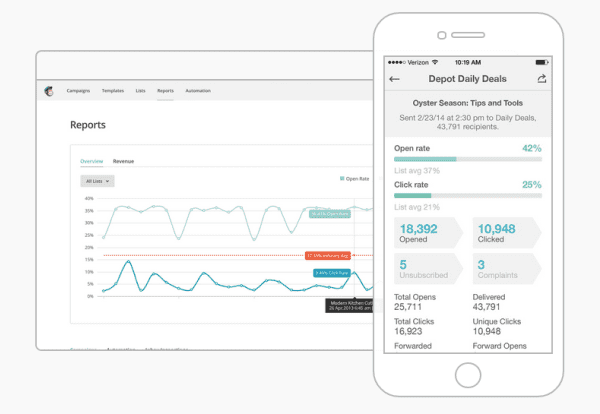 MailChimp assists you with your testing, suggesting the best time of day or week to send your email based on the results. It's also really simple to do A/B split testing on things like the subject line.
Segment your customers based on their preferences or demographics and use the list manager to build different, relevant campaigns for each group of customers. You're also able to send specific campaigns to non-clickers. Plus, you can see who has unsubscribed and see what emails have bounced, which MailChimp will advise whether or not to retry sending.
The analytics you see can be in table or graph format. It has an overlay feature to show visually where your customers have been clicking. This is a brilliant way to build your next email by considering the layout and the most clicked content. You can also compare your campaign success against the industry standard, giving you a good profile of your performance against competitors.
Finally, if you're looking at sensitive information in the analytics report, it's really easy to hide certain sections from others.
Who You Gonna Call? MailChimp's Support
Unfortunately a major drawback of MailChimp is its support. My sub-title is somewhat misleading for you as at MailChimp, there isn't anyone you can call. You can only submit queries through a contact form, which isn't the best option if you have a problem and you don't want to sit around and wait for an answer.

Support can be needed at any point and from any level of experience. Setting up your account and emails is easy, but you could run into problems. If you don't understand what your analytics are telling you, you'll miss out on the opportunity to use the information to create a better campaign next time. At any point in the process, you just might need to speak to an expert.
There are, however, many resources you can use to find the answer yourself. From learning the ropes to solving problems, the written how-to guides and video tutorials are lifesavers. There's a blog full of ideas and latest trends for you to take inspiration from. MailChimp also gives you access to the research it compiles on its data, so you can improve your own campaigns.
Monetizing Your Site: Affiliates
Another drawback of using MailChimp is its dislike of affiliate marketing. If your business model includes this, it could be a deal breaker for you. Affiliate marketing is meant to be unobtrusive and based on trust and recommendations, but MailChimp will stop any email that it deems to contain its blacklisted links, which includes many retailers. It will do this without warning, possibly leading to a complete shutdown of your account.
Other email service providers are better at allowing affiliate marketing through your emails.
The Cost To You: Pricing
Finally, the pricing of your email service provider is an incredibly important part of your decision of which to choose. MailChimp makes the options really clear.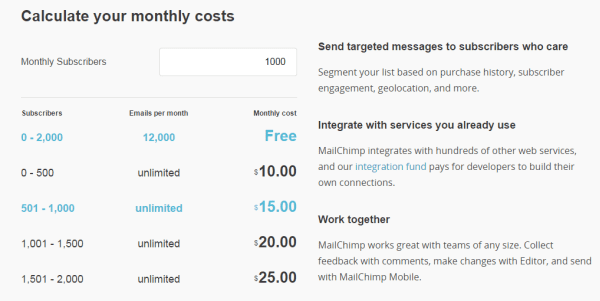 The packages offered are suitable for different sized businesses – there's even a free option for those who are just starting out. If you send up to 12,000 emails to 2,000 subscribers, you can send your emails for free, without a contract or expiring trial. However, this option is quite limited on features. You don't get the automated emails feature, the ability to deliver by time zone or segment your audience into lists, integration into other web services, or any support.
The paid options give you these features. They start at $10 per month for 500 subscribers or $25 per month for 2,000 subscribers. There are packages above this too for those who send really large volumes of emails, such as agencies on behalf of clients. Or there are pay as you go options if you only send out emails at intermittent times.
Wrapping Up
MailChimp is a brilliant all-rounder when it comes to good email service providers – and its huge user-base must agree! It has many options for designing your emails and reporting on their success. It's easy to use, which is even more of a benefit for beginners, and there are many resources to use to get you up and running. However, the lack of support could be too much of a disadvantage for some. The same goes for affiliate links.
The cost is very cheap compared to other providers that give a similar service. The free service is a massive plus for those just starting out. Even if you're just experimenting with email marketing, you can swiftly move up to a paid package.
However, I'd suggest going through all of the features and benefits of MailChimp and compare it to others before you jump right in. The free service is tempting, but you do need to think long-term and question if you'll be happy to use the service as your email marketing needs grow. And my opinion? I'd be happy to use MailChimp until I got to the size where good support and a quick reply are imperative to my business.