When you speak to Internet marketers many will tell you, "the money is in the list." What they're saying is that your blogging and business efforts should be focused on building your e-mail newsletter list.
While you may think that blogging and social media is enough, and e-mails can be annoying to some users, experience tells us the contrary. If you want to increase your readership, you need to work at capturing leads, which, in the online world, is equal to capturing e-mail addresses. Legally, of course (Canada, for example, is cracking down hard on spam these days).
Why do this?
We'll tell you:
Not everyone is going to buy your product or service the first time they land on your site.
Sometimes they need time to decide.
So it's your job to remind them that you exist, and that you have something of value for them.
Let's stop here for a minute. How do you show them you have something of value? I'll tell you how not to do it: Do not ever (like, never) try to send them promotional e-mails that talk about your product. There may be a time and place for those types of messages, but it's not supposed to be regular.
That's just talking about you.
Here we need to apply a very important principle in marketing; it's called the "What's In It For Me?" concept. You always need to remember that your audience only cares about themselves and their needs.
Your need is to sell more product. That's not their need. You need to make it worth their while to read your e-mails. So don't write about your need. Write about their need.
What is their need? Well, they have problems to solve. So you want to show that, as it relates to your industry and niche, you are the person that knows how to solve all those problems. The more you build your credibility by showing how much you know, the more valuable your product or service will start to seem. This is relationship and trust building, and it is essential in any sales process.
That's what brings us to using MailChimp on your WordPress site for increasing your readership. WordPress is great for all kinds of e-marketing, whether selling a product with e-commerce or simply for blogging. Either way you'll want to consider a newsletter to help get more traffic to your site.
The important thing to know before we start is that MailChimp is only one e-mail newsletter tool. There are many others. There's Aweber and Constant Contact for example, which are also popular.
MailChimp is a great way to start your e-mail newsletter list because it's not only free up to a certain limit of subscribers, it's also relatively easy to use, while still giving you some great features to help your e-marketing efforts.
Here are some ways you can use MailChimp on your WordPress site specifically:
1) Hard code a sign up form onto your site in an HTML area
This is the method I use on my clients' sites a lot. It allows for a lot of control over styling and duplication later on, if we want the sign up form to show up in different places, or look the same but lead to different lists in different areas.
The key here is to know that you will need to start this process from your MailChimp account and dashboard, not from WordPress. So you need to sign up for that first, and also learn how to create a list in MailChimp. It will also be useful to understand the difference between lists and groups in MailChimp, for better organization and segmentation later on, when your e-mail marketing needs become more advanced.
You will also need to learn from MailChimp how to customize the form fields that you want to appear on your site. For example, do you want to collect "First Name" and "Last Name," or just "Name"? Do you need to collect other information when people sign up for your list?
Important to note: the more fields you add to your form, the fewer people you can expect to sign up. This is serious! Also read this. Like really, you need to stop right now and read the articles at those links.
After you've learned how to use MailChimp…
You will need some technical ability to do the next steps. So while this may be the ideal solution for custom-built web designs, it may not be the greatest for the DIY website builders out there who don't have knowledge of CSS or HTML.
BUT – MailChimp actually does offer you some copy-and-paste options that would still work for newbies.
In your MailChimp account, you want to first click on a list name, and then look for the option to create forms for your website. You specifically want the "embedded forms" option, because we are going to get people to sign up for your list directly on your site.
Here you're going to have options such as "Classic" form or "Super Slim." We want "Naked" form. This is essentially going to strip all styling and JavaScript from your form to get it down to its most basic elements.
MailChimp is going to generate some code for you to copy and paste onto your site, and that code can change a little depending on what you check or uncheck in the settings (which are beyond the scope of this article – again, you'll need to learn MailChimp before attempting to do any of this if you're confused right now).
That code, believe it or not, can be made to look like your site's design and branding. But first you need to copy and paste it into either a text widget or another HTML area in WordPress (usually this is going to be in a text widget to have it appear, say, in your sidebar, or footer).
Now, we style…
What you want to look for in this copy-and-paste code are the areas that say "id" or "class." These are controlling the 'look' of your form. MailChimp lists all of these CSS "hooks" on their website.
When you find what you want to style, you will need to add these ids and classes to your theme's style sheet.
Let's explain.
Below is a sample of a MailChimp "Naked" form that has been pasted into a WordPress text widget. Some of the ids and classes have been boxed in red, to help you see where they are: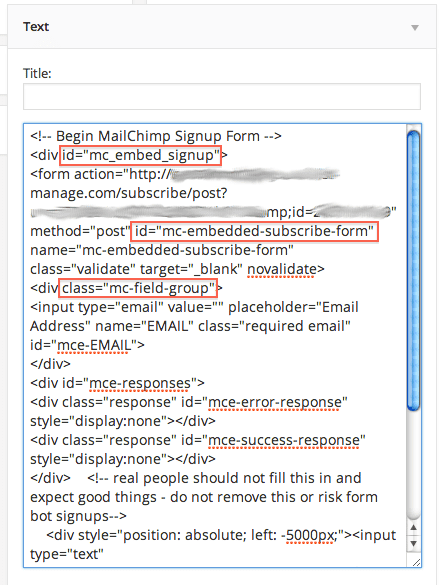 Notice how it starts with an id called "mc_embed_signup"? That's what we're going to use in our CSS file to define specific styles of how we want this area to look. For example, here is some CSS that has been added to a WordPress site using the above MailChimp form: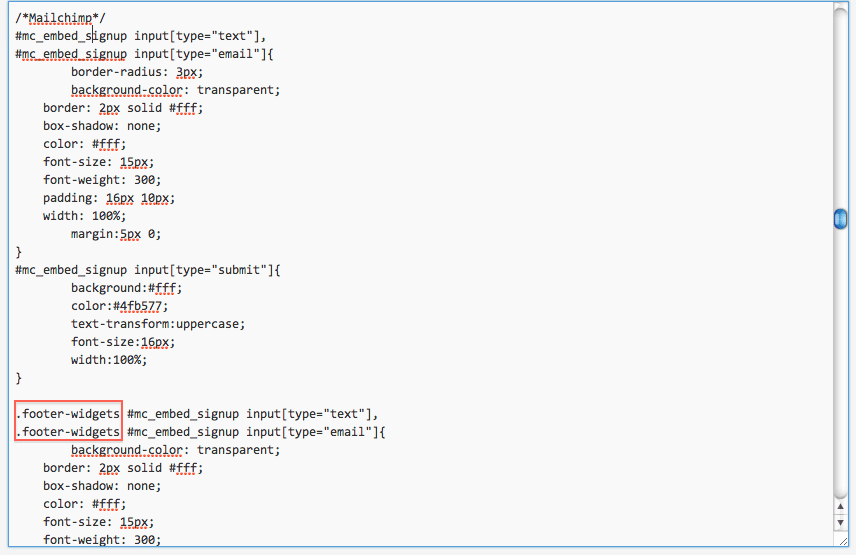 In the screenshot above, there is a red box around instances of a CSS class named "footer-widgets." This is because this site specifically needed these styles to show up only in the footer widgets, and not anywhere else. These are theme-specific styles, and won't apply to all sites.
The above screenshot is only an example of how to style a MailChimp form. You can try some of these examples, or tweak them to make your own. What we ended up with on this site, after adding more styles, is a form in a footer widget that looks like this:

If we hadn't styled it, it would have looked like a generic form, using the colors, fonts, borders and styles that your theme's style sheet has pre-defined for all its forms.
If we had picked "Super Slim" or "Classic" form when grabbing our embed code from MailChimp, the form may have looked like a generic MailChimp form, using the colors, fonts, borders and styles that MailChimp's CSS file pre-defined.
Again, you do need to know HTML and CSS to be able to do this, but there is another way, which brings us to our next option…
2) Use a plugin, it's easier
If you read MailChimp's site, and are looking for a way to integrate your sign up form on your WordPress site, they will lead you to this plugin page. It doesn't have the greatest rating, but the good thing is that MailChimp is behind it. So there's that. As opposed to them not being behind it…which wouldn't necessarily be a bad thing.
For example, AppSumo makes a newsletter subscription plugin that can work with MailChimp too. And Danny van Kooten's MailChimp Plugin has a way better rating, which is usually a good indication of how well it's been made.
Ideally, in principle, you want to avoid plugin usage on a WordPress site when there's the option to manually hard code or integrate a function. The reason? Plugins can cause all kinds of problems down the road. Your site might be fine today, but the next time an update is released for anything running on your site (software, themes, etc.), you may suddenly find yourself in a pickle, not understanding why things don't work the way they used to.
We're not saying these plugins, or any plugins are bad. We're just saying things happen, and they're not always controllable or predictable. That is especially true when you have many different bells and whistles running on your site, which may not all be compatible with each other.
So if you use a MailChimp or newsletter plugin and it fails on you, you'll need to go back to trying method 1 in this article, that's all.
(Side note: site breakages due to updates are the reason you'll want to keep regular backups, such as by using VaultPress).
3) Link to a sign up form hosted on the MailChimp site
This is the least recommended way of gathering subscribers, since you are technically asking people to leave your site to be able to subscribe. What you want to do is integrate into your site as much as possible the sign up process, so you can control what content and branding your users are seeing. Plus it takes less steps for the user that way.
However, if you are looking for a super simple way of allowing people to sign up for your MailChimp list through your WordPress site, check out these instructions. Aside from those instructions, you will simply need to know how to create links on your site.
4) Use the Divi theme!
Yes aside from all the other ways the Divi theme makes website building easy on you, it also helps you create MailChimp sign up forms really easily. All included, out of the box, as a feature of the theme. So if you're using Divi, ignore all of the above and just go check out this tutorial on how it works.
5) But wait, what about those popup forms I keep hearing about?
Aaahhh. When you landed on our site you may have noticed something like this, encouraging you to sign up for our e-mail list: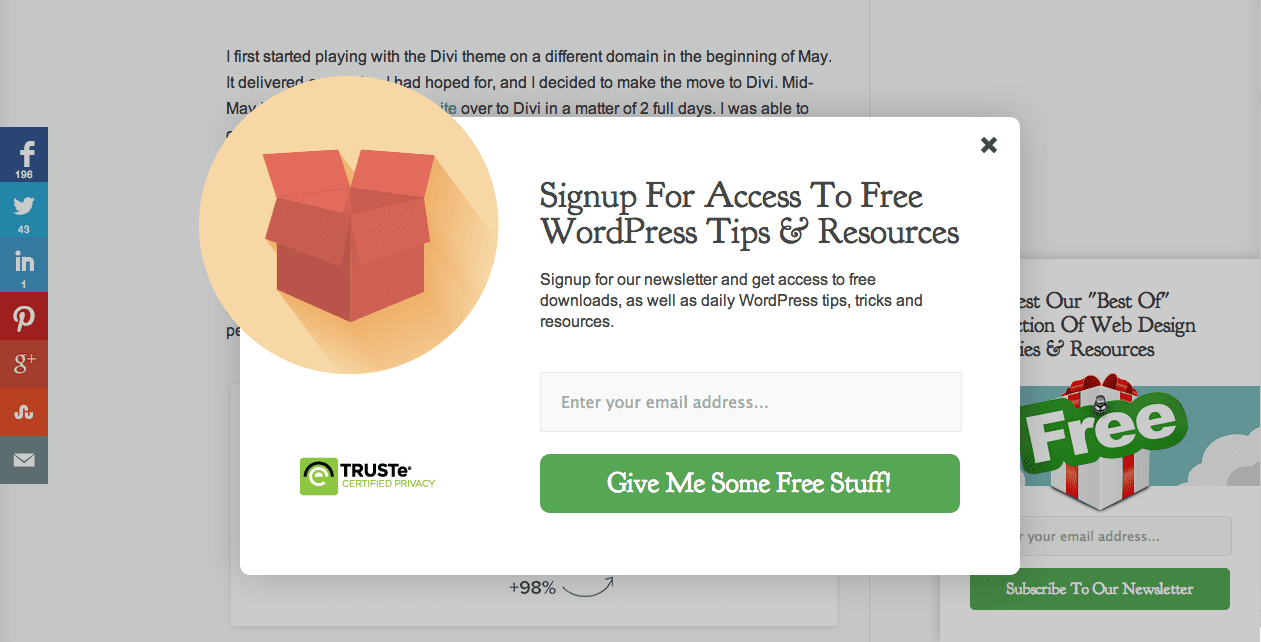 Yup, we do that. And you might be thinking, "oh but those are so annnnoooying! I haaate those!"
Well you shouldn't.
They work, and the reason smart e-marketers keep using them is because they increase subscriptions, which increases readership on your blog.
So the trick is to offer value when you use the popup method. There are also some other techniques, like not using the word "Submit" on the submit button. And making sure it doesn't popup over and over again, cuz that sure would be annoying.
Let's get this going on WordPress with MailChimp, shall we?
So the first thing you want to do is scratch the advice given above in method 1 about using the "Naked" form. You are going to need the "Classic" form and make sure in the settings boxes you have checked "enable evil popup mode."
This is going to automatically make the popup sign up form appear on your site, after you've embedded the code into an HTML area or text widget in WordPress.
Can you still custom style this form? Yes, you can!
You can use the "General forms" area of your MailChimp list settings to design your form the way you want it to look, or, for even more control, you can follow the guidelines given above. It would be helpful to know how to remove the inline CSS from the code first though. You may also need to move (or completely remove), part of your copy-and-paste code into the <head> of your site. MailChimp actually puts a note in the code to tell you which part should be moved: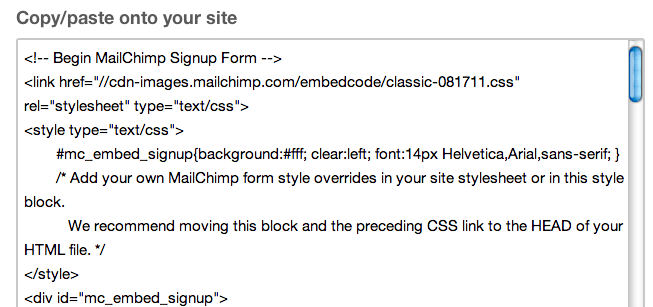 If you are not familiar with how to add things to the head of your site using your chosen WordPress theme, this may be a difficult step for you, and you'll either need to do more research, ask your theme's forums, or hire useful help.
Or, you can just use a tool that does all the fancy footwork for you
Yes, there are external tools outside of the MailChimp dashboard you can use to achieve the popup effect, or even just to make your opt-in message more prominent for potential subscribers. We found a post on KissMetrics that does an excellent job of listing 67 of those tools, so we thought, why re-invent the wheel? Just head on over there and check out that post!
And, if I may interject, I am a huge fan of the Interrupt plugin by AppSumo. Not only can it be made aesthetically pleasing, it makes a lot of sense to me as a user, because it's easy to get rid of it, and isn't intrusive after I've already tried to get myself to concentrate on something else. Oh, and it's pretty easy to set up too.
AppSumo also makes SumoMe for WordPress and MailChimp, which is a plugin focused on list building as well. And boy, does AppSumo know about list building…
Now I've got MailChimp on my site, what's next?
Thank you for initiating our conclusion! Lol, just joking.
Well, actually, this is the conclusion.
To be honest, list building is a big topic, and that's why I've been linking to resources throughout this article to help you get a grasp on how some of the greatest Internet marketers are doing it.
Getting your MailChimp form on your WordPress site is really step 2 to the entire process. Step 1 is understanding how e-mail marketing works for businesses. It's not what most people think it is. So I strongly encourage you to click through all the links in this article, and then Google more articles on e-mail marketing. Seriously, you need to do that.
But don't ignore e-mail marketing, and don't skip putting a newsletter sign up form on your site. When you finally tap into the results e-mail marketing can give you, you'll only regret not starting your list building efforts sooner. So get crackin'!