Running a website can be a big job, which means any tools that help you to simplify your workflow are invaluable. Enter Zapier – a unique online service that helps you automate many common WordPress tasks. You can use it to integrate your website with popular social networks and other tools, enabling you to combine and automate tasks such as posting your blog entries to social media, backing up your drafts, or even adding new content to your calendar.
In this roundup, we'll highlight ten of the most useful 'Zaps', and explain how you can get started with each one. Before that, let's talk a little more about Zapier itself!
Zapier is a service that enables you to automate workflows across common apps and tasks, resulting in the creation of 'Zaps'. This can include importing content from other platforms, posting RSS feed items, sharing survey responses, and much more.
By using Zapier, you can essentially integrate WordPress with a wide variety of platforms and social media networks. Each Zap is simple to set up and will help you streamline your day-to-day workflow. Once you've created one, it will run automatically with no further effort on your part.
Key Features:
Automate tasks using Zaps.
Integrate WordPress easily with social media platforms and other popular tools.
Set simple tasks to run automatically every 5 to 15 minutes.
Use up to 250 Zaps at a time, and automate up to 50,000 tasks per month.
Price: Plans start at $20/month | More Information
How to Create a Zap
The first thing you'll notice is that Zapier is incredibly simple to use. Once you sign up for a plan or free trial period, you can begin creating your Zaps.
Zapier boasts a huge library of Zap options, including about a hundred specific to WordPress. Your first step will be to search their library for the platform you want to integrate. Alternately, you can simply browse around to explore the possibilities. Once you've found a likely Zap, click on Use This Zap to visit the setup screen: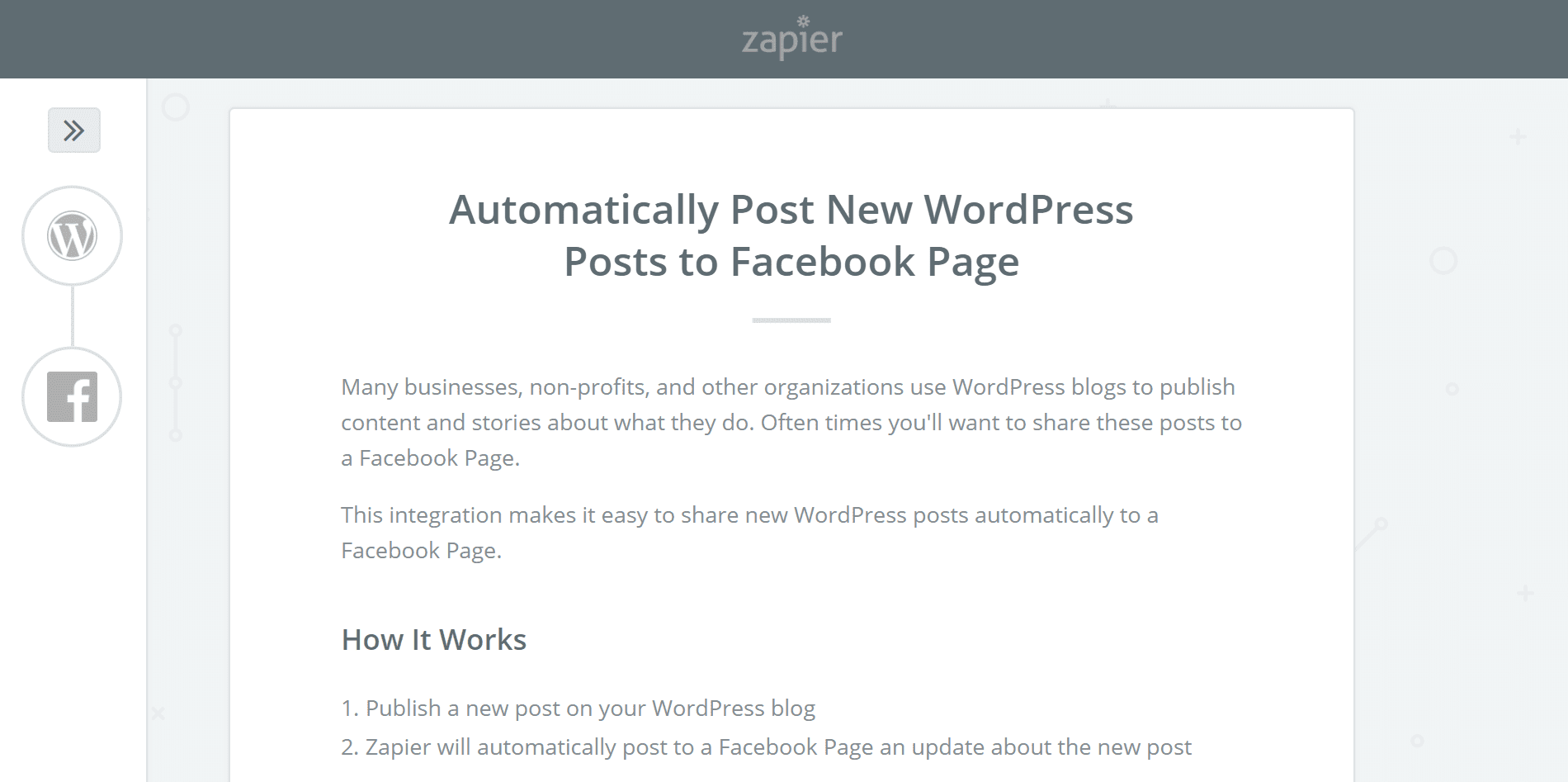 Every Zap is a different, but the creation process is essentially the same. Zapier will walk you through the process step-by-step. In general, you'll need to provide the credentials for both your WordPress website and the tool you want to integrate it with (such as Facebook, YouTube, Google Docs, and more).
Next, you'll typically be presented with a few optional settings to determine how the app will work. For example, the Automatically Post New WordPress Posts to Facebook Page Zap will let you customize what types of posts the app should look for and publish to Facebook: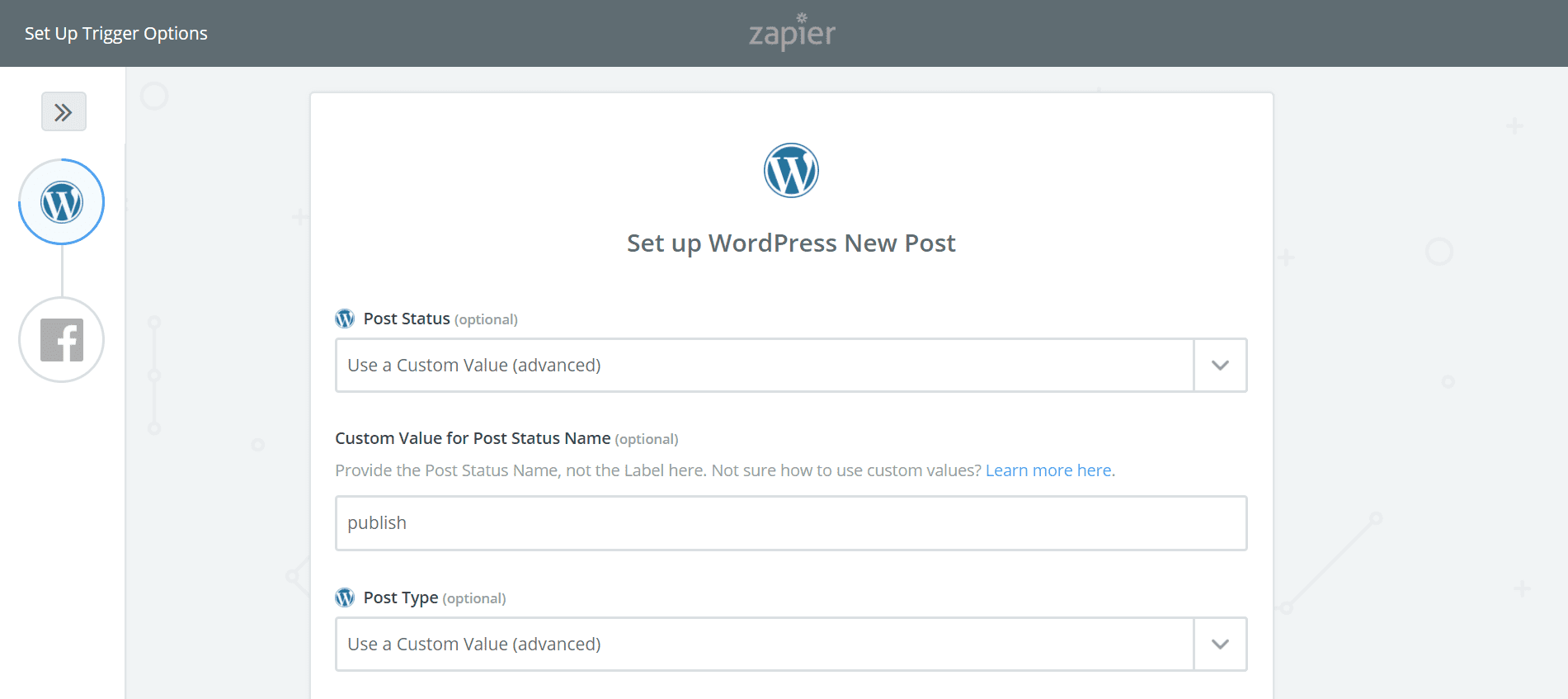 After you configure each platform, the system will prompt you to run an optional test to make sure it's properly connected. After that, your new Zap will be good to go! It will run automatically until you disable or delete it, performing its task every 5 to 15 minutes depending on your plan and the particular Zap's settings.
If you run into any issues while creating a Zap, you can check out Zapier's help center, which should set you back on the right path.
10 WordPress Tasks You Can Automate with Zapier
Now you're familiar with what Zapier can do and how to get started with the service, it's time to introduce some of the available Zaps. As we mentioned previously, there are a ton of Zaps that integrate WordPress with different platforms and tools.
In this list we've gathered some of the most useful and popular options, so you can get a feel for the kinds of tasks Zapier can simplify.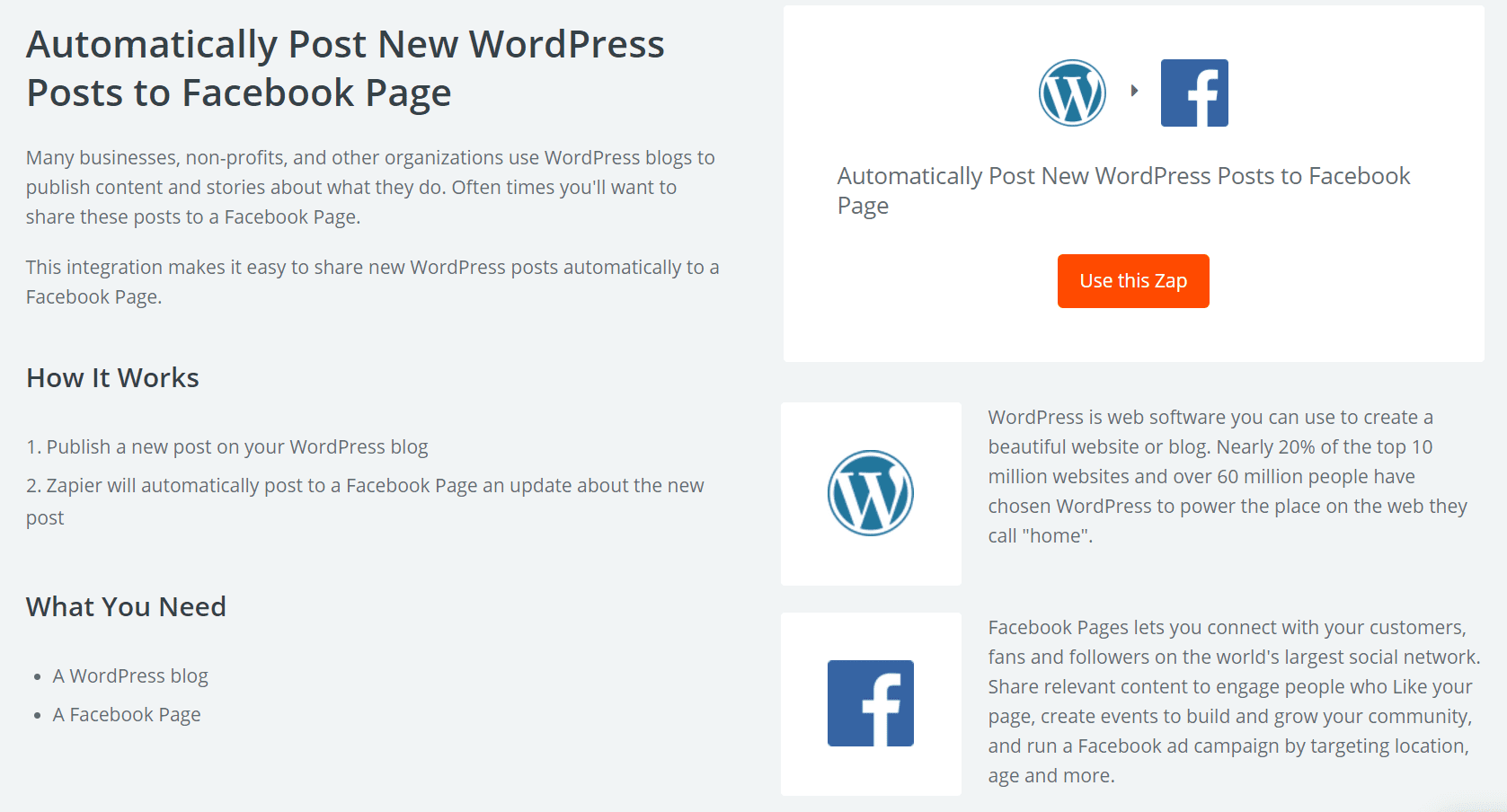 Facebook is an excellent way to communicate with your audience and court new readers. However, you may not always have time to create unique content for both your site and your Facebook account. This Zap offers a solution, by making it possible to share your new WordPress posts automatically to your Facebook page.
All you need to get started with this Zap is a WordPress website and a Facebook page. You'll be able to tell the Zap what kinds of posts to look for and share, and choose what page those posts will be published to. You can also include a default message and a link back to the original post.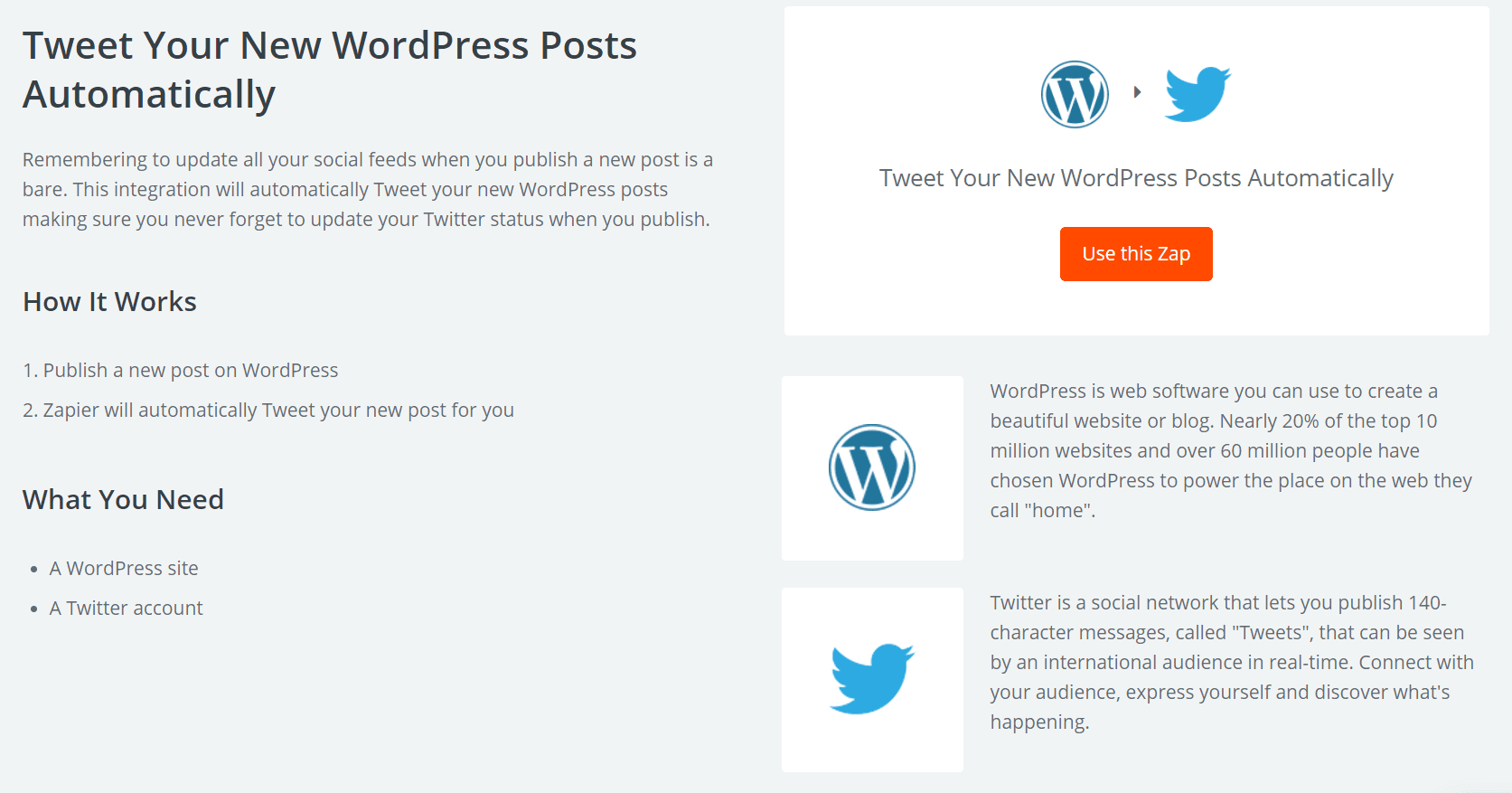 This Zap is designed to share your recent posts on Twitter (as the name suggests). Twitter is an ideal platform for getting your content out to as many readers as possible right away, yet logging on and posting a link to each new post can be inconvenient.
To set up automatic Twitter updates using this Zap, you'll need to connect your website and Twitter account. You can determine the format of each tweet, and decide whether or not to shorten the URLs to your posts. In addition, you can set parameters that will tell the Zap what kinds of posts to tweet about.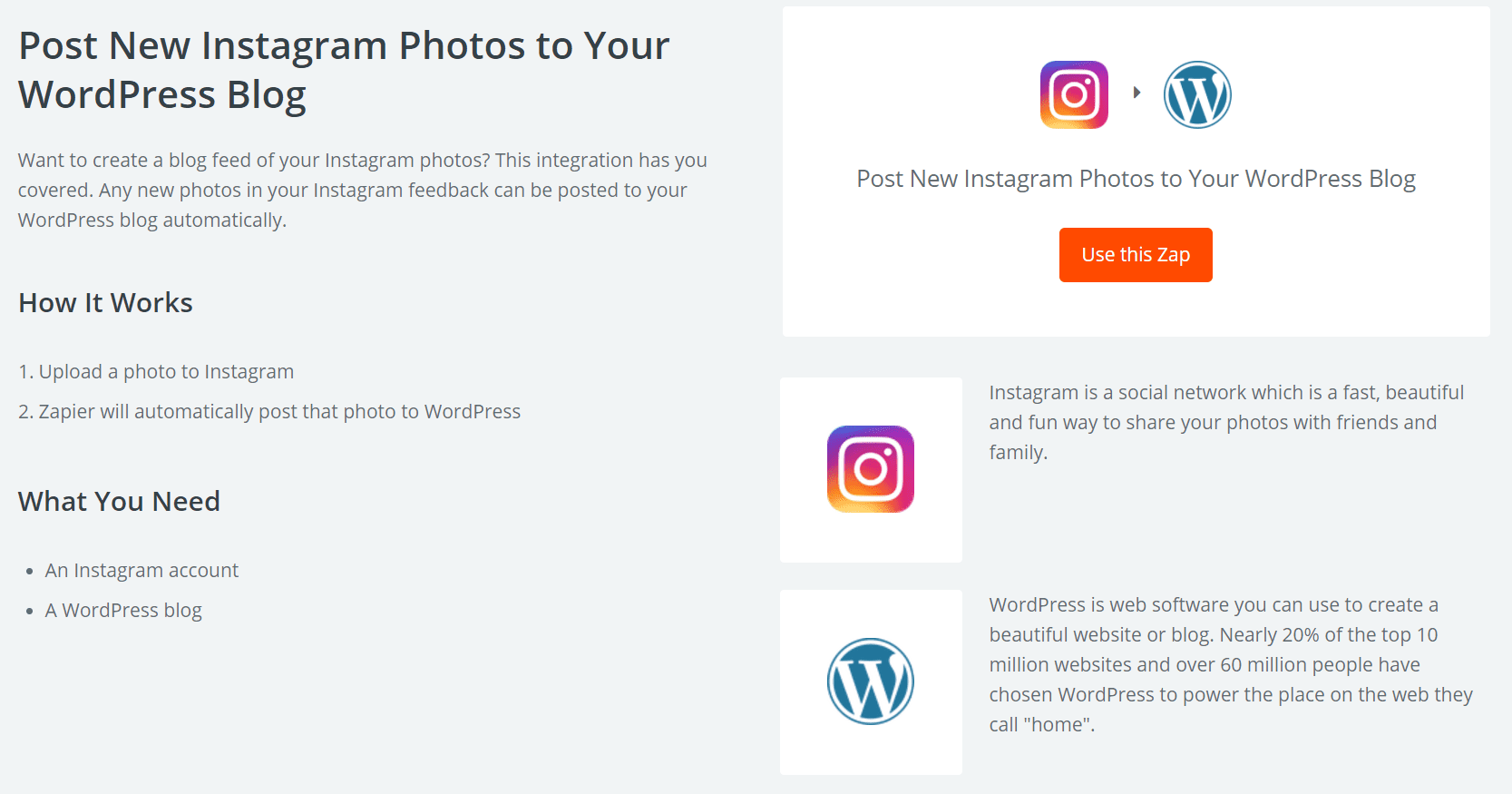 Along with sharing your WordPress posts on social media sites, it's also worth adding your regular social media content to your blog too. Readers will appreciate the variety that comes from posting more than just text-based entries. For example, you can use a Zap to post your Instagram photos to your blog.
This Zap features very little setup. It merely needs your account credentials so it can automatically import any new photos over to WordPress. However, you can determine how the resulting blog posts will be formatted using the settings, and also decide on a category for those posts.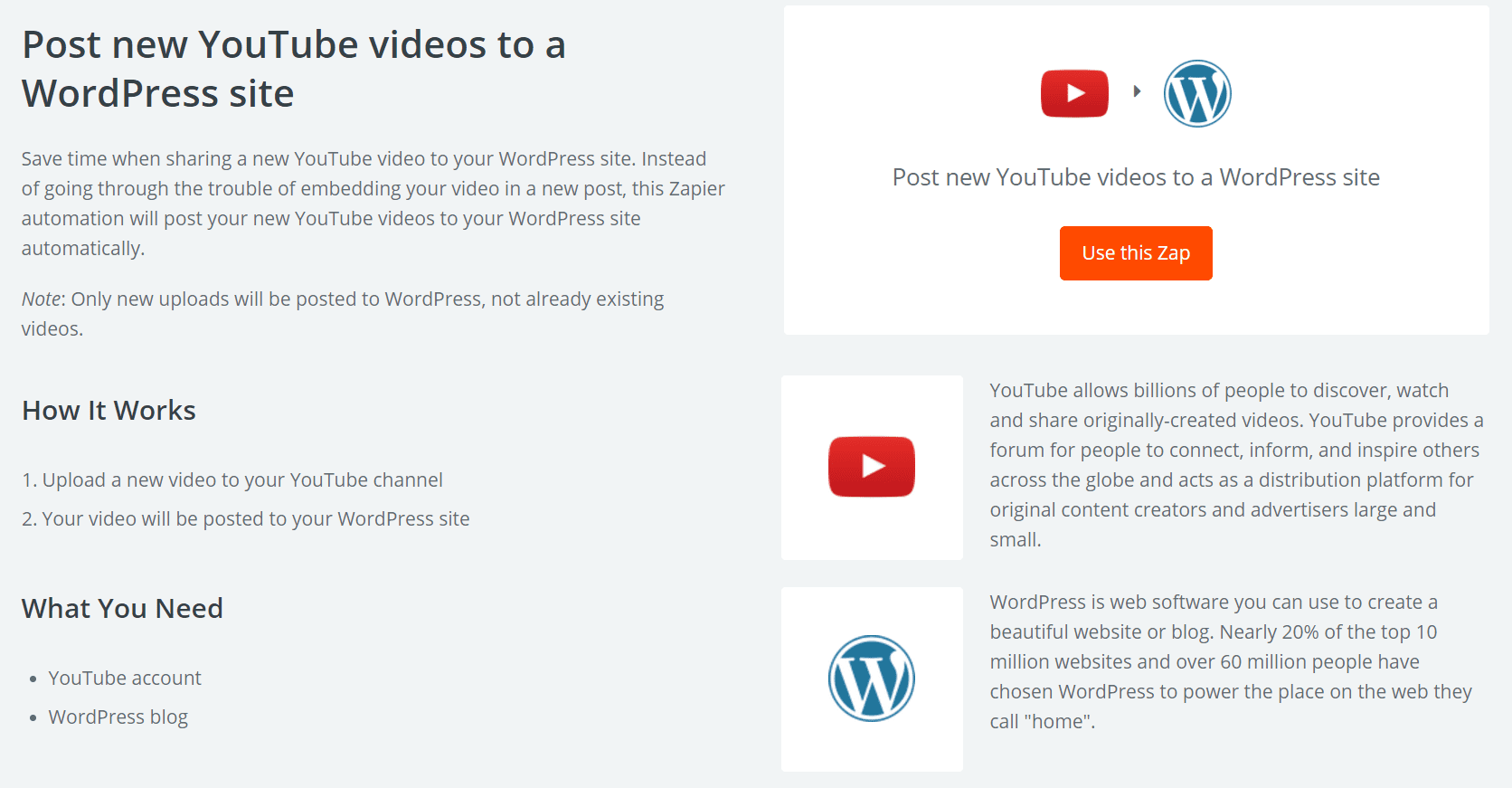 If you run a YouTube channel in addition to your blog, you may be interested in a simple way to promote your new videos. With this Zap, you can ensure that each video you post to YouTube will also be uploaded to your blog, without the need for you to create a post and embed the file manually.
To use this Zap, you merely need to connect it to a particular YouTube account and supply a username. It will watch for any new videos posted by that user. When you add your WordPress account, you can determine what each video post will look like on your blog. You can also decide whether it will be published immediately or saved as a draft.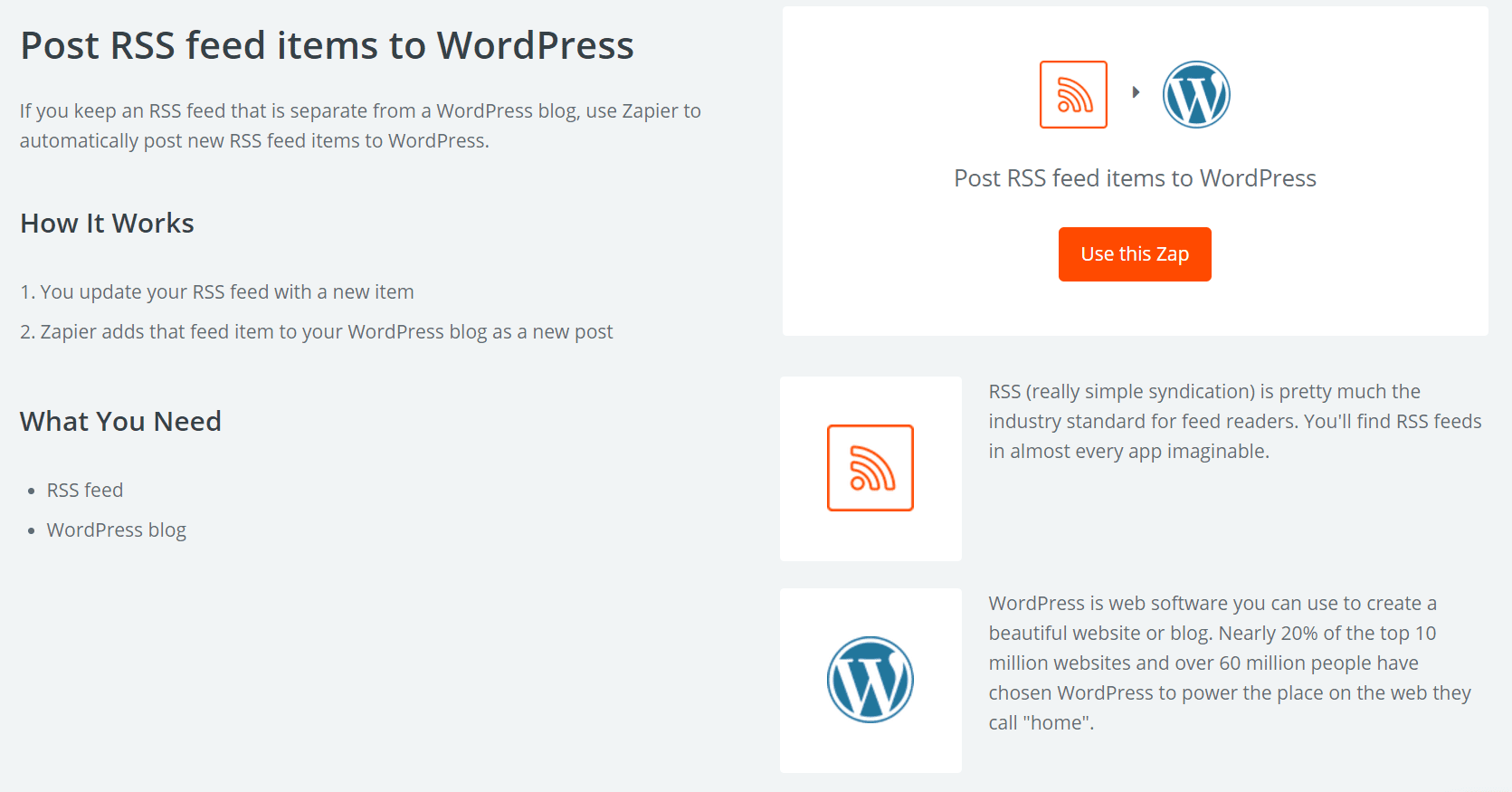 There are a number of ways you can use an RSS feed in conjunction with your blog. You can set up a feed of other blogs your readers might be interested in, or collate your own content from different platforms. Either way, you can then use this Zap to share any new feed items on your blog.
This is one of the simplest Zaps on the list, and doesn't involve a lot of extra settings. All you have to do is connect it to your publicly-accessible RSS feed, then customize the title and content of the resulting WordPress posts. If you want, you can also choose to have items posted in an alternative format (for example, as media items).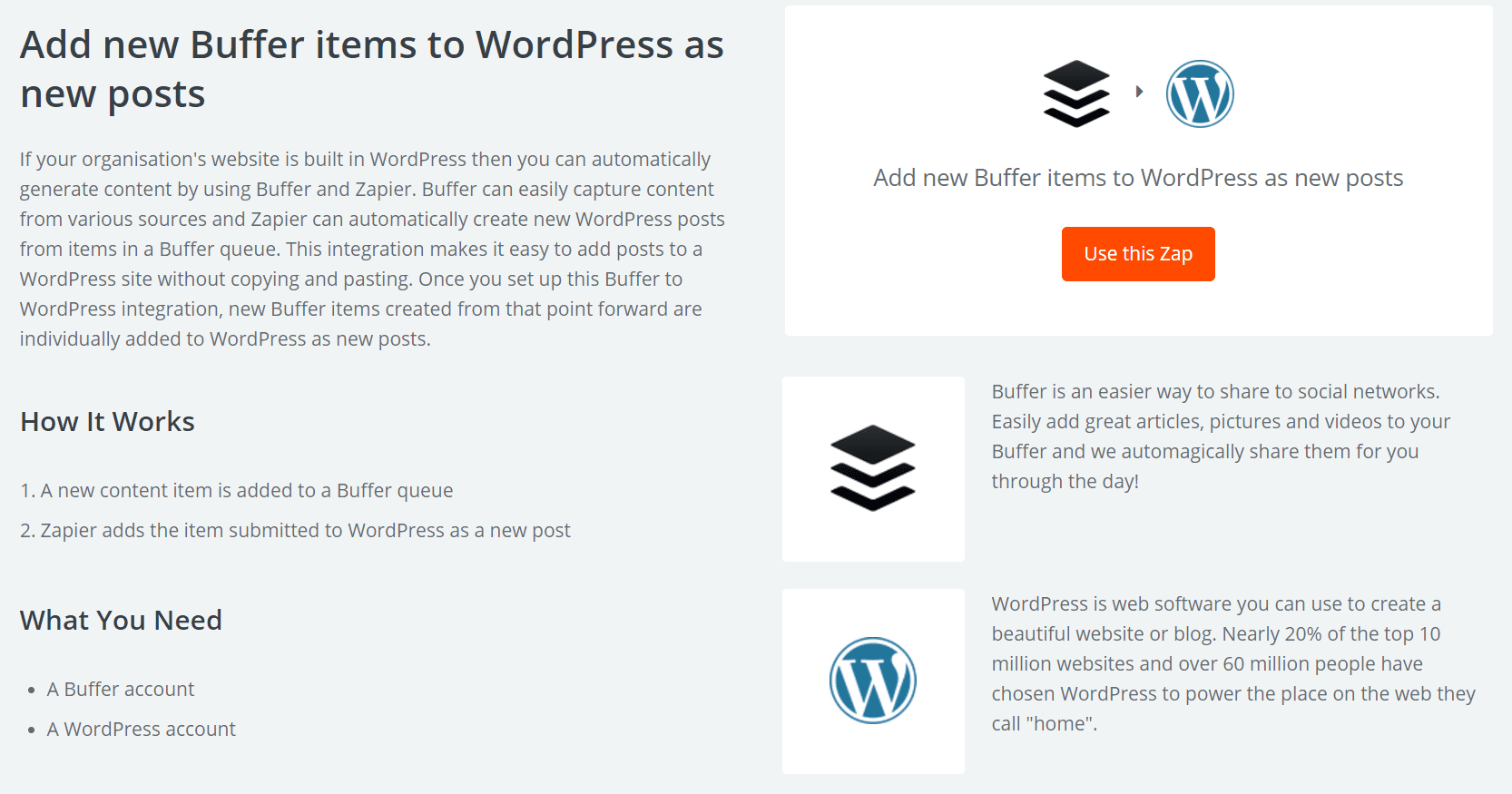 If you're not familiar with Buffer, it's a handy app that enables you to schedule content to be posted on Twitter, Facebook, and/or LinkedIn. This means you can spread out your updates so they will be released at regular intervals. With Zapier, you can also set your 'Buffered' items to post automatically to your WordPress blog.
When you create this Zap, you'll need to provide it with your Buffer account information. You'll also need to enter the name of the profile you'd like it to watch for new items. Next, you'll add your WordPress account, and come up with a title and default content for the posts. After that, you can customize any advanced settings you'd like (such as the posts' author, or the associated categories and tags).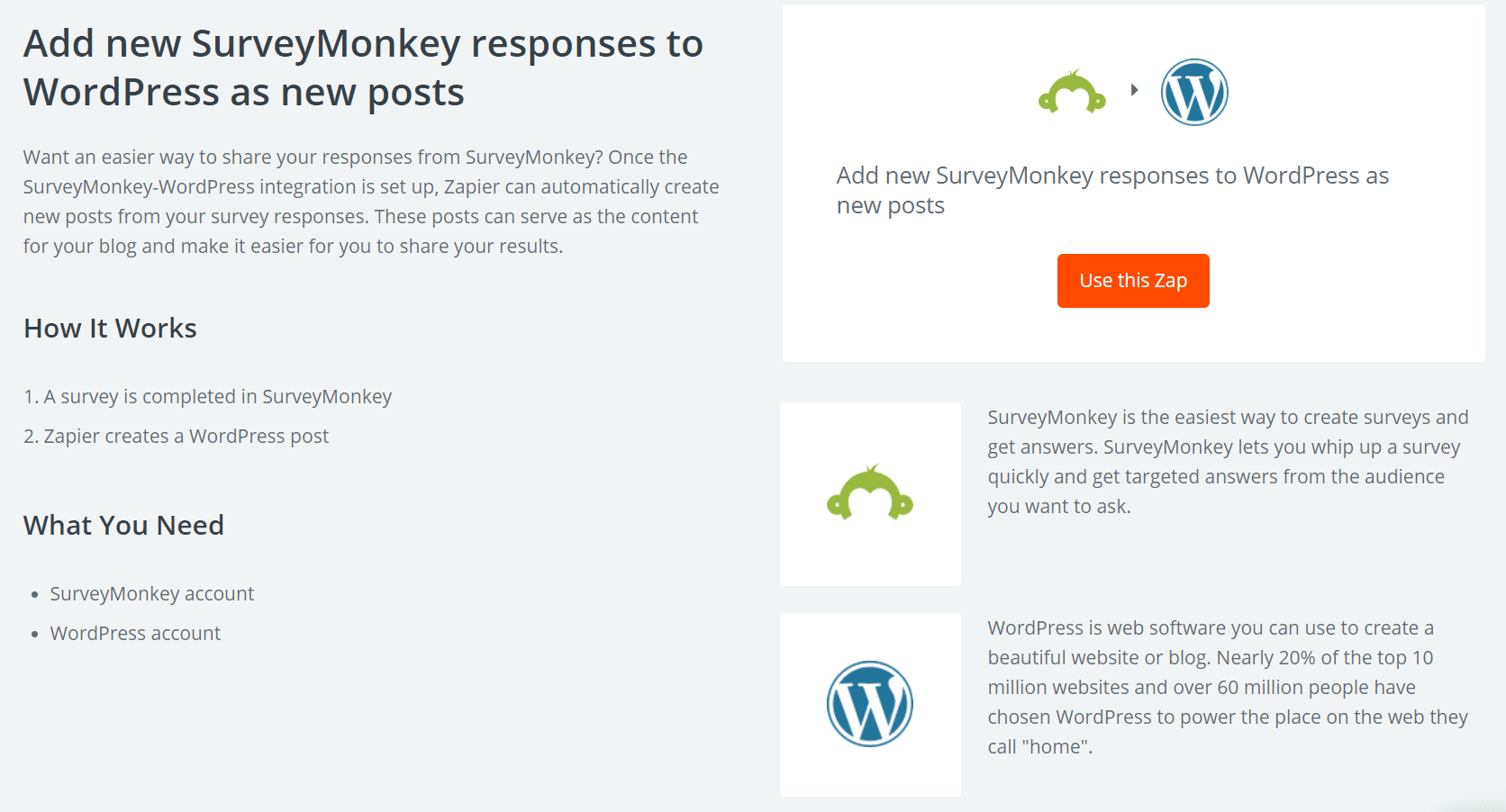 SurveyMonkey is a free tool that lets you create custom surveys and questionnaires. You can use surveys to gather all kinds of feedback from your readers – topics they'd like you to cover, or their reactions to your content, for example. If you want to share the results with your readers, you can do so easily with a Zap.
At first, you'll need to enter your SurveyMonkey credentials, then tell the Zap which survey you'd like it to follow. Optionally, you can also define a particular 'collector' for it to watch. As with other Zaps, you can also configure the way the survey results will appear on your blog.
It's fairly common for bloggers to draft posts in a standalone text editor before bringing them over to WordPress. However, the process of transferring a text document to the back end of your blog can be cumbersome. If you use Google Docs to create your WordPress posts, you can streamline the process with this particular Zap.
You'll need a Google Docs account, preferably with at least one document so the Zap can run its tests. Input your credentials, connect your WordPress account, and customize any blog-related settings you'd like (such as the title, post type, and author of the imported documents). When it's set up, the Zap will automatically pull in new Google documents and save them as drafts on your blog.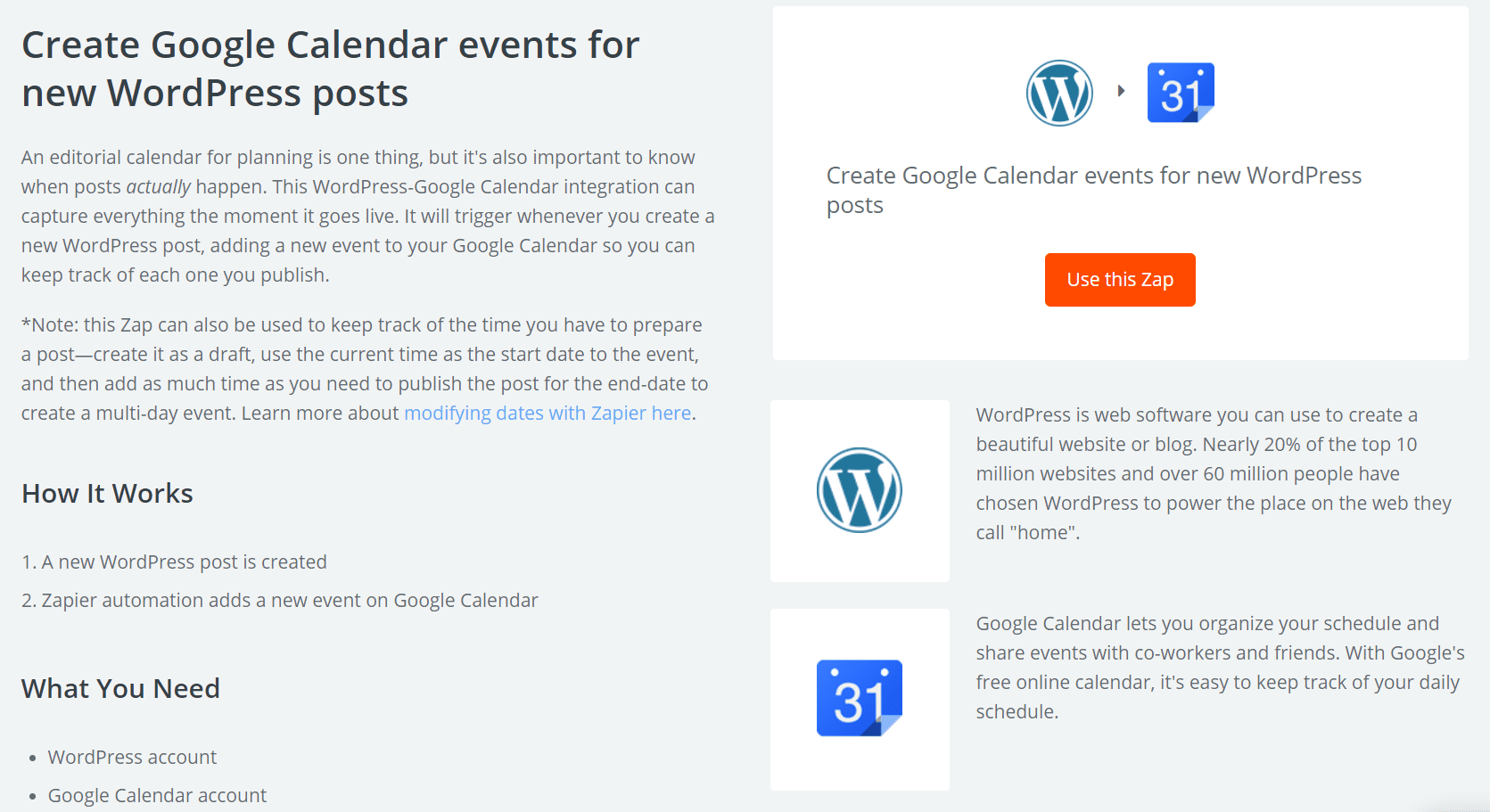 If you create a lot of posts (or have multiple authors), it can be crucial to maintain a calendar to keep track of everything. That's why this Zap will integrate your WordPress blog with Google Calendar. It will automatically add each new post to your calendar, so you know what has been published and when.
To create this Zap, you'll need to tell it what kinds of posts to look for. For example, it could watch only for drafts or published posts. Next, you'll connect your Google Calendar and determine a few additional settings (such as the summary and description for the calendar entries, and the start and end dates/times, among other choices). This Zap impresses due to its flexibility, and can be used to customize your calendar to meet your specific needs.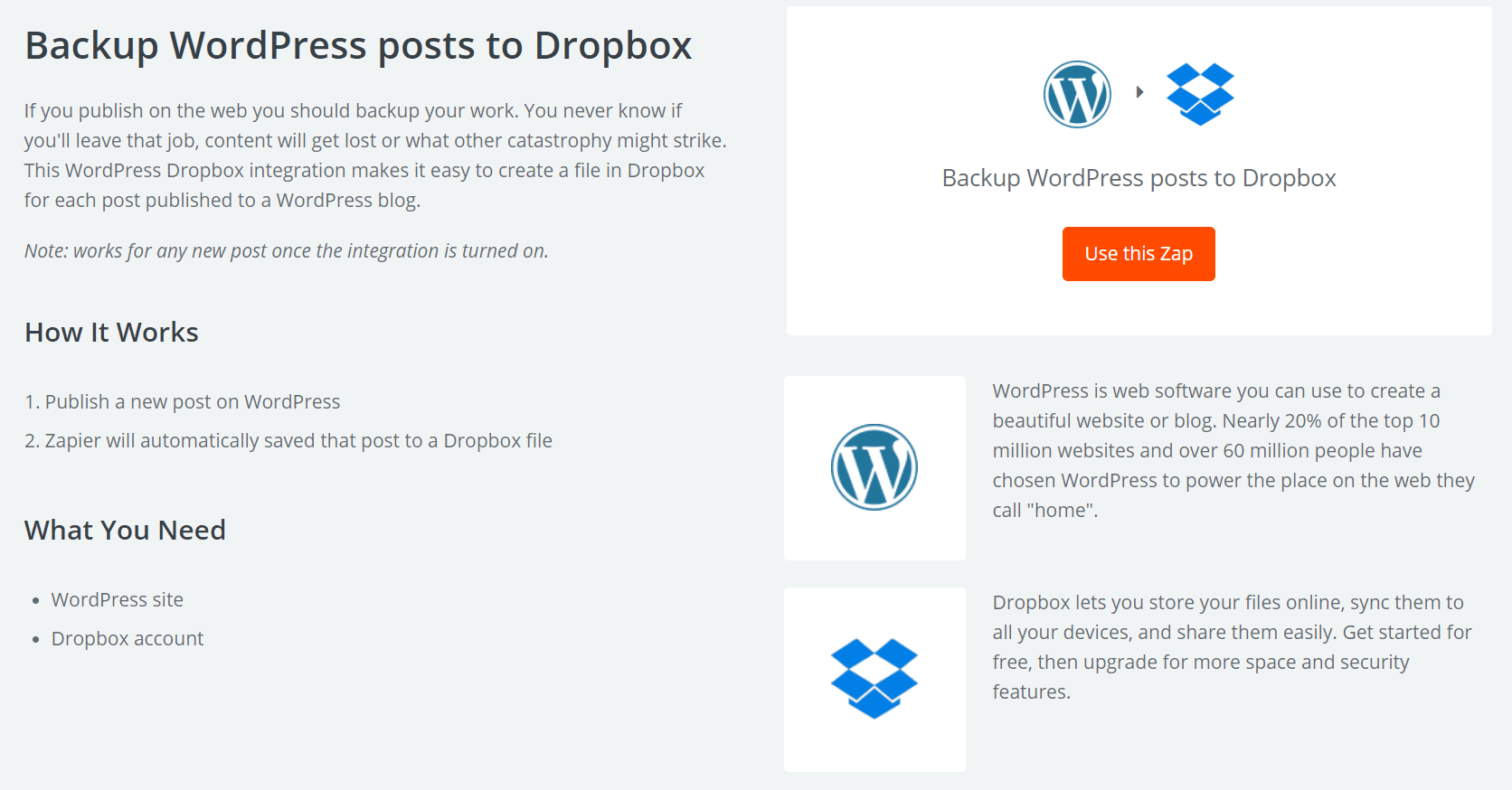 There's a good chance you already back up your blog, but what about its individual posts? Disaster can strike at any time, and you don't want to lose valuable content. With this simple Zap, you can back up your WordPress blog posts to Dropbox, so you'll have them somewhere safe just in case.
As with most Zaps, you'll need to connect this one to your blog and tell it what kinds of posts to look for. Then you can log in to your Dropbox account (or create one without leaving the setup process). After you specify where and how the Zap will save the backup files, you can complete the setup and then let it take over protecting your content.
Conclusion
Running a blog can be a massive job – especially if you post a lot of content or have multiple authors. Automating common, recurring tasks is a smart way to stay on top of everything. With Zapier, you can create Zaps that handle some of your site's busywork, which streamlines your workflow and gives you more time to focus on the bigger picture.
To get started with Zapier, simply create an account and start looking for the Zaps you need. There are Zaps that can help with many of the tasks you carry out regularly, such as posting new content onto Faceboook, adding items from your RSS feed to your blog, importing Google Docs files to your back end, backing up your posts, and much more. Each one is simple to set up and activate, and will do its job automatically without any further input from you.
It's also worth noting that Zapier isn't the solution for WordPress automation. There are some other great plugins out there, such asAutomatorWP that make it easy to automate nearly everything in WordPress!
Are there any other WordPress tasks you would like to automate using Zapier? Share your ideas in the comments section below!
Article thumbnail image by ESB Professional / shutterstock.com.