Using social media is a must these days, and it's a rare business that can afford to completely ignore it. Whether you're a developer, designer, site owner or all three, reaching out to your audience on social media is a key part of any digital marketing strategy.
Managing multiple accounts, posting, and interaction with your audience can be a time-consuming task, however. How can you be sure you're getting the most out of social media without neglecting other vital aspects of their business?
The good news is that if you're using WordPress, you already have a powerful tool available that makes mastering social media that bit easier.
In this article, we'll cover five powerful tips for turning WordPress into a social media powerhouse. But before we get into them, let's start with a note on why social media is so crucial to your site's success.
When you're deep in the guts of developing a WordPress site or wrangling with theming issues, it's easy to see social media networks as little more than frivolous distractions from the very real work at hand. It's often not obvious how much business they can actually drive.
However, social networks are far from just the natural home of silly animal videos, they're the arena in which people are increasingly conducting their online lives. Facebook users are known to check their account five or more times daily on average, and more and more people are getting their news straight from social media. If you want to truly engage your audience, you need to meet them where they're spending most of their time.
As a business owner, you can take strategic advantage of this opportunity to promote events, drive traffic to your website, and reach out to potential new customers. Real revenue is being generated by this approach. As far back as 2012, 34% of online marketers reported that they had generated leads on Twitter. Facebook lead generation is also an increasingly sophisticated affair.
Social media is also a key component of brand building and increasing your authority online. Study the output of social accounts such as Tim Ferriss and Writer's Digest and you'll soon see the amount of buzz and momentum that can be generated when the medium is utilized effectively.
In this article, we'll be concentrating on how to get the most out of WordPress in this context. Though social channels themselves are increasingly important, your website should still be the bedrock of your marketing efforts. WordPress gives you a number of powerful options to pick up on when it comes to joining the dots between your primary site and the wider social world.
The tips we'll cover will put you in the best possible position for making sure your WordPress site is truly delivering in terms of making the most out of social media.
Let's get cracking!
Whether you use WordPress as an e-commerce solution or your personal blogging platform, learning how to shape your content is key. You probably already know how to optimize your content for search engines, but you should also be putting time and effort into making it as likely to be shared as possible.
People love sharing content that holds personal meaning for them. Your content needs to really focus in on your audience's core wants and needs and consistently deliver solutions to their problems.
If you generally blog about WordPress, for example, take some time to write a few articles that tackle common mistakes people make. You're looking to get inside the heads of both your readers and the people they're likely to share content with.
Getting this right is a skill, but it's one that can very definitely be learned. Start close to home and take a couple of hours to go through content you've personally shared recently and analyze what pushed your buttons. Then move on to using social media monitoring tools to research what the competition is up to and track which of your current content is performing.
Once you've started to identify techniques that are likely to work, start using them throughout your site's content to regularly create content that is likely to attract social media attention.
2. Strategize for Specific Networks
There are only so many hours in the day, and while it's tempting to try and cover every social media channel out there, a more focused strategy is likely to produce better results.
There are ways to format your WordPress content so it has the greatest impact on specific networks. Let's step through the most popular networks with some tips on how best to maximize your site for each one.
Facebook
Facebook is the undisputed king of social media with an estimated 900 million monthly visitors. Many users will actually be seeing your site from within Facebook itself so if want your articles to stand out in a user's busy timeline, there are a few things you need to focus on.
Firstly, make sure your pages and articles have a gripping title that attracts the reader's attention. Secondly, always include a featured image within your post, as this is what will show up on timelines when shared.
Your opening paragraph will also appear in Facebook, so you should take time to ensure this is really selling your content as well as it can in the space provided.
For more general tips on making the most of Facebook (and optimizing content in particular) be sure to check out Digital Marketer and the Buffer blog.
Twitter
Twitter presents a different set of challenges. Although its feature set has expanded over the years, the 140 character limit means that space is obviously at a premium.
Twitter is perhaps best considered in the context of driving traffic to your site. When you're promoting content, you're looking to sum things up quickly and offer just enough information to pique user's interest:
Catch up with our This Week in WordPress series. This chat is about dev tools, project pricing, & weekly planning https://t.co/03lcRUHjmY

— Elegant Themes (@elegantthemes) November 3, 2015
LinkedIn
LinkedIn has grown from a mere job-hunting site to a robust social network in its own right. It's not limited to the completely corporate world either; designers, developers, and online entrepreneurs can all also use LinkedIn to their advantage.
The ability to publish long-form posts on LinkedIn means it's a viable outlet for content. You're also potentially putting your content in front of incredibly specific audiences which is always a valuable avenue to explore. Think of this in terms of targetting both your peers and potential customers.
Formatting content for LinkedIn is similar to other social networks and using a tool like the LinkedIn Auto Publish plugin is a great way of killing two birds with one stone from within the comfort of WordPress.
Pinterest
Despite its enormous popularity, Pinterest is still flying somewhat under the radar for many WordPress site owners. If your site has any visual content at all, Pinterest should not be overlooked – check out Authority Hacker's results from Pinterest for a compelling example of how effective the channel can be.
Pinterest users are eager to find new and beautiful content to share on their walls, so give them something to look at! Begin by examining your current content in WordPress and seeing what could be given a visual refresh. Then commit to delivering high-quality imagery down the line.
Judicious use of WordPress plugins can lighten the load as a site owner and encourage users to share directly from your pages – the Pinterest Pin It Button For Images and Pinterest Follow Button are both worth investigating if Pinterest is a natural fit for your site.
Google+
It may have experienced a rough ride over the years, but Google+ is still the fifth most popular social network worldwide.
You should format your content with Google+ in mind in much the same way as Facebook – with compelling titles and a featured image. The Google+ plugin also enables you to share WordPress content directly to your Google+ profile with post formatting support.
A viral hit with a particular piece of content can turn an unknown website into an overnight sensation and transform site owner's lives. This isn't something that can be put on a schedule or turned into a simple series of checklist points to hit, but you can certainly do your best to encourage this seemingly random occurrence.
Viral masters like Ze Frank are well worth paying attention to when you're trying to brainstorm viral content. A good start for your content in general is to focus on originality and entertainment.
Austin Kleon's innovative take on the crowded field of personal creativity with Steal Like an Artist is an excellent example of the type of exposure originality can drive. Jet.com's use of comedian Kumail Nanjiani to humorously explain how their service works shows how even dry, commercial topics can be approached with one eye on a viral result.
You'll be hoping for viral effects on social channels, but the primary home of this content should be on your WordPress site itself to capture the potential value if anything takes off. On a practical note, this means you need to be sure your site is actually ready for enormous traffic spikes.
Bulletproof managed hosting options from providers such as WP Engine, SiteGround and Pagely are an excellent way of future-proofing yourself in this regard. The extra amount you'll be paying in monthly fees will look like chump change if a piece of content really takes off.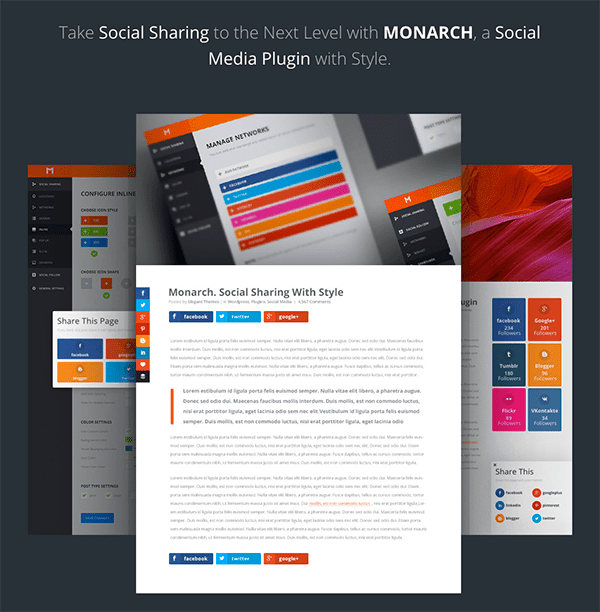 Time is always a factor when you're faced with running a business, managing WordPress, and juggling social networks simultaneously. To make the most of your content, you can use plugins and services to automatically post to Facebook, Twitter, and your other accounts. Here are three excellent options to consider in this respect:
Monarch Social Sharing Plugin is our robust social media management plugin. It adds stylish sharing buttons to your WordPress posts and pages, is highly customizable, and provides access to 20 social networks.
Easy Social Share Buttons is a free, lightweight option for adding share buttons to your website. You can choose from larger buttons with share counters or smaller icons. Place them at the top of your posts to catch the eye of your readers.
Social Media Feather gives you a variety of options for adding share and follow buttons to pages and posts. It provides high-resolution icons of the most popular social networks and customizable options to match your website's design.
Stepping outside WordPress for a moment, there are also excellent tools available for taking some of the heavy lifting out of managing your social accounts themselves. Hootsuite, Buffer and Postcron all provide powerful options for scheduling content and analyzing results. Mention is another interesting tool that enables you to find every mention of your business or website across all social networks.
5. Use the Power of Your Archive
After you've gone to all the effort of fine-tuning your WordPress content for social success and making it as easy as possible to share, it would be a shame to simply promote it once and then forget about it.
Most of the main social media channels provide options for repeatedly promoting your content on an automated schedule. We're not talking about simply mindlessly repeating promotions of particular pieces of content here. When publishing new material to your WordPress site, take the extra time to craft several versions of promotional social material around them and drip feed these out to your audience via scheduling tools such as Postcron.
Your archive content (assuming you've taken the trouble to create valuable evergreen content along the way) is another natural resource to be consistently leveraged over time. Make a list of your top content and look to regularly promote it in appropriate ways via social channels to get the most bang for your content creation buck over time.
Conclusion
The combination of WordPress and social media gives you a powerful suite of tools you can use to drive truly outstanding results for your business. By making WordPress the core of your content strategy and spreading the word via social channels, you'll soon start seeing a significant uptick in both traffic and revenue.
Let's recap the key points we covered:
Make must-share content.
Strategize for specific networks.
Get ready to go viral.
Automate social media with plugins.
Use the power of your archive.
We'd love to hear more from you about how you're using WordPress and social channels to drive traffic and boost engagement with your audience. Are there particular strategies or tactics that you're seeing success with? Or tools you're using which we may have missed above. Get in touch via the comments and let us know!
Article thumbnail image by Sentavio / shutterstock.com