Whether you're looking to increase newsletter signups, generate more leads, or boost subscribers, adding opt-in and popup forms to your site can help. Plus, thanks to the many WordPress popup plugins available, you have plenty of options to choose from. However, deciding which tool is the right one for you can be time-consuming.
In this post, we'll introduce you to WordPress popup plugins and explain the benefits of using them on your website. Then we'll provide you with a list of eight of the best options to choose from.
Let's get started!
Why You Might Want to Use a WordPress Popup Plugin
When most people think of 'popup plugins,' they assume these tools can only be used to increase email newsletter sign-ups. While they are certainly helpful for that use case, it's not the only goal you can pursue.
There is a wide range of ways you can use popup plugins, such as:
Newsletter sign-ups
Subscription opt-ins
Content downloads and upgrades
Reminders, updates, and announcements
Notices and privacy policies
The purpose of using popups on your website is to grab visitors' attention. However, you might fear that adding this element to your site could annoy or turn away customers.
However, popups don't necessarily need to be irritating. When used correctly, they can effectively and conveniently engage your visitors and help you generate more leads, subscribers, and conversions.
The key is finding the right WordPress popup plugin for your needs. There are many options available and a handful of factors to consider depending on your specific needs. For example, some tools come with drag-and-drop builders that let you quickly and easily design popups, which can be a significant time saver.
Other tools let you specify when and where the popups appear on your site. This level of customization can help you seamlessly create engaging and effective WordPress popups for your website.
The Best WordPress Popup Plugins

Subscribe To Our Youtube Channel
Now that you understand a little more about the different ways you can use popup plugins let's take a look at some of the top options. To compile this list, we took into account a handful of important factors, including features and functionality, updates and support, and pricing. Below are eight of the best WordPress popup plugins!
The Best WordPress Popup Plugins Listed In Order
Expand List
1. Bloom

Bloom is our email opt-in and lead generation plugin, which you can use for free if you're an Elegant Themes member. It's a powerful tool that lets you easily convert your website visitors into loyal customers and subscribers.
With Bloom, you can create highly-targeted content to help grow your email list and significantly increase engagement. Plus, you can choose from our library of over 100 stunning design templates: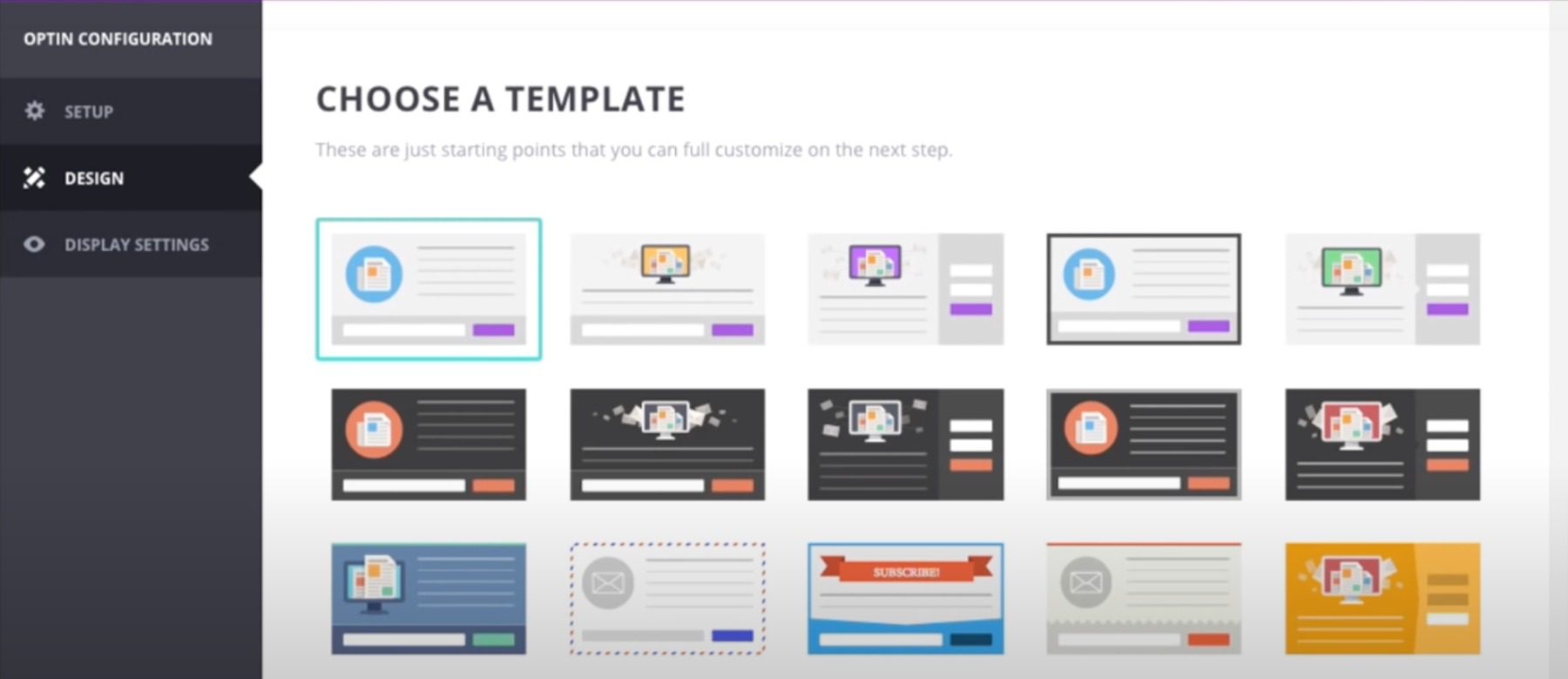 The plugin also comes with six different display types. They include an automatic opt-in popup, fly-ins, below-content opt-ins, and more.
Key Features for Bloom:
100+ design templates
Extensive design options
6 display types
User action triggers
19 email marketing integrations
Highly-targeted display options
Custom admin panel dashboard
24/7 support
Bloom is for you if…
… you're already an Elegant Themes member and are looking for a quick, powerful, and effective way to add popups on your WordPress site. Our plugin is easy to use and highly customizable, with dozens of email marketing integrations and an extensive library of pre-made templates.
Price: Free with an Elegant Themes membership, starting at $89 per year.
2. OptinMonster

OptinMonster is one of the most popular WordPress popup plugins out there. This freemium tool is designed to help you promote and increase newsletter sign-ups. The easy-to-use popup builder and template library let you create stunning popups and subscription forms for your WordPress site in a matter of minutes: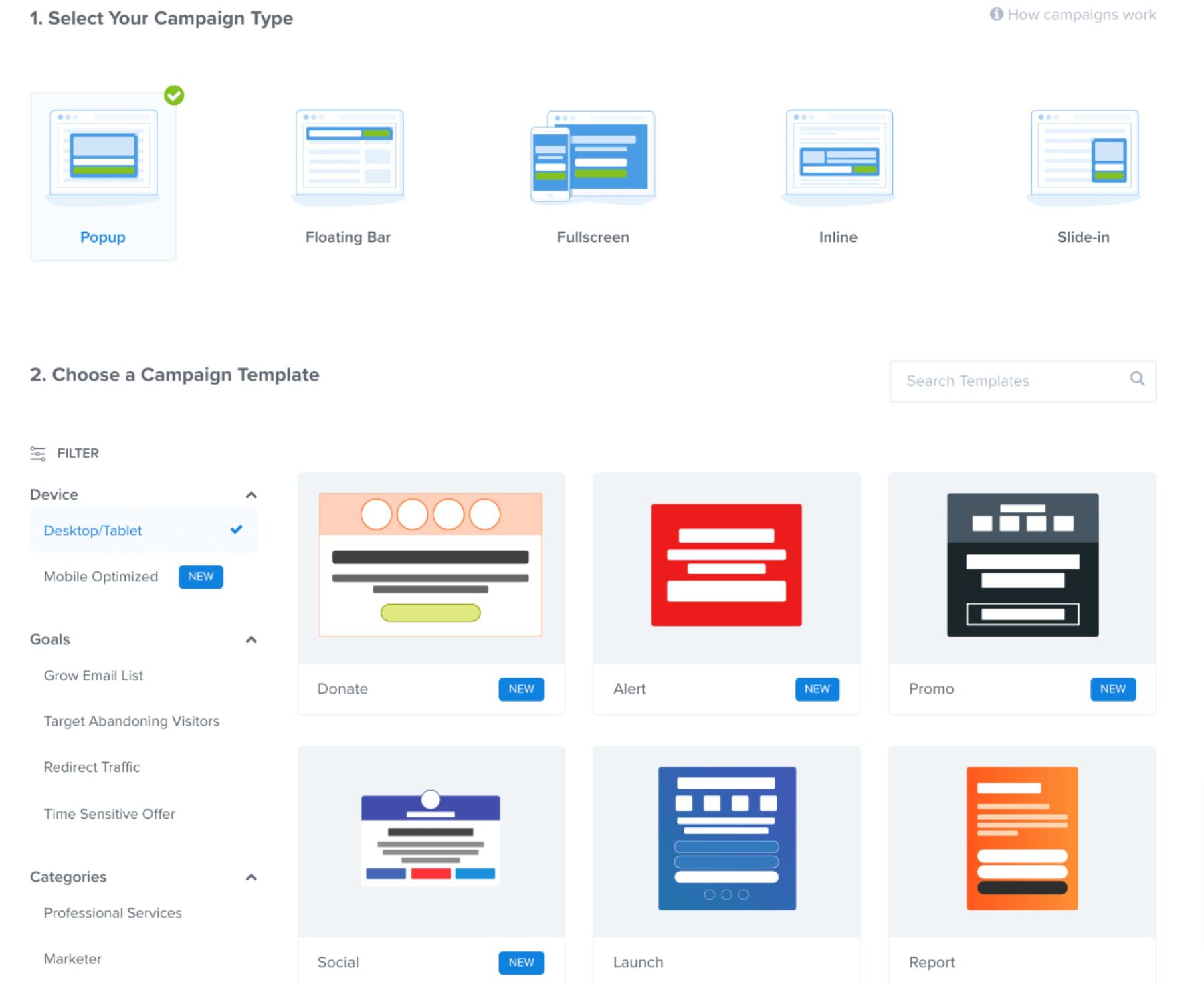 It also includes targeting, personalization, and optimization features. In addition to A/B testing, OptinMonster also lets you gather useful statistics and insights into your conversions.
Key Features for OptinMonster:
Drag-and-drop popup maker
Pre-built popup templates
Intuitive dashboard
Page-level targeting and personalization
Popup analytics
Email marketing integrations
OptinMonster is for you if…
… you're looking to create exit-intent popups for your site. Thanks to its unique Exit Intent Technology, OptinMonster excels in this area. It also includes a basic free version that you can use to build forms, as well as a handful of plans if you're looking for more advanced features and functionality.
Price: Free, with premium plans starting at $9 per month.
3. Thrive Leads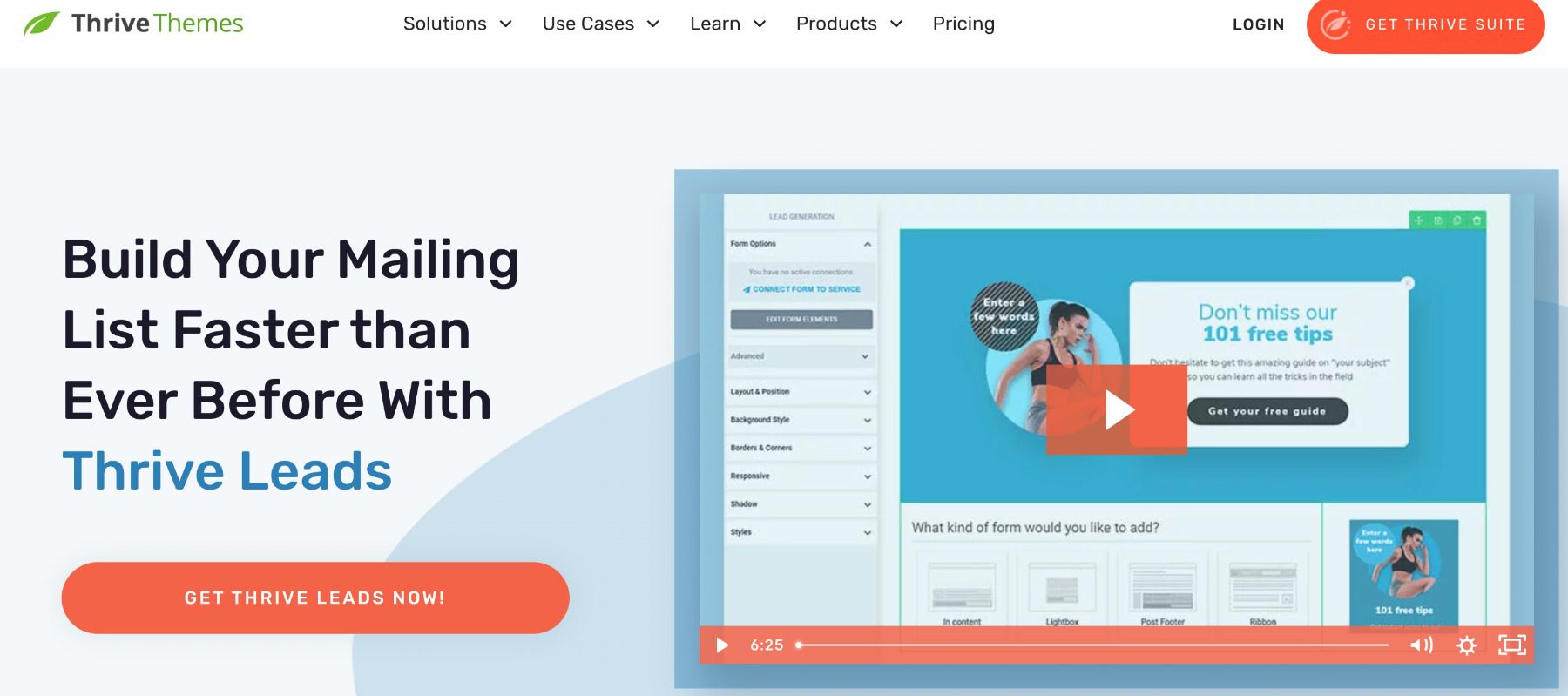 Thrive Leads is part of the Thrive Themes Suite. The premium plugin comes with a variety of opt-in types and customization features, which let you build and personalize popups for your site with ease.
The features on offer include screen filler overlays, content locking, sticky ribbons, and more. In addition, you can use this plugin to create exit intent popups, timed displays, scroll triggers, and so on.
Key Features for Thrive Leads:
Form builder for various opt-in types
Pre-designed templates
A/B testing
Advanced targeting and analytics
Yes/No, multiple-choice, and two-step opt-in forms
Reporting and insights
Thrive Leads is for you if…
… you're looking for a Bloom alternative. While it doesn't offer as many features and advanced customization options, it can be a powerful and intuitive solution for creating a wide range of popups. What's more, it can be the ideal choice if you're already using a Thrive theme.
Price: Included with a Thrive Suite package, starting at $199 per year.
4. Icegram Engage

Icegram Engage is a WordPress plugin that allows you to create popups, lead magnets, opt-ins, call-to-action buttons, and promotions for your website. It offers a wide range of customizable options for creating and designing these elements, as well as detailed analytics and reports. My favorite feature is its advanced targeting options that allow you to display popups to specific audiences based on their location or device.
Key Features for Icegram Engage:
Wide range of customizable options for creating popups, lead magnets, opt-ins, and promotions
Intuitive form building
A/B Testing
Mobile-responsive
Campaign templates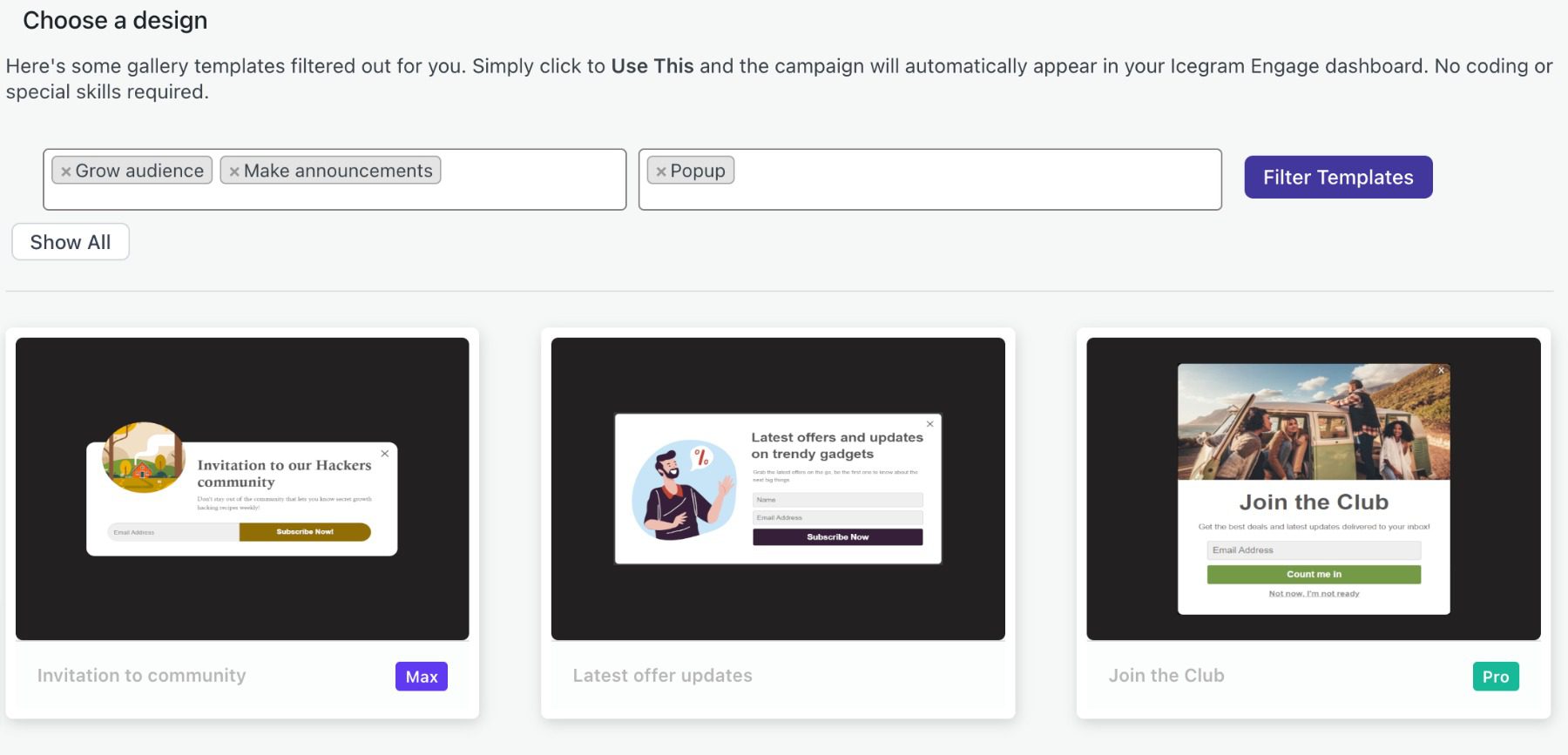 This plugin is highly customizable and lets you edit your content verbiage and placement to tailor-make your campaigns. It also integrates seamlessly with leading email services like MailChimp, Constant Contact, or MailerLite.
Icegram Engage is for you if…

… you want a wide range of customizable options for creating popups, lead magnets, opt-ins, and promotions with detailed analytics reporting. Keep in mind you'll need the pro version to take advantage of the full suite of tools.

Icegram Engage Pricing: Free | Premium plans starting at $129 per year.
5. Popup Maker

If you're looking to create email opt-ins for your website, Popup Maker is a WordPress popup plugin worth considering. This freemium tool isn't as intricate or complex as some of the other options on this list. However, that might be an advantage if you're looking for a beginner-friendly option.
To create a new popup, you can use a built-in interface that is similar to the Classic WordPress Editor: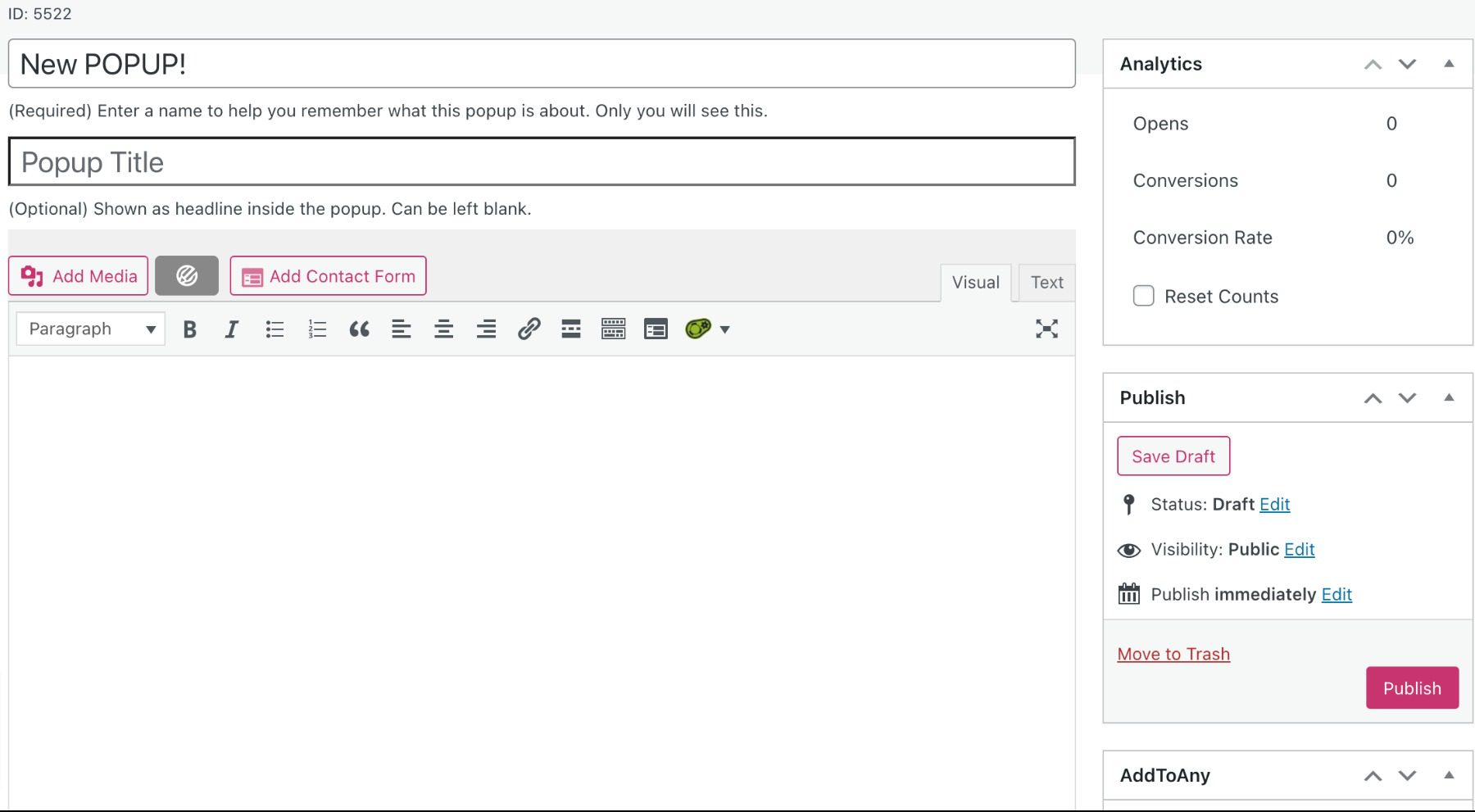 Beneath the editor, you can conveniently configure the popup's settings. For example, you can create triggers, select targeting conditions, and more.
Key Features for Popup Maker:
Email opt-in, content upgrade, and lead generation popups (and more)
Form builder integrations
Timed-delay and click-based triggers
Conditional targeting
Popup campaign analytics (Premium)
Exit-intent popups (Premium)
Popup Maker is for you if…
… you're looking for a simple, straightforward popup builder tool. It's also an excellent choice if you want the option to upgrade if you eventually want more advanced features.
Price: Free, with premium plans starting at $87 per year.
6. TrustPulse

TrustPulse is a robust marketing platform that helps you streamline lead generation and conversion processes through your WordPress site. One of the things that makes this WordPress popup plugin so unique is its recent sales and social proof notifications.
When used on your site, these features encourage shoppers to make purchases and instill a sense of urgency. They can also build trust among your visitors by showing users that other consumers are shopping on your site in real time. TrustPulse is one of our top overall marketing plugins for WordPress.
Key Features of TrustPulse:
Social proof and recent sales popup notifications
Smart targeting
Flexible and customizable designs
Multi-platform support (WordPress, Shopify, Drupal, etc.)
Timed-display control
Real-time tracking
TrustPulse is for you if…
… you're looking for a robust marketing and lead generation solution for your e-commerce site. While the platform is a bit more extensive and complex than some of the other WordPress popup plugins on this list, it has a lot of features to offer that make it worth the premium price. That's especially true if you want plenty of insight into visitor activity.
Price: Plans start at $9 per month.
7. Ninja Popups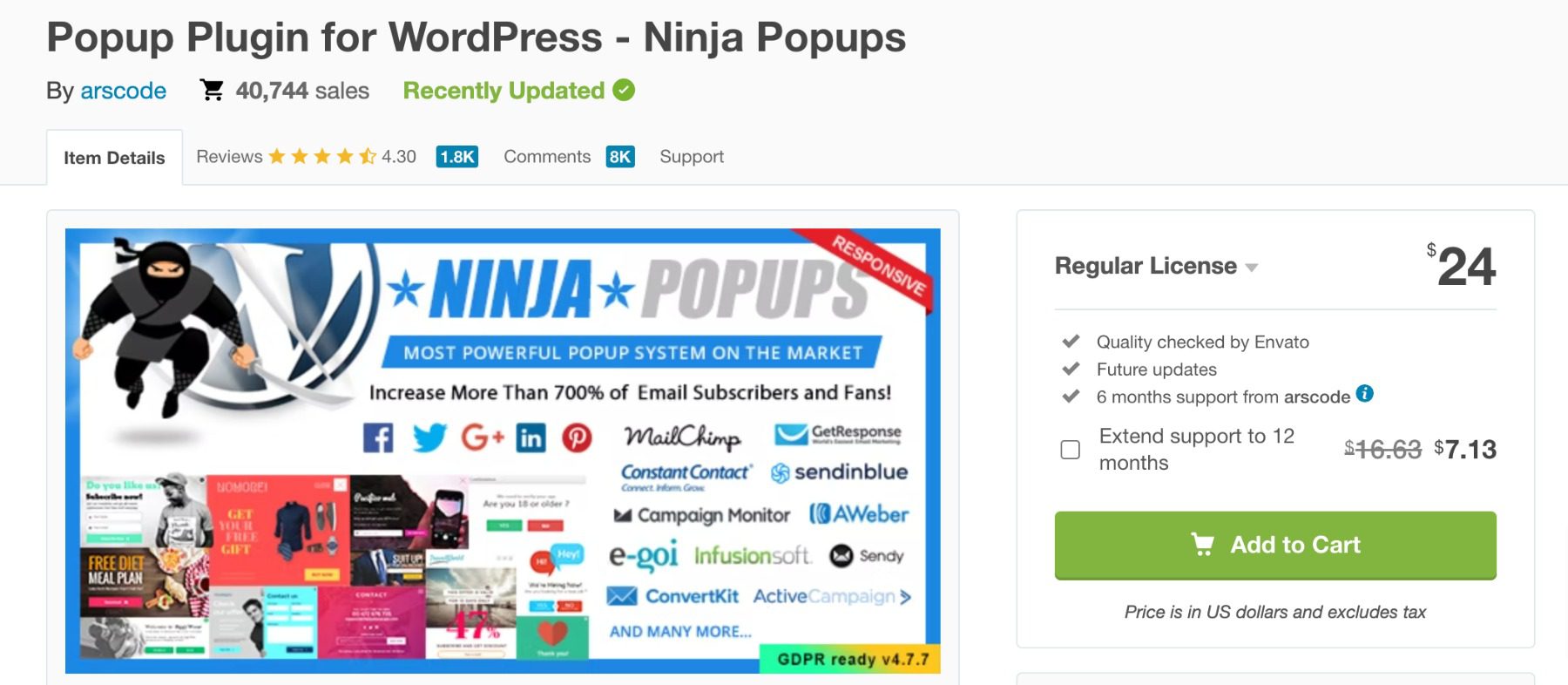 Next on our list, Ninja Popups is another popular premium tool. With nearly 40,000 sales and an almost 5.0-star average rating, it's a widely-used and highly-rated option.
This plugin features an intuitive and easy-to-use visual drag-and-drop builder and a popups library: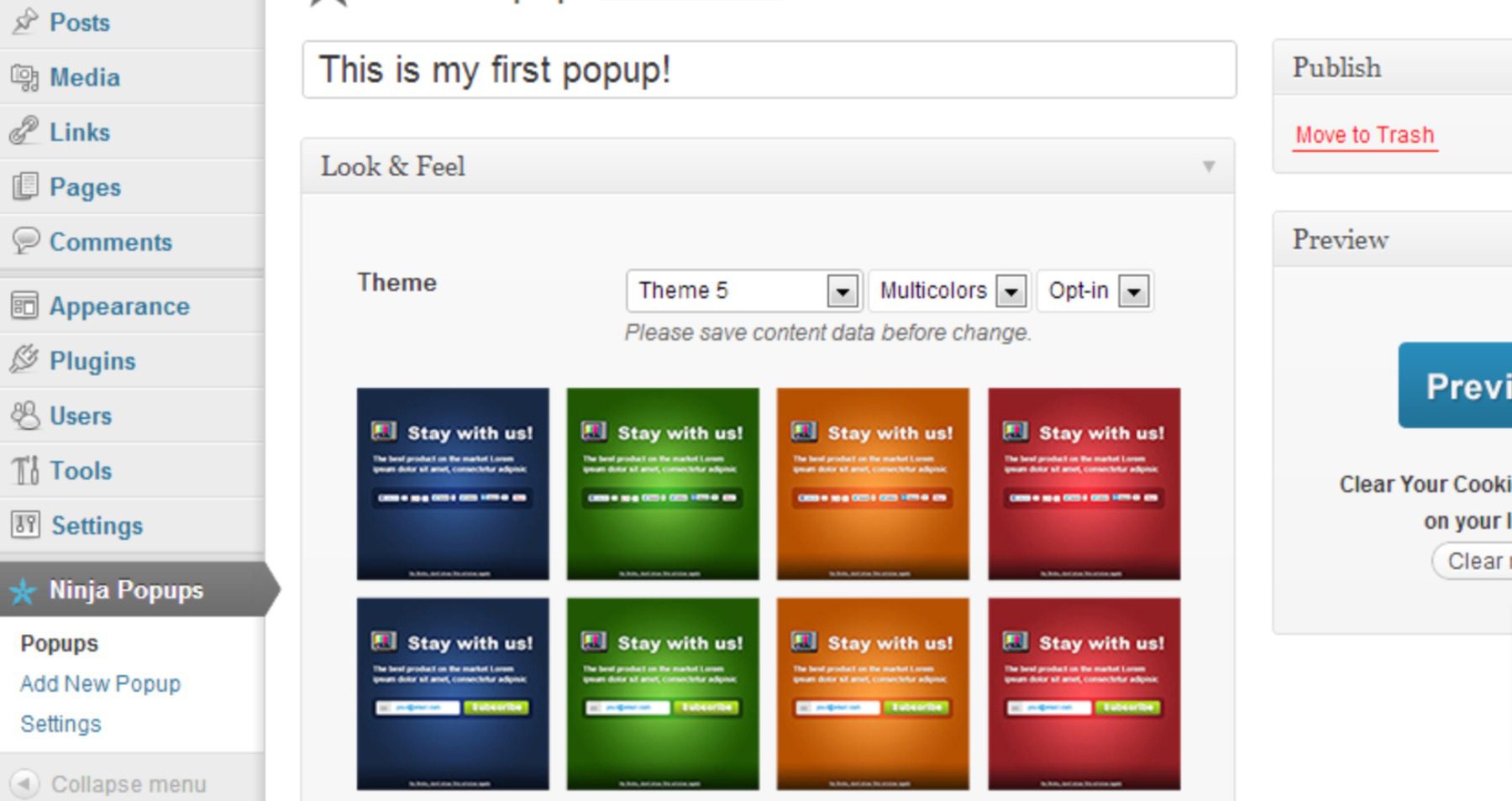 It's also popup blocker proof and includes eight free "opt-in panels". If you're looking to create more eye-catching popups, you can choose from over 74 animation effects.
Key Features for Ninja Popups:
Visual drag-and-drop builder
Popups library
Over 60 beautiful popup themes
Highly customizable
Animation effects
A/B testing
Page-level targeting
Mailing systems support and email marketing integrations
Social network integrations
WooCommerce compatible
Ninja Popups is for you if…
… you're looking for a premium WordPress popup plugin that only requires a one-time fee rather than an ongoing subscription. This tool offers an impressive array of features and is easy to use for users of any experience level. Plus, it's more affordable when compared to some of the other premium options on this list.
Price: $24 for six months.
8. Popup Builder

Rounding out our list of the best WordPress popup plugins is Popup Builder. This flexible tool can help you create multiple elements to increase sales and conversions: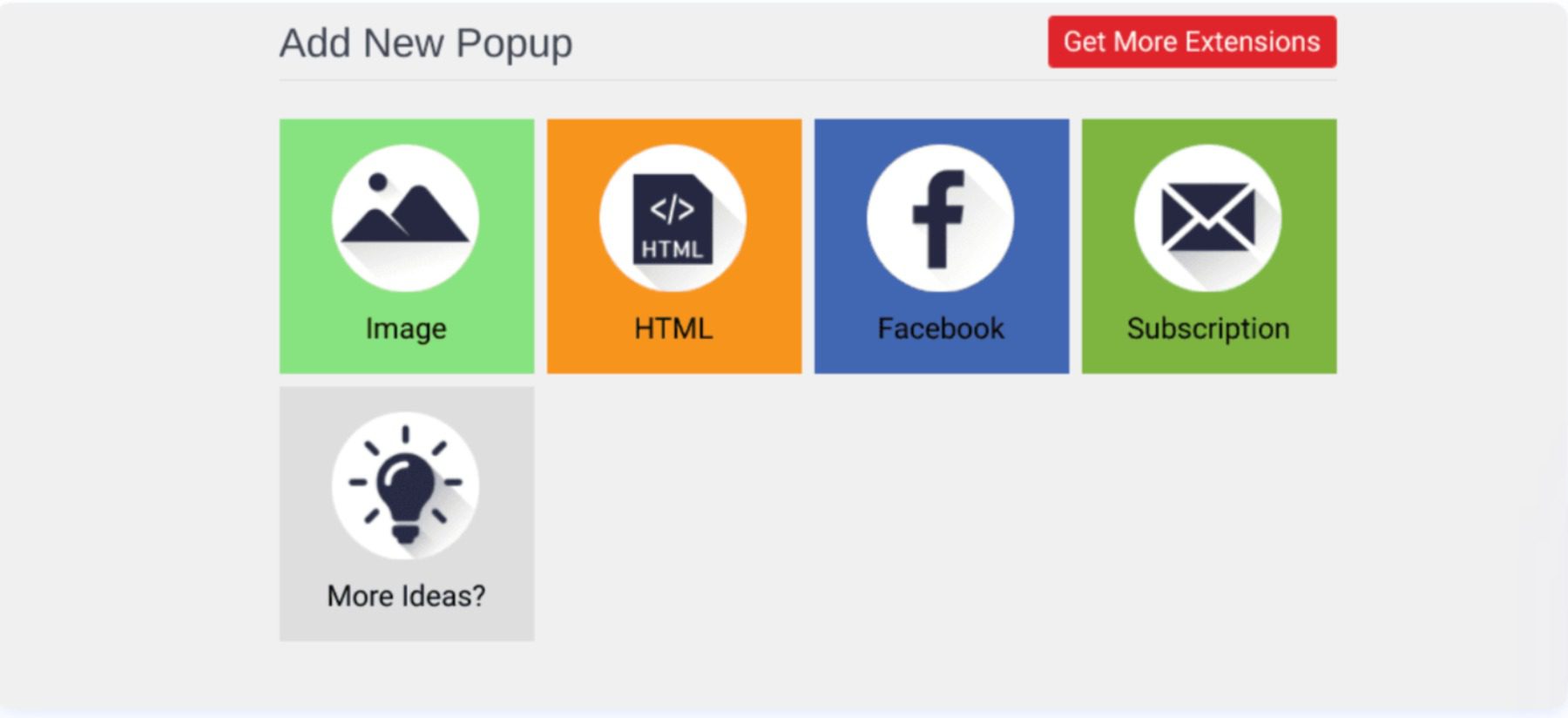 For instance, you can use it to build HTML, subscription, and image popups. In addition to being easy to use, it also offers a premium version with more advanced options, such as video, login, and exit intent popups.
Key Features for Popup Builder:
Unlimited popups
Drag-and-drop builder
Time-based segmentation
Advanced Targeting
Analytics
Promotion modal popups
Display locations
Triggers
Popup Builder is for you if…
… you want an easy-to-use, freemium plugin that offers unique popup types. However, keep in mind that if you want to create video or exit intent popups, you'll need to upgrade to the premium tier.
Price: Free, with premium plans starting at $49.95 per year.
Comparing The Best WordPress Popup Plugins
Adding popups to your website is a powerful way to help increase your newsletter subscribers. However, they can be used for far more than that. From exit intent to sign-up and lead generation forms, there are a variety of purposes popups can serve. The key is finding the right WordPress popup plugin to help you achieve your goals with ease.
Popup Plugin Price Comparison
Here's our breakdown of all the plugins listed in our post, complete with pricing for easy reference.
Top Popup Plugin Feature Comparison
When considering all of the plugins on our list, there are three that stand out. Bloom is a great multi-purpose popup plugin that enables you to create email opt-ins for your Divi websites. With 19 email providers supported, over 100 design templates, and extensive customization options, it's a solid choice. Rounding out our top three are OptinMonster and Thrive Leads. Both offer multiple display options and popup types, A/B testing, and an easy-to-use drag-and-drop builder.
🥇 Bloom

🥈 OptinMonster

🥉 Thrive Leads

Starting Price
$89/year
$9/month
$199/year
Design Templates
✔️
✔️
✔️
Customization
✔️
✔️
✔️
Email Provider Integrations
✔️
✔️
✔️
Multiple Display Options
✔️
✔️
✔️
Drag and Drop Builder
✔️
✔️
✔️
Active Installations
2M+
1M+
125K+
Community Rating
4.9/5
⭐⭐⭐⭐⭐
Read Reviews
4.1/5
⭐⭐⭐⭐
Read Reviews
N/A
Get Bloom
Get OptinMonster
Get Thrive Leads
Which WordPress Popup Plugin Is The Best?
As we've seen, there are plenty of top-quality WordPress popup plugins you can choose from, depending on the specific functionality and features you're looking for. As a general opt-in tool, Bloom has a lot to offer, especially for Divi users.
Be sure to test the water before committing to a plugin. If you're looking for the best WordPress plugins on the market, for all types of purposes, make sure to check out our recommendations!
Frequently Asked Questions (FAQs)
Before we wrap up, let's answer some of your most common questions regarding the best WordPress popup plugins. Did we miss one? Leave a question below, and we will respond!
Do you have any questions about these WordPress popup plugins? Let us know in the comments section below!
Featured Illustration via AI Studio / Shutterstock