An exit popup is your last chance to engage readers before they leave your site. Whether you want them to continue browsing your site, take advantage of a special offer, or subscribe to your newsletter, a properly designed exit popup can help you accomplish your conversion goals.
In this article, we'll introduce exit popups, explain what you can accomplish with them, and suggest some strategies to help ensure that your exit popups are optimized for maximum effectiveness.
What Are Exit Popups and Why Do You Need Them?
Exit popups appear when a visitor is about to leave your site. At a minimum, they typically include a message and a call to action (CTA), and they may also include images and videos. There are at least five different ways you can use exit popups to improve the performance of your website:
Lead Collection: Email marketing outperforms social media marketing. Use an exit popup to add subscribers to your newsletter and you'll be mining for digital marketing gold.
Sales and Promotions: Any website selling a product or service can use an exit popup as a last-gasp effort to close the deal. Use the exit popup to sweeten the deal and add a more persuasive edge to your marketing copy and watch your exit popup make the sale.
Surveys: Exit popups can be an excellent way to obtain information from your readers. Gather information about their experience on the site, ask for demographic information, or perform market research for upcoming products.
Warnings: Exit popups can also be used to let visitors know about an adverse consequence that will be triggered by clicking away. For example, an e-commerce site might warn visitors that the shopping cart will be emptied upon exit. This may be enough to persuade a certain percentage of exit-bound visitors to stick around and complete their purchase.
Navigation: Another use for exit popups is to advertise related content. Visitors that take the bait will end up sticking around for longer and reduce your site's bounce rate.
Two of the Best Exit Popup Tools Available
Before we dive into exit popup tactics, we need to talk about tools. Many of the tactics we're going to recommend will require the use of a robust, full-featured marketing toolset, and not just any free popup plugin. A couple of our favorite full-featured popup plugins are Optin Monster and Thrive Leads, which are two of the best WordPress popup plugins.
Let's take a quick look at each.
Optin Monster offers a suite of popup options, all highly customizable in terms of both design and behavior. Exit popups can incorporate exit-intent technology to detect user behavior and offer appropriately targeted popups. The image above shows an exit popup from Optin Monster's website; it uses a few of the tactics we'll be talking about momentarily.
Price: Starting at $9 per month | More information
Thrive Leads is another plugin that offers popups that are triggered when a visitor signals that they're headed for the exit. Thrive Leads popups are highly customizable and you can also tweak their behavior to carefully target specific groups of users.
Price: $67 | More information
15 Ways to Optimize Exit Popups for Maximum Conversions
Now that we know what exit popups are, what they can accomplish, and the tools needed to build high-quality exit popups, it's time to figure out how you can get the most out of them. Let's get started!
1. Know Your Audience
Knowing your audience is imperative. Dig into your site's analytics data. Take the time to get to know your audience, study how they use your site, and work to discover what they want and need.
When designing popups, include offers that are aligned with what you know about your audience, and make your CTA as easy as possible for visitors to locate and act upon.
The example below from Entrepreneur On Fire is far from generic. It is designed to pique the curiosity of a specific audience with a well-defined set of goals and interests.
2. Keep Branding Consistent
Creating an exit popup that doesn't match the branding and feel of the site where it appears is a recipe for poor performance. Your exit popup should match your site's branding so that people know it's authentic and so that it will resonate with them in the same way that your brand does.
The example below is from Gwen's Nest. It features imagery and fonts that stay true to the website's branding. The friendly dialogue is also in tune with the familiar and casual tone of the site. In other words, it's a natural extension of the experience of visiting Gwen's Nest.
3. Grab Attention
Your visitor already has one foot out the door, so you need to really get their attention if you want them to take notice.
Exit popups are eye-catching by design. They appear in the middle of the screen and typically overlay the entire page with a partially transparent background. However, there are plenty of ways to get even more attention. For example, some exit popups use striking images, large bold copy, and animations to grab attention. You can even have the popup slide in or vibrate as it appears.
Take a look at this example from Gap. The attention-grabbing headline and dazzling image work together to capture your attention. The image is also fun and conveys movement to provide an even more impactful ad.
4. Tweak Your Popup's Behavior
When it comes to popup behavior, the number of options available to you will depend entirely on the tools you are using. However, all high-quality popup plugins will allow you to tweak popup behavior in a variety of ways.
When setting up exit popups, make sure to carefully adapt their behavior to fit your business and audience. For example, if your tools will allow it, you could display one popup to new visitors and a different popup to visitors who have previously subscribed to your newsletter.
The exit popups shown below form part of a series that appears on the KlientBoost website. The popup you see is decided by pre-determined criteria that take into account visitor activity and history on the site.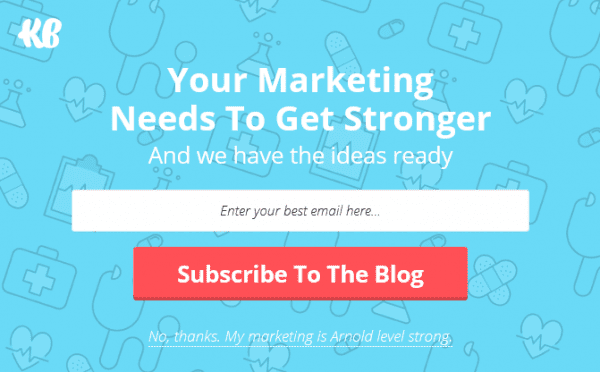 5. Offer a Discount or Freebie
If someone is on the fence about signing up for a newsletter or taking a survey, offering up a freebie might be enough to sway them. You could offer a free gift, valuable subscriber-only content, or an entry in a competition or drawing.
If you're using an exit popup in an attempt to boost sales, craft your exit popup to further enhance the sale. Discounts and free-trial periods are common tactics. If you sell physical products, offering free shipping is an effective way to avoid shopping cart abandonment.
This simple popup from DODOcase emphasizes a 15% discount in an attempt to encourage shoppers to stay on the site.
6. Keep Surveys Simple
Another popular use of exit popups is to use them to gather information about your visitors. However, if you do decide to use exit popups in this way, keep your survey short and simple with just one or two questions.
If you really need to get answers to additional questions, don't list them all out at once. Instead, use a series of popups and keep each one short and manageable. If you do use multiple popups, be sure to add a progress bar or some other indication of progress to each one. In addition, you'll get better results if you include a free offer to be fulfilled upon survey completion.
This popup from Reiss subtly asks the visitor for their gender information as part of the newsletter signup. This small piece of information can be used to target email correspondence more effectively and also provides useful website analytics data.
Your CTA button is ultimately where you want your visitor to click. Make sure it pops, perhaps by using a contrasting color or an animation. Don't forget to optimize your button copy to maximize persuasiveness.
Also, consider including a creative "wrong" button to offer visitors an unattractive alternate option. You don't want to insult your visitors, but you can have a little fun with the copy on these sorts of buttons.
This super simple exit popup from RazorSocial features just a line of text and two CTA buttons. The "right" button pops with a bright green color and enthusiastic text. The alternate "wrong" button is dark and bleak, but still playful and funny.
8. Make Your Popup Fun
Depending on your target audience, think about adding some humor to your exit popup. Visitors are so used to seeing popups that they can get pretty good at ignoring them.
Catch their attention with a cartoon, a joke, or a meme. You can even add a fun animation or video to entice them to pay attention.
The following popup from ZooShoo has fun bright colors that match the website's overall branding. There is also a pun at the bottom that reinforces the fun casual tone.
9. Express Urgency or Scarcity
It's natural for people to procrastinate, particularly when it comes to tasks aren't absolutely necessary. To overcome this natural tendency, express urgency or imply scarcity to prompt your visitors to take immediate action.
For lead generation, include a limited-time or limited-quantity offer. For sites marketing products or events, create a sense of urgency by offering a limited-time discount, and imply scarcity by listing the number of products or tickets that are left.
The popup below from Search Engine Journal offers a hefty discount for signing up by a specified date. It reinforces a sense of urgency by using the word "Help!" in the copy, and injects even more urgency into the offer by using insistent wording in the CTA button copy.
10. Use Numbers
Your exit popup offers very little space in which to get your point across. The timeframe you have to work with is also quite limited since your visitor was already headed out the door.
Including statistics, guaranteed result percentages, and other quantifiable values can help you make the most out of the available space.
The example below from Matthew Woodward's blog makes good use of numbers. The social proof of tens of thousands of readers is a definite plus, and the idea that changing the color of a button can increase profits by 20% is interesting.
11. Offer a Reminder
Offering a reminder is a commonly used tactic for sites with shopping carts. If a site visitor has items in their cart and seems to be about to click away without making a purchase, use an exit popup to remind them about the unpurchased items.
If the webpage being visited includes forms, you could remind people that any information they have entered will be lost upon exiting. Using attention-grabbing language such as "Wait!" or "Hold on!" is an effective complement to this tactic.
This exit popup from Autograph pulls out all the stops in attempting to entice the shopper to enter their email address. Aside from offering to email the cart contents, it also lets the visitor know they can shop on any device, and that they have almost reached the minimum order value to qualify for free shipping.
12. Assume Intent
Assuming that a visitor has decided to accept an offer is a bold tactic, but it can be effective if you know your audience.  In your exit popup copy, assume that the visitor will be following through with your call to action by using presumptive language.
For example, if you have a two-tier price package, you could ask "Which package will you choose?" Or if you're running a two-day event, you could ask "Which day will you attend?"
This popup from Neil Patel puts this tactic to use by assuming that the visitor will be attending a webinar and asking them to choose a date and provide registration details.
13. Overcome Objections
If you know your audience well, you will likely be able to anticipate their objections. There's no need to avoid talking about objections; in fact, you should highlight them. Empathize with the visitor about the decision they're making and offer ways to overcome their concerns.
If it's something as simple as handing over their email address, let them know that their information will not be shared and that they can opt out any time. If it's a product or service, consider offering a free trial period or money back guarantee.
This Optimonk exit popup offers a free 14-day trial period so that the customer can test drive the product before making a real commitment.
If your goal is to lower your site's bounce rate, an exit popup can do the job for you. Just use an exit popup to advertise related products or content that will catch your visitors' attention and persuade them to stay.
A similar tactic is to display products or posts that have been popular with other readers. The "popular" label provides social proof that the product or content may be worth checking out.
This popup from ASOS suggests items based on products the customer has previously viewed or added to their cart.
15. Offer Support
If your site offers a complex product or service consider offering support in your popup.
If you have a dedicated support page, you could direct customers there to answer any questions. Alternatively, if you have the means to do so, you could offer live chat to go over any questions. If live chat is out of the question you could also use email or set up a scheduled time to chat.
Offering support helps customers make a decision and personalizes their experience. The support popup below from Xchop appears after leaving the product purchase page. It offers the name and a photo of a support staff member to further emphasize the realness of the interaction.
Conclusion
Exit popups offer a final opportunity to convert your visitors before they leave your site. If executed correctly, exit popups can boost sales, generate leads, and lower bounce rates.
In this post, we've covered fifteen tactics you can implement to design exit popups that work.
Which tips will you be implementing in your exit popups? Let us know in the comments section and don't forget to subscribe so you can follow the conversation!
Featured Image via Dooder / Shutterstock.com