Capturing demand and making sales is an uphill battle. Just because you have a website does not mean people will see it or respond to it favorably. Because of this, you should bring in effective tools to better market your website. Thankfully, there are many WordPress Marketing Plugins at your disposal.
This article will uncover essential plugins that improve both marketing output and quality. We have 26 of the absolute best plugin solutions for you to explore in this 2023 marketing plugin review.
26 Best Marketing Plugins in 2023
We're dividing the best marketing plugins into different categories so you can easily pick the ones that fit your needs.
WordPress Marketing Plugins for Content Marketing
Content marketing is the process of creating and distributing valuable, relevant, and consistent content to attract and retain a clearly defined audience — and, ultimately, to drive profitable customer action.
It's an ongoing process that helps you create long-term relationships with your customers by delivering value at every touchpoint. And it requires a strategic approach that aligns your content with your business goals.
Content marketing feeds so much of your marketing strategy. SEO optimizes your content so that it ranks in search engines. Email and SMS marketing uses content to drive traffic to high-value landing pages. Social media marketing uses social content to increase customer touchpoints and stay top of mind. Brand marketing uses content to convey brand value and differentiation in the market. Content marketing simply touches every aspect of your marketing apparatus.
Here are the top WordPress plugins that can either expand your content marketing or make it easier.
1. Seriously Simple Podcasting Plugin
Seriously Simple Podcasting is a podcasting solution that is native to WordPress. It's a top-rated plugin for beginners and power users and even makes our list of the best podcast plugins for WordPress. The completely free version is a self-hosted podcasting platform that uses your WordPress installation to host files so you can be sure your podcasts are always available. With Seriously Simple Podcasting, you get an RSS feed, a web player, and links to all your episodes on major podcast platforms.
The paid versions of Seriously Simple Podcasting let you store your podcast episode off of your website. This allows your site to speed back up to pre-podcast days as it offloads the files and serving of your podcast to reliable servers that are optimized for just that.
Podcasters and marketers love this simple solution that gives them a podcasting interface that they are used to with WordPress.
Price: Free, with premium plans starting at $19 per month.
Get Seriously Simple Podcasting Plugin
2. PublishPress Planner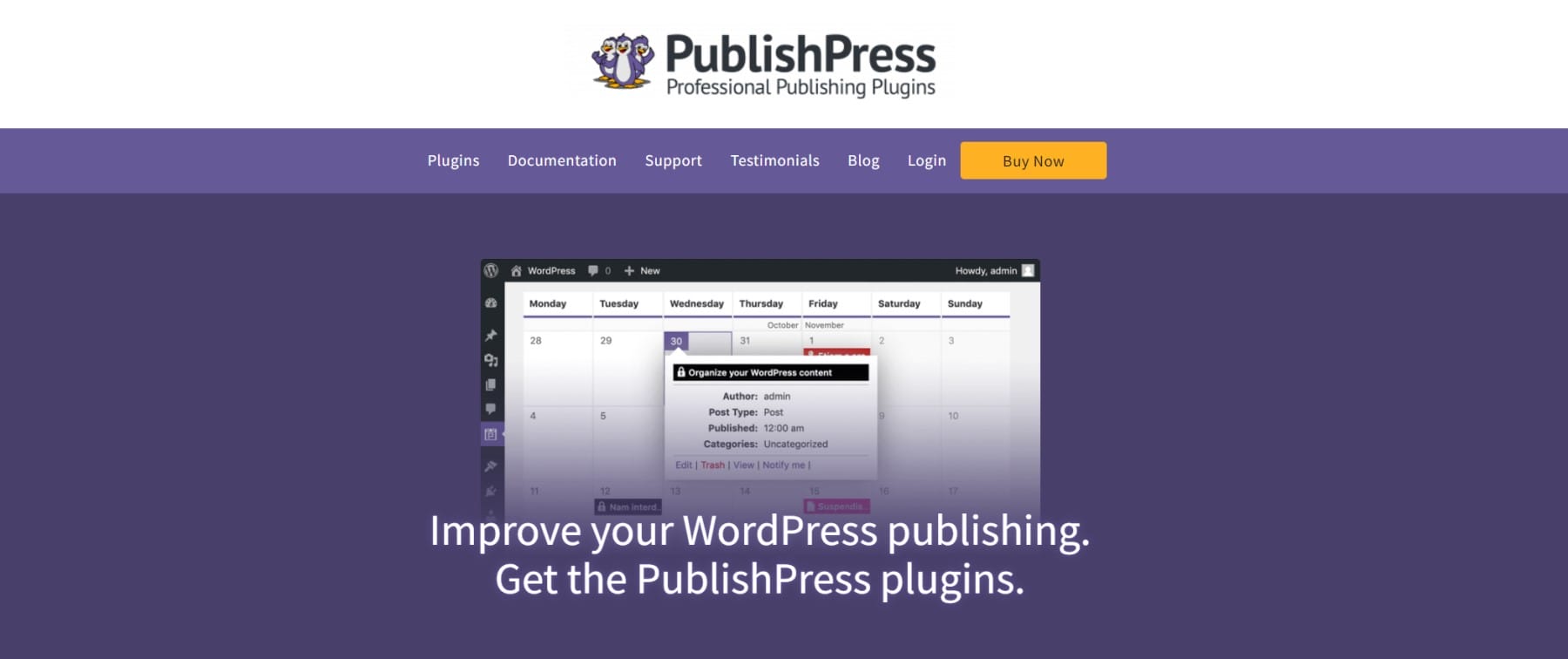 PublishPress Planner is a powerful WordPress plugin that takes care of all your content planning needs for marketing your content. It has helpful tools like a content calendar which is a vital tool for any content creator, whether you're a solo blogger or a team lead managing an entire content operation. Creating an editorial calendar is an effective content marketing strategy that helps you plan and schedule your content so you can stay organized and on track.
The PublishPress editorial calendar makes it easy to plan and publish your content. With our drag-and-drop interface, you can easily move your content to different post days. You can also create checklists for posts so that you never forget a step in your editorial and publishing processes. Plus, they offer an editorial revision history feature that ensures you always have a record of your changes and who approved what.
Price: Free, with premium licenses starting at $129 per year.
3. Internal Link Juicer Plugin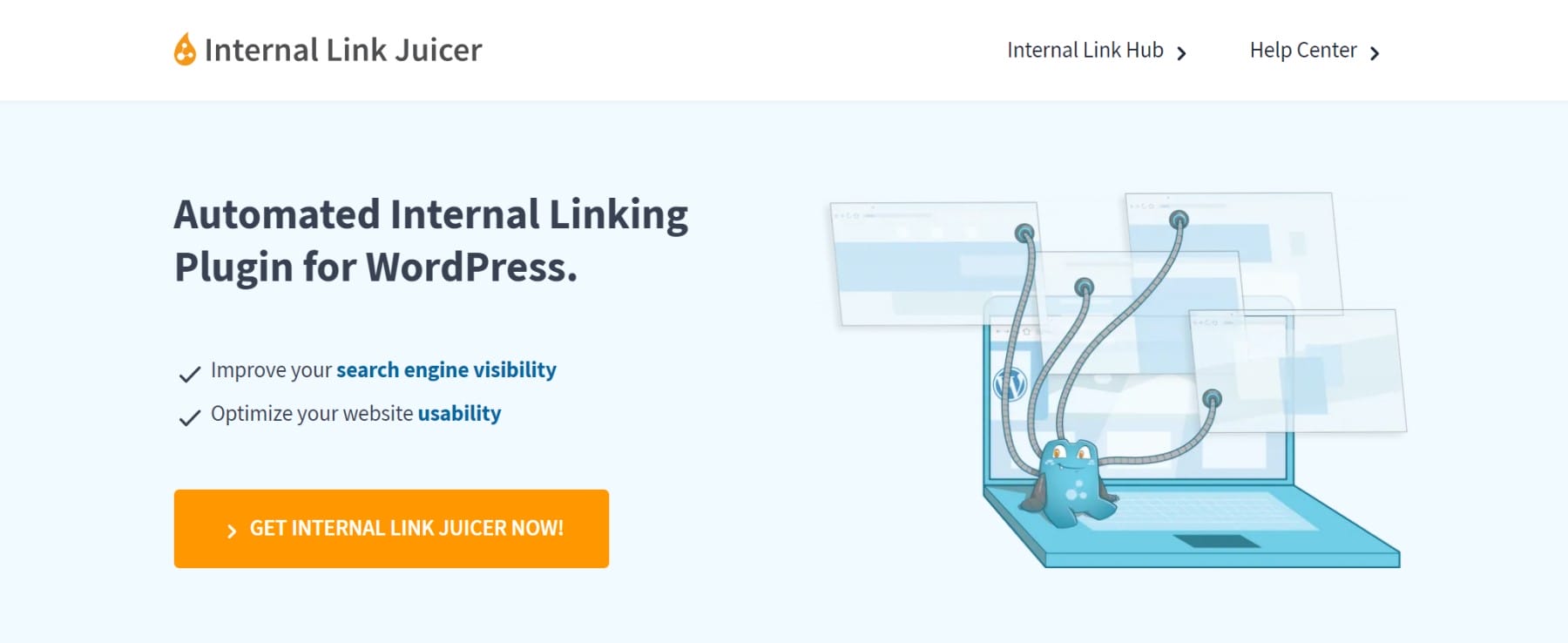 Internal Link Juicer is a WordPress plugin that aims to take some of the manual work out of creating and maintaining internal links. It even made our dedicated list of the best WordPress SEO plugins (#4). It gives you the ability to create automatic links in your content based on anchor text. Internal Link Juicer simply matches anchor text with your linking preferences as defined by your setup configurations. Assign words/phrases to a particular link and Internal Link Juicer will do the heavy lifting for you.
Having internal links throughout your content is the lifeblood of on-page SEO optimization. Without the connections made across your content, search engines have a really hard time categorizing (and thus ranking) your content.
Internal links give Google and other search engines an idea of what your content is about and the authority of that content. As you know, Internal linking is a necessary component of SEO link strategies.
Price: Free, with a premium plan starting at $69.99 per year.
Get Internal Link Juicer Plugin
4. Imajinn Image Generator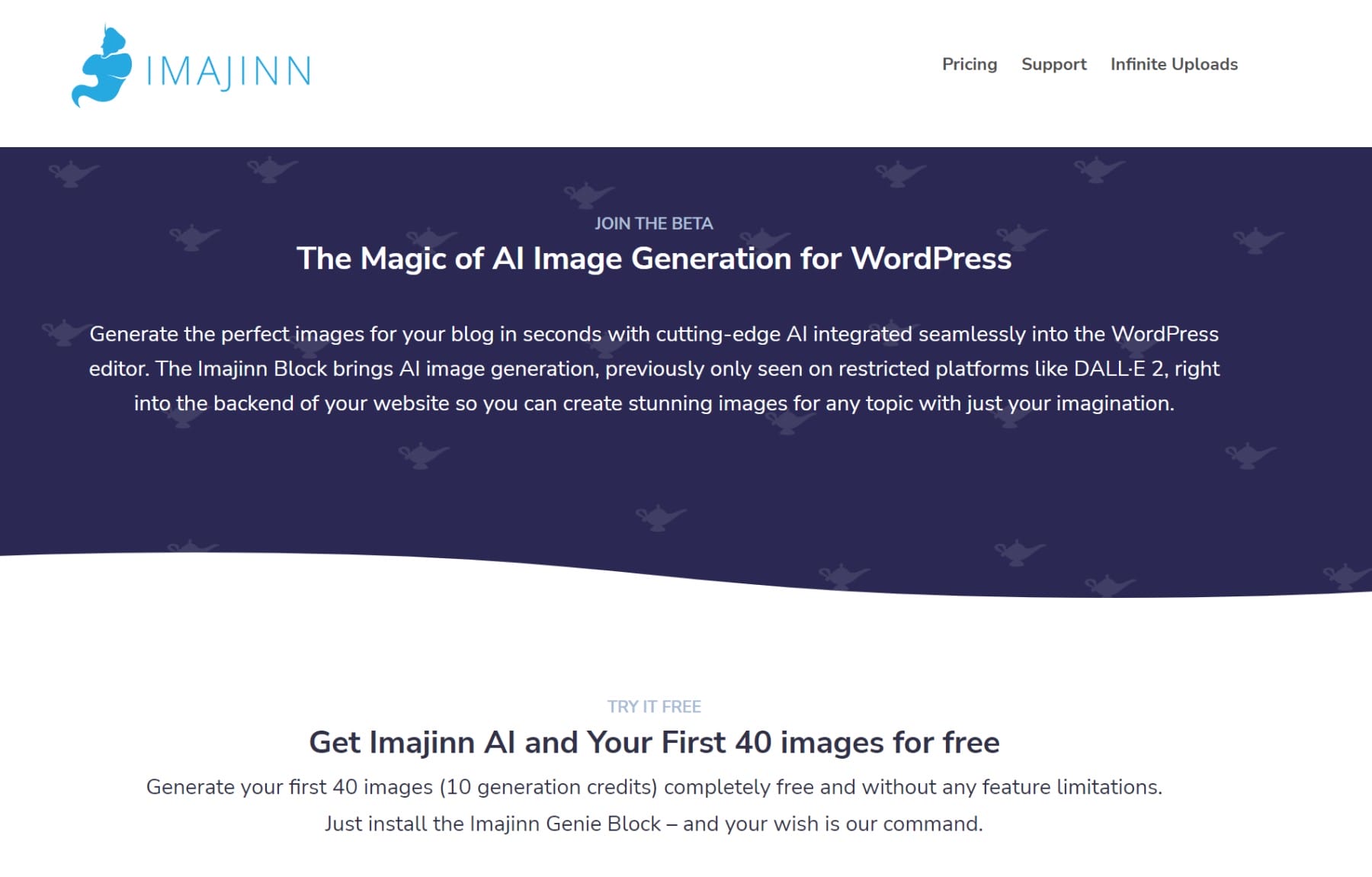 Imajinn is a block element that allows users to input prompts for AI image generation. Outside of it being a cool new technology in the WordPress space, it is also a unique addition to the content marketer's toolkit.
Feature images and post images that help convey the meaning of the written content on a given page have always been important. That is why even this post has a clear featured image and supporting images throughout the post. It keeps readers' attention while also communicating beyond words.
Gathering images for these purposes is sometimes easier said than done. Sourcing images can be time-consuming and expensive. And if you are creating content in a saturated niche, it isn't uncommon to see the same images on different blogs.
Can you count the number of blogs you've seen a similar SEO image on?
Too many …
With AI-generated images, you can use dialed-in prompts to create custom images that are fit for editorial. AI can provide a never-ending source of images and visual aids for your blog that is uniquely yours. You can even experiment by adding brand aspects to your images (tone, colors, and point of view). Content marketing is only benefited from better-quality images.
Price: First 40 images are Free and monthly plans start at $9 per month.
NOTE: AI can do more than generate images these days. Check out more AI marketing tools to boost your business.
Ecommerce Marketing Plugins
More and more businesses are going online, which means fierce competition. To succeed, businesses need to have a strong marketing strategy. Marketing is important for eCommerce websites and brands because it helps businesses to reach their target audience, stand out from the competition, and increase sales. With the right mix of WordPress plugins and tools, businesses can reach a wide range of consumers and promote their products effectively.
5. WP Mail SMTP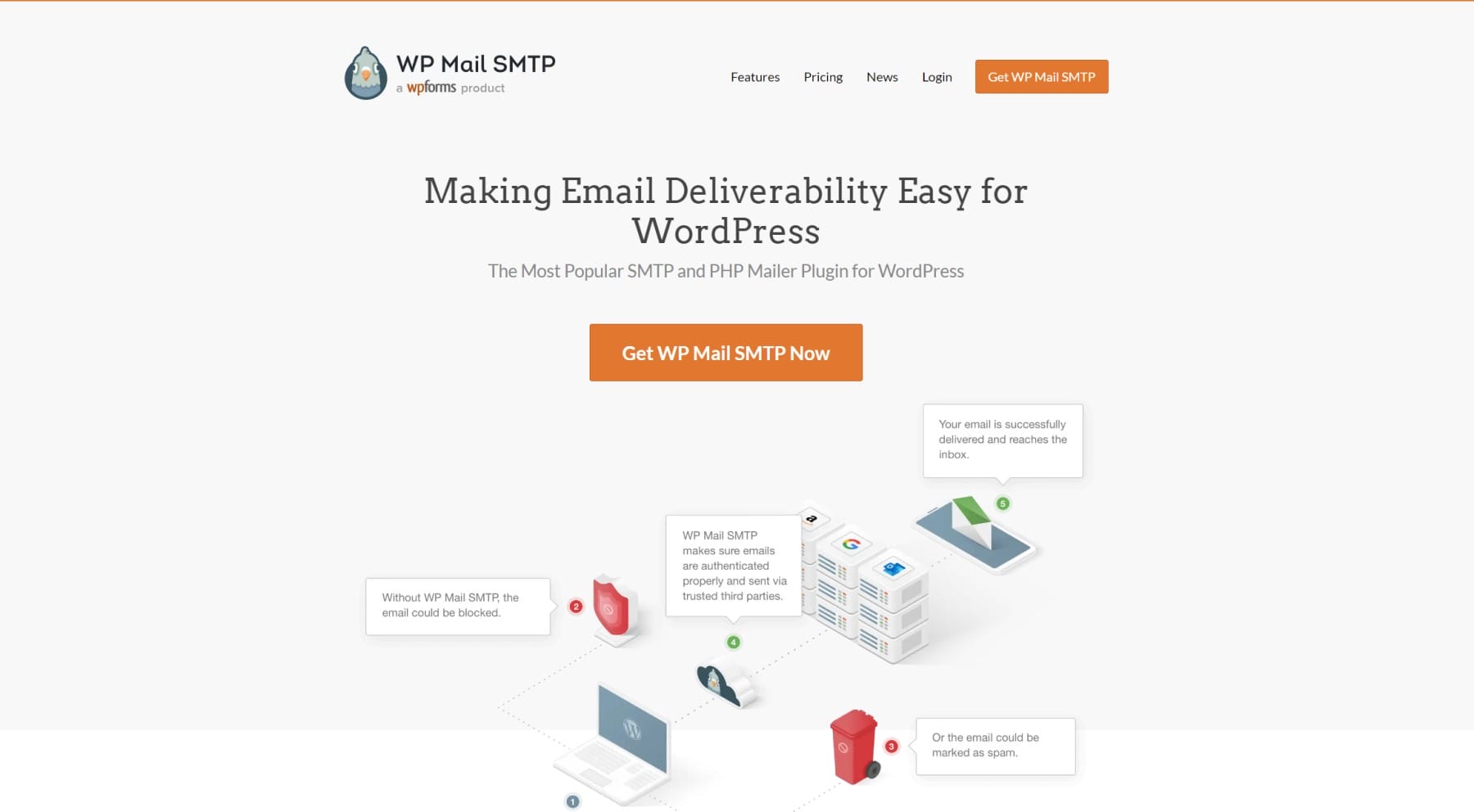 WordPress has traditionally been quite poor at handling system emails. They are often flagged as spam in email clients because of outdated protocols for sending mail. With WP Mail SMTP, you can be sure that your marketing and transactional emails are delivered correctly and efficiently. This plugin provides a hassle-free solution for managing your email communications so that you can focus on more important things. It also tops the list of our best SMTP plugins list.
Since Ecommerce businesses rely on effective emails that must be sent from the website, figuring out an SMTP solution is vital for keeping customers in the know.
Price: The plugin comes free with upgradable Pro plans to start at $49 per year.
6. FunnelKit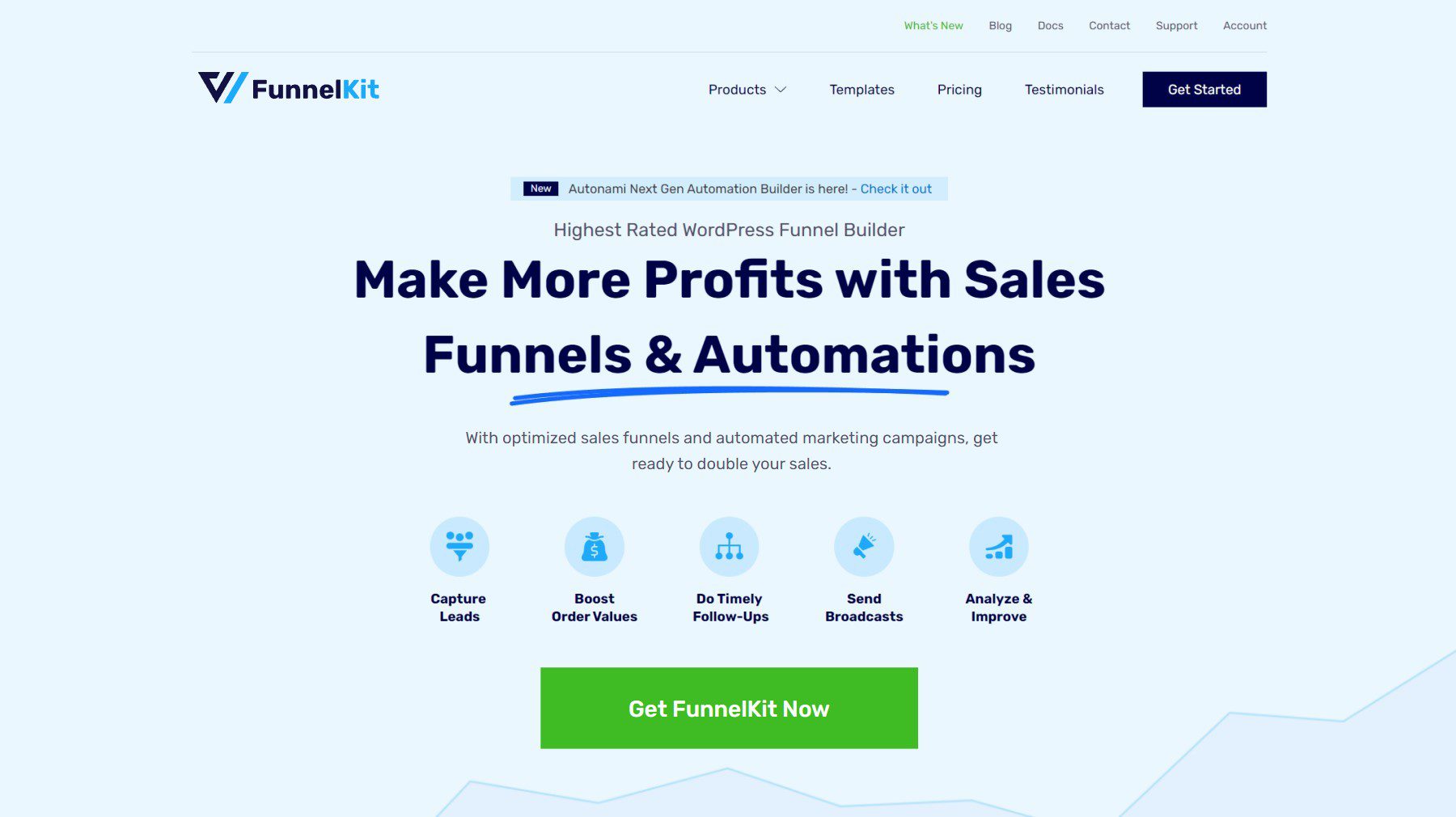 The FunnelKit Funnel Builder for WordPress and WooCommerce is the perfect solution for businesses looking to capture maximum ROI with their eCommerce stores. With pre-made funnel templates, a smart rules engine, and powerful store analytics, the FunnelKit Funnel Builder makes it easy to create and optimize marketing campaigns that drive conversions and especially sales.
Key Features:
Frictionless Checkouts
Cross-Selling Smart Rules
A/B Tests for Entire Funnel
Opt-in Landing Pages
Analytics Dashboard
Price: FunnelKit sports a free yet limited plugin with Pro Features starting at $99.50 per year.
7. Google Ads & Marketing by Kliken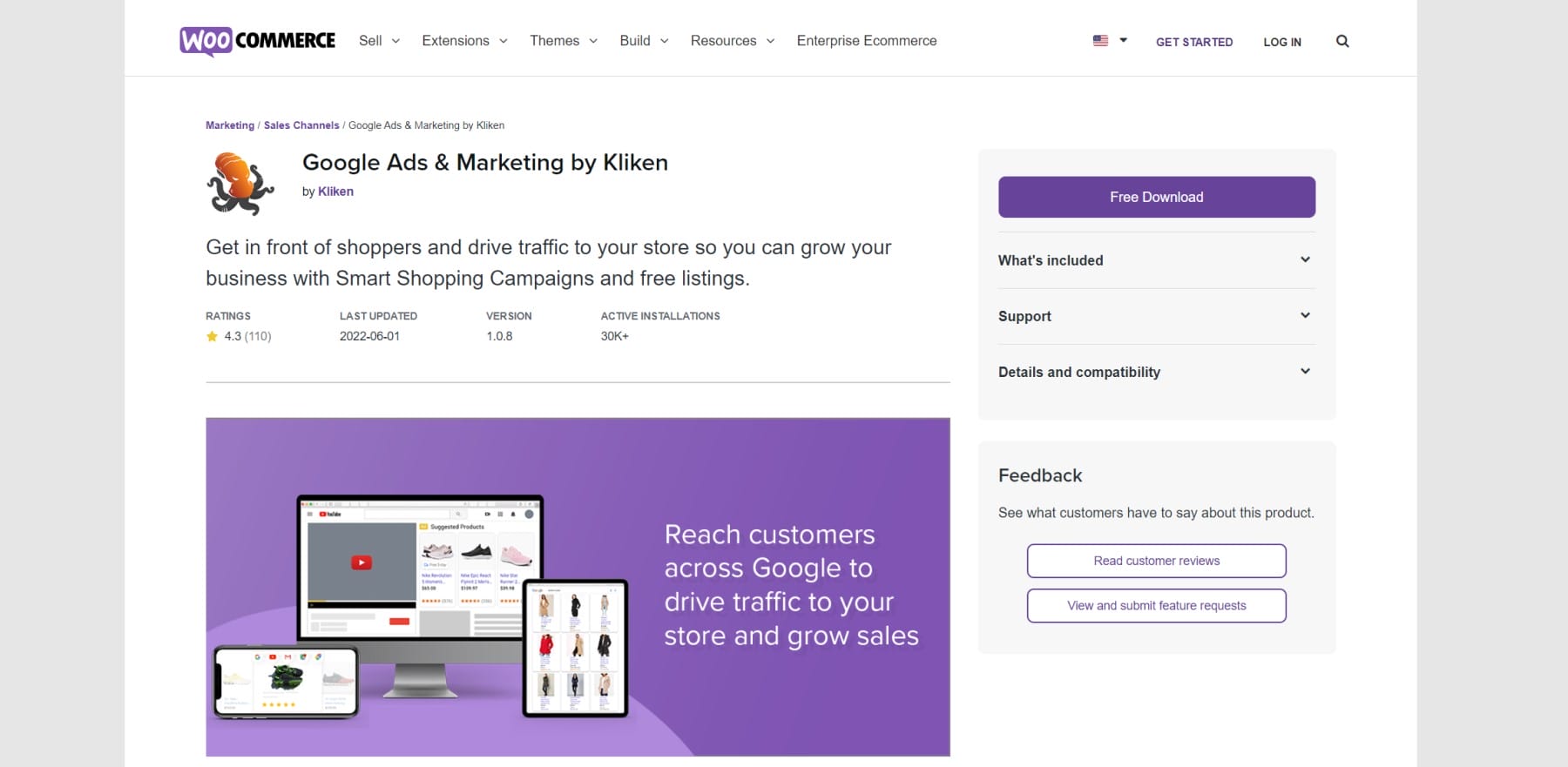 Google Ads is the easiest way to promote your products on Google and get them in front of millions of potential shoppers. You can create ad campaigns that target interested shoppers across Google, so you can get discovered on any budget. Google Ads by Kliken for WooCommerce stores makes it easy to set up your campaigns and track your results, so you can focus on growing your business.
Key Features:
Connect Your Store to Google Merchant Center
Create Smart Product Feeds that Sync Your Inventory
Show up in Search Results with Free Product Listings
Run and Manage Paid Ad Campaigns to Promote Across Google Products
Price: Kliken has a free WooCommerce Extension but the service costs $10 per month.
Get Google Ads & Marketing by KlikenP
8. TikTok for WooCommerce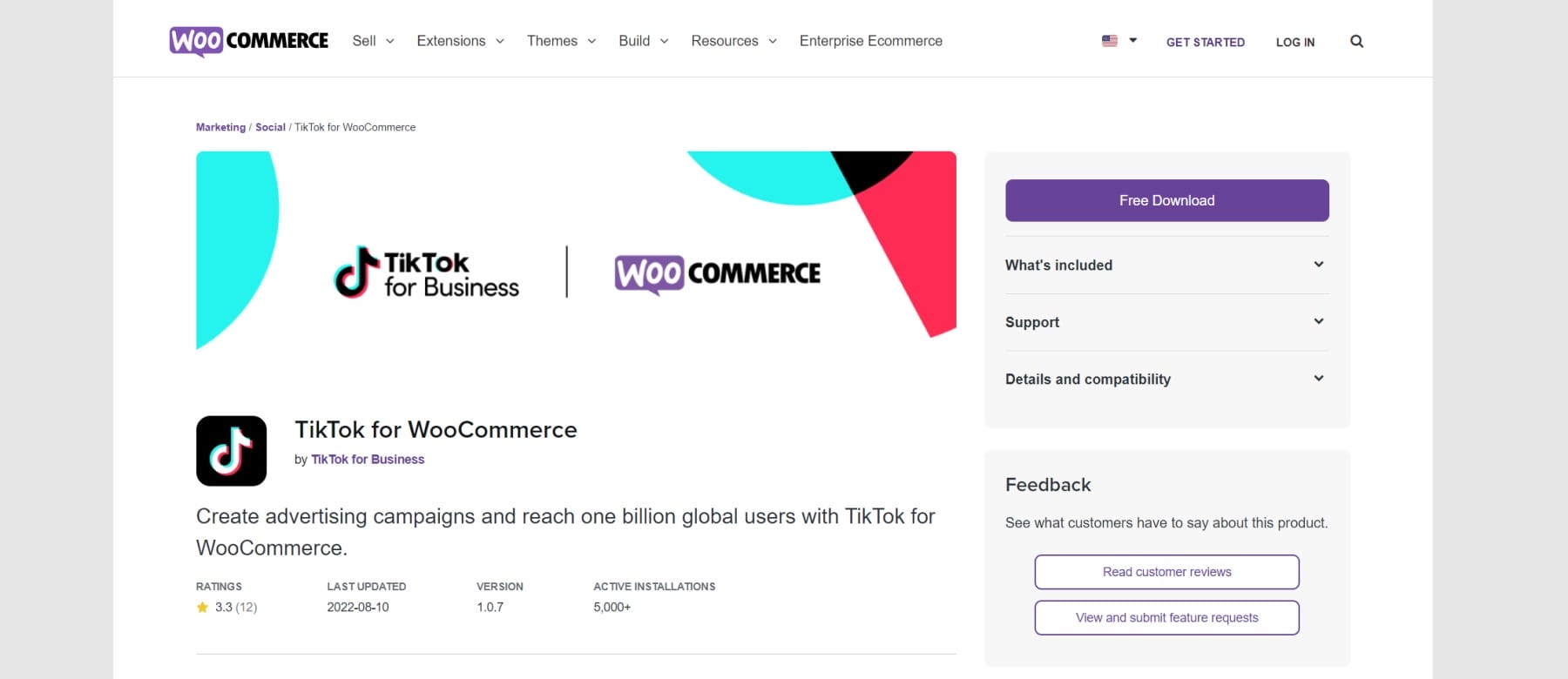 If you're looking to take your online sales to the next level, TikTok for WooCommerce is the perfect solution. By syncing your store catalog and installing the TikTok pixel, you can easily track campaign performance and set up ads for your target audience. With TikTok for WooCommerce, you can reach a wider audience and boost your sales like never before.
Key Features:
Setup TikTok Tracking Pixel with No Code Installation
Sync Your Store's Catalog with TikTok's Ad Platform to Create Shopping Ads
Create Ad Campaigns from Your Website (Conversion Campaign Types Only)
Track Campaign and Sales Performance
If TikTok Advertising has you dancing, check out the basics of advertising on TikTok. Or, see our list of top TikTok plugins.
Price: Free Woo Extension but TikTok Ads cost.
9. Mailchimp for WooCommerce

Mailchimp for WooCommerce is a WordPress plugin that connects your online store to Mailchimp, giving you access to powerful sales-driving marketing tools that leverage the best of Mailchimp and WooCommerce. With these features, you can engage and build relationships with your customers, increase customer loyalty and repeat purchases, and manage SMS/Email notifications for your store—seamlessly.
Key Features:
Setup Ecommerce Specific Email and SMS Automation (like Abandoned Cart, Welcome, and Re-engagement emails)
Use Mailchimp's Social Advertising Platform to Retarget Customers
Leverage AI and Predictive Insights to Serve Product Recommendations to Customers
Sync Your Store with Mailchimp's CRM Tools
Price: Free Woo Extension and Mailchimp come with a free email marketing tier.
WordPress Marketing Plugins for SEO
SEO, or search engine optimization, is the process of optimizing a website for certain keywords so that it appears higher on search engine results pages. This can be done through various means, such as optimizing the website's title and meta tags, creating quality content, making your website run quickly, and building backlinks.
SEO is one of the most important factors in online marketing for websites. This list of WordPress plugins will help you achieve SEO marketing success. If you want more, check out this list of the best SEO Plugins for WordPress.
10. Rank Math SEO Plugin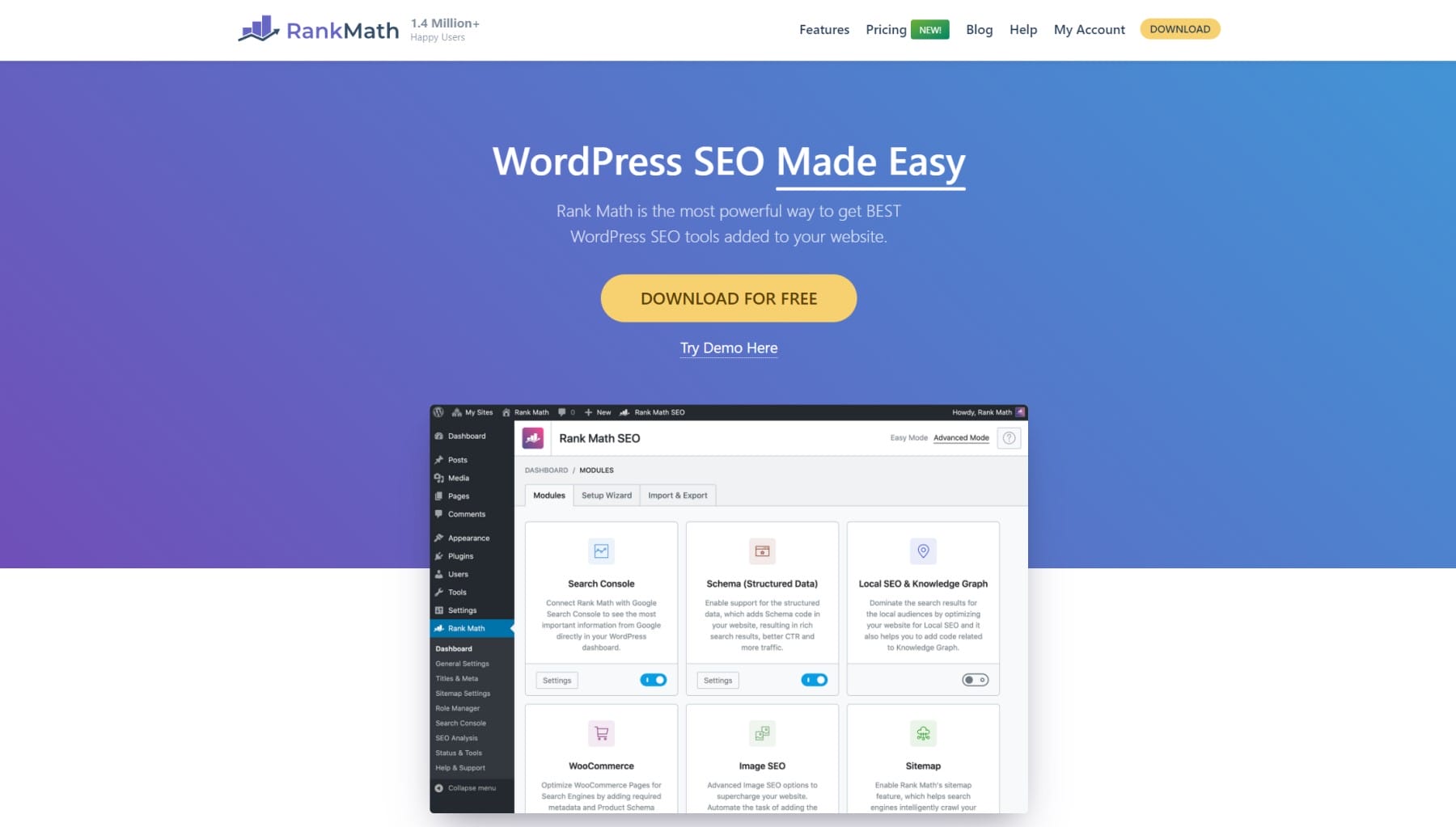 Rank Math is a WordPress SEO plugin that can help you with your website's on-page SEO content. If you're a marketer who is responsible for website SEO, then you know how important it is to have a plugin that can help you with your ranking.
It helps move you along in the right direction with on-page optimization giving top-tier suggestions. Rank Math has features that allow you to optimize your title tags and meta descriptions. It also has a keyword research tool that can help you find the right keywords to use on your pages and posts.
Something we're particularly excited about is that they've been introducing AI capabilities to help with content creation and other SEO tasks.
For more, check out how to optimize your Divi website with Rank Math.
Price: RankMath is a free plugin with excellent Pro features that start at $129 per year.
11. SiteGround Optimizer Plugin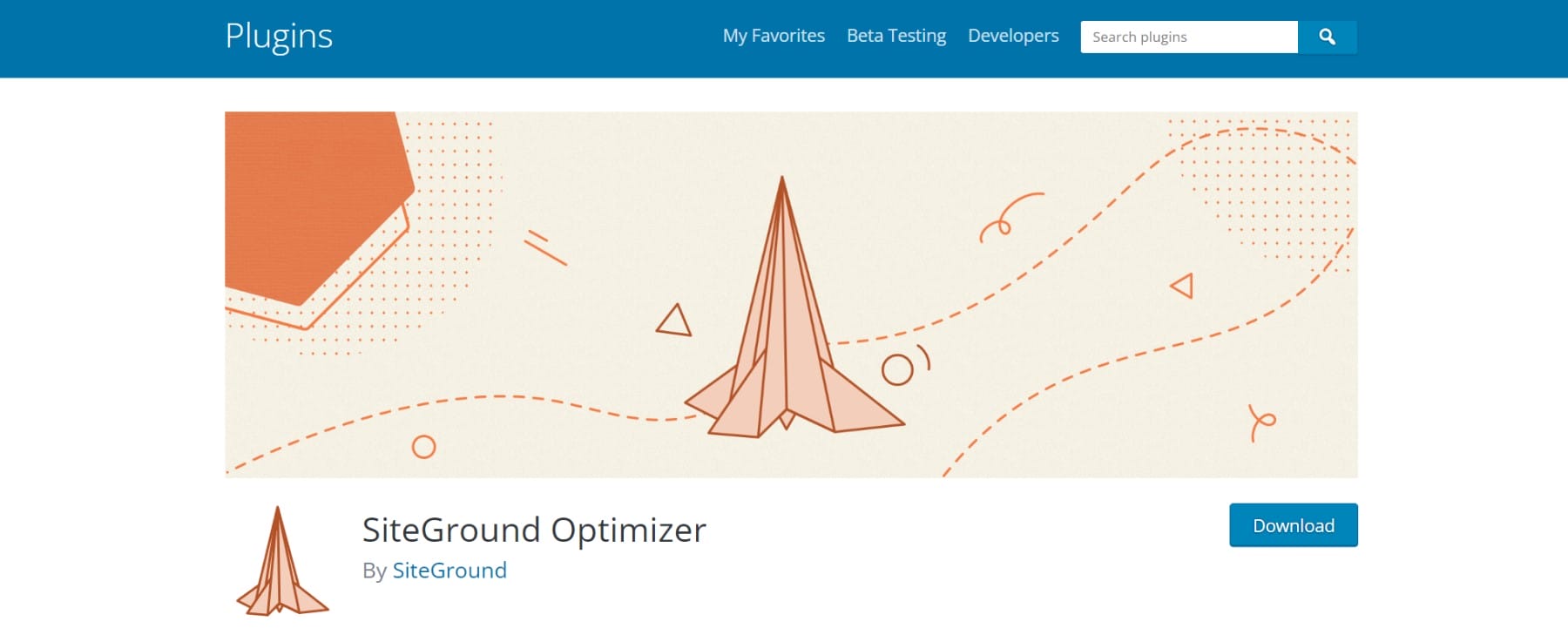 The SiteGround Optimizer free plugin makes it easier for marketers to manage their website's speed and performance. This is extremely helpful in improving your website's ranking in search engines or simply making your site more user-friendly. Site speed and user experience are factors in search ranking factors.
The plugin is easy to use and can make a significant difference in a matter of minutes. The plugin works especially well with Siteground hosting as it taps into the hosting infrastructure to squeeze out extra performance. If you have or are considering Siteground hosting through Divi Hosting, this is a must-have feature.
Price: The Plugin is free but works best when integrated with SiteGround hosting.
Get SiteGround Optimizer Plugin
12. WEGLOT Multi-Language Plugin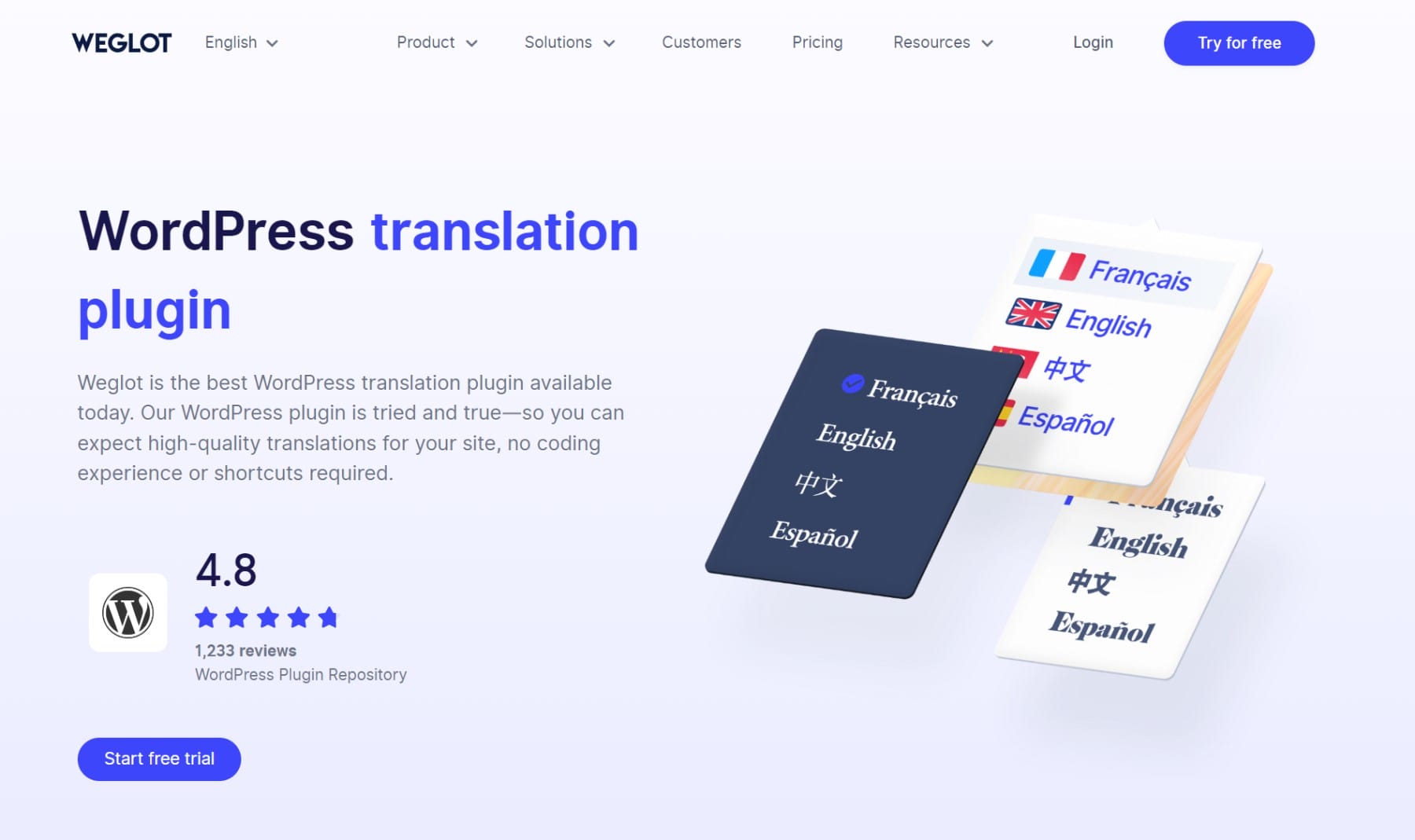 Weglot is a WordPress translation plugin that offers automatic translations for your entire website. It even allows for after-the-fact, manual insertion of your translations. This is particularly useful for content marketing in multiple languages. Website owners can have a rough translation of their entire website in multiple languages and methodically go through the entire website and update the automatic translations with human-edited translations.
Content marketing teams looking into the new horizons of multi-language content sites need not fret. Also, check out our 8 tips for improving multilingual SEO.
Price: Free for 1 language and 2,000 words and paid plans starting at €15 per month.
Get WEGLOT Multi-Language Plugin
13. Broken Link Checker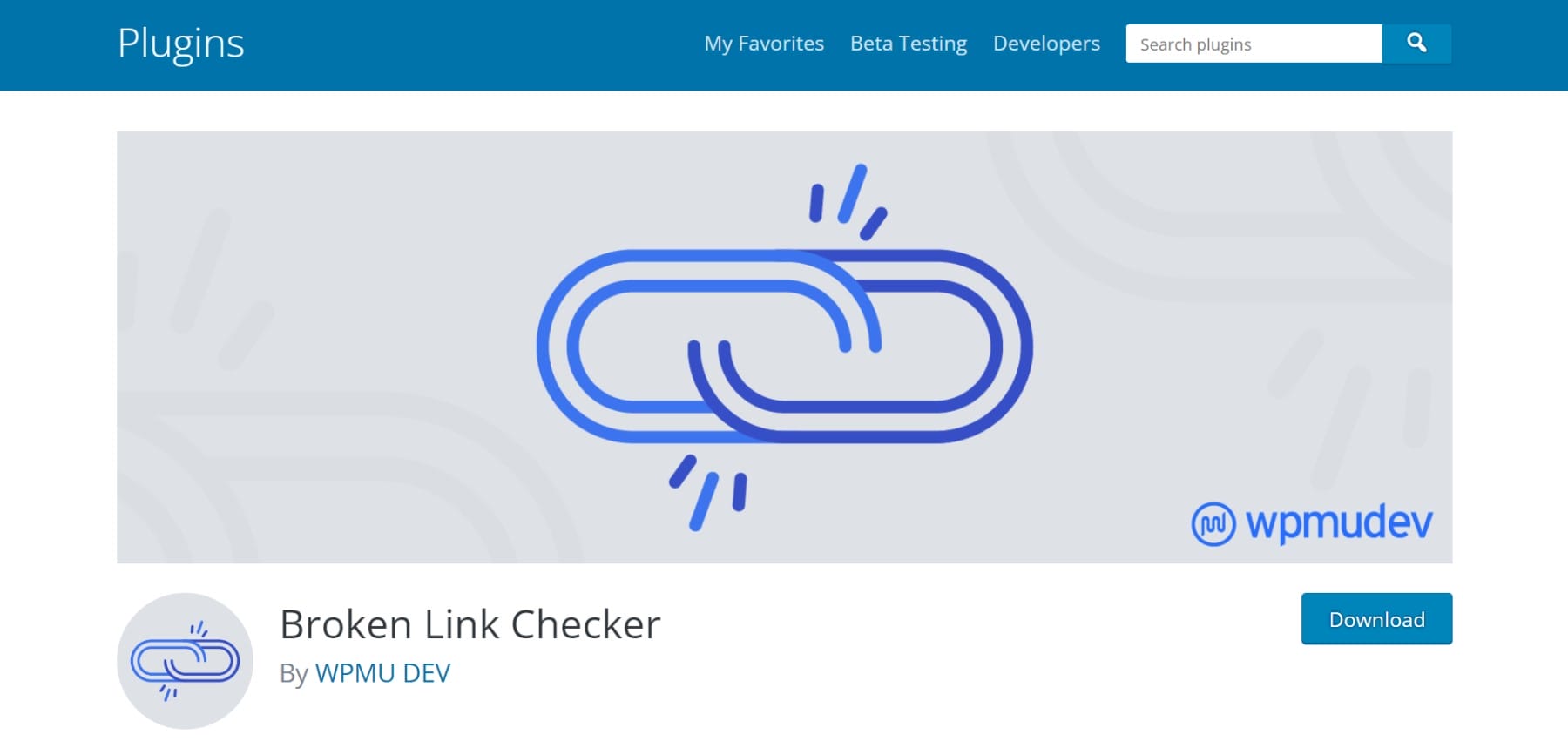 Keeping your site up and running smoothly is a challenge that time only worsens. One way to mitigate poor website and SEO health is by regularly checking for broken links. Broken links can not only be frustrating for your visitors, but they can also negatively impact your site's search engine rankings.
The Broken Link Checker plugin is a great tool for helping you find and fix broken links on your WordPress site. This plugin will scan your entire website for broken links and then report them back to you. You can then choose to either ignore or fix the broken links.
Content Marketers who are already maxed out on marketing tasks can find a little bit of solace with a plugin that automates some broken link maintenance.
Price: Broken Link Checker is a completely free plugin, so, enjoy!
14. Sirv Image CDN & Optimization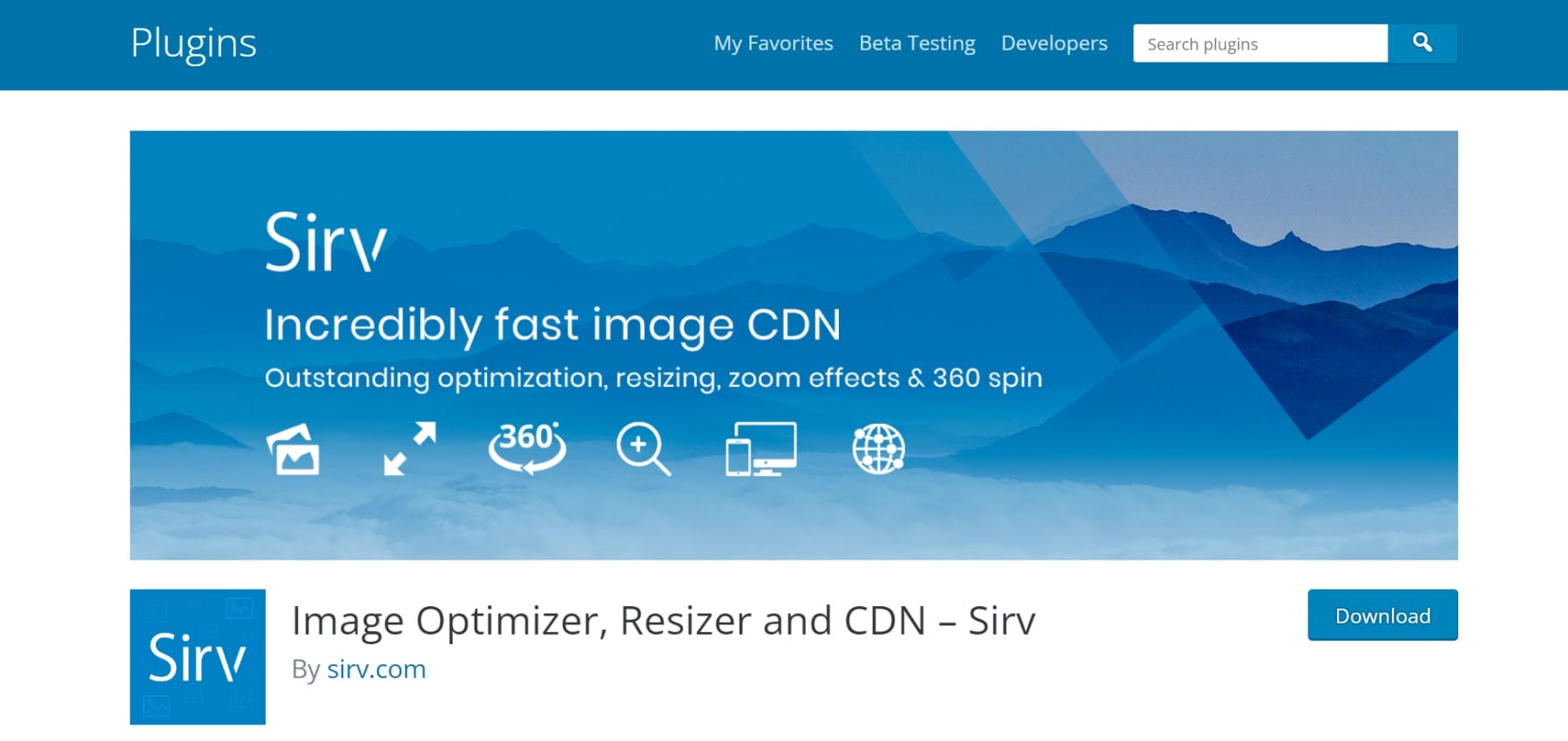 The Sirv Image CDN and Image Optimization plugin for WordPress is the perfect way to ensure your images are always served in the right size and format. Sirv dynamically serves the perfect-sized image and optimizes all images for any web or social platform. The WordPress plugin makes it easy to upload your images to Sirv and get started with image optimization.
Key Features
File-size Optimization including JPEG, PNG, and WebP images.
Dynamic Imaging
Lightening fast Image CDN
Advertised 100% Up-time
Sirv's Image CDN is the perfect solution for website owners who want to ensure their images are always served quickly and efficiently. By optimizing your images for performance, you can speed up your website and improve your users' experience. Sirv offers a free plan which allows for 500MB of storage and variable pricing to suit larger websites.
For more, check out these best practices for optimizing Images for SEO.
Price: Free for up to .5 GB of storage with more usage starting at $19 per month.
Get Sirv Image CDN & Optimization
Email and SMS Marketing WordPress Plugins
Email and SMS marketing are powerful tools for website owners who want to convert their visitors into subscribers and those into customers. By segmenting their audience and tailoring their email/SMS campaigns, website owners can increase their chances of success.
Marketing plugins help automate SMS and email marketing by integrating with CRMs and feeding segmentation efforts from the beginning. Most traditional email marketing has added the ability to send SMS messages through the same interface. Incorporating both is a good tactic on your way toward a proper omnichannel marketing push.
15. Bloom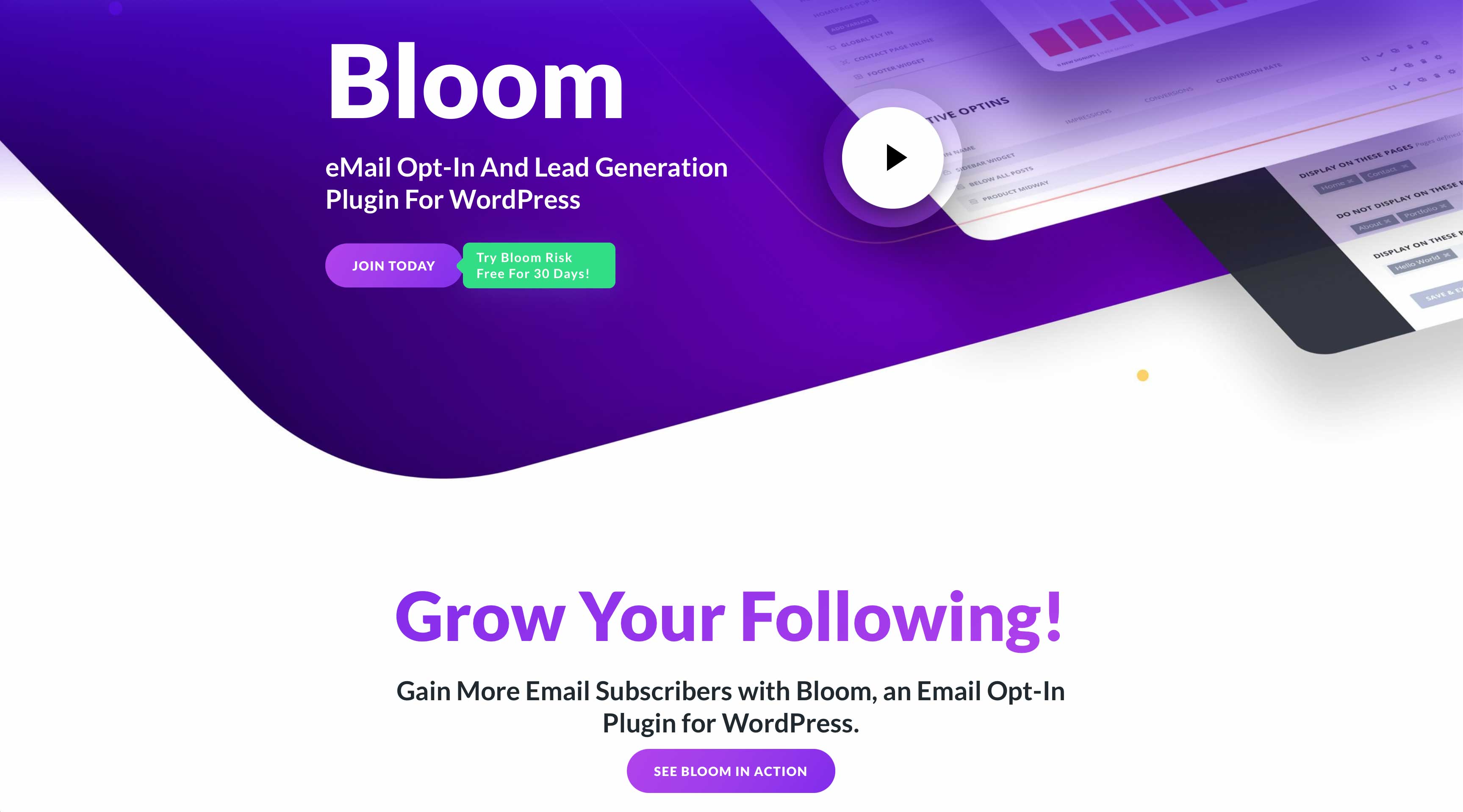 Bloom is a powerful email marketing tool that generates leads and grows online businesses.
With advanced display rules, you can control when and where your opt-in forms are shown, ensuring that they're always relevant to your visitors. This will also help your email marketing segmentation strategy. Bloom also integrates with popular marketing and CRM platforms, making it easy to manage your leads and customers.
And since Bloom is made by the developers behind the Divi Theme, you can trust that you'll have unlimited potential to design powerful opt-in forms. Marketers can leverage the best design features and segmentation strategies with Bloom.
Price: Free with the purchase of an Elegant Themes membership at $89 per year.
16. ActiveCampaign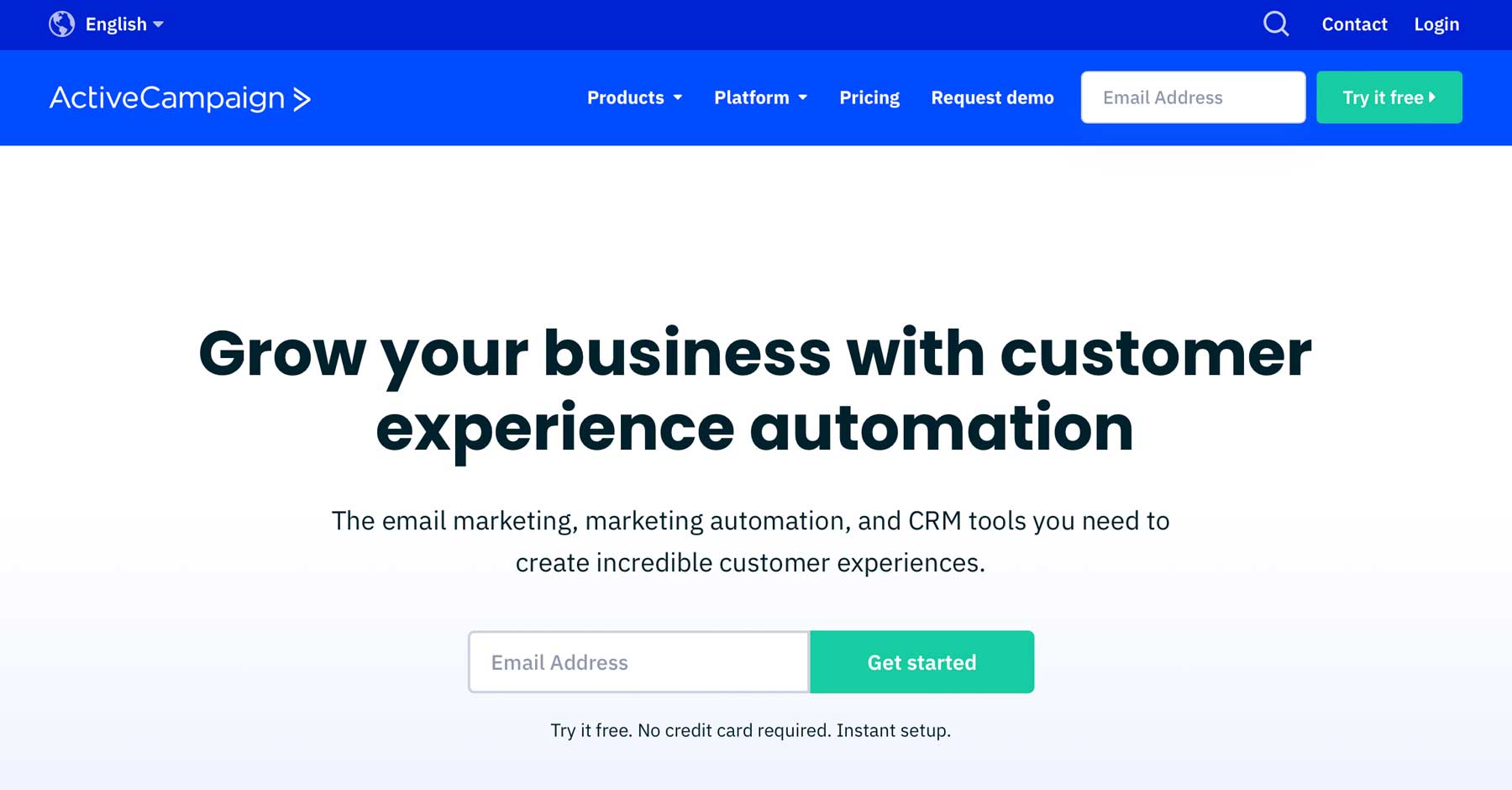 ActiveCampaign's WordPress plugin extends the platform's functionality to any WordPress website. The plugins provide features such as email opt-ins, contact forms, and integration with ActiveCampaign's email marketing and automation tools.
ActiveCampaign is an all-in-one marketing platform that helps businesses attract, engage, and retain customers. The platform includes email marketing, lead generation, marketing automation, and CRM tools.
The WordPress plugin brings in these ActiveCampaign features:
Embed ActiveCampaign Forms anywhere on your site
Install ActiveCampaign Site Tracking for lead scoring and segmentation
Deploy ActiveCampaign's Live Chat for accounts with that feature set
Price: Free plugin for use with their email/automation services starting at $29 per month.
17. RafflePress

If you're looking for a powerful and user-friendly WordPress contest plugin, look no further than RafflePress. With its easy-to-use interface and wide range of features, RafflePress is the perfect tool for running giveaways and competitions on your WordPress site.
Key Features:
Drag & Drop Giveaway Builder
1 Click Entry + Fraud Protection
Marketing & CRM Integrations
Viral Sharing (Refer-a-Friend)
Tracking and Retargeting
Price: Free lite version of the plugin and Pro features starting at $79 per year.
18. OptinMonster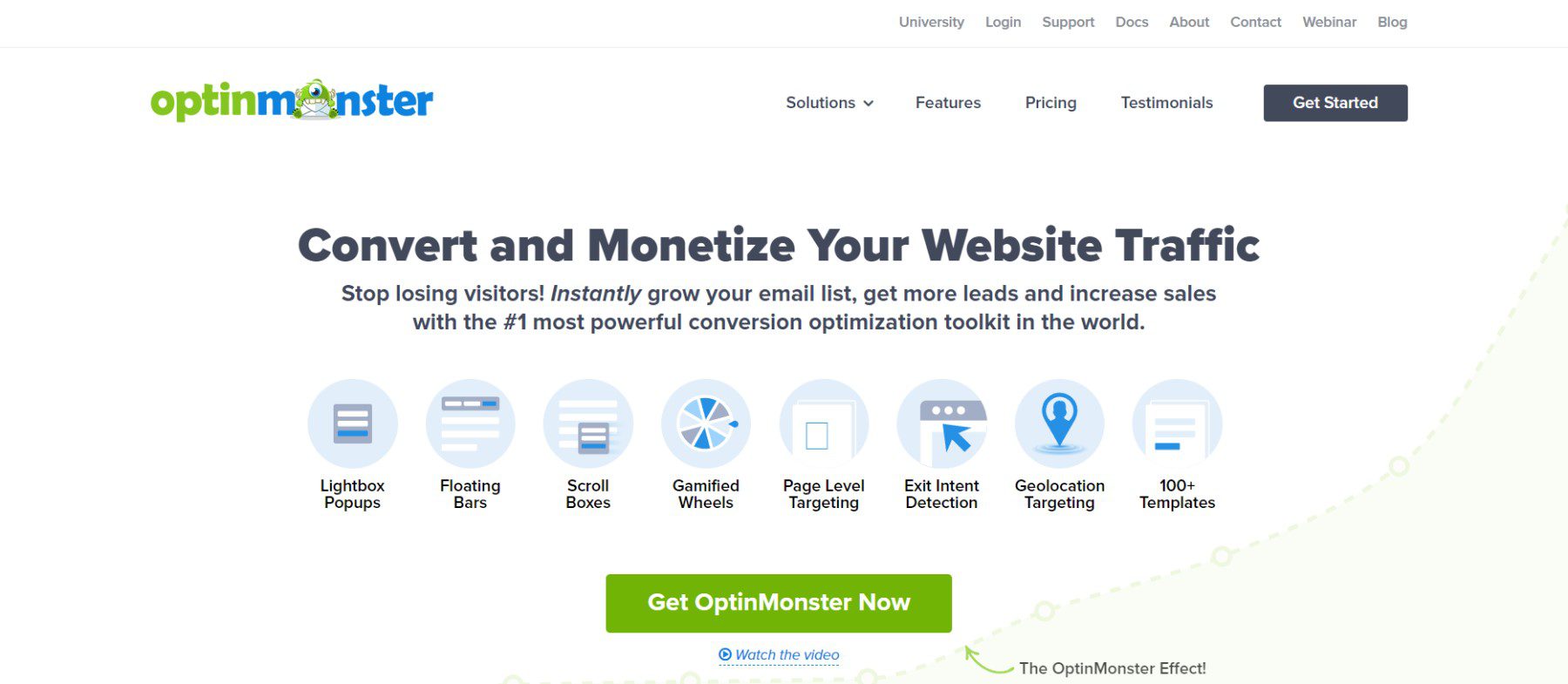 OptinMonster is one of those plugins that gets lots of attention. It is more than just a plugin for email opt-ins. It is a multi-faceted powerhouse marketing plugin that is worth its price tag many times over.
With OptinMonster, you can power contextualized opt-in forms based on exit intent, geolocation targeting, and page-level targeting. It comes standard with 100+ templates to make your popup, floating bar, and gamified giveaway wheel creation an absolute breeze. With over a million websites running OptinMonster, you're going to fit right in with some good company. If you're wanting to get every last lead that you can from your existing site traffic, you could do much worse than OptinMonster—though there are plenty of popup builders on the market for you to choose from.
Price: Free, Pro plans start at $19 per month.
Search engine marketing (SEM) and social media marketing (SMM) share a lot of common ground. Both can include paid forms of advertising that use ad networks to reach their target audiences. And both can be highly effective in promoting your business or website.
We've grouped these because many full-suite marketing platforms cater to both types of paid advertising. Some tools only focus on SMM or SEM respectively but it is still worth grouping them. If you're curious, read about the difference between SEO and SEM.
Which mix of these plugins is right for you?
19. Monarch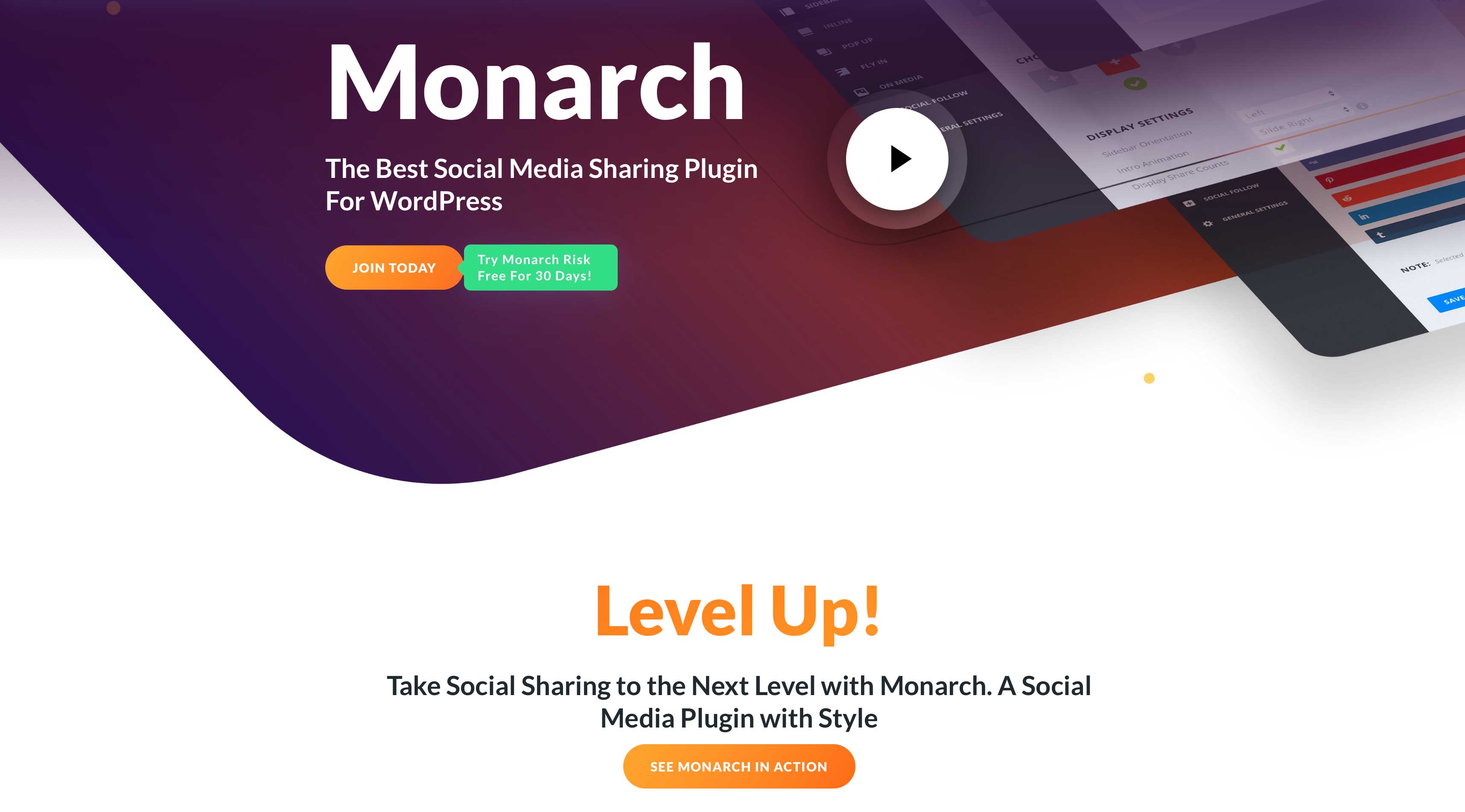 Monarch is a WordPress plugin that allows website creators to add beautiful and functional social sharing buttons to their sites. It's one of the best WordPress social sharing plugins out there, and it won't slow your website down.
Monarch gives website visitors the option to share a post or page on their preferred social networks. It also comes with the design flexibility to make social sharing a natural part of your website and design. Another thing that makes Monarch unique is that it allows you to integrate social sharing buttons into many different parts of your website, and to display social sharing buttons in a variety of formats.
Marketers looking for viral sharing of their high-quality content can trust Monarch to give their sites that functionality.
Price: Free plugin with Purchase of Elegant Themes membership at $89 per year.
20. WPCode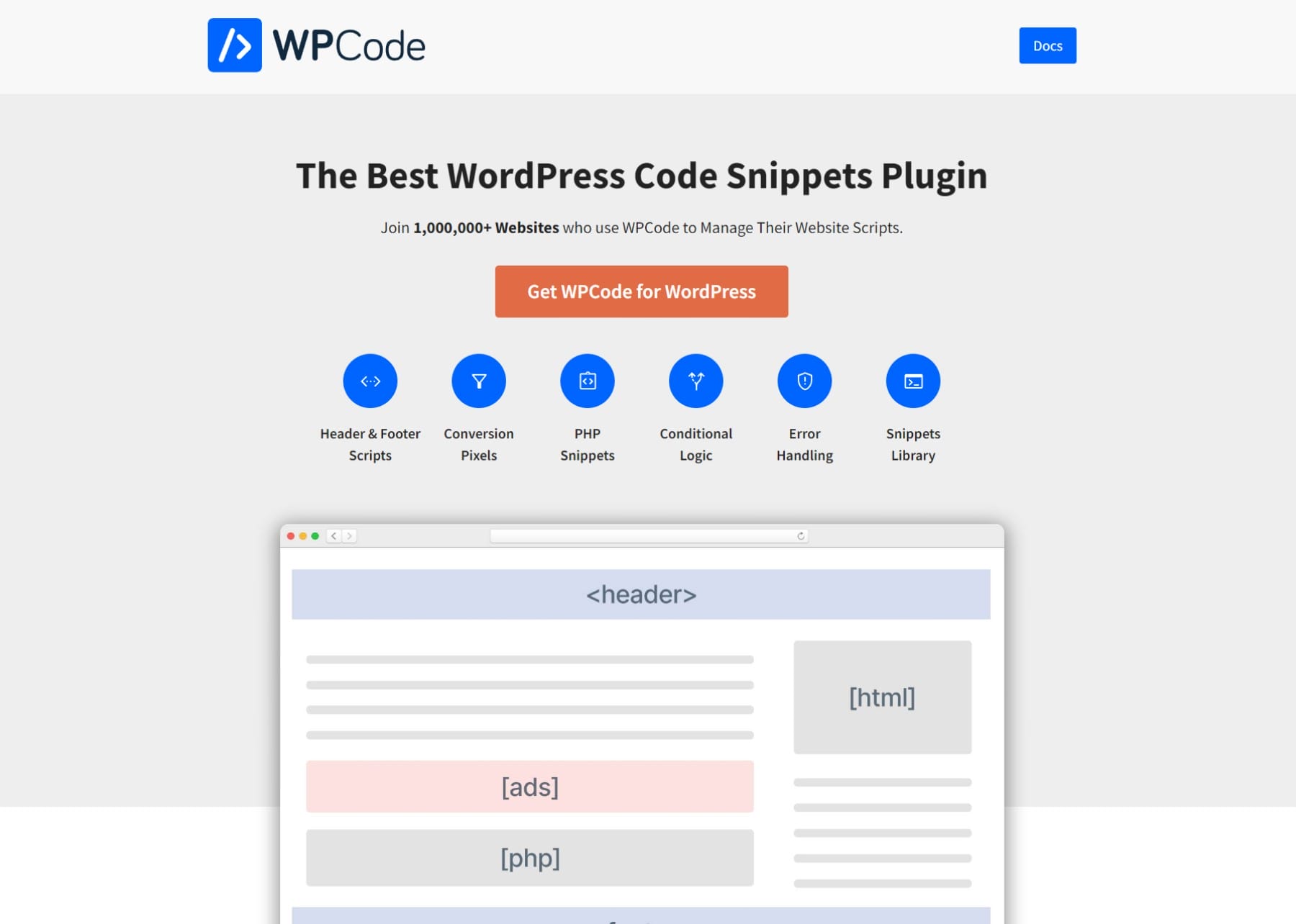 WPCode (formerly Insert Headers and Footers) is a custom code installation tool for WordPress websites. For marketers, WPCode lets you add Marketing Pixel scripts into the header, body, and footer of your web pages. This makes the installation and firing of these pixels as easy as possible.
It is also a strong way of implementing Google Tag Manager into WordPress websites or replacing it altogether—regardless of theme choice.
Price: Free lite version of the plugin and Pro features starting at $49 per year.
21. Google Site Kit

Google Site Kit is a WordPress plugin that helps make installing Google services and products on your WordPress website easier. Site Kit makes it easy to install with no code implementation. Site Kit connects to your Google Account to automatically install the desired services.
Google Services that Site Kit Helps Install:
AdSense
Google Analytics
Google Optimize
Search Console Site Verification Tag
These are all powerful tools built by Google that marketers everywhere use.
Price: Free plugin offered by Google.
22. Better Click to Tweet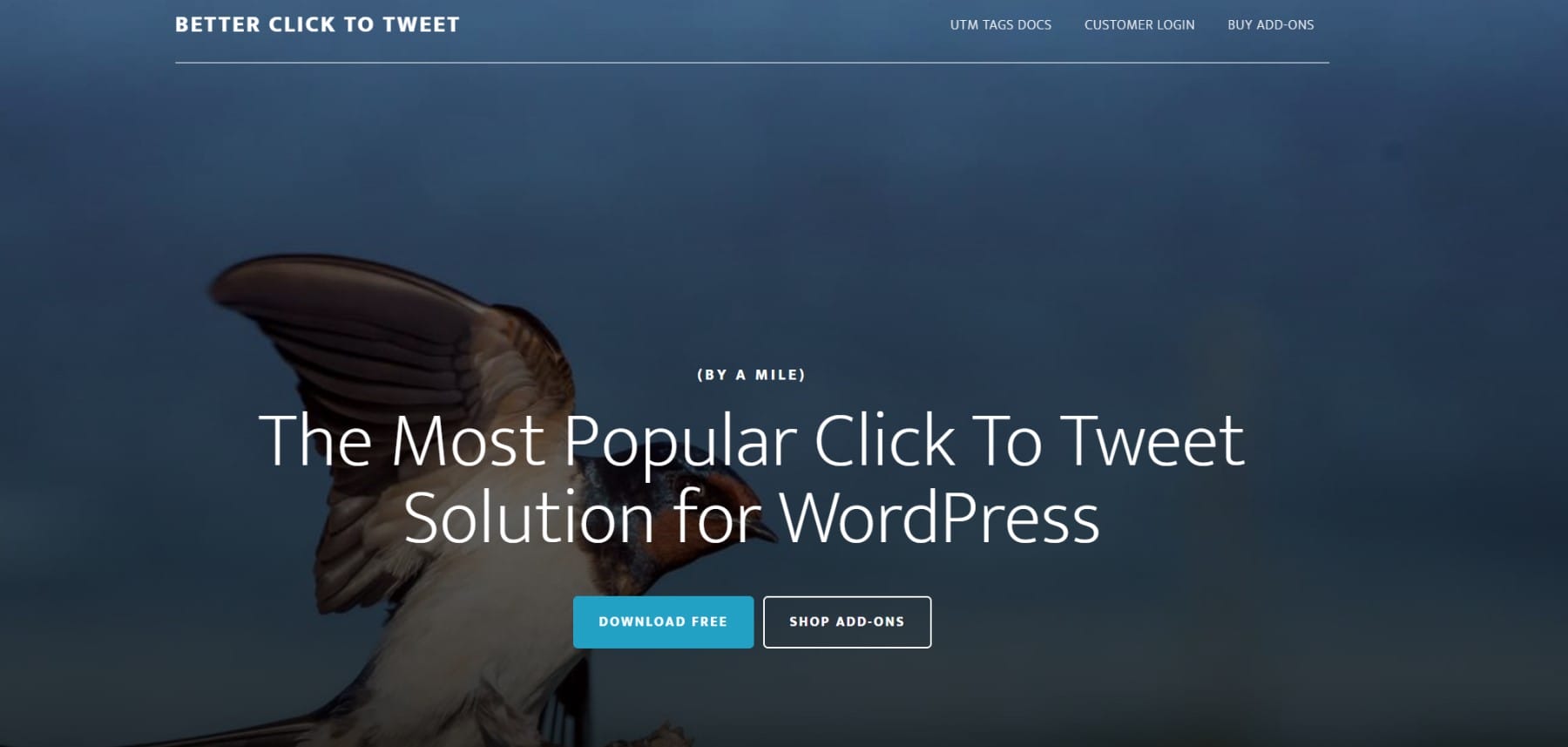 Better Click to Tweet is another social sharing option that marketers can use on their WordPress websites to increase the virality of website content. The principle behind click-to-tweet plugins is that some of your content is going to be catchy and even Tweet-able. These plugins allow your readers to share exact quotes on Twitter.
Better Click to Tweet is best suited for marketers who have a large Twitter presence and with audiences that use Twitter themselves. It's a powerful way to extend thought leadership in your category both on your website and on Twitter.
Price: Free plugin with additional addons and styles starting at $71 per year.
WordPress Marketing Plugins for Conversion Rate Optimization
Conversion Rate Optimization (CRO) helps website managers get the best results out of steady streams of website traffic. These plugins and services can help you reach ever higher conversion rates on your most important pages.
23. Divi Builder Plugin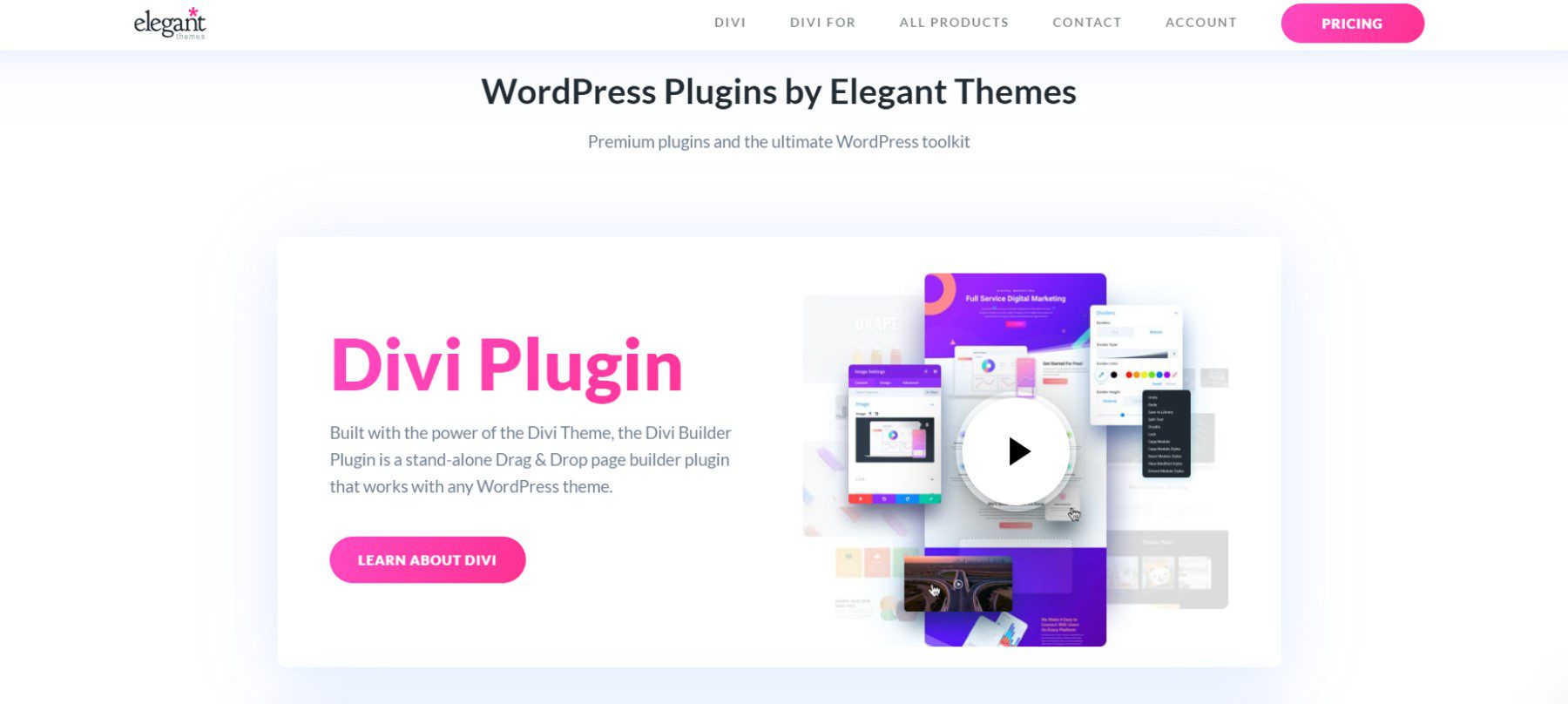 Divi is a powerful marketing platform for your website that provides effective ways to create landing pages quickly using a no-code visual builder and optimizes them for lead generation and conversion using a suite of tools and design options. Most everyone knows about the Divi Theme, but Divi also exists as a plugin. This means that you can bring the powerful, visual page-building experience of Divi into any website—regardless of theme. It comes full of features that your standard page builder can't compete with such as:
Divi Form builder without needing a separate plugin
A/B Testing of Modules for expert CRO built right into your page builder
Uncompromising design control so your marketing can look as good as it is planned
Comes with your Divi Membership—if you bought the theme, you have the plugin
If you're needing more from your page builder in 2023—and not less—the Divi page builder plugin (or theme for that matter!) is something you need to check out.
Price: Comes free with your Elegant Themes membership for $89 per year.
24. WPForms
I know what you're thinking, "Really a forms plugin makes the list of top marketing plugins for 2023?". Yea, it does, and here's why.
WPForms is a powerhouse WordPress form plugin that fulfills all sorts of operational needs that connect directly with your marketing initiatives. It handles surveys effortlessly so you can continuously pulse your customers and prospects so every move you make is backed up with cold hard data. You can use WPforms for event registration or plain old opt-in mailing registration. WPForms sports a measly incredible 500+ form templates so you will never look at a blank screen again.
It also does the normal stuff well too, like Contact Forms, payment collection, and a drag-and-drop visual building. From simple forms to powering your Conversion Rate Optimization, WPForms can handle what you need it to.
Price: The Lite version is a free plugin but the pro version starts at $99 per year.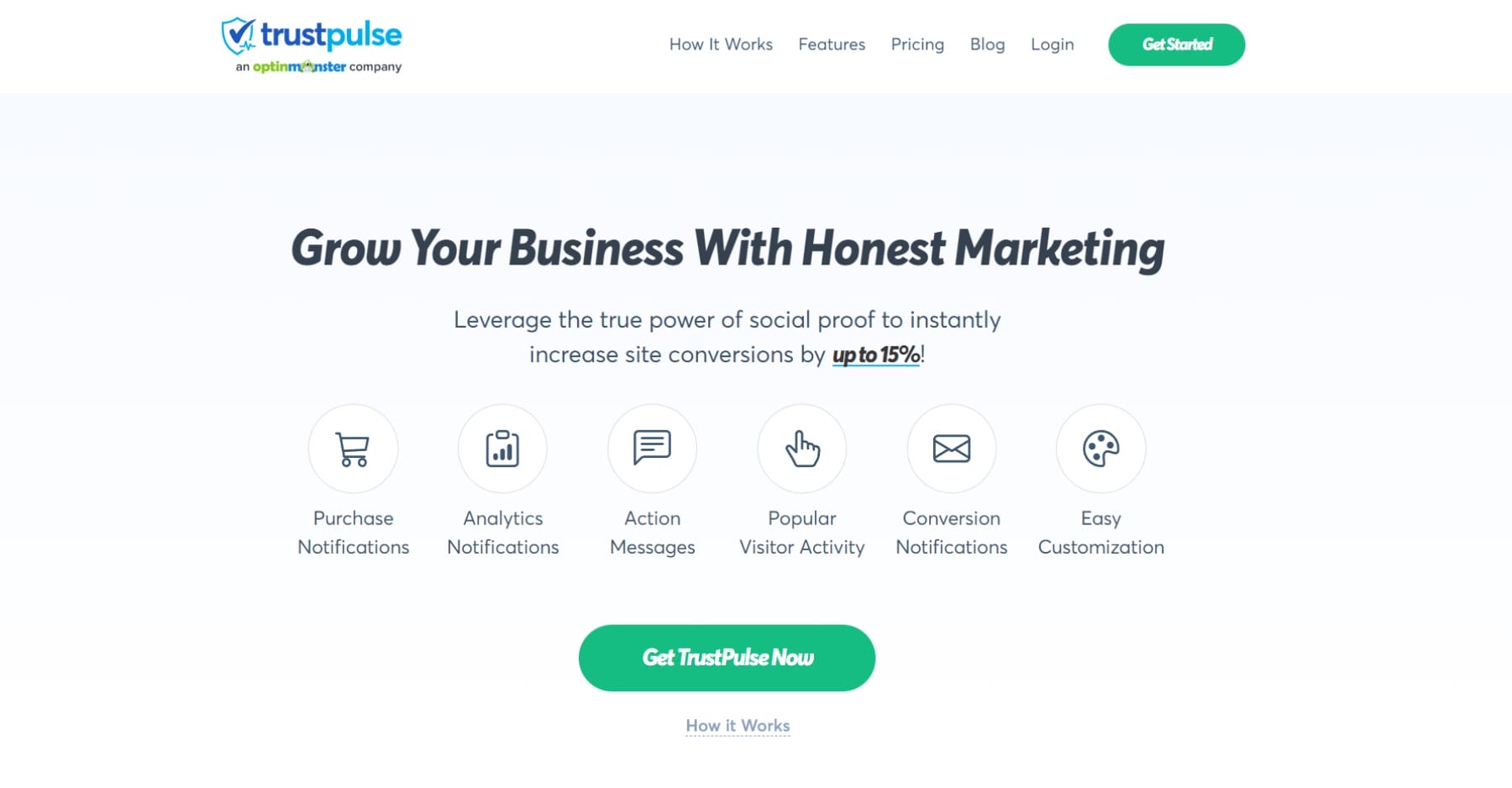 If you're looking to increase your website's conversion rate, TrustPulse is an excellent WordPress plugin to consider.
TrustPulse uses social proof to show potential customers what other people are doing on your website—whether it's buying a product, signing up for a membership, or completing an opt-in form for a newsletter. This creates a sense of urgency and FOMO (fear of missing out), which encourages visitors to take the desired action.
Overall, TrustPulse is an effective tool for increasing conversion rates and generating more sales. It is a premium plugin with pricing based on features and unique monthly visitors.
Price: Free plugin with premium features starting at $9 per month.
Get TrustPulse Social Proof Notifications
26. Crisp Live Chat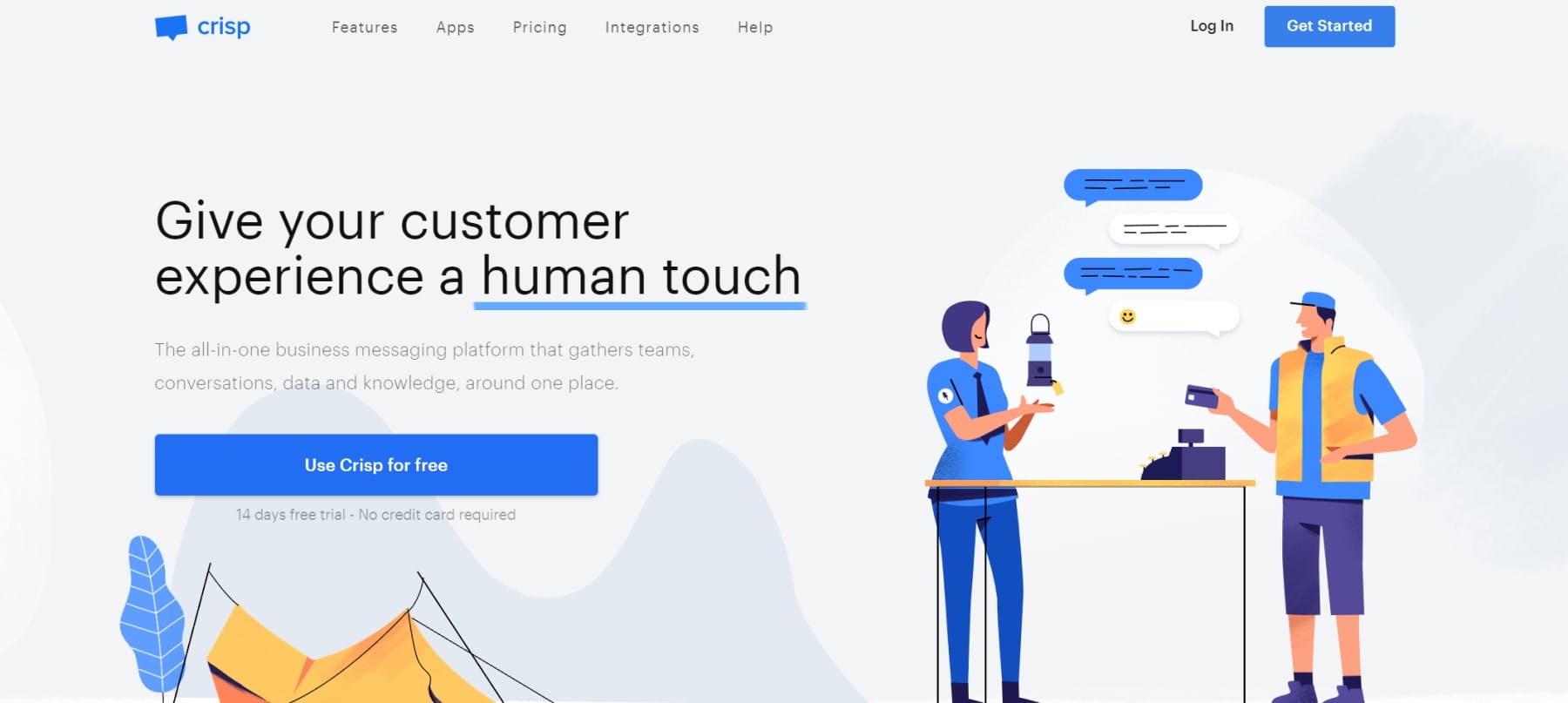 If you're looking for a free WordPress chat plugin for your website, Crisp Live Chat is the perfect solution. With its easy-to-use chatbot builder, you can easily create a chatbot to help grow your email list, generate leads, and enhance your customer relationship. Plus, Crisp Live Chat integrates seamlessly with WordPress, making it the perfect choice for your website.
Super-charge your customer support and sales operations with Live Chat. New contacts can be added to your CRM or email marketing software for continued marketing or sales outreach. Crisp Live Chat has a free tier of their platform but also paid tiers for scaling businesses with diverse needs for their live chat implementation.
Price: Free plugin with advanced chat functions starting at $25 per month.
Comparing All the Best Marketing Plugins
WordPress marketing plugins are a great way to keep your marketing efforts on track. The best ones will not only save you time but open up a world of possibilities for your website and business marketing.
WordPress offers a wide variety of plugins to combine various marketing services into a cohesive system. We like systems because they help you cover every base and iterate on your marketing operation as time goes on.
Marketing Plugin Price Comparison
Now, let's take a look at how each of our plugins compares on the basis of price:
What is the Best Marketing Plugin?
When it comes to cohesive systems, the Divi Theme is a complete marketing solution that seamlessly integrates and is fully compatible with the plugins on our list. For example, Divi integrates with plugins such as Rank Math, Active Campaign, and WPForms, just to name a few. If you need a robust theme that serves as a marketing powerhouse, Divi is the way to go.
Frequently Asked Questions (FAQs)
What is the best marketing plugin for WordPress?
WPForms is the best marketing plugin if you can only have one WordPress plugin for marketing. As simple as it sounds, we have some excellent rationale. Forms are often the most basic way to collect user information. You can easily segment leads with forms and use that information in your CRM or email marketing platform. Your sales teams can also use that essential information for inbound sales support, which can bring in many new customers.
What are the most common types of marketing plugins?
The most common types of marketing plugins are email marketing plugins, page builder plugins, and SEO plugins.
Rank Math
is a solid SEO plugin that helps your website get found in the search results of popular search engines. Page builder plugins help build effective websites and landing pages—
FunnelKit
is great for marketing funnels and
Divi
comes packed with marketing tools for use across whole websites.
How many installed plugins are too many for a WordPress site?
It would be best to only have as many as you actually need. Too many plugins increase the odds of a security vulnerability on your site that bad actors could exploit. Too many plugins can also slow down your website considerably. Pay attention to multi-purpose (or all-in-one) plugins that do multiple things. If you only use one of its features, find a smaller plugin that does just that one job. It would be best to keep your plugin count under ~20 plugins for your WordPress site. Also, consider using only the
best plugins
with reliable code and frequent updates.
Is WordPress good for marketing automation?
WordPress is one of the best website platforms for marketing automation. With abundant tools like
Bloom
,
WPForms
,
PublishPress
you can connect the important marketing functions of your website to external marketing platforms like
ActiveCampaign
,
Mailchimp
, or
TikTok
.
Are plugins free on WordPress?
Many plugins are completely free with WordPress. Many premium plugins are also available that get regular updates and security patches. Most premium plugins also have a free version with limited but useful features.
What's a WordPress plugin and why use them?
A WordPress plugin is a pre-built solution that solves a problem that can be added to a WordPress site by simply uploading it and activating it. Tens of thousands of plugins are available on the market today. They can do anything, like make your website run faster, increase SEO visibility, and even help you with marketing.
Featured Image Assets via Soifer and Vector Stock Pro / shutterstock.com