Podcasting is big business. Everyone and their uncle and their uncle's uncle has a podcast. The best way to succeed is for the right person at the right time to notice you. For a lot of people, that can mean showcasing your podcast on your website in a simple, non-intrusive way that invites and entices your audience to press that Play button. With these WordPress podcast plugins, we think you will have the best chance of that happening while enhancing your users' experience all around.
Why Would You Need a Podcast Plugin?
A podcast plugin can be a valuable asset for anyone looking to create and promote a podcast on their WordPress website. By simplifying the process of publishing podcasts, a podcast plugin can save time and effort for podcasters while improving the listening experience for their audience.
With a good podcast plugin, podcasters can easily create and schedule episodes, making it easier to keep their content organized and on schedule. In addition, many podcast plugins offer built-in social sharing tools, allowing podcasters to easily promote their content on popular social media platforms.
Moreover, podcast plugins often come with email opt-in forms, which enable podcasters to collect email addresses from their listeners and grow their email list. This can be a powerful tool for building and nurturing relationships with listeners and promoting new episodes.
The Best Podcast Plugins for WordPress
The Best WordPress Podcast Plugins Listed In Order
Expand List
To be ranked among the best, a podcast plugin should provide podcasters with the ability to easily and effectively create, publish, and promote their podcasts. Our top five podcast plugins offer a range of features, including customizable options, integrations, and analytics, among others. In addition to these features, we also considered factors such as reviews, longevity, and the number of installs when ranking these plugins.
So without delay, let's dive in.
1. Blubrry PowerPress

Blubrry PowerPress is probably the number one podcasting plugin for WordPress based on name recognition alone. On top of that, it is also one of the best WordPress podcasting plugins in terms of reliability and feature sets, as well as how easy it is to set it up. So in every way possible, PowerPress earns the top spot in our list. Whether you're a Blubrry paid member or just use their free membership, you can make use of this plugin, so don't worry if your podcasting budget is either nonexistent or if you're using a different host.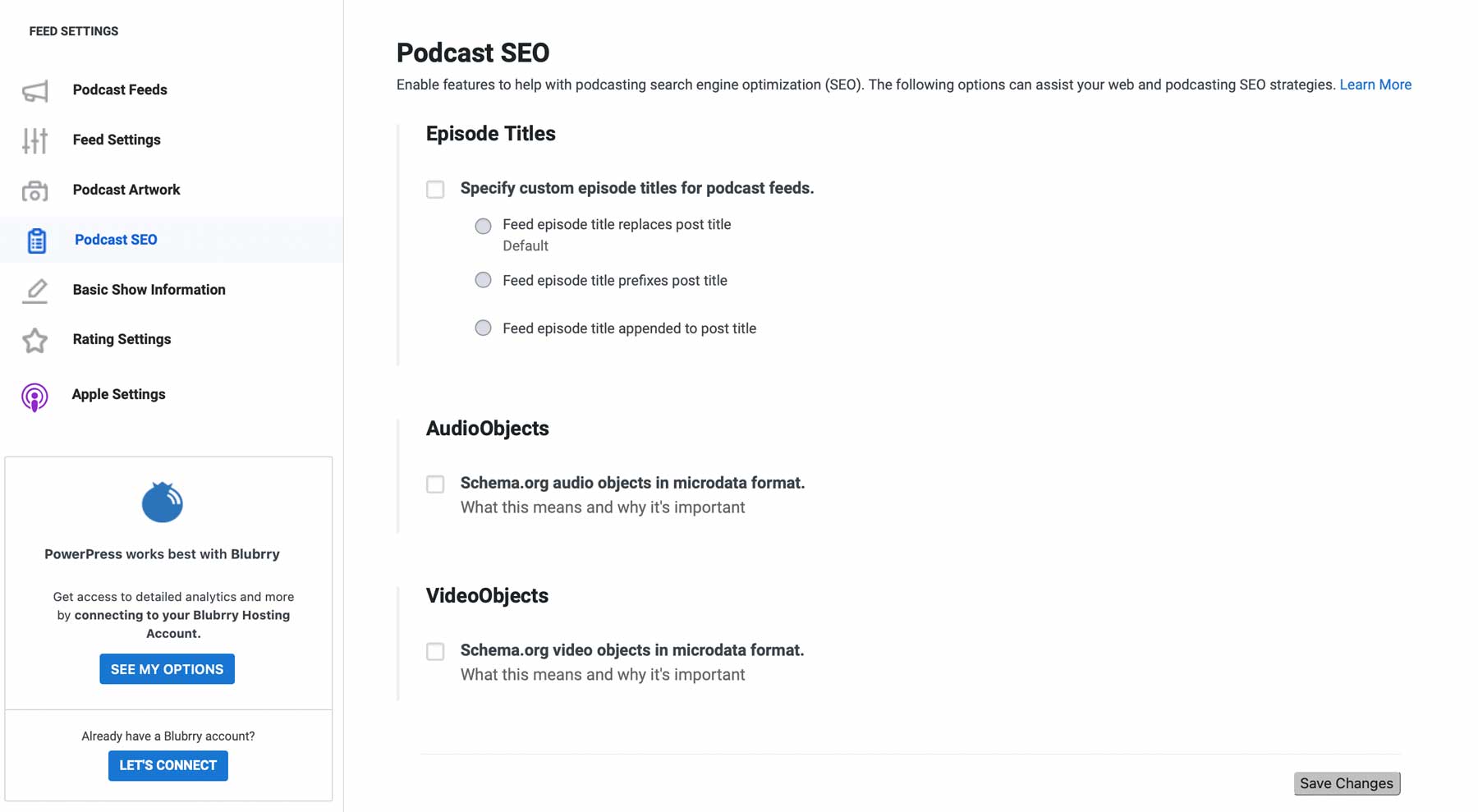 A major benefit to using PowerPress is the built-in SEO settings, where it sets up your podcast posts in much the same way that plugins like RankMath and Yoast SEO do for your typical WordPress posts. Blubrry PowerPress will handle your schema and adjust your RSS feed prefixes and episode metadata, meaning that listeners will be able to come across your podcast episodes and posts more easily via a search engine.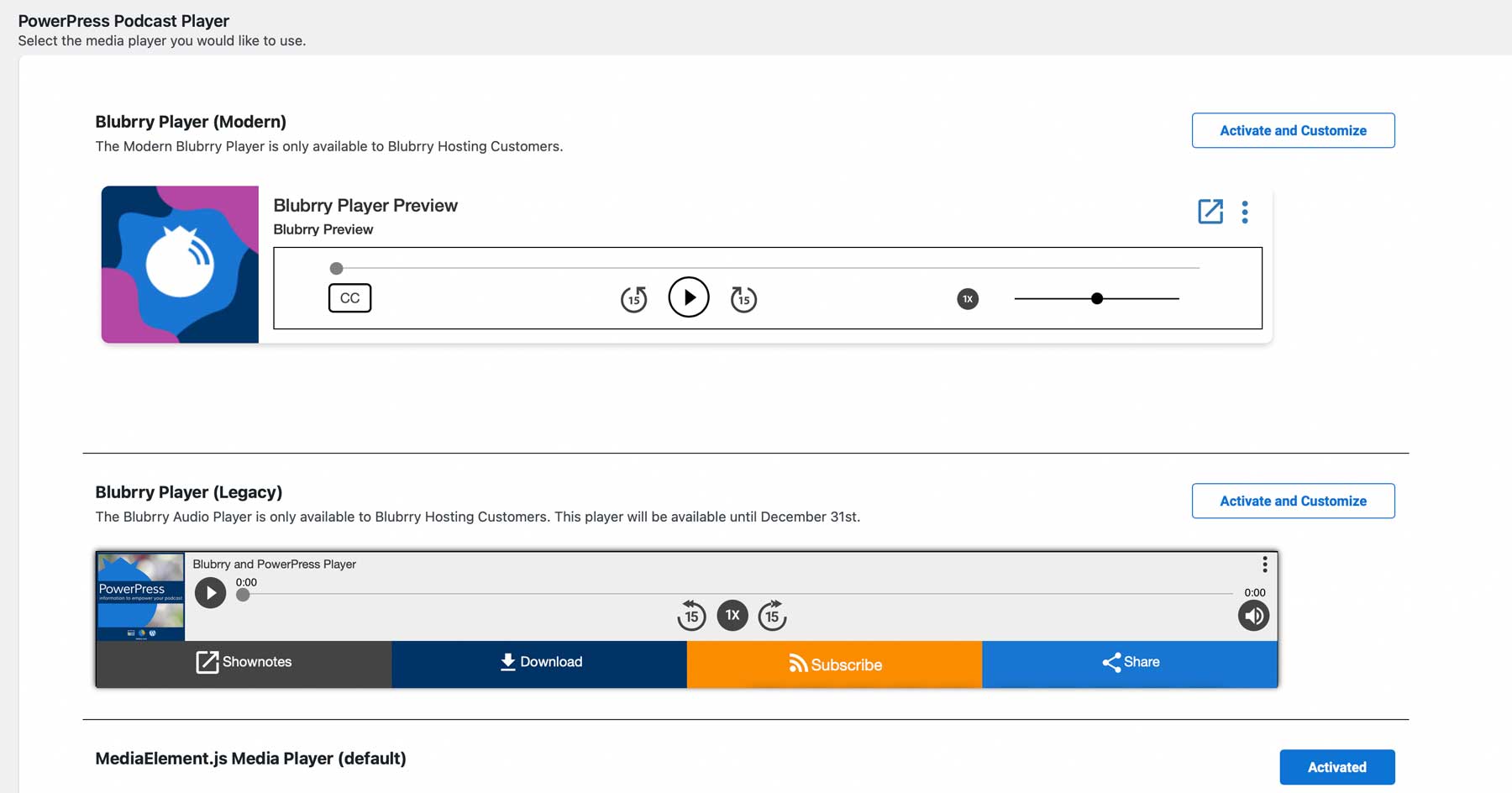 One of the major draws to PowerPress these days is its inclusion of multiple podcast players. Whether you use audio or video to deliver your podcast, this WordPress plugin has you covered. With their audio options, you can choose between a plain, no-frills player or a robust, rich player that lets users see your show notes, download the episode, and even subscribe to various services right on your WordPress site. In terms of video, PowerPress offers much, too. Whether you host the video locally on your server, on your Blubrry account, or even on YouTube, you can use their dedicated player to get your content out.
Key Features for Blubrry PowerPress:
Multiple player styles and options
Simple media import
Use with most podcast hosts, not just Blubrry
Great podcast SEO settings
Price: FREE, with premium plans starting at $10 per month (billed annually).
2. Fusebox Podcast Player
Formerly known as the Smart Podcast Player, Fusebox is the evolution of not only the player but also the business model. This is a premium plugin that you'll need to pay for to get the most features. You can use it for free in a limited capacity which is pretty perfect for smaller shows. The free version of the plugin allows for up to 10k listens for up to 3 different shows. So if you're not averaging more than that per month, you can get a lot of mileage out of the free version.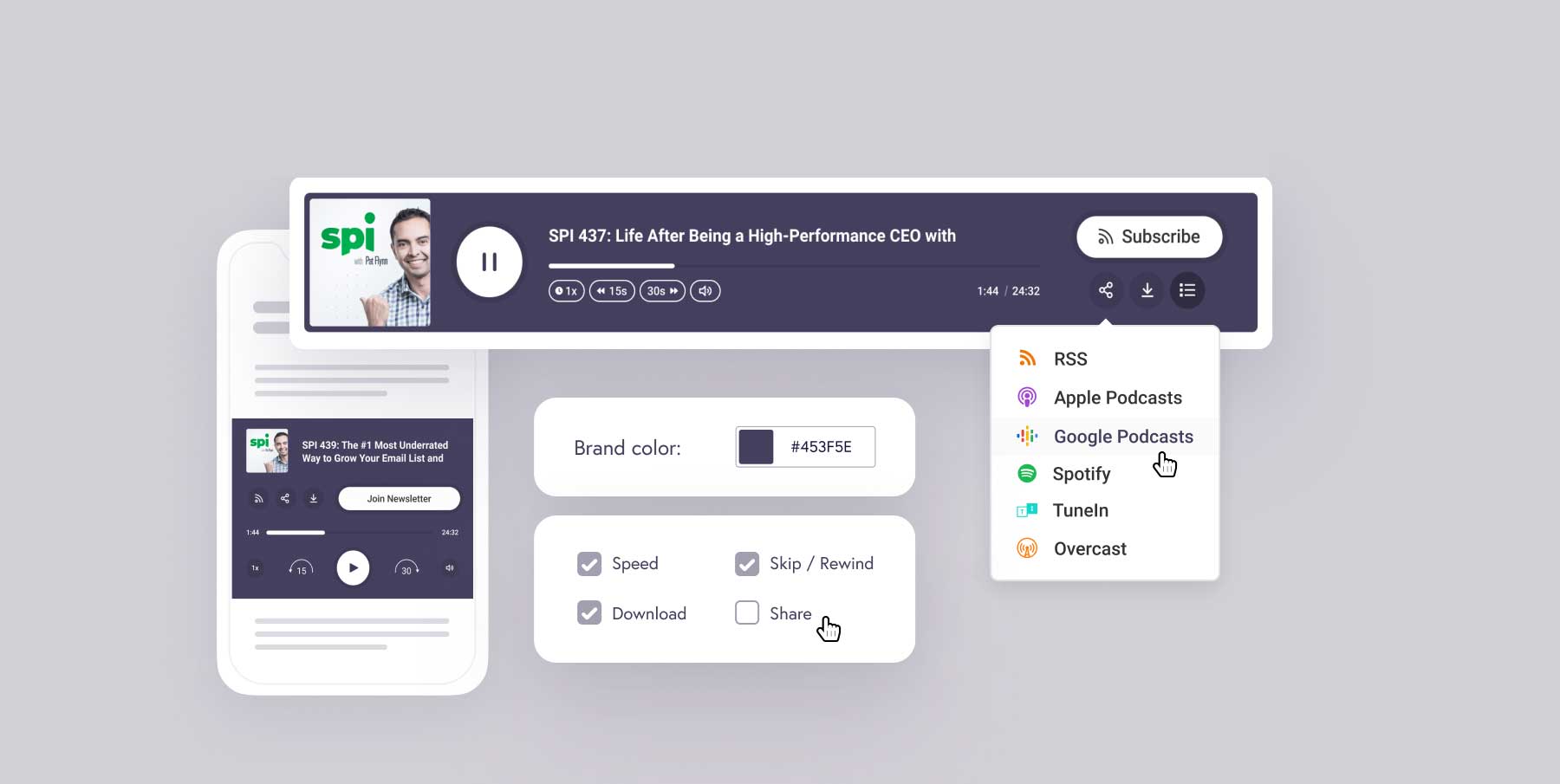 The best feature about using the Fusebox podcast plugin on your WordPress site is the enormous amount of customization that you get, even in the free version. You can choose brand colors, and the episode artwork, whether or not the listeners can download the episode, share it, or subscribe. You even get to choose if your listeners can speed up their listening (the answer is always yes).
Key Features for Fusebox Podcast Player:
up to 10k listens per month for up to 3 shows for free
up to 100k listens per show with premium
fully customizable player
sticky, archive, or individual track players available
fast-loading and visually striking
Price: FREE with premium upgrade starting at $7.50 per month (billed annually).
3. Seriously Simple Podcasting (Castos)

Deserving of its name, Seriously Simple Podcasting by Castos provides users with a no-nonsense way to post their podcasts to the public.
With the plugin, users can embed customizable audio players. You can access transcripts and statistics for the service with just a few clicks. Plus, you can set up different hosts for different posts (or guests), and while the podcast plugin works with any WordPress theme, Castos does have a Genesis extension to ease StudioPress users into usage.
Castos also offers one of the best podcast hosting platforms for audio and video for WordPress, designed to make any podcaster's life easier.
We also have a full rundown of the Seriously Simple Podcasting plugin if you're interested in seeing a more in-depth look at how it works.
Key Features for Seriously Simple Podcasting:
Complete control over podcast post categorization and descriptions
Can be used to podcast from your WordPress dashboard or simply let users listen there
Manage multiple podcast series and create multiple feeds using the plugin
Individual selection of where your podcast is distributed
Price: FREE, with premium licenses starting at $19 per month.
Get Seriously Simple Podcasting
4. SimplePodcastPress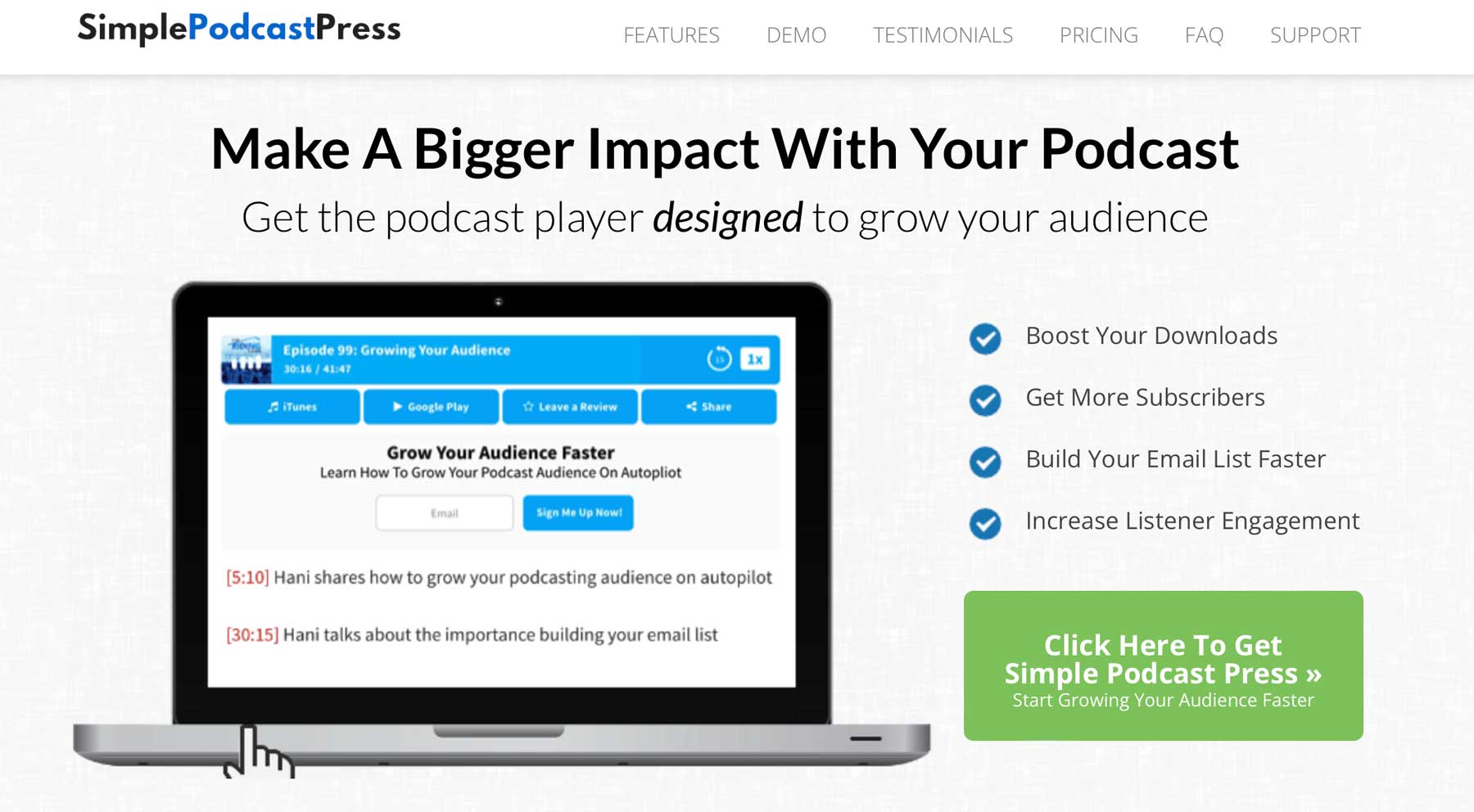 SimplePodcastPress is a premium podcasting solution for WordPress. While there isn't a free version of the plugin, you'll find that the features included are worth the cost. It comes with a customizable audio player that can be embedded in your website or blog post, allowing your listeners to listen to your podcast directly from your site.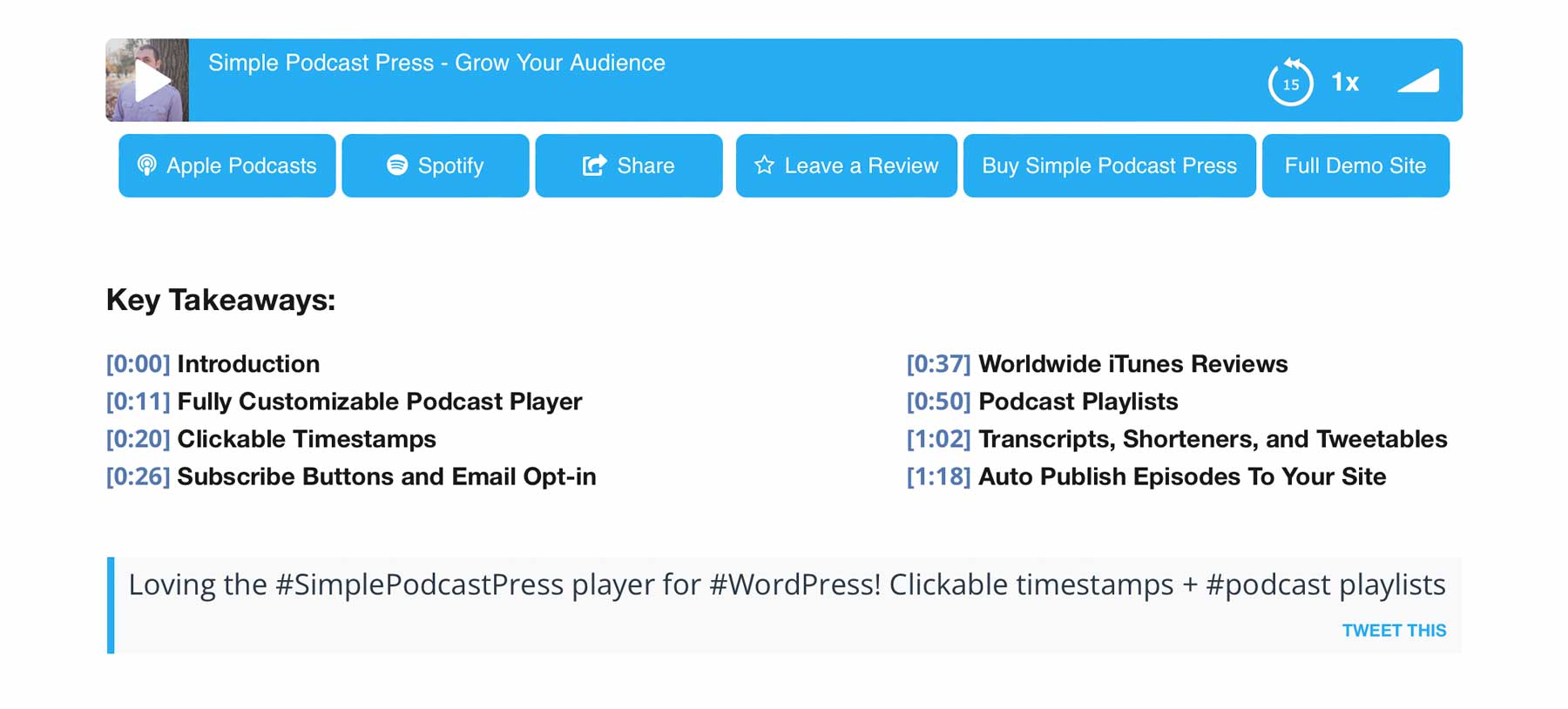 Plus, social sharing buttons make it easy for your listeners to share your podcast on social media platforms like Twitter and Facebook. Additionally, it provides a built-in email opt-in form that integrates with popular email providers and can be used to collect email addresses from your listeners. Another great feature is the ability to add timestamps to your podcast episodes, providing your listeners with a convenient way to jump to a desired point in your podcast.
Moreover, it provides detailed analytics and statistics about your podcast, including the number of plays and downloads, as well as engagement metrics like social shares and email opt-ins. It integrates with popular podcast hosting platforms like Libsyn, Blubrry, and Podbean, making it easy to manage and publish your podcast episodes directly from your WordPress site.
Key Features for SimplePodcastPress:
Display iTunes reviews on any page or sidebar
Clickable timestamps for easy audio navigation
Create playlists
Collapsible space-saving transcripts
Create Tweets from podcasts with one click
Email optin integration with MailChimp and other email providers
Custom styling to match your branding
Price: Premium licenses start at $67 per year.
5. Podlove Podcast Publisher

Podlove deserves all the pod love it can get. A delightfully simple plugin (or rather, plugins), Podlove can be used to publish your content or simply use their player to listen. The Podlove Publisher plugin is what you use to get your audio into your users' feeds. You can also use it to get your video there, too. The Publisher plugin comes bundled with the Web Player plugin, which is a clean and lightweight HTML5 player that you can use to display any feed content you want, no matter where it's hosted.

Podlove offers plenty of customization options. In the backend, you can go with any default options or you can head into Expert Settings and configure items like combining your blog and podcast feeds (on your site, that is). You can set podcast landing pages and decide on a permalink structure for your episodes. (And it can be different from your blogs!)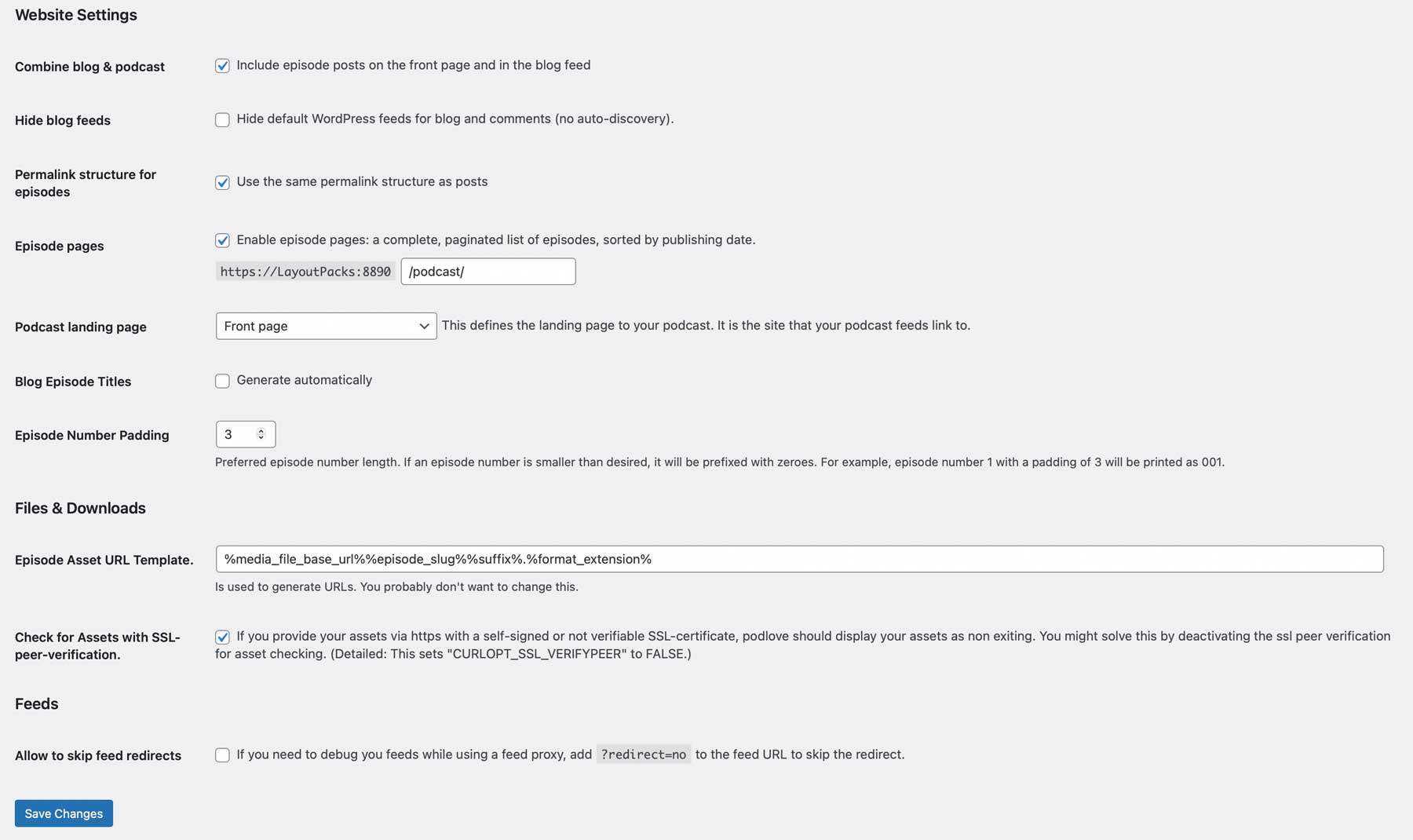 On top of that, the web player is compatible with the Gutenberg block editor, so no matter how you build your site, your podcast can be displayed anywhere.
Key Features for Podlove Podcast Publisher:
Gutenberg block editor integration
Use the web player separately from the publishing plugin
Player supports WebM, MP3, MP4, AAC, H.264, and more file formats for audio and video
Publish in multiple formats so your listeners and viewers get the content delivered in the way that works best for them
Price: FREE
Comparing All the Best Podcast Plugins
The podcasting industry is only going to continue to grow. If you have your own show (or shows), these podcasting plugins are definitely the top ways to integrate that content with your WordPress website. Whether you host and publish externally or right within your WP dashboard, we have an option for you.
Podcast Plugin Price Comparison
Let's take a look at the podcast plugins based on their price. We'll also highlight those that have free versions that you can download today:
Podcast Plugin Feature Comparison
Now, we'll look at the top three plugins for podcasting and what makes them the best of the best in our list:
🥇 Blubrry PowerPress

🥈 Fusebox Podcast Player

🥉 Seriously Simple Podcasting

Starting Price
$10/mo (billed annually)
$7.50/mo (billed annually)
$19/mo
Customizable Branding
✔️
✔️
❌
Multiple Player Styles and Layouts
✔️
✔️
✔️
Block Editor Integration
❌
✔️
✔️
Supports Multiple Audio File Formats
✔️
❌
✔️
Podcast Management from WordPress Dashboard
✔️
❌
✔️
SEO Friendly/Settings
✔️
✔️
✔️
Display Podcast Transcripts
❌
✔️
✔️
Subscription Tools to Grow Following
✔️
❌
✔️
Podcast Import/Export Tools
✔️
✔️
✔️
Multiple Podcast & Feeds
✔️
❌
✔️
Playlist Functionality
✔️
✔️
✔️
Active Installations
40,000+
N/A
30,000+
Community Rating
4.6/5
⭐⭐⭐⭐⭐
Read Reviews
N/A
4.7/5
⭐⭐⭐⭐
Read Reviews
Get Blubrry PowerPress
Get Fusebox Podcast Player
Get Seriously Simple Podcasting
What Is The Best WordPress Podcast Plugin?
As for our top pick, you can't get any better than Blubrry PowerPress. It's easy to install, set up, and customize, making it an excellent choice for beginners or those who do not want to spend a lot of time on the technical aspects of podcasting. Plus, easy to share your episodes with easy social media sharing options. If you're looking for some more recommendations on WordPress plugins, make sure to check out our ultimate list!
Frequently Asked Questions (FAQs)
Before we wrap up, let's answer some of your most common questions regarding the best WordPress podcast plugins. Did we miss one? Leave a question below, and we will respond!
What is the best podcast plugin for WordPress?
Blubrry PowerPress
is an excellent choice for those who want to get started with podcasting without worrying about the technical details. It offers easy installation and customizable branding, multiple player styles, SEO features, and multiple audio format support. Plus, its built-in social media sharing options and subscription tools will help you grow your following.
What is the best free podcast plugin for WordPress?
Among the numerous free podcast plugins available for WordPress,
Fusebox Podcast Player
stands out. Its free features include basic podcasting stats, media player styles, and up to 10K monthly listens for three shows making it an excellent choice for just starting out.
Is WordPress good for podcasting?
WordPress can be a good platform for hosting and promoting a podcast. Many podcasting plugins make it easy to upload and manage a podcast and integrate it with podcast directories and social media platforms to reach a wider audience. Also, WordPress provides customization options for creating a professional podcast website. Every podcast should have a website, too, so you get the best of both worlds.
What are the benefits of hosting podcasts on WordPress?
First off, hosting your own podcast will save money on platform charges. Furthermore, it allows for easy integration with existing podcast websites, customizable player options, and the ability to reach a wider audience through social media and SEO.
Can you embed podcasts in WordPress?
Yes, you can embed podcasts in WordPress, given the podcast platform allows you to embed its content. For example, to embed a Spotify podcast, simply open your podcast on Spotify web, click on the three dots beside the podcast or a specific episode, click share, and then embed the show or episode and copy-paste the code to your website. Most podcast plugins on our list will also make it easy to embed your own hosted podcast within your posts and pages.
Which podcast plugins are SEO friendly?
Blubrry PowerPress
lets you optimize your podcast posts to increase their visibility on search engines with built-in SEO settings that work similarly to other plugins like RankMath and Yoast SEO. It also handles your schema and RSS feed metadata, meaning your listeners can find your podcast episodes and posts without hassle.
What is a podcast?
A podcast is a digital audio file or series of audio files made available on the internet for streaming, typically on a regular or episodic basis. It is often a talk show or a discussion on a particular topic, and you can access it through various platforms such as Spotify, Apple Podcasts, or Google Podcasts.
How can I monetize my podcast?
There are several ways to monetize your podcast. Sponsorship, advertisement, merchandising, crowdfunding, paywalled content, and affiliate marketing are the most popular methods to monetize podcasts.
How can I promote my podcast?
Promoting a podcast can help you find a new audience and increase your yields. Some well-known ways to promote your podcast are social media, collaboration with other podcasters, email marketing, and paid advertising.
What are the best practices for hosting a podcast?
Selecting a trustworthy and fast hosting provider with generous storage, configuring a secure RSS feed, implementing a Content Delivery Network (CDN), and performing regular backups of your podcast website and associated files are among the best practices for optimal podcast hosting.
What is your favorite WordPress podcasting plugin?
Article featured image illustration by lenapolll / shutterstock.com