To be a thought leader is to be influential, and to be influential means all eyes are on you in your industry. And that's a pretty good place to be. But getting to that point means a lot of elbow grease. You have to be in touch with the movers and shakers in your industry and have access to the right resources to really make an impact. Luckily, if your site is built on WordPress, you have a slew of tools at your disposal to make the often grueling process of building a solid rep a little bit easier.
Follow the Rules of Credibility
Being a leader in your industry means having a long-standing reputation of credibility. But before you can start enjoying the sound of people singing your praises, you have to make sure your online presence is, in fact, credible.
According to a study conducted and published by the Stanford Persuasive Tech Lab — and distilled by Torque — there are three guidelines that relate directly to building more credible and transparent websites:
Show that there's a real organization behind your site.

Highlight the expertise in your organization, and in the content and services you provide.

Show that honest and trustworthy people stand behind your site.
Unfortunately, a lot of sites out there don't do any of these things and instead convey a standoffish vibe. They focus on selling and spend very little energy on showing who's behind the site or who their products or services are even meant for. It's cold, impersonal, and ineffective.
It's fairly easy to get your site on the right track, however. All you need to do is put a real human face with your brand. Torque says you can accomplish this in three ways:
Making contact information for the company easily accessible.

Showing credentials, degrees, and awards of employees or the company.

Having a company "about us" page that has a picture and short bio of each employee.
One way to tick off the first two suggestions here is to make full use of the sidebar in your WordPress theme — assuming you have one, that is. Take the Basic Theme, as an example:
The sidebar features a prominent "About Me" section, which gives you the prime opportunity to show off a photo of yourself and a brief writeup describing who you are, what you've done, and why people should listen to what you have to say. And it's all right there above-the-fold. Credibility established in a split second.
Be an Active Contributor to Your Niche
Don't just publish often, publish well. That is, gone are the days where publishing a so-so 300-word blog post every day is going to be your ticket to success. In fact, it's a much better idea to publish just once a week if it means you're really going to say something worthwhile.
High-quality content is everything. Seriously. You need it. And you need to make sure that content is on-topic and relevant to your niche. Basically, you need to offer industry insights and a perspective no one's thought of before to really stand out in your field.
I'm not going to lie and tell you that's an easy thing to accomplish, but it's still something you should strive for if you want to be a true thought leader. A good way to contribute and share your thoughts is to use the basic blogging features of WordPress to write posts.
But a post with all text will be a bit bland and won't attract the kind of attention you can. You can spice up your posts by including relevant images or galleries, however. You might even want to try out a plugin like WP Inject, which helps you find and insert Creative Commons images sourced from Flickr and Pixabay without having to navigate away from the WordPress dashboard.
This goes back to the credibility issue discussed earlier, but it really merits its own section. Authorship has become a key factor in building thought leadership. Getting credit for your work is imperative. I mean, how else are you going to build this awesome reputation as someone to listen to in your industry if no one knows that killer article you wrote was written by you?
Your first step is to set up Google authorship. It requires a little bit of linking and inserting code on your site — no big deal. The idea here is to connect your Google+ profile to the content you produce all across the web. Make this connection and your articles will appear with a byline in the search results. And if you just so happen to be in the searcher's G+ circles, your photo will appear as well.
You should also use an author plugin. I'm sure you've seen them before. They insert a nicely style box beneath a blog post that displays the author's name, photo, social accounts, and a brief bio. There's absolutely no doubting then who wrote what and this does wonders for building your reputation. A few plugins you might want to check out include:
Fancier Author Box by ThematoSoup. Straightforward, simple, and totally eye-catching. This plugin is easy to set up and lets you display your bio in a prominent yet non-intrusive way. It also offers automatic Google Authorship verification and plenty of spots to link to your social accounts.
WP About Author. This is a really quick way to set up author bios on your site, since it pulls directly from user profiles. You can select from quite a few color options to match your theme, too.
Author Box After Posts. Another simple option that lets you display a bio, custom avatar (rather than the Gravatar), and up to 10 social links.
All of this setup comes in particularly handy when you write often — and not just one your own WordPress site — or you manage a multi-author blog. When you guest blog on other sites, having authorship established will mean your byline will appear in the search results for those pieces, too, even though they're not published on your own site. And if the blog you're guest writing for uses an author box as well, you'll need to make sure you have your Gravatar set up through WordPress. This will make certain that your author photo and bio appears below your guest posts, further solidifying your status as a valued industry expert.
Feature Compelling Calls-to-Action
Being a thought leader means having something worthwhile to say. But it also often means having something worthwhile to promote or sell. To get the word out right, you need to employ a call-to-action whenever appropriate.
Where and how frequently you display a CTA depends on your industry and what you're selling, of course. But you can find good examples everywhere. Take this email signup CTA from Content Marketing Institute:
It's simple and effective. And note how it encourages signups with not only updates but also with a free download. Influencers know that giving something away for free captures attention and demonstrates a belief in their products, services, and thoughts.
You can implement something similar on your own site using a call-to-action plugin like WordPress Calls to Action or Scroll Triggered Boxes, which pop up when a visitor has scrolled down to a specific point on your site.
Or you may find integrated CTAs into the body of your content a better way to go. A small button or banner strategically placed within a post will prompt a visitor to sign up to your newsletter or complete some other task while they are in the midst of enjoying what you have to say. Why wait until they've reached the end when they're more likely to click away, right?
Most newsletter platforms like MailChimp, Constant Contact, and iContact offer WordPress plugins to make building your list easier.
Encourage Discussion
The best thought leaders across every industry embrace discussion. Comments are an absolute must on your blog as they act as your opportunity to invite feedback from your audience. This feedback is invaluable. Not every comment is going to be, "You're so amazing!" but you will find that many people will offer insights you haven't thought of. You'll find that engaging in discussion with your readers helps you to grow closer to your audience and come up with even more things to write about in future posts.
It's the discussion that makes a website a living, breathing thing, and WordPress lets you take part in this in a straightforward way. The built-in comment system is pretty great. Just make sure you have Akismet enabled and that should do most of the spam filtering for you. If you want a comment system that offers greater customization, you might want to try something like Disqus or CommentLuv, which allow for greater control over how comments appear and how discussions are handled. Also, dig into these commenting plugins for WordPress to see what else is available..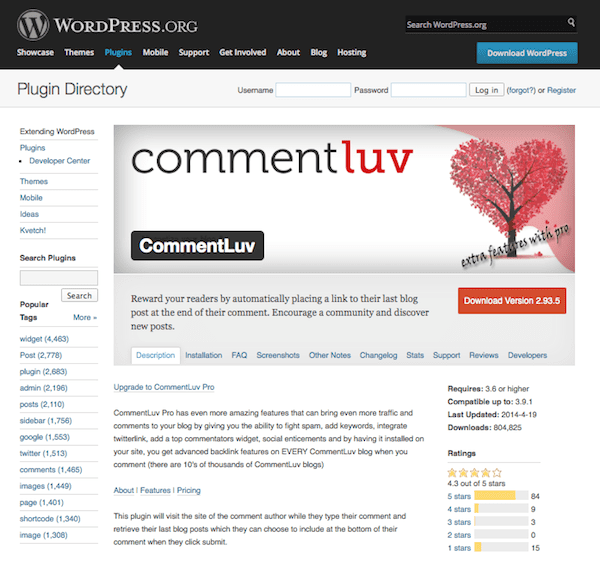 Threaded comments and replies, email notifications, subscribe and RSS, comment aggregation and social mentions, along with expanded moderation are just some of the features these plugins offer.
One of the biggest components of being a thought leader is being an active member of social media. By and large, this is where your target audience spends their time so it would be beneficial to you to put in some face time there as well.
I'm not just talking about sharing your latest blog posts and calling it a day. Rather, you need to be an active member of the online community. This means reaching out to other industry leaders and engaging with them in the discussion. It means answering questions when asked and soliciting responses from your followers on a particular topic.
WordPress can be incredibly helpful in facilitating this. Of course it's a good idea to have Jetpack installed so you can use its nifty Publicize module. This lets you automatically share your blog posts across the social networks you specify. It can even include custom text if you want.
But you should also use an attractive and useful social sharing plugin to let site visitors easily share your content on their social networks. A few I really like include:
Monarch Social Sharing – It's hard to beat Monarch, our very own social sharing plugin for WordPress. It looks great and works wonderfully for all WordPress sites.
Digg Digg. Made by Buffer, this social sharing plugin adds a floating share bar that can be customized to feature the sharing buttons for just about every social network and social bookmarking site out there right now.
ShareThis. Social sharing buttons and social analytics all rolled up into one. Highly versatile and practical for just about any WordPress site.
Shareholic. This one's a little different than the rest listed here in that it lets visitors find content to share on social bookmarking sites. It can really help expand the reach of your content.
Making it as simple as possible for your readers to share your content is the mark of someone who knows what they're doing.
Conclusion
Attaining thought leadership is a real achievement. And it's not easy. But by using the tools that are available to you in WordPress, you can make your platform and related plugins do some of the heavy lifting for you. So why not take advantage?
Article thumbnail image by Dooder / shutterstock.com