Comments remain one of the primary forms of user engagement on most blogs. Giving your readers an opportunity to share their thoughts and opinions can help them feel more invested in your brand and build community. However, it also opens the door to spam, trolls, and other unsavory characters. Which means it's important to actively manage your blog's comments. And beyond that, you can choose to alter or optimize your comments section from the WordPress default in order to encourage the types of interaction you want to see. That's where this list of the best comment plugins for WordPress can help.
A quality comment solution will provide advanced moderation functionality and user identification features. It may also help improve the User Experience (UX) of your comments section to make participation enjoyable for readers. In this post, we've curated a list of nine top tools for you to consider.
Let's dive in!
Why You May Need a Comments Plugin for Your Website
WordPress is used to build many types of websites, but it's still incredibly popular for blogs and similar projects. If you want to create a strong readership or community of any sort, WordPress is an excellent choice.
One of the reasons for this is the platform's built-in comments system. By default, you can enable user discussion for any post or page on your site. Visitors can leave their thoughts, ask questions, and interact with both you and one another. This is a great way to drive engagement and keep readers coming back.
However, the default comments system is fairly simple. There are a few settings to tweak, but if you want full control over the way comments operate on your website, you may find those basic options lacking. You might want readers to be able to log in and comment through third-party platforms, for example, or you may desire social features such as "likes".
Whatever the reason, there are plenty of ways to give your WordPress site's comments system more depth and flexibility (and also protect against spam comments). In the following sections, we'll introduce you to some of our favorite tools.
9 Best Comment Plugins for WordPress
The nine plugins below offer a wide variety of different improvements to your WordPress comments. We've selected them based on their diversity of features, as well as their reviews, ratings, and popularity. We've also made sure to choose plugins that are frequently updated by their developers, so you can feel confident that they won't negatively impact your site.
1. Jetpack Comments

First up, Jetpack is a multipurpose plugin that can help with your site's security, performance, and more. It also includes several discussion settings that you can configure to enhance your posts' comments sections.
To turn on these features, you'll need to navigate to Jetpack > Settings > Discussion: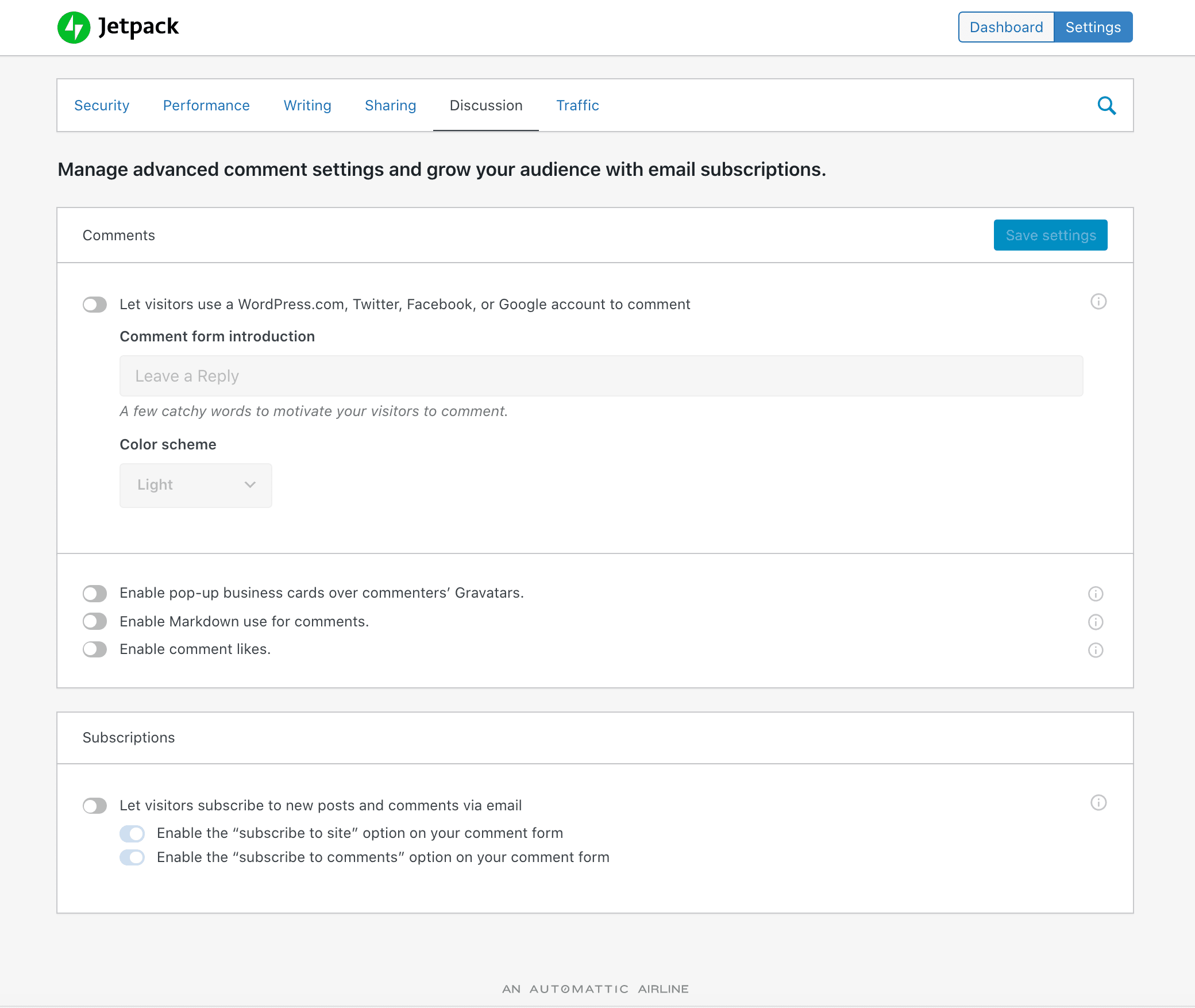 Key Features:
Enable users to comment using a WordPress.com, Facebook, or Google account
Add pop-up business cards for users' Gravatars
Turn on Markdown for comments
Let users "like" comments
Set up comment subscriptions
Jetpack Comments is for you if…
…you want a multi-featured solution for managing comments along with other key areas like security and performance.
Price: Free, with premium versions starting at $5.97 per month | More Information
2. Akismet

One of the best-known comment plugins for WordPress is Akismet, an anti-spam tool. It helps moderate your comments by using machine learning to identify low-quality submissions and delete them automatically.
You can improve the plugin's accuracy by marking comments in the moderation queue as spam. Over time, Akismet will start to pick up on recurring elements that indicate a comment is spam, and will start moving them to the trash without requiring you to interfere: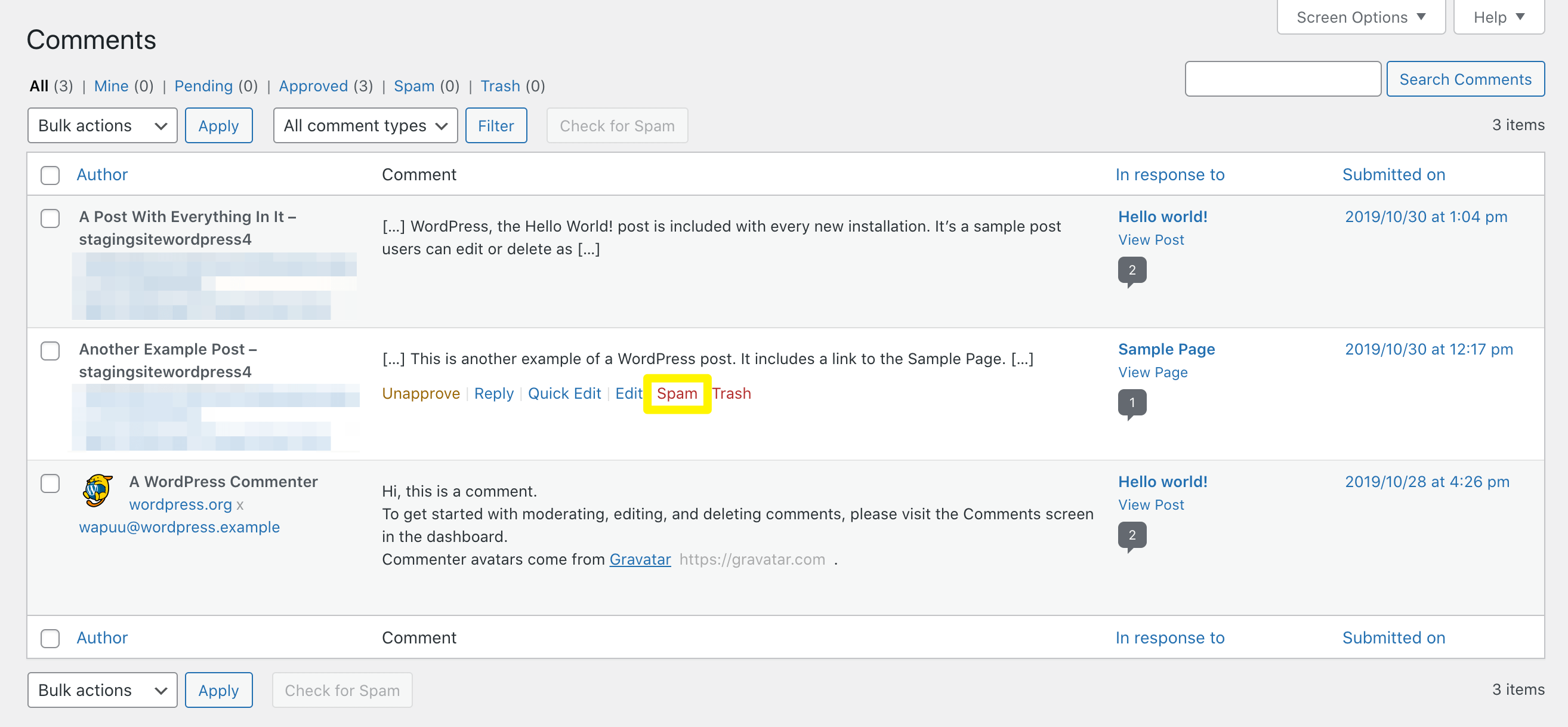 Key Features:
View each comment's status history
Show links in the comment body so you can remove suspicious ones
See the number of approved comments for each user
Discard the worst comments so they don't take up space in your database
Akismet is for you if…
…you'd like a largely automated way to moderate comments efficiently on your website.
Price: Free, with premium versions starting at $10 per month | More Information
3. WordPress Comments Import & Export

At times, you may need to import or export comments on your WordPress site. For example, if you have multiple blogs and want to move a post from one site to another, you might want to migrate its existing comments along with it. Alternatively, if you're making changes to your site in a staging environment, your live site will likely continue accruing comments while you're working.
WordPress Comments Import & Export provides a solution to these problems, and is simple to use. It provides a sample CSV file to help you format your comments properly, and straightforward and user-friendly options on its settings page: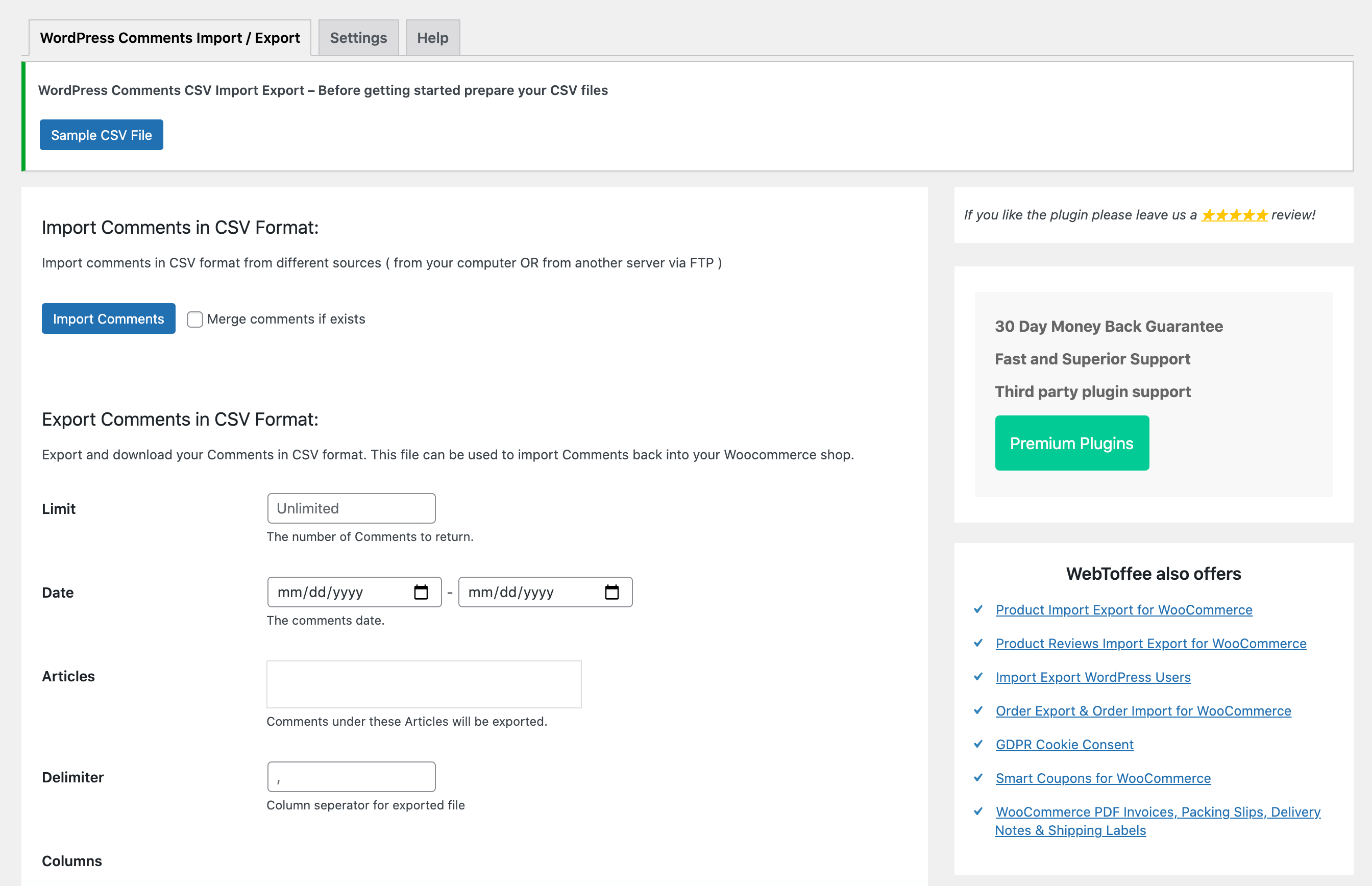 If at any point you're unsure how to proceed, you can click on the Help tab to access the plugin's documentation.
Key Features:
Filter comments for export by date or title
Import and export WooCommerce product comments
Schedule automatic comment imports and exports
Merge identical imported and existing comments to prevent duplicates
WordPress Comments Import & Export is for you if…
…you want to migrate comments from one site to another.
Price: Free | More Information
4. Disable Comments

Next up we have Disable Comments, which lets you turn off comments on your WordPress site. Although this is technically possible via the default WordPress Discussion Settings, this plugin gives you more control over the process.
In addition to turning off commenting for certain post types, it will remove all the related settings from the back end of your site: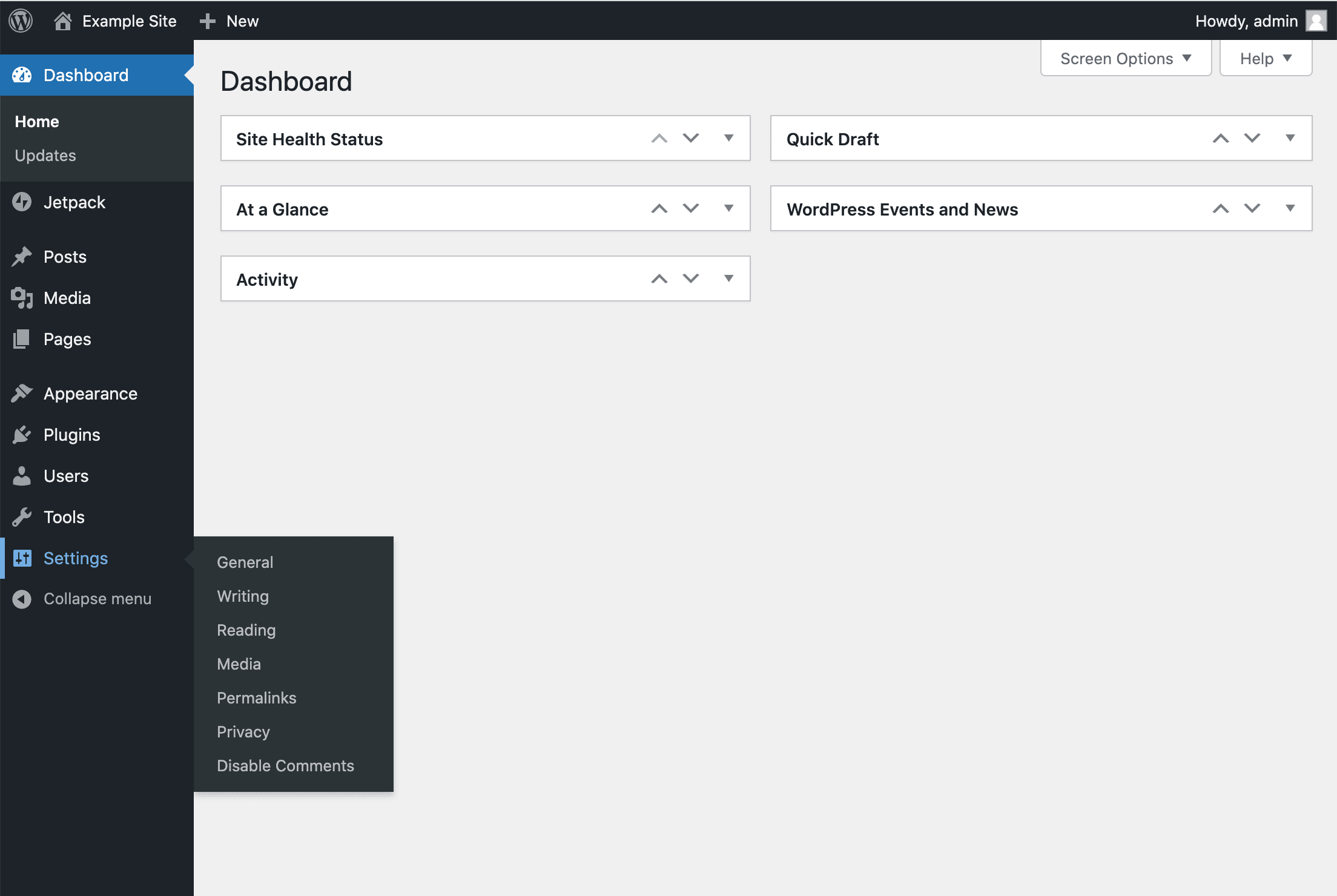 It's important to note that you should delete any existing comments on your site before activating the Disable Comments plugin. Depending on your theme, existing discussions may continue to be visible on the front end even if you turn off commenting for your entire site.
Key Features:
Remove comment-related widgets from your site
Disable comment RSS feeds
Delete the X-Pingback HTTP header from your site
Turn off outgoing pingbacks
Disable Comments is for you if…
…you want to completely remove comments functionality from WordPress.
Price: Free | More Information
5. Fancy Comments

Along with blog comments, social media is another key channel through which you can drive engagement. With Fancy Comments, you can bring these two strategies together by pulling Facebook comments into your blog: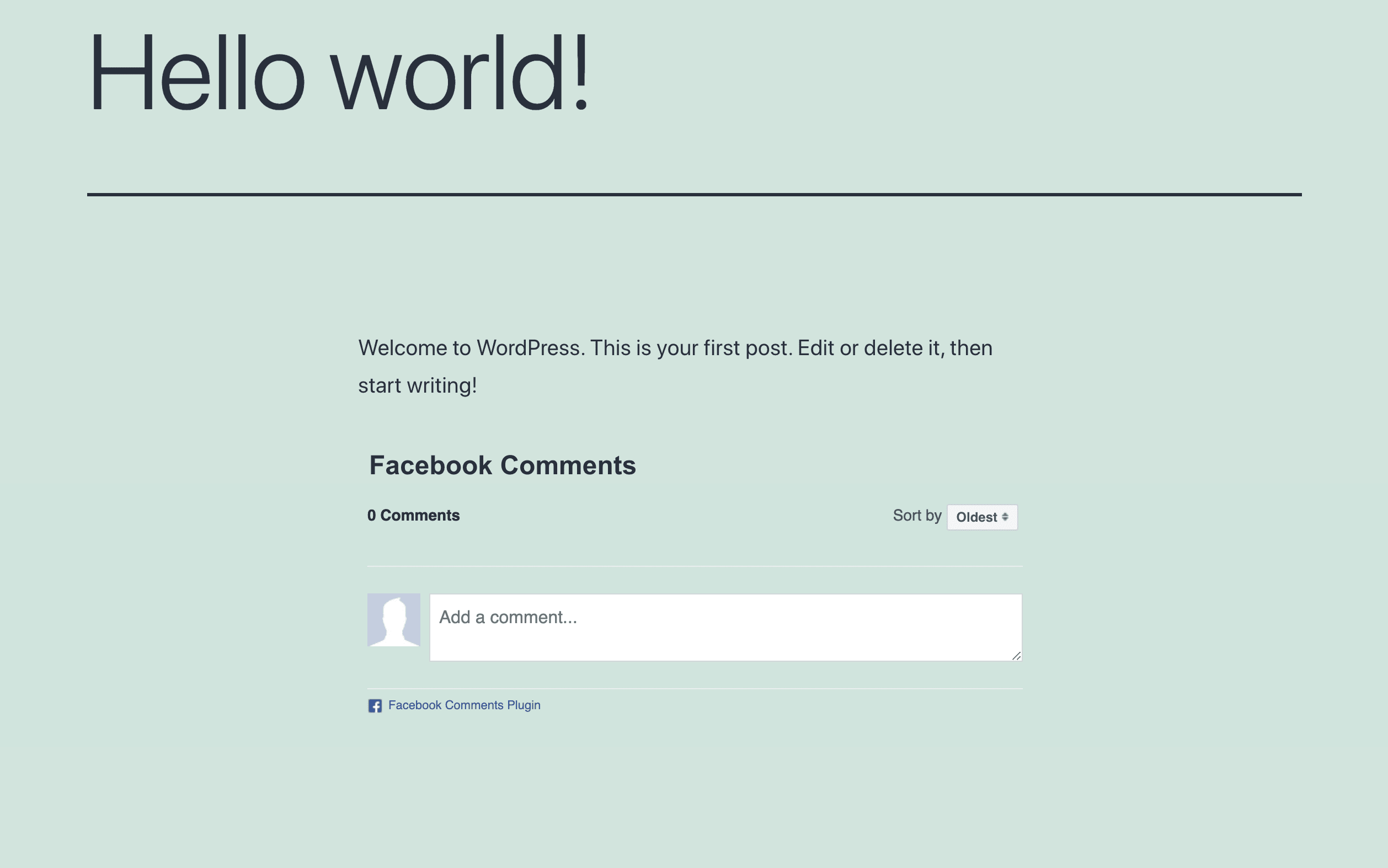 Users will be able to leave comments by logging into their Facebook accounts. You can post their comments to your profile's timeline as well as on your site, in order to drive traffic from Facebook and vice versa.
Key Features:
General Data Protection Regulation (GDPR) compliance
Facebook comments widget and shortcode to display comments anywhere on your site
Comment sorting
Option to choose which posts, pages, and custom post types feature Facebook comments
Compatibility with WooCommerce, BuddyPress, and bbPress
Fancy Comments is for you if…
…you'd like to promote cross-engagement between your comments sections and Facebook.
Price: Free, with a premium version starting at $11.99 | More Information
6. Subscribe to Comments Reloaded

If you've ever left a question for an author in a blog post comment, you know the frustration of having to check back periodically to see if you've received an answer. You can eliminate this problem for your readers by enabling comment subscriptions using Subscribe to Comments Reloaded.
Users can sign up to receive email notifications whenever new comments are posted. On the back end, you can completely customize the message they'll receive: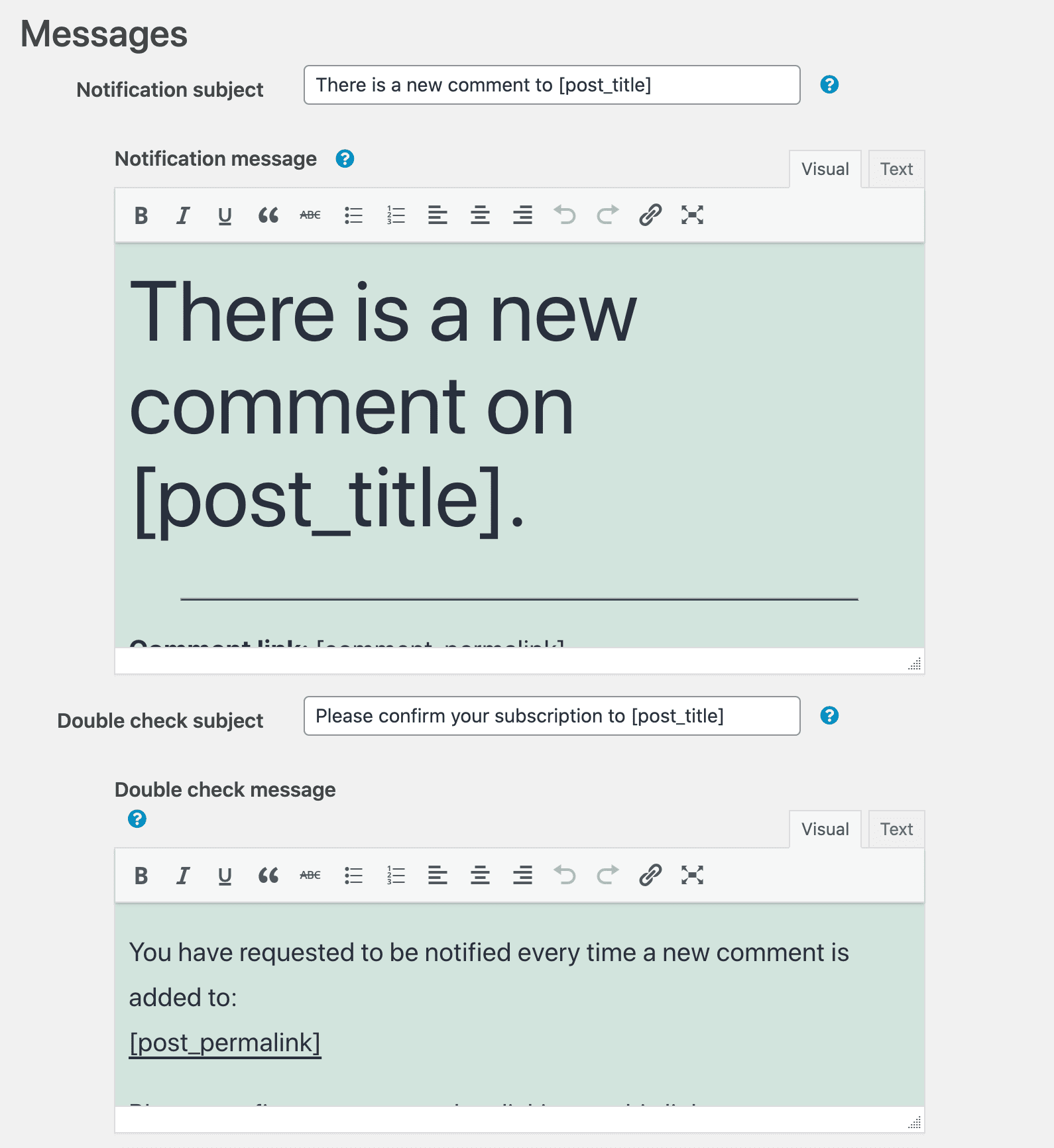 Key Features:
Turn off comment subscriptions for specific content
Enable users to suspend notifications for one post or all content
Show a subscription confirmation message so you don't spam users' inboxes
Enable subscriptions to all comments or replies only
Subscribe to Comments Reloaded is for you if…
…you're looking to offer a more user-friendly comments experience for users.
Price: Free | More Information
7. Comment Link Remove and Other Comment Tools

As you may already know, one of the trademark characteristics of spam comments is irrelevant links. In addition to lowering the quality of your comments sections and making your site appear less professional, these URLs may lead users to malicious sites where they could become victims of cybersecurity attacks.
The primary purpose of the Comment Link Remove and Other Comment Tools plugin is to eliminate the risk that spam links pose to your readers. First, it removes the Website field from the comment submission form: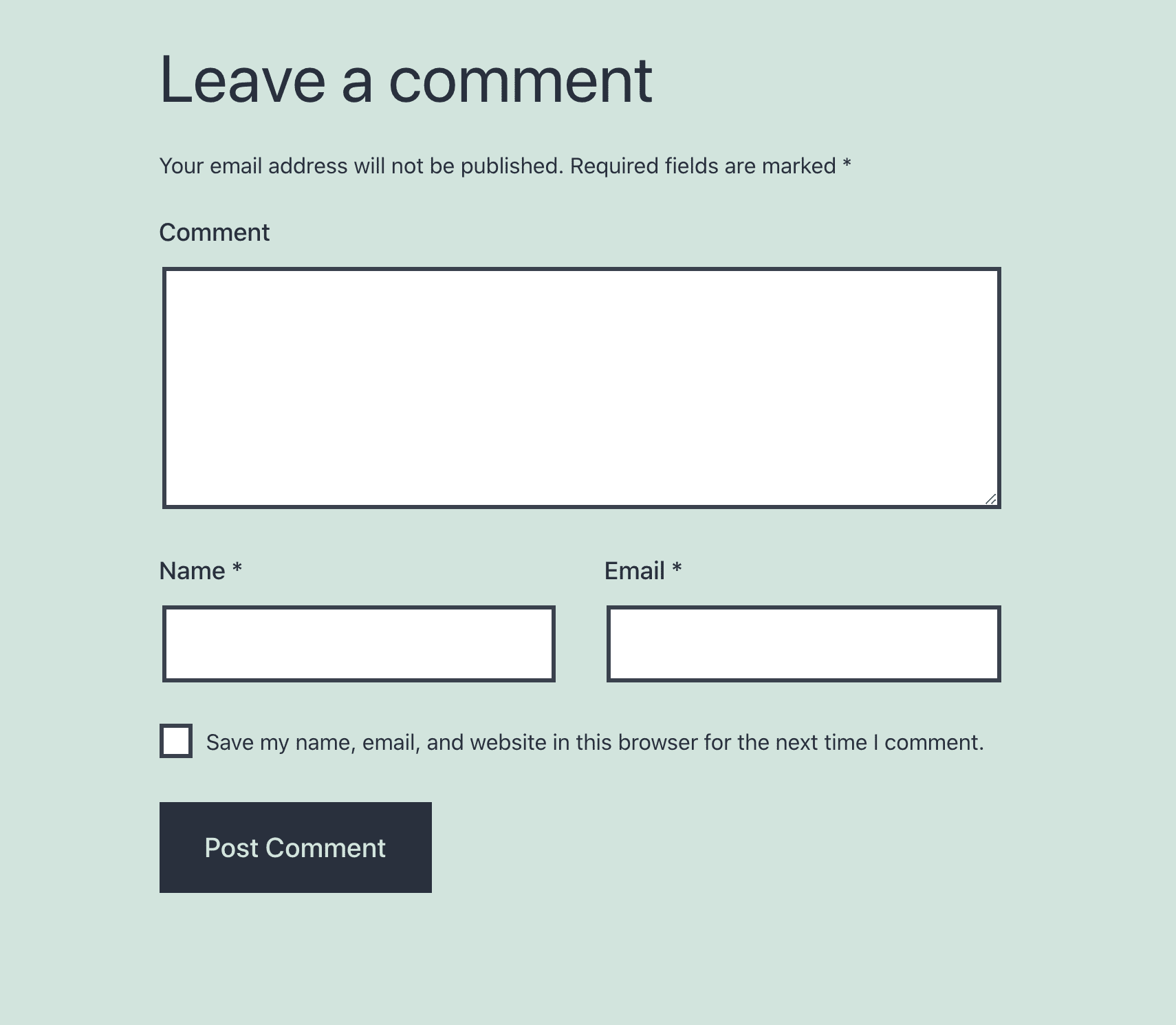 It also disables the Author link, and prevents any URLs entered in the comment body from becoming hyperlinks:

Key Features:
Disable comments across your site
Hide existing comments
Delete multiple comments from the moderation queue with one click
Display post update dates
Comment Link Remove and Other Comment Tools is for you if…
…you'd like some simple and creative features for reducing spam in your comments sections.
Price: Free, with a premium version starting at $14 per year | More Information
8. wpDiscuz

If you want to drive engagement on your blog, it's important to make the process as easy and enjoyable as possible for your readers. With wpDiscuz, you can completely customize the native commenting system in WordPress to improve its UX for you and your visitors.
One of the most notable features of this plugin is the comment form layouts it provides:
It also enables inline commenting, which can be useful for long-form content that covers several subtopics: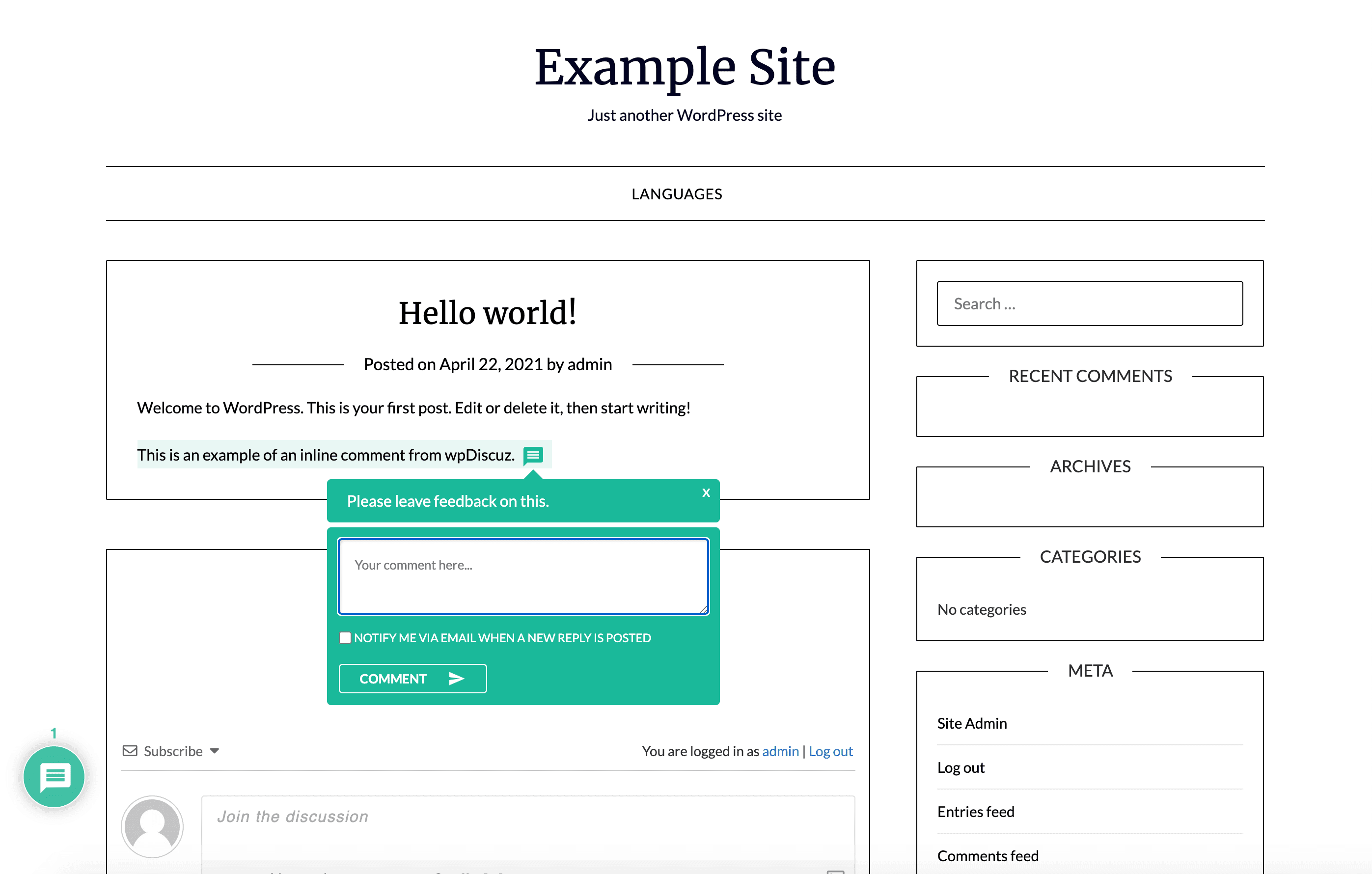 Key Features:
Social commenting and social login
Real-time comment updates
Five-star article rating system
Read more buttons for long comments, and View replies buttons for comment threads
Author notifications and comment subscriptions
Smart comment voting system with cookie tracking
wpDiscuz is for you if…
…you want a fully customized commenting experience.
Price: Free with premium add-ons | More Information
9. WP Discourse

Finally, the last of our best comment plugins for WordPress is WP Discourse. Discourse is a third-party discussion platform that you can integrate with your website.
Discourse is primarily a forum-style discussion platform. It's open source, so you can download and install it on your own server, or purchase a hosting plan if you would prefer not to deal with the technical aspects of using it.
You can publish your WordPress posts to Discourse to facilitate community interaction there, and also display Discourse forum comments on your site. This gives users multiple ways to engage with your content. Plus, you may pick up some new readers by featuring your blog posts in multiple locations.
To help you manage all this, the WP Discourse plugin provides advanced comments settings for you to configure: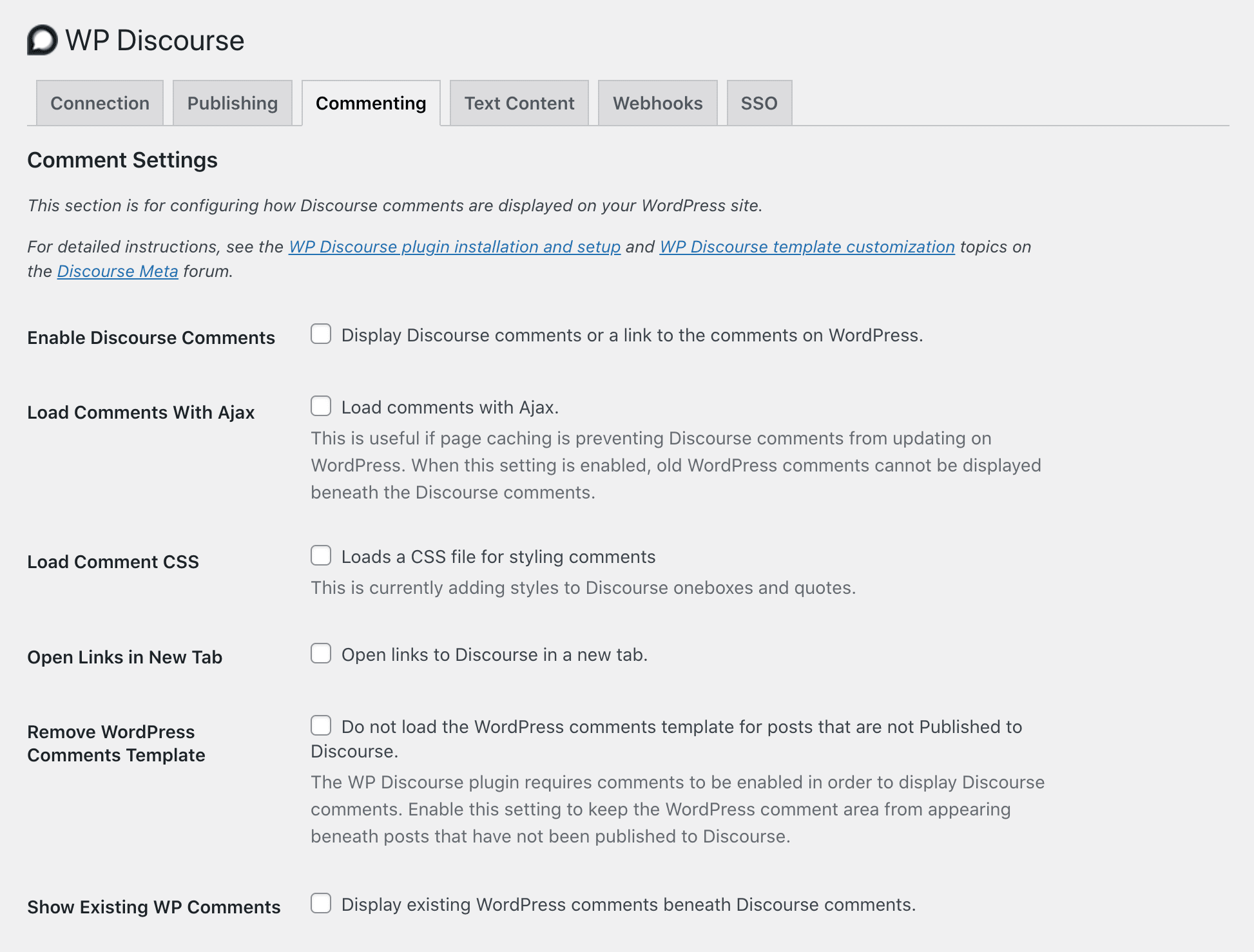 Just keep in mind that the plugin only connects your site to Discourse. You still have to install the software yourself or pay to have it hosted for you.
Key Features:
Automatically publish WordPress content to Discourse
Sync author accounts between WordPress and Discourse
Embed forum discussions in your blog posts
Log in to Discourse via WordPress using Single Sign On (SSO)
WP Discourse is for you if…
…you'd like to offer your users a more forum-like comment experience.
Price: The plugin is free, while you can self-host Discourse or pay for a hosting plan starting at $100 per month | More Information
Conclusion
Whether you're looking to gain more control over your WordPress comments settings or you want to integrate your site with a community platform, there's a plugin that can help. With the right tool, you can boost user engagement and prevent unruly spam.
In this post, we reviewed nine of the best comment plugins for WordPress. For spam protection, you can try Akismet or Comment Link Remove. Subscribe to Comments Reloaded will keep users apprised of new posts. To integrate your site with a popular third-party discussion platform, WP Discourse is a solid pick.
Do you have any questions about which comment plugin to use on your WordPress site? Ask away in the comments section below!
Featured Image via Julia Tim / shutterstock.com
Disclosure: If you purchase something after clicking links in the post, we may receive a commission. This helps us keep the free content and great resources flowing. Thank you for the support!