If you're a marketer, you're aware that marketing covers a wide range of tasks, platforms, and content types. The sheer scope of work involved in marketing can easily balloon, and many of us find ourselves scrambling to get everything done from one week to the next. Luckily, there are a number of AI marketing tools available that can help lighten the load.
There are AI tools for almost every marketing need, including social media scheduling, AI copywriting and rewriting, audio transcription and ad management. Whether you need to streamline your marketing processes or skyrocket your ROI, you can leverage AI to boost your business.
Ready to check out a few of the best AI marketing tools available today?
Let's dive in.
Best AI Marketing Tools
1. Lately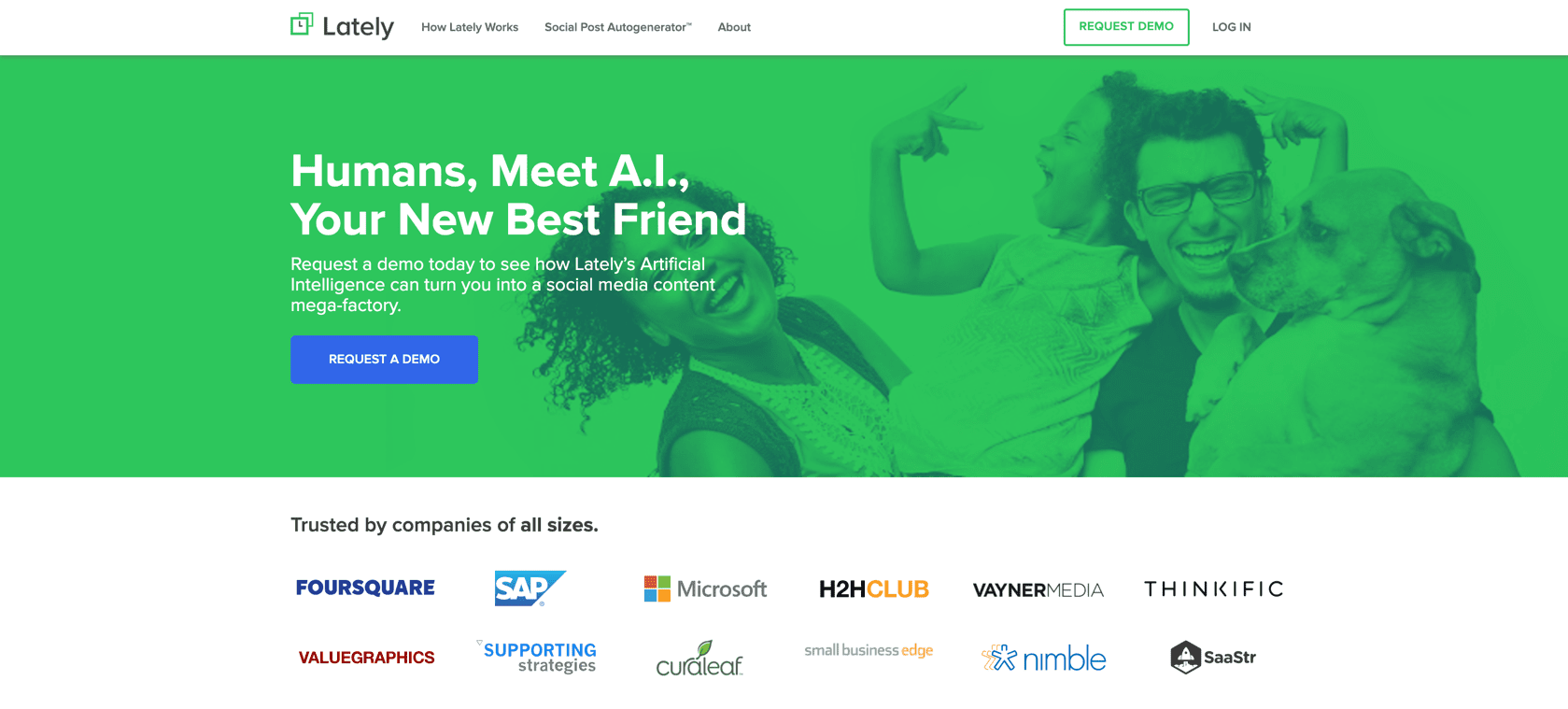 Lately is an end-to-end social media marketing dashboard created to assist marketers with repurposing their content and scheduling social media posts. This AI marketing tool allows users to import long-form content, then uses that content to generate dozens of shareable social media posts.
It's equipped with a powerful marketing calendar and can publish content to multiple social media platforms for you. After you generate shareable content, you can save it in Lately's content library for easy access and re-use.
Why Use Lately? If you spend any amount of time working on social media marketing, you know the workload can be time-consuming. Lately promises to significantly streamline your social media scheduling, boost productivity, boost traffic, and expand your reach.
Price: Starts at $49.00 per month, per dashboard | More Information
2. Atomic Reach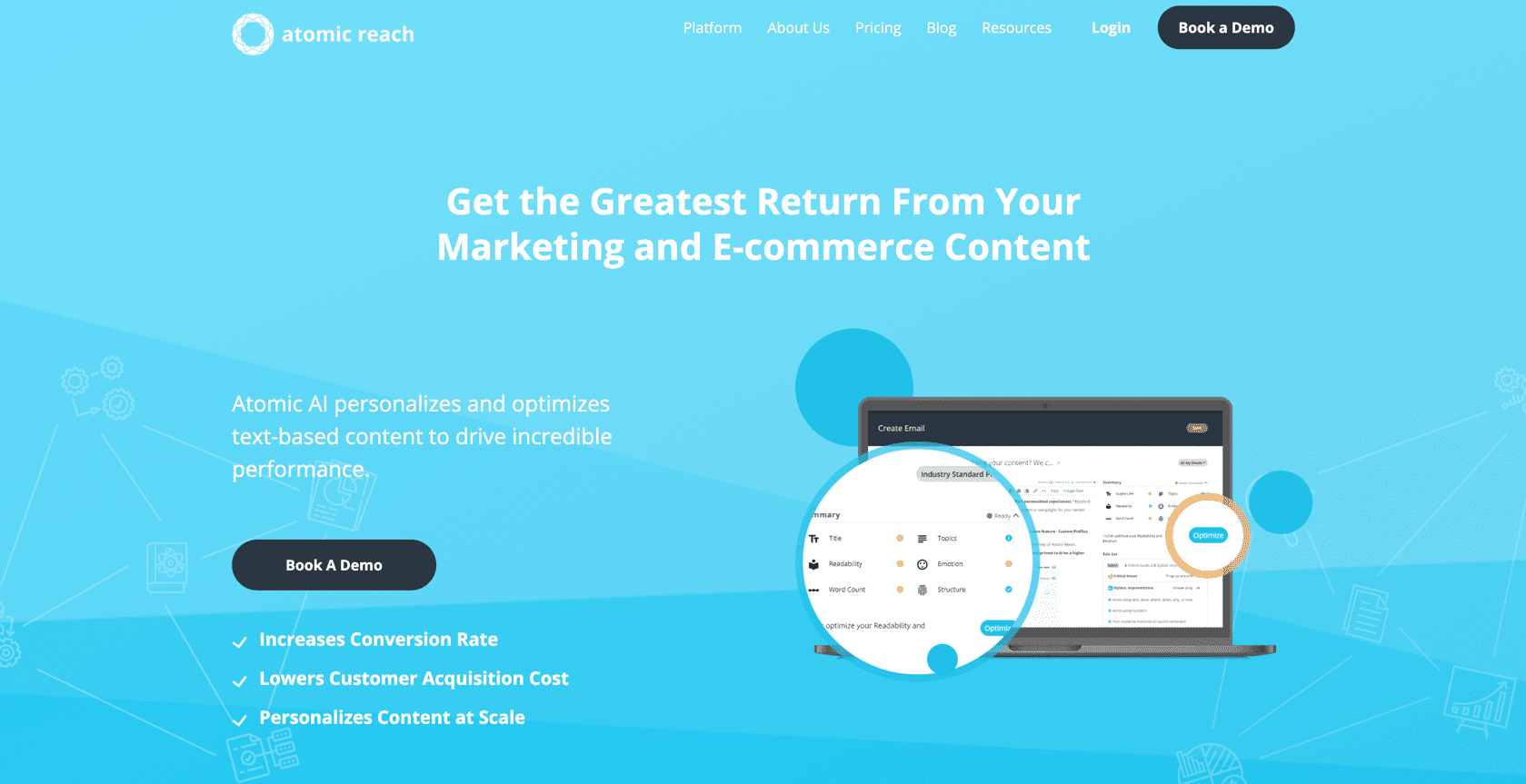 Atomic Reach is one of the best AI marketing tools designed to optimize your content, including blog posts, product descriptions, and email marketing copy. This tool analyzes your target audience's communication and conversion habits, then helps you adjust your content for readability and emotional tone.
Atomic Reach is particularly well-suited to agencies and e-commerce brands. It easily integrates with WordPress, Google Analytics, HubSpot, MailChimp, and more.
Why Use Atomic Reach? Atomic Reach could be a great tool for matching customer tone and boosting conversion rates and sales in the process. If you're part of an agency with a wide client base, or if you run an e-commerce business, this tool could be particularly useful in helping you optimize and adjust copy across a variety of brand voices and product pages.
Price: Starts at $599.00 per month | More Information
3. Grammarly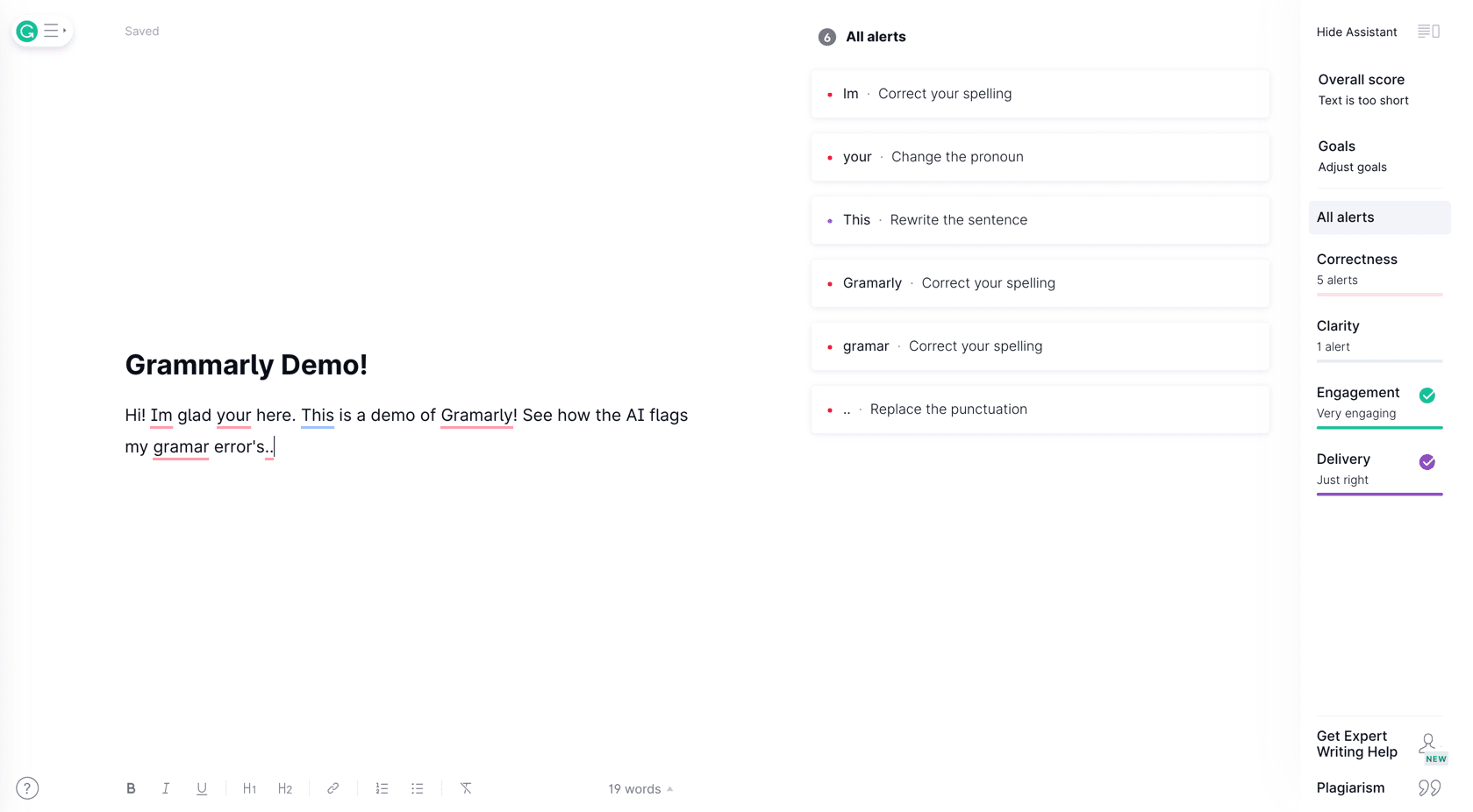 Grammarly is one of my favorite AI marketing tools. It's a copy editing platform where users can import their text, check it for grammatical errors, and make corrections to strengthen their copy. Users also have the option of paying extra to get help from a human proofreader.
In addition to its powerful grammar-checking abilities, Grammarly has a plagiarism checker available for paid users. It's handy for double-checking your work to ensure originality.
Why Use Grammarly? Grammarly serves as a great "extra set of eyes" if you need a quick review of your copy. While it doesn't replace a human proofreader, it can help strong writers polish their work before submitting or publishing it.
Price: $11.66 per month (billed annually) with a limited, free option | More Information
4. Otter.ai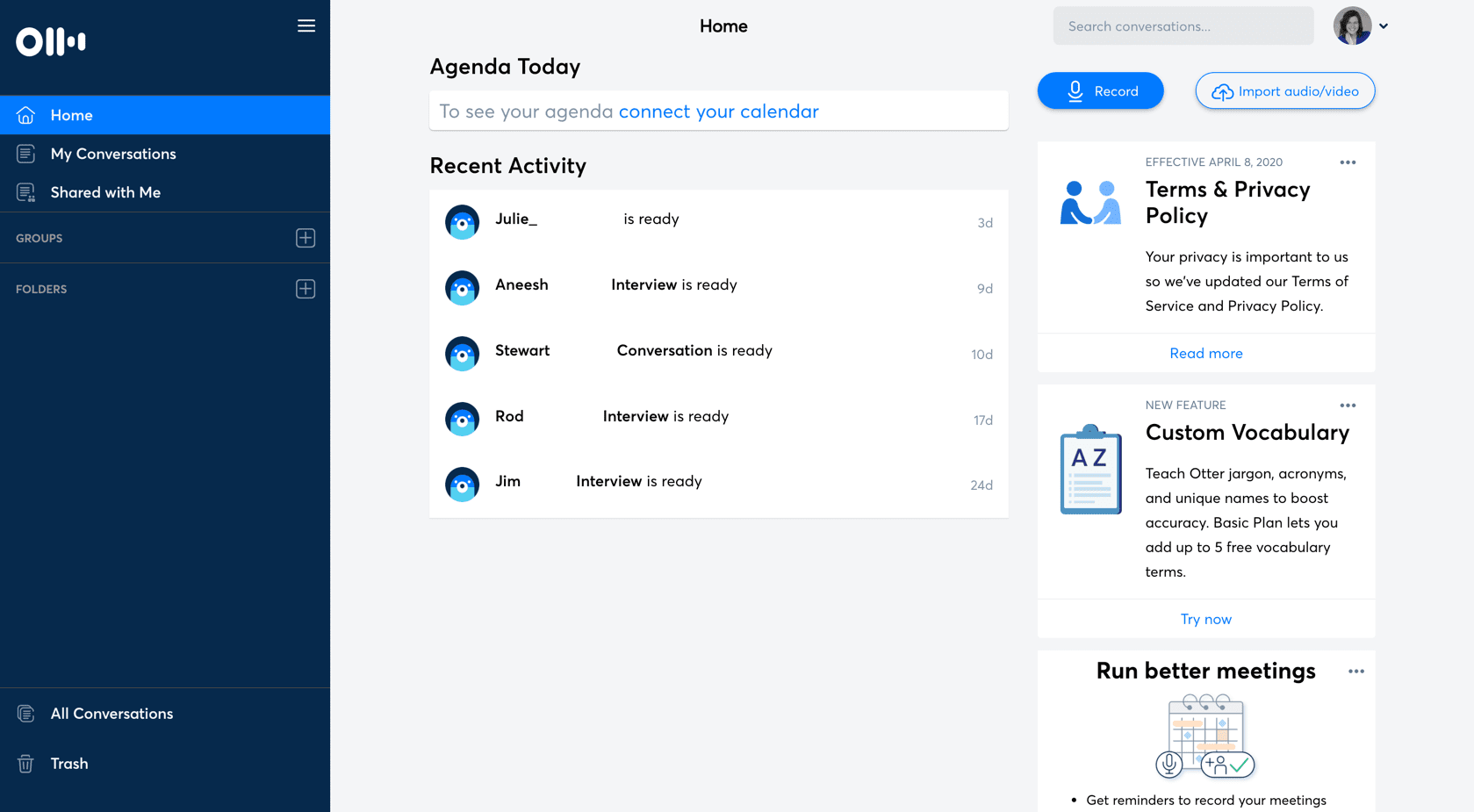 Otter.ai is another of the best AI marketing tools I use on a weekly basis, and it's excellent for marketers who need voice notes from client calls or transcripts from audio or video recordings. This tool allows for real-time voice recording and transcription. It also allows users to upload audio or video files for transcription.
While Otter's AI-generated transcripts still require light to moderate editing, the ability to generate a text transcript using AI is an incredible time-saver. It cuts out the need to transcribe meetings, calls, and recordings manually–which saves an enormous amount of time.
Why Use Otter.ai? If you regularly transcribe calls and meetings as part of your business–or if you repurpose audio content into text as part of your content marketing strategy–give Otter.ai a try. You can get up to 600 minutes of audio per month for free before upgrading to a paid plan.
Price: $8.33 per month (billed annually), free up to 600 minutes per month | More Information
5. Designhill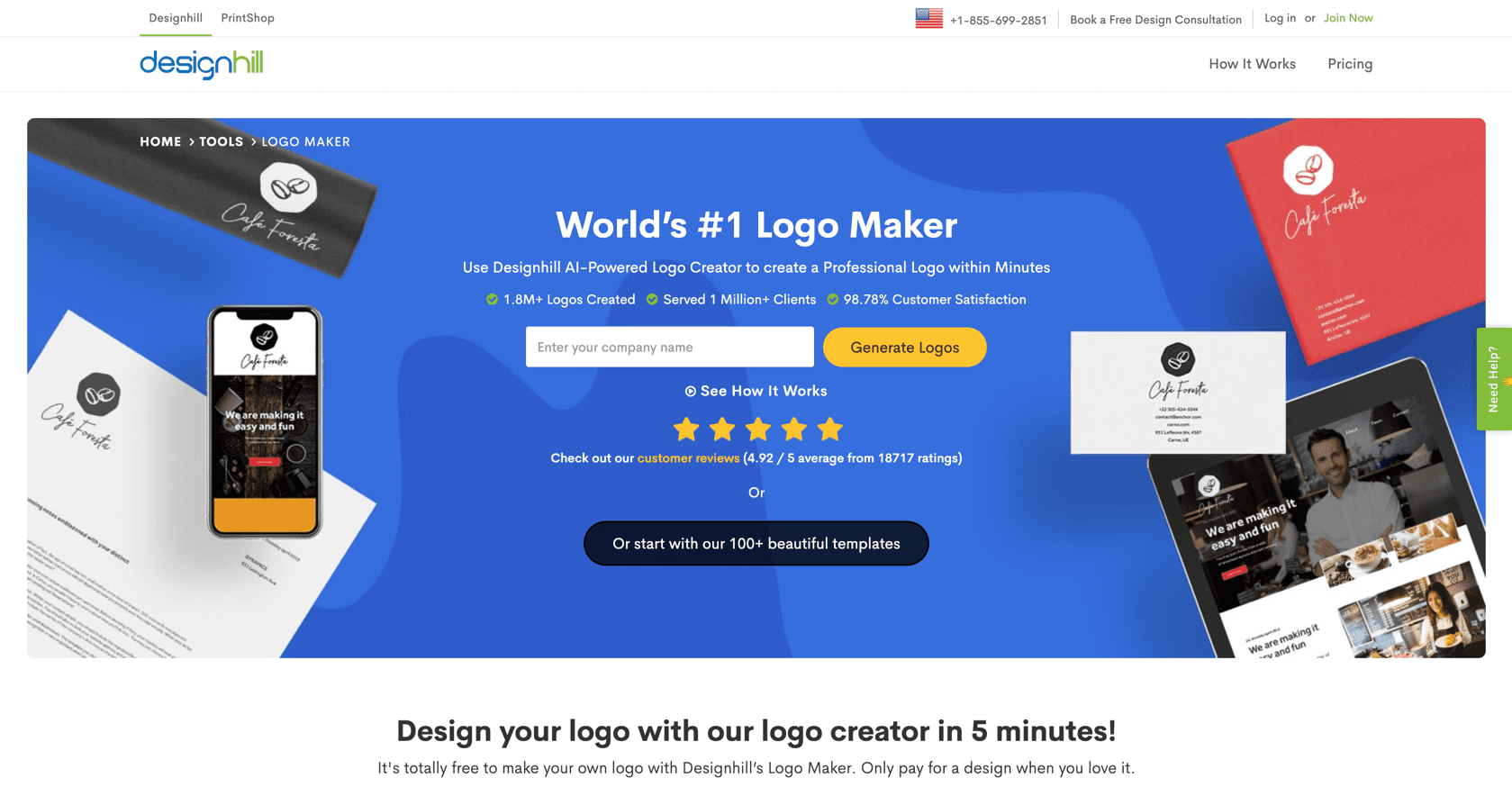 Designhill is an AI-powered tool that helps you create an original logo for your brand for a flat fee. The tool features a logo generator that helps you choose the design elements you love, then provides you an assortment of variations on your design preferences. Once you've chosen your logo and paid, you can instantly download your ready-to-use logo files.
Why Use Designhill? This tool is excellent for marketers who are on a budget and crunched for time. If you're looking to revamp your visual brand, Designhill is an excellent option.
Price: Starts at $20.00 per logo | More Information
6. Revealbot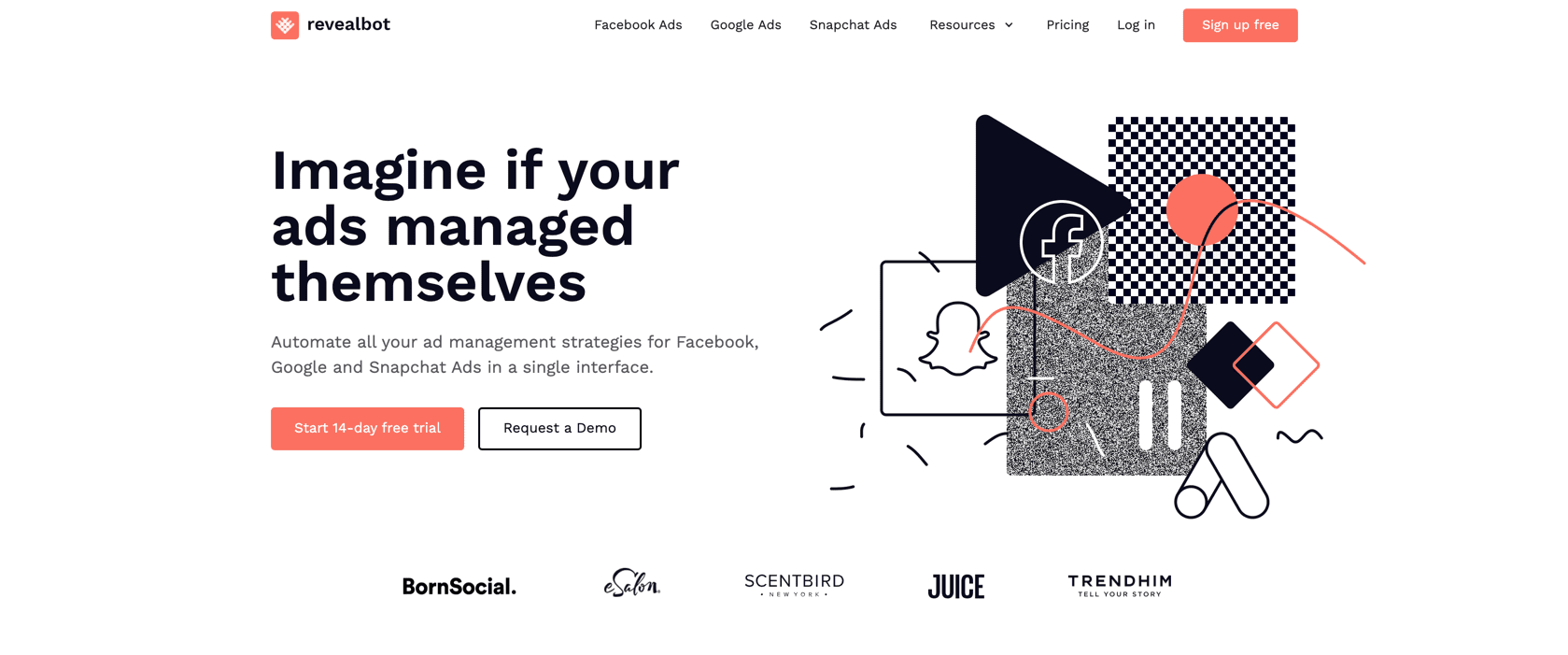 Revealbot is one of several AI marketing tools that helps marketers manage their ad campaigns. This particular tool allows users to automate ad strategies for Google, Facebook, and Snapchat all from one interface.
Revealbot monitors and compares metrics among ad campaigns, automatically boosts top-performing posts, and gives users the option to bulk-generate multiple ads at once. The tool also makes it easy to A/B test ad options and cut down on workflow time.
Why Use Revealbot? Marketers, agencies, and brands who want to decrease the time they spend managing ads could benefit from a tool like Revealbot. Ad automation tools may also help to significantly increase your ROI on ad spend.
Price: $83.00 per month (billed annually) based on $10,000 maximum annual ad spend | More Information
Conclusion
Selecting the right mix of the best AI marketing tools will help you cut down on time, increase your ROI, raise your conversion rate, and ultimately boost your business.
Let's review the six tools we shared:
What are the best AI marketing tools you use in your business? Let us know in the comments!
Featured image via dealita / shutterstock.com
Disclosure: If you purchase something after clicking links in the post, we may receive a commission. This helps us keep the free content and great resources flowing. Thank you for the support!