In today's digital landscape, driving consistent traffic to your website can be a daunting task. However, ranking at the top of search engine results pages (SERPs) can be a game-changer, allowing you to attract qualified visitors, increase sales, and establish yourself as an authority. To achieve this, you need the best Search Engine Optimization (SEO) tools at your disposal.
In this article, we'll cover the best SEO tools available today, both free and paid, and explain how you can use them to grow your organic traffic.
Why is SEO so Important?
Search is the leading lead-generation tactic for the whole web. 68% of online experiences start with a query in a search engine. That outpaces organic social, social ads, and email marketing combined!
That is why SEO is more important than ever before. But getting to the top of the SERPs is no small feat. And your competitors are probably already using SEO tools, making this a more pressing need. But before you start choosing tools, you need to know how they work together because no one SEO tool does it all. Especially if you use free SEO tools, you will have some coverage gaps in your data gathering and workflows that you'll need to fill with other tools—eventually.
How SEO Tools Can Help
SEO is a vast ocean of terms, tools, and techniques. Getting comfortable with all the basics takes a lot of immersion. Thankfully, using the right SEO tools can make it much easier to implement fundamental and advanced SEO techniques into your overall strategy.
With these tools, you can execute an effective SEO strategy that will cover essential tasks within each of the various types of SEO. These SEO essentials often include:
SEO Research – This is all the groundwork you do before touching your website. Competitor Research, Keyword Research, and SERP Analysis fall into this category.
On-page SEO – Content-related tasks that start to employ your hard-won research. Creating quality SEO Content and optimizing page titles, meta descriptions, SEO links, and heading tags cover a good chunk of on-page work. But we have a more detailed checklist.
Off-page SEO – Optimization efforts outside of your website, like getting backlinks and social media mentions that improve your website's visibility, reputation, and authority online. However, it is important to make sure to do it the right way.
Technical SEO – Improving a website's technical elements, including site speed, mobile SEO, and Core Web Vitals. It also involves implementing Schema markup through your site, usually with the help of a plugin.
SEO Reporting – Accurately tracking progress and learning the proper lessons from the data you collect so you can iterate on all the above steps.
Below, we've provided a comprehensive list of all the best SEO tools you can use to accomplish these tasks and more. We've also taken the time to let you know the tasks each SEO tool is best suited for, so you can effectively combine them for maximum SEO results.
The Best SEO Tools

Subscribe To Our Youtube Channel
1. Semrush
Semrush is easily one of the most recognizable SEO tools on the market today. It has created an imposing suite of tools to help you understand what is happening on Google. They are one of the only SEO platforms that truly gets near to being an all-in-one SEO toolkit (no SEO Pro uses only one tool, even for the sake of principle). Some of the high-level features it provides search engine marketers are deep keyword research, routine rank tracking, content analysis, and competitor analysis. They even go above and beyond to impress us with their Semrush WordPress Plugin and the ever-popular SEOquake browser extension.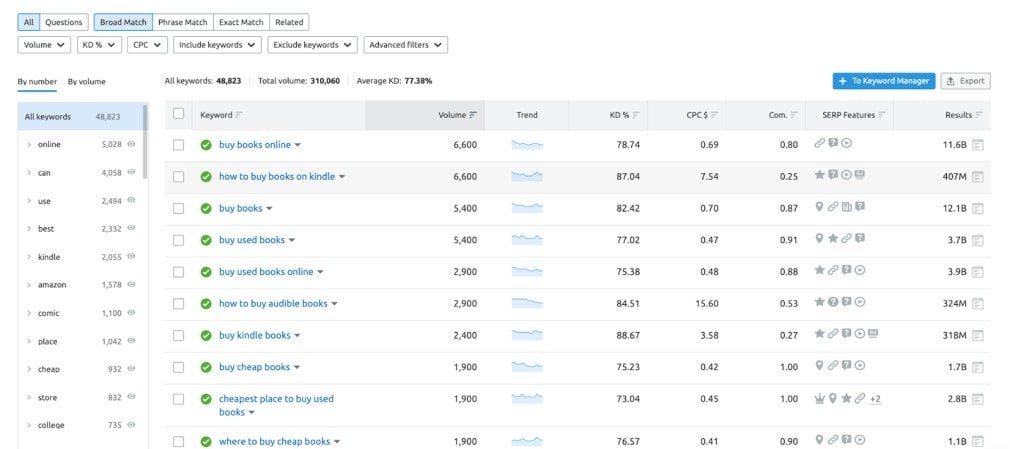 Key Features of Semrush, the Best SEO Tool on the Market
A swiss-army knife built with periphery tools for content marketing, social media, and advertising
Expert ability to track and report on every aspect of your SEO campaigns
Content analysis that scores content on difficulty, voice, keywords/NPL, and how it stacks up with competing content
With Position Tracking, you can see how all your keywords are performing on a day-to-day basis. Track up to 5 projects (unique websites) in the Pro plan and each one's keywords positions. Know precisely which changes you push are moving the dial.

Best for:
Semrush is a powerful SEO platform best suited for those serious about their SEO campaigns and willing to invest time into learning how to use it effectively. This SEO software is ideal for SEO professionals and agencies needing an industry-leading SEO tool. While Semrush is not cheap, those with mid-sized to large budgets will find it a valuable investment.
Pricing: Starting at $119.95/mo with free trials available for select tools
2. SE Ranking

SE Ranking is another all-in-one SEO tool designed to help website owners track and plan for their website's search engine success. The tool is well-suited for newer SEO specialists or those on a smaller budget, as it offers affordable SEO features.
SE Ranking provides a variety of keyword research and analysis tools. This includes a keyword research tool that supplies data on search volume, competition, and other metrics to help users select the best keywords to target for their content. Additionally, the platform features a keyword position tracking function that enables users to monitor their website's performance in search results over time.
The website audit tool provides users with an in-depth SEO audit analysis of their website's performance in search engines. This includes analyzing factors such as on-page optimization, technical SEO, and backlinks to identify areas for improvement and give tailored suggestions for optimization.
Key Features of SE Ranking
Website audit tool for analyzing on-page optimization, technical SEO, and backlinks.
Keyword research and analysis tools, including a keyword research tool and keyword position tracking feature.
Backlink analysis tool for identifying high-quality backlink opportunities for your website.
Best for:
SE Ranking is a budget-friendly and user-friendly SEO tool that's ideal for small business owners, bloggers, and website owners seeking to enhance their site's search engine optimization. It has an intuitive interface and comprehensive features, such as keyword research, site audits, and competitor analysis, making it an excellent choice for those new to SEO or with limited technical experience.
Pricing: $49/mo with a free trial. Try it out now
3. BrightLocal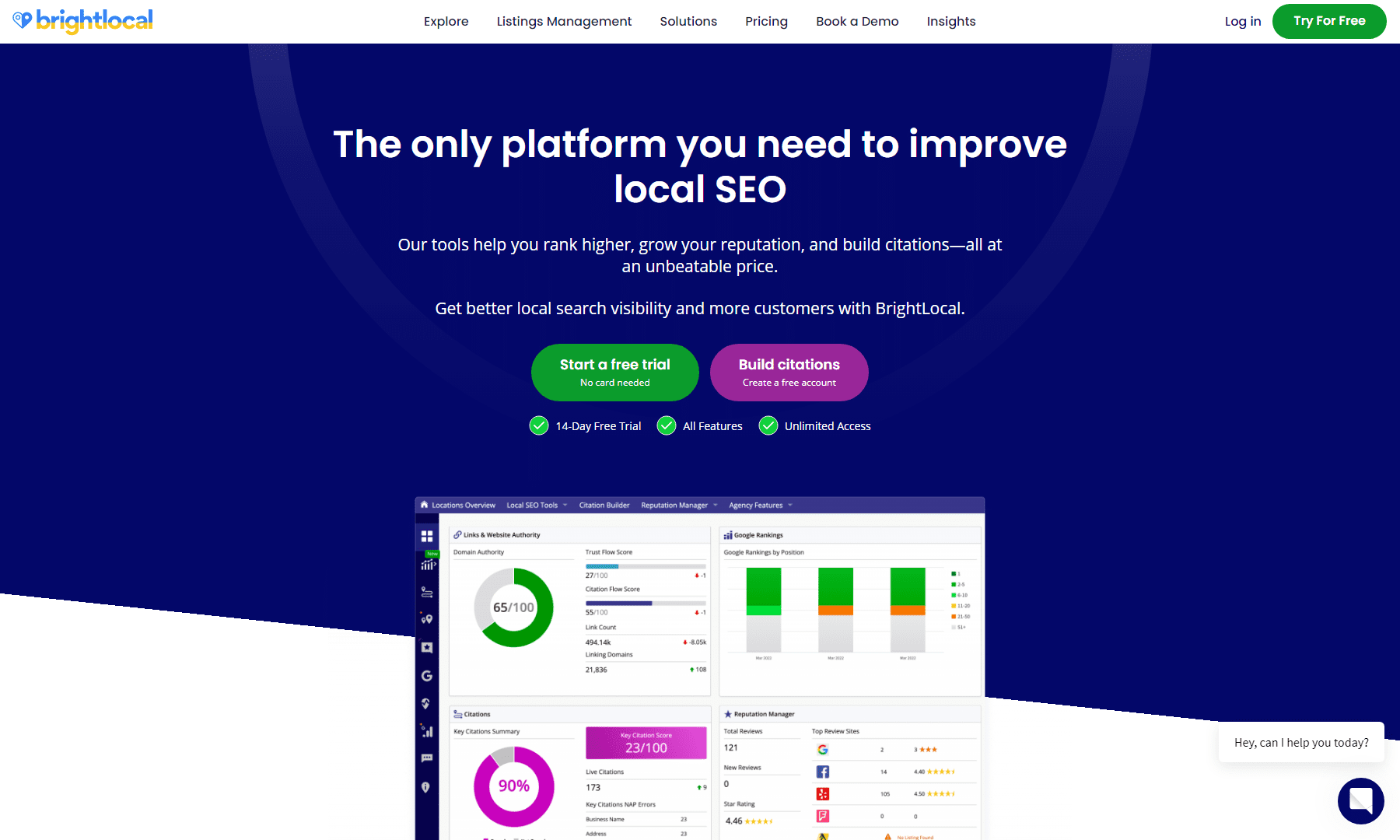 BrightLocal is a bright spot on this list of best SEO tools if you run a small business and market to a local community. It takes all the guesswork out of Local SEO. BrightLocal is 100% geared to helping location-dependent businesses succeed with local search terms, map results, and "near-me" requests, along with managing your business's reputation and citations (citations in local SEO are a good thing).
The local rank tracking reports are top-notch. They track the most important keywords for your business and show you how they perform based on different locations searches can come from in your area. Search results may be different if someone uses your keyword at different parts of your city, for instance. It shows this information using a grid-like heatmap overtop a map of your service area/general location.
Key Features of BrightLocal
Local rank tracking reports that keep you in the know about how your business is showing up in Local SERPs
Monitors reviews and provides tools to help showcase the best ones on your website
Build white-label reports if you offer local SEO services as an agency to your clients
Best for:
BrightLocal is an ideal tool for businesses that rely on local search results, including brick-and-mortar stores and service-based businesses serving a specific geographic region. It is designed to scale, with pricing plans available for businesses with a single location and those with multiple locations or franchises globally. With features like local search rankings, reputation management, and citation building, BrightLocal is a valuable tool for any business looking to improve its local search visibility and attract more customers.
Pricing: Starting at $29/mo for up to 3 locations
4. SEObility

SEObility is excellent for every essential SEO task, including website auditing, keyword analysis, on-page optimization, and link building. It also offers features for analyzing and monitoring backlinks and tracking search engine rankings. It's one of the best beginner SEO tools you can get (similar to Ubersuggest) in that it will help anyone learn the basics of SEO without busting budgets. It even has a generous free tier that we couldn't recommend enough.
Key Features of SEObility
The free plan will crawl up to 1000 pages of one tracked website and will track 10 keywords
Tracks mobile and desktop keywords, CPC, and competitors (paid)
Monitors backlinks and helps you know where to try your hand with link building (paid)
Will monitor the health of your pages through on-page checks (free)
This tool has the basics down pat—especially for keyword tracking and number of pages crawled. Paid plans start at a very reasonable $50/mo, which is way below Semrush and Ahrefs.
Best for:
SEObility is an excellent tool for beginners just starting with SEO and web admins who have never optimized their websites for search engines. It has excellent tools for you to learn the trade.
Pricing: Free plan with paid plans offering more websites and keyword tracking
5. Rank Math Pro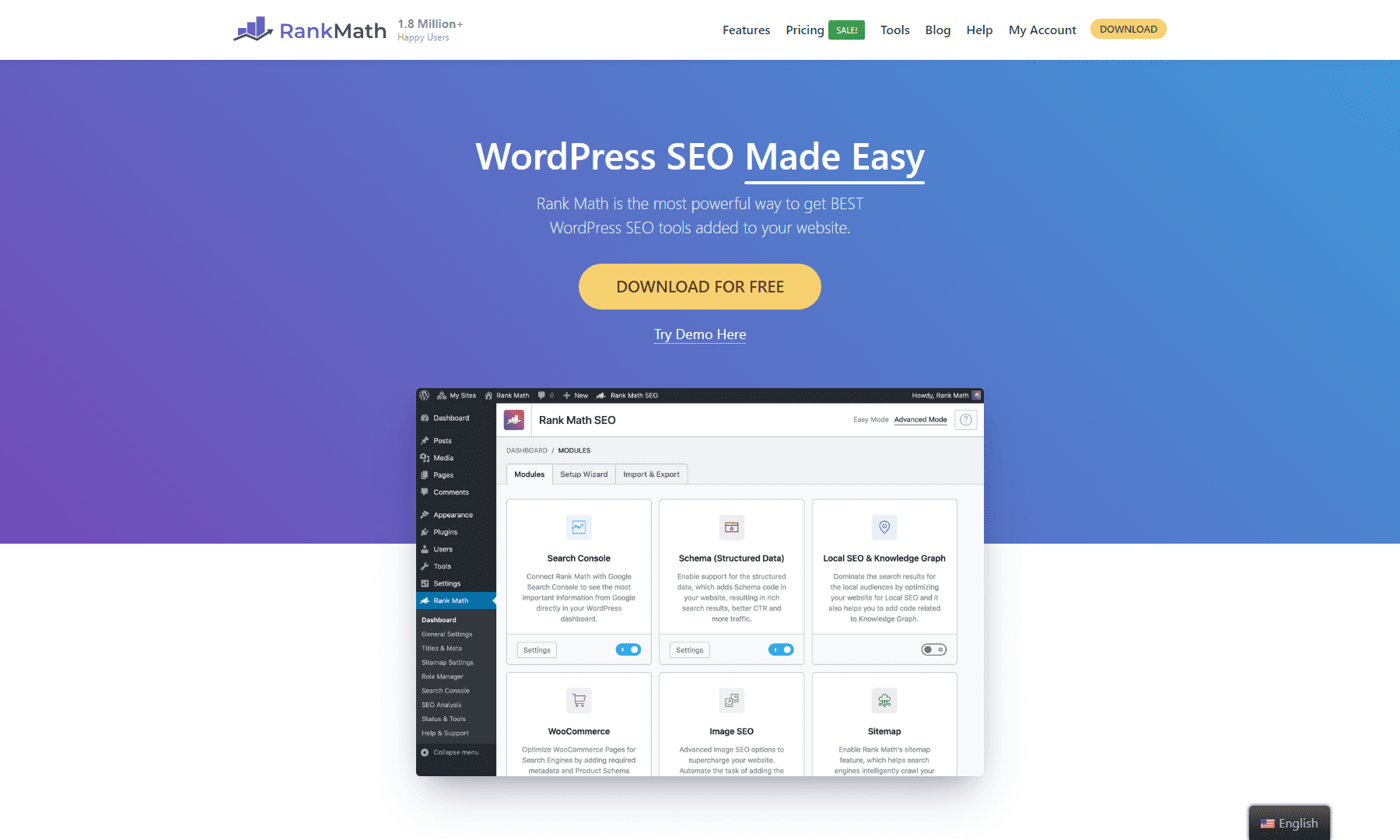 Rank Math is the most feature-rich WordPress SEO plugin that helps website owners with a wide range of SEO tasks—directly from their website's dashboard. According to W3Techs, WordPress is used on 43.2% of all websites. This makes WordPress and a plugin like Rank Math something that SEO professionals should be familiar with. Rank Math is designed to be very user-friendly while bringing all sorts of tools into your content creation workflows.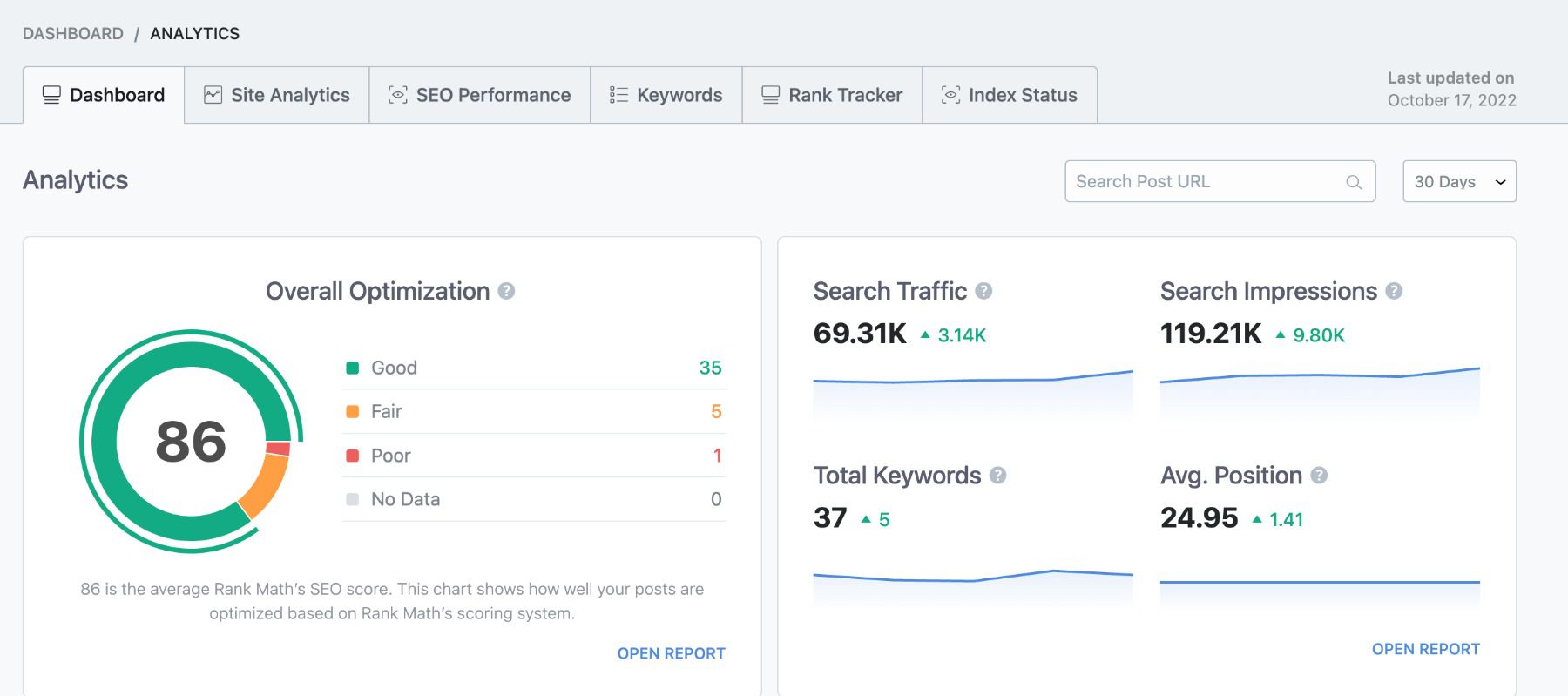 Rank Math is especially useful for two reasons. It analyzes content as you create it and gives you tools for optimizing your content directly. Many SEO plugins can analyze content and make SEO suggestions, but Rank Math also allows you to change your content directly. It can suggest specific changes (like titles) in real-time with Content AI. And it can make sure your site is appropriately formatted for SEO (like schema, sitemaps, internal link suggestions, redirects/404 monitoring, and so much more).
For a complete overview of its incredible features, see our extensive review of the Rank Math plugin.
Key Features of Rank Math Pro
Onboarding flow that quickly sets up a whole website with all the essential SEO configurations (including adequately setting up metadata, breadcrumbs, and analytics)
Automatically submits for indexing all new and updated content to major search engines
Creates a powerful SEO dashboard on your website backend that monitors search traffic, keywords, and how well your content is  optimized (sitewide)
Content AI that analyzes all the key aspects of content against SERP needs for a specific KW
Best for:
Rank Math is a must-have tool for anyone serious about SEO and uses WordPress as their CMS. It integrates seamlessly with Divi, the most powerful WordPress theme, enabling you to create custom websites with an optimal SEO structure. Additionally, Rank Math offers a free version of its plugin, making it an ideal choice for website owners who are just starting with SEO and want to get started right away. If you have a WordPress website but no SEO tool yet, you need to stop reading this and install it now.
Pricing: Free plugin with paid Pro options
6. Surfer SEO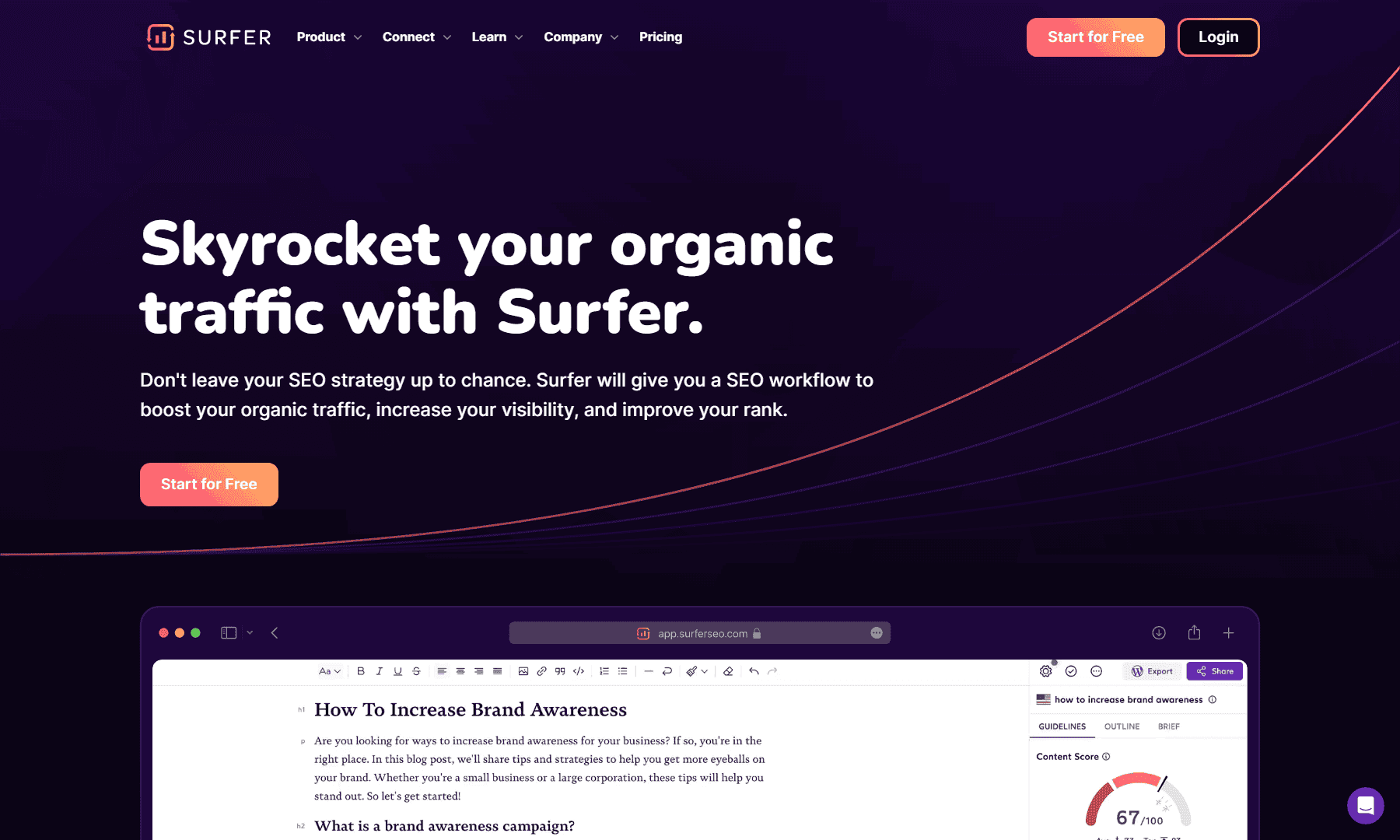 Surfer SEO is an AI content tool that helps you create high-ranking SEO content. Its whole purpose is to help content creators with SEO mindfulness so you aren't spinning your wheels, creating content that no one sees. It does this in stages by helping you with keyword research, then analyzing the SERPs of those keywords. After that, you start building your content with its content planner. Writers can then start writing their content and auditing other content with it. They create a seamless process from research to publishing that will help you rank.
Surfer SEO is all about creating a workable content creation workflow that has an SEO-first approach. We love that you can create content briefs (for editors assigning out a lot of work) and analyze all your content against vital SEO /keyword metrics.
Key Features of Surfer SEO
Surfer SEO "Grow Flows" that break content creation up into smaller, automated/low-effort tasks (talk about an ROI boost!)
Content creation workflow from research to clicking on "Publish"
Reports on the success you've had from content created in SUrfer SEO
Best for:
Surfer SEO is an ideal tool for websites that produce a large volume of content. It is designed to streamline the SEO workflow for content creation, making it a valuable time-saving tool for individuals and teams alike.
Pricing: Starting at $49/mo with a 7-day free trial
7. Mangools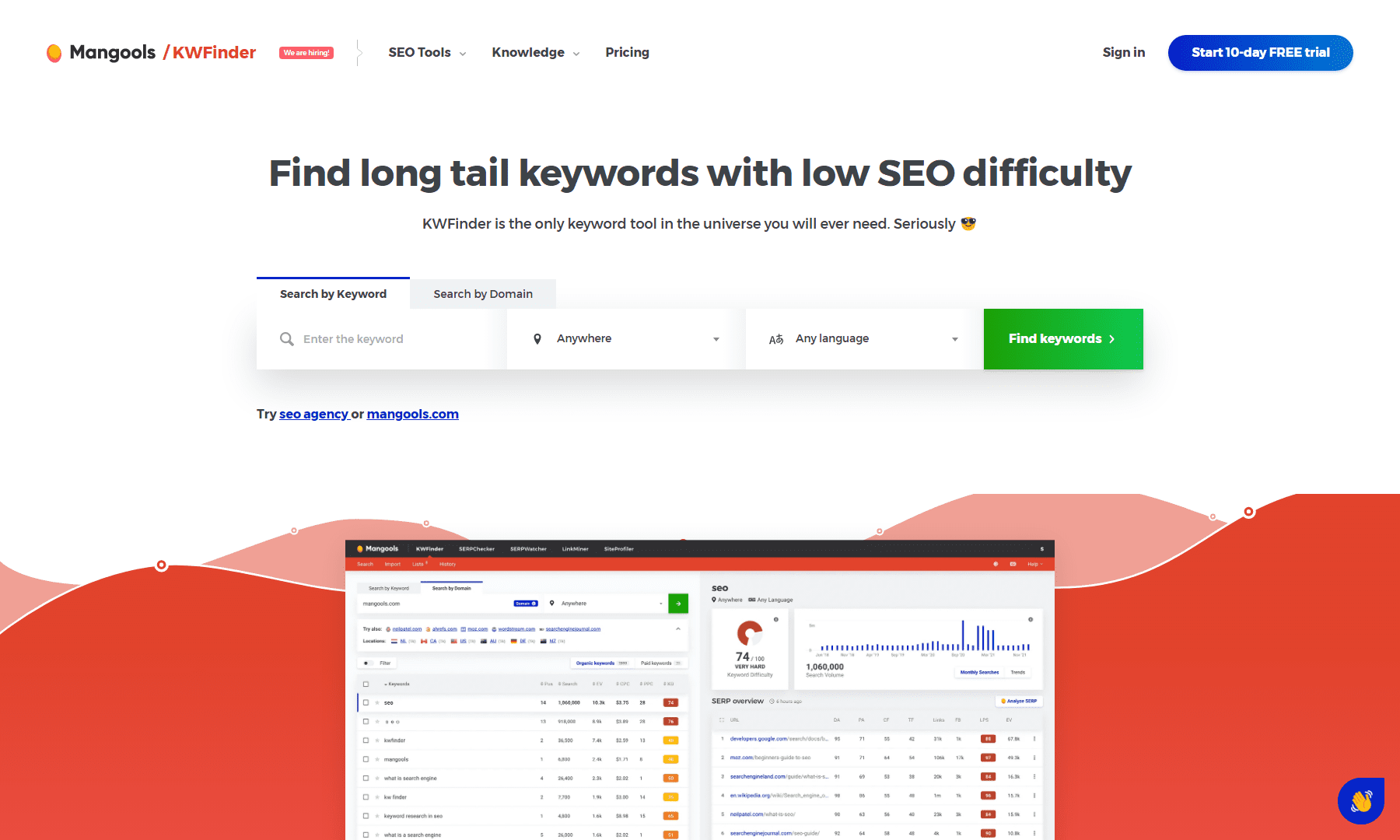 Mangools is a suite of branded SEO tools that have names that are almost more popular than the company that offers them all (KWFinder and SERPWatch come to mind). It's another all-in-one SEO platform that helps users research, create, and track all SEO efforts.
Mangools keyword research tool (KWFinder) provides users with data on search volume, domain authority, keyword difficulty, and other metrics to help them identify the best keywords to target for their content. It's one of the easiest-to-look-at keyword tools out there and gives you everything you need to know. You can even see what keywords competitor websites are ranking for and what position they rank at.
Key Features of Mangools
Daily keyword research allotment with suggestions and views of what competitors are using
SERP analysis to see what's ranking for what and some of the data points that contribute to those positions
Ability to lookup competitor websites to see where they are at in their SEO implementation
Best for:
Mangools is a trusted platform among organic search strategists. Although not as well-known as Semrush or Ahrefs, Mangools offers a comprehensive set of tools that provides a great all-in-one solution for reliable SEO tools. With a price point comparable to other budget-friendly options like SE Ranking and SEObility, Mangools is an affordable option for beginners looking for reliable SEO tools.
Pricing: Starting at $49/mo with a 10-day free trial
8. Wincher

Wincher is an SEO tool that specializes in keyword tracking and analysis to help increase your organic traffic. It makes it easy to find the right new keywords for your content. It makes it especially clear when it finds a keyword with decent search volume but low competition (the dream scenario). And you can use it to track the performance of those keywords using an intuitive interface.
With features like keyword research, keyword gap analysis, position tracking, and site audits, Wincher helps improve search engine rankings and increases your qualitative traffic.
Key Features of Wincher
Track your position rankings based on defined keywords
Discover keywords that you haven't used so far
Reports and alerts to stay on top of keyword positions
WordPress plugin that integrates your website with Wincher
Best for:
Wincher is an excellent tool for beginner search engine marketers seeking a more comprehensive solution for analyzing keywords and tracking their content's position. Its simple interface and focused feature set make it a great option for entry-level SEO or content marketers.
Pricing: Starting at $39/mo with a free trial waiting for you
9. Link Whisper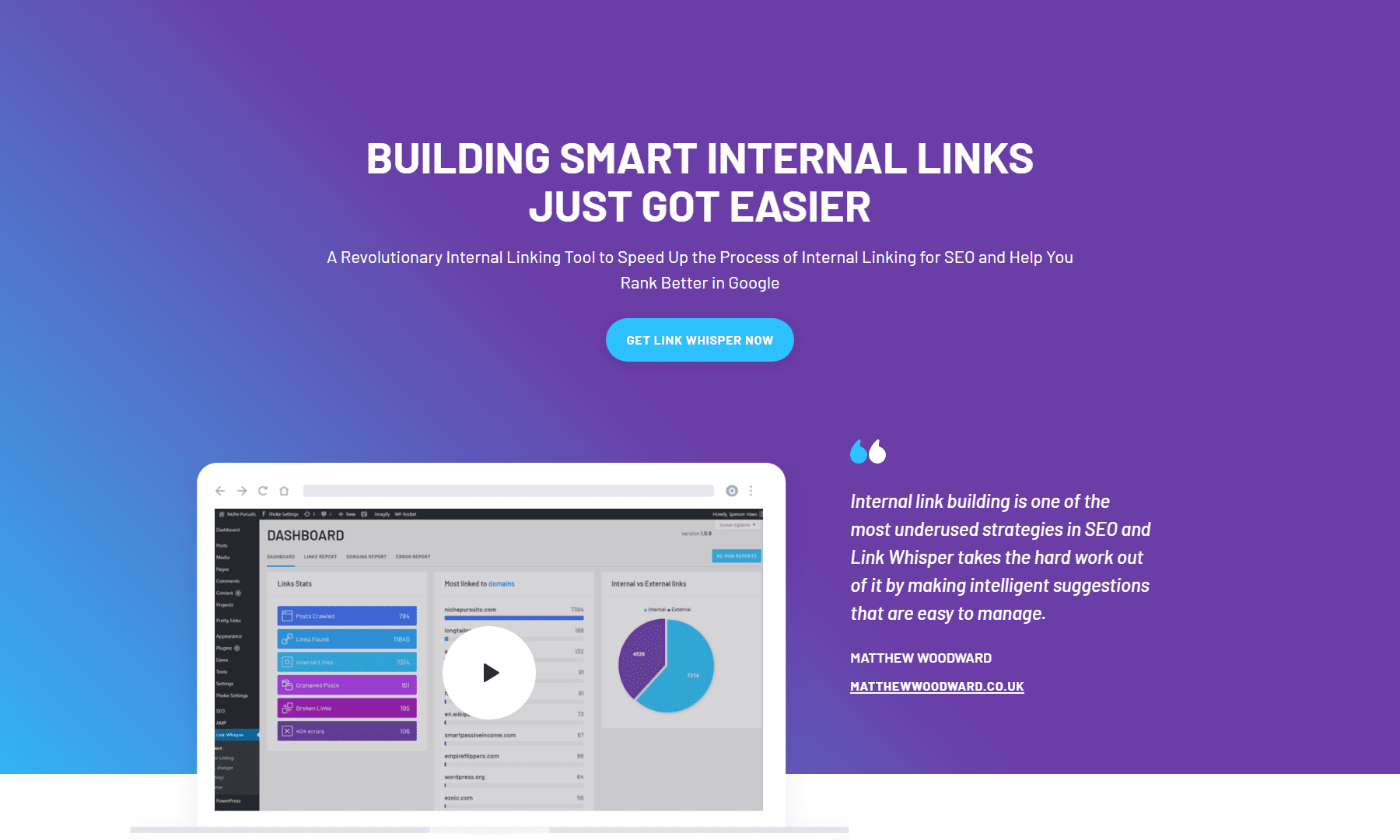 Link Whisper is a WordPress plugin and Shopify app for internal link building. Internal linking is an essential practice for SEO as it helps search engines crawl your website and understand what your content is about (by relating it with other linked content). But it is hard to stay on top of, especially for large websites with tons of content—we know the struggle! Link Whisper makes managing internal links much easier since it can automatically apply links to your old content based on new content you are publishing (this is a huge time saver if set up correctly).
Key Features of Link Whisper
Provides advanced suggestions for internal links you can create while you are in a page/post editor
Can connect with Google Search Console to bring in basic performance stats (not needed if you're using a Google Analytics plugin)
Create automated internal linking campaigns that find instances of specific keywords and link them to a pre-defined page of your choosing
Best for:
Link Whisper is ideal for large WordPress and Shopify websites, particularly those with a hub and spoke or pillar/cluster content strategy. It is beneficial for websites that publish a large volume of content and need to stay on top of internal linking. With features like automated link suggestions and in-content linking, Link Whisper is a valuable tool for improving search engine rankings and driving more traffic to your site.
Pricing: WordPress – $77/year for 1 site | Shopify – $7/mo for 1 site
10. Moz Pro
Moz Pro is another all-purpose SEO tool designed to help website owners and digital marketers increase their traffic from organic search results. It has long been celebrated as one of the best SEO tools out there and has been running since 2004! Moz has a tremendous reputation in the SEO world, making their Pro tool something you should consider. If you're a local business, MozLocal is also worth checking out, even though we are not directly reviewing its features here.
Moz Pro is excellent at tracking page positions inside SERPs for defined keywords. It helps you know what is contributing to SERP boosts or fallen positions with tailored SEO Insights. And its competitor research tools (including MozBar) help you keep up with competitor changes.
Key Features of Moz Pro
Offers comprehensive keyword research and analysis to optimize website content
It has a site audit tool that identifies technical SEO issues, such as broken links and missing meta-tags
Includes a backlink analysis tool to monitor backlinks and helps you disavow low-quality backlinks
Users can track their search engine rankings for specific keywords over time to monitor SEO efforts and improvements
Best for:
Moz Pro is an all-in-one SEO tool that's ideal for any serious SEO professional looking to streamline their SEO workflow. It provides a comprehensive solution for improving search engine rankings and increasing traffic. Use it for keyword research, site audits, backlink analysis, and more. While the monthly pricing is higher than many budget SEO tools, it's comparable to other industry leaders like Semrush and Ahrefs.
Pricing: $99/mo for three campaigns/websites
11. WooRank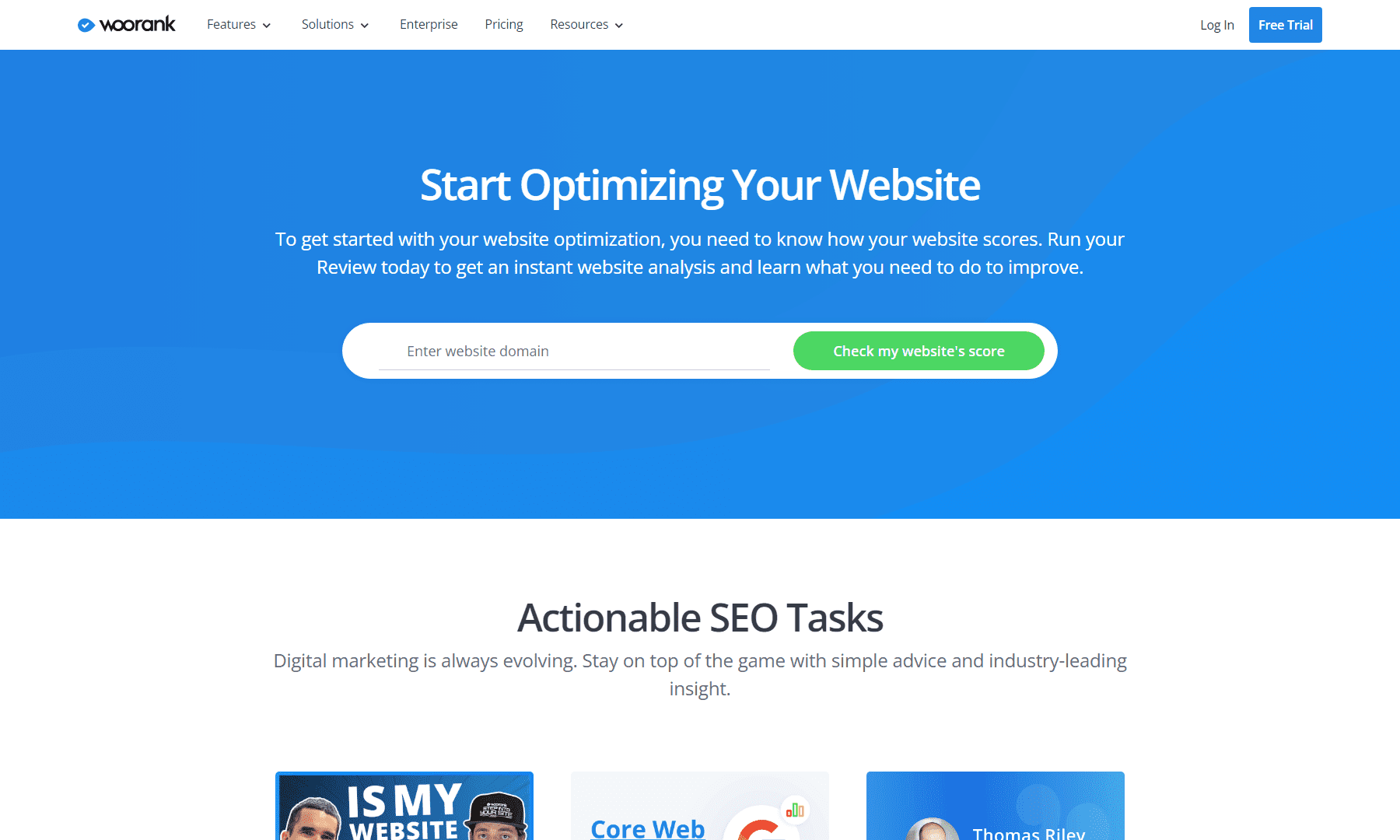 WooRank is an SEO tool that offers a range of features to help website owners and digital marketers improve their search engine rankings and drive more traffic to their sites. It's a mid-tier total-SEO platform that does a whole lot well.
WooRank's competitor analysis tracks competitor keywords, technical specs, and position changes. All these help you better understand your competitors and how to outrank them.
Key Features of WooRank
Users can track keywords with WooRank's keyword tracking tool to monitor their website's search engine rankings for those keywords
WooRank's site crawl tool can crawl site pages to identify technical SEO issues that may hurt a website's rankings
Compare website performance against competitors to identify areas for improvement
Best for:
WooRank is an ideal tool for website owners and marketers who want to improve their website's SEO quality and ranking position across multiple keywords. With features like site audits, keyword tracking, and competitor analysis, WooRank provides a comprehensive solution for improving search engine rankings and driving more traffic to your site. While it is priced a little higher than other tools in this article, it can be a great fit for those looking for more advanced features.
Pricing: $79.99/mo for one website
12. Clearscope

Clearscope is an SEO content optimization tool that uses AI and natural language processing (NPL) to help content creators optimize content for search engines. Search engines attempt to catalog the whole internet and rely on NPL to understand its content semantically. Clearscope analyzes your content with similar methods to make sure that it is in line with what search engines expect (based on keywords and search intent). This all can happen in the SaaS application or for those with WordPress websites, on your site via the use of their plugin.
Its content analysis is very actionable, often giving you explicit grades, comparison metrics, and other scores to let you know where your content is across several essential areas.
Key Features of Clearscope
Analyzes the top-ranking pages for a given search term
Identifies the keywords, phrases, and topics most relevant to that search
Gives content suggestions based on the above findings
Best for:
Clearscope is an ideal tool for content-focused SEO professionals who are writing or editing content that needs to rank. While its price tag may be hefty for some, Clearscope is a valuable tool for optimizing content for search engines and driving more traffic to your site. Other tools like Scalenut, Dashword, and ContentPace may also be worth considering for those seeking more affordable alternatives.
Pricing: Starting at $170/mo
13. Ahrefs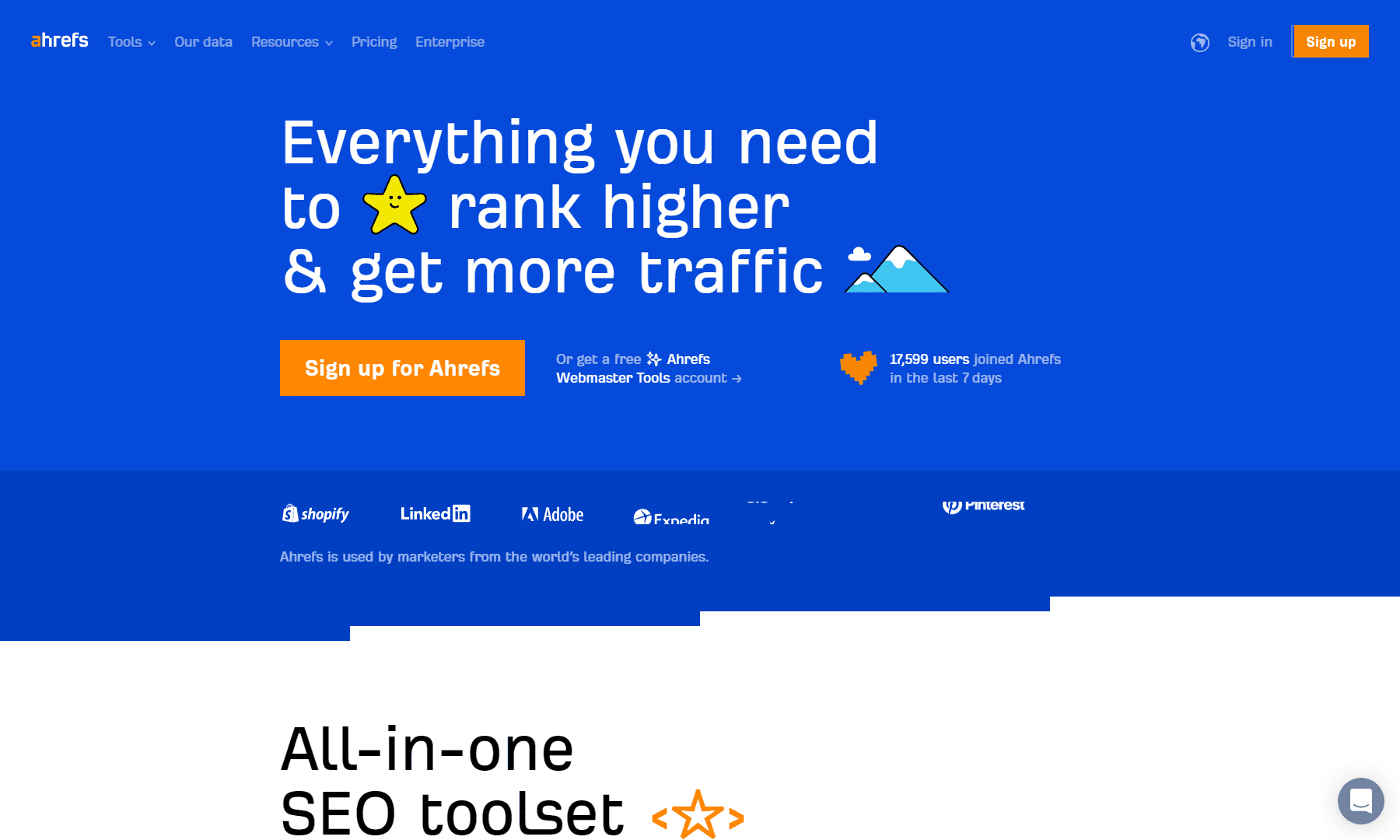 Ahrefs is last on our list but certainly far from the least. It is a premium all-in-one SEO tool that has been a market leader for many years. Ahrefs gives SEO experts every instrument needed to succeed in SEO. It can be daunting to new users, but that is because there is so much data inside the platform.
Ahref covers every type of SEO task, including backlink audits, URL position ranking, competitor research, keyword research, site audits, and more.
Ahrefs backlink profile is one of the best out there. It shows you a histo-graph of your backlinks and how many you've gotten in specific look-back timeframes (1 day, 7 days, etc.). The profile also includes the number of referring domains (with a breakdown of crucial info about those domains). And it also gives you high-level stats like URL rank, Domain Rank, and the number of organic keywords your site ranks for.
Key Features of Ahrefs
Unlimited projects if they are verified with a site tag and five unverified projects (Lite plan)
Track page rankings across defined keywords broken into desktop and mobile searches (and see ranking history)
Keyword research through Ahrefs exquisite database using Keywords Explorer
You can add plan add-ons if you rely on specific tools more than others
Best for:
Ahrefs is a go-to tool for SEO experts. It offers reliable data and excellent filtering options to drill down to the data you need to rank for competitive topics. It's a valuable investment for those looking to improve their SEO game. Along with Semrush, Ahrefs is a tried and tested solution that is widely used by SEO professionals.
Pricing: $99/mo
What are the Best SEO Tools?
Semrush is the best all-in-one SEO tool. It offers all the essential features like keyword research, site audits, backlink analysis, rank tracking, on-page optimization, and competitive analysis. So it is a safe bet to start with if you want to get serious about SEO.
SE Ranking is ideal for beginners looking for a more budget-friendly solution that packs a similar punch as SEMrush.
BrightLocal is the best solution for Local SEO. It includes local search rank tracking, citation management, review monitoring, and more.
Using the right combination of these tools can significantly improve website search performance and drive more traffic and qualified conversions.
Need SEO tools you can use directly on your website? Check out the best SEO plugins for WordPress.
Frequently Asked Questions (FAQs)
Before we wrap up, let's answer some of your most common questions regarding SEO tools. Did we miss one? Leave a question below and we will respond!
What are the best SEO tools?
The best SEO tools depend on the specific needs and goals of the user. Some popular tools for keyword research, competitor analysis, technical SEO, and backlink analysis include Semrush, SE Ranking, and BrightLocal. 
What is the best free SEO tool?
SEObility is the best free SEO tool as it offers many features, including site auditing, keyword research, backlink analysis, and competitor analysis. It also provides actionable recommendations for improving website performance and optimizing search engine visibility. 
What are the best SEO Tools for WordPress websites?
Link Whisper
,
Semrush
,
Rank Math
, and
Surfer SEO
are all great SEO tools for using with WordPress since they have plugins providing users with a range of features to optimize their website's SEO. Their plugins bring the wide range of tools these platforms offer directly into your WordPress environment and consolidate where you have to go for performing SEO tasks.
Can you do SEO for free?
SEO is much harder but still possible to do with free tools and resources. When using free SEO tools, it is all about finding the right mix of tools that each cover an essential task. Start with a keyword research tool like
SEObility
or
Ubersuggest's
free accounts. See all our
recommended free SEO tools
.
Who uses SEO tools?
Business owners and marketers: SEO tools can help businesses and marketers improve their website's visibility in search results, attract more visitors, and generate more leads and sales.
Website developers: SEO tools can help website developers identify and fix technical SEO issues, such as broken links and missing meta tags.
SEO professionals: SEO professionals use SEO tools for auditing websites, analyzing keywords, optimizing pages, building links, and more.
Anyone who is looking to improve their website's visibility in search results can benefit from using SEO tools.
How much do SEO tools cost?
SEO tools cost varies widely depending on the type of tool and the provider. Tools such as SEMrush, SE Ranking, and BrightLocal offer a range of features and pricing plans, ranging from $99 to $999 monthly. Semrush starts at $119.95 monthly, with free trials available for special tools. SE Ranking's price is $49 per month with a free trial. Similarly, BrightLocal's starting price is $29 per month for up to three locations.
Why do SEO tools cost so much?
SEO tools can cost a significant amount due to the resources required to develop, maintain, and update the software. They involve large data sets and are crawling millions of pages a day. Also, the value that SEO tools provide in terms of improving a website's search engine rankings and driving more traffic and conversions can justify the cost for businesses that rely on organic search traffic to drive revenue.
Can I use SEO tools to track my website's rankings?
SEO tools can be used to track website rankings for specific keywords on search engines. These tools can regularly update a website's ranking progress, allowing website owners to optimize their content and strategy for improved search engine visibility. Some popular examples of tools for tracking rankings are Semrush, Ahrefs, and Moz Pro.
What are the limitations of using free SEO tools?
Free SEO tools often limit functionality and data access compared to paid tools. They may not provide in-depth analysis or access to all features needed to optimize a website. They may also have a limited range of supported search engines or data sources, which may need to be revised for a more comprehensive SEO strategy.
What are the advantages of using SEO tools?
SEO tools can provide several advantages, including identifying technical issues on a website that may negatively affect search engine rankings, conducting keyword research to optimize content for relevant search terms, tracking website traffic and search engine ranking progress, and monitoring competitors' online activity to gain a competitive edge.
What are the best SEO tools for keyword research?
What are the best SEO tools for blogs?
SE Ranking is a comprehensive SEO tool that offers keyword research, competitor analysis, backlink monitoring, and website audit, making it suitable for optimizing blogs and other websites for search engines.
What are the best SEO tools for beginners?
SE Ranking is a user-friendly SEO tool that offers a simple and intuitive interface, making it an excellent choice for beginners. Its features, such as competitor analysis, keyword research, and website audit, provide actionable insights for improving website visibility and search engine ranking without requiring extensive technical knowledge. 
What are the best SEO tools for competitor site analysis?
Semrush is an all-in-one SEO tool that offers an extensive range of features, including competitor analysis. Its features, such as domain comparison, backlink analysis, and organic search positions, provide comprehensive insights into competitor strategies and allow users to benchmark their performance against them. 
Featured Image via Sammby / shutterstock.com