With so many website hosting choices, it can be difficult to decide which type of WordPress hosting is right for your business. Not everyone wants or needs the fastest host with tons of options. For those merely looking to get their message out to the masses, there is a cost-effective solution that's worth considering. In this post, we'll highlight the best shared WordPress hosting providers money can buy so you'll have the information you need to make the right choice.
Let's get started.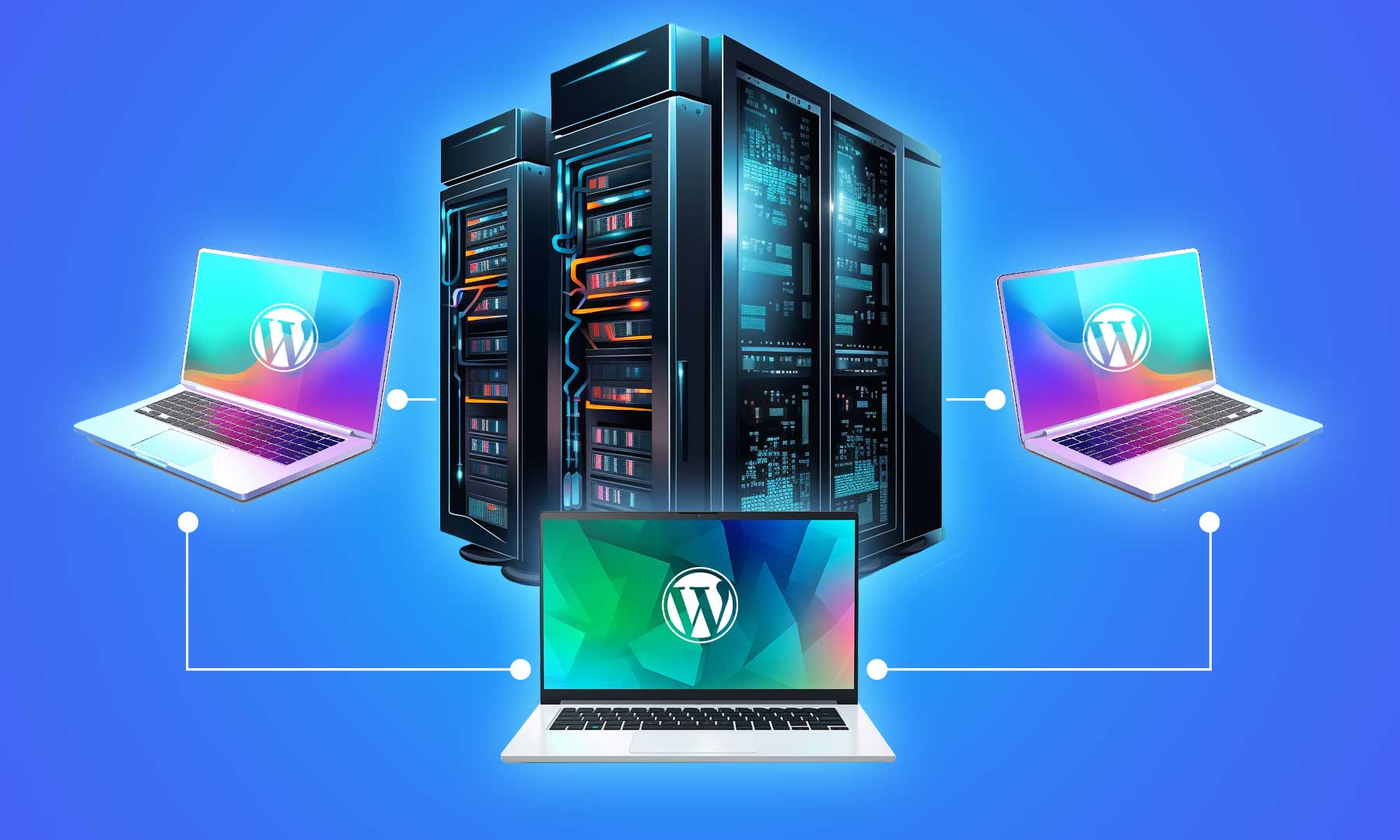 Aside from being affordable, shared WordPress hosting is pretty capable if you plan to launch a basic website. What makes hosting shared, you ask? It allows multiple customers to share one server and its RAM, resources, and bandwidth. That said, shared hosting customers still benefit from one-click WordPress installs and basic features like free SSL, backups, and good security features.
Some shared hosting providers offer free emails, CDNS, and other high-end features. Shared hosting gets a bad rap among tech bigwigs, but the truth is that it's a capable solution for those looking to save money. Shared hosting is worth considering as long as you don't plan on breaking the internet with viral posts or high-traffic requirements.

Subscribe To Our Youtube Channel
We considered price, features, and security to compile a list of the best shared WordPress hosting options. We also heavily weighed customer reviews and support since most people considering shared hosting likely don't have a lot of experience managing or maintaining a web server on their own. The hosting providers on this list all provide excellent customer service and plenty of features to make shared hosting capable enough for an informational website or landing page.
So, without further ado, let's get into our top picks for the best shared WordPress hosting providers.
1. SiteGround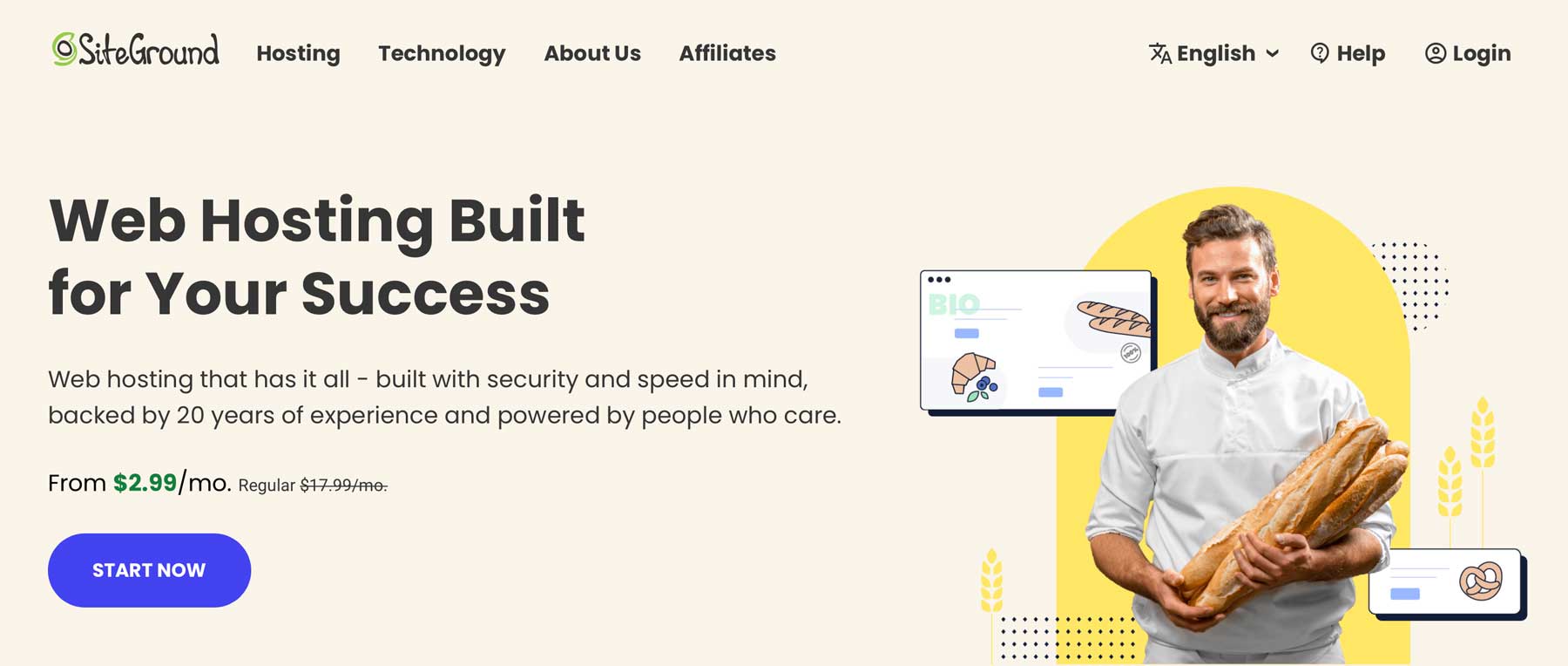 Our top shared WordPress hosting option is SiteGround and with good reason. It offers excellent security features, managed WordPress, site caching, 10,000 monthly visits, and more. SiteGround is confident enough in its shared hosting plans that it offers a 30-day money-back guarantee if you are less than thrilled with the platform.
Key Features of SiteGround: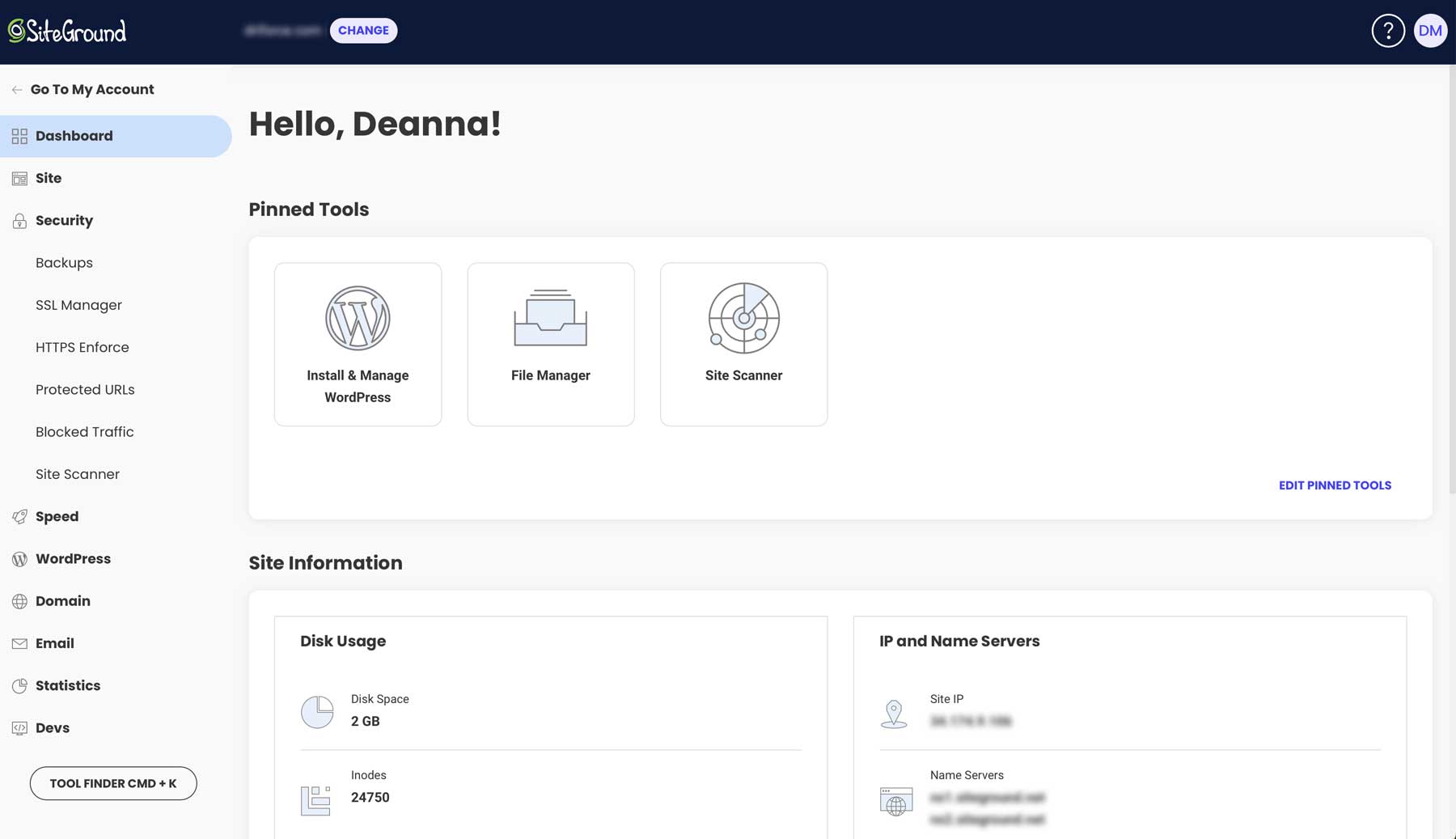 One of the best features of SiteGround is its suite of security tools. With every plan, you'll have access to daily backups, a free SSL, and a site scanner, an early warning system built to keep malware at bay. With SiteGround, thanks to its Site Tools dashboard, you'll have plenty of tools at your fingertips. You can manage your site's files, domain, and email while keeping an eye on security and site performance up to speed.
Best For:
SiteGround is an excellent option for those looking to save money without sacrificing features. They offer something for everyone with three plans: StartUp, GrowBig, and GoGeek. Prices start at an affordable $17.99 per month, with SG offering huge discounts most of the time.
Pricing: $17.99 per month.
➡️ Read Our Complete SiteGround Hosting Review.
2. Hostinger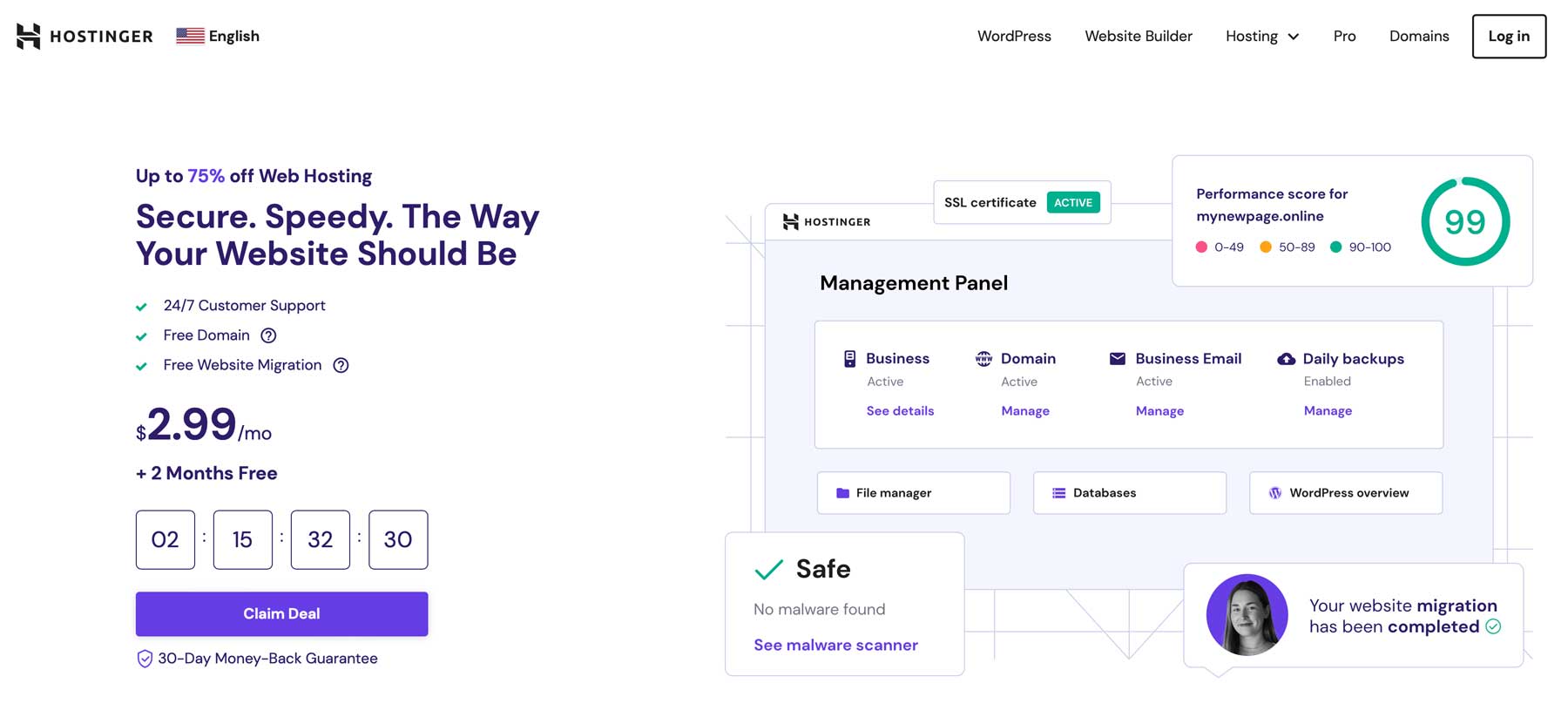 Up next on our list of best shared WordPress hosting providers is Hostinger. It features 50 GB of storage, weekly backups, one email account, a free SSL, managed WordPress, and unlimited bandwidth. However, Hostinger does not provide a free CDN. Security is on point, though, with DDoS protection, a web application firewall (WAF), Cloudflare-protected name servers, and a malware scanner.
Key Features of Hostinger:
50 GB storage
Free email, SSL, and site migration
1-click WordPress installs
Robust security features
Weekly backups

The best feature of Hostinger is its managed WordPress service. It lets you concentrate on adding content to your website rather than worrying about updates or security. You'll get basic WooCommerce optimization with every shared hosting plan should you turn your online venture into an ecommerce store. Hostinger also comes with free migration, 1-click WordPress installation, auto-updates, and WordPress Acceleration, which uses LiteSpeed to keep your site running speedy and smoothly.
Best For:
Hostinger is an excellent option for deal-seeking WordPress users with a tight budget but need basic features to keep their site fast and secure. With 1-click installs, beginners can easily launch WordPress and begin building. Hostinger offers a 30-day money-back guarantee, a 99.9% uptime promise, and great support. However, if you want priority support, multi-site capability, or a staging site, you'll need to sign up for a Business Plan, which will run you $13.99 per month.
Pricing: Starting at $1.99 per month.
3. DreamHost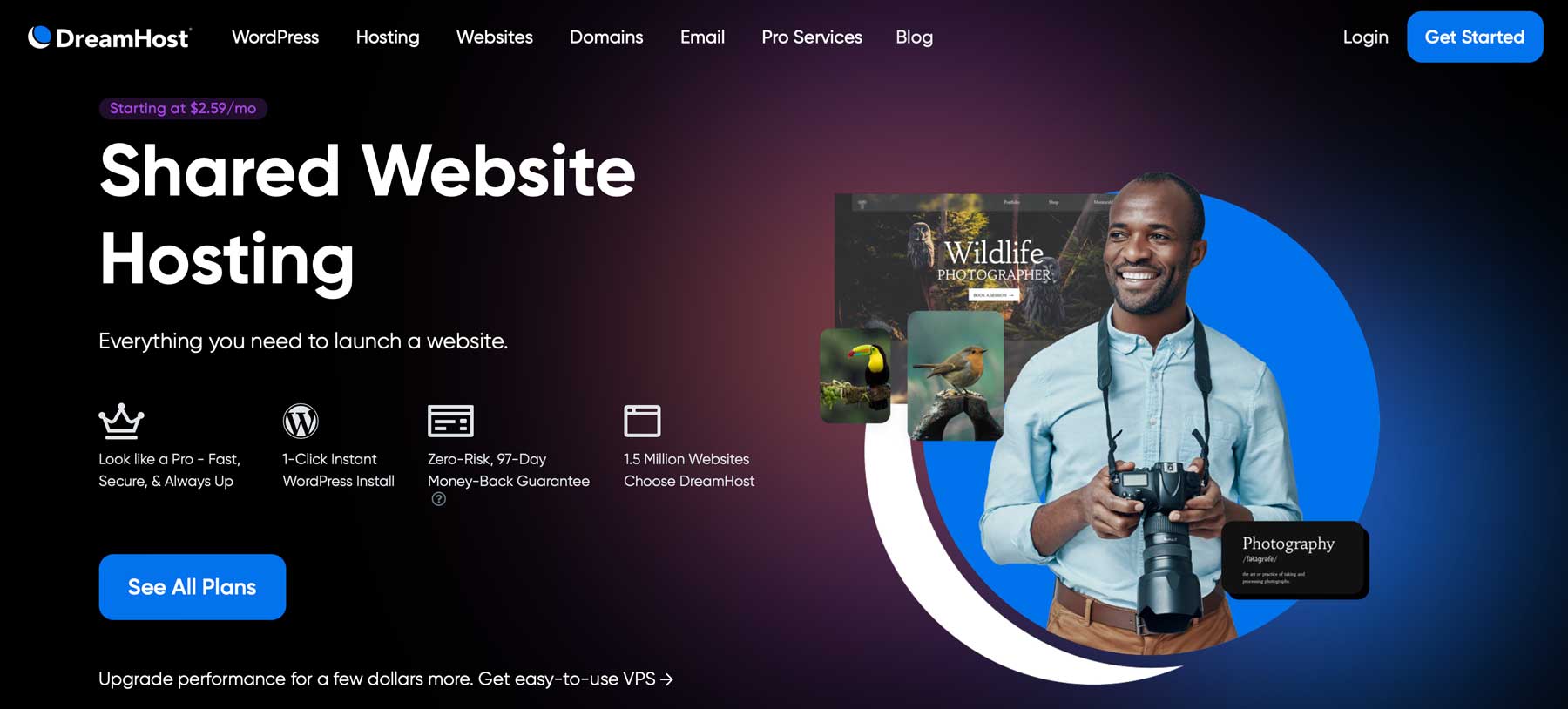 DreamHost is another excellent, affordable, shared WordPress hosting provider with plenty to offer. Their shared hosting plans include WordPress pre-installed, unlimited traffic allowance, and blazing-fast SSD storage. DreamHost offers an unprecedented 97-day money-back guarantee and no contracts, so if you aren't feeling DreamHost, you can easily switch to a different provider.
Key Features of DreamHost:
SSD storage
WordPress pre-installed
97-day money-back guarantee
Free migration
WordPress website builder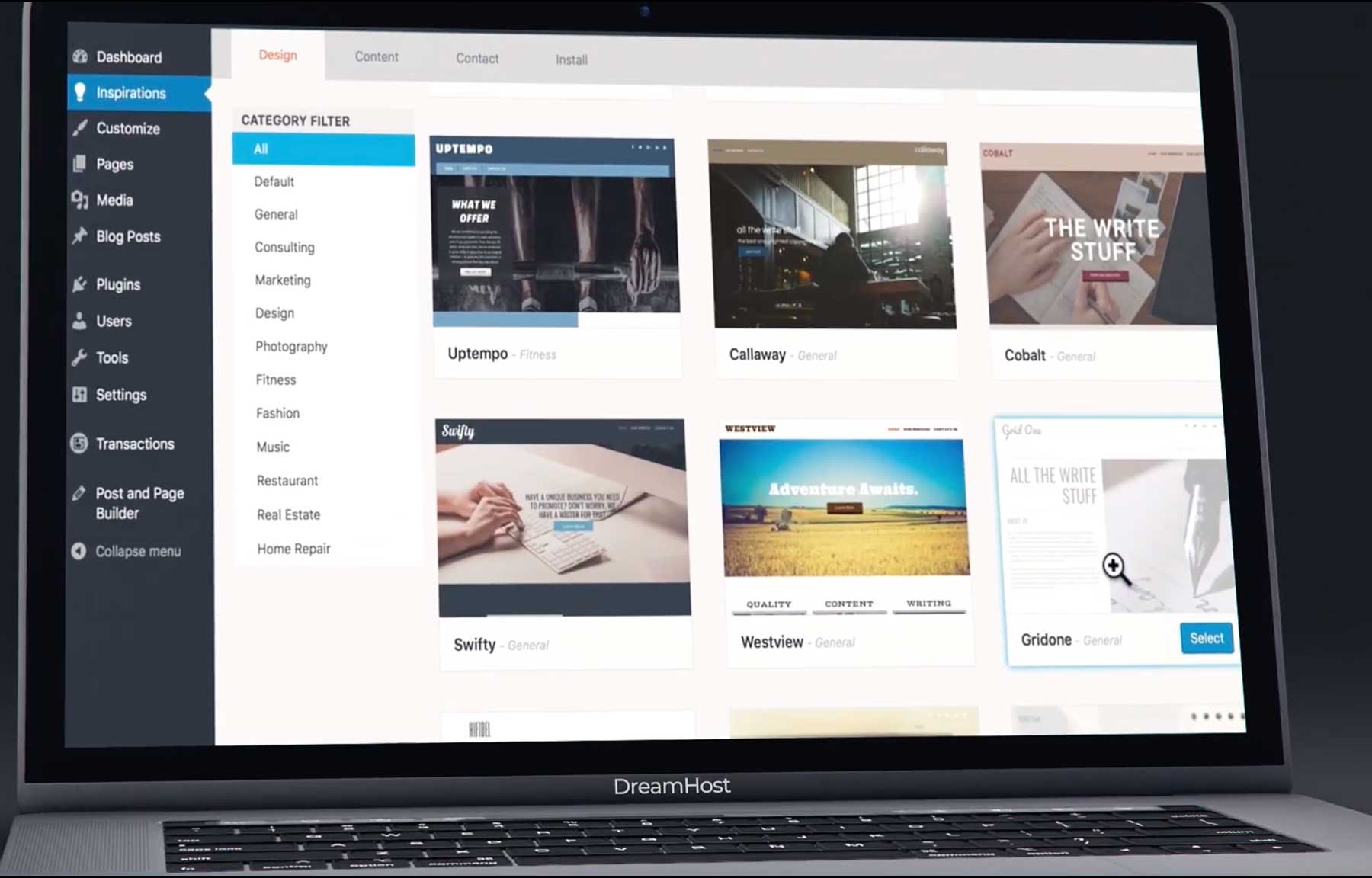 DreamHost is built for newbies. Their plans come with a WordPress website builder that makes creating a website a breeze. Start by answering a few questions, choosing from one of dozens of pre-made templates, and build your site with a beginner-friendly drag-and-drop editor. Already have a website? No problem. DreamHost will migrate it to their hosting platform completely free of charge.
Best For:
DreamHost is an excellent option for people who want to start their WordPress journey with a simple-to-follow setup wizard. With pre-made themes for nearly every business category, new users can start from a template, input their content, and have their new website live in minutes.
Pricing: Starting at $4.95 per month.
4. Scala Hosting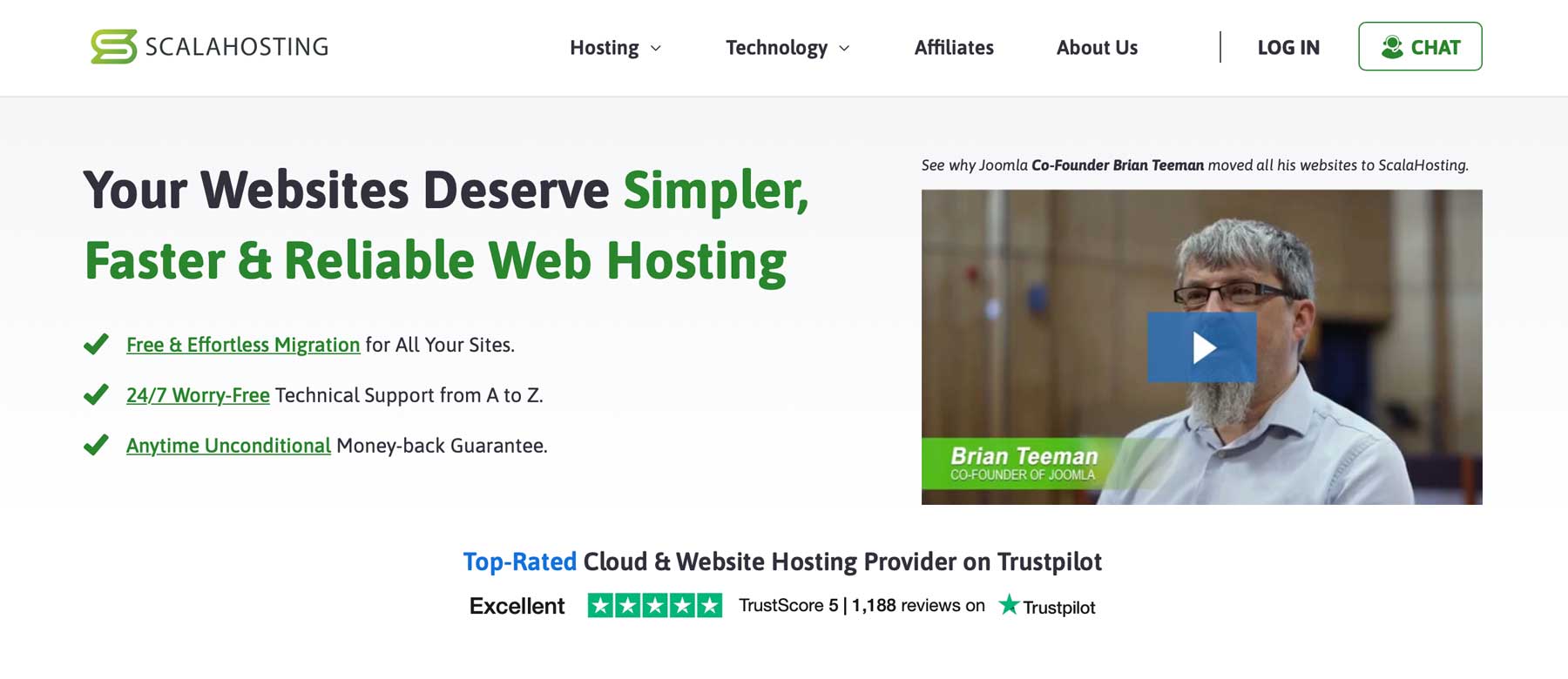 Scala Hosting, our next shared hosting provider, is one of the best you've likely never heard of. They offer 10 GB of SSD storage, 24/7 live chat and email support, free security scans, migration, CDN, SSL, and automated daily backups for a very low price point. Plus, you'll get SSH and WP-CLI access, a free domain and unlimited email accounts, and blazing-fast NVMe SSD storage, which usually can't be found on an entry-level shared hosting plan.
Key Features of Scala Hosting:
Free domain, SSL certificate, migration, and CDN
SSH & WP-CLI access
Extensive security scans
Unlimited email addresses

Another excellent feature of Scala Hosting is its WordPress-optimized servers – even for shared hosting plans. This alone makes Scala a viable option. Another thing that sets it apart from the competition is the developer-friendly access to cPanel, Git, and support for additional programming languages like Python and Perl. Plus, you'll get some great security features through SShield Security Guard, such as brute-force protection, on-demand backups, virus & spam protection, and FTP with SSL.
Best For:
Scala Hosting offers feature-packed shared hosting plans that allow you to tweak server settings, take on-demand backups, and register a free domain. Plus, you'll get access to unlimited email accounts with your purchase. That said, their 10 GB of storage space will run out quickly if you plan to build an ecommerce or high-traffic site. However, for $6 more monthly, you can upgrade to their Advanced plan and benefit from 100 GB of storage and unlimited websites.
Pricing: Starting at $9.95 per month.
5. A2 Hosting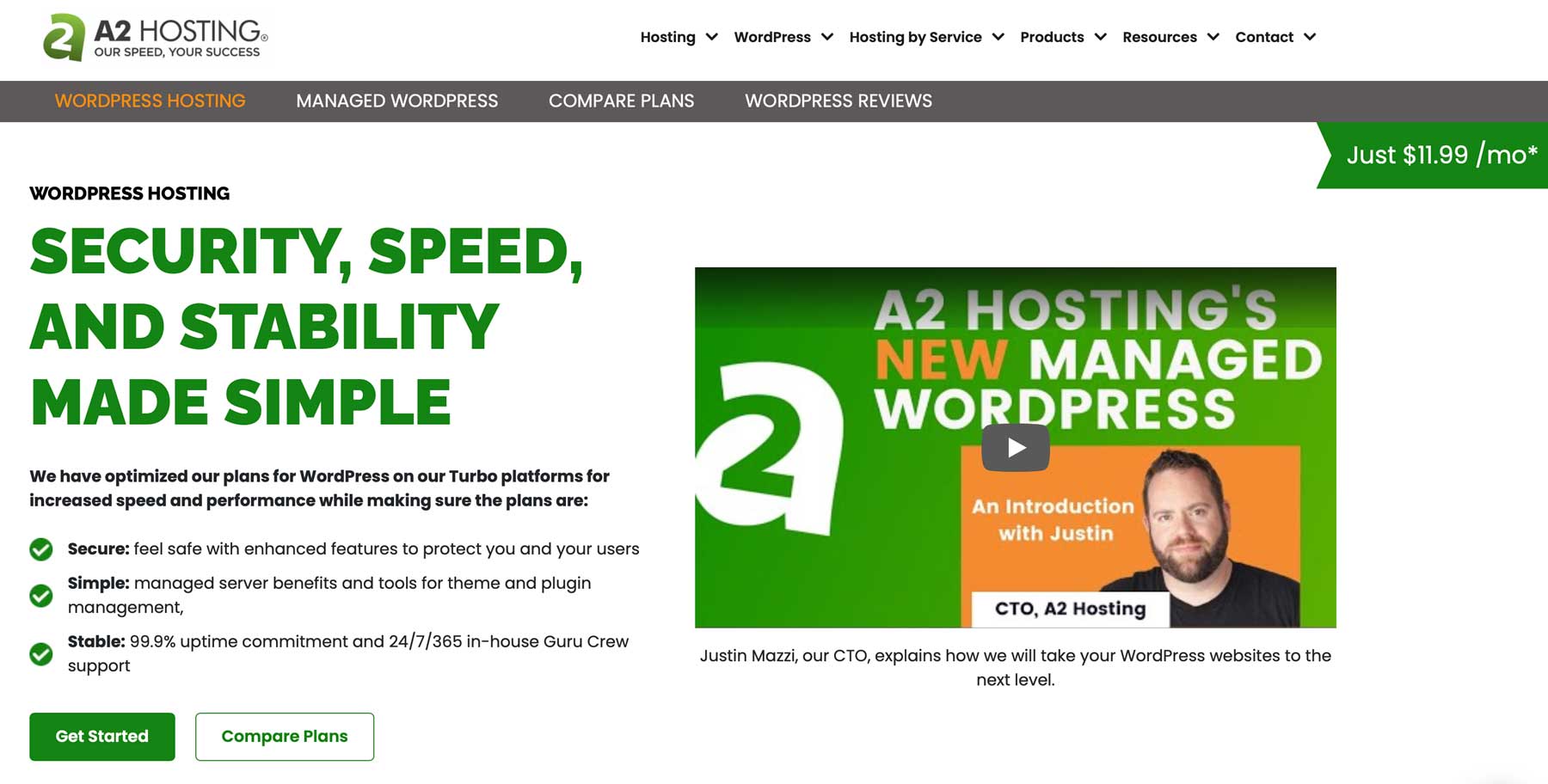 If you're looking for one of the fastest shared WordPress hosting providers on the planet, then A2 Hosting is an excellent choice. They limit the number of clients on any server and use proprietary A2Optimized software, which utilizes GZIP compression and caching. A2 has some of the best SSD storage options of any shared hosting company, with 100 GB of NVMe SSD storage on their budget Startup plan. For an additional speed boost, A2 incorporates Anycast DNS, which automatically duplicates DNS records and spreads them across their global network, bringing them closer to your site's visitors.
Key Features of A2 Hosting:
Choose server location
A2optimized software for a speed boost
Anycast DNS
Eco-friendly hosting

One area in which A2 Hosting excels above its competitors is its commitment to the environment. Their FutureServe Green Hosting initiative practices green hosting by recycling older servers and using more efficient SSD and NVMe hard drives. Plus, you can choose from one of four server locations, which is usually a benefit only cloud hosting providers offer. Being green doesn't sacrifice features. A2 offers unlimited bandwidth, 1 GB physical memory, a free SSL certificate, unlimited email addresses, cloning and staging, free site migration, and excellent support.
Best For:
If you're looking for an eco-friendly hosting provider that provides a truck full of features, then A2 Hosting is worth considering. They offer at least 100 GB of storage, one-click WordPress installs, and a fast environment for your WordPress site.
Pricing: Starting at $11.99 per month.
6. IONOS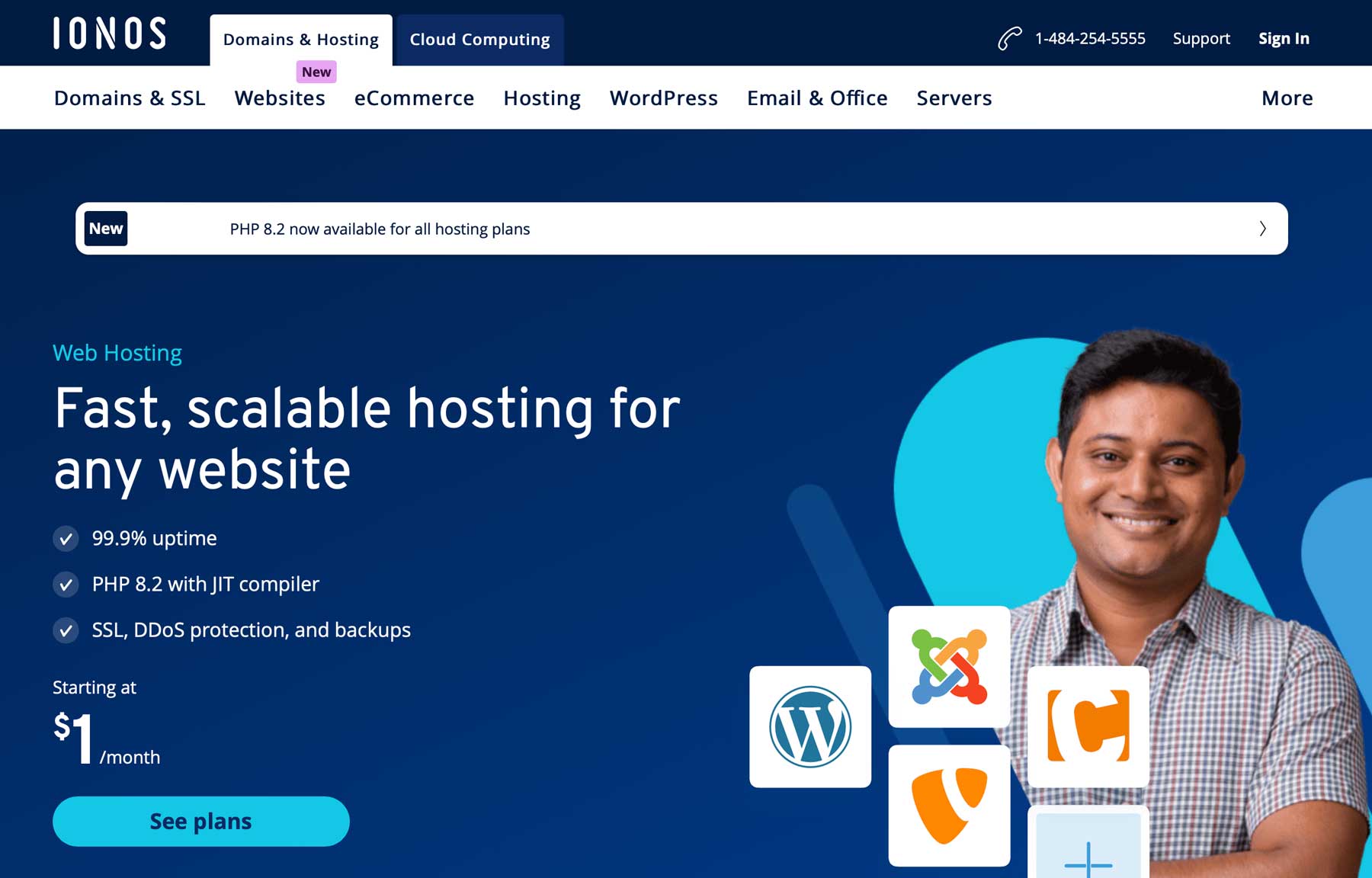 Our next shared WordPress hosting provider, IONOS, is one of the more affordable options on our list. Coming in at $6 per month for 12 months, IONOS gives you plenty of bang for your buck. With the Essential plan, you'll get 10 GB of storage, 10 databases, a free domain for 1 year, and a free SSL certificate for $6 per month.
Key Features of IONOS:
Free SSL, email, and domain (1 year)
Daily backup and recovery
10 GB storage with 10 databases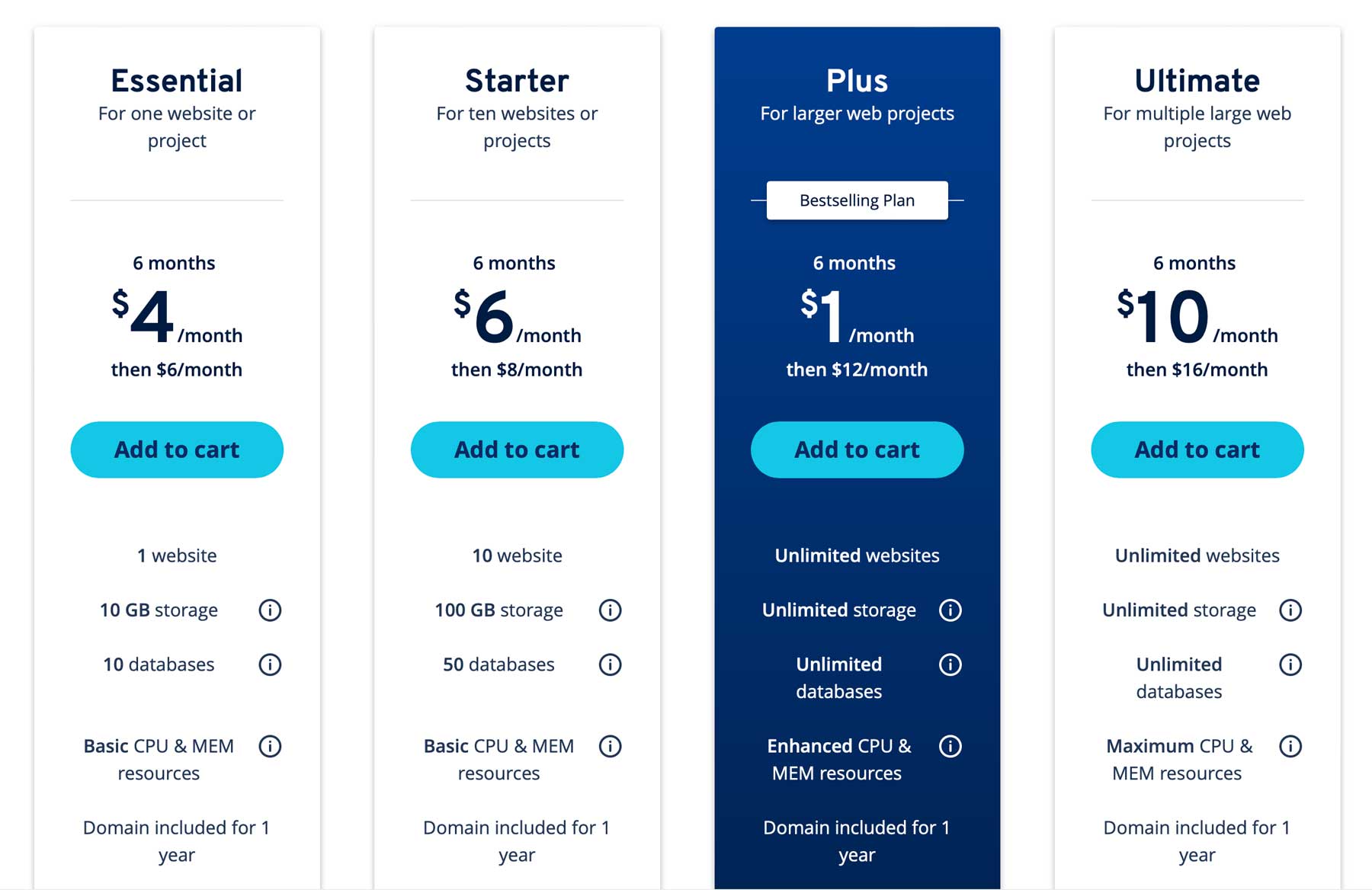 A big bonus for IONOS users is their marketing features, which include SiteAnalytics and up to 10 mailing lists. This allows you to monitor your site's performance and build email lists for your business. You'll also get daily backups and recovery, which gives you peace of mind knowing your site's files will be safe, no matter what. And with a 99.9% uptime guarantee, you'll never have to worry about your site going down.
Best For:
IONOS is one of the best budget-shared hosting providers you can get. With plans starting at $6, it won't break the bank. Cheap doesn't mean you have to sacrifice features, either. Your new website will have a free professional email, a free domain, and backup and recovery features.
Pricing: Starting at $6 per month.
7. InterServer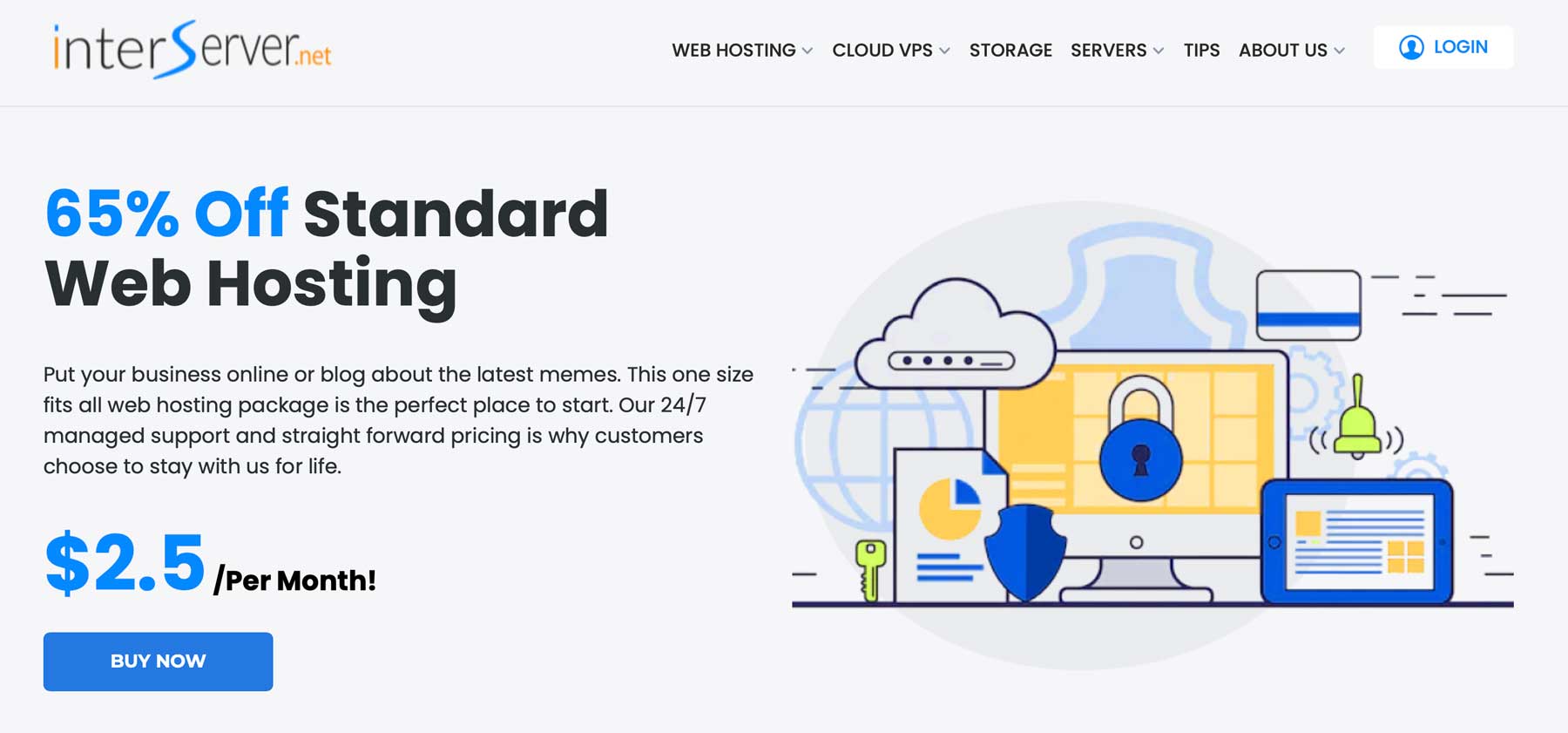 InterServer offers shared WordPress hosting plans with a wide range of benefits that make them worth considering. Users can share as much content as they want with unlimited storage space and data transfer. This allows you to grow your business over time without worrying about switching plans. In addition to unlimited storage and bandwidth, InterServer provides weekly backups of your data. So, if disaster strikes, your site's files will always be safe.
Key Features of Interserver:
Unlimited storage and bandwidth
LiteSpeed server technology
Price-lock and 30-day money-back guarantee
InterShield security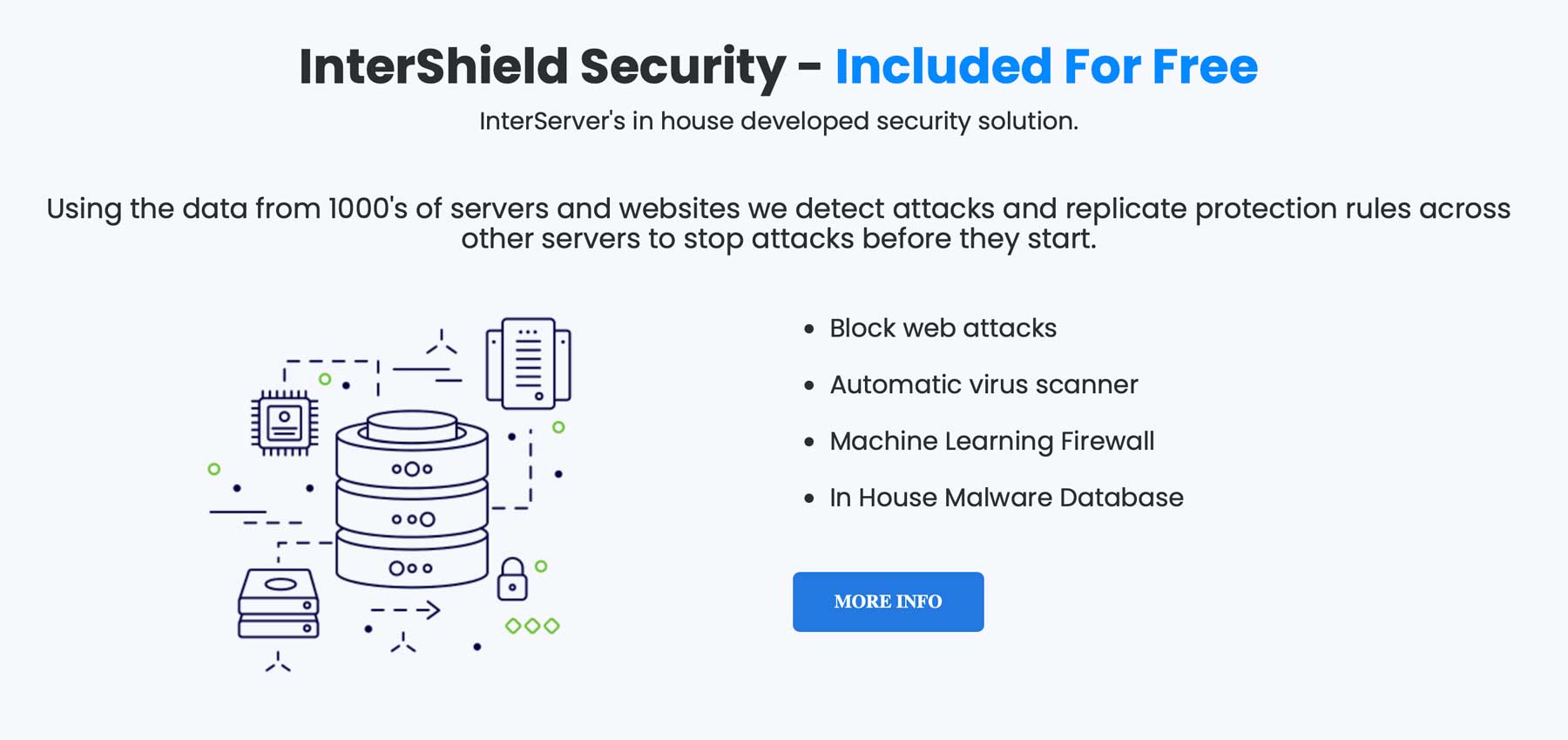 In addition, InterServer offers one-click installs of WordPress, so novice users won't have to configure WordPress on their own. They also provide a price-lock guarantee, so you'll never have to worry about surprise increases to your monthly bill. Their hosting is fast, too, thanks to LiteSpeed server technology with caching, a 10GB Cisco network, and free Cloudflare CDN. InterServer also comes with a robust security suite that blocks web attacks, automatically scans for viruses daily, and offers an AI-powered machine-learning firewall to quickly identify and eradicate malware before it becomes an issue for your website.
Best For:
If you're looking for a shared hosting provider with all the bells and whistles, try InterServer. Their price-lock guarantee saves you from being held hostage for more money down the road. Plus, you'll get benefits such as unlimited storage, free migration, a free CDN, weekly backups, and cloud apps.
Pricing: Starting at $2.50 per month.
8. HostGator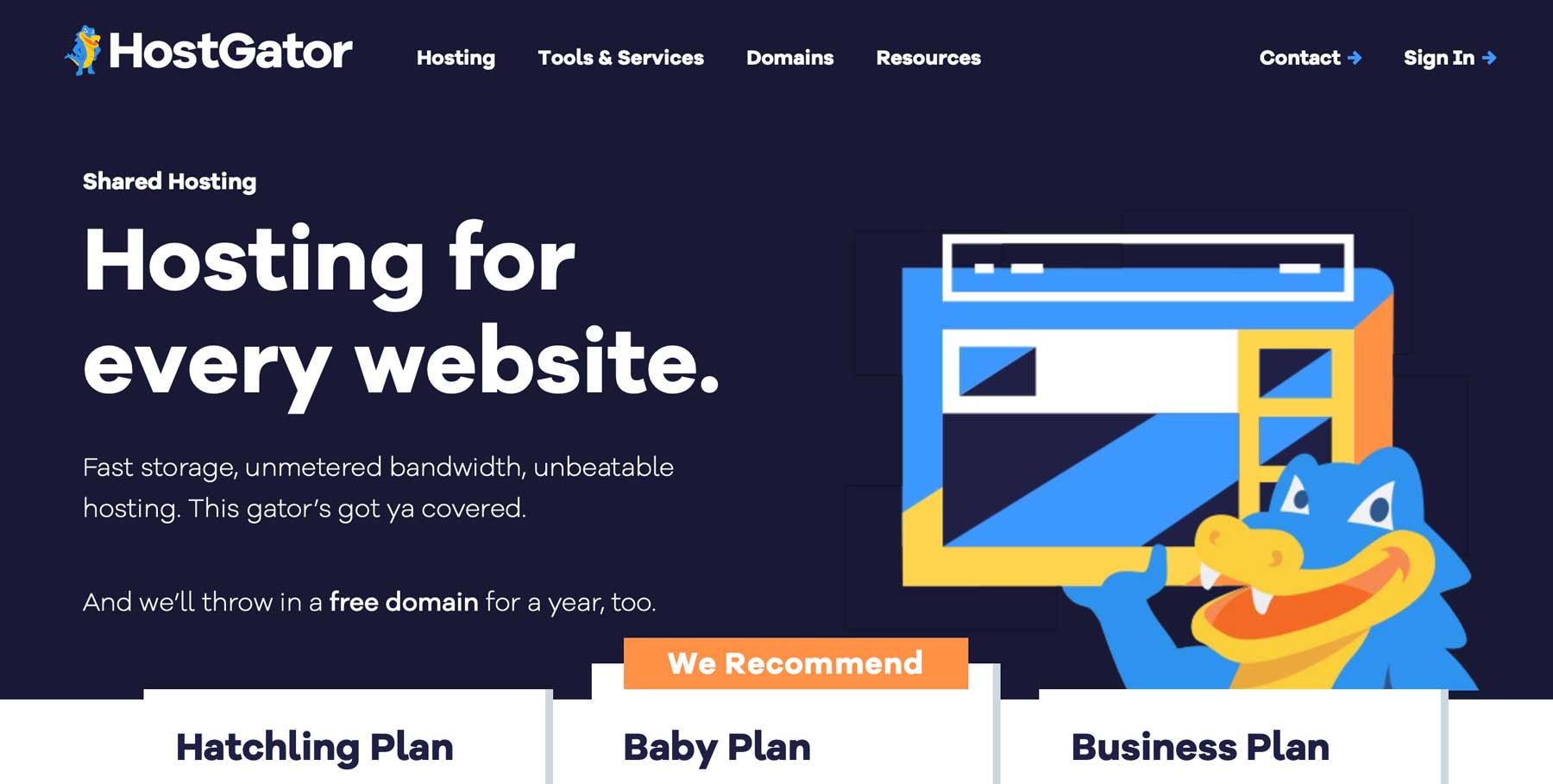 Last on our list of best shared WordPress hosting providers is HostGator. They offer three shared hosting plans, each with unmetered bandwidth, at least 10 GB of storage, one-click WordPress installs, and a free domain with a one-year hosting plan. What makes HostGator unique is the scalability of its hosting plans. For example, if you start with the Hatching Plan and decide you need more than the 10 GB of storage allowed, you can easily upgrade to a higher-tiered plan with no downtime.
Key Features of HostGator:
Free SSL, domain, and daily backups
Malware detection and removal
Free site analytics and SEO tools (Business plan only)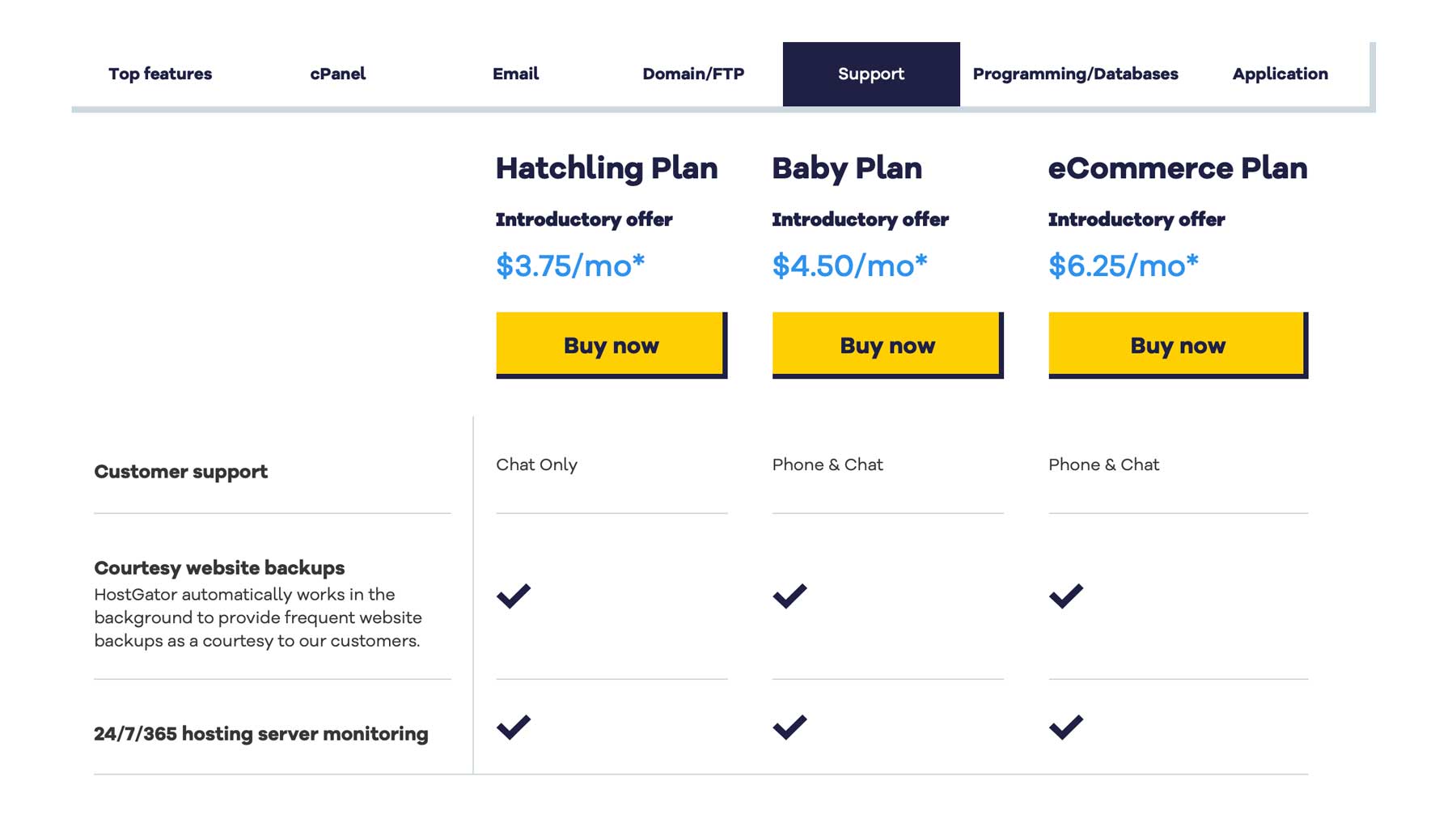 One of the best features of HostGator is the daily backup and round-the-clock server monitoring, which keeps your site running safely and securely without worrying about it. HostGator also automatically takes backups of your site, allowing you to spend time doing what matters most – adding and maintaining content.
Best For:
HostGator is a good option for people who don't need a lot of storage and are okay with signing up for a yearly contract. The downside is that month-to-month hosting plans are costly, coming in at $17.99. If you want the flexibility of changing hosts without hassle, opt for another provider, such as SiteGround.
Pricing: Starting at $3.75 per month (with a 3-year contract).
➡️ Read Our Complete HostGator Hosting Review.
HostGator
Starting Price
$3.75/month
Storage
10 GB
Websites
1
Free SSL
✔️
Free Domain
✔️(with annual plan)
Trustpilot Rating
⭐⭐⭐⭐
Read the reviews
Visit HostGator
With all the options available, it's not easy to decide on a shared WordPress hosting provider. Thankfully, our comprehensive list has options for everyone. That said, three stand out above the rest: SiteGround, Hostinger, and DreamHost. All three offer excellent security features and affordable pricing, so you don't have to sacrifice features to meet your budget.
Featured Image via Irina Strelnikova / shutterstock.com