If you are considering a new hosting provider, cloud hosting should be on your list. It provides several benefits, such as scalability, allowing you to quickly scale up or down your resources based on your needs. In addition, cloud hosting typically offers better performance with advanced site caching capabilities and dedicated resources. However, finding the right cloud hosting provider can be tricky due to the multitude of options available. In this post, we'll provide you with a list of the best WordPress cloud hosting providers so you can make an informed decision.
What is WordPress Cloud Hosting?
WordPress Cloud hosting is a subset of WordPress hosting that distributes resources across a network of remote servers for storing, managing, and processing data, applications, and services. This enables websites or applications hosted on the cloud to access an almost limitless pool of computing resources, offering greater flexibility, scalability, and reliability than traditional hosting solutions like shared or VPS. Cloud hosting also provides automatic scaling, load balancing, backup, and disaster recovery options.
The Best WordPress Cloud Hosting Options in 2023
We conducted extensive research to compile our list of the best WordPress cloud hosting providers. This involved analyzing reviews for each host and evaluating their top features, such as scalability, security, performance, and cost. So, without further delay, let's get to it.
The Best WordPress Cloud Hosting Options Listed In Order
Expand List
1. Pressable

First, we have Pressable, the best WordPress cloud hosting provider on our list. Its intuitive dashboard simplifies WordPress site management, offering features such as automatic updates, free migrations, and staging. Pressable's high-performance cloud servers are optimized for WordPress. They use caching to deliver fast page load times and improve overall performance. Additionally, Pressable boasts one of the best security suites in the industry, including automatic malware scanning and removal, distributed denial of service (DDoS) attack protection, a firewall, and intrusion detection.
Key Features of Pressable:
100% network uptime guarantee
Expert level support
content delivery network (CDN)
Automatic failover system
Server firewall
Furthermore, Pressable offers an incredibly reliable feature that sets it apart from other hosting providers – the automatic failover system. This system constantly monitors your server, immediately detecting any potential disruptions. In the event of a problem, the failover system automatically switches to a different cloud server, ensuring that your site remains up and running 100% of the time. This feature is particularly noteworthy as it provides unparalleled uptime and reliability, making Pressable an ideal choice for those who prioritize website availability.
Pressable is best for:
For WordPress users looking to prioritize content creation without overspending, Pressable cloud hosting is an excellent choice. It offers reliability and scalability to handle high traffic volumes and features such as automatic updates, daily backups, and advanced security measures. Additionally, Pressable provides expert WordPress support, making it an ideal option for those needing technical assistance.
➡️ Read Our Complete Pressable Hosting Review.
Pressable
Starting Price
$25/month
Storage
20GB
Bandwidth
Unmetered
Monthly Visitors
30,000
Free Domain
❌
24/7 Support
✔️
Trustpilot Rating
⭐⭐⭐⭐⭐
Read the reviews
Visit Pressable
2. Scala Hosting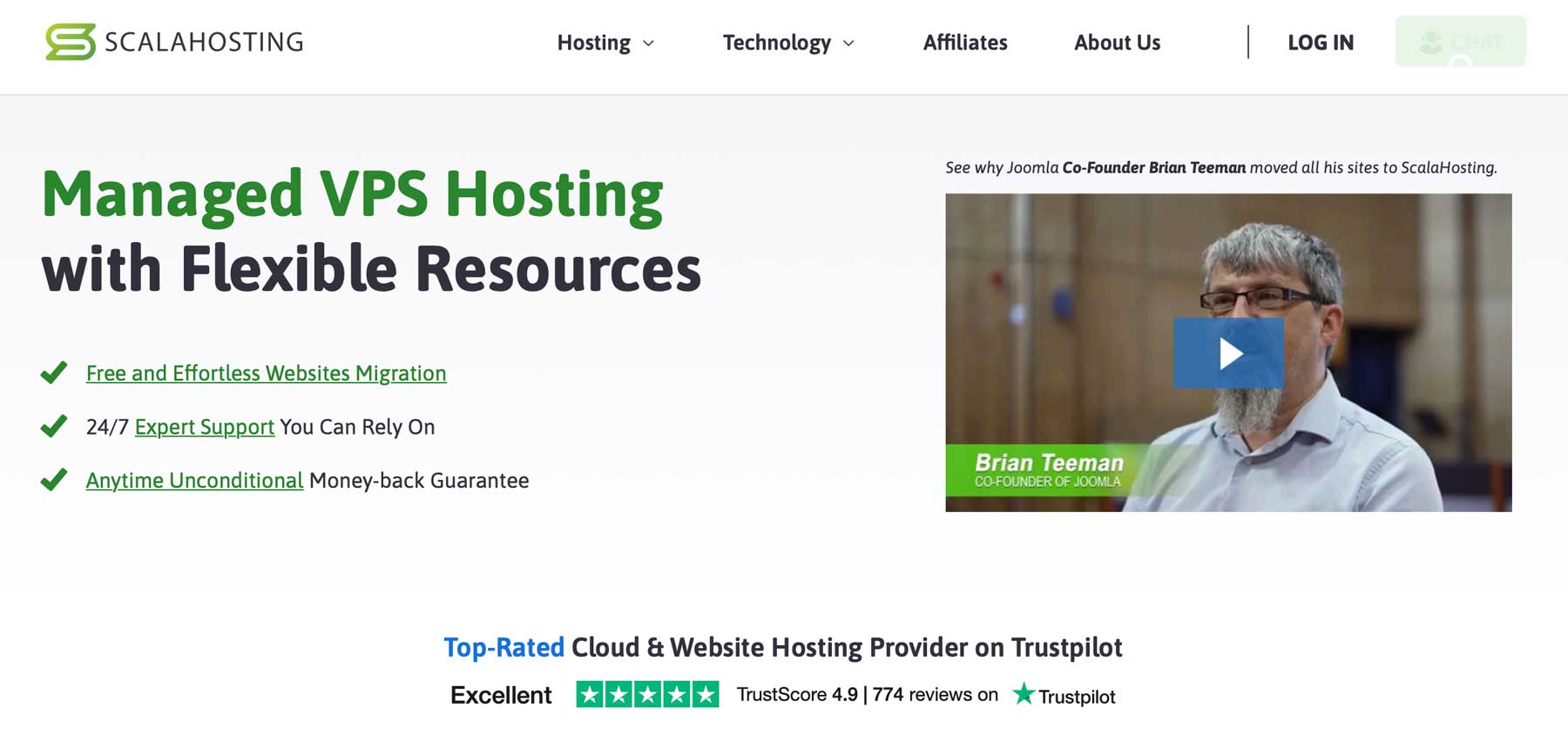 Continuing with our list of the top WordPress cloud hosting providers, we have Scala Hosting, a highly regarded managed cloud virtual private server (VPS) provider. Scala Hosting provides users with SPanel, which is similar to cPanel but provides an even more intuitive way to manage your hosting account. With multiple plans to choose from, Scala Hosting's packages come equipped with pre-installed software for blacklist monitoring and removal, outbound spam protection, and powerful caching through the use of LiteSpeed technology.
Key Features of Scala Hosting:
Free SSL
Free domain
LiteSpeed support
Free CDN
1-click WordPress installer
Dedicated IP address
Scala's cloud hosting for WordPress includes a dedicated environment, so you won't have to share resources with other clients. Additionally, you'll have perks such as a free domain, the ability to host unlimited websites, support for Nginx, and 24/7 live chat and email support. In addition, you'll get a dedicated IP address, which helps you rank higher in search engine ranking pages (SERPs).
Scala Hosting is best for:
Scala Hosting suits individuals, small businesses, and larger organizations needing reliable and fast hosting services with advanced security features. It also offers user-friendly website management, development tools, and scalable plans to accommodate future growth.
Scala Hosting
Starting Price
$29.95/month
Storage
50GB
Bandwidth
Unmetered
Monthly Visitors
Unmetered
Free Domain
✔️
24/7 Support
✔️
Trustpilot Rating
⭐⭐⭐⭐⭐
Read the reviews
Visit Scala Hosting
3. DreamHost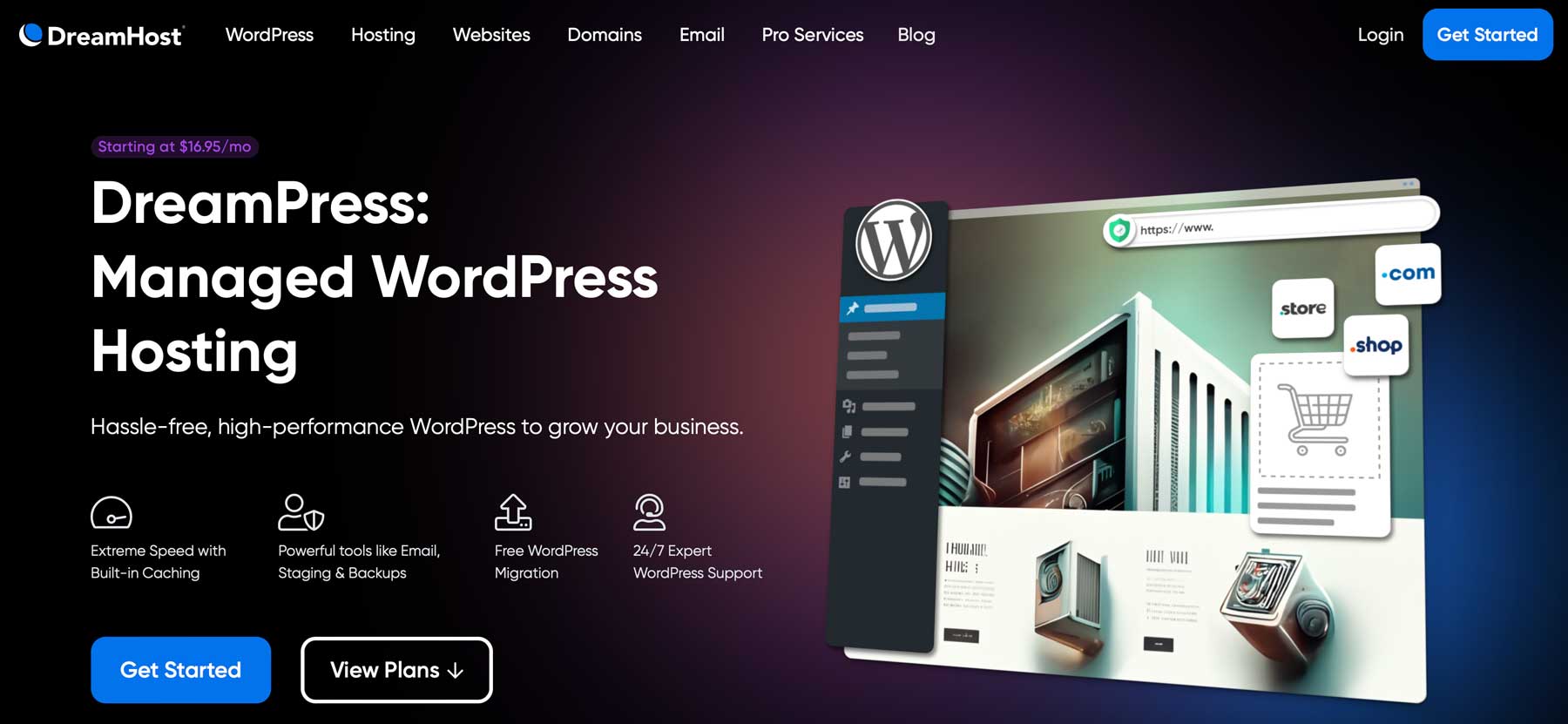 Moving on to our next cloud hosting provider, DreamHost offers a range of DreamPress plans for customers seeking reliable and managed cloud hosting services. Additionally, with DreamPress, users can rest assured that routine server and site maintenance is handled, leaving them free to focus on other aspects of their business. Furthermore, all DreamPress plans come with WordPress and an SSL certificate pre-installed, on-demand backups with 1-click restore, and a 1-click staging environment for testing website changes safely.
Key Features of DreamHost:
On-demand backups
Staging environment
Jetpack pre-installed
1-click WordPress installations
In addition, DreamHost offers the additional benefit of including Jetpack for free. Jetpack is a powerful security plugin that provides a range of benefits, such as downtime management, prevention of brute force attacks, and real-time malware scanning. It also includes automatic critical CSS generation, which can significantly boost website speed. Jetpack is an excellent addition to DreamHost's cloud hosting services, providing users with added security and performance benefits.
DreamHost is best for:
For users who prioritize daily business tasks over server maintenance, a managed hosting provider like DreamHost is an excellent choice. Additionally, it's an ideal option for those with large sites that experience high traffic volumes.
DreamHost
Starting Price
$19.95/month
Storage
30GB
Bandwidth
Unlimited
Monthly Visitors
100,000
Free Domain
❌
24/7 Support
✔️
Trustpilot Rating
⭐⭐⭐⭐⭐
Read the reviews
Visit DreamHost
4. SiteGround

SiteGround offers cloud hosting services built on Google Cloud, providing users with a reliable and high-performing hosting environment. WordPress sites hosted on SiteGround benefit from solid-state drives (SSD) and object caching, as well as the SG Optimizer plugin to assist with site caching.
In addition, SiteGround's ultra-fast PHP setup significantly reduces the time to first byte (TTFB), ensuring speedy website performance. One standout security feature of SiteGround's cloud hosting is their AI anti-bot system, which effectively stops malicious traffic and brute force attacks before they can even reach your website, providing added peace of mind for users.
Key Features of SiteGround:
Object and site caching
AI anti-bot system
Built on Google Cloud
Site Tools control panel
Additionally, you'll have access to Site Tools – SiteGround's proprietary control panel. It simplifies website management tasks such as managing files, databases, domains, and security settings. In addition, it offers a wealth of tools to help optimize website performance and a handy analytics dashboard to monitor your website's performance.
SiteGround is best for:
SiteGround is an excellent choice for those who require powerful caching features on both the server and website side. Additionally, their Site Tools site management panel offers a simple way to manage website files, domains, and other features.
➡️ Read Our Complete SiteGround Hosting Review.
Company Name
Starting Price
$12.99/month
Storage
10GB
Bandwidth
Unmetered
Monthly Visitors
10,000

Free Domain
❌
24/7 Support
✔️
Trustpilot Rating
⭐⭐⭐⭐⭐
Read the reviews
Visit SiteGround
5. Hostinger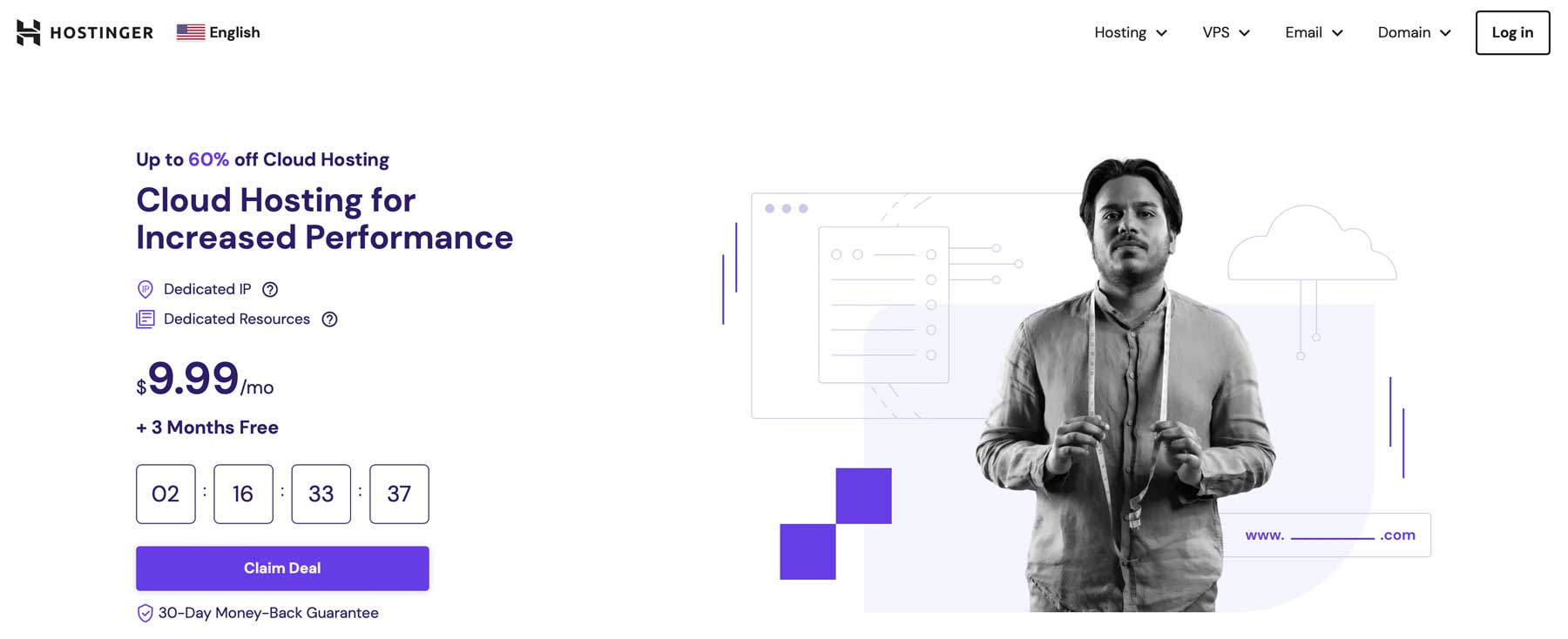 When it comes to features, Hostinger is a true powerhouse for cloud hosting. The Cloud Startup, their lowest-tiered plan, offers impressive benefits. You can host up to 300 websites, get a free domain, and benefit from unlimited free SSL certificates. In addition, the plan includes daily automatic backups, a dedicated IP address, free email, WP-CLI access, and support for WordPress multisite.
Key Features of Hostinger:
Free email
Free domain
WP-CLI
Unlimited free SSL certificates
Integrated Git access
In addition to the features mentioned earlier, developers will find Hostinger to be a dream come true thanks to its Git access. This feature provides ultimate control by enabling you to create repositories of your website that you can access, download, edit, and deploy automatically across multiple branches. Furthermore, Hostinger offers a host of other developer-friendly perks, such as SSH access, unlimited cron jobs, and the powerful control panel provided by DreamHost.
Hostinger is best for:
If you're a tech-savvy developer seeking ultimate control over your server and websites, Hostinger is an excellent option. Moreover, those looking to host multiple websites will find Hostinger's hosting plans robust, fast, and capable of handling large sites.
Hostinger
Starting Price
$9.99/month
Storage
200GB
Bandwidth
Unlimited
Monthly Visitors
Unlimited
Free Domain
✔️
24/7 Support
✔️
Trustpilot Rating
⭐⭐⭐⭐⭐
Read the reviews
Visit Hosting
6. Cloudways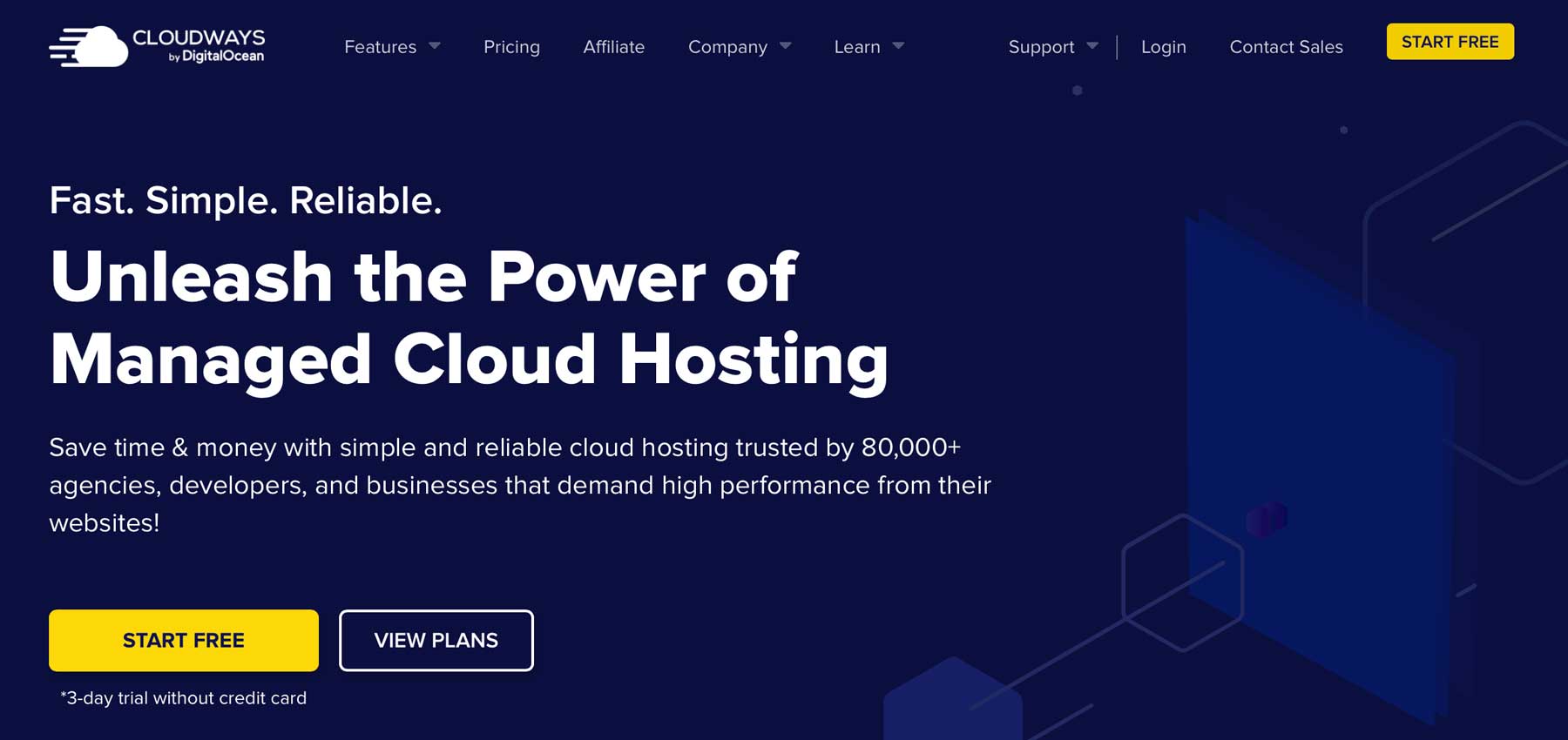 Cloudways is another top contender in the WordPress cloud hosting space, offering an impressive range of features at an attractive price point. Moreover, their pricing approach is unique compared to others on our list. Specifically, it uses modular pricing, allowing you to pay for only the needed features. This means that you can easily add more RAM, storage space, and other features as your business expands.
Key Features of Cloudways:
Modular pricing
Advanced security features
Free SSLs and migration
Staging and caching
When it comes to features, Cloudways certainly doesn't disappoint. You'll have access to automatic backups, updates, Cloudflare CDN, free SSLs, migration, staging, and caching – all the essentials needed to optimize your WordPress site. While the user interface may not be as streamlined as other hosting companies, it provides everything you need to manage your sites effectively.
Once you get past the initial learning curve, you'll quickly discover that Cloudways is one of the best and most affordable cloud hosting providers on the market. With its wide range of features and modular pricing approach, Cloudways is an excellent option for businesses of all sizes.
Cloudways is best for:
Cloudways can be a great option if you are looking for an affordable cloud hosting provider with many features. However, it is important to note that the interface can be a bit complex and may have a learning curve. If you don't mind investing time in reading tutorials, Cloudways can be a good fit for you.
➡️ Read Our Complete Cloudways Hosting Review.
Cloudways
Starting Price
$12/month
Storage
25GB
Bandwidth
1TB
Monthly Visitors
Unlimited
Free Domain
❌
24/7 Support
✔️
Trustpilot Rating
⭐⭐⭐⭐⭐
Read the reviews
Visit Cloudways
7. WP Engine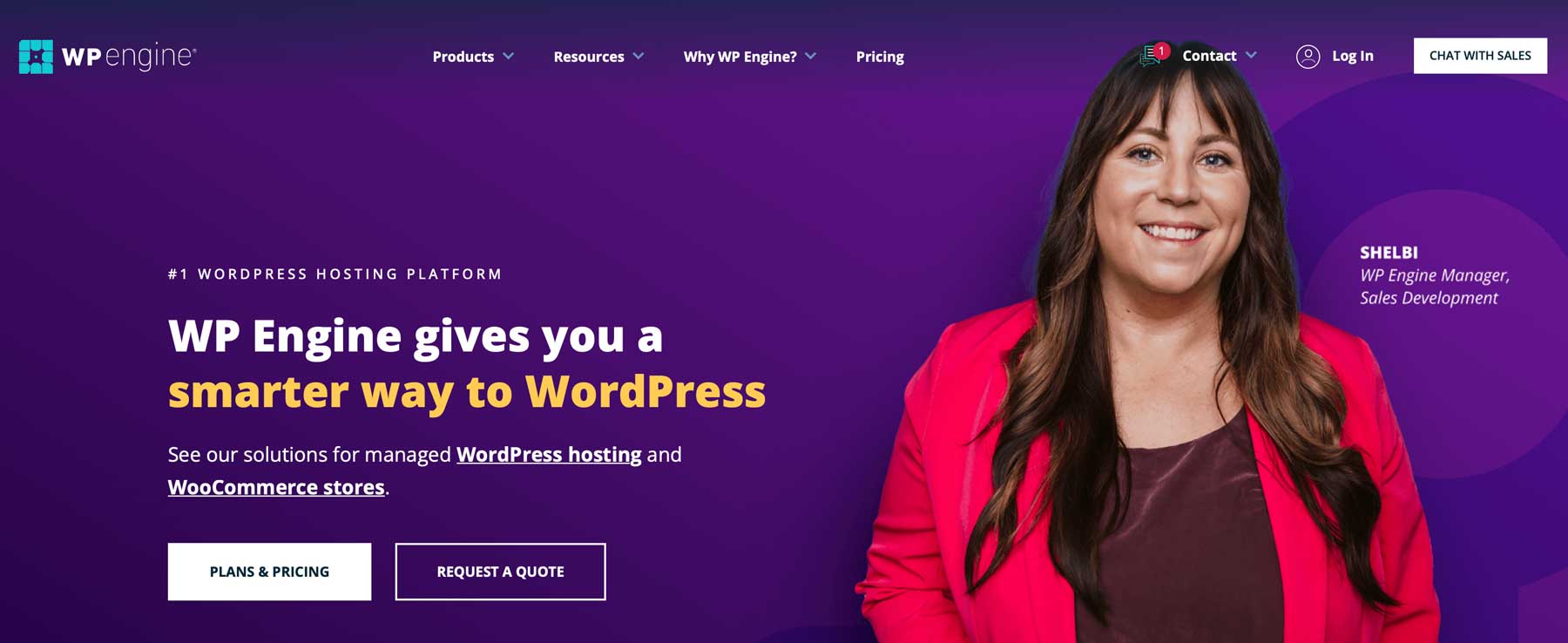 Next up is WP Engine, which leverages both Google Cloud and AWS hosting to provide cloud plans that offer a streamlined managed WordPress hosting experience through an easy-to-use interface packed with helpful features. All WP Engine plans come with 24/7 support, free migration, daily backups, development, staging, production environment, a CDN, and multi-factor password protection. WP Engine also simplifies transferring sites you've created into other WP Engine accounts for easy hand-off.
Key Features of WP Engine:
AWS and Google Cloud servers
User-friendly dashboard
Dev, staging, and prod environments
Multi-factor password protection
It is worth noting that WP Engine's most affordable plan, the Startup, includes chat-only support. However, based on our experience, chat support can more than address any issues that may arise. Along with the standard features mentioned earlier, users can also choose to add on additional services like a smart plugin manager that automatically takes care of updates for themes, WordPress, and plugins. Additionally, WP Engine provides global edge security, which features a robust firewall, advanced DDoS mitigation, and SSL certificates that are automatically generated. Finally, WP Engine's geotarget feature enables users to deliver content to specific users based on their location.
WP Engine is best for:
WP Engine is a great solution for freelancers and individuals who want to build WordPress sites easily. Moreover, they can quickly transfer them to clients or other WP Engine accounts. If you're concerned about security, WP Engine's multi-factor password authentication feature should put your mind at ease.
➡️ Read Our Complete WP Engine Hosting Review.
WP Engine
Starting Price
$20/month
Storage
10GB
Bandwidth
50GB
Monthly Visitors
25,000
Free Domain
❌
24/7 Support
✔️
Trustpilot Rating
⭐⭐⭐⭐⭐
Read the reviews
Visit WP Engine
8. Kinsta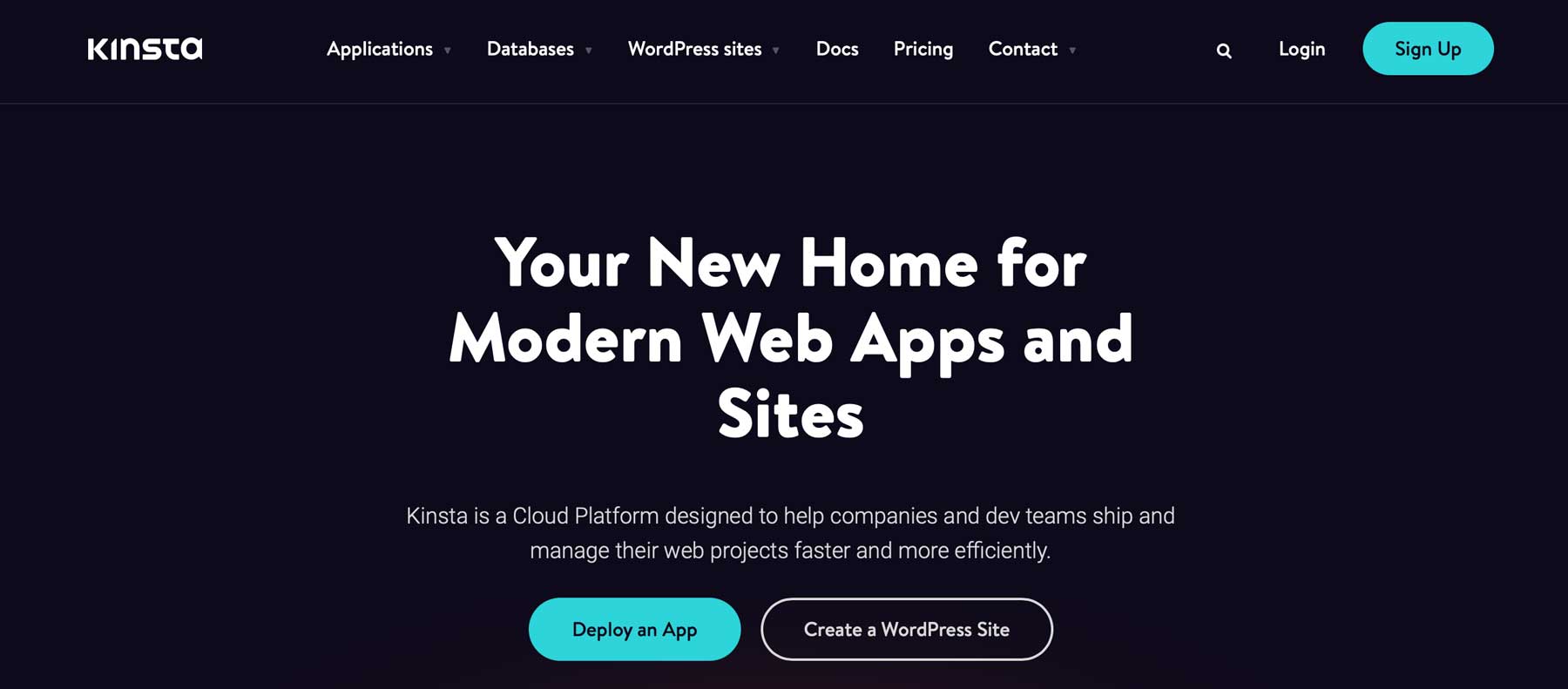 It is essential to include Kinsta on our list of best WordPress cloud hosting providers because of the features and speed enhancements they offer, even though they are slightly pricier than others. Kinsta gives SSD hard drives, a free CDN with 100GB of storage, 14-day backup retention, and dedicated PHP workers. These features are crucial in creating and maintaining a fast and reliable website.
Key Features of Kinsta:
SSD hard drives
CDN with over 100GB storage capacity
14-day backup retention
Dedicated PHP workers
For maximum benefit from Kinsta's services, it's best to choose their Pro Plan. This plan provides double bandwidth and CDN storage, supports WordPress multisite, and allows cloning for testing and development. Kinsta prioritizes security by including a firewall, DDoS detection, uptime monitoring, and daily backups. By selecting the Pro Plan, you can make the most of these features and guarantee a fast and secure website.
Kinsta is best for:
Kinsta is a hosting provider that stands out for its suitability for medium to large agencies, and there are several reasons why. Firstly, their plans are highly scalable, so you can easily upgrade your plan as your needs change. Kinsta offers custom plans designed for clients with high-traffic requirements and complex needs. This makes it an excellent choice for businesses that require excellent dedicated and enterprise-level hosting solutions tailored to their unique needs.
➡️ Read Our Complete Kinsta Hosting Review.
Kinsta
Starting Price
$35/month
Storage
10GB
Bandwidth
100GB
Monthly Visitors
25,000

Free Domain
❌
24/7 Support
✔️
Trustpilot Rating
⭐⭐⭐⭐
Read the reviews
Visit Kinsta
Comparing Our Top Choices for WordPress Cloud Hosting
Regarding cloud hosting for WordPress, several excellent options are available. Three of the best choices are Pressable, Scala Hosting, and DreamHost. Pressable is particularly notable for its high level of performance and its focus on managed WordPress hosting. Scala Hosting, on the other hand, provides an excellent balance of performance and affordability, making it a great choice for those on a budget. Finally, DreamHost is known for its user-friendly interface and excellent customer support. Despite their differences, all three hosts offer a range of features and benefits that make them ideal for those seeking reliable and scalable cloud hosting solutions for their WordPress websites.
Final Thoughts on Cloud Hosting
The cost may be a factor when shopping for a new hosting plan, but cloud hosting is a great choice when considering scalability, reliability, and the number of features. Additionally, with cloud hosting, you can use robust security measures such as a firewall and data encryption. Thankfully, we've provided some good options for those who are more budget focused. Regardless of your host, our list gives you plenty to choose from.
Still not sure what host to choose? We think these top hosting providers are the best of the best.
Frequently Asked Questions (FAQs)
Before we wrap up, let's answer some of your most common questions regarding WordPress cloud hosting. Did we miss one? Leave a question below, and we will respond!
What is the best WordPress cloud hosting service provider?
Pressable
is considered one of the best WordPress cloud hosting service providers because of its 100% network uptime guarantee, WordPress-focused support, content delivery network (CDN), automatic failover system, and server firewall. It's powered by the same infrastructure that powers WordPress.com, which makes them WordPress hosting experts! These features provide reliable hosting, fast website loading times, and robust security measures, ensuring a positive user experience for website visitors.
What is the best free WordPress cloud hosting service provider?
There are several free WordPress cloud hosting service providers, each with its own strengths and limitations. Ultimately, the best provider for you will depend on your specific needs and preferences. You can review our post to learn more about the
best free hosting
. However, we recommend using a paid hosting provider featured above if you want a solid cloud hosting solution.
What is the cheapest WordPress cloud hosting service provider?
Hostinger
is the cheapest WordPress cloud hosting service provider on our list; its starting price is $9.99/month. Hostinger offers several key features, including free email, free domain, WP-CLI for easy WordPress management, unlimited free SSL certificates, and integrated Git access for version control. These features make Hostinger a popular choice for reliable and secure web hosting.
How much does WordPress cloud hosting cost?
WordPress cloud hosting costs vary depending on the hosting provider and your chosen plan. The beauty of cloud hosting is that it can scale on demand based on your needs. Prices range from a few monthly dollars for basic plans to hundreds or even thousands for enterprise-level plans with advanced features and resources. For example, the starting price of
Pressable
is $25/month, whereas the starting price of
DreamHost
is $19.95/month.
Can I host a WordPress website on Google Cloud for free?
Yes, Google Cloud offers a free tier with limited resources, which can be used to host a WordPress website. However, additional charges may apply if you exceed the free tier's usage limits or require additional resources.
What are the advantages of hosting WordPress on Google Cloud?
Hosting WordPress on Google Cloud provides several advantages, including scalable infrastructure, reliable performance, global reach, and integration with other Google Cloud services. It also offers robust security features and 24/7 support.
How does WordPress cloud hosting differ from regular WordPress hosting?
WordPress cloud hosting differs from regular WordPress hosting because it utilizes cloud-based infrastructure instead of traditional servers. This provides greater scalability, reliability, flexibility, enhanced security features, and access to other cloud-based tools and resources. It also allows websites to scale because cloud hosting resources can typically be increased on demand.
What is the best WordPress cloud hosting service provider for large sites?
DreamHost
is an excellent option for large sites due to its advanced features, such as on-demand backups, staging environment, pre-installed Jetpack, and easy 1-click WordPress installations. It also offers reliable performance, scalable infrastructure, and 24/7 customer support.