When you think about good managed WordPress hosting, hopefully Pressable comes to mind. If not, we're going to walk you through some of the reasons we think it should. Not only is Pressable run and hosted by the team at Automattic (folks behind WordPress itself), the whole infrastructure is set up on the same servers that host WordPress.com and all the sites there. Basically, if you're looking for the place for managed WordPress, Pressable hosting just might be it.
Subscribe To Our Youtube Channel
Pressable Hosting Pricing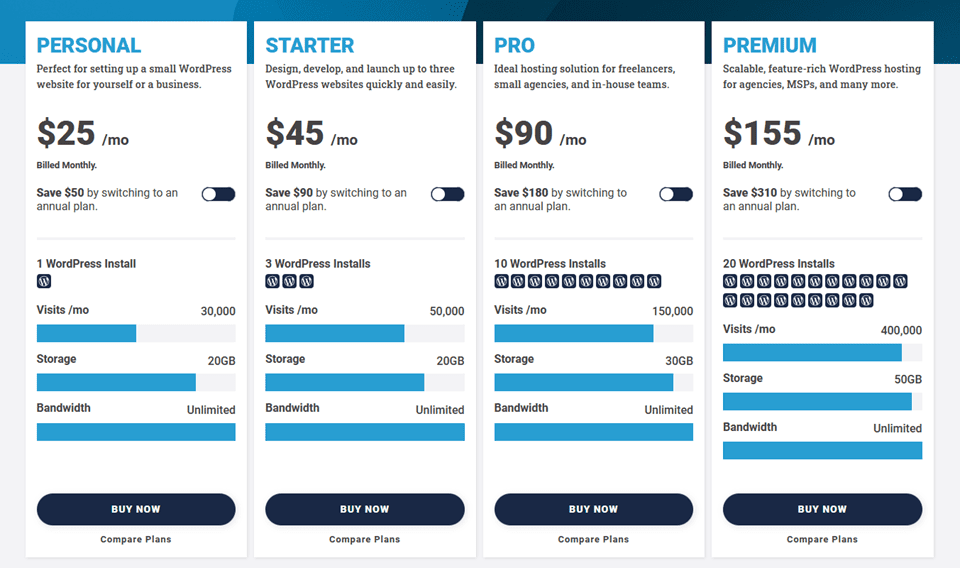 Pricing for Pressable hosting is pretty comparable to other managed hosts, such as Flywheel. One difference that we want to call out is that with Pressable, the bandwidth remains unlimited regardless of your pricing tier. The storage space is generally larger, too, at the lower levels. As much as 4x some of their competitors.
We find this important to note because even a site that might get under 30k visitors per month (the Personal plan) might still have need of large file transfers such as videos, streams, podcasts, and other multimedia files. Rather than being limited to, for example, 5gb of storage and 20gb bandwidth, you can store larger files and distribute them without relying on a third-party service. This is incredibly important for those who need absolutely secure media and servers. Providing unlimited bandwidth is a huge benefit to using Pressable over competitors.
Additionally, Elegant Themes members can get a discount on Pressable hosting when they sign up. Pressable offers our users hosting plans that are optimized for Divi. That means Pressable configures the servers to include all of our recommended settings by default. You can read more about that here. They also import your API keys and auto-install Divi on all new sites you spin up, so your key management and site-launch checklists are a lot shorter and simpler using Divi hosting.
Pressable Hosting Features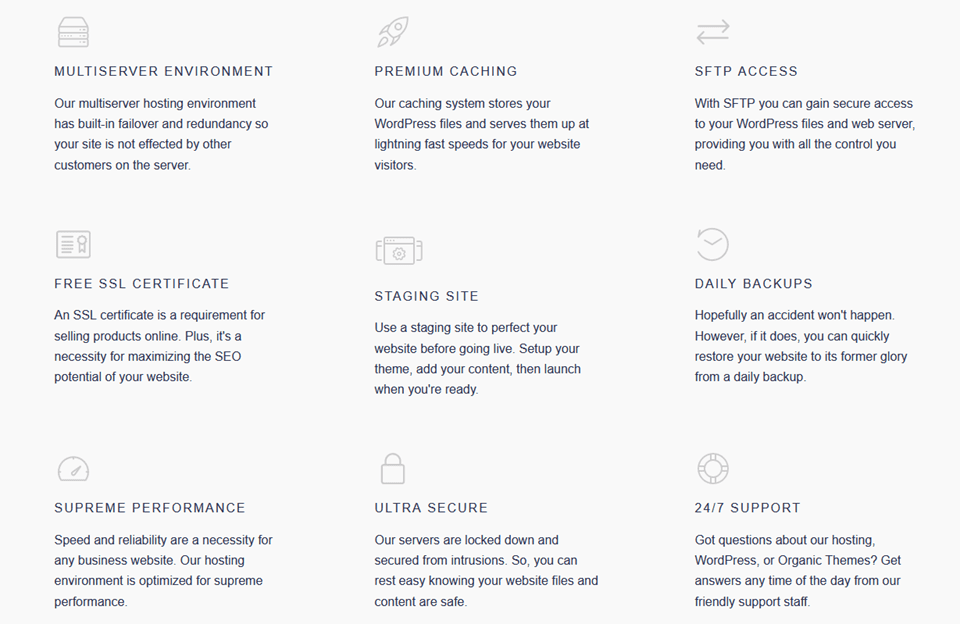 Managed Pressable hosting is absolutely solid in the features they provide.
By far and above, the most important is their server redundancy. Because their server farm hosts all of the WordPress.com sites out there, they can't afford to have that much of the internet stop working. So they offer a multiserver environment so that if your site's server malfunctions, another instance is up and running immediately. That said, they also use this to prevent many of the issues that can come up with shared hosting plans. Meaning, you're not going to be impacted if another Pressable user brings malware into their site. It won't cross-contaminate to yours.
After all, they offer a 99.999% uptime guarantee. No one can say 100% for obvious reasons. But this is pretty darn close. In our experience, it's been true, too.
Additionally, Pressable offers free SSL for your sites, staging sites and daily backups. We consider the daily backups to be a major benefit of the platform. Combine that with the dedicated multiserver environment and 24/7 support, it's like having a team of superheroes making sure that your site doesn't fail under any circumstances. And in our experience with Pressable hosting, that's been the case for sure.
The Pressable CDN also deserves a mention here, too. Pressable routes all sites through their own CDN (content delivery network). If you're familiar with the Jetpack plugin and the Photon CDN the plugin utilizes for media files, think about the one from Pressable as being Photon's older sibling.
And one last thing regarding features. Pressable hosting does include built-in caching. You can access the controls and purging under the Settings tab for each individual site on your account.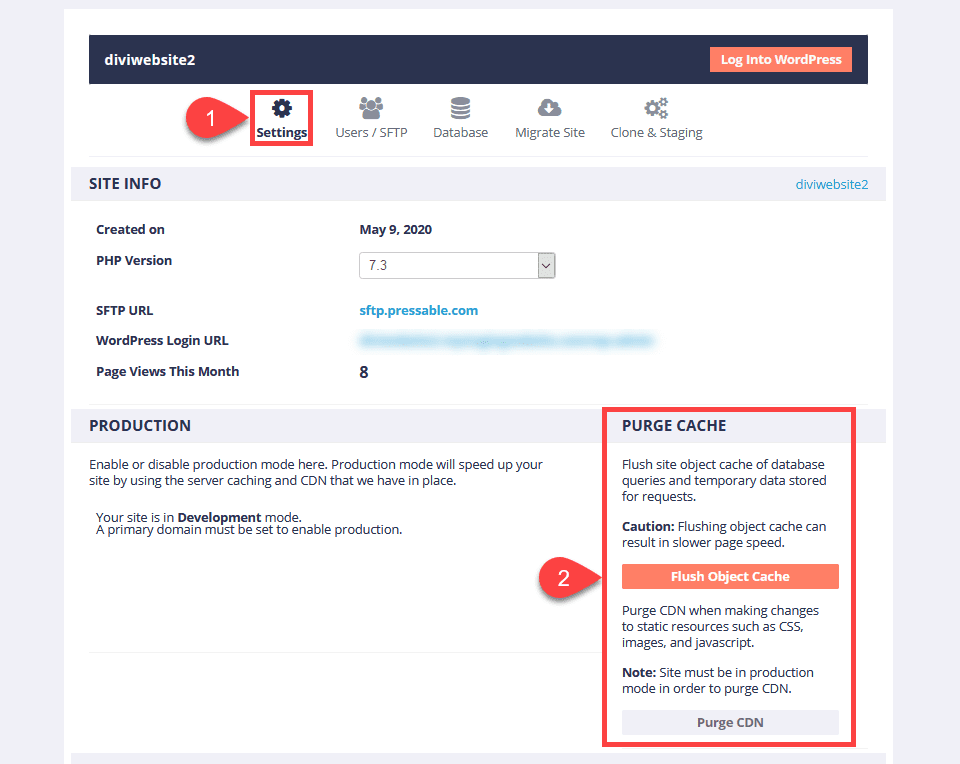 Using many of the most popular WordPress caching plugins is often not allowed on managed hosts like this one because of a specialty configurations between the managed cache and CDN. (This optimization is part of what you're paying for with managed hosting.)
The Pressable Hosting Dashboard
The hosting dashboard is very simple and intuitive. When you log in, you get the choice of either setting up a Brand New Site or Migrating a Site from Another Account. If you're migrating, you use the Pressable migration plugin, and it will give you the instructions to follow. Creating a new site is as simple as clicking on the Brand New Site button and selecting the type of installation you want.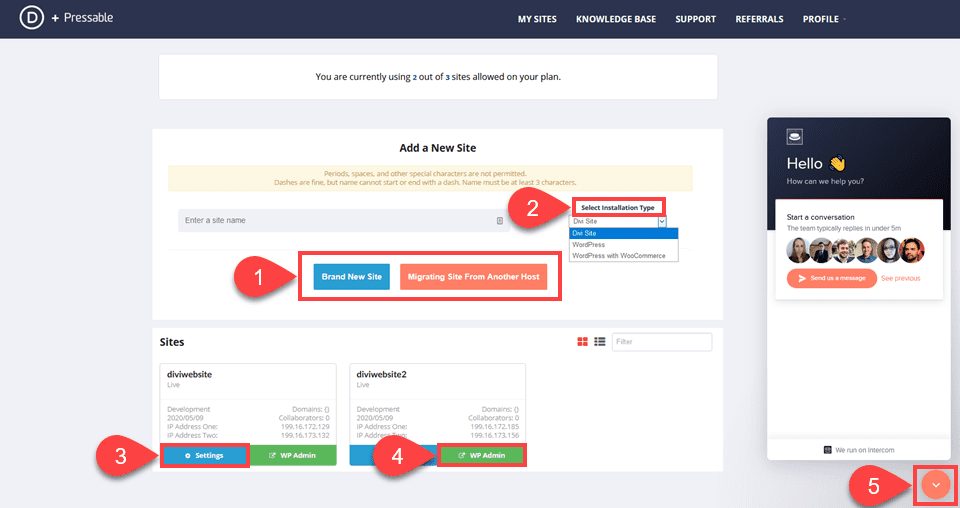 If at any point during this, you need help, a customer service rep is just a click away in the lower-right corner. Any sites that you create on your plan will appear at the bottom of this page. You can access the general settings for the sites as well as go into the traditional WordPress dashboard from here, too.
Site Settings
When you go into the Settings section for any individual site that you've created, you will find 5 tabs worth of settings to fiddle with.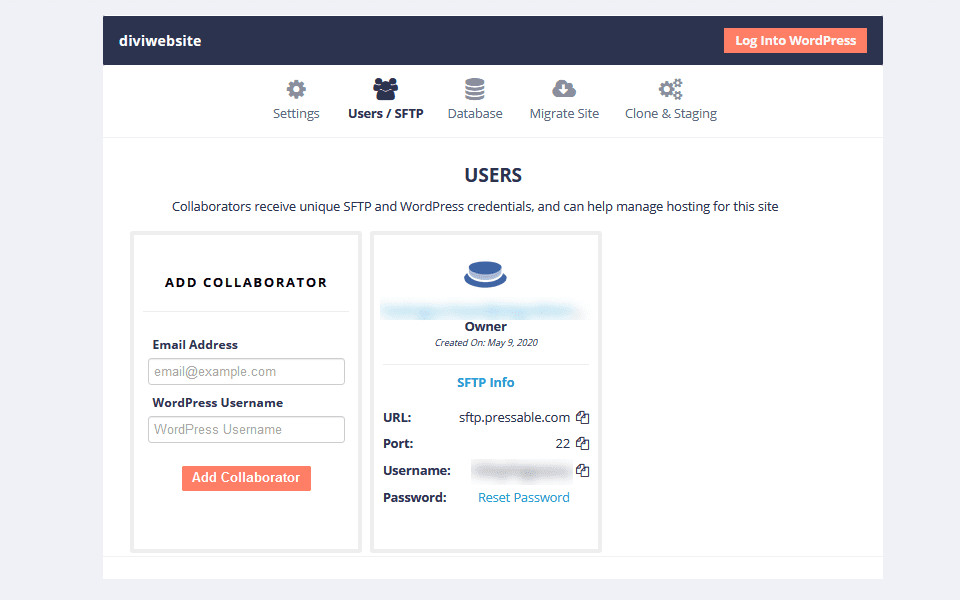 Tabs such as Migration and Clone and Staging are self-explanatory. The Users tab is very useful on its own, though. Not only do you get your SFTP information here, but you also get to add collaborators. You add team mates or clients to this individual site via this tab. Just enter their email and select a username. Pressable then sends them an email with their permissions and credentials. It's very handy if you want folks to help with site management on a level deeper than just the WordPress admin panel.
Usage Stats
While you will be mindful of analytics via Google and other means, Pressable hosting does offer its own overview of your plan. Hover over the Profile item in the menu, and then select Plan Usage to see the stats.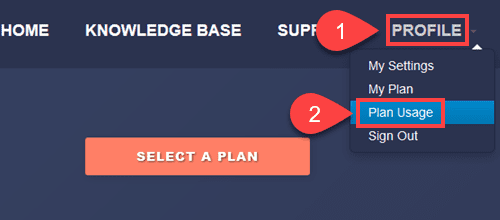 The stats include Total Views, Total Unique, and Daily Average Storage Used. You don't get detailed overviews of every last detail like you would with Google Analytics. But Pressable gives you an overview of every site on the account. That way, you can see if there are any really needing your attention immediately.
Wrapping Up
Managed Pressable hosting is one of the most solid platforms out there. That comes as no surprise given that it's backed by Automattic and runs on the same servers as WordPress.com. With free CDN access, unbelievable uptime, and a massive support infrastructure, Pressable is absolutely a top contender in the WordPress hosting world. And one that you'd be doing yourself a disservice to overlook.
What have your experiences been with Pressable hosting?