Choosing a hosting provider for your WordPress website is a difficult decision. There are so many options that it can be challenging to weed through them. In this post, we will give you the tools to decide which hosting provider to choose based on your specific needs, so you can decide which is the best WordPress hosting company for your business. Let's get started.
WordPress Hosting Requirements
One of the reasons that WordPress is so popular is because of its limited requirements. To successfully run it, you'll need a server with supported versions of PHP, MySQL, or MariaDB and support for HTTPS.
Thankfully, most WordPress hosting providers will have no problem meeting these requirements. It's important to note that running an outdated or unsupported version leaves your site vulnerable to hacks and other security concerns. If you're about to embark on a PHP update, read The Complete Guide on How to Update PHP in WordPress to get some valuable pointers.
The Best WordPress Hosting in 2023
We've compiled a list of the best WordPress hosting providers available to make your choice easier based on our hands-on experience. Each has pros and cons, but the following providers are among the best WordPress hosting providers based on performance and features.
The Best WordPress Hosting Providers Listed In Order
Expand List
1. SiteGround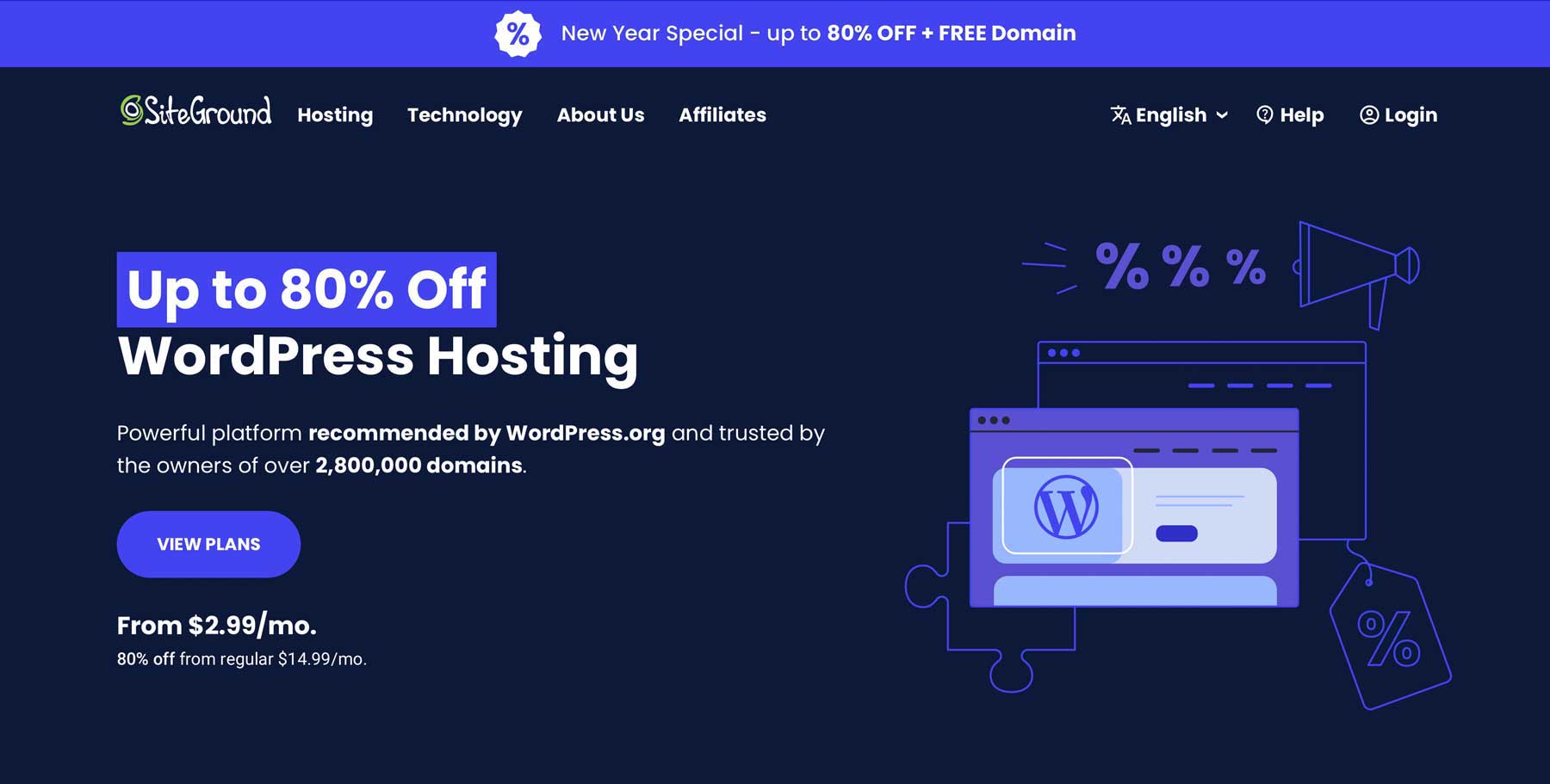 SiteGround is one of the more popular choices for managed WordPress hosting, and in our opinion, the best. With plans for every budget, stellar customer support, and abundant features at your disposal, it's worth considering. Siteground offers shared VPS hosting to its clients, complete with the Site Tools dashboard to make navigating the interface a breeze.
Key Features for SiteGround
Intuitive Site Tools dashboard
Impressive security features
SG Optimizer plugin to boost page speed results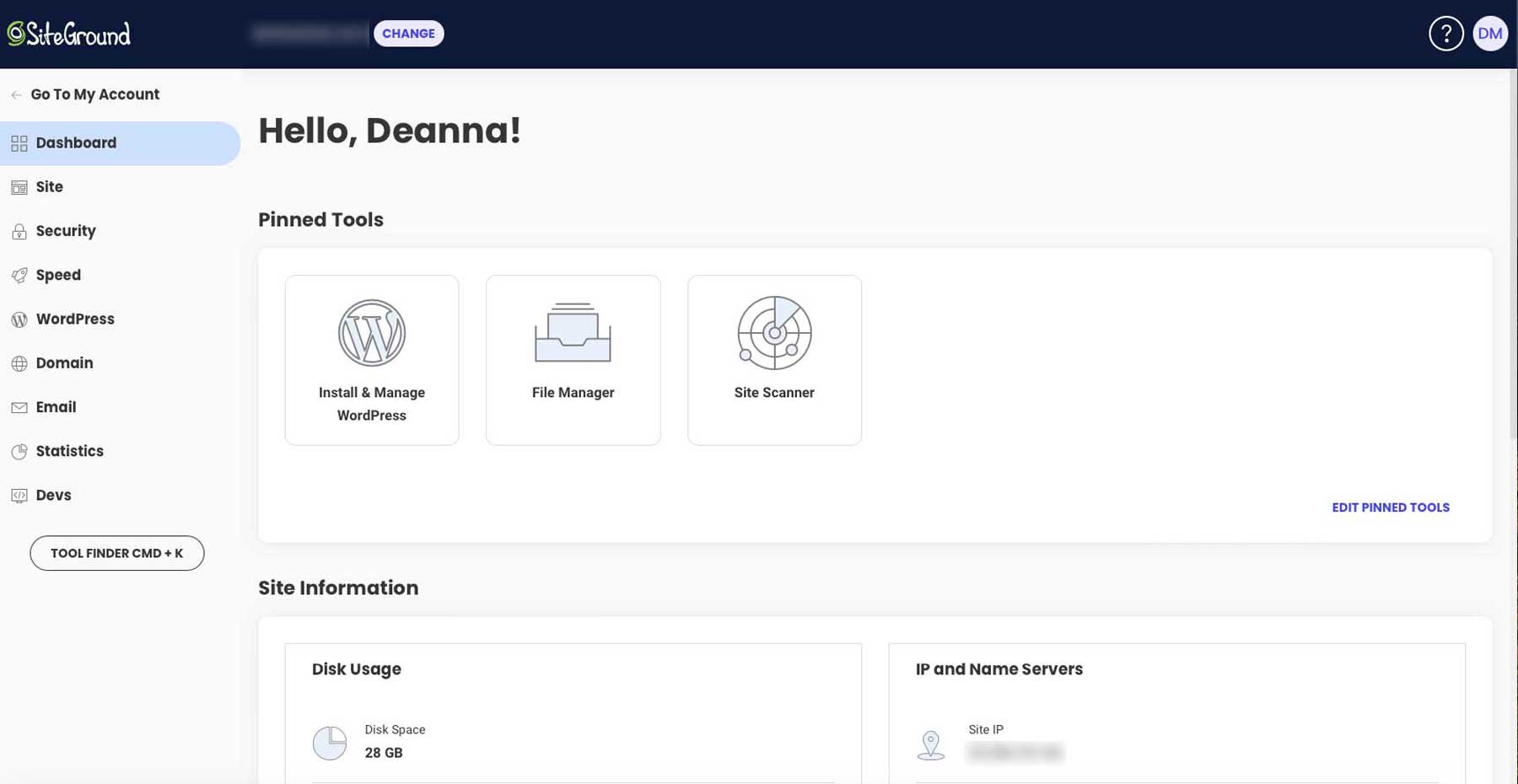 You'll have tools such as one-click WordPress installs, file manager access, information about your site's speed and performance, security, domain, and email tabs. With plans starting at $14.99 for single-site installations and $24.99 for unlimited sites, you'd be hard-pressed to find a better deal. With every SiteGround plan, you'll get a free domain, site migrations, daily backups, SSL, CDN, free business email, and more.
SiteGround is best for:
WordPress users who have one or even hundreds of sites will get their money's worth from SiteGround. They offer a fast environment, easy site management, and the best customer support on the market.
➡️ Read Our Complete SiteGround Hosting Review.
SiteGround
Starting Price
$14.99/month
Storage
10GB
Bandwidth
Unmetered
Monthly Visitors
10,000
Free Domain
❌
24/7 Support
✔️
Trustpilot Rating
⭐⭐⭐⭐⭐
Read the reviews
Visit SiteGround
2. Hostinger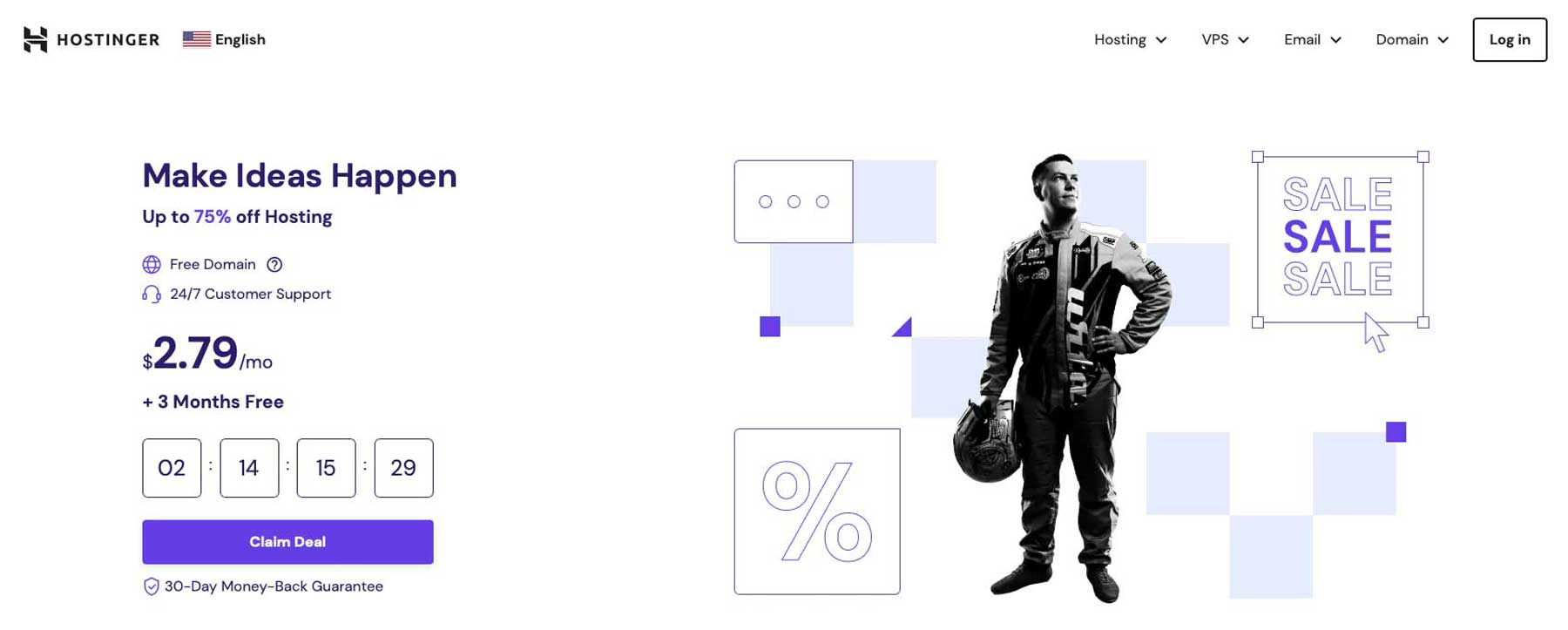 Our next best WordPress hosting provider – Hostinger – offers shared, managed, and optimized WordPress hosting for a reasonable cost. Plans start at $9.99 per month for their lowest-tiered plan, usually offered at a deeply discounted price for budget-conscious people. All plans are built upon LiteSpeed webserver software, considerably boosting page loading times.
Key Features for Hostinger:
Generous amount of storage, even on smaller plans
Hosting built with LiteSpeed
PHP version control
All Hostinger plans come well-equipped with plenty of tools to get the job done, including a staging tool, automatic WordPress updates, one-click application installs with Softaculous, automated daily or weekly backups, and several pro features like WP-CLI, PHP version control, and Git integration.

Hostinger offers four plans for entry-level WordPress users, to WP pros, with prices ranging from $9.99 – $24.99 monthly. Their lowest-tiered plan, Single WordPress, gives you more than enough power to host a small WordPress site. Features include 50GB of storage, 100GB of bandwidth, Cloudflare, a malware scanner, free SSL, and more. However, it only provides .75GB of RAM, which is unsuitable for larger sites.
Hostinger is best for:
Hostinger has plans for most WordPress users. While their lower-tiered plan is best for WordPress beginners with smaller sites, their high-end WordPress Pro plan offers enough hosting prowess to accommodate even the largest agencies with space for 300 websites.
Hostinger
Starting Price
$11.99/month
Storage
50GB
Bandwidth
100GB
Monthly Visitors
Unmetered
Free Domain
❌
24/7 Support
✔️
Trustpilot Rating
⭐⭐⭐⭐⭐
Read the reviews
Visit Hostinger
3. Cloudways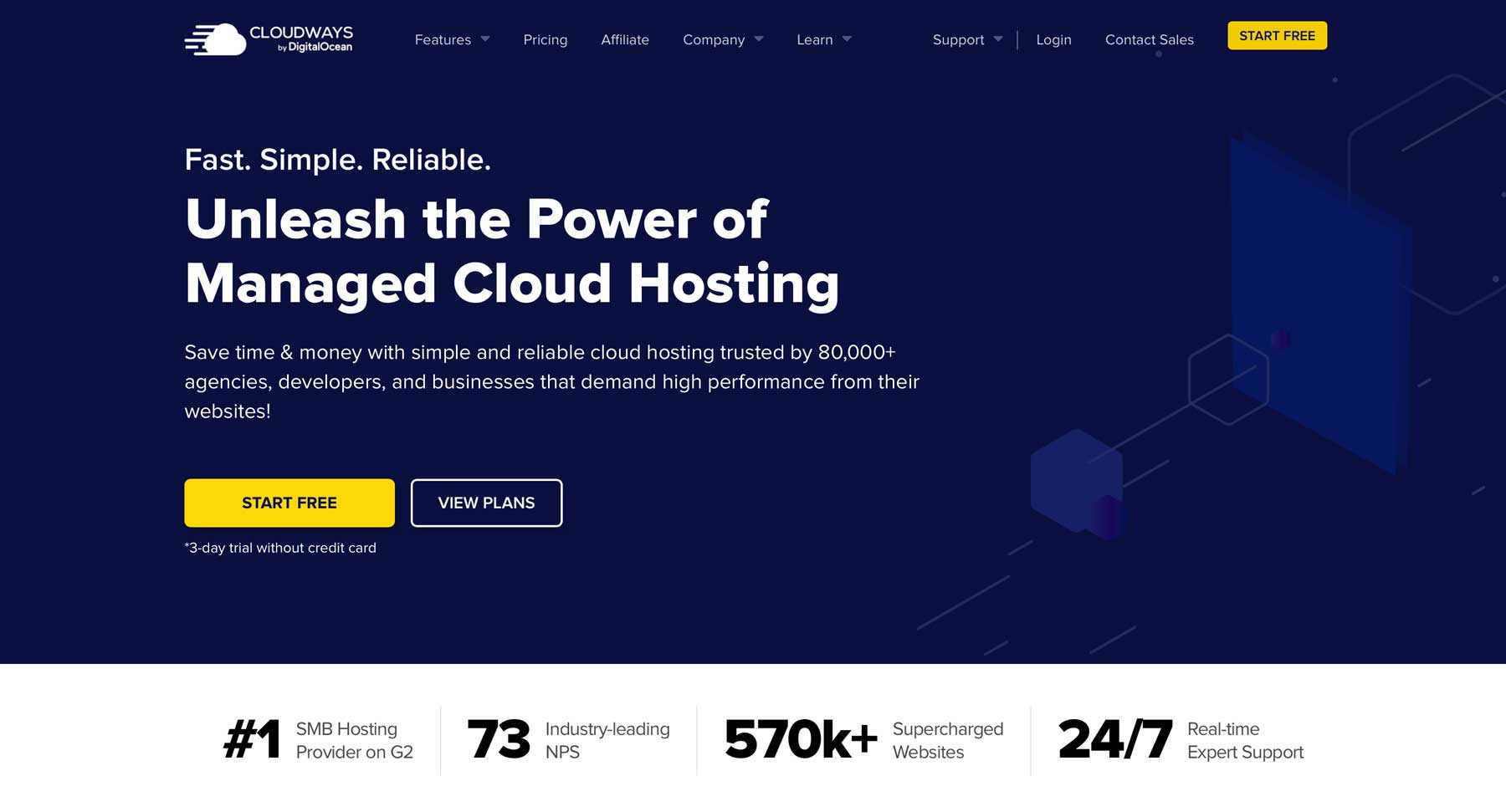 Cloudways is a managed cloud hosting provider that gives you a big bang for your buck. You can start with a lower-tiered plan and pay for what you need now. As your business grows, you can add more features, bandwidth, and storage at a reasonable cost. Like SiteGround, Cloudways doesn't limit the number of sites you can have on your server. That being said, there are differences between the two.
Key Features for Cloudways
Advanced security features
Staging, cloning, and automatic backups
Free migration, SSL, and Cloudflare

The dashboard could be easier to navigate for beginners. Still, you'll find everything you need, including backups, a free SSL, staging, and cloning management, advanced security features such as bot and malware protection, migration tools, and integrations with Rackspace, Cloudflare, and Git, amongst others. With plans starting at only $11 per month, you'll get a full-featured hosting solution that's fast, secure, and scalable.
Cloudways is best for:
Those who want to manage their own server, control which plugins can be installed, and need fast cloud hosting will find Cloudways an excellent choice. As previously mentioned, the tools with Cloudways are a bit cumbersome. Still, once you're past the learning curve, you'll find it capable of handling any number of WordPress websites.
➡️ Read Our Complete Cloudways Hosting Review.
Cloudways
Starting Price
$11/month
Storage
25GB
Bandwidth
1TB
Monthly Visitors
Unlimited
Free Domain
❌
24/7 Support
✔️
Trustpilot Rating
⭐⭐⭐⭐⭐
Read the reviews
Visit Cloudways
4. Pressable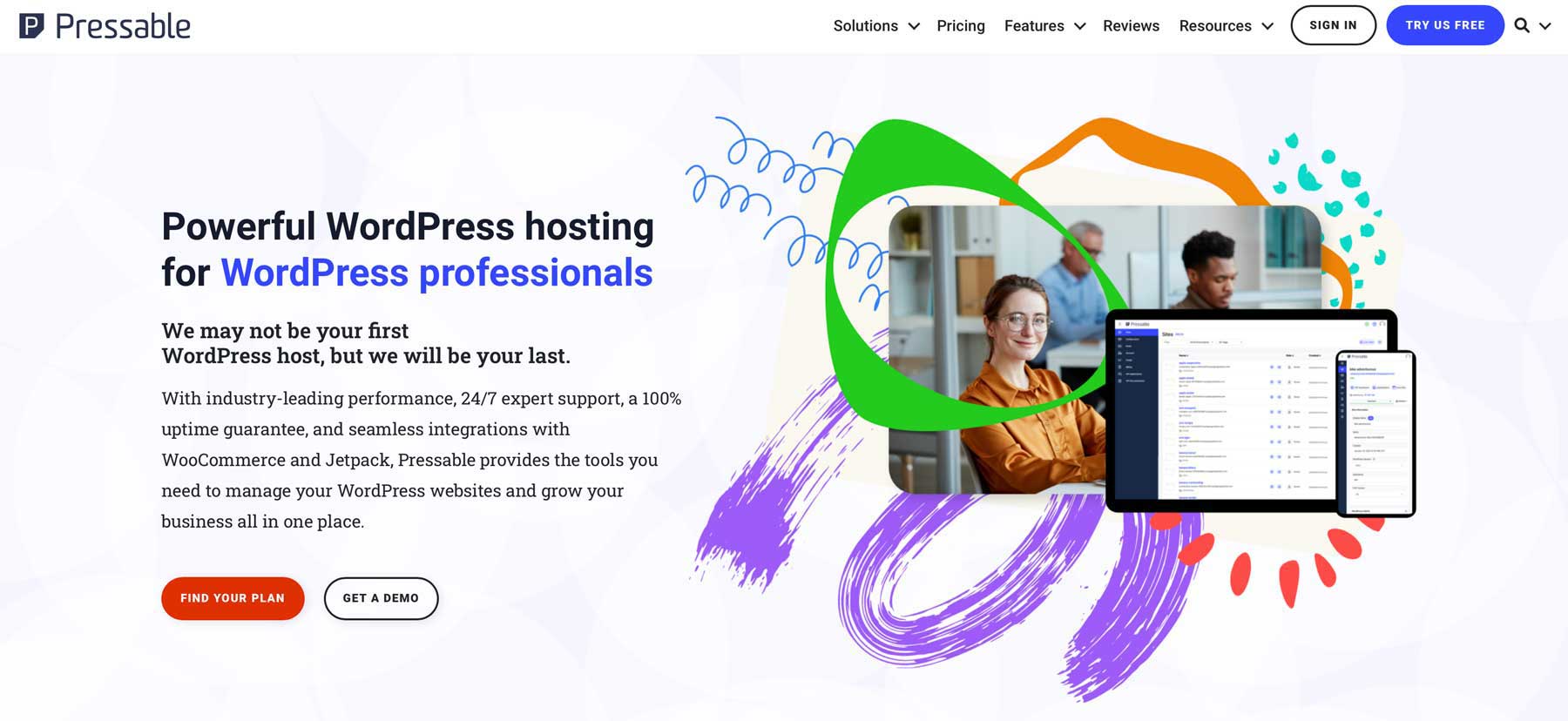 Pressable offers managed VPS hosting and has one of the most simple interfaces of any hosting provider on our list. You can access your sites with one click and manage them with ease. You can change the PHP version, assign domains, see performance metrics, add SFTP users, and manage backups, all within a click or two. Pressable's ease of use stems from its deep integration with WordPress. They are owned and operated by the folks that brought us WordPress, Automattic, so they know WordPress.
Key Features for Pressable
Easy-to-use dashboard
Proprietary CDN
Free SSL, migration, and staging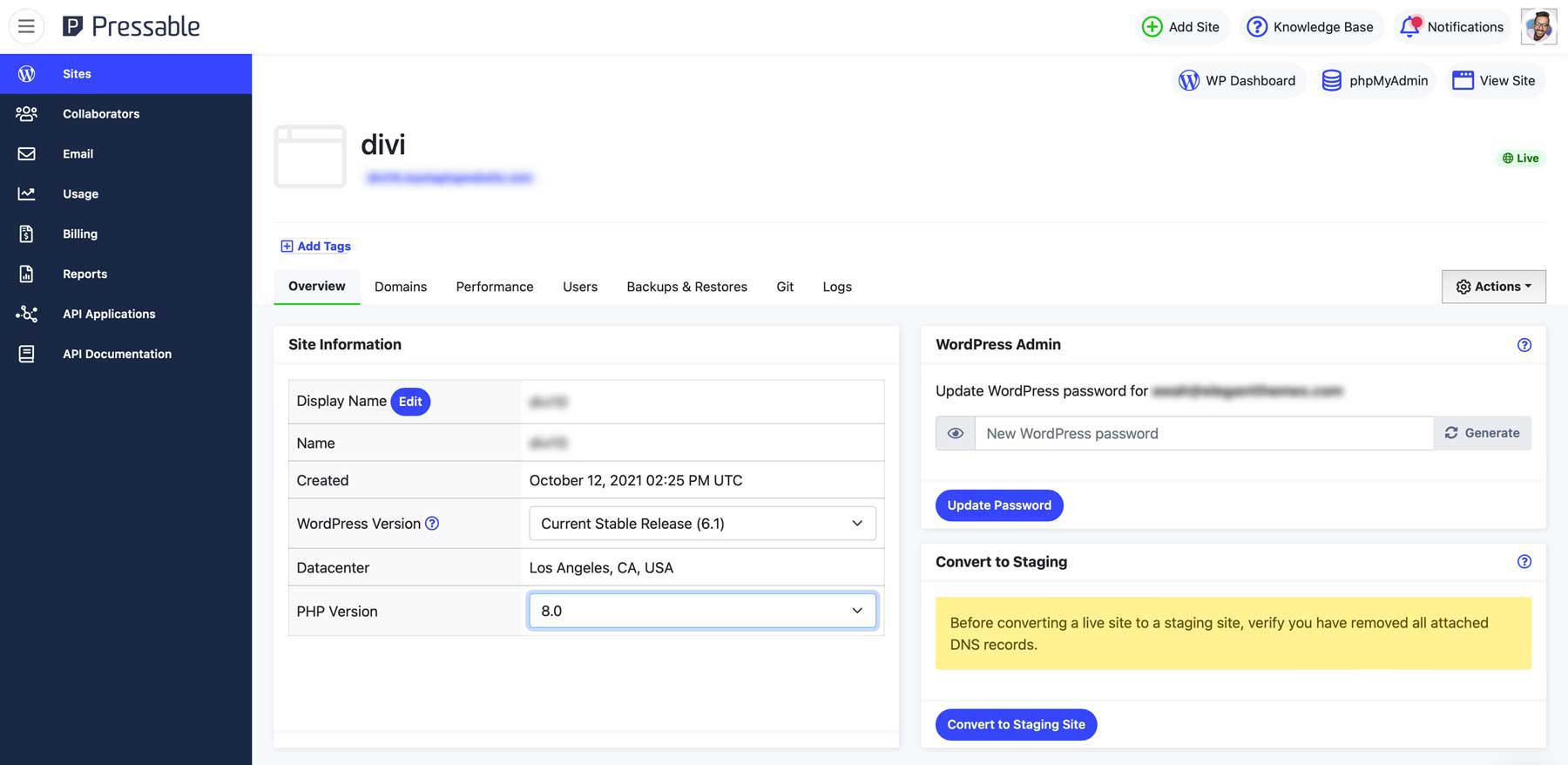 Additional tools allow easy access to the WordPress dashboard, phpMyAdmin, cloning, migration, staging tools, and password management. Plans start at $19 monthly for one site and include a proprietary content delivery network (CDN), a free SSL, built-in caching, and free migrations.
Pressable is best for:
If you're looking for a hosting company that is more than familiar with WordPress, Pressable is a good fit. They have excellent server redundancy since they host all of the WordPress.com websites on the planet. They host WordPress well in a multi-server environment, so you'll never have to worry about downtime.
➡️ Read Our Complete Pressable Hosting Review.
Pressable
Starting Price
$19/month
Storage
10GB
Bandwidth
Unlimited
Monthly Visitors
5,000

Free Domain
❌
24/7 Support
✔️
Trustpilot Rating
⭐⭐⭐⭐⭐
Read the reviews
Visit Pressable
5. A2 Hosting
A2 Hosting is a popular choice amongst WordPress users. Their shared and managed hosting options are on par with others on our list in terms of features. Every plan comes standard with an SSL certificate, on-site backups, unlimited emails, and 25 free site migrations, more than most providers.
Key Features for A2 Hosting
Fast hosting with LiteSpeed
Continuous server monitoring
SSL, backups, unlimited emails, and site migrations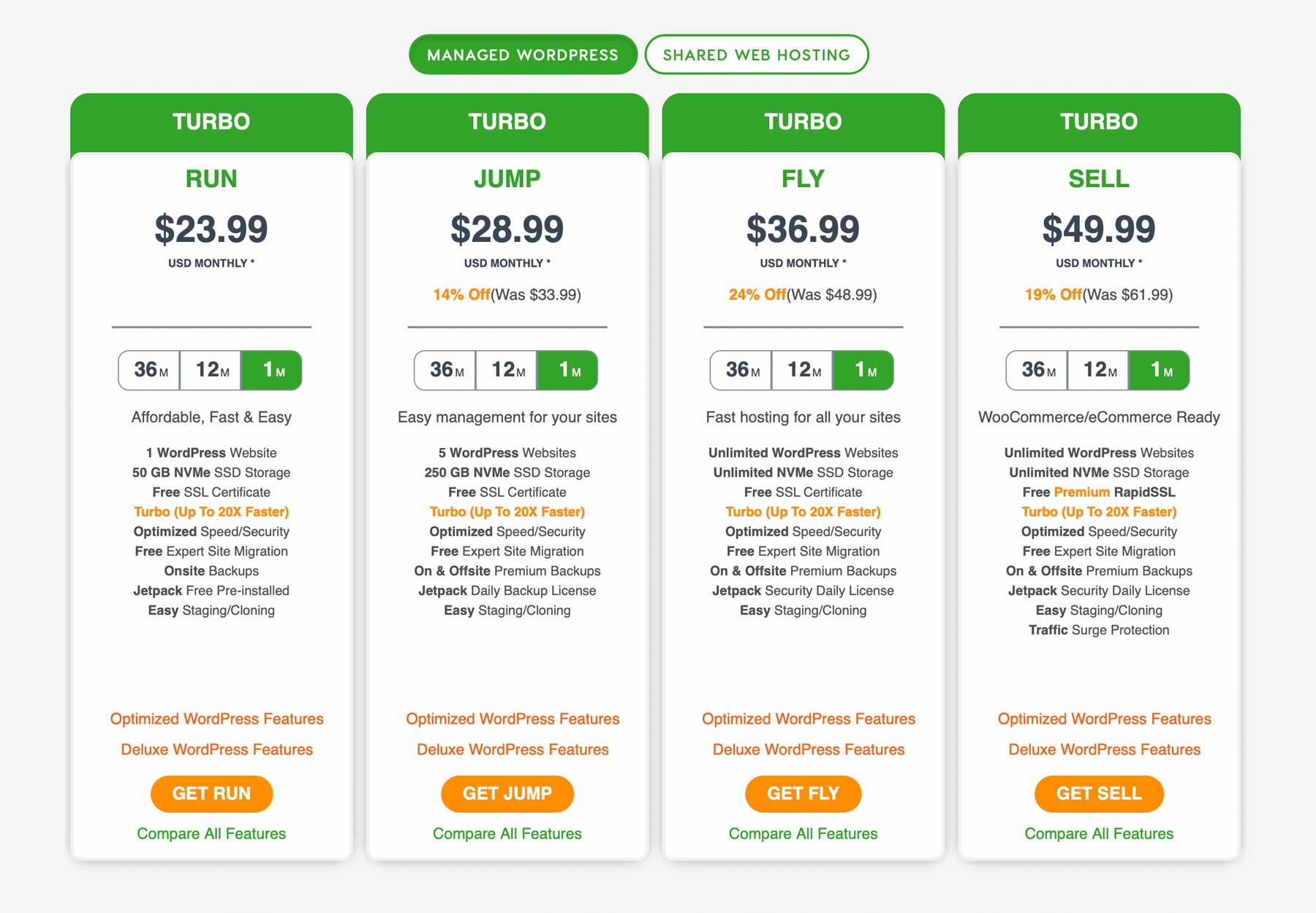 A2 touts the speed of their Turbo hosting plans, stating that they offer speeds up to 20x higher than their lower-tiered plans. This is primarily due to their server-side integration of LiteSpeed Site Accelerator, which you can install on hosts without cache plugin restrictions. Besides their generous money-back guarantee and ability to migrate multiple websites for free, there aren't many glaring differences between A2 and other hosting providers, except speed. That said, the performance of A2 is entirely dependent on whether you choose the shared or VPS option. Managed plans boast Redis and Memcached object caching, a CDN, are optimized for Google Core Web Vitals, and include round-the-clock server performance monitoring.
A2 Hosting is best for:
Those looking for a good managed WordPress hosting provider should give A2 Hosting a try. Their turbo plans offer a faster option than others on our list, according to Pingdom. Plus, with continuous server monitoring, problems are assessed and corrected before downtime occurs.
A2 Hosting
Starting Price
$11.99/month
Storage
50GB
Bandwidth
Unlimited
Monthly Visitors
50,000
Free Domain
❌
24/7 Support
✔️
Trustpilot Rating
⭐⭐⭐⭐
Read the reviews
Visit A2 Hosting
6. WP Engine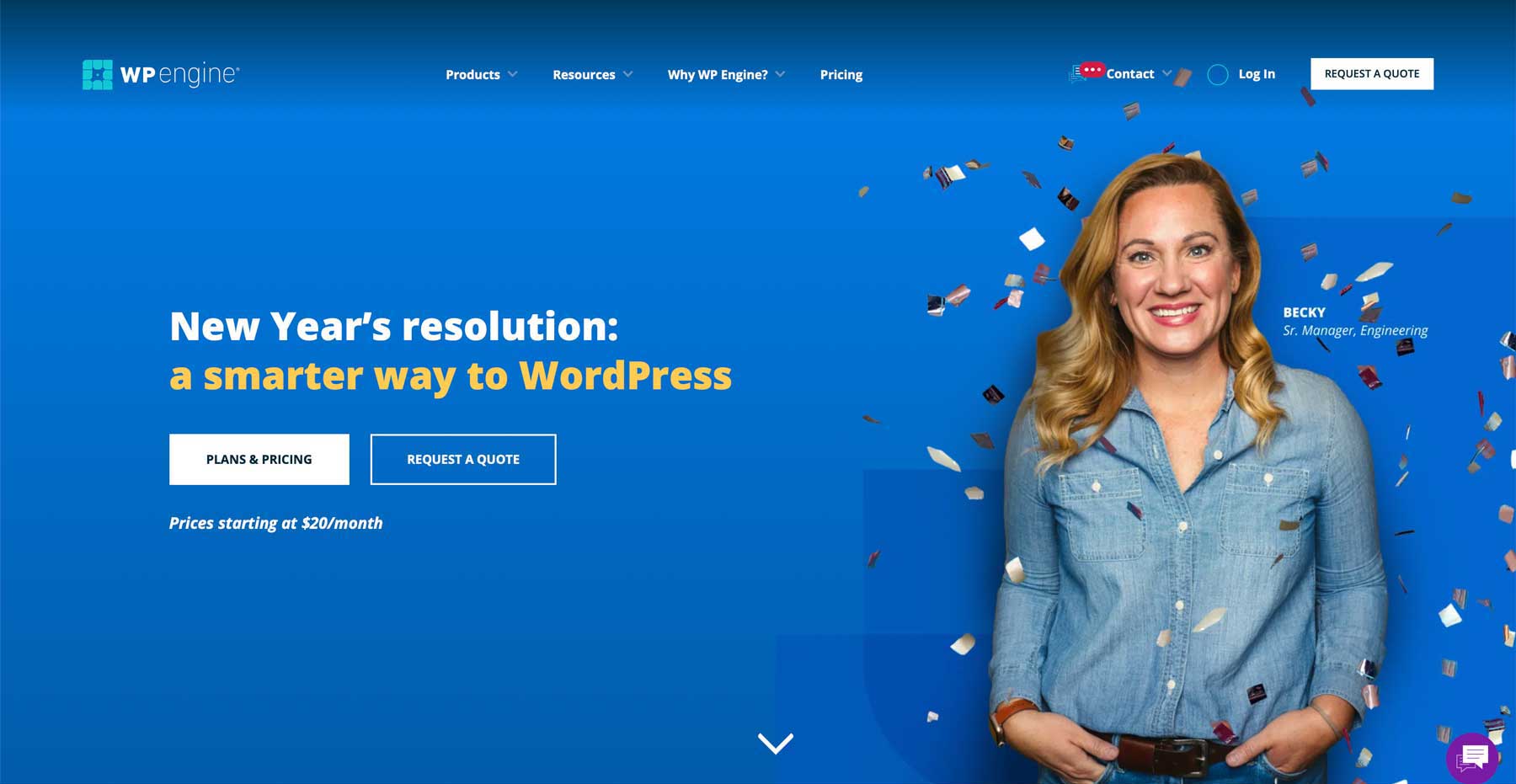 Next up, WPEngine offers managed WordPress hosting with many bells and whistles. Daily backups, a free SSL, automatic plugin updates, staging, and easy domain setup are just a few features you'll get when you sign up with WPEngine. It boasts speedy page load times due to its SSD hard drive storage, bandwidth allotments, and hearty VPS environment.
Key Features for WP Engine
Daily backups
Automatic plugin updates
Staging, dev, and production environments
Excellent security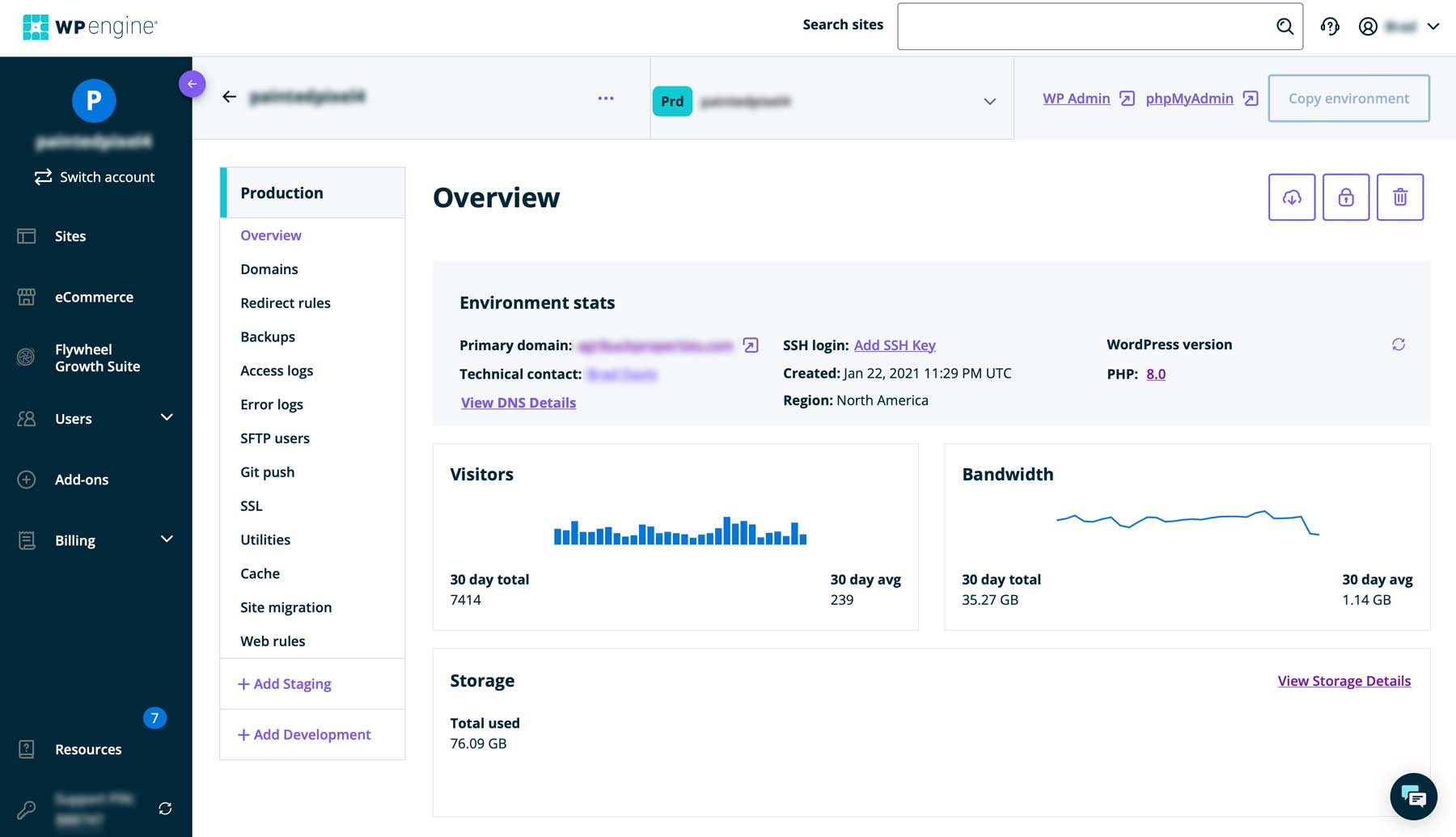 WP Engine gets its speed thanks to Amazon Web Services (AWS) and Google Cloud infrastructure, making it a fast option for managed WordPress hosting. Plans start at a reasonable $20 per month for one site, with higher-tiered plans starting at $40 per month for 3 sites. WP Engine's servers are specifically tailored for WordPress, with optimizations for speed and security, making it a popular option for managed WordPress hosting.
Security features include automatic core WordPress updates, daily backups, site maintenance, and automatic emails that notify you of plugin vulnerabilities. Plus, you'll rest easy knowing that your site is protected by a multi-layer security suite that includes a web application firewall (WAF), DDoS attack mitigation, Cloudflare CDN, and a free SSL certificate through Let's Encrypt.
WP Engine is best for:
Those looking for well-managed hosting for WordPress built on AWS and Google Cloud will find WP Engine an excellent choice. With plans starting at a reasonable $20 per month, you can rest assured that your website will be fast and secure with WP Engine.
➡️ Read Our Complete WP Engine Hosting Review.
WP Engine
Starting Price
$20/month
Storage
10GB
Bandwidth
50GB
Monthly Visitors
25,000

Free Domain
❌
24/7 Support
✔️
Trustpilot Rating
⭐⭐⭐⭐⭐
Read the reviews
Visit WP Engine
7. Green Geeks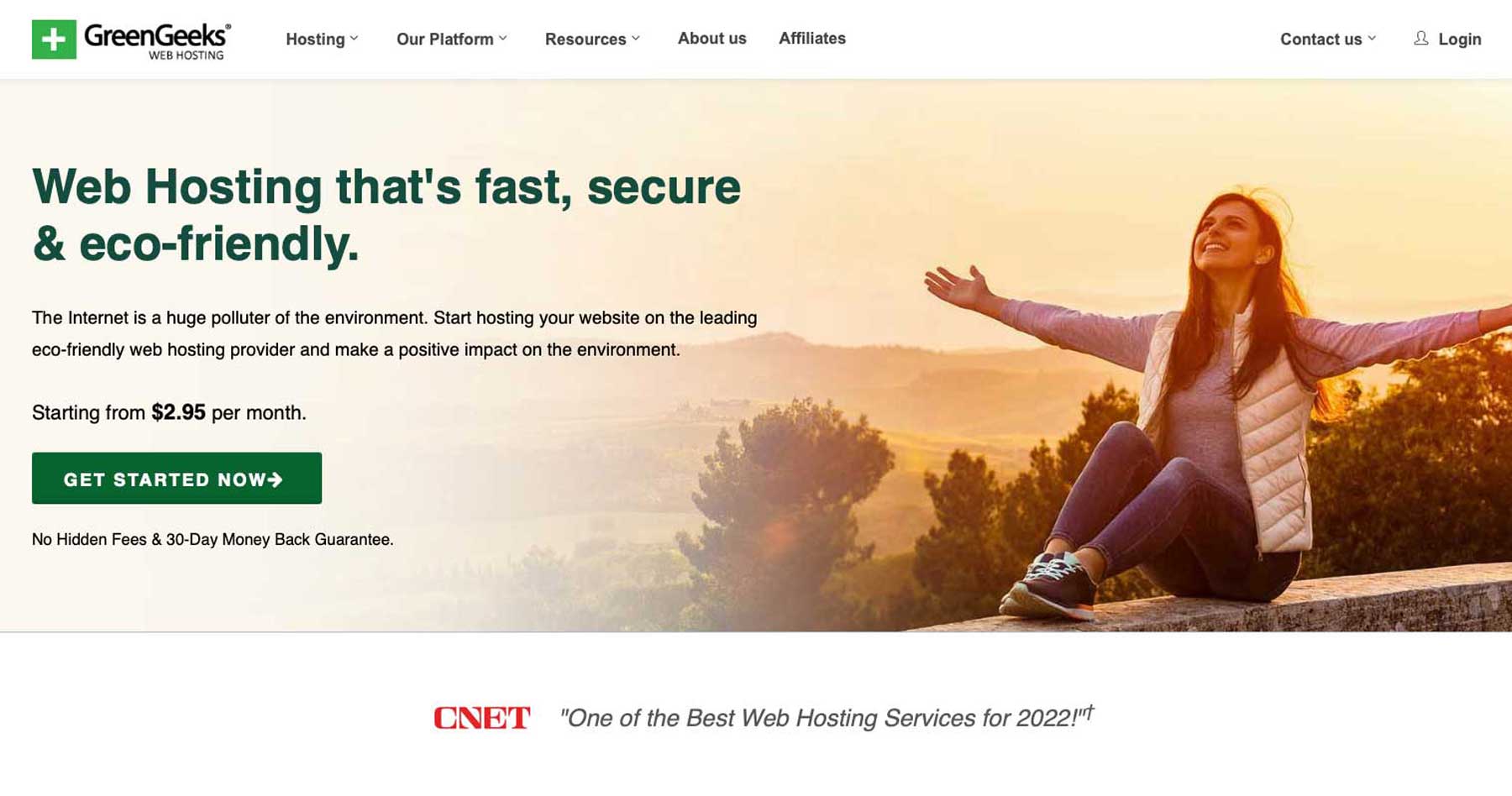 Green Geeks refers to itself as an eco-friendly hosting provider by offsetting the energy used by their servers by purchasing wind energy credits. Their WordPress hosting plans are built on shared servers with SSD hard drives and offered in three tiers ranging from $10.95 to $25.95 monthly. Standard features include email, quick launch WordPress wizard, free migration, automatic updates, a free SSL certificate, a free domain for 1 year, and more.
Key Features for Green Geeks
Automatic WordPress updates
At least 50 free email accounts
Free SSL, backups, CDN, migration, and domain for 1 year
LiteSpeed LS cache onboard

There's nothing flashy about the Green Geeks customer portal, but it gets the job done. You can manage your hosting plans, domains, and security settings, set up an affiliate (reseller) program, and create support tickets through email, messaging, or chat. Plus, at Green Geeks, sharing is caring; with a handy refer & earn section, you can earn discounts for referring their hosting services to a friend or colleague.
Green Geeks is best for:
Green Geeks is worth consideration if your business model involves lowering your carbon footprint. Their WordPress plans are geared more towards small sites or small-ish businesses. Agencies needing more storage, power, and speed are better off looking at their VPS or dedicated hosting plans. Keep in mind that more muscle equals a higher cost. Their bottom-level VPS hosting plan costs $40 per month, while their entry-level dedicated plan costs $169 monthly.
➡️ Read Our Complete Green Geeks Hosting Review.
Green Geeks
Starting Price
$10.95/month
Storage
50GB
Bandwidth
Unmetered
Monthly Visitors
Unmetered
Free Domain
❌
24/7 Support
✔️
Trustpilot Rating
⭐⭐⭐⭐
Read the reviews
Visit Green Geeks
8. InMotion Hosting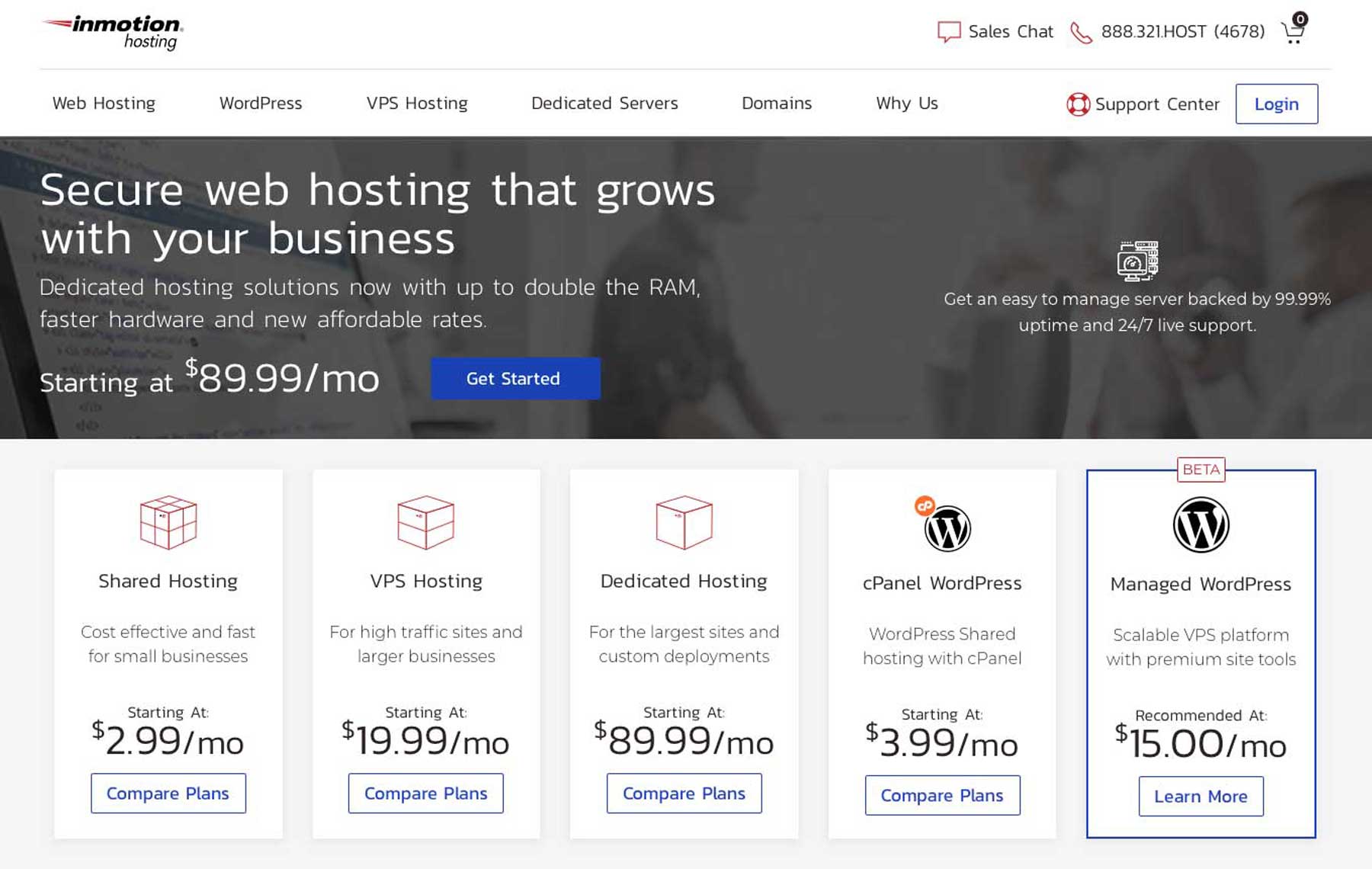 InMotion hosting provides shared, VPS, and dedicated hosting plans. For their WordPress-specific plans, you'll get WordPress pre-installed, an optimized server stack specifically for WordPress, a free SSL, SSH access, a CDN, and Jetpack pre-installed. If you require other features, such as backups, you'll need to add those separately at additional cost.
Key Features for InMotion Hosting
Optimized WordPress-specific server
Free SSL & dedicated IP address
Server caching
Fully isolated server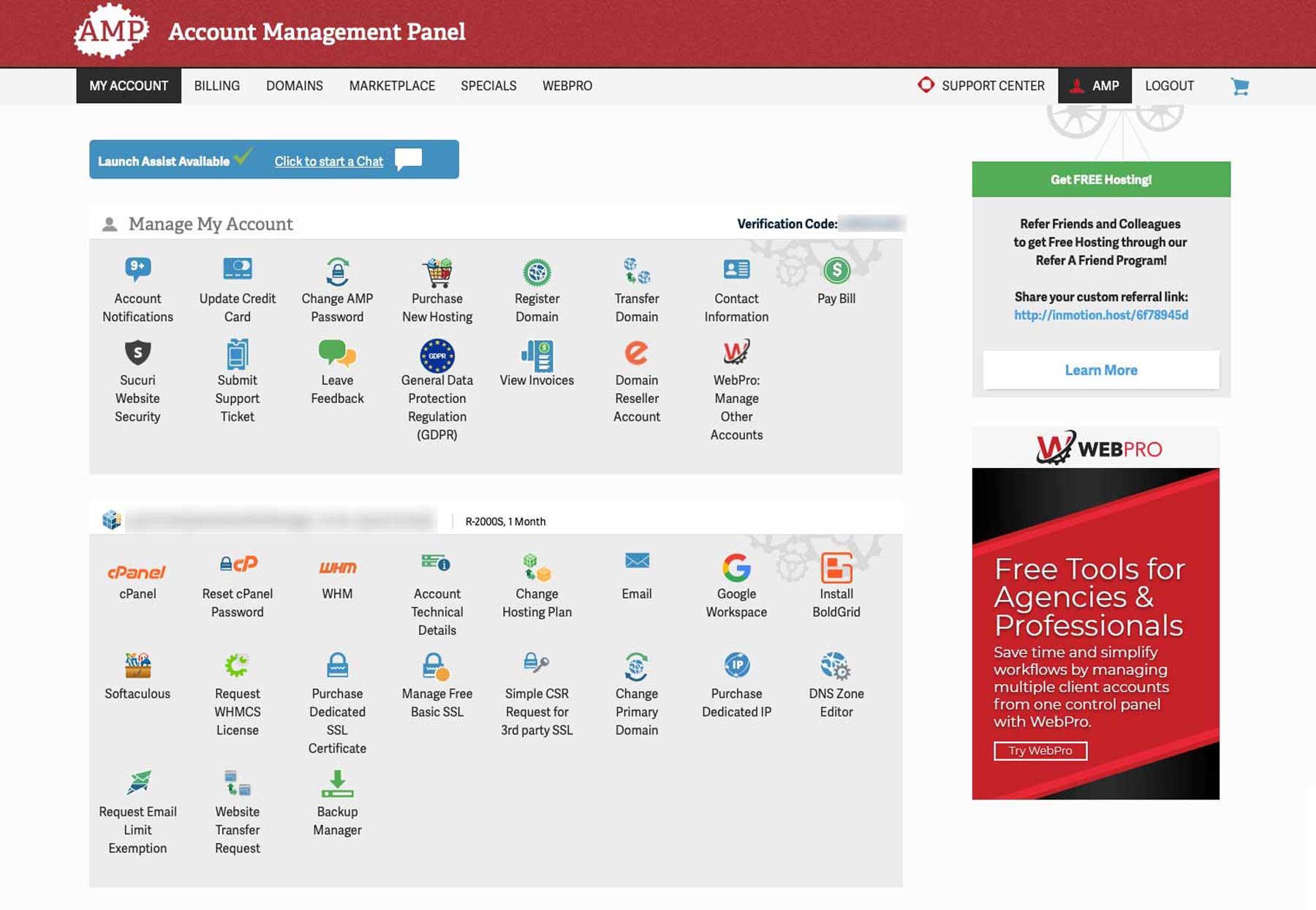 InMotion's WordPress shared hosting plans use cPanel. You'll have complete control over your website's files, software, and preferences via the account manager, with monthly plans starting at $4.49. It should be noted that they don't offer monthly payment options on lower-tiered plans, which may be offputting to some.
For managed hosting plans, InMotion takes care of the details for you, so you must contact customer support to make changes to your server. However, they are set up as VPS, so they are faster. With plans starting at $20 per month for managed VPS hosting, they are one of the more affordable options on our list. These robust VPS plans are geared more towards those with more than one website, such as freelancers with multiple clients or agencies. They use InMotion Central, a simple way to create, launch, and manage WordPress websites and add team members with whom you wish to collaborate.
InMotion Hosting is best for:
InMotion has been revamping its WordPress hosting options to include more robust offerings through managed VPS and WooCommerce VPS plans. With dedicated resources, InMotion Central, and large amounts of storage and bandwidth, InMotion is a good option for WordPress users who need a capable hosting partner to manage multiple websites.
➡️ Read Our Complete InMotion Hosting Review.
9. HostGator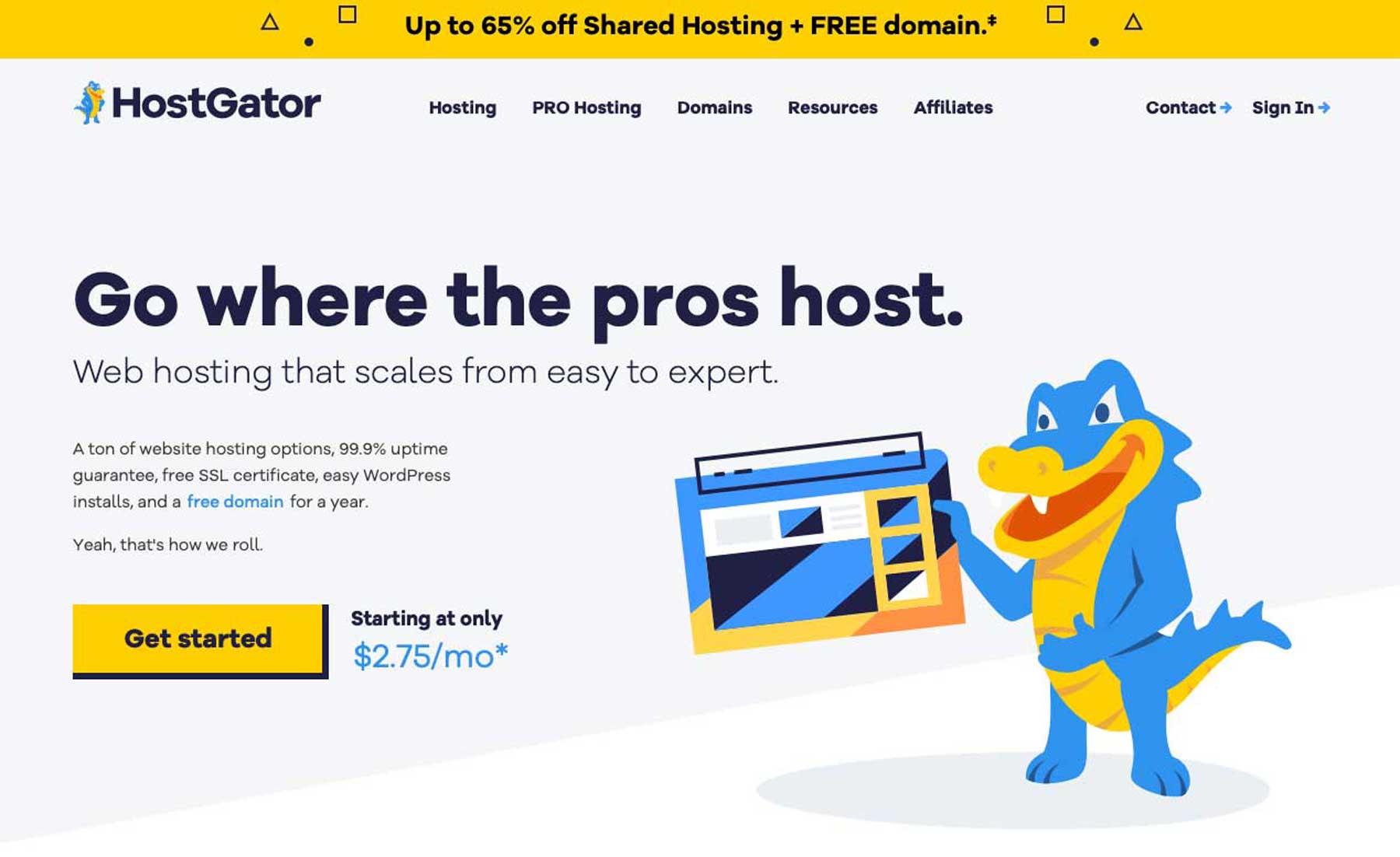 HostGator is another big name in the WordPress hosting realm. Their WordPress hosting plans are built on shared servers and offer features such as automatic updates and daily backups, and they come with WordPress pre-installed.
Key Features for HostGator
Beginner-friendly dashboard
100's of WordPress themes
Unlimited POP3 email accounts with SMTP

HostGator is well-suited for beginners because of its easy-to-use dashboard. Hosting plans, emails, billing, and marketplace offerings are all easily accessible. Plus, you'll have access to 24/7 support should you encounter a problem. Other notable features include 1 site migration, a free domain, one-click WordPress installs, unlimited POP3 email addresses, and 100's free WordPress themes for automatic installation.
HostGator is best for:
HostGator will be a good fit for small websites or personal blogs because of their low cost, that is, if you choose one, two, or three-year terms. If you pay monthly, you'll pay a much heftier price, even for the lowest plan. Those looking to host more significant sites with high traffic requirements should look elsewhere.
➡️ Read Our Complete HostGator Hosting Review.
HostGator
Starting Price
$17.99/month
Storage
Unlimited
Bandwidth
Unmetered
Monthly Visitors
100,000

Free Domain
✔️
24/7 Support
✔️
Trustpilot Rating
⭐⭐⭐⭐
Read the reviews
Visit HostGator
10. Bluehost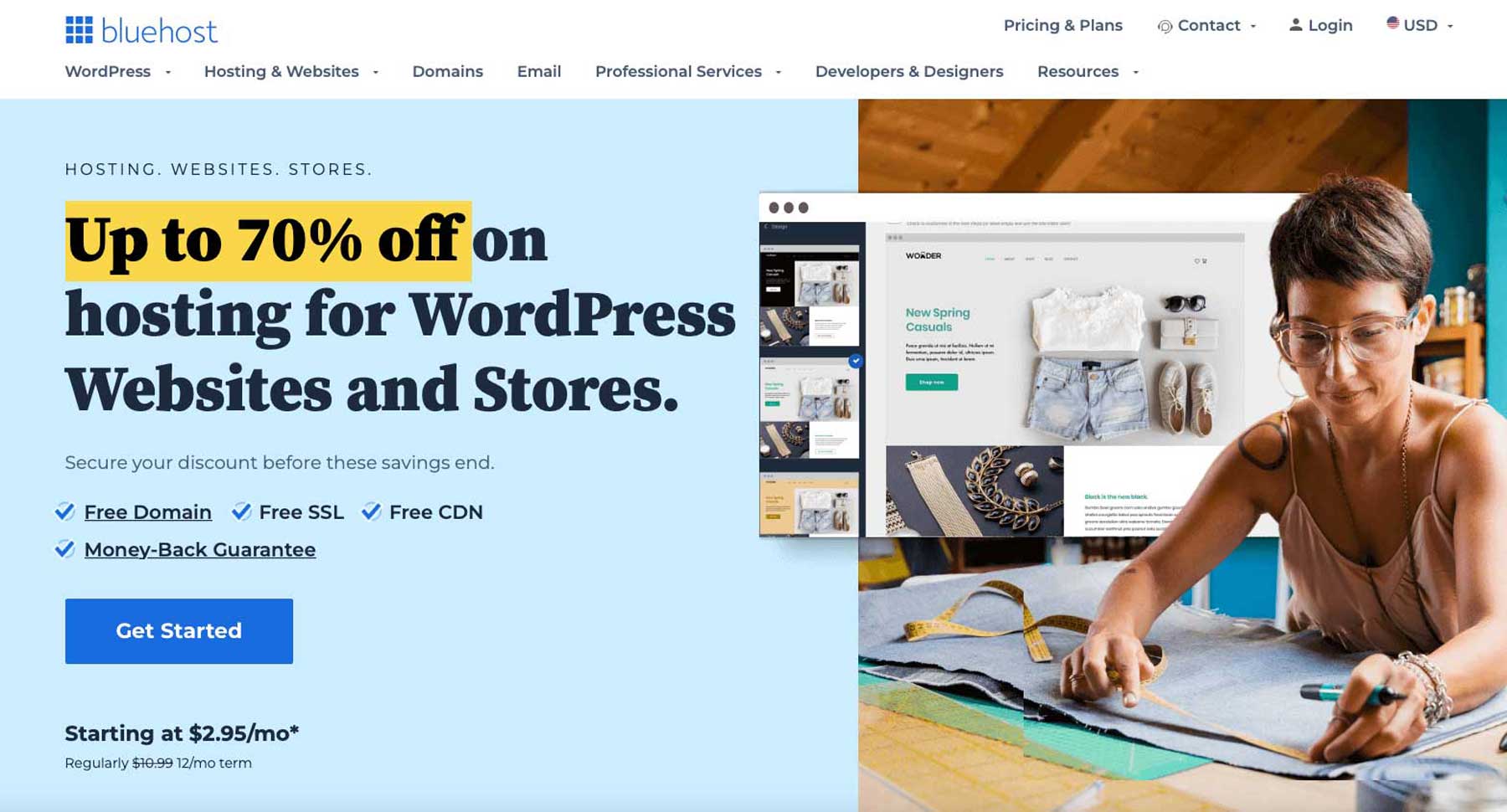 Bluehost offers shared, managed, and WooCommerce WordPress hosting plans with several features for WordPress users. First and foremost, they use solid-state drives (SSD) on their servers, allowing for faster page-loading speeds. Although it is a shared environment, Bluehost is popular with those with single, small websites. Benefits include a free one-year SSL, daily backups, a staging environment, and security features such as CodeGuard and automatic updates.
Key Features for Bluehost
One-click WordPress installs
Easily build a website with one of 100's WordPress themes
Daily backups, staging, and free SSL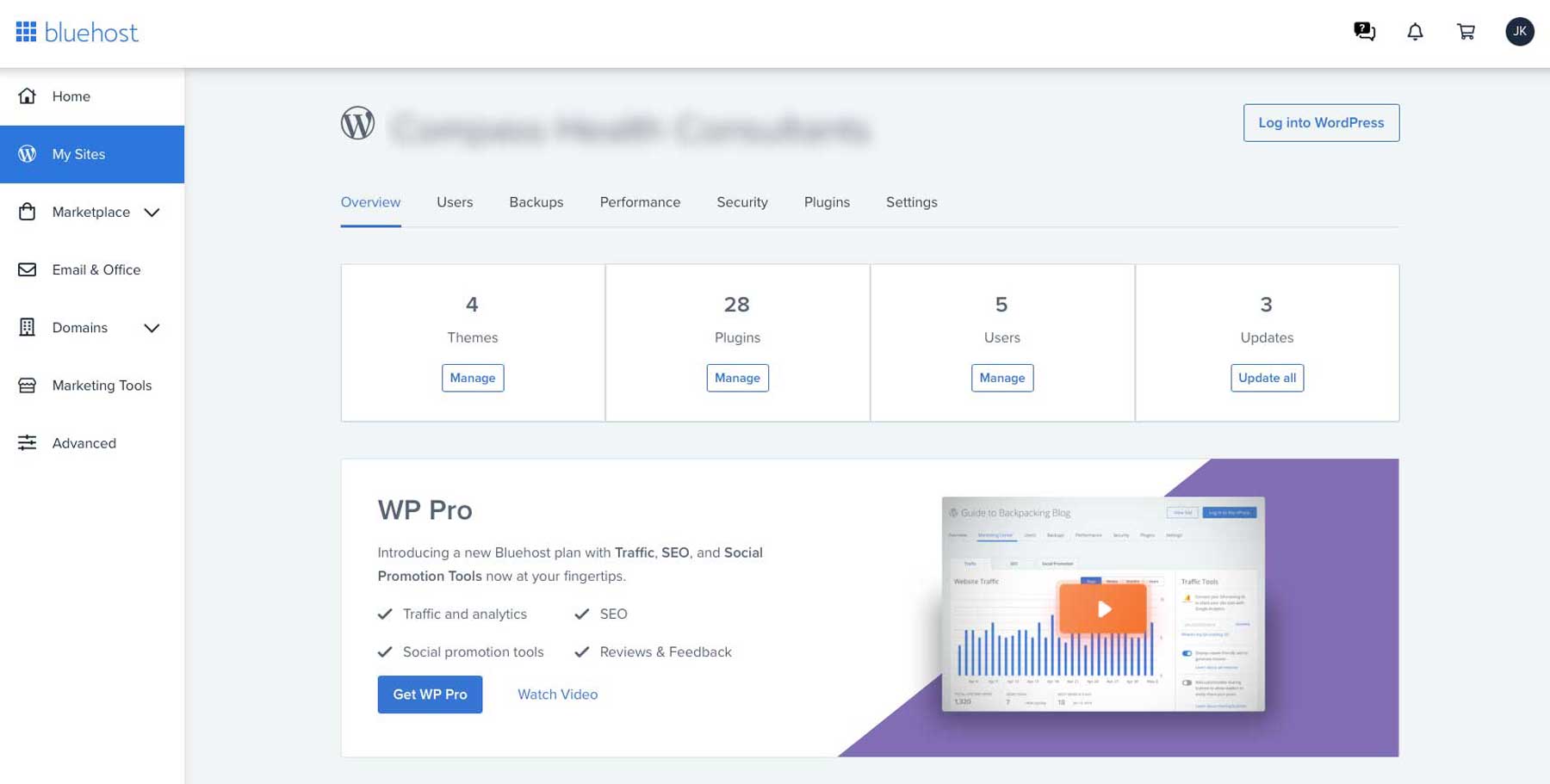 The dashboard is relatively simple to navigate, giving you quick access to your websites, a migration tool, the BlueHost marketplace for add-ons, and more. One feature that makes Bluehost stand out is how easy they make it is to build a website. Beginners have plenty of WordPress themes that install with one click. This is useful for creating a simple blog without design experience. One downside to their shared plans is that they don't offer monthly payment options. So, if you want to pay only $2.95 monthly, you must sign up for at least a 12-month term.
Bluehost is best for:
Even though Bluehost allows for more than one WordPress install in your plan, it isn't recommended due to its shared server resources. Bluehost states no bandwidth restrictions, but those with more than one site should opt for a provider better suited to handle the extra bandwidth required for multiple sites.
➡️ Read Our Complete Bluehost Hosting Review.
Bluehost
Starting Price
$2.95/month
Storage
10GB
Bandwidth
Unmetered
Monthly Visitors
Unlimited
Free Domain
✔️
24/7 Support
✔️
Trustpilot Rating
⭐⭐⭐⭐
Read the reviews
Visit Bluehost
Things To Consider When Choosing the Best WordPress Hosting
The world of WordPress is vast, so hosting options are plentiful. Above all, it's essential to determine what your specific needs are. That being said, knowing some key points is vital before choosing your website's new home.
Domain Hosting
Domain hosting and WordPress hosting are two different things. Your site's URL is your domain name. Domains can be purchased either through a registrar or a hosting company. Keeping the two separate is a good idea because having your domain and site's files in the same location can make you more vulnerable to security issues. Consider choosing a domain name first, then select a hosting company to host your site's files.
Reseller Hosting
Some hosting providers, such as SiteGround, Flywheel, and Cloudways, offer the option to buy hosting packages in bulk, then sell them off individually for a profit. Reseller hosting is attractive to agencies because it allows them to offer competitive pricing for hosting to their clients yet make a healthy profit. If you're looking to get into the web hosting business, check out our top picks for reseller hosting.
Budget Hosting
There are cheap hosting options for those who can't afford to spend much. There are a few hosting providers who offer their services for free. Providers such as Google Cloud, Wix, and Weebly all offer free hosting packages – with a caveat. With the free plans, you won't be able to use a custom domain, or you might have to display ads, which may or may not be a deal breaker for you.
Email
Even though WordPress has a built-in mail handler to its platform, it could be more reliable. It utilizes PHP mail(), which may result in lost emails. WordPress users must use a good email provider and an SMTP provider, such as SendinBlue, to successfully send and receive emails through WordPress.
Bandwidth
Understanding the differences in hosting plans and bandwidth allowances can be daunting. Most hosts use bandwidth as a differentiator between plans, with higher-priced plans offering more. Determining how much you need can be difficult, so it's crucial to research hosting providers to choose your options.
Performance and Speed
A slow website can impact search results, bounce rate, and conversions, so speed and performance must be at the forefront when choosing a hosting provider. There are various factors involved, which all start at the server level. The type of server, PHP version, server configurations, and type of hosting can all play a role.
Types of WordPress Hosting
Regarding WordPress hosting providers, there are several types to consider. Each has its merits, but ultimately it depends on your needs. Let's take a look at each type so you can determine which is right for you.
Free WordPress Hosting (Not Recommended)
A free WordPress hosting provider generally offers the ability to host a WordPress site free of charge. Hosting providers such as 000WebHost and WordPress.com provide such services. Free may sound like an incredible deal, but it's generally not a good idea to go this route because of the limited options associated with free hosting. You won't find any security features, backups, or support that paid plans offer. There are other caveats to the free price tag. For example, bandwidth and storage will be abysmal. Additionally, certain free hosts require that you place ads on your site, which may be a deal breaker.
Most WordPress hosting providers offer shared hosting. It consists of one server that is shared amongst many WordPress installations. In a shared environment, all websites on the server share all available resources, such as ram, bandwidth, and hard drive storage. One benefit of shared hosting is one-click installs, making it perfect for those without server configuration knowledge. Bloggers and small businesses are best suited for this type of hosting plan.
VPS WordPress Hosting (Best For Ecommerce Sites)
Virtual Private Server (VPS) hosting is a type of shared hosting sectioned off into pieces and functions as a private server. The main difference between shared and VPS is that it gives you more control over server configurations. You do share the physical hardware like bandwidth, ram, and storage space, but using VPS provides more security and faster load times. This is great for business owners who have ecommerce sites, as it can lead to higher conversion rates because of the speed bump.
Dedicated WordPress Hosting (Best For Large Agencies)
With dedicated WordPress hosting, you'll have your own server rather than sharing one with other customers. This results in a more secure and speedier website. Those with high-traffic websites, multiple WordPress installs, or a more customized server configuration can significantly benefit from dedicated hosting. That being said, you should expect to pay more than with shared or VPS hosting plans.
Cloud WordPress Hosting (Best For Speed-Loving & Tech-Savvy)
Some providers, such as Cloudways and AWS hosting, utilize multiple servers in varying locations to store and transmit website data. This is different from traditional hosting, which typically uses one server. One of the benefits of cloud hosting is its ability to deliver content faster and more securely. Additionally, you can control costs by only paying for the needed resources rather than a tiered cookie-cutter hosting plan.
Managed WordPress Hosting (Best Overall Option)
Some hosting providers throw you to the wolves, leaving you to fend for yourself regarding security, updates, and backups. Managed WordPress hosting takes the burden off by handling these things for you. All of this comes at a cost, however. Managed WordPress hosting is pricier than other options but can provide a more seamless experience for less tech-savvy people.
Managed hosting can be any type, including shared, VPS, dedicated, or cloud, depending on the options offered by the provider. For example, Flywheel is a managed hosting provider that offers VPS. In contrast, Cloudways managed hosting offers dedicated, VPS, and cloud options.
One potential drawback is not having complete freedom over which plugins you can use. Security, backup, and caching plugins are either disallowed or highly discouraged. Although this isn't necessarily bad, those wishing to control their server settings should note it.
If you like the idea of managed hosting but want more control over server configurations, then optimized WordPress hosting is worthy of consideration. With this option, you can control backups, plugin updates, and performance tweaks as you see fit. With optimized hosting, you'll gain perks like staging, caching, and beefy security features already in place.
If you think Managed WordPress is suitable, check out our picks for the 6 best managed WordPress hosting companies.
Final Thoughts on the Best WordPress Hosting
SiteGround and Hostinger are at the top of our list of best WordPress hosting because of their exceptional performance, advanced security features to keep your website(s) safe and secure, and reliable customer support. Additionally, they both offer a range of hosting plans that cater to different needs and budgets, giving you the flexibility to choose the best plan for your website.
Additionally, our top choices are all user-friendly, offering intuitive control panels and installation processes for WordPress. They are excellent for WordPress users looking for reliable, high-performing, secure hosting solutions.
Are you looking for more reviews? Check out our top picks for VPS hosting and dedicated hosting providers if you need more choices.
Frequently Asked Questions (FAQs)
Before we wrap up, let's answer some of your most common questions regarding WordPress hosting. Did we miss one? Leave a question below, and we will respond!
What is the best WordPress hosting provider?
SiteGround
is our pick for the best WordPress hosting service provider due to its intuitive dashboard, which provides users with an easy-to-use interface for managing their websites. The platform also offers impressive security features to keep websites safe from attacks and unauthorized access. In addition, the SG Optimizer plugin is available to boost page speed results, ensuring that websites load quickly and efficiently.
Which WordPress hosting provider is the cheapest?
Bluehost
is the cheapest WordPress hosting option on our list, with a starting price of only $2.95/month. Bluehost offers one-click WordPress installs, making it easy to set up a website. Users can choose from hundreds of WordPress themes to build their sites. Additionally, Bluehost provides daily backups, staging environments for testing, and free SSL certificates to ensure security and peace of mind.
Can I build a WordPress site without hosting?
No, you cannot build a WordPress site without hosting. WordPress is a content management system that requires a hosting provider to store your website files and make them accessible on the internet. You need to purchase hosting before installing WordPress and creating your website.
What are the advantages of WordPress hosting?
WordPress hosting provides various benefits over standard website hosting, such as improved server performance optimized explicitly for WordPress sites, automatic backups and updates, straightforward installation and configuration, pre-installed plugins and themes, and specialized WordPress support. In addition, it often offers WordPress-tailored security solutions and improved dependability. 
How do I choose the best WordPress host for me?
When choosing the best WordPress host, consider performance, reliability, security, customer support, and pricing factors.
SiteGround
and
Hostinger
are excellent options due to their high-speed servers, security features, user-friendly interfaces, and responsive customer support. Evaluate their plans and features to determine which best fits your needs.
How much does WordPress hosting cost?
WordPress hosting costs vary depending on the hosting provider, the type of hosting plan, and the features offered. On average, shared hosting plans can range from $2 to $15 monthly. For example, the starting price of
Hostinger
is $9.99/month. Similarly, the starting price of
Cloudways
is $11/month.
Which WordPress host company provides the best customer support?
SiteGround
is known for its outstanding customer support due to its fast and responsive live chat. The company also offers a vast knowledge base and tutorials, making it easy for users to troubleshoot issues and learn more about the platform.
What is the best WordPress hosting service provider for large agencies?
Hostinger
is an ideal WordPress hosting company for large agencies due to its generous storage allowances, even on smaller plans. Its hosting is built with LiteSpeed and includes PHP version control, providing fast and reliable performance for high-traffic sites. This makes it an affordable and scalable option for large agencies.
Is GoDaddy a good WordPress hosting company?
While GoDaddy is a famous web hosting company, its WordPress hosting services have mixed reviews. While its prices are competitive, some users have reported slow page speeds, limited customization options, and the need for more customer support. It's essential to research and compares various hosting options before selecting one.