Choosing the right domain name for your website is an important decision. However, you'll also need to find the best place to purchase it from. Fortunately, there are several companies that offer domain name registration at affordable prices and with additional features.
In this post, we'll take a closer look at domain name registrars and how they work. We'll then review some of the best options for your site. Let's get started!
What Are Domain Name Registrars?
A domain name registrar is a business that sells and registers domains. These registrars are accredited by the Internet Corporation for Assigned Names and Numbers (ICANN). This global organization is responsible for the maintenance and procedures of databases related to the internet, including domain names.
When you purchase a domain, the registrar updates the database accordingly. This way, other users will know which domain names are available, and which ones are already registered.
In most cases, you'll get a user account where you can manage your domain name and Domain Name System (DNS) records. You'll also need to pay a subscription fee to retain ownership of your domain. It's worth noting that many domain registrars are also hosting companies, so you can purchase web hosting and a domain at the same time.
5 Best Domain Name Registrars of 2022
Now that you have a better understanding of what domain name registrars are, let's look at five of the best options on the market. Each of these offers a wide variety of domain options and additional services with reasonable pricing.
We should also note that some domain registrars offer certain top-level domains (TLDs) that other registrars don't. For example, if you're looking for a .tv or .fm extension, and you don't see it at one provider, be sure to check out another. In our experience, it's best to diversify your domains across a number of registrars anyway.
1. Namecheap
Namecheap is one of the top domain registrars on the web. It provides a powerful search tool to help you find the right domain for your website.
This registrar offers various Top-Level Domains (TLDs), including .co, .org, .net, and .com. You also have the option to register a generic TLD, such as .dev and .app, or a country-specific one like .co.uk and .ca.
Key Features for Namecheap:
Namecheap offers domain registration and transfer. It also provides a FreeDNS hosting service, as well as PremiumDNS to help ensure that your website is always online.
With the premium service, your DNS information is distributed across multiple edge servers that are designed to withstand Distributed Denial-of-Service (DDoS) threats. You'll also get ALIAS record support and faster DNS speed.
In addition, Namecheap enables you to choose a unique domain extension. Its Handshake network uses blockchain technology to bypass traditional registries, while still giving you data protection and privacy. For instance, you can select extensions such as .oh and .creator.
Namecheap is for you if…
You want more freedom and control over your domain.
You're willing to pay more for additional security and privacy protection.
Namecheap Pricing: Starts at £6.83/year (about $8.98) for a .com domain | Learn More About Namecheap
2. SiteGround
SiteGround is primarily a hosting service provider, but it also offers domain name registration. You can use its search function to look for and select a domain, and then choose a hosting plan to register it with.
SiteGround offers three main hosting plans: StartUp, GrowBig, and GoGeek. If you're setting up your first website, we recommend opting for the first tier.
Key Features for SiteGround:
SiteGround offers a broad selection of domain extensions. This includes popular options like .com, .net, .org, and .biz.
The company also registers a wide range of generic TLDs, such as .blog, .online, and .pro. There are also several country-specific options to choose from.
Meanwhile, SiteGround's hosting plans come with a wealth of features, including a free Secure Sockets Layer (SSL) certificate and Content Delivery Network (CDN). You'll also get Divi and WordPress pre-installed, so you can start building your new site straightaway.
SiteGround is for you if…
You want to manage your domain name and web hosting in one place.
You're looking for a powerful Divi hosting solution.
SiteGround Pricing: Starting at $17.99/year for a .com domain | Learn More About SiteGround
3. GoDaddy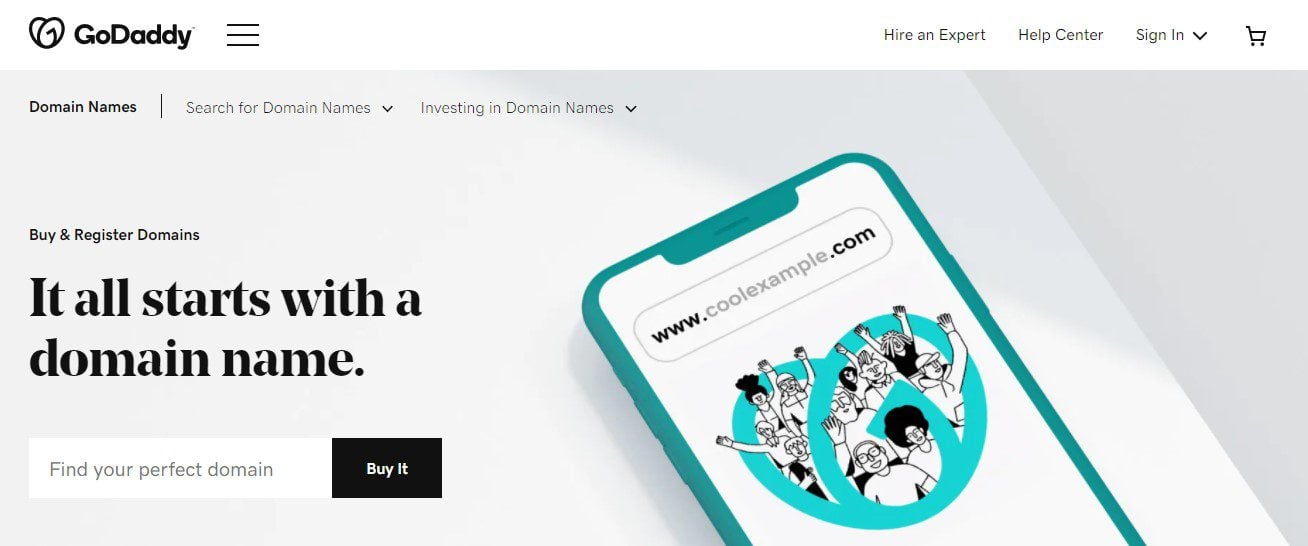 GoDaddy is another popular domain name registrar and web host. This company offers a variety of services, including domain registration and transfers. It also hosts auctions for domain names, and helps you invest in domains.
You can use the search bar to find the right domain. If your desired name is already taken, GoDaddy offers a broker service to help you acquire that domain. Alternatively, you can choose from a selection of similar domain names.
Key Features for GoDaddy:
GoDaddy provides a simple domain setup. It also offers user-friendly tools to help you forward your domains to an existing website.
You can choose from over 500 domain extensions, which is more than many other registrars can offer, and all domains include free privacy protection.
If you purchase GoDaddy's Full and Ultimate Domain Protection plans, you'll also get protection against domain hijackers and unauthorized access.
GoDaddy is for you if…
GoDaddy Pricing: Starting at $11.99/year for a .com domain | Learn More About GoDaddy
4. Name.com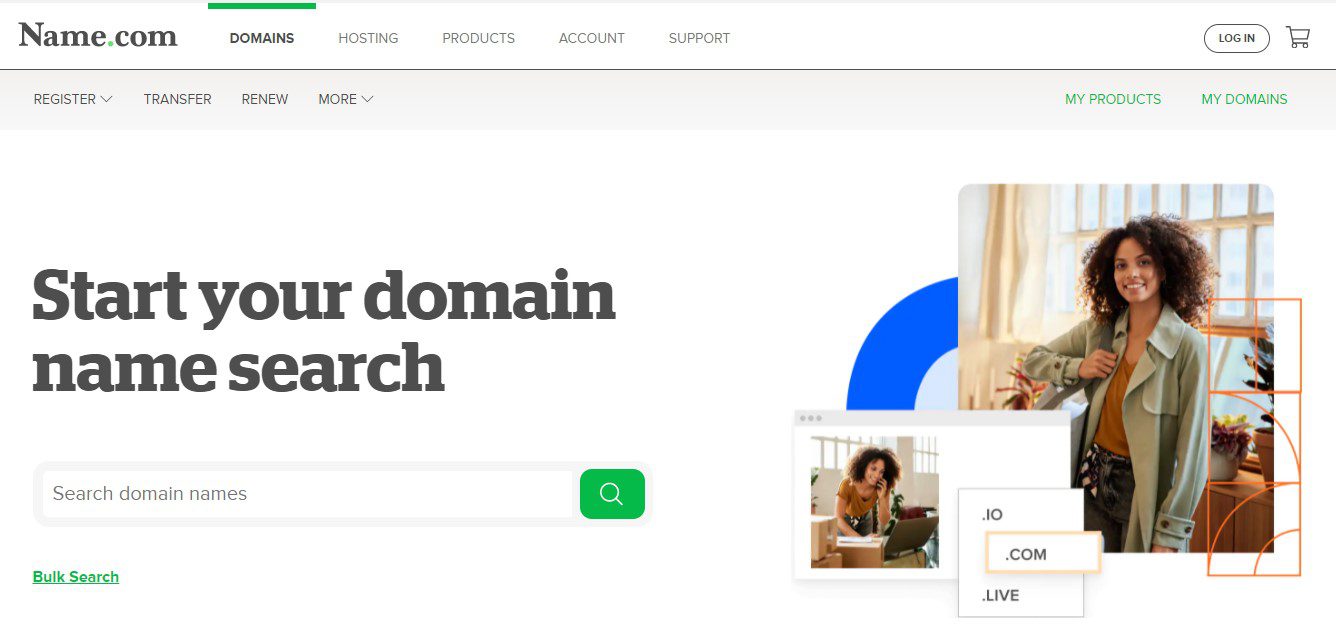 Name.com offers some of the most affordable domain registration services you can find. This platform also makes it very easy to pick the right domain name, thanks to its bulk domain search tool.
In addition, you can look for expiring domains, and buy them before they get deleted. Name.com also enables you to look for premium domains. These normally contain popular keywords that can help your site rank higher in Search Engine Results Pages (SERPs), although they are usually more expensive.
Key Features for Name.com:
Name.com gives you access to free products and services when you register your domain. These include URL and email forwarding, and a branded URL shortener.
Name.com also enables you to manage everything in one place. Once you purchase a domain, you can connect it with an email address, web hosting, your website builder of choice, and more.
Additionally, you can purchase WHOIS privacy. This will help protect your personal information and prevent domain hijacking.
Name.com is for you if…
You're looking for cheap domains.
You wish to manage various tools and services in one place.
You're interested in purchasing domains that contain specific keywords.
Name.com Pricing: Prices vary, but domain names can be as cheap as $1.99 when on sale | Learn More About Name.com
5. Bluehost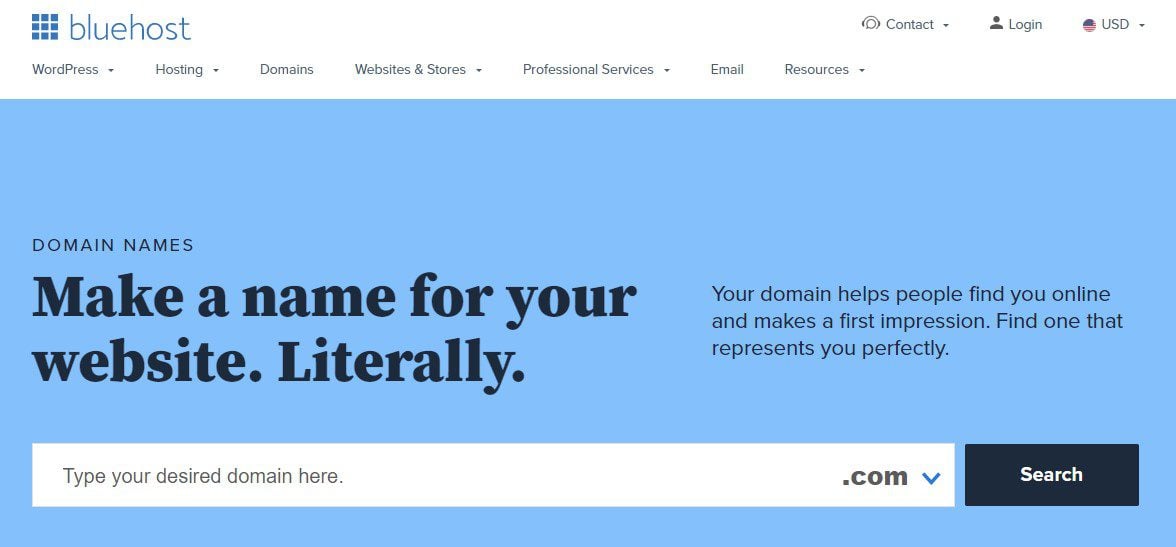 You may already be familiar with Bluehost's hosting services. However, this company also offers domain registration and management.
With Bluehost, you can choose from a selection of popular TLDs, including .com and .net, as well as less common options (such as .website and .me). Once you select your domain, Bluehost will lock it down to stop unauthorized transfers.
Key Features for Bluehost:
Bluehost provides an efficient domain search tool to help pick the right name from a multitude of options. It also lets you choose geo-location names, such as mywebsite.uk.
Additionally, Bluehost offers domain forwarding and auto-renewals. You'll also get domain privacy included to help protect your data and identity.
Bluehost provides Microsoft 365 integration, so you can easily use your domain name in your email address. You'll also receive 24/7 domain support.
Bluehost is for you if…
You want easy domain management with auto-renewals and automatic redirections.
You're looking for expert support and a reliable service.
Bluehost Pricing: Starting at $12.99/year for a .com domain | Learn More About Bluehost
Final Thoughts on Domain Name Registrars
There are several places where you can purchase a domain name. These include popular registrars like Name.com and hosting companies such as BlueHost.
If you want to manage your domain name and web hosting in the same place, you might want to opt for an all-in-one solution like SiteGround. You can choose from a broad range of extensions, and then pair your domain name with a powerful hosting plan to start working on your site.
Do you have any questions about the domain name registrars featured in this post? And let us know which registrars you tend to use, so we have even more great options to choose from!
Featured Image via Bakhtiar Zein / shutterstock.com