SiteGround is one of the most popular managed WordPress hosts available. For good reason. They boast an impressive uptime, solid server statistics, simple user-interfaces, and renowned support teams. They also happen to have special hosting options that are custom-tooled for Elegant Themes members and Divi users. We're going to break down their service and take a look at some features so that you can make an educated decision when deciding where to host your WordPress website.
SiteGround WordPress Hosting Pricing
First of all, let's take a look at their pricing structure.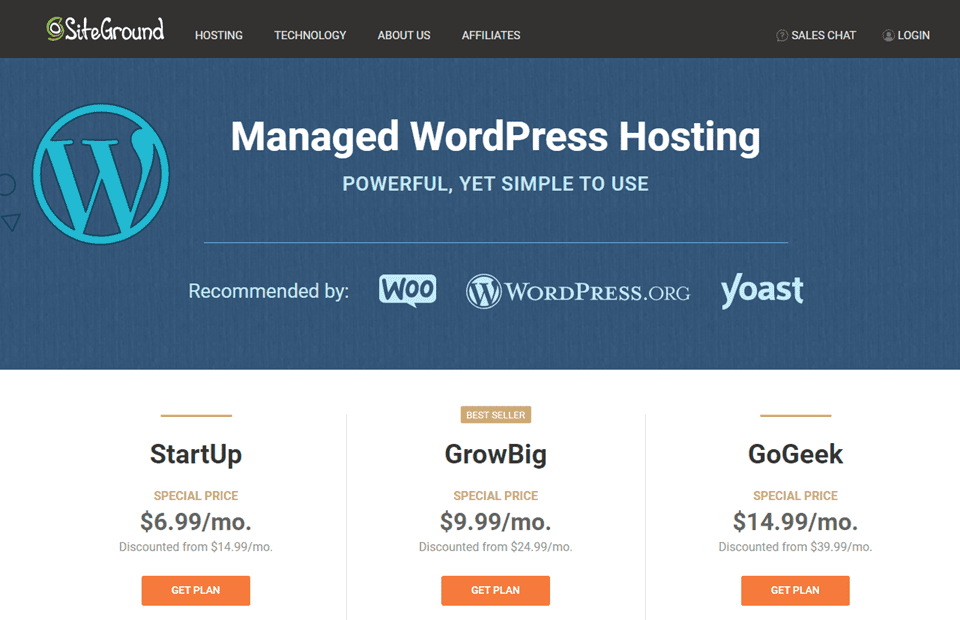 Like most hosting platforms, SiteGround offers a discount for the first year you use them. After that, you will see an increase to the non-discounted price. For most people, this will be from $9.99 a month to $24.99 a month. While it is a sizable increase, it isn't out of the ordinary. Nearly all hosts do this sort of deal for new customers, and when you're comparing prices to managed WP hosts such as WP Engine or Flywheel, they fall right in line.
The SiteGround Hosting Dashboard
Upon logging in, users see a very clean welcome screen with a toolbar near the top (1) and suggested actions at the bottom (2). Initially you're in the Home tab, and you're given the option to take a tour of your SiteGround account. That's never a bad place to start with any new service. It's a 3 minute video, so it's worth your time.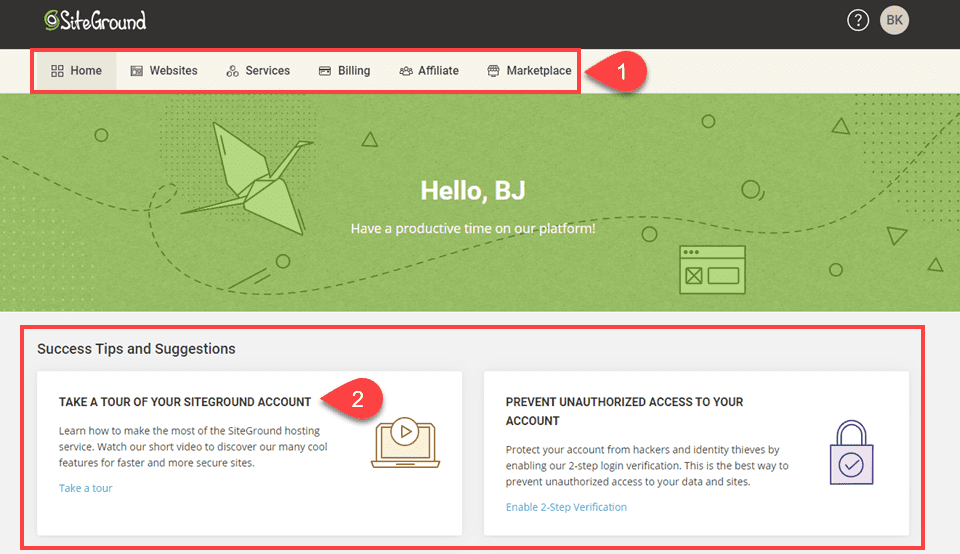 Once you've watched that, you should be relatively familiar with how the dashboard works. The second thing SiteGround offers is 2-step verification for your account. As always, this is a great idea, and we can't recommend you taking advantage of it enough.
You will be most interested in the toolbar of tabs near the top of the screen, though.

The Websites Tab
The Websites tab (and the Websites subtab) is where you will find access to, as you might have guessed, the websites that you have on the SiteGround WordPress hosting platform.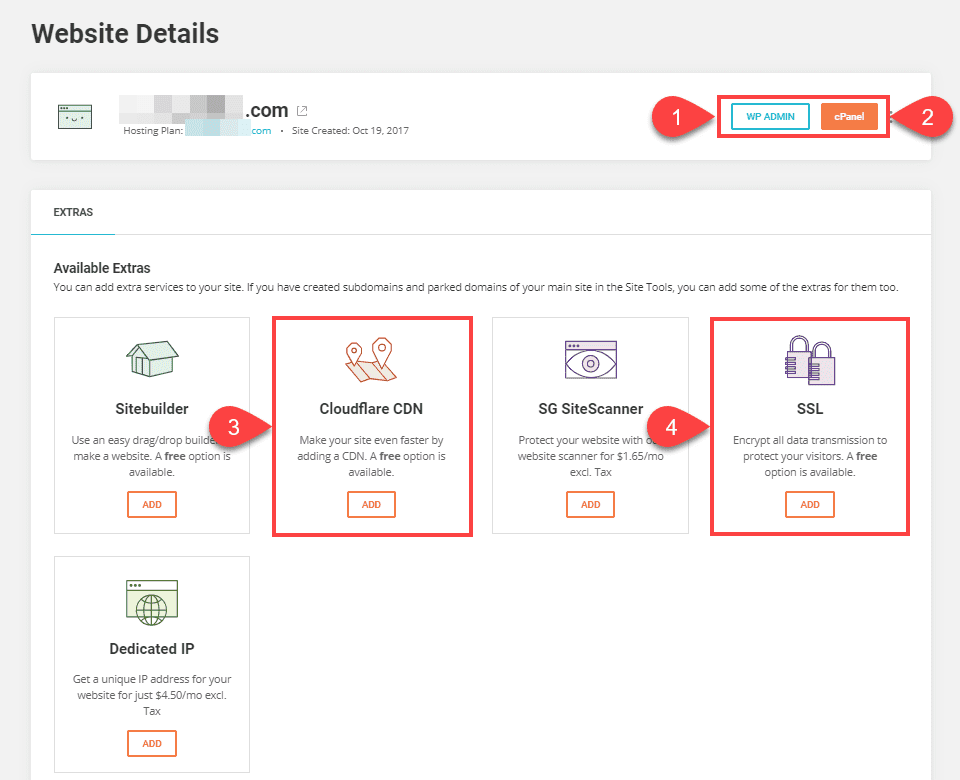 When setting up your managed SiteGround WordPress hosting, you will choose the primary domain your site will have. That is going to be what's listed here. Additional sites can be added using the Add-on Domain feature in the cPanel and the Softalicious WordPress installer SG uses. (Or you can use the famous 5-minute install.) Any WordPress sites installed on your plan will appear in the pop-up when you press the WP ADMIN button.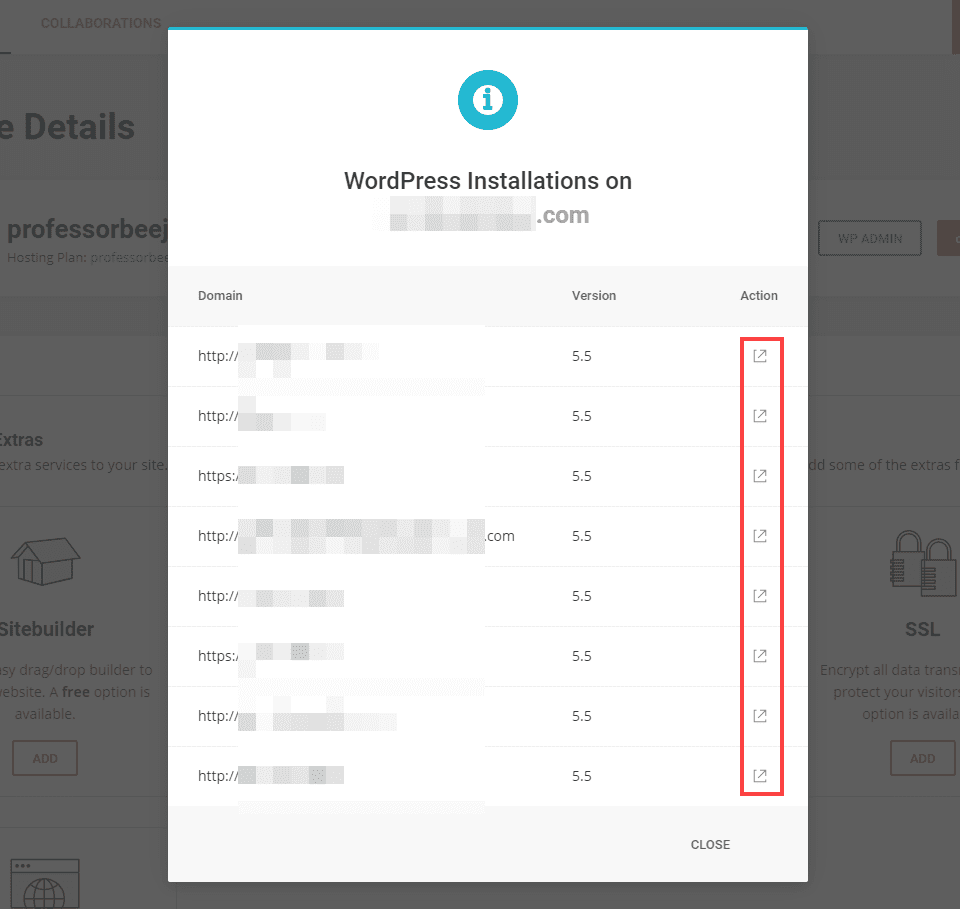 Believe us when we say this makes managing multiple sites on the same account so much smoother than without it. That said, the other two major points in the Websites tab is a free access to the Cloudflare CDN and free SSL certificates for all domains on the account.
While more and more hosts are offering SSL (not all, though, by any means), having free access to a CDN is nearly just as important. SiteGround also offers a Sitebuilder for free, as well as paid options for their proprietary SiteScanner and a Dedicated IP address. The dedicated IP only adds $4.50 per month (per website), so that might be a good option for some folks. The SG Sitebuilder is functional, but if you're going to have a WordPress installation, we suggest a page-builder theme like Divi.
More Options
If you click the three dots beside the cPanel button, you have three options:  Change cPanel Password, Server Details, and Change Primary Domain.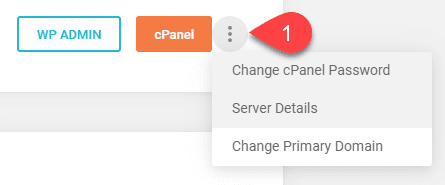 Changing your cPanel password should need no explanation, but the server details you can get show up on a modal, giving you easy access to your IP, data center location, and nameservers.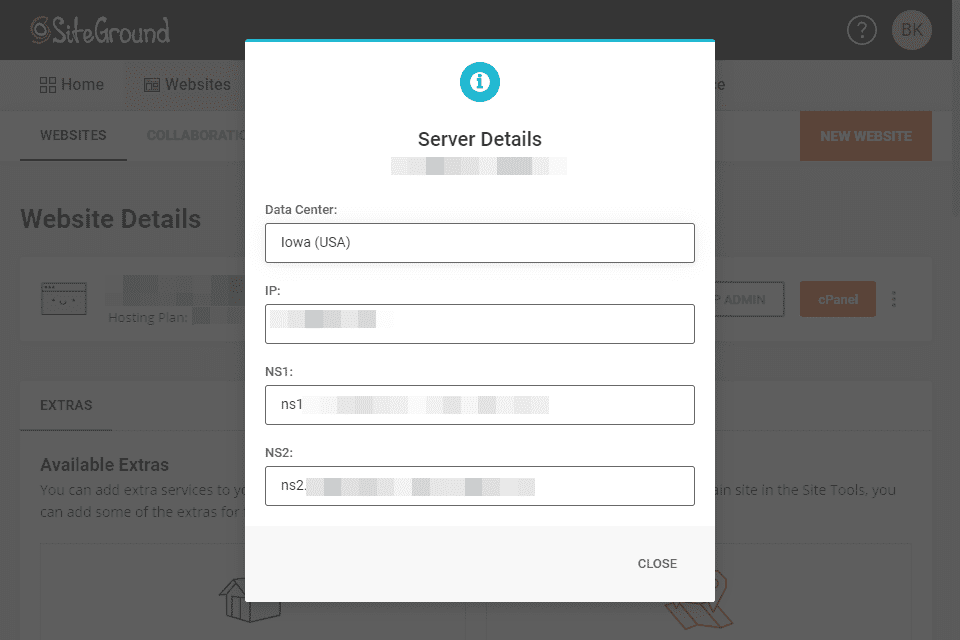 If you click on Change Primary Domain, you're given the option to change what your main site is for the managed SiteGround WordPress hosting. We urge you to exercise caution here. The primary domain on your account is tied to a lot of things, and if you change it, something will very likely break. That said, it's an easy and simple process.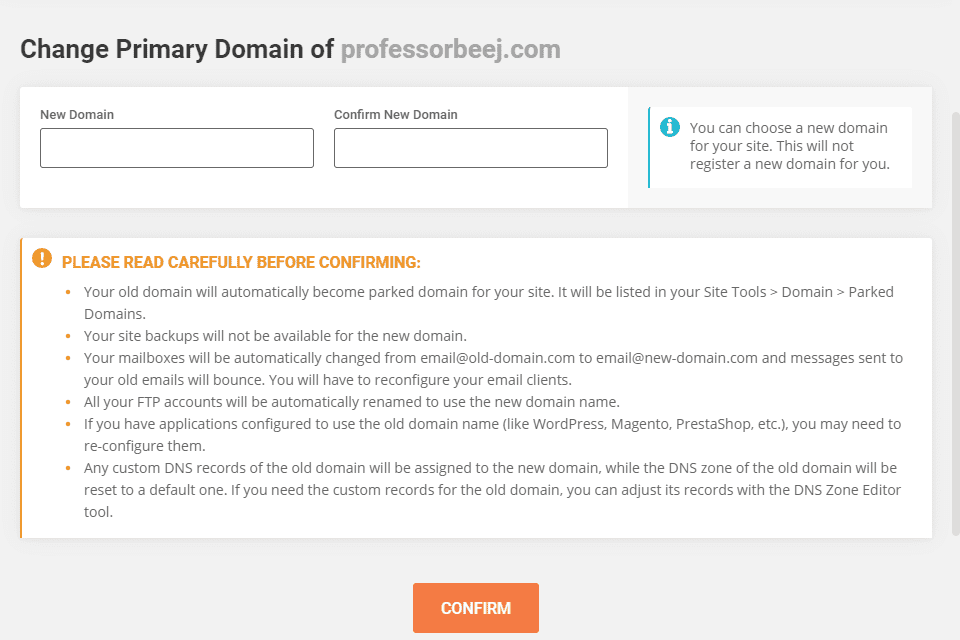 Just be sure to heed the SiteGround warnings and go into it knowing that it's not as harmless as changing usernames or passwords.
Collaborations
You may also notice the Collaborations tab up top. Basically, this is giving someone access (either as a team mate or a client) to the SiteGround dashboard and website. You can decide on what kinds of access you want them to have, though, so don't worry about them being able to totally take things over or override settings you don't want overridden.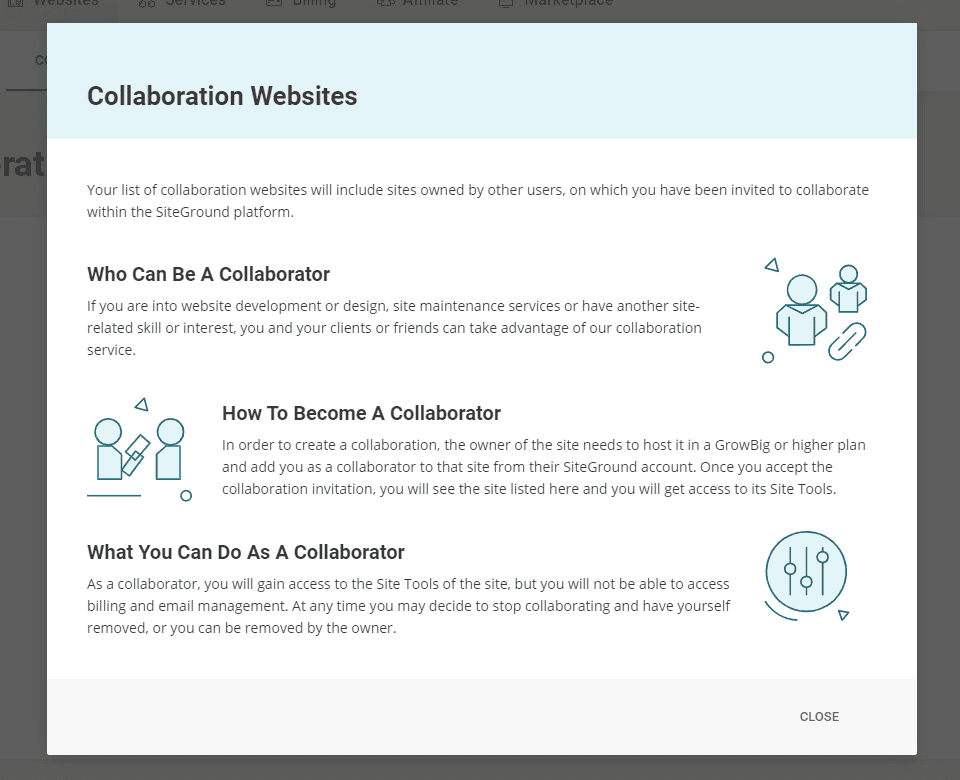 The really cool part of this is you having the ability to white-label a website and give a client access to it from the back-end. That isn't a typical feature for most hosts, so we are very impressed that SiteGround offers it on the medium pricing tiers and up.
The Services Tab
The Services tab is one you actually may not use that often. It's basically where you check and manage the hosting plans and domains you have. Under Hosting, you have Renew and Manage buttons.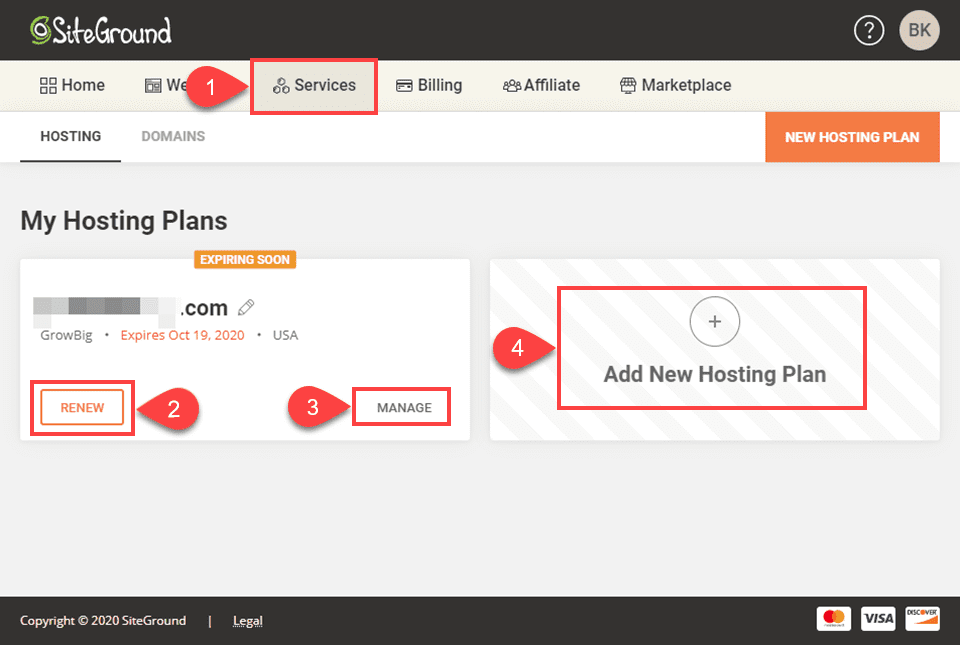 The Renew button will take you to a CC entry page where you can choose to alter your plan. Manage, however, takes you back to the Websites tab we discussed above. Add New Hosting Plan is self-explanatory. You sign up for a new plan to manage under this account.
Billing, Affiliate, and Marketplace Tabs
There isn't much to say about these tabs individually.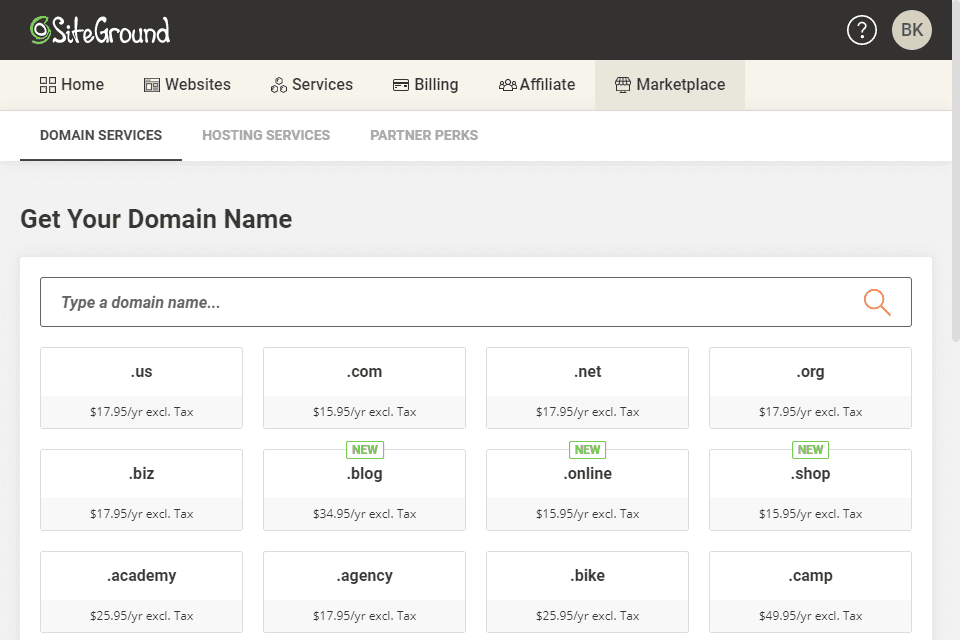 SG has a really good affiliate program, where if you refer someone you get $50. You set up and manage that through the Affiliate tab. Billing is just that. And the Marketplace is where you can purchase domains, tranbsfer them, and manage your privacy options. Very straightforward, but also very easy to do. We're big fans of just how simple it is to do because some hosts make this more complicated than it has any right to be.
cPanel
Update: Since this post's original publication, SiteGround has since moved away from cPanel to their own dashboard called Site Tools. We have a full overview of the new area that we strongly suggest checking out.
Now, in terms of features and accessing them, you will do a lot of that via the cPanel. You can access it from your dashboard by clicking the button under the Websites tab.

Once inside, the SG cPanel is clean and easy to use. You can drag the sections around so that they appear in any order (more cPanels need that ability).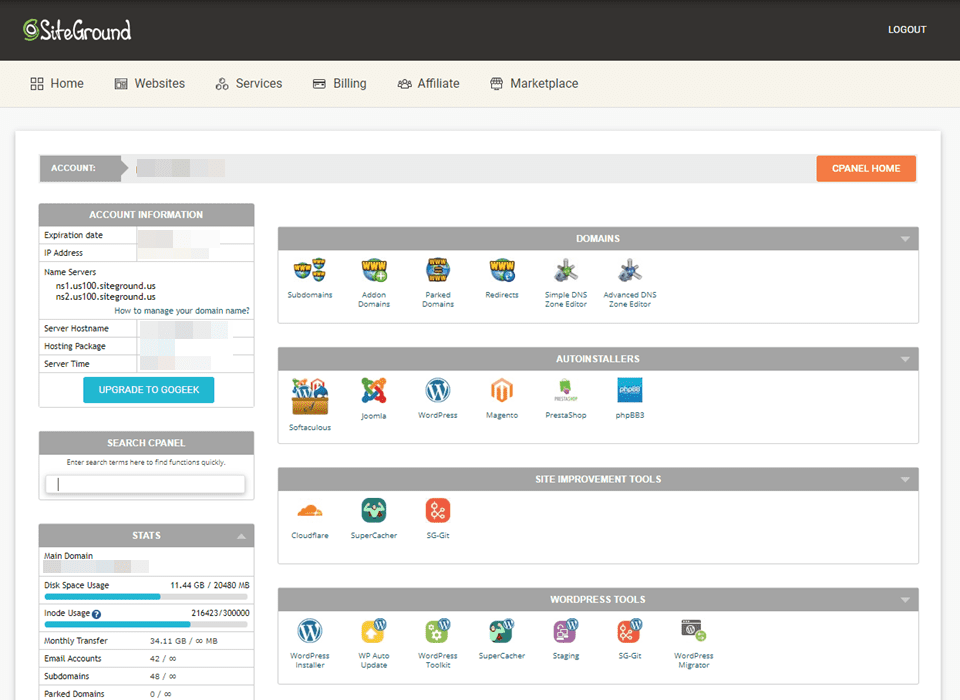 If you're new to cPanel, we have a great guide to get you started. Basically, this is where you control everything about your site. You manage email accounts, WordPress installations, domain redirects and add-ons, caching, CDN, DNS, file management and directory structure…everything. Since this is WordPress hosting, the SiteGround cPanel also has a WordPress Tools section that you can use to auto-update, work with their caching plugin, create staging sites, even get Git access and migrate other sites.
In terms of cPanel utility, it's one of the best we've used. Admittedly, cPanel is never the simplest or most elegant UI, but this one is less cluttered than many.
Support
Finally, we want to mention the SiteGround support. They are renowned for it, and for good reason. The team is prompt and knowledgeable, and not once have we had to ask a question that was left hanging without an answer. Access the support by clicking the question mark in the upper right corner. If you don't find the answer you need in the Quick Help dropdown, click View Help Center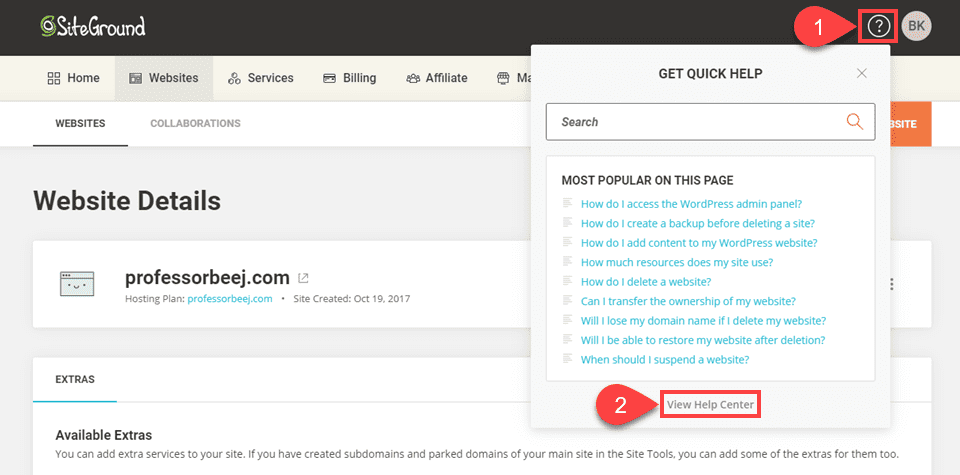 You can submit tickets to them via email, talk in live chat, give them a phone call, or read through an extensive knowledge base. In our experience with SiteGround support, we have been able to find the answer to our question in the KB pretty often. But when that's not possible, live chat has been incredibly useful, and the tickets have been responded to in under an hour most of the time (including the initial contact).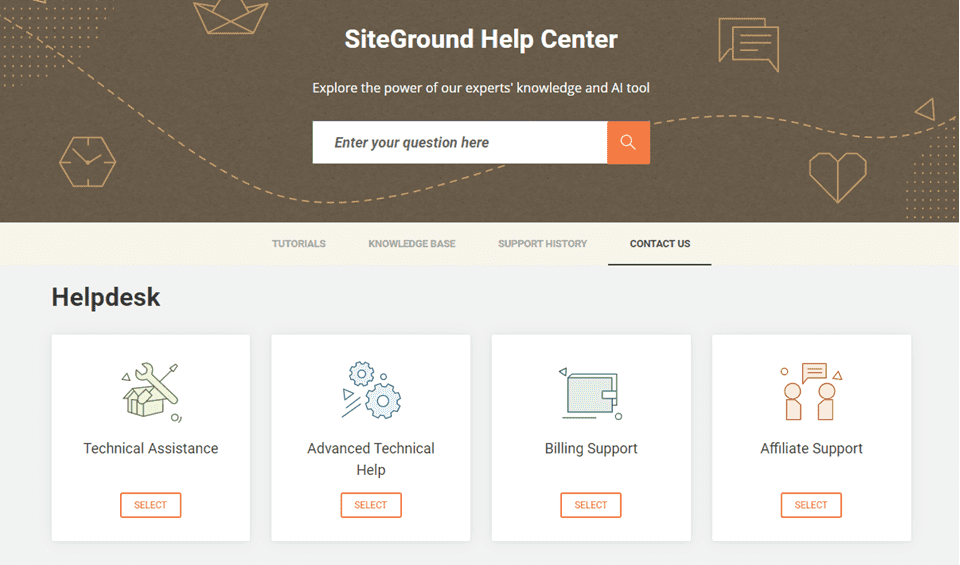 Author's note: As a SG user, myself, I haven't had any personal interaction with the phone support, as tickets and live chat have always solved my issues. But given how useful my interactions with the others, I can't imagine the phone support is anything less than superb.
Wrapping Up with SiteGround WordPress Hosting
Without a doubt, SiteGround has earned its reputation as being a solid, reliable WordPress host. From installation to file management to maintenance, the experience is designed with the user in mind. You can collaborate with team mates and clients natively, and you can access free CDN support through Cloudflare and every add-on domain can have a free SSL certificate. If you're a Divi user and are looking for hosting, don't forget that SG has optimized Divi hosting that is exclusive to our members.
What have your experiences with SiteGround WordPress hosting been?