WP Engine is one of the best-known names in managed WordPress hosting. It's not a cheap provider, but you're paying for premium performance, support, and a lot of developer-friendly features.
In this article, we're going to take a close look at WP Engine to see if this web host is worth its price tag. We'll assess its features, User Experience (UX), support, and pricing. To help you determine if this is the right provider for you, we'll also compare it to similar hosts so you can get a feel for how it stacks up against the competition.
Let's get to it!
An Introduction to WP Engine

WP Engine has been around since 2010. Over the past ten years, it's become one of the most well-known managed WordPress hosting options. However, it's definitely not a cheap web host, with prices for its default plans starting at $25 per month and scaling up to $241 per month. You can also opt for a custom, enterprise-level hosting solution that caters to your specific needs.
WP Engine includes a lot of features that cater to WordPress enthusiasts and developers, such as:
On top of those features, you'll also receive all the perks that you'd expect from managed WordPress hosting. These include around-the-clock support, automatic WordPress installation and updates (for core and plugins), automatic backups, and security checks for your website. Plans also include access to the Genesis Framework and over 30 free StudioPress themes alongside it, which is a nice bonus.
WP Engine's User Dashboard
Once you sign up and pay for a WP Engine plan, you'll gain access to the platform's custom hosting dashboard. This is an important element to consider when choosing a hosting provider, as it influences how you manage your account and maintain your website.
From the get-go, WP Engine's user interface provides you with plenty of information about all the sites on your plan. This includes available storage space, bandwidth usage, overall visits, and which version of PHP they're using: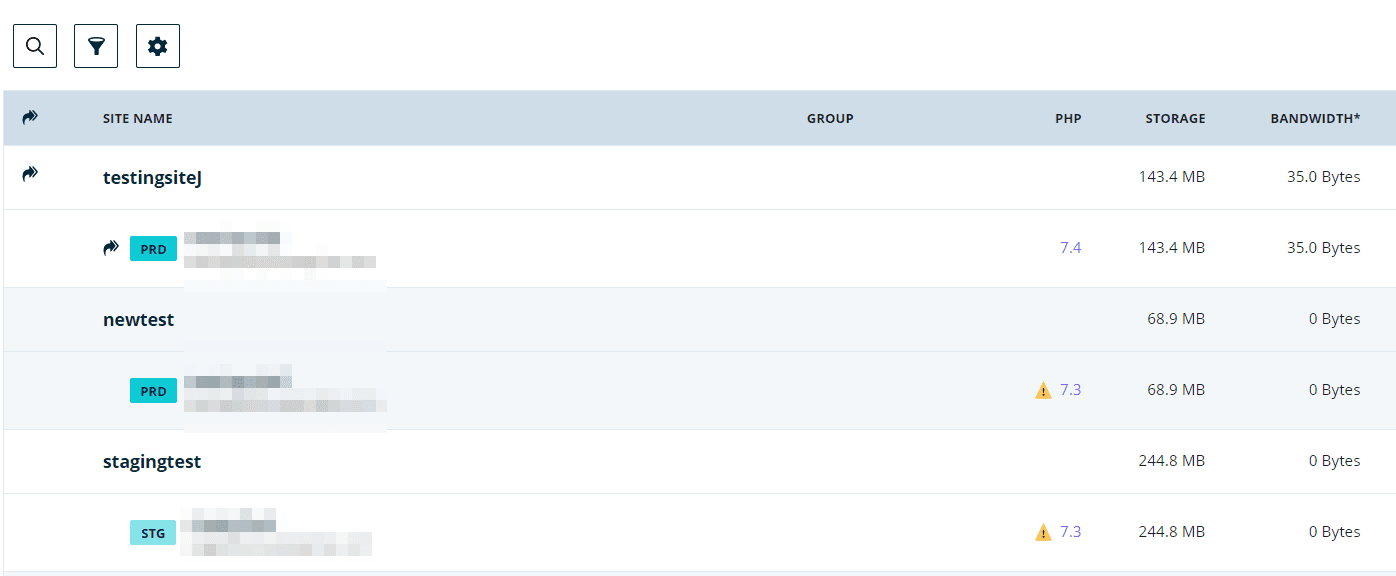 Selecting a specific site will open its details page, which includes a more comprehensive breakdown of its resources and settings: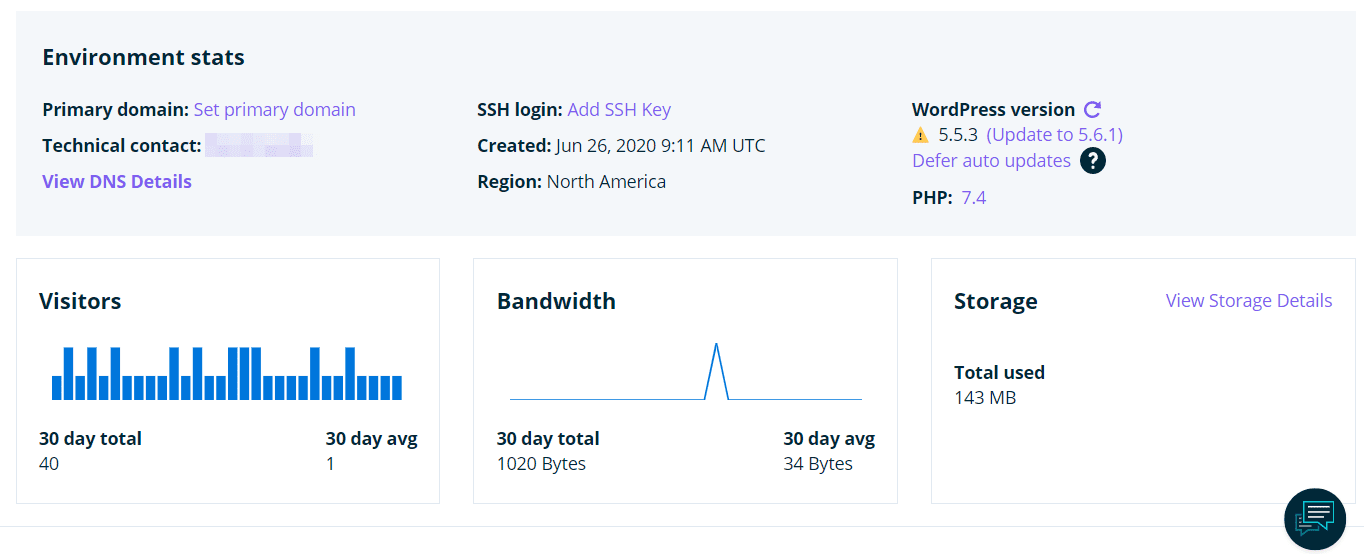 From this screen, you can configure domains, redirect rules, enable CDN integration, manage backups, access error logs, add Secure File Transfer Protocol (SFTP) users, and push updates to Git: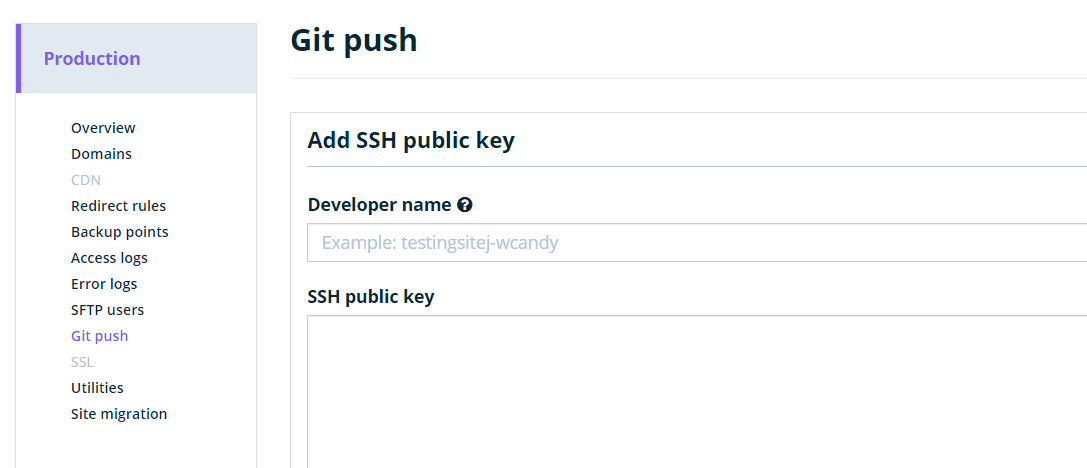 At a glance, it's easy to see that this dashboard was built with developers in mind. The platform makes it simple to access advanced settings for each website. However, each page also includes instructions and tips to help you navigate the available options: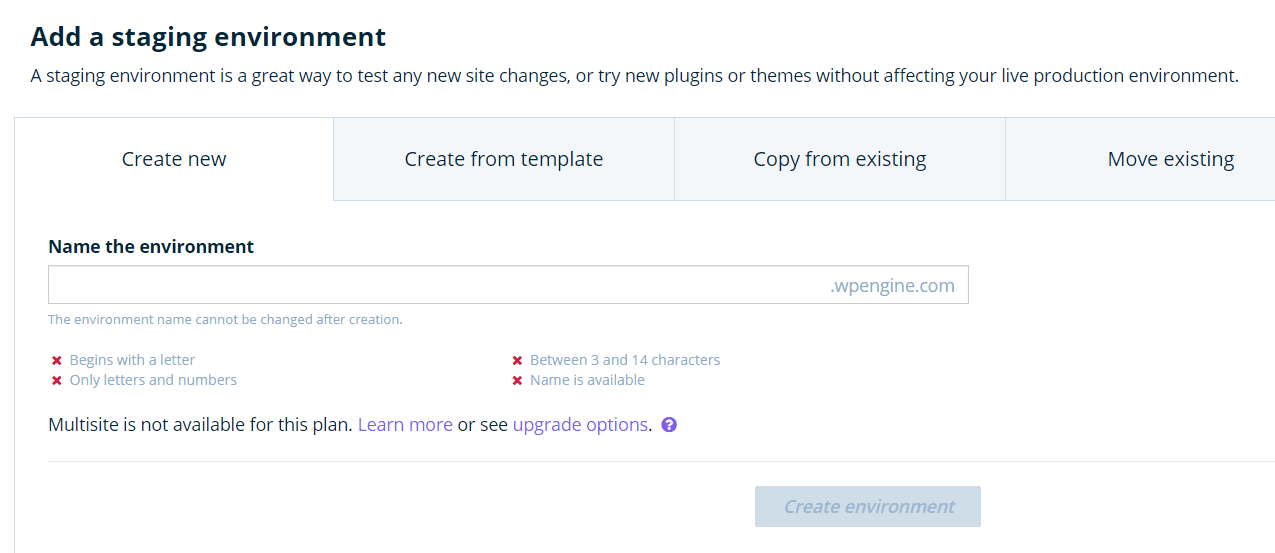 If you want to enable add-ons for your websites, such as global edge security or smart plugin management, you can do so from the main menu to the left of the dashboard: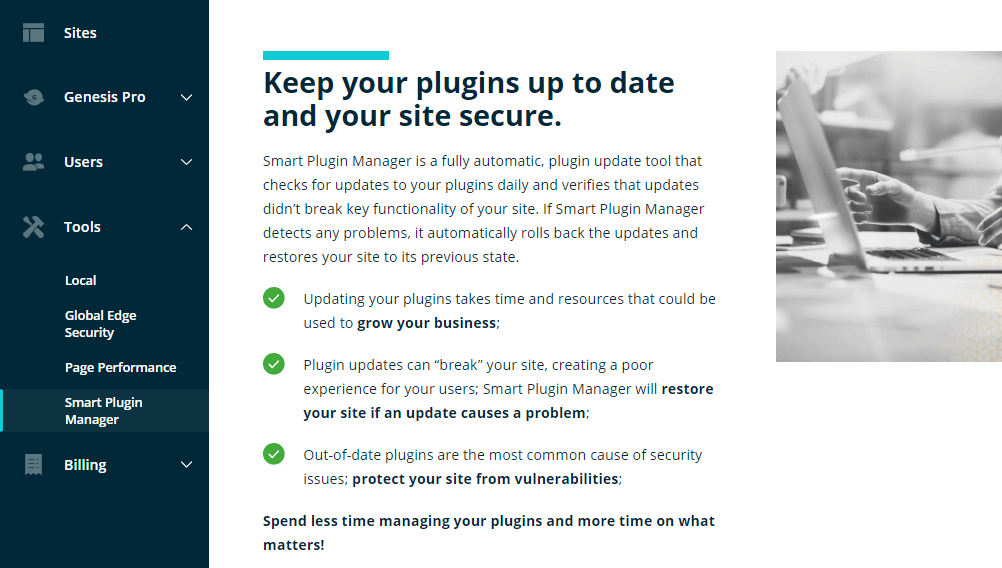 If you're an experienced WordPress user and this isn't your first time working on a website, WP Engine's dashboard should be fairly intuitive. Finding the settings that you need and managing your account is simple, but there are a lot of options that might go over your head if you've never dealt with a web host before.
Overall, although WP Engine can deliver a professional-grade managed WordPress hosting experience, it's not necessarily a particularly beginner-friendly option.
WP Engine Support and Customer Service
One of the primary reasons to use a managed WordPress web host is to gain access to expert support that's available around the clock. Plenty of other web hosts can deliver similar results when it comes to performance, but managed hosts are all about offering a bespoke experience.
In that aspect, WP Engine delivers. It offers 24/7 support via live chat and phone. In our experience, getting connected with an expert usually doesn't take long, although you need to deal with a simple chatbot first: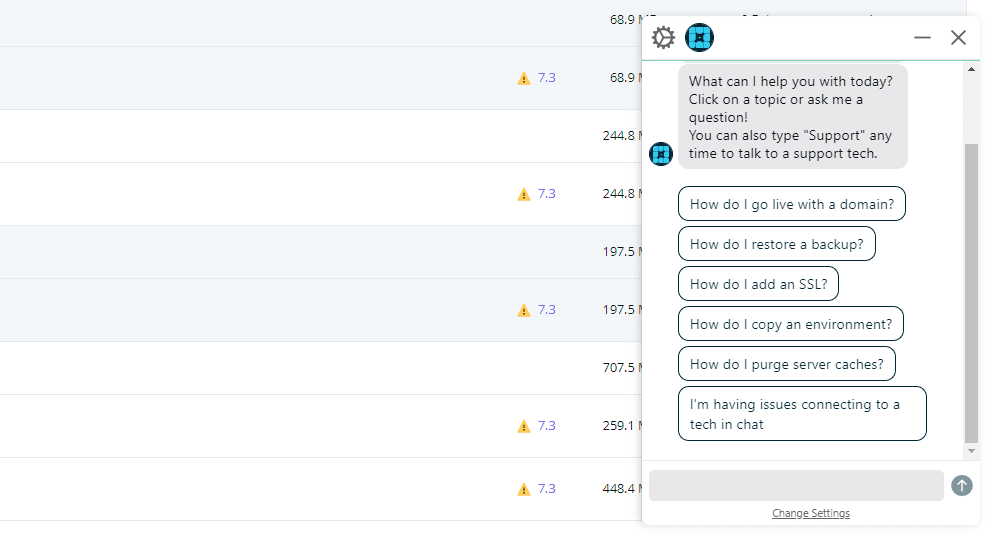 Unfortunately, phone support is only available if you opt for the Growth plan or higher. If you're paying for the basic Startup plan, you're stuck with live chat. However, that's not necessarily a deal-breaker unless you have a strong preference for troubleshooting over the phone.
Even if you're comfortable taking on errors and other challenges yourself, it's still nice to have access to a support team that actually knows their way around WordPress. Plus, WP Engine has a comprehensive knowledgebase of WordPress tutorials that enable you to tackle technical issues on your own.
A Breakdown of WP Engine's Prices and Plans
As we mentioned before, WP Engine's plan selection isn't all that broad. If you want to use a ready-made hosting plan, you only have three options to choose from: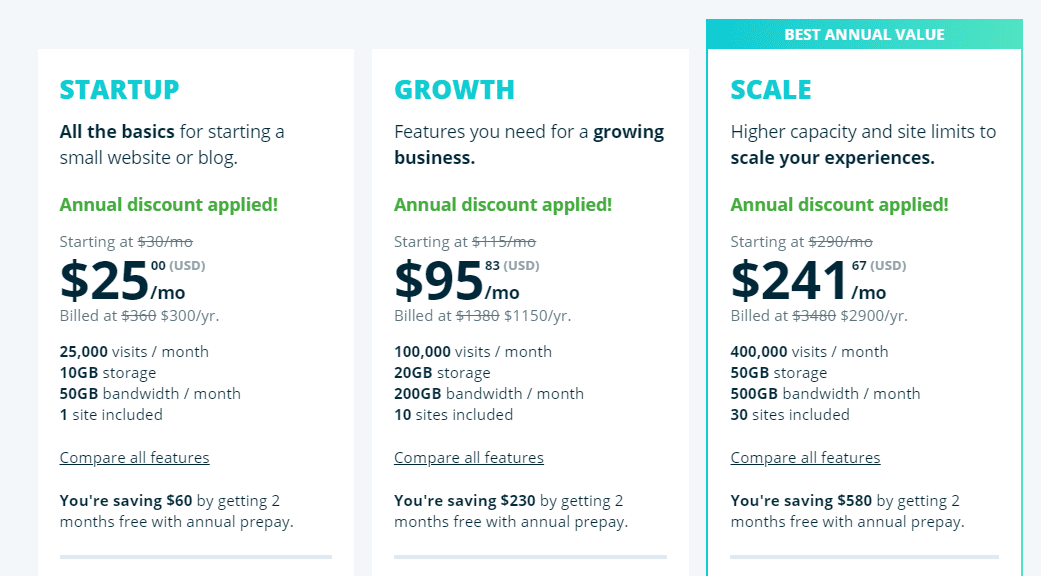 There's a significant price difference between the plans, which is not optimal. If you're running a single website using the Startup plan and you need to add a second one, your monthly payments would jump from $25 to $95, which is not a small difference.
Aside from increased bandwidth and storage, and the ability to add more sites to your account, upgrading to a more expensive plan also gives you access to more features and add-ons. However, some features are only available to customers who ask for custom hosting solutions. Among those, you have Application Performance Management (APM) tools, GeoTargeting, and support for WordPress multisite.
As far as cost goes, WP Engine's plans start at around the same price as other managed WordPress hosting options such as Kinsta and Flywheel. The platform's Startup plan is a competitive option if you need to host a single website. Moreover, this host supports monthly payments, which is helpful if you don't want to pay for a full year in advance.
Although the Startup plan is not a bad option, you can find cheaper solutions for a single website. Where WP Engine really shines is when you're working on multiple WordPress websites and you need access to development features and stellar performance.
Overall, WP Engine is not the type of web host you choose for personal use or for hosting a small website. It's a solution for enterprise sites, agencies, and developers.
WP Engine vs Other Managed WordPress Web Hosts
People often suggest managed WordPress hosting platforms as the default solution if you want the best possible performance for your website. However, choosing between managed WordPress web hosts can be difficult since they often have similar features and starting price points.
With that in mind, here's a quick breakdown of how WP Engine compares with other popular managed WordPress hosting options:
If you're looking for a budget WordPress hosting option, WP Engine shouldn't be your first choice. The service is overkill for personal websites and other projects that you don't expect will see much traffic. On the other hand, if you need a web host that can help you run multiple WordPress websites and gives you access to developer-friendly features, WP Engine can be a fantastic option.
Conclusion
There's plenty of reasons why WP Engine is one of the most popular options when it comes to managed WordPress hosting. It offers some of the best performance you can get for WordPress websites, and its plans are perfect if you need to manage multiple projects.
Although WP Engine isn't cheap, when you sign up for a plan with this host you're paying for access to developer-friendly features and one of the best hosting dashboards we've used so far. Plus, you get round-the-clock support from people who actually know about WordPress, which can be invaluable.
If you're looking for other managed WordPress hosts and want to compare them to WP Engine, check out Pressable, Cloudways, SiteGround, and Flywheel.
Do you have any questions about WP Engine? Let's talk about them in the comments section below!
Image by Kris_Anfalova / shutterstock.com