A high-quality managed WordPress host can offer many benefits to your site. In addition to increased performance, stronger security, and access to premium tools, the right provider will also make your site maintenance workflow smoother, preferably without breaking the bank. Kinsta is one of the best managed hosting and enterprise hosting providers in the industry, so it's worth your while to consider what it has to offer.
In this hosting review, we'll take a closer look at Kinsta's services, including its account dashboard interface, server performance, and customer support. We'll also discuss pricing options, to give you an idea of what it will cost to sign up for a managed WordPress plan.
Let's jump right in!
An Introduction to Kinsta Managed WordPress Hosting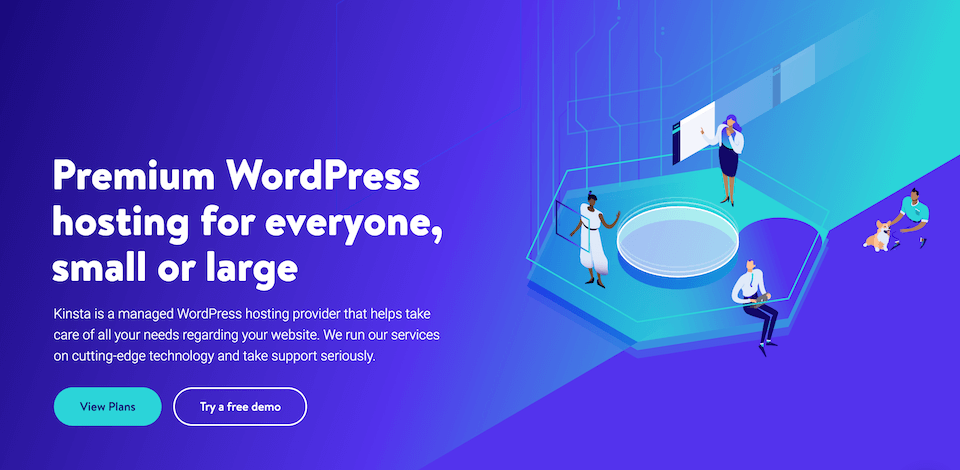 Kinsta is a premium hosting provider specializing in WordPress. Its infrastructure is powered by Google Cloud Platform, and uses top-notch architecture, including NGINX and PHP 8. Not only does this make for high-powered hosting, it's also ideal for scalability.
However, one thing you might be expecting from a hosting provider that you won't find at Kinsta is domain registration. While you can host any WordPress site with this provider, you'll have to acquire your web address elsewhere. Not to worry, though – there are plenty of other features that make Kisnta worth looking at.
Kinsta Managed WordPress Hosting Review: 5 Key Factors to Consider
When it comes to finding the right hosting provider, there are many factors to consider. From your budget to the provider's technical specs, it's important to carefully weigh the pros and cons of any company before committing to it.
With that being said, we feel there are five key areas that are most important to keep in mind when making your decision. Below, we've assessed how Kinsta performs in each of them, to give you an idea of what to expect from this managed WordPress host.
1. WordPress-Specific Features
Unlike many other hosts, Kinsta focuses exclusively on managed WordPress hosting. You won't find any generic shared or Virtual Private Server (VPS) hosting plans available for sites built on other platforms.
This also means the service is well-optimized for WordPress. Kinsta will walk you through installing the platform in just a few clicks, so you don't have to deal with uploading files or creating a database. You can even choose to include WooCommerce and/or Yoast SEO in your installation, or set up multisite right out of the gate.
Kinsta's servers are also configured to provide the highest level of performance for WordPress sites, which we'll explore in more detail shortly. In terms of security, Kisnta makes it easy to protect your site with WordPress-specific rules and automatic backups.
If you're encountering an issue and need to troubleshoot it, you can turn on WordPress debugging with a single click from your MyKinsta dashboard: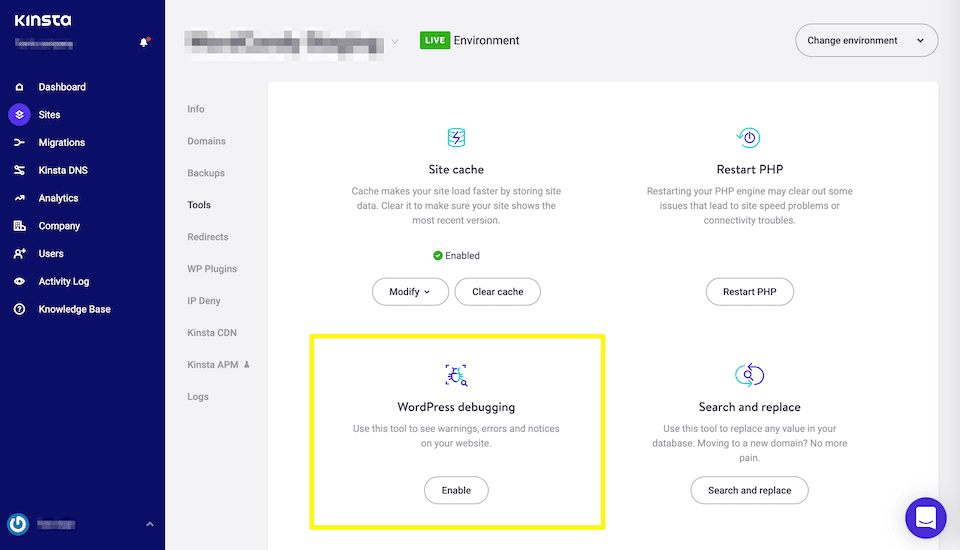 Although Kinsta doesn't automatically update your WordPress site for major releases, it does provide a free staging environment for every site. That way, you can test new versions before installing them. It also helps you keep track of plugin updates: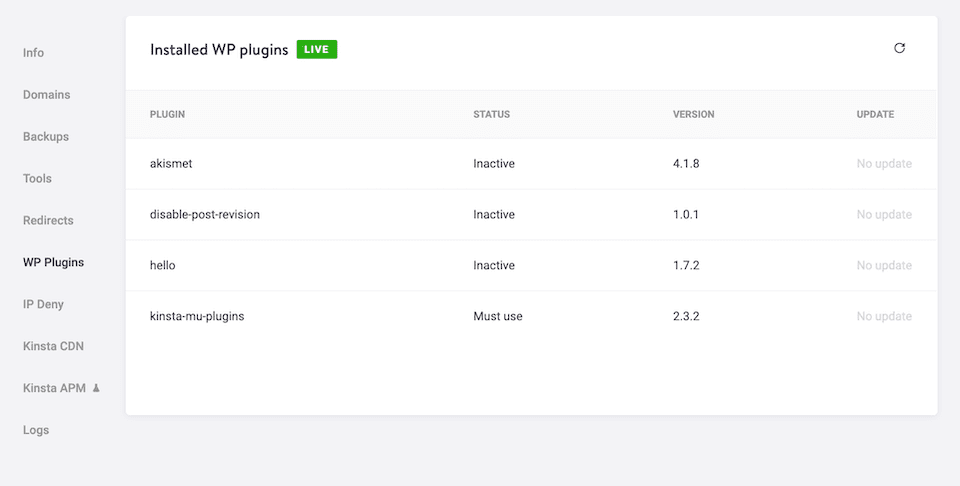 By checking the WP Plugins tab in your MyKinsta dashboard, you can see what tools are installed on your site and if they have updates available.
2. User Experience (UX)
Speaking of the MyKinsta dashboard, it provides a highly-unique hosting User Experience (UX):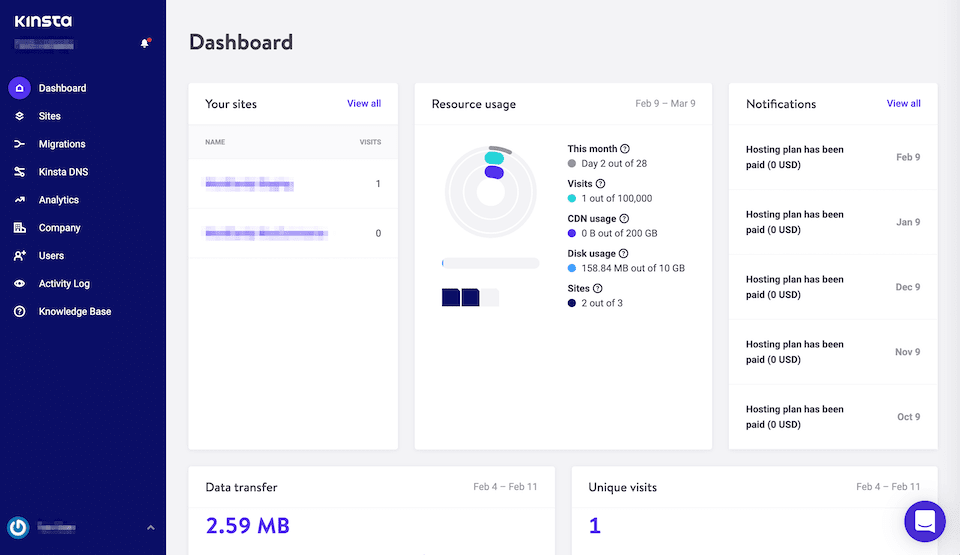 If you were hoping for cPanel you'll be disappointed, but Kinsta provides a lot of useful features in its user account dashboard. On the first screen, you'll see a summary of your resource usage, which can help you stay on top of monitoring your site's performance.
It also enables you to easily see when you might need to upgrade your plan. All you need to do is navigate to Company and click on the Upgrade Plan button: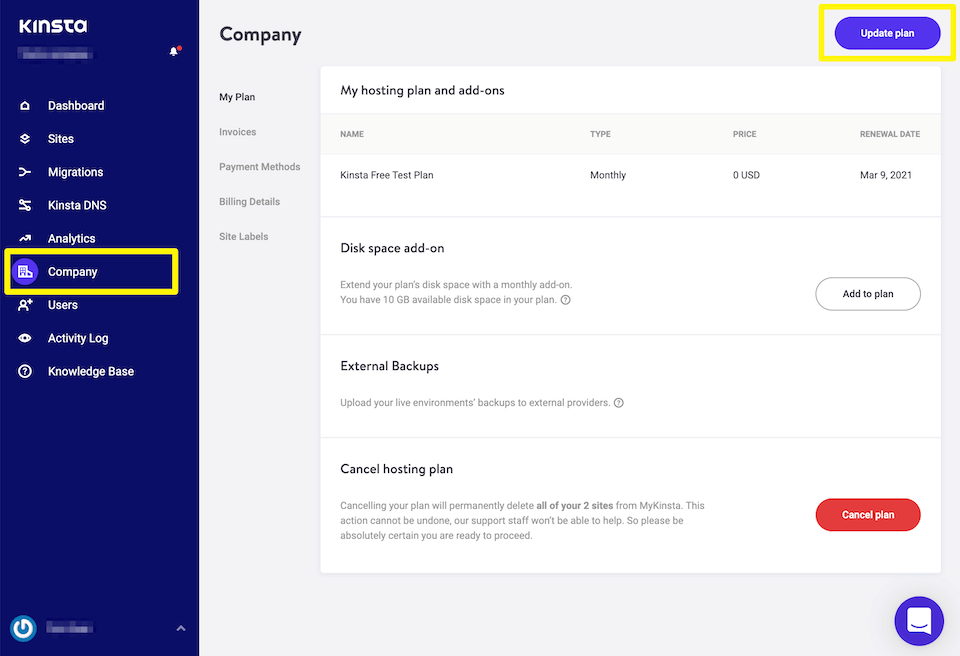 Other features available in the dashboard include:
Easy website migration requests
Access to Domain Name System (DNS) settings, so you can quickly set up your domain
Website and performance analytics
The option to add users to your hosting account so your team can manage sites
A hosting account activity log for better security and troubleshooting
Quick access to the Kinsta knowledge base and other resources
Overall, Kinsta packs a lot of functionality into a clean, easy-to-navigate interface. Even those who are new to WordPress and web hosting should be able to pick it up relatively quickly. You can also try a free demo before you sign up, to get a feel for the platform.
3. Performance
Performance is vital when choosing a hosting provider. All the speed optimization tricks in the world won't make up for a poor-quality web host, so this isn't an area where you want to compromise.
Fortunately, Kinsta offers a lot of performance-related features to give your site a boost. For starters, it uses NGINX and supports PHP 7.3, 7.4, and 8 to give your WordPress site a solid foundation.
Every plan also comes with server-level caching, and a Content Delivery Network (CDN) that you can enable right from your hosting dashboard: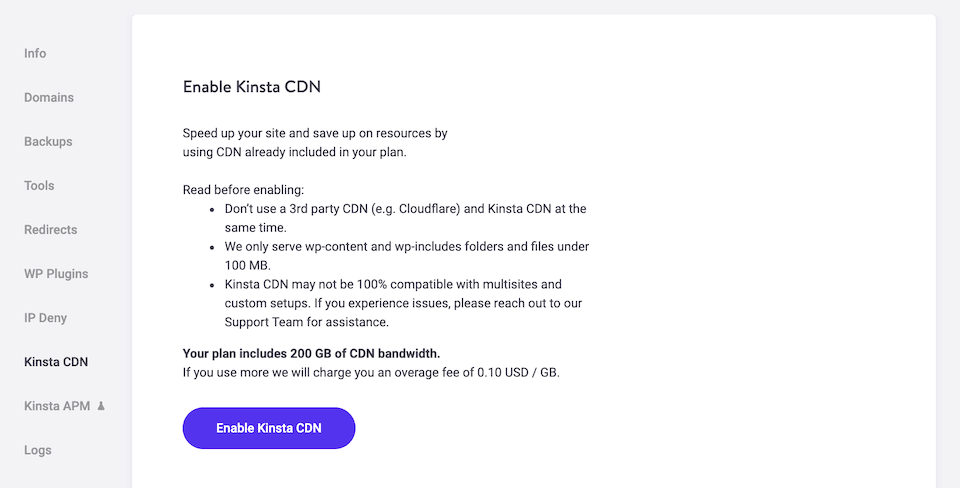 Plus, Kinsta has 24 data centers placed around the world. When installing WordPress, you'll be able to select which one you want to use. By choosing the one closest to the majority of your users, you can help decrease their loading times.
If you're curious as to how well these features work in action, you can read Kinsta's SkyrocketWP case study, which explores how that client was able to improve site performance by migrating to Kinsta. You can also check out Review Signal's hosting performance benchmarks see how it stacks up against similar providers.
Finally, Kinsta also provides ongoing uptime monitoring to make sure your site is always available. Although it guarantees 99.9 percent uptime, if your site does go down, Kinsta's engineers will receive an automatic notification and get to work on solving the issue right away.
4. Support
Support is another key area to consider when selecting a hosting provider. Although you might not miss it most of the time, it's important to be able to get in touch with someone if you're experiencing technical difficulties with your website, or even if you just have a question about your bill.
One of the biggest advantages of working with a WordPress-specific host is that you gain access to professionals who are experienced with the platform. Kinsta's support team is trained in WordPress, and should be able to help if you run into errors or conflicts on your site.
Kinsta support is also available 24/7/365. The company has local teams stationed around the globe, so there is always someone in your time zone ready to help. You can reach them via the chat button in your MyKinsta dashboard:

If you're confident enough in your skills to troubleshoot issues yourself, you can also take advantage of Kinsta's extensive online resources, including:
All of these are available for free. The blog and knowledge base cover a wide range of topics, including solutions to many common errors.
5. Pricing
Finally, we need to discuss Kinsta's pricing model. Unlike many hosts, this provider doesn't use a tiered pricing system for plans with different features.
Instead, all customers have access to the same features, and pricing increases based on resource usage and storage space: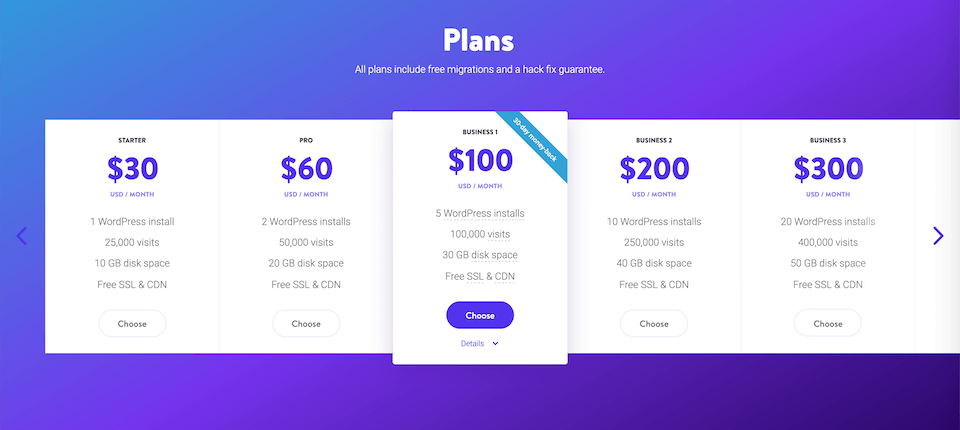 The plan you choose also determines how long your backups are retained, and how many free migrations you can request. The entry-level Starter plan is priced at $30 per month, and offers one WordPress installation, support for 25,000 monthly visits, 10 GB of SSD storage, and 50 GB of CDN storage.
Although this may seem like a hefty price tag when compared with shared WordPress hosts such as Bluehost or DreamHost, you have to keep in mind what you're getting for that $30 per month. Kinsta offers a much greater degree of scalability and better performance than a shared WordPress host, making it a strong choice for business and e-commerce sites. However, if you're just trying to start a hobby blog or create a small online portfolio, this may not be the host for you.
Conclusion
Kinsta is a top-notch host, which is used and recommended by many experienced WordPress users and professionals. Managed WordPress hosting can save you a lot of time on website maintenance, and give your site a boost in terms of performance and security.
In this review, we took a look at how Kinsta stacks up in five key areas:
WordPress-specific features. Kinsta focuses exclusively on WordPress hosting, and has optimized its servers appropriately. It also offers easy access to WordPress debugging, and helps you monitor plugin updates.
User experience. The custom MyKinsta dashboard provides a wealth of information and features in a highly-navigable and user-friendly layout.
Performance. With server-level caching, multiple data center locations, and top-notch hosting infrastructure, you can expect fast loading times for your WordPress site if you host with Kinsta.
Support. 24/7/365 localized chat and self-serve resources ensure that you always have access to the help you need.
Pricing. Kinsta's plans start at $30 per month. They offer excellent value for sites that need to be able to scale quickly. However, its lack of budget hosting options may make it unsuitable for small sites.
If you're looking for other managed WordPress hosts and want to compare them to Kinsta, check out Pressable, Cloudways, SiteGround, and Flywheel.
Do you have any questions about Kinsta's managed WordPress hosting services? Ask away in the comments section below!
Image by Visual Generation / shutterstock.com