One would think that purchasing a domain name is a relatively simple process. Go to Google, type in "best place to purchase domain name," clickity-clickity, and you're done. Ta-da!
Unfortunately, there is a bit more to it than that. At least, when you plan on actually using that domain. Finding the best place to purchase a domain name is important. You're probably going to be with that service for years, after all.
Finding the best domain registrar for you is a combination of cost, services offered, and support. Not every company will work for every person or company, but depending on your needs, I'm confident we can find one that will work.
Namecheap

Namecheap has become one of the top domain registrars around. It may not be as well-known as some of the others, but it consistently outperforms other companies in cost, services, and support.
They have deals pretty often for different domain extensions as low as $0.88 USD, though it's rare to find something like a .com at that price. Most prices tend to be around $10-12 USD, with specialty domains such as .blog, .tech, and .io running between $20-60 USD per year.
The main draw of Namecheap, in my opinion, is the quality of their overall platform. From managing DNS to ownership/registrar transfers, they are reliable and easy to use (even if you're not familiar with the ins-ands-outs fo domain management).
Additionally, newly registered domains come with free WHOIS privacy for the first year. (And $2.88 USD per year afterward–considerably cheaper than most other places). You will save you a pretty penny if you register or transfer in bulk. Plus, their support has been quick to respond and fix every issue I've personally had within a day each time.
Google Domains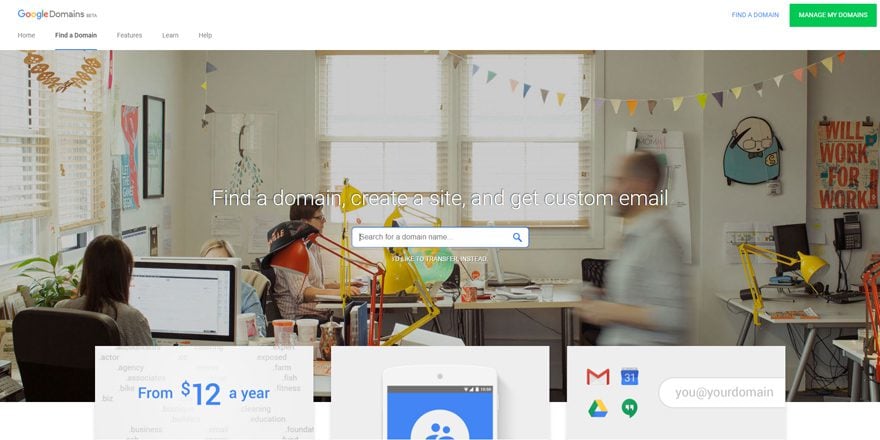 Google Domains is finally out of the invite-only phase of its deployment, and it is exactly what you'd expect out of a Google-run domain registrar. Things are simple, clean, and straightforward, and for the most part…they just work.
The real benefits in my mind of using Google Domains is the ease with which you can get things up and running. Your entire domain list is consolidated in your Google account, so if you use G-suite for work or Gmail et al for personal use, you're good to go (with payment information likely already stored, so that's a bonus).
There are a couple of downsides to the service, the first of which is that there are never any discounts (at least that I've discovered). You pay $12 USD per year for the more common TLDs (top-level domains), and pretty much every other extension under the sun is available for $20 all the way up to $120+. You do get WHOIS privacy bundled with the price of each domain, so that tends to make the service a bit more cost effective.
In terms of support, it's typical Google. Sometimes it's spot-on and your problem is solved ASAP, and others you're sent through a Knowledge Base and Support Forum treasure hunt without a map. So yeah. Again, it's what you'd expect.
Flippa

Flippa is not your average domain supplier. Not technically a registrar, but a marketplace (think eBay for website and domain names), Flippa lets you browse through thousands upon thousands of listings for domains that are for sale. Sometimes you can snag the perfect one from a squatter for pennies, and sometimes you can snag the perfect one from a squatter for thousands of dollars. It's a crapshoot in the best kind of way.
The search function works like any other company: you type in keywords you want results for, and then you pick whether you want existing websites or domains (or apps or Shopify shops, technically).
They do tons of transactions every day, and their support has always been quick for me. The main downside to Flippa is that it's not a pay-and-go service with set prices and rates. You're dealing with other human beings, and we all know how that can be.
GoDaddy, Hostgator, and Bluehost
Okay, first of all, we know that these companies are not the same, but having used all of them for domain registration and cheap hosting, we've had nearly identical experiences with each and every one of them. Their prices and offerings are very, very similar, so I bundled them together.
To us, these are the big-box stores of domain registration, the Walmart, Target, and Costco. They have every last thing you need, are incredibly affordable and easy to work with, and when you have a problem, they're happy to help (usually for an additional fee, depending on the extent to which you need them).
Things to Consider
With any registrar that offers discounted rates and major coupons, make sure you watch out for the renewal rate for successive years. If you have auto-renew on, at the end of that first year, you will be billed the "then-current" price, which has yet to be determined at your initial registration. Just because you paid $0.99 for that first year doesn't mean that you won't be paying $29.99 the next. Read the fine print.
Additionally, these kinds of registrars are more casual-user oriented, and therefore many of their services are tiered and priced with that market in mind. Features such as WHOIS privacy tend to be a la carte and higher-priced than at smaller, more niche-focused companies.
Customer support, in my experience at least, also tends to be similar. For both GoDaddy and Hostgator, I typically receive responses within a day, but the quality is hit-or-miss. (LiveChat tends to be more useful than email support lately.)
Clients and I both have been consistently upsold by both GoDaddy and Hostgator in the past to the tune of $75 USD for DNS issues and SSL certificate installation, all the way up to $300/hr a fix I handled in literally 3 minutes for a client after they were told the Hostgator technicians had to handle it over a couple of days.
My interactions with Bluehost customer service have been delightful, honestly, but neither I nor a client have needed anything as in-depth as with GoDaddy and Hostgator.
Admittedly, that's all anecdotal, so if you plan on going with one of these three for domain registration, it's personal preference.
GoDaddy

GoDaddy has WHOIS privacy in three tiers between $7.99 and $14.99 USD per year per domain
19 TLD extensions available
Hostgator

Bluehost

Bluehost has WHOIS privacy for $0.99 per month per domain
14 TLD extensions available
Name.com

Name.com has been around forever, and they are very well known in the domain industry. They have prices ranging anywhere from $3.99 USD per year to $100+, depending on how special you're looking for. Name.com does offer sales, and their extension choices are far wider than many other hosts.
The WHOIS privacy option here is on the cheaper side at $4.99 USD per year, too. I would also like to mention that they do offer add-on email support–even if you don't have a hosting plan through them. That's a rare find, and I thought you'd wanna know about it.
These folks have built up a reputation on being reliable and consistent. If that's what is important for you, you will find a lot to like here. They aren't flashy, and they don't have a gimmick. That's pretty cool. They do what they set out to do, and they do it well.
DreamHost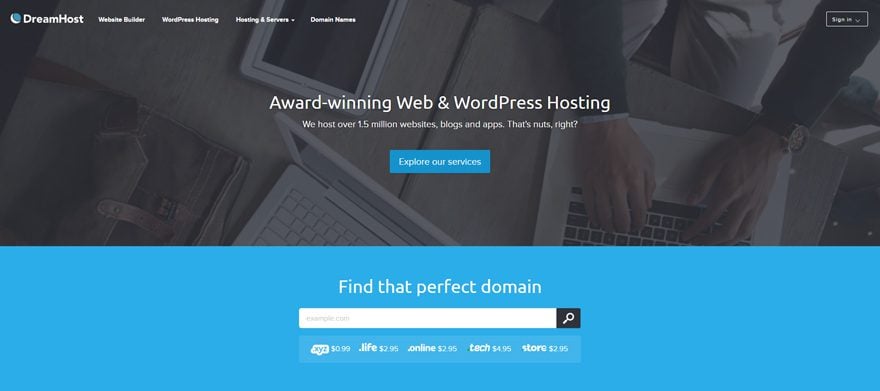 There are over 400 domain extensions, and very few places can sell them all. DreamHost is one of them. So if the desire for that ultra-specific, specialty domain keeps you up at night, DreamHost has you covered. They run sales where you can pick up some extensions as low as $0.99 USD; however, common domains run around $12-15.
DreamHost also boasts about its dedication to your privacy, and they show it by offering WHOIS protection free of charge. Additionally, they have put their money where their mouth is and fought back against a US Department of Justice warrant that requests "all information available to [DreamHost] about this website, its owner, and, more importantly, its visitors." (Emphasis theirs).
Regardless of where you fall on the politics, if privacy is one of your major issues, DreamHost may be your new BFF.
1&1

And finally, 1&1 is a lesser-known company that has a pretty nifty gimmick: they offer special domain extensions (such as .mobi, .pizza, .ninja) at discounted prices. While they're still more expensive than a common .com (.common? #domainpun), you should definitely check them out to see if you can snag your startup's awesome .io URL cheaper here than you can elsewhere.
Like many other registrars, 1&1 offers hosting services as well as the not-so-common standalone email. Additionally, they have a pretty sweet Microsoft Office 365 deal for businesses. 1&1's deal might make it cheaper and more accessible than G-suite, depending on your company and team. (Or if your company hates Google like my previous one did.)
Did I Miss the Best Place to Purchase a Domain Name?
This is by no means an exhaustive list of where you can register a domain. But I do think it's a list of the best places for you to do so. So if you want ease of use, customer support, privacy protection, or just plain-and-simple discounts, hopefully one of these will work out for you.
Which company do you use for domain registration? Let us all know where and why in the comments so we have even more fantastic options to choose from!
Article thumbnail image by VectorsMarket / shutterstock.com