Whether you're launching your first website or working on growing an existing one, your domain name is a central factor. It's important from a technical standpoint in that it makes it easy for users to access your site, but it's also essential to your digital brand.
Since understanding domain names is so crucial to website owners and managers, we've compiled a number of questions that often crop up, so you can learn everything you need to know.
Let's dive in!
Subscribe To Our Youtube Channel
What Is a Domain Name?
You might not realize it, but you're probably already very familiar with domain names. They're the URLs you type into your browser to access familiar websites. For example, the one for this site is elegantthemes.com.
A domain name's primary purpose is to act as your website's address. Every computer, including the server that hosts your website, has an IP address made up of a string of numbers. Without domain names, users would have to enter your server's IP address to access your site.
Instead, your web address provides an easy-to-recall alternative users can quickly enter to reach your content. If you choose it wisely, it also helps to cement your brand in visitors' minds so they become more familiar with it.
What Is the Domain Name System (DNS)?
In order to understand the ins and outs of how domain names work, you need to know about the DNS. This is a decentralized system that stores information about which domains are connected to which IP addresses.
When a user enters your domain name in their browser, it then checks the DNS for the corresponding IP address and directs the visitor to the right page. In this sense, you can think of the DNS as a directory of the internet.
There are several scenarios in which you might need to interact with the DNS directly, such as troubleshooting errors, or setting up a custom email address. It's also key when moving your site to a new domain or a new hosting provider.
How Is a Domain Name Different from Web Hosting?
Domain names and web hosting often become co-mingled because many hosting providers are also domain registrars and both services are required to launch a website. However, they're entirely separate concepts.
Your domain, as we've already explained, is your website's address. Your web host provides your website's server, which is like its house. Although you can purchase hosting and a domain from the same company, you don't have to.
What Is a Top-Level Domain (TLD)?
A TLD is the end portion of a domain name, such as .com. One TLD doesn't work any better than another when it comes to enabling users to access your site, but there are key differences between them.
For instance, your TLD can indicate something about the nature of your website. For example, .org is traditionally used for nonprofit organizations. Newer TLDs such as .blog or .shop might be used for content hubs and e-commerce sites. Others – namely .gov and .edu – require additional verification because they indicate a certain level of authority.
Your TLD may also influence the cost of your domain name. While .com addresses run around $10 per year, a .inc domain costs several thousand.
What Is a Subdomain?
If you're familiar with WordPress multisite, you may have come across the term 'subdomain'. This is a URL for a specific portion of a website or a 'microsite' in a network. It's designated by a prefix such as blog.example.com.
Subdomains are treated as completely separate websites by search engines and have many uses, especially when it comes to structuring larger sites. You can usually set them up through your hosting provider's control panel.
How Should You Choose a Domain Name?
Generally speaking, your domain name should correspond with your website, brand, or business name. This minimizes confusion among visitors and provides a much-needed measure of consistency.
However, if you're just starting out or your ideal domain name is taken, there are several places you can turn for inspiration, such as automated domain name generators. Remember to keep it unique, concise, and memorable.
You can check to see what domains are available by heading to any registrar's site and using its search functionality: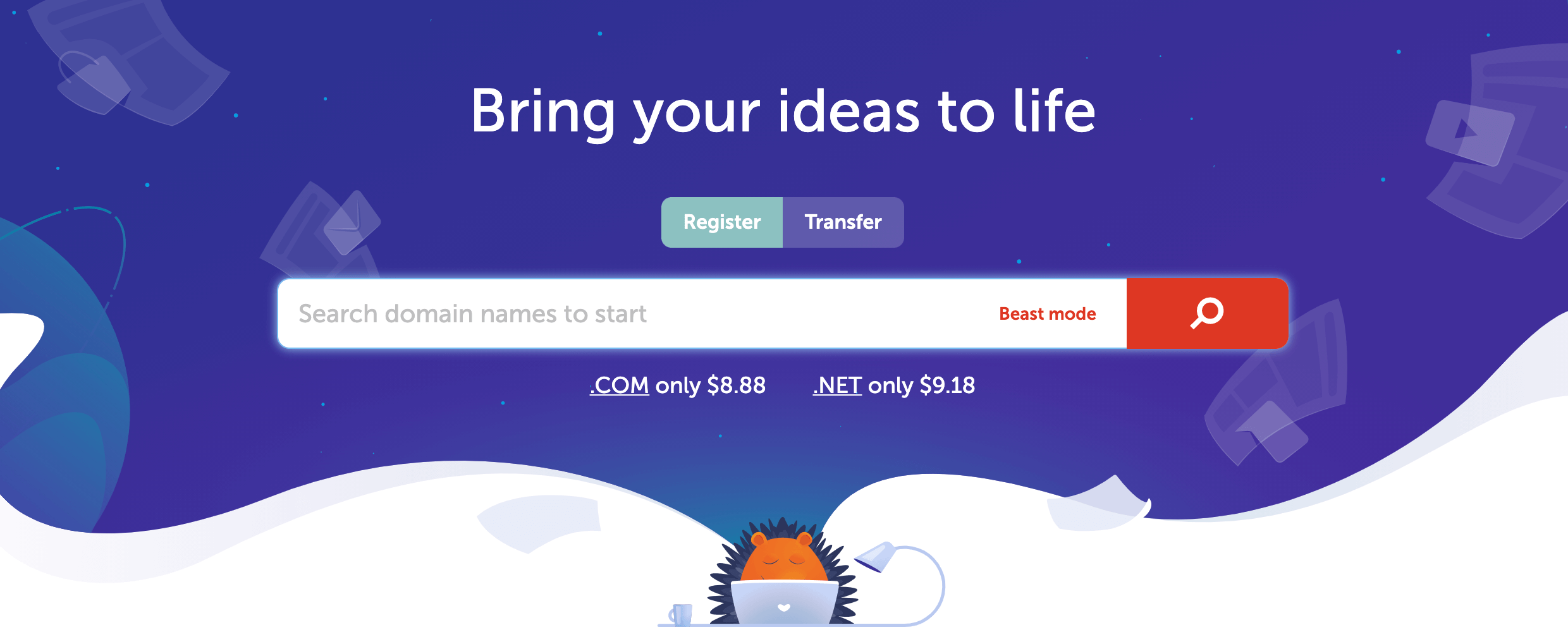 If your first choice is unavailable, the registrar might even suggest similar alternatives to help you find another that will meet your needs.
Where Do You Buy a Domain Name?
You can buy a domain name from any domain registrar. As we mentioned earlier, many web hosts double as registrars, but you can also choose to source your hosting and domain from different companies.
Namecheap and GoDaddy are two popular registrars you might consider. However, purchasing your domain from your hosting provider usually makes it easier to set up your first website. Many hosts will also throw in your first year's registration for free when you purchase a plan (although you'll still need to pay annual renewal fees).
What Is Domain Privacy?
When you purchase a domain name, you're registering it as part of a public record. The Internet Corporation for Assigned Name and Numbers (ICANN) is responsible for maintaining a directory of who owns every domain name on the web.
However, ICANN's records include your contact information, which may not want to make public knowledge. Purchasing domain privacy keeps your personal details under wraps so they're not visible as part of this record.
Domain privacy is also sometimes referred to as WHOIS protection. Typically, it will be offered as an add-on during checkout when you purchase your domain name:

Some registrars, such as Namecheap, include WHOIS protection for free (or, more accurately, include it in the cost of your domain). Others may list is as a separate charge, but your privacy is worth the investment.
Can You Sell a Domain Name?
If you decide that you no longer want or need a domain name you've registered, you can resell it. Flippa is a popular marketplace for selling 'digital real estate':

However, you can also work with a broker or auction your domain name off. Several factors will influence how much you can get for your web address, such as:
Which TLD is uses
If it includes any valuable keywords
How recognizable it is
If you're also selling the website you built on your domain, other factors such as traffic levels and content you've published may also come into play.
Conclusion
Although there are many different elements at play when it comes to the world of domain names, they're really fairly simple to understand. Learning all you can about them will pay off in the long run, as it will help you better create, maintain, and even sell your website.
In this post, we covered a lot of information about domain names, including what they are and how they work. We also provided some tips on choosing, purchasing, and selling them.
Do you have any questions about domain names? Leave them for us in the comments section below!
Image by VectorsMarket / shutterstock.com