Sometimes in business, it's the little things that add up to create a good impression. Such as the difference between receiving an email from "[email protected]" and "[email protected]." With all other things being equal, the latter comes across as more professional and trustworthy. Which is why in today's post we're going to show you some of the best free and premium options to get a business email account set up so you can put your best (virtual) foot forward.
Subscribe To Our Youtube Channel
Why You Need a Business Email Address
Aside from instantly appearing more professional and trustworthy, having a business email address instead of a free email account with a service like Gmail or Yahoo has other benefits worth taking note of:
Official business email addresses are harder to fake. When folks get a message from you they can trust that if the domain at the end of your address is correct it is actually coming from your company.
An email address ending in your business domain name is great for brand awareness. Especially as your team grows and your company sends more messages out into the world.
Speaking of your team, having a business email account allows you to easily add new employees as you go–giving them the freedom to keep personal and private email separate as well as you more control over company data.
You can create custom email addresses for specific positions or forms. Don't want one person to have to field every email from your contact form? Create an inbox for the address "[email protected]" and you're good to go! Same goes for positions such as coordinator, webmaster, etc.
Hopefully by now you're convinced of the usefulness and value of a business email address, because here are the options we'd recommend taking a closer look at.
Free Business Email Services
1. Zoho Mail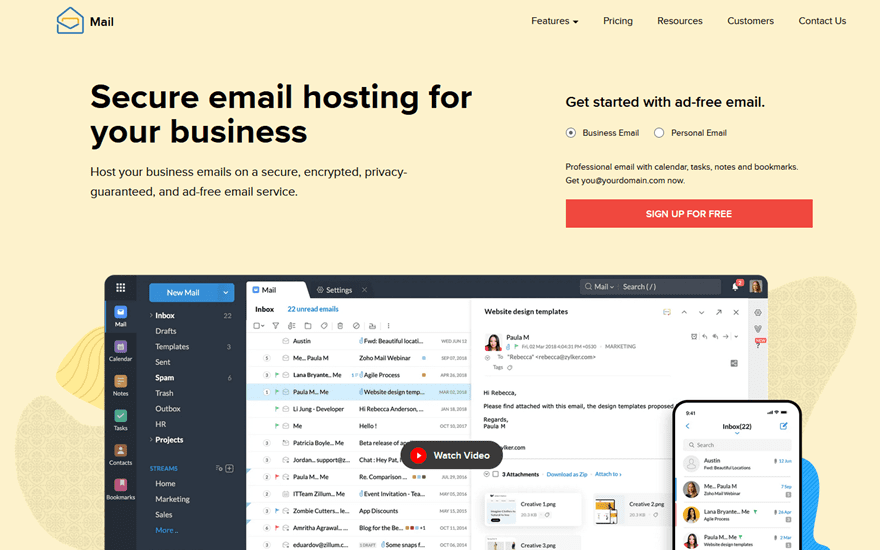 Zoho is a big name in SaaS you might have never heard of. Their suite of services range from CRMs to Slack alternatives to, you guessed it, business email. Like most of their other products, you can set up and use their Mail service with your own domain (either bought through them or registered elsewhere) entirely for free. Free users don't get all the bells and whistles that premium members do (such as aliases, calendar sync, etc.), but do get "up to five users, 5GB/User, 25MB attachment limit. Web access only. Email hosting for a single domain." Lack of mobile app or POP/IMAP access does sting, but their web client is very slick. If you need a business email for free, you can't go wrong with Zoho. They have a really solid platform.
2. Your Host's cPanel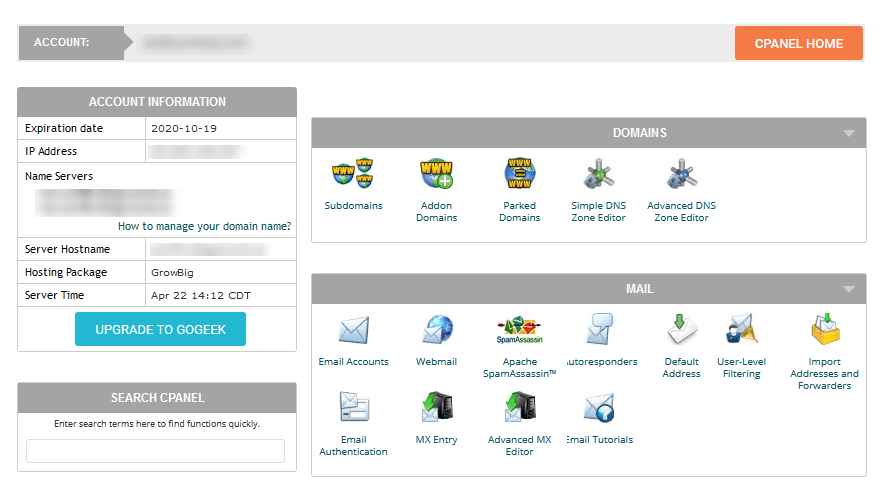 Okay, so this one's not technically free, but rather, it's included with a web hosting package that you probably already pay for. If you have a website, and we're guessing that you do, there's a high chance that it's hosted through a service like GoDaddy, BlueHost, Hostgator, or SiteGround. Any of these hosts (and even cheap hosts) gives you access to what's called a cPanel. You've probably seen it, a hodgepodge of icons, stats, numbers, and tiny text that you rarely if ever look at. And if you do, it's not for very long.
Well, cPanel (and other hosting backends) often have an email option that lets you use the already-registered domain to set up any number of email addresses. You can often customize the inbox size and whether it forwards to an existing account, and while there are the frustrating options of Horde and SquirrelMail that we mentioned above for access, there are also POP/IMAP instructions that cPanel provides so that you can use your own client.
Because of the ubiquity of folks having a cPanel or similar platform, we will walk you through the process of setting up a business email address via this method later in this article.
3. Mail.com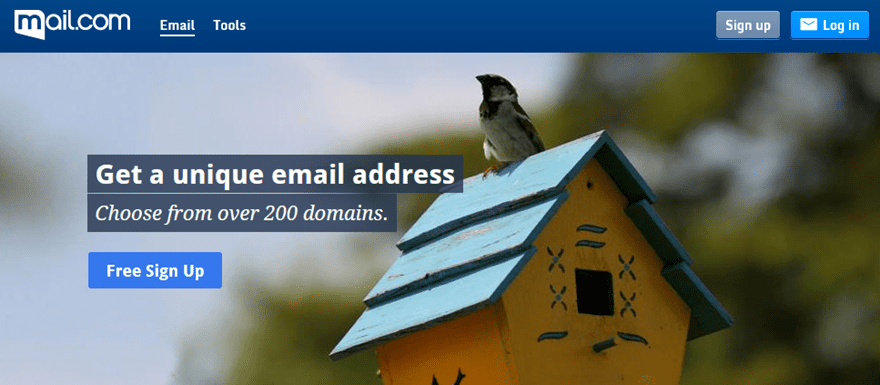 We can't not mention Mail.com. Coming at the idea of a professional email address from a slightly different angle, Mail.com doesn't let you bring your own, personalized domain with you. Instead, you choose from one of their dozens of extensions that may relate to a particular field. So, for instance, you could have an @graphic-designer.com or @programmer.net email or an @alumnidirector.com address. Things like @tech-center.com and @cyberservices.com are available, too. There are dozens. While these are no replacement for a personalized @myownbusinessname.com email, it's a mighty step up from [email protected]. And these are completely free (ad-supported inboxes, though), not even needing the cost/maintenance of a registered domain.
1. G Suite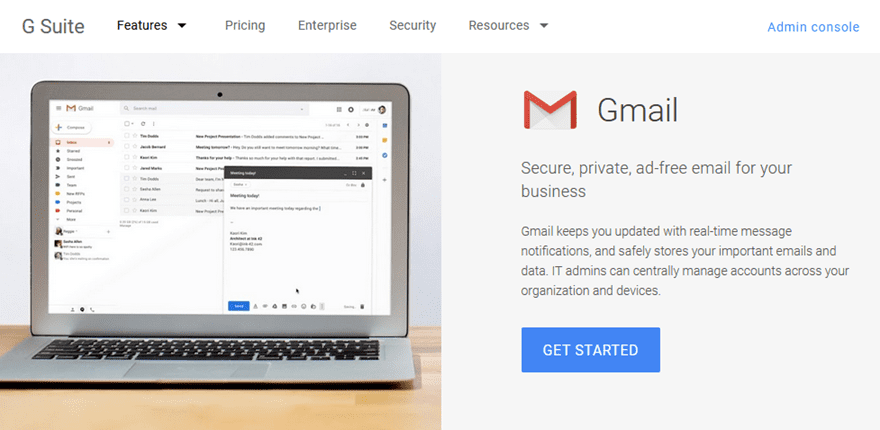 Formerly known as Google Apps, G Suite is kind of the standard for business email. And for good reason. Not only do you get branded domain email addresses for everyone, but you also get a massive amount of storage attached to each of those user accounts. You can set up groups and aliases for free, and you get access to the entire line-up of Google services such as Drive, Docs, Slides, Calendar, etc. that ties into just about every other productivity service out there. And because it's Google, you know it's reliable and simple to set up with your own domain. Plus Gmail has arguably one the best interfaces out there.
Price: $6 per user per month (and up) | More information
2. Rackspace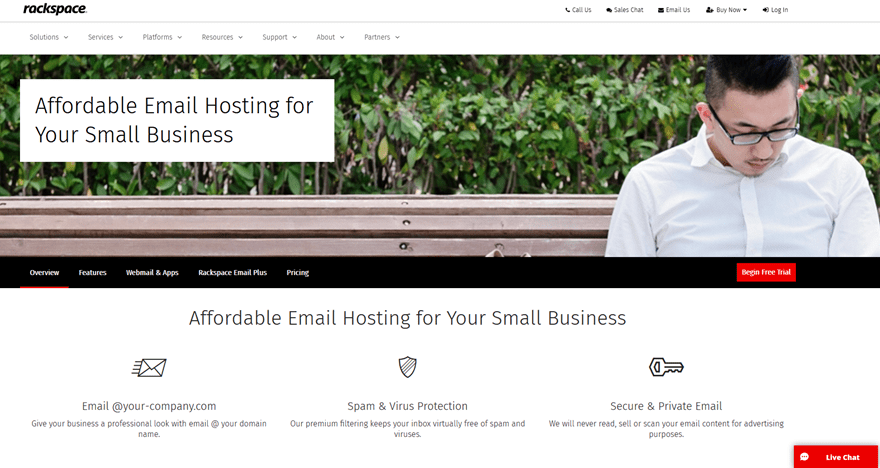 Rackspace is a well-known and well-respected online service provider. Their email servers are second-to-none, and they can set you up with nearly any kind of email you want. They specialize in either Microsoft Office 365, Exchange, and their own small business email hosting. In our experience with Rackspace over the years, they have provided solid and reliable email with incredibly low downtime and good support. Setting up your service is pretty easy, especially if you use their migration tool. Plus, you can use their slick webmail interface, Outlook, or any mobile app that you want. For $2.99 per user, you get a lot of features and peace-of-mind with Rackspace.
Price: $2.99 per user per month (and up) | More information
3. Outlook 365 for Business
Microsoft has come a long way over the years. No longer is their online presence dominated by their lackluster default browsers (IE6, we're looking at you). Between the industry dominance of VS Code and the phenomenal work that's being done with Teams, using Outlook 365 as your business email isn't a bad idea. Using Outlook 365 also gets you and your team access to a whole suite of services like Teams (again, it's really good), Word, Excel, and PowerPoint Online (higher tiers get desktop apps, too). Basically, its the Microsoft version of G Suite, and their OneDrive comes with 1TB of data for storage. It's a mighty step up from the days of IE6 and the early days of Exchange servers, so if you were put off back in the day, it's worth taking another look at them now.
Price: $5 per user per month (and up) | More information
Setting up Business Email with cPanel
Most of the services that we've mentioned here are very straightforward to set up through registration. As you set up your accounts, the typical steps include choosing your domain, verifying ownership (usually an email to the registrant email or call to the registered phone number), and then you follow standard chose-your-username steps you know well.
Not everyone, however, is used to dealing with cPanel. So we wanted to at least show you how to navigate the platform to get your team's business emails set up — because like we said earlier, you likely already have this capability with your hosting provider.
Log into cPanel
Depending on your host, you will either be given access to the cPanel within their dashboard or given a URL to log into. For this example, we will use SiteGround, but all hosts with cPanel should be relatively similar in terms of procedure. You will find a cPanel button or a link somewhere within your tabs and dashboard in which you manage your websites.
Once logged in, find the section titled Mail, and click on the icon labeled Email Accounts. (Some cPanel dashboards can seem incredibly overwhelming, so CTRL/CMD – F searching for "email" has been useful in our experience.)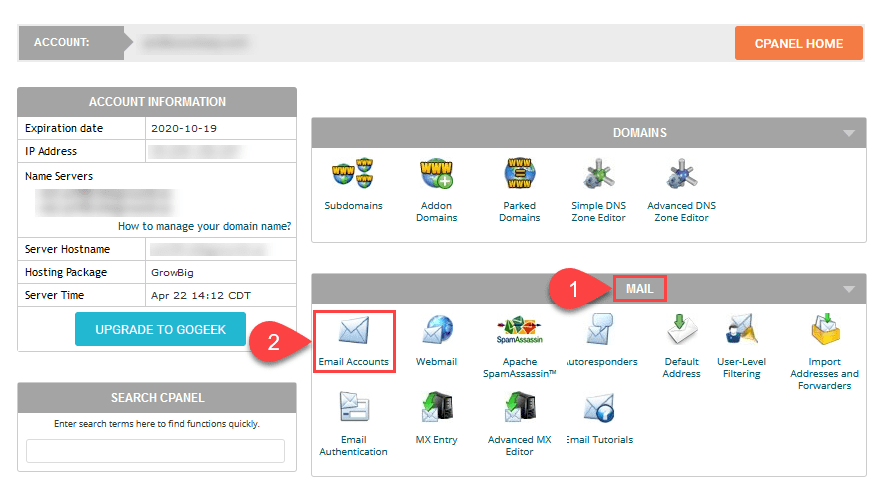 On this page, setting up an email is as simple as filling out a form.
Create the Address
You choose the username (the part that comes before the @) and then the domain that you want from the dropdown. Any domains connected to the account should appear in the dropdown. If not, you can add them easily via the Addon Domains part in cPanel.
Once you fill all the information, choose the size of the mailbox storage, and set the password, the email exists. It will appear in the list immediately below.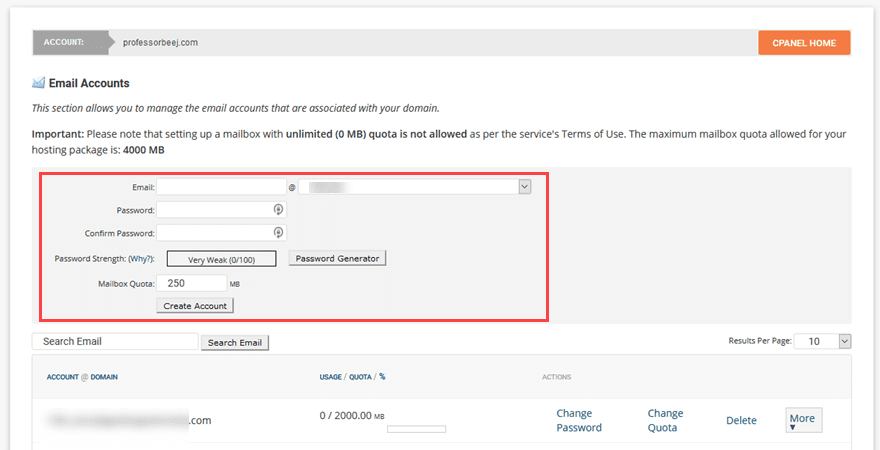 You can then click on More to be taken to the Webmail interface for that account, or you can choose to go to the email client configuration settings.
Set Up the Email Client

The email configuration page is incredibly useful, especially if you're setting these business email addresses up for your entire team. You can print/copy the information at the bottom of the page so they can set them up themselves, or you can click any of the links at the top of the page to run automatic scripts for the machine you're on, and cPanel will configure the email client of your choice.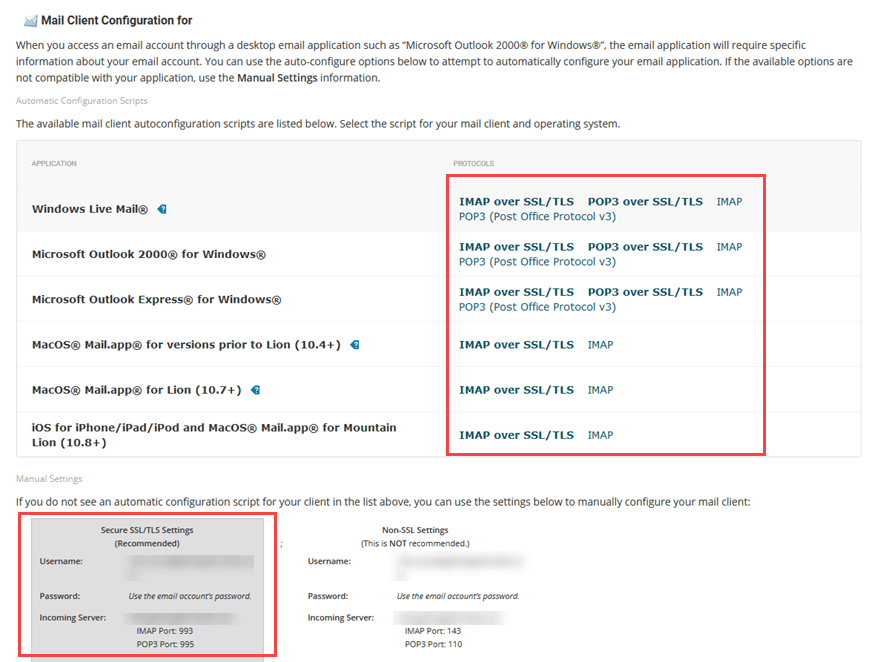 After that, you're done. Just log into whatever client you're going to use and get to sending and receiving with your new business email account.
Wrapping Up
As you can see now, setting up a business email account is easy, affordable, and beneficial in a number of ways. Using any of the free or premium options in this post should set you up to make lasting relationships and solid impressions on people you meet. Just remember, you've built up a brand that people can trust and you want to make sure they see it from the very first interaction.
Article featured image by Visual Generation / shutterstock.com