Selling a website can be an obscure business. Finding the right person to sell it to and knowing how the process works is difficult enough. However, that's not all there is to it. You'll also need to figure out how much to charge for your site – and finding clear answers to all of these questions isn't easy.
Nowadays, selling a WordPress website isn't as complicated as it once was. There are plenty of services that can walk you through the process, but the real question is whether you should sell in the first place. We're going to help you by answering a lot of those questions in this article, so keep reading!
Is It Worth Selling Your WordPress Website?
The short answer is "Yes", but not always. If your website helps you make a consistent income and there's already a built-in audience, it shouldn't be hard to find a buyer.
However, selling your website is also a personal decision, and here are some things you should consider to help you make up your mind:
Simplifying your life. If you're putting too much effort into your site but aren't seeing enough growth, letting it go can be the smart move. It'll save you a lot of stress, and you'll have more time to relax.
Pursuing new projects. In some cases, you simply may not be interested in continuing to work on your website. The smart thing to do in that case is to look for someone who's willing to work on it and keep providing good content for your audience.
Getting an influx of money. This is the most obvious benefit to selling a website. Depending on its characteristics, you may be on the receiving end of a decent windfall (we'll talk more about this in a minute).
Keep in mind that selling your website isn't a decision you should take lightly. In many cases, you'll have spent years of your life working on creating a successful project, and letting go can be difficult. If you're not 100% sure you're ready to move on, chances are you might regret making the sale, which isn't a good position to be in.
How Much Is Your WordPress Website Worth?
The number one consideration when it comes valuing a website is: how much money does it make? After all, people who buy sites often do so as an investment, and proving that yours is a good one is key.
There are, of course, other factors that affect the value of any website – for example:
Its audience. The bigger your audience, the easier it can be to monetize your website.
How long it's been around. In most cases, people don't want to buy newer websites. Having a consistent earnings history makes your site a better investment.
Its content. The better your content, the more value your website will have. If you've been publishing content consistently for a while, chances are you'll also have a built-in audience.
However, things get a bit tricky when it comes to figuring out your website's actual value. There are a lot of formulas online to help you narrow down your price, but none of them takes every element into consideration. In fact, most of those formulas focus on a single criteria: how much money your site makes. Let's check out an example from Empire Flippers:
[Your site's average earnings over a 3–12 month range] x (20 to 40) = Your listing price
The first thing that jumps out when you see this formula is the broad range (i.e. 20 to 40) of its multiplier. In short, this value will depend on all the criteria we mentioned earlier, but it can be highly subjective. It's also worth keeping in mind that other platforms use lower multipliers. For example, a lot of people stick to multiplying their earnings by 10 and using that as a base price.
Let's check out an example. If you have a website bringing in $200 monthly and it's been around for a few years, you can take its monthly income and multiply it by 20–40. In this case 30 would be a good sweet spot, considering your site probably has lots of content and a decent audience. The total would come out to around $6,000.
Keep in mind that this is just a rough example. If you take a look at some of the most popular marketplaces, you'll find hundreds of sites for sale at much lower prices. These are often good properties, but they either lack detailed income reports or their owners don't know how to go about selling them correctly.
2 Ways to Go About Selling Your WordPress Website
There are plenty of platforms that provide you with the tools you need to sell a site. However, they mostly fall into two categories. Let's take a look at each one!
1. List Your Site on a Marketplace
There are online marketplaces for almost any niche product these days, and websites are no exception. In most cases, they'll enable anyone to list their site and set their own price.
As for why you'd want to use a marketplace over brokering the sale yourself, there are plenty of reasons to do it:
Reach more people. Some marketplaces are quite popular, and their built-in audiences make finding the right buyer easier.
Set any price you want. In most cases, you can list your website at any price you want. Keep in mind though, this can be a double-edged sword. If your price is too high, you might tank your chances of making a sale.
Low fees. This varies depending on the marketplace, of course. However, in most cases their costs tend to be relatively low.
One of the more popular website marketplaces is Flippa. They usually have hundreds of sites available, and anyone can put up their own up for sale:

If you have a website with modest traffic and a track record of proven income, Flippa can be a good option that enables you to handle the sale yourself. However, keep in mind that most listings there have quite modest prices. If your site earns you a sizable income, you should probably look for a different option.
2. Use a Brokerage Service to Handle the Sale
Unlike marketplaces, brokerage services manage the entire process of selling your website. As you can imagine, they usually charge a premium fee for the work. However, they can often find you much better deals than you'd see elsewhere.
This is possible because these types of services often target clients who see websites as long-term investments. Plus, they can also make your life easier in other ways:
You can relax while someone else handles the sale. In most cases, brokerage services will hold your hand through the entire process, including helping you pick a price and handing over access to the buyer. Of course, you still get approval rights, but overall the process is much simpler.
You can earn more from your sales. These types of services can often net you more money than using a marketplace.
Empire Flippers is an excellent example of a brokerage service. They do list their websites publicly, but in general, they don't take on clients unless their sites make at least $500 per month: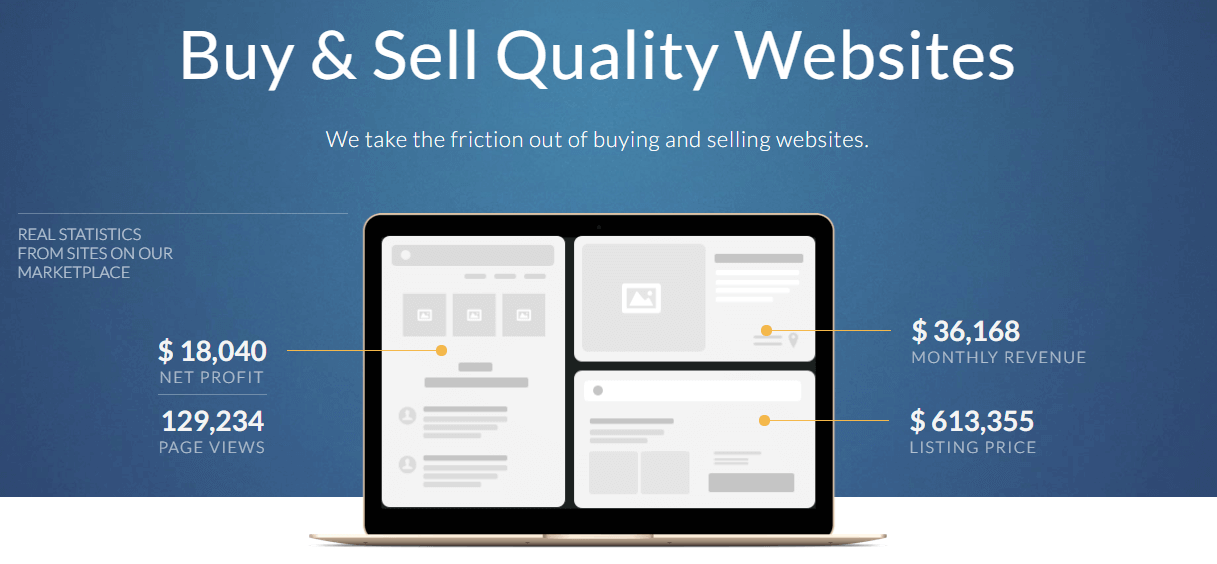 If you have a website that meets the criteria, you have a good chance of getting approved and listed on their site. In most cases, a site can be sold for at least five figures, which is way more than most marketplace-level listings.
However, keep in mind that if you're selling a website at this level, chances are the process might take a while. We're talking about a lot of money, so buyers are more thorough in their research. The good thing is that brokerage services take care of it all, so you can just sit back and relax.
Conclusion
If you have a website with a good earnings track record, you shouldn't have a problem selling it for a profit. However, keep in mind there are a lot of factors that affect how much you can charge for a website – how long it's been around and where your traffic is coming from, for example. In short, no two sites are identical, so keep your expectations grounded.
Here are the two main options when it comes to selling your website:
List it on a marketplace such as Flippa to manage every aspect of the sale yourself.
Use a brokerage service such as Empire Flippers to handle the sale for you.
Do you have any questions about how to sell your WordPress website? Ask away in the comments section below!
Article thumbnail image by hvostik / shutterstock.com.