As a website owner, you're probably aware of how important it is to have a secure site. Website security is essential, both for the site owner and the user who visits it. In order to add this important piece of protection, which converts a URL's HTTP prefix to HTTPS, you'll need to get an SSL certificate. For many WordPress website owners, it's possible to get a free SSL certificate for your website.
Wondering how to get a free SSL certificate for your WordPress website? Read on.
Why Do You Need An SSL Certificate?
Yes. You need either an SSL (secure sockets layer) or TLS (transport layer security) certificate to ensure website security. An SSL certificate is what keeps your website secure. It provides end-to-end encryption between the server and the client so your users' data is protected.
Are All Free SSL Certificates The Same?
All free SSL certificates are not the same. Some certificates are included as a feature of an affordable web hosting service or content delivery network (CDN), for example. They're often automatically renewed as long as you continue paying for that service. In those cases, you can stay fairly hands-off with your SSL certificate, and you have a customer service team at your disposal to help you manage any security issues that may arise with your website.
However, there are other free SSL certificates that require more hands-on maintenance from you. If your web host doesn't provide an SSL certificate, for example, you might need to obtain a free one from a third party. Some free, third-party SSL certificates are unlimited and renewable every 90 days, while other providers might limit how many of those 90-day certificates you can get for the same domain before you have to pay a fee.
Do You Need Free Vs. Paid SSL Certificates?
When it comes to getting an SSL certificate for your WordPress site, it's important to understand the differences between free vs. paid SSL certificates. For example, if you own a small personal website that isn't going to be storing users' sensitive data or payment transaction information, then a free SSL certificate might be a good option for you. On the other hand, if you are establishing a more robust business website that requires dedicated or enterprise-level hosting, you'll likely want to pay for an SSL certificate with more security features that includes customer service support.
Of course, getting and installing an SSL certificate is really only necessary if your website host doesn't already provide site security. A number of popular website hosts and CDNs, which we'll discuss below, offer free SSL certificates as part of their hosting packages. In that case, you might not necessarily need an additional, paid SSL certificate unless your particular business is legally required to comply with specific privacy laws, such as HIPAA. Depending on the level of security your website needs, you'll want to pay particularly close attention to the features available from different SSL certificate providers before deciding which one is best for you.
Where To Get A Free SSL Certificate
There are a number of ways to get a free SSL certificate for your WordPress website. Some of these methods are integrated with your web host, while others are standalone services that allow you to obtain a certificate, then install it on your website. Now, let's take a look at some of the best options for WordPress website owners.
Let's Encrypt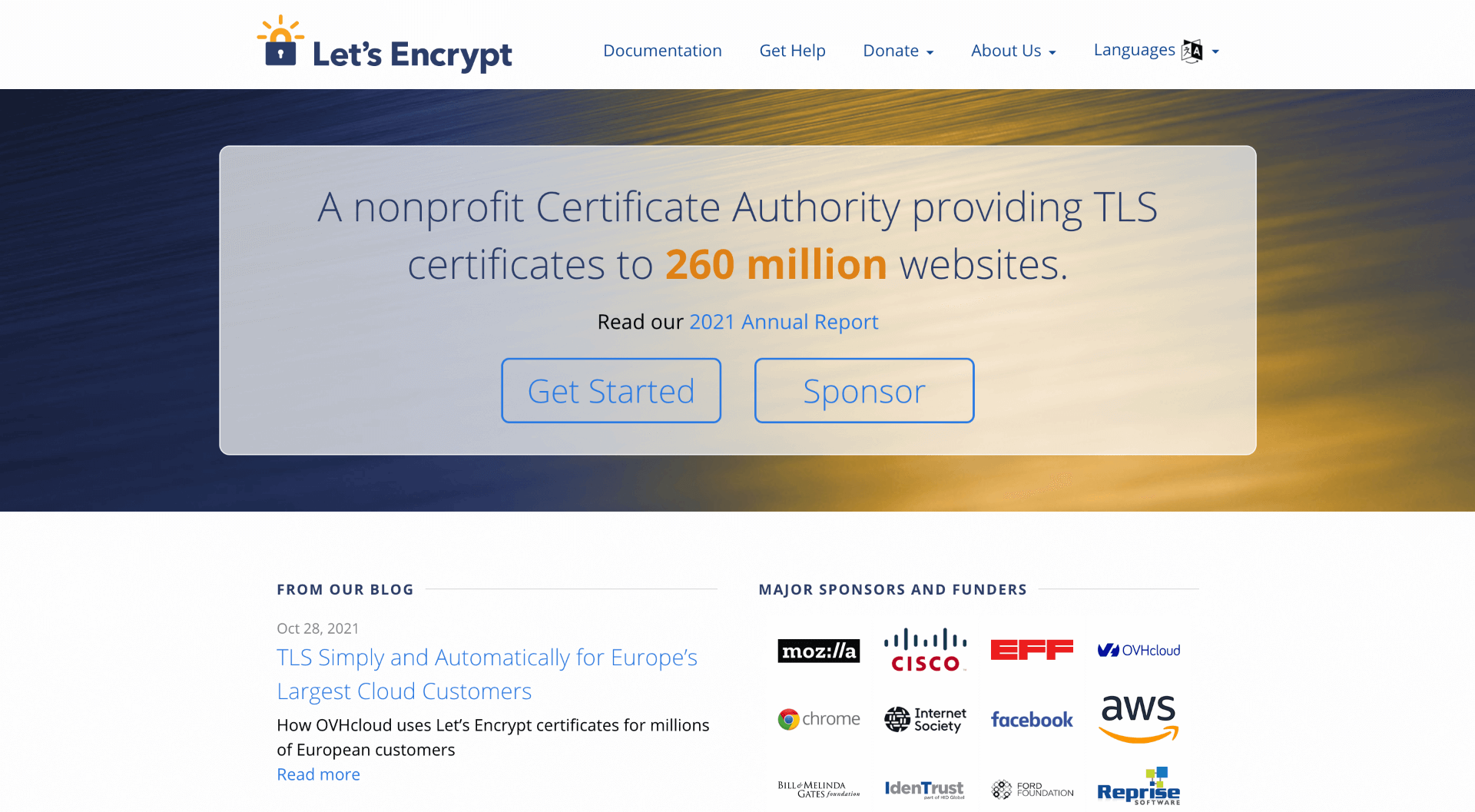 Let's Encrypt is a nonprofit organization that provides both SSL and TLS certificates to a wide range of web hosting companies. The site offers a few site security options for website owners. For users who have shell access, Let's Encrypt recommends obtaining an SSL certificate through its open source tool, Certbot (you can read more about the difference here). Users without shell access can use a Let's Encrypt integration with their website host if available. You can see a list of Let's Encrypt's supported hosts here.
Why use Let's Encrypt? Let's Encrypt is a popular option for website owners whose web hosts have integrations with the service. In many cases, it's easy, convenient, and comes at no extra charge to the site owner.
Price: Free (included in web host integrations) | More Information
Cloudflare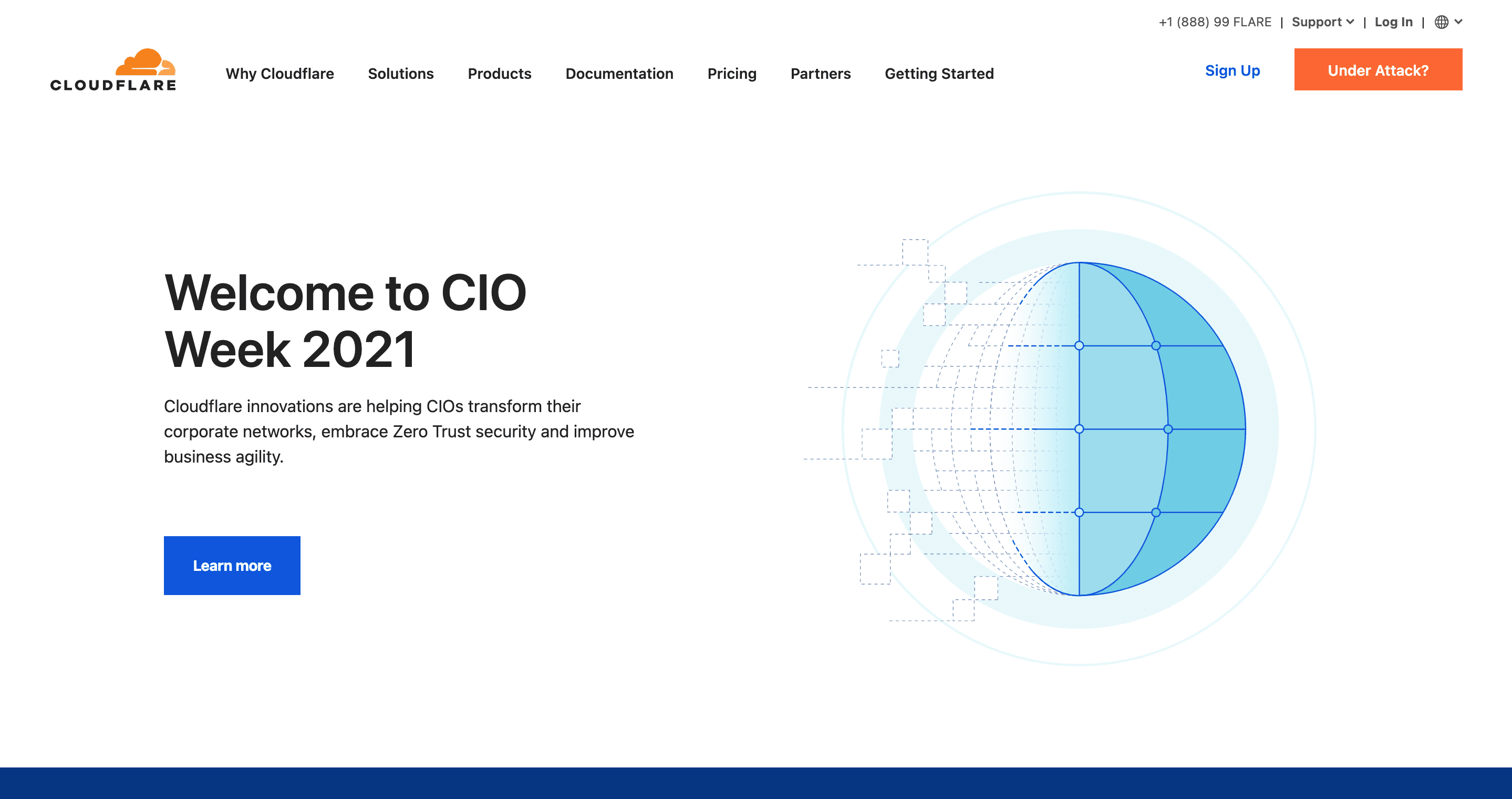 When you use a CDN such as Cloudflare to secure your WordPress website, you can obtain free SSL certificates. It's possible to add a personal website to Cloudflare for free, and get essential SSL protection that way. For extended protection and more robust security options, though, you might want to opt for one of their paid plans, which start at $20 per month and increase based on your organization and its needs.
Why use Cloudflare? Beyond providing an SSL certificate, Cloudflare offers a full suite of security protection for your website and your network. It's a scalable platform where you can also get developer, network, and application services to cover a wide range of security needs.
Price: Free option for small personal websites | More Information
ZeroSSL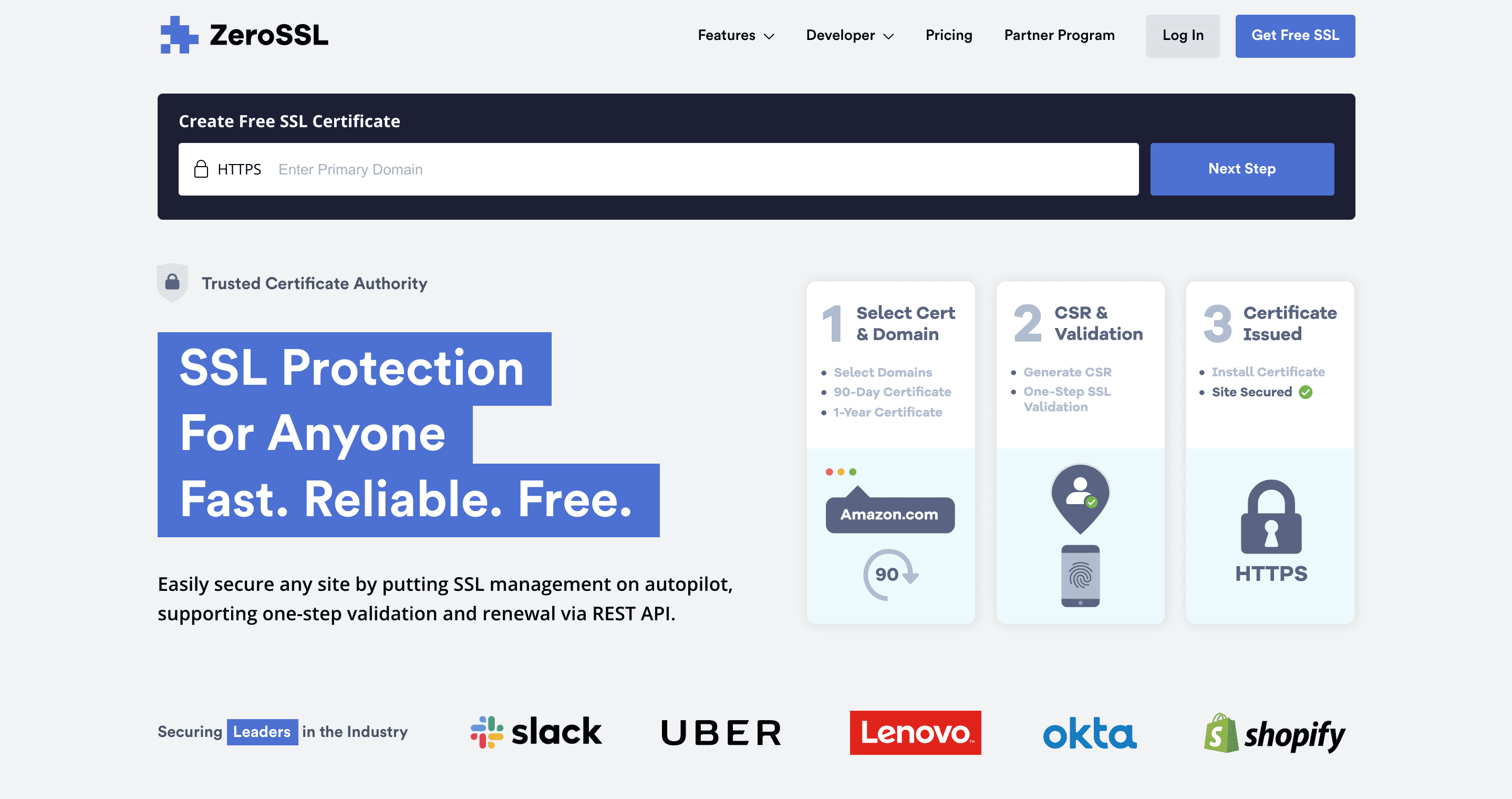 ZeroSSL offers SSL certificates ranging from free to custom enterprise pricing. If you simply want a free SSL certificate from ZeroSSL, you can get up to three 90-day certificates with basic security coverage. You'll need to manually renew your certificate each time it expires.
After you've used your three free SSL certificates, ZeroSSL offers a paid version starting at $10 per month and increasing based on your needs. At the Business level, ZeroSSL's certificates cover a wide range of features, including unlimited 90-day certificates and 90-day wildcards (which cover multiple subdomains), 25 12-month certificates, ACME certificates, robust customer support, and more.
Why use ZeroSSL? ZeroSSL's free SSL certificate is a great way to test out the service if you're searching for the right paid SSL certificate provider, but aren't sure which is best for you. If you need a higher level of site security, ZeroSSL's paid options cover a number of touch points across your website. For paid certificates, users can also access a customer service team to assist with any issues that may arise.
Price: Free, limited 90-day certificates | More Information
SSL.com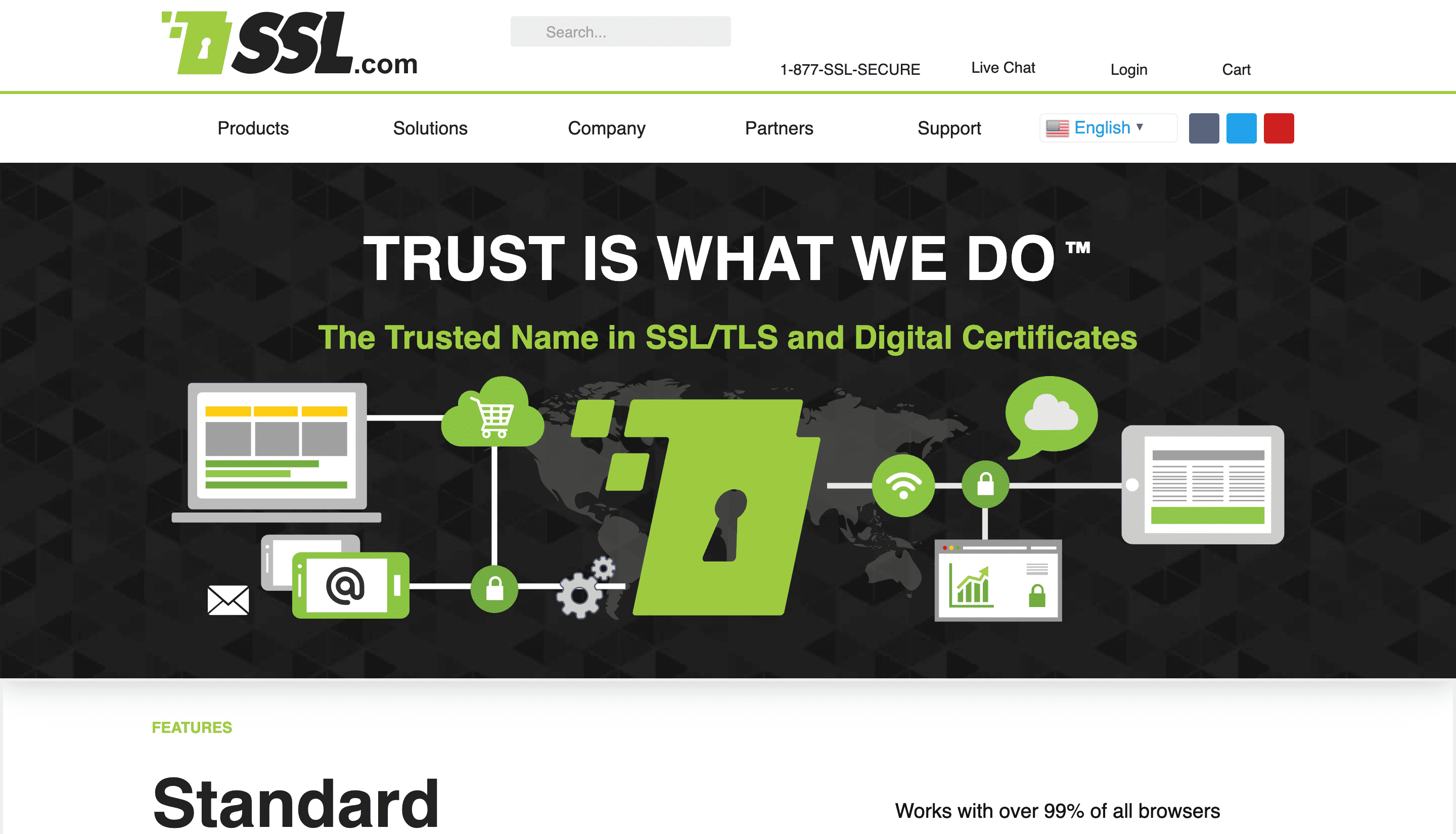 Another resource for SSL certificates is SSL.com, which offers a highly secure SSL certificate with a wide range of browser compatibility. It's compliant with both PCI and HIPAA, meaning that it offers a robust level of security for businesses dealing with and storing particularly sensitive personal information. With strong customer service, mobile device support, and lifetime reissues, SSL.com could be a strong choice for organizations that need tighter security on their websites. SSL.com offers a free trial certificate for users to try, but ultimately, these SSL certificates aren't entirely free. Paid certificates start at $36.75 per year, and the price increases depending on what features you need.
Why use SSL.com? SSL.com is a strong resource for website owners who must keep privacy and data compliance top-of-mind. If your business needs to comply with HIPAA and PCI, for example, SSL.com might be the best choice for you. You can give their free trial a try before opting into one of the paid certificates.
Price: Free, temporary trial | More Information
SSL For Free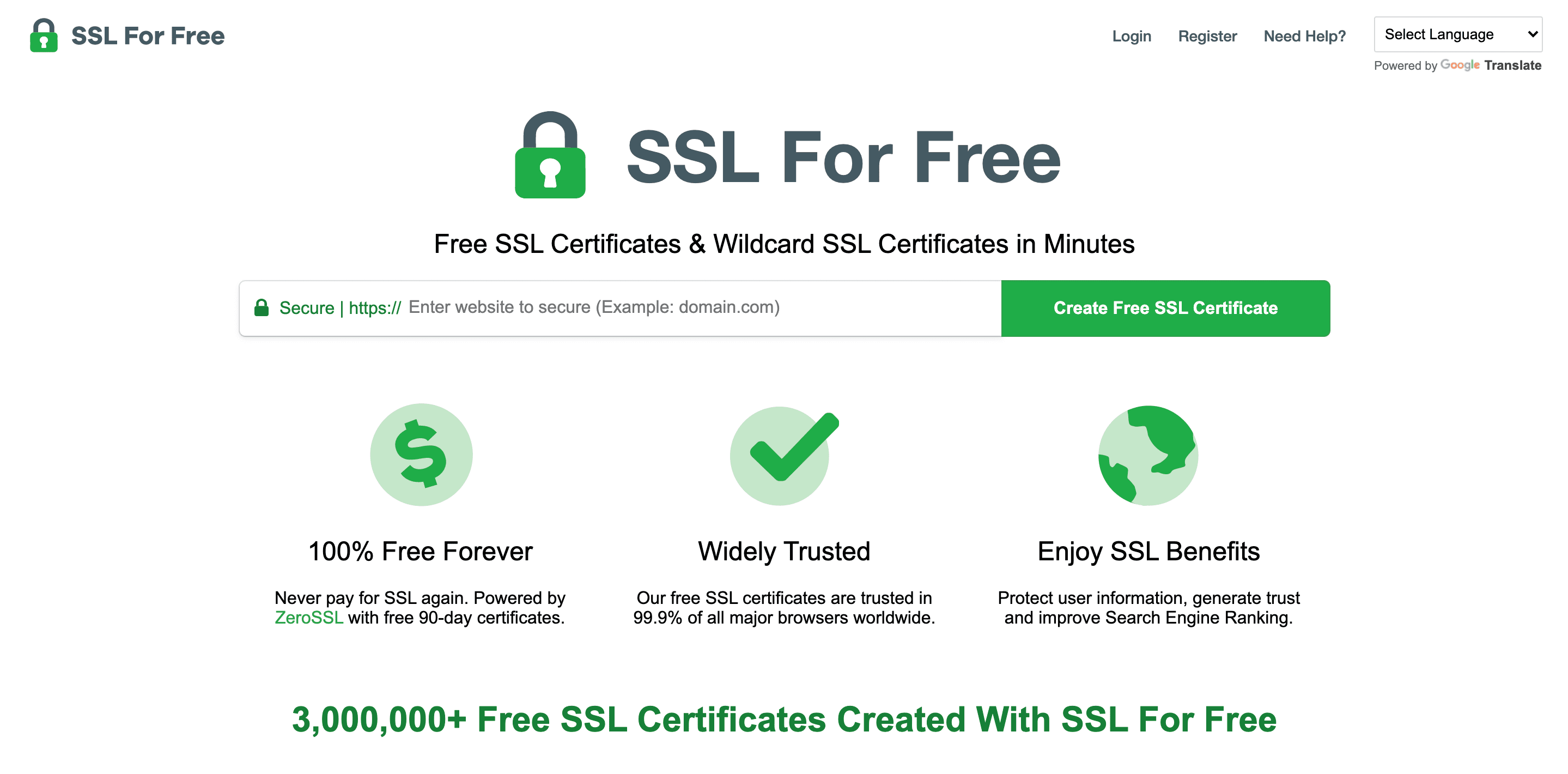 SSL For Free is a free SSL certificate provider that sources temporary, 90-day SSL certificates for website owners. Currently, all SSL certificates obtained through SSL For Free are issued by ZeroSSL. You can use this service to obtain multiple free SSL certificates that are good for 90 days each before they require renewal. Through SSL For Free, you can continue to obtain unlimited 90-day certificates indefinitely. Just be sure to keep up with your renewal dates so your site security doesn't lapse.
Why use SSL For Free? Users who run personal websites and just want to get the security and SEO benefits of a free SSL certificate might benefit from using SSL For Free. Selecting this option will also require you to be tech savvy–or have someone on your team who can keep up with manually renewing your SSL certificate once every 90 days.
Price: Always free | More Information
Your Website Host
These days, many website hosts include an SSL certificate in their hosting plans. Because it's essential to have your site security covered, it's a no-brainer to include this all-important layer of protection in a bundle of web hosting services.
Some of the most prominent website hosts with a free SSL certificate include:
Conclusion
It's possible to get a free SSL certificate to cover your WordPress website and make it more secure. However, proceed with caution before you begin. There are many factors to consider when it comes to free vs. paid SSL certificates. Many website hosts offer free certificates as part of their services, so it's important to compare the features of your host's certificate against a third-party SSL certificate provider or CDN.
Keep in mind that a free third-party certificate could be great for a personal website or blog. If you're running or growing a business and need to protect your customers' data, it's possible that a paid option is your best bet. Don't forget to factor in your realistic need for tech support, as some free SSL certificates require you to do all the verification and renewal work on your own.
Have you ever obtained a free SSL certificate? What was your experience like, and what service did you choose? Let us know in the comments.
Featured image via Shanvood / shutterstock.com