With managed WordPress hosting, many of the best options don't allow for a lot of customization. Their hosting plans are rigid for a reason. They offer a secure, stable environment for your WordPress sites. However, managed WordPress hosting doesn't have to be restrictive. And Cloudways proves it. Cloudways is a new Divi hosting partner, and their managed hosting is all based on one thing: choice. With Cloudways, you choose just about every detail of your hosting experience. And you will still maintain the secure, stable environment you need with a managed host. We are incredibly excited to announce this partnership and want to show you what you can expect from our collaboration.
What is Divi Hosting with Cloudways?
Our partnership with Cloudways brings a powerful Divi Hosting environment to Elegant Themes members who want more control over their hosting environment. With Divi hosting by Cloudways, you get a fresh server with a clean installation of Divi attached to your account at the outset. Also, Cloudways has worked with our dev team to ensure that each and every server is optimized for the Divi theme. This is all to achieve the best performance out of the box, so that you can focus on your clients, your design, and your website itself. Not the technical aspects of digging into PHP, databases, and file structures.
Each one of our Divi Hosting partners is unique, and Cloudways separates itself from our other hosting partners by letting you choose the service and datacenters on which your websites are hosted. You can then choose and add only the features and utilities that apply to you. There is no one-size-fits-all web hosting, and Cloudways leans into that.
What Makes Cloudways Hosting Different?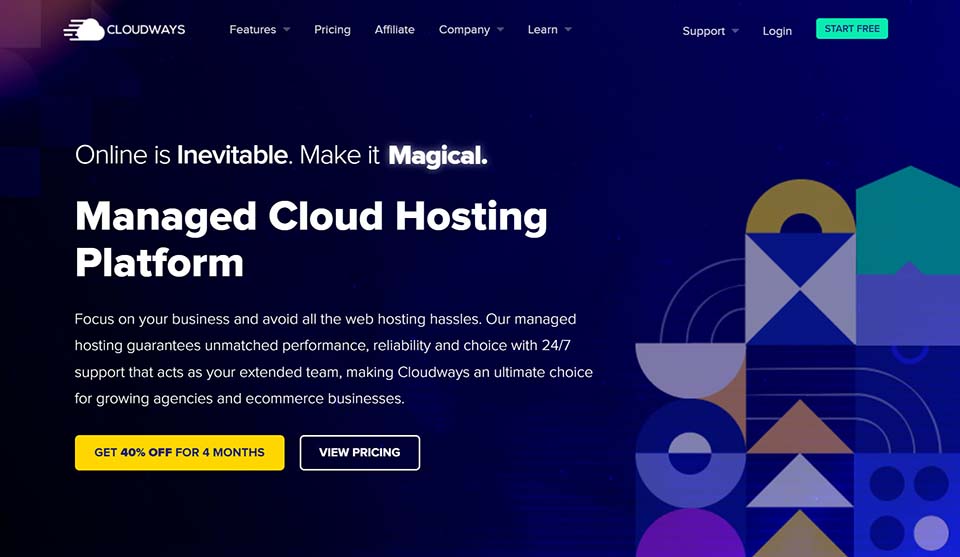 Cloudways offers managed Divi hosting for a variety of budgets, and that alone is a huge departure from other managed hosts where the cost is out of reach for some site owners.
With Cloudways hosting you can determine the amount of RAM and processing speed for your server as well as which cloud hosting provider your site actually lives on. Cloudways makes it easy to choose between the following options:
Amazon Web Services (AWS)
DigitalOcean
This is an amazing feat, as anyone who's tried getting set up with some of these larger cloud hosting companies can tell you. For some users, the process can be overwhelmingly technical and frustrating. Cloudways on the other hand lets you get started with just a couple clicks.
Have you ever wanted to host with AWS or Google Cloud, but the intricate setup kept you from doing so? Then Cloudways may be for you. You choose to host your website on any of the above cloud hosting providers, and you don't have to go through manual server configurations. Cloudways manages that for you, making sure that your environment is optimized for WordPress and Divi every time.
Each of the above hosting providers you can use through Cloudways is unique in some way, and Cloudways pre-configures your servers with everything you need to grow your website exponentially. They also include an optimized Divi installation out of the box.
Benefits of Divi Hosting with Cloudways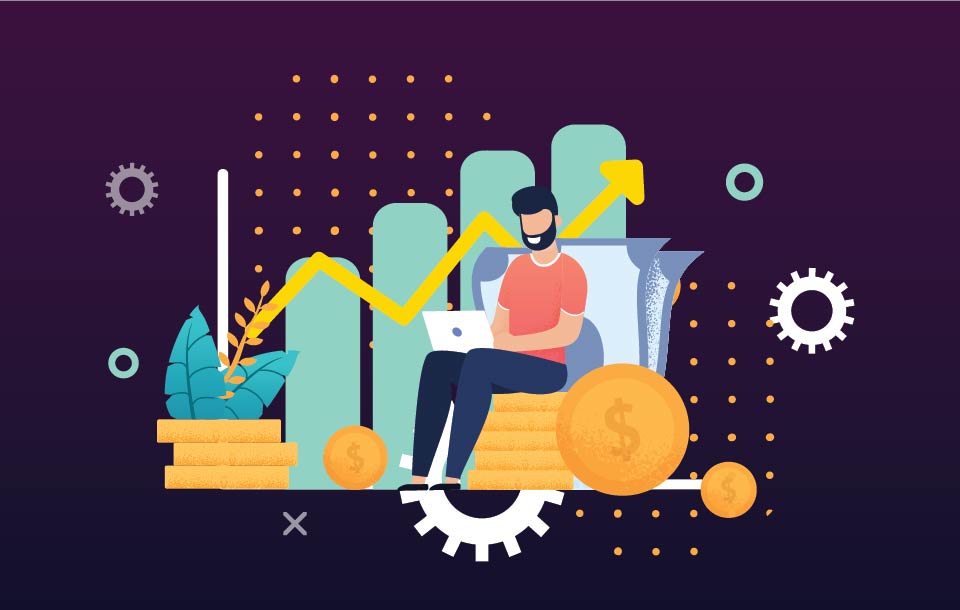 We wouldn't bring in a hosting partner for you if we didn't believe 100% that the services offered are out of this world. With Cloudways, we know that's the case and are happy to highlight a number of benefits you, our Elegant Themes members, will get from Divi hosting with Cloudways.
All Cloudways servers have dedicated resources. Contrary to the limitations of shared hosting, this sort of dedicated environment allows you to maximize server and app performance.
24/7 expert support for everyone, and if you need that support even faster than fast, they offer advanced and premium addons for even quicker response times, direct phone support, and more.
Cloudways servers utilize solid state drives, which are 3x faster than non-SSDs used by some other hosts. SSDs facilitate breathtaking performance and reduced page load times for your dynamic websites.
CloudwaysCDN is a powerful yet simple service that delivers superior performance and top-of-the-chart global response times. You can integrate it with your Divi site in just a few clicks without any technical tinkering.
They do not limit your traffic. That's right, Cloudways has no traffic cap! Unlike many managed WordPress hosts, Cloudways allows your site as many visitors as you can handle. With the same budget to get 10,000 visitors on another host, you can get up to 800,000 visitors on a Cloudways server. That's a big increase.
Cloudways's Breeze caching plugin integrates with their native caching systems. Additionally, Cloudways has recently integrated Object Cache Pro (OCP) into the platform for every plan above 2 GB RAM. This is huge for each and every WordPress user.
All Cloudways servers come with Redis Support. Enabling Redis can dramatically improve the performance of your site's database. Combine this with Apache, Nginx, and Varnish, and you get unbeatable performance.
PHP-FPM dramatically speeds up your website and improves the loading times of your PHP environment. You will definitely notice much faster processing with PHP-FPM, which equates to faster server response times!
Cloudways has what they call auto-healing for your website. You don't have to worry about your website crashing from server-side issues because auto-healing restarts and resolves most issues on its own.
There is so much 1-click functionality at Cloudways. Their highly intuitive platform removes barriers between you and the website you need for your brand to succeed. As part of that, Cloudways has designed 1-click cloning and server scaling. When your site is ready to grow, Cloudways is already waiting.
We could go on and on like this. Instead, we're going to show you how easy it is to get up and running.
Getting Started: Divi Hosting with Cloudways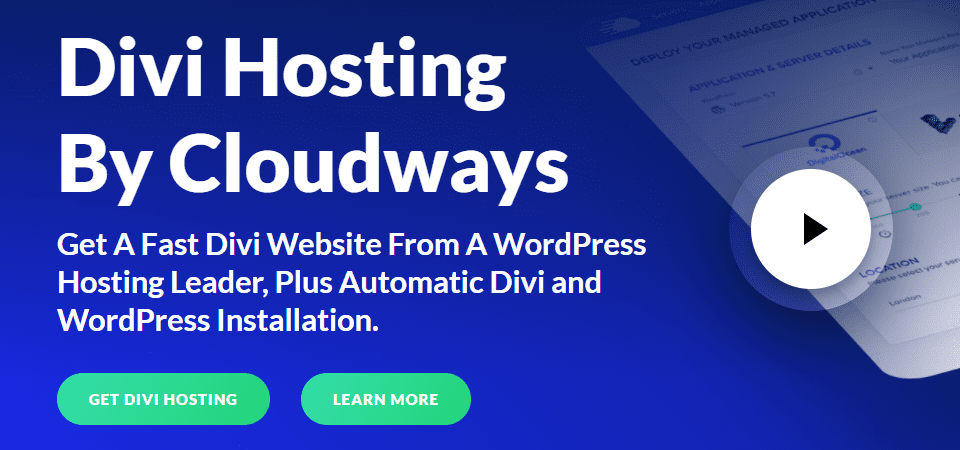 Getting started with Cloudways is as simple as it can be. Just head to our Cloudways partnership page and click the Get Divi Hosting button. This partnership is for Elegant Themes members only, so you will be prompted to log into your account. If you are not a member already, this is a great time to sign up!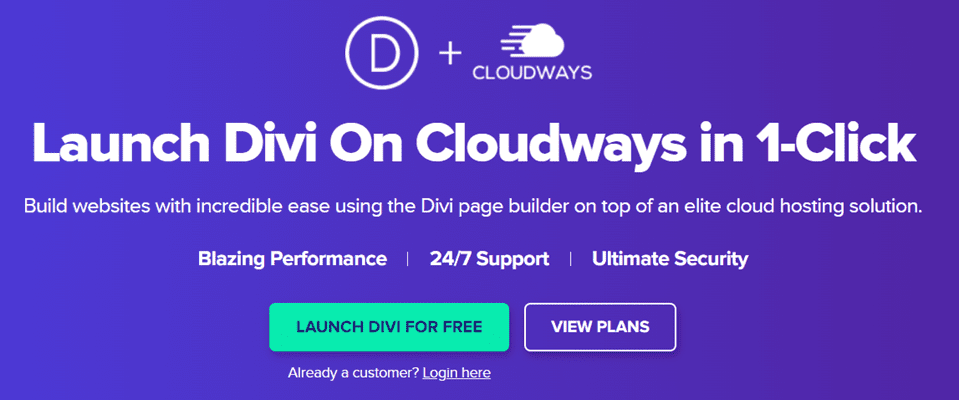 If you want to get Divi hosting without any upfront commitment, just press the Launch Divi for Free button. The trial doesn't even require a credit card. Just use any email you can access (for verification purposes) and click Sign Up Free & Spin Up My First Server. Afterward, you will have 48 hours to tinker and toy away and see everything that Divi Hosting with Cloudways has to offer.
When you have completed those steps, you get to set up your server and make your choices. You will have no trouble here, as it is absolutely simple to get started. Once you've spun up the server, you'll see a single screen that gives you a slew of options.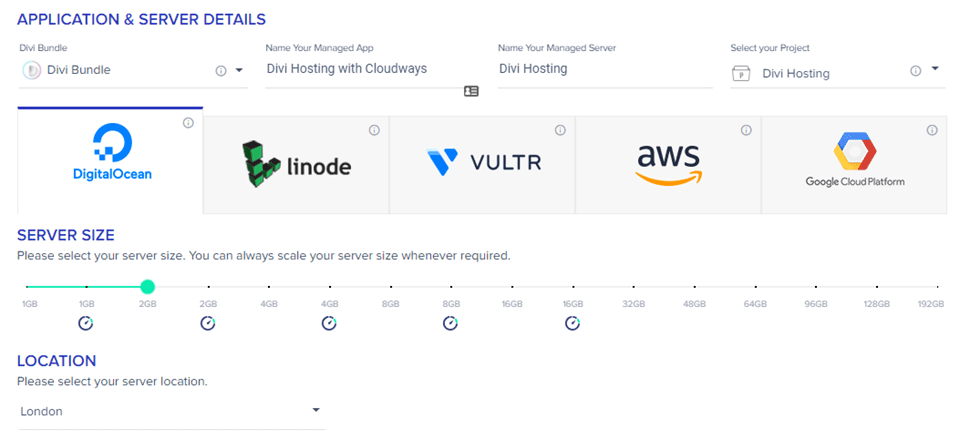 You can check pricing based on company, server location, and server size. Then, whenever you're ready, you can just click Launch Now. Cloudways then begins to create your server, and after just a few minutes, you will see it appear in the dashboard. Next, you will be able to add a new Application, which is what individual WordPress servers are called.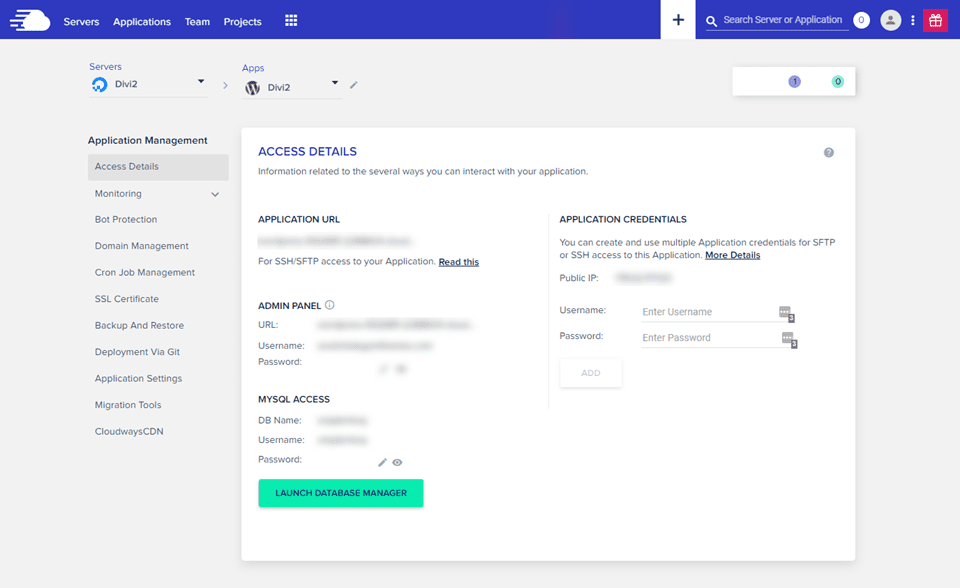 The next screen presents your login information, as well as your server's entire set of credentials. And you can use the tabs on the side to manage every other detail of your server. With that, you're completely set and ready to go!
Summary
Our new partnership with Cloudways for managed Divi hosting opens up features, choices, and control for your websites that you might have never dreamed of. You can choose your specific cloud hosting service, what datacenter your server is located in, and the technical specifications with RAM and CPU power of your servers. Plus, Divi is already installed and waiting for you because it's connected to your Elegant Themes account.
What are you waiting for? Check out the new Divi Hosting with Cloudways today!