If you're on a tight budget, finding a top-notch WordPress hosting provider can be tricky. InMotion Hosting offers quality support, high-end performance, and many key features that make your experience a breeze without breaking the bank.
In this review, we'll take a closer look at all InMotion Hosting has to offer. We'll discuss its plans' WordPress-specific features, User Experience (UX), performance, customer support, and pricing options, to give you an idea of whether it might be the right hosting solution for your website.
Let's jump right in!
An Introduction to InMotion Hosting

InMotion Hosting is a web hosting provider that offers shared, Virtual Private Server (VPS), and good dedicated hosting plans. There are also services geared specifically towards customers looking to host WordPress sites. These plans come with WordPress preinstalled on your server, which is optimized for high performance.
On top of that, InMotion also has a variety of other specialized solutions available, including custom web design, a visual website builder (alternatively, you can use WordPress and the Divi website builder for a more robust website builder experience), reseller hosting, and private cloud storage. Like many other hosting providers, it's also a domain registrar, so you can acquire everything you need to launch a WordPress site in one place.
For the purposes of this article, we'll be focusing on InMotion's WordPress hosting plans. However, it may be helpful to be aware of the other services and solutions this company offers as well.
InMotion Hosting Review: 5 Key Factors to Consider
Choosing a hosting provider can be a surprisingly personal decision. While there are plenty of technical and financial considerations to keep in mind, in some cases individual preferences and the right 'vibe' are the most influential factors. You'll also want to find a host that works seamlessly with the tools you'll use to build your website.
When you boil it down, there are five key areas every site owner should look at when choosing a host (although there may be more you need to check out depending on your specific needs). Below we've outlined these top considerations, and looked at how InMotion Hosting stacks up.
1. WordPress-Specific Features
First, since we're focusing on InMotion's WordPress hosting plans, let's take a look at the features these packages provide:
Note that the features listed above are just those that are specific to WordPress. InMotion Hosting plans also come with standard features such as free Secure Sockets Layer (SSL) certificates and free one-year domain registration.
On top of that, all WordPress plans include:
The three more expensive plans also come with automatic backups. As you can see, InMotion packs a lot into its WordPress plans, including some key security and performance-boosting features.
2. User Experience (UX)
If your host offers a poor User Experience (UX), you'll likely find yourself coming up frustrated frequently. You want a provider that offers a user-friendly account dashboard for managing your services and billing, as well as an easy-to-use control panel for setting up your domains, websites, email hosting, and more.
InMotion uses cPanel, a popular hosting User Interface (UI):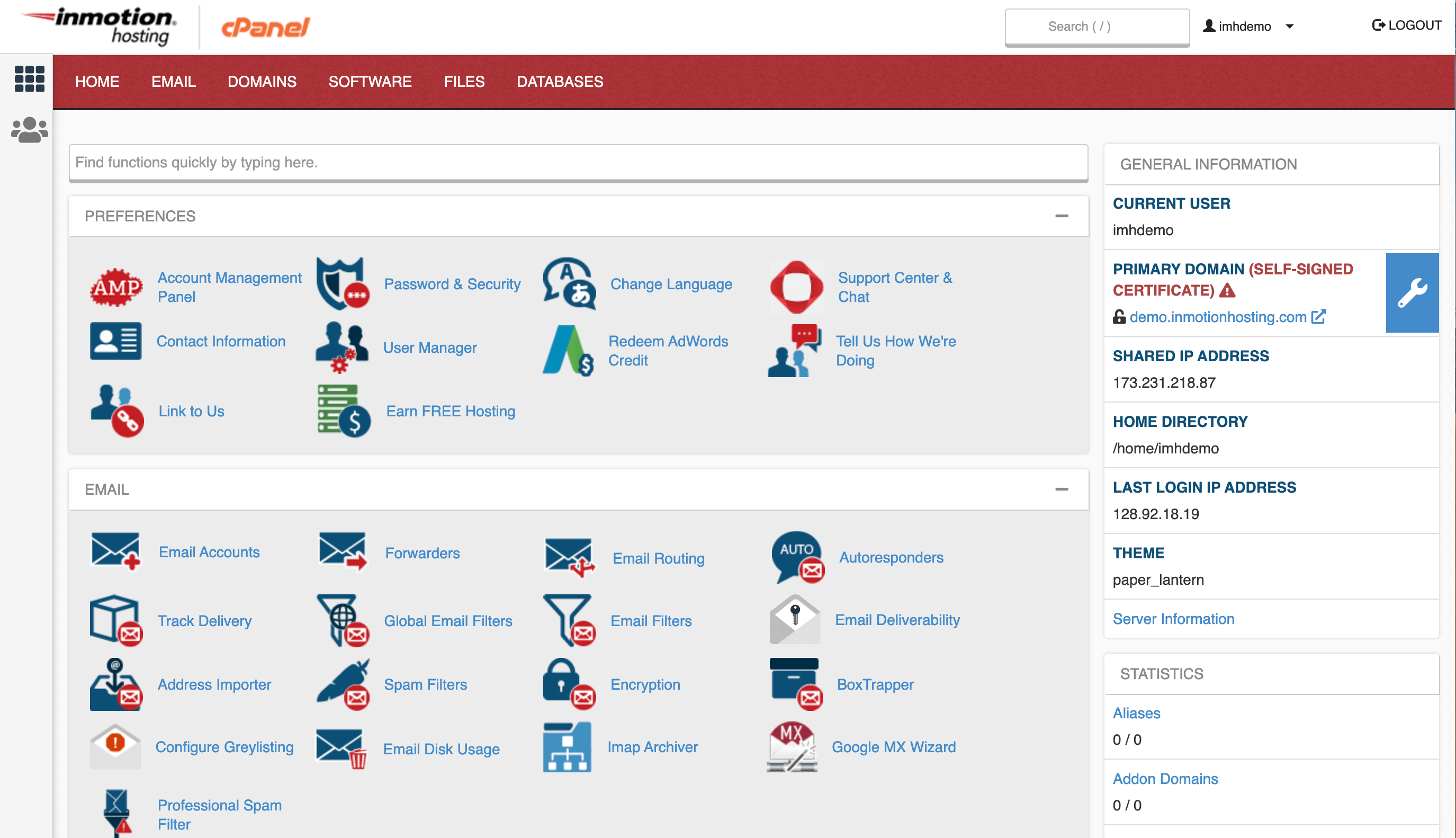 Due to its widespread use, cPanel is considered fairly user-friendly, and it's quite easy to find tutorials, documentation, and other resources on how to use it. Most users won't find it terribly difficult to figure out. At the very least, it shouldn't take you long to find the features that you'll need to use regularly.
With that being said, cPanel includes a lot more options than most users will ever need, which can make it confusing to navigate for less experienced website owners who are just trying to launch a basic blog or small e-commerce site. Some hosts have developed their own custom control panels that are more streamlined than the traditional cPanel interface, in order to improve their UX.
This is one of those factors that mostly comes down to personal preference. You can check out InMotion Hosting's cPanel demo to get a feel for it before you sign up for a plan.
3. Performance
Your server plays a major role in your website's speed. Even if you've perfectly optimized your pages' performance, you won't be able to achieve fast loading times without a properly-configured server.
Since your site's performance influences its UX, as well as key metrics such as your conversion rate, this isn't an area to skimp on. InMotion Hosting's WordPress plans include several features to give your site a speed boost, including:
You'll also have the backing of InMotion's UltraStack Infrastructure, which uses advanced layered caching to achieve the best possible loading speeds. In short, InMotion sets its customers up for success performance-wise. If you follow best practices for optimizing your site, you should be able to achieve excellent loading times.
4. Support
Whether you're troubleshooting downtime or have a question about your bill, access to quality support is a must for web hosting. InMotion Hosting offers 24/7/365 support via phone or live chat.
There are also a variety of self-serve support resources available, including:
It's also important to note that InMotion Hosting support team members are well-versed in WordPress, so they should be able to help you with issues related to the platform, in addition to problems that are directly related to the hosting services you're paying for.
5. Pricing
Finally, you'll need to consider InMotion's pricing. This is a concern for many potential customers, and with good reason. Hosting is an ongoing expense, and it's important that you choose a plan you can afford over the long term.
InMotion WordPress hosting plans start at $6.99 per month (with an $8.99 per month renewal rate). Prices increase if you need to host more than one site: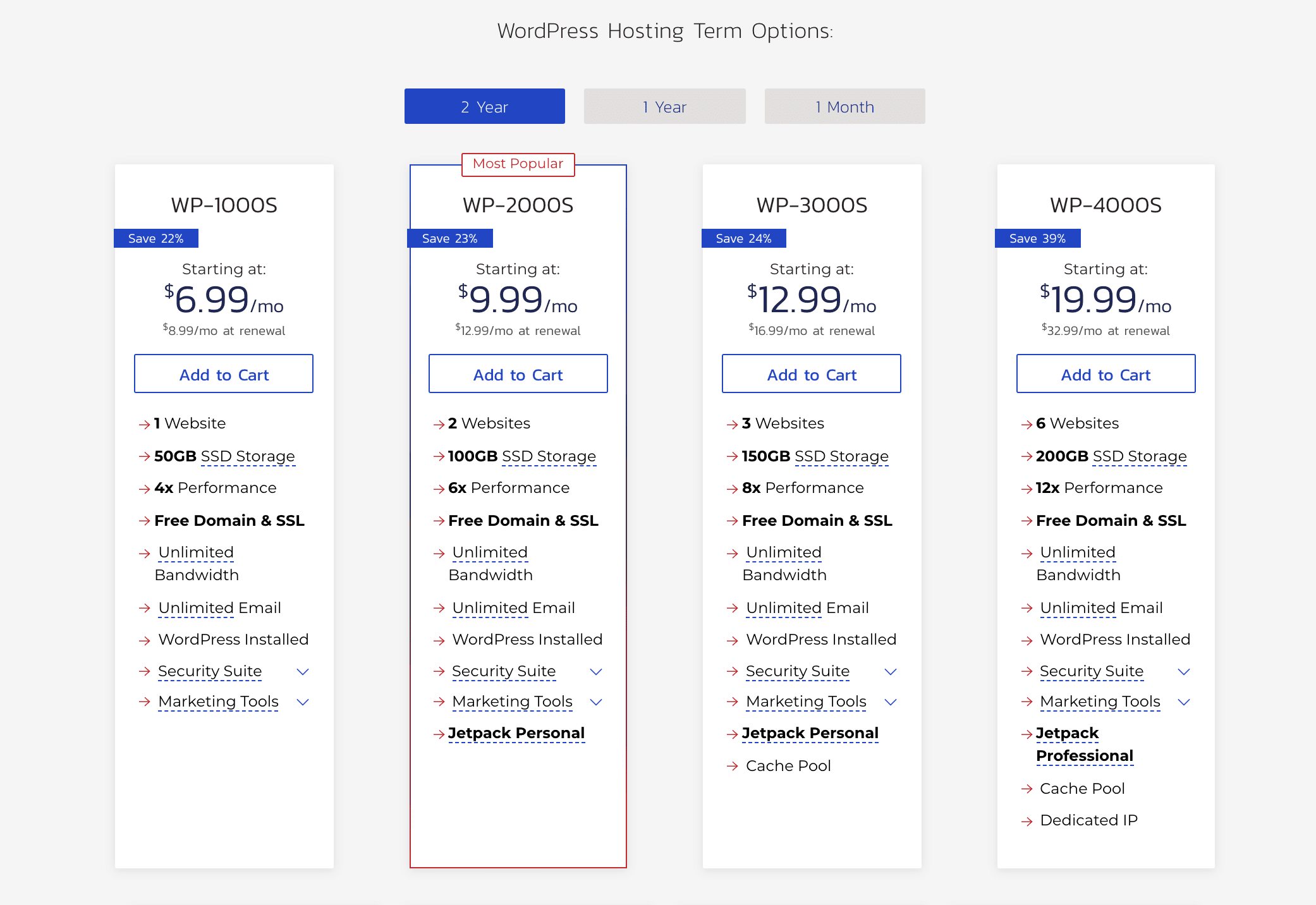 Of course, you can find shared hosting for much less than this. However, keep in mind that we're talking about InMotion's WordPress-specific plans, so you're getting a lot more than you would with a budget shared plan.
While it's not the cheapest WordPress hosting provider (Bluehost and DreamHost both offer entry-level WordPress hosting for less), it's definitely on the low end. Plus, it's wise to factor in what you're actually getting for that price. When comparing plans and considering their value, you'll want to account for the features they include.
Conclusion
Selecting the best WordPress hosting provider for your site is no small task. A lot of research and careful consideration goes into the decision.
If InMotion Hosting has made your shortlist, here are five factors to consider:
WordPress-specific features: InMotion plans provide a ton of handy features for WordPress users, and the platform comes preinstalled to save you time during setup.
UX: This host uses cPanel, which is easy enough for most beginners to pick up but not necessarily the most user-friendly control panel out there.
Performance: With NGINX servers and built-in caching tools, InMotion sets you up for success in terms of loading speeds.
Support: InMotion's 24/7/365 support team is trained in WordPress, and there are many self-serve resources available.
Pricing: Although it's not the cheapest WordPress hosting provider, InMotion offers affordable rates, especially considering all the features its plans include.
If you're looking for other managed WordPress hosts and want to compare them to Kinsta, check out Pressable, Cloudways, SiteGround, and Flywheel.
Do you have any questions about InMotion Hosting? Leave them for us in the comments section below!
Image by Bloomicon / shutterstock.com