The web hosting business has the potential to be lucrative. However, building and maintaining your server can be tricky and costly and requires technical expertise that most people don't possess. Fortunately, reseller hosting is a more profitable and straightforward way to enter the web hosting market. In this post, we'll introduce you to the best WordPress reseller hosting options available so that you can decide which one is right for you.
Let's get started.
What is WordPress Reseller Hosting?
Reseller hosting is a simple and profitable way of renting smaller portions of a larger server to clients (unlike standard WordPress hosting, which is intended for website owners). Essentially, reseller hosting plans involve purchasing a hosting server from a provider and renting out smaller pieces to clients. By branding the server as your own, you can create customized pricing plans and market them to clients, earning a profit. While this may sound like a complex process, it's pretty straightforward. Most reseller hosting companies also offer good managed WordPress hosting, so you don't have to worry about server maintenance, and they will set everything up for you. This allows you to pass on the benefits of managed services to your clients without handling the technical aspects yourself.
The Best WordPress Reseller Hosting Options in 2023
To make our list of the best WordPress reseller hosting providers, we assessed several essential factors, including reliability, security features, cost-effectiveness, and customer reviews. By carefully evaluating these essential areas, we can present you with the best options for those seeking to start a web hosting business. So, without further delay, let's dive into our list.
The Best WordPress Reseller Hosting Options Listed In Order
Expand List
1. SiteGround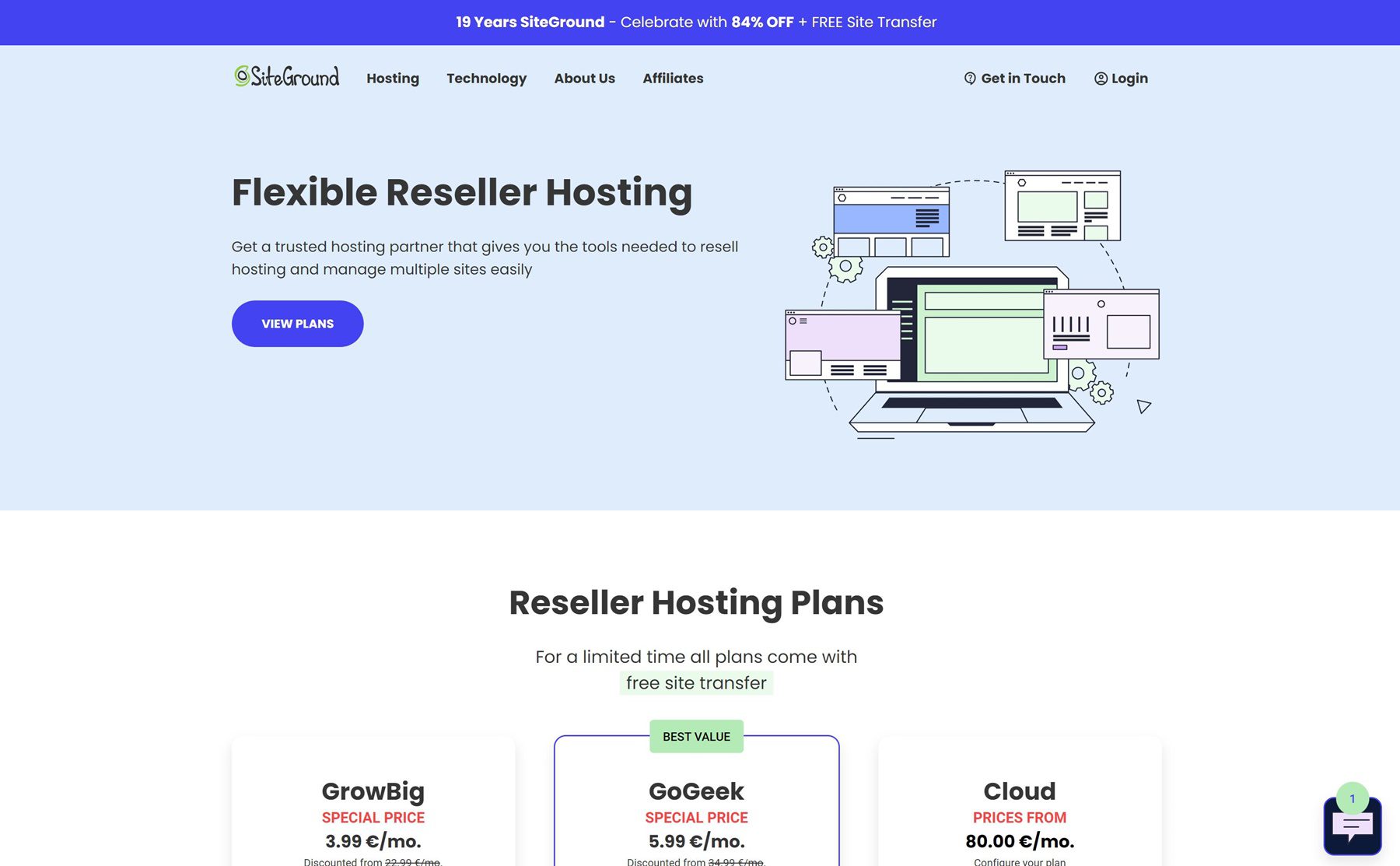 Our top pick for the best WordPress reseller hosting is SiteGround, primarily due to its affordable WordPress hosting plans, exceptional customer service, vast array of features, and customer-centric Site Tools site management control panel. With their reseller hosting plans, you can easily white-label WordPress by incorporating your branding, creating customized hosting packages and user privileges, and managing all your sites in a single dashboard within a dedicated client area. Additionally, you can scale your server as your business grows. In case you face any challenges, SiteGround offers unparalleled customer support to assist you.
Key Features for SiteGround:
White-label WordPress for a customized appearance
Dedicated client area
Scale your hosting plan as your business grows
Affordable pricing

SiteGround offers both traditional and cloud reseller hosting plans. Prices start at $22.99 per month and include at least 20GB of storage. Additionally, they offer free WordPress installation, automatic updates, free migrations, daily backups, caching, free SSL, CDN, and email, along with advanced security features such as a web application firewall (WAF) and an AI anti-bot system to keep your sites protected. For white labeling, you'll need to choose at least the GoGeek plan, which features 40GB of storage for $39.99 monthly.
Best For:
If you're seeking a dependable hosting provider that can efficiently white-label WordPress, SiteGround is a perfect choice. Offering robust security features, exceptional customer support, and competitive pricing, SiteGround is undoubtedly one of the best options.
➡️ Read Our Complete SiteGround Hosting Review.
2. LiquidWeb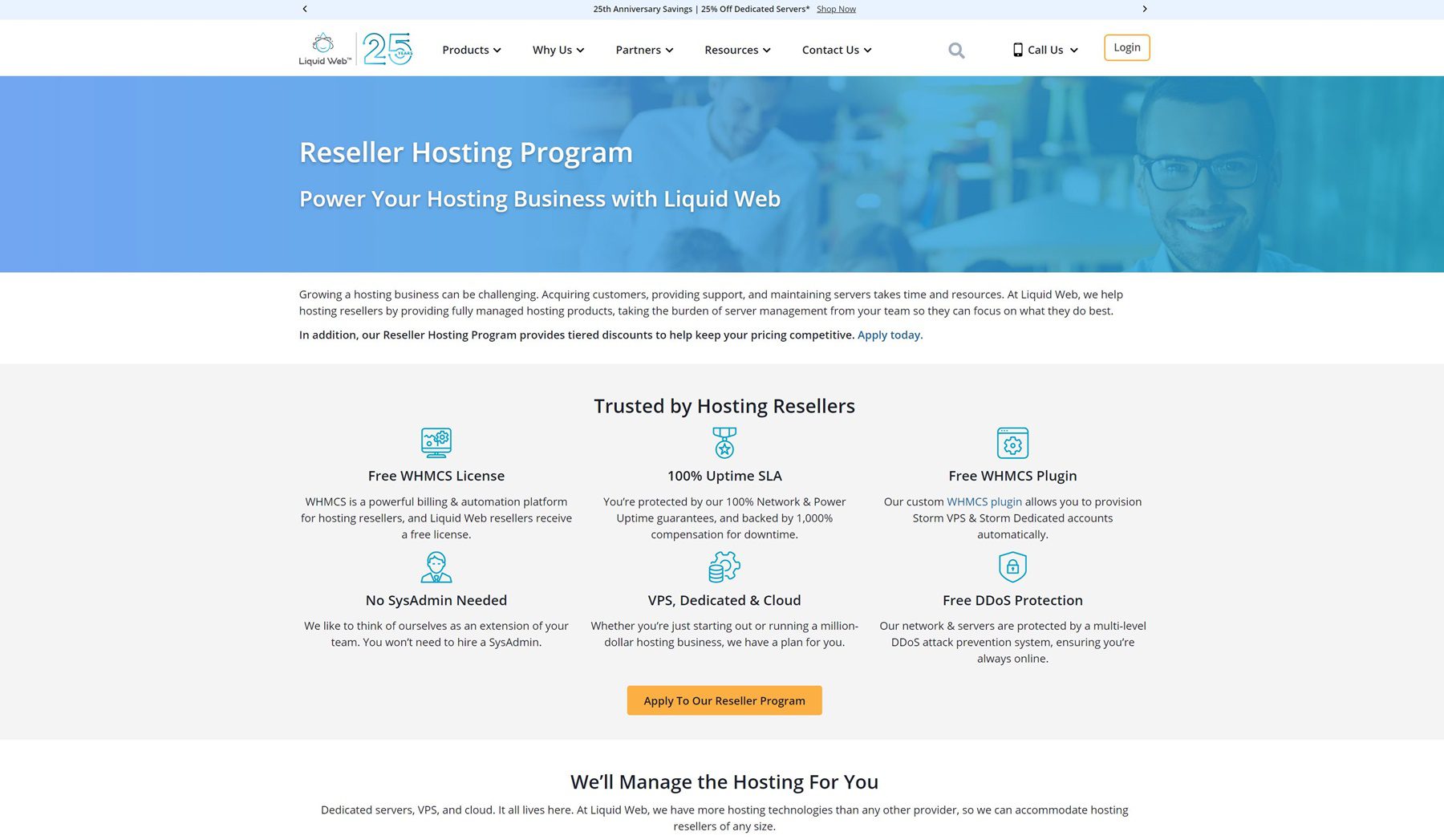 Our next best WordPress reseller hosting provider is LiquidWeb. Unlike other providers, LiquidWeb has a unique approach to reseller hosting, where you must first apply for their reseller program. However, the application process is straightforward and can include any of their core hosting products, such as VPS and excellent dedicated hosting plans. Each of LiquidWeb's reseller plans comes with a free WHMCS license powered by a plugin designed to create customizable hosting packages, services, and add-ons for your clients. With the WHMCS plugin, you will have complete control over customer management, including invoicing, emails, fully automated account deployment, resource allocation, and user permissions.
Key Features for LiquidWeb:
Complete customer management solution
Available with VPS and dedicated hosting plans
Dedicated hosting plans for resellers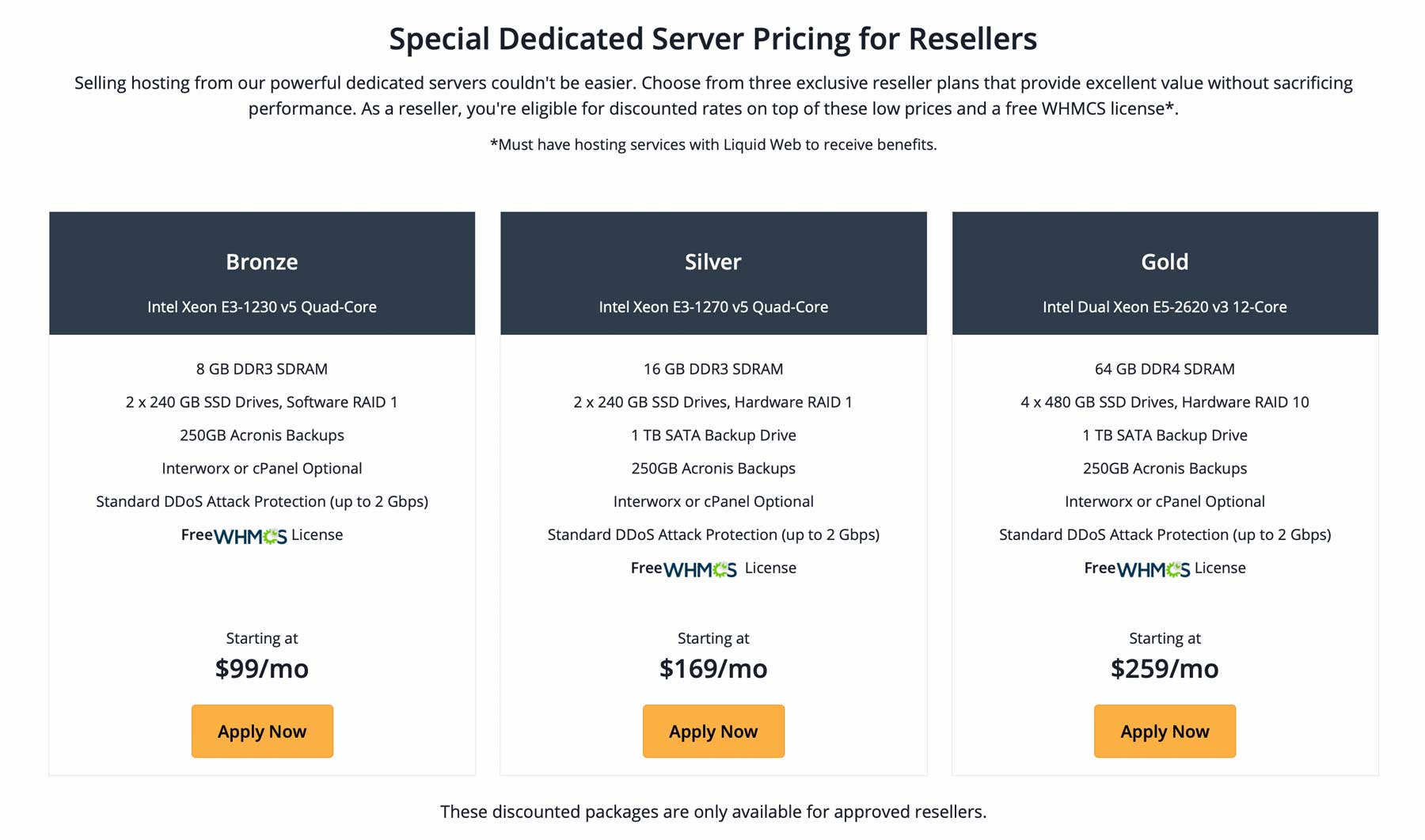 LiquidWeb offers three reseller hosting plans with dedicated servers, providing customers with a fast and reliable environment. The Bronze plan is the lowest-tiered option, priced at $99 per month, which is perfect for small to medium-sized web hosting businesses. This plan includes 8GB RAM, two 240GB SSD hard drives, 250GB Acronis backups, Interworx or cPanel access, and standard DDoS attack protection.
For larger businesses, the Gold plan is a powerful option that provides 64GB RAM, four 480GB SSD hard drives, a 1TB SATA backup drive, 250GB Acronis backups, and up to 2GBPS DDoS attack protection. Priced at $259 per month, this plan offers a robust solution for high-performance hosting requirements.
Best For:
Regarding affordability and performance, LiquidWeb's reseller hosting plans are an excellent choice for businesses of all sizes. Their customized solutions cater to small and large agencies looking to provide reseller hosting services to their customers. While the application process for their reseller program may require a little patience, the effort is well worth it.
LiquidWeb
Starting Price
$99/month
Storage
2 x 240 GB
Websites
Unlimited
White Labeling
✔️
24/7 Support
✔️
Trustpilot Rating
⭐⭐⭐⭐⭐
Read the reviews
Visit LiquidWeb
3. Cloudways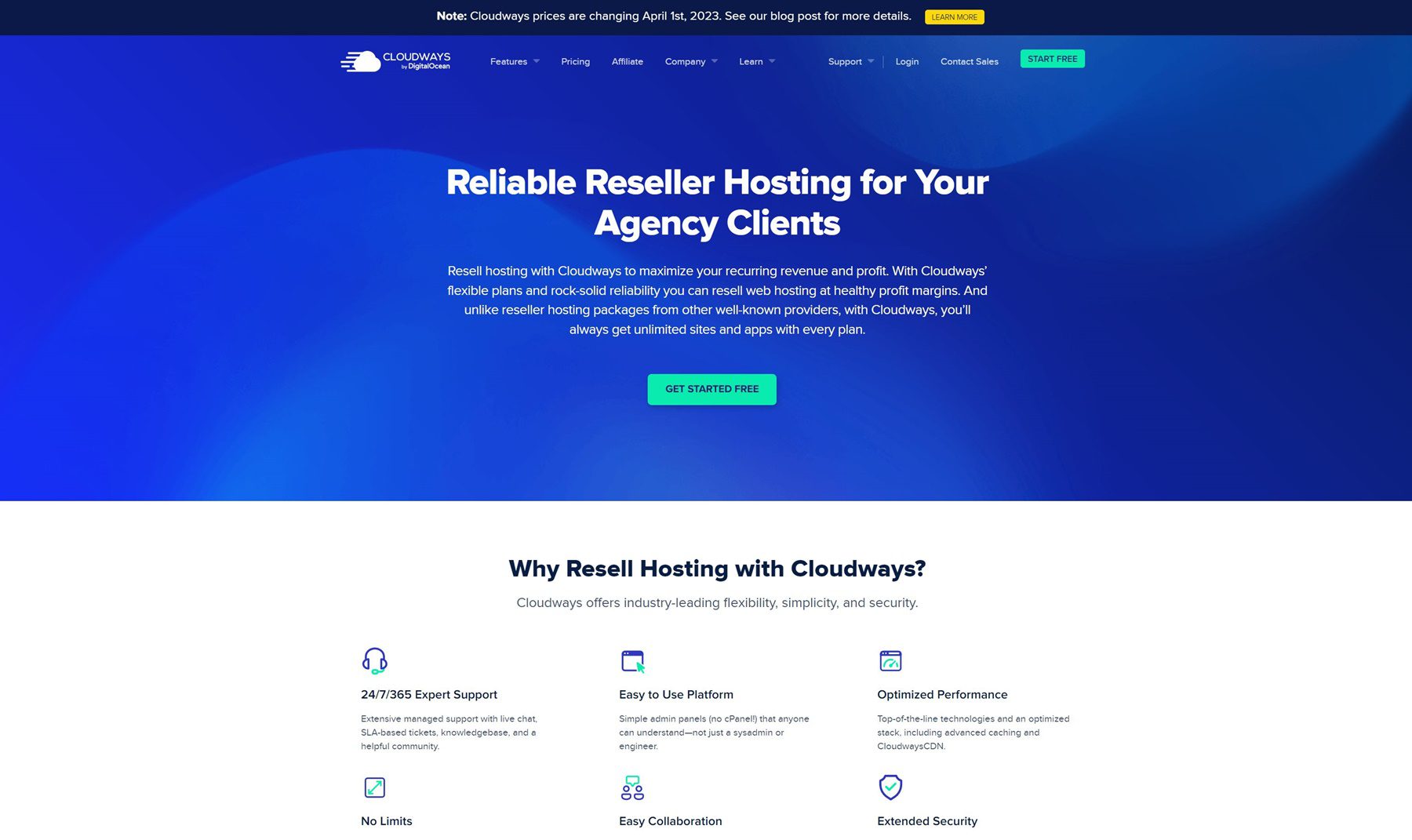 Next up on our list is Cloudways, one of the leading WordPress reseller hosting providers available in the market. Cloudways is causing a stir in the hosting industry with its modular pricing approach, impressive features, and reputation for delivering exceptional customer service. Regarding reseller hosting, Cloudways provides an easy and effective way to generate revenue by offering hosting plans to your clients. Moreover, they offer affiliate commissions to incentivize your clients to recommend your hosting services to others. Their server management is hassle-free, offering 1-click solutions such as WordPress installs, SSL certificates, and backups.
Key Features for Cloudways:
Staging and cloning your websites
Excellent security features
Collaboration tools for clients and team members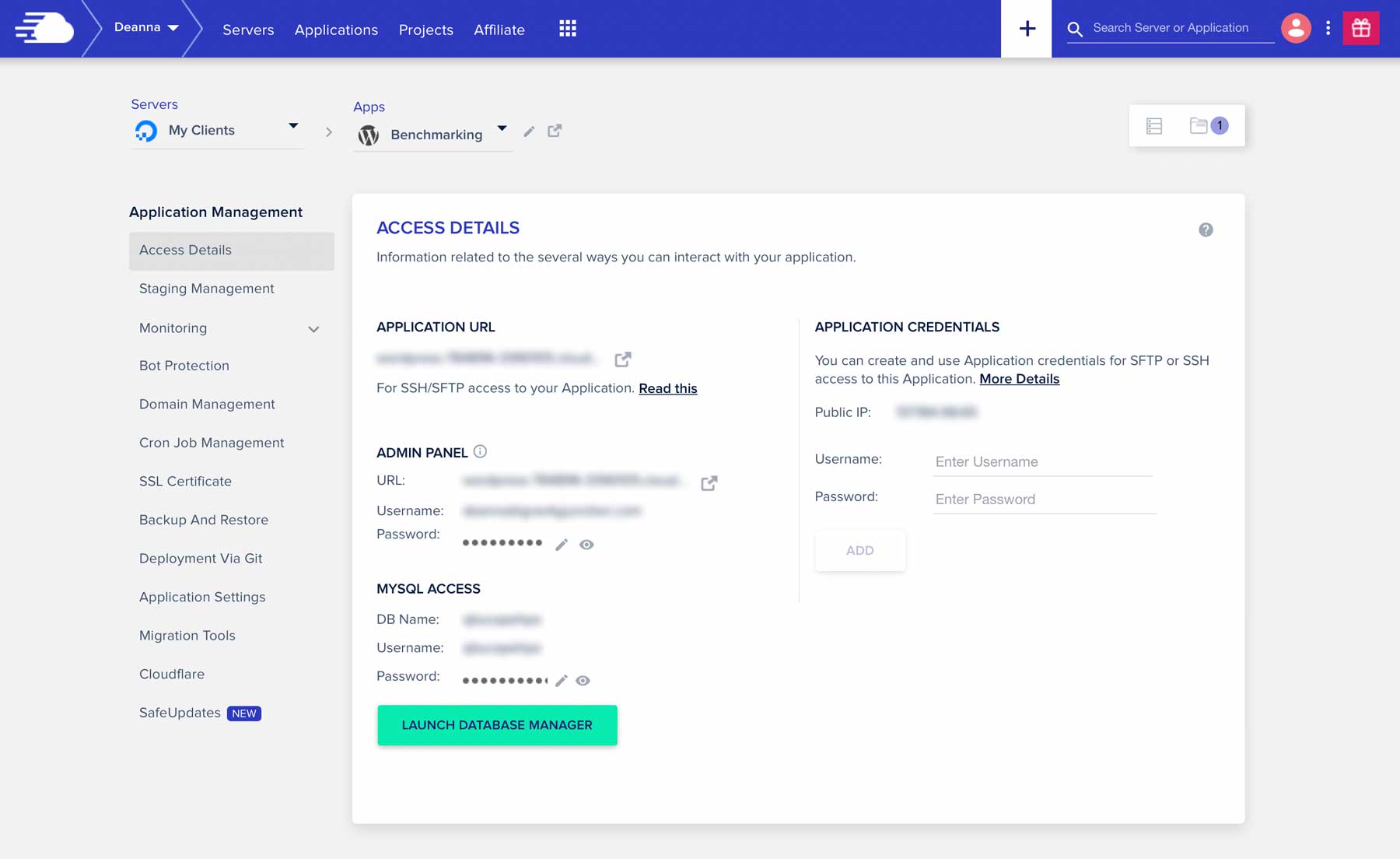 One of the most impressive features of Cloudways is its impressive security features. With Cloudways, you'll get a free SSL for every application, bot protection, application isolation, and automatic backups at the application and server levels. These features give you peace of mind that your customer's information and site data will remain secure. Additionally, with Cloudways collaboration tools, you can add clients to Cloudways, allowing them to manage their websites and giving you the ability to achieve a hands-off approach.
What's great about Cloudways is that you can customize your plan according to your business needs, choosing the amount of RAM, storage, bandwidth, and CPUs you require. A good starting point is a DigitalOcean plan with 8GB RAM, a 4-core CPU, 160GB of storage, and 5TB bandwidth for a reasonable $96 per month.
Best For:
If you're starting a reseller hosting business and want to scale up over time, Cloudways is an excellent option. Cloudways sets itself apart in the WordPress hosting industry by offering a range of customizable options to meet your unique needs.
➡️ Read Our Cloudways Managed Hosting Review.
4. A2 Hosting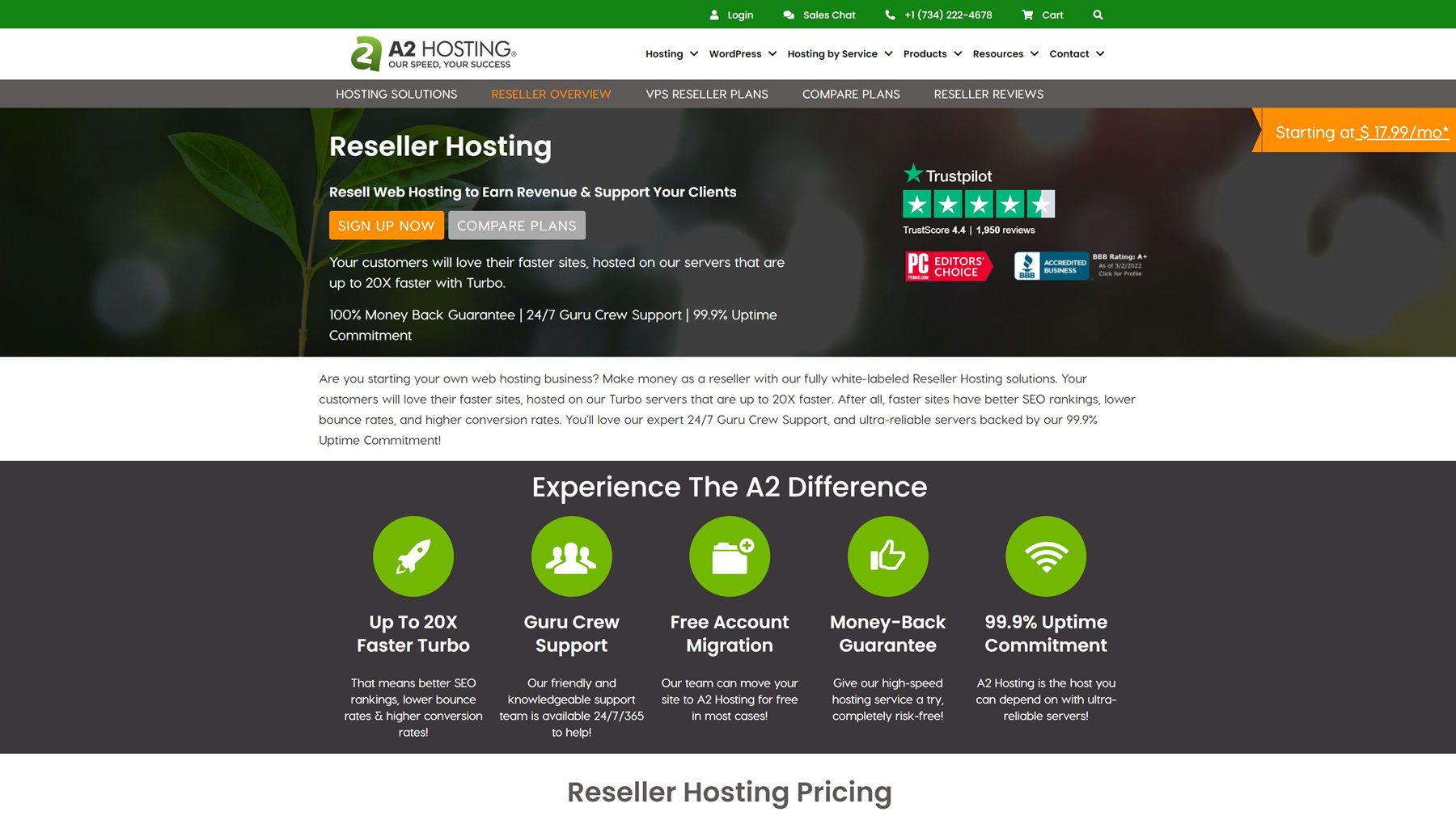 Our next reseller hosting provider, A2 Hosting, is another well-known company in the WordPress hosting space. A2 Hosting provides white-labeled reseller hosting solutions built on LiteSpeed, making them a speedy option for your hosting business. They offer two hosting plans: a basic reseller setup and turbo-charged reseller plans up to 20 times faster, thanks to NVMe SSD hard drives. Additionally, A2's hosting is managed, freeing you from server maintenance responsibilities and allowing you to focus on building your client list.
Key Features for A2 Hosting:
cPanel/WHM control panel
LiteSpeed webserver
White-labeled for custom branding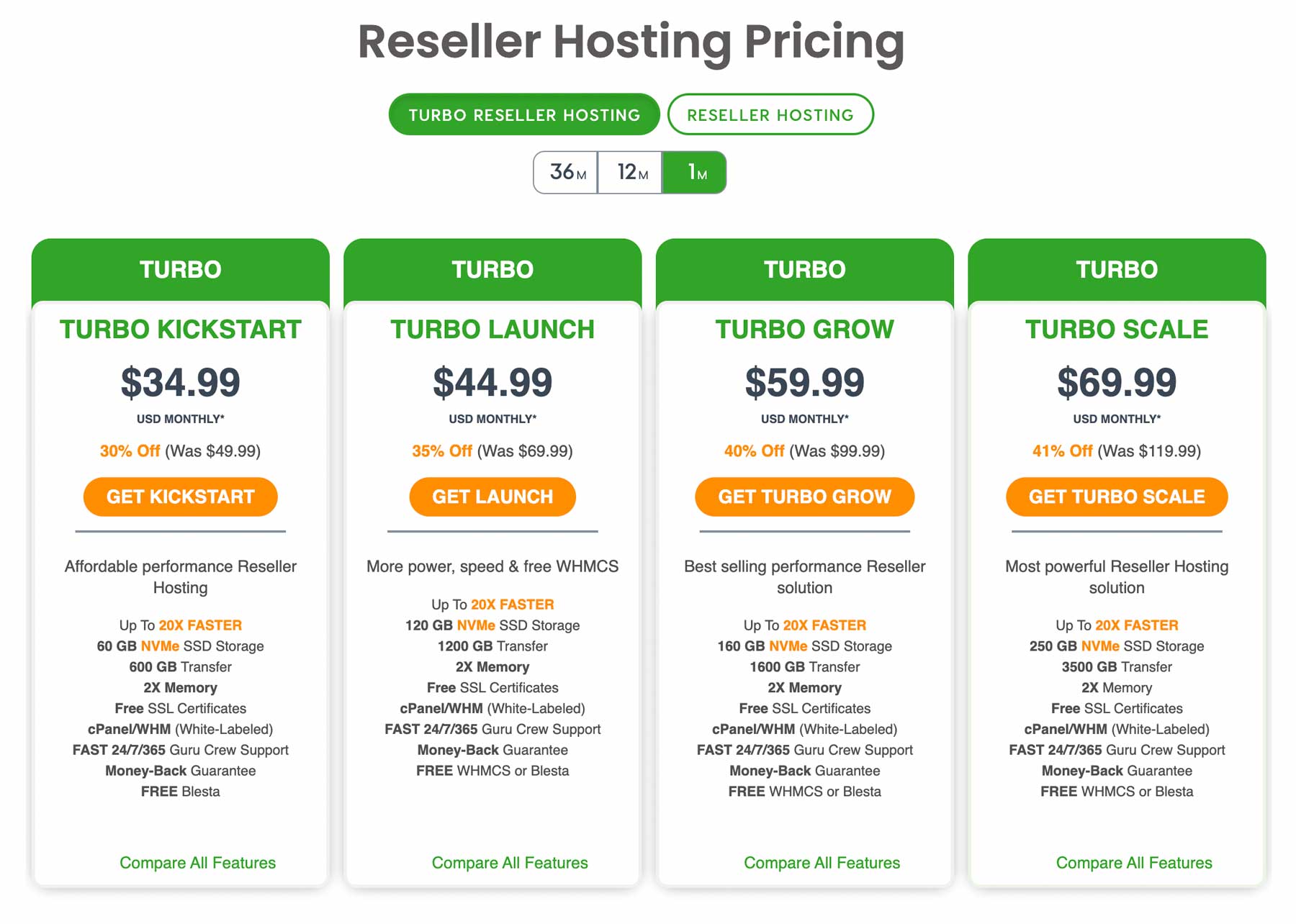 A2 Hosting supplies you with WHMCS or Blesta to give you automated invoicing, payment processing, and reminders to help you manage your clients. Additionally,  you can access automatic online backups, so you don't have to worry about downtime. Overall,  you'll have a high level of security with features including DDoS attack protection, brute force defense, and a free SSL for every site. We suggest going with one of their Turbo plans for the best performance. The Kickstart plan starts at $34.99 monthly and includes 60GB NVMe SSD storage, LiteSpeed, 30 client sites, a free eNom domain reseller account, a white-labeled control panel, and 600GB for data transfer.
Best For:
A2 Hosting is fast, provides managed services, and has excellent customer support, making them a solid choice for individuals and businesses looking to hop into the hosting business. Moreover, it is one of the more affordable options on our list. It's a great option for budget-conscious people who need efficient speed and features to be competitive.
5. InMotion Hosting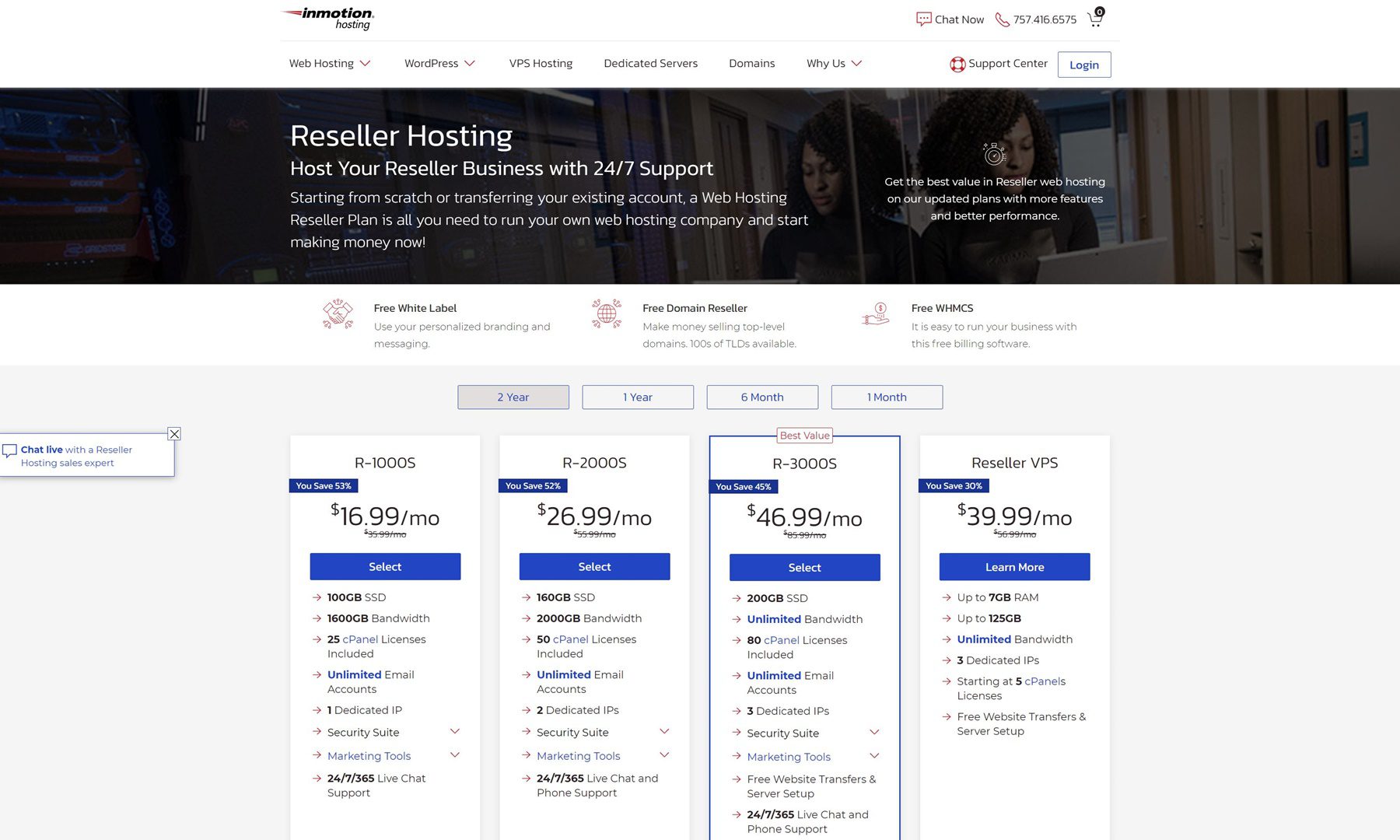 Next on our list of best WordPress reseller hosting is InMotion. Like others on our list, they offer white-label hosting, so you can customize your hosting plans with your branding. On top of that, they handle your server management tasks, so you don't have to be a developer to run a hosting business. Plus, you'll receive benefits such as 24/7/365 support, unlimited email accounts, and individual cPanel accounts so you can provide your customers with access to their hosting to manage as they see fit.
Key Features for InMotion Hosting:
Individual cPanel accounts for client access
24/7 customer support
Unlimited email accounts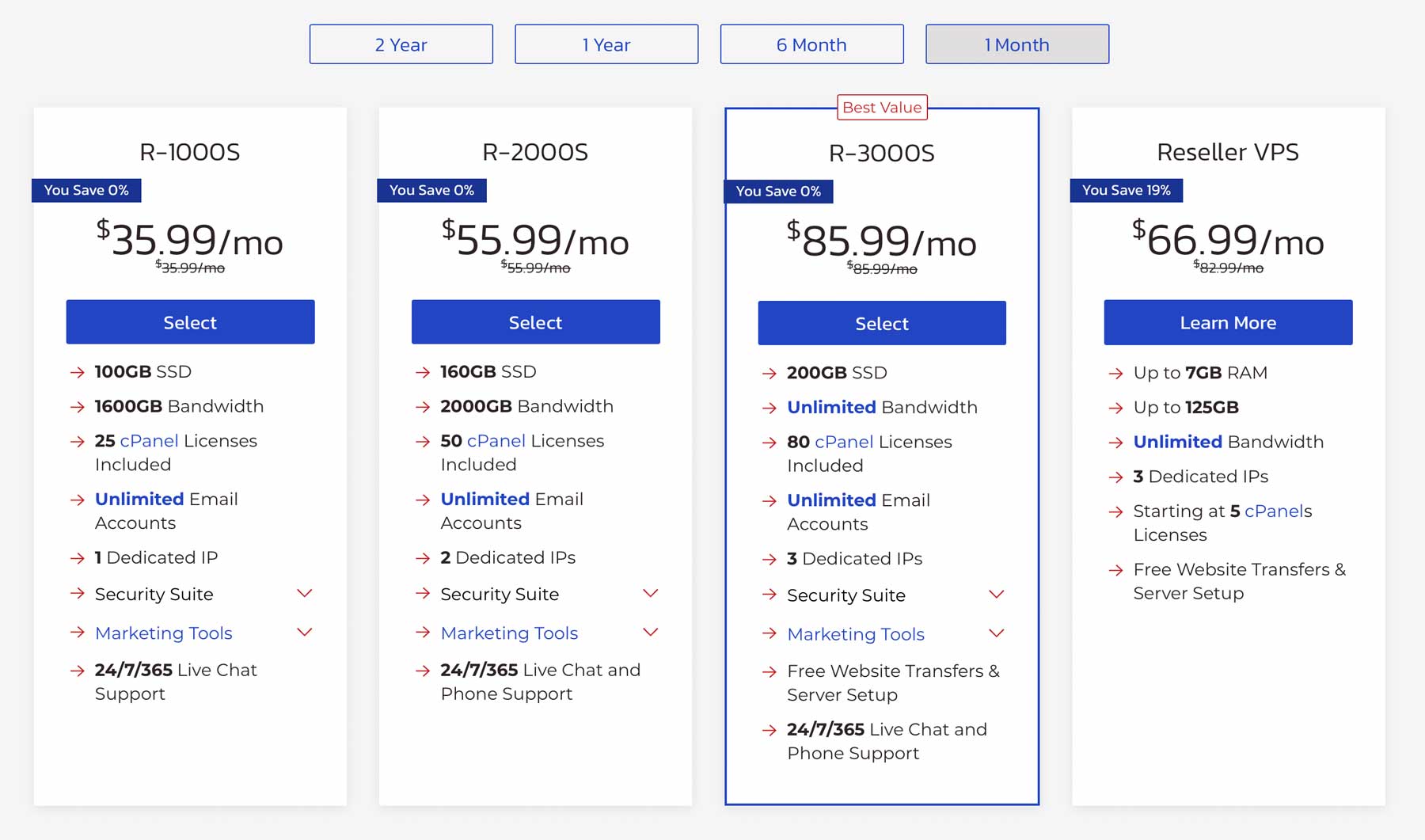 In addition to scheduled automatic backups, InMotion offers a free SSL for each cPanel instance, hack and malware protection, DDoS attack prevention, a free dedicated IP address, and the ability to resell domains for added revenue. Moreover, they offer four reseller hosting plans, starting at $35.99 monthly and ending at $85.99. Their lowest-tiered plan, the R-1000S, comes with a 100GB SSD hard drive, 1600GB bandwidth, 25 cPanel licenses, unlimited emails, a single dedicated IP address, and 24/7 support. That's more than enough to start a small business.
Best For:
Those who want easy cPanel access, good support, and a lower price point should try InMotion. While they don't have as many features as other hosts, they offer an unrivaled 90-day money-back guarantee. This is plenty of time to try it out to determine if it's right for you.
➡️ Read Our Complete InMotion Hosting Review.
6. HostWinds
Our next provider, HostWinds, takes a unique approach to reseller hosting. Unlike the other options on our list, HostWinds offers plans based on the number of domains you need rather than a fixed number of cPanel instances. They don't provide white-labeling options, so your customers will know that HostWinds is the hosting provider, which could be a deal breaker. However, they do offer the most affordable solution we've seen for reseller hosting.
Key Features for HostWinds:
Single-domain reseller hosting plans
Managed hosting for ease of use
Sofaculous for easy application installs
Each plan comes with SSD hard drives, a free SSL, cPanel, Softaculous for easy application installation, unlimited databases, email accounts, subdomains, and 24/7 support as standard features. Additionally, they'll provide round-the-clock website monitoring and automated ticket dispatch to alert their customer service engineers. On top of that, they also offer nightly backups and full server management, so you won't be tasked with server maintenance. Although their plans are per domain, they offer discounts for signing up for multiple accounts. For example, purchasing more than 20 reseller hosting accounts will give you a 10% discount.
Best For:
HostWinds is an excellent option for those looking to start small and gradually expand their business. If you're a beginner or have a limited number of clients, HostWinds might be the perfect fit for you. With plans starting as low as $6.99 per month, you can offer your customers the services of a reliable hosting provider for their website needs.
7. HostGator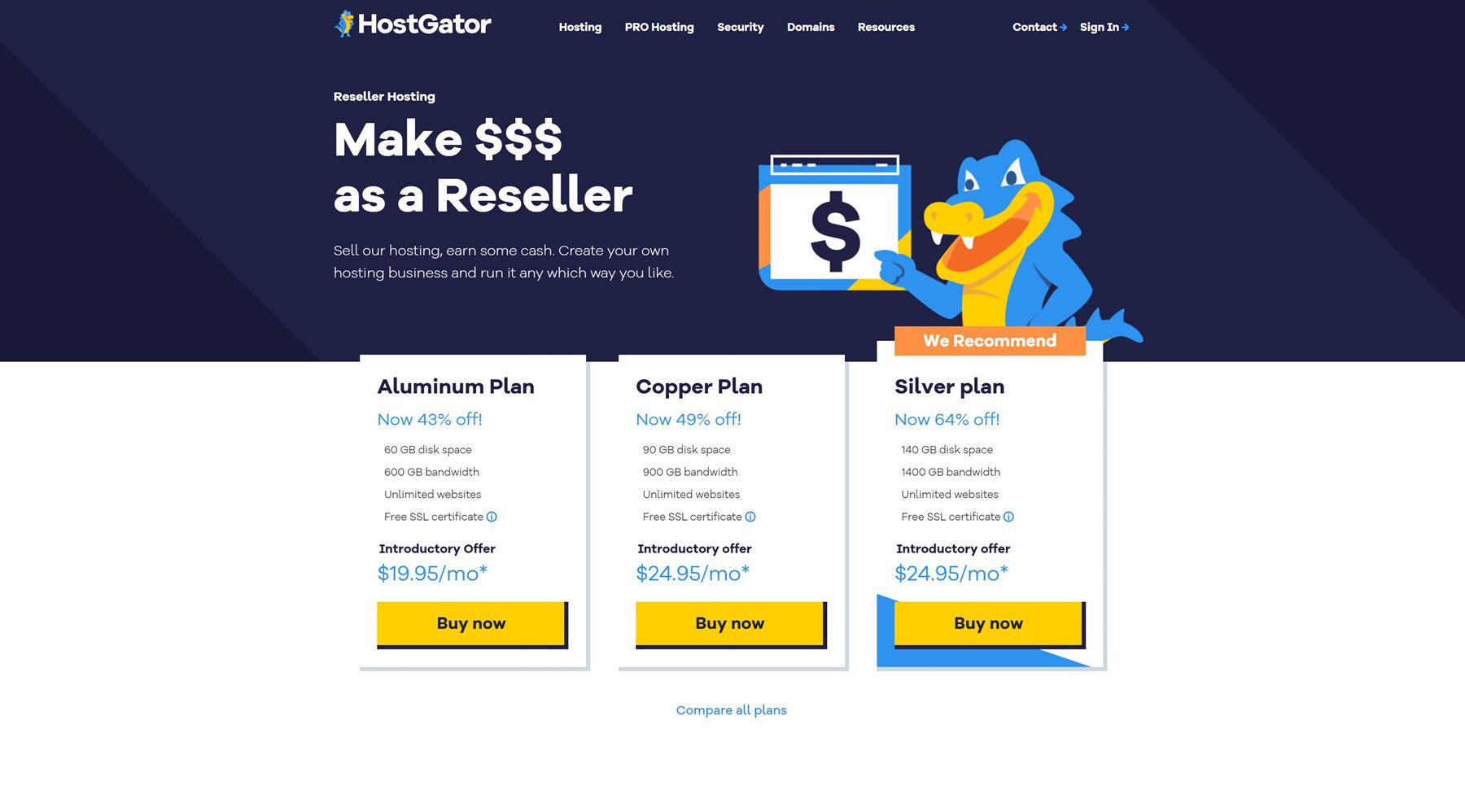 HostGator is a big name in value for WordPress hosting and offers the same experience as its reseller hosting plans. Every plan comes with HostGator's 99.9% uptime guarantee. Additionally, they also provide private name servers for custom branding, cPanel with WHM, and instant installs with Softaculous. You'll also get unlimited email accounts with up to 25 mailing lists, spam prevention, and WHMCS billing software for client management. Similarly to other providers on our list, you can white-label your hosting plans to match your branding.
Key Features for HostGator:
Unlimited email addresses
White-label hosting platform
Spam prevention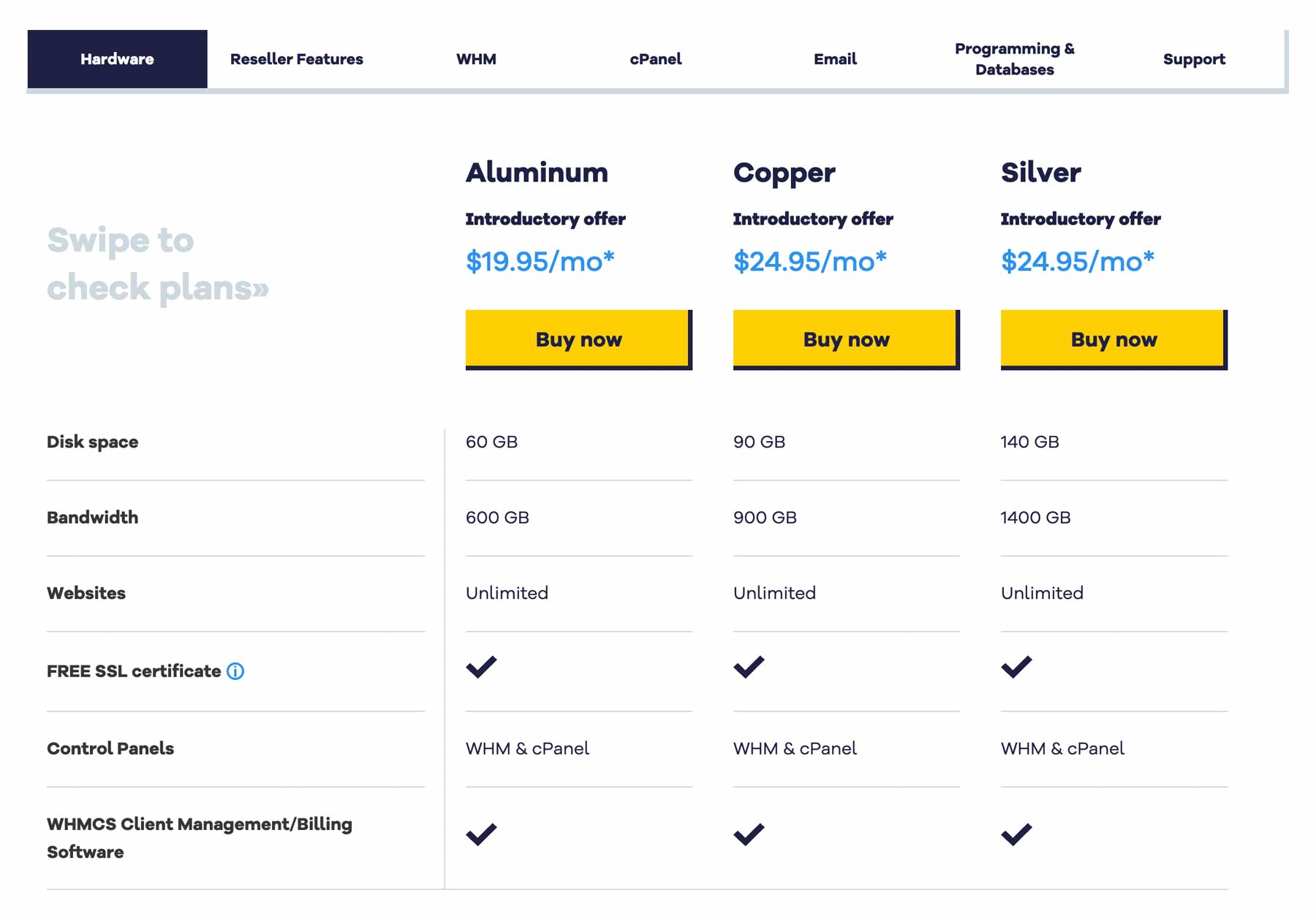 One of the standout features of HostGator's reseller hosting plans is the ability to limit hosting packages and allocate specific resources such as disk space, bandwidth, email, and databases. This allows you to create tailored offerings for your clients, whether they require hosting for a single website or many. With plans starting at just $34.95 per month, you'll receive a minimum of 60GB of storage, 600GB of bandwidth, and unlimited websites. Moreover, each plan includes free SSL certificates for each instance and cPanel, simplifying tasks such as WordPress installation and managing PHP, MySQL, and file manager.
Best For:
HostGator is best for resellers targeting single or multiple site owners with informational websites. Those with more traffic-heavy sites should consider a different provider, such as Cloudways, as they are well-equipped to handle sites of any size.
➡️ Read Our HostGator Managed Hosting Review.
8. Flywheel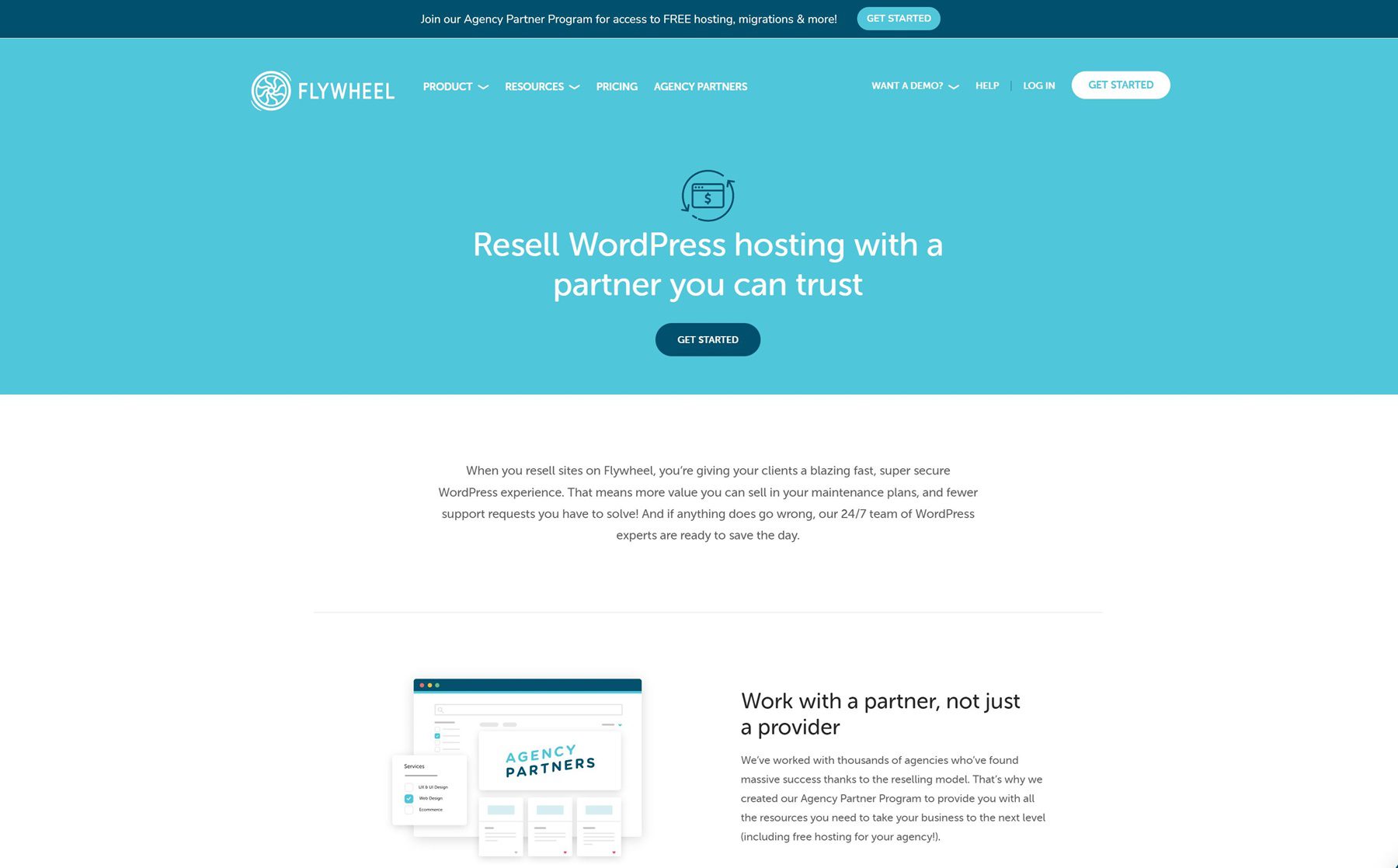 Finally, the last on our list of the best reseller hosting options is Flywheel. As a specialist in WordPress optimization, Flywheel stands out in the world of cloud hosting, leveraging Google Cloud infrastructure to power its services. Thanks to their excellent one-click feature, Flywheel excels at launching staging sites, plugins and theme updates, and effortless WordPress installation. Plus, it's easy to use with an intuitive dashboard to manage your site-related tasks.
Key Features for Flywheel:
Intuitive dashboard
One-click plugin and theme updates
Create blueprints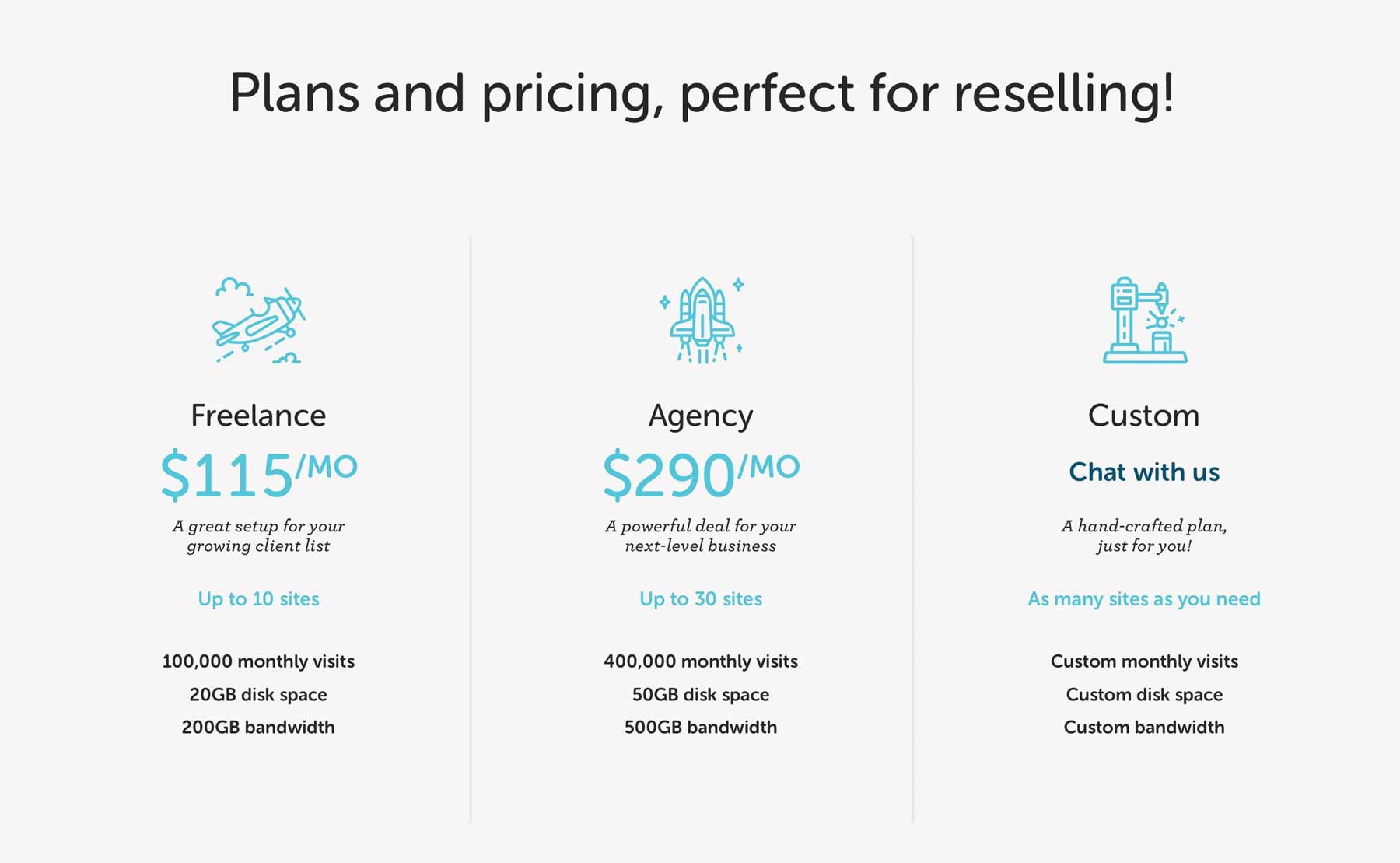 Additionally, Flywheel offers a unique feature called blueprints that allows you to save time and effort when working with specific themes and plugins you frequently use. Blueprints can be especially valuable when you've created the perfect setup for new sites. In addition to selling hosting, you can create maintenance packages for backups, SSL certificates, and support to increase revenue.
The main drawback of Flywheel is the relatively high price point. They offer two plans – Freelance and Agency – priced between $115 to $290 per month, a bit higher than the other providers on our list. However, they track monthly visits, which could cause bandwidth problems. For instance, if ten websites receive 10,000 hits a month, you could be throttled. If you're a freelancer with smaller websites, Flywheel's Freelance plan may suit you, providing 100,000 monthly visits, 20GB of storage, and 200GB of bandwidth. However, if you manage more demanding websites, you should opt for the higher-tiered plan, Agency.
Best For:
Freelancers or agency professionals will appreciate WordPress optimization, ease of use, and one-click features. That said, the price may seem a bit high for the storage offered. Flywheel may be more suitable for agencies with larger budgets prioritizing features over cost.
➡️ Read Our Flywheel Managed Hosting Review.
What is the Best WordPress Reseller Hosting Company?
When it comes to WordPress reseller hosting, SiteGround and LiquidWeb are both great choices. They offer great security features, managed servers, and user-friendly interfaces. However, they are suited for different types of businesses because of the price point. Regardless of the size of your agency, both options deliver fantastic value.
Frequently Asked Questions (FAQs)
Before we wrap up, let's answer some of your most common questions regarding WordPress reseller hosting. Did we miss one? Leave a question below, and we will respond!
What is the best WordPress reseller hosting company?
SiteGround
is the best WordPress reseller hosting company for its reseller-specific benefits. They offer a unique reseller program with features like white-label hosting, volume discounts, and a user-friendly client management interface. In addition to this, they provide free SSL certificates, daily backups, and 24/7 customer support.
What is the best managed WordPress host for resellers?
SiteGround
is considered a top choice for managed WordPress hosting for resellers. They handle the technical aspects such as security, speed, WordPress updates, daily backups, scalability, and website uptime, leaving resellers free to focus on their business. Their reseller program offers white-label hosting and volume discounts.
Who offers the best price for WordPress reseller hosting?
Cloudways
is famous for its cost-effective WordPress reseller hosting plans. They provide a pay-as-you-go model, which is excellent for resellers as it minimizes upfront costs. They don't bind you to fixed plans, allowing flexibility. Cloudways combines high-quality hosting services, round-the-clock support services, free migrations, and an intuitive panel.
How do I start reselling WordPress hosting?
Starting to resell WordPress hosting via
SiteGround
is straightforward. First, sign up for a reseller hosting account on their website. Once you've created your account, you can add credits to activate your hosting packages. You're then ready to start creating accounts for your clients.
What is the cheapest reseller hosting for WordPress?
HostGator
stands out as a cost-effective option for WordPress reseller hosting. They offer a range of budget-friendly plans, including comprehensive features like unlimited domains, free SSL certificates, and a WHM Control Panel. Pricing begins at just a few dollars per month, making HostGator an excellent choice for businesses looking to start reselling.
Which WordPress reseller hosting works best for WooCommerce?
Liquid Web
has one of the best WordPress reseller hosting for WooCommerce based sites. They provide managed WooCommerce plans and performance optimization specifically for eCommerce stores. With excellent customer support and additional features, Liquid Web ensures your WooCommerce store runs smoothly.
How do I decide on the best WordPress reseller hosting?
Deciding on the best WordPress reseller hosting involves several factors: your budget, the specific needs of your clients, reliability and uptime, customer support, and scalability. Research and compare different providers' offerings, read reviews, and consider testing their services to make an informed decision.
Which WordPress theme would be the best for my reseller hosting business?
Divi
from Elegant Themes is a popular choice for a reseller hosting business. It offers high customization options, pre-made website layouts, and a built-in visual builder for a unique and professional design. Its user-friendly interface allows you to create a tailored site, even without coding skills.
Cloud hosting VS Managed WordPress hosting, which one is better for reselling?
Managed WordPress hosting is the better choice for reselling. Cloud hosting can offer scalability and flexibility; managed WordPress hosting is specifically tailored to WordPress websites, delivering advanced features, optimizations, and security. It simplifies the process, allowing you to focus on customer service and business growth.
What is WordPress reseller hosting?
WordPress reseller hosting is a business model where an individual or company rents out a portion of their hosting space to their clients. It enables you to create multiple WordPress hosting accounts under your brand, thus allowing you to run a hosting business without needing infrastructure management skills.
Looking for the best hosting options? Check out our top WordPress hosting providers.