Cloudways is a managed WordPress hosting provider that is among the best, and it's likely that you haven't seen anything quite like it before. Companies such as WP Engine, Flywheel, and Pressable (along with many others) provide optimized server environments for WordPress, complete security packages, and often specialty dashboards to make the WordPress experience as seamless and efficient as possible. Cloudways is also a managed hosting company (not just managed WordPress hosting) with modular hosting options so that users can choose the exact kind of managed environment and features they need. This is a huge step away from the walled gardens of many managed hosts. We know that sounds appealing to a lot of people, so let's dig into our detailed Cloudways review so you can see if it's the right fit for you.
What is Managed WordPress Hosting?
First off, Cloudways is not just for WordPress. While what we're discussing in this review is the Cloudways WordPress hosting, you can also host Drupal, Joomla, or other CMS frameworks if you want. But we feel that Cloudways truly shines with WordPress hosting.
Here's the entry from the Cloudways FAQ:
A Managed WordPress hosting provider works as an extended team and takes care of all the website- and server-related issues for you while giving a hassle-free experience.

We provide optimized servers for WordPress websites. You can install WordPress with just a click on our managed hosting servers and do not have to worry about manually setting up a WordPress website.

Managed WordPress hosting provides the latest version of WordPress, a cache plugin built-in, and 24/7 support that is always available to answer your questions. Our hosting platform is built to run WordPress so you can experience the best possible performance on your websites.
Essentially, you get built-in WordPress features without any of the hassle of configuring it yourself. That means a lot when you use tools like WP-CLI, putting together a multisite network, or getting an SSL certificate set up and working straight out of the box.
What Makes Cloudways Managed Hosting Different?
As we mentioned earlier in the review, Cloudways is modular hosting. This means that you can pick, choose, and combine any number of features and options to create the perfect website for you and your users.
Cloudways also, unlike pretty much every other host, doesn't have a set fee for plans. Because everything is modular, you pay for what you use.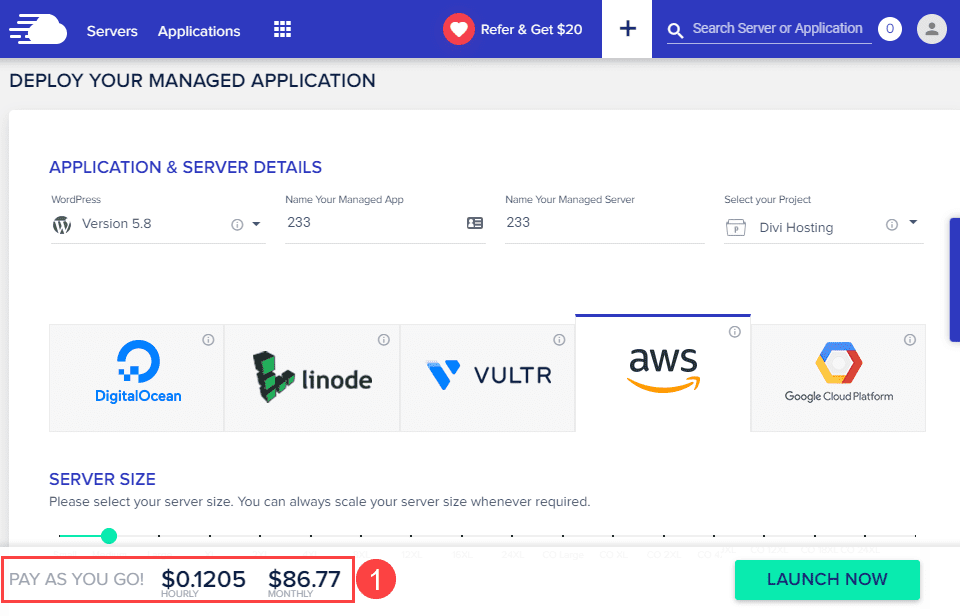 Depending on what setup you choose, your cost may be more or less than other hosts. If you choose a server on Amazon Web Services (AWS), you will be paying more than you would with Digital Ocean. That's not a comment on the quality of either service, just how their business model works.
With many managed hosts, you will be paying approximately $50 per month for 1-3 websites. With Cloudways, you aren't limited in the number of sites you can host on the server you pay for (much like with shared hosting like SiteGround).
On Cloudways, the lowest price (as of this review) is $10 per month for a server with Digital Ocean, with 1gb of RAM, 25gb storage, and 1tb of transfer data. Realistically, though, $22 is the base where you would want to start, doubling those stats for significantly better performance.
At this point, we would also like to note that Cloudways doesn't have a blacklist of plugins or themes you have to review as other managed hosts do. Managed hosting companies generally handle security and critical updates. Because of this, they often put together a list of software (plugins and so on) that might conflict with their practices.
Cloudways doesn't limit you that way and says that "you will have the privilege to use any plugin or theme you may like. We believe that you should be the owner of your WordPress website while we help you while building it."
Their allowing any performance and security plugins doesn't mean that Cloudways isn't protecting you, however. You get top-tier firewalls at the platform level and security hardening features they monitor and update regularly.
The Cloudways Dashboard Review
Using Cloudways, you will not be using cPanel or other similar site tools. Their dashboard is very technical, which is great for the modular nature of the platform. For non-technical users, though, it might feel a little overwhelming. It's easy to navigate, though, and quick to learn.
You still get your WordPress admin dashboard through /wp-admin, too, so no worries there. The WordPress backend is exactly the same. But you also get a slew of server-side options, too, that you won't get with other managed hosts.
The basic dashboard you see on login will be a list of your servers. Keep in mind that you pay for every server that you launch, not applications on each server. So most people will only see 1 server here, but freelancers and agencies might have dozens.

If you hit the toggle for Applications above the list, you will see a list of all the different apps (read: websites) that you have installed. You will see a list of WordPress installations or Drupal or Joomla. These all appear in a single list. But you can sort through them using the Server and Project tags.
Inside each application, Cloudways gives you a slew of options. You can control just about everything within your server package if you want. If you don't want to get your hands dirty doing so, you don't have to. Cloudways has optimized the default settings your installation (unless you choose for them not to be at launch).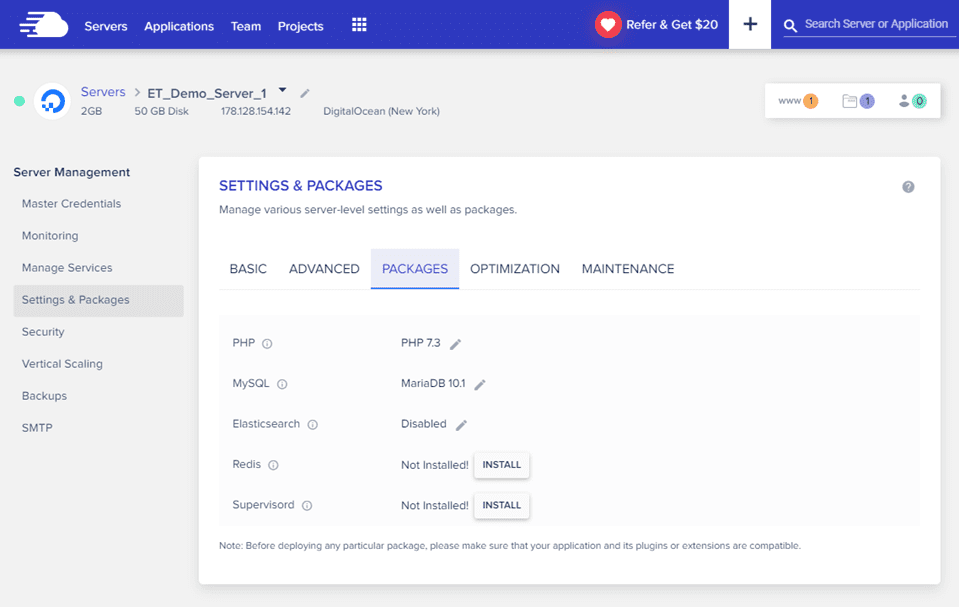 Some of the options you get include, but are not limited to, git integration, SSL management, cron jobs, and FTP/MySQL login info. (FYI: you must use an FTP client to work with your files, as Cloudways has no built-in file manager as you'd find in cPanel.)
More Control Than Most Managed Hosts
For a managed hosting solution, Cloudways gives you control over pretty much every aspect of your account. You choose your datacenter's location, the individual provider that particular server is with, and the capacity of the server. You also see the base price you'll pay, which depends on the provider you go with (such as Digital Ocean versus AWS hosting, as we mentioned above). The cost-per-hour that you will pay in terms of scalability. (I think the cheapest base price, as of this writing, is Vultr at around $11 USD per month.)
If you eventually decide to swap to a different datacenter and provider, it's easy. Let's say you need to scale up and move from Vultr to AWS, it's an easy application transfer that Cloudways handles for you. If you've ever migrated a WordPress installation from one host to another, you know how many headaches that can cause. Lots. With Cloudways, swapping "hosts" is a cinch. You can swap from Digital Ocean to Google Cloud Server to Vultr and back without loss of data and minimal (if any) downtime.
New WordPress Installations are Easy to Set Up
Setting up a new WordPress installation is simple. You pick whether you want a multisite install, ecommerce based on WooCommerce, or a simple, single instance of WP. You can also choose to install a "clean" version of WordPress, which does not include any of the Cloudways optimizations. The whole process is easy and quick. It's honestly pretty similar to setting up a server, but without the server info.
The options Cloudways gave were useful. Over the course of a dev/designer's career, the time it takes to install and set up WooCommerce can add up. The same for going into the PHP files and setting up the multisite network. These are specifically the kind of utilities that you want in a managed WordPress host: simple, useful, quality-of-life upgrades.
Cloudways is Fast
Cloudways touts high-speed servers. And they give you high-speed servers. They're fast, and they're awesome. When checking site speed for this review using GTmetrix, the Cloudways sites we tested went from a B- grade to an A. We didn't change a single thing except changing from a shared host to Cloudways (the same Digital Ocean we mention above).
Additionally, you can boost speed on your site with what might be the most easily configured CDN we've ever tried. Simply navigate to the CloudwaysCDN tab within your Application Management screen, put in the URL of the application (read: site), and click Create.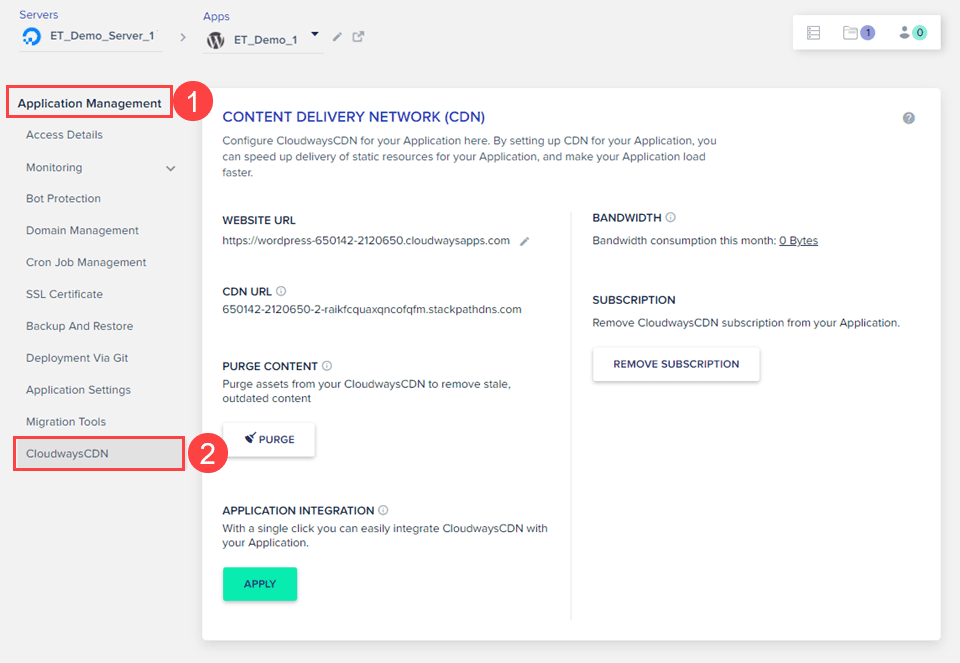 You can further manage the CDN from within your dashboard using the Breeze plugin that comes pre-installed with Cloudways WordPress apps.
If you're a Divi user, you can expect amazing results out of Cloudways. This is why we've actually partnered with them to bring our community an optimized Divi Hosting experience in the unique Cloudways mold.
We have pushed Divi to the max in terms of performance recently, and combined with the speed optimizations you get from Cloudways, your sites will load in a blink, increasing your SEO rankings and other valuable page speed metrics.
Note that the site we mentioned above that went from a B- grade to an A on GTmetrix was running a pre-performance update version of Divi. We wanted to showcase the improvement any WordPress user would get from Cloudways. 
Wrapping Up the Cloudways Review
The Cloudways managed hosting service itself is great. It's fast, scalable, affordable, and does exactly what it says it will. The scalability is through-the-roof and migration can be handled with just a few clicks. Users can collaborate with teammates, transfer ownership and hosting to clients, and use any security and caching plugins they want. (Unlike other managed hosts.) If you like having control of your website in just about every way possible, we feel that it is definitely in your best interest to check out Cloudways.