Like a computer file system, a website is built on a hierarchy of directories and subfolders and all sorts of different files contained within. Making sure that each is in the right place, named correctly, and that their contents are precisely what needs to be there is a hard job. To make that easier, every web host out there gives you access to your files via FTP (or by file transfer protocol), and the easiest way to do that is through an FTP client. There is a glut of them on the internet, and we want to break down some of the best options for WordPress users so that you can keep your website's file systems cleaned up and in working order.
Subscribe To Our Youtube Channel
What is an FTP Client?
FTP, or File Transfer Protocol, is the method by which you transfer files within, to, and from your web host. In general, it's meant to move files from  your local machine to your server in a quick and secure way. Traditionally this access was done by connecting to a server from the command line. You still can do that if you want, but it's easier if you use an FTP client which handles all the hard work for you. They're graphical and simple, working like any other service that you enter a username and password to get into.
The most basic FTP clients just let you drag-and-drop files from  your computer to the server. Others let you earmark files for later use, real-time editing, secure protocols such as SSH and SFTP, as well as syncing not only between your local machine and server, but also with cloud services like Google Drive. With all that in mind, which are the best FTP clients out there.
5 Best FTP Clients for WordPress Users
1.   FileZilla

One of the biggest and well-known of free FTP clients, FileZilla is a no-frills app that gets the job done. Its interface is clean and functional, though it's not necessarily pretty. It lets you drag and drop files between locations, which is the whole point of an FTP client to begin with. You can connect securely to any server to which you have access. And the client allows you to either save credentials to log in easily or you can use the quick connect feature to get in, well, quickly without having to bother saving and going through the steps otherwise necessary.
FileZilla is entirely free, which is one of the big reasons that it's so popular. However, there is a Pro version  you can purchase "with additional protocol support for WebDAV, Amazon S3, Backblaze B2, Dropbox, Microsoft OneDrive, Google Drive, Microsoft Azure Blob and File Storage, and Google Cloud Storage." For only $19.99, the Pro upgrade is incredibly affordable. Additionally, FileZilla is available on Windows, Mac, and Linux, so everyone has access to it.
Price: FREE with $19.99 Pro upgrade | More information
2. WinSCP

WinSCP has a long history, and is one of the older FTP clients still around today. Released initially in 2000, WinSCP was many people's (mine included) first FTP client. Still running strong over two decades later, WinSCP is powerful and relatively simple to use. At its heart, WinSCP is designed for developers, as it still lets you interact with your server not only through its graphical interface, but also the command line. You have the option to run scripts and automate tasks with it, which can make managing multiple sites via FTP much easier. You can also encrypt files for transfer, which offers a layer of protection beyond SFTP and SSH.
One primary drawback for WinSCP is that, as its name implies, it is only available for Windows users. If, however, you work on your site from Windows, WinSCP is a great option. Plus, you don't even have to install the FTP client. It can be run from a standalone .exe file that you can keep on a USB drive to run anywhere you might be.
Price: FREE | More information
3. ForkLift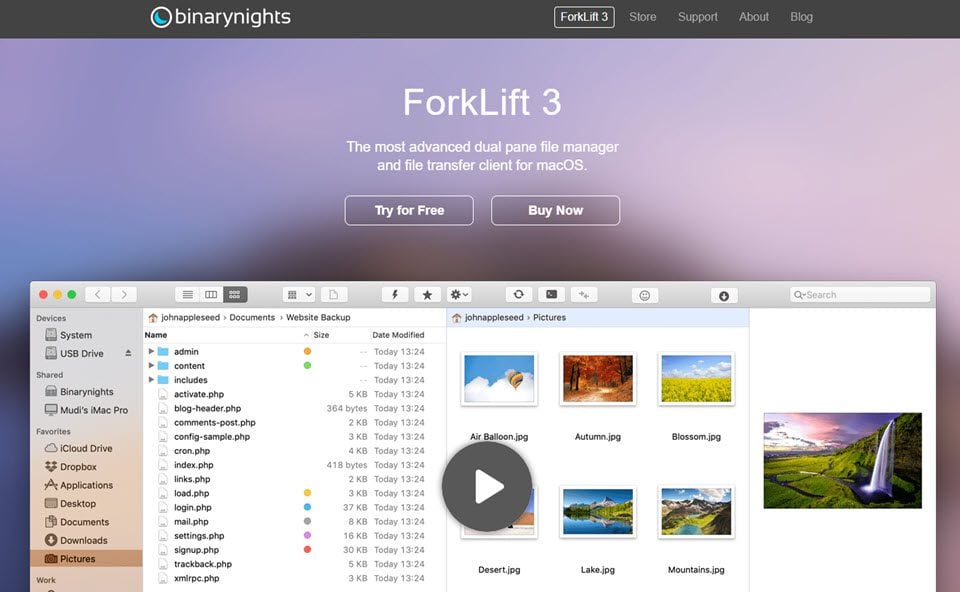 On the other end of the spectrum, we present to you ForkLift. A Mac-only FTP client. If part of the reason you're on an Apple computer to begin with is aesthetics, then ForkLift will definitely be the best FTP client for you. Using it is just like using the MacOS interface. You have dual panes that function identically to the MacOS file system. Drag, drop, and done. Even the connection modals integrate perfectly with MacOS.
But ForkLift isn't just about looks. ForkLift supports remote connections to cloud services such as "SFTP, FTP, WebDAV, Amazon S3, Backblaze B2, Google Drive, Rackspace CloudFiles, SMB, AFP, and NFS." You can even have multiple servers attached simultaneously to one of your remote sources or local machine to save time and workload. There's real-time syncing, quick open for files, renaming multiple files as a back (this is amazing, by the way), and even a native dark mode.
Basically, if you're on a Mac, drop $29.95 on ForkLift.
Price: $29.95 | More information
4. Cyberduck

If we're talking about the best FTP client names, Cyberduck wins by a mile. If we're talking about the best FTP clients for actual use…well, Cyberduck is head-to-head with any other options out there. Available for MacOS and Windows, Cyberduck is available for almost everyone. A major plus toward Cyberduck is how it ties into any external file editor. If you want to use VS Code to edit a file on your server immediately, do it. No download, open, edit, close, upload cycle. Just click, edit, save.
Cyberduck gives you bookmarking, cloud service syncing, even CDN configurations so that the files you need can get delivered in the most efficient way possible through services like Amazon CloudFront. The addon Cryptomator gives you the option of client-side encryption, meaning that even once your files are in the cloud and on your server, you're going to be the only one who can get into them.
Price: FREE  (GPL licensed open-source)| More information
5. Coffeecup Free FTP

Free FTP by Coffeecup is one of the best FTP clients if you need something quick, simple, and effective. It's not as feature-rich as some of the others, but it's lightweight and incredibly simple to use. Lacking a lot of the extras that other FTP clients have, Coffeecup's free version just…works. You install it, and you manage your files. It's quick, simple, and easy. You can bookmark files, and you can keep up with your history of them. If you need a client that does one thing and does it well, Coffeecup's Free FTP is that.
You can also purchase a full version of the software called Direct FTP, and it has features like in-app code editing, syntax highlighting, site previews, and so on. But for $39, there are better, more robust options out there. But Free FTP is absolutely worth a download if you need to connect to your server, mess with files, and do it with no fuss.
Price: FREE | More information
Wrapping Up with the Best FTP Clients
Trying to pick out the very best FTP client available is pretty difficult. While they all accomplish the same thing in the end (moving files from here to there), the user-experience, polish, functionality, speed, and interface really set some apart. The options that we have listed above are the best of the best, and any that you choose will do your file transfers admirably. Or you could do what we did and download them all, toy around, and pick out your personal favorite to leave installed to use as a daily driver.
What do you think the best FTP client for WordPress users is?
Article featured image by didi_art / shutterstock.com