There are hundreds of hosting plans available designed specifically for WordPress websites. Managed WordPress hosting is one of those options. However, if you've never had to buy hosting before, it can be hard to understand what you're actually paying for.
In this article, we'll break down the concept of managed WordPress hosting. We'll discuss what makes managed hosting different from "regular" options and how much you can expect to spend on it. Let's get started!
What Is Managed WordPress Hosting?
Traditionally, when you pay for hosting, you're renting server space and resources. Most web hosts have guidelines covering what you can and can't do with those resources. However, you're pretty much left to your own devices for maintaining, optimizing, and securing your website.
Managed WordPress hosting offers a more hands-off experience. The idea behind this hosting plan is that you not only pay for server space and resources but also for hands-on services such as:
The included features and tools will depend on which managed hosting company you choose. Some companies offer more developer-friendly features, such as staging functionality and WP-CLI access. Other hosts focus more on performance optimization, lower prices, or agency-friendly functions.
At its core, managed WordPress hosting is about providing you with more behind-the-scenes optimization and better support. That way, you can focus on the day-to-day business of running and growing your website without dealing with technical issues.
How Is Managed WordPress Hosting Different?
There are several different types of hosting plans. Many web hosts offer more traditional options, such as shared and dedicated hosting, alongside managed plans. If you're new to using this service, it can be hard to figure out the difference between each type of plan.
Here's a quick breakdown of how managed hosting compares to other options:
Shared plans vs. managed hosting. While shared hosting is often an affordable option, it typically provides inferior website performance compared to managed hosting. Moreover, with shared hosting, you are responsible for managing your own website updates and security. This includes the installation and configuration of a security plugin to safeguard your website from potential threats.
Virtual Private Servers (VPS) hosting vs. managed hosting. With a VPS, you get control over your server's configuration. VPSs can vary a lot in price depending on their resources. Some hosting providers also offer managed VPS options.
Dedicated servers vs. managed hosting. Usually, dedicated servers offer top-of-the-line website performance with prices to match. In most cases, you get complete control over the server's configuration and optimization.
If you're looking for better performance than shared hosting, but don't want to deal with maintaining and configuring a VPS, managed hosting is a fantastic option.
It's worth noting that some hosting providers offer managed VPS and dedicated servers. However, managed WordPress hosting plans are optimized explicitly for the Content Management System (CMS).
Managed plans that don't focus on WordPress will still offer excellent performance. Still, you miss out on optimizations that are specific to the CMS.
How Much Does Managed WordPress Hosting Cost?
Managed hosting prices vary from one provider to another, and managed plans are no exception. Since the included features vary between web hosts, you can find prices ranging from budget options to hundreds of dollars per month. Below, you can see a few of Kinsta's pricing tiers, which go from $30 per month all the way to $1,500 depending on your needs.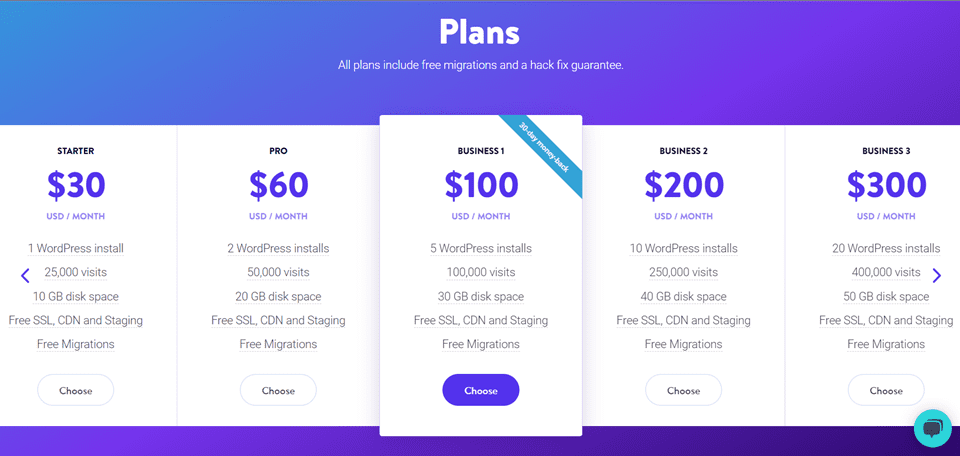 A few web hosting providers, such as SiteGround, offer managed WordPress plans at prices similar to shared servers: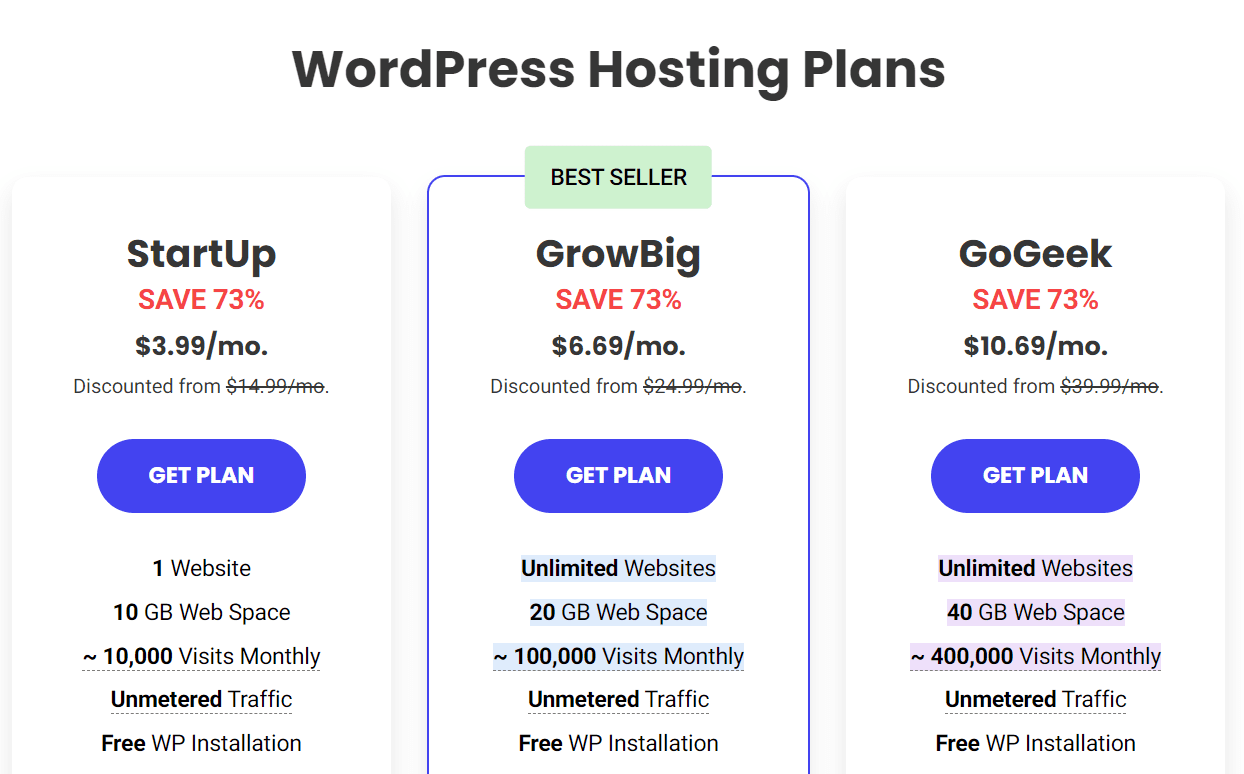 When it comes to managed hosting plans, you'll want to pay special attention to the included features and tools. It will depend entirely on the host, but some "budget" managed hosting providers don't grant as good of access to WordPress experts or top-of-the-line performance out of the box.
Overall, expect to pay more than you would monthly for a shared plan or an unmanaged VPS. Managed plans start at around $15-20 per month for basic options (with cheaper exceptions like SiteGround). These prices can go up significantly depending on the included resources.
Should You Use Managed WordPress Hosting?
We recommend managed WordPress plans if you're not comfortable configuring the CMS or tweaking settings in your hosting control panel. Managed hosting providers charge a premium for maintaining your website and ensuring that it's running in decent shape.
If you're familiar with WordPress, you can reduce your website's loading times by making a few simple changes. You can also set up automatic backups by installing one of the top WordPress backup plugins, which is one of the main selling points of managed hosting.
With those factors in mind, you can find plenty of managed WordPress hosts that don't cost much more than shared plans. Depending on your budget, you might find it worth paying a bit more for hosting and not worrying about website maintenance and optimization.
Recommended Managed WordPress Hosting Companies
If you're considering signing up for a managed plan, we have a list of the top WordPress-friendly providers. For each web host, you'll find information about its prices and included features.
No managed WordPress hosting company is a great fit for every single project. That's because every host offers a different set of features at various price points.
If you're looking for quick recommendations, here are our top picks for managed WordPress hosting providers:
All of these managed WordPress web hosts offer partnerships with Divi. That means you can sign up for a plan through our website and obtain discounts. You can also make new WordPress websites with Divi pre-installed. They link to your Elegant Themes members account, and you can forego linking and tracking via API key, too.
Conclusion
There are many types of hosting plans available. Most popular providers offer options geared toward WordPress users, including managed plans. With managed WordPress hosting, you can focus on growing your website instead of worrying about day-to-day maintenance tasks.
By maintenance tasks, we mean actions such as backing up your website, updating plugins, setting up SSL certificates, blocking spam, and more. Maybe you can manage each of those tasks individually. However, together, they can eat up a significant portion of your time. Managed WordPress hosting lets you focus on what's important: growing your site.
Do you have any questions about managed WordPress hosting? Let's talk about them in the comments section below!
Featured image via ProStockStudio / shutterstock.com