Backing up your website regularly is one of the best ways to protect it. That's why a good WordPress Backup plugin is an essential plugin for any website owner. You need to protect your website files and database in case something breaks or you run into an error you can't fix. A backup plugin can give you peace of mind in case something unexpected does happen.
In this article, we'll look at the best backup plugins available on WordPress to help you pick the one that's right for you.
What is a WordPress Backup Plugin?
Backing up your website is the process of downloading a copy of all of your site files and/or database for safekeeping. Although it is possible to back up your WordPress site manually, it is a task that is easily forgotten and often time-consuming. A WordPress backup plugin streamlines the process of backing up your site automatically so that you don't have to. Most backup plugins will give you the option of storing backups in the cloud by integrating with third-party storage platforms like Google Drive or Dropbox. This ensures that your backups are safe in the event your entire website goes down. Without a backup, you might be able to recover your site and fix your issues. But nothing can replace a backup.
Other WordPress Backup Alternatives
Of course, there are other ways to back up your WordPress site. Many WordPress users may use their hosting provider's backup services (like Cloudways) to manage daily backups and restore them in a few clicks. Most managed WordPress hosting providers will also allow you to create a staging site that can be backed up as well. There are even entire WordPress maintenance support services that provide a suite of services to optimize your site, including backups. But if you are on
No matter how you choose to back up your site, it's always best practice to maintain a separate backup if there is a problem with your hosting server or you encounter the white screen of death. You'll want a solution that helps mitigate the damage from attacks or malware, stores your data securely, and has regular updates.
We took these factors and more into account when making our choices for the best WordPress backup plugins below.
The Best WordPress Backup Plugins
The Best WordPress Backup Plugins Listed In Order
Expand List
Without further delay, let's jump into our list of the best WordPress backup plugins. We scoured the web and picked what we believe are the best and most popular plugins available today. Below, we'll cover the pros and cons of each plugin and the compare their prices. At the end, you'll be able to choose which solution is right for your website.
1. UpdraftPlus

UpdraftPlus is one of, if not the most trusted WordPress backup plugins available, garnering over 3 million active installations and a near 5-star review. With this plugin, you can create a full backup of your WordPress site and store it in the cloud or download it so you can have a copy locally. Both scheduled backups and backups on-demand are supported by the plugin. Additionally, you can decide what parts you want to back up, such as your plugins, themes, or data.
Your backups can be automatically uploaded to a variety of cloud storage services, including Dropbox, Google Drive, S3, Rackspace, FTP, SFTP, email, and more.  These features are all available for free, but the premium version allows for more capabilities like incremental backups stored in multiple locations, creating copies of your site to migrate to a new domain, and advanced security reporting.
Key Features of UpdraftPlus:
Manual and scheduled backups on WordPress or a Cloud Storage provider
Easily restore backups within WordPress in one click.
More Advanced tools than most backup plugins
Backup sites of 100GB; file size only limited by Web host.
Incremental backups for backing up on necessary changes (premium)
Cloning and Migration capabilities (premium)
Backup site files automatically before updates (premium)
Database encryption and advanced reporting (premium)
Works seamlessly with WP Optimize (one of the top performance and database optimization plugins for WordPress)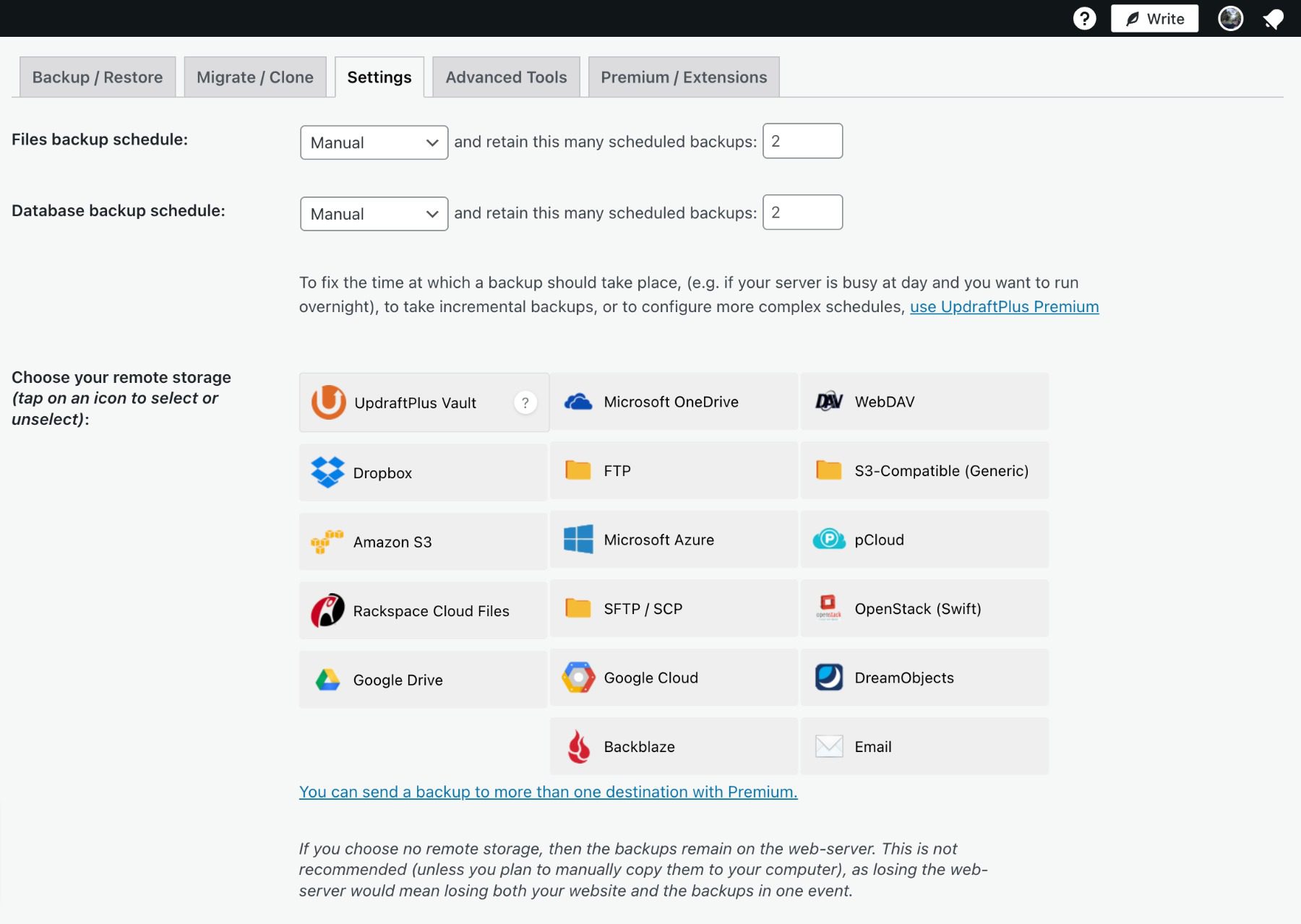 Configuring your backup is super straightforward, allowing beginners to set settings and choose from a wide range of remote storage options, along with being able to store a backup locally on your computer.

UpdraftPlus is for you if…
You want a free-to-use backup solution that comes with a lot of essential features with the peace of mind of having premium options available if needed.
You want a trusted solution that is used and recommended by millions of other users.
You only want to connect to a single cloud storage device, which should be suitable for most users.
UpdraftPlus Pricing: Free, with premium licenses starting at $70 per year.
2. Jetpack VaultPress Backups

Jetpack VaultPress Backups is one of the premium add-ons included in the Jetpack plugin by Automattic. This WordPress backup plugin automates the backup process so you can restore your website seamlessly. The plugin allows you to setup backups to happen in real-time with every change you make to your site. This allows you to have the most recent backup ready to restore if something breaks with editing or updating your site. You can also schedule backups to happen daily with a 30-day backup archive available. This ensures you have the backup you need when you need it.
Key Features of Jetpack:
Automated daily backups
Real-time backups for every change you make to your site.
Restore site with one-click even on mobile or if your site is offline. restores make it easy to get your site restored, even if site is offline
Backup WooCommerce Sites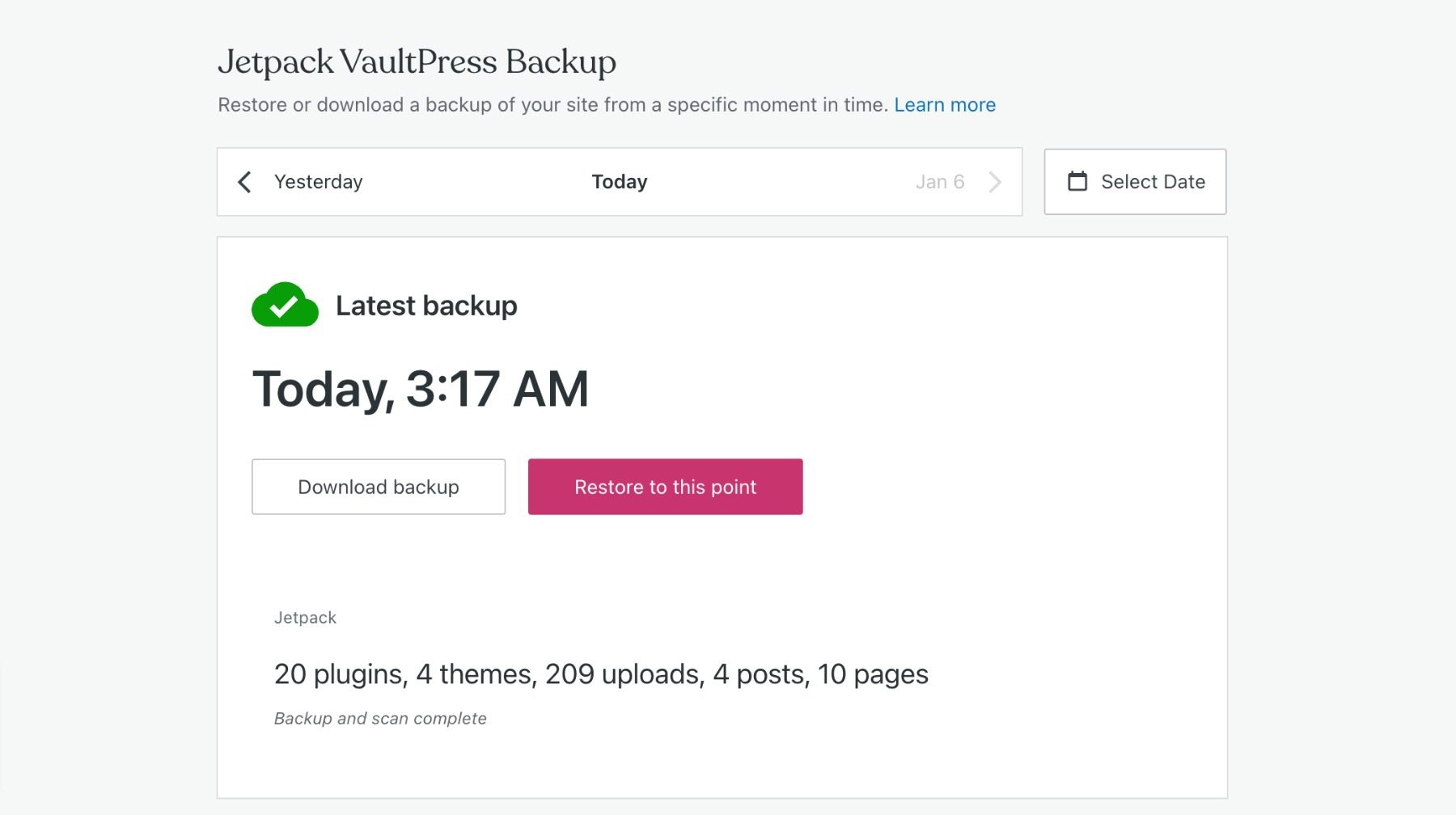 Jetpack can update your backups daily in real-time and get your website back up in running with just one click with their terrific restore system. Plus, the activity log lets you see all the changes made on your site so you can monitor for suspicious activity.
Also, it's worth noting that with Jetpack Backups, you may not be getting a complete backup of all of your site files. To save space, Jetpack Backups will exclude WordPress core files or any subdirectories outside of your main WordPress installation. It may also limit your database backups to WP tables. This is not an issue for most simple sites, but we suggest making sure the plugin will handle all your backup needs before using it.
You will also need to install Jetpack and have a WordPress.com account/login so you can access the WordPress.com cloud features. So if you don't have a need for other features in the Jetpack core plugin, you might consider another option.
Jetpack Backups is for you if…
You already use Jetpack on your site and are looking for a premium backup solution.
You want real-time backups for every change made on your site for better peace of mind
You are using a WooCommerce site, as it lets you restore your site with past orders and products up to date.
Pricing: $119.40 per year
3. BackWPup

BackWPup is a WordPress backup plugin that is a great free option for creating complete site backups. Plus, you can send your backups by email, upload them to a cloud storage service, or save them on the server hosting your website using BackWPup. To really take advance of the plugin, you will want to upgrade to the pro version which includes a ton of automated backup features including complete automatic site restore, backup encryption, and a standalone app that allows you to backup and restore your site even if you can't access it on the backend.
Key Features of BackWPup:
Free backup system for site files and database
Database optimization tools
Store backups locally or on cloud service platforms like Dropbox or S3 (and others with pro version)
Multi-site support (pro version)
Automated complete backups and scheduling (pro version)
Backup Encryption (pro version)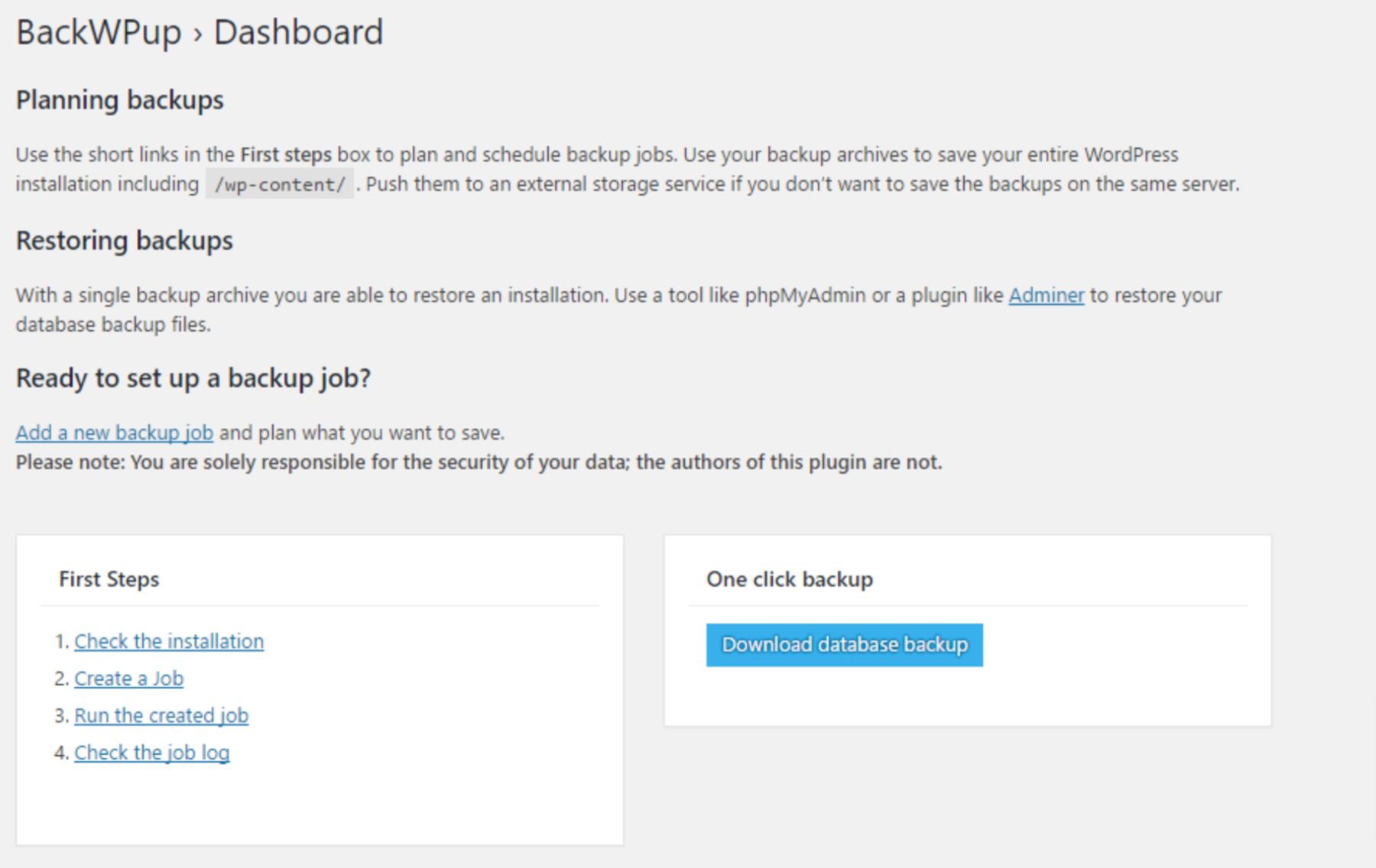 BackWPup offers an easy-to-use dashboard with simple steps to successfully back up and restore your files. The lack of frills and design may turn some users off, but this solution does give you the basic system you need to back up your WordPress site securely.

BackWPup is for you if…
You want a more basic backup plugin.
You know how to manually restore a website from a backup.
You don't mind paying for the pro version to get a complete backup solution with robust features
BackWPup: Free, with premium licenses starting at $69 per year
4. BlogVault

BlogVault is more than a WordPress backup plugin; it's an all-inclusive SaaS (software as a service) solution that aids in website security and backups. With Blogvault, you can plan backups to occur daily, weekly, or monthly. Additionally, it provides incremental backups, preventing server overload, and you can identify faults on your site by using the activity logs. They offer a free 7-day trial to test out the plugin/service before upgrading.
Key Features of BlogVault:
Unlimited storage for backups with free offsite storage
Built-in Staging Environment that is FREE to use
Real-time backups with WooCommerce support
Easy-to-use dashboard to view multiple sites and advanced reporting
Automated backups and schedules
Activity log functionality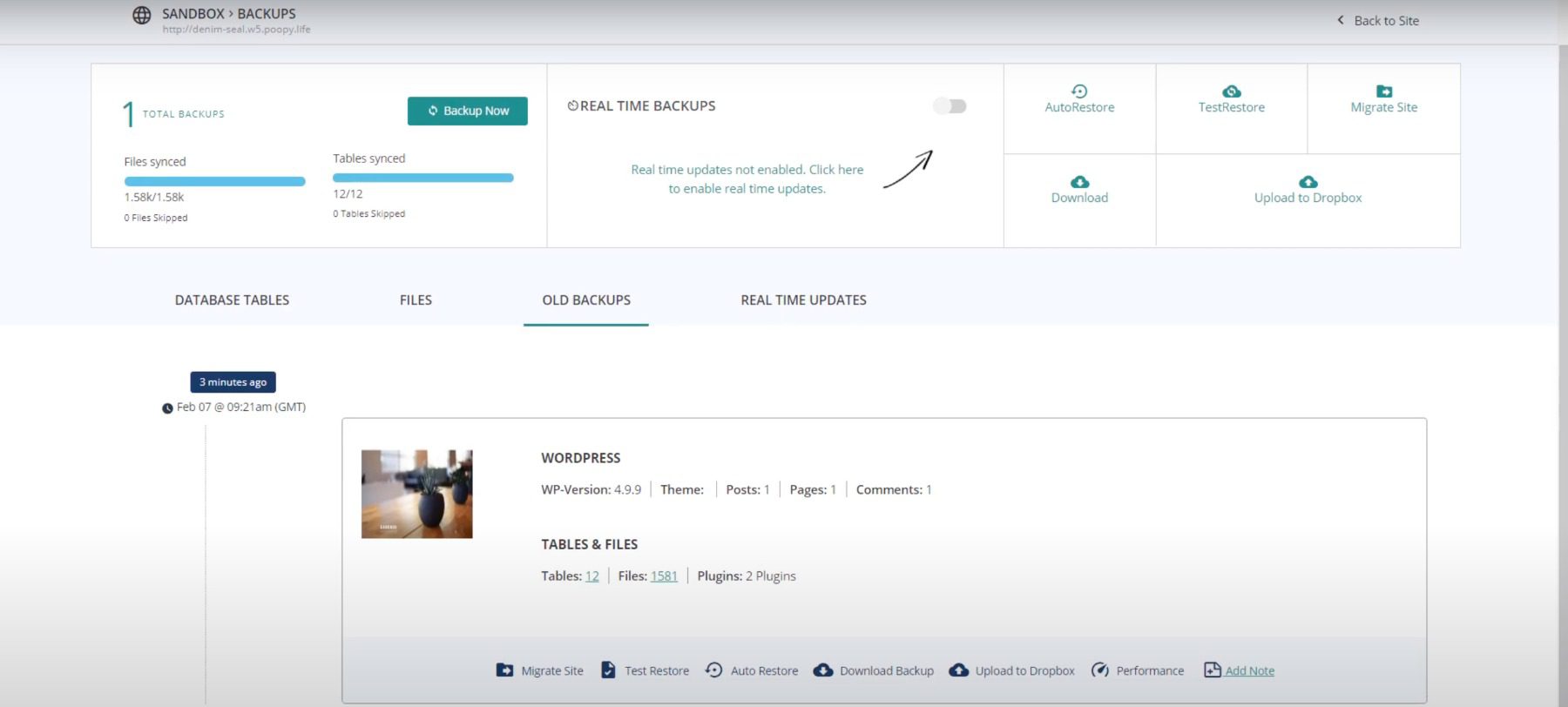 A standout feature is the BlogVault dashboard, where you can manage backups for multiple websites, all on a single dashboard. The dashboard makes it easy to set up real-time backups with just a click of a button. It's got a well-designed UI and takes away any of the technical know-how necessary to restore and manage backups.
BlogVault is for you if…
You want a complete solution that offers a ton of extra security features.
You want to be able to restore your website with just one click.
You have a large website that you want to back up.
BlogVault Pricing: $89 per year.
5. BackupBuddy

BackupBuddy is premium WordPress backup plugin can handle all of your backup needs and more all in one convenient place. It will backup ALL of your site files and database in one downloadable zip file. The plugin allows the scheduling of daily, weekly, and monthly backups. And, you can choose to email yourself a backup and/or store it in cloud storage providers like Dropbox, Amazon S3, Rackspace Cloud, FTP, and Stash (their cloud service). If you opt to use their service, they support real-time backups.
One of the distinctive advantages offered by BackupBuddy is the capacity to restore and optimize your database. You will get 1 GB of free Stash Live storage for each plugin you buy (5GB on the Gold plan).  And BackupBuddy can make it simple for you to switch hosts or domains for your WordPress site. The WordPress migration tool makes this plugin a popular alternative for web designers who build client-specific websites on temporary domains before transferring them to live domains.
Key Features of BackupBuddy:
Backup and Restore All site files and Database with ease from the backend
Complete control over what you want to backup
Backup files to a remote location or locally
Supports automatic and scheduled backups
Easy to install and setup. No coding or technical knowledge is needed.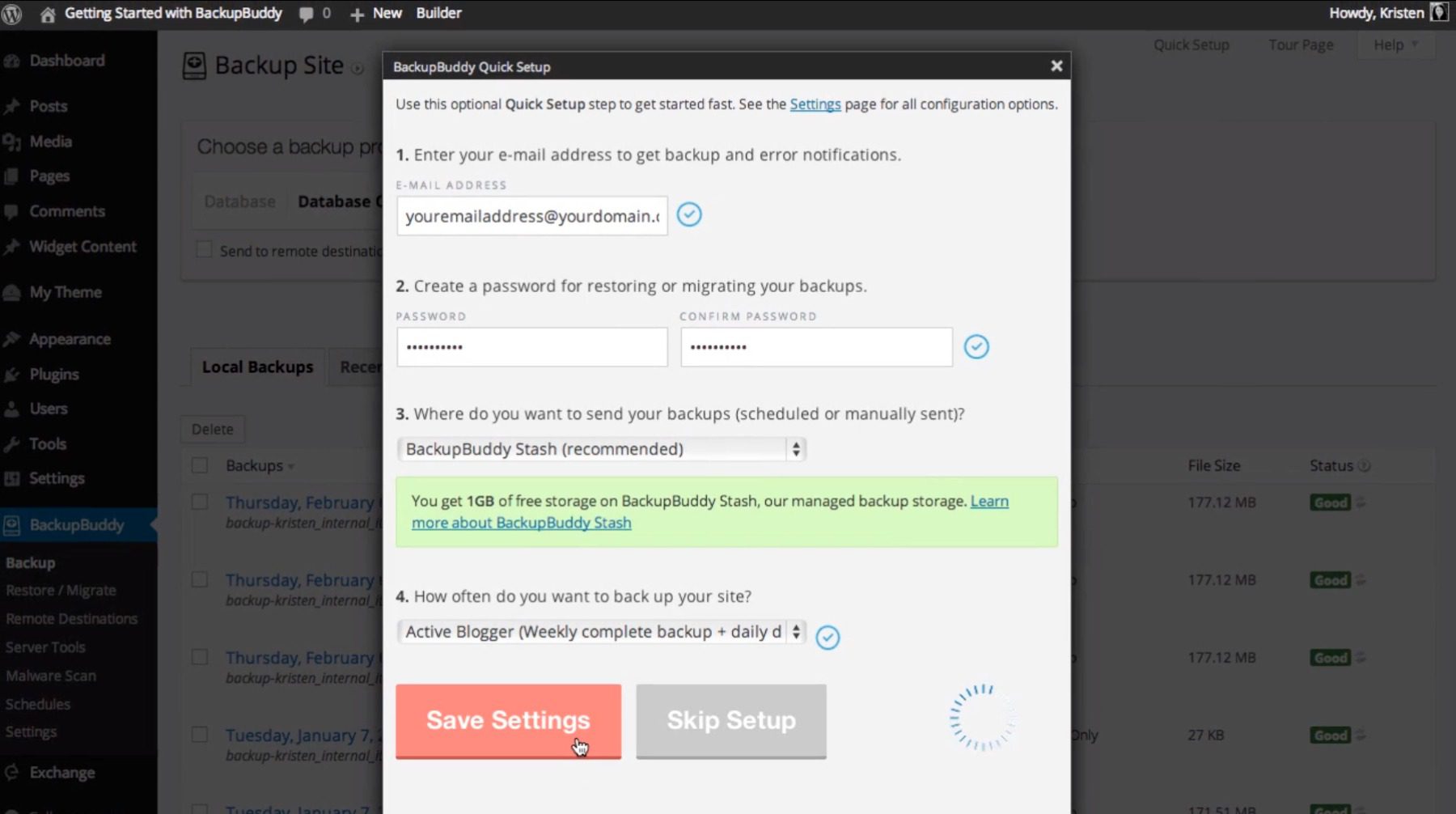 The quick setup for you're backup makes this an excellent option, as you can have automatic backups configured with just a few clicks. Plus, the 1GB of free storage should be more than sufficient for small website owners.
BackupBuddy is for you if…
You already use one of the top WordPress security plugins (such as iThemes Security) and want to add backup functionality to your site.
You value privacy and want to be in control of your data.
You want a reliable backup solution that provides everything you need and more.
You want to customize what gets backed up from your website.
BackupBuddy Pricing: Starts at $80 per year.
6. All-In-One WP Migration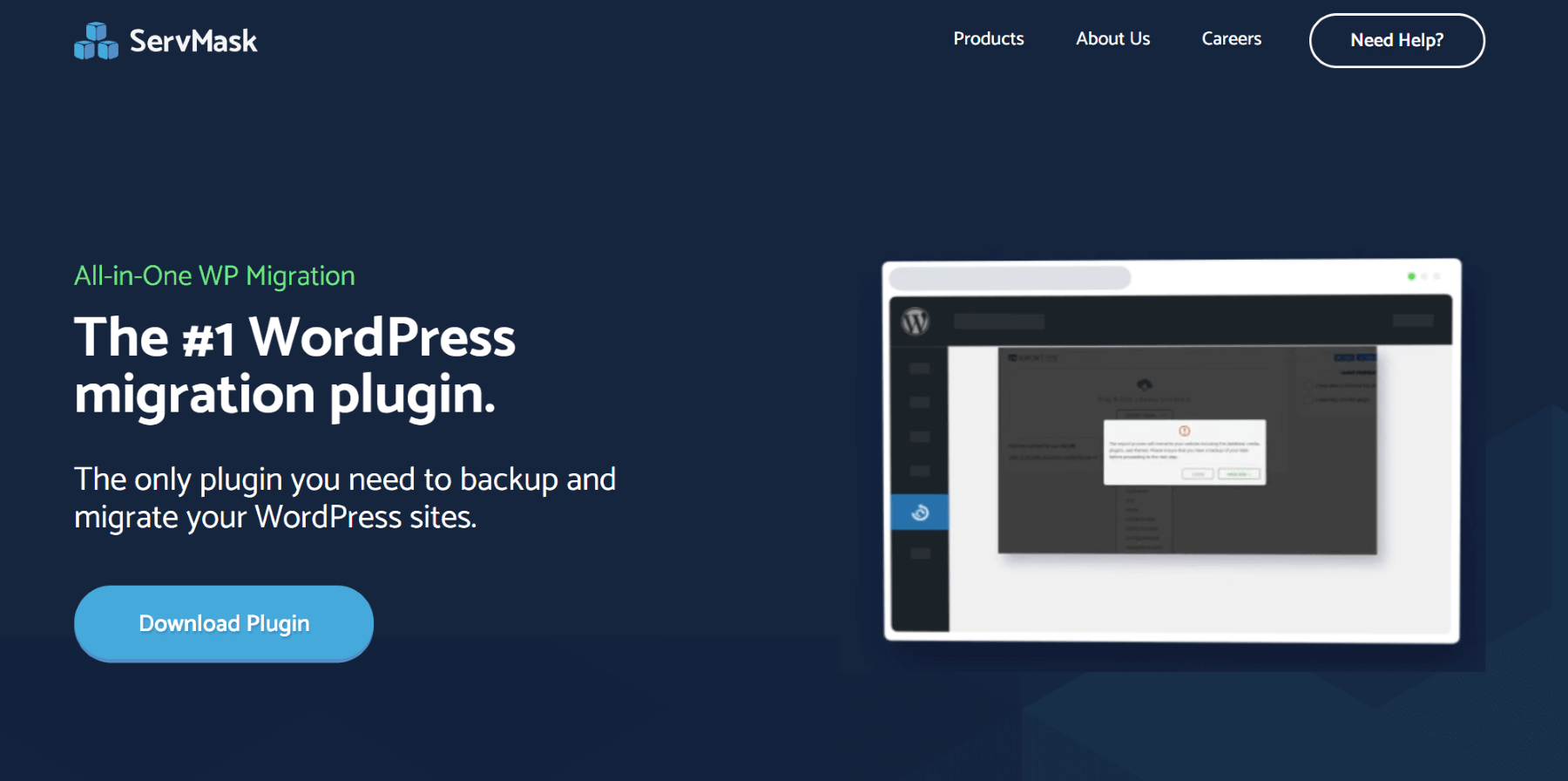 All-In-One WP Migration is without a doubt one of the most popular WordPress migration plugins. What makes this plugin such a great backup option is that it ensures your backups are properly configured for migrating to other sites on different hosting providers. Plus, the plugin has been heavily tested to work with other WordPress plugins and themes. The free version is fairly limited when it comes to backup features. But, it offers premium add-ons to back up your site with all the popular third-party storage platforms like Google Drive, AWS, and more. This allows you to export/import your site to and from the platform of your choice on any number of websites that you own as well as create scheduled backups.
Key Features of All-In-One WP Migration:
Compatibility with WordPress and Multiple Hosting Providers
Password-protected backups with encryption
Supports all host environments and operating systems
Free to use for high-quality site exports, imports, and backups. Premium features offer more robust backup solutions.
Can remove WP upload limits for restoring large backups
Built-in integration with 14+ storage platforms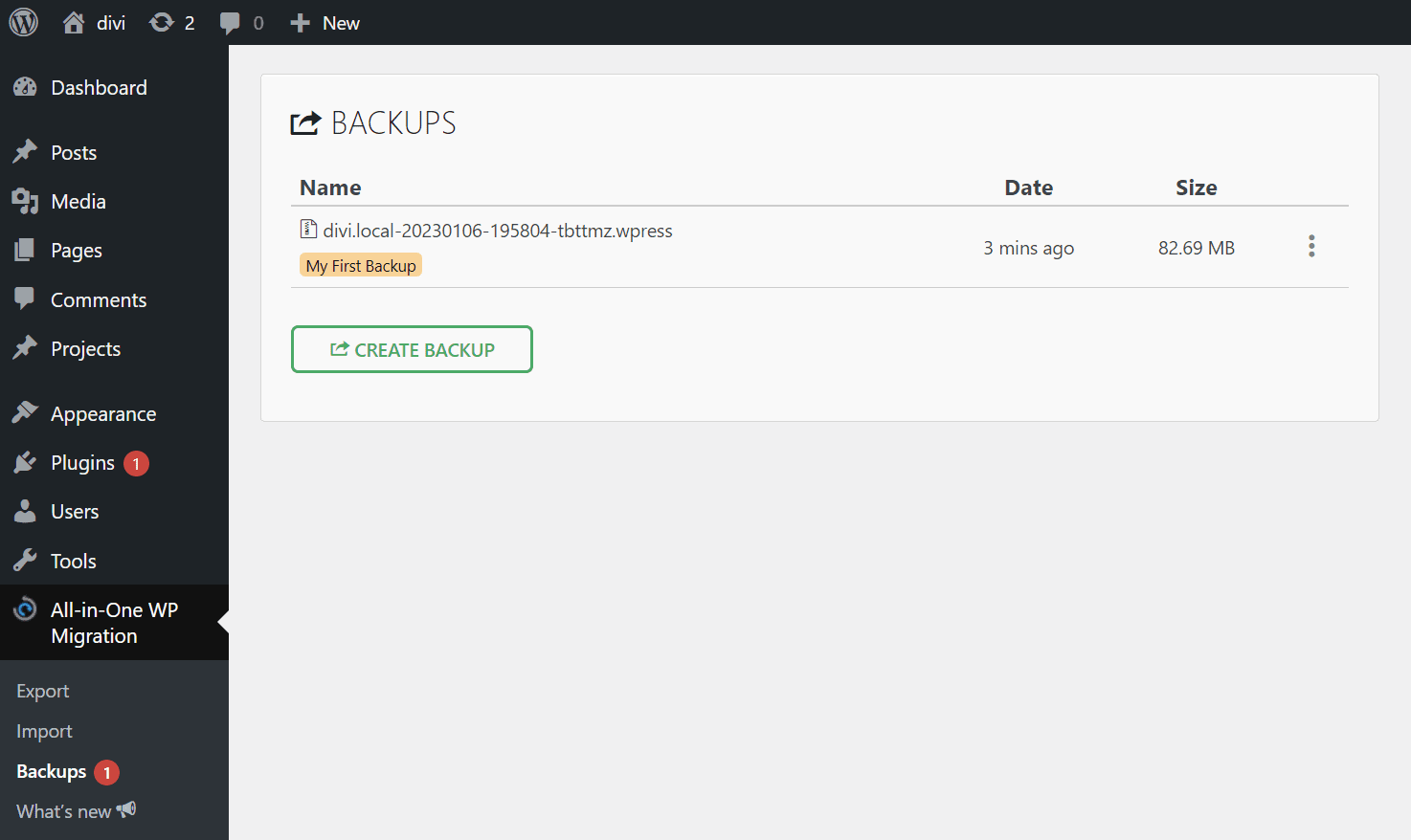 One of the most recent features added to the plugin is password-protected backups. The feature comes with the free version of the plugin and ensures your backups are encrypted and well-protected from others.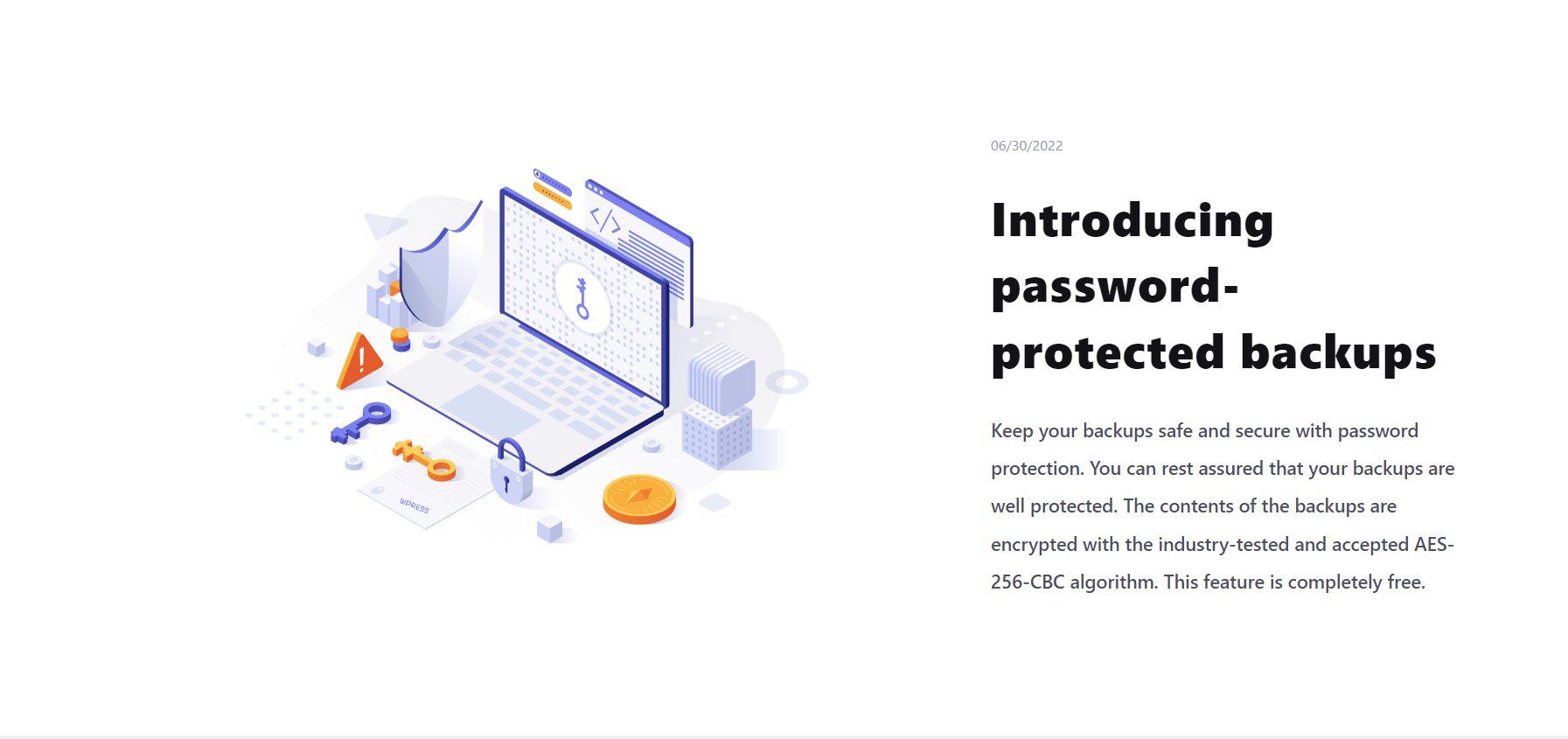 All-In-One WP Migrate is for you if…
You are a developer that needs a rock-solid solution for backing up and migrating sites to other hosts.
You don't mind paying for premium backup solutions
You want to ensure your backups are going to work when migrating to other hosting environments
All-In-One WP Migrate Pricing: FREE | Premium Add-ons Available starting at $69 per year.
Comparing the Best WordPress Backup Plugins
The backup plugins in this article cover a lot of ground. Most of them have many of the same features and are priced similarly. But since we've featured each plugin individually, let's take a look at a couple of side-by-side comparisons of these plugins.
Backup Plugin Price Comparison
Price might be one of the standout differences if you are stuck choosing between two or three different options. Here's a look at yearly prices and free options.
Backup Plugin Feature Comparison
Backup plugins for WordPress are some of the oldest and most widely used plugins out there. They are relied on by many websites. Considering that, feature parity is pretty dense and the category is a monolith. Backup plugins all about handle the same tasks; just see our top 3 list. However, when finding the best plugin for your websites, check which pricing plans have your needed features, as not every feature is on all plans. Also, look into plugin UI and storage integrations that match your needs.
🥇

UpdraftPlus

🥈

JetPack VaultPress

🥉

BackWPup
Starting Price
$70/yr
$119.40/yr
$69/yr
Automatic Backups
✔️
✔️
✔️
Backup Logs
✔️
✔️
✔️
Backup Archives Management
✔️
✔️
✔️
Website Migration
✔️
✔️
✔️
Email Reporting
✔️
✔️
✔️
Backup Logs
✔️
✔️
✔️
Backup to Multiple Destinations
✔️
✔️
✔️
Backup to Dropbox/Google Drive
✔️
❌
✔️
One-Click Restore
✔️
✔️
✔️
Multisite Support
✔️
✔️
✔️
Active Installations
3+ million
3,000+
700,000+
Community Rating
4.8/5
⭐⭐⭐⭐⭐
Read Reviews
4.8/5
⭐⭐⭐⭐⭐
Read Reviews
4.4/5
⭐⭐⭐⭐
Read Reviews
Get UpdraftPlus
Get JetPack VaultPress
Get BackWPup
Which WordPress Backup Plugin Is The Best?
It's important always to have a backup plan ready in case of a disaster. One of the most crucial steps you can take to secure your website and safeguard its data is to use a high-quality WordPress backup plugin. Make sure the backup plugin offers automatic backups (daily or weekly) so you don't have to worry about losing the most current version of your site. It's also convenient to have a plugin that enables migrations, cloning, and the transfer of data between servers. UpdraftPlus seems to have everything you would need to backup your site. However, the All-In-One WP Migration plugin is also a unique mention here since it makes it really easy to use backups to migrate websites from one host to another.
Backups usually come in handy once something goes wrong with your site. So it's always recommended that you enhance the security of your site now rather than later. To start, you can conduct a security audit of your site and make sure all your plugins are updated.
Frequently Asked Questions (FAQs)
Before we wrap up, let's answer some of your most common questions regarding WordPress backup plugins. Did we miss one? Leave a question below, and we will respond!
What is the best WordPress backup plugin?
UpdraftPlus
, trusted by 3 million+ sites, is a top choice for WordPress backups. It supports scheduled backups, cloud storage services like Dropbox, Google Drive, and more. You can restore backups directly from your WordPress admin panel. With nearly 7,000 great reviews on WordPress.org, its reliability is unquestionable.
What's the best free backup plugin for WordPress?
If you consider active installations, popularity, and reliability,
UpdraftPlus
is unrivaled. You might not get some essential features like multiple remote backups or optimal backup scheduling, but this is the best you can get for free!
What is the best way to back up a WordPress site?
You can rely on your hosting provider's backups if you're just running a blog site. But if you have a business that depends on the website, then you must install a backup plugin like
UpdraftPlus
or
BlogVault
to get safe and reliable backups in remote locations to be on the safe side.
What is the best automated backup plugin for WordPress?
Most of the backup plugins offer automated backup features.
UpdraftPlus
and
BlogVault
are two of the most popular solutions that are well-reputed and have an affordable price range. UpdraftPlus has a great free version you can start with.
How can I store my WordPress site backups on Google Drive?
These days, all backup plugins support some remote backup and restore features. Based on our research on active installations, price, and user reviews, we found that
UpdraftPlus
and
BackupBuddy
have the best integration with Google Drive.
How often should I back up my WordPress site?
Whenever your database has new content, you should back it up. When you create or upload a file on your server, you should back it up. If you have an eCommerce or business site with a lot of daily or weekly activity, you should use a plugin with an automatic backup feature like
UpdraftPlus
.
Are there any WordPress backup plugins that offer one-click restoration options?
Yes,
UpdraftPlus
is an excellent choice offering one-click restoration. This feature makes it incredibly convenient to restore your site in case of a mishap. The plugin is well-trusted, being used on over 3 million sites and receiving nearly 7,000 excellent reviews on WordPress.org.
What are the key features to look for in a WordPress backup plugin?
You should pick a user-friendly backup plugin that is easy to set up. It should offer scheduled backups so your site is automatically protected. It's also vital that it can back up all your files, databases, plugins, and themes and that it supports storing these backups on popular cloud services.
Is there a backup plugin for WordPress multisite installation?
UpdraftPlus
is indeed an effective solution for WordPress multisite (WPMU) networks. It allows you to back up and restore your entire multisite network efficiently, offering the same convenience and reliability for multisite operations as for single sites.
Do any WordPress backup plugins provide off-site or cloud storage options?
UpdraftPlus
is a WordPress backup plugin that offers off-site backups and supports various cloud storage options. It lets you store your backups in several places, such as Dropbox, Google Drive, and other cloud services, ensuring your data's safety and accessibility. You can also consider BlogVault.
Do you have a favorite WordPress backup plugin? Let us know in the comments below!
Featured Image via Graphic farm / shutterstock.com