The famous 5-minute install for WordPress is a good marketing gimmick that only slightly exaggerates the ease with which WP can be installed. Users can very easily set up a site with no fuss in almost all circumstances. But when it comes to moving your site from one host to another, things get a little trickier. Thankfully, the WordPress ecosystem is based around plugins, and there are some truly stellar options for migration plugins to choose from.
What is a Migration Plugin?
A migration plugin is a tool designed to simplify the process of moving a WordPress site from one location to another. It can be used to migrate a site from one web host to another, from a local development environment to a live server, or to move a site from a subdomain to a top-level domain. These plugins typically offer a range of features. They provide the ability to transfer all files and database content. They also help ensure that URLs are updated correctly, and handle any necessary search and replace operations.
Another advantage is that they can assist with testing and troubleshooting to help make sure that the site is working correctly after the migration. Without a plugin, the process of migrating a site can be very complex and time-consuming, and it can require manual file transfers and database updates.
The Best WordPress Migration Plugins
The Best WordPress Migration Plugins Listed In Order
Expand List
Migration plugins come in a couple of varieties. The first being a backup, download, and restore migration. While another is the straight transfer, which moves one site to another host and server directly, perhaps by FTP or another file transfer method. We will be covering the pros and cons of the plugins that facilitate these migrations so that you can make the most informed choice possible.
1. UpDraftPlus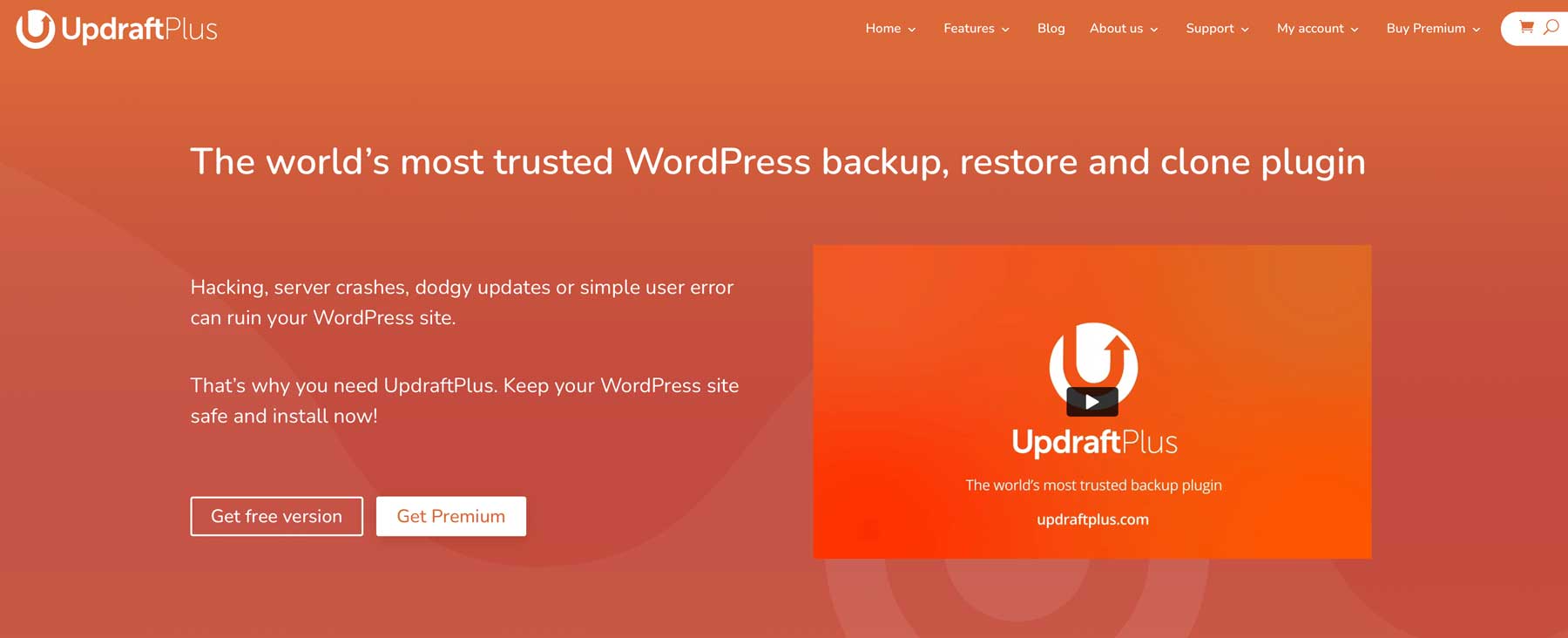 UpDraftPlus is the top pick for WordPress migration plugins based on several factors. The plugin is renowned for the ease with which it lets users (even free ones) back up and restore their websites after calamity happens. You can save to remote storage, within your server itself, or even just download the site backups to your local machine for safekeeping.
That also makes it one of the best migration plugins, too, because it gives you not only the option to restore a previous version of the same site, but you can also take that backup and use it as a clone on an entirely separate WordPress installation.
Key Features for UpdraftPlus:
Cloud storage for all backups, even for free users
Restoration for the original site, but also allows for migration to new servers/hosts
Premium upgrade provides free storage, support, WP-CLI integration, free access to add-ons, and more.
Free users have access to some of the smoothest migration software out there, but premium users also get a huge suite of quality-of-life improvements. If you just need a quick move, then the free version will absolutely work for you. But if you need to maintain the integrity of that migration and most effectively troubleshoot any snags that appear, the premium upgrade is the way to go.
UpdraftPlus is for you if…
You want cloud storage for backups.
Cloning your website is a must.
Pricing: Free to starting at $70/yr.
2. BackupBuddy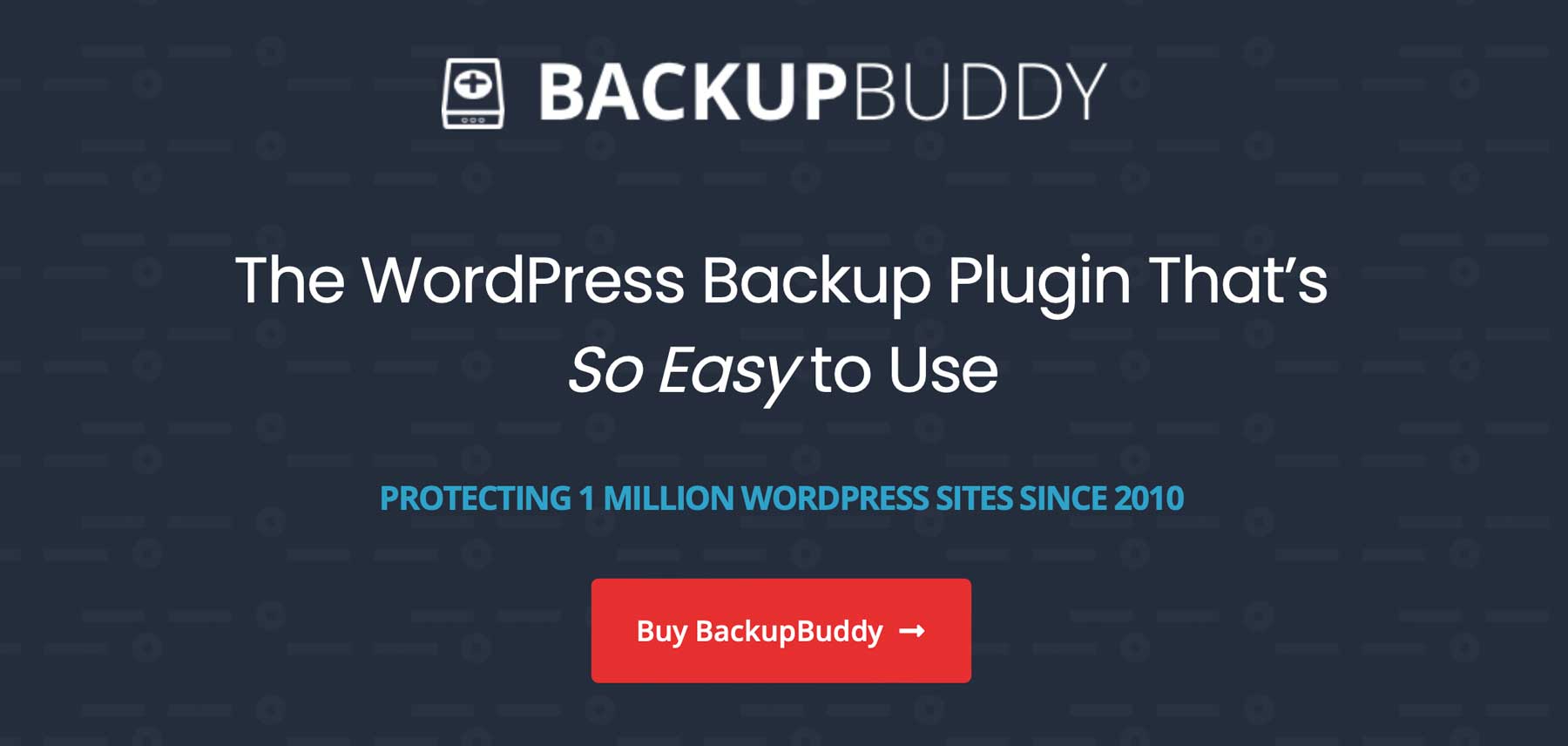 BackupBuddy is a premium-only migration solution that is worth every penny you pay for it. From iThemes, BackupBuddy lets you make a complete copy of your site, which is why it's perfect for migration. You get a .zip file for your entire site, from media to database, and you can then restore it on any host or server you have.
Key Features:
Off-site storage for site files, downloadable as a .zip as well.
Full support from iThemes
Built-in database search, URL and domain replacement, file exclusion, and more for customized migrations to new hosts
iThemes offers incredibly quick and solid support for their customers, so being a member and BackupBuddy user means that your migration will happen no matter what, just to your specifications, with whatever customization you need. You can choose between annual subscriptions and lifetime memberships, too.
BackupBuddy is for you if…
You need excellent support options.
You require downloadable zip files for your backups.
Pricing: Starting at $99/yr.
3. Duplicator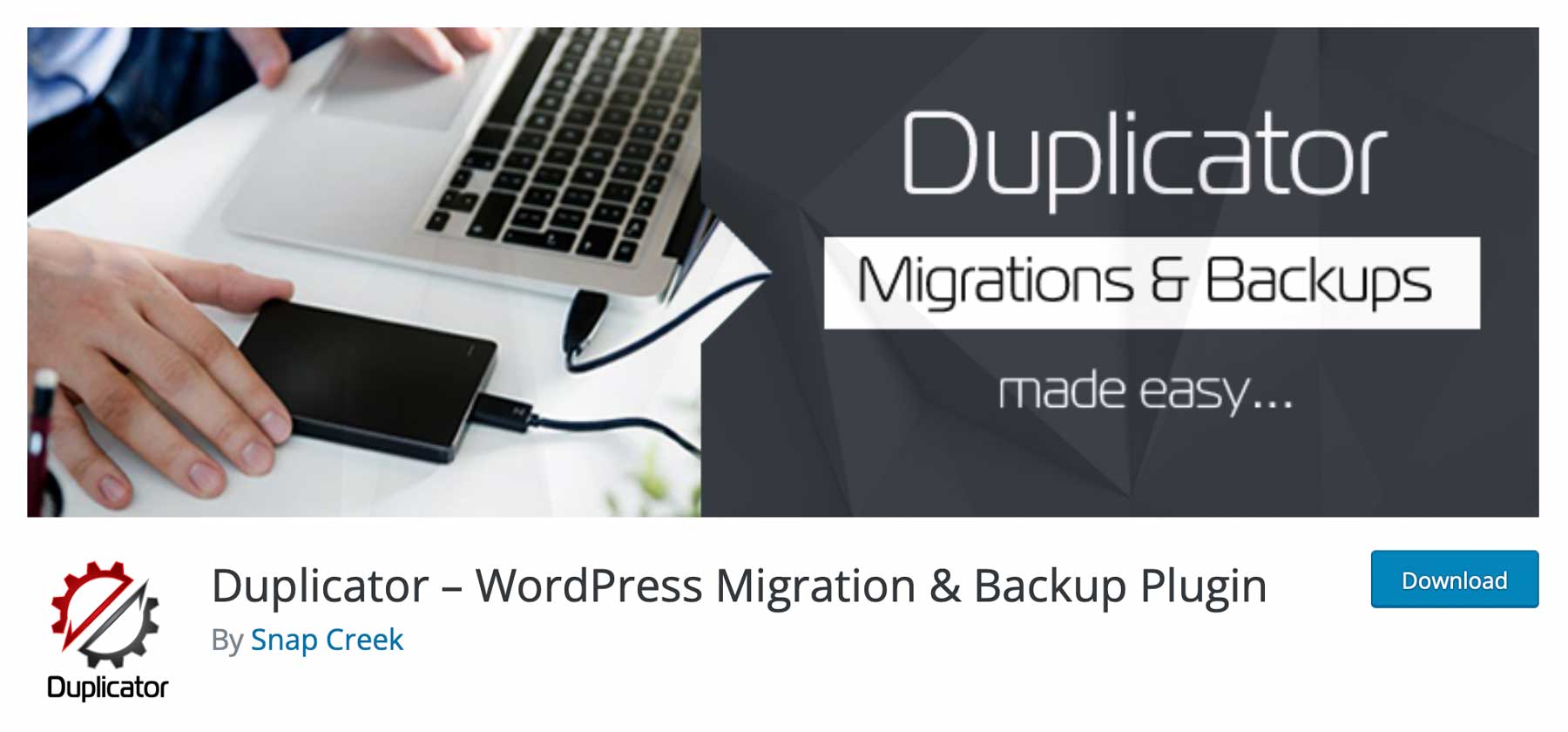 Duplicator is a highly-regarded WordPress migration plugin for its user-friendly nature. It allows for quick and effortless backup, transfer, or migration of a WordPress website. All files, databases, and settings can be moved with just a few clicks to a new server. Its intuitive interface and straightforward step-by-step process make it a top choice for those looking for an easy migration experience.
Key Features for Duplicator:
Schedule backups with recovery points
secure file encryption
cloud storage integrations
Smart migration wizard
With Duplicator, you have access to a one-click smart migration wizard as well as various cloud storage options, including Dropbox, Google Drive, and Amazon S3. Additionally, for those who want to create a blueprint for sites with similar themes and configurations, Duplicator offers the ability to bundle settings into a package, saving time and effort in creating new WordPress sites.
Duplicator is for you if…
You need multiple options for cloud storage
You aim to establish templates for building multiple websites with identical configurations.
Pricing: Free to starting at $49.50/yr.
4. All-in-One WordPress Migration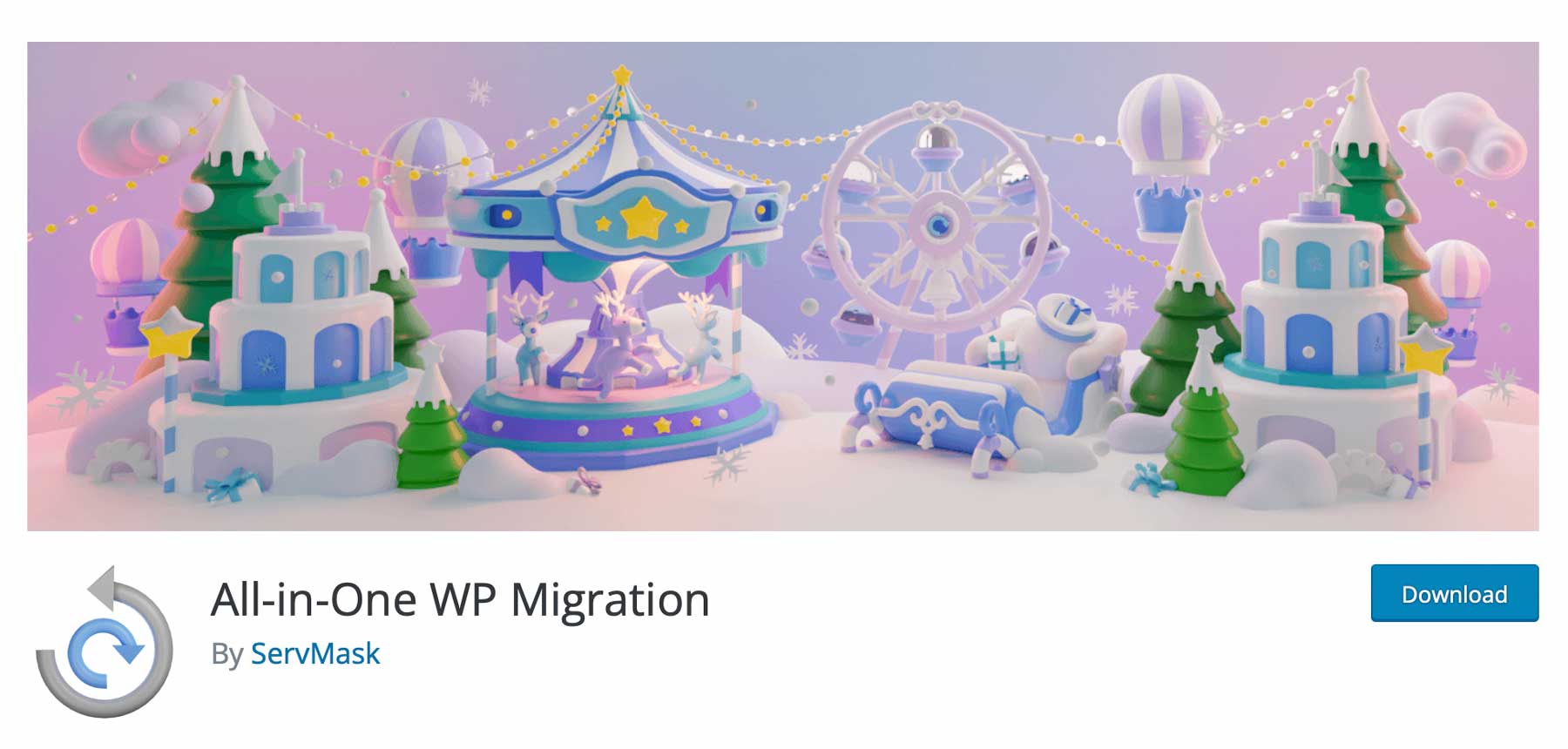 With a name like All-in-One Migration, you're setting the expectations high from the start. Luckily, ServMask follows through and offers one of the top migration plugins in the WordPress ecosystem. Because this plugin is designed for migration first and backup second, it brings first-rate features that you will need when moving to a new host. For example, All-in-One has settings to bypass many hosts' default upload limit of 2 MB. Which is a major issue when trying to move an entire WordPress database and media library.
Key Features:
Upload size-limit bypass
No PHP requirements, which makes migrating from out-of-date hosts to current servers seamless
You can choose not to import certain files or media
One downside to All-in-One Migration is that the free version is fairly limited. For free users, you only get 512 MB worth of backups or migrations. That's much smaller than most existing sites. However, if you have a budget for migration, the $69 lifetime license is a solid investment.
All-in-One WordPress Migration is for you if…
You want zero limitations on host or PHP requirements.
You require custom uploads, plugins, or theme folders.
Pricing: Free to starting at $69/yr
5. JetPack VaultPress Backup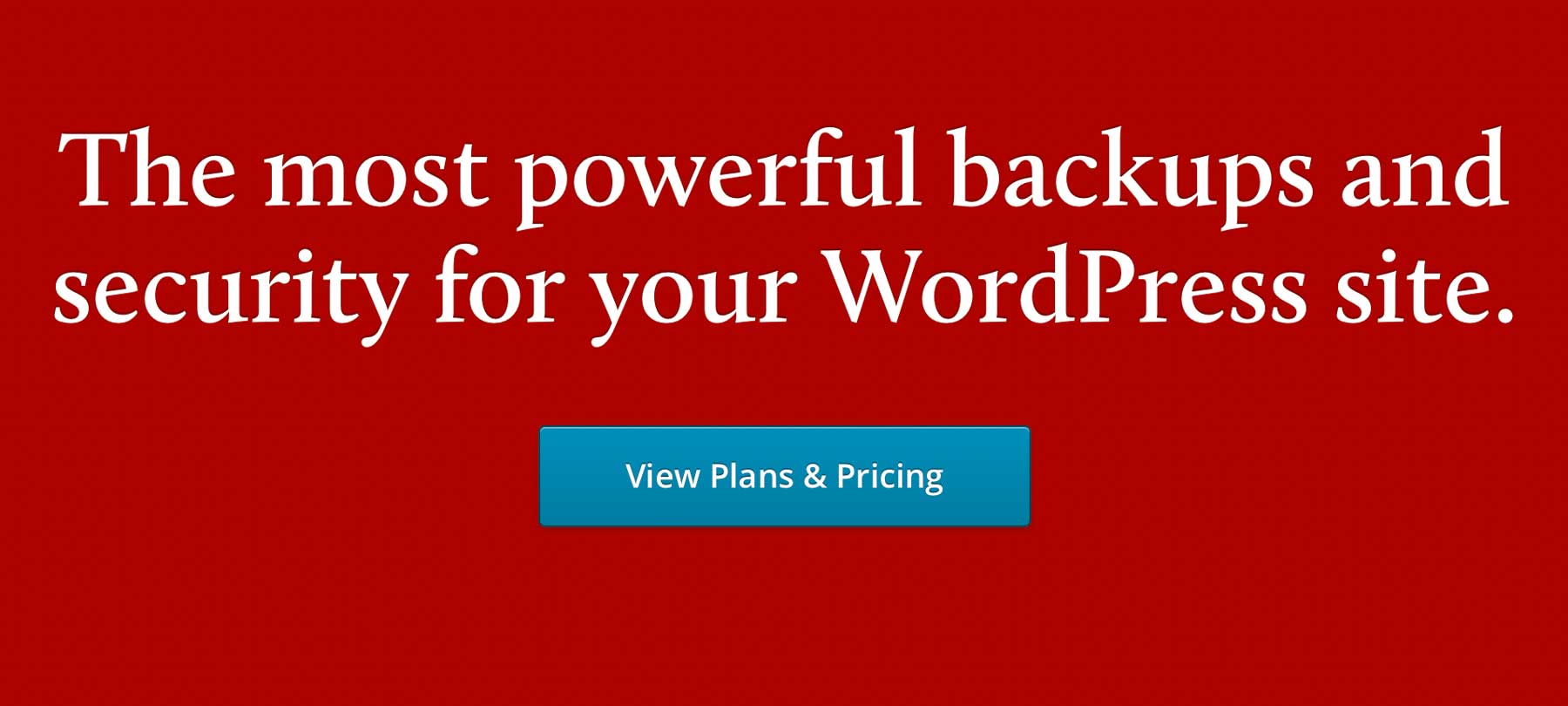 JetPack VaultPress Backup is a JetPack integration. And that's a good thing for many WP users looking to migrate their sites in the most seamless way possible. First, being integrated into JetPack means that VaultPress is backed by Automattic and available to every WordPress site out there, regardless of being on .com or .org installations. That alone makes it worth taking a look at.
Key Features for VaultPress:
Integrated into JetPack's security suite
Easy automation for backup, restoration/migration to any website or host
Excellent support and as part of a package, more features that just migration
Some WordPress users don't want to use JetPack on their site, so this won't be an option for them. But for existing JetPack customers who want off-site backups and easy/simple migrations to any server they choose, the VaultPress integration for migration is a great option. It is a paid part of JetPack, though, so if you're a free user and don't want to upgrade, this isn't for you.
VaultPress is for you if…
You need more than just a migration tool.
You're already a JetPack user.
Pricing: Starting at $9.95/month.
6. BlogVault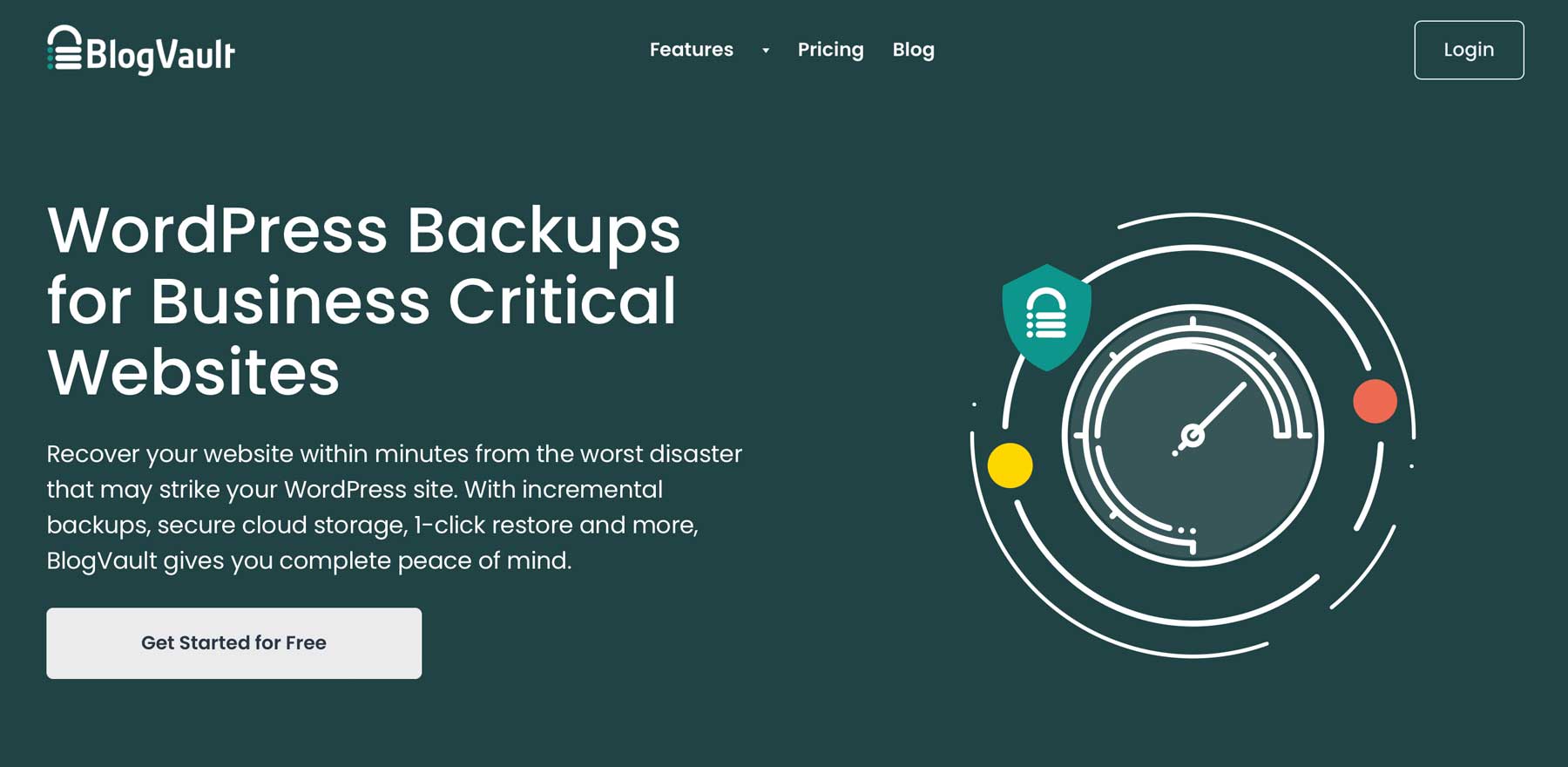 BlogVault offers an incredibly useful feature other migration plugins don't: offline restoration. Things go haywire sometimes, and it's easy to have something turned off before you need to. BlogVault has you covered. Inside the plugin, any migration you perform will be a cinch because it handles all URL rewrites, too, which is a huge boon when moving from one host or server to another.
Key Features for BlogVault:
Offline migrations
Offsite storage
WPMU support for multi-site network migration
Daily Backups
Integrated staging site
Another feature that other migration plugins likely don't support is WordPress multisite. So if you're migrating your entire site network from host to host, check out BlogVault. You will be able to handle it all in one go instead of doing it one by one. That alone is worth checking BlogVault out, even if just for the free trial period.
BlogVault is for you if…
You need WordPress multi-site support.
You require offline migrations and storage.
Daily backups are important.
Pricing: Free to $89.
7. WP Migrate DB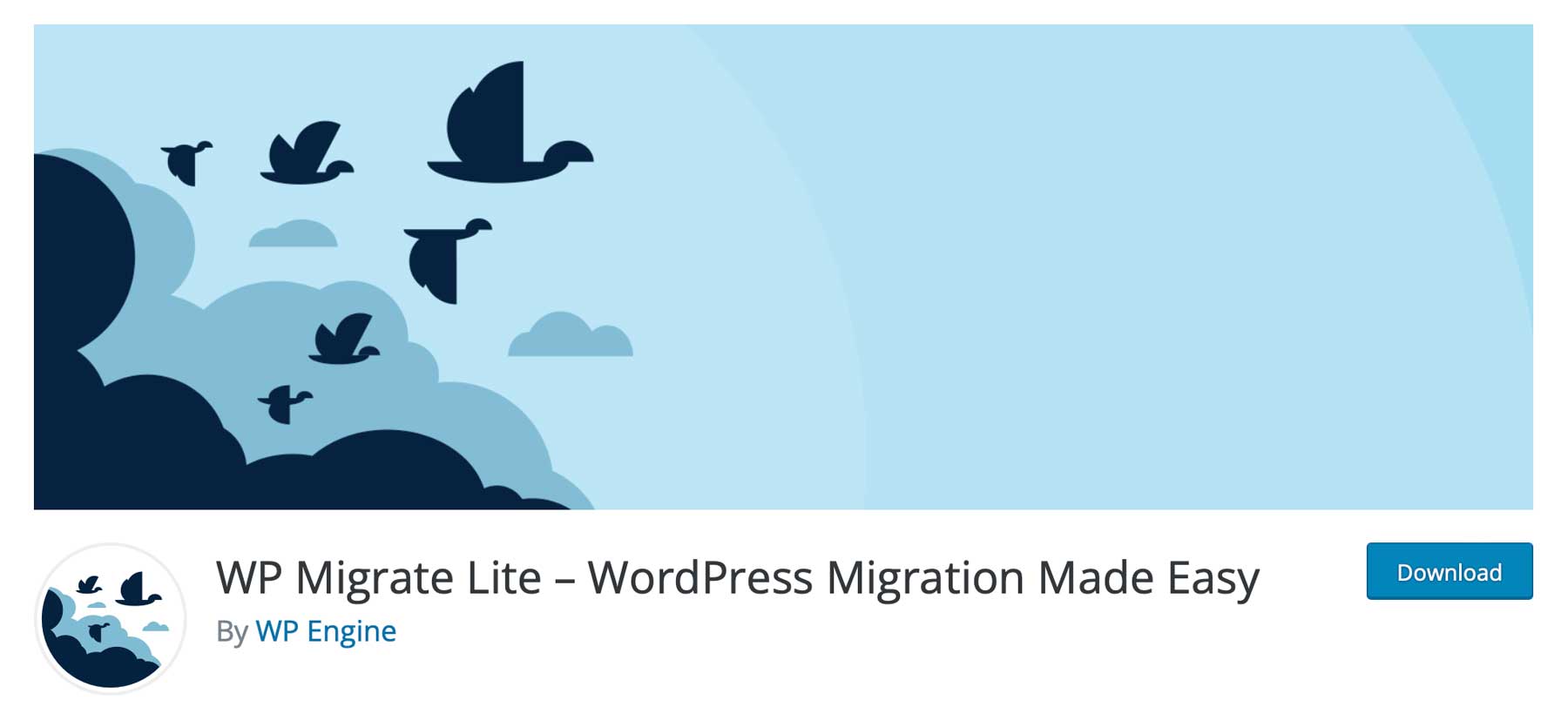 Delicious Brains makes good plugins, and WP Migrate DB is no different. Effective and full of features, but we do want to warn you that this plugin is not as user-friendly as some others. It is designed for server admins and devs to migrate sites, not the end user. You will export the database as SQL and import it using phpMyAdmin.
Key Features:
Strong customization for site admins and developers
Migration from site to site that you can pause, resume, and edit in real-time
Database import and export via SQL
Push/pull files between different sites and servers
The premium upgrade for WP Migrate DB opens up the plugin's power even more. You get WP-CLI integration, and you can work with your multisite network as a single entity. For developers needing to control the minutiae of their WordPress migrations, WP Migrate DB offers the most under-the-hood features on our list.
WP Migrate DB is for you if…
You know your way around databases.
You need real-time migration to start/stop capabilities.
Pricing: Free to starting at $49/yr.
Comparing All the Best Migration Plugins
Handling a server migration of your WordPress site can be terrifying. So many things can go wrong that many users leave it in the hands of their hosts and end up paying exorbitant prices for someone else to handle it. However, with any of the plugins on our list, you can be sure that your site can move from Server A to Host B with as few snags as possible.
Migration Plugin Price Comparison
To recap, here are all of the plugins we covered in this post, along with their pricing for easy comparison.
Migration Plugin Feature Comparison
Now that we've looked at the price differences between the plugins on our list, here, we'll line up our top three plugins, and compare their features on a deeper level:
🥇 UpDraftPlus

🥈 BackupBuddy

🥉 Duplicator

Starting Price
$70/yr
$99/yr
$49.50/yr
Free Version
✔️
❌
✔️
Offsite Backup Option
✔️
✔️
✔️
Cloud Storage (Google Drive, Dropbox, Amazon S3, etc.)
✔️
✔️
✔️
Native Database Management Tools
❌
✔️
❌
Secure File Encryption
✔️
✔️
✔️
Scheduled Backups
✔️
✔️
✔️
Email Notifications
✔️
✔️
✔️
Restore Backup Process
✔️
✔️
Downloadable Backup Zip Files
✔️
✔️
✔️
Customizable Backup Contents
✔️
✔️
✔️
Active Installations
3,000,000+
1,000,000+
1,000,000+
Community Rating
4.8/5
⭐⭐⭐⭐⭐
Read Reviews
N/A
4.9/5
⭐⭐⭐⭐⭐
Read Reviews
Get UpDraftPlus
Get BackupBuddy
Get Duplicator
Which WordPress Migration Plugin Is the Best?
That being said, UpdraftPlus stands out among other WordPress migration plugins due to its exceptional features such as the ability to store backups in popular cloud storage services such as Google Drive, Dropbox, and Amazon S3, and the option to keep backups in multiple locations for enhanced security. Additionally, migrations are made easy with UpdraftPlus's one-click technology.
Frequently Asked Questions (FAQs)
Before we wrap up, let's answer some of your most common questions regarding the best WordPress migration plugins. Did we miss one? Leave a question below, and we will respond!
What is the best WordPress migration plugin?
UpdraftPlus
is the best WordPress migration plugin having more than 3 million active installs and nearly 7,000 great reviews on the WordPress plugin repository. It supports automatic backups and offsite uploads to platforms like Google Drive and Dropbox and creates separate backup files for databases, plugins, and directories.
What is the best free WordPress migration plugin?
The best free WordPress migration plugin is
All-in-One WP Migration
. With over 5 million active installations and over 6,000 positive reviews, it's a trusted and highly-regarded tool in the WordPress community. It offers a one-click backup and a simple importing feature.
Which WordPress migration plugin is the easiest to use?
The
All-in-One WP Migration
plugin is the easiest. It has a one-step operation process. You need not read any documentation or upload different files during migration. It saves a lot of time and ensures a bug-free experience.
How do I migrate a WordPress site without a plugin?
Migrating a WordPress site manually can be complex and time-consuming, involving numerous steps like transferring databases and files. To simplify the process, using a plugin like
UpdraftPlus
is highly recommended. It makes migrations easier and faster, even for non-tech users.
How do I migrate WordPress from localhost to a server using plugins?
To migrate WordPress from localhost to a server, use a plugin like
UpdraftPlus
or
All-in-One WP Migration
. On your local setup, install the plugin and create a backup. Then, install WordPress, the same plugin on the server, and import the backup, finalizing your site migration.
What is the best plugin for WordPress content migration?
The
All-in-One WP Migration
plugin is an excellent choice for WordPress content migration. It's user-friendly, has features like upload size-limit bypass, and allows selective importing, making content migration seamless and efficient. You can also consider the official WordPress importer that imports content from an XML file.
How do I migrate a WordPress website to a new host using a plugin?
To migrate a WordPress site to a new host using a plugin, install a tool like
UpdraftPlus
or All-in-One WP Migration on your existing site. Then, create a backup of your site. On the new host, install WordPress and the same plugin, then use it to import the backup. Your site should now be migrated.
Which plugin is best for migrating a WordPress multisite installation?
BlogVault
is the best WordPress multisite migration solution for migrating your site to new hosts or domains. It supports selective migration and offers automatic database rewriting. It ensures zero downtime, and it is compatible with all web hosts. It can handle large sites up to 100 gigabytes!
What is the benefit of using WordPress migration plugins?
WordPress migration plugins offer an easy way to transfer your site to a new host or domain. They automate complex processes, ensuring data integrity and minimizing downtime. They allow large file transfers and handle multisite migrations. Using a migration plugin can save you significant time and effort.
What key factors should I consider when deciding on a WordPress migration plugin?
When choosing a WordPress migration plugin, consider ease of use, zero downtime, and selective migration. Also, consider the plugin's reputation, reviews, and support service. If you have a large website or a multisite network, ensure the plugin can handle that. We recommend the
UpdraftPlus
plugin based on all the points discussed.
Looking for more great plugins? Check out this list of the best WordPress plugins, which includes a top recommendation for each plugin type!