One of the most important aspects of running a successful WordPress website is maintaining fast page speeds. Leveraging a good WordPress caching plugin is important for anyone that wants their website to be fast, and WP Rocket is without a doubt one of the best options. There is no free version of the plugin, as with many others. But this is a case in which you absolutely get what you pay for. We want to break down the plugin and show you what you can expect when you set it up on your site.
WP Rocket: Setting It Up
As we mentioned, WP Rocket is a premium plugin, so you will want to head over to wp-rocket.me and purchase the plugin and set up your account. Single-site licenses start at $49 per year and go all the way up to $249 for an unlimited number annually.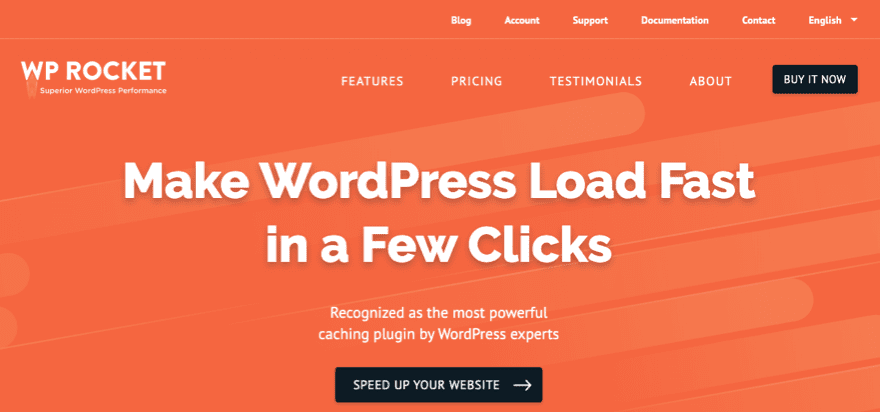 Installing and activating the plugin is incredibly easy. You just download it from the WP Rocket dashboard and upload it to your WP admin panel. Upon activating it, things start working immediately.

As you can see in the above image, immediately upon clicking Activate, you get the message that "WP Rocket is good to go." Which means that the plugin is already caching your site's content. It's also already displaying it to visitors in the simplest and most accessible way possible. Even if you go with the default settings, your site will be faster for your visitors immediately.
Note: Disable other Caching Plugins
Just a note of warning that applies to all WordPress caching plugins, not just WP Rocket. Make sure that you disable all other caching plugins. You don't want them fighting each other for priority, as this can crash sites and prevent content from being delivered to your visitors. And no one wants that. So make sure that only one runs at a time.
WP Rocket Settings
As we said, the default settings actually run pretty well with WP Rocket. So if you're not the kind of person who likes tinkering with switches and toggles, WP Rocket might be the best option for you because it is very possibly the most user-friendly and effective out of the box.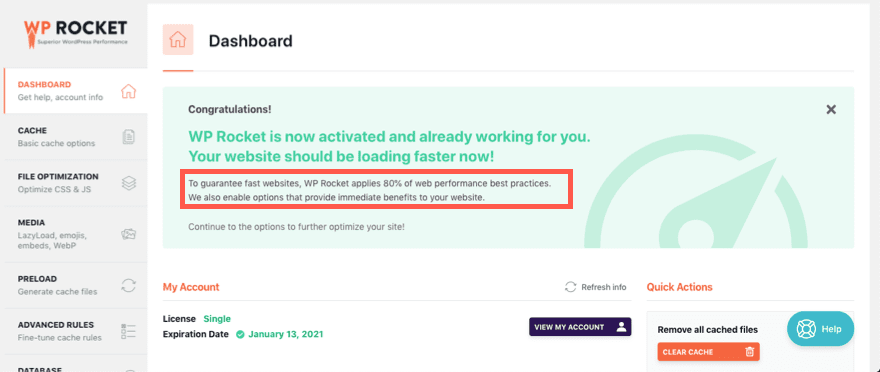 The initial banner for the installation states that "WP Rocket applies 80% of web performance best practices. We also enable options that provide immediate benefits to your website." You can run a Pingdom test immediately to see what kind of effect it has.
As you explore the rest of the settings, you can make various decisions on your own for the site, too. For example, the Cache tab automatically has mobile devices included, however you get to choose whether or not there's a separate cache for mobile devices. While having separate caches is generally better, responsive sites have become more and more prevalent so that it isn't necessary to be the default.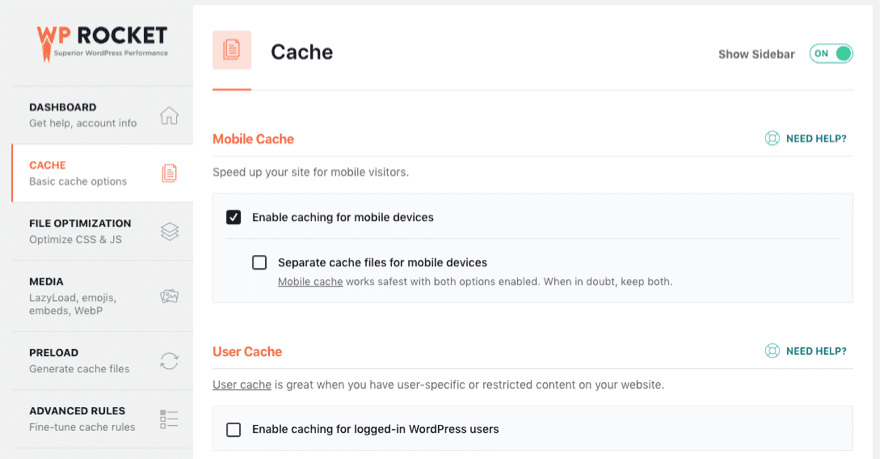 The same goes for caching for logged-in users. Usually, people don't want to have the content they interact with as creators to be cached, but it can definitely speed up their experiences.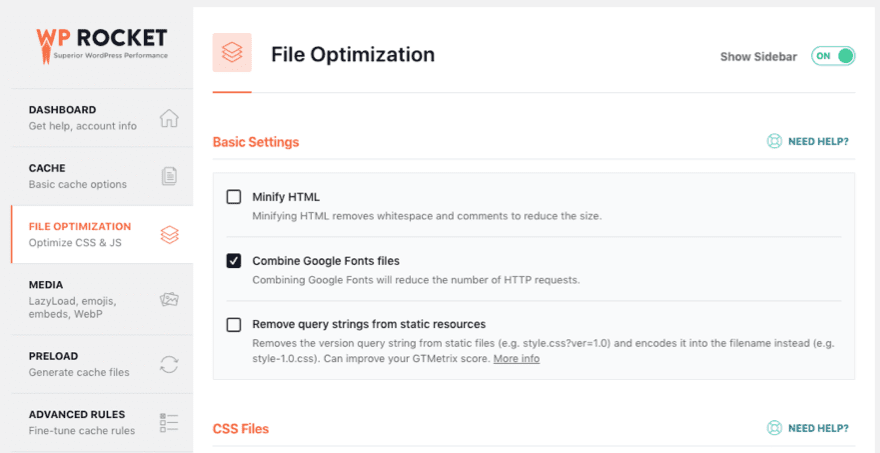 The file optimization options are generally unchecked, despite HTML, CSS, and JavaScript minification being pretty standard. This is because many themes and other plugins offer file minification already. If yours does not (remember that Divi does this), then WP Rocket has you covered.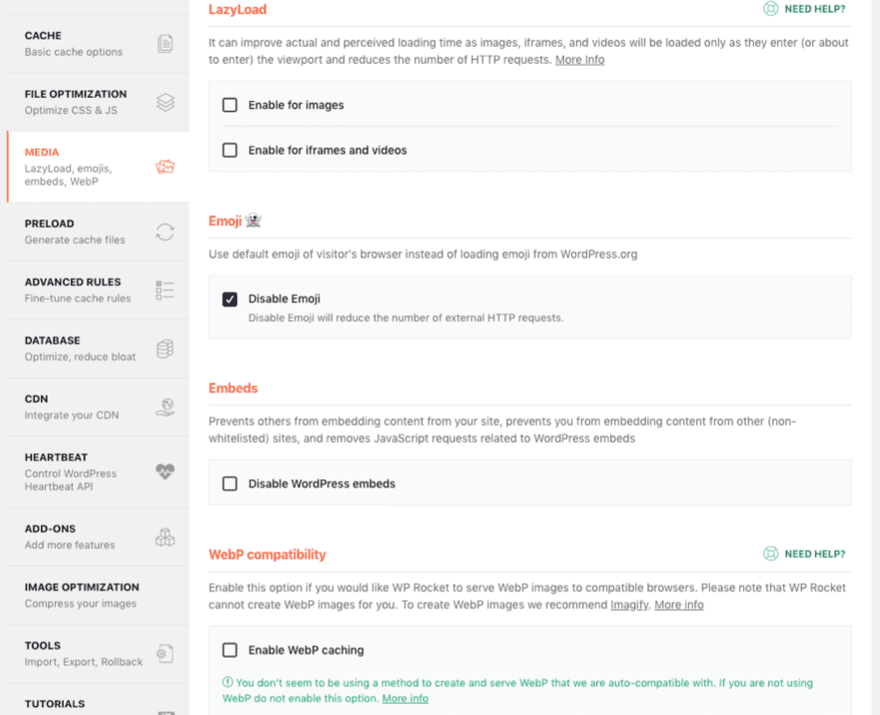 By default, WP Rocket disables the built-in emoji that the WP Core enables. Most sites don't take advantage of this (nor do many site owners even realize it's a feature). And most sites aren't using WebP images yet, but if you are, it's a good idea to check this one, too.
Additional Features
If you're a CDN user, you can get that service to play well with WP Rocket with just a few clicks, and the Add-Ons tab for the plugin gives you a fantastic slew of tying in services that you're already using (most likely).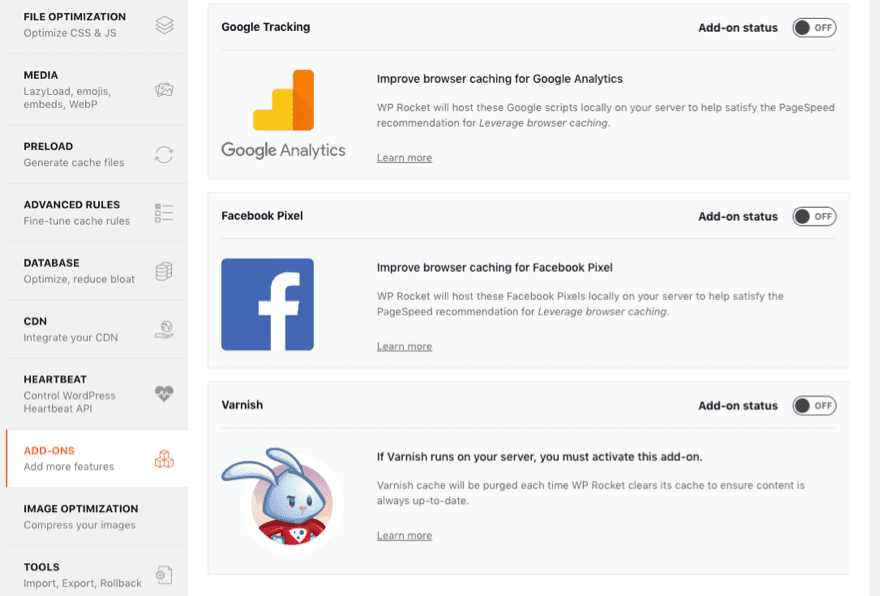 Nearly every site uses Google Analytics and/or the Facebook Pixel for user tracking, so making sure that you enable these add-ons can boost your site just a little further. It might be in the millisecond range, but leveraging browser caching is so important to overall site performance that it's worth clicking through to enable these.
Imagify and Import/Export
And the Image Optimization tab is the connection between WP Rocket and Imagify, one of the better image compression plugins out there.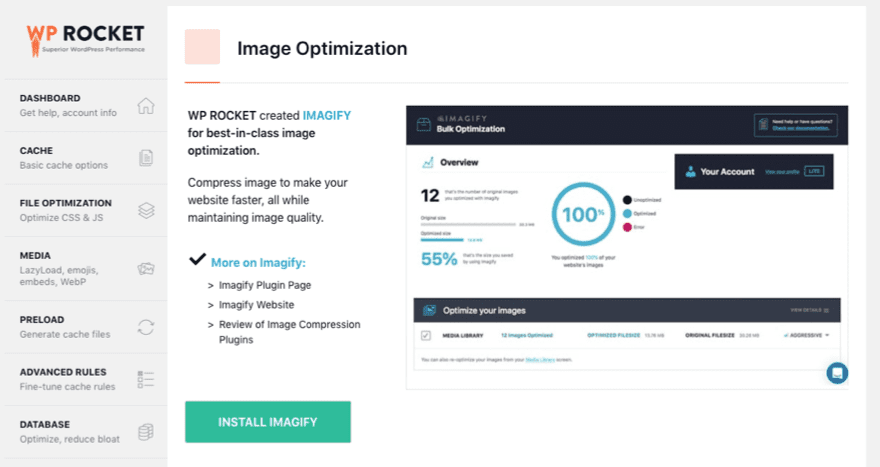 Image compression is really the #2 most important aspect of increasing page speed, so with WP Rocket and Imagify working together, your site will absolutely perform better under everyday circumstances. Keep in mind that this tab will disappear upon installation of Imagify. You will then interact with these options through the Bulk Optimization option under the Media section of your WP admin panel.
And there's always Import/Export and reset tools. If you have a friend or colleague who already uses WP Rocket, you can import their settings to your site (assuming your sites are set up similarly) so that you get established performance optimization, or as you move into new sites you can keep the base settings you need.
Before and After WP Rocket
​
But does it work? Does it really speed up a site that much? That's what you're asking yourself (and us, really). The answer is a very emphatic yes.
​
We did tests on a production site of the author's that was not specifically optimized for speed in any way. Our primary test was ran from GTmetrix, and our secondary one came from Pingdom's Page Speed tools. We feel it's a good idea to run multiple tests to get a full idea of the site's performance. But it's undeniable with these results that WP Rocket improved the site's performance dramatically.
​
Before WP Rocket
​
The GTmetrix test shows a PageSpeed score of B(82%), YSlow Score of D(68%), fully loaded time of 4.6 seconds, total page size of 857kb, and 70 requests on the home page alone.
​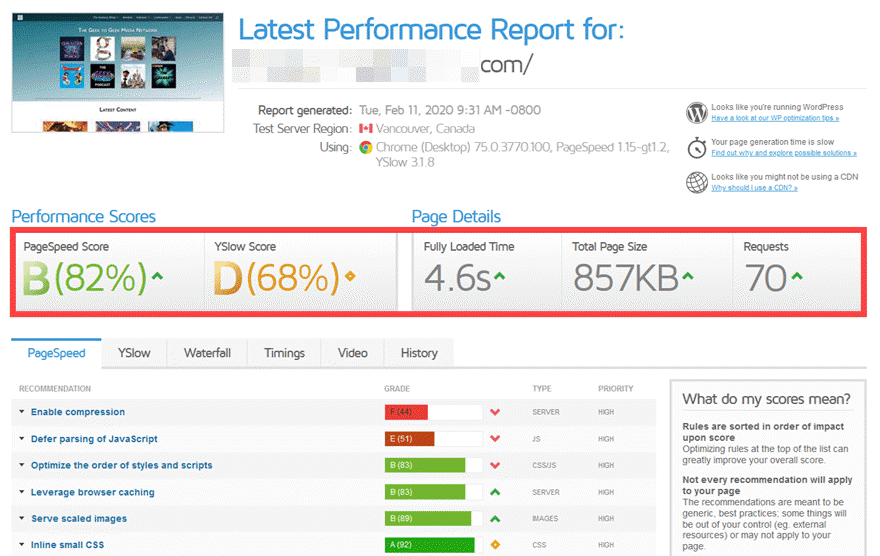 ​
The Pingdom Tools test shows similar results with an overall performance score of D(70), page size of 940.4kb, load time of 3.46 seconds, and 72 requests.
​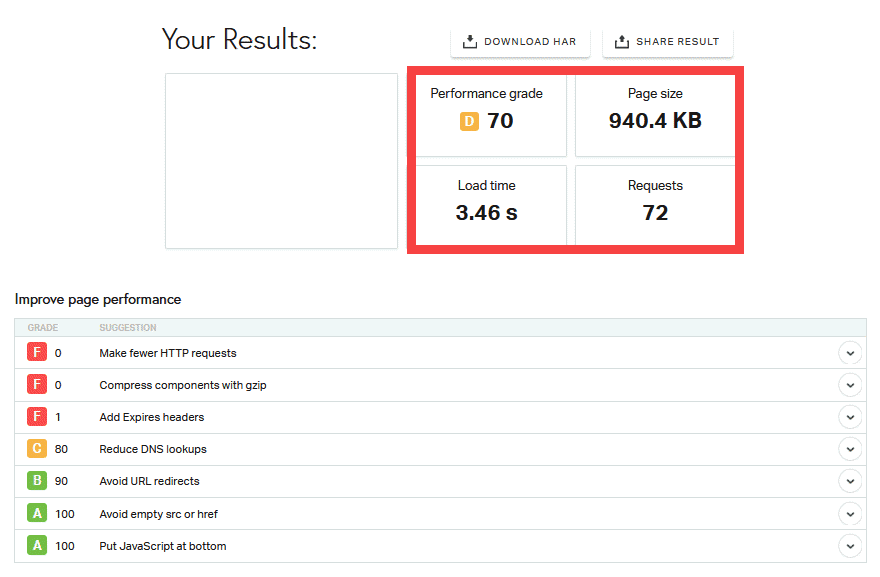 ​
Again, the site is generally unoptimized, image heavy, and just kind of exists.
​
After WP Rocket
​
Now, after activating WP Rocket and leaving all of the default settings alone (except for enabling minification for HTML and CSS), these are the results for the same site.
​
The PageSpeed score has increased to A(97%), Yslow to B(80%), the fully loaded time is down to 2.2 seconds, total page size down to 667kb, and the number of requests has been reduced to 41.
​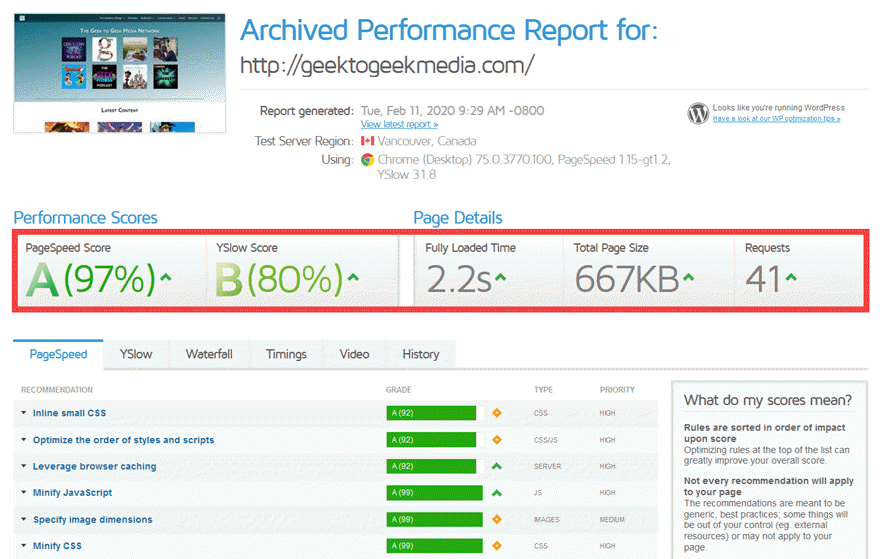 ​
Pingdom Tools reports similar increases, again. The performance grade has changed to C(80), page size shows 851kb, the load time is down to 1.58s, and the number of requests is now 51.
​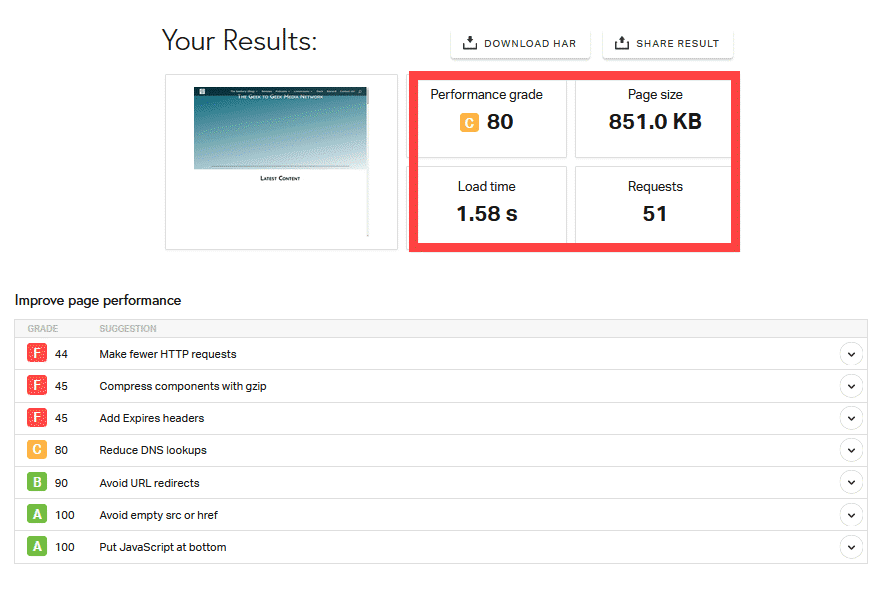 ​
Results
​
As you can see, the results on just enabling the plugin are pretty solid. With a page speed reduction of 2.4 seconds according to GTmetrix and 1.88 seconds from Pingdom, that's between 45 and 52% immediately. That is huge. Plus, you cut requests down by 30-40%, page size itself down approximately 20%, and the overall number of requests by a third.
​
With results like these, it's impossible not to recommend that you check out WP Rocket. Obviously, your results will vary and each site will have its own quirks, but we expect you'll have good results, too. And remember, this was on a live site, not one set up just for this test. We couldn't be happier with the results. We think you will be, too.
Conclusion
WP Rocket is an absolute cinch to set up and get to work on your site. If you're a gearhead who likes to dig into settings and make sure that every little thing is configured custom to your needs, you get that kind of control with WP Rocket. And if you're the kind of WordPress user who installs a plugin, hits Activate, and never even looks at a settings page, WP Rocket will speed up your site. You will not have to worry about anything but making sure updates happen regularly.
In our opinion, the clean UI and the ease of use make WP Rocket a worthwhile investment. We've dealt with plenty of caching plugins that are designed more for developers than users, and WP Rocket is not. The devs made this one for everyone. And it pretty much is.
What do you think about WP Rocket? Let us know in the comments.
Article featured image by Teddy Septian Hanadi / shutterstock.com