Flywheel is one of the top providers of managed WordPress hosting out there. They also develop and maintain Local, one of the best WP development tools out there. Flywheel focuses on providing managed WP features that are aimed specifically at designers and developers (though anyone can take advantage of them and benefit). We want to showcase some of these features so that you can determine if Flywheel is the right managed WordPress host for you, whether you're a dev, designer, or everyday site owner.
Subscribe To Our Youtube Channel
Flywheel Hosting Pricing
To get started, we have to talk about the price. Flywheel, like other managed WordPress hosts, is going to be a little more expensive than a traditional shared hosting account.
While there is a Tiny account that balances out to $13 per year, the limits of 5k monthly visits really makes that one unviable for most sites. The $25 per month Starter package would be more suitable for most users, with 20k visitors, 10gb disk space, and 50gb bandwidth.
However, that is still only for 1 WordPress site. In general, the Tiny and Starter plans are for individual site owners. Or for people who want to try the platform out. The Freelance and Agency tiers are designed specifically for (you guessed it), freelancers and agencies. With a much larger number of sites, the extra cost can be deferred to customers and clients, alleviating the increase in pricing.
Additionally, if you're an Elegant Themes member, you can get a deal on Flywheel hosting that's optimized for Divi, with each site pre-installed with the theme and API/license key management handled for you.
Flywheel Hosting Dashboard
To start with, let's take a look at the dashboard. It's a bit different from the typical WordPress admin area (though you do still get that as well).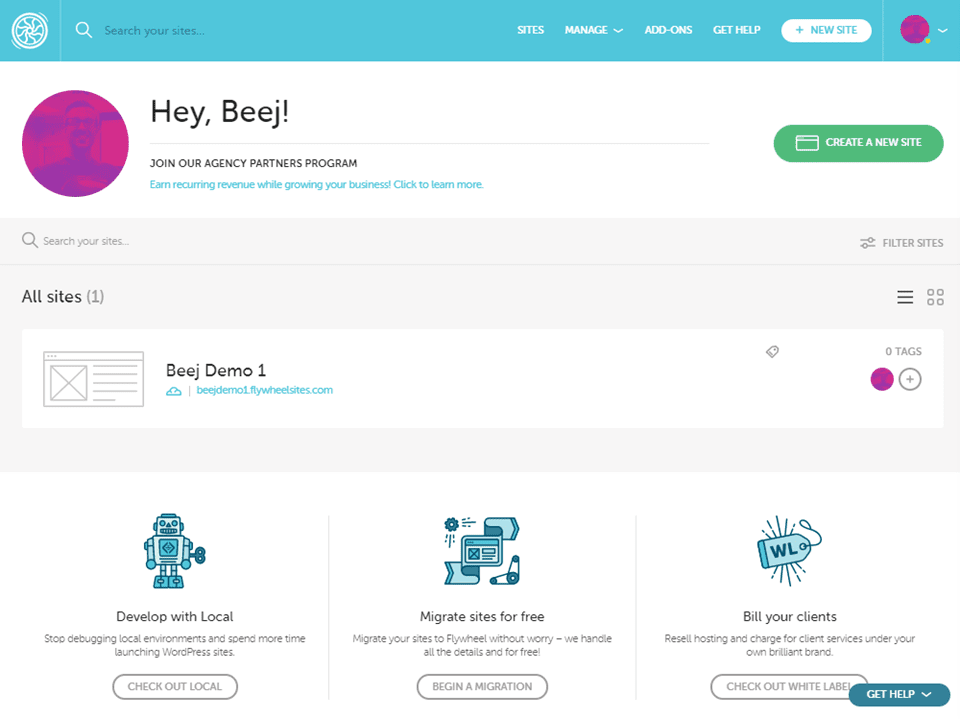 From here, you can do pretty much everything you need to. Start new sites, migrate old ones, work with Local, white label your sites, and anything else you'd need. Plus see a filterable list of all your sites in the very center of the dash. It's clean and easy-to-use.
Creating a New Site
Most likely, you will be creating new sites here more than anything else. So let's look at how simple it is. Just click the Create a New Site button to be given the option to create a site that you manage, or that someone in your organization will have access to.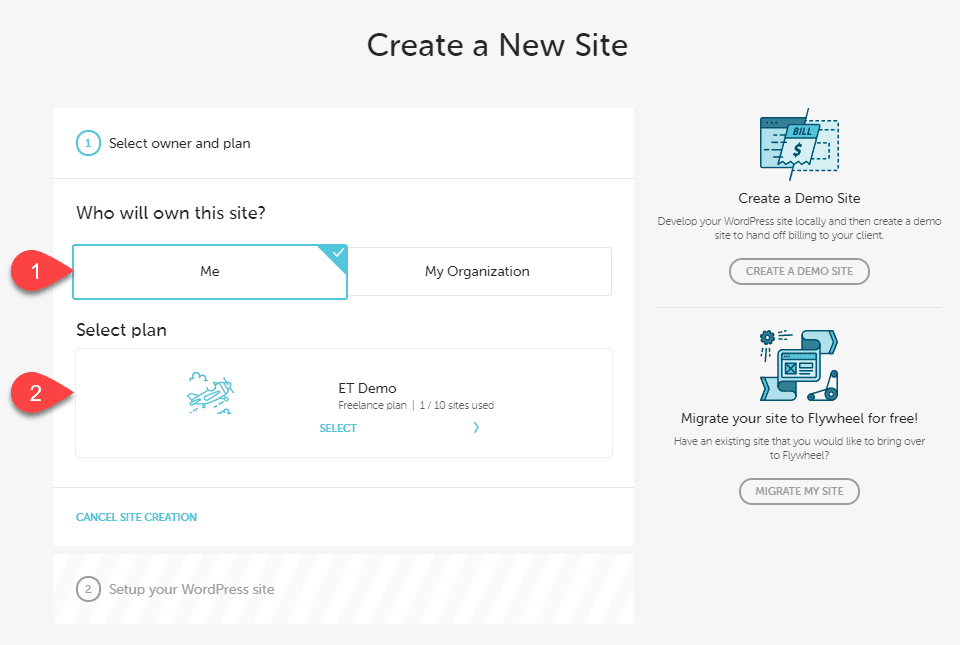 For this, we are going to be using the Me option, but if you do work with a team, you can create a new My Organization simply by clicking the tab and inviting your team mates.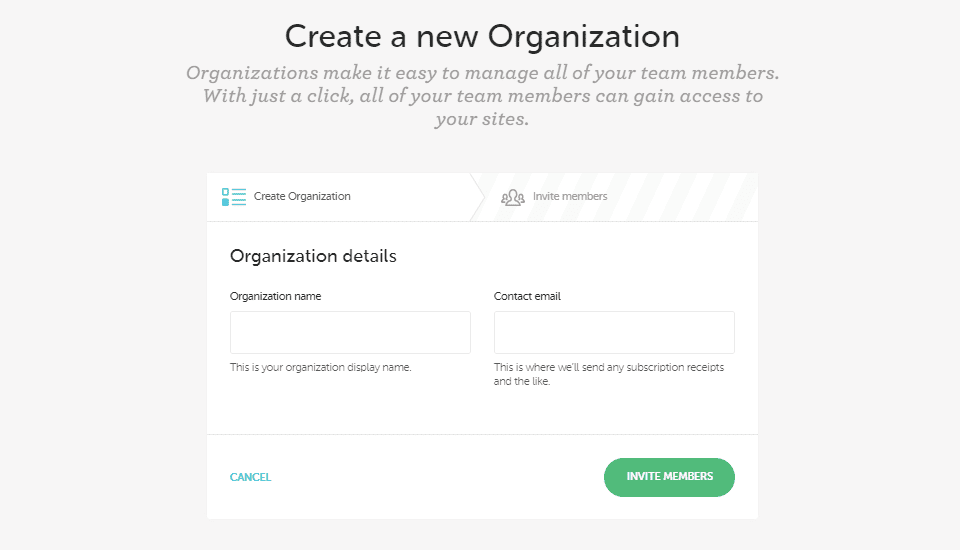 Now, you will also be asked to select a Plan, which is just which pricing plan you want to create the site under. You can have any number of these, so if you only need to manage 2 sites, you might have two Starter plans instead of the Freelancer. That's all it means.
When you move on, creating the site is simple. You just enter the site's name and a temporary URL.  One of the most useful features of Flywheel hosting is that you can create any number of demo sites using their flywheelsites.com domain, and you can experiment and not have to worry about setting up subdomains, add-on domains, DNS, ssl, themes, anything. Just type in a site name, maybe let them generate a random URL subdomain, and then you give an admin username and password.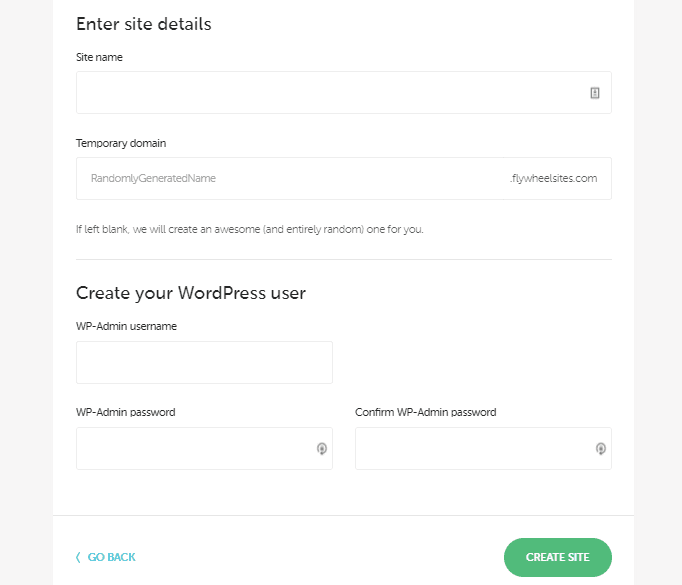 Then, your WordPress site is created.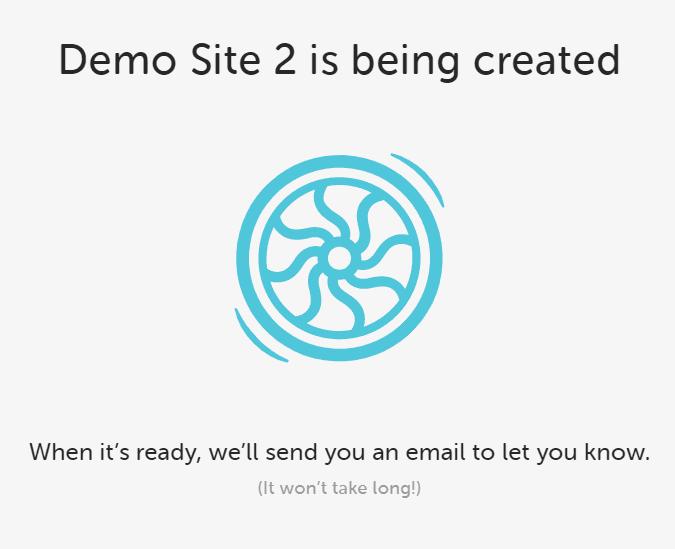 Or, well, it will be soon. They'll email you when it's ready.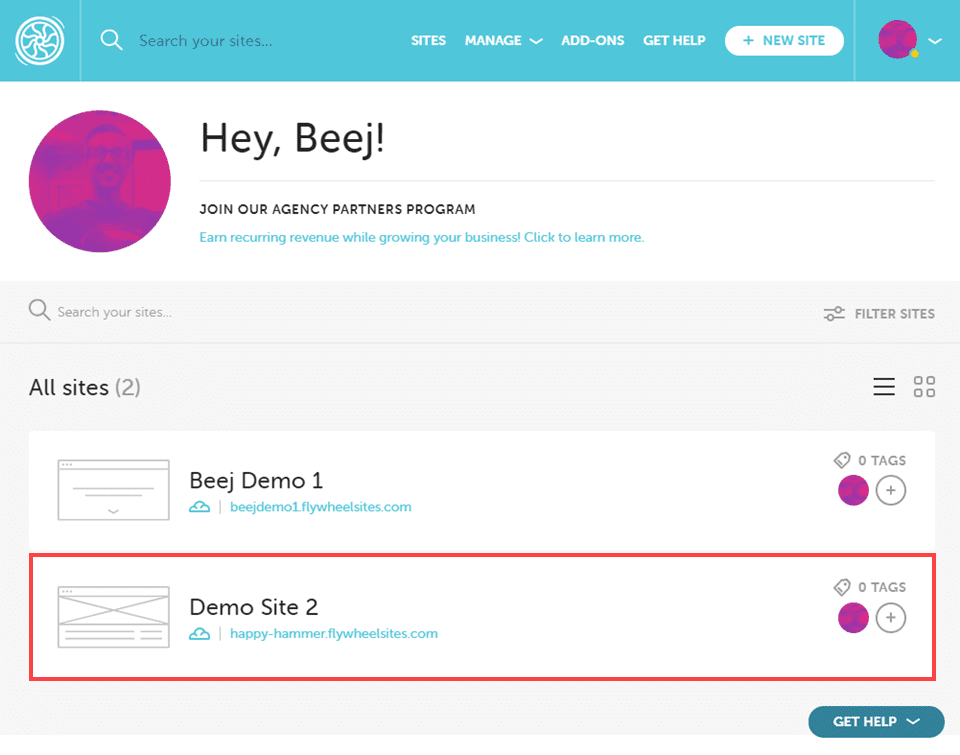 And it will show up in  your dashboard.
Migrating a Site to Flywheel Hosting
If you want to bring an existing site over to Flywheel, it's incredibly simple to do. At the botom of your dashbaord, there's a Begin a Migration button in the center.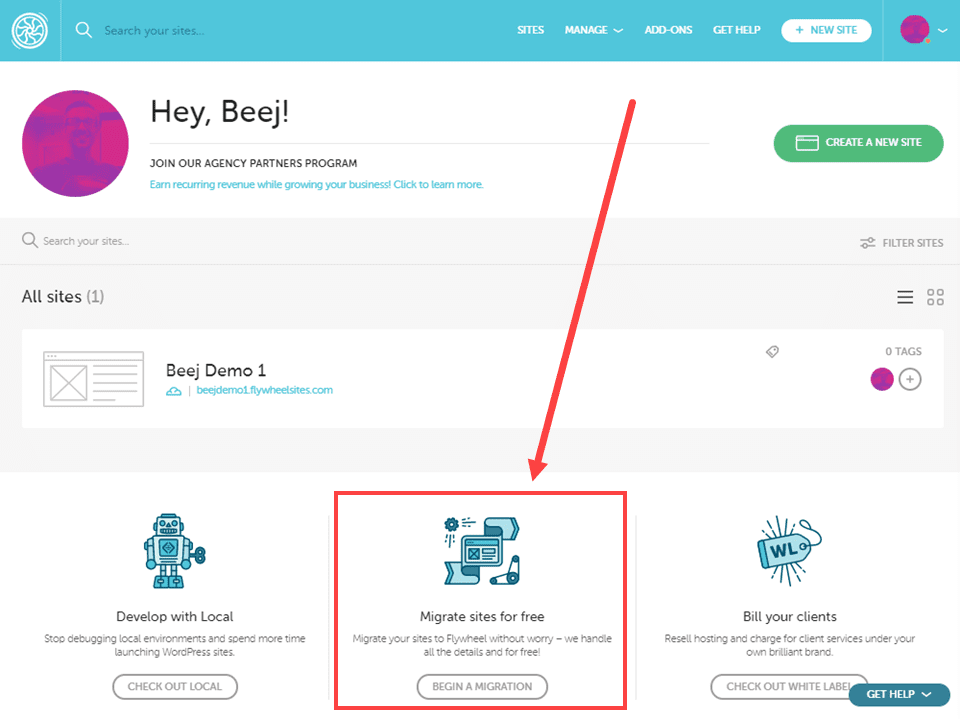 Click it and select whether you will Self Migrate or let them Move My Site for you.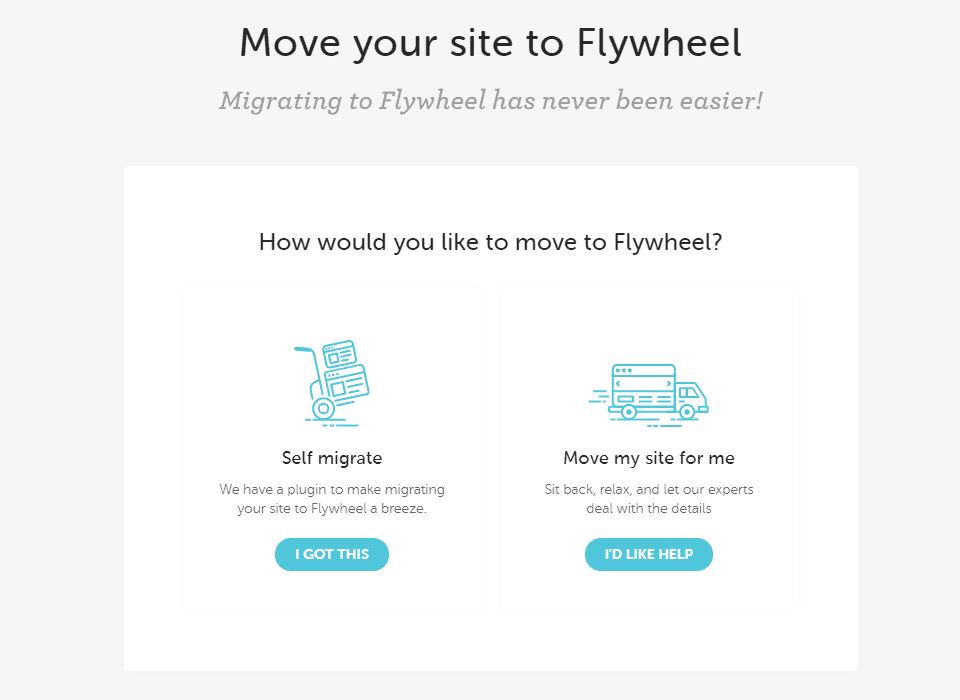 If you select Self Migrate, you just download their plugin and use it on your existing WordPress site. Just follow the directions, and you'll be up and running in no time.

Letting them handle the migration can take up to 3 business days, but it is still free. If you want to expedite it within 8 business hours, you can pay $49 per site.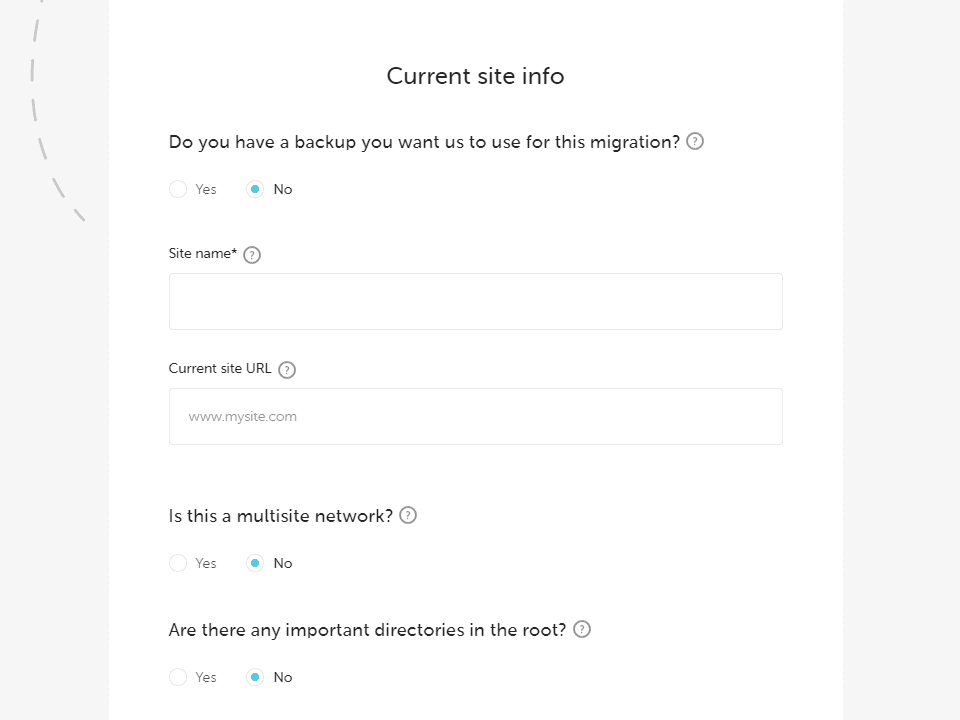 Just fill out the form they provide with your WordPress information and hosting details, and then you can rest your hands for a little while. The Flywheel migration will be done, and they'll keep you apprised of any issues that may arise.
Flywheel Site Dashboard
The Site dashboard gives you a lot of control. You can access everything you would ever need to regarding your site from this page and its subtabs.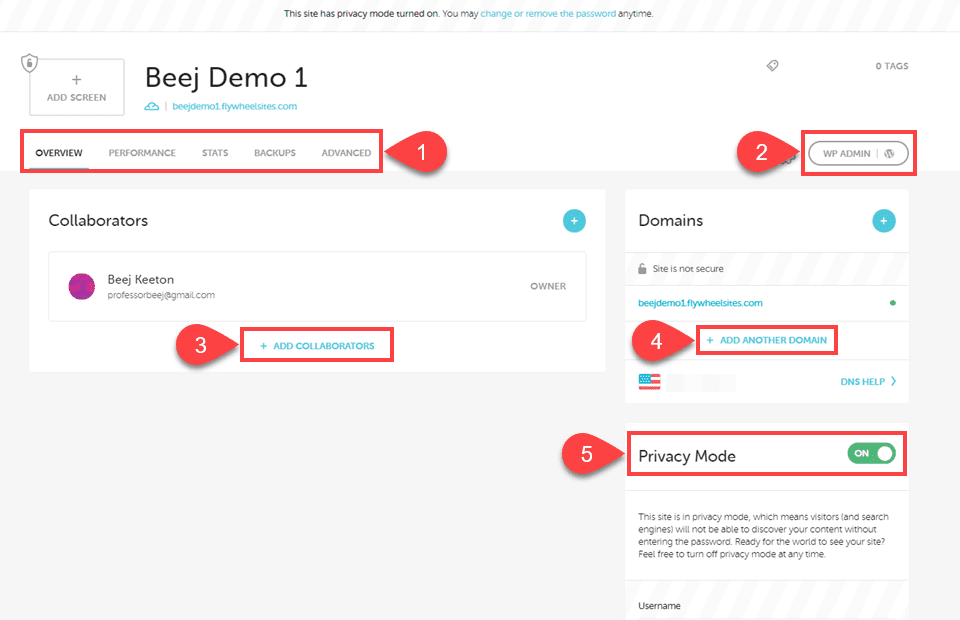 The main highlights are as follows:
Each tab gives you insights or options about the site. Performance has to be enabled for an extra fee, but Stats and Backups (which occur nightly) are included with your membership. We will cover the Advanced options below.
You will find the traditional WordPress admin dashboard here.
Even if you're not a member of an Organization within Flywheel, you can invite individual collaborators to manage a site with you.
You probably don't want a flywheelsites.com domain forever, so you will be able to add that using this button.
Privacy mode is enabled by default. This is different from your WordPress admin credentials and will prevent access to even the WP login screen without the credentials you set here.
You probably won't mess with many of these multiple times, but having such easy access to them for each and every site is a great boon.
The Settings Gear
Also, you can click the settings gear beside the WP-Admin button to get a dropdown menu of other options.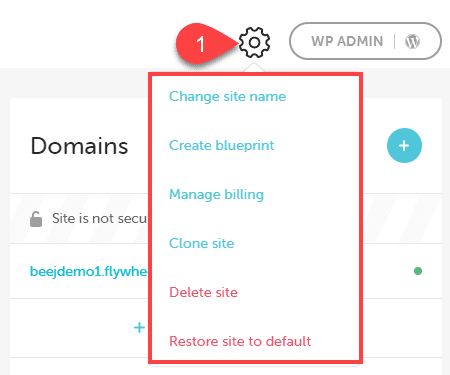 You can manage billing and change the site name here. Additionally, if you want to clone this particular installation, it's a button press a way. Deleting and restoring, too. The most interesting feature that Flywheel offers here is the Create Blueprint feature. Blueprints are templates based off of this site. Themes and plugins and configuration settings for that site will be saved so that you can build a new site with them installed with just a click.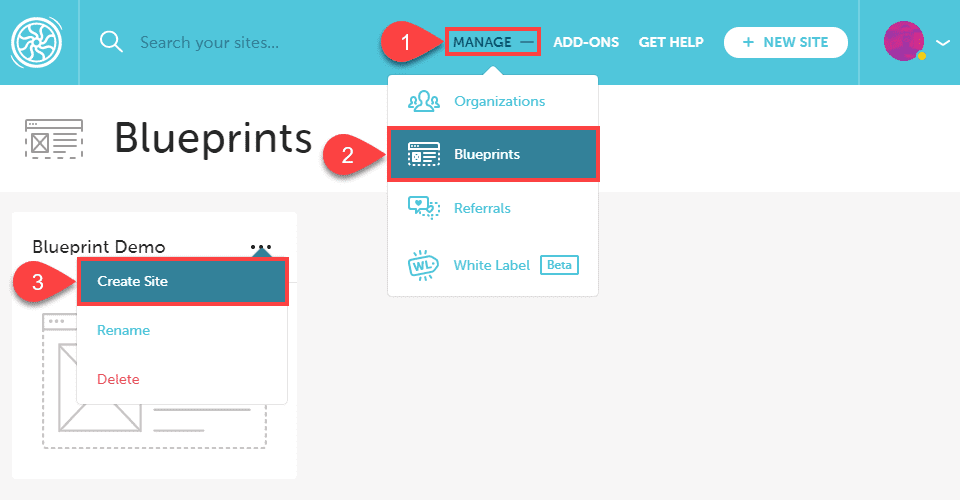 Once saved from the gear icon, you can access your blueprints from Manage – Blueprints in the main menu. To create a site, simply click the ellipsis (three dots) and select Create Site. A new site will be spun up for you, easy as that. You go through the same process as before, only this site will be pre-configured. This feature will save you so much time in the long run. We can't recommend taking advantage of it enough.
The Advanced Tab
The Advanced tab in your site dashboard has a lot of things you will mess with over time. Since you can't use any of the most common WordPress caching plugins with Flywheel by default (this is standard practice for managed hosts), you can manage the cache here. Simply press the Flush Cache button to get things moving again if they stop.
Additionally, you will be able to roll back to a previous WordPress version if you're having problems with whatever you're running. Plus, you can enable WordPress Multisite here, too, if your plan supports it. But don't think that running WPMS will get you around the site limit for Flywheel hosting. Each subsite counts as a new site in your plan. Not just 1.
Further down, you can manage the free CDN by Fastly that comes with your plan, enabling your own WP caching option (such as WP Rocket), check PHP versions, as well as turning on staging, where you can develop and apply changes that won't go live until you push them. This is insanely useful if you're working with a site that's live and you might be doing something that could jeopardize it.
White Label
Using Flywheel hosting to white label your sites is simply a fantastic feature for any freelancer or agency. What happens is that you buy a plan from Flywheel, then set up subscriptions for your clients to pay you for their site. The whole process is managed by Flywheel and Stripe, and they bill your clients. You don't have to do that.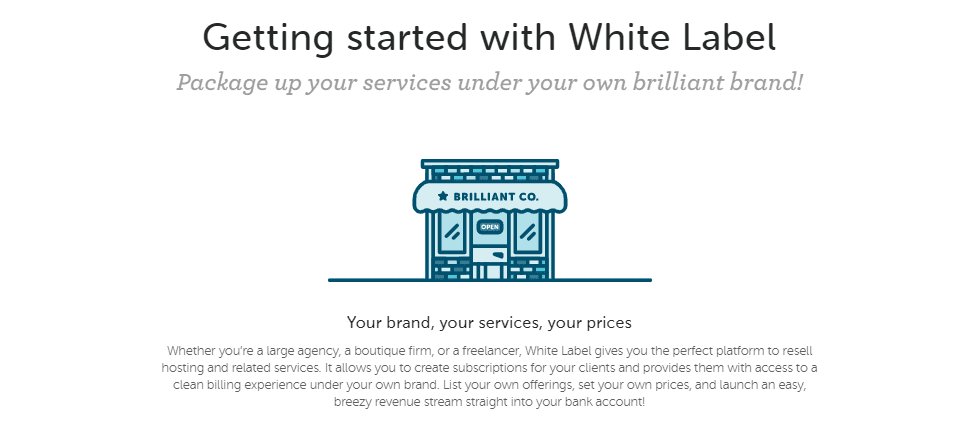 While access to this feature costs $99 per month, the amount of money brought in can far exceed that. Especially since you set your own prices for client monthly payments. And since it's managed hosting with excellent support, it's not like you're using add-on domains with a shared host.
Wrapping Up with Flywheel Hosting
Flywheel hosting is one of the most solid hosting companies out there. The uptime is high, the support is rock-solid, and the ease of use is honestly one of the best we've dealt with. In terms of UX, Flywheel knocks most other hosts out of the water. It's intuitive, and you have access to a full suite of features from pretty much everywhere. Even if you're not a paying member, you can set up a Demo Site without even putting in a payment option. You will have two weeks with that site to decide if you want to keep it, pay for it, or transfer ownership. You can't really get better than that. Unless it's a Flywheel-hosted Divi site. Then maybe.
What are your experiences with Flywheel hosting? Let us know in the comments!